Submerged in a tub of red wine or embrace Nordic-inspired warming and cooling baths in these stunning havens
Unlike most cities where a haze of car fumes and hectic pace is the norm, Copenhagen makes you want to exhale. People cycle everywhere or sit on terraces with steaming cups of coffee getting their hit of vitamin D. You can even swim in the harbour during the blue-sky days of summer. But Copenhagen also has an exciting spa culture, which swerves the clichéd whale soundtrack and faux Balinese accents in favour of cosy boltholes and luxe minimalist interiors. Here, some of the city's most-healing sanctuaries.
Amazing Krane Spa
On paper, a spa in a crane near an industrial harbour sounds like a sinister plot twist in a Scandi noir film. In reality, the Amazing Krane Spa is the coolest place to find calm in the city. The brainchild of Laura Bonné, founder of Danish beauty brand Amazing Space, and a group of forward-thinking architects, this one-room hotel set in a former steel crane, is also home to a private spa suite flooded with light and panoramic sea views. Sexy minimalism is the vibe here with oval bath tubs, which double up as massage tables, and a glass sauna. There are only two treatments on offer – both use the Amazing Space line of organic skincare and can be booked by guests and non-guests. The pampering facial comprises a deep cleanse using charcoal, a mineral mask, facial massage and eye treatment – not forgetting a heavenly neck and shoulder massage with hot stones. Afterwards, soak up the tranquility surrounded by sky and ocean.
Where? At Skudehavnsvej 1, 2100 København, Denmark
Aire Ancient Baths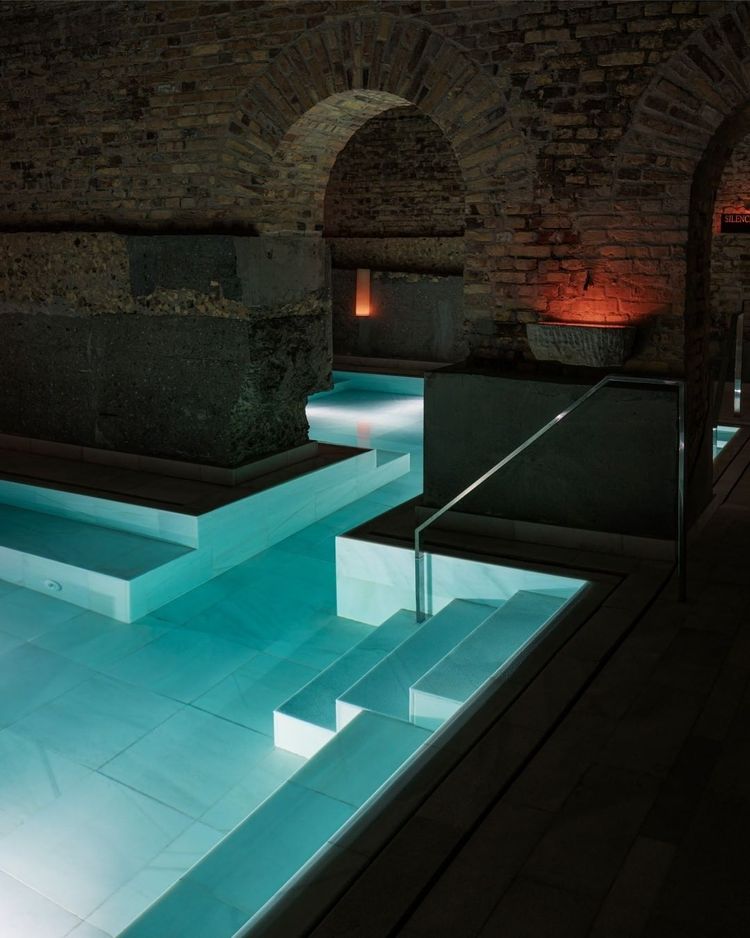 Photo: @aireancientbathsdk
Within the former Carlsberg factory, which dates back to 1881, is a labyrinth of bare brick walls, flickering candles and moodily lit pools. Here the ancient tradition of Roman baths has been reinterpreted for the modern urbanite. The idea is to slowly journey through each thermal bath in order to melt away tension and rebalance mind and body. There are also treatment rooms, where you can add on a selection of massages and rituals. Most unique is the Wine Ritual, which floods your skin with the antioxidant benefits of grapes – first as you sit submerged in a tub of red wine, then by a slumber-inducing grape seed oil massage.
Where? At Ny Carlsberg Vej 101, 1799 København, Denmark
Kurhotel Skodsborg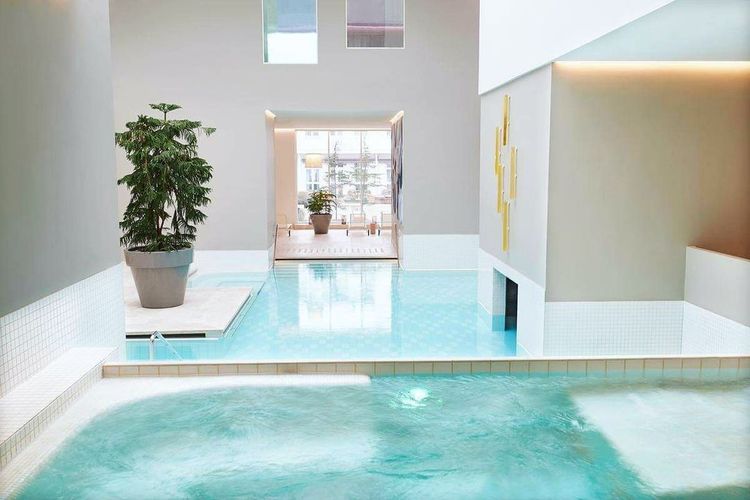 Photo: @kurhotelskodsborg
Upon arriving at the Kurhotel Skodsborg, just north of Copenhagen, your first thought will probably be: is this a palace? Given King Frederick VII used to holiday in the grand villa of this 19th-century sanatorium-turned-spa, it technically is. Fabulously old-school, the spa features endless Nordic-inspired warming and cooling baths as well as a physiotherapy centre. The therapists excel at detoxifying and rebooting the skin. Particularly noteworthy is the Gua Sha Facial. Using a two thousand year-old Chinese massage method and gua sha stones in tandem with acupressure, a peeling enzyme mask and moisturising elixir, expect to emerge with the sculpted facial contours and dewy skin of a 90s supermodel.
Where? At Skodsborg Strandvej 139, 2942 Skodsborg, Denmark
Villa Copenhagen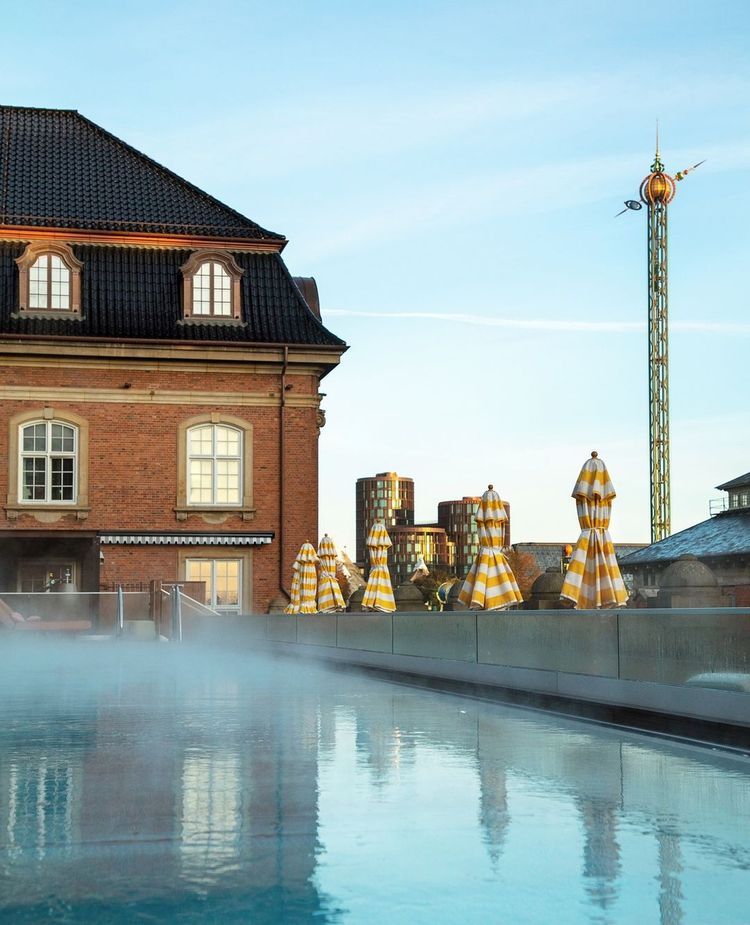 Photo: @villacph
Danes have a thing about saunas, with health benefits including detox, clarified skin, improved energy and an uptick in circulation. No wonder this is the core wellness tenet of Copenhagen's newest hotel. Formerly the headquarters of the Danish post office, Villa Copenhagen was built in 1912, its original Neo-baroque features still evident among the contemporary art. However, the rooftop is the pièce de résistance. Here you'll find the sauna and a 25 metre outdoor pool, heated sustainably by the excess heat from the hotel's cooling systems. Probably the chicest place to recover and daydream after a gym workout.
Where? At Copenhagen Central Post Building, Tietgensgade 35-39, 1704 København, Denmark
Amazing Space Spa Hotel d'Angleterre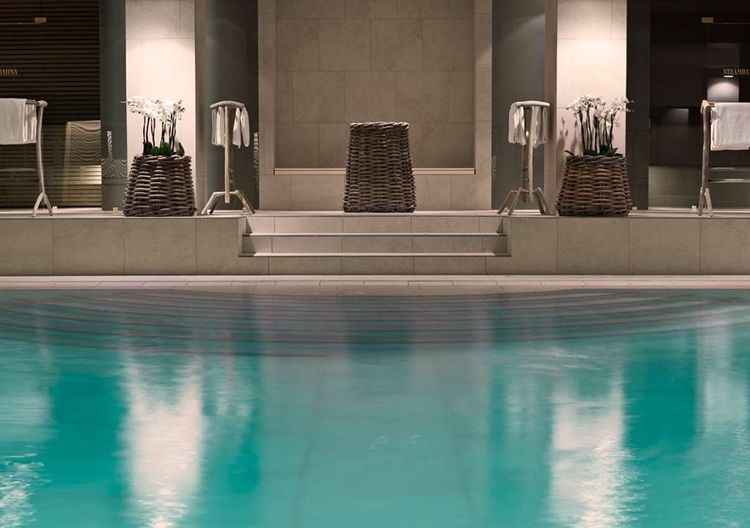 Photo: @dangleterrecph
Nestled within the plush confines of the Hotel D'Angleterre is the aptly named Amazing Space spa. The cult Danish brand's flagship spa, it's a subterranean world of marble clad lounge areas, hammam and the city's only indoor pool, made even more luxurious with the expertly-crafted treatment menu, which takes its cues from Nordic rituals and indigenous natural ingredients. The Nordic Space is a top-to-toe reboot, which includes a detoxifying herbal bath with juniper berries, a body wrap of white sea algae, massage with warm Icelandic lava stones and a skin-plumping facial. One word: bliss.
Where? At Kongens Nytorv 34, 1050 København, Denmark