Your indispensable guide to the best of the bar scene in Iceland's must-go capital
Reykjavík has long been known for its lively nightlife, and in recent years there has been a massive increase in high-end bars, with great craft beers, cocktails and wine selections.
There is fierce competition in Iceland's food and drink scene, although the people behind it are friendly and supportive - most of the chefs and bartenders know each other well in this small community. Despite the pandemic, many long-standing establishments remain, and the city has also welcomed some exciting newcomers.
The bars below are all within walking distance from one another, and shouldn't be missed regardless of if you're Reykjavík local or just visiting.
Kaldi Bar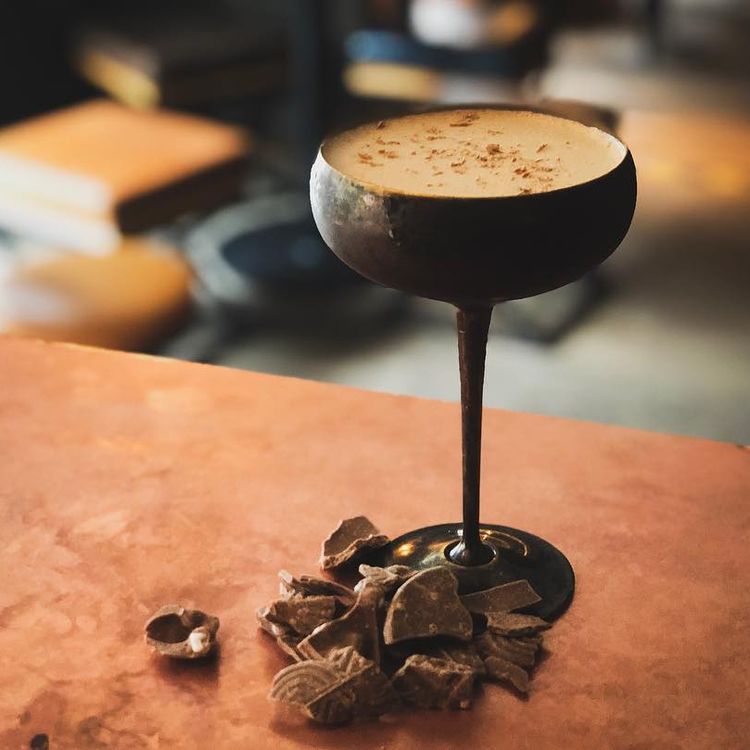 Kaldi has the biggest selection of gins in Reykjavik. Photo: Kaldi Bar
There's a bit of an oxymoron in the name of Kaldi Bar, meaning "Cold Bar", as this is one of the hottest bars in town. The focus here is on Icelandic microbrewery beers, such as the one the bar takes its name from. Additionally, the bar boasts Reykjavík's largest selection of gin and on any given night the place will be packed full of locals, having a quick beer after work or sipping on g&t into the late hours.
This centrally-located spot has limited seating, and always feels cosy with its brass bar and dark interior, exposed rocks and wooden beams. In summertime they make good use of their big outdoor area, flanked by a distinctive mural of Tupac and Einstein sharing a beer. As an added bonus the owner, Georg Leite, is extremely charming and often behind the bar personally recommending what to try next.
Laugavegur 20b, 101 Reykjavík
Veður Bar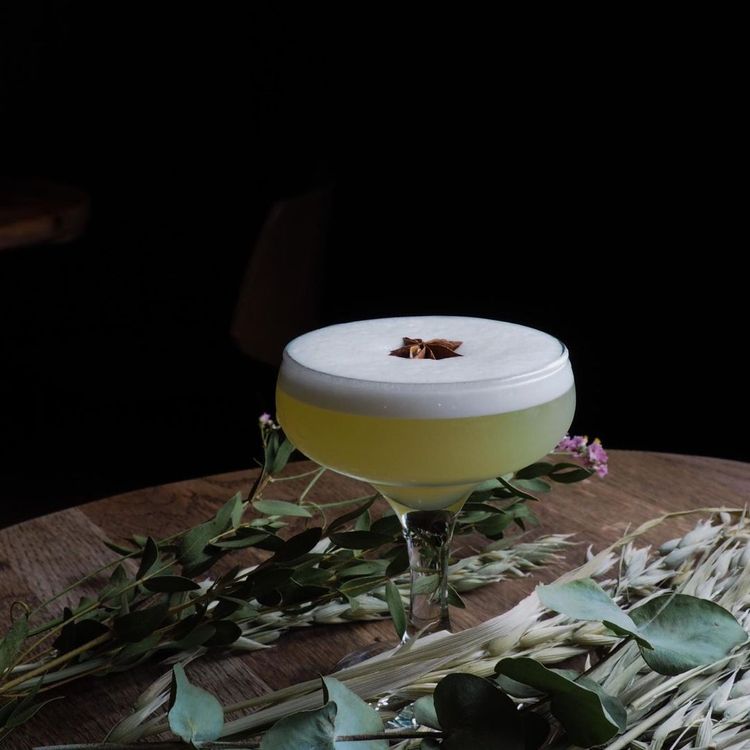 When you're not watching the bar staff's mixing skills, you can watch the world go by at Veður Bar. Photo: Veður Bar
Just across the street from Kaldi Bar you'll find Veður Bar, an Icelandic play on words for "weather-beaten", and arguably one of Reykjavík's best-named bars.
If you're being beaten by the volatile Icelandic weather you can find refuge here and sip on some of the best cocktails in town while watching the world go by through their floor-to-ceiling windows. The interior is Scandinavian minimalist, with parquet floors and muted blacks, greys and off-whites. If you struggle to find a seat in this busy spot, there is also seating downstairs.
Klapparstígur 33, 101, 101 Reykjavík
Apótek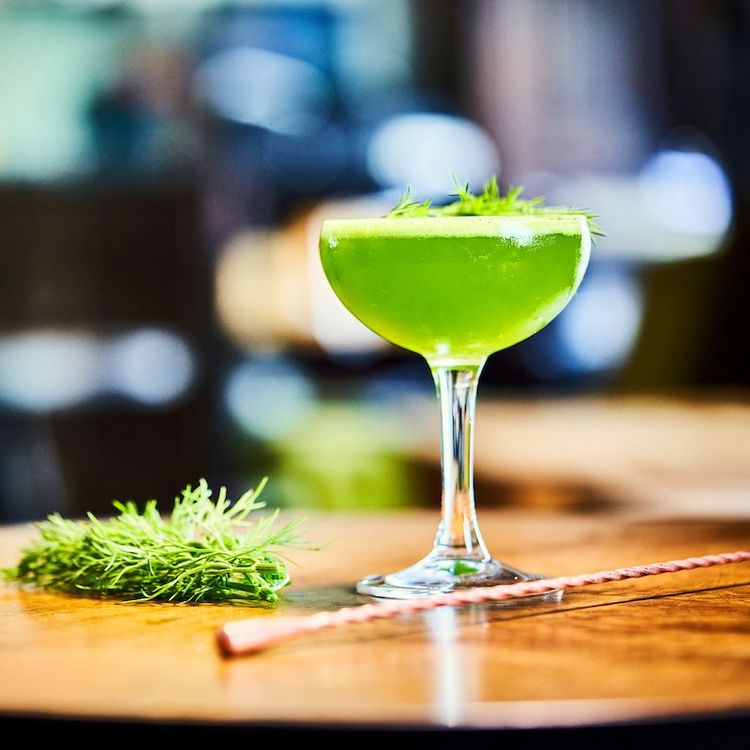 Apótek's dill-infused gin is a must try. Photo: Apótek
Apótek is well-established as one of the most popular restaurants in town, located in an opulent historic building right in the heart of the city. The name is Icelandic for "Apothecary" and pays homage to the building's history as a pharmacy.
In the lobby bar, guests can choose between a number of prescription-themed cocktails made by the bar's resident "pharmacists". These include Painkillers, Stimulants, Tranquilizers and even some Placebos. Award-winning cocktails include Dillagin (dill-infused gin) and the wryly-named Ryen Toastling (rye whiskey and toasted porter).
The interior is classic, with high ceilings and velvet chairs, and in addition to the cocktails there are tasty sweet treats on offer from their patisserie. If you're feeling even more peckish, afternoon tea is also available daily (pre-booking necessary).
Austurstræti 16, 101 Reykjavík
Sushi Social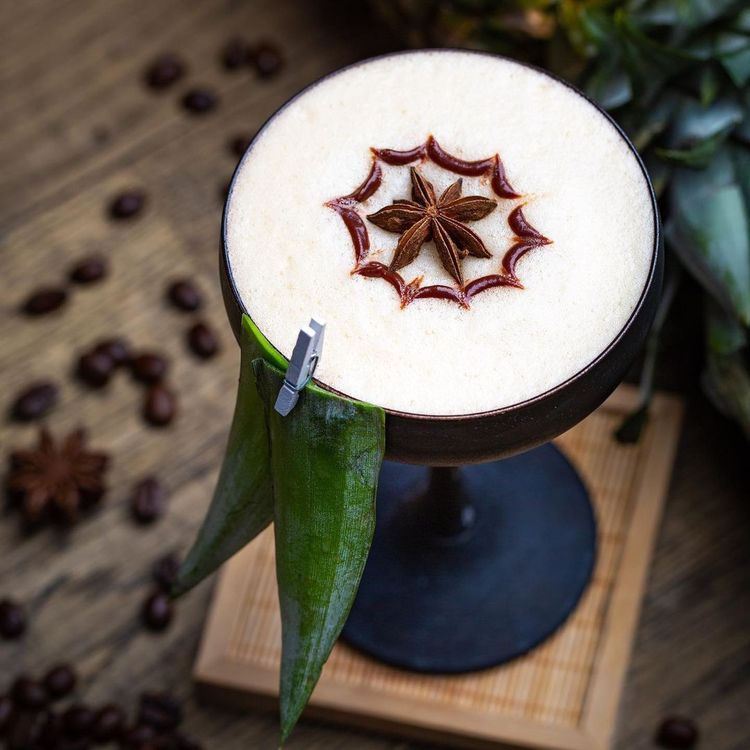 Photo: @sushisocialreykjavik
Another restaurant popular with the locals is Sushi Social, which fuses Japanese and South American cuisines. Here the decor is tropical maximalist, with colourful, mouth-watering drinks to match. Expect your cocktails to arrive both well-decorated and tasty, making this an Insta-worthy destination. Also don't forget to make the most of their delicious food menu to go with it.
Þingholtsstræti 5, 101 Reykjavík
Skál!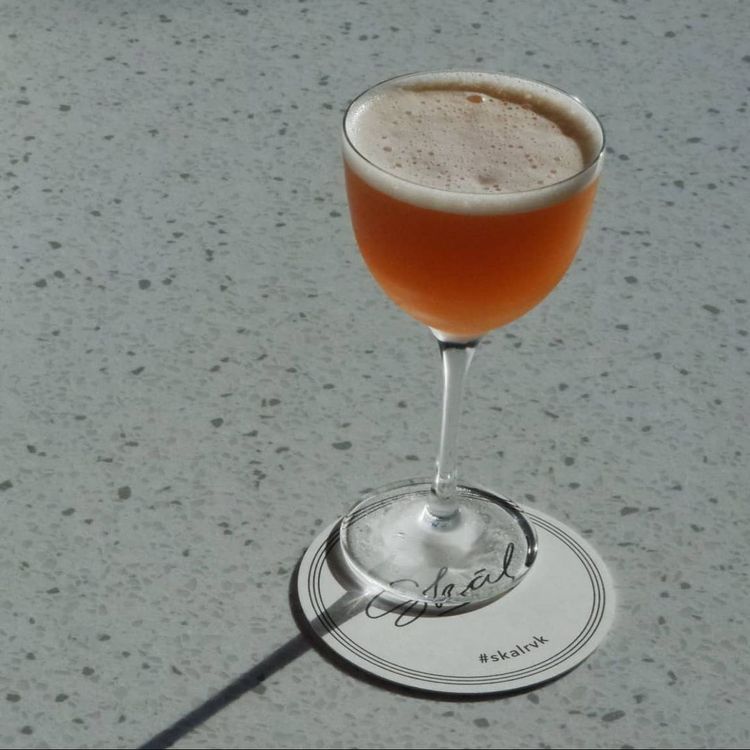 Skál! features natural wines, creative cocktails, and often their own brews to go with their New Nordic cuisine. Photo: Skál!
Skál! is located inside the non-stop buzz of bus-terminal-turned-food-destination Hlemmur Food Hall.
This small-scale restaurant received a Michelin Bib Gourmand in 2019, and it would be a crime not to try one of their small plates along with a drink from their newly launched cocktail menu. Skál! offers New Nordic cuisine with locally sourced ingredients, and they keep it experimental in both their food and beverages. Check with the sommelier if they happen to have brewed something themselves recently or have a special drink on offer.
Laugavegur 107, 101 Reykjavík
Jungle
A collection of cocktail craftsmen that took turns winning each cocktail competition in Iceland came together to create this popular bar. Here, Reykjavík's finest bartenders work hard to give you some of the best drinking concoctions in town and the drinks menu is constantly changing. The atmosphere feels intimate and welcoming, and Jungle is an apt name because of the dim lighting, plenty of foliage, candlelight and dark green velvet sofa booths.
Despite having very large windows overlooking the central street in Reykjavík, the bar still feels somewhat secluded. You could easily miss the large but unassuming wooden entrance door, or not be curious enough to see what awaits at the top of the marble staircase that greets you. The bar itself is situated on the second floor in an impressive, listed building. So if it's cocktails you're after, your best bet is to delve into Jungle.
Austurstræti 9, 101 Reykjavík
Röntgen Bar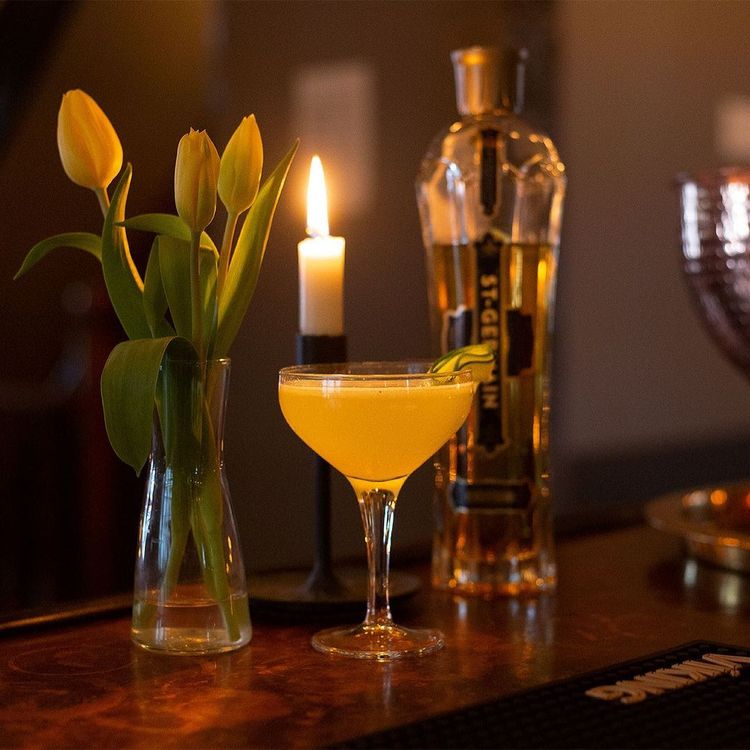 Super cool Röntgen is a great spot for gin or local beers. Photo: @rontgenbar
One of the liveliest bars in town is the hip Röntgen. Spread over two floors, the bar greets you with warm candlelight, a cosily dark interior and interesting artwork.
From Sunday to Tuesday the atmosphere is chatty and relaxed and on Wednesdays some of the city's most notable entertainers host their take on a pub quiz or karaoke. Thursdays to Saturdays you can expect things to liven up with DJs or live music.
Their gin selection is good, and local beers and cocktails are also available.
Hverfisgata 12, 101 Reykjavík
The Roof at Edition
The recently opened Edition Hotel in the newly built up downtown area of Reykjavík boasts 3 bars; the open Lobby Bar, a secluded sexy hideaway bar called Tölt and the pièce de résistance: The Roof. Here you will enjoy the best views in town, as this rooftop bar that's situated on the hotel's 7th floor is located right next to the impressive Harpa Concert Hall.
Sip on a glass of wine or one of the expertly crafted cocktails whilst listening to some of Reykjavík's finest DJ's or musicians and admire the views over the entire harbour area towards Mt Esjan and Snæfellsjökull glacier. The bar is indoors but with a large balcony surrounding it, so you can enjoy the views no matter the weather, and wrap up with a blanket outdoors for an insta-worthy shot on colder days.
Austurbakki 2, 101 Reykjavík
Mat Bar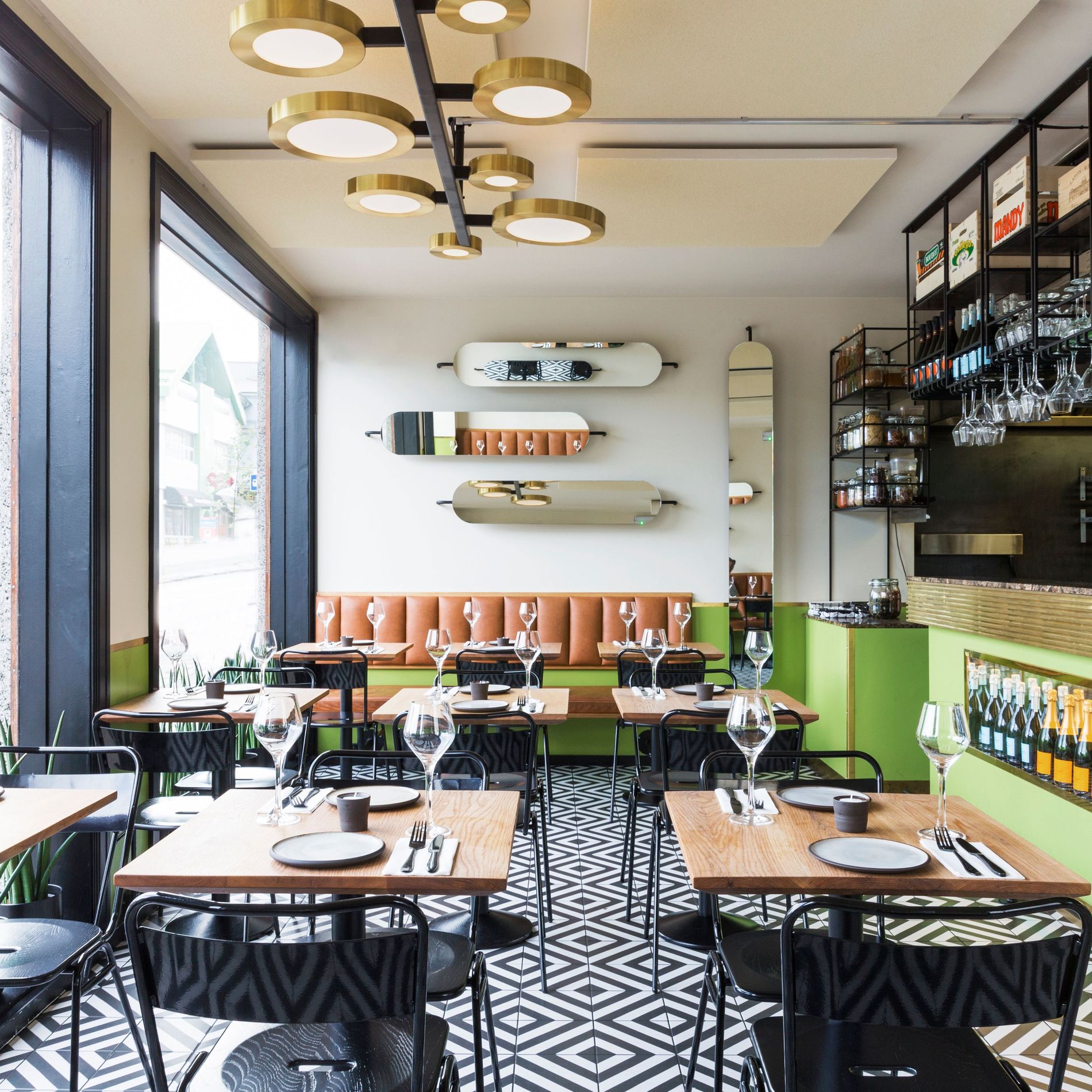 An Americano in Reykjavik: Mat Bar offers consistently high quality cocktails.
Mat Bar is one of the city's best restaurants, offering rotating menus so you never quite know what's going to be on offer. They shake up the food choices repeatedly so you might find their take on Icelandic, Italian or Middle Eastern dishes, but you'll always be sure that the cocktails will be fantastic and the food incredible.
It's a great place for an aperitivo and the large windows make this a spot to see people and to be seen. Pre-booking is recommended.
Hverfisgata 26, 101 Reykjavík
Mikki Refur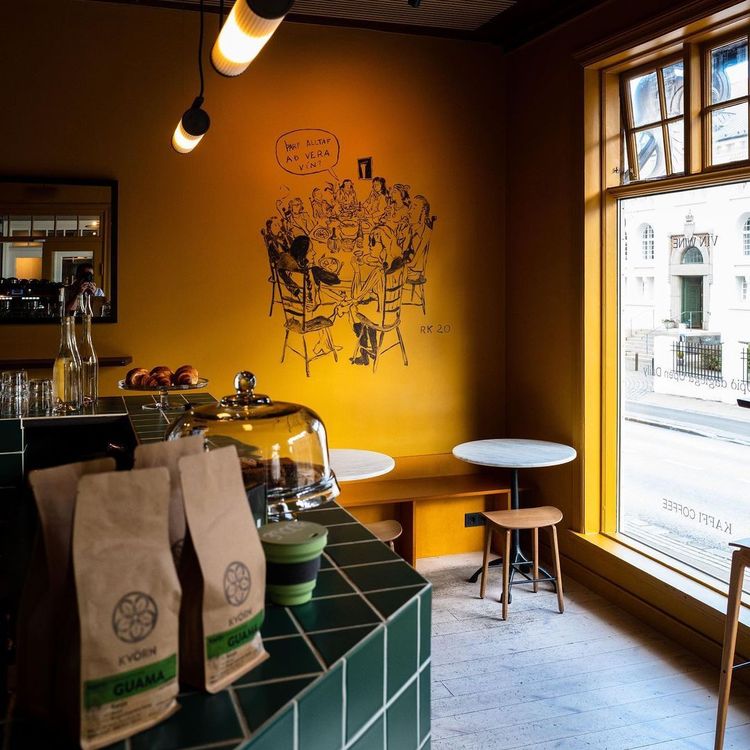 Super stylish Mikki Refur offers up natural wines, local beers or artisanal coffees. Photo: Mikki Refur.
This small and cosy cafe and bar is situated in the same building as interior design shop Norr11, which shows in the stylish interior and the cool clientele.
The name Mikki Refur comes from a beloved children's play by Norwegian author Thorbjørn Egner, and this is the best stop for a drink before or after a show at the impressive National Theatre, situated just across the street.
Choose from natural wines, local beers or artisanal coffees, accompanied by a good selection of bar snacks, or larger dishes if you're hungry.
Hverfisgata 18, 101 Reykjavík