Suffering from cabin fever? Hit the road around Scandinavia to experience the very best our Nordic nature has to offer
There's nothing like a James Bond film to inspire a desire to drive fast in a beautiful car in ravishing scenery. No Time To Die may have featured Norway as one of its key locations - but it's not the only place you can get a kick out of driving in Scandinavia. Here, we present some of the region's best road trip routes. Now all you have to do is make a playlist…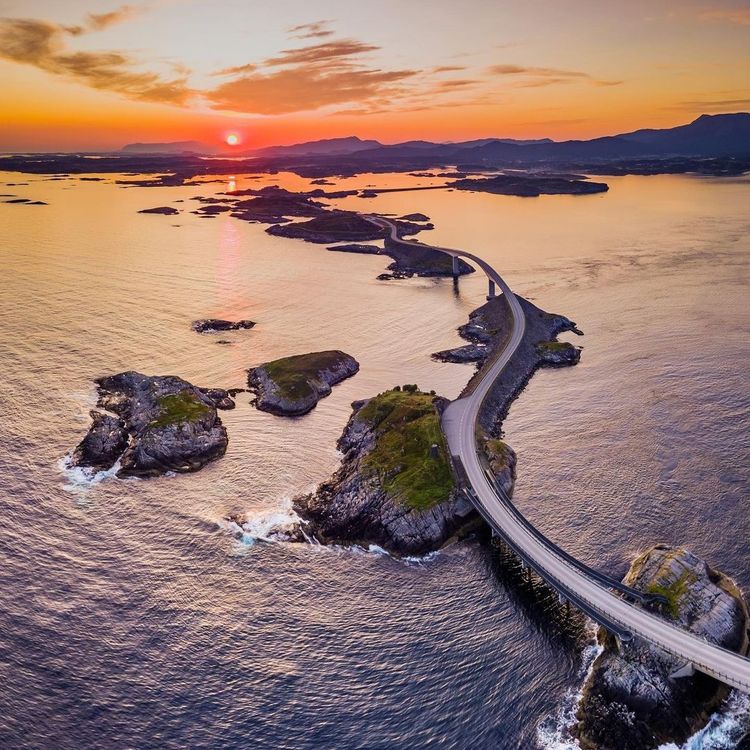 The Atlantic Ocean Road at sunrise. Photo: Fjordnorway (@fjordnorway)
Norway
If you're taking a road trip in Norway this year, put the Atlantic Ocean Road — as featured in No Time To Die — at the top of your list. It's part of a longer drive running along the coast from Bergen to Tronheim via Ålesund that's sure to offer even more thrills. Coastal Norway is dramatic and full of cultural history, with small fishing villages, lighthouses and Viking-era history to discover. Keep Instagram at the ready as you drive between villages of Bud and Kristiansund, just outside Trondheim, where the main James Bond action took place.
Tip: if you can bring an EV with you, Norway has a guide all about electric car travel here.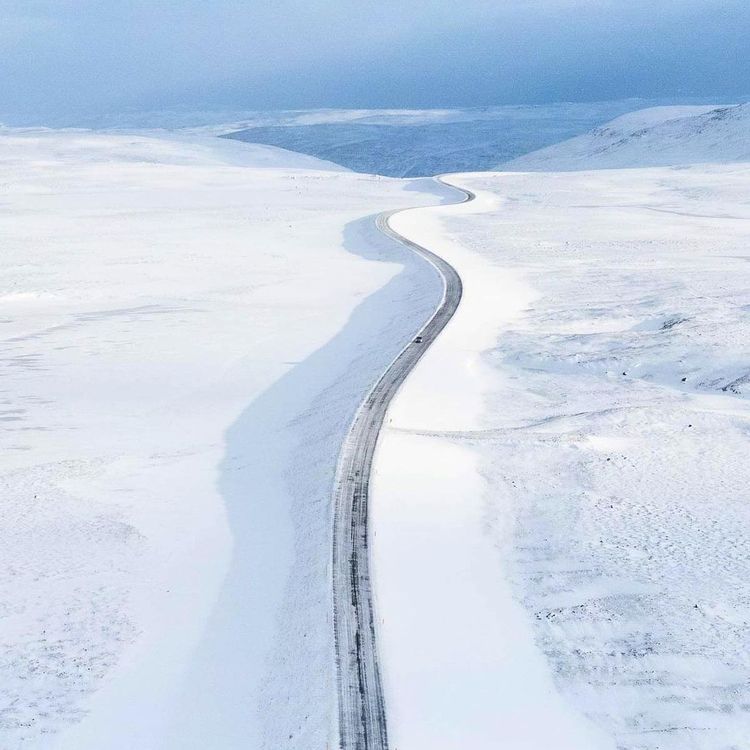 Icy roads at the Westfjords Way. Photo: Westfjords (@visitwestfjords)
Iceland
There's more to driving in Iceland than its best-known route, the Route 1, which takes you on a circular tour of the country lasting a week or more. The recently-developed West Fjords Way takes you on a 950-km tour of the northwest quarter of the island, where dramatic scenery meets quirky villages, wildlife experiences and fantastic food experiences. Hike to waterfalls and seal colonies, swim in hot pools and prepare yourself to be amazed at the views around every corner.
Tip: Roads in Iceland can be tricky. Check Iceland's road safety advice here and always be mindful of weather and seasonal conditions.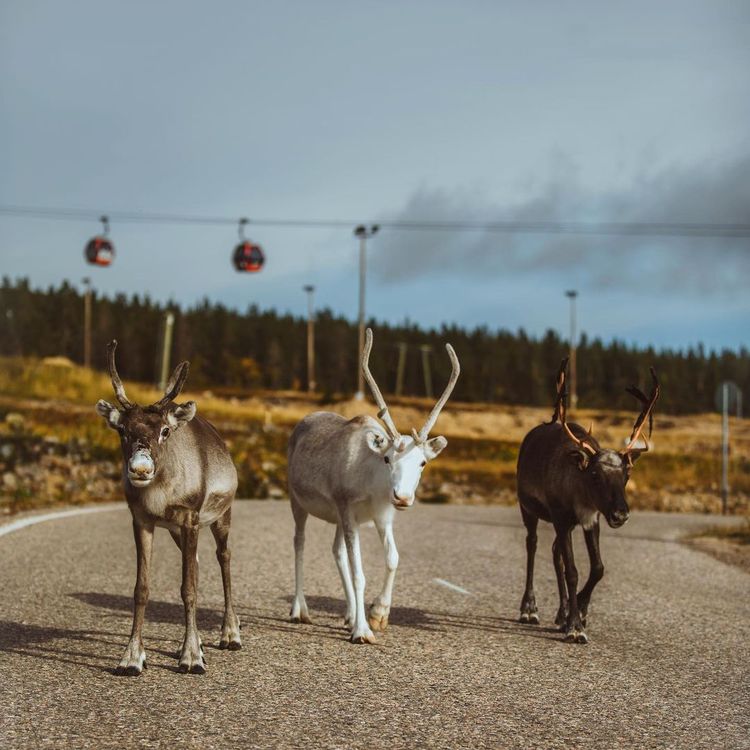 Reindeer on a Finnish road. Photo: Visit Finland (@ourfinland)
Finland
What to expect on a road trip around Finland? Lakes, castles, islands and saunas. If you follow the 1300-km route from Helsinki through to Finnish Lapland, you'll discover everything from the best-preserved medieval castle in Europe to quiet saunas perched by the sides of lakes, hiking routes, modern urban design and ski mountains. From dense pine forests and lakes dotted with islands right through to the tundra of the north, the scenery is diverse and dazzling.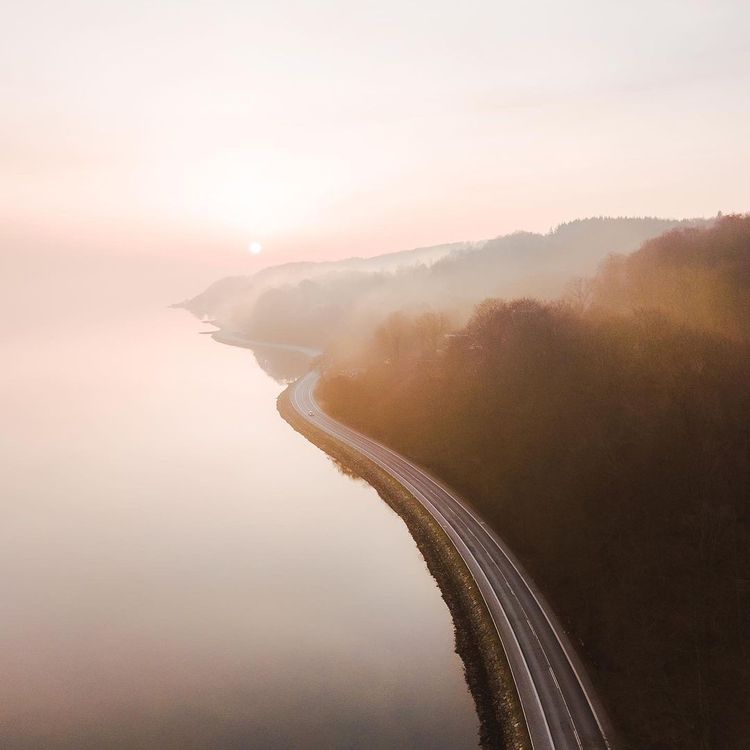 Water views driving through Denmark.
Denmark
In celebration of the new HC Andersen Hus museum that opened in Odense this year, a road trip following Hans Christian Andersen's footsteps around Denmark is a perfect way to uncover some of the country's most beloved charms. Start in Nyhavn, Copenhagen, where he lived and wrote, and drive to Odense, his childhood home. From here, drive to Skagen at the northernmost tip of the country, taking in the cities of Aarhus and Aalborg on the way, and the coastline where, if you squint, you might just see your own little mermaid.
Tip: Buy a hindbærsnitter (raspberry slice) in Skagen. Legend has it the author loved the way a local lady made them so much that he happily drove nearly 400 km just to eat them.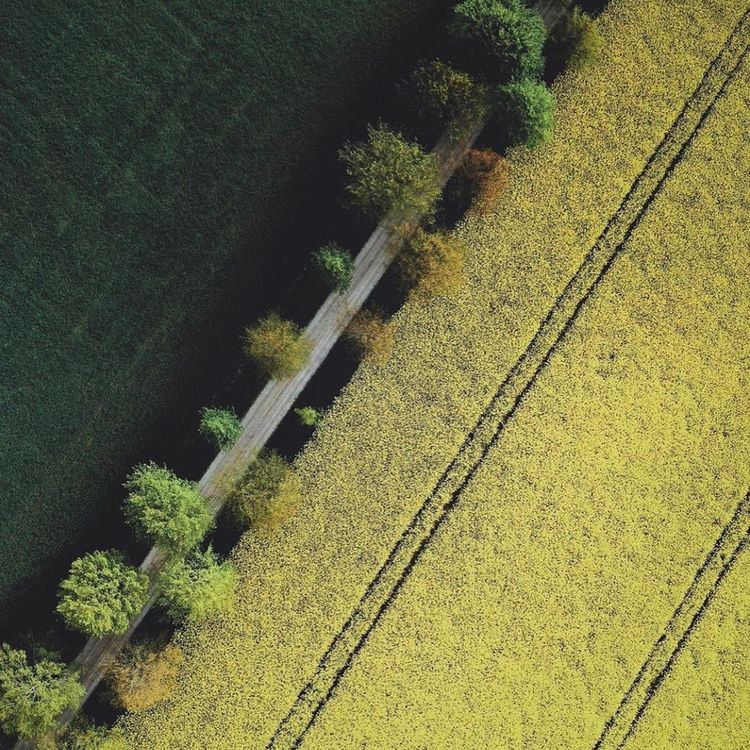 Southern Sweden offers lush fields on the scenic drive.
Sweden
This gentle week-long exploration of Skåne and Blekinge in the south of Sweden is an absolute delight. Starting in Malmö, the route takes in national parks, coastline and some of the most fantastic foodie spots on its route to beautiful foodie-focused Kivik. From here, continue up the coast via Kristianstad to Eriksberg Hotel and Safari Park, one of northern Europe's most luxurious nature reserves. The route then takes you from the east coast to the west coast, ending at Mölle, a charming coastal resort with a castle nearby, before returning to Malmö.
Tip: Kivik is known as the 'Provence of Sweden' — and is a great place to pick up apple juice and cider from its much-beloved orchards.