"It's only innocent people who die in war," says Balenciaga creative director Demna Gvasalia. Today in Paris, he staged a show that not only sent a message to Ukraine but also told his own story of fleeing a war 30 years ago. It was an epic, terrifying, beautiful, and heartbreaking experience in a season when the contrasts between fashion and its surrounding worlds couldn't have been greater
"To me, fashion somehow doesn't matter right now," Demna told Vogue fashion critic Anders Christian Madsen at his autumn/winter 2022 Balenciaga show, which took place in Paris as war rages in Ukraine. Here, everything you need to know about the Georgian designer's most personal – and heart-wrenching – presentation to date.
Demna sent a message to Ukraine
Before icy lights illuminated the giant snow-filled arena erected within Le Bourget where Balenciaga's most epic and emotional show ever played out, Demna recited a poem in Ukrainian over the speakers. "It's a poem to Ukraine about being strong, about focusing on love, and that its sons will protect it. That's not a good translation, but the people I wanted to send this message to will understand it," he said backstage after the show. On every seat, he had placed a T-shirt dyed in the blue and yellow colours of the Ukrainian flag, and a written statement explaining how he had decided to go on with the show because he didn't want to give in "to the evil that has already hurt me so much". Thirty years ago, when he was just 10 years old, Demna and his family fled their native Abkhazia in Georgia, after local separatists with ties to Russia claimed the land and killed more than 5,000 ethnic Georgians.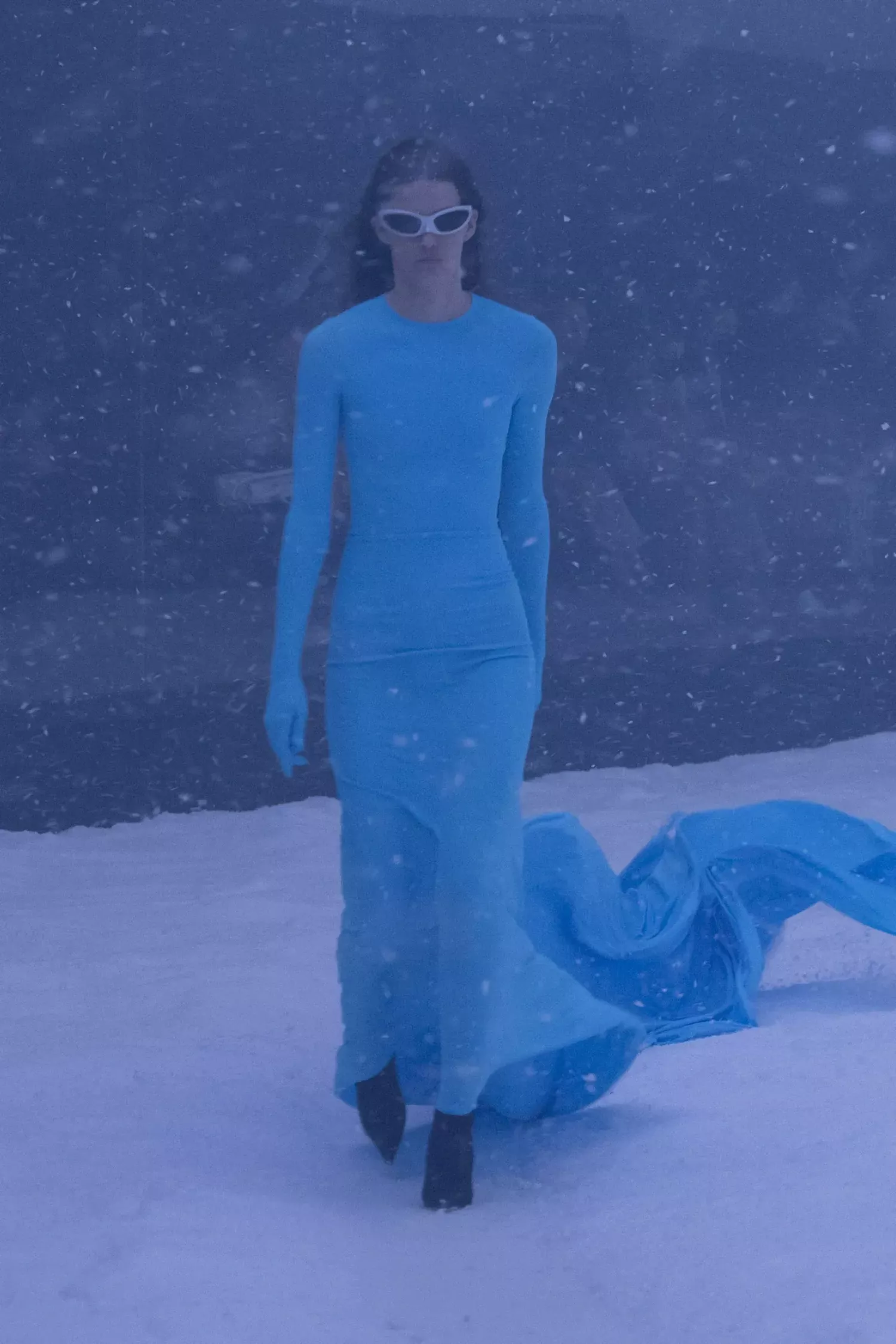 It was originally about climate change
Originally, Demna – who no longer uses his surname in a professional capacity – meant for his giant, manmade arctic set to reflect the ecological decline we're experiencing in a time of climate change. "It was a comment on what's going on in the world. Maybe in 50 years, people will have to go to these places to have an artificial experience of a certain weather condition that we take for granted," he said. "But it turned into something else, which often happens with my shows, somehow." Watching his largely black-clad cast fight their way through a snowstorm in the mountain-like territory he had built was terrifyingly apropos and – with the addition of a traditional Slavonic piano soundtrack – completely heart-wrenching. Some were dressed in their finest, others in towels, some carrying their shoes on their backs.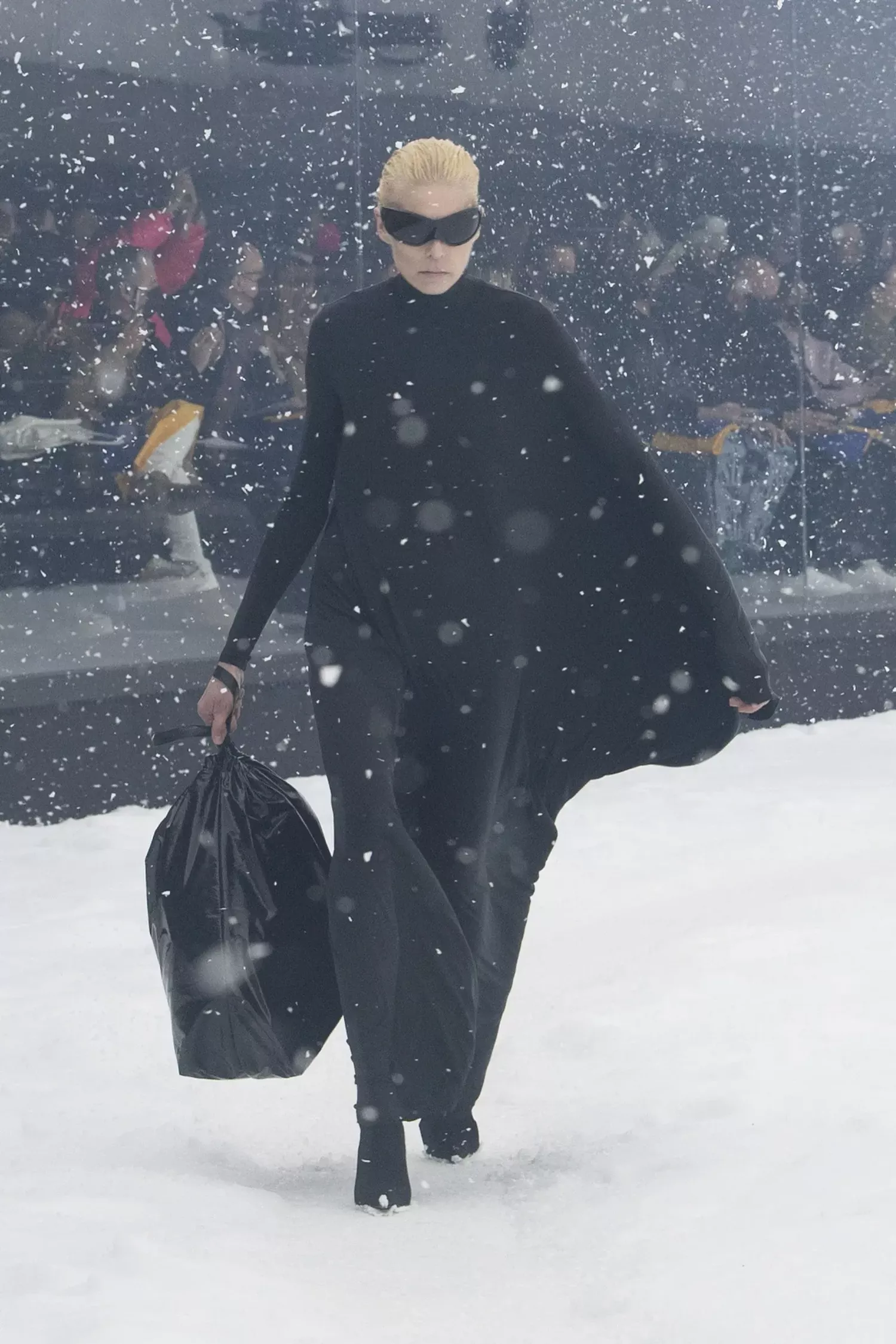 The collection featured disposable elements
In light of Demna's own background, it was hard not to see the collection through the lens of current affairs. Next to the more haunting imagery that unfolded on his runway – those half-naked people fighting their way through the snow – garments had an air of disposability about them, the kind of make-do and mend we associate with times of turbulence. They were rooted in his own memories: Handbags looked like fabric sacks tied together with drawstrings. Floral dresses evoked the repurposing of old upholstery. As they wafted in the harsh wind, the trains of evening gowns appeared shredded as if they had been beaten by the weather. Super light trench coats were constructed so they could be compressed into their own pockets. A bodysuit was created entirely from yellow tape wrapped around the body. (In the audience, Kim Kardashian wore an identical piece she said had taken 30 minutes to tape up in the morning). "I used to do that as a little Georgian boy playing with curtains and tape, and being punished for it," Demna smiled. "It's a revenge for that; a payback moment. But it also made everything less madame, less bourgeois, less upper-class," he said, referring to a fur coat in trompe l'oeil embroidery wrapped in tape. "It's no longer the image of a rich lady walking in an expensive area. It breaks that. I like that an element like that can break a silhouette and re-contextualise it."
It reflected Demna's own experience
Only a designer with Demna's personal experience could have staged a show like this in a time like this. "I was seeing myself walking the paths from 30 years ago when I was in the shelter like some other 10-year-old Ukrainian boys and girls with their parents today, not knowing when the city will fall on you," he said, a Balenciaga staff member tearing up behind him. "Standing here today and doing this show, if I could visually express that path, it was like those half-naked people walking through that wind. I have to say, it's so personal it's hard to explain it." In 1993, he escaped Abkhazia with his family, fleeing across the Caucasus Mountains. "My dad went over the mountains by foot, because he knew we couldn't go all the way. People died there. For a week we waited and finally my dad and my uncle rented a helicopter and found us. They were throwing us into a helicopter with the door open, full of refugees, and we flew off," he once told me. The family settled in Tbilisi and eventually moved to Ukraine, where Demna learned the language.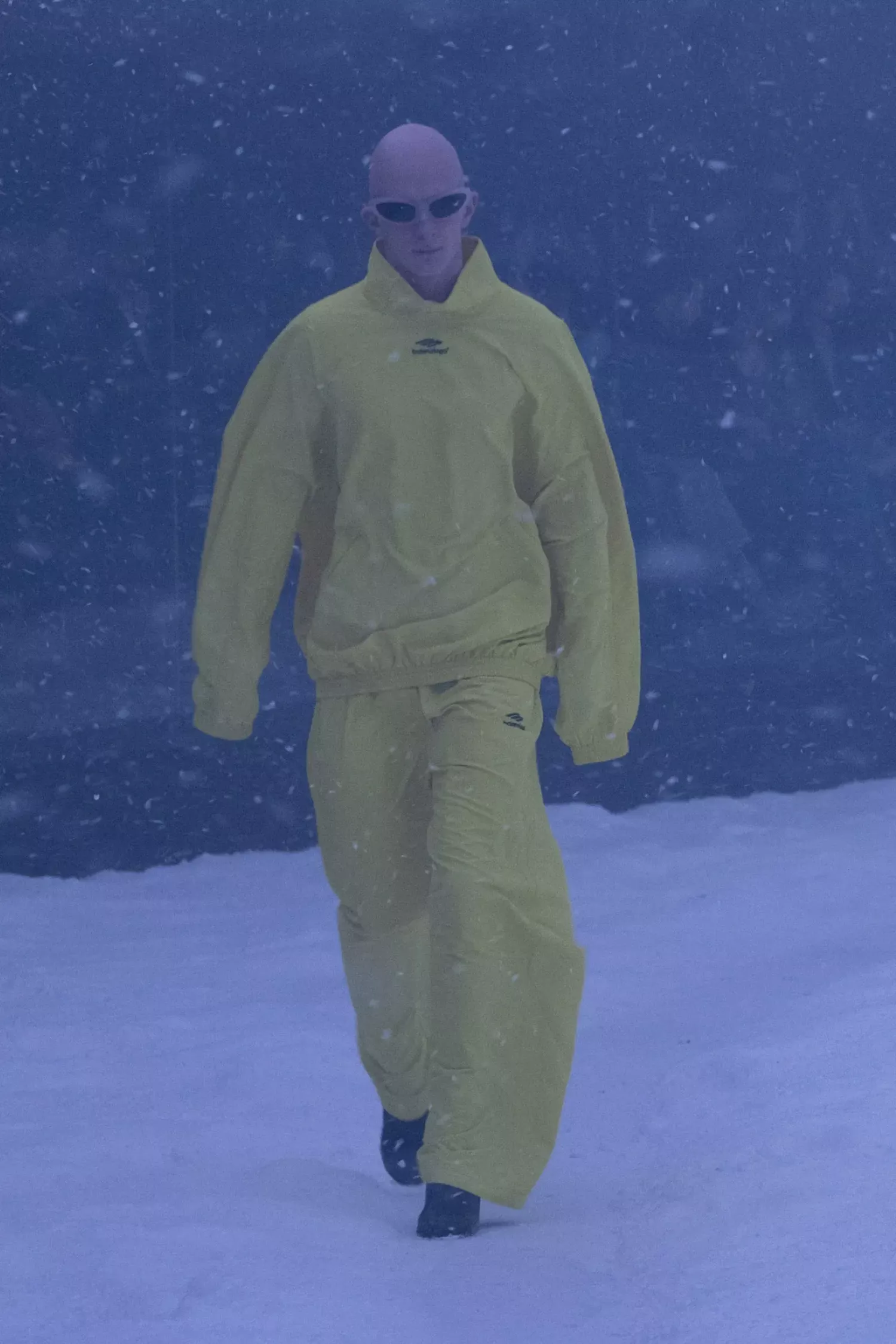 The message was love
"It's only innocent people who die in war. I've experienced that and actually blocked it out for 30 years, until I started reading the news last week. It brought all this pain back, like anyone who has gone through that," Demna said. "The message is love, always. And fashion has to assume that, at least in terms of taking a position on it." The show was an example of how important context is to a staging like this in the age of social media; how important it was to know Demna's own story to grasp the authenticity behind the imagery he presented. It was an epic, terrifying, beautiful, and heartbreaking experience in a season when the contrasts between fashion and its surrounding worlds couldn't have been greater. As Demna said, "To me, fashion somehow doesn't matter right now."