Where to get your hands on one-of-a-kind wonder knits that won't destroy the planet
As people increasingly turn their backs on fast fashion, handmade knitwear and one-of-a-kind crocheted items are taking off. Here are five young brands who are not only creating unique slow fashion pieces, but doing so with sustainability firmly at the heart of their ethos.
Waste Yarn Project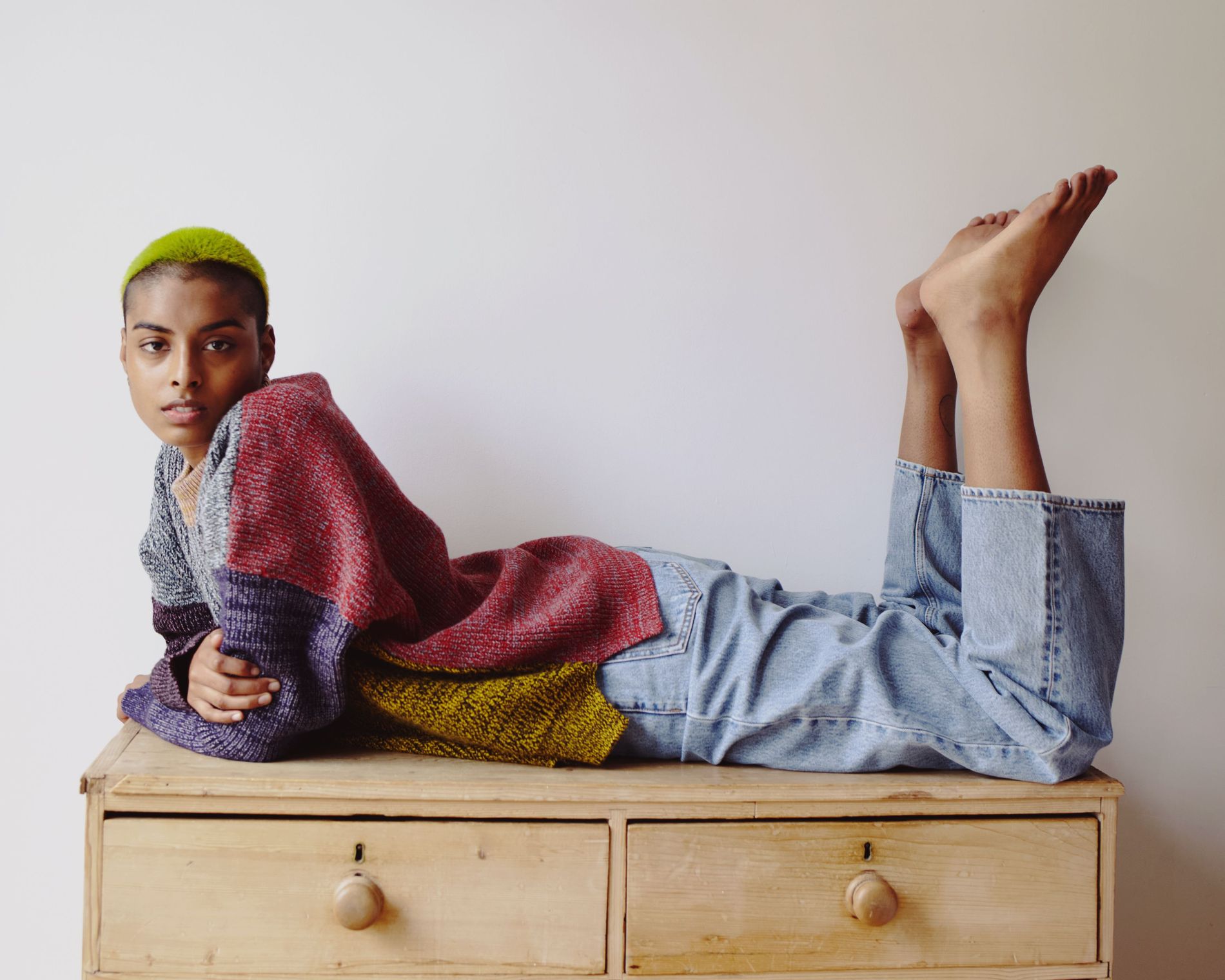 Photo: Courtesy of WYP
"I have always had an interest in making things from scraps and left overs, from a practical, environmental and design point of view," says Siri Johansen, founder of Waste Yarn Project. "I like the design 'restrictions' it makes you work with, the random effects it can create. That's hard to achieve if you can choose what you want from the start."
Launched in 2020, WYP combines Johansen's interest in working with "restrictions" with her decade-plus experience at fashion houses such as Kenzo and Burberry to create chic, unisex collections using discarded materials. "The idea was to put all the excess yarn from the industry back into use — for the material not to devalue," explains the Norwegian-born, Paris-based designer.
While her time in the commercial fashion industry clearly pushed her to think more about sustainability, Johansen points to her mother and grandmother's influence ("both were great hand knitters") as well as her learning of knitting at school as important in her choosing to work with yarn specifically.
And though the brand carries a serious message about fashion's environmental footprint, WYP is full of fun and quirkiness too. "We are using games to manage a random material supply," Johansen says of a Wheel of Fortune-like step in WYP's creative process. "The shapes are designed, but for every piece the knitter spins the wheel which determines the different yarns and colours to use on each panel. They all have an element of something slightly strange and intriguing about them, which is something that's hard to consciously design. It's so exciting to see each new combination coming out of the game system."
Lulu Kaalund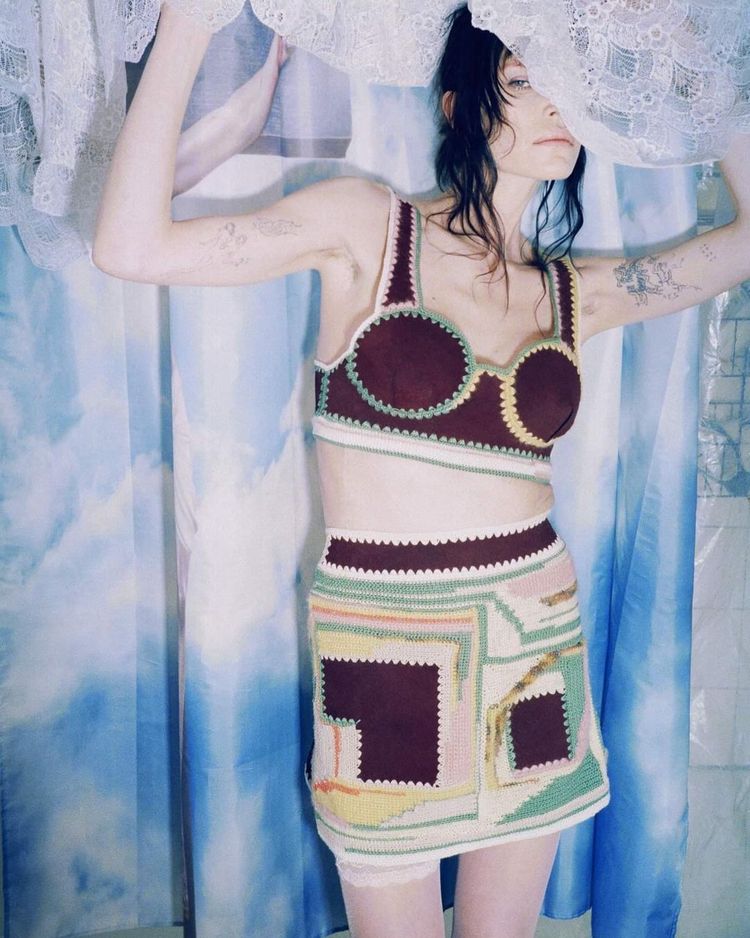 Photo: Lulu Kaalund
The Danish crochet designer and artist Lulu Kaalund creates the most amazing one-of-a-kind crochet garments and art wall pieces with whatever yarns that comes her way. The items she creates are highly sought after, but she only got into crocheting in the first place after an accident. "I was studying to become a cook for four years, but then I had an accident and hit my head, so I needed a project while recovering," she tells us.
Her first work was a baby blanket, but she was soon turning her hand to wall hangings, sweaters, dresses, bags and hats. Since then, her one-of-a-kind pieces have been seen on the runway for Soulland, and she has created crochet pieces for Ganni and Anne Sofie Madsen. Her latest project includes playful limited crochet swimwear for Sian Swimwear.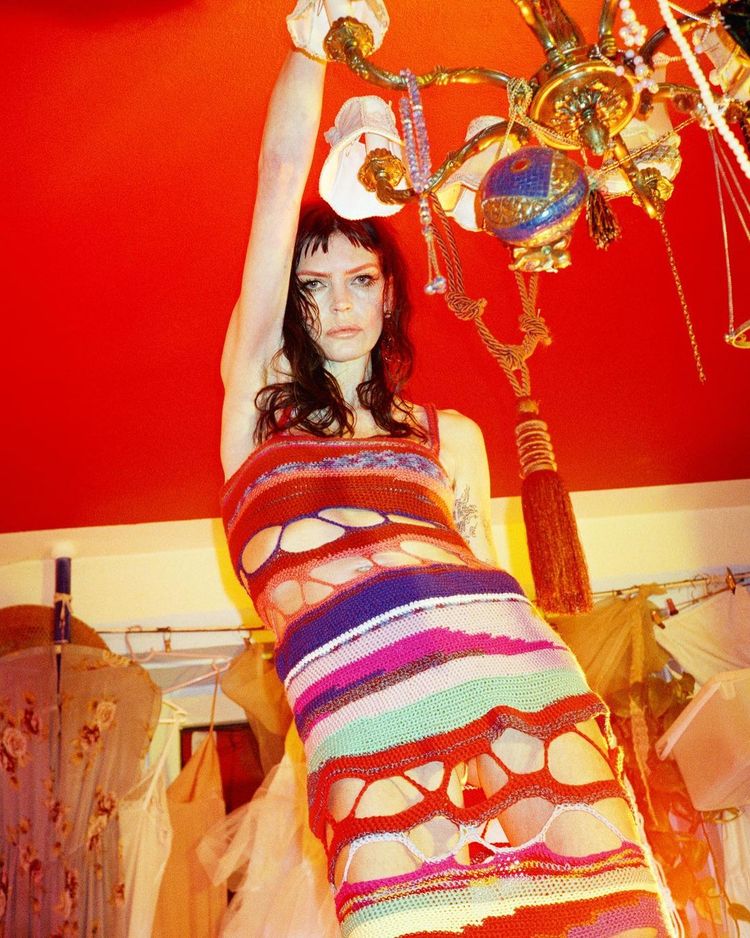 Photo: Lulu Kaalund
Kaalund works freehand and says she does not make a plan before she starts on her projects. They're often dictated simply by the materials she comes across, while her inspirations can be varied. "At the moment I'm very inspired by hedgehogs. I spend an hour a day reading about them in a Facebook group I found," she says, before adding, "and Winnie the Pooh."
Oneiric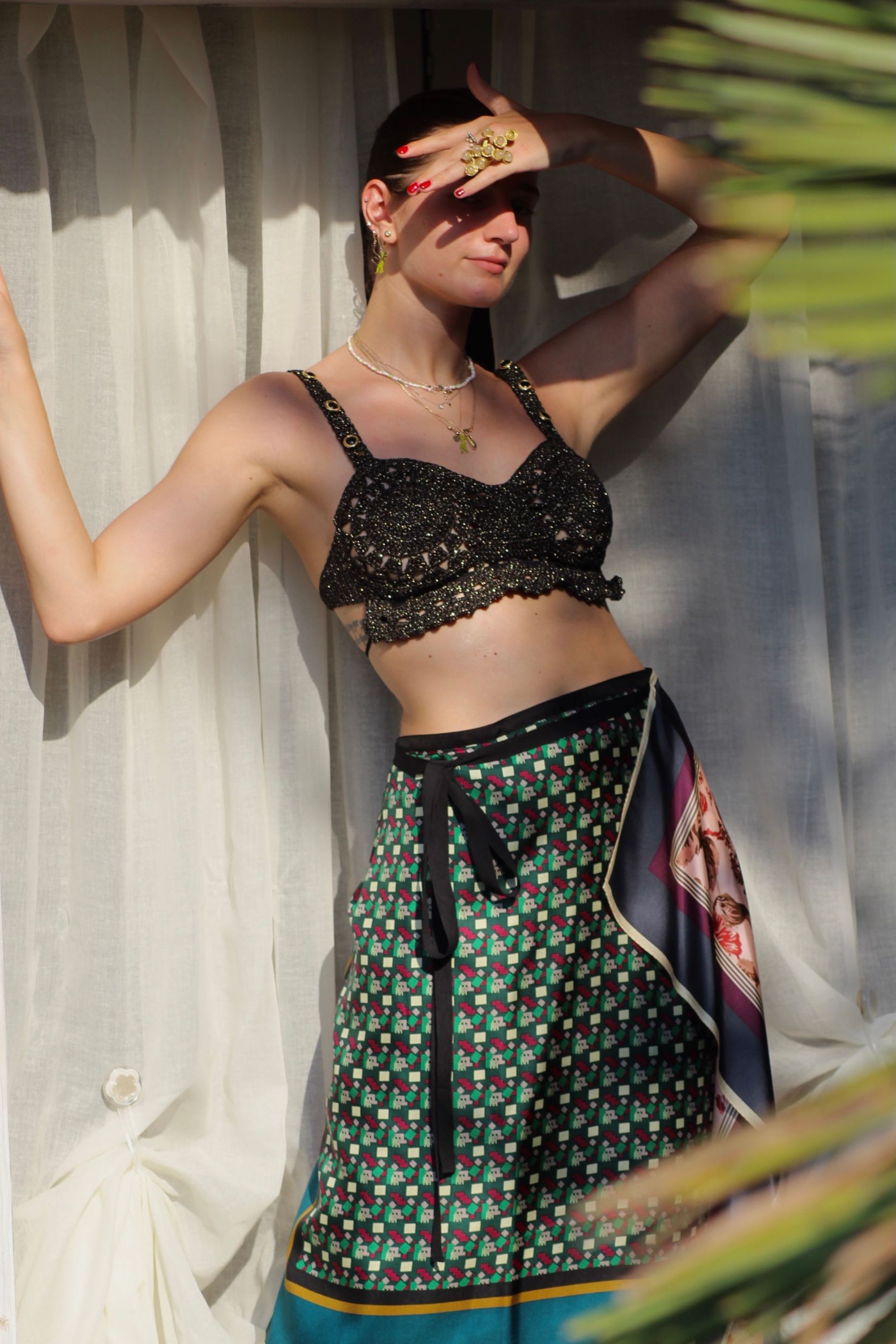 Photo: Oneiric
Oneiric creates a mixture of season-less garments made of deadstock knit fabric and handmade pieces made in Conegliano, Italy. Each item is made to order and founder Alice Zanchetta jokes that she is crocheting at all hours, "like a real granny."
Zanchetta began crocheting after seeing a crochet top that she wanted online and being told by her mum that she was too young to purchase it. She decided to teach herself how to make one instead. "With a bit of practice, I continued to improve my technique and three years ago, when I started studying fashion, I decided to create the Instagram page to share my creations," she says.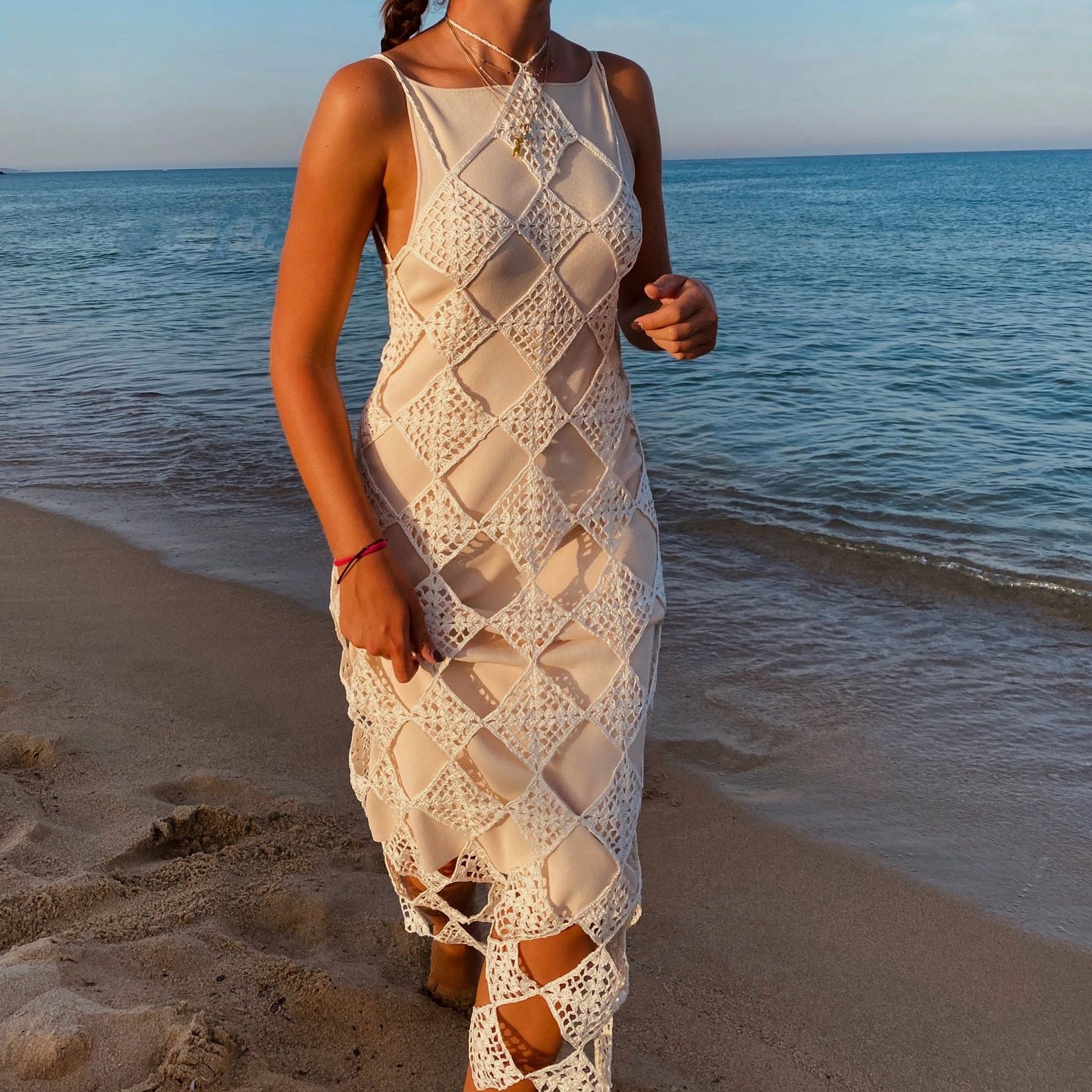 Photo: Oneiric
As with many of the other brands on this list, Vanchetta uses waste and leftover yarn in her pieces. Her access to a regular supply is perhaps easier than most however. "My family owns a knitwear factory and over the years I have always been fascinated by this world," she says. "Obviously the reality in which I grew up influenced me a lot and I can say that my mother and my grandmother passed this passion on to me. They have always been my point of reference."
Loris Clothing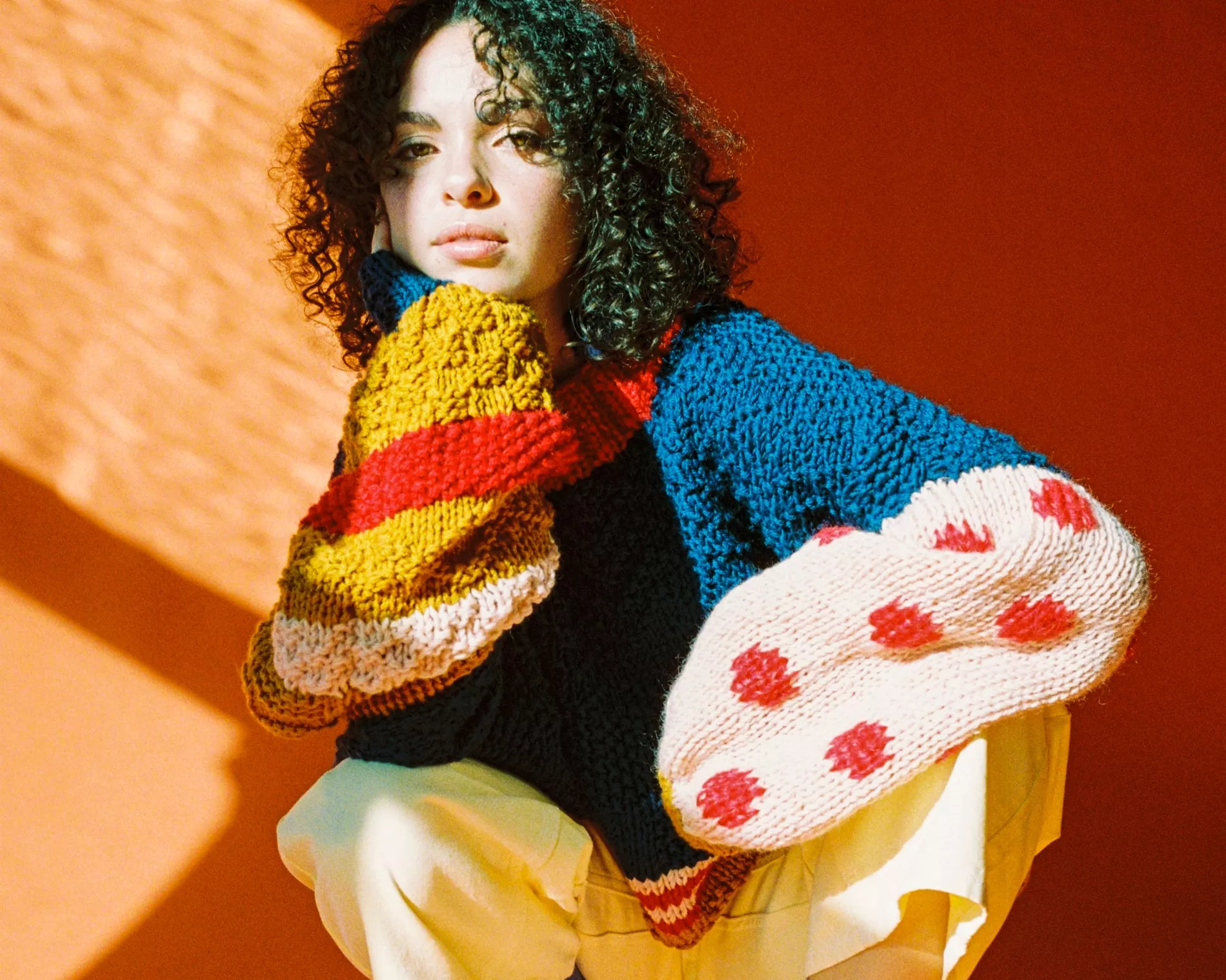 Photo: Nella Fullard
Another Melbourne-based label, Loris Clothing creates handmade made-to-order knits with the environment in mind.
Founded by Lisa Kerr and inspired by her late mother Loris, who taught her how to knit when she was young. the label designs unisex knits in biodegradable yarn and recycled fibres. "We want you to know how much time and care went into that piece, and we want that knowledge to fill you with confidence and a sense of security," says Kerr of Loris' lines. "No garments will ever be the same, so whatever piece finds its way to your wardrobe will be totally unique and all you."
Kerr decided to launch her label after years of knitting for friends and family, but she admits that it's not been easy. "Originally, selling online with no physical shopfront was difficult. People will sometimes question the price of the pieces but don't fully understand that I knit every single stitch myself and that one jumper can take up to 50 hours. Lately, however, with the growing mindset of buying less and buying locally, people are more open to seeing the value in a 450 dollar jumper they can wear day in and day out."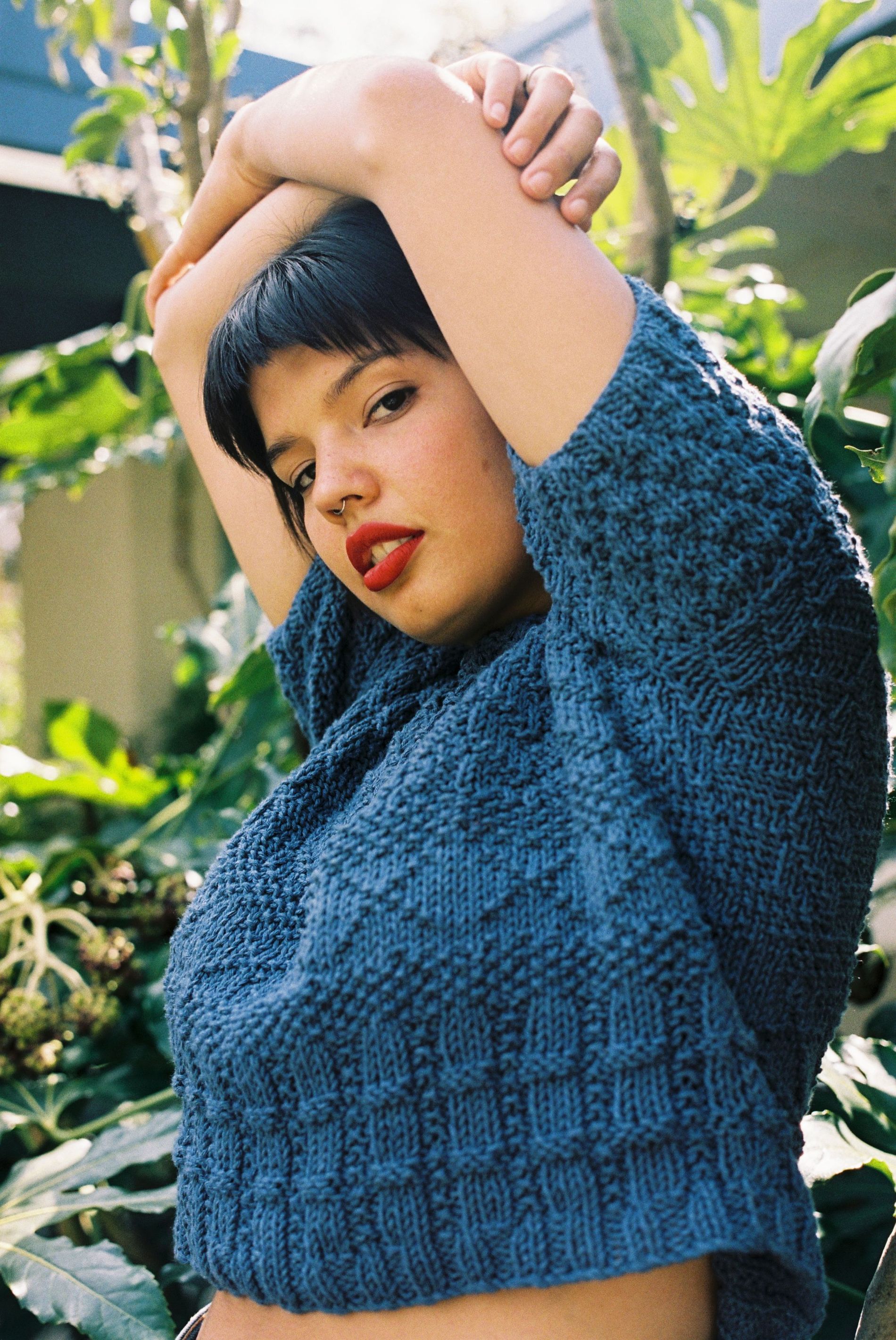 Photo: Nella Fullard
It's also clear that Kerr takes pleasure in giving the old yarns she uses new life. "A lot of my original collection was made from yarn I'd collected over the years and yarn belonged to my late mother," she says. "I always check out thrift stores, as well as deceased estates and de-stashing markets. I recently purchased an enormous amount of yarn from a woman online who was selling her own late mother's yarn. Her mother had owned an iconic store in rural Victoria back in the 1970s. The daughter had stored it for decades but had decided it was finally time to move on, so she was selling it all. When I told her about Loris, she was thrilled to know that her mother's yarn would be turned into something fabulous."
Cavia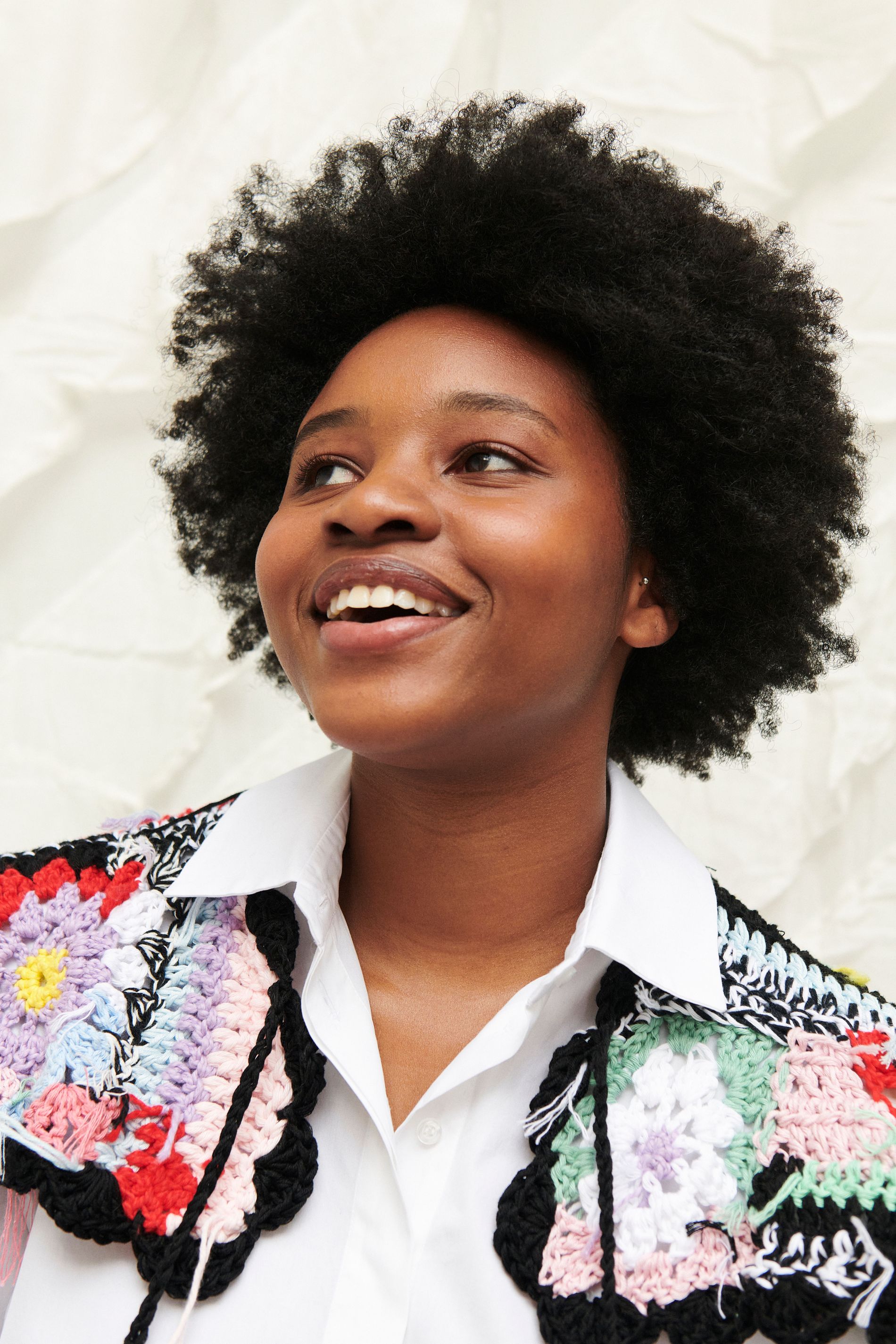 Photo: Cavia
An upcycling and eco-friendly clothing brand founded in Italy by Martina Boero, Cavia puts a focus on knits and stand-out crochet pieces. Each item is individually made in Italy, reworking vintage items, leftover yarns and sustainable fabrics.
Boero says he first got the idea due to Covid lockdown boredom. "All the stores where closed and I really needed to do something with my creativity. I started with the yarn I found in my attic and then with the clothes I didn't like anymore. It was something I always loved to do: create beautiful things with something you don't like anymore."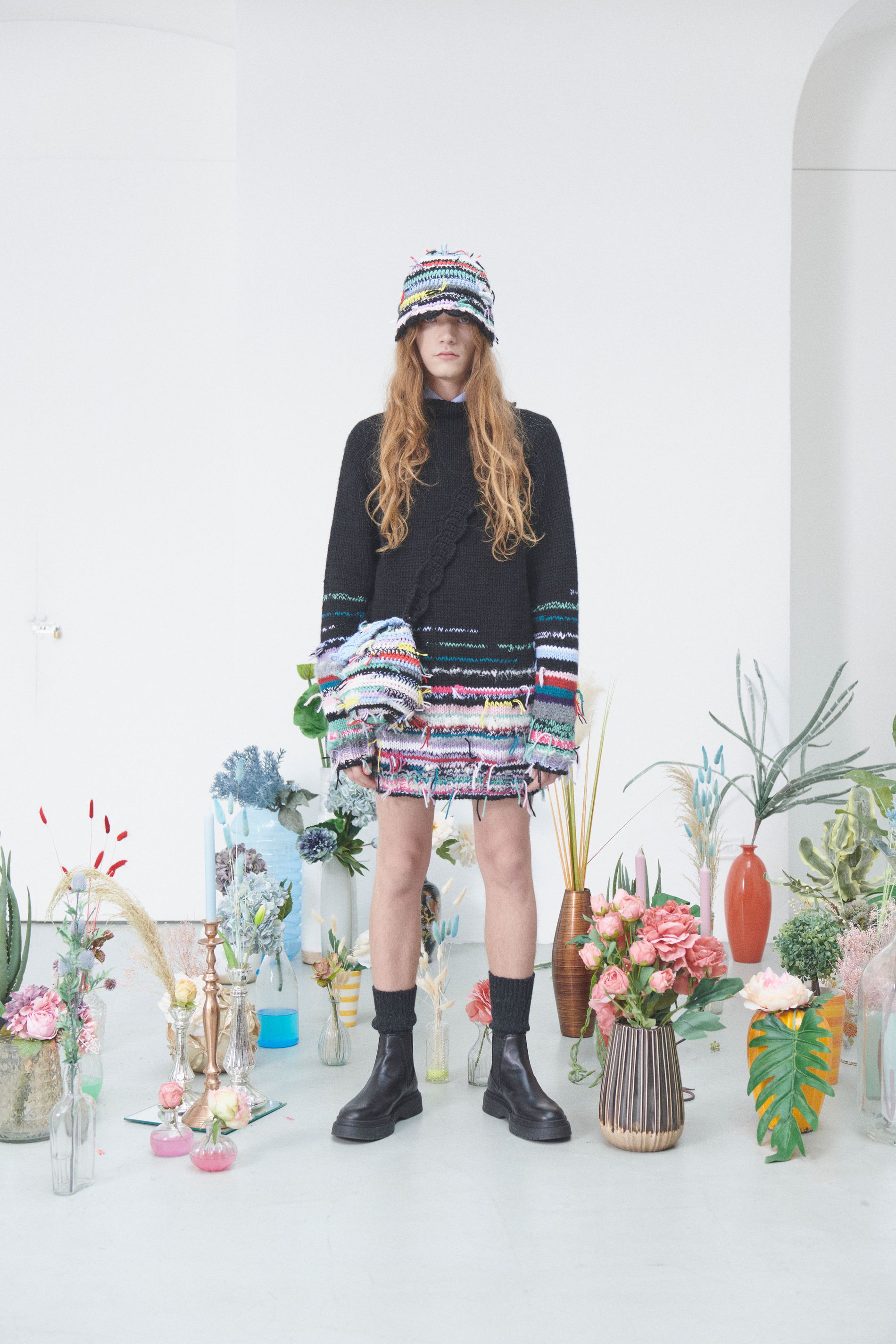 Photo: Cavia
Beyond boredom relief, Boero was adamant that his new project would have sustainability at its core. "When I started thinking about Cavia, the first thought was to create something like 100 per cent sustainable. I'm vegan, and I always really care about what we are doing to our planet, but I also love the fact that with our creativity we can create amazing things, from foods to architecture, without hurting anything."
Working with fabric stockists to pick up leftover materials, while also experimenting with upcycled denim and weaving in elements from vintage items, Cavia has so far released two vibrant, quirky collections.
Boero is proud to be part of the conscious slow fashion movement. "We need to learn to wait," he says. "We are living like everything we need is just a click away, and we feel that we are happy if we have the opportunity to choose everything we want at the supermarket. With made to order you can produce just the thing the person want to buy. Of course you need to wait 2-3 weeks for your style but all the waiting will be replaced by having a piece that someone made just for you."