Iceland isn't always top of the list when it comes to skiing destinations, but the country offers a ski experience unlike any other
Iceland is not your typical skiing destination. There are no Alpine-style ski packages or ski lifts here — instead, it's a playground for intrepid explorers with everything from heli-skiing expeditions to combination skiing and sailing trips where you can glide from the highest mountaintops all the way down to the water. Here we've rounded up some must-know facts about what to expect from skiing in Iceland.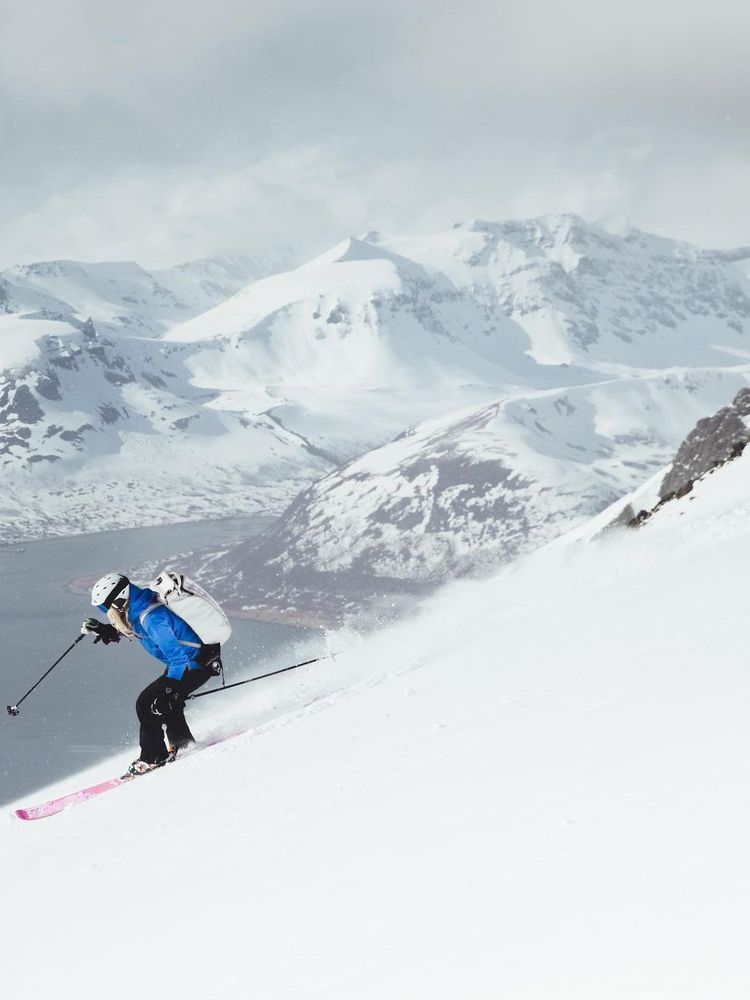 Photo: Asa Steinars
The lack of snowfall has perks
Even though the word ice is found in the name of the country, believe it or not, some parts of Iceland don't have stable enough snowfall to ensure a good ski season. For downhill skiing the slopes are short and lifts are few and far in between. However, while the country has a reputation for being expensive, skiing in Iceland is often remarkably well priced with a range of day passes available for most slopes.
Ski touring is catching on in the country however, and that can often mean things get significantly pricier. There are multiple options to go cross-country skiing and backcountry skiing, where breathtaking views of surrounding mountains and fjords make up for the lack of infrastructure, but this type of off-piste activity does come with a hefty price tag.
It's nothing like the Alps
There are no gondolas or cable cars, no log cabins, no (official) aprés ski or mountain restaurants in Iceland. There is also no risk of going head first into a tree, as there are no trees either. Instead you'll find unobstructed views stretching far into the horizon, and if you're lucky you might swish down a mountain under the dancing lights of the auroras before relaxing in a natural hot spring at the end of the day.
Iceland's winters have short daylight hours, so ski pistes are lit up and skiing is available into late evenings.
There is a very short downhill ski season across the country. The first ski days might start in December and last until late April, but conditions are most reliable in February and March. The first cross-country pistes pop up in November and might last until April, with several options for shorter or longer cross-country trails. However, the backcountry ski season usually starts in December, really kicks off from February and often lasts until June. Locations in the Westfjords, north and east of Iceland are much more reliable for the amount of snow than the south, but also have darker days at the height of winter and may be more prone to storms.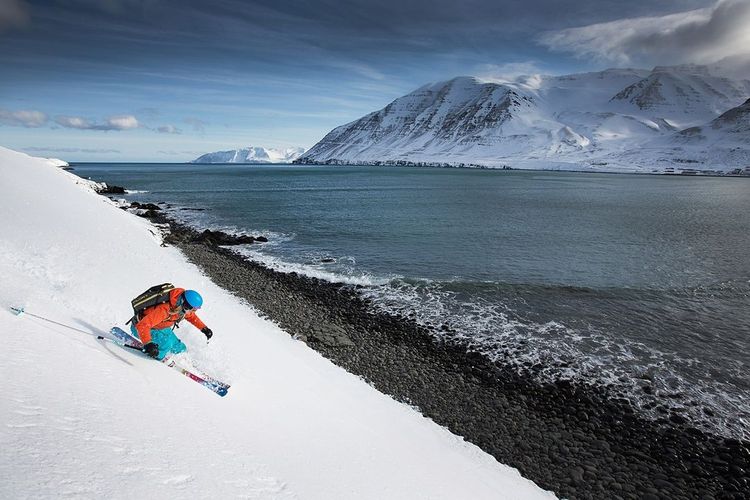 Photo: Visit North Iceland /@northiceland
There aren't many major ski resorts
Small towns across Iceland might have a local ski area, likely with one or two button lifts and perhaps a hut where you can make use of a sandwich grill or microwave to warm up your packed lunch, but there are only a handful of ski centres in Iceland, where you can usually find a small number of lifts, a cafe and equipment rental. Out of these, Bláfjöll and Hlíðarfjall are the larger ones as they cater to two of the largest urban areas in Iceland and the only ones that feature chair lifts. Bláfjöll is just a 30 minute drive from Reykjavík and Hlíðarfjall is located by Akureyri in the north of Iceland.
In the Westfjords you'll find Dalirnir, two joined valleys that are close to the town of Ísafjörður. Despite only having three-button lifts the area features decent cross-country pistes and hosts the largest skiing event in Iceland, Skíðavikan or The Ski Week. Additionally, the main characteristic of the Westfjords are obviously its many fjords, and accompanying mountains. This is the most rural area of Iceland, and can be cut off from the rest of the country due to heavy snowfall in winter. If you don't mind putting on your skins and earning your turns by walking uphill before you get to slalom down again, then this is your best bet for some fresh powder.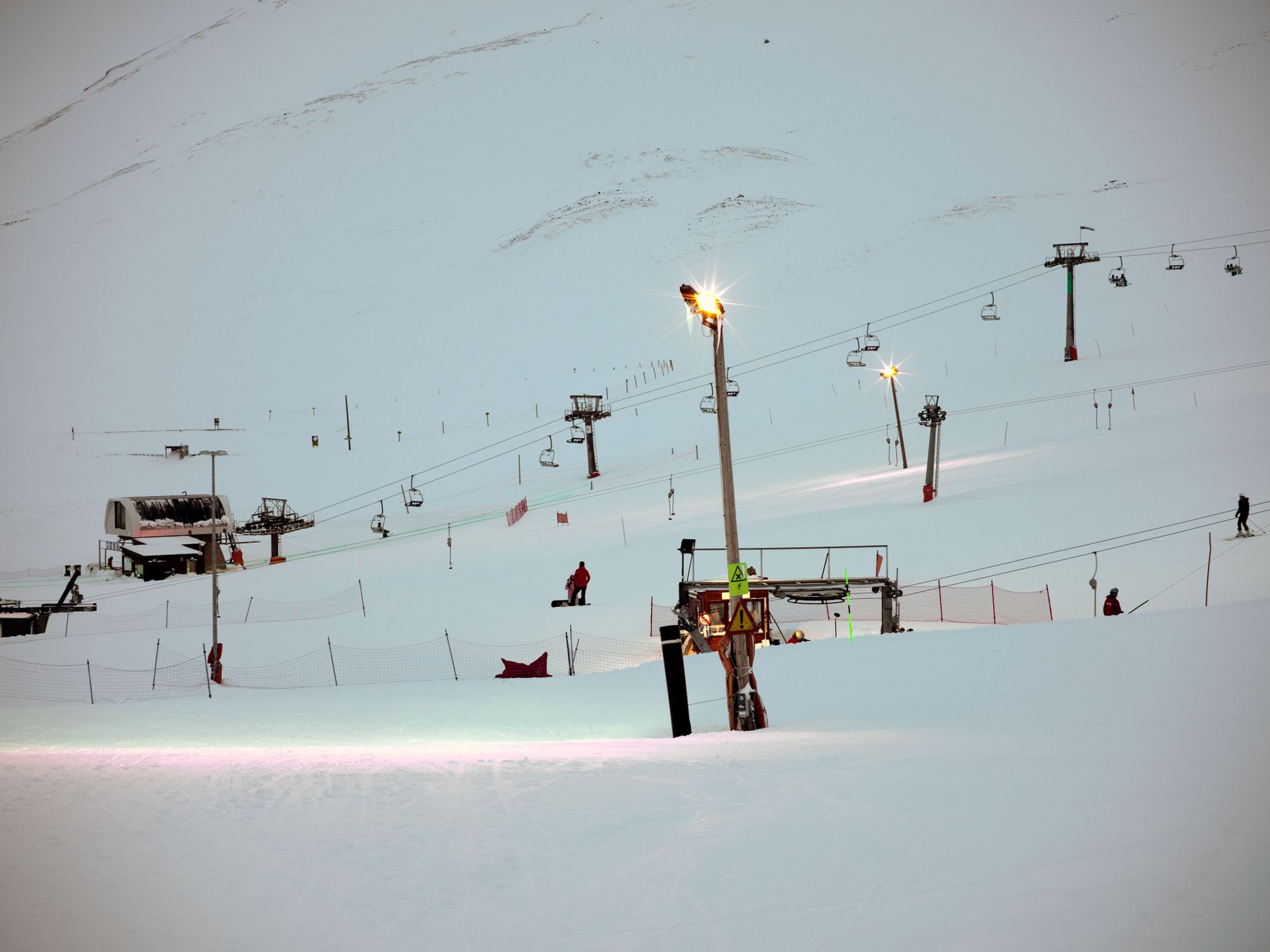 Helicopters and boats are part of the experience
From Ísafjörður, it's possible to book a multi-day sailing and skiing package, exploring new slopes each day on mountains that may never have been skied down before. The expedition brings you to remote fjords as the boat anchors in a different harbour each day and gives you the option to kayak between the towering mountains in between runs.
Another fantastic area for backcountry skiing is the easily accessible Tröllaskagi. Here you'll find some of the best infrastructure when it comes to backcountry ski packages. Tröllaskagi is a mountainous peninsula in northern Iceland with several small towns, such as Siglufjörður, Dalvík and Ólafsfjörður, each with its own ski area.
Viking Heli Skiing and Arctic Heli Skiing both operate on the peninsula, offering luxurious and breathtaking heli ski packages. If you want to leave the helicopter out of the equation, you can also jump on a snowmobile and opt for cat skiing packages offered by Sport Tours.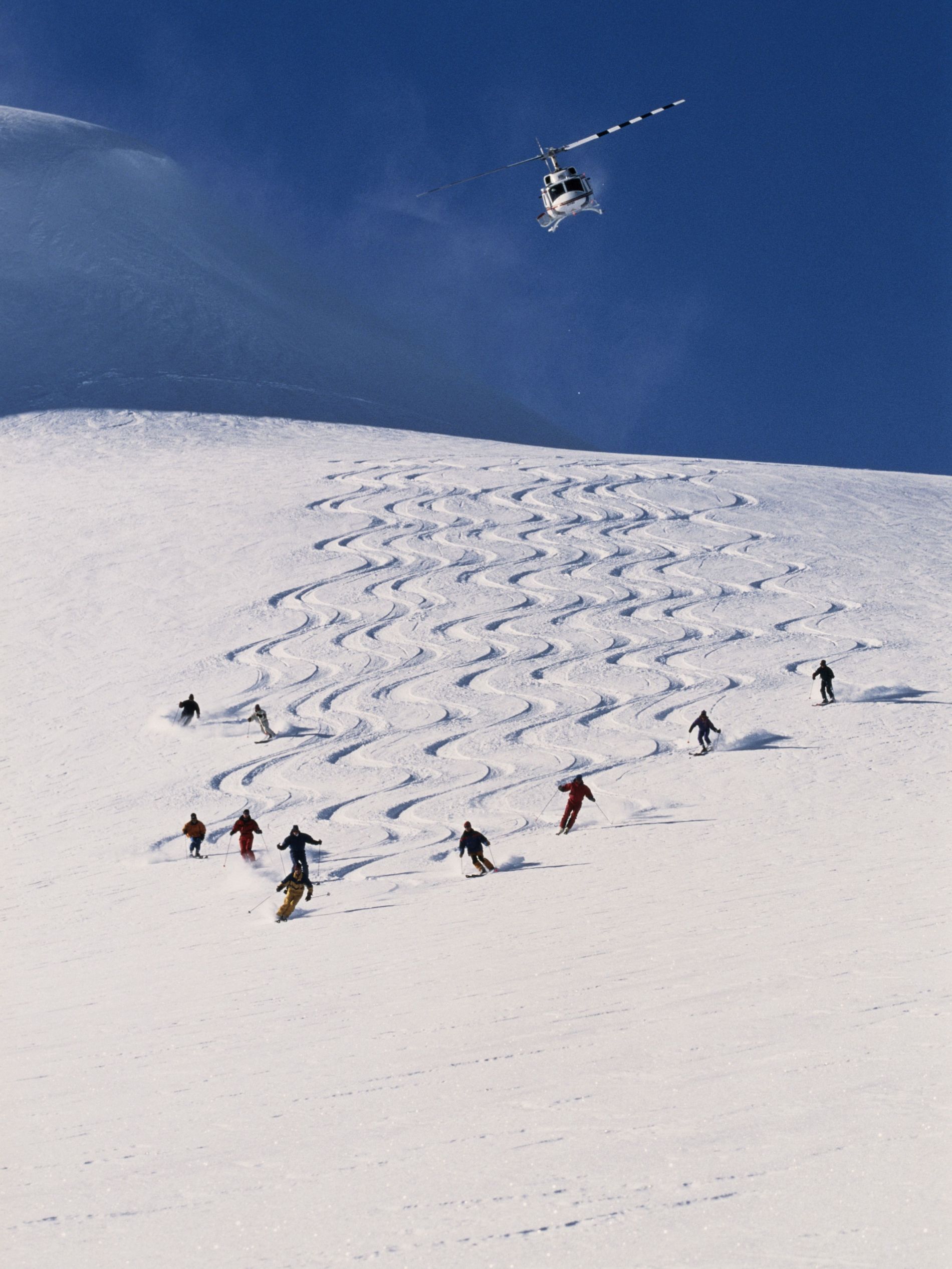 Photo: Getty
Going off-piste here is easy
The east of Iceland holds some of the least explored ski areas in the country, but in recent years has become better known among locals and travellers alike. Initiatives such as the Austurland Freeride Festival that take place in March have helped get the word out that this area hosts some of the most spectacular peaks in all of Iceland.
The best ski area is Oddsskarð, located close to the town of Eskifjörður. The facilities here consist of just three lifts and a cafe, but two button lifts do span 1,163 metres, and it's also possible to ski down an off-piste slope right to the nearby town.
Making good use of how high up Oddsskarð is, you can save on skinning by starting some backcountry options from the top of the ski lifts, such as up to Svartafjall or Goðatindur. Both options are steep and require some good backcountry knowledge, but from the top of Goðatindur you'll have about a 4km run down to the fjord, and you'll likely be the only one on the slope.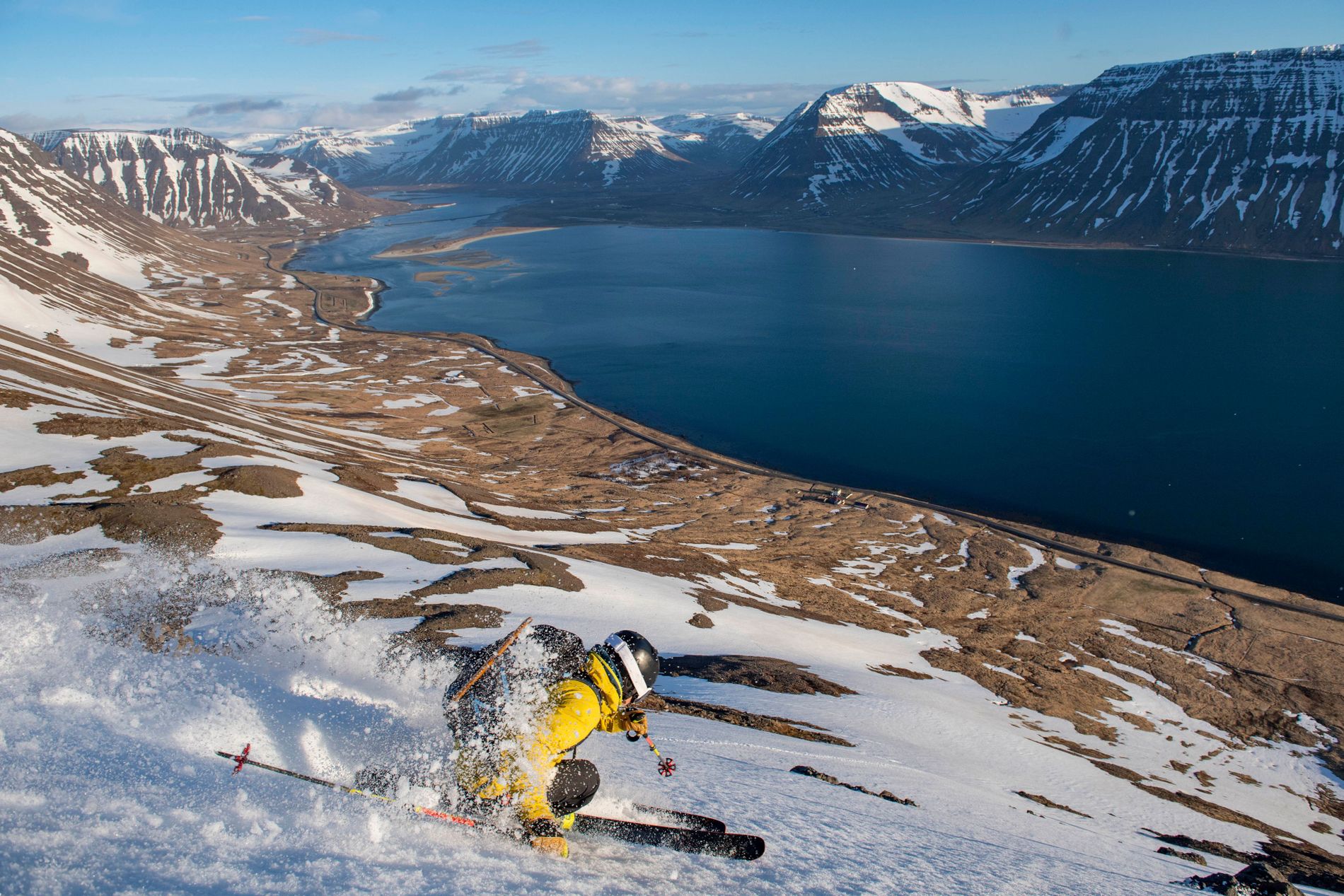 Another off-the-beaten-piste option is the colourful hot spring region of Kerlingarfjöll. In the 1990s this area had enough snow in early summer to be able to offer reliable skiing and the slopes were accessible by a couple of button lifts. Since then the snow level has risen far higher and skiing is now only accessible by hiking up the mountains first. Visitors will need to book a private tour, or plan their own route as there are no scheduled ski tours available. The slopes are accessible in the month of June in mild weather so camping is an option for staying overnight and the views are incomparable, with steam rising from hot springs in the surrounding multicoloured mountains.