For traditional dishes that you'll never tire of, look to these three simple recipes from Scandinavia's best gastronomic minds
Whether it's a barbeque pitched by the lake at sundown, or schnapps and herring over a lively long table lunch, every family has their own Midsummer traditions.
With this year's celebrations just around the corner, we spoke to three Scandinavian chefs to learn about their culinary highlights. From nostalgic Swedish classics to ingredients foraged on the Danish coastline, there's inspiration fit for any festive Midsummer menu.
Marion Ringborg (Garba, Studio Marion)
Previously one of the chefs behind female-run, pop-up restaurant Garba, Marion Ringborg is a well-known face on the Stockholm food scene. She's since opened her own business, Studio Marion, working on events and food collaborations. For her, Midsummer is a magical time of year bringing together good food, music, family and friends.
"Since I had my daughter Awa two years ago, Midsummer has been all about family. This year I'll be celebrating with my husband's family just outside Uppsala in a small village called Harbo. Our Midsummer day is long and filled with lots of games. I always organise a music quiz (which is my absolute favourite) followed by a swim in the lake. We pick flowers for Midsummer wishmaking and get the barbeque going once the kids finally go to bed. It's such a magical holiday and even as a grown up I still love it!
One thing our Midsummer table must have is a big platter of seasonal crudites dipped in a cured lemon aioli and romesco sauce
Marion Ringborg
One thing that must be on the table is a big platter of seasonal crudites dipped in a cured lemon aioli and romesco sauce. The Swedish asparagus season finishes just after Midsummer so I like to eat as much of it as possible, especially grilled and dipped into a sauce gribiche. Alongside these vegetable dishes, I have to serve this year's new potatoes. I add my own twist to these with fresh chervil and sage"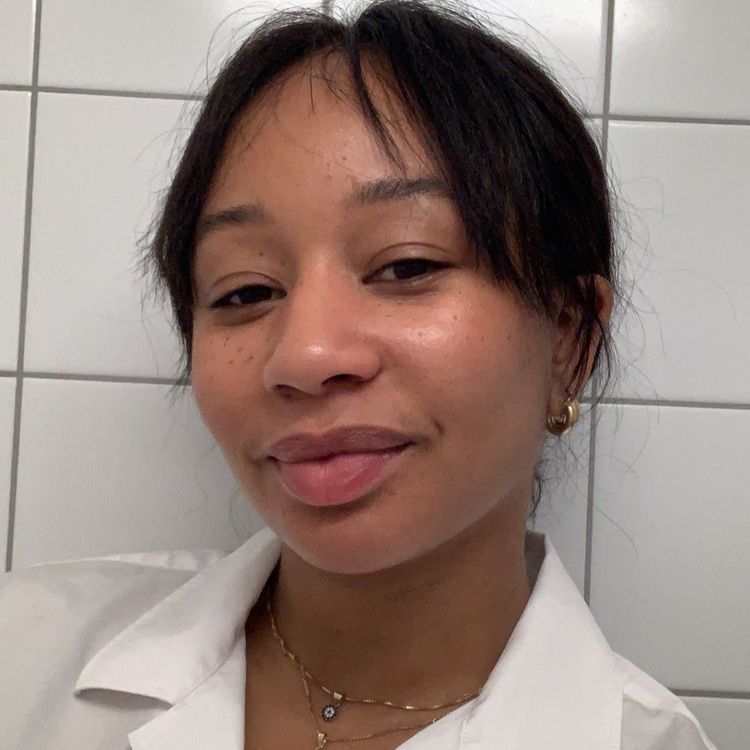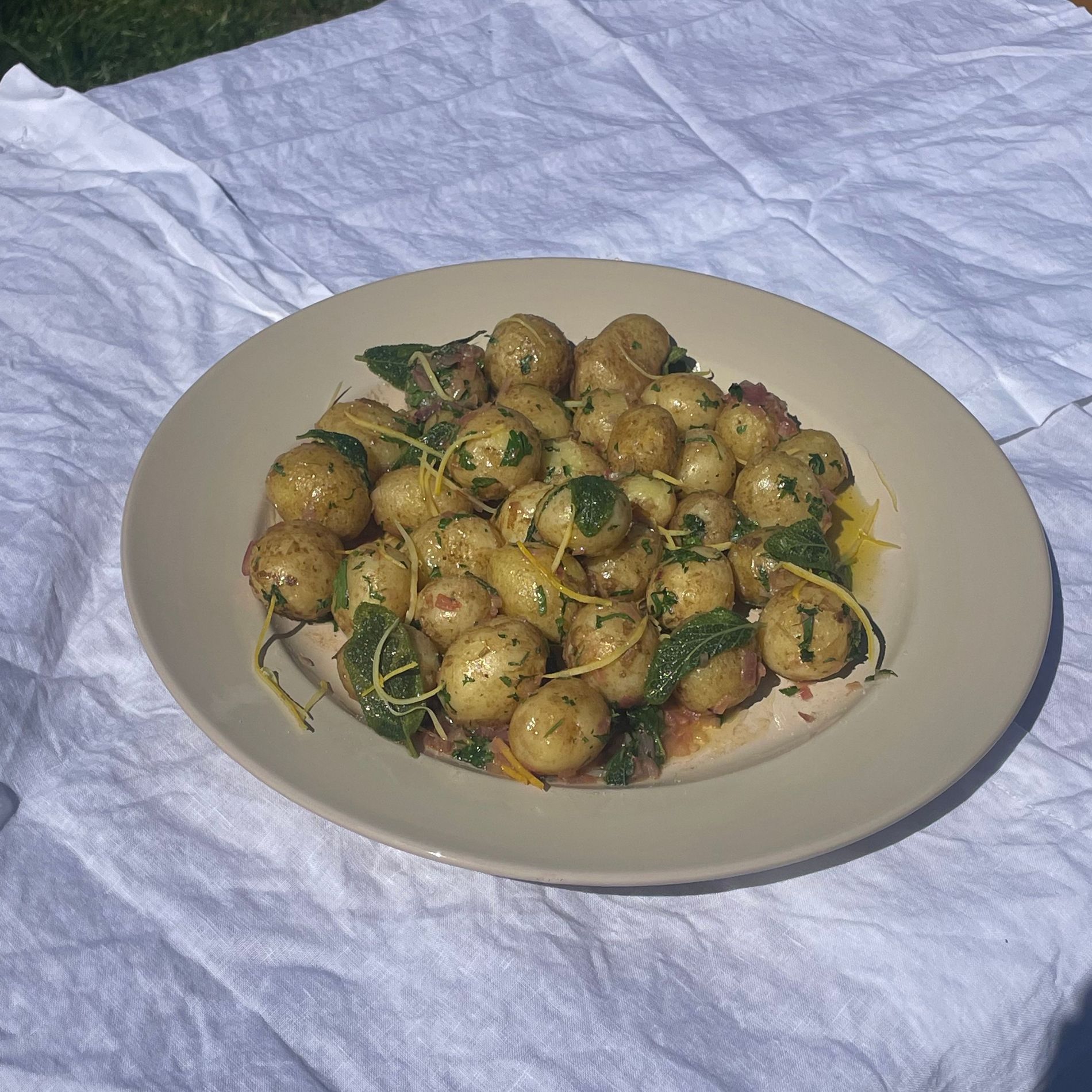 New Potatoes with Herbs & Browned Butter
Serves 5 people
1 kg new potatoes
100g butter
1 shallot, finely chopped
1 clove garlic
1 lemon juice and zest
30g sage leaves
30g chopped chervil
2 tbs good olive oil
Boil the potatoes in strongly salted water for 10-15 minutes or until tender.
In a large frying pan, melt the butter and fry until lightly browned. Add the finely chopped shallot and torn sage leaves. Fry gently for 2 minutes.
Zest the garlic and lemon zest into a large bowl. Once the potatoes and butter are ready, add to the bowl and toss to combine.
Just before serving, squeeze over some of the lemon juice and add the chopped chervil. Drizzle with good olive oil and serve.
Emma Shields (Head chef at Freyja)
Growing up in a small Swedish village, Emma credits her grandma's kitchen as the source of her initial love story with food. It was here that she developed a taste for the Nordic classics which she has taken with her throughout her career. She's since gone on to work for Michelin-starred restaurants and currently heads up the kitchen at Stockholm's rooftop restaurant, Freyja. When it comes to Midsummer, Emma looks to the nostalgia of traditional Swedish dishes, ensuring the classics play a starring role on the table.
"On my Midsummer table you'll be sure to find the traditional herring and fresh new potatoes tossed with sour cream, chives, egg and browned butter. Another must-have is a quiche made with Swedish cheese (Västerbotten) and a fresh salad with seasonal ingredients like radishes, spring onions and green asparagus.
Instead of a strawberry sponge cake with cream, I like to make a meringue topped with crème patissiere, strawberries and fragrant elderflowers. Usually the first strawberries are here by Midsummer and also the fresh new potatoes that I've been longing for. This is my favourite time of the year when all the fresh greens are popping up."
Instead of a strawberry sponge cake, I like to make a meringue topped with crème patissiere, strawberries and fragrant elderflowers
Emma Shields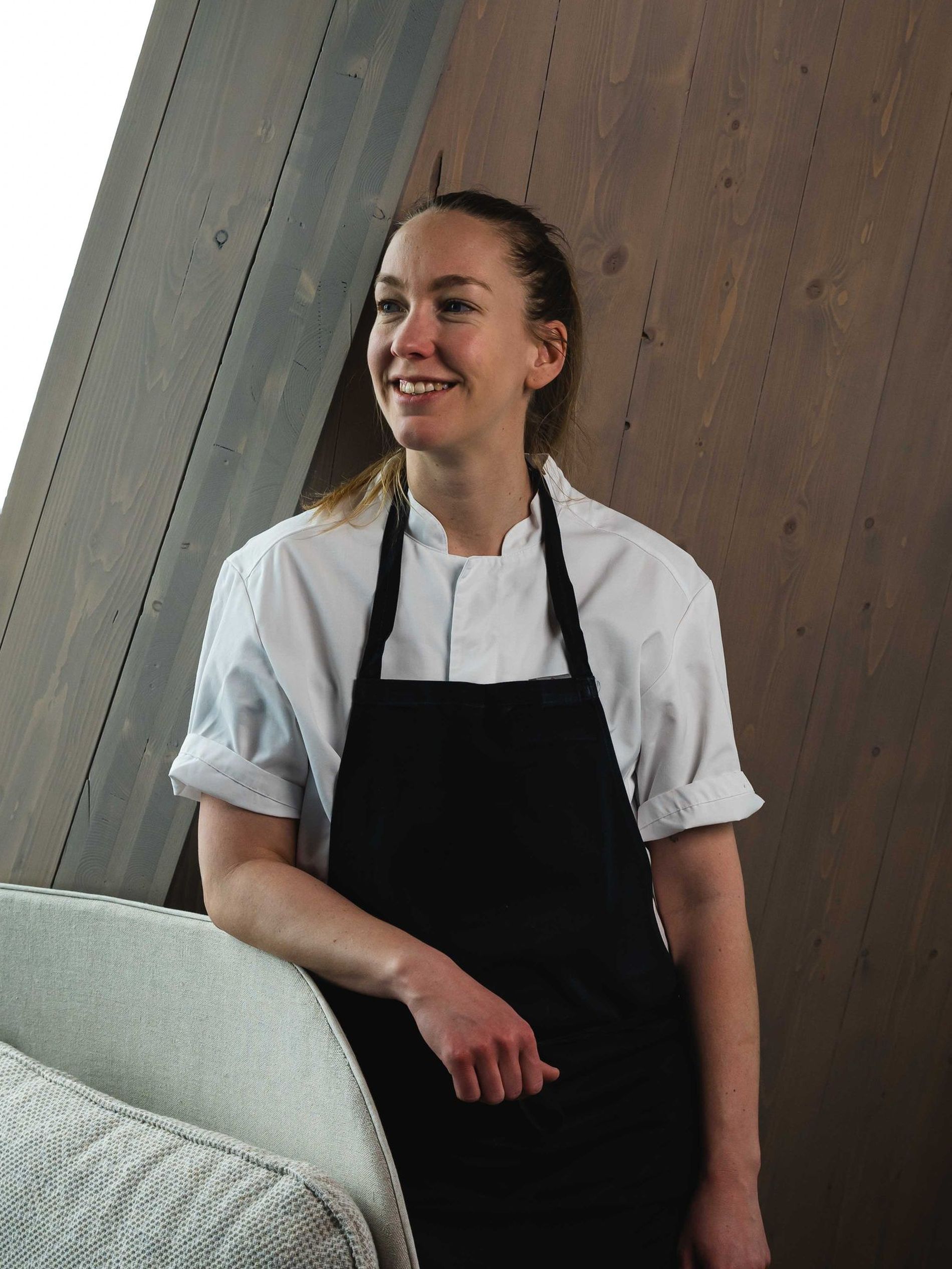 Emma Shields.
Meringue Cake with Crème Patissiere
For the meringue:
6 egg whites
1 tsp white wine vinegar
400g sugar
For the crème pattiserie:
500ml milk
1 vanilla pod, seeds removed
100g sugar
120g egg yolk
35g corn flour
250g heavy cream
500g strawberries
Preheat the oven to 125 degrees. Whip the egg whites, vinegar and 100g of sugar until just fluffy. Gradually add the rest of the sugar whilst continuing to whip until it begins to form stiff peaks.
Line an oven tray with baking paper. Add the meringue to the baking paper and spread to form a high 20-inch circle. Bake for 2 hours, then turn off the oven and leave the meringue to dry.
Whilst the meringue is drying, make the crème pattiserie. In a saucepan, bring the milk and vanilla to boil. Combine the sugar, egg yolk and corn flour in a large bowl. Pour the milk over the egg mix and stir to combine. Return the mixture to the saucepan and bring to the boil for 5 minutes. Strain through a sieve and leave to cool.
Once the mixture is cool, whip the heavy cream and fold into the cooled egg mix using a spatula. Spoon over the top of the meringue and decorate with strawberries and edible flowers.
Mikkel Karstad (Chef, author and former culinary advisor to NOMA)
Chef, author and former culinary advisor to NOMA, Mikkel Karstad is known for his seasonal and foraging approach to Scandinavian gastronomy. Mikkel's instagram (@mkarstad) is a smörgåsbord of breathtaking Danish coastline and effortlessly-styled small plates. As one would expect, his Midsummer table is ladened with dishes incorporating freshly caught fish, locally available produce and homemade vinegars.
"Summer vegetables are best when cooked lightly or eaten raw so they retain their delicate flavours and crispness. Whilst it's in season we eat a lot of asparagus, peas, zucchini, new potatoes, and summer cabbage. Paired together with seafood like mackerel, plaice, stone crab, fjord prawns or langoustine, we put these on the grill and enjoy with a bottle of cold white wine. Dessert is a simple pleasure, local Danish strawberries with ice cream.
"There's nothing better than making a meal out of something you picked or caught yourself"
Mikkel Karstad
At Midsummer, I try to use familiar ingredients from the Danish summer kitchen and combine them in a new way, preferably with some things that we have foraged in nature. During summer we head to the beach to pick rosehips or gather wild herbs and chanterelles in the forest. When the first berries make an appearance in the garden, we eat them for dessert or added to an ice cold lemonade. I also like to go diving with a harpoon and see if I'm lucky enough to catch a plaice or turbot, of which there are some on the coast near our cottage. There's nothing better than making a meal out of something you picked or caught yourself, this mackerel recipe is a good example of that"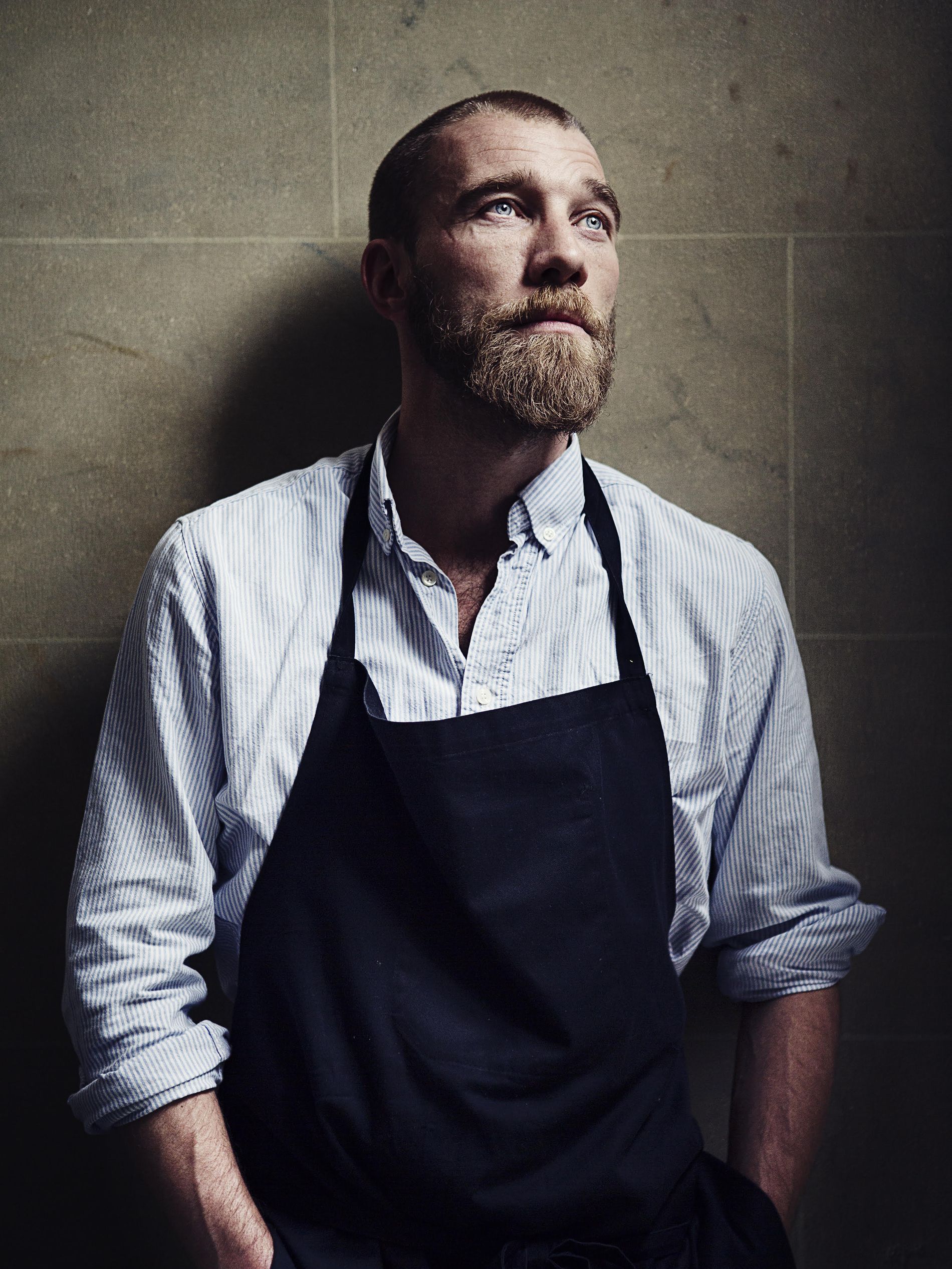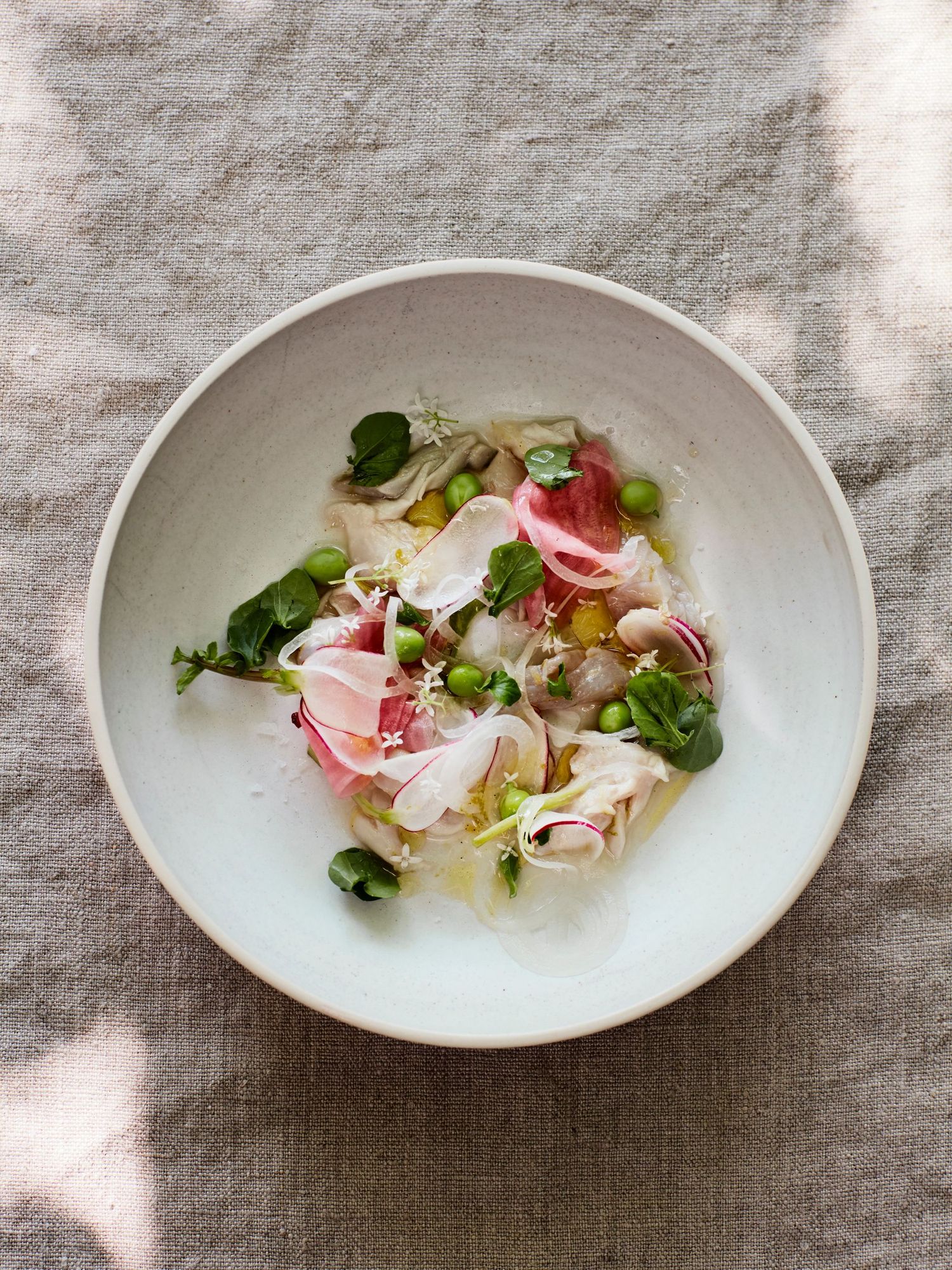 Mackerel ceviche with new vegetables and elderflower
Serves 4 people
1 whole mackerel
sea ​​salt and freshly ground pepper
½ dl. elderflower vinegar
½ dl. olive oil
1 candy cane beetroot
4 radishes
10 fresh peas
1 green onion (large spring onion bulb)
1 handful of watercress
1 head of elderflower
Clean the mackerel and cut into fillets, removing the bones and skin. Put the fillets on a plate, sprinkle with a little sea salt and set aside for 30 minutes.
Peel the beetroot and green onion. Remove the top and root of the radish. Cut all the vegetables into very thin slices on a mandolin. Transfer to a bowl and add a little cold water so that the vegetables become completely crisp and curl a little. Pod the peas and add to the other vegetables. Place the vegetables in a sieve and let them drain thoroughly.
Cut the mackerel into thin slices and divide across 4 deep plates or bowls, season with a little extra sea salt and freshly ground pepper.
Whisk elderflower vinegar, olive oil, a little salt and freshly ground pepper together for a dressing. Pour half of the dressing over the mackerel and let it marinate for 2 minutes, then add the vegetables on top. Pour the rest of the dressing over the vegetables.
Garnish with fresh elderflowers and watercress. Serve the dish immediately so that the mackerel is still firm and the vegetables are crisp.