It's our Swedish Midsummer staple, but a few small tweaks and additions can take your jordgubbstårta strawberry cake to the next level this year – Vogue Scandinavia shares the ultimate recipe below
A Swedish strawberry cake or jordgubbstårta is an essential centrepiece to any Midsummer table. The original is made with sponge, but this version incorporates fragrant orange zest and skyr to create a moist and light finale to your summer feast.
The cake can be made the day before, saving you any last-minute baking rush. Decorate just before serving with seasonal berries (mostly strawberries of course) and fresh elderflowers if available. Smaklig måltid!
Ingredients
For the cake:
180g sugar
150g butter (room temperature) +20g for greasing the cake tin
3 large eggs (room temperature)
150g skyr (replace with Greek yoghurt if need be)
1 large orange, zested and juiced (approx 80ml)
250g plain flour
1 tsp baking powder
For the filling and decoration:
500ml cream (38% fat)
1.5 tbsp maple syrup
½ tsp vanilla bean paste (or 1 vanilla pod)
300g strawberries
200g raspberries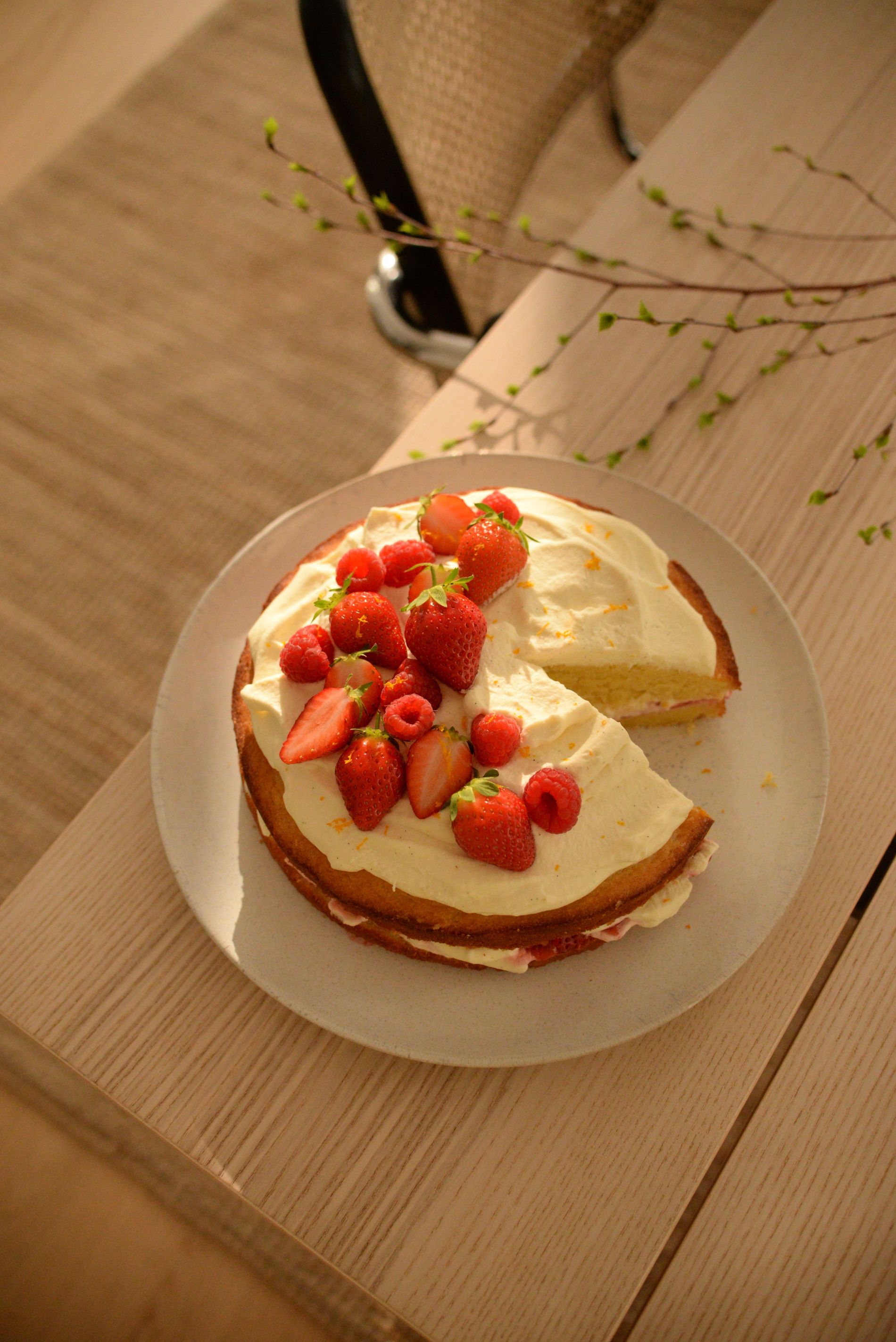 Photo: Sophie Kitchen
Method
Preheat the oven to 170° degrees (fan-forced). Grease a 20cm cake tin with a little butter. Add the sugar and softened butter to a large mixing bowl. Use a hand mixer and beat together for 2-3 minutes or until pale and fluffy.
Gradually mix in the eggs, one at a time. Add the skyr, orange juice and zest and continue to mix. TIP: The mixture may start to look curdled at this stage, but don't worry, it will come together again once the flour is added.
Sift in the flour and baking powder. Using a spatula, gently fold the mixture together until it resembles a thick cake batter. Be careful not to over mix when adding the flour, as this can cause the cake to become dense.
Pour the mixture into the prepared tin. Bake for 35-45 minutes or until golden and the top springs back when lightly pressed. Transfer to a wire rack and allow to cool for 15 minutes. Remove from the tin and set aside to cool completely.
Whilst the cake is cooling, whisk the cream and vanilla bean paste in a large bowl until it starts to form stiff peaks. Fold in the maple syrup. In a separate bowl, roughly mash 200g of strawberries with a fork.
Once the cake has cooled, use a bread knife to slice in half horizontally. Gently remove the top layer and set aside. Spread the base of the cake with mashed strawberries and top with a thick layer of the cream. Return the top layer of the cake and lightly press to secure. Dollop over the remaining cream, using a spatula to swirl and spread the cream. Decorate with the remaining fruit and serve.