Feather trimmed or cut from lavish velvet – At Vogue Scandinavia, we embrace the elevated PJs as our party ensemble this season
All products featured on Vogue are independently selected by our editors. However, when you buy something through our retail links, we may earn an affiliate commission.
Rummaging through our wardrobes before bed, we're most likely to reach for the same ever-so-soft yet threadbare t-shirt we always wear. And while it's comfortable, it's far from fashionable. Nothing like the snug jammies of yore, the world of silky sleepwear has seen a sartorial revolution that puts pyjamas centre stage. Pulling them out of the bedroom and into our rotation of occasion wear, we love the comfort an elevated pair of PJs bring to our evening ensemble.
"It's easy to incorporate clothes from your own wardrobe into a Walking Sleepwear party look," says Asya Varetsa who co-founded Sleeper, the hyped brand specialising in turning pyjamas into party wear, with her partner-in-PJ-crime, Kate Zubarieva.
Sleepwear showstoppers isn't a new concept, as proven by the clothing categories long cinema history – From Audrey Hepburn sporting an oversized shirt in Breakfast at Tiffany's; Michelle Pfeiffer's silky slip in Scarface and Sophia Loren's sunny set in A Countess from Hong Kong, Hollywood has been lounging in glamorous get-ups to inspire our own occasion dressing for decades.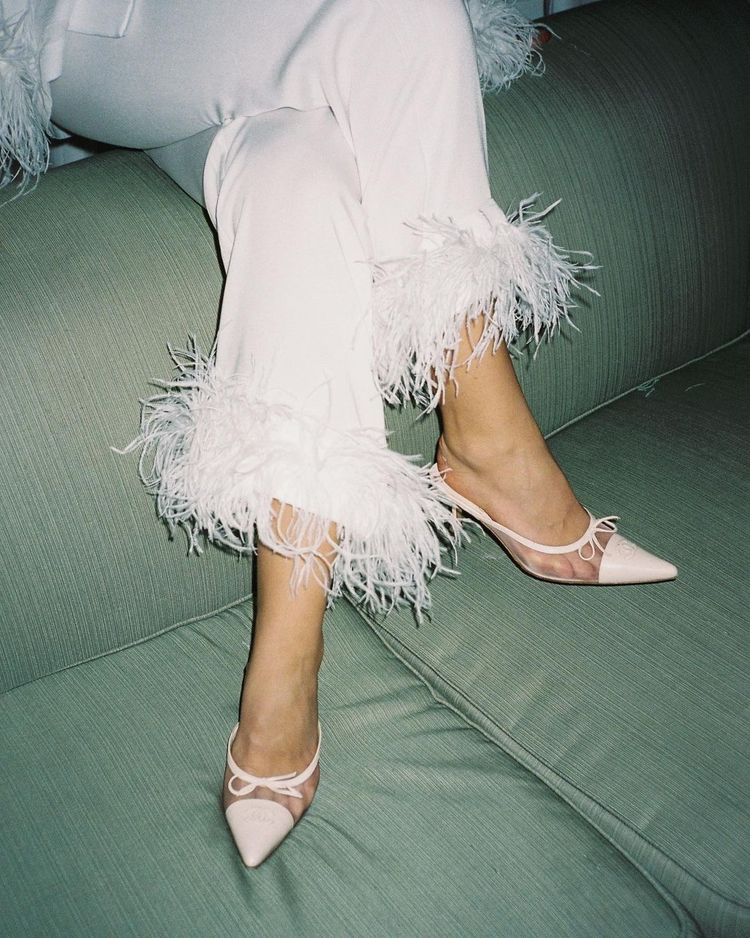 Swedish stylist and fashion aficionado, Fanny Ekstrand Tourneur, wore a feather trimmed pyjama getting ready for her Parisian wedding. Photo: @fannyekstrand
While some raise their eyebrows at the casual cut of these garments, we propose that the proper styling will convince any sartorial sceptic. "The possibilities of different combinations are endless – you can either wear the full set, adding some pumps and accessories or wear pants and the top separately, just go with how you feel this evening," Varetsa says. Zubarieva agrees, but adds that "it's not pajamas that make you look great, your personality is in charge of your appearances." After all, when getting dressed it's all about attitude.
Below, find our favourite sets to don this festive season.