When we first encounter Kate Sharma in Bridgerton Season 2, it's not so much her horsemanship that catches our attention but her gleaming, gloriously thick head of hair. A few episodes later her secret is revealed and it's just one of many reasons to fall in love with the Indian hair oiling technique
All products featured on Vogue are independently selected by our editors. However, when you buy something through our retail links, we may earn an affiliate commission.
"In Sanskrit, 'sneha' means both 'to love' and 'to oil'," says Akash Mehta who, together with his sister Nikita, founded Fable & Mane, a haircare line inspired by the Indian traditions and ancient fables they grew up with. "So in Ayurveda, the act of self-love literally starts at the crown." Specifically, Mehta is referring to hair oiling, a centuries-old ritual that is currently appealing to a very modern audience.
In recent years, Ayurveda-inspired wellness practices have become a part of our every day lives without us necessarily realising it – drinking hot water with lemon in the morning to flush out toxins, dry brushing, doing yoga or knocking back a turmeric latte. But hair oiling remained shrouded in mystery. However, ever since the infamous scene in Bridgerton where Miss Kate Sharma is seen massaging oil into her younger sister Edwina's hair, the practice has quietly been rising in popularity, stealing the spotlight away from simple masks for shiny, strong strands.
A moment of cultural significance, it revealed hair oiling to be both an act of tenderness and familial bonding. Similarly, both Akash and Nikita recall their grandmother treating their lacklustre hair by massaging a blend of handcrafted oils into the scalp. "She would focus on the crown chakra to alleviate tension from the very roots of the hair, all the while soothingly recounting fantastic fables about India's rich plant and animal kingdom," they say.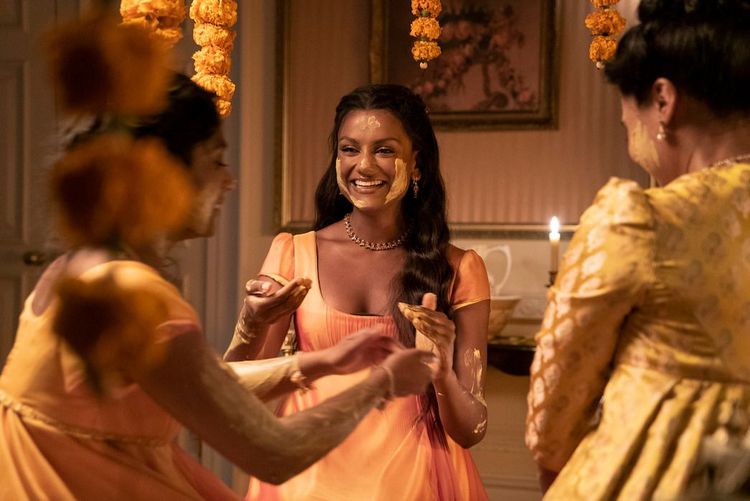 Photo: Netflix
Practically speaking, hair oiling is believed to strengthen and condition the hair, promote growth and rebalance the scalp. According to Michelle Ranavat of South Asian-founded Ayurvedic beauty brand Ranavat, the treatment should be practiced before taking a shower or before bed at night to harness the restorative powers of the natural oils and give strands much-needed nourishment.
In terms of technique, apply your chosen oil to parted, dry hair, massaging into the roots in a circular motion to create warmth for better absorption, circulation and relaxation. Whether you choose to leave the oil on for 10 minutes or overnight is up to you. But given it's not being used as a leave-in styling product, all hair types from fine to natural will welcome its moisture replenishing properties.
Ranavat recommends her eponymous Mighty Majesty Fortifying Hair Serum, infused with amla extract and a high concentration of oleic acid, jasmine and sunflower oils. Likewise, alma, bhringraj and bhrami are hand-blended into a traditional base of sesame and coconut oils in Mauli Rituals Grow Strong Hair Oil. While Fable & Mane's cult-ish HoliRoots Oil is a prewash treatment laced with ashwagandha, an anti-inflammatory adaptogen renowned in India for thickening the hair, as well as circulation-boosting dashmool and castor oil.
"The head is home to our nervous system," says Mehta. "So scalp massage, using oils that contain adaptogens, is part of a daily routine to calm the nervous system and balance energy. The ritual also stretches the hair from the roots, stimulating them to produce thicker strands." Clearly good karma for the scalp and the soul.
---
The best products for traditional Indian hair oiling
Mighty Majesty Fortifying Hair Serum
Ranavat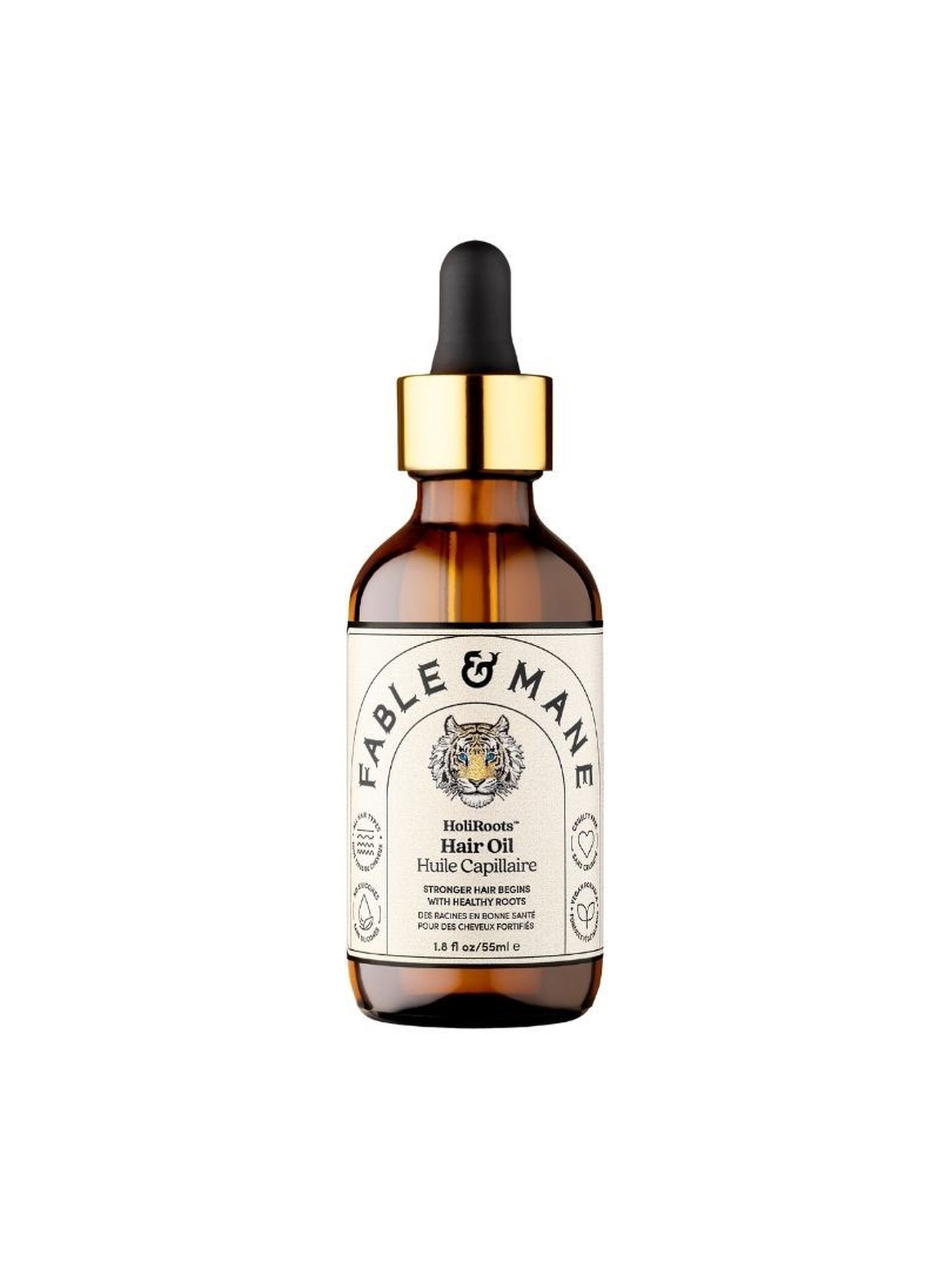 HoliRoots Oil
Fable & Mane
Grow Strong Hair Oil
Mauli