Minerals are often overlooked in favour of vitamins. But these centuries-old ingredients are experiencing a bit of a renaissance
All products featured on Vogue are independently selected by our editors. However, when you buy something through our retail links, we may earn an affiliate commission.
Health is the new wealth since the pandemic. New research from Mintel has found that half of millennials are leaning on vitamin and mineral supplements more than they did before the outbreak of Covid-19 in order to boost their overall health.
Throw in the trend for "health signalling" – presenting as glowing and healthy-looking – and it's hardly surprising that we're also sloshing on vitamin C serums for brighter skin and vitamin A to improve firmness when going makeup-free. But in focussing our efforts purely on vitamins we could be missing out on the benefits of another crucial ingredient group: minerals.
Sourced from rocks, water and the earth, minerals are considered age-old healers. They are also uniquely found in every single skin layer. Now considered the dark horse of the skincare world, minerals are being given a new purpose in modern formulas. Specifically, scientists are harnessing their power to stabilise the communication between cells to keep skin healthy and balanced.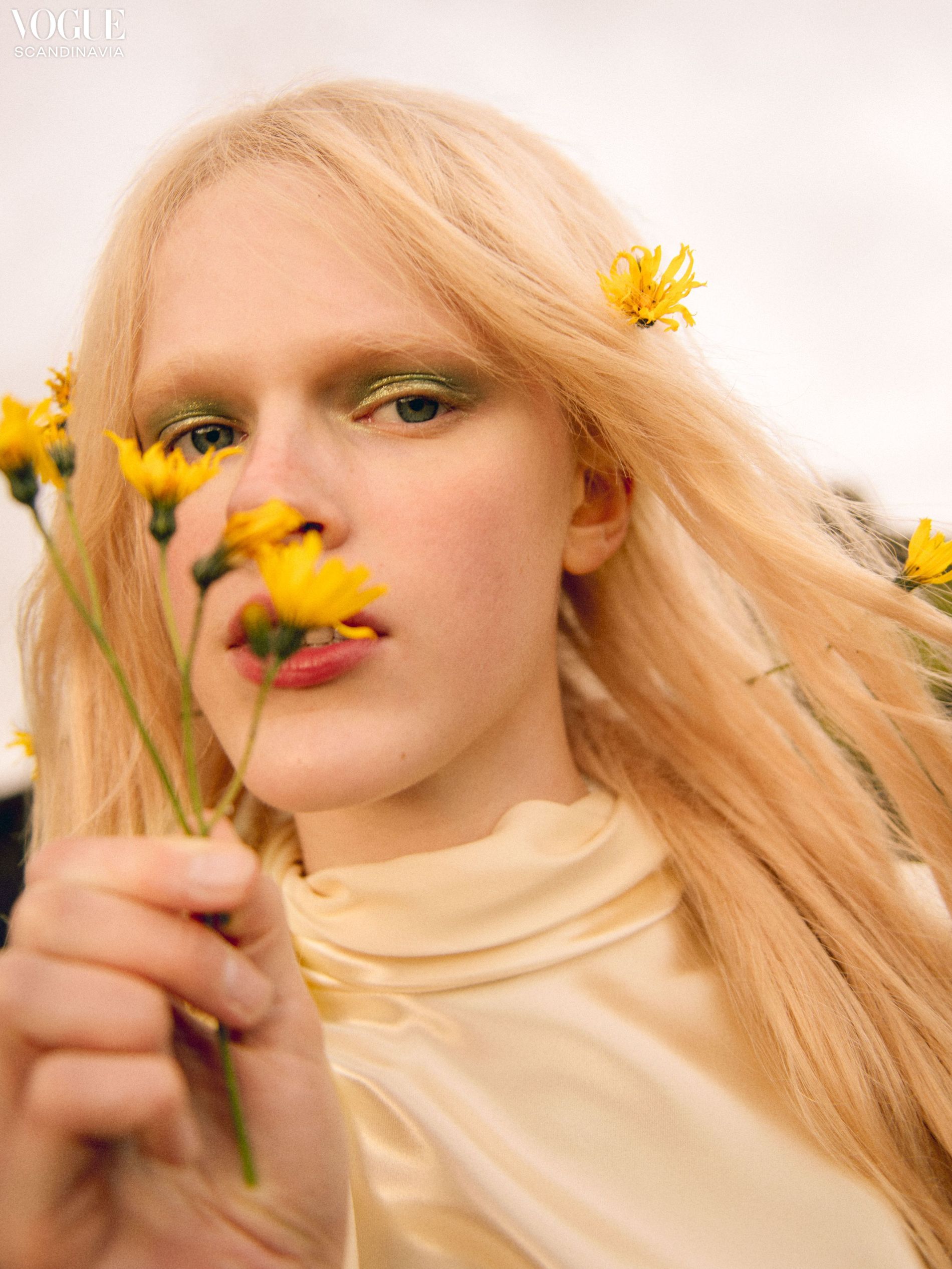 From Vogue Scandinavia's October-November 2022 issue. Wearing: Satin blouse with fringe sleeves, €1,350. Khaite via Mytheresa. Photo: Noemi Ottilia Szabo
All it takes is a decline in one mineral to leave skin on an emotional see-saw and patches of dry, inflamed skin or breakouts to bloom across the face. This is especially true of magnesium, which plays a part in over 300 enzymatic reactions in our bodies.
"Magnesium is a mineral present in our own bodies," Stina Lönnkvist, co-founder of Mantle, says. "It's a crucial supporter of muscle and nerve function, regulating blood pressure, energy production and the body's overall health. Applied topically, magnesium shows promise for strengthening the skin barrier, regulating cell regeneration and repair, replenishing moisture and improving skin's overall wellbeing."
Low magnesium levels reduce the number of fatty acids in the skin, leaving skin flaky and papery and decreasing collagen production. Certain skin conditions can also become aggravated. "Magnesium may also be beneficial for acne and rosacea thanks to its calming and anti-inflammatory properties," adds Lönnkvist.
Laminaria digitata, a brown algae growing in Swedish coastal waters, is an especially rich source of magnesium, as well as "calcium, potassium and sodium [an ingredient that works in a similar way to hyaluronic acid] to reinforce the skin barrier," says Stanislas Le Bert, director of L:A Bruket.
Magnesium may also be beneficial for acne and rosacea thanks to its calming and anti-inflammatory properties
Stina Lönnkvist, co-founder of Mantle
Meanwhile, copper peptides, which are also naturally present in the body, are shaping up to be one of the buzziest new skincare heroes for 2023. "Studies have shown that copper has multiple benefits for the skin," explains aesthetic doctor and skin expert, Dr Ana Mansouri. "It is known to play an important role in the body's healing process by promoting anti-inflammatory pathways, meaning it's great for treating scars and redness. Copper also acts as an essential co-enzyme in the process of producing collagen and elastin to improve our skin's elasticity, and it is a potent antioxidant."
Finally, as the hardest natural mineral on earth, it makes sense that a diamond would be an excellent exfoliator when ground into an extra-fine powder. "Diamond particles carefully slough away dead skin cells, letting active ingredients sink in deeper for optimum results," says Dr Yannis Alexandrides, cosmetic surgeon and founder of 111Skin. "Skin is left plump and regenerated, with a transformative glow," he adds. Now that's what we call crystal healing.
---
10 of the best beauty products with minerals