When it comes to being out and about with your child, good products can really make or break your day
We all have those essentials that we can't live without. For some, it might be that perfect shade of red lipstick that makes you feel your absolute best. For others, it could be a jam-packed notebook, ready for scribbling down a last-minute brainwave. And most likely for parents, the essentials that make their every day smoother tend to be centred around maximising family time and minimising unnecessary stress.
Luckily, Stockholm is a super family-friendly city in lots of ways, so any undue busyness can be kept to a welcomed minimum – with lots of lush green spaces, good work-life balance, and even free bus rides when you have a stroller. Yes, really. But there's no denying that we all need our own personal seemingly life-saving must-haves when we have a hectic day rolling out in front of us. While Nuna's innovative baseless car seat, the PIPA URBN, is a verified day-to-day essential that has your little ones secured and you're car on the road in no time, there are a few other gems that help to maintain zen while on the go.
We take a whirlwind tour around the city with three stylish Stockholm mums, and their very cute offspring, to hear all about their must-have accessories when baby is in tow.
Best for: The posh interiors shop
Stockholm is bursting with treasure-strewn interior havens – we're masters at great design, after all. And an ultra-relaxing afternoon jaunt to hunt for unique homeware and interior classics is just what you and baby probably need right now. Well, OK perhaps just you, and bub can come along for the ride. One great place to start is at Sjöström Antik Store in Östermalm, with its roster of items including its much-coveted Hans J.Wegner chairs or Claes Giertta candlesticks.
And one route to making life that little bit smoother when you are on a serious sleeves-rolled-up eagle-eyed hunt for interior treasures is your accessories. Take a step forward the Nuna MIXX next stroller a.k.a your shopping enabler. With its seamless compact fold-away axle and super speedy quick magnetic buckle, getting you and baby around town has never felt easier. With minimum fuss spent on getting your child in and out of it, more focused time can be spent on quality browsing.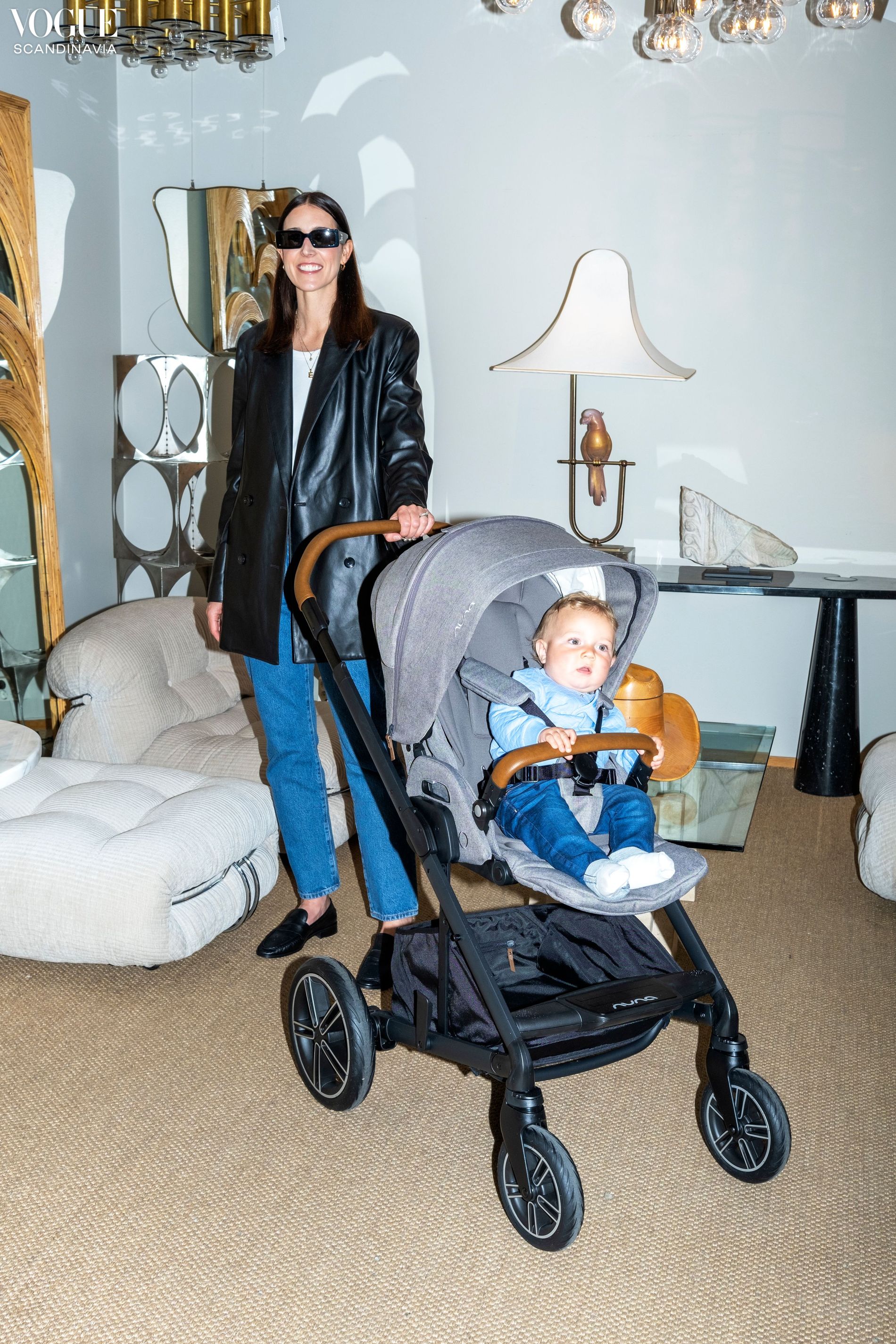 Eliza is wearing, Faux leather blazer, Stand Studio. T-shirt, Talent's own. Denim trousers, Levi's. Flats, ATP Atelier. August is wearing, Cotton jacket, denim trousers, cotton socks, All Lindex. . Photo: Kristian Bengtsson
And you don't have to worry about it clashing with your wardrobe, inspired by Dutch design, the stroller's luxurious feel and elevated leatherette accent elements offer a pared-back, modern look which stands the style time test. So if this is your first, and you're considering possibly adding to your family, you will want to keep a close grip on the MIXX next.
I value everything that makes travelling easier for me as a mum as it otherwise quickly can turn into a stressful situation
Sarah Bardling, mother and Vogue Scandinavia staffer
"The pram helps me get out and about as it caters for all Augie's needs," says mum Eliza Sörman-Nilsson. "Walking is my favourite form of transport so this means I can do all my chores with Augie comfortably in tow. Plenty of space for grocery or beach supplies."
The best thing about it? Because the seat tends to be taller than other competitors (in fact, it's table height) it can be conveniently swapped in place for a high chair. So once you're satiated with shopping, and need a break, this nifty feature will make mealtime effortless. And considering high chairs are prime real estate in a baby-heavy city like Stockholm, it's a total win-win.
So when the food coma kicks in (for both you and child, that is) the infant-ready MIXX next sports a five-position recline, along with a full sleeper recline, for when you are all ready for a snooze.
The verdict: Your dining game just stepped up
Best for: The garden centre
Look at you earth mummy! The garden centre is calling and Rosendals Trädgård is top of the list, namely due to its vast and impressive range of fika (we know what drives you) but still, the flora is more than worth a visit, too. And what are the products that will get you there with the least sweat upon your brow? Cue the CUDL CLIK, the nifty and uber-comfy four-way carrier from Nuna.
"Mum life is never easy, so having products that are easy to use really helps," explains first-time parent Sophia Weingarten. "As my daughter grows older she is getting a lot heavier. Other carriers that I've used make my back hurt after a while, but with the Nuna CUDL CLIK I could carry my baby around forever." Forever. OK, perhaps not forever, mums, but you get the idea.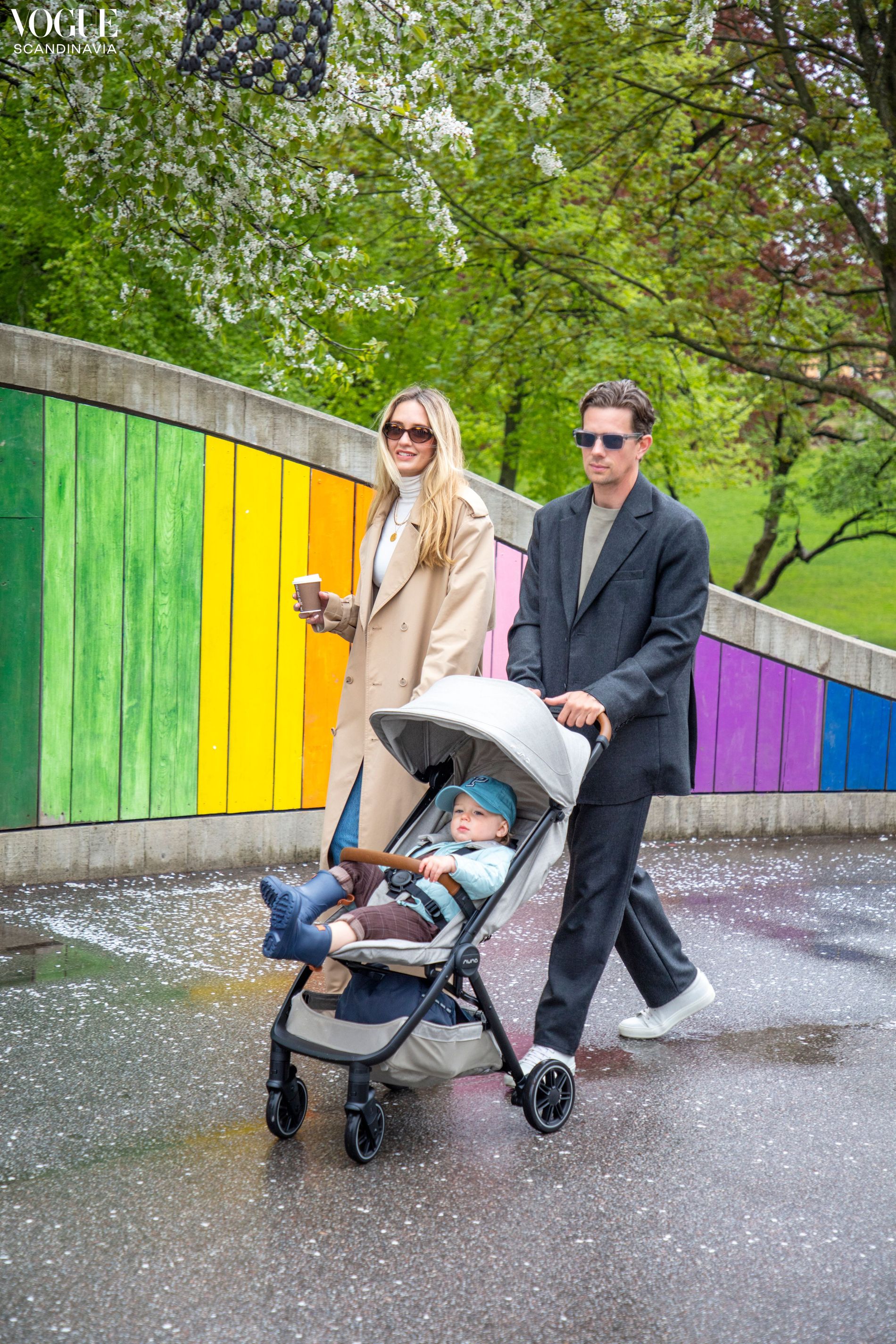 Best of all, the CUDL CLIK does have great longevity, so you can use it from newborn right up to around three and a half years. "I like the fact that I can use the carrier when my daughter gets older and have her on my back. A lot of products that you buy for you and your baby are for such a short period of use," says Weingarten. "The carrier was easy to put on and off and also easy to put my baby in. Saving me some time and stress."
The verdict: A mummy on the go must-have
Best for: The art gallery
Lazy Saturdays were made for mooching – and an art gallery is a perfect way to kick off a culture-filled weekend in the city. Priceless paintings. One of a kind works of art. Delicate sculptures. We can hear the intake of breath all the way from here. Yes, for families the culture injection could potentially come with a price tag, sure – tiny, curious little ones and all. But we've found just the solution: the Nuna TRVL stroller. Wandering around the Sven-Harry Art museum in Stockholm, the TRVL acts as the ideal, stylish deterrent to any wandering hands and toes.
With its super lightweight frame and one-hand self-collapsing fold, it's a 'one click and it's done' situation. So even stairs are no barrier to a fun and inspiring family day out in the place that you love. "For me, living in the city centre of Stockholm, which can be quite crowded sometimes, I really appreciate keeping my hands free… The Nuna TRVL folds super smoothly with just one click, making it possible to hold my toddler with one arm and fold the stroller with the other," explains mum and Vogue Scandinavia staffer Sarah Bardling.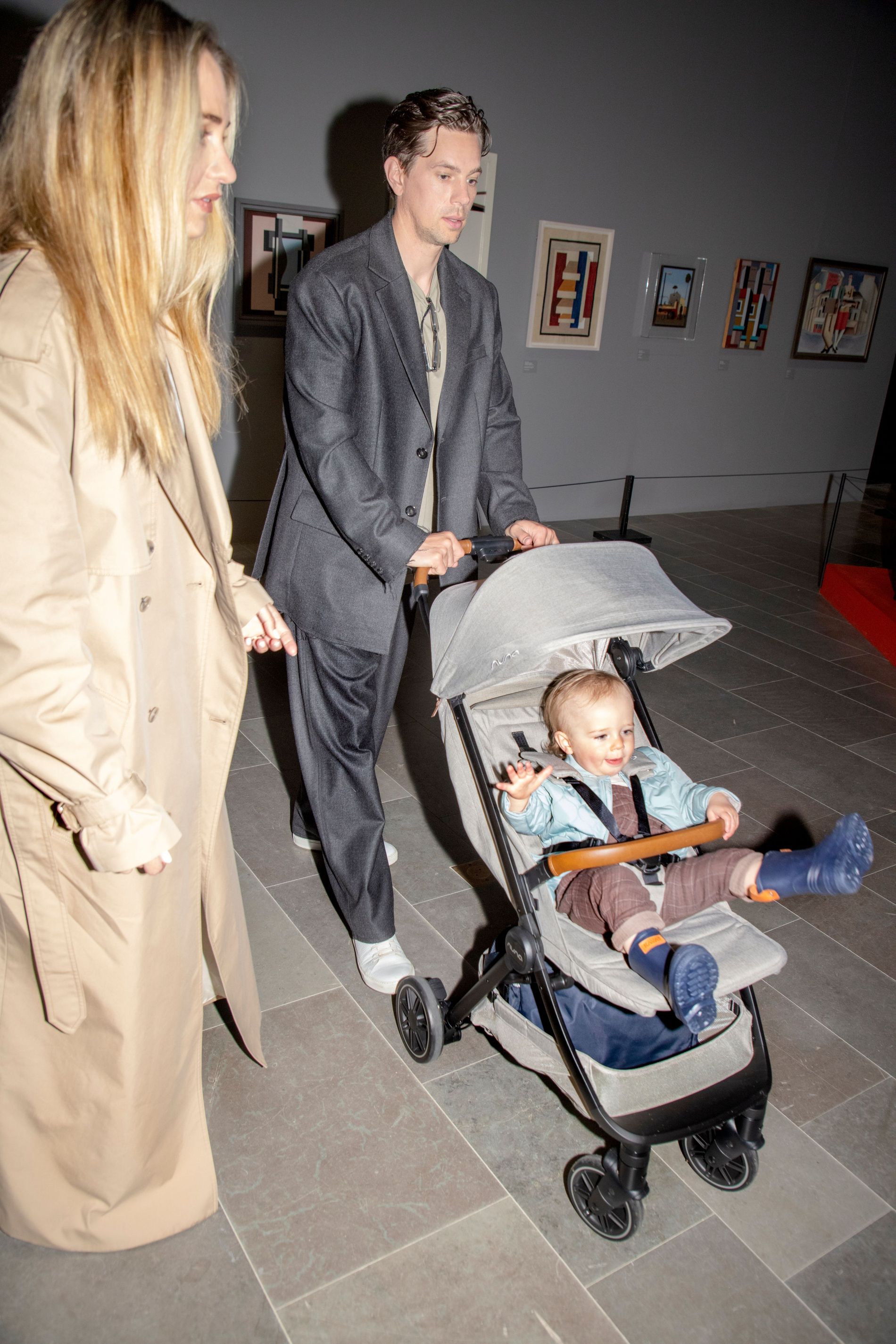 Sarah is wearing, Trenchcoat, Filippa K. Fredrik is wearing, Full suit, Adnym Atelier. Sunglasses, Prada. Otto is wearing, Jacket, Lindex. Cap, Polarn & Pyret. Trousers, Lindex. Rubber boots, Kavat. Photo: Kristian Bengtsson
Certainly, moseying around amongst the modernist paintings, you aren't likely to encounter much rough terrain, but for a more rural venture to, say, the summer house or a local nature reserve over the holiday period, the TRVL's all wheel suspension will ensure a totally smooth ride for baby (and you) whatever the road. "As a family we travel a lot within Sweden on holidays, from the city to the archipelago and up to the mountains. I value everything that makes travelling easier for me as a mum as it otherwise quickly can turn into a stressful situation," says Bardling.
And on returning home, exhausted but still smiling, you don't have to worry about trying to cram it away, as its non bulky frame means that it can easily fit snugly into small spaces. Perfect if you have a small flat or are lacking storage space in your home.
The verdict: An easy, breezy way to keep baby on the move
Photographer : Kristian Bengtsson
Videographer: Margarita Sheremet
Stylist : Maria Barsoum
Talents : Eliza Sörman-Nilsson, Sophia Weingarten, Sarah Bardling
Hair Stylist and Makeup Artist : Alice Lönnblad
Photographer Assistant : Hanna Sörqvist
Stylist Assistant : Sofia Maté
Production : Amelie Langenskiöld, Rebecka Thorén
Locations : Sven Harrys Konstmuseum, Villa Dagmar, Rosendals Trädgård, Sjöström Antik Butik
To shop in Norway
To shop in Sweden
To shop in Denmark
To shop in Finland