Painterly precis blush placement is of the moment, and as springtime is around the corner we find ourselves craving a healthy flush. Here, we get the expert tips on how to achieve blush that is "like a push-up bra for your eyes"
All products featured on Vogue are independently selected by our editors. However, when you buy something through our retail links, we may earn an affiliate commission.
When it comes to blush, we can argue over artistic differences on the proper placement for hours. The faux flush has migrated around our faces throughout the decades, but the latest consensus is to concentrate on the temples. A modernised recreation of the 'draping' technique originated by famed 1970s make up artist Way Bandy, it consists of sculpting the face using blush on the cheeks, the temples, the bridge of the nose, earlobes, and sides of the neck. Today, we're all about the facelifting flush, which makeup artist Kristina Ralph Andrews muses is "like a push-up bra for your eyes."
Adapting the method with painterly precision, Andrews used NARS Air Matte Blush in Torch as a coral coloured base on the shoot. She explains that she kept it rounded and high on the cheeks, bringing it in slightly under the outer eye to open up the face."I think of blush placement as a venn-diagram. You want to find the sweet spot between your under-eye, cheekbone, and the uppermost part of the apple of your cheek." Next, she used a touch of Daniel Sandler's Watercolour Blush in Acid in the centre of the blush, intensifying the colour and creating depth.
---
Get blushed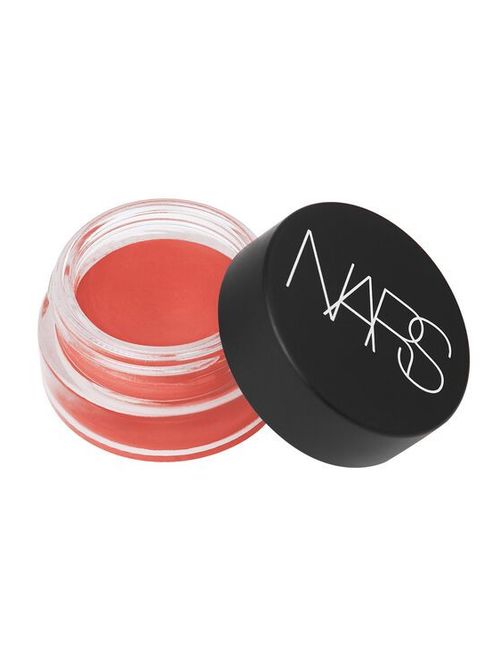 Air Matte Blush in Torch
Nars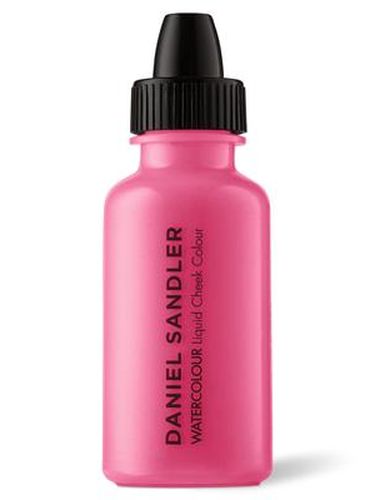 Watercolour Liquid Blush Acid
Daniel Sandler
When sculpting cheekbones – making them look like they were carved out of marble – it is crucial to avoid potential blush blunders. Andrews advises us to reach for a cream formula to ensure absolute control. "Powder products are harder to manipulate, but today with all of these rich textures – creams, mousses – you don't have to be as precise. You can put it on and if you feel like it is too much, keep working on it, patting it in with the palm of your hand and using your body heat to control the product."
If you're someone who wears a heavy base, using a tool will keep you from lifting excess foundation and ruining your hard work. "I'd suggest opting for a smaller, domed brush so that you can be precise in your placement. Keep bigger brushes for bronzers." Finally, Kristina urges that patience is a virtue when working with blush. "Work in layers, add the blush bit by bit - like salt in cooking."
Organza pleated dress, price on request. Tod's. Optical motif cape, price on request. Valentino. Photo: Agnes Llyoyd-Platt
Andrews urges the importance of implementing playfulness when approaching makeup and that there is no such thing as a one-size-fits-all. "There's a big focus on the individual at the moment. You should embrace your own features and your own skin. It isn't about ticking a box anymore. Use the colours that speak to you and place it wherever you'd like."At the end of the day, blush could and should be applied in whichever area makes you the happiest – be that your eyelids or the tip of your nose.