Self-described as "different shades of gay", the Phoebe Bridgers-backed Californian trio that form Muna sit down with Vogue Scandinavia for a mid-tour chat
Katie Gavin, Naomi McPherson and Josette Maskin of Muna are all smiles as I'm ushered into a backroom at Way Out West before their show during the summer. Against the decor of what can only be described as a grandmother's flea market-finds, they are the picture of Southern California cool.
If you know Muna, you'll know they each have singular styles. Still, their looks harmonise beautifully, as do their energies - which they bounce off one another, serving quips at lightning speed.
"I'm kind of a trend bitch, I always have been," Gavin states, no-nonsense. She's wearing a pair of baggy cargos, an exposed black thong sitting high on her hips with a jewel peeking out the back like a tramp stamp. Bang on the early '00s craze.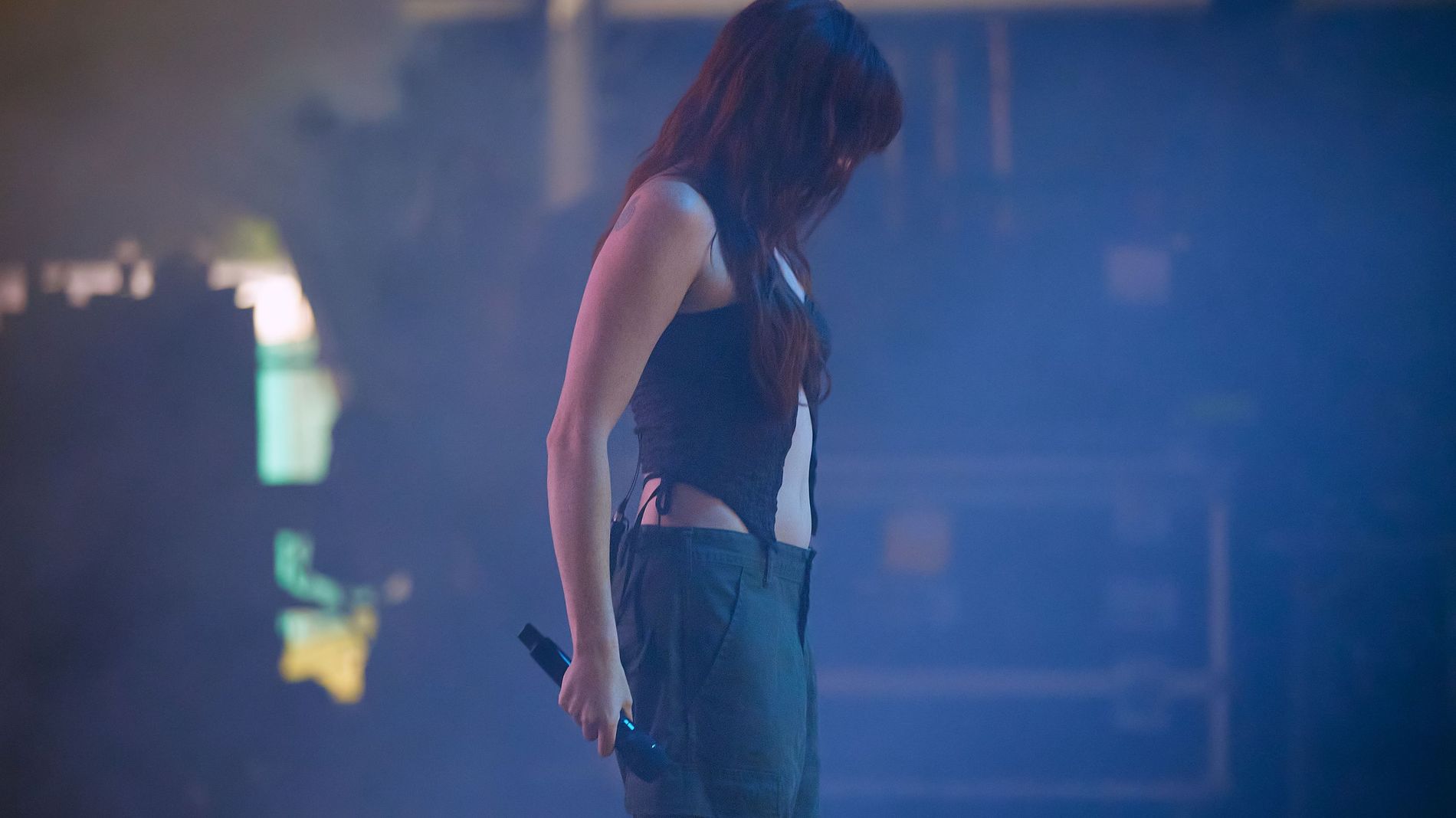 "And they work for you," agrees McPherson. "You're a trend predictor. Sometimes years in advance. Almost too early," they laugh. "Like what?" I ask. The tiny sunglasses ("I had them before Miu Miu"), ballet-core, cycling glasses. "They go into her brain [the trends]… into her dreams" Maskin chimes in.
McPherson (the most fashion-savvy of the three – something they all agree on) is wearing an oversize Martine Rose tee over a pair of basketball shorts. "I just research the most. I'm entertained by it; I enjoy watching runway shows and going through looks." Naomi's equally inspired by the SoCal silhouettes they grew up with – hence the shorts. "I like skate-wear and workwear; oversized stuff. While looking to contemporary black British designers, like Martine Rose and Grace Wells Bonner. I think they're sick. I'm mixed race, so there's something about the diaspora that I'm attracted to."
Neither brands nor trends determine Maskin's style. Feel and silhouette decide which pieces make the cut for their stage looks. "It has to be a certain shape or I won't wear it. I like wearing masc things, but I also want my stage looks to be fitted. It's more gendered for me than anything else."
The trio cover a lot of ground between them style-wise; "different shades of gay" as Maskin defines it – an inclusivity which mirrors the foundation Muna is built upon. They found each other at college, bonding over music and the vulnerability of queerness. And writing about and supporting each other in the latter; a safe space that now includes their fanbase.
A big part of which comes from their raw openness, something Muna feels they owe part of their success to too. "I think we're the most ourselves that we've ever been, and people like us the most that they ever have."
Everything – how they carry themselves and chat away, unfiltered (they tell me about the game they played the night before. A contest of feet: writing and opening sweets packets to see whose toes are most dexterous) – speaks to them being given room to be themselves. Not the norm in an industry that likes to produce moulds.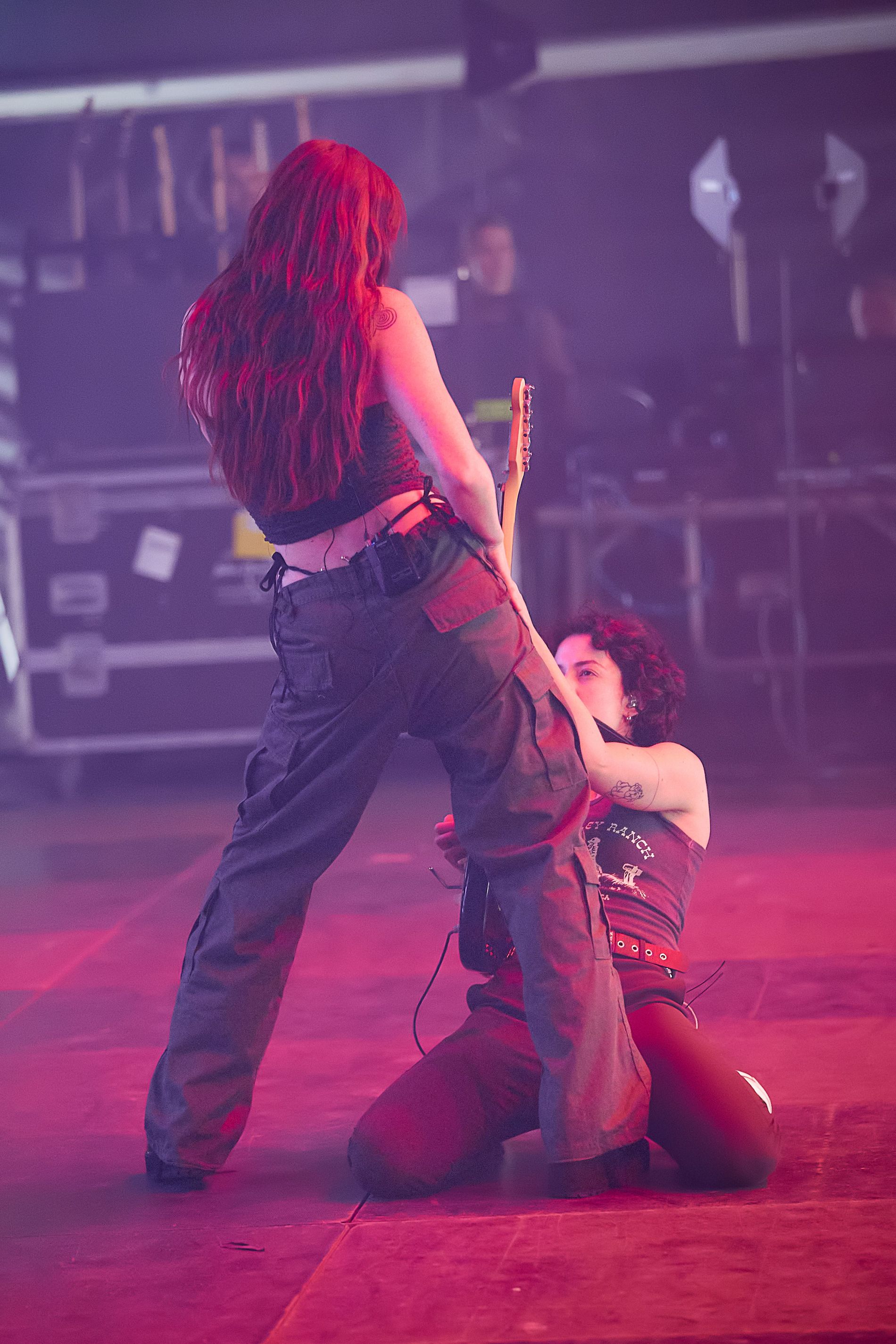 And that's attractive, and warm - a feeling that follows them on stage, where they skoot and jump around. Harmonising and playing together just as they did in our chat. They're genuine, and genuinely having fun - something that seems to lie at the core of their group.
Along with making really great music, they vehemently agree when asked where the next album is headed creatively. "We don't like to limit ourselves," states McPherson. "We're not the type to do a record with a theme that's decided upon beforehand," Maskin continues. "Even if we have an idea, all that matters is if the song is good. That's paramount."
By the time they close their show with one such hit, 'Silk Chiffon', the joy that's been bubbling up through their set is spilling over. Phoebe Bridgers runs on stage for her verse, and the song wraps with all four of them on hands and knees, bowing down to one another. A sight that leaves the crowd wandering off with a warm afterglow, and leaves me musing: "this is what the industry needs more of."