We sit down with Jamain Brigitha, the Dutch-Curaçaoan chef and founder of The Caribbean Housewife, to gain insight into her company's journey conquering Copenhagen's culinary scene. As an added treat, Brigitha cooks three of her signature dishes for us…
Anyone can be featured in Vogue Scandinavia. We look to our Nordic community to find new talents in fashion, culture and photography. Use our hashtag, #MyVogueScandinavia, on Instagram to be in with a chance of being featured in the next issue of Vogue.
Few things in life provide profound pleasure similar to digging into a plate of incredibly delicious food. Copenhagen-based chef Jamain Brigitha agrees, and for almost a decade, her company, The Caribbean Housewife, has cooked its way to the hearts of many in Denmark and beyond. Offering catering services, tailor-made cooking classes, dinner events and takeaways out of locations such as CPH Cooking Class, The Caribbean Housewife provides a taste of some of the most mouthwatering, modern Caribbean and Latin-inspired cuisine around.
It all began from Brigitha's yearning to enrich the Danish food scene. "I started cooking when I was 11, but it was more for friends and family – there was never a commercial idea," she says. "But then, I visited Copenhagen for the first time in 2013 and I saw that there were none of the flavours or dishes that I grew up with." Born on the tropical island of Curaçao, Brigitha moved to the Netherlands at seven years old. Growing up in the cultural hodgepodge that is Amsterdam, she was exposed to various cuisines, which, combined with her Caribbean heritage, significantly impacted her cooking. The budding chef decided it was time for Copenhageners to indulge in the vibrant aromas she cherished.
Occupying Siciliansk Is, a quaint ice cream shop in Vesterbro (currently closed for the winter), The Caribbean Housewife was finally up and running in 2016. Brigitha started by serving her now-famous hot soul soup, a hearty and rich vegan dish made from organic vegetables and spices, while she also put her own twist on Caribbean classics such as jackfruit and plantain. Turned out, Brigitha's comfort grub was precisely what the city dwellers needed. "When I opened that first soup shop, it snowballed – it went really fast," she recalls. "An advantage of Danish culture is that they follow what others do. Once one is in there, others will also come, and I think that worked for me as well."
Following her initial huge success, Brigitha kept developing her dishes and expanding the operations of The Caribbean Housewife. In 2021, she brought along her sous chef Emiliano Trebbi, who Brigitha says has been a key player in the company's growth. Today, they prepare culinary delights that take their cues across all corners of the globe, reflecting the Caribbean's rich cultural history. "Danish people love the food that we make, and we also are a niche within a niche," Brigitha says. In addition to specialising in contemporary Caribbean and Latin American eats, The Caribbean Housewife makes everything from scratch with a focus on vegan and vegetarian dishes. "Many of our dinner event guests don't even know that they're eating plant based food," Brigitha says.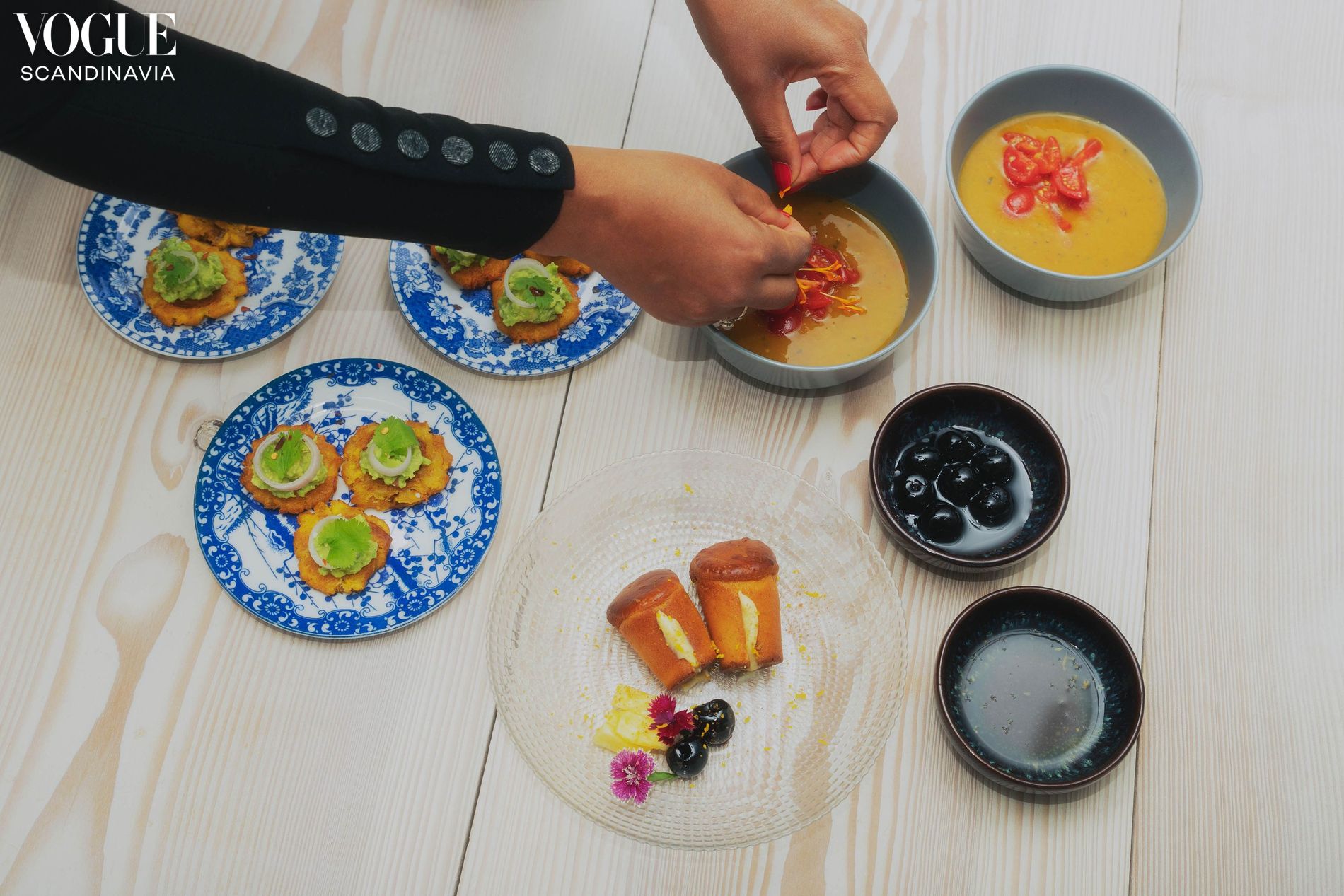 To get our readers salivating, we asked Brigitha to whip up three of The Caribbean Housewife's signature dishes for this story. First up was refreshing mango gazpacho, where the juicy and sweet fruit mingles with cool cucumber, fresh tomato, zesty ginger and a hint of spices. The dish holds a special place in Brigitha's heart, as she initially created it when The Caribbean Housewife was booked to cater at the high-profile opening of the Copenhagen Cooking Festival. "I designed it with Princess Marie of Denmark in mind, as she's the patron of the event," Brigitha says. "And that time, it was seriously spicy – she said that she can taste female empowerment through the soup, which is what we stand for."
The Lord Mayor of Copenhagen Municipality Sophie Haestorp Anderson and her staff of Københavns Kommune were such fans that they booked a cooking class for herself and her team. "What we always do is try to teach people more about the ingredients themselves and where they come from – so it's more than just a simple cooking class," Brigitha says. "It's about the storytelling behind the food and the historical meaning of it."
Another signature treat Brigitha prepared for us is Tostones, where deep-fried plantain chips are served with silky smooth guacamole. Plantain, a starchy version of a regular banana, is a key food ingredient in various tropical countries, and the Tostones are a Latin American way of cooking the fruit. Slices of unripe, green plantains are first fried, then smashed, and fried again until golden and crisp. Grab the recipe for this scrumptious snack below, and try making it yourself.
Finally, we're finished off with The Caribbean Housewife's decadent dessert, Babà al-Rum, a revamped iteration of the Neopolitan classic sponge cake soaked in spiced Caribbean rum. Brigitha's version oozes with velvety passion fruit vanilla coconut cream and is served with amarena cherries, tangy pineapple, and colourful edible flowers. Feeling hungry yet?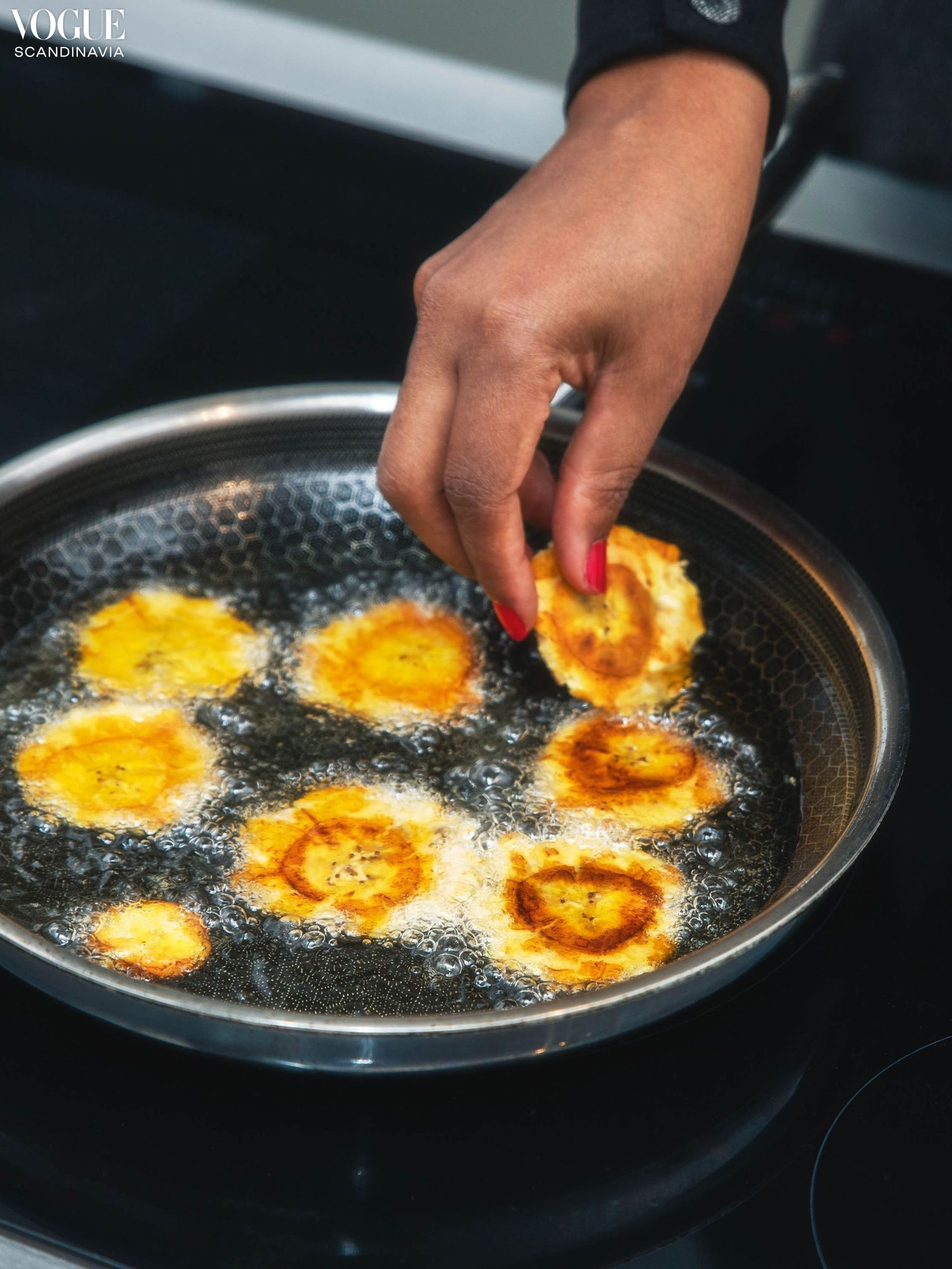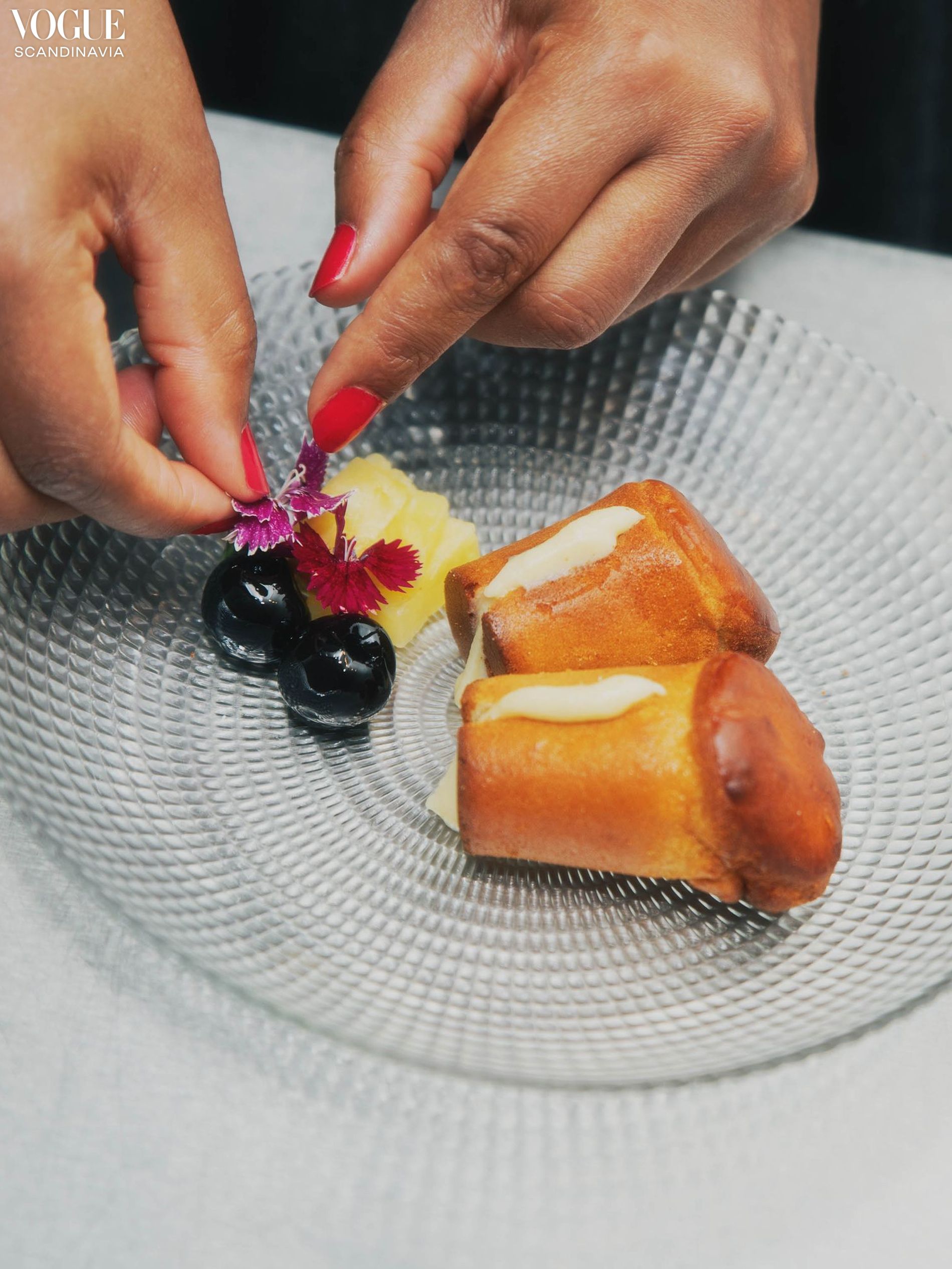 Tostones
Ingredients (serves four people):
2 unripe green plantains
Neutral vegetable oil
2 avocados
1 red onion
1 garlic clove
1 lime, juiced
Chili flakes
Cilantro
Salt
Start first with the guacamole. Cut avocados in half, remove pits, and scoop flesh into a mixing bowl.
Mash avocados with a fork or potato masher to your desired consistency (some prefer chunky, while others
like it smoother).
Add diced red onion and minced garlic, to the mashed avocados.
Squeeze lime juice in the mixture and add salt to taste.
Stir everything together until well combined.
Fold in chopped cilantro.
Taste and adjust the seasoning, adding more lime juice or salt if needed.
Cover the guacamole with baking paper to ensure it touches the surface and prevent it from browning.
Refrigerate before serving to allow the flavours to incorporate.
Peel the plantains. Cut off the ends, make a lengthwise slit, and then use your fingers to gently peel the skin.
Cut the plantains into 3 cm thick slices.
Heat the vegetable oil in a deep skillet or frying pan over medium-high heat. The oil should submerge the
plantain slices.
The oil should be hot (around 175°C). Add the plantain slices in batches. Fry them for about 2-3 minutes on
each side or until they are lightly golden. They should be firm, but not fully cooked.
Remove the partially fried plantains and place them on a paper towel-lined plate to drain excess oil. Let them
cool slightly.
Remove the pan from the heat.
Flatten the partially fried plantain slices. You probably do not have a tostonera (a wooden press) at hand, so
you can use the back of a heavy glass or a flat-bottomed cup. Press each slice to about half of its original
thickness.
Reheat the oil to 175°C.
Return the flattened plantains to hot oil and fry them again for about 2-3 minutes on each side or until they are
crisp and golden. They should be cooked through and crispy.
Remove the tostones from the oil, drain on paper towels, and immediately add salt to taste.
Put the tostones on a plate and the garnish them with the guacamole, a ring of red onion, and cilantro.
Sprinkle with chilli flakes and serve!