More is definitely more and applications we hadn't seen in decades made their comeback for the runway
Heavily inspired by the much yearned for noughties aesthetic, the beauty at Lazoschmidl's show was a euphoric dream that would've had every Y2K fanatic drooling. Graphic white liner, shimmers in pastel blues and silver, and concealer a tad too light for one's skin tone resonate with millennials as we enter our now long gone teenage years and bring back that prepubescent self that was sure we were serving supermodel vibes while walking down our high school hallways.
With old school Britney playing in the background, makeup artist Johanna Nomiey deftly applied dabs of powder and strokes of stark white liner on the six models that comprised the capsule collection presented by Lazoschmidl for SS22. "The makeup is inspired by the 2000s Grammys, Britney and Paris, blue eyeshadow and shimmer", said Nomiey without losing focus, "With all of them — the models — I just went individually and with the flow. All of them have something white, either it be white liner, eyeshadow or silver shimmer. I'm focusing on the eyes, keeping the brows and lips natural".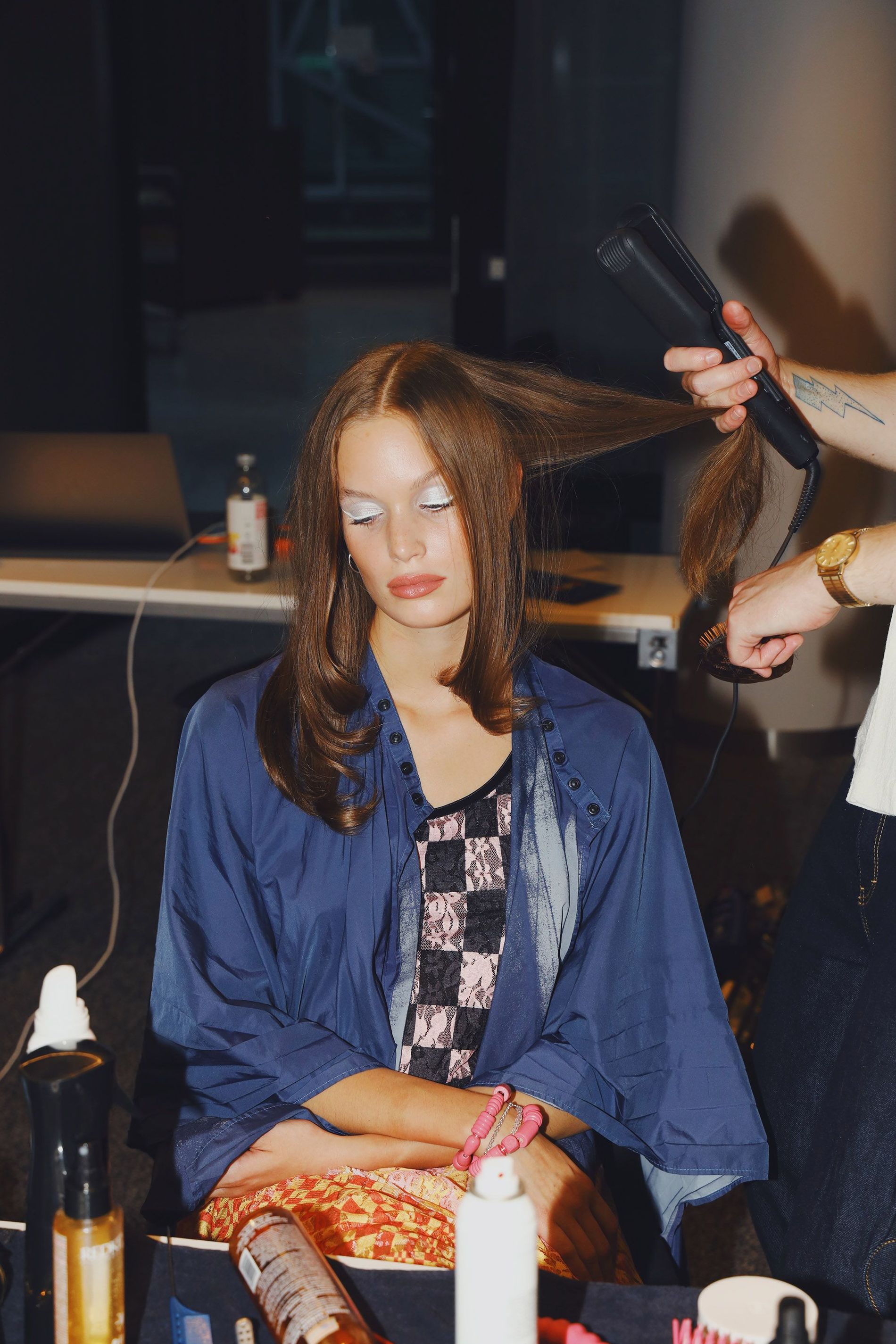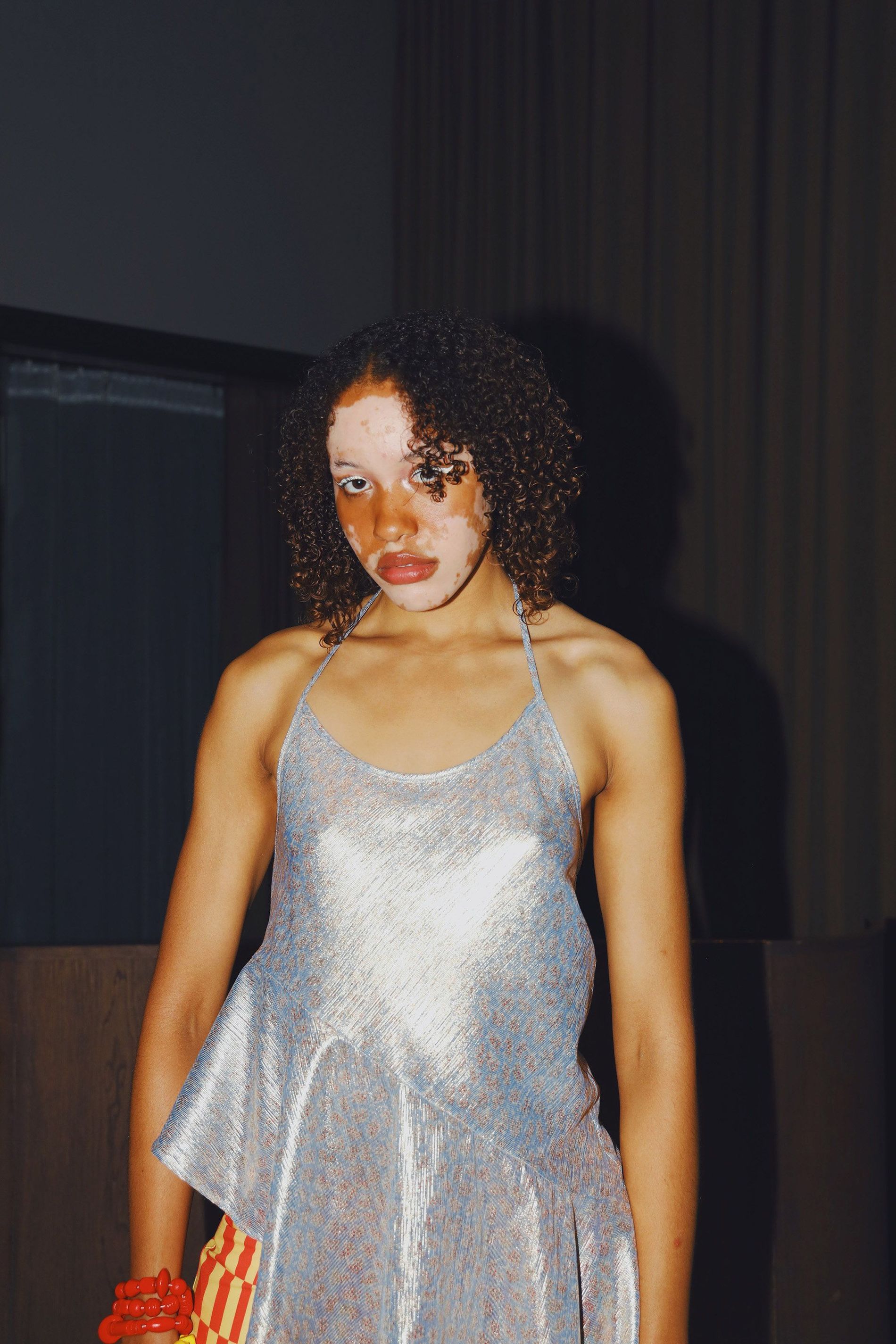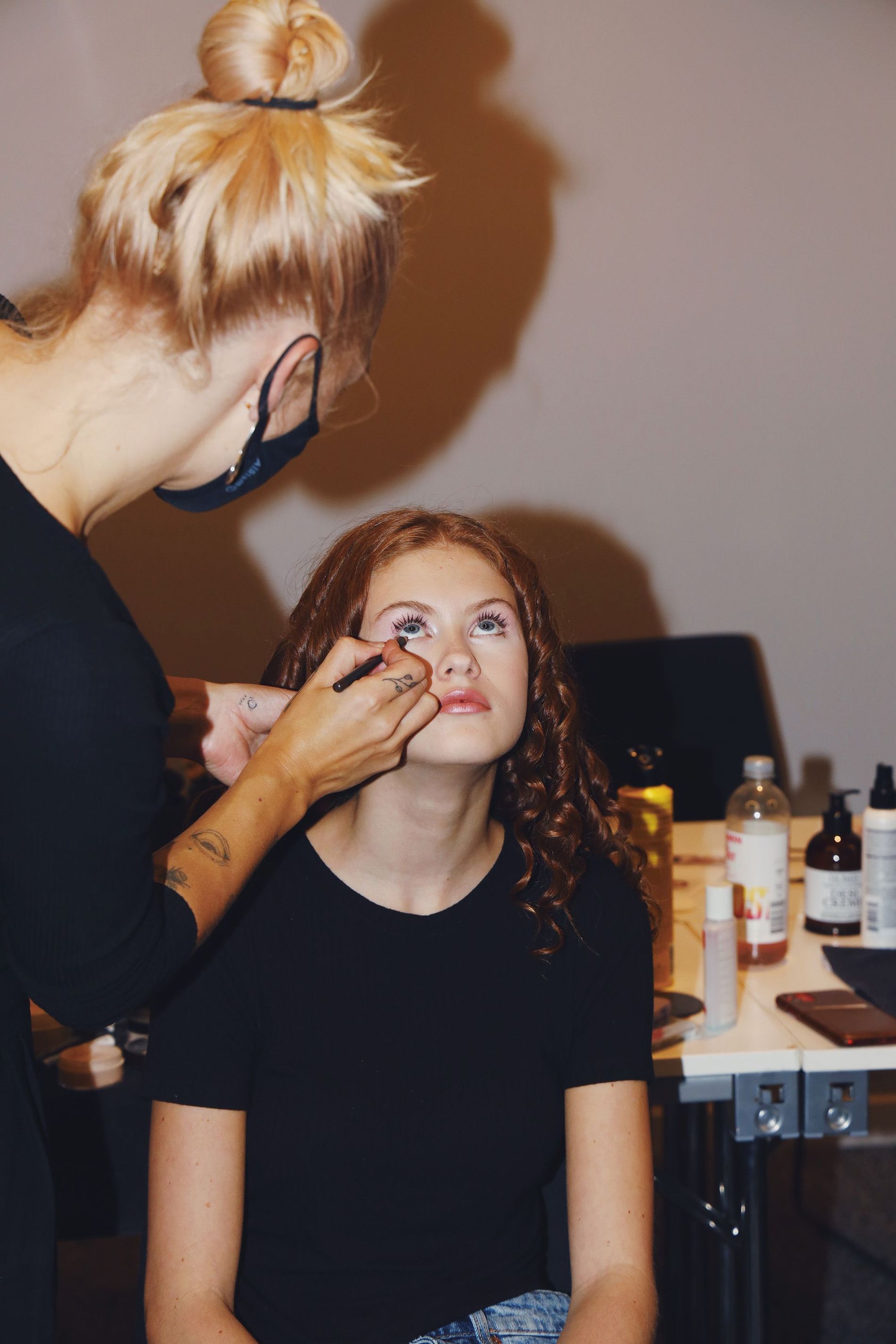 Detailing a bit more into the look, one can describe it as when a young girl took her mother's makeup and just went for it; foundation wasn't a thing yet and concealer was just something you slapped on — probably in an inverted triangular shape if you were a pro. After that, Johanna just lined the inner lash line with white and the models were ready to go.
Onto hair, Jesper Hallin was putting the final touches on what he himself described as, "an application of all the products that we hate these days but with a comeback". Essentially mousse, gel, texturiser and too much of it. For the curls he was going for a, "prairie girl meets ramen noodles," and for the girls with straighter locks he went for a sleek straight, "when Kate Moss did the Tom Ford runway" with over styled hair that curls slightly inward.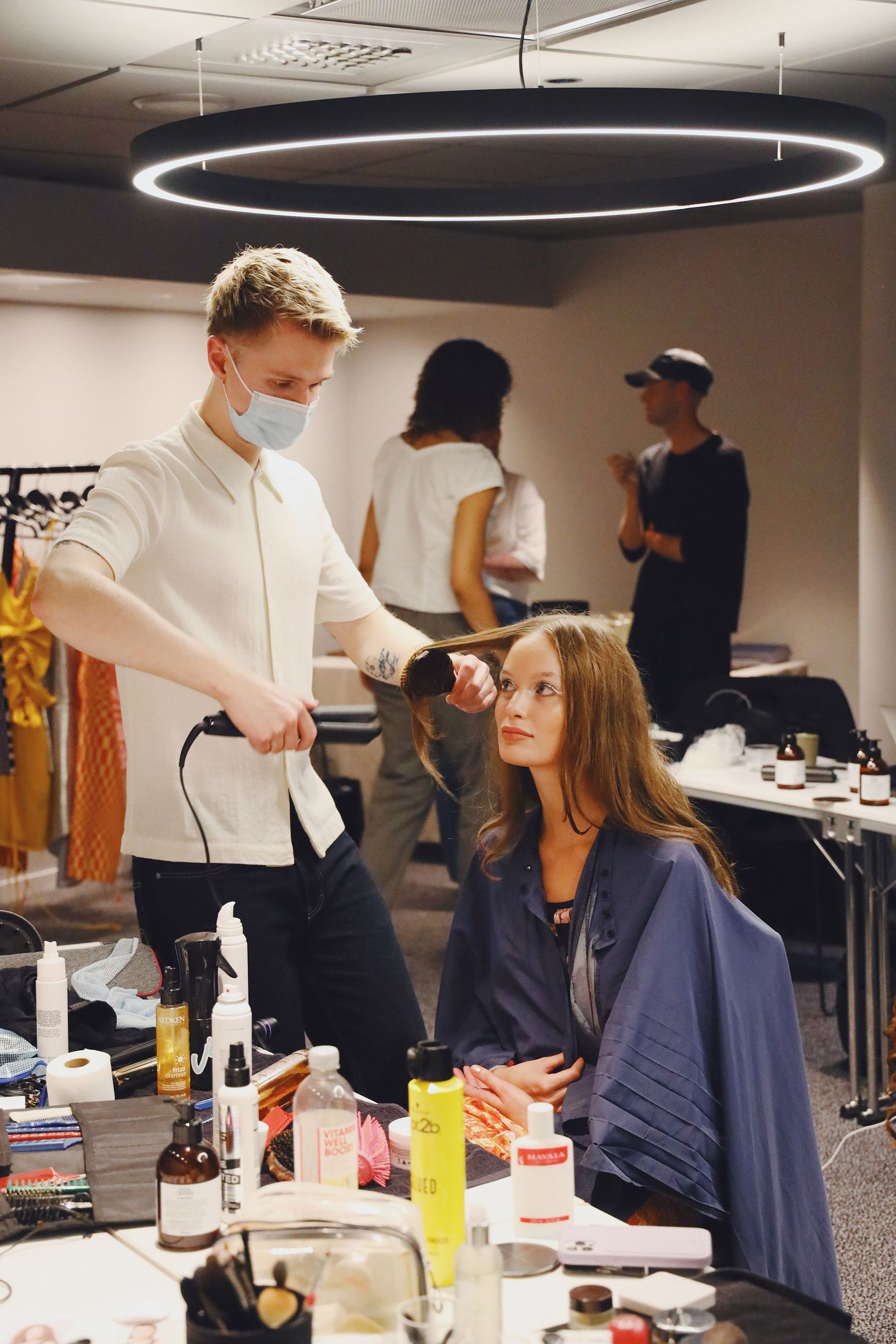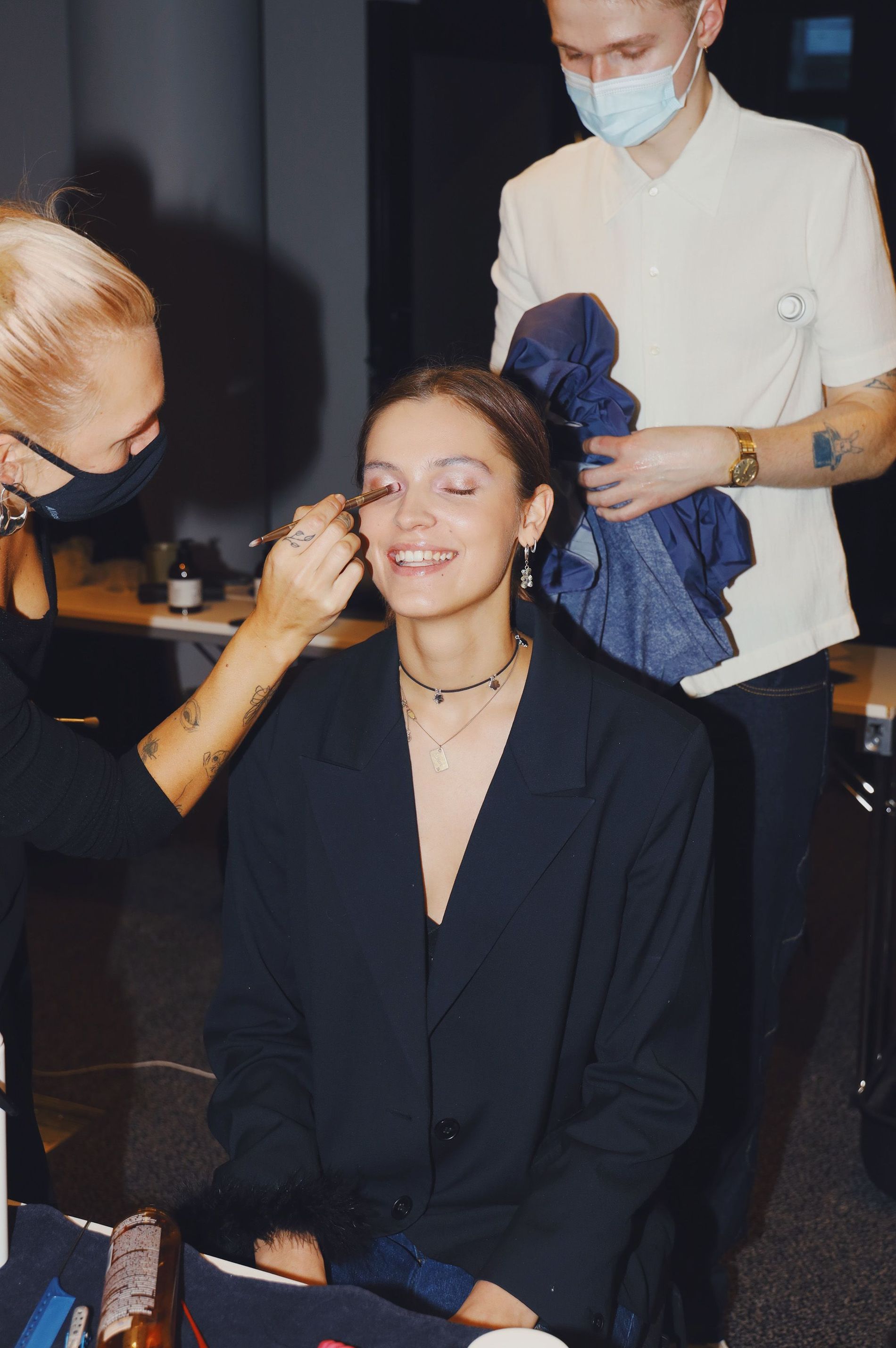 And finally, as nails are something that clearly cannot be forgotten, these ones really matched the vintage 2000s aesthetic. Two styles were presented throughout the models, a classic, slightly under-painted shimmery pale silver and a thick french press-on glued nail (iconic).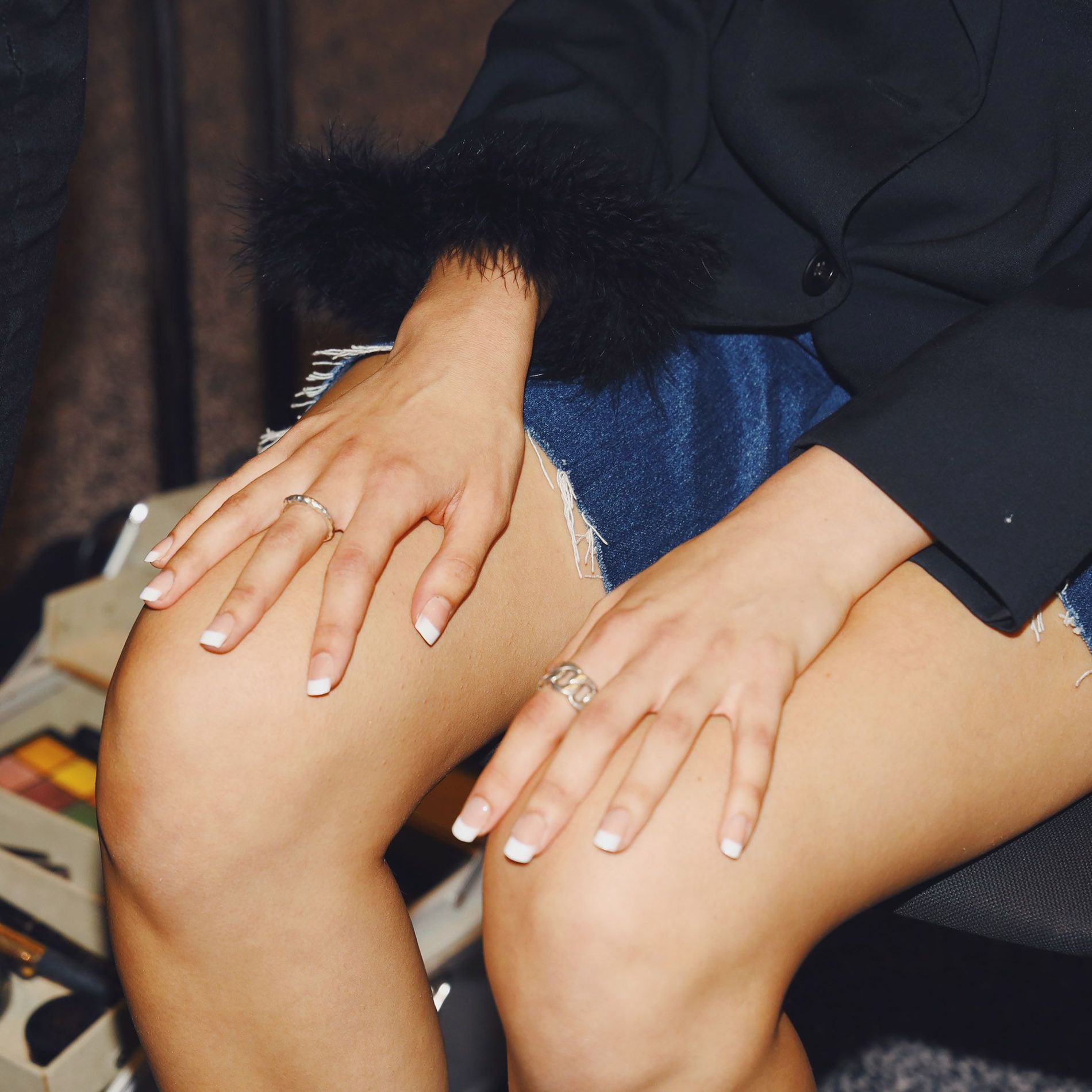 What else could you want from the runway presentation of a trendsetter like Lazoschmidl? We're more than satisfied by the beauty and if one would want to replicate at home, in the words of Johanna: "think light skin, no heavy base. I love Tromborg's Mineral Foundation, that will do the work. Focus on the eyes, Dior has really nice pastel mint-greens, pinks and whites. Make sure you go all up to your brow. Top it off with their white kohl in the waterline, some mascara and you're good to go. For that extra pop-star look, since where not doing it by the book, put some extra RMS loose powder under your eye to get the 'to white under your eye with a flash' effect. Oh and don't forget the French manicure. Either DIY it or go grab some press-ons from your closest beauty supplier!"
---
Get Lazoschmidl's Y2K runway look