The Met Gala is less about perfecting a signature look than an opportunity to walk the line between whimsical and dramatic. Here are the stars who did it best
Ever since its first "Fashion Plate"-themed event in 1971, the Met Gala has remained an annual playground for the kind of visionary, no-holds-barred glamour that's otherwise reserved for photo shoots. No wonder, then, that the Metropolitan Museum of Art has also been the site of iconic beauty transformations sure to spark trends—and more than a few headlines.
At 2015's "China: Through the Looking Glass" fete, Dakota Johnson soaked up the spotlight with her long ingenue tail​ chopped to a springy chin length—and arguably set off the wave of bobs that's still sweeping the Instagram set. Gisele Bündchen's steamy bronze glow in 1999 was just as prescient, elevating bombshell nudes into the gold standard of summer makeup.
And yet, for a certain kind of red carpet regular, the Met Gala is less about perfecting a signature look than an opportunity to walk the line between whimsical and dramatic. Take Cher, who paired a sparkling Bob Mackie confection with sculptural earrings and a wash of lavender eyeshadow in 1985, while Beyoncé went from Sasha Fierce to avant-garde vamp with the help of a slicked-down style and a smoldering violet lip in 2014—and Rihanna won the 2015 red carpet with the help of a gilded headdress and a transformative set of eyebrows.
Perhaps the most boundary-pushing gala yet, 2019's "Camp: Notes on Fashion"-themed festivities inspired bright palettes, and even outfit changes, as Lady Gaga made her entrance onto the red carpet wearing a set of oversized gold lashes and a head-turning platinum bob.
This year the Met Gala returns—and it will be livestreamed, so viewers can see every stunning look in real time. To celebrate the upcoming Met and the opening of "In America: A Lexicon of Fashion," we've rounded up the best beauty looks to debut at the gala. From impeccably detailed updos to next-level makeup, they're still iconic even decades later.
Bianca Jagger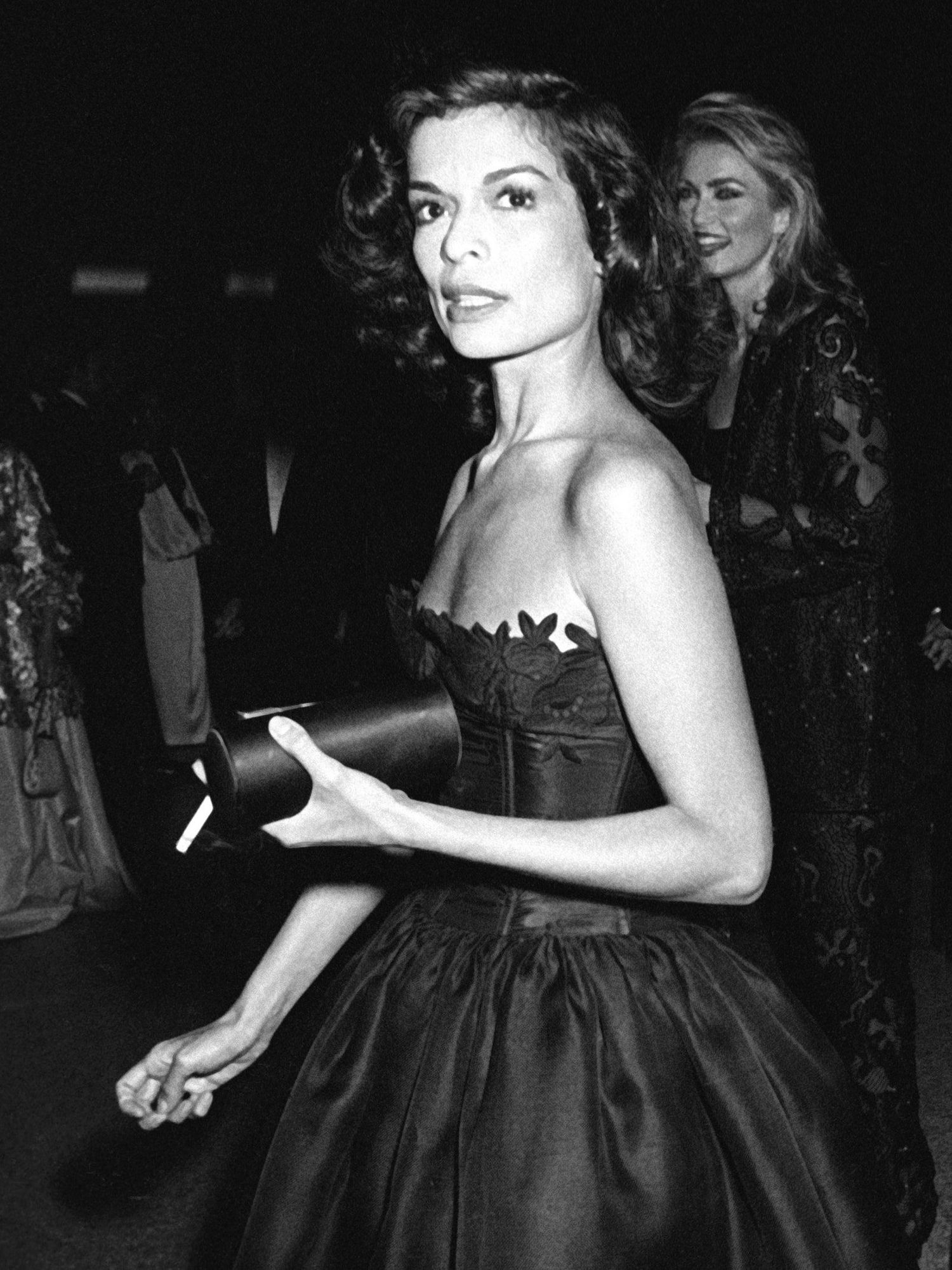 Photo: Getty
For the 1981 "The Eighteenth-Century Woman" gala, Bianca Jagger ascended the steps of the Met with her brunette waves pinned into vintage-inspired curls.
Iman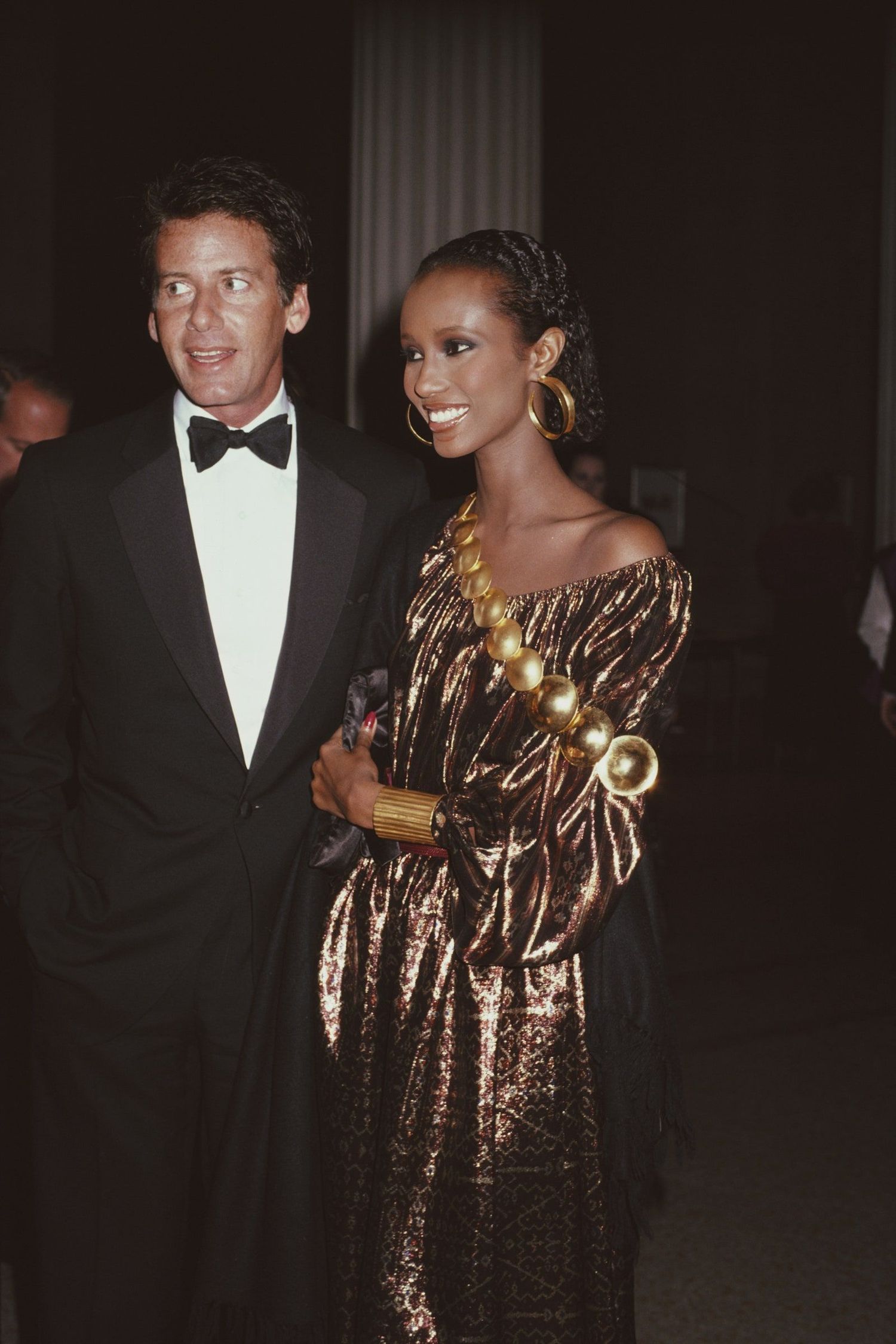 Photo: Getty
Iman was a bronze goddess from head to toe when she arrived in 1981. With slicked back curls, a chic smoky eye and glossy lips, the model turned heads as she seemed to radiate light from every angle.
Cher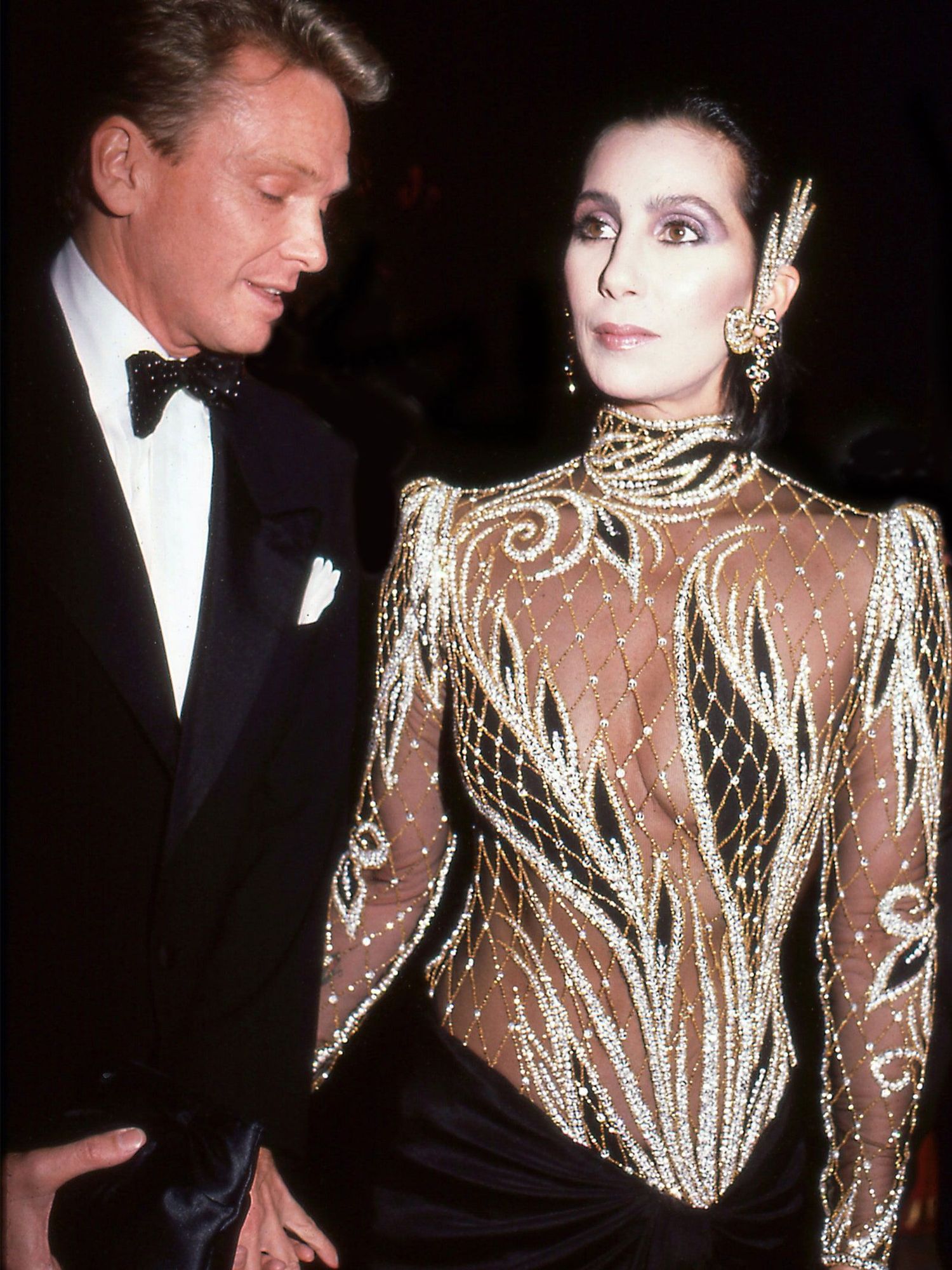 Photo: Getty
Perhaps inspired by the looks featured in the 1985 exhibit, "Costumes of Royal India," Cher sported a bedazzled unitard and a classic '80s lavender smoky eye.
Christy Turlington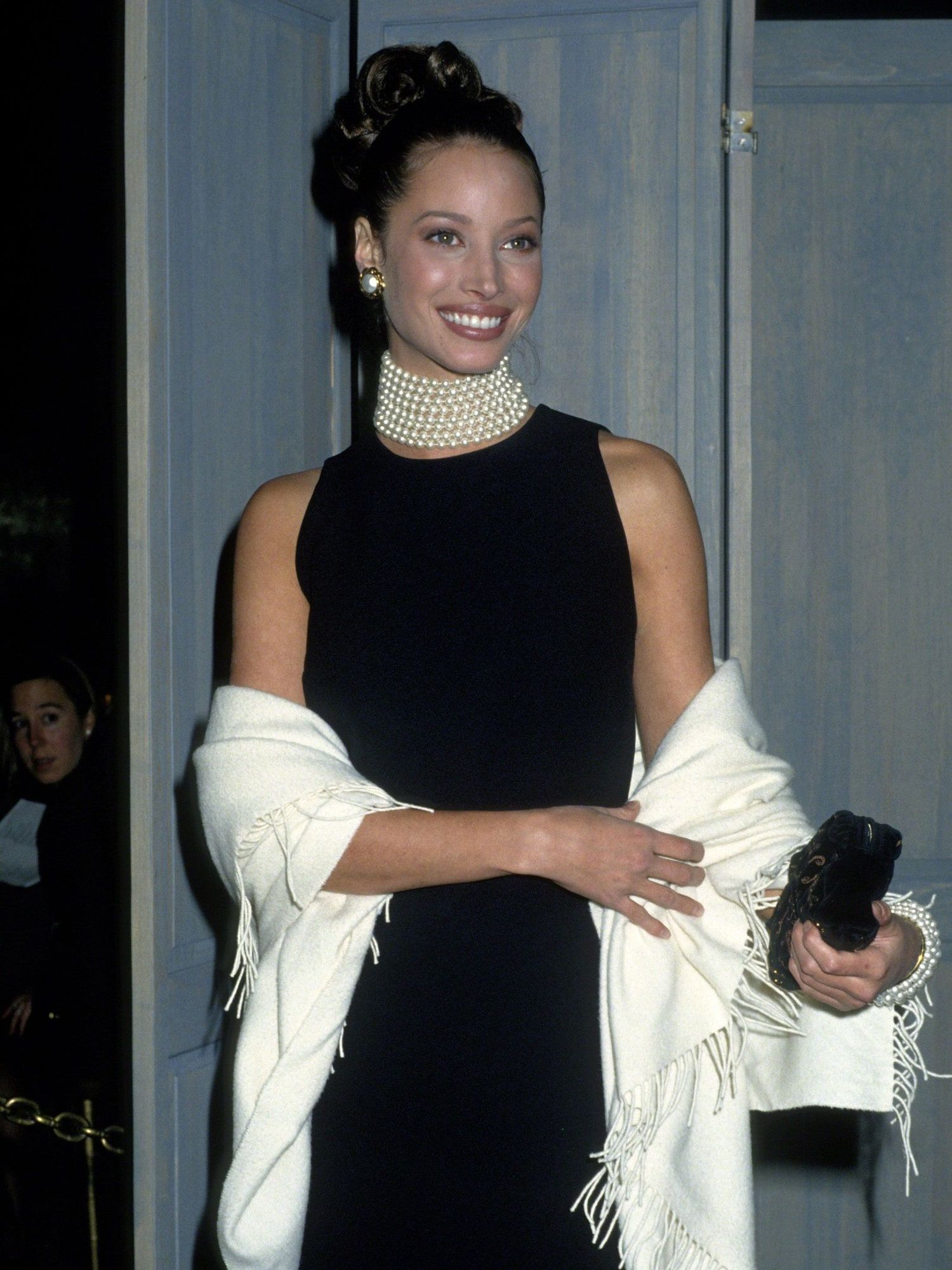 Photo: Getty
When model Christy Turlington stepped onto the red carpet at the 1992 Met Gala themed "Fashion and History: A Dialogue," she appeared as a modern day Audrey Hepburn, wearing a pearl choker and curls swept up into a retro knot.
Nadja Auermann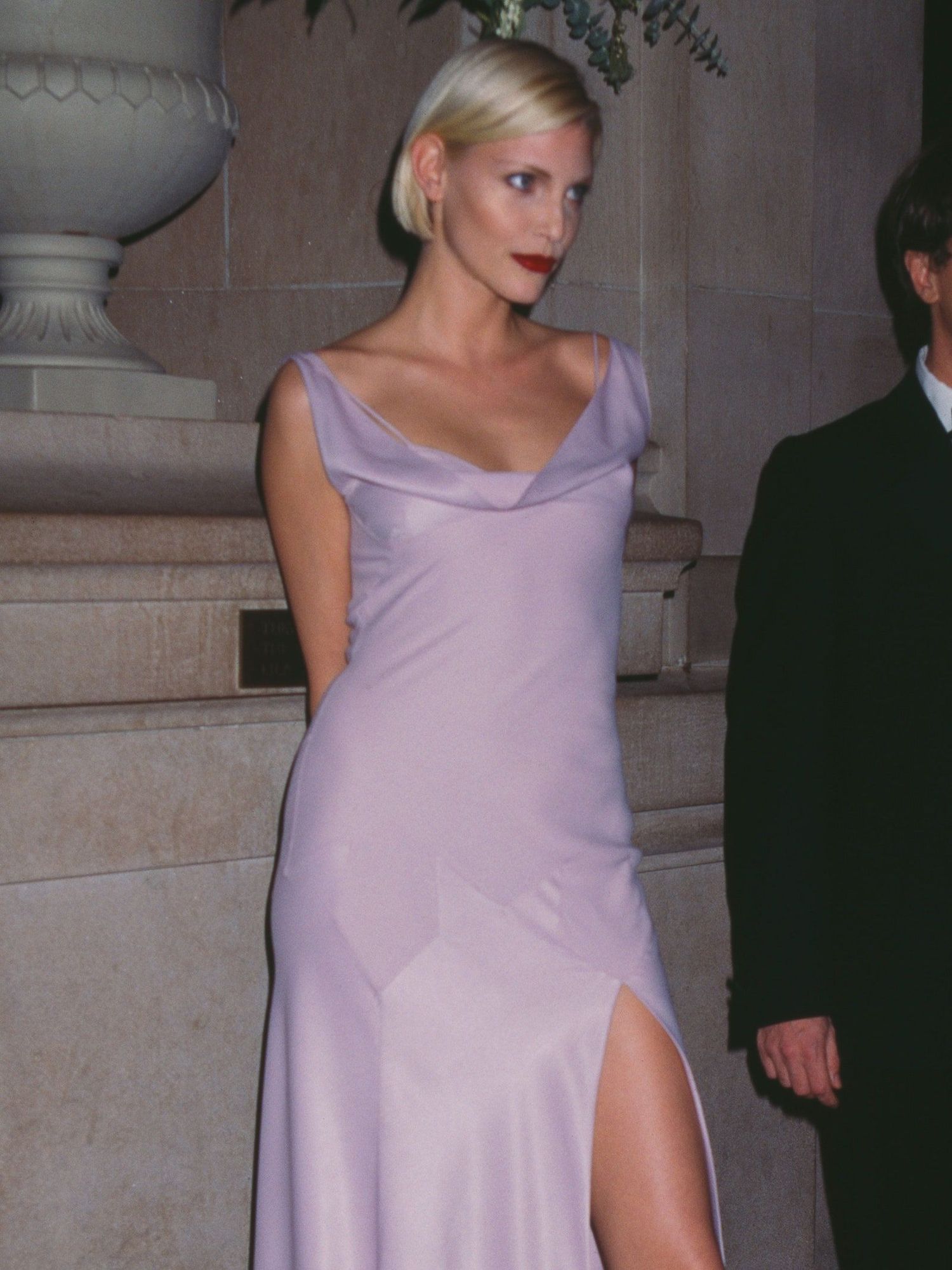 Photo: Getty
For 1994's event, blonde beauty Nadja Auermann made sure her slicked bob was perfectly secured, not to distract from her lavender minimalist slip dress.
Naomi Campbell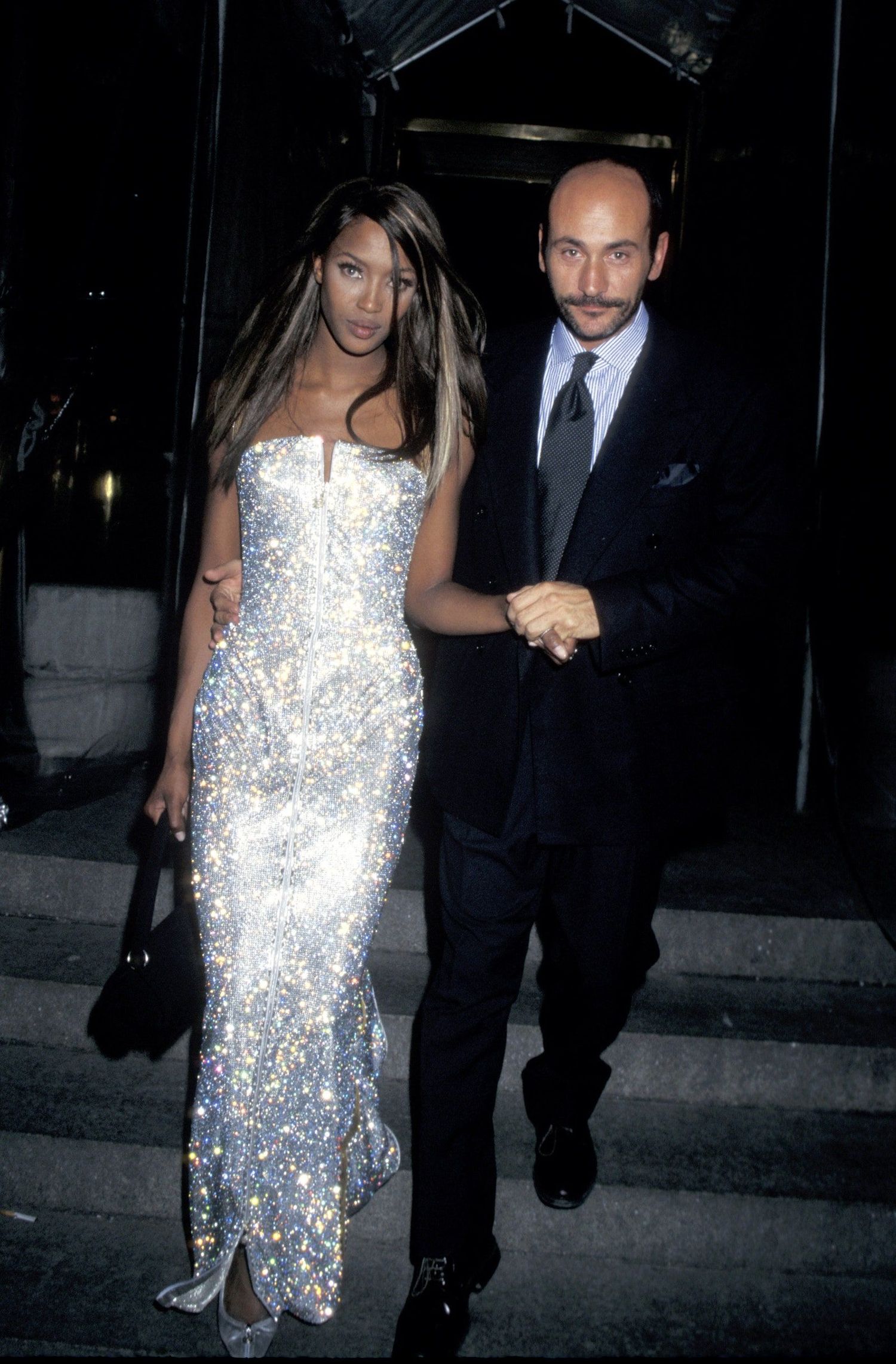 Photo: Getty
Naomi Campbell was very much the nineties bombshell as she made her way to the Met Gala in 1995. With chunky highlights, pastel eyeshadow, and nude lips, one might even call her a clairvoyant as her look checked off pretty much every beauty trend of the following decade.
Princess Diana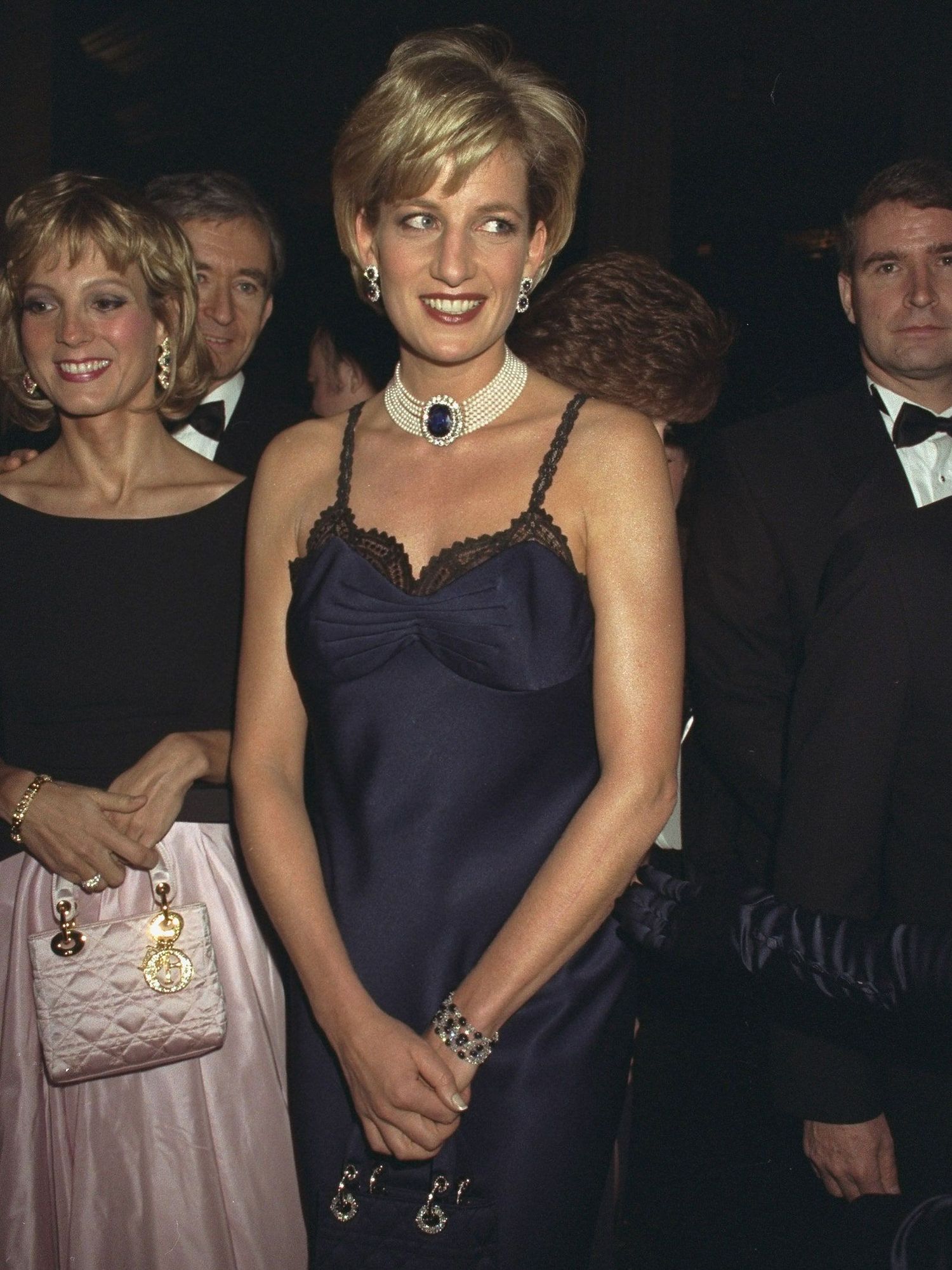 Photo: Getty
For her first and only Met Gala appearance in 1996, Princess Diana wore a navy blue dress from John Galliano's debut haute couture collection to celebrate the "Christian Dior" theme.
Linda Evangelista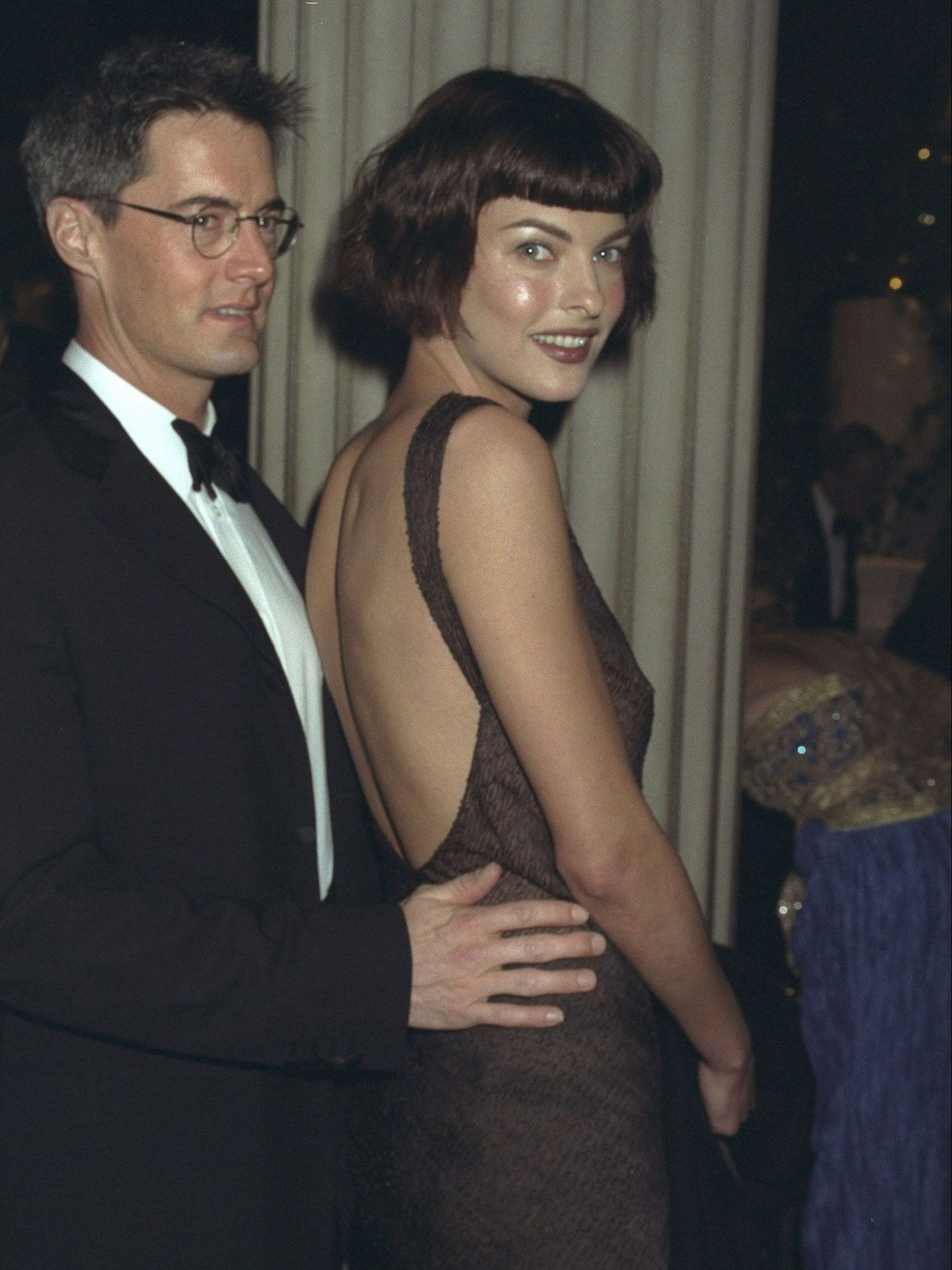 Photo: Getty
In 1996, model Linda Evangelista fashioned her lengths into a volumized bob complete with a set of micro bangs.
Liv Tyler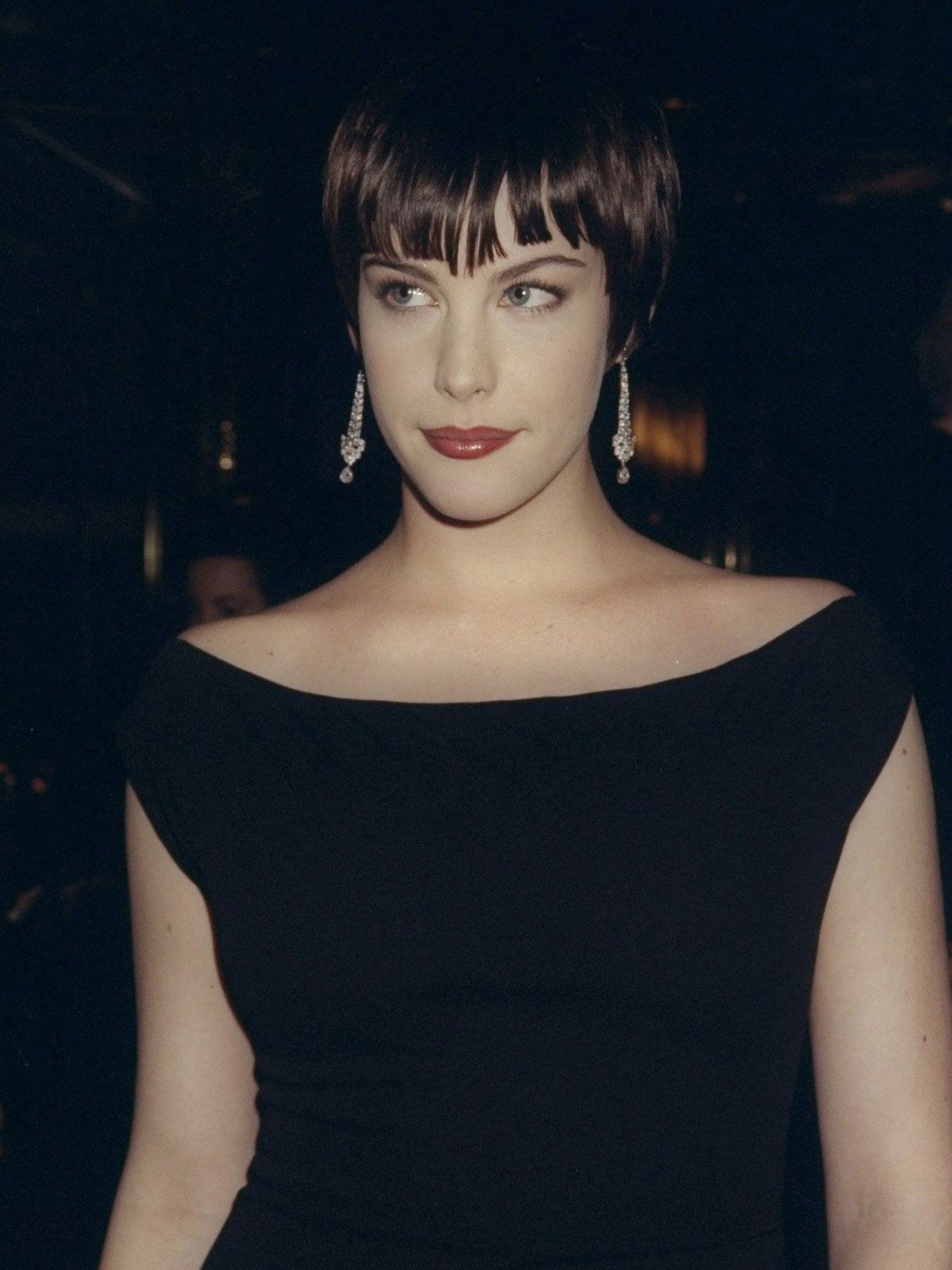 Photo: Getty
Inspired by the 1998 "Cubism and Fashion" theme, Liv Tyler walking into the Metropolitan Museum with a funky misshapen pixie and off-centered bangs that recalled the graphic art style.
Gisele Bündchen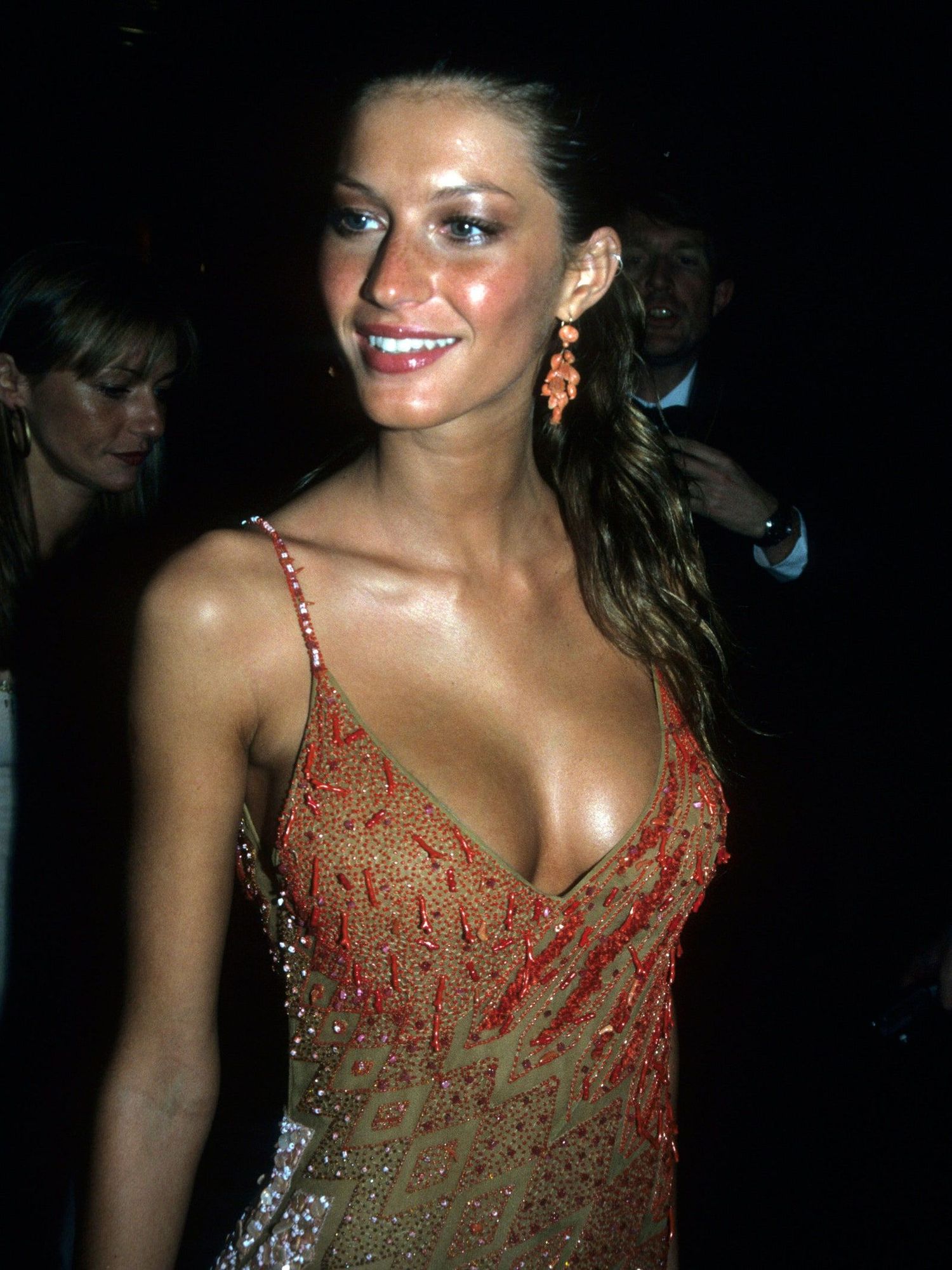 Photo: Getty
Brazilian bombshell Gisele Bündchen arrived to the 1999 "Rock Style" Met Gala in all her fresh-faced, sunkissed glory.
Eve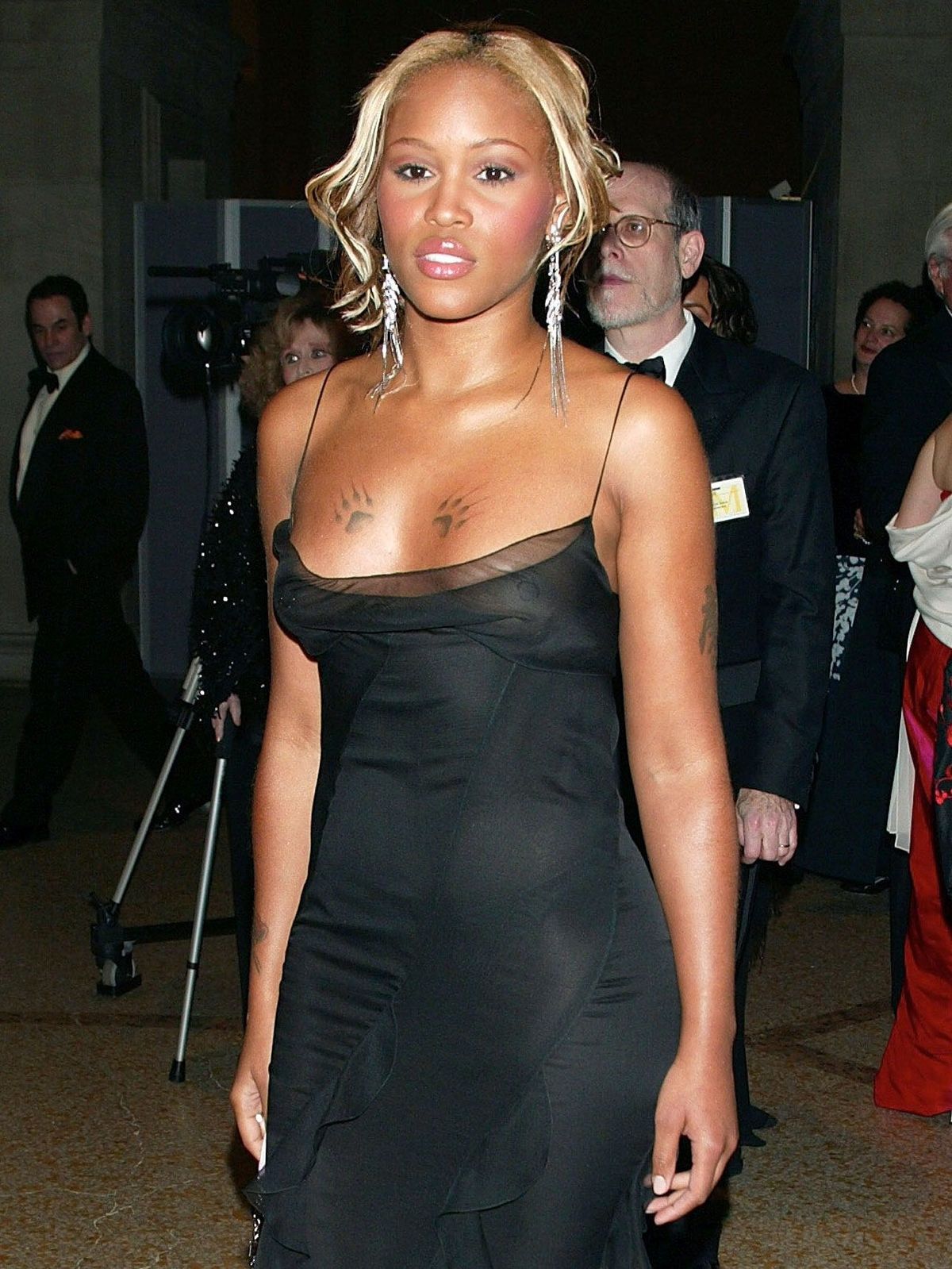 Photo: Getty
As an ode to the 2003 theme, "Goddess: The Classical Mode," rapper Eve sported a classic chiffon gown with her hair center-parted into piecey tendrils.
Lucy Liu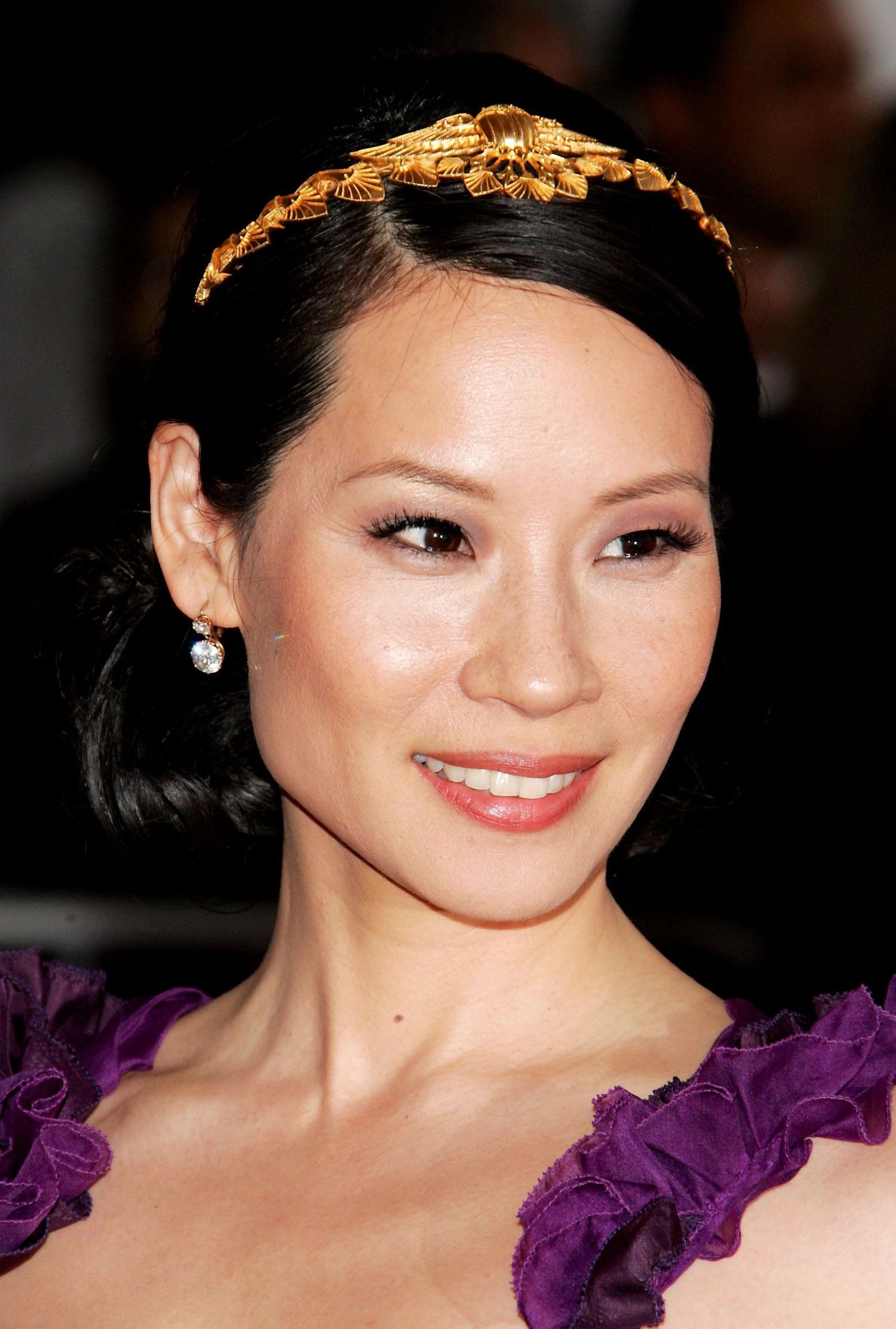 Photo: Getty
The 2007 theme "Poiret: King of Fashion" called for only the most regal looks, and Lucy Liu, adorned with a golden crown, delivered. With lightly dusted purple eyeshadow and rosy lipstick, the actress was a modern-day fairytale princess come to life.
Florence Welch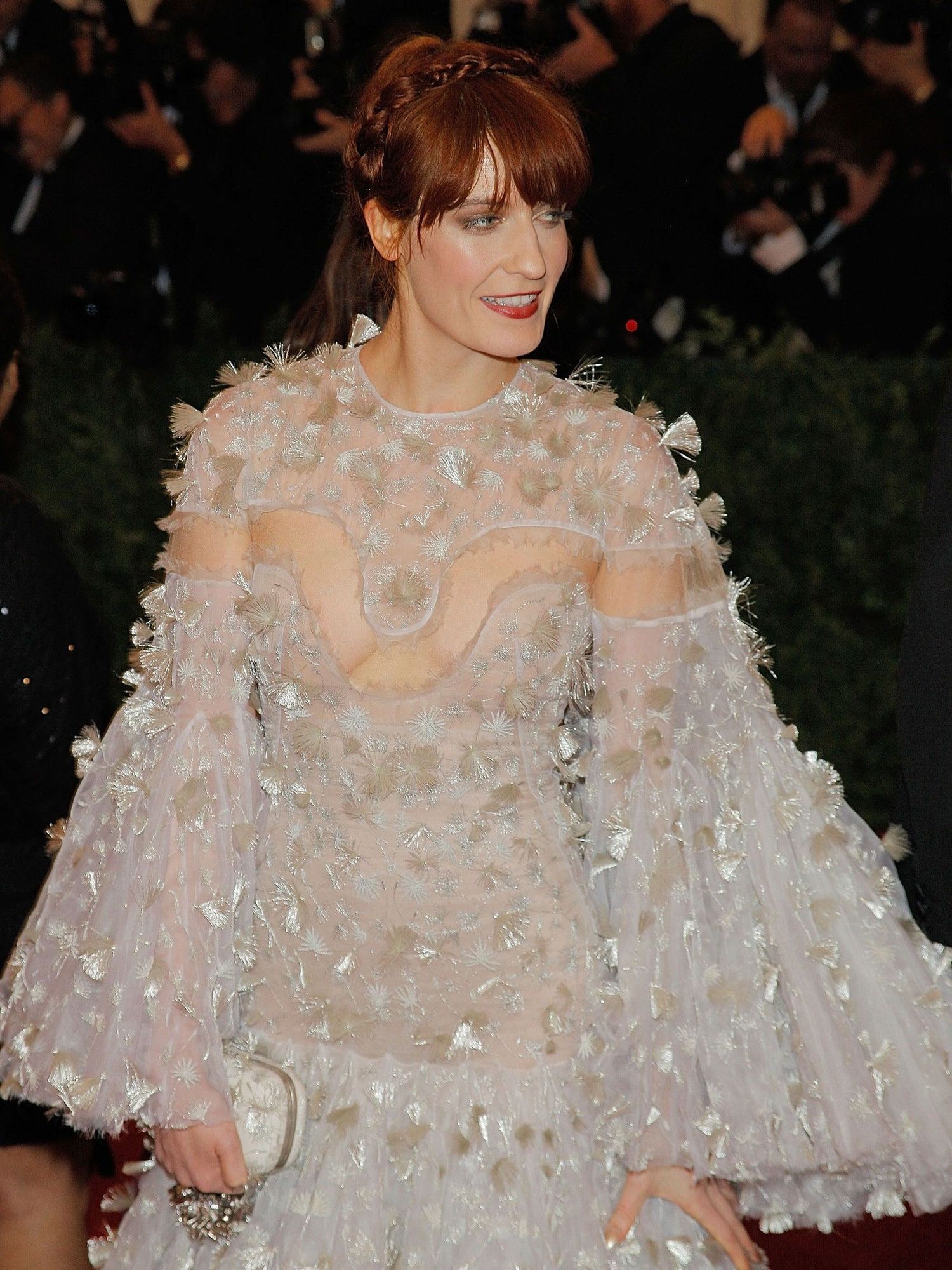 Photo: Getty
Singer Florence Welch appeared as a fringe-tastic dream for the 2012, "Schiaparelli and Prada: Impossible Conversations" Met Gala with her famous crimson strands woven into a crown braid.
Erykah Badu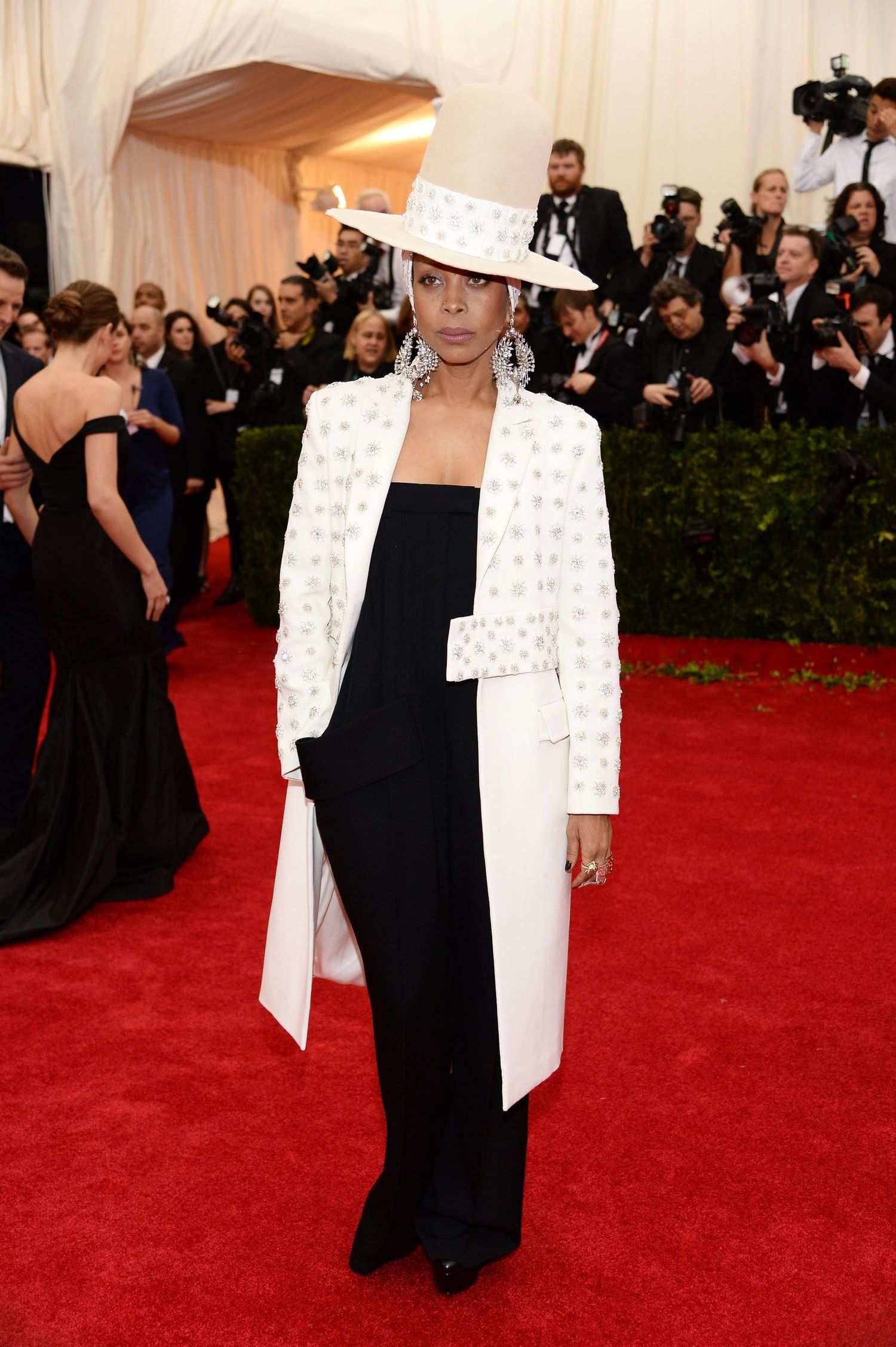 Photo: Getty
Wearing her signature hat—bedazzled for the special occasion—to the 2014 gala, Miss Badu was a vision with a flawless nude makeup look.
Beyoncé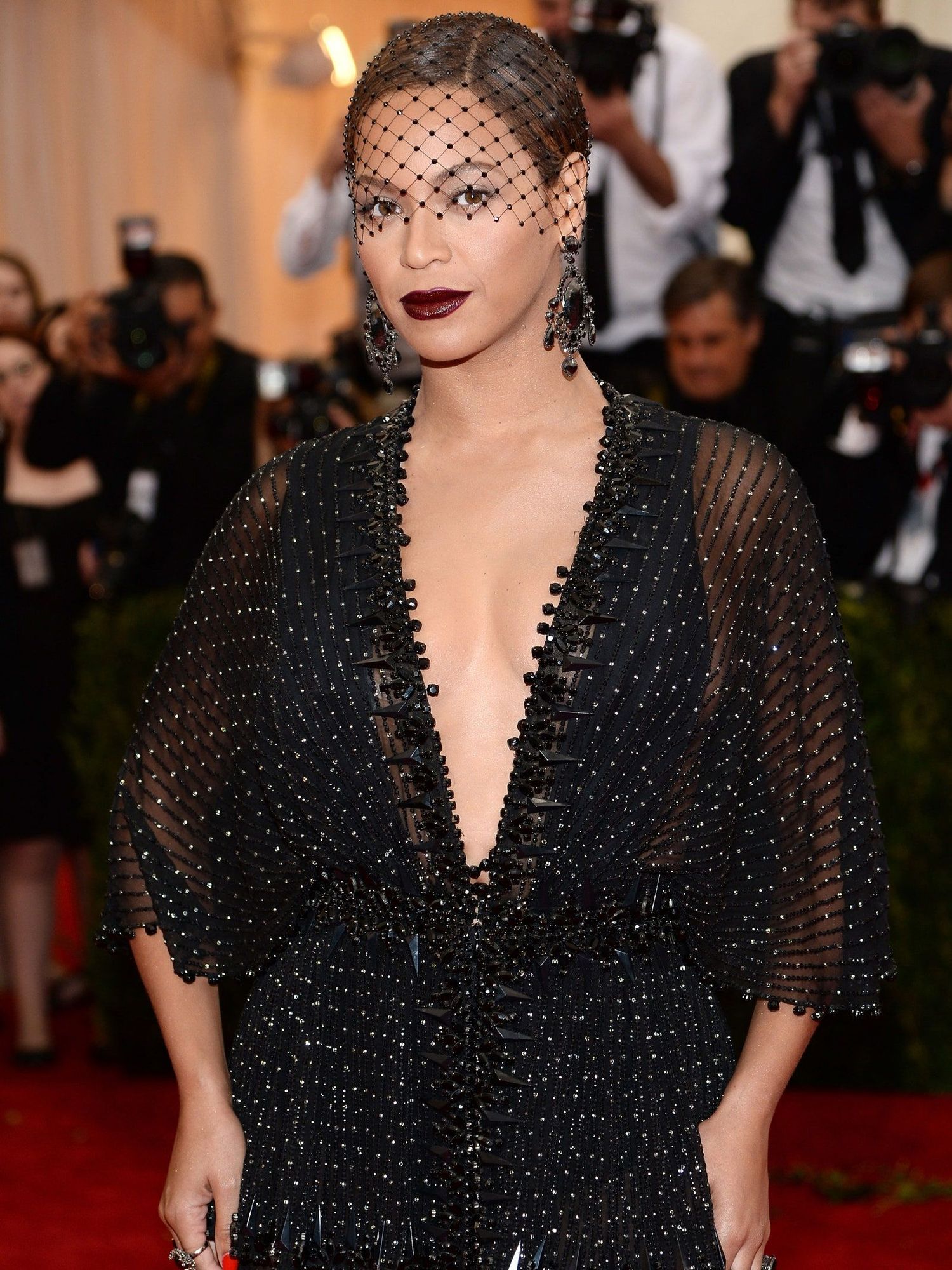 Clad in a Givenchy beaded frock, Beyoncé arrived to the 2014 Met Gala with a bordeaux pout and studded face veil, an homage to the "Charles James: Beyond Fashion" theme.
Rihanna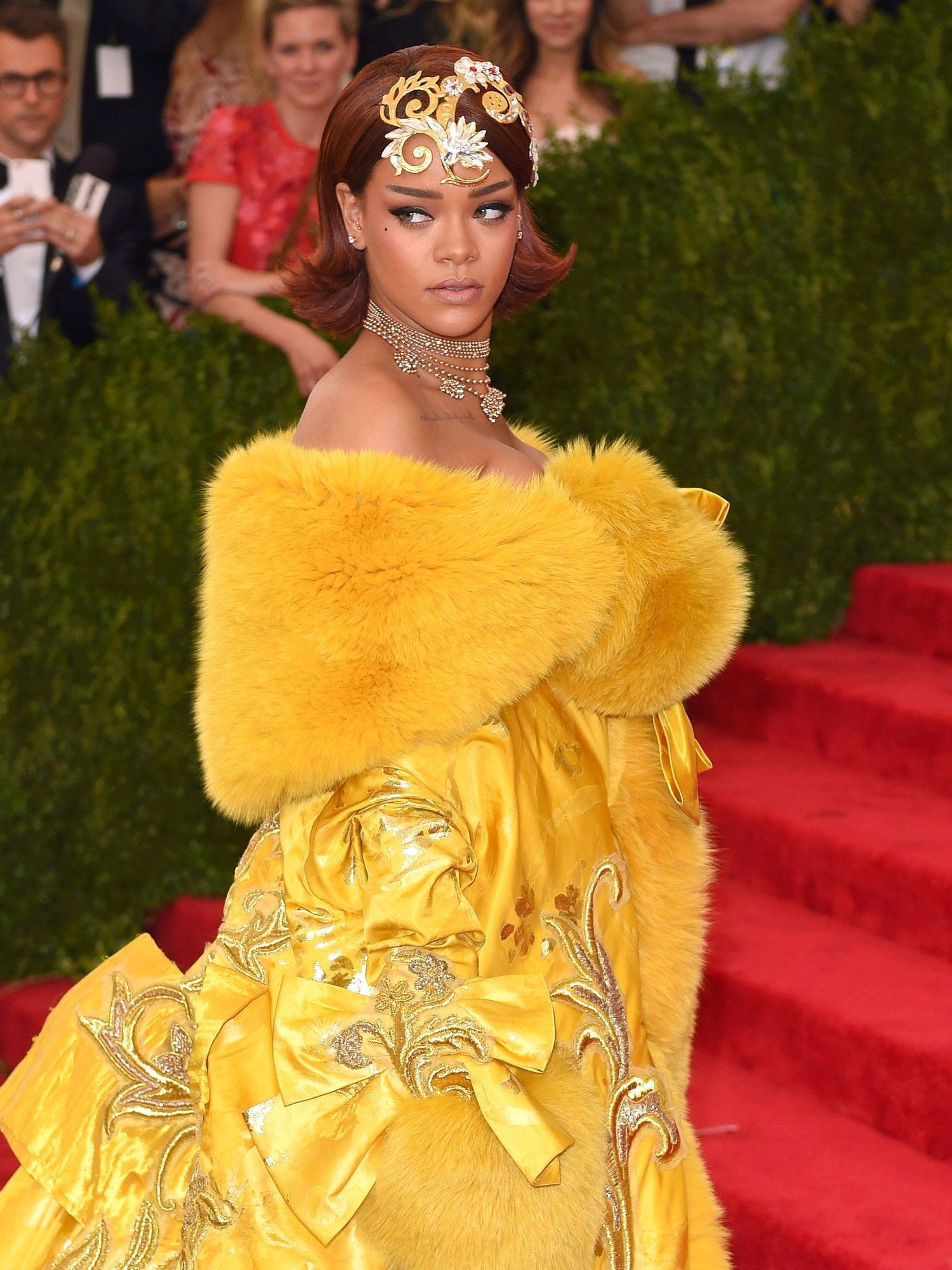 Photo: Getty
Co-hosting the Met Gala in 2015 for "China: Through the Looking Glass," Rihanna enlisted Chinese designer Guo Pei to create her sherbet yellow robe, pairing the showstopper with a set of horizontal brows and a diamante headdress.
Kim Kardashian West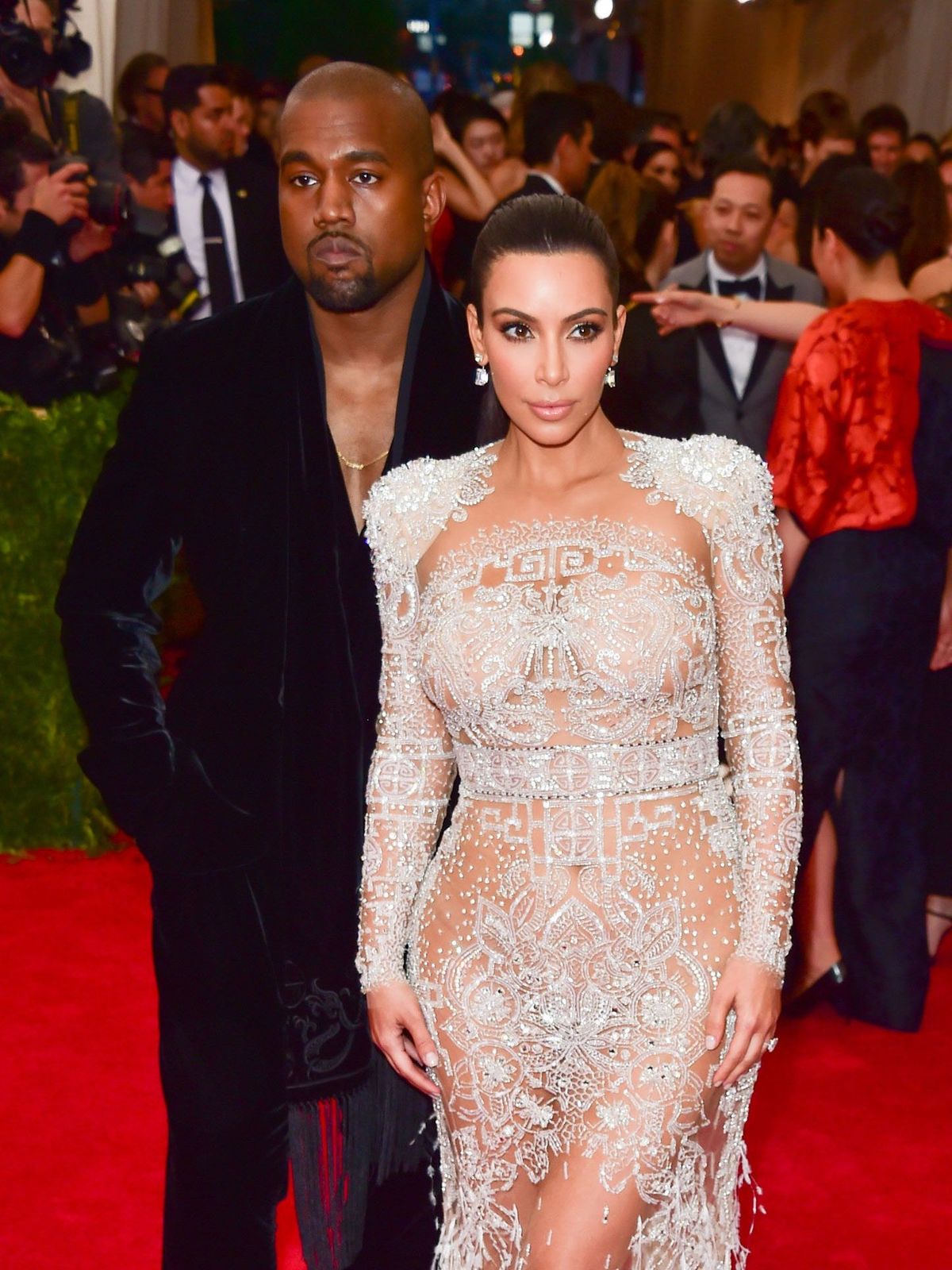 Photo: Getty
Kim Kardashian West sported a slicked pony and white feathered Roberto Cavalli ensemble for the 2015 Met Gala, "China: Through the Looking Glass."
FKA Twigs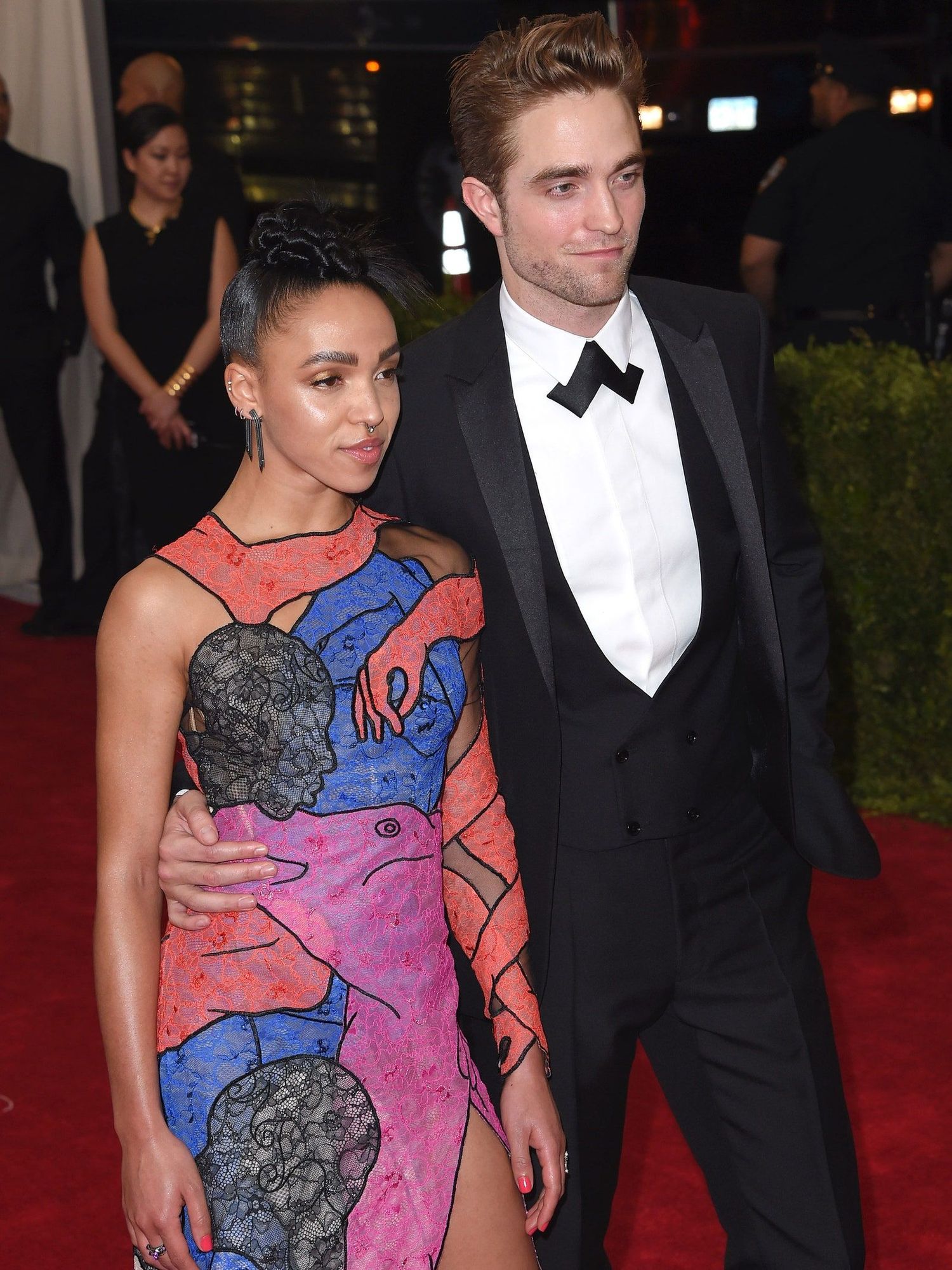 Photo: Getty
While her 2015 Dries Van Noten Met Gala dress garnered much attention, FKA Twigs' architectural top knot was the real showstopper in our book.
Dakota Johnson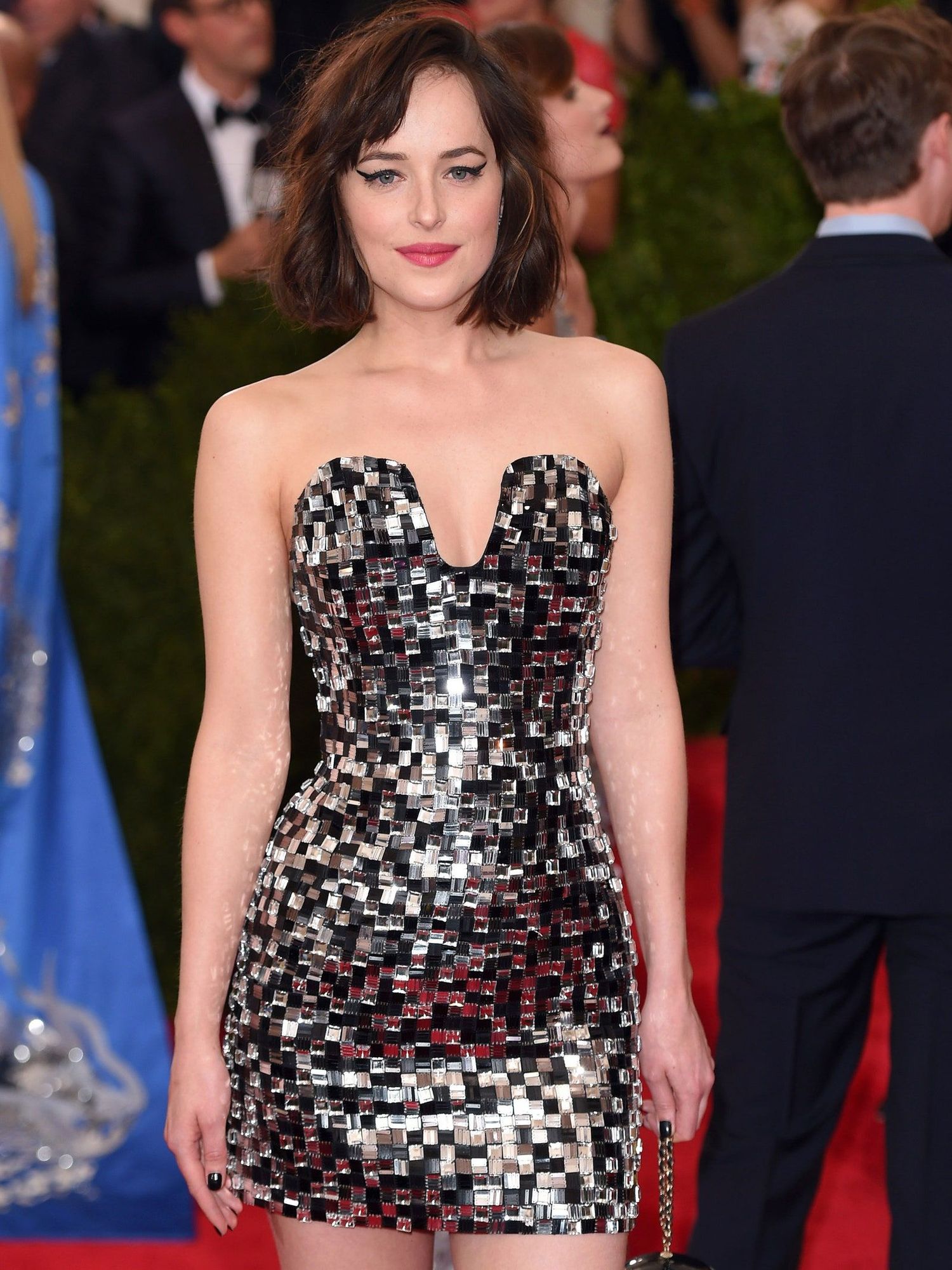 Photo: Getty
When Dakota Johnson arrived at the 2015 Met Gala, her shimmering Chanel frock—not to mention that dramatic winged liner—couldn't help but attract the eye.
Lupita Nyong'o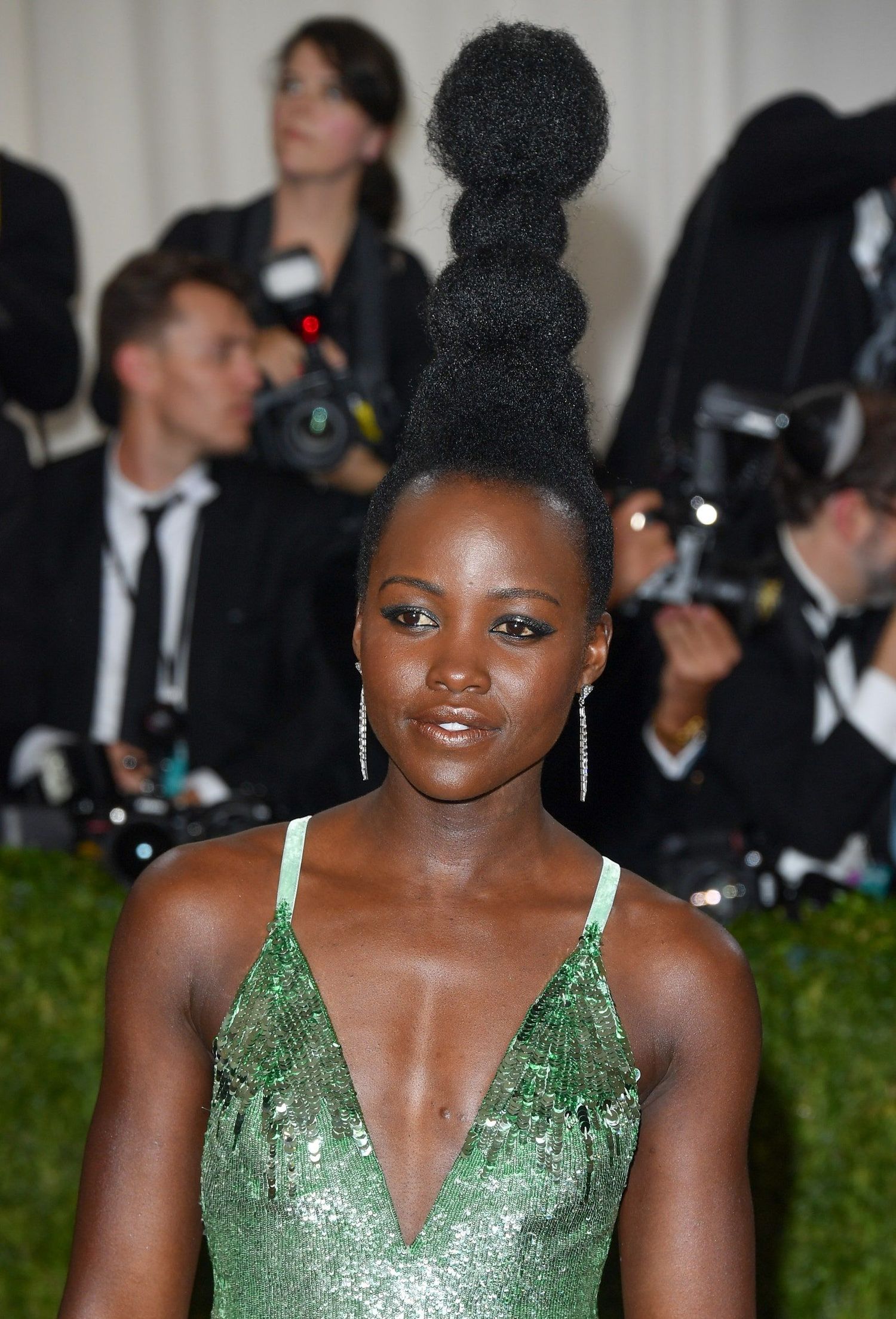 Photo: Getty
Lupita Nyong'o took her hair to new heights for the 2016 Met Gala's theme "Manus x Machina: Fashion in an Age of Technology." Her sculptural updo was perfectly complemented with a steely blue cat eye.
Zendaya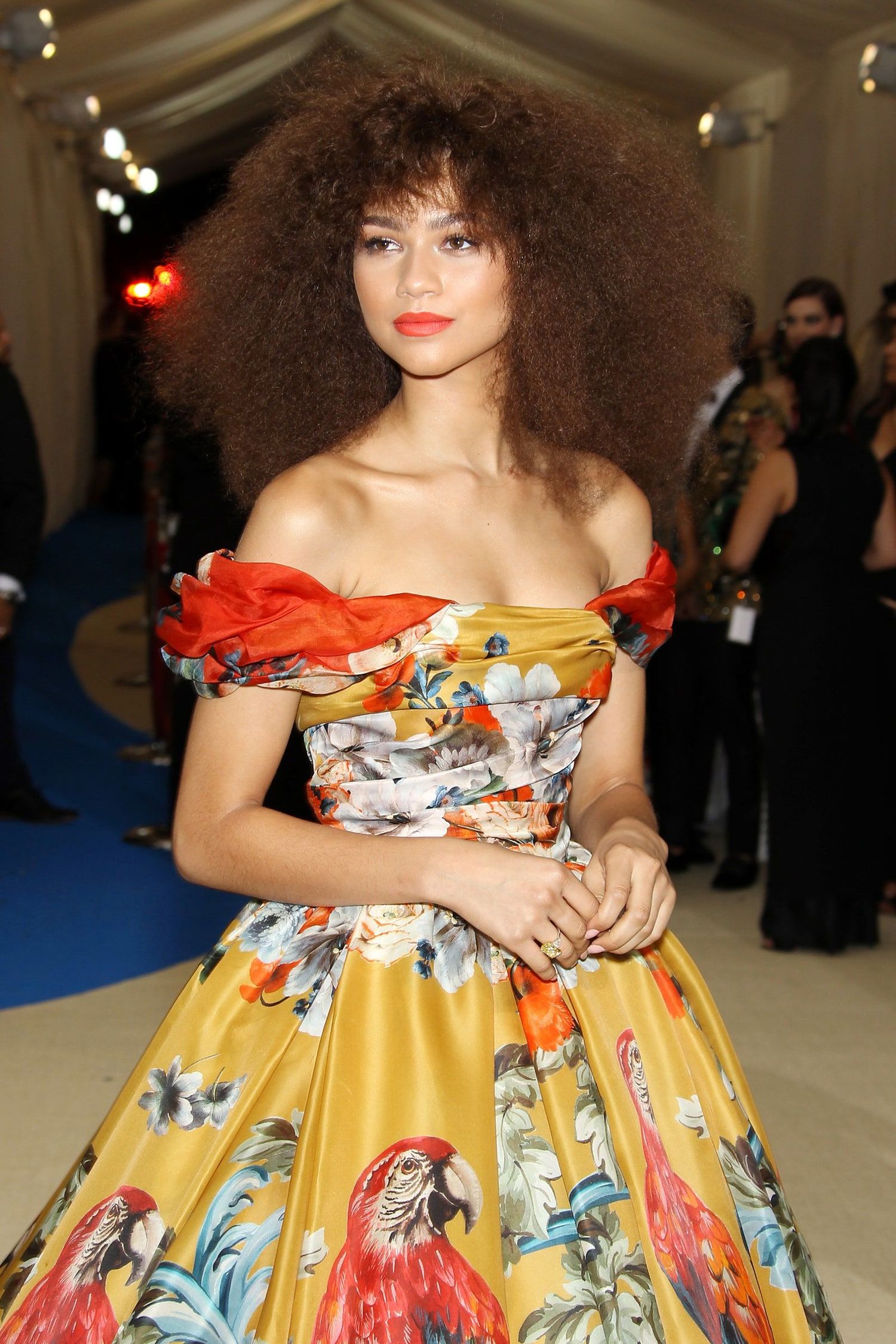 Photo: Getty
Zendaya brought warmth to the red carpet with a coral lip and voluminous auburn hair for the 2017 Met Gala, which honored "Rei Kawakubo/Comme des Garçons: Art of the In-Between."
Cardi B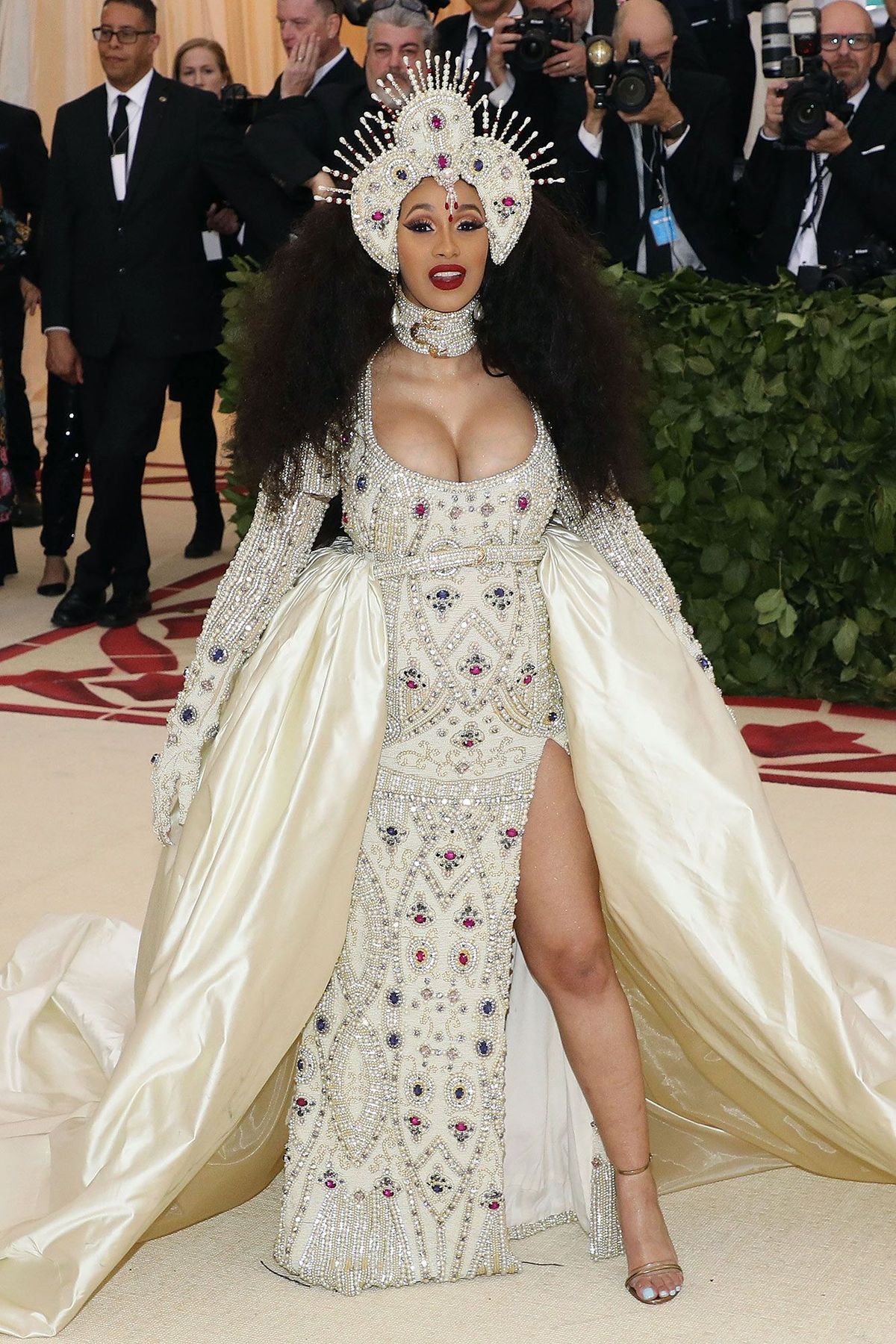 Photo: Getty
Cardi B shut down the red carpet at the 2018 "Heavenly Bodies: Fashion and the Catholic Imagination" Met Gala with a regal pregnancy moment, her body clad in an ornately embellished Moschino by Jeremy Scott gown.
Bella Hadid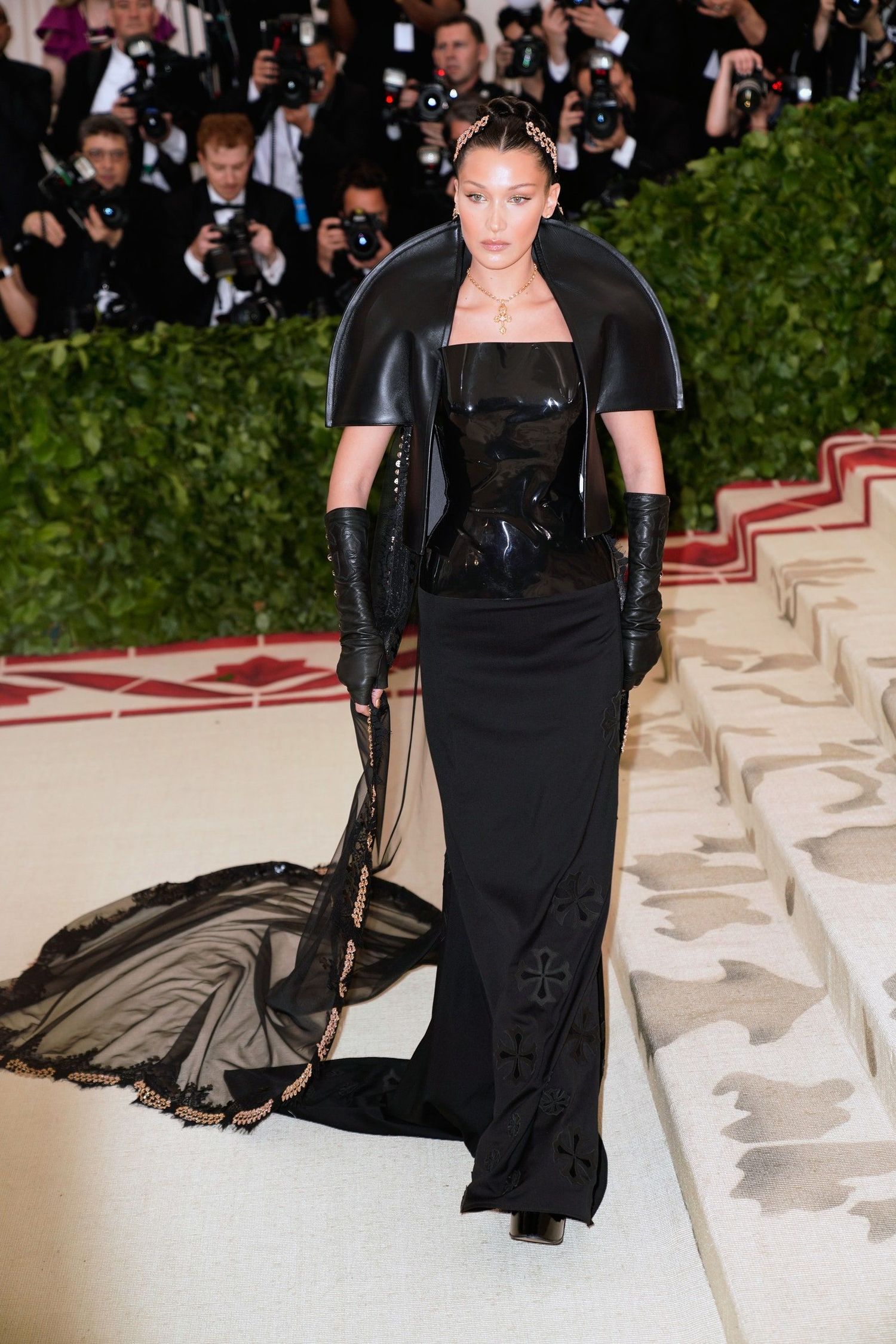 Photo: Getty
Bella Hadid arrived to the 2018 gala glowing as if sent from above. Highlighted and lightly bronzed, the model looked divine with a golden-pink lip and subtle cat eye.
Lady Gaga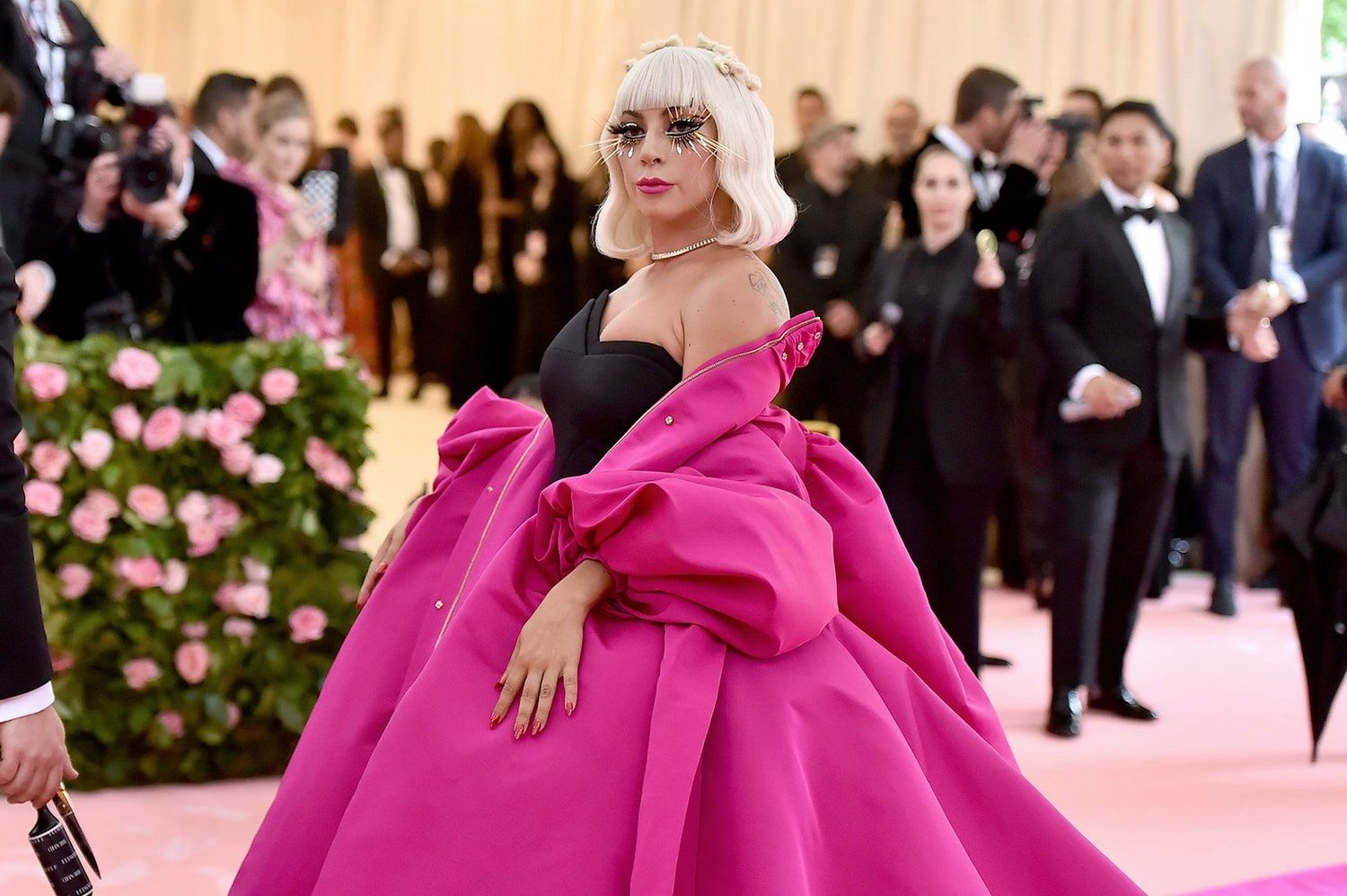 Photo: Getty
Heralded as the Queen of Camp, Lady Gaga did not disappoint for the 2019 Met Gala when she arrived onto the red carpet with a set of gilded lashes and a 25-foot magenta train.
Jennifer Lopez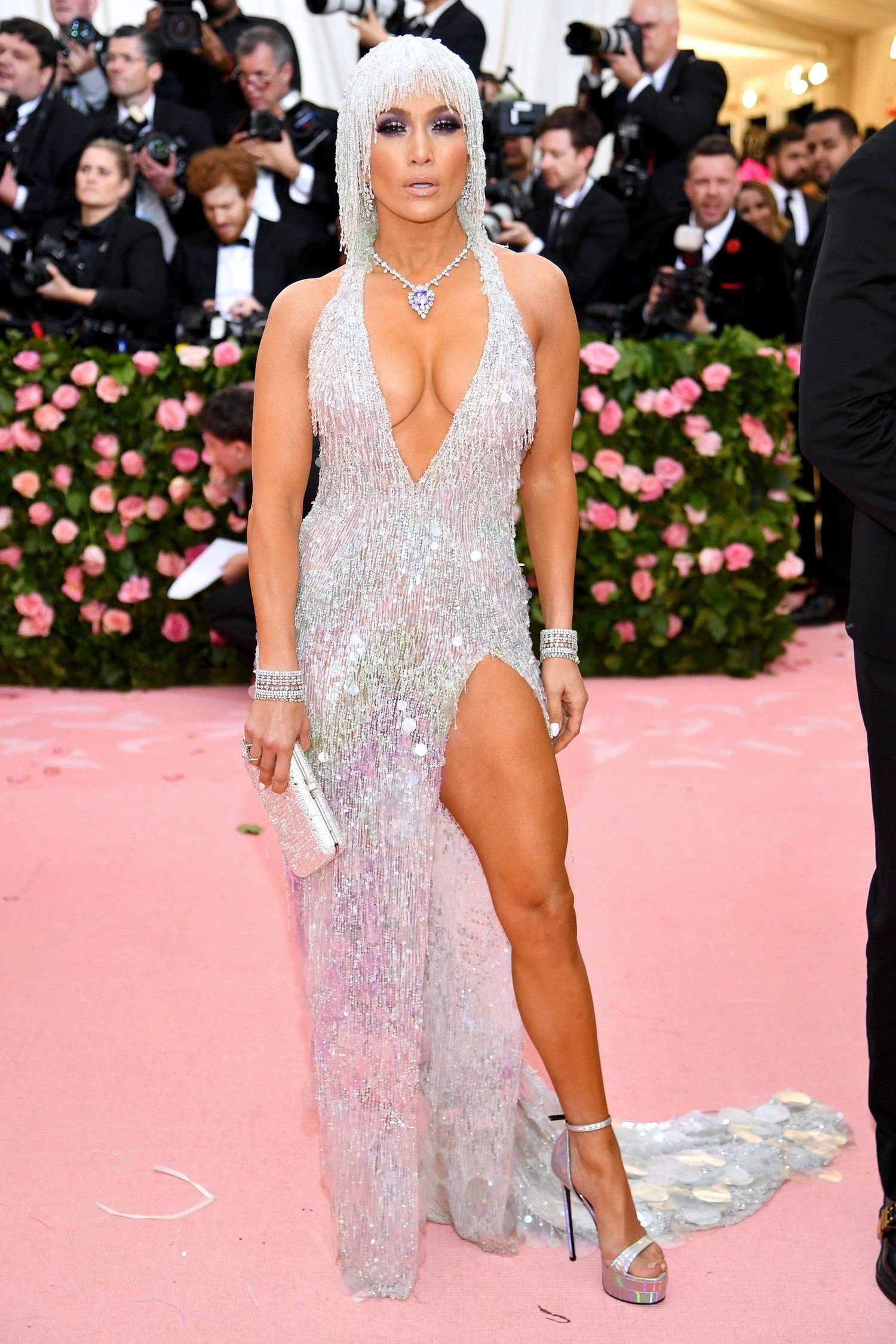 Photo: Getty Images
Jennifer Lopez was a futuristic ice queen at the 2019 gala. Her nude, glossy lip and metallic purple eye couldn't have been a better match for her crystalline Versace gown.