We scour Emily in Paris frame by frame for every Nordic fashion moment, from statement ruffles to smaller accessories
For three seasons, Vogue Scandinavia's digital cover star Lily Collins has shouldered the role of PR maven Emily jaunting through Paris in impossibly chic ensembles. And as a self-confessed Scandiphile herself, it's no surprise that Collins often dons Nordic brands when dressing as the titular character of the hit Netflix show.
The other person to thank for shaping Emily's unique 'Frandinavian' sense of style is costume designer Marylin Fitoussi. Working with Patricia Field for the first two seasons, the designer now runs the department on her own and is responsible for some of the show's most memorable head-turning fashion moments – most of which have a local Nordic name written on their label.
Below, we round up every Scandi fashion moment from the show's 30 episodes – all in chronological order, of course.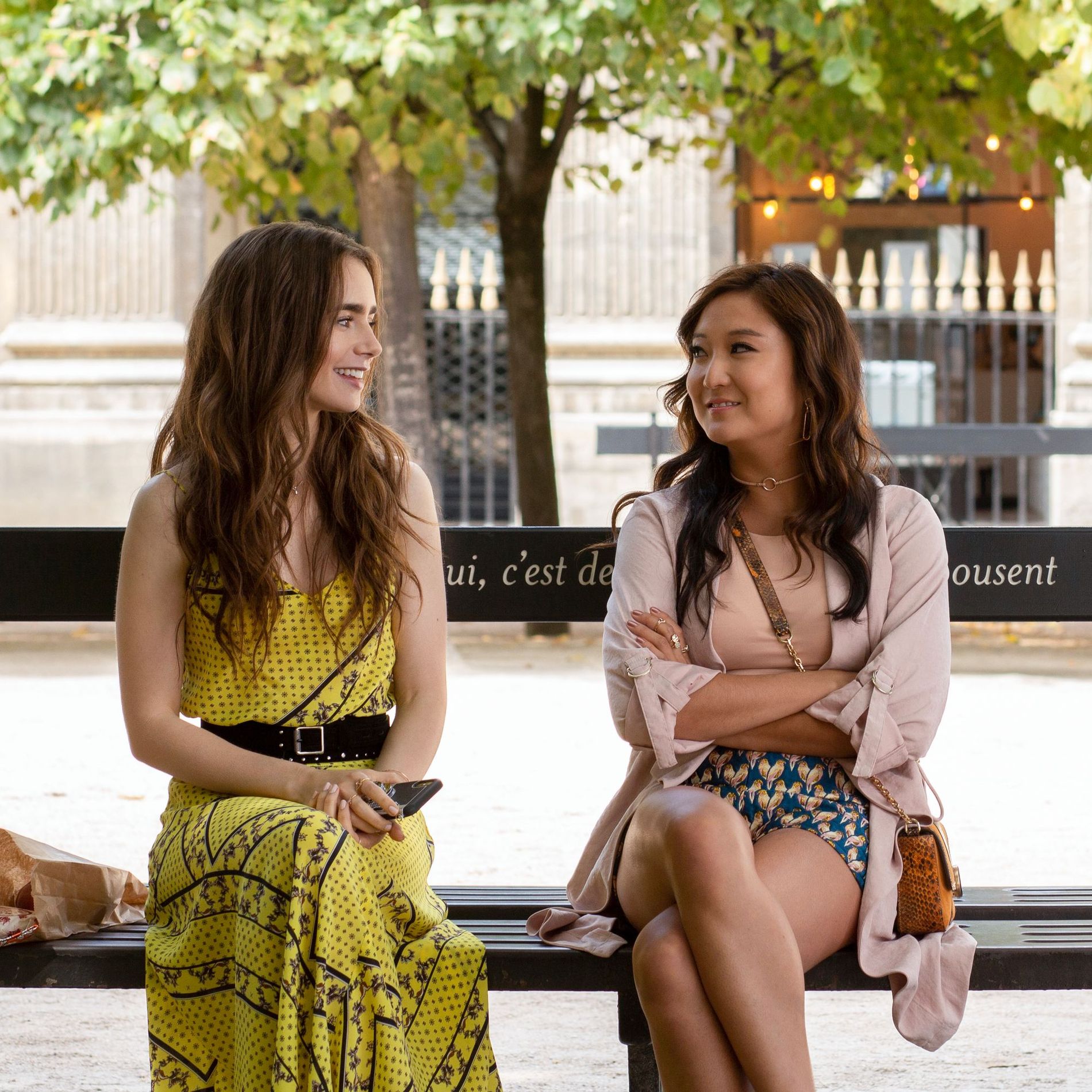 Photo: Courtesy of Netflix
Ganni set in Season 1, Episode 1
Buzzy Danish brand Ganni's flair of quirky femininity aligns itself well with Emily's larger-than-life wardrobe. A testament to this seamless styling fit is this yellow and black set spotted on the titular character in the very first episode of the show: a silky top and skirt which the character wears during her first encounter with Mindy in the Jardin des Tuileries. One of the most sought out outfits of the whole show, it kicked off the series' Scandinavian love affair with a bang.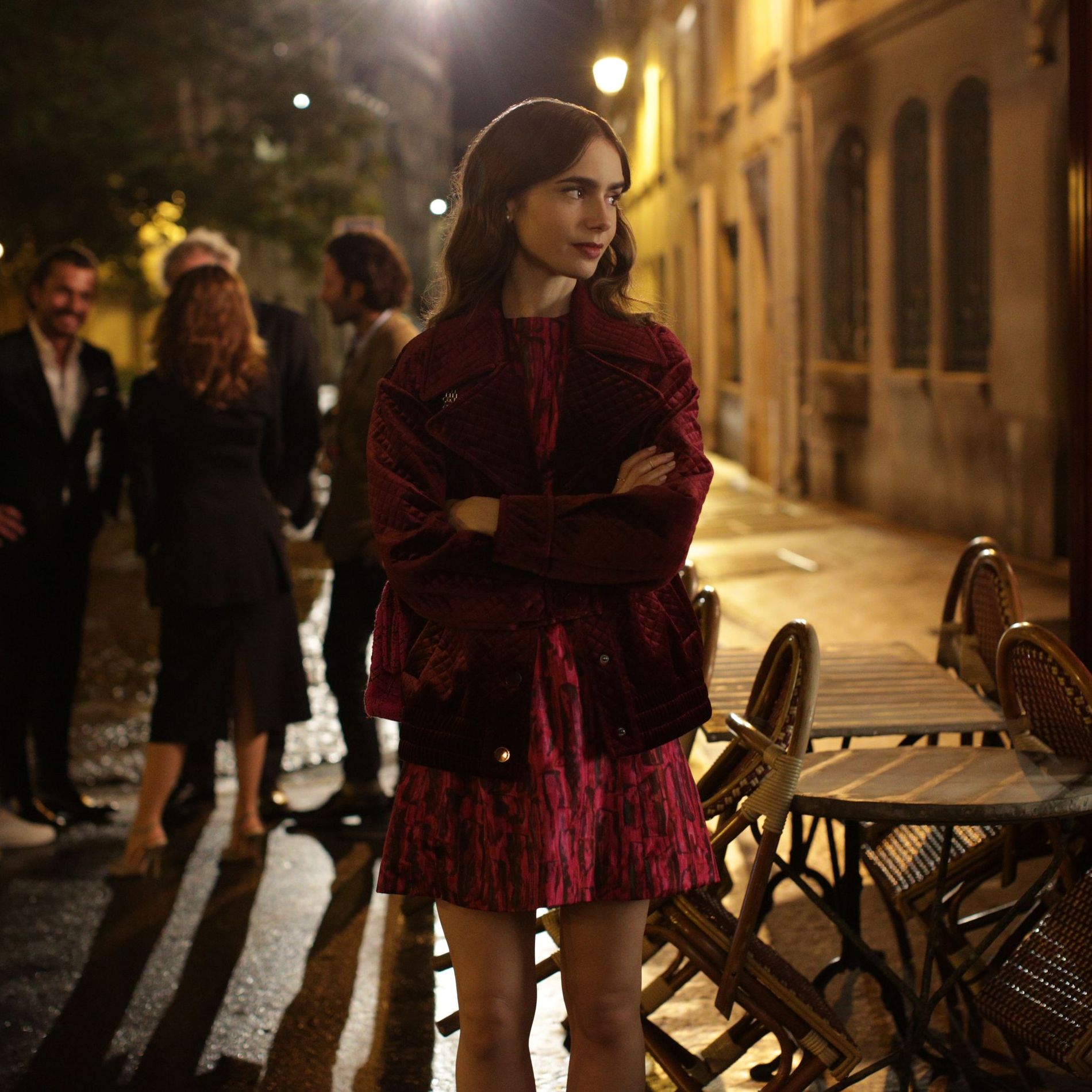 Photo: Courtesy of Netflix
& Other stories jacket in Season 1, Episode 4
Fittingly, this diamond quilted velour jacket worn by Emily during her restaurant mix-up was a creation by Swedish brand & Other Stories' Parisian atelier. This sartorial moment of the series was a testament to tone-in-tone styling, the high-neck pink mini dress perfectly paired with the boxy burgundy jacket.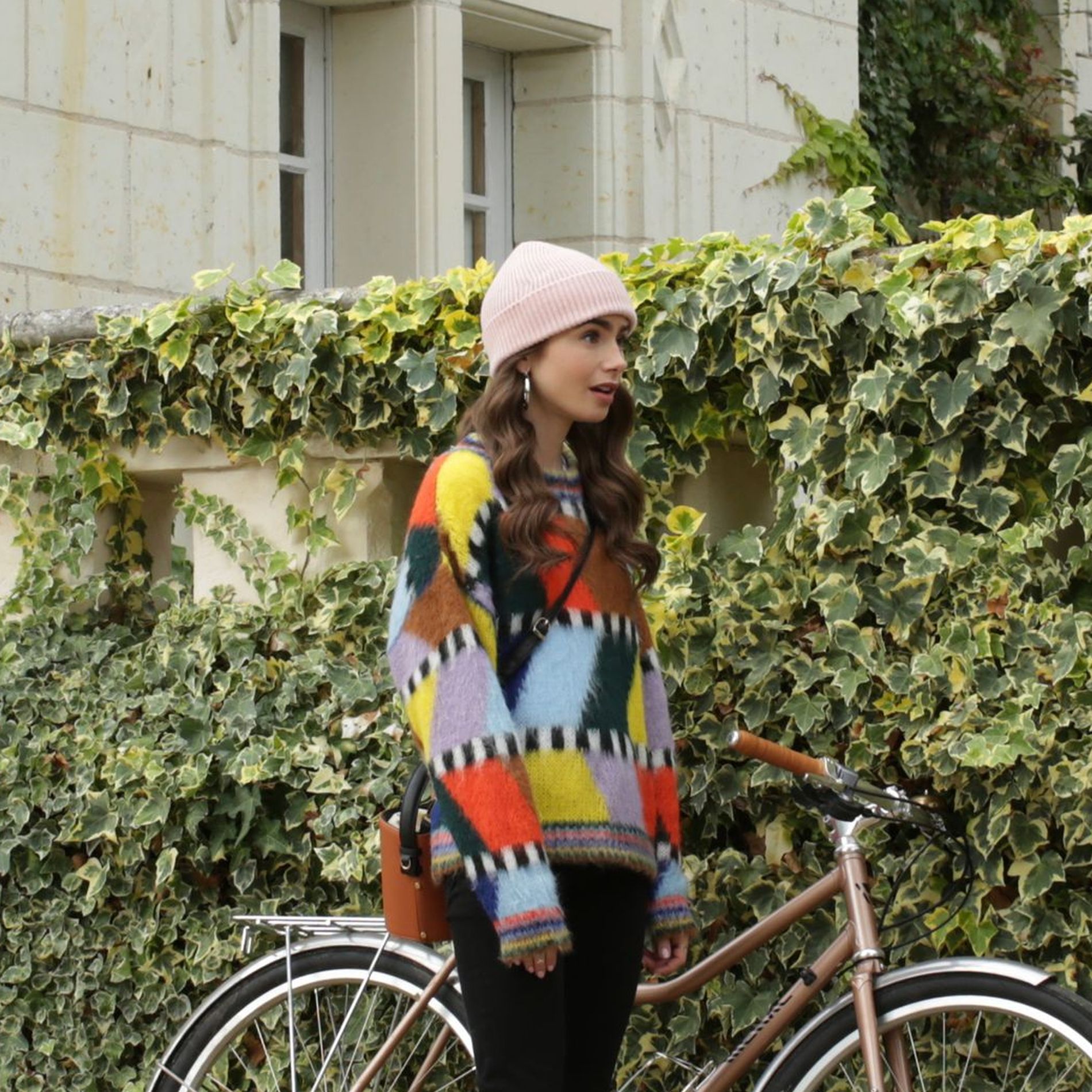 Photo: Courtesy of Netflix
H&M beanie - Season 1, Episode 8
Sometimes, the devil is in the details. In this case, the unexpected accessory to steal the proverbial spotlight was a light pink beanie by Swedish fashion mecca H&M. Sported during Emily's weekend trip to a friend's chateau, as her love life fizzles like day-old champagne, it epitomised the casual cosiness of countryside dressing.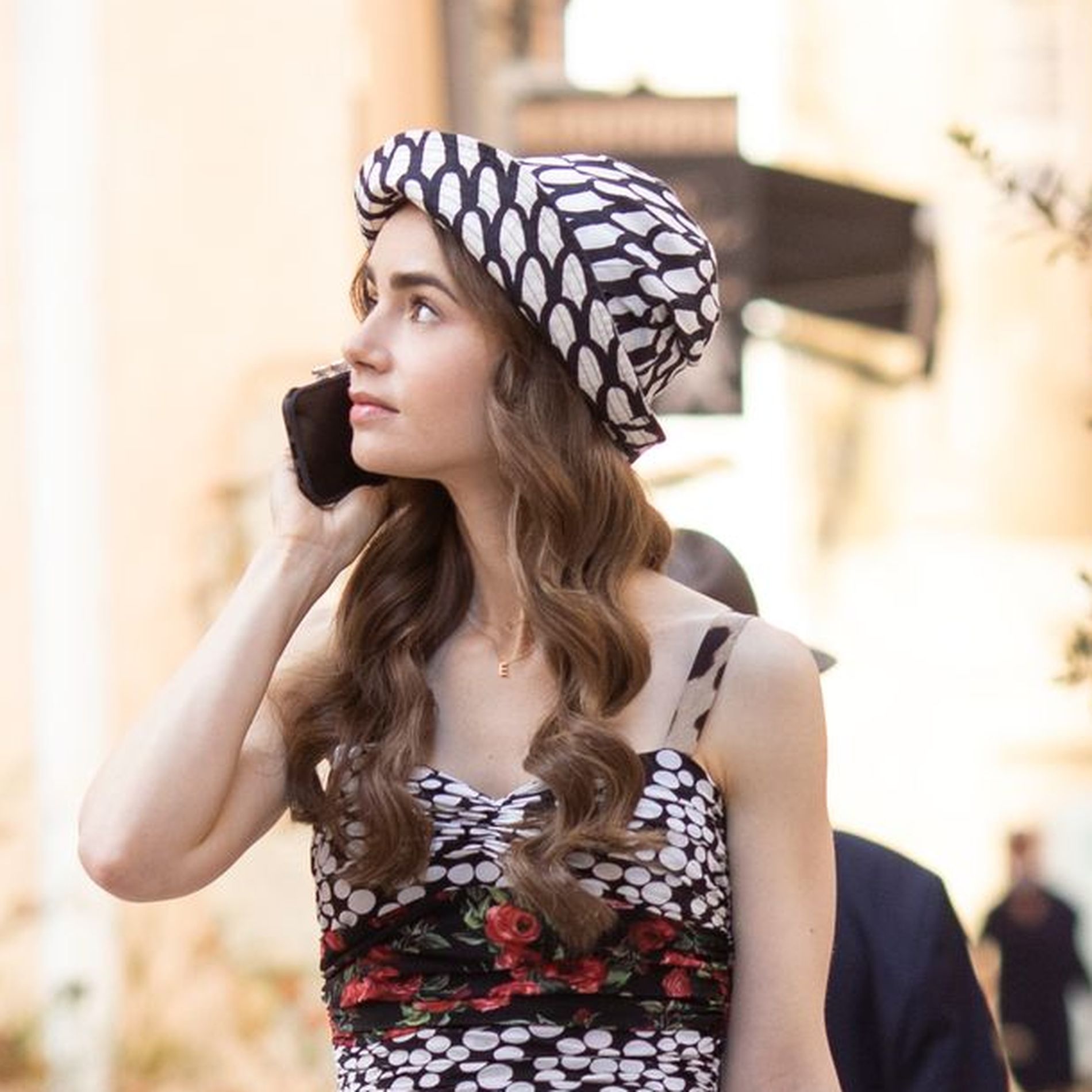 Photo: Courtesy of Netflix
Marimekko bucket hat - Season 2, Episode 2
In Season 2, Emily's fashion sense evolves and her eye-catching ensembles have taken on more of the je ne sais quoi of the French capital. The savoir faire follows her down to Côte d'Azur where she presents polka dotted perfection, wearing Finnish Marimekko's popular 'Pikku Suomu' printed bucket hat.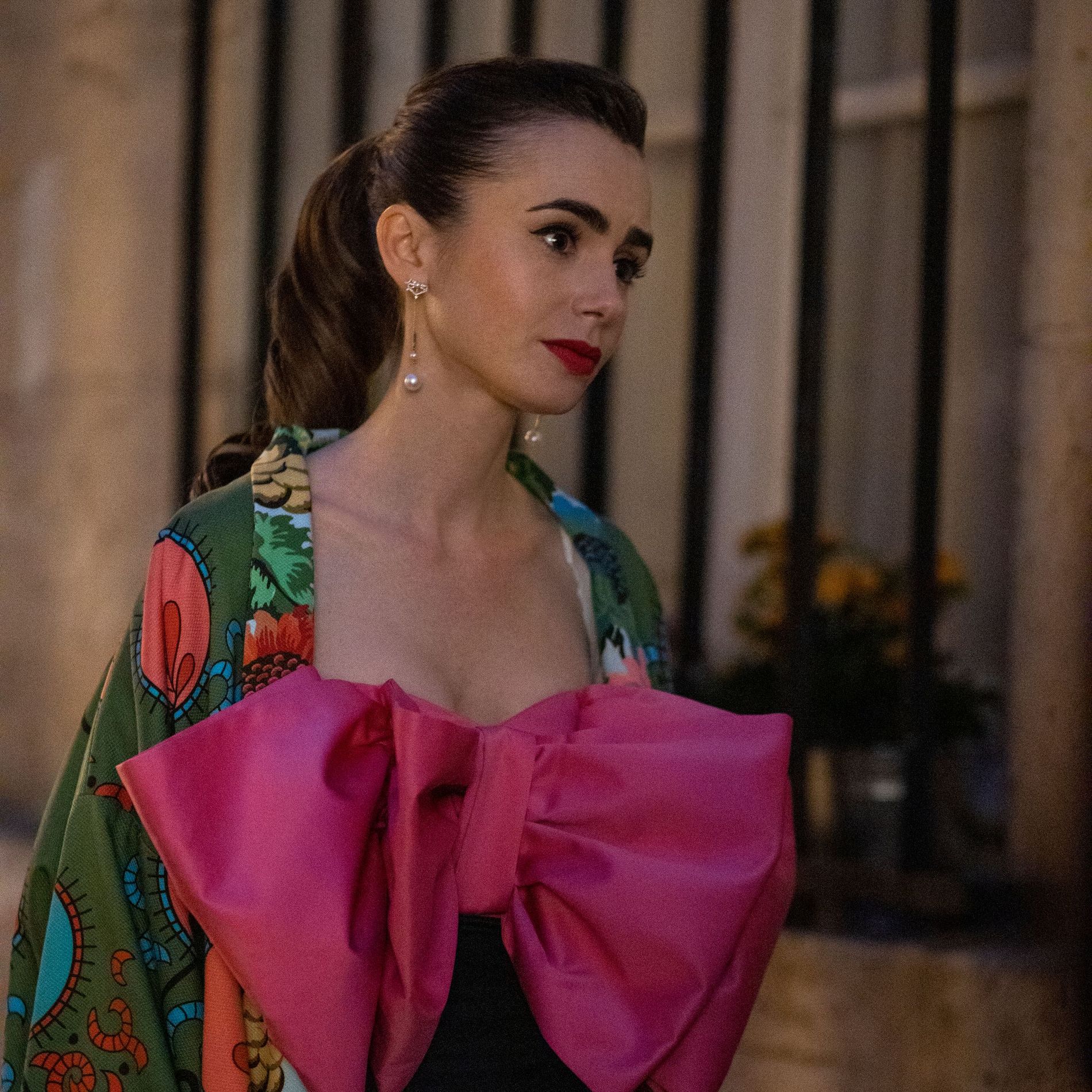 Photo: Courtesy of Netflix
Rotate dress - Season 2, Episode 3
Party wear aficionado Rotate is the Danish brand behind one of Emily most popular Scandinavian looks: the iconic bow dress. Having just come back from St Tropez, the show-stealing dress with its over-the-top details was spotted on Emily during her birthday celebrations. Delivering a fresh take on after-hours dressing for Emily, it had her looking like a literal gift - just what you when singing bon anniversaire.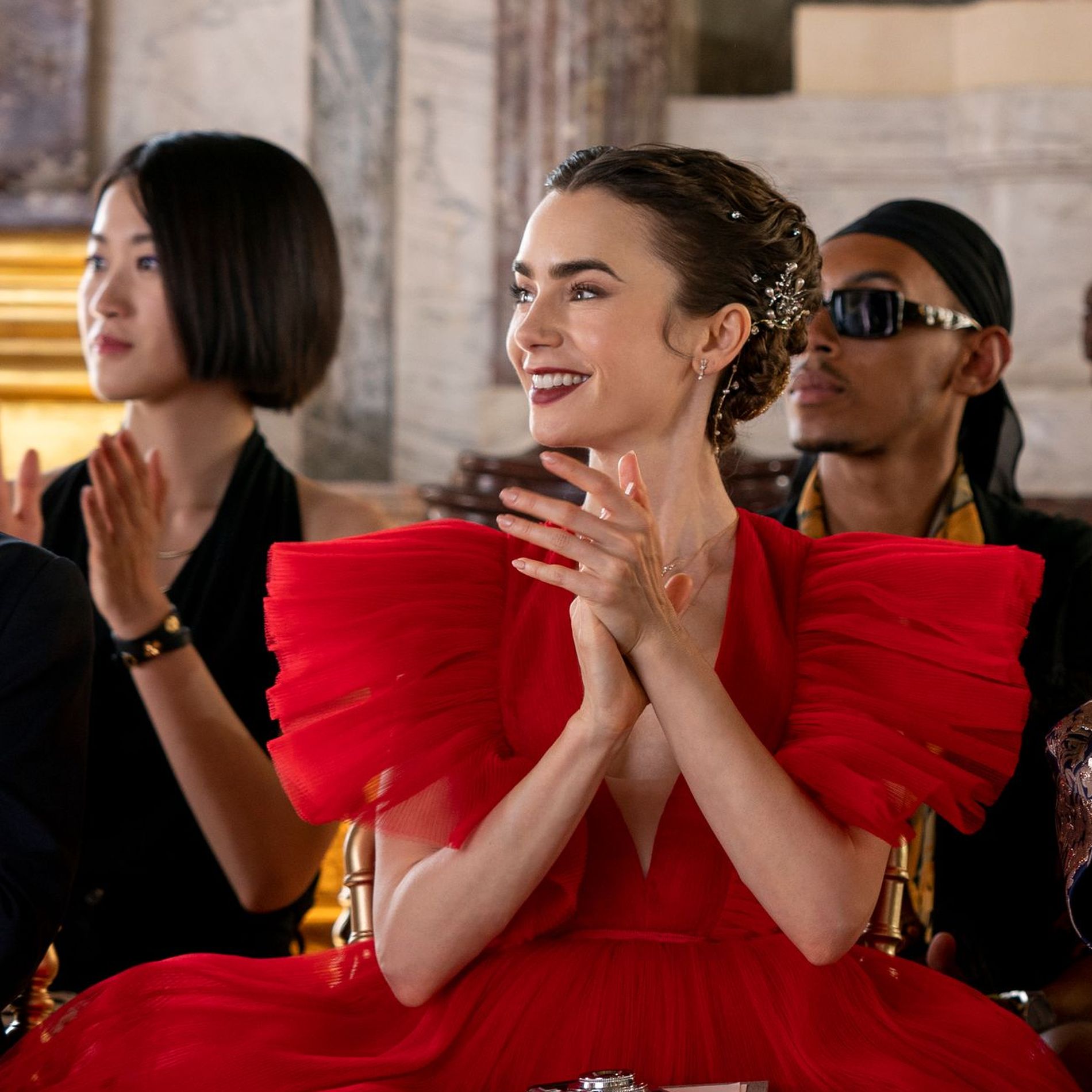 Photo: Courtesy of Netflix
H&M collaboration - Season 2, Episode 10
One of multiple H&M design collaborations which caught our eyes during the show-run thus far was the fiery, frilled Giambattista Valli x H&M dress, which Emily wore during the finale of the second season. Throughout Pierre's fashion show fiasco, our favourite Parisian PR has to make life-changing decisions dressed in the red-hot ensemble topped with sparkling hair pieces.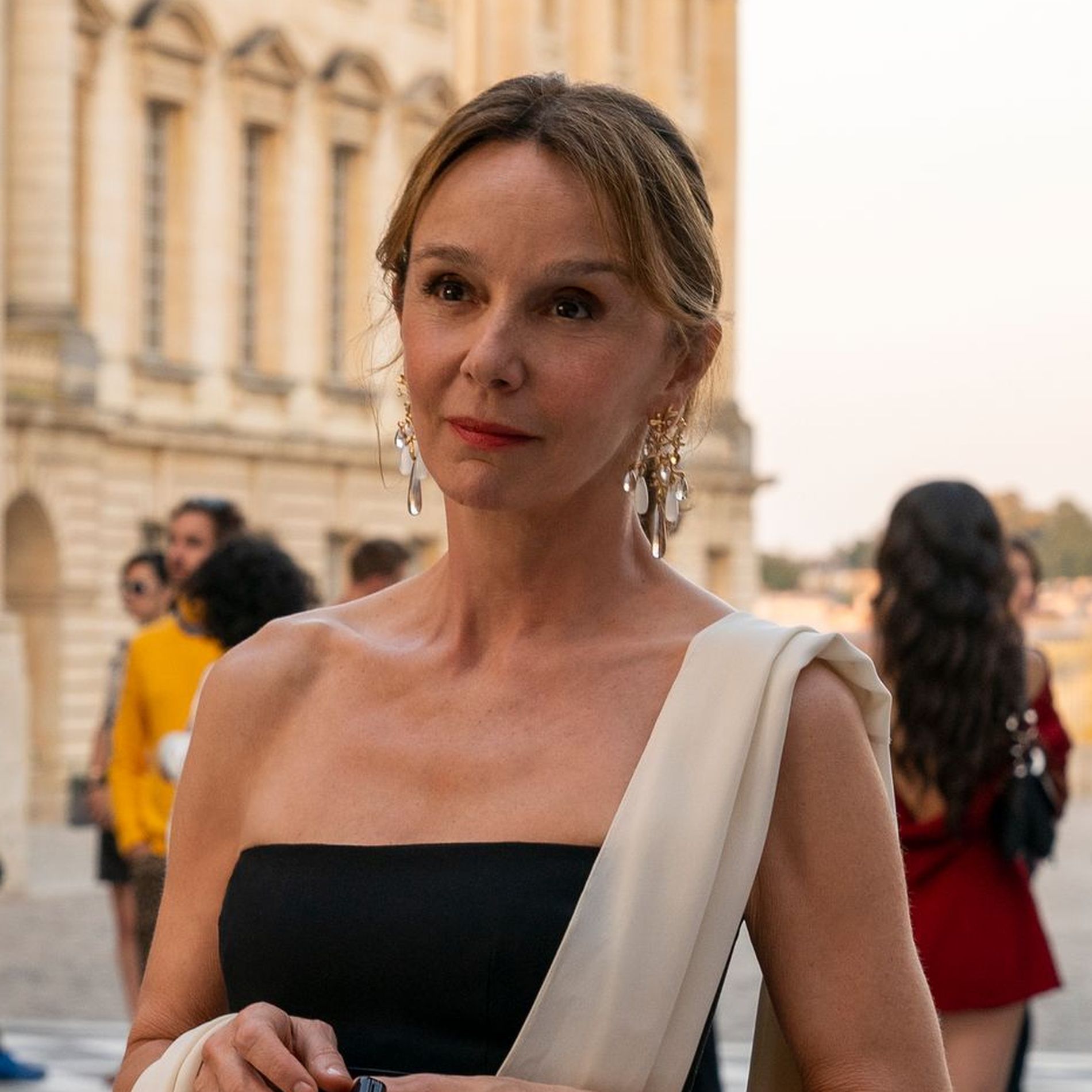 Photo: Courtesy of Netflix
Ole Lynggaard earrings - Season 2, Episode 10
While the fashion industry's main focus has been the (sometimes questionable) sartorial inclinations of main character Emily, the personal style of her boss Sylvie deserves equal attentions. During the final episode of season two, this literal boss lady is wearing Danish jewels by Ole Lynggaard when she makes a life-altering decision – causing Emily to question her own future in the French capital.
Photo: Courtesy of Netflix
Dundas skirt - Season 3, Episode 1
Peter Dundas has designed for celebrities and royals alike. The LA-based Norwegian designer merges the soul of Americana with Scandinavian sensibilies, creating a unique expression – a look which is the perfect fit for Emily's wardrobe. In the very first episode of the latest season, we see the titular character strolling through the cobbled streets of Paris with love-interest Alfie in a two-tone metallic mini skirt emblematic of the brand (and of Emily herself). A match truly made in sartorial heaven.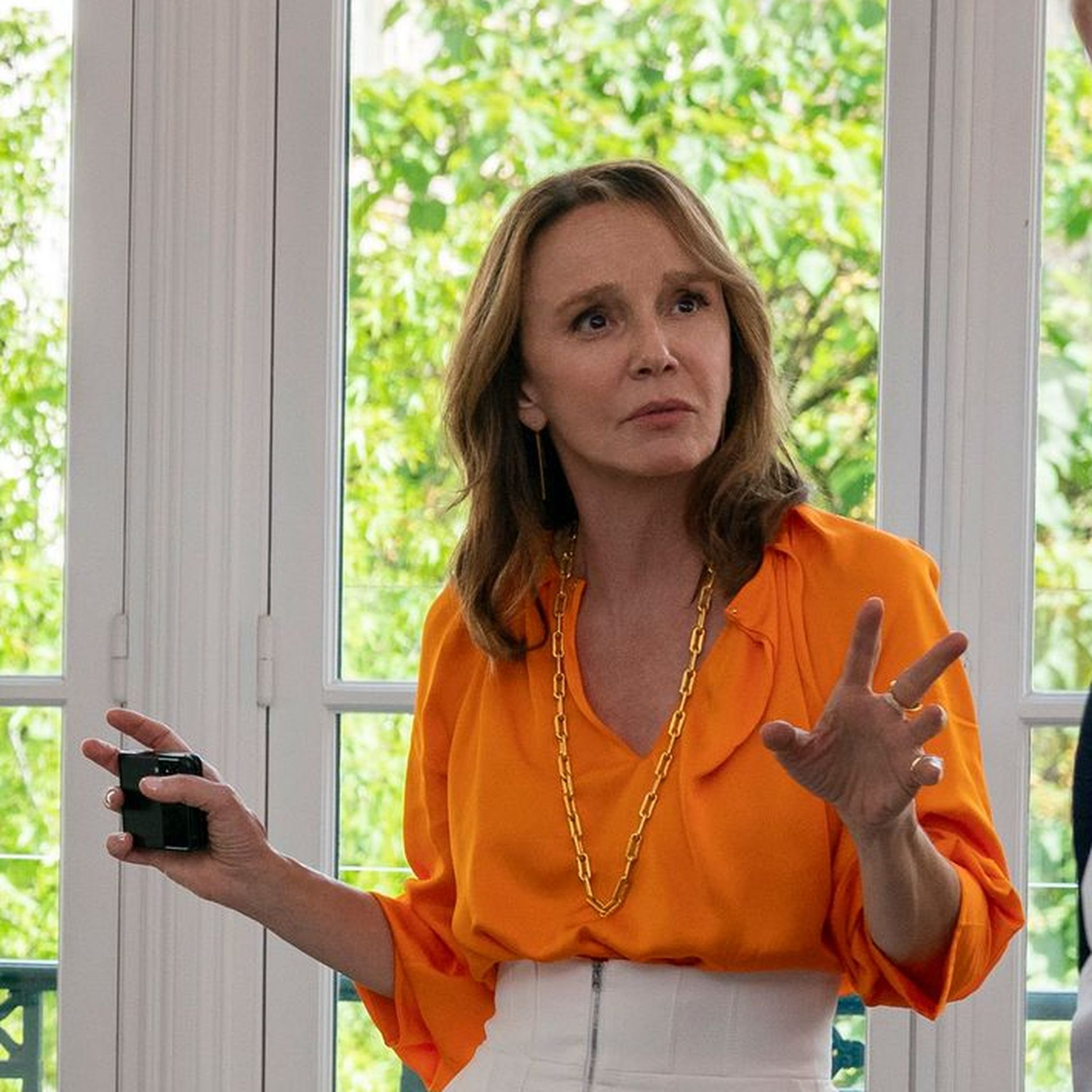 Photo: Courtesy of Netflix
Ole Lynggaard ring - Season 3, Episode 1
Speaking of emblematic ensembles, it seems Sylvie savours Danish Ole Lynggaard's designs. Ending the second series in the brand's drop earrings, she begins the third sporting a ring by the innovative jeweller. While all we can see here is the superbly crafted band, we implore you to keep a keen eye on the screen during this scene to catch sight of the sparkling stones – we promise, it's a showstopper.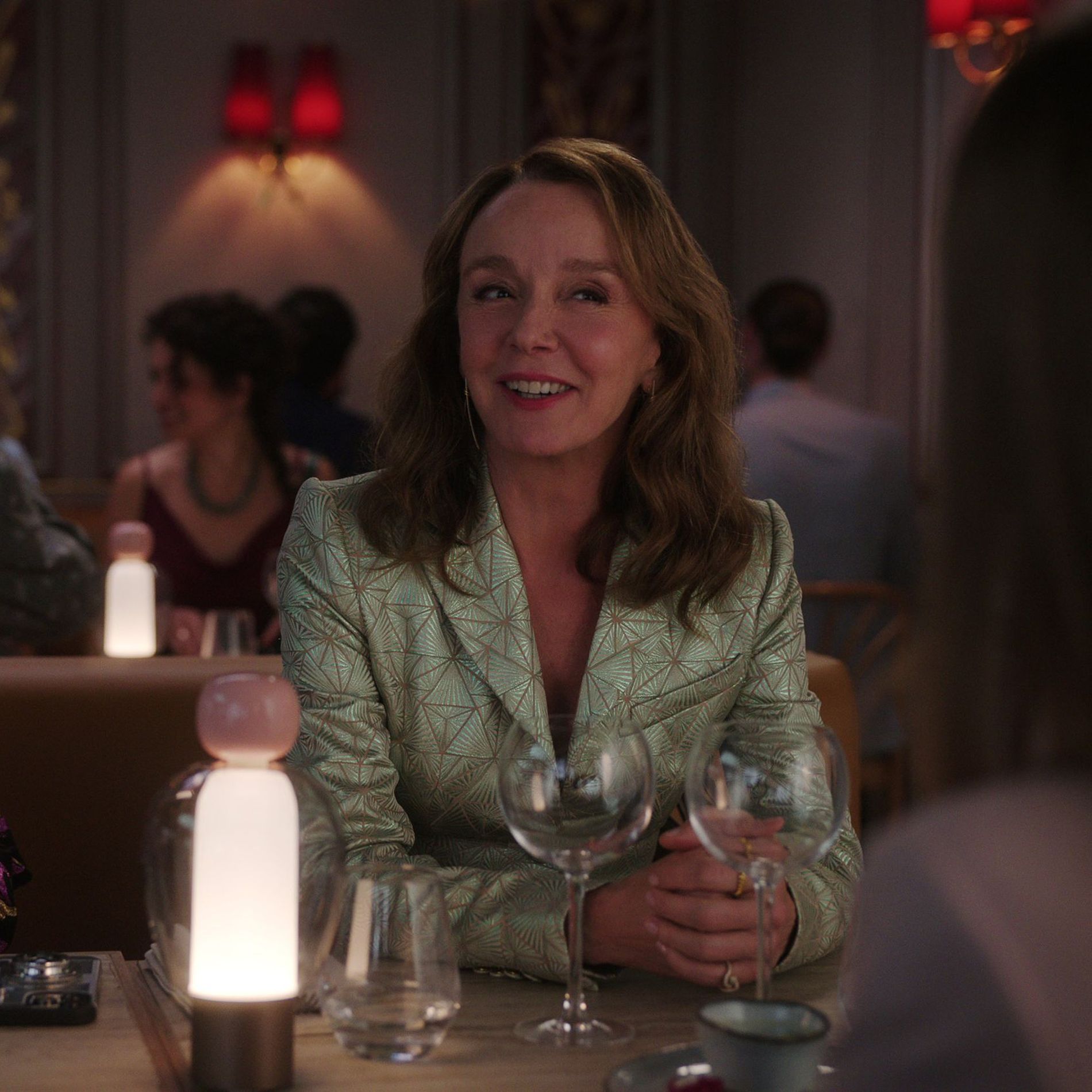 Photo: Courtesy of Netflix
ArDaZei suit - Season 3, Episode 5
Of course, Sylvie would sport Swedish couture when given the choice. ArdAzAei founder Bahareh Ardakani's geometric work suits the character superbly well, conveying that understated luxury we've come to associate with the Parisienne.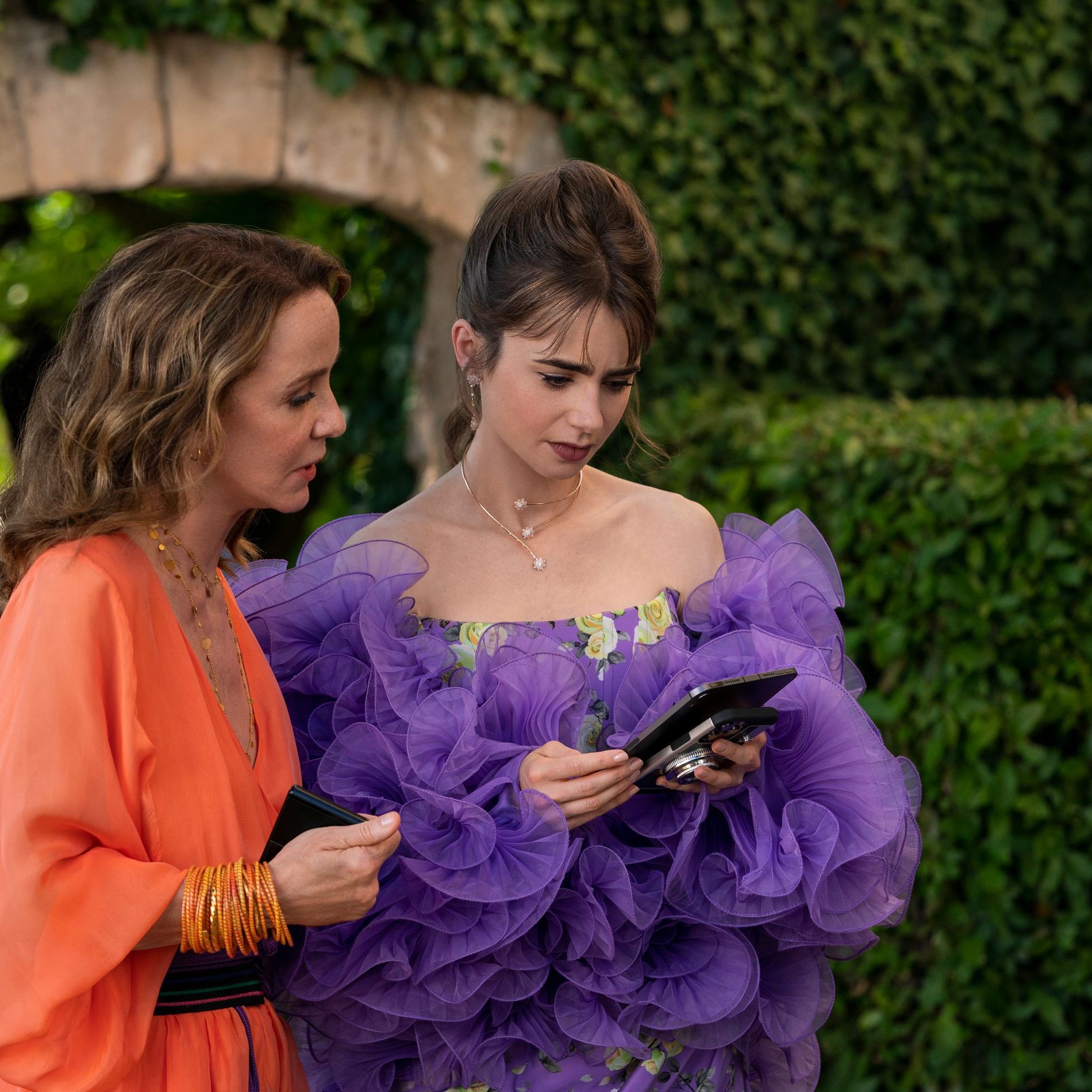 Photo: Courtesy of Netflix
Iris Apfel x H&M jacket - Season 3, Episode 6
American designer Iris Apfel, a titan of modern fashion and design ingenue, is behind Emily's purple puffy jacket in the latest season. A design collaboration between the aforementioned style maven and H&M, the jacket was the perfect piece to wear to an event in the lavender fields of La Provence.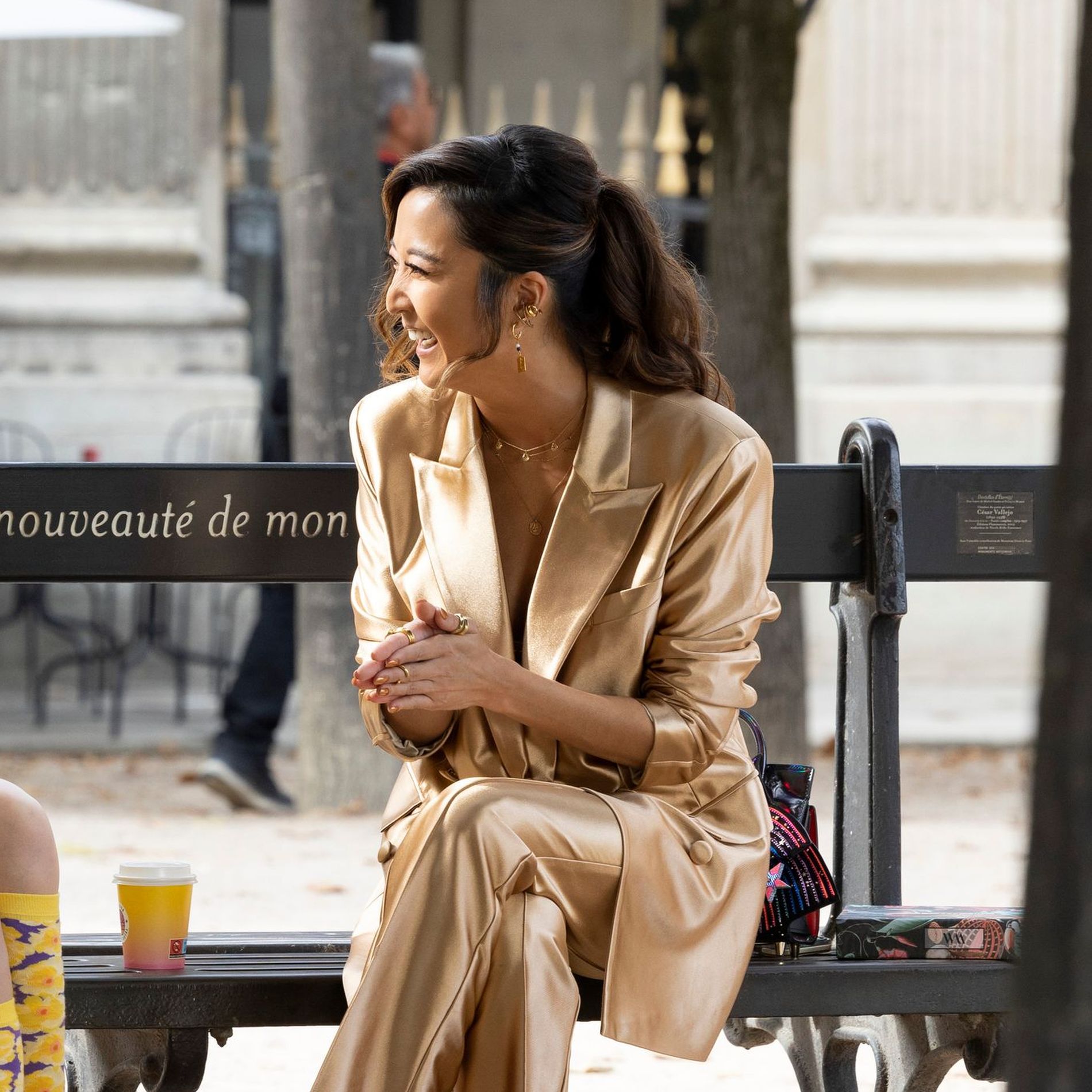 Photo: Courtesy of Netflix
Rotate suit - Season 3, Episode 9
While we're not ending our round-up on Emily, Mindy's gilded Rotate suit marks the perfect end of this list. The metallic look, iconically enough sported during a casual coffee break, sets the benchmark for our own get-ups for 2023 and is a sound reminder that it is always better to be over- rather than under-dressed.