Speaking to Elisa Mollatt, Vogue Scandinavia explore the Norwegian brand's new lease on life in its pre-spring collection
Over the last couple of seasons, comfort has taken centre stage in our sartorial world. As we've lived most of our lives waist up and inside our homes, we've opted for joggers and sweaters rather than tailored trousers and shirts. And while our usual 9-to-5 wardrobes hung neatly untouched in our closets, rarely worn, our occasion wear has been – quite literally – gathering dust. As our office blouse and blazer combo became our most dressy do, sequins and glitters started to feel outlandish.
As restrictions are lifting worldwide, there's a common carefree longing for late nights out. We leave lacklustre loungewear behind in lieu of festive fashion. As if mirroring the last century, the roaring 20s are revving up. For byTiMo, this shift is welcomed with open arms. "I think the whole image of the roaring 20s is so relevant," says byTiMo marketing manager Elisa Mollatt. "This prohibition era of super strict regulations that are finally lifting. It only makes sense that people want to dress up."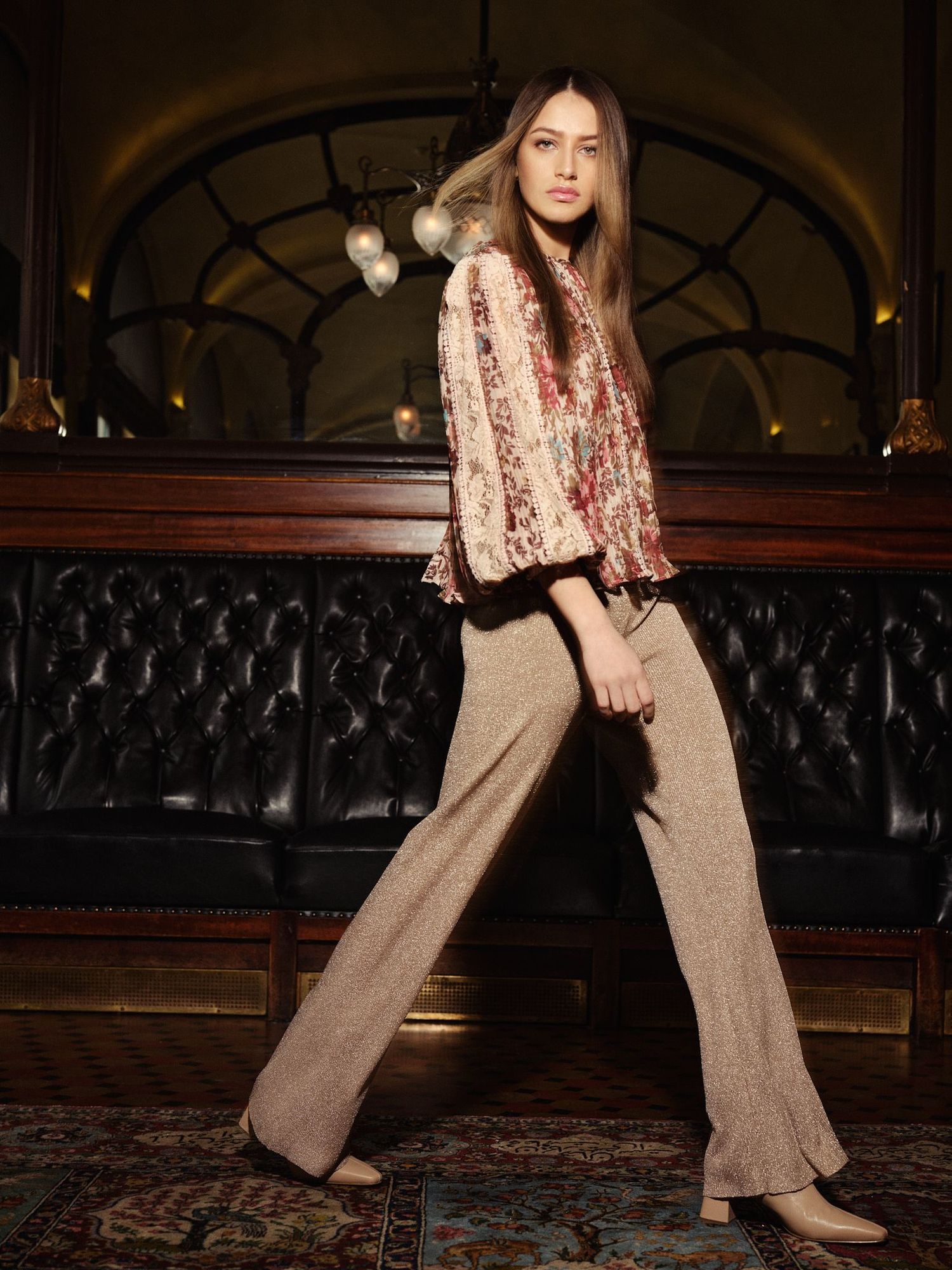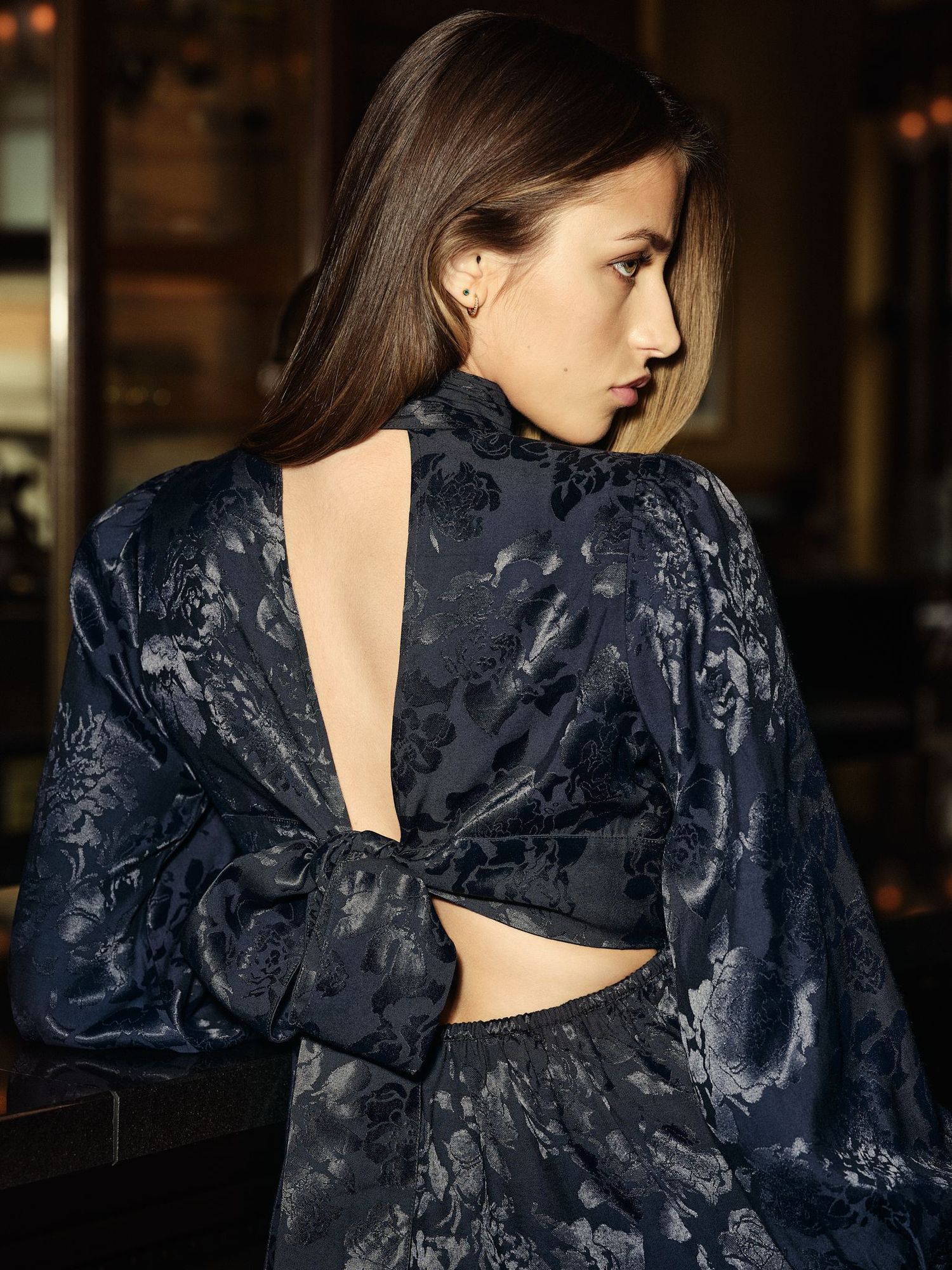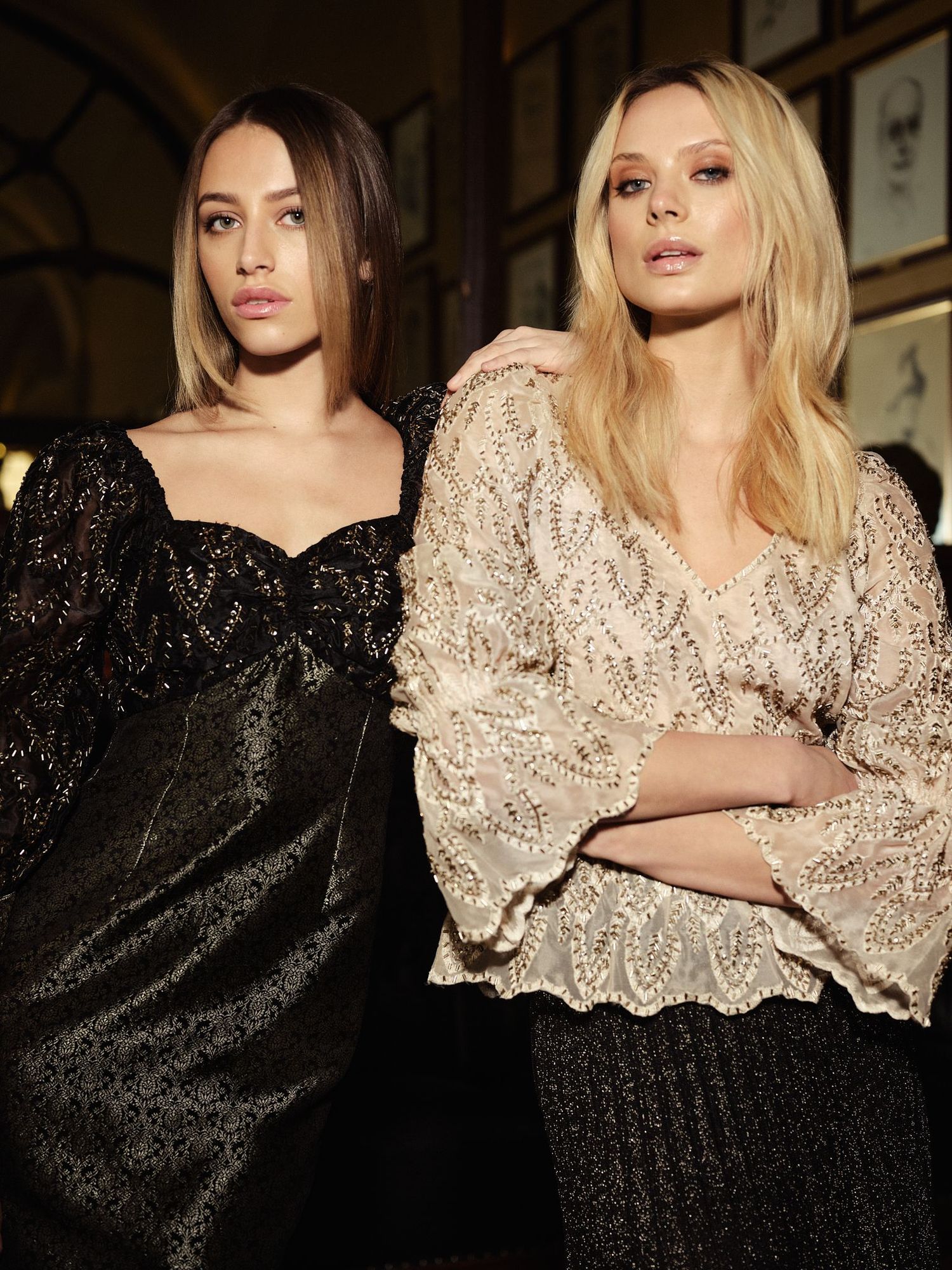 Shot in the iconic Theatercafé in Oslo, the venue makes the dresses come to life. "It really puts the collection where it's supposed to be. Where we want to wear it," says Mollatt. "I just think it really emphasises that party vibe. This is the place that people go for those kinds of festivities before Christmas."
"This is probably the most party collection we've ever put out," she tells me. "Really, it is a collection for any kind of festivity or celebration." Sporting a combination of sequins and frills, the brand's singular signature feminine flair hits the town. Dramatic sleeves, plunging necklines, and carefully placed sparkles puts us in the mood to move, the collection carefully curated to encapsulate the joie de vivre of the season.
ByTiMo is very much a family affair. Mollatt's mother – founder and creative director Tine Mollatt –launched the Norwegian label in 2004. Elisa Mollatt later joined her mother in the company. "Having studied fashion management and leadership, joining the company was still the biggest learning curve," she says. "At one point, I spent six months at one of our factories in India. I visited a lot of bad factories while I was there…." Mollatt trails off before continuing," Learning about the whole supply chain basically is probably the most valuable thing that I did."
Mollatt's visit to learn more about the supply chain is just one example of the brand's ethos. Social and environmental sustainability are core principles. Truthfulness, consciousness and quality guiding beacons for the brand. According to Mollatt, it's simple, really. "If we can't find the right sustainably made fabrics or an ethical factory who takes care of the workers, we have to throw that design or idea away." It permeates everything from fabric to factory choices, informs the brand's code of conduct, and impacts the design. After all, vintage clothing is a primary source of inspiration for the brand. Garments that have withstood the test of time and are now serving as inspiration when the byTiMo team sets out to create their enduring designs.
"Usually," Mollatt explains, "we would start the design process by travelling. Visiting vintage markets worldwide to find garments with interesting silhouettes, or it could also be a vintage source for prints. It doesn't have to be a print on a dress. It could be a print on a cup or a wallpaper or a cushion." byTiMo is very precise with their prints, creating all of them in-house. "But since the pandemic made that impossible, we had to rely on our vintage archive," says Mollatt. "It's huge. We've sourced it over the last 15 years."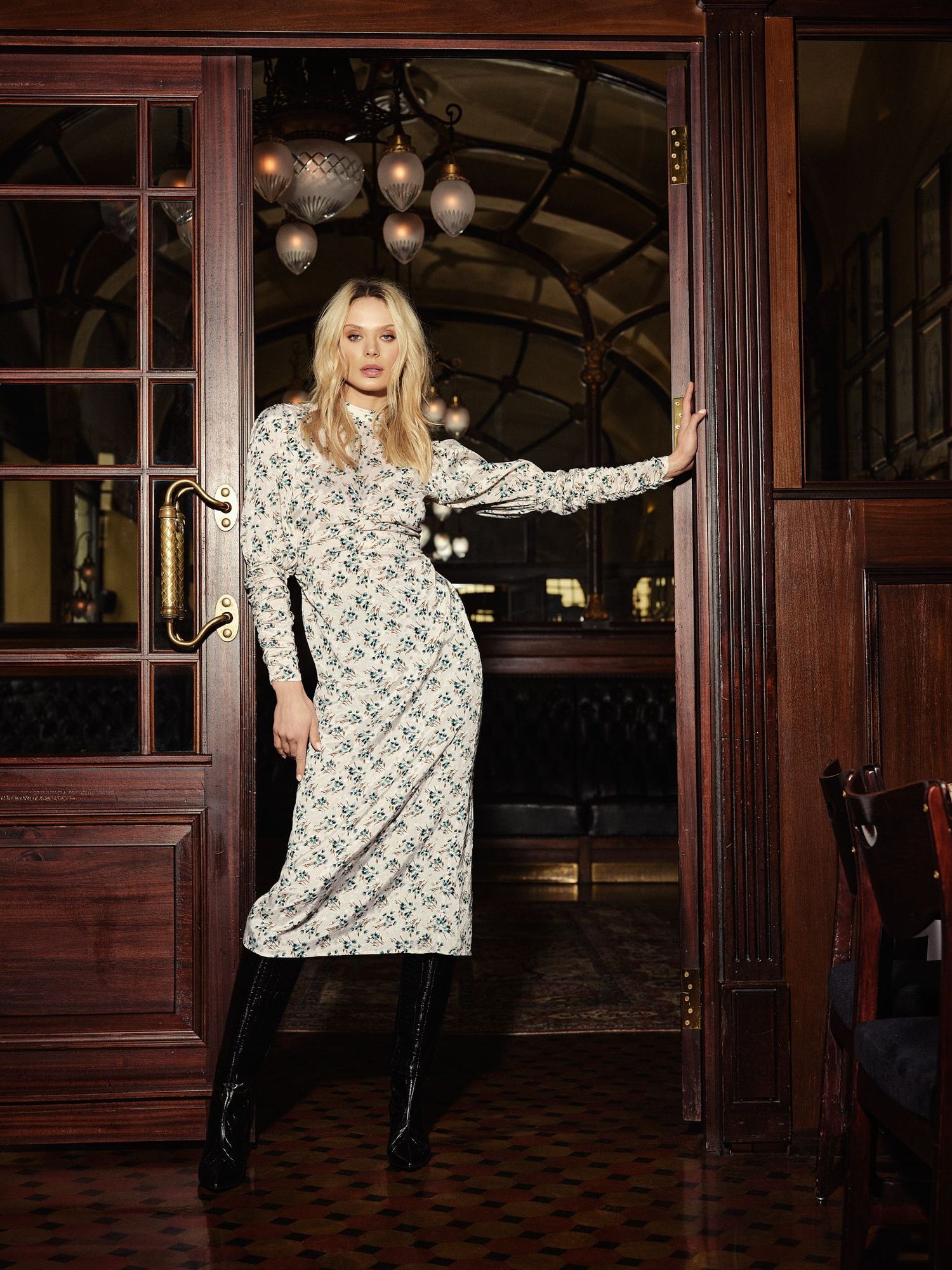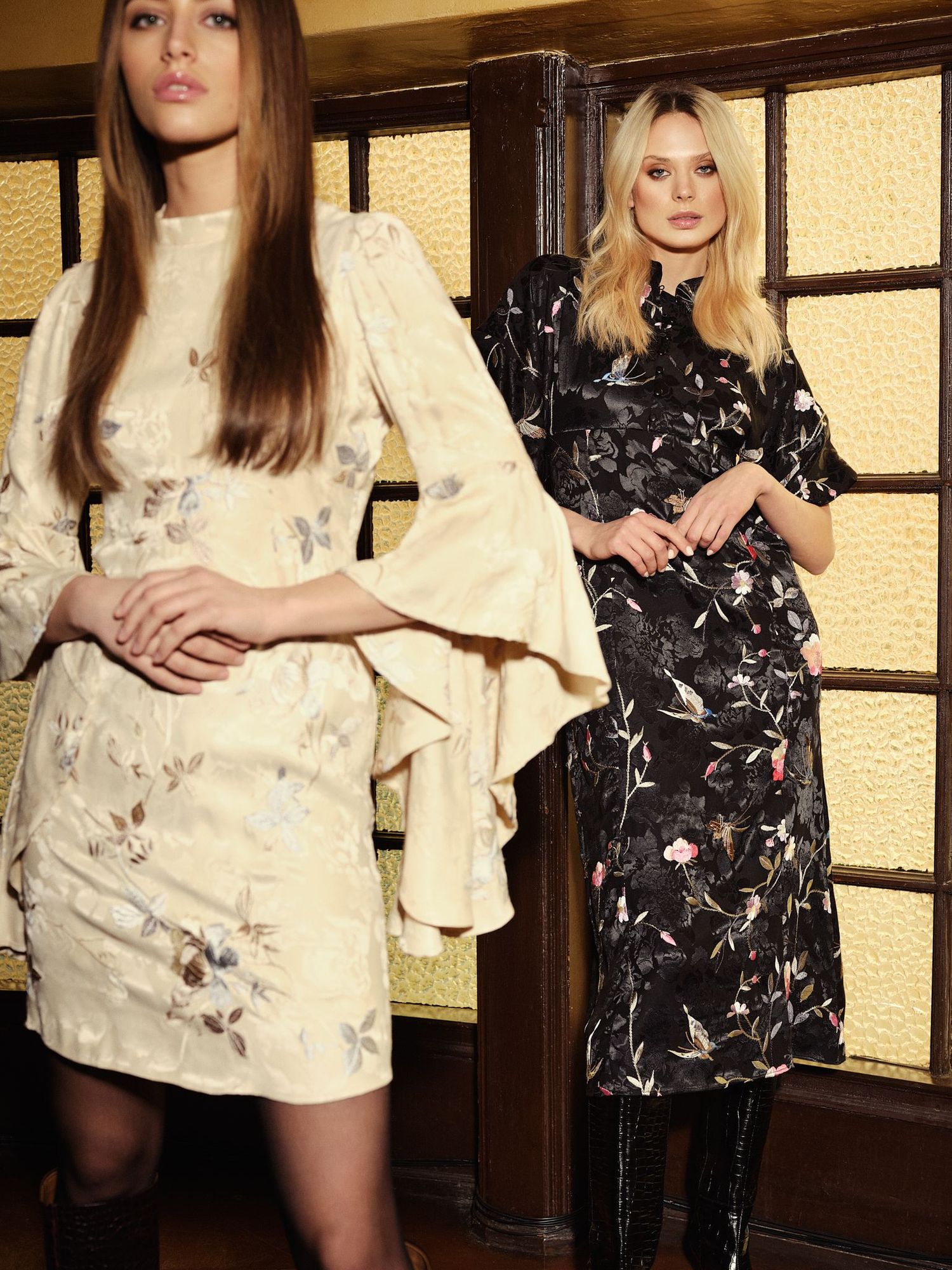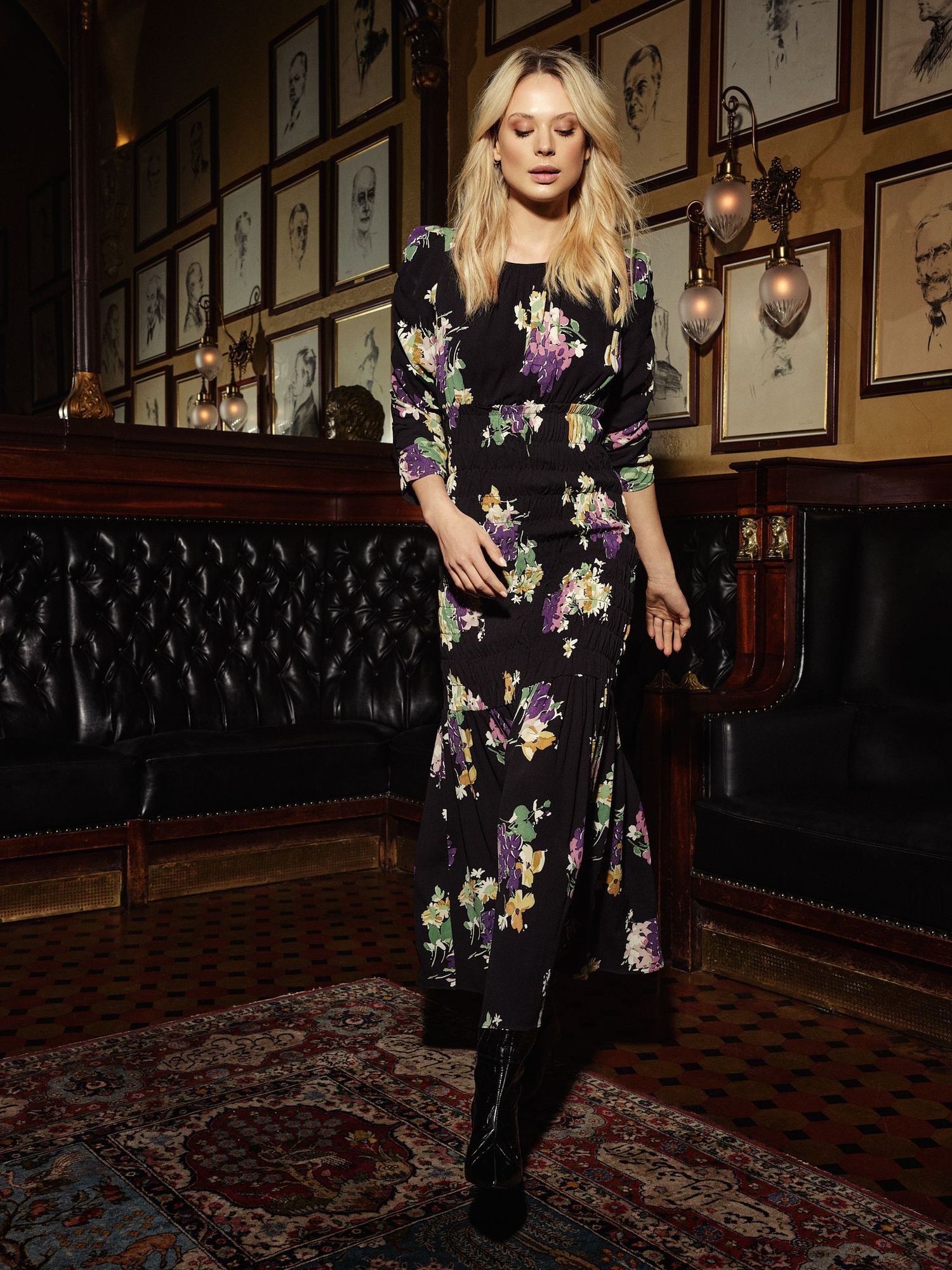 Usually working on collections a year ahead, Mollatt is happy that the brand's hopes of a more social holiday season this year has come to fruition. The uncertainties of new lockdowns and sudden restrictions are seemingly a thing of the past. "Now we're saying goodbye to that. That kind of home-y existence. People are sick of that now." Working on the pre-spring collection, Mollatt explains that even with the fickle nature of the pandemic, she wouldn't cut the brand's yearlong lead time short. "We try to ensure that we have something for everyone and something for everybody, and to make sure it's all perfect, it takes time. Also, we celebrate the female body, so why would we rush designing for it?"
As the brand aptly points out, a little glitter goes a long way to brighten our moods this party season.
See the full pre-spring collection on bytimo.no