Discover 50 things you didn't know about Pernille Teisbaek and Philip Lokto's relationship in this exclusive and charming video
In collaboration with Audemars Piguet
When the Swiss fine watchmaker Audemars Piguet first revealed its Royal Oak design back in 1972, it marked a major turning point in the history of luxury timekeeping. Now, half a century on, it remains one of the world's most iconic watches. To mark this incredible legacy, Audemars Piguet and Vogue invited the stylish Scandi couple Pernille Teisbaek and Philip Lokto to come together to create a celebratory short film. In a nod to the power of partnerships in creativity, 50 Things About You spotlights the inner workings of their inspirational connection.
Watch '50 Things About You' here:
The Royal Oak's groundbreaking geometric design started life as a sketch at the hand of Gérald Genta, a creative maestro known as 'the Picasso of watchmaking,' for whom watches were akin to works of art. Before the storied release of the original Royal Oak, Audemars Piguet, the family-run firm that has been operating out of the tranquil hamlet of Le Brassus since 1875, was best-known for its unique designs ranging from the discrete to the bold. The Royal Oak reinvigorated the realm of watches. Now, Audemars Piguet is introducing a jubilee collection of Royal Oak watches including the latest "Jumbo" model, which comes complete with a special '50-years' oscillating weight, that can be seen via its sapphire caseback, and a new self-winding movement, the Calibre 7121. Marrying tradition with innovation, it's an apt expression of the uncompromising spirit of the Royal Oak.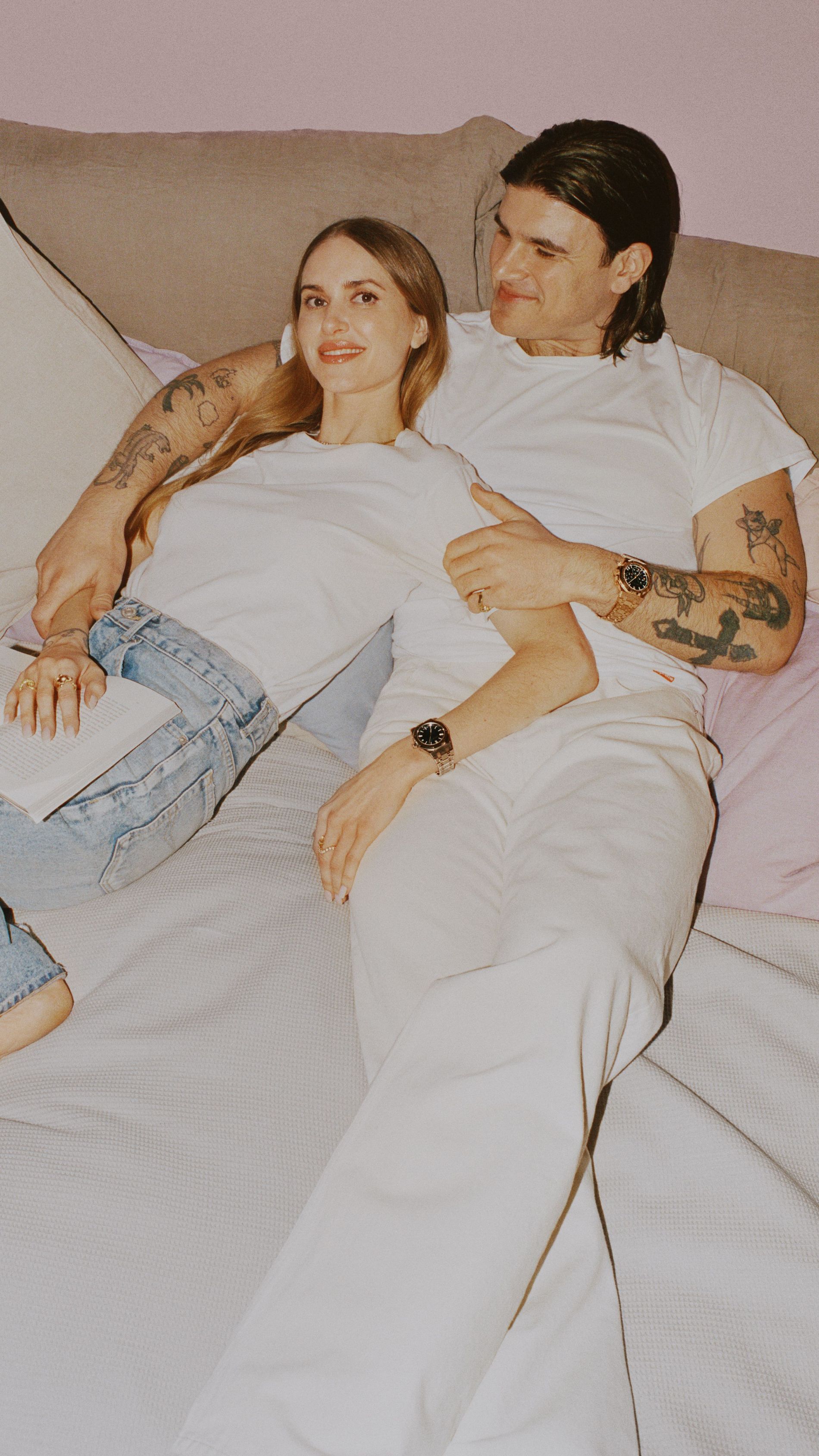 Photo: Audemars Piguet
In luxury watch circles the story of the Royal Oak's inception is as legendary as the design itself. In the afternoon before the 1970 Basel Swiss Watch Fair, at the request of its distributors, Audemars Piguet asked Gérald Genta to conjure a special, finely wrought stainless steel watch design to present at the fair the very next day. In a single night of sketching he transformed the face of horology. Its oversize silhouette, octagonal bezel and prominent screw heads, are said to be inspired by a memory of a diver seen on the shores of Lake Geneva in an antiquated diving helmet. Beloved around the globe, the Royal Oak has gone on to become the avant-garde centrepiece of the Audemars Piguet offering, together with the Royal Oak Offshore and Royal Oak Concept collections released in the decades that followed.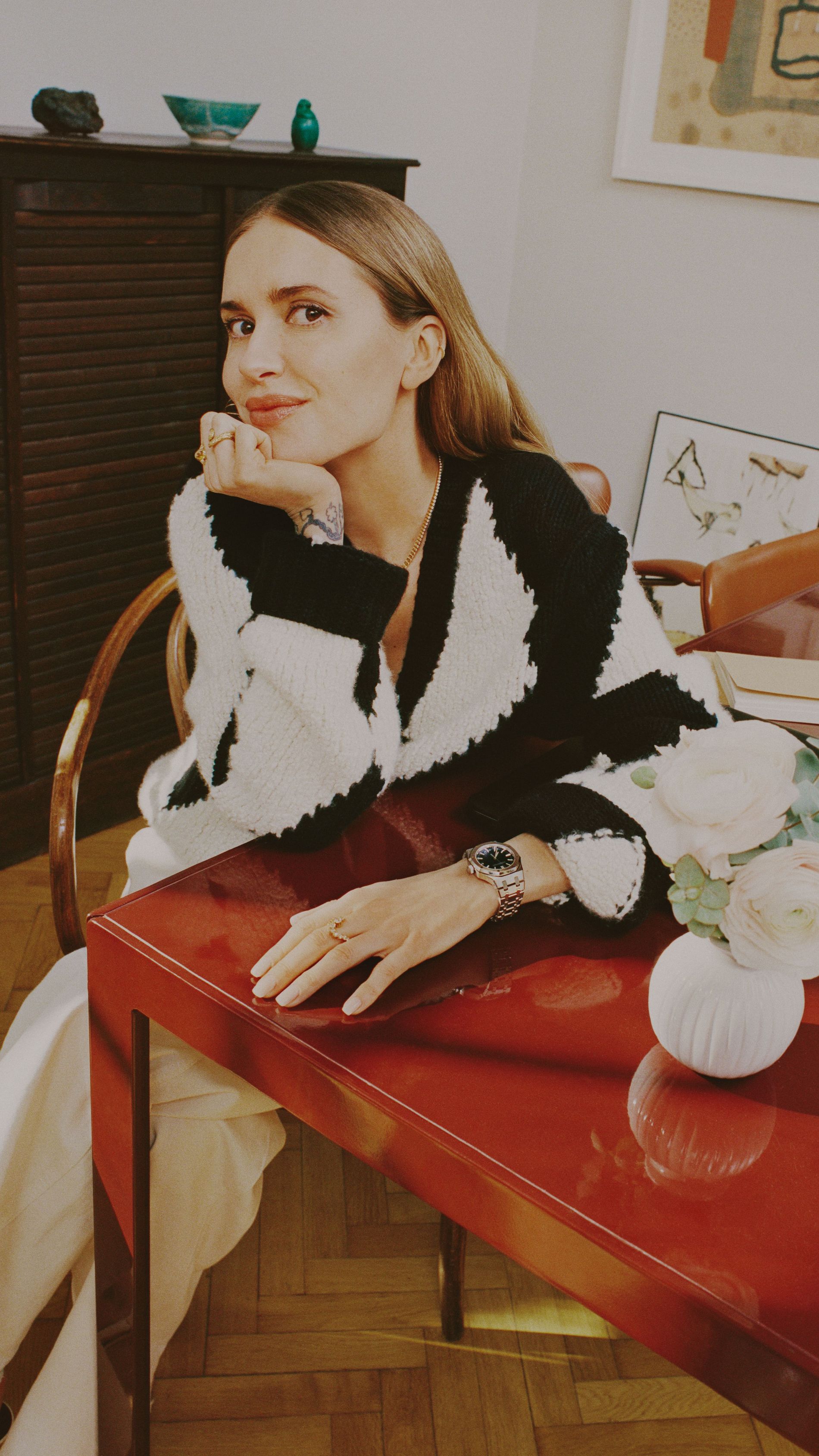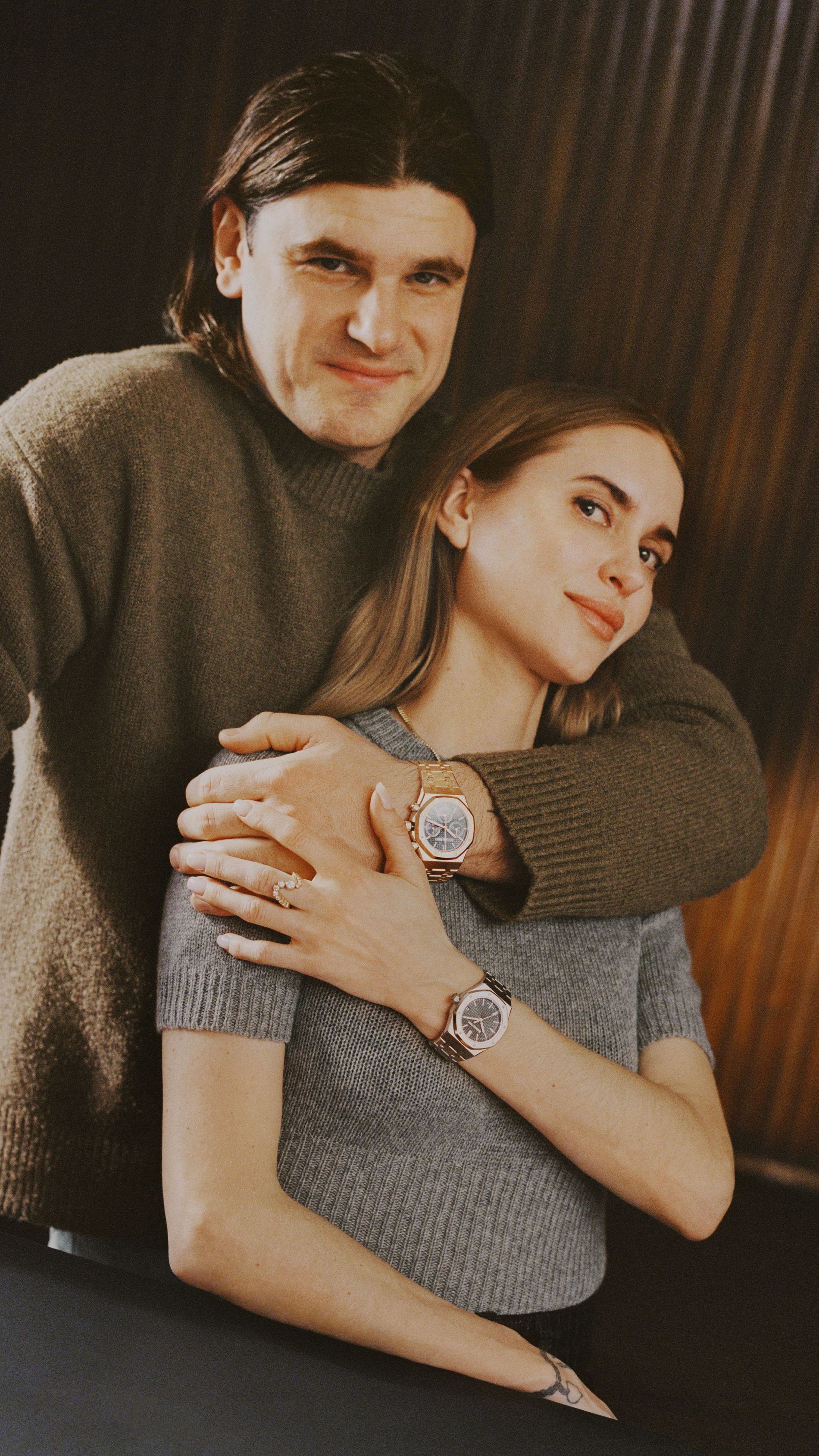 But what's lesser known is that behind this lightning flash of creative brilliance is also a story of enduring partnerships. Though prodigious and fearless in his vision, Genta has been championed by his wife and business partner, Évelyne, throughout his career. Since his death in 2011 she has continued to tirelessly preserve his legacy. Theirs was a dynamic partnership that began when they first met at a London party, and Genta remarked on her Audemars Piguet watch. Cemented by their remarkable relationship, the Royal Oak has become more than simply a cult timepiece, but an object of affection that symbolises the power of partnerships.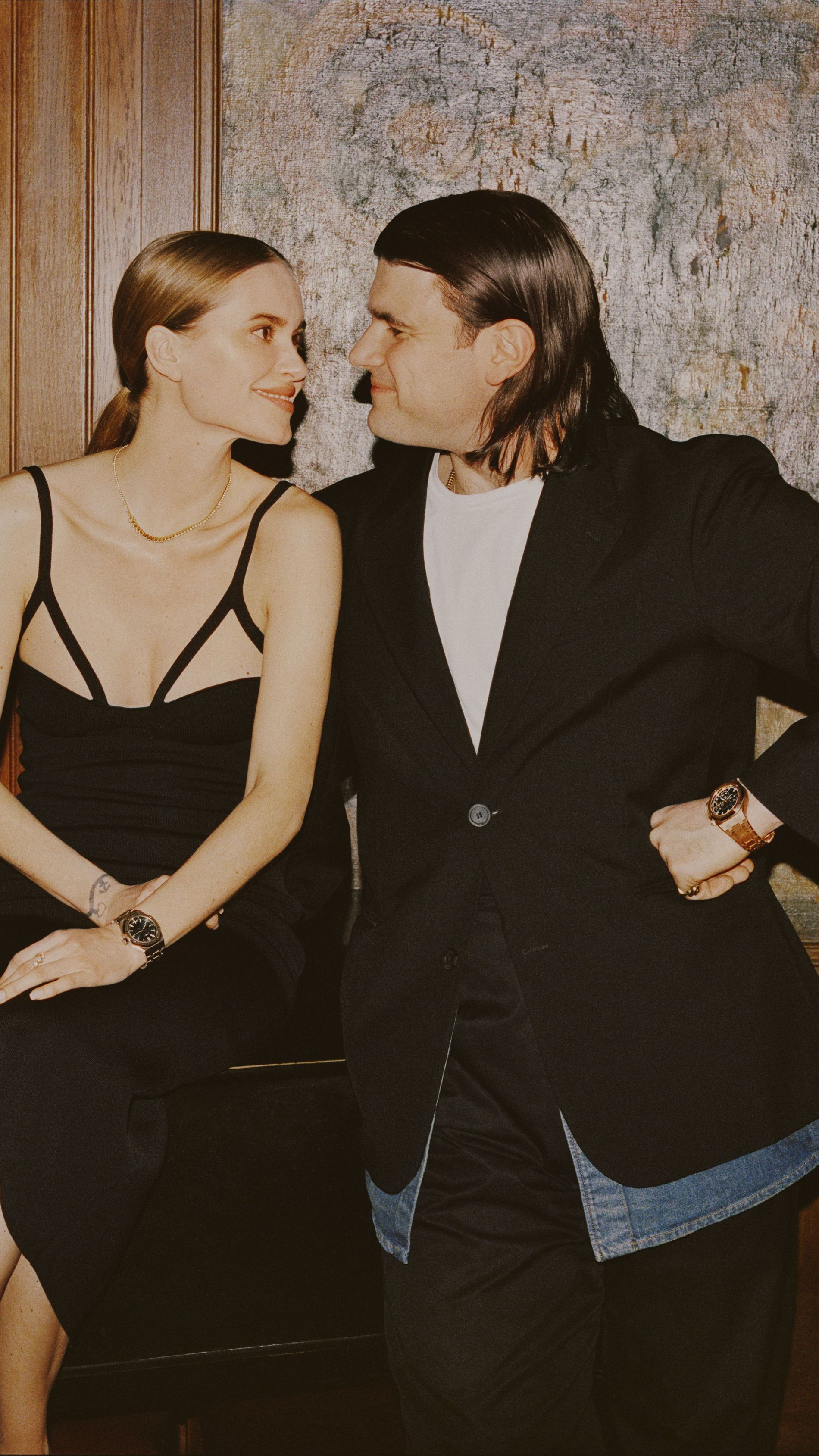 Photo: Audemars Piguet
Fifty years on, as Audemars Piguet marks the jubilee of the Royal Oak, creative couples continue to be inspired by this pioneering watchmaker - not least, Pernille Teisbaek and Philip Lokto. "Design should always be meaningful and significant," says Philip Lokto. "I'm always looking for design which is for now and for the future - it's about quality over quantity." This idea of timeless pieces strikes to the heart of Teisbaek's aesthetic too. "It's about finding something long-lasting that can be passed onto the next generation."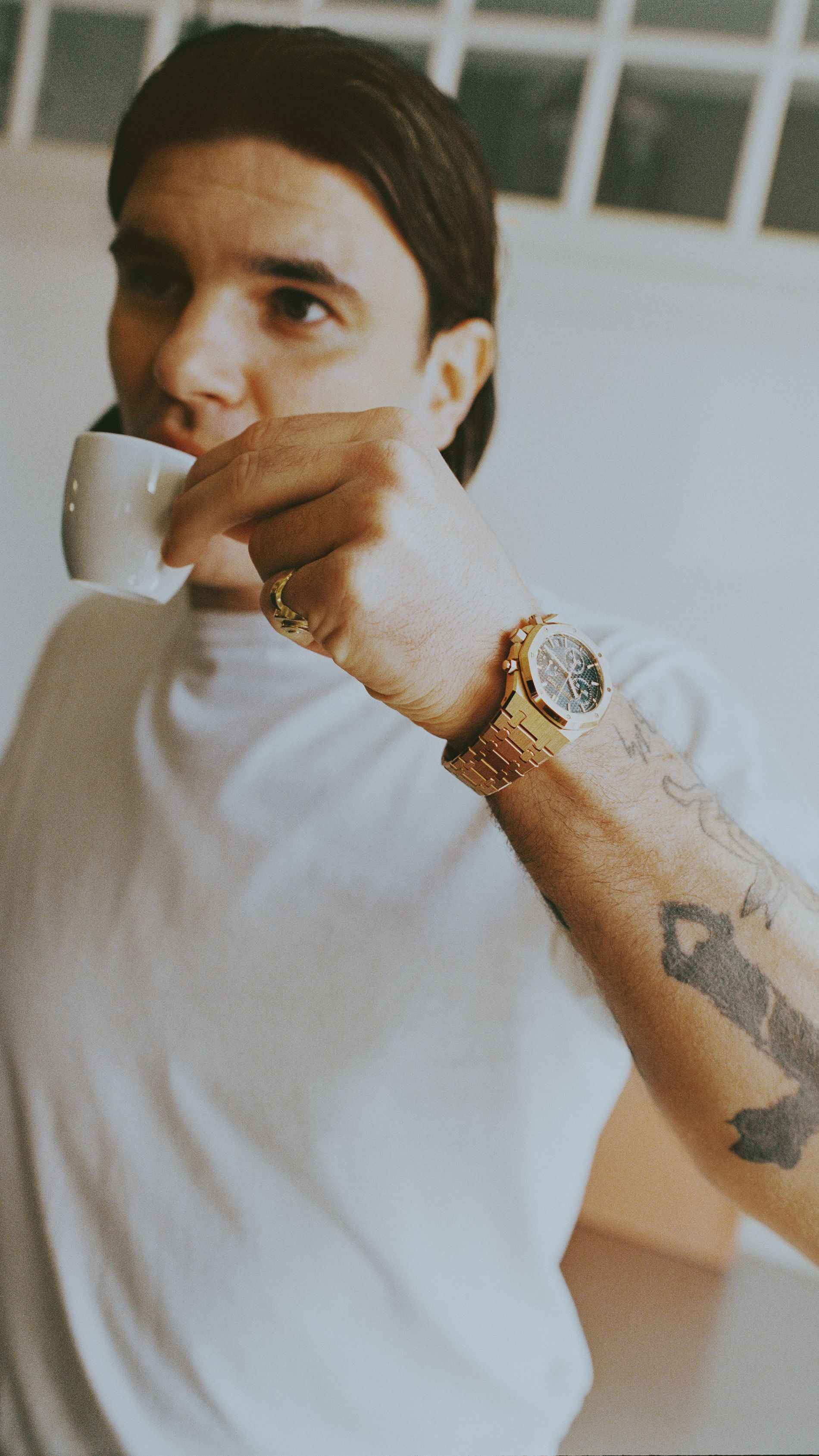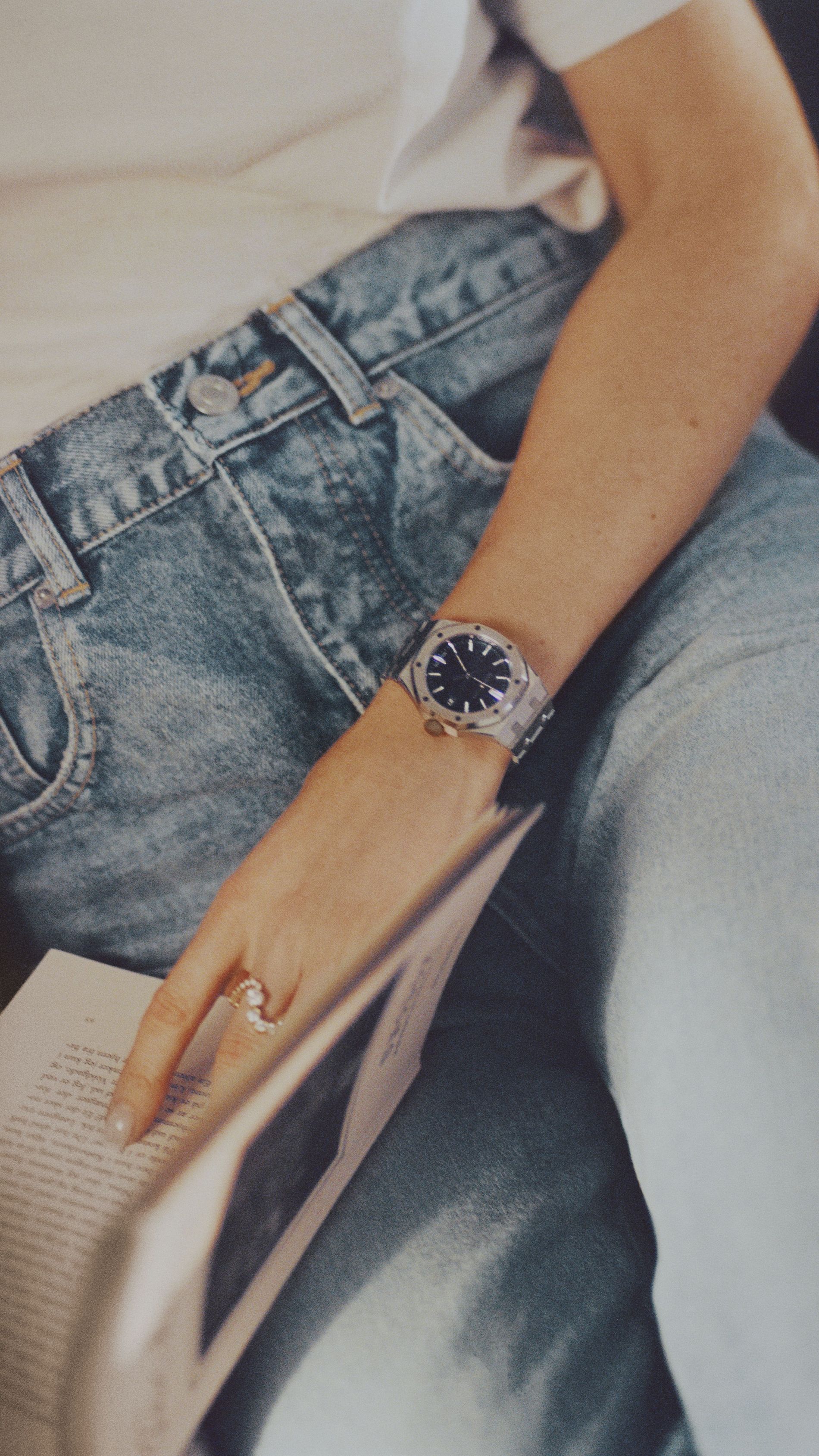 The couple first met at a music festival - and five months later were engaged to be married. Theirs is a partnership founded on a shared adoration of design and appreciation of beauty - Teisbaek is a stylist and creative consultant, and Lokto is a fashion designer and the co-founder of a Danish outerwear brand. Together they are Scandi fashion royalty.
Both drawn to the strong, genderless quality of the Royal Oak watch, the pair hope to be celebrating their own 50th anniversary - far in the future - surrounded by their three children, grandchildren, friends and loved ones. For now, they can collectively admire the dynamism and compelling connection that helped to create the Royal Oak watch, whose pioneering, precision design is as admired today as it was half a century ago.
Discover the new Audemars Piguet Royal Oak collection, here