Next stop in the Fashion Month calendar is the City of Lights with the Parisian runways offering a bevvy of show-stopping fashion
A celebration of fashion's return is the underlining feel at Paris Fashion Week's spring/summer 2022 collections. From upcoming designers like Kenneth Ize and Thebe Magugu who are shaping the future of the fashion industry, to the ever-impressing shows of the likes of Saint Laurent in the shadow of the Eiffel Tower, these runways are captivating the world, proving the uplifting power of fashion. Below enjoy the highlights from the French capital.
Kenneth Ize
Kenneth Ize kicked off the week with his first-ever physical show at PFW, where he presented a colourful and optimistic collection that was all about elegant comfort. All the traditional asoke fabrics of the collection are hand-woven in a small factory in Nigeria and were used to create flowy silhouettes in vibrant blue and orange hues with stripes being a reoccurring pattern. We can't help to be excited to see where Kenneth Ize is going next.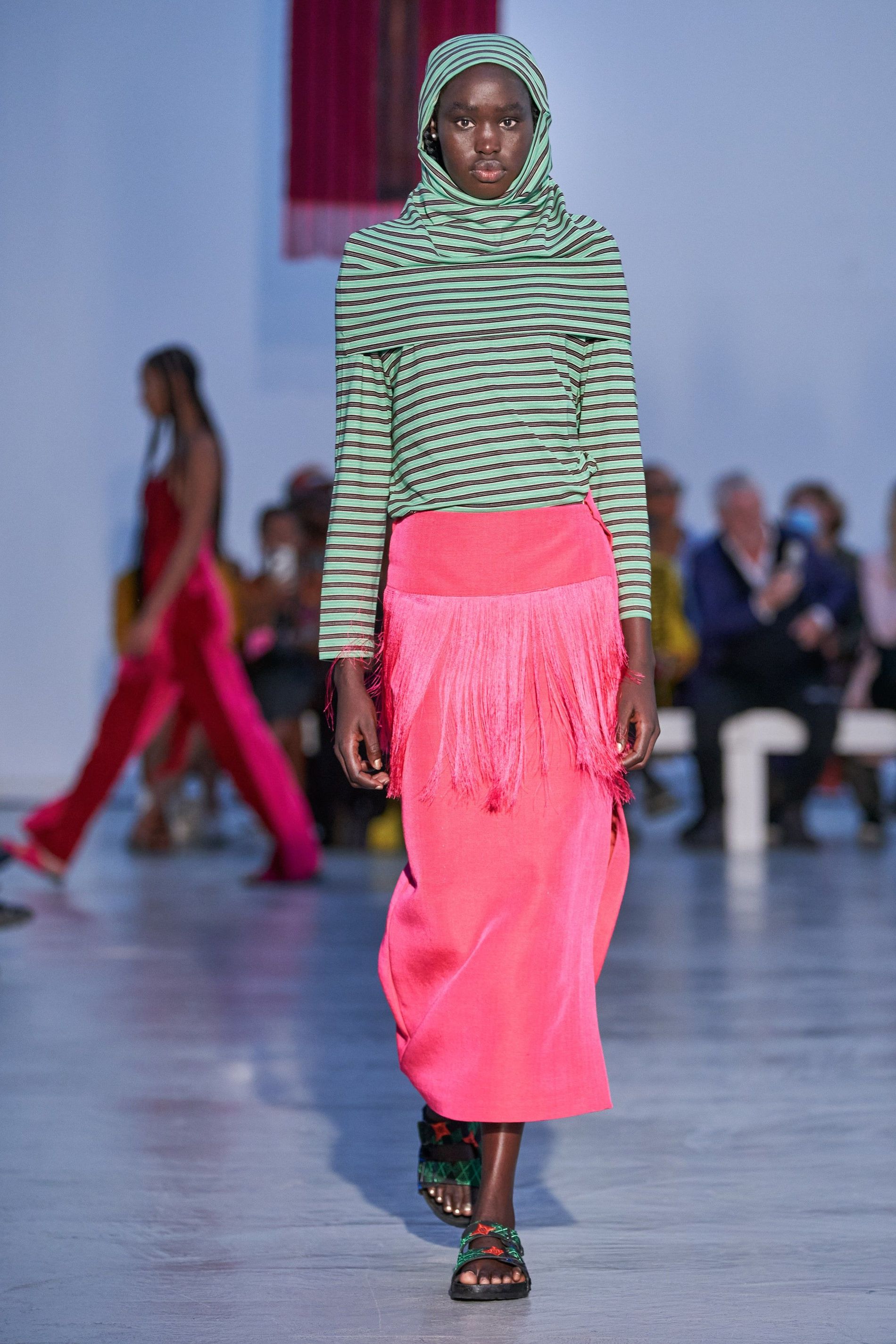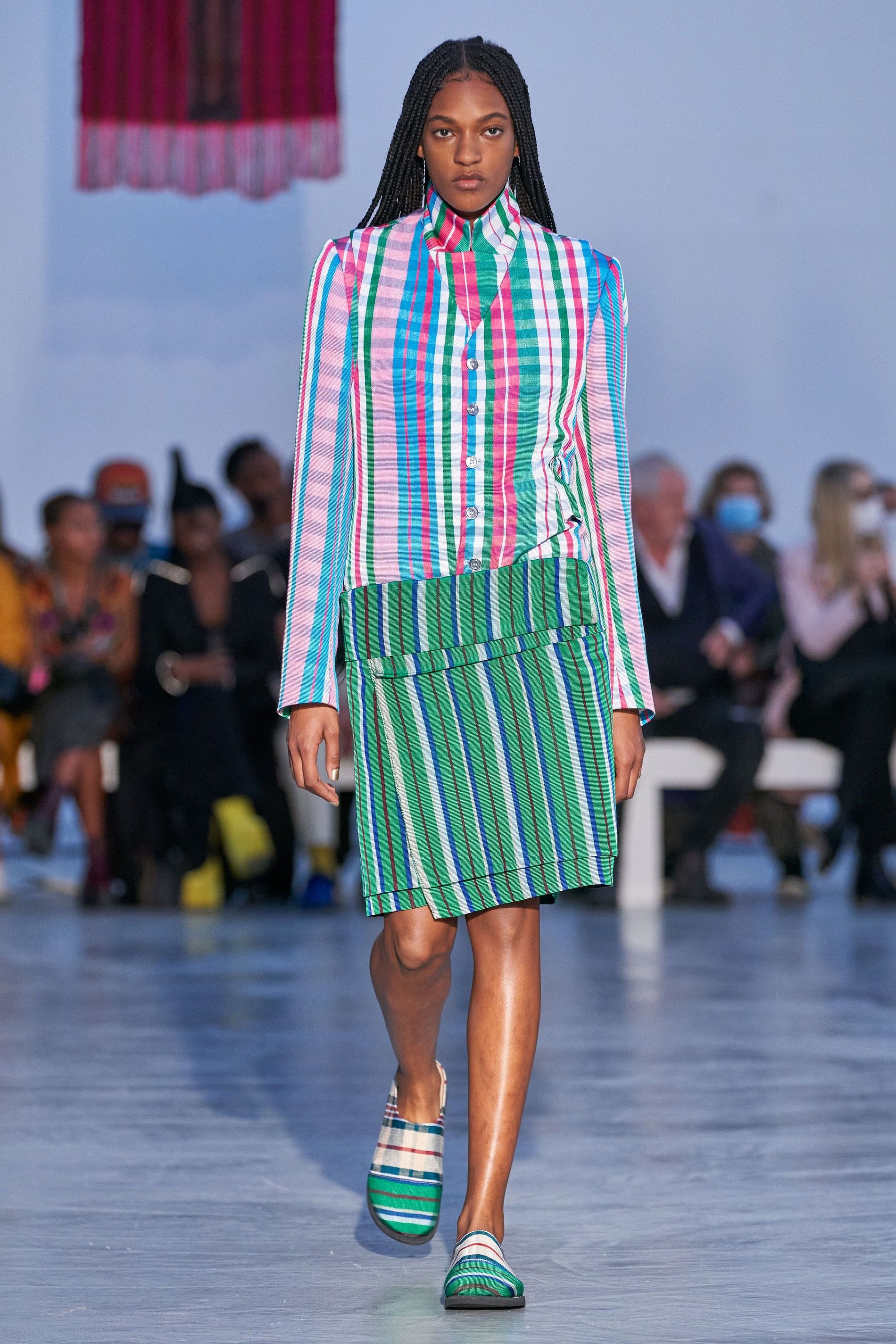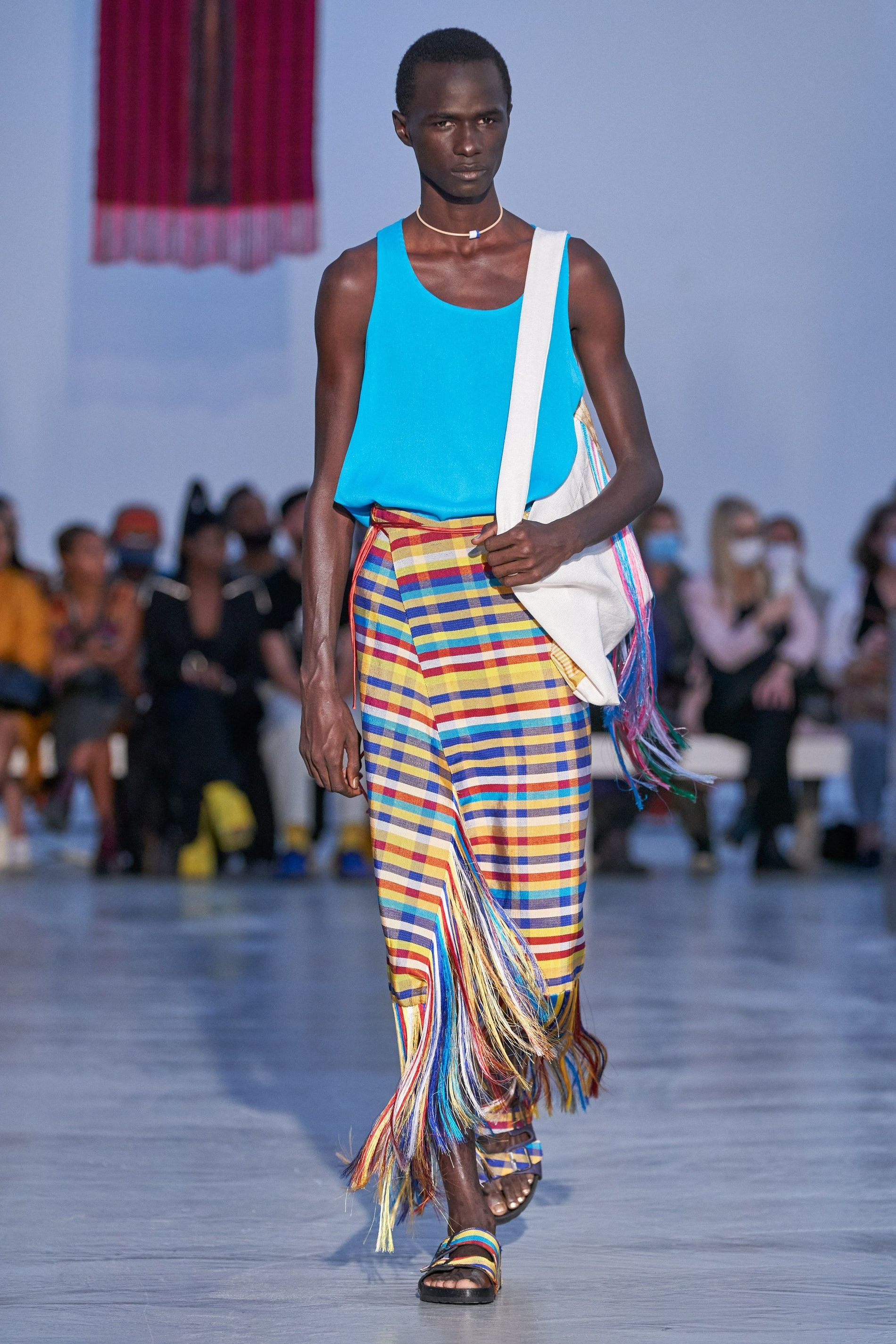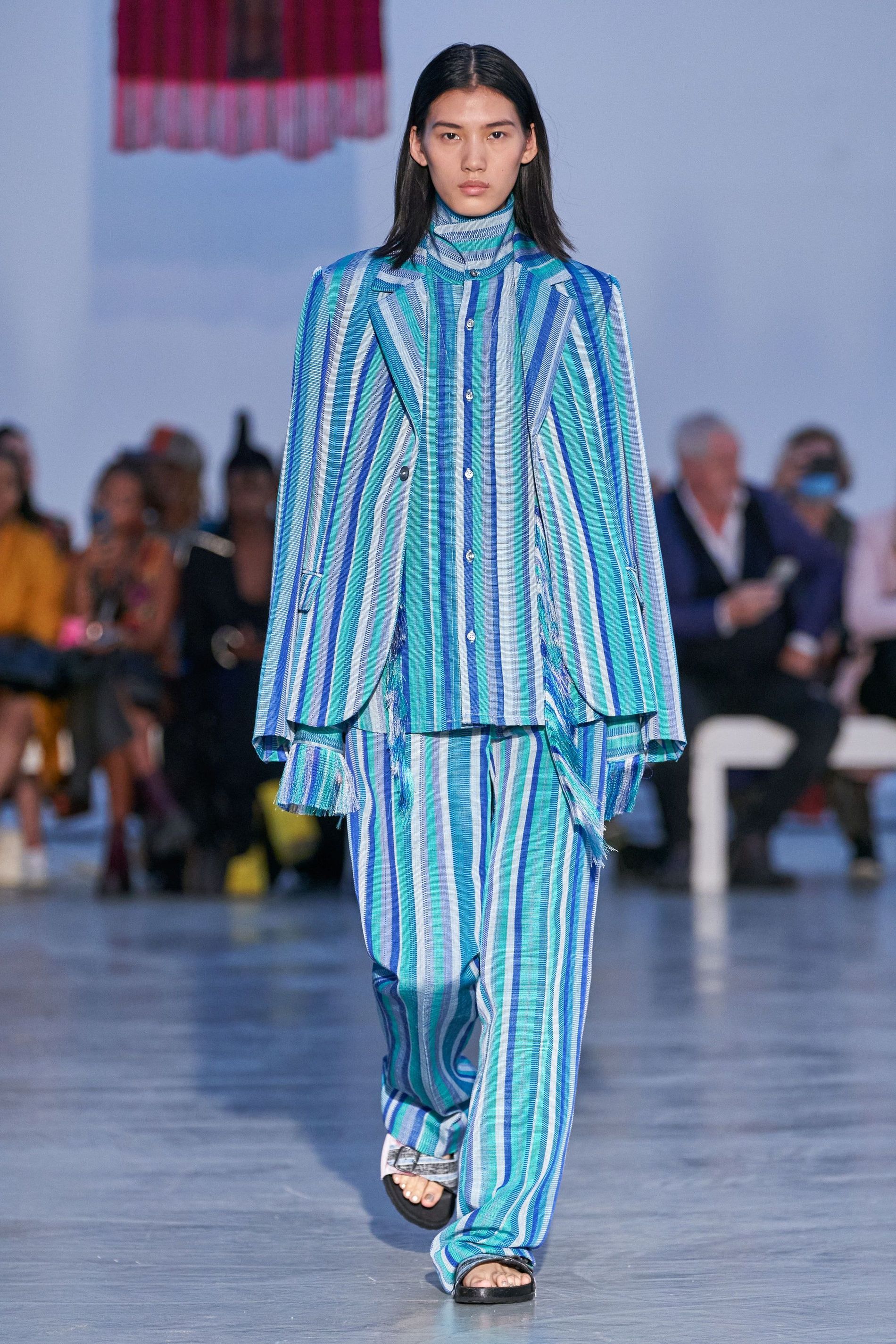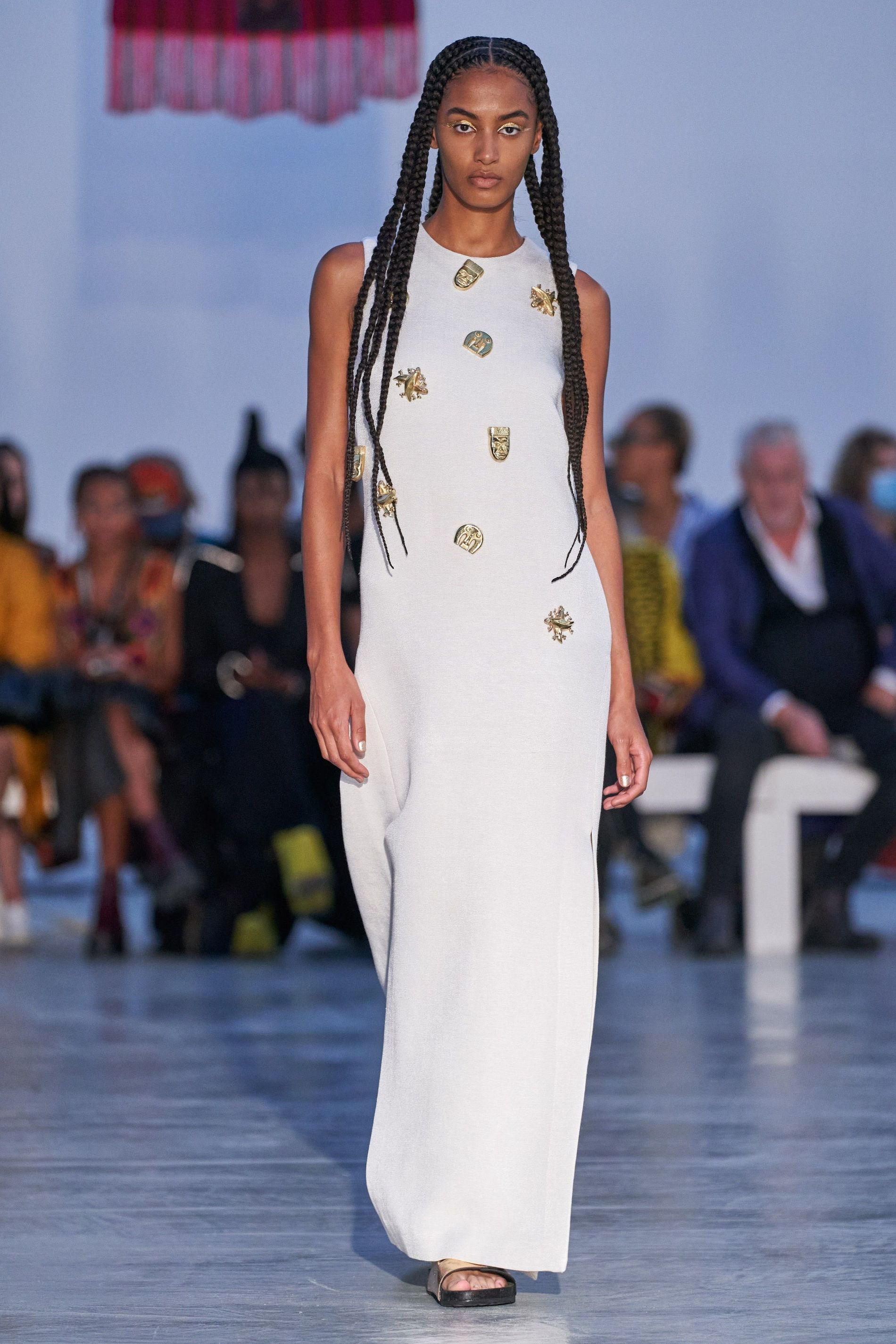 Marine Serre
Unlike many others, eco-conscious label Marine Serre presented her collection through a film screening. The collection and film which is dubbed 'Ostal 24', took us to an alternate and psychedelic universe. Designs included crochet dresses, pink denim, and tablecloths that were constructed into an upcycled coat, and were made out of 45 per cent regenerated materials, and 45 per cent recycled textiles – her most sustainable collection to date.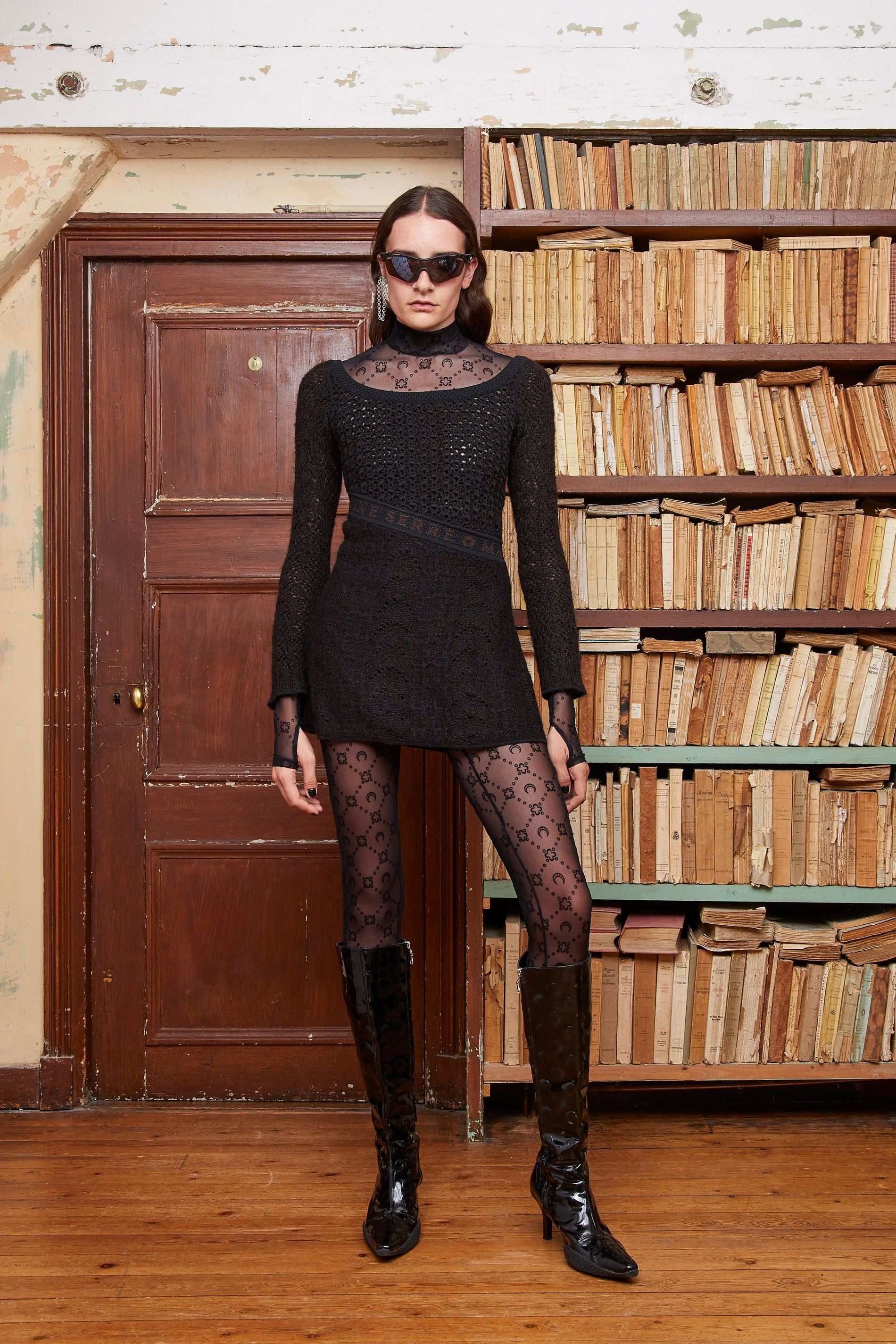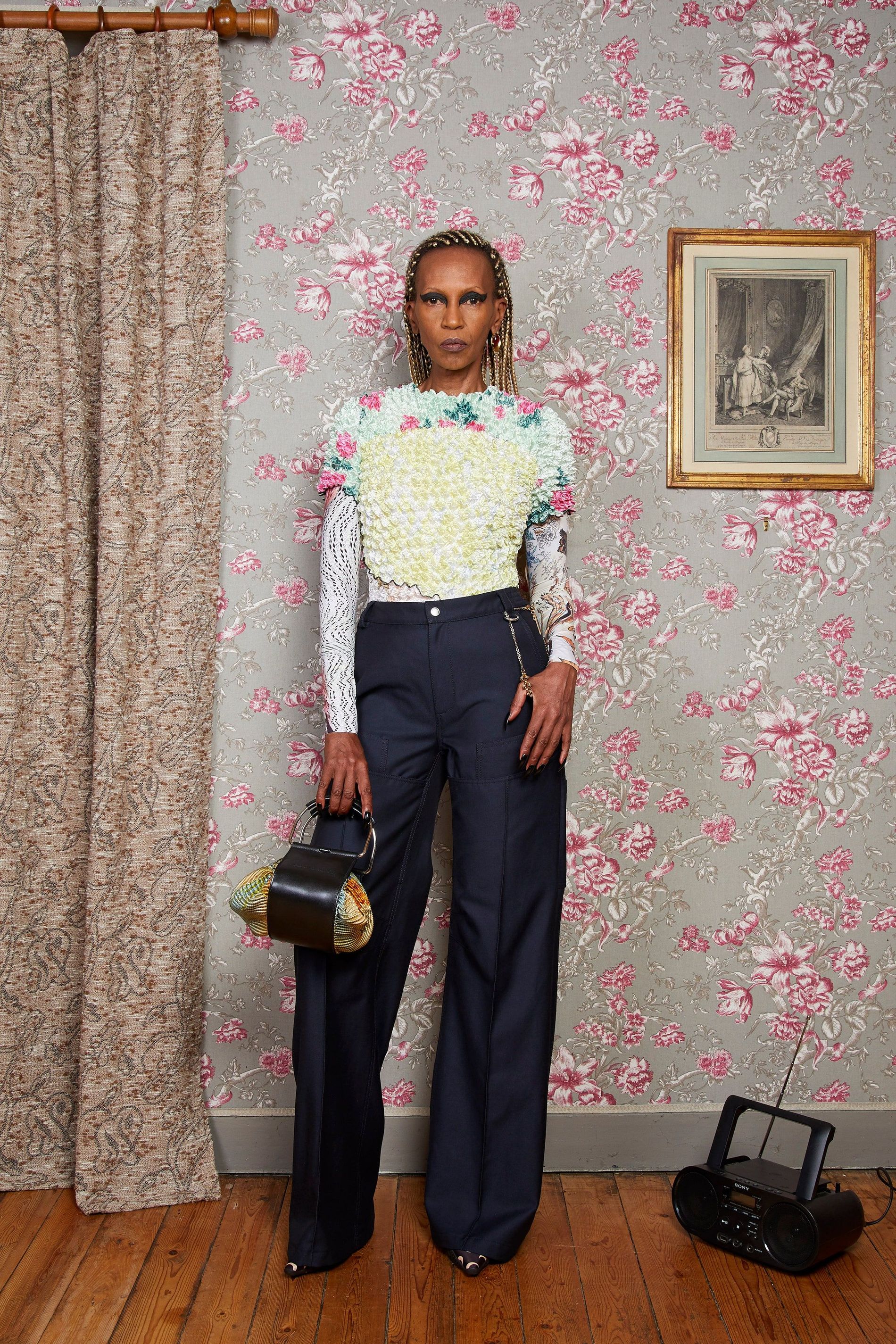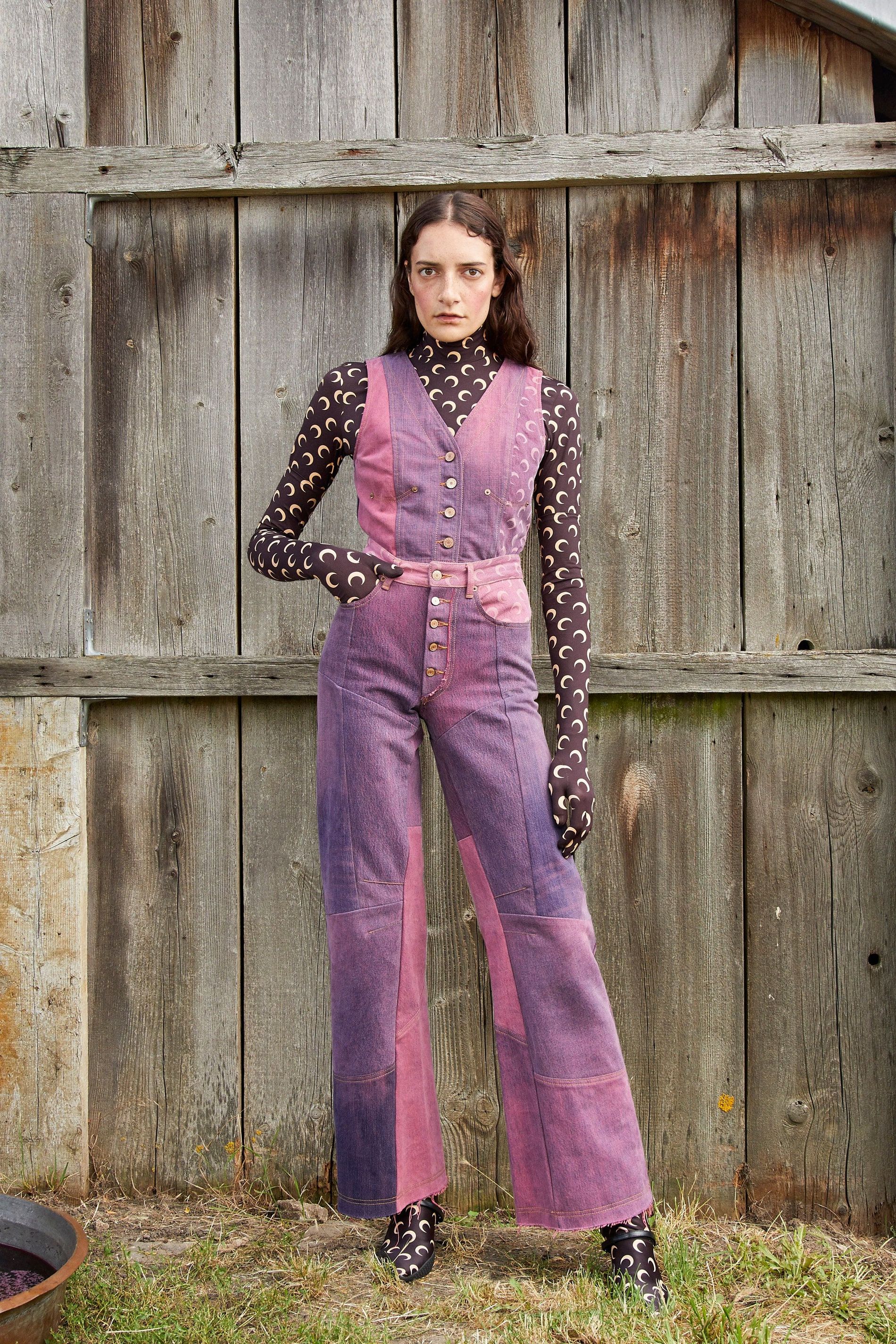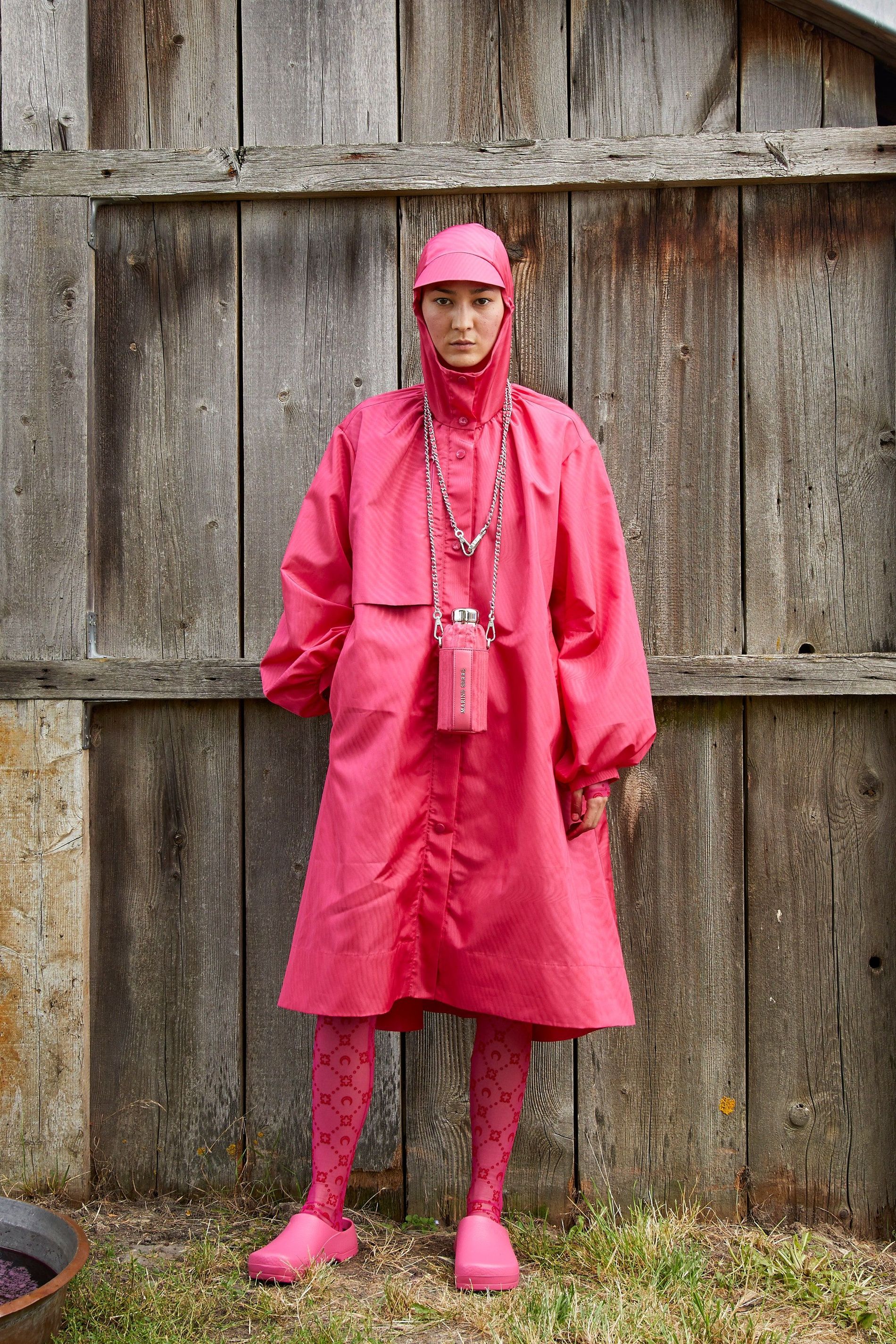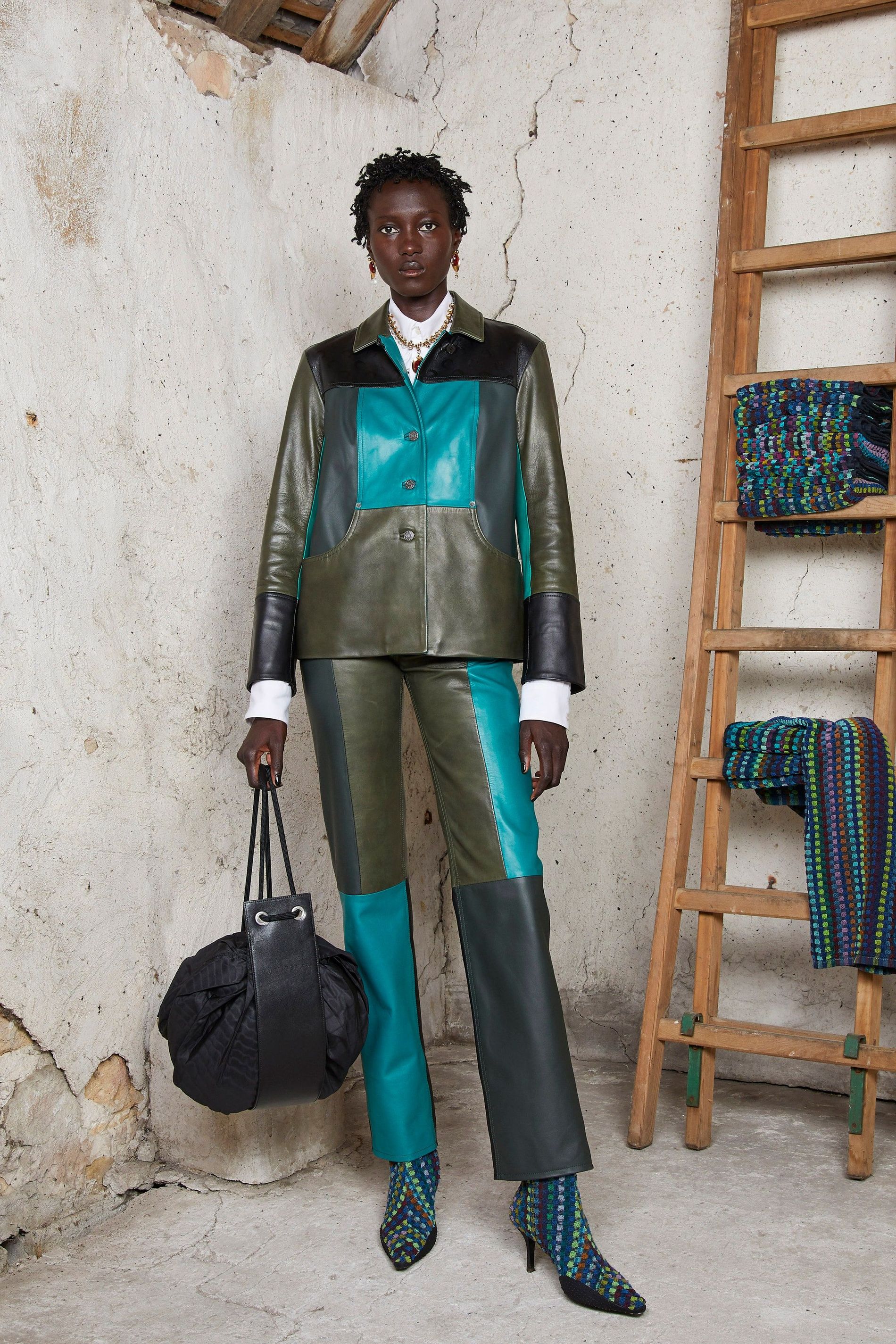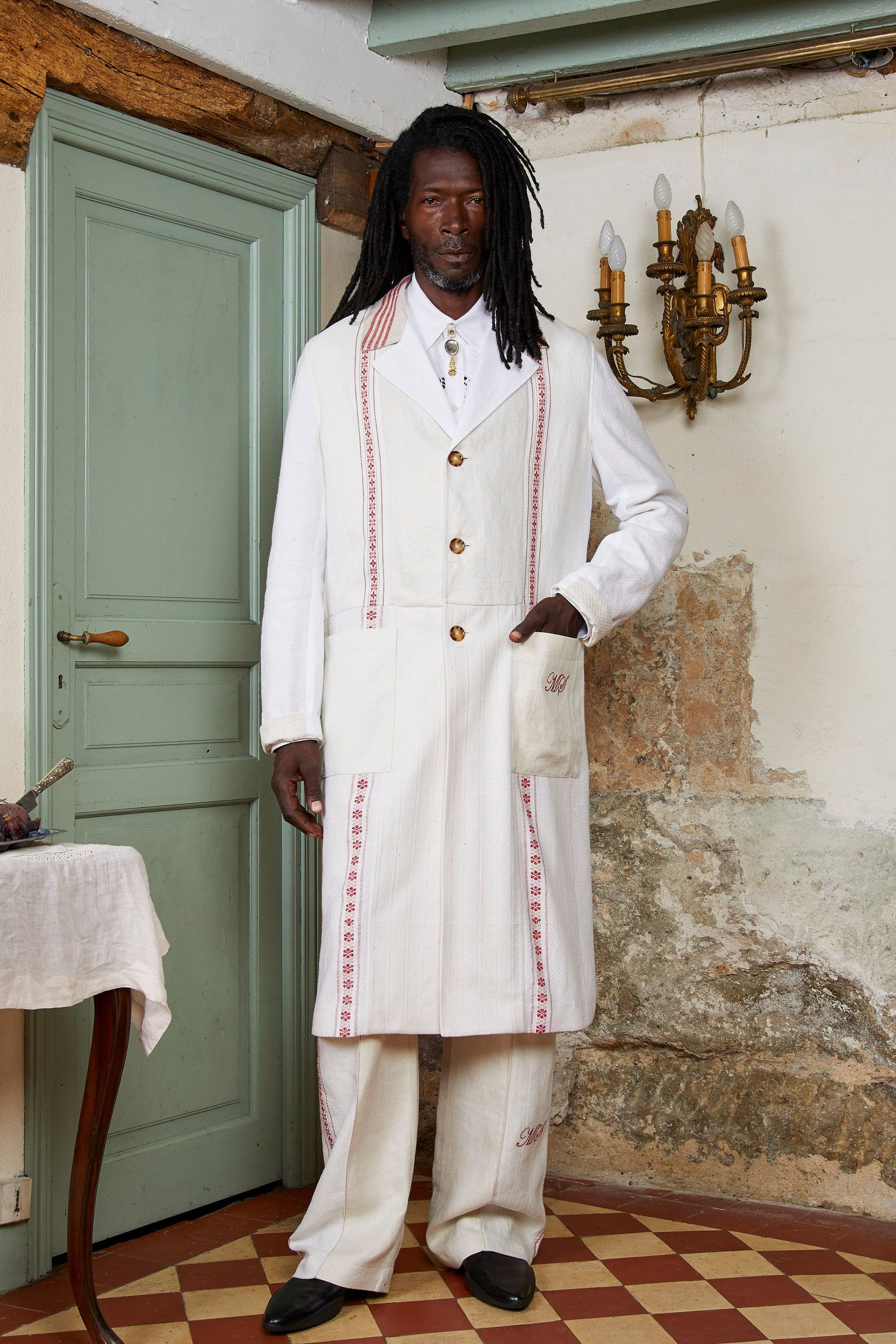 Botter
Creative directors Rushemy Botter and Lisi Herrebrugh had a clear message with their 'Global Warning' collection. Designs in the form of sharp yet relaxed suiting and fitted bodies and vests were shown on the backdrop of a minimalistic ocean-like decor. The message took form in the choice of materials; 60per cent of the collection was made out of recycled plastic. Botter is at the forefront of creating a new conscious luxury, that has to become the new norm within fashion.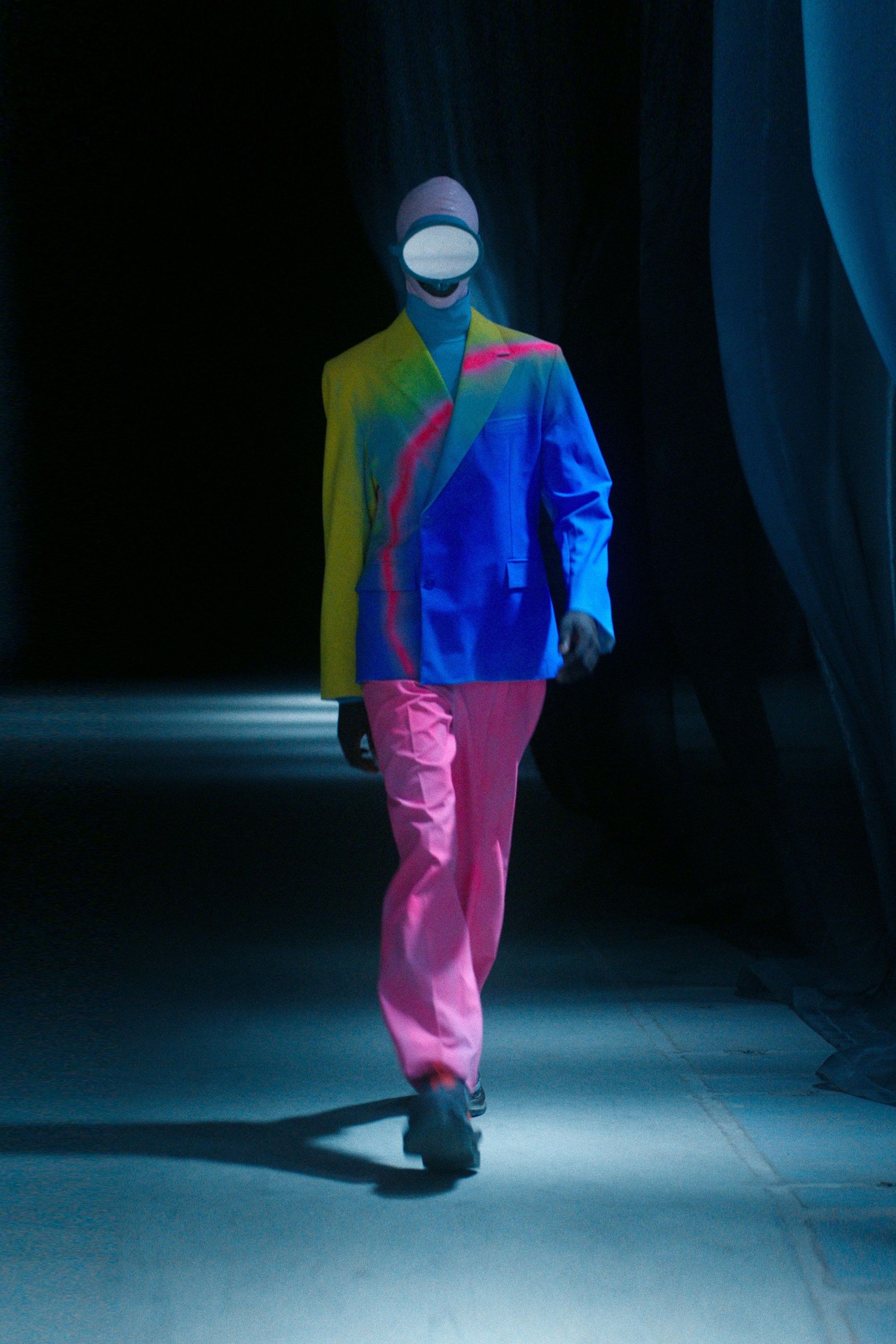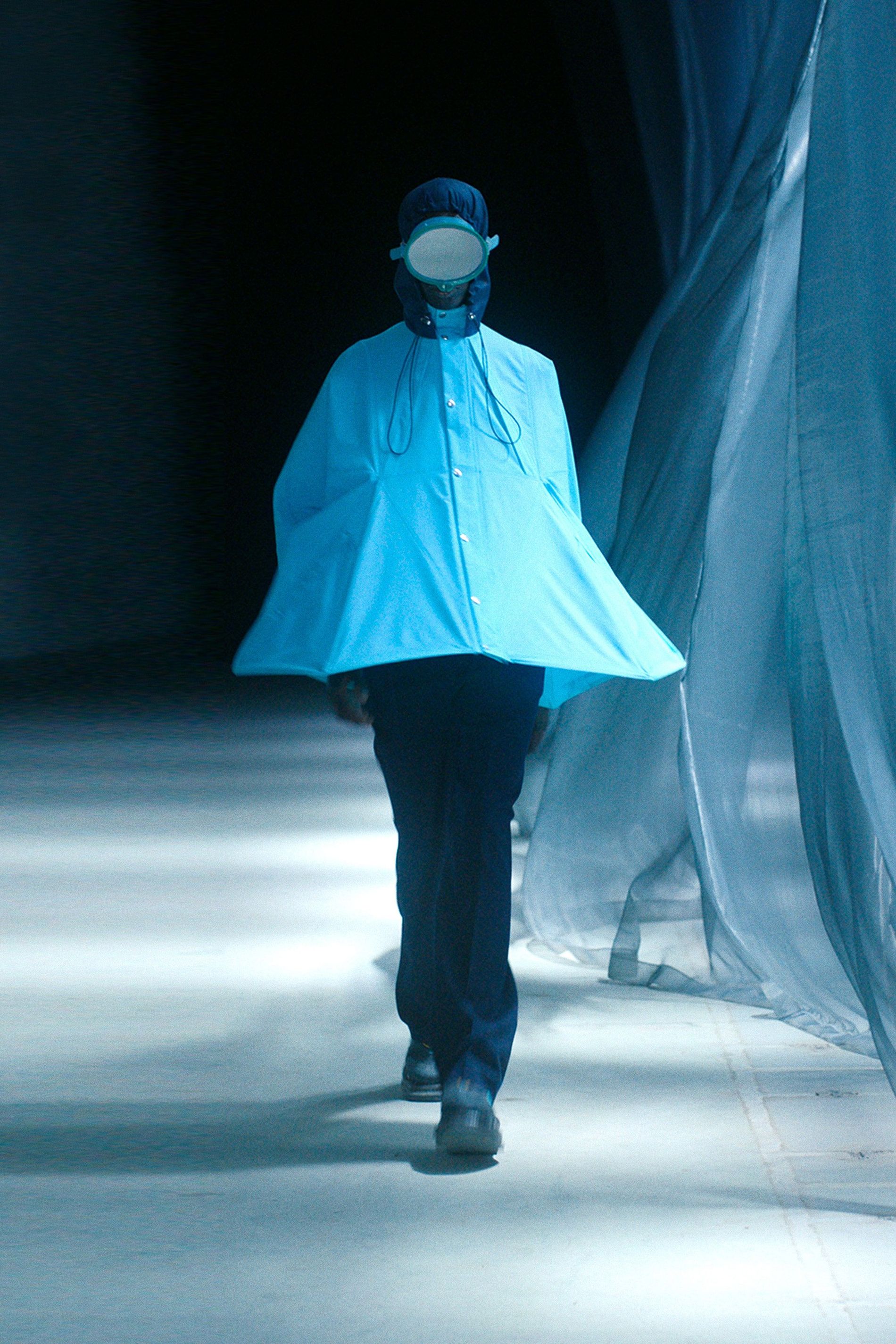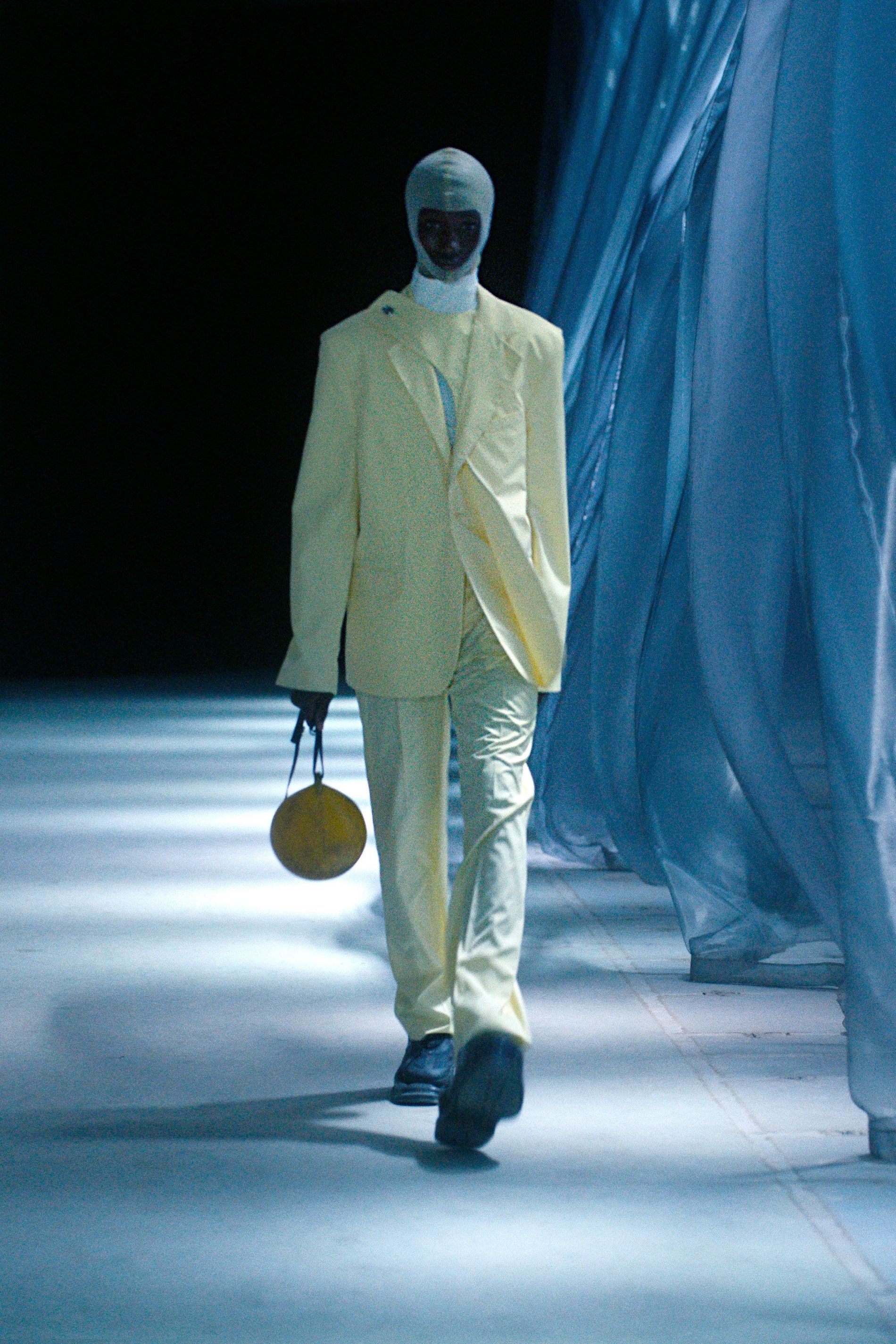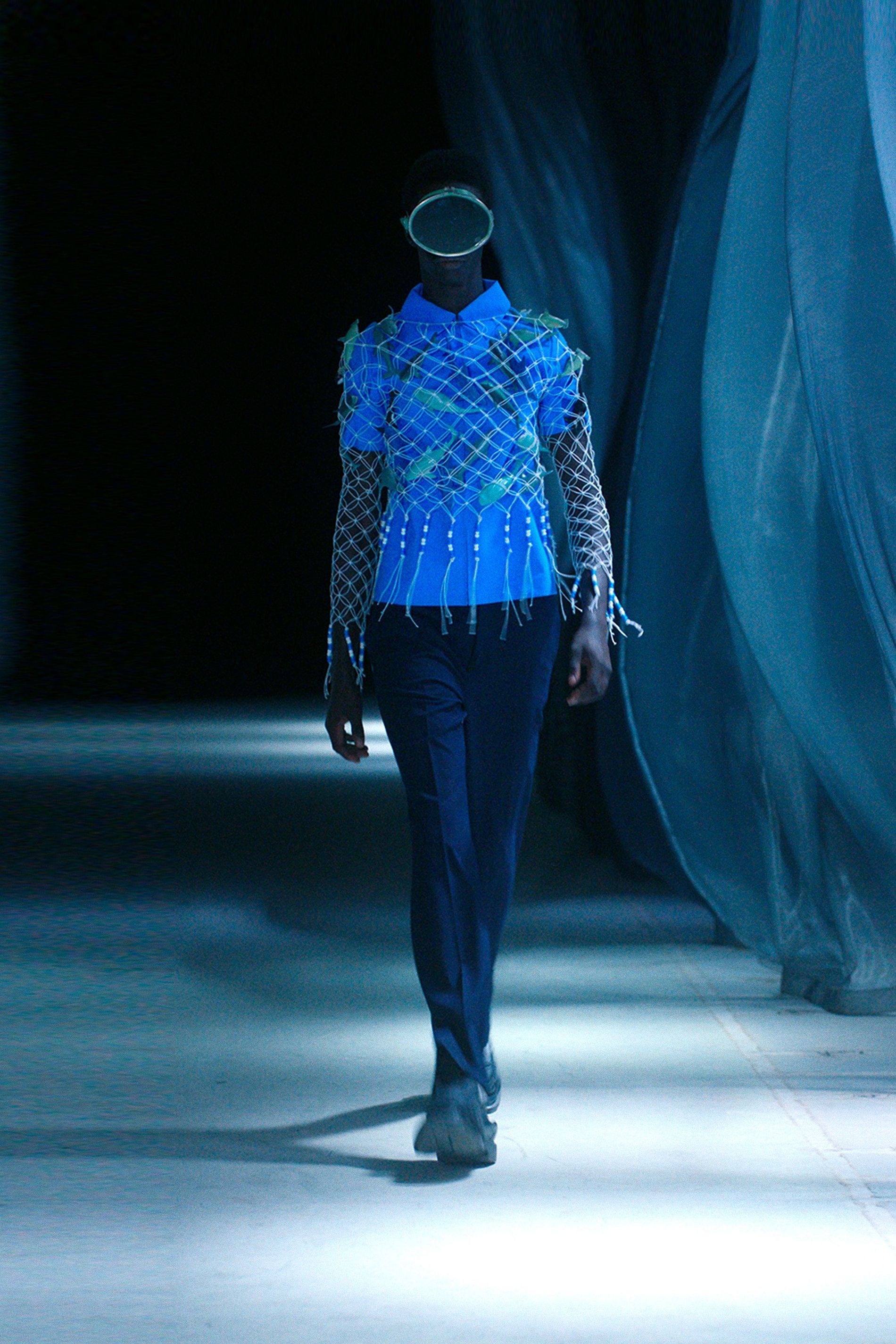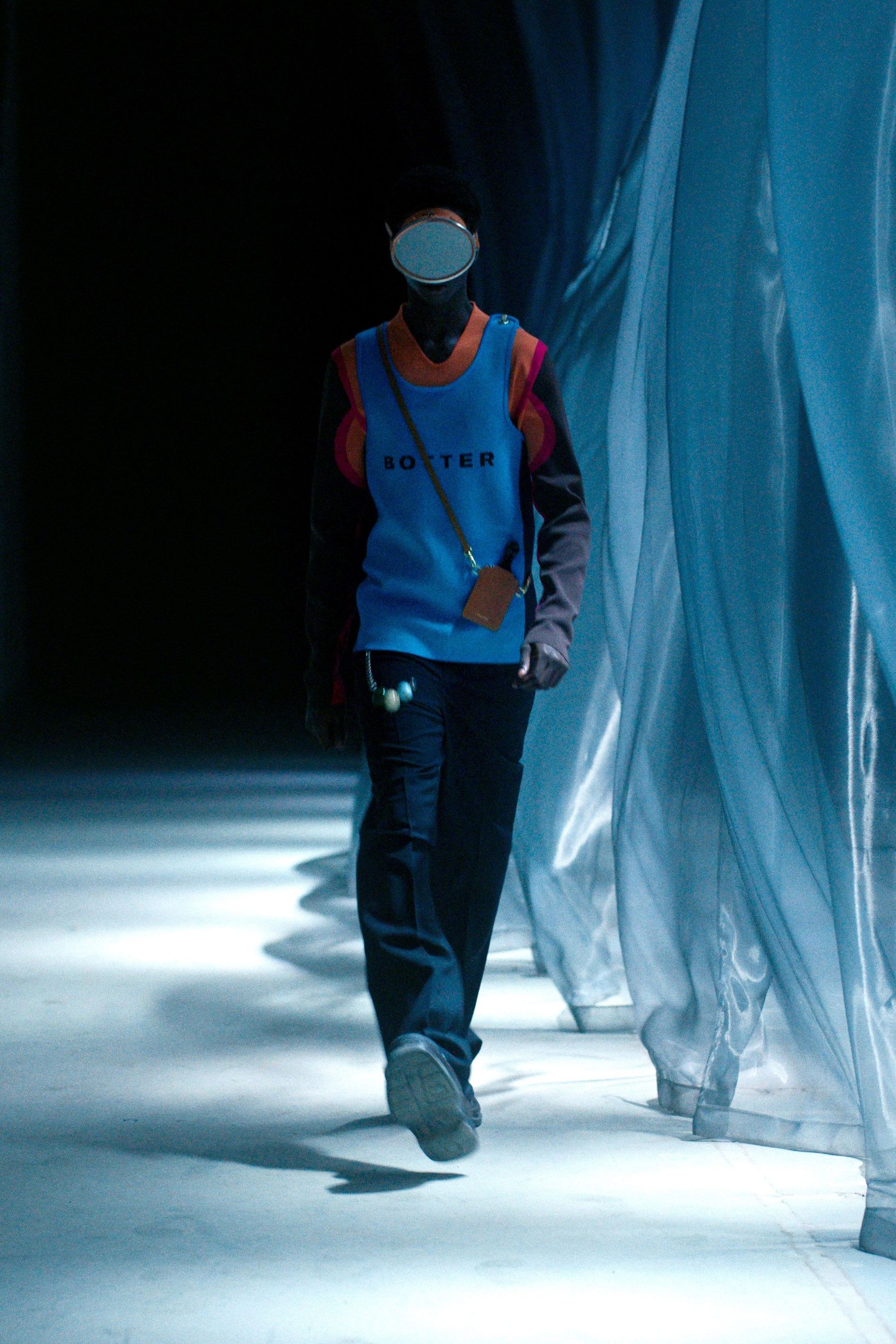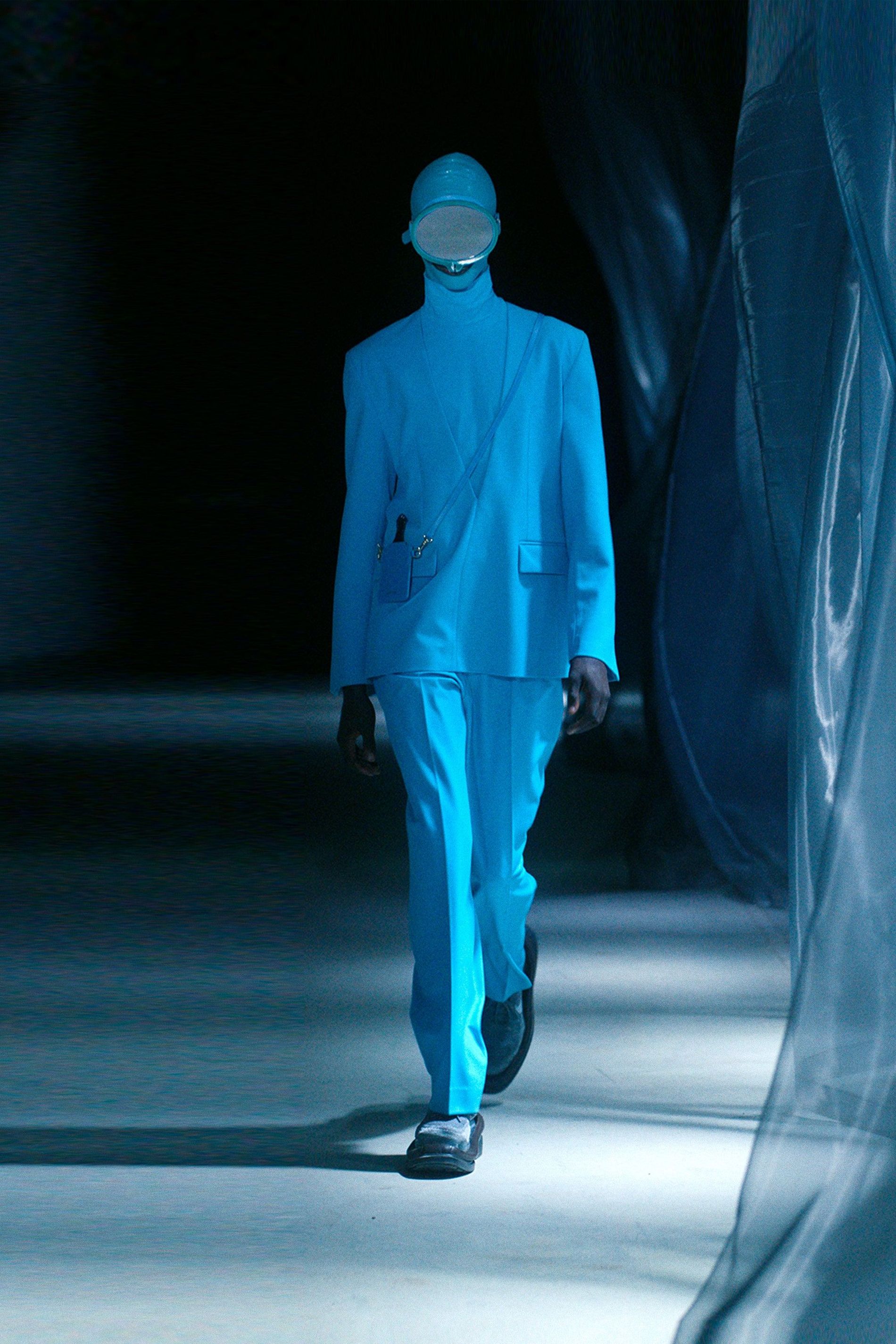 Dior
Inspired by the 60s pop-art movement, Dior's creative director Maria Grazia Chiuri showed her SS22 collection for the French house on a giant, life-like board game that was derived from the original design made by Italian artist Anna Paparatti in 1964. The playful collection had lots of 60s references; mini-skirts, colour-blocking patterns and halter details. A true homage to Dior's third creative director, the late Marc Bohan, and his 1961 Slim Look collection.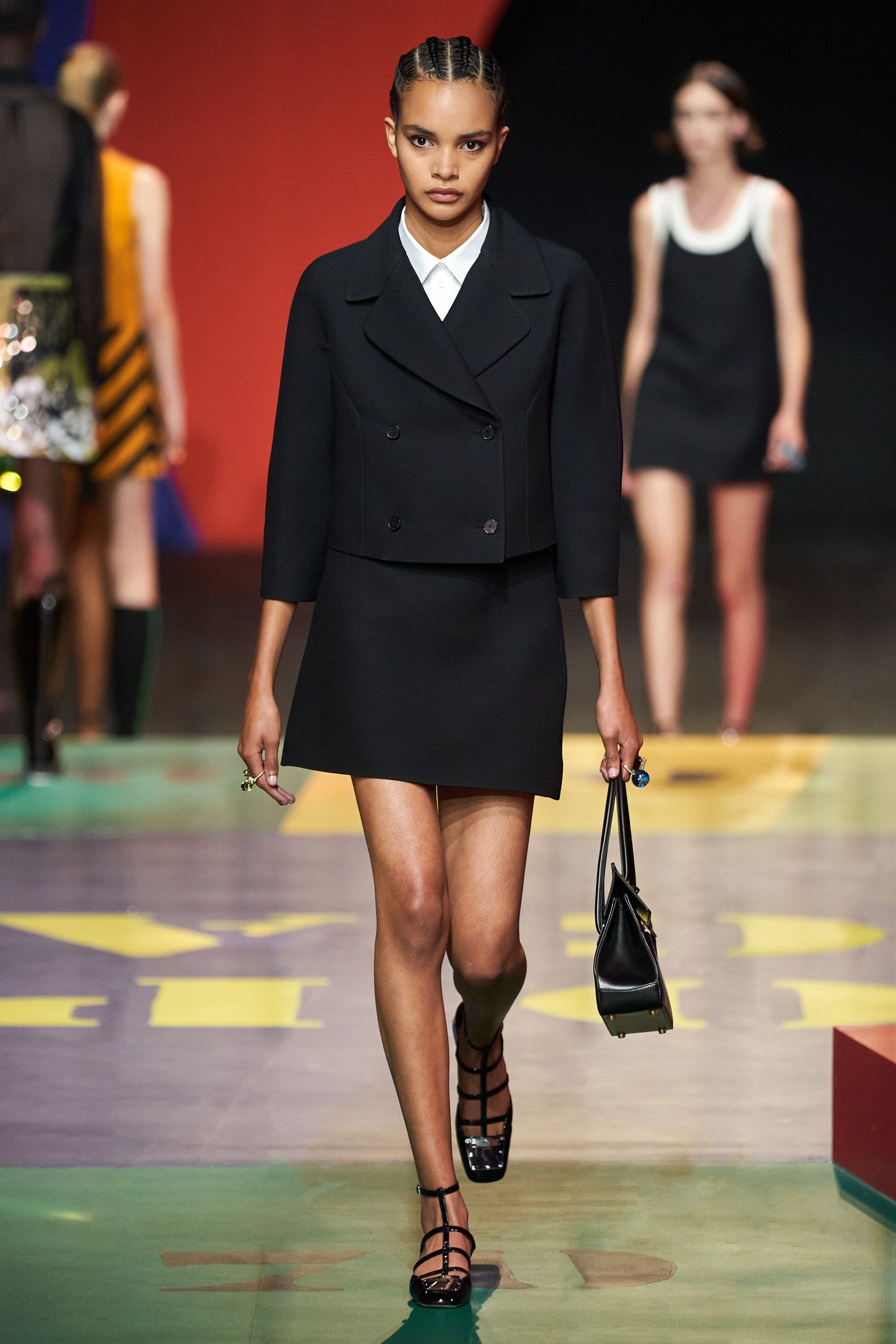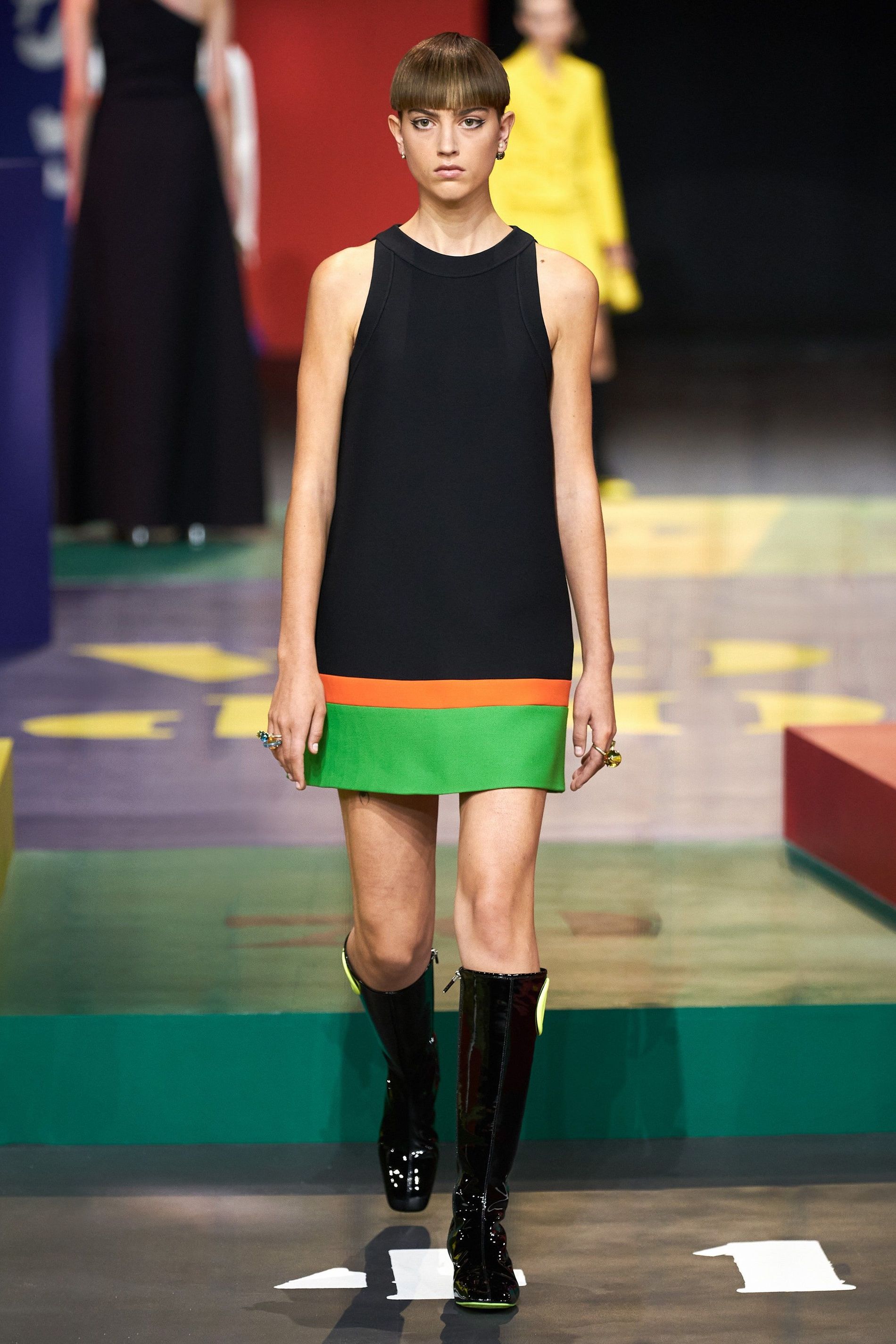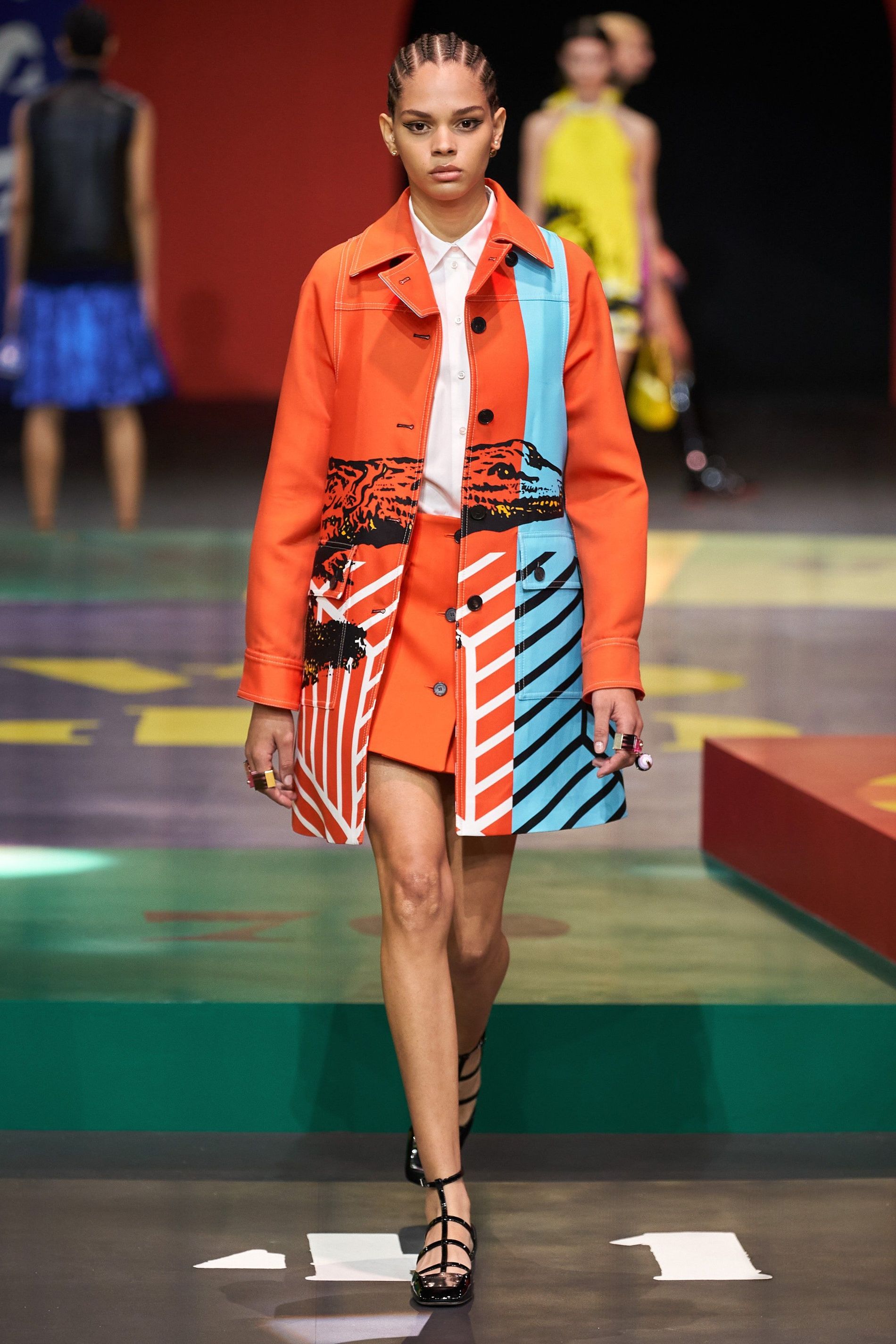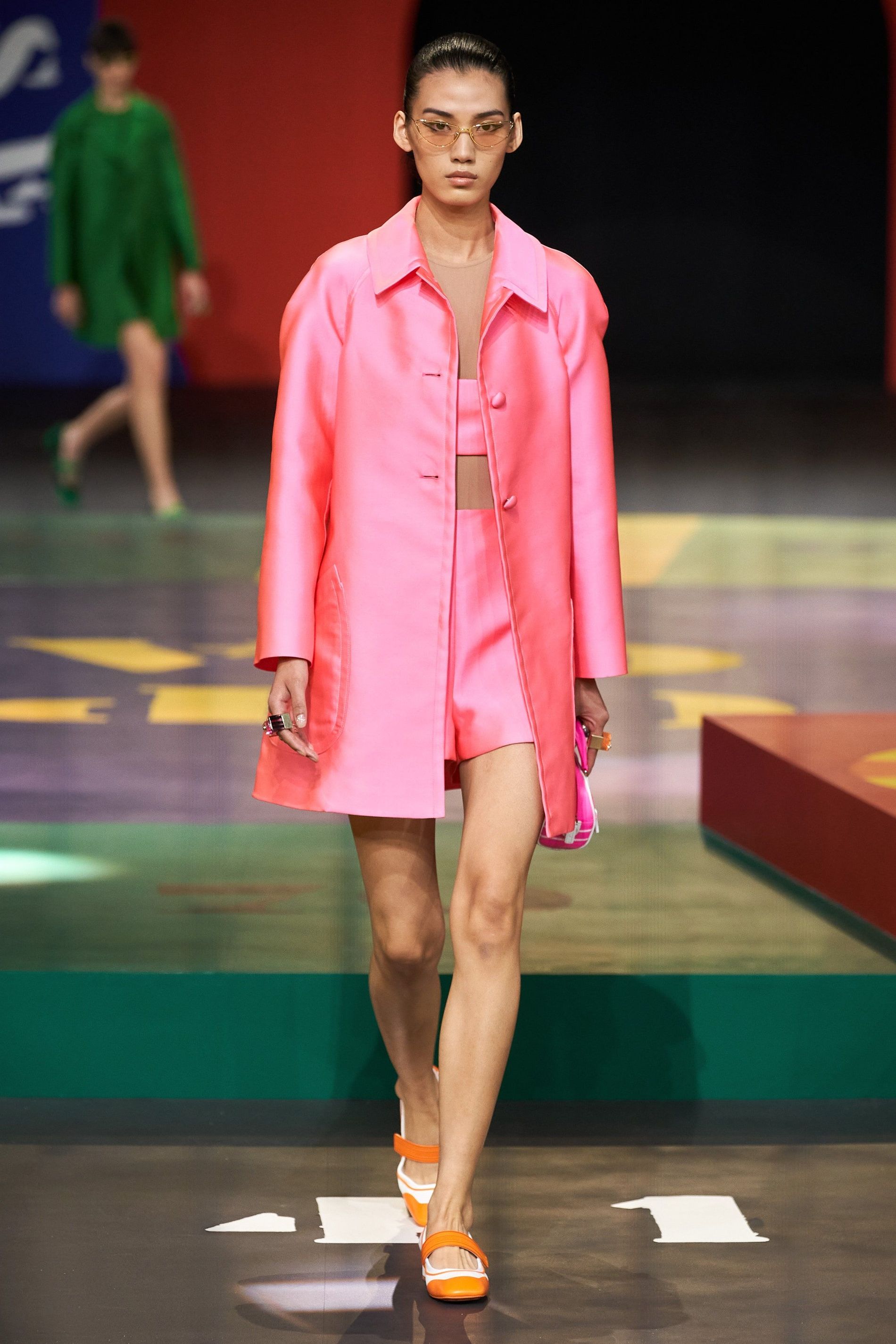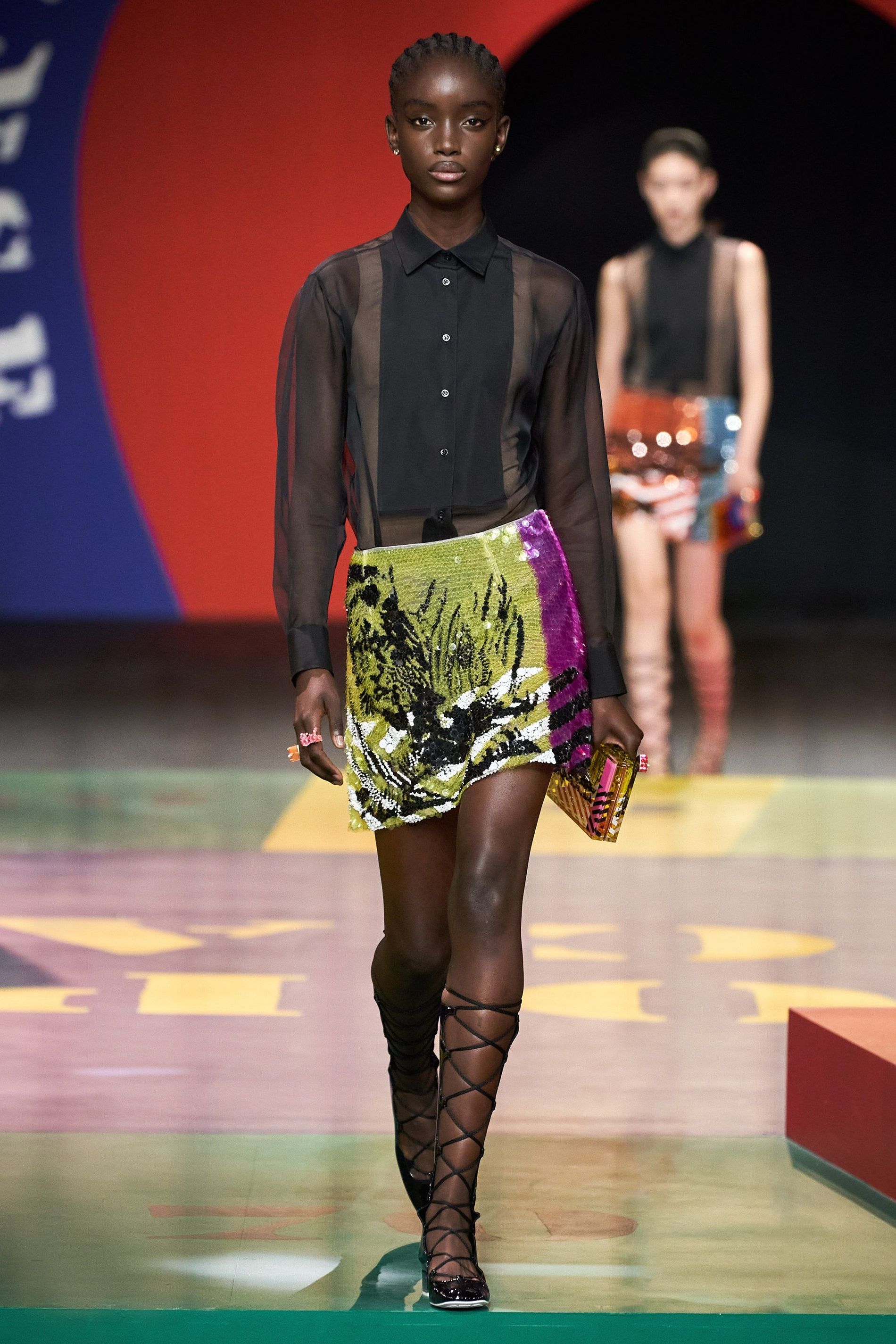 Thebe Magugu
The South African designer, who won the prestigious LVMH Prize in 2019, is mostly known for his powerful designs inspired by his love for and vision on the social paradigms of his home country. Magugu's SS22 collection represented strong women, through an exposition and film titled Genealogy. Visualised through family photos, colourful clothes like mini dresses, pleated skirts and shirtdresses were shown - inspired by the outfits his mother and aunt used to wear.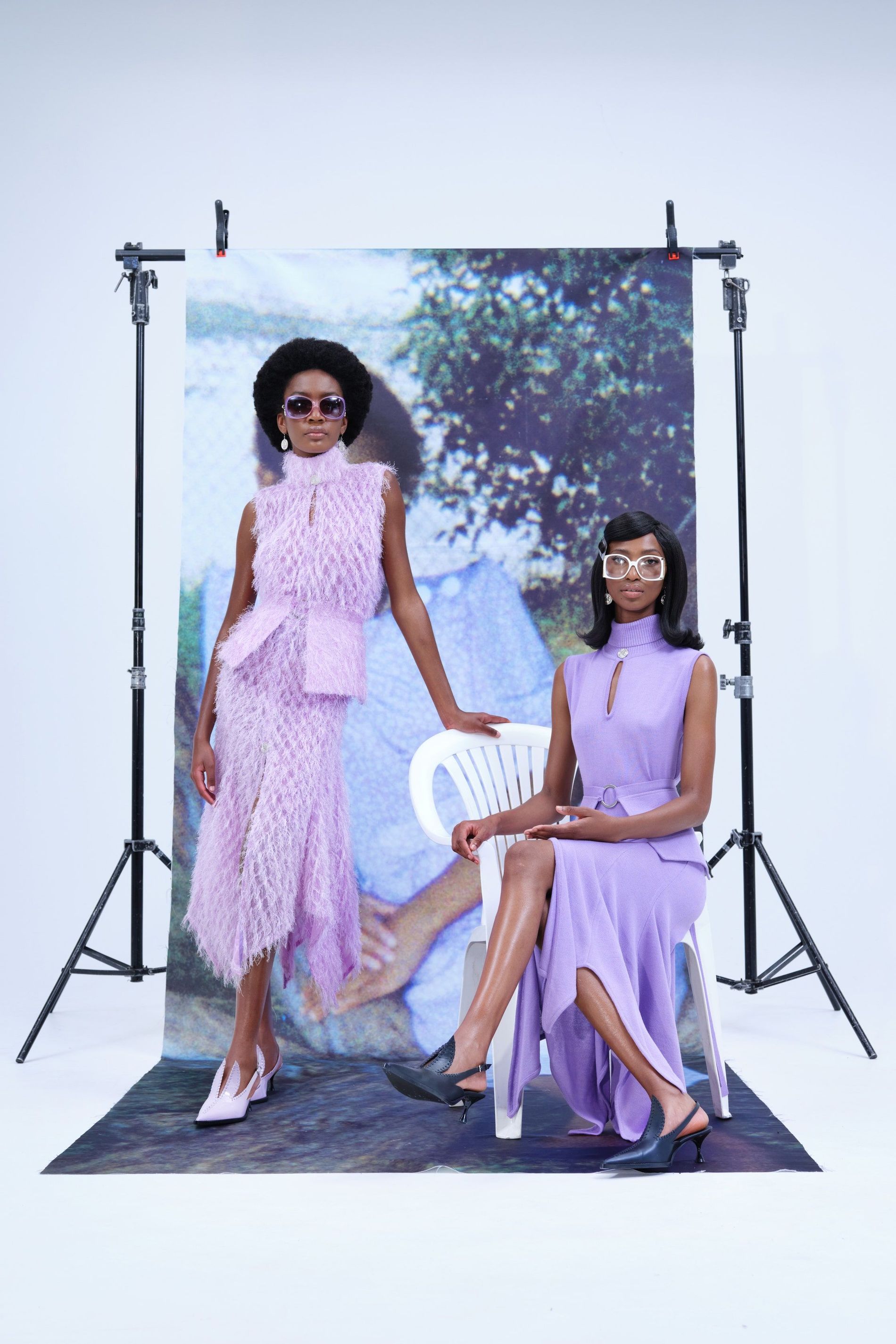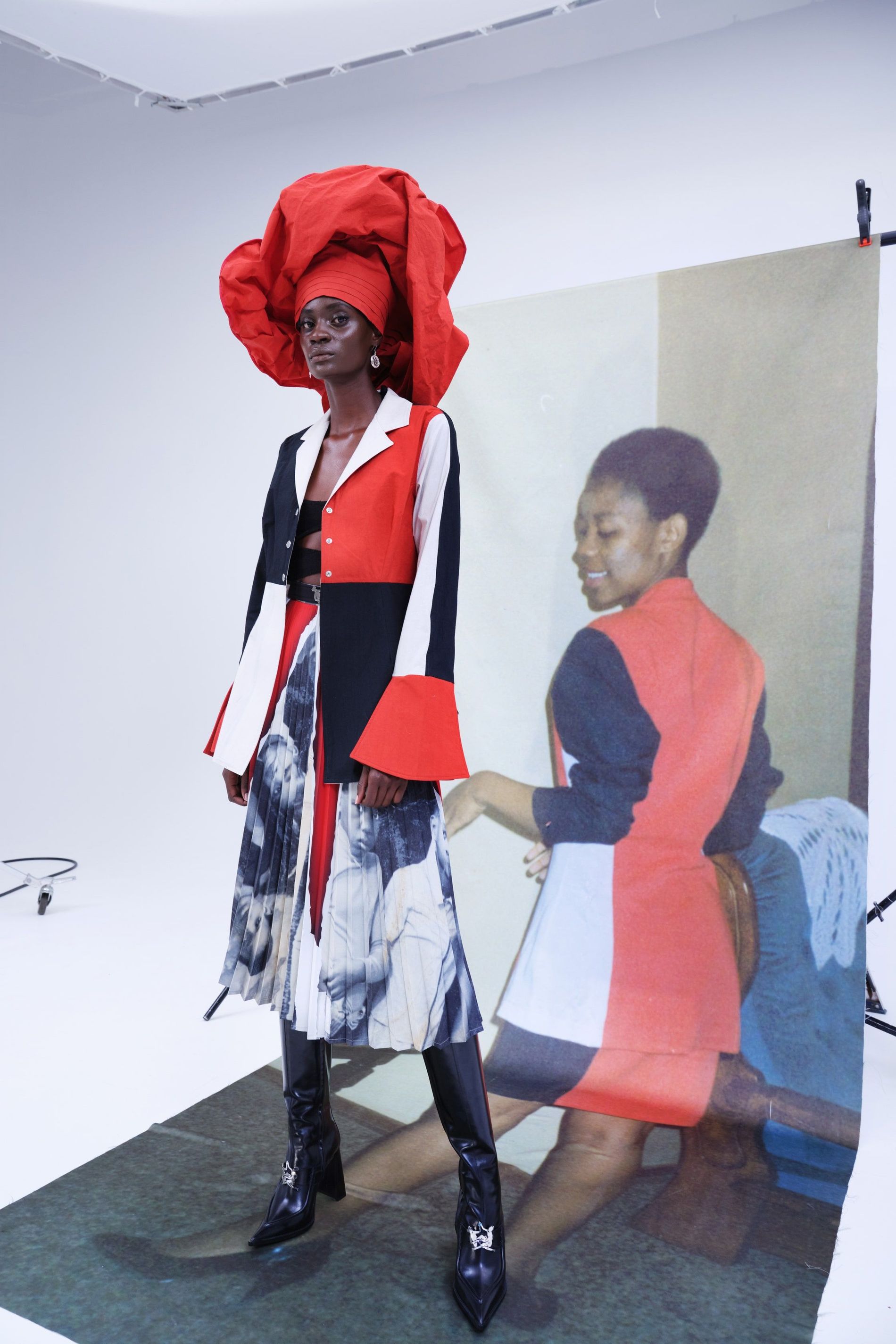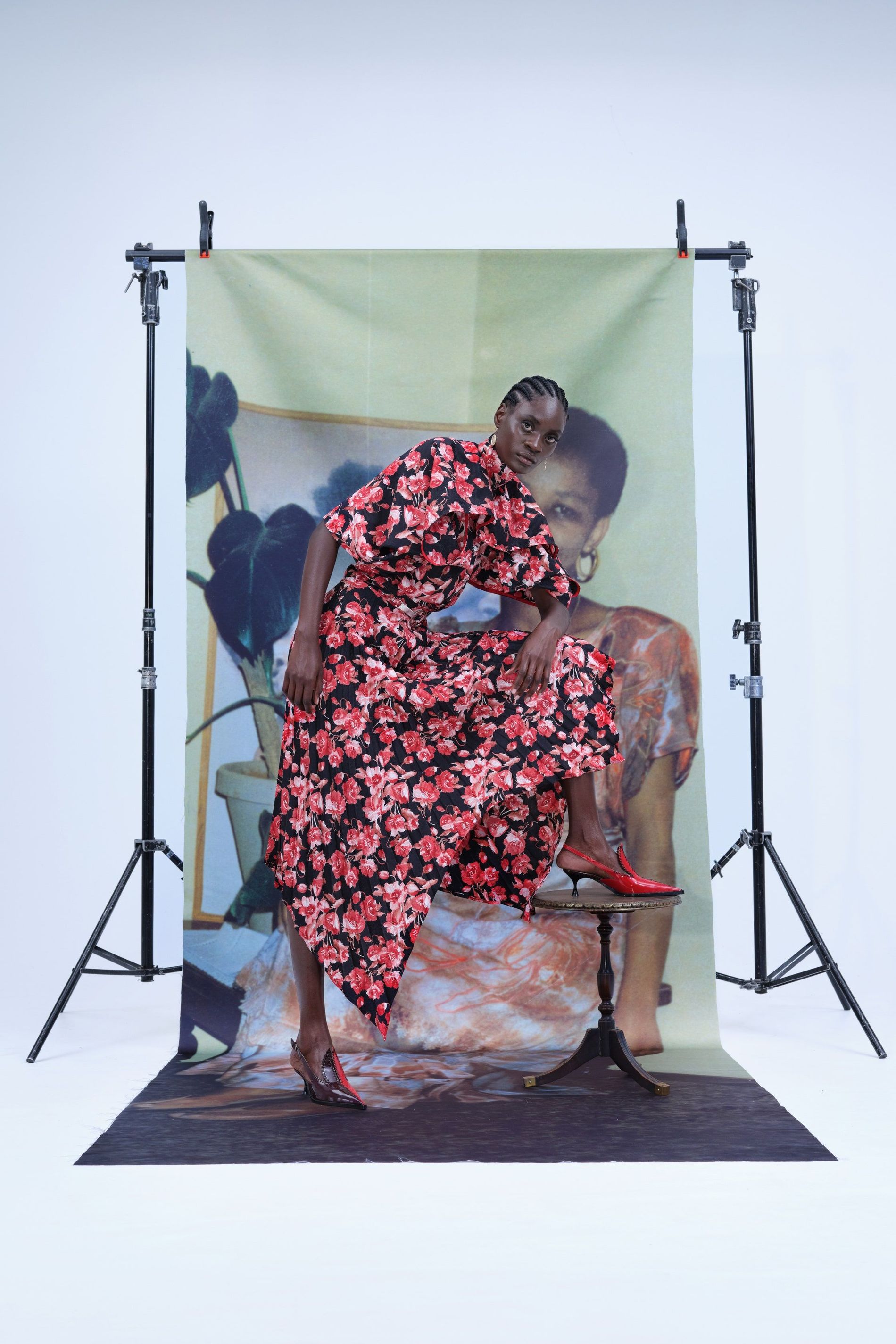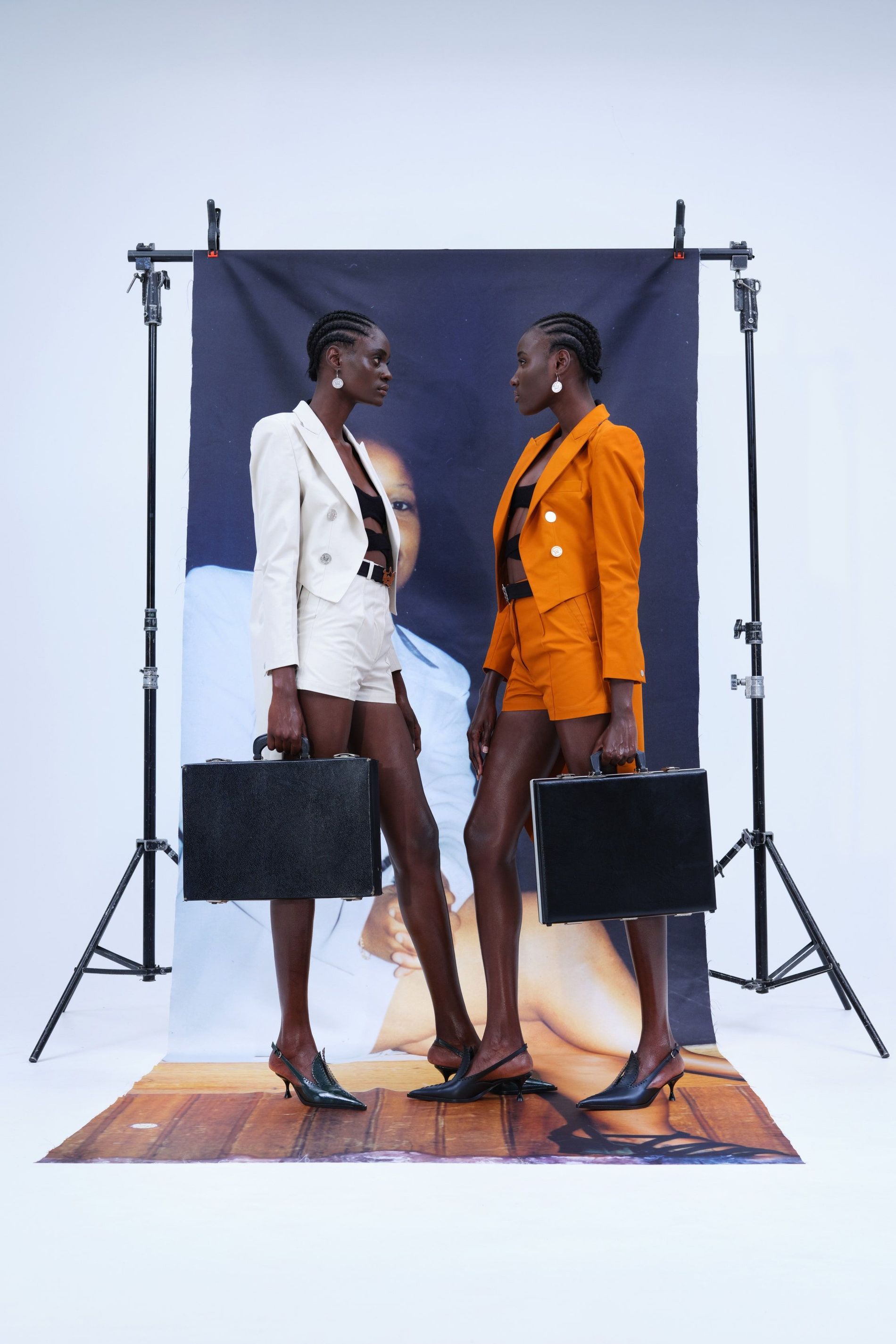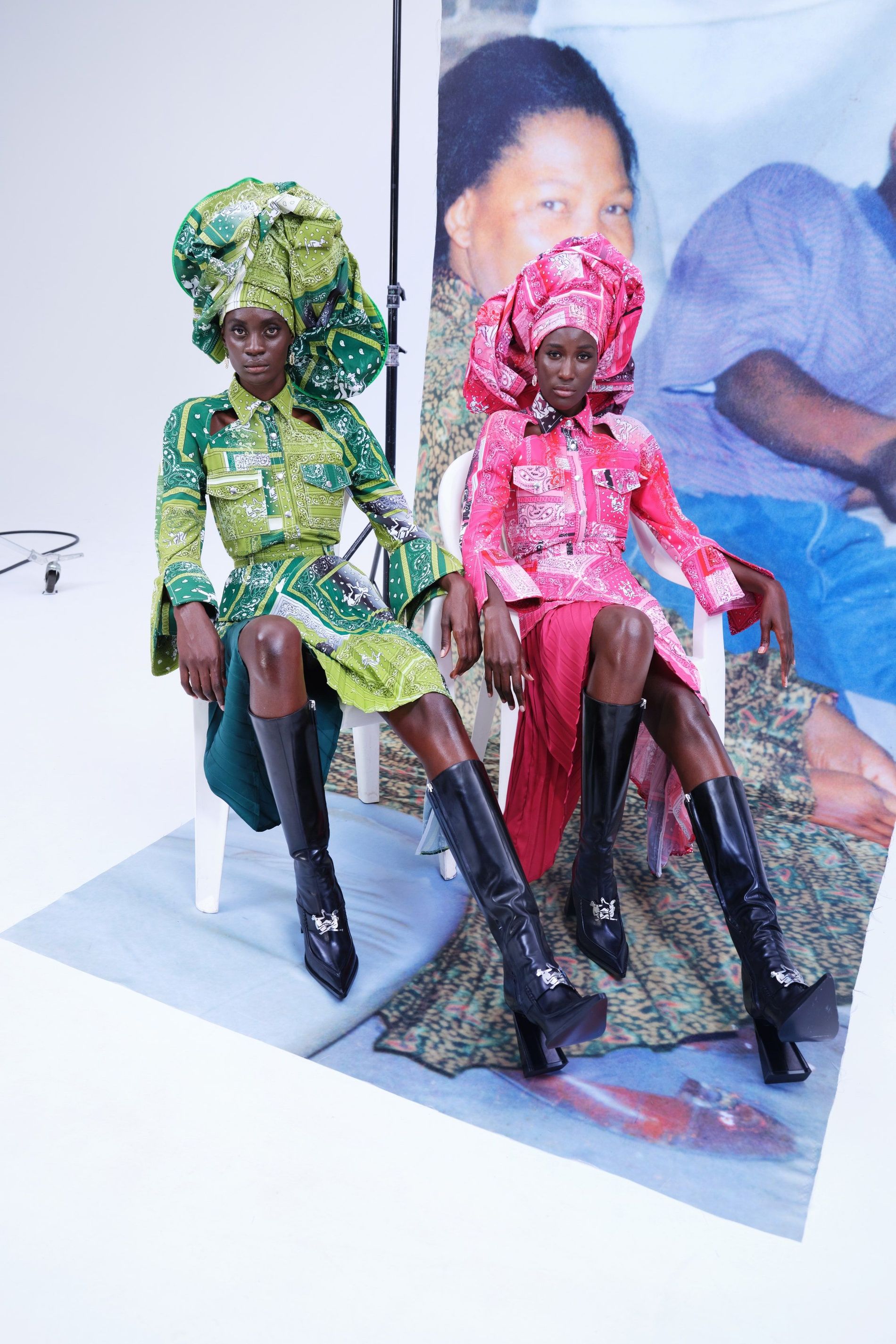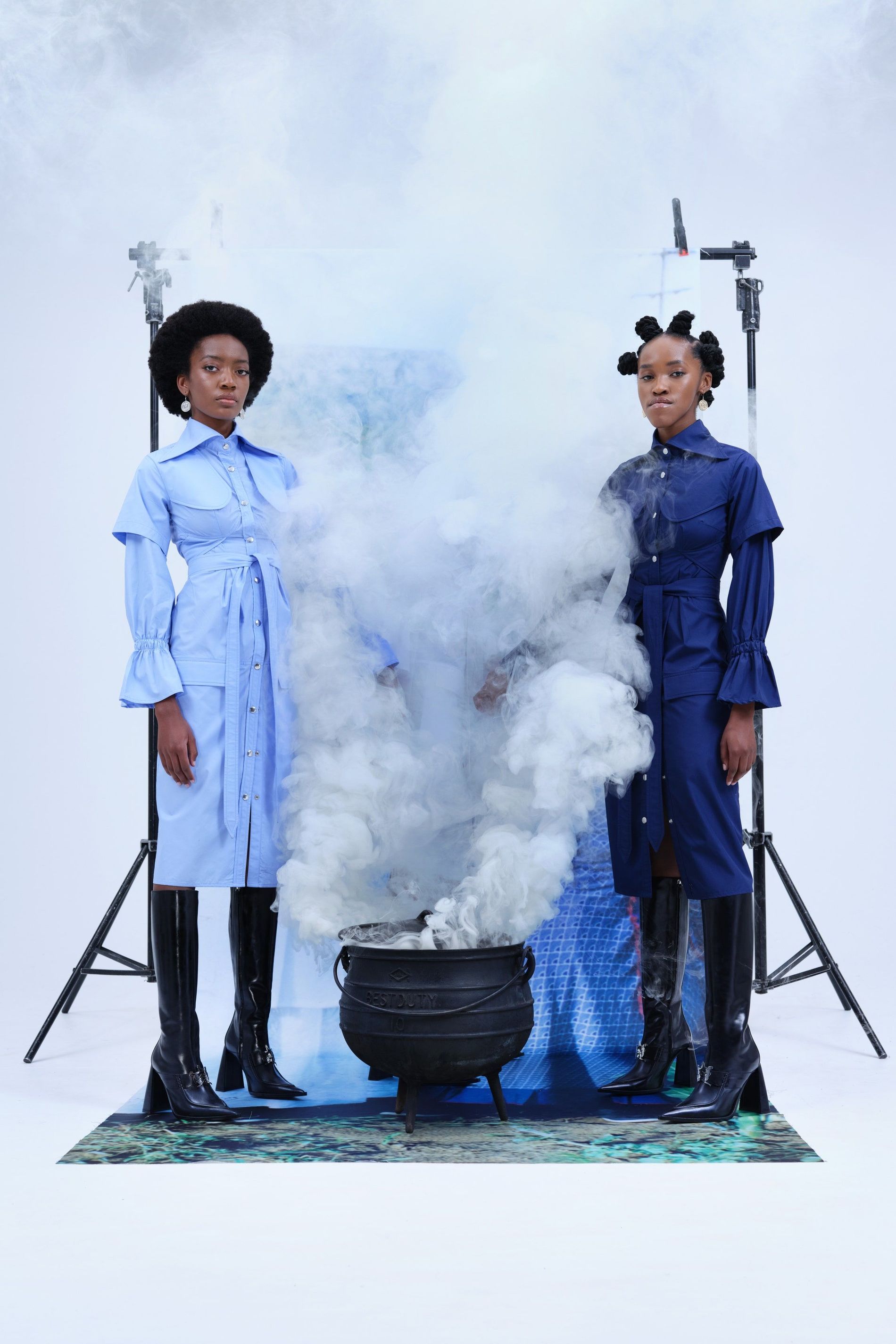 Saint Laurent
Catsuits, 80s vibes and sky-high stilettos – that was the essence of the Saint Laurent SS22 collection. Showed in the shadow of the Eiffel Tower in the dark, the location was as epic as the show itself. Models stormed down the runway in cut-out catsuits, sharp blazer dresses and suits. In the backdrop a giant water installation. The most notable, perhaps, was the accessories; ranging from hands-free bags to chunky jewellery and sunglasses to wear at night.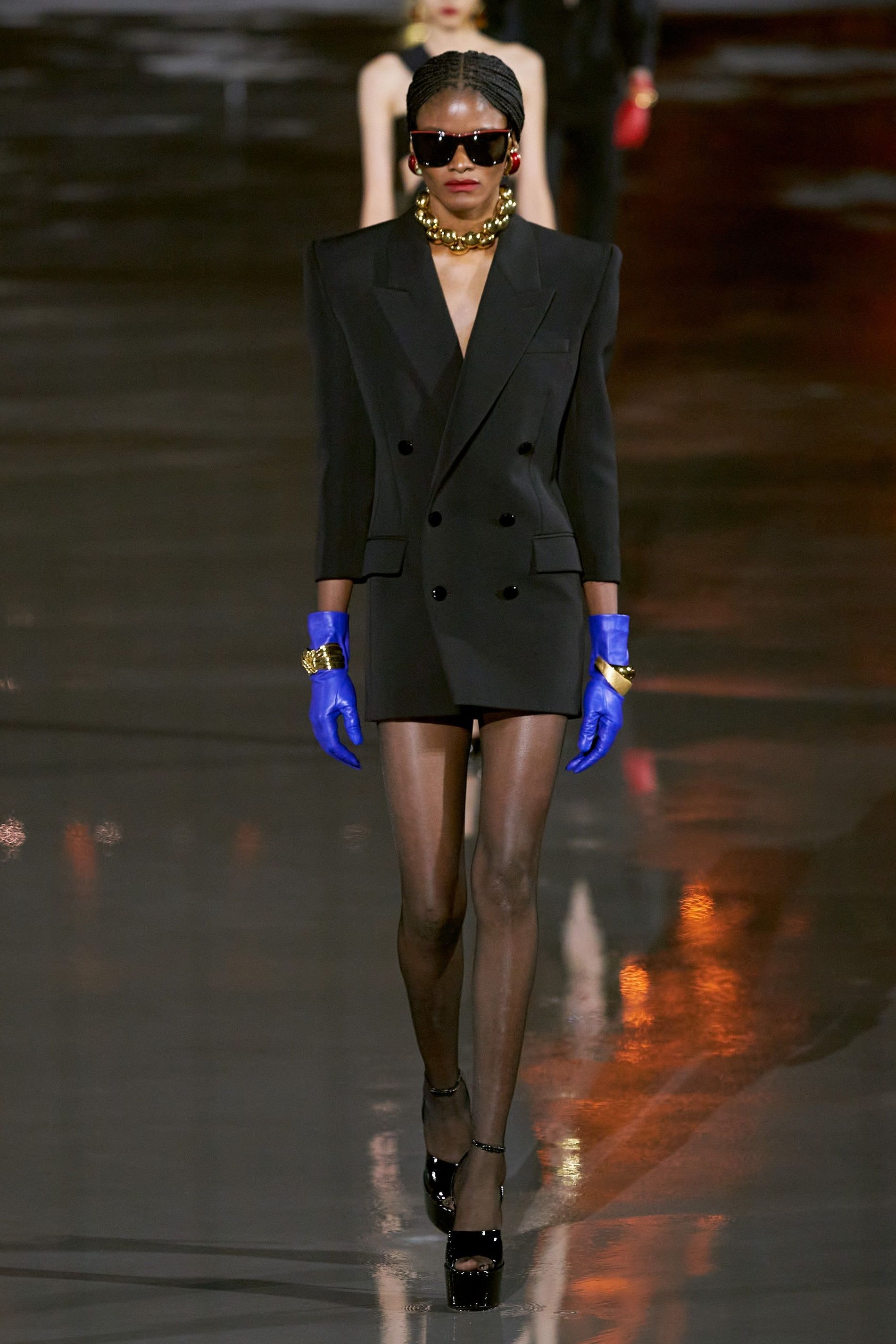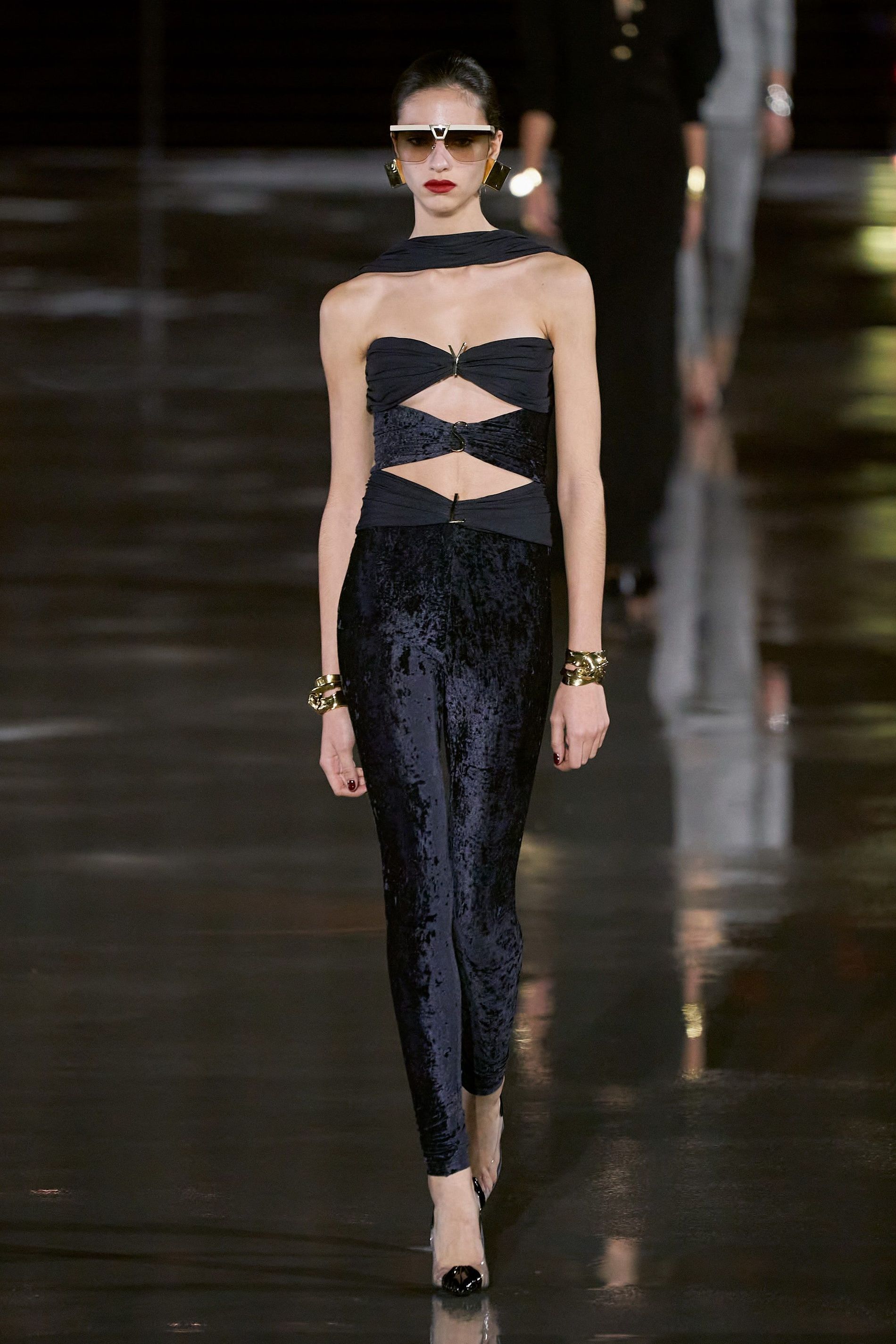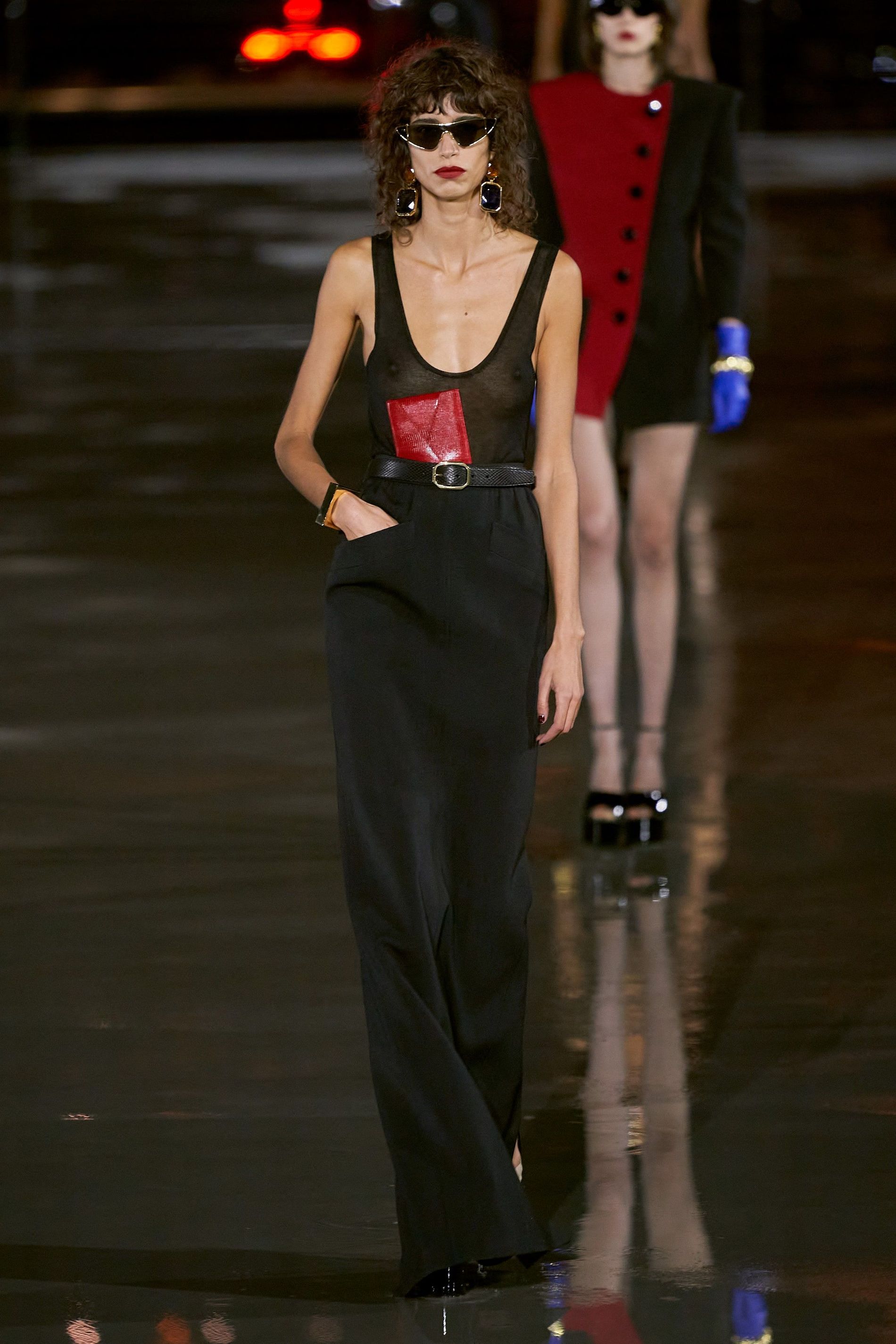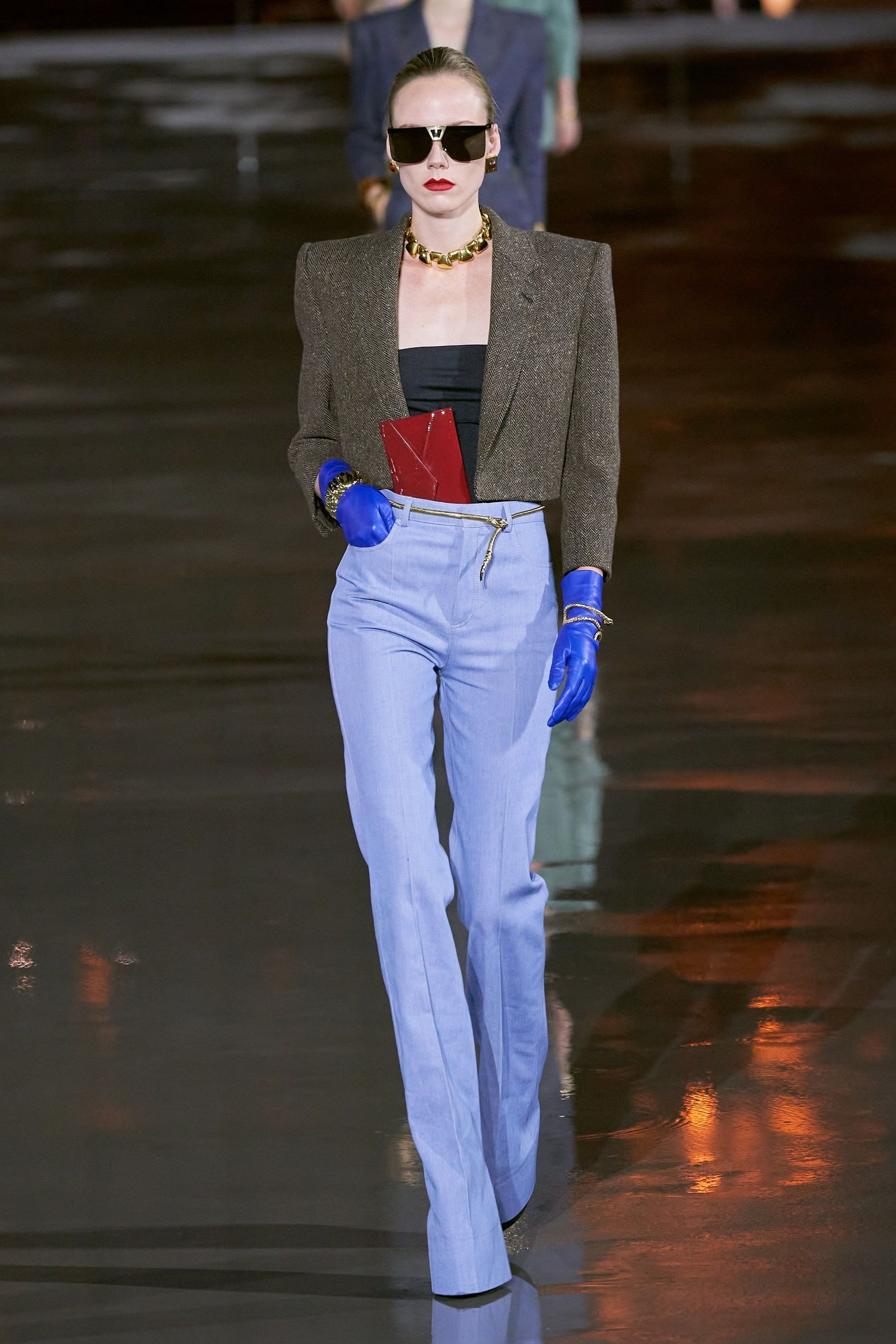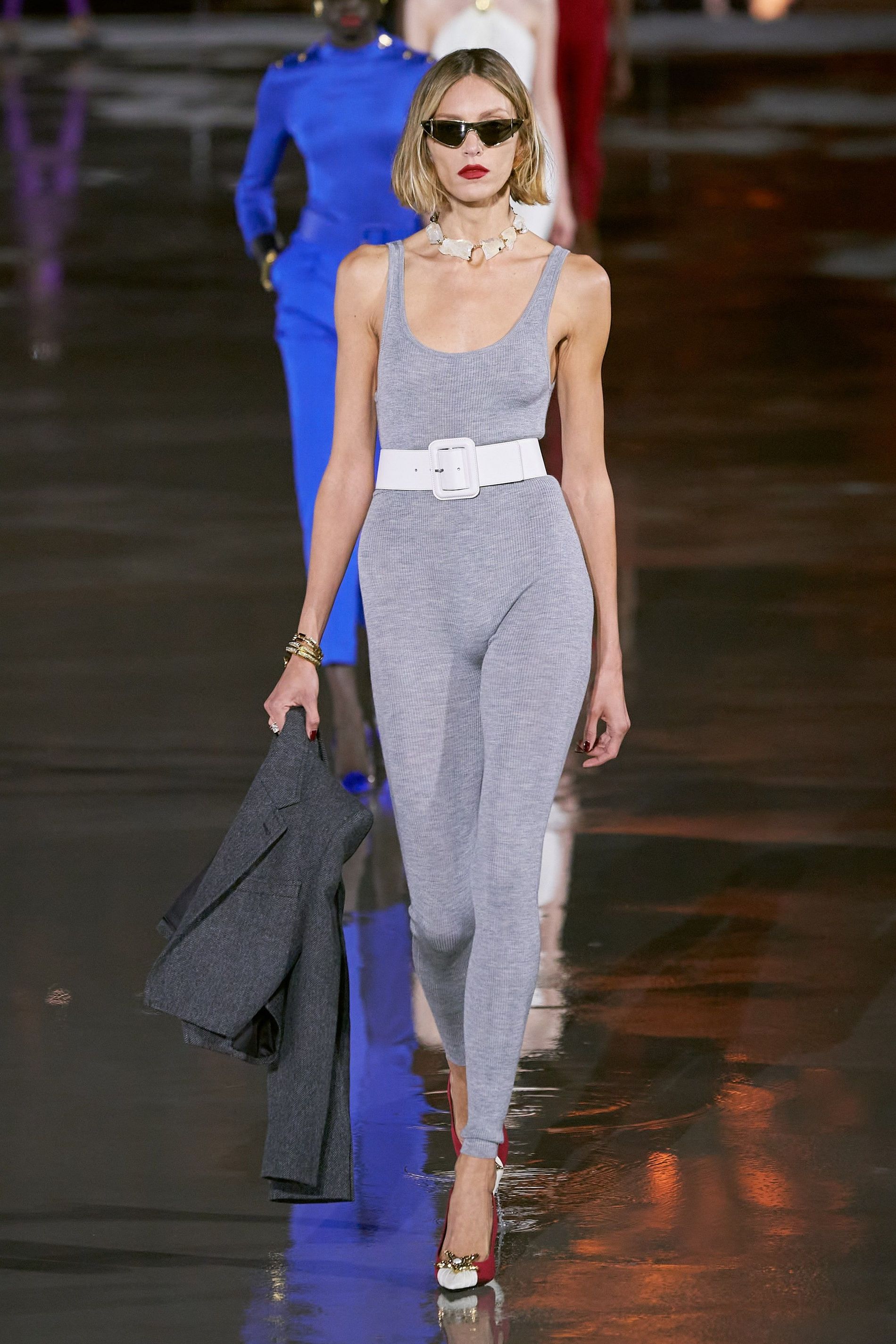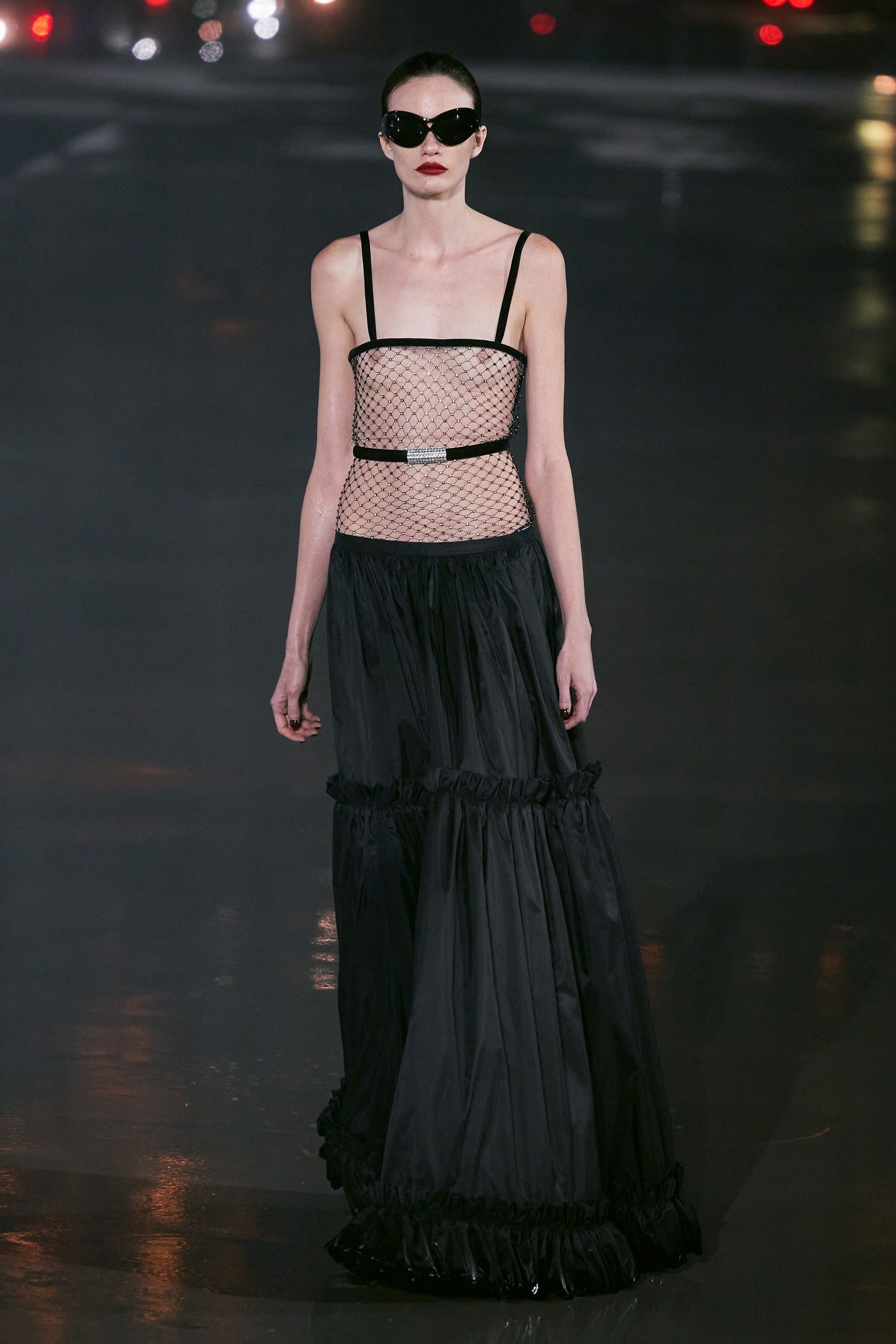 Courrèges
Creative director Nicolas Di Felice created a futuristic yet modern collection for the French house. The designs ranged from 60s-inspired halter dresses to cut-out tops, and shiny leather looks in a primary colours with a touch of silver and vinyl. Di Felice opted for a sentimental location to show his new vision; the Bois de Vincennes park where he kissed his boyfriend for the first time.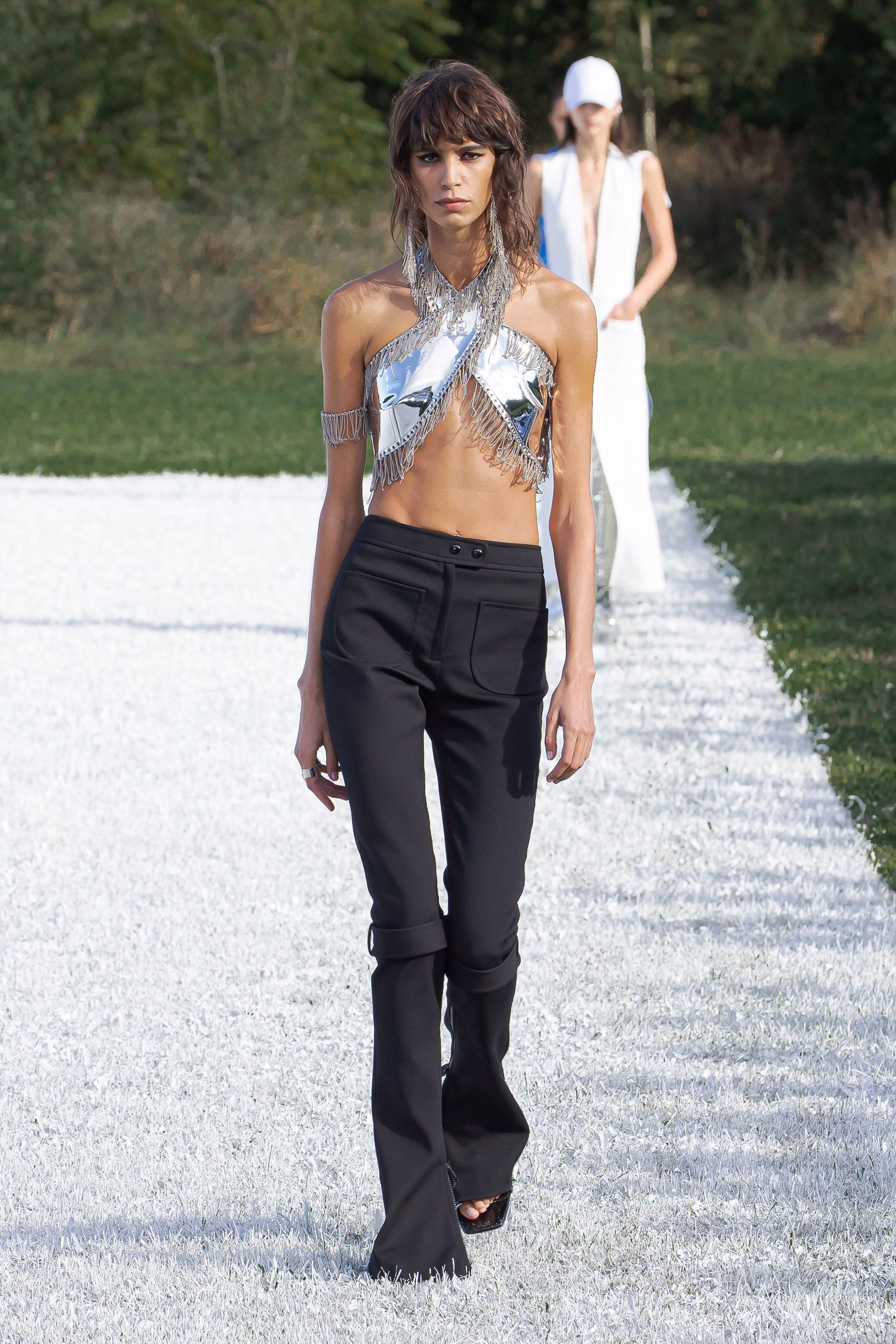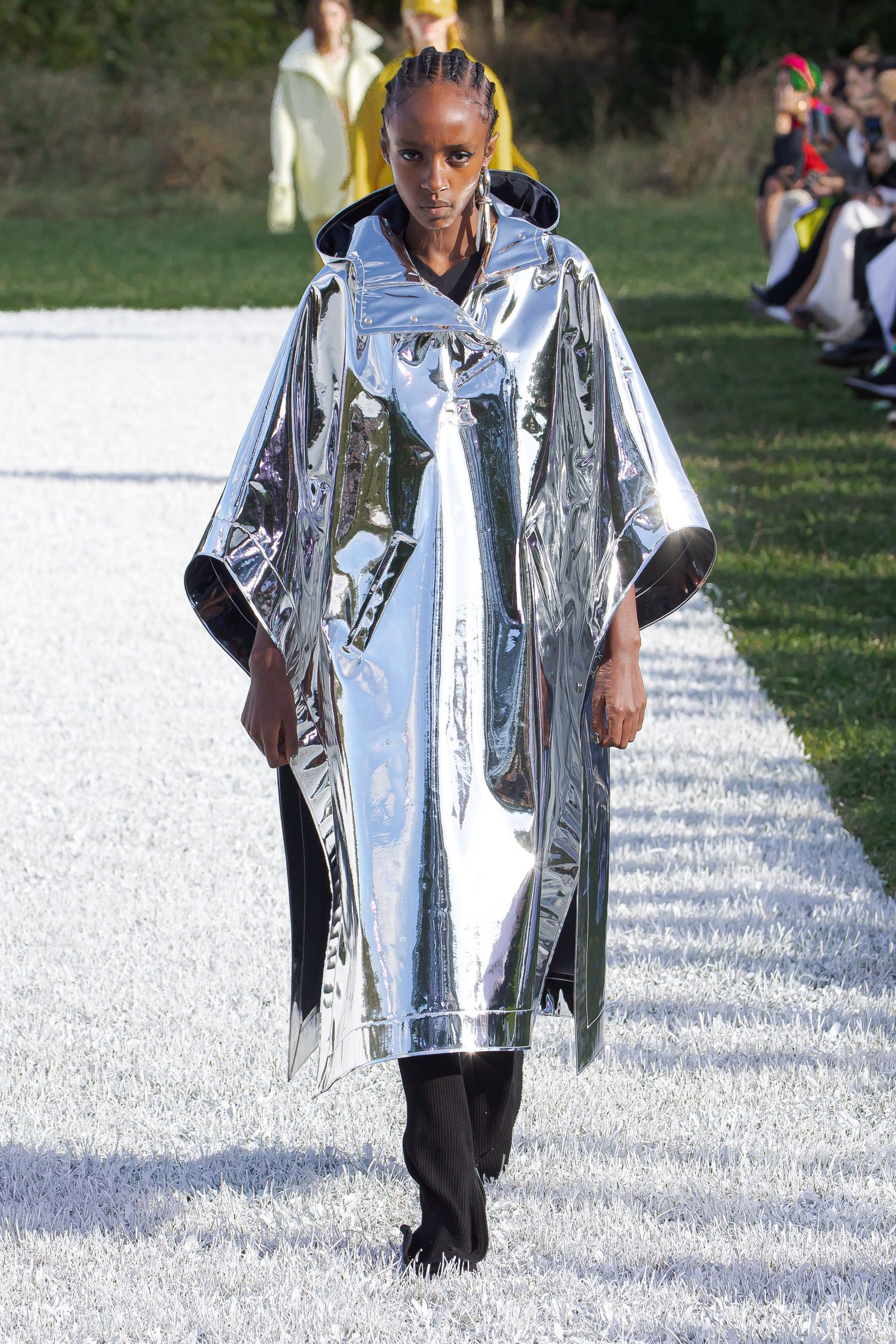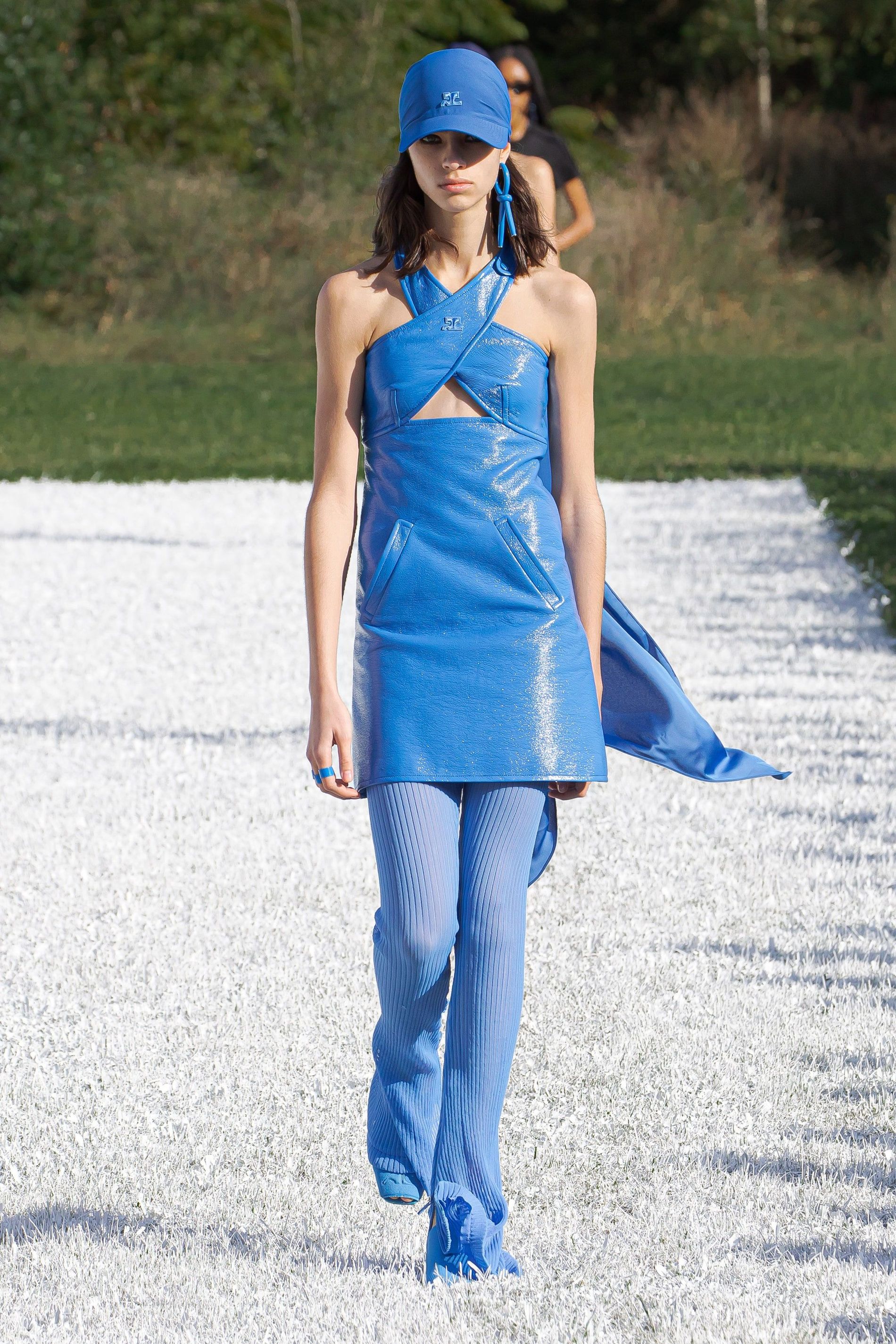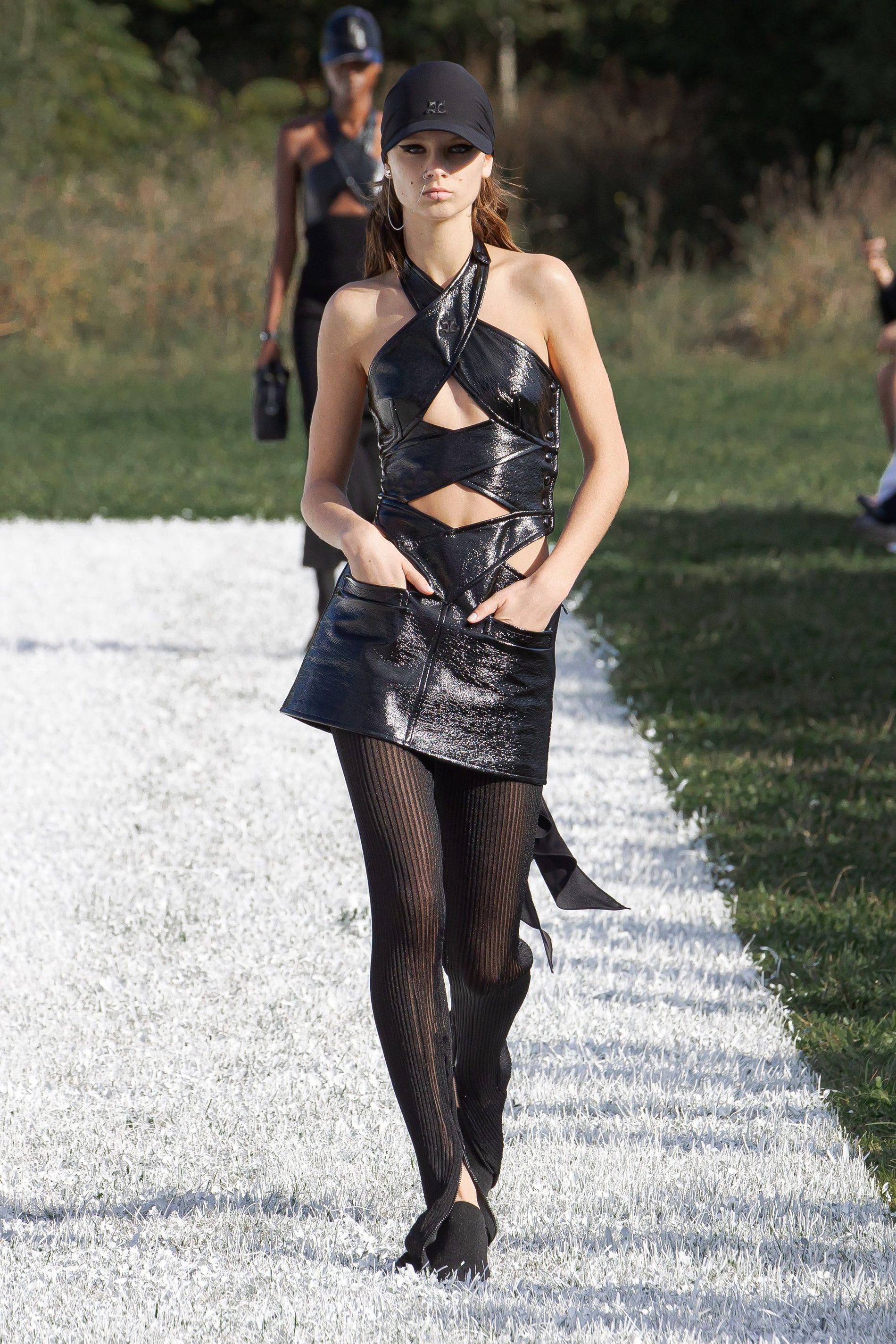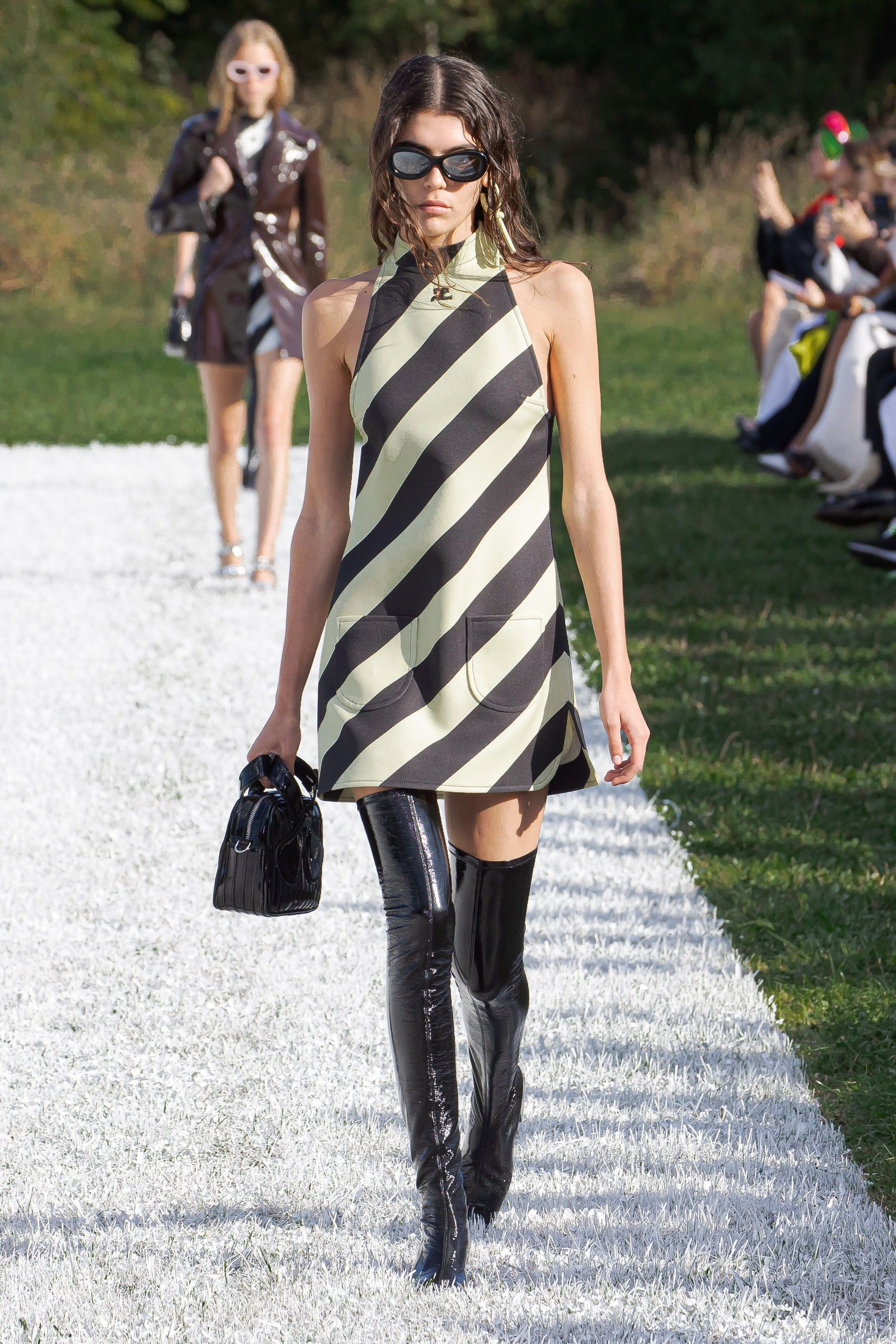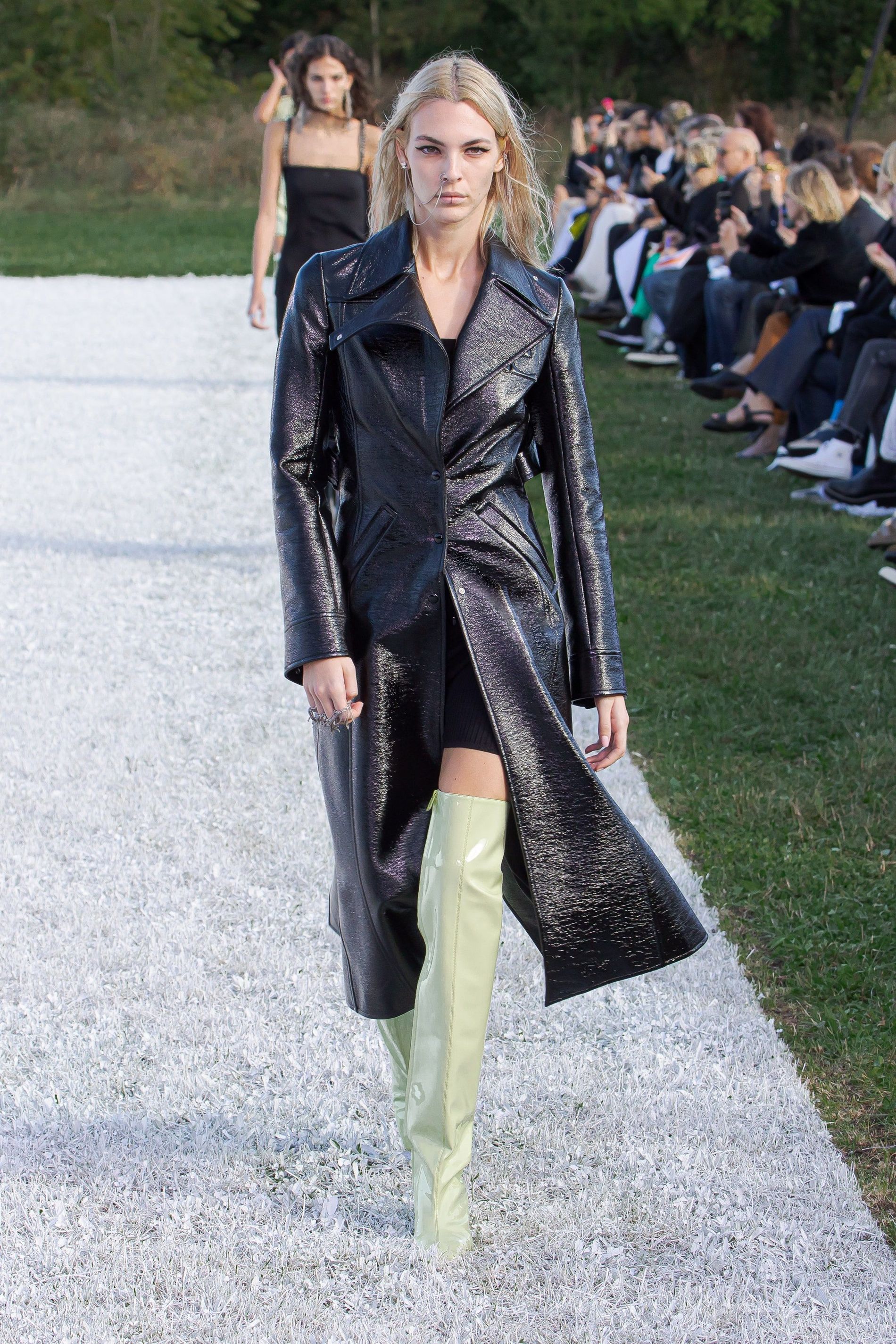 Dries Van Noten
A true moment of colourful joy best describes the new collection of Belgian designer Dries Van Noten. Inspired by the collective urge to go to parties and festivals again, the collection contained textured voluminous coats, sparkling jackets in bold hues and midi dresses featuring huge balloon sleeves. Although not presented through a physical show, the vibrant and colourful items spoke completely for themselves.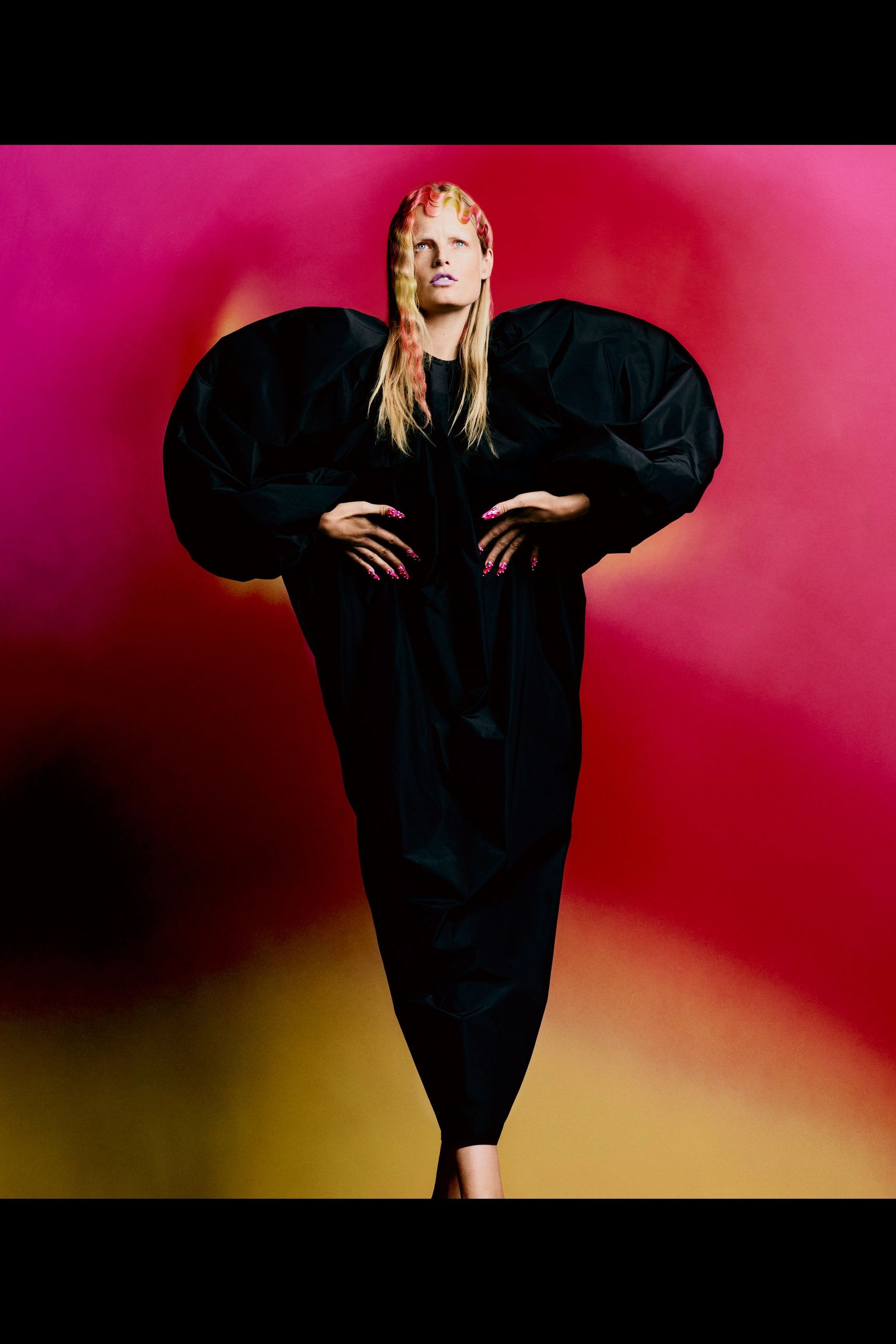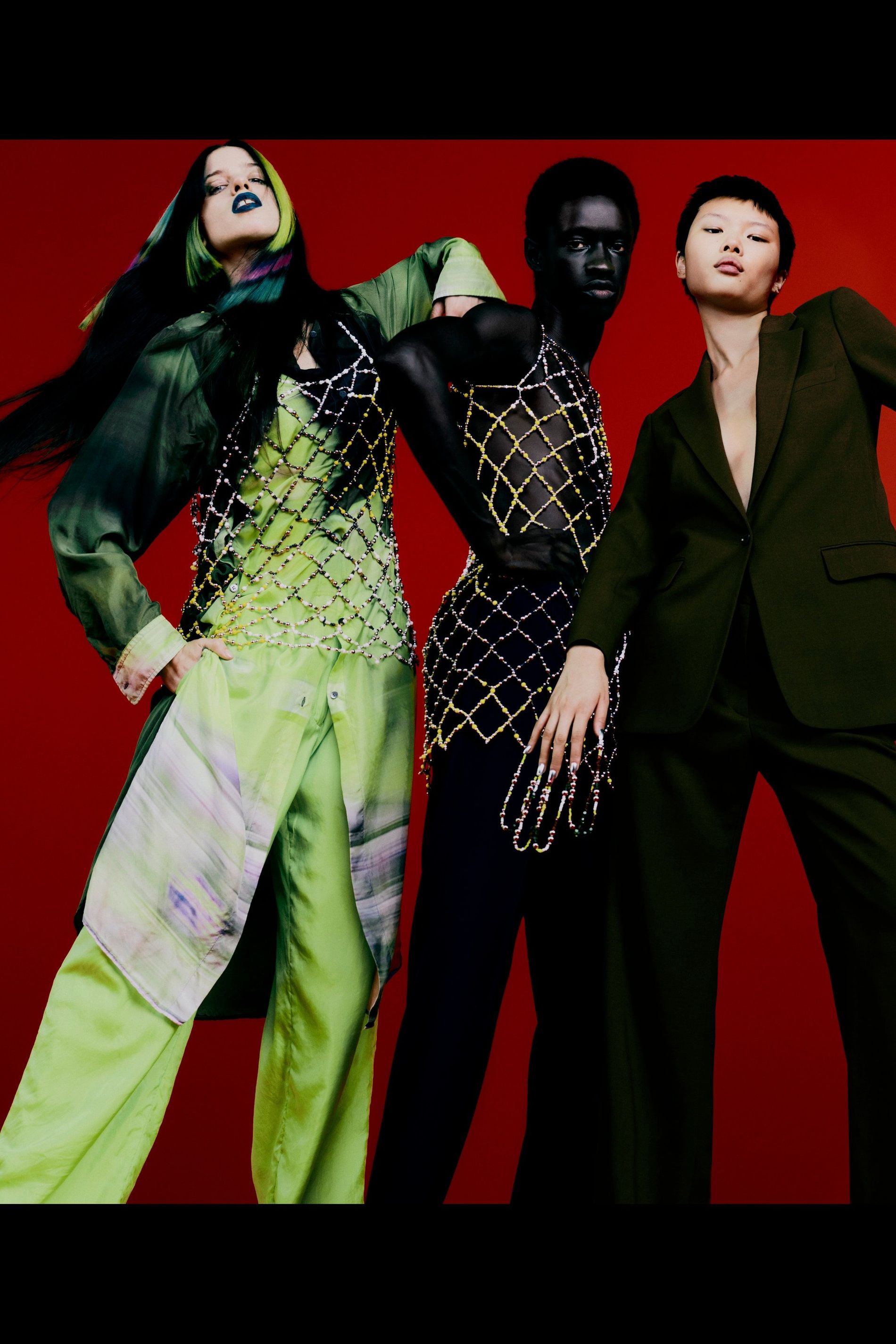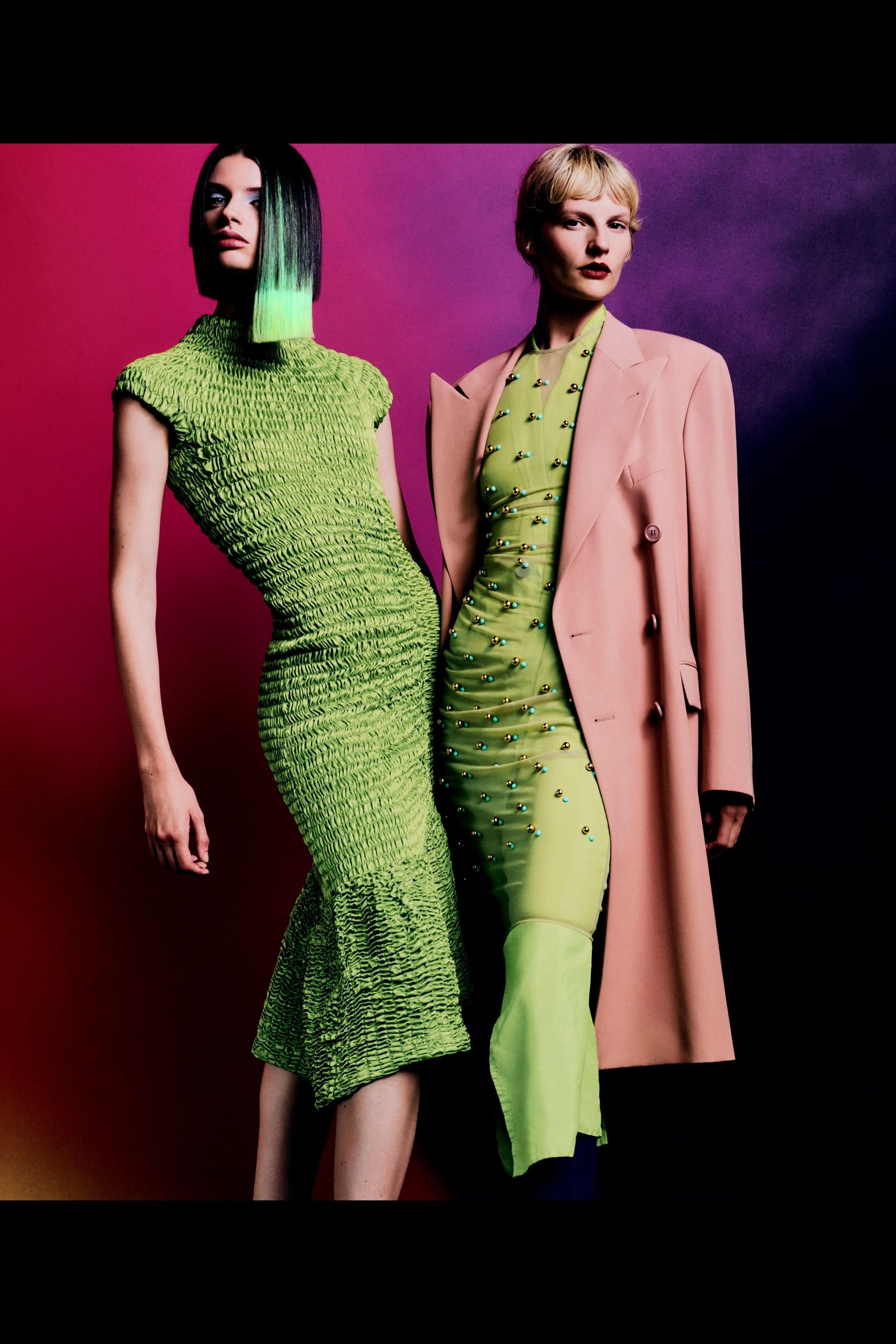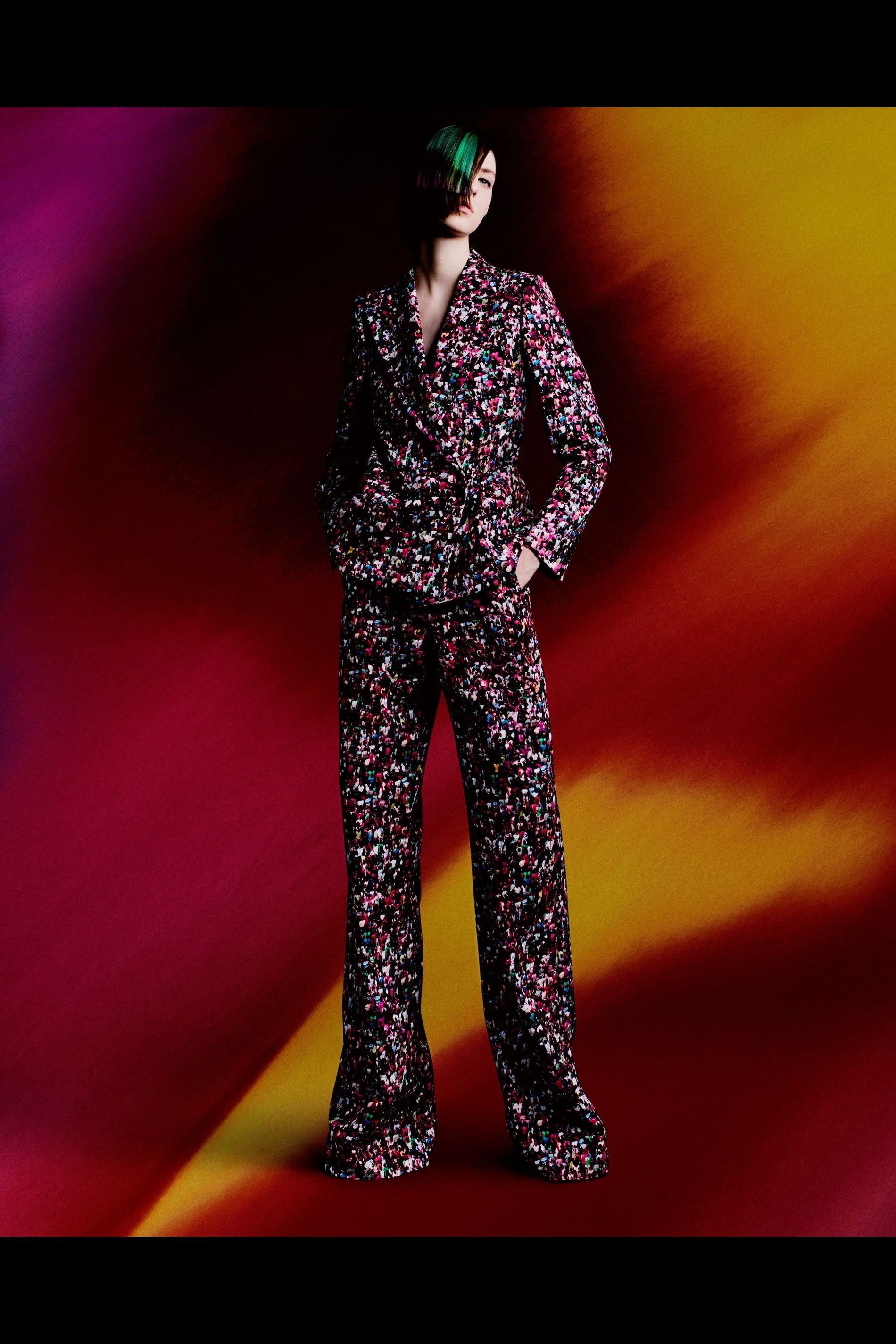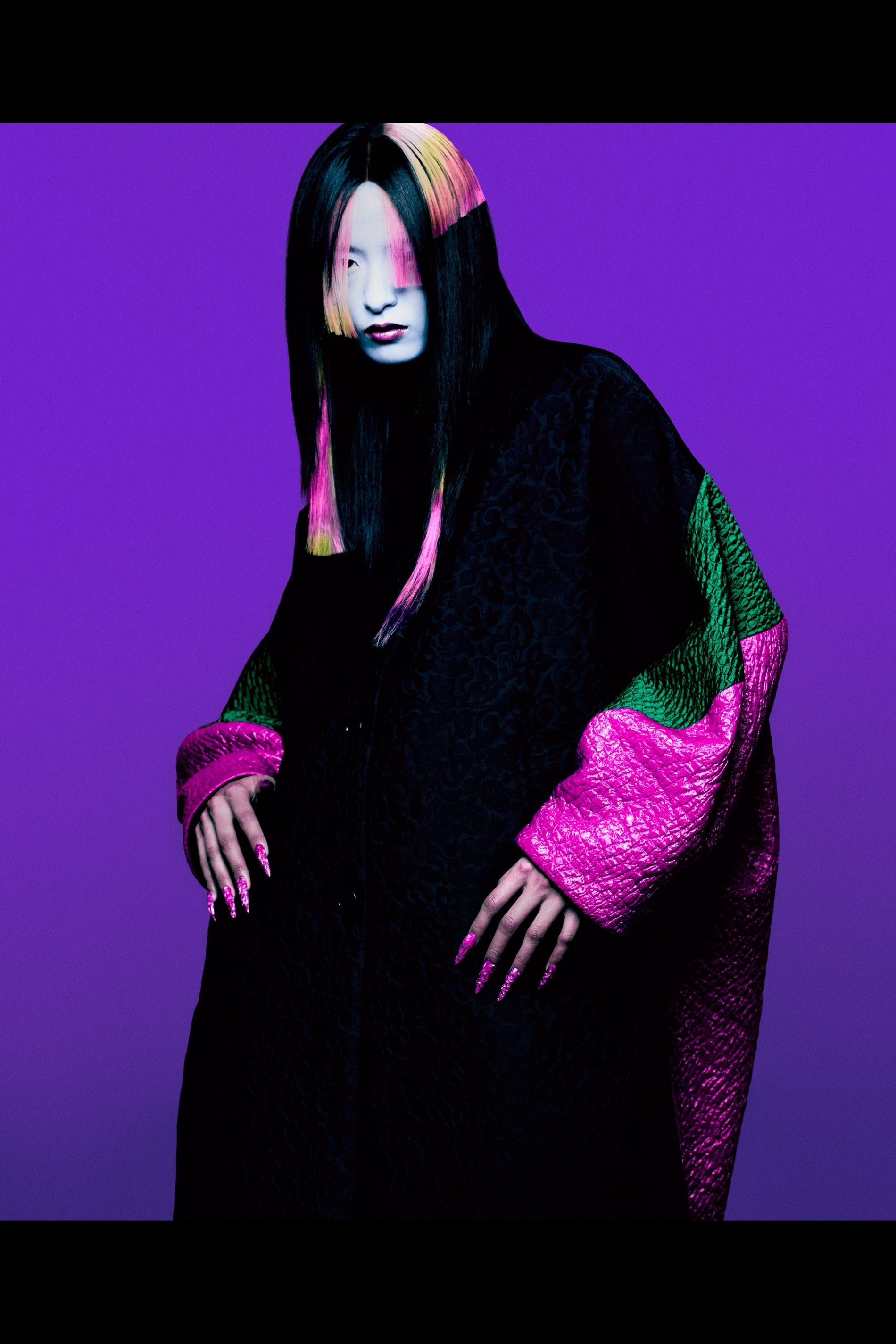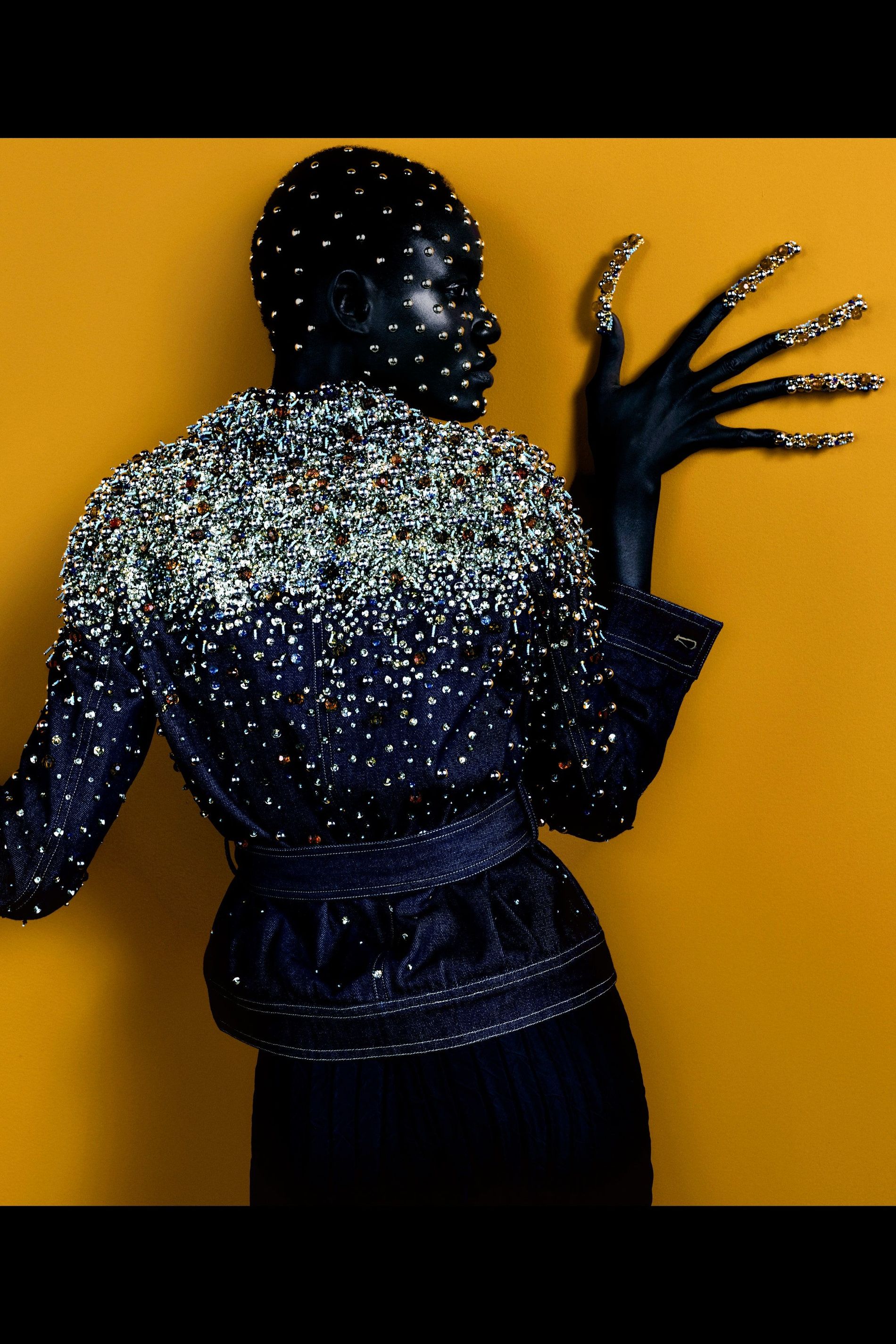 Rochas
This fashion week marked the debut for Rochas' new creative director Charles de Vilmorin, who presented a fantastical and eclectic collection. Voluminous dresses with colourful details embodying flames appeared first, after which deconstructed designs, cut-out tops and floor-length coats with de Vilmorin's own print drawings were presented on the runway. An edgy, yet feminine collection.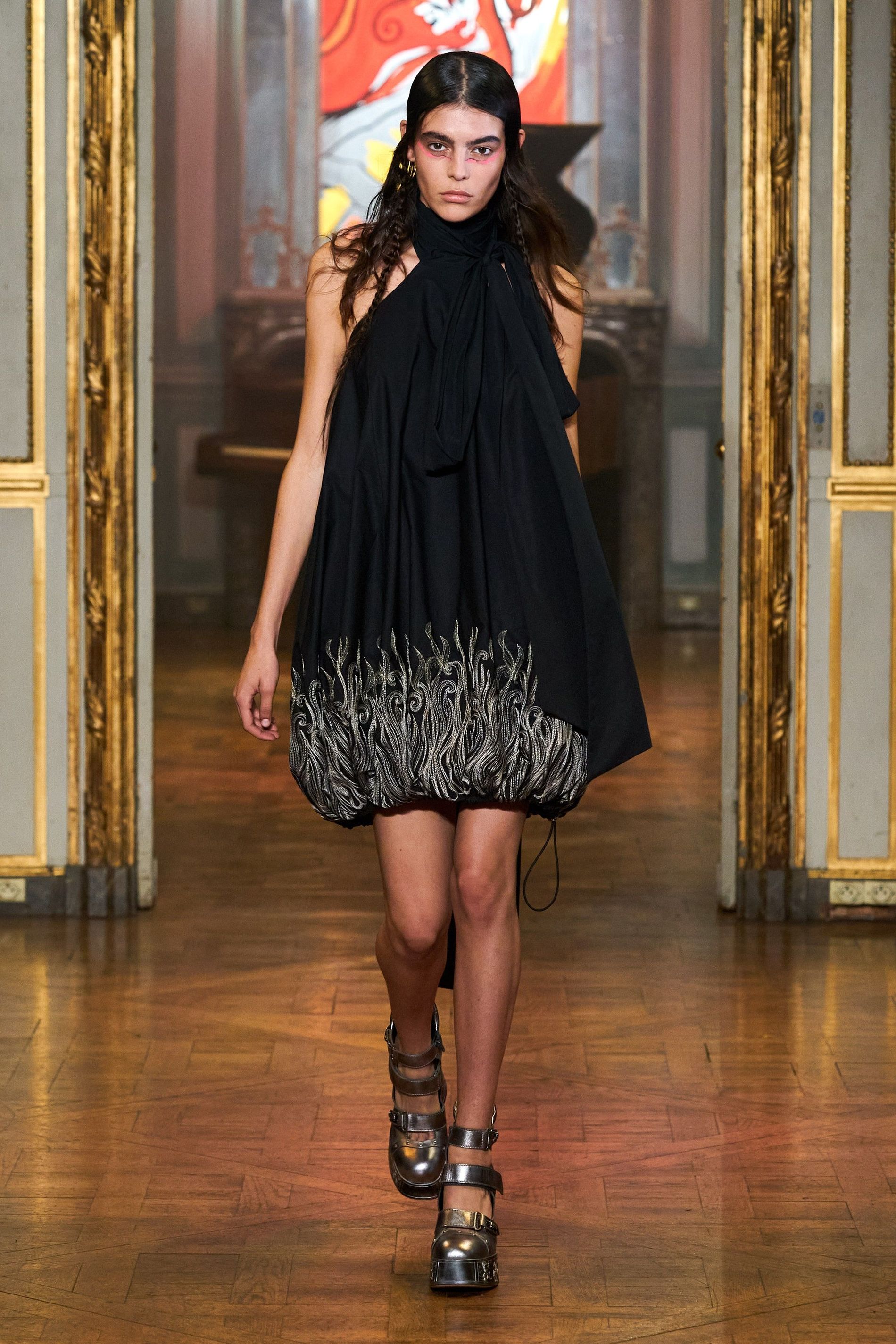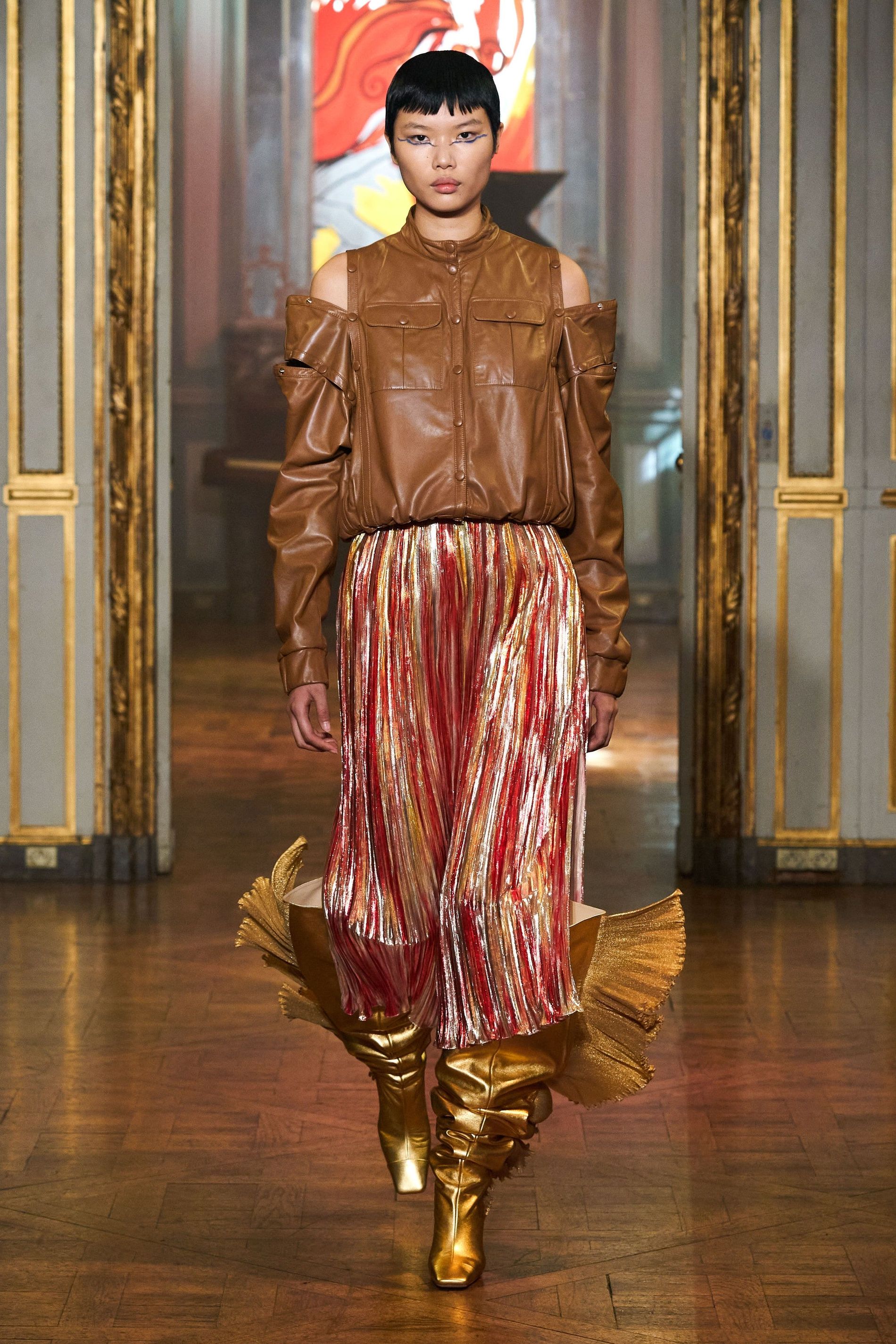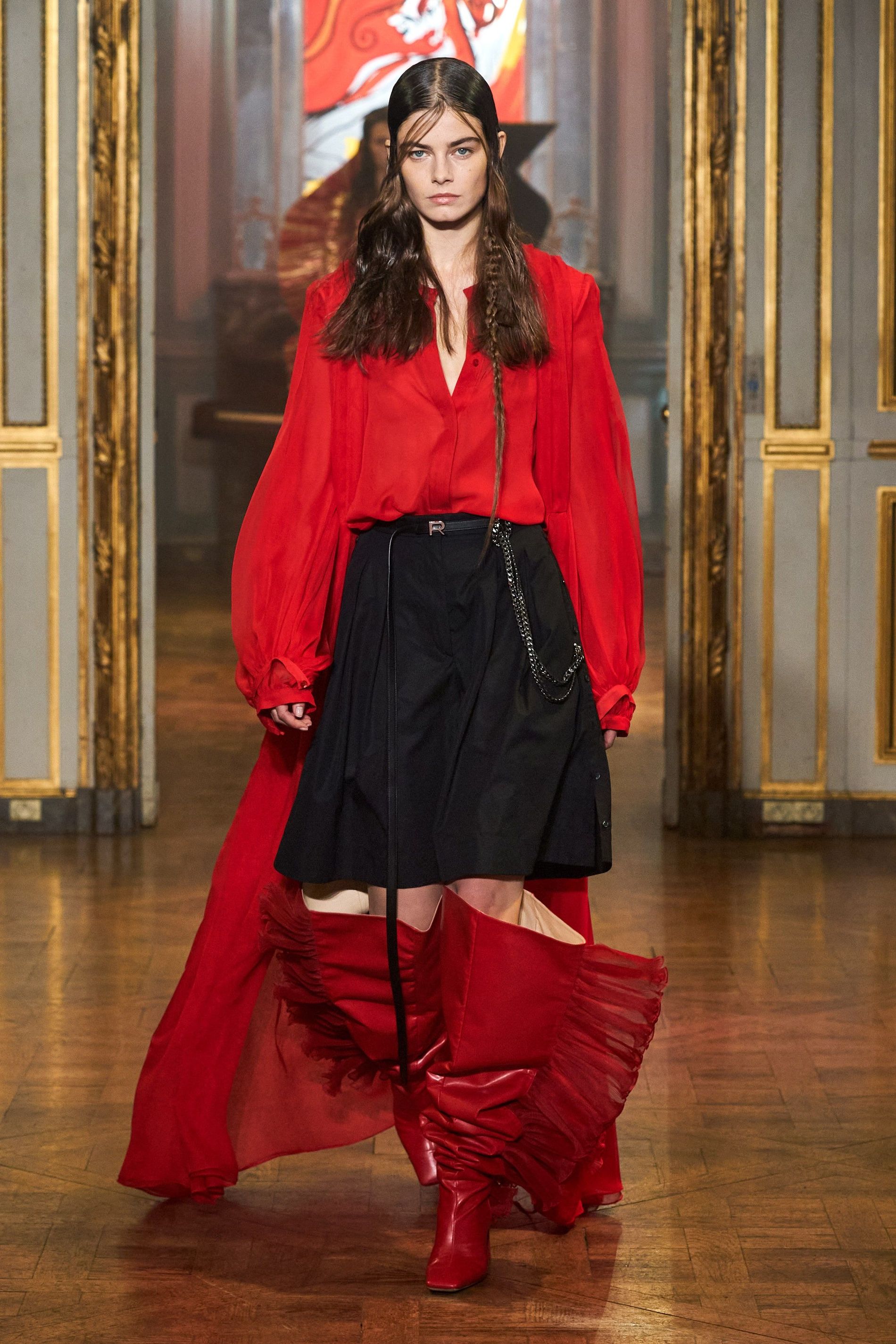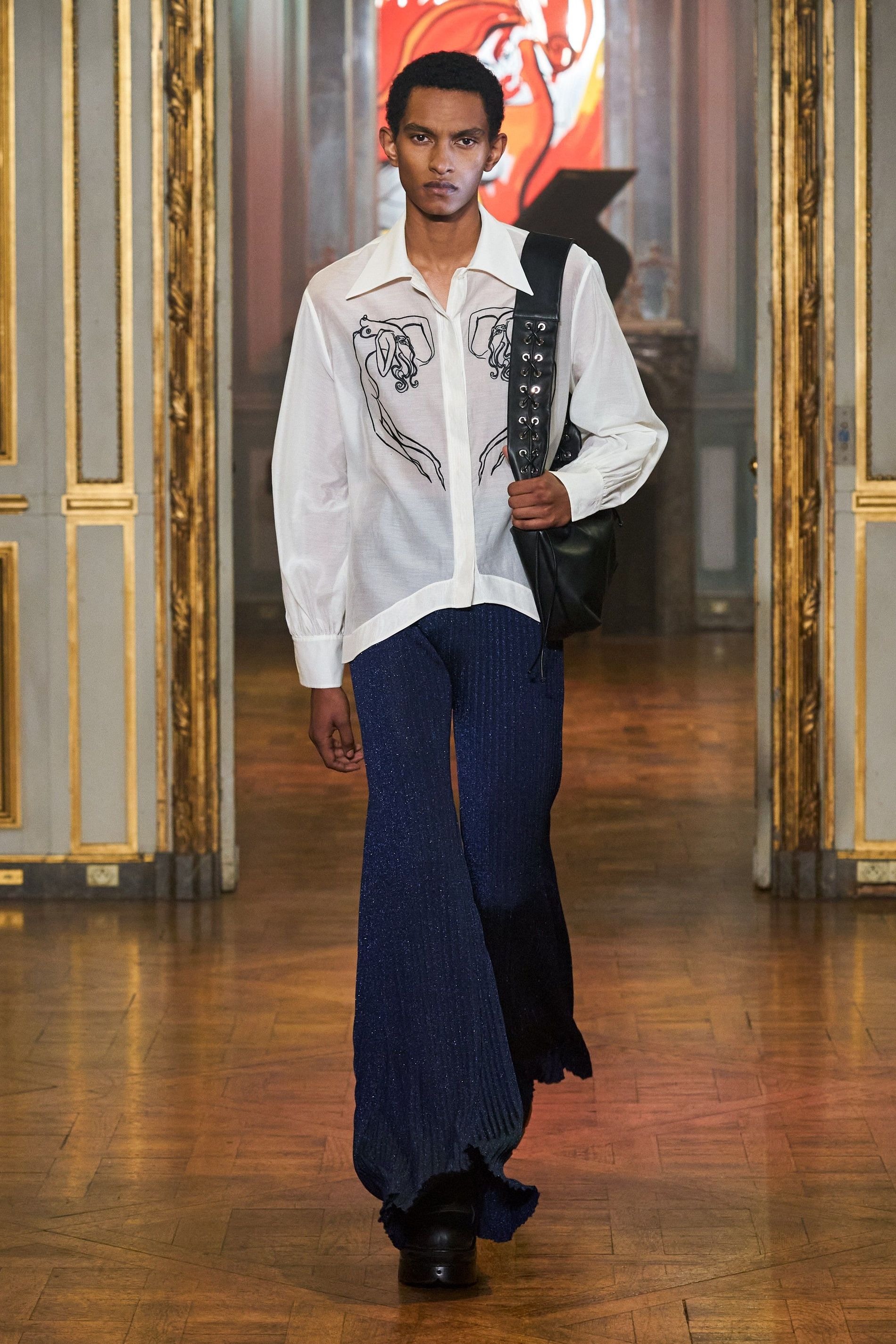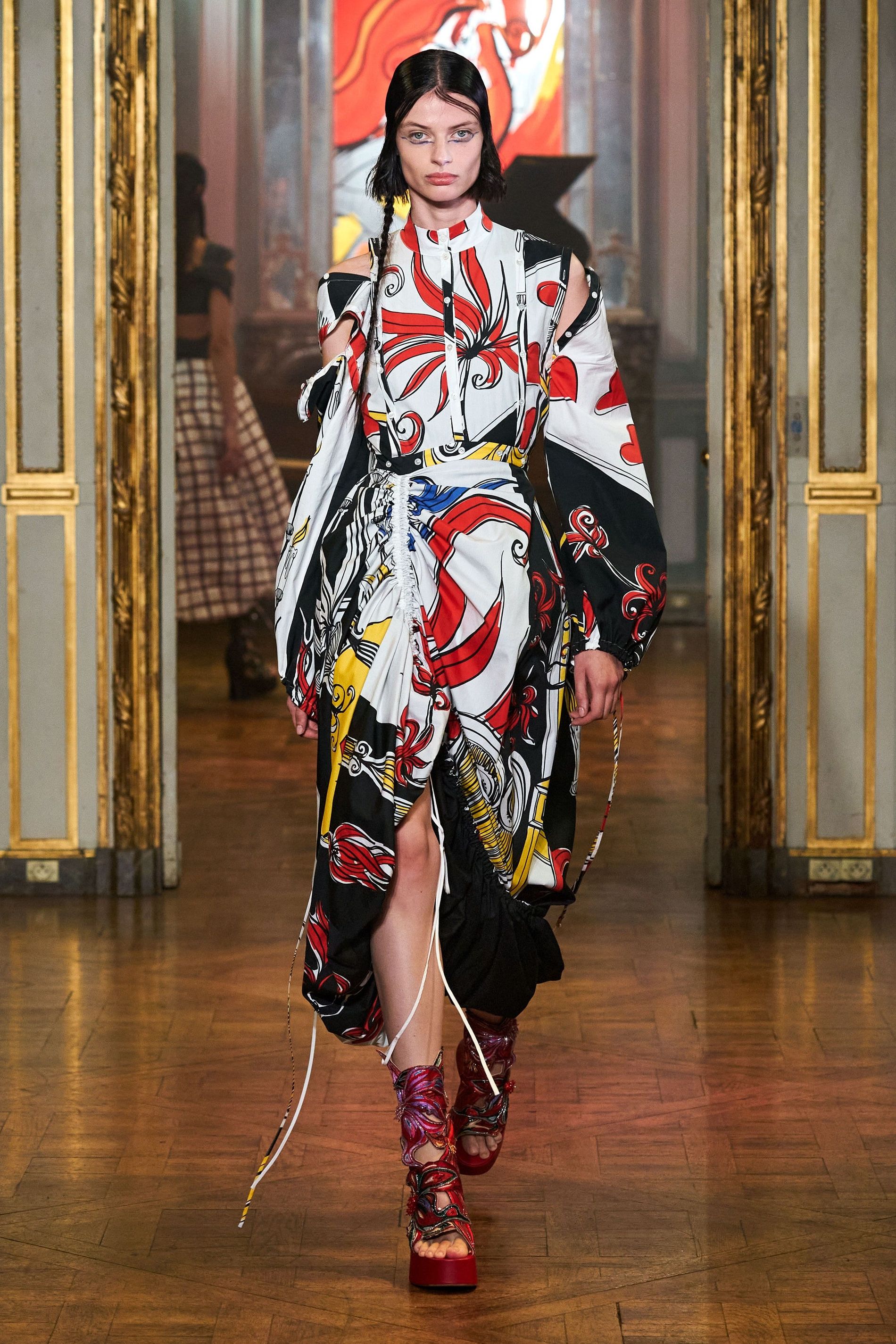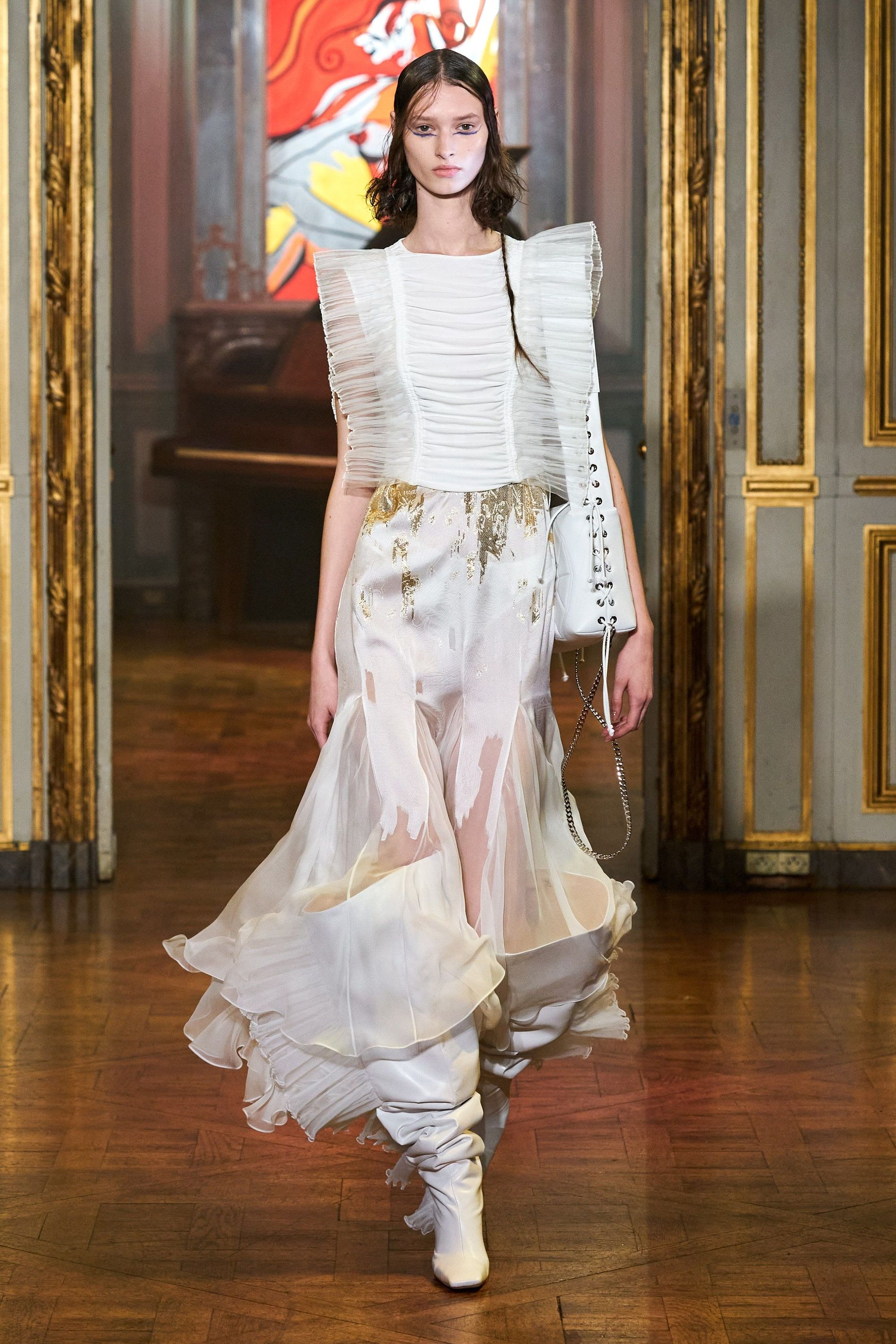 Cecilie Bahnsen
Danish brand Cecilie Bahnsen was once more part of the PFW program and showed her dreamy collection via a film and exhibition. Her elegant yet practical designs were inspired by how the Bahnse women around the world wear their designs on a day-to-day basis. Dresses with cut-out details in a vibrant red colour made its debut, and midi dresses in classic Cecilie Bahnsen pastels were included. This is a collection that for sure will give you the urge to dress up again.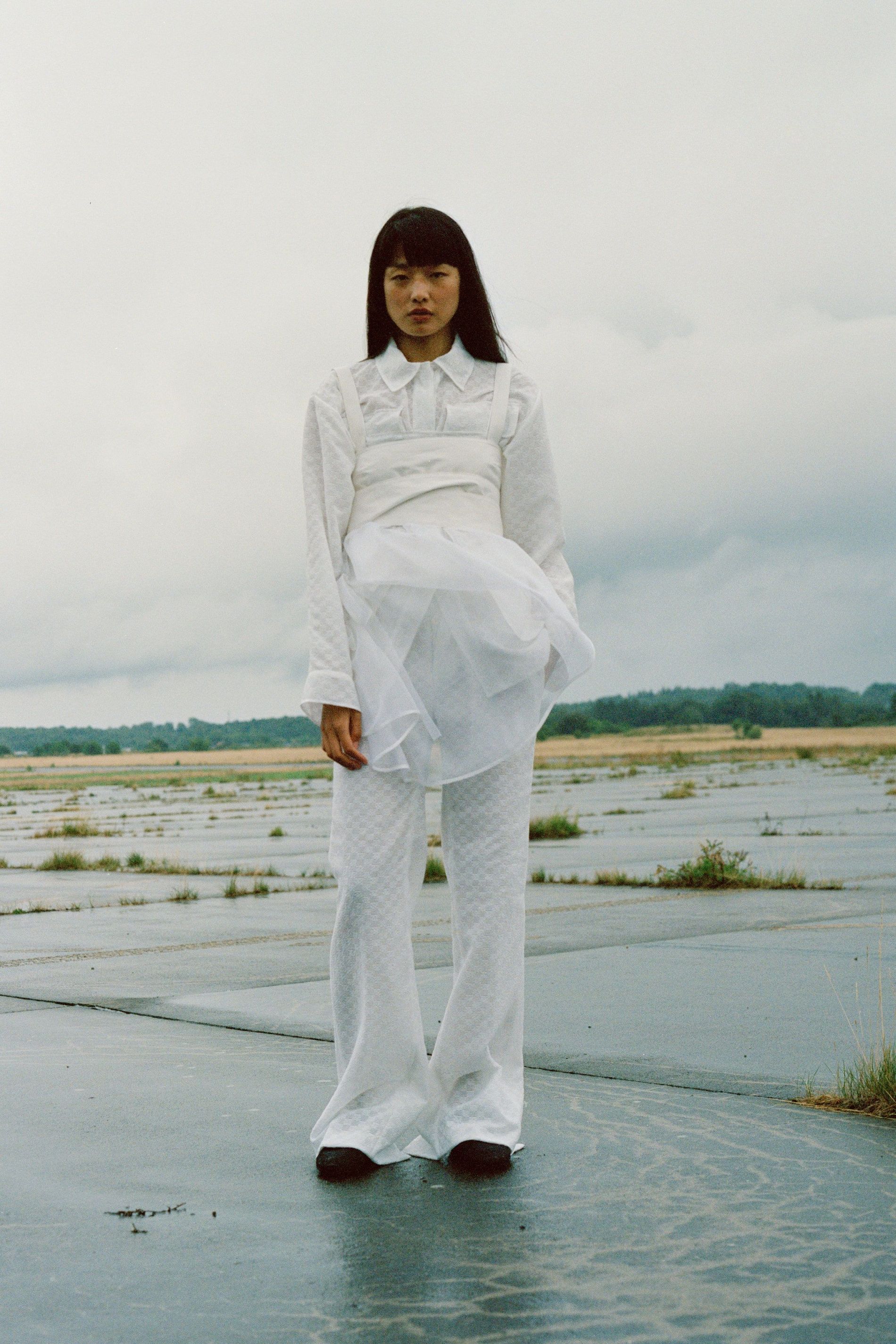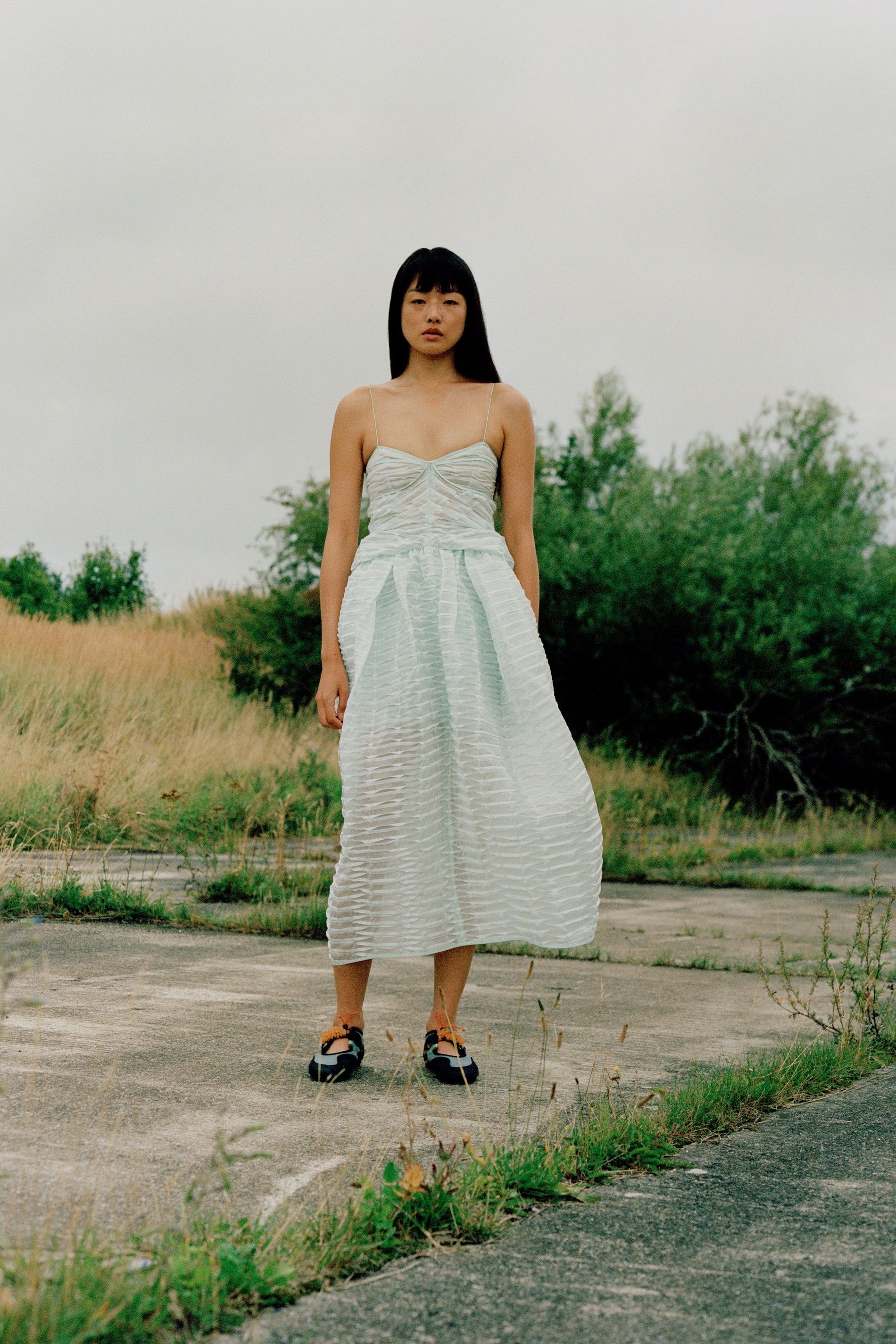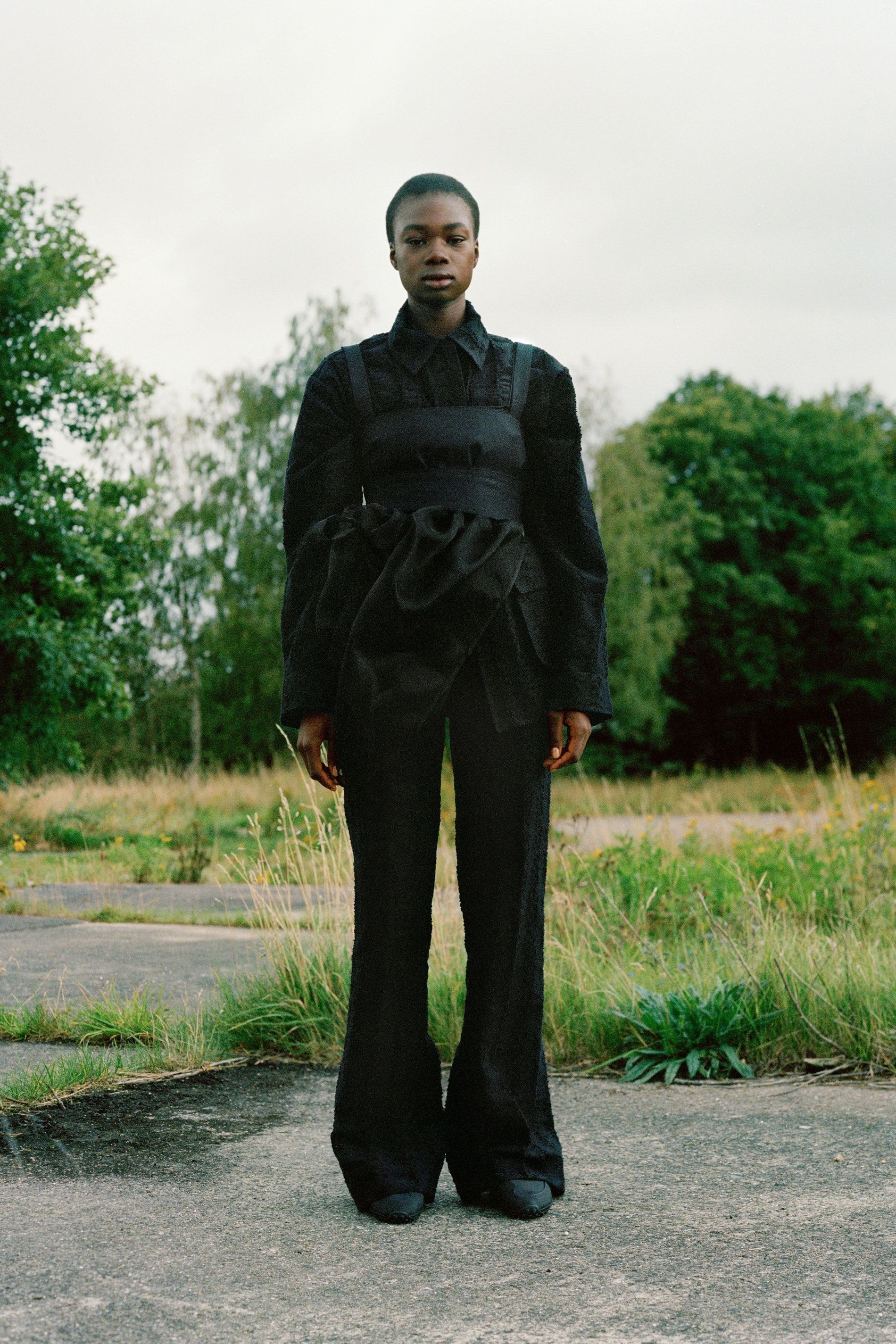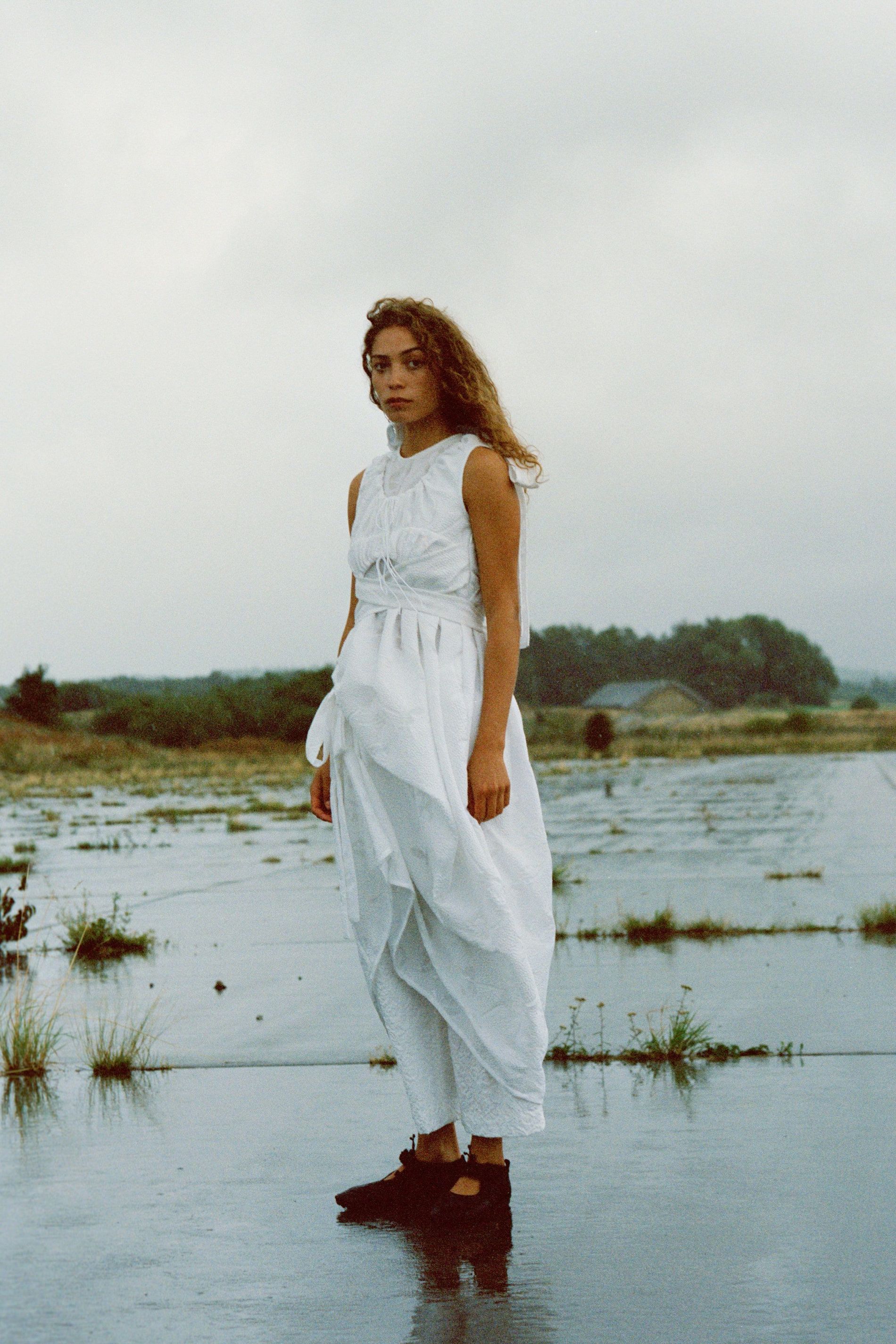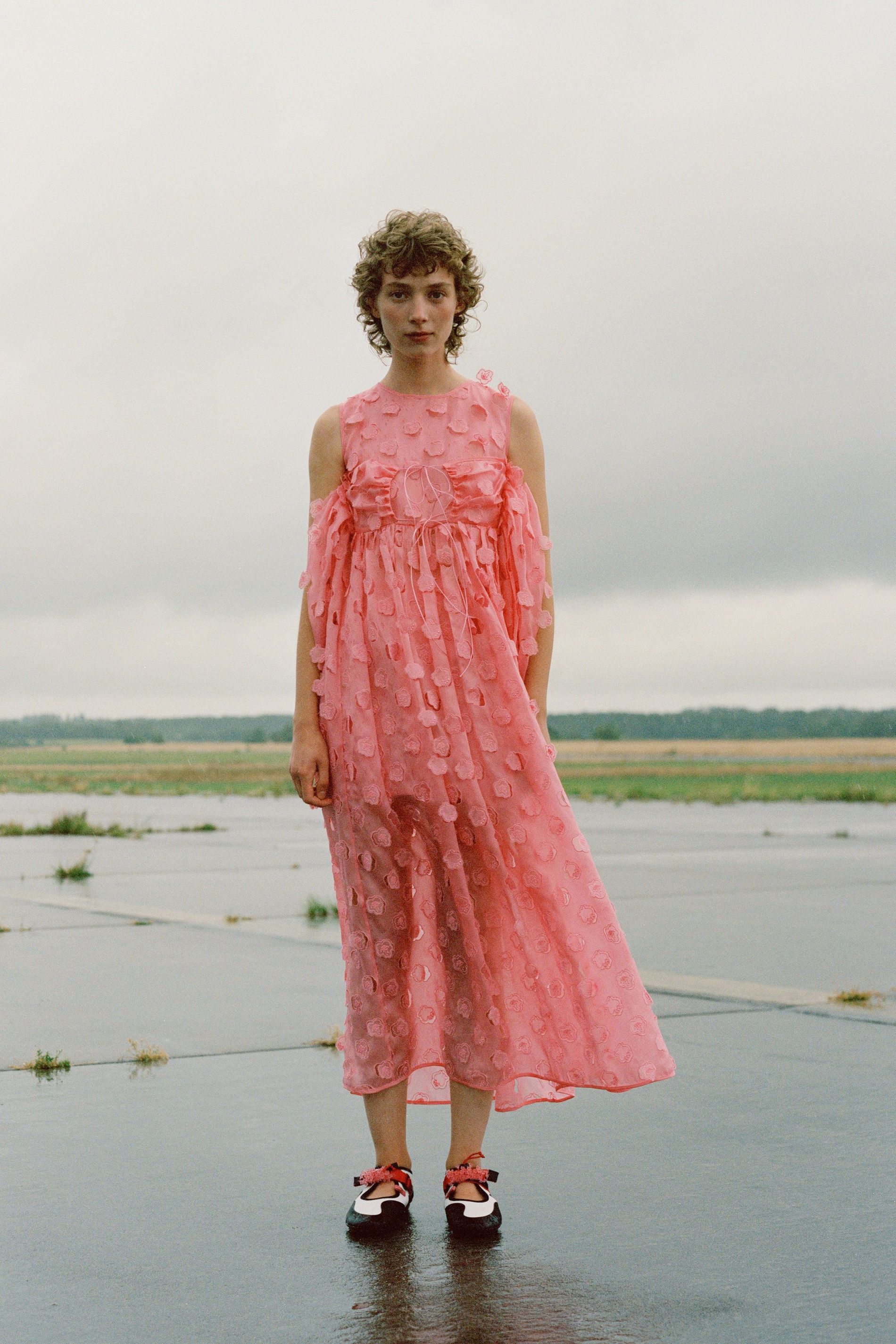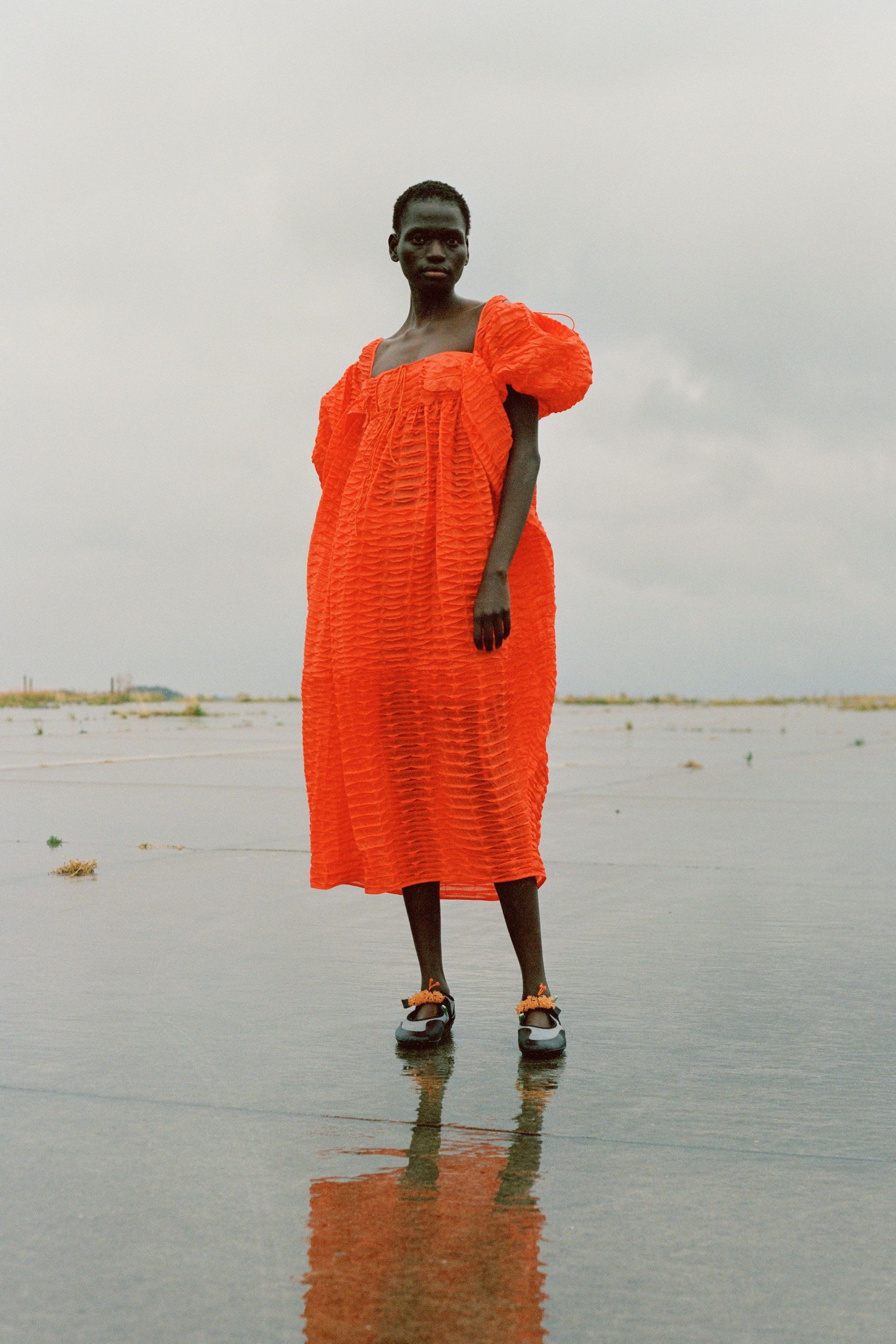 Acne Studios
Jonny Johansson presents a comfortable and chic look as we slowly return to normal life in his Acne Studios SS22 collection. Items were characterised by the recognisable deconstructive element of the brand, in combination with great attention to detail. The result? Leather mini dresses, vibrant green and blue knit looks, and drapey sheer dresses, detailed with fringes and strings in rich neutrals.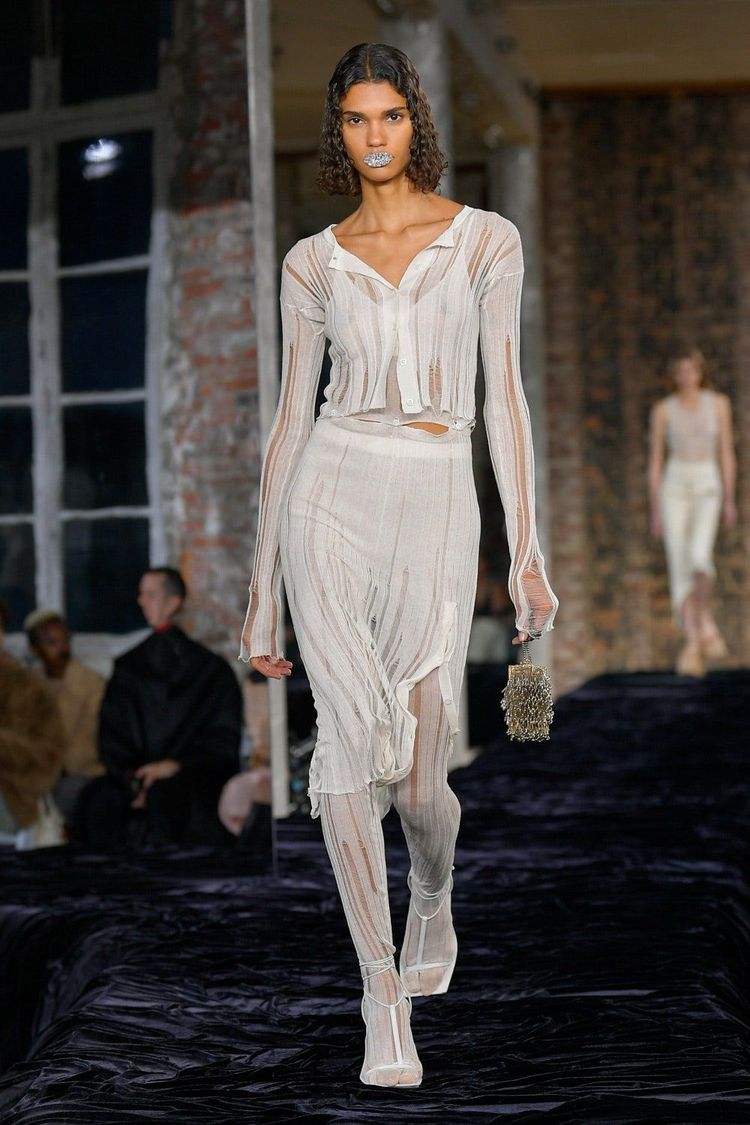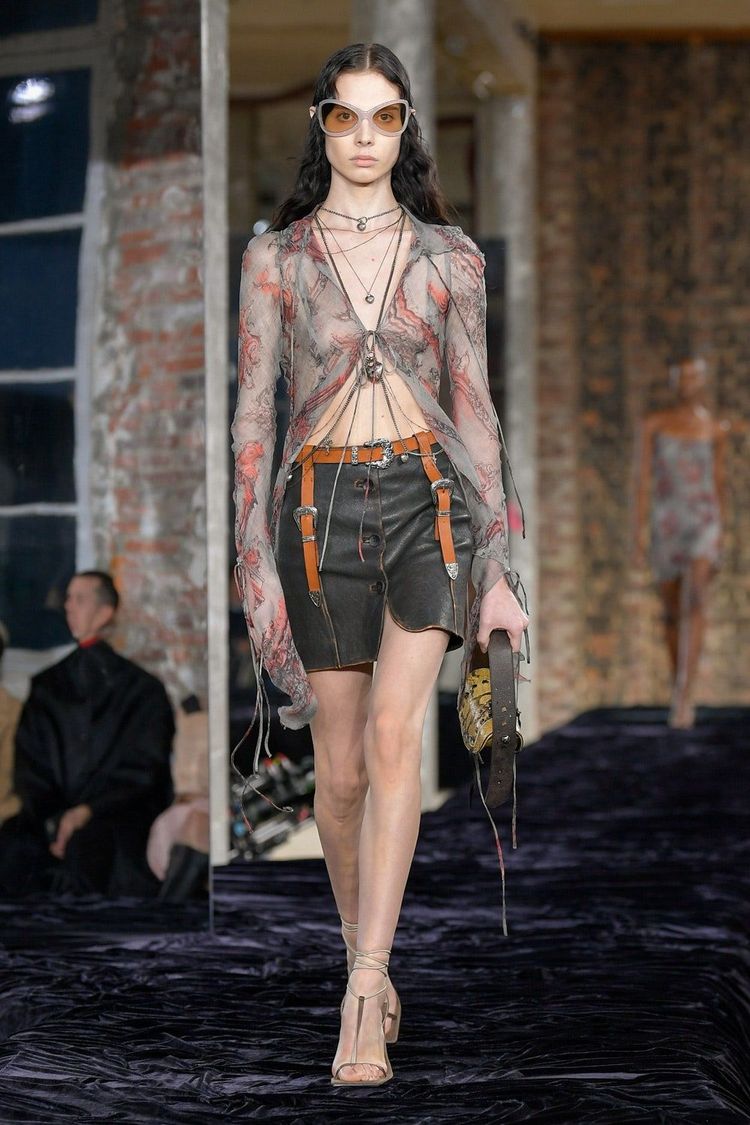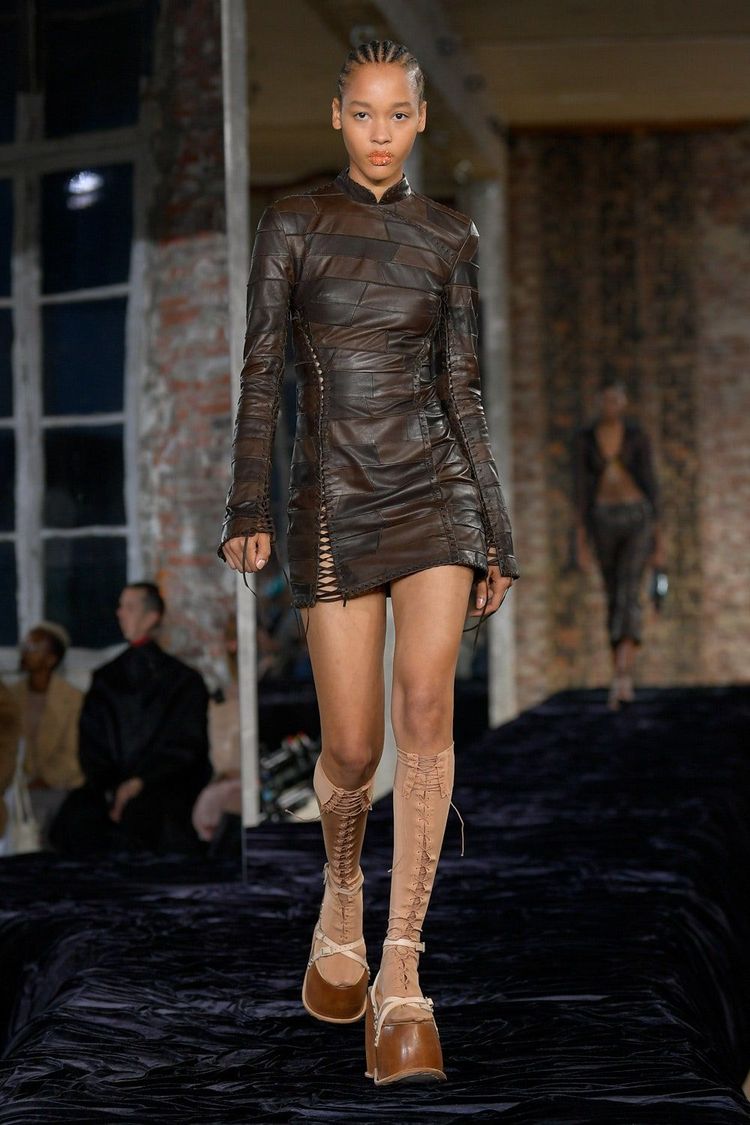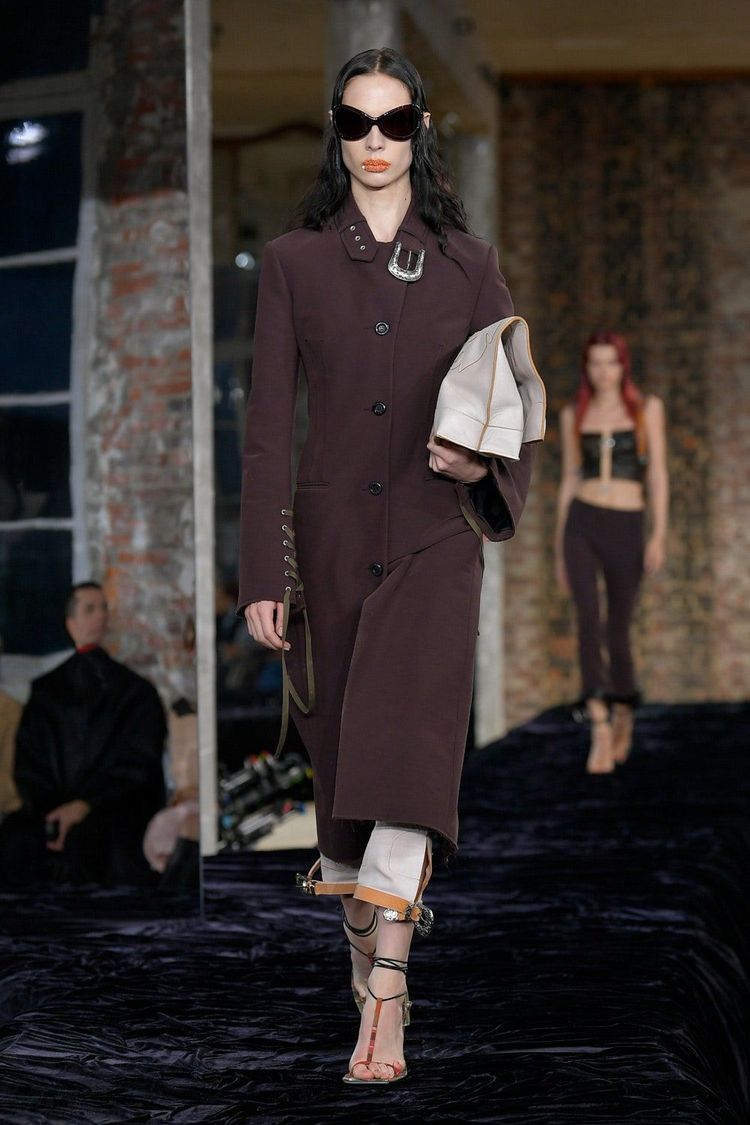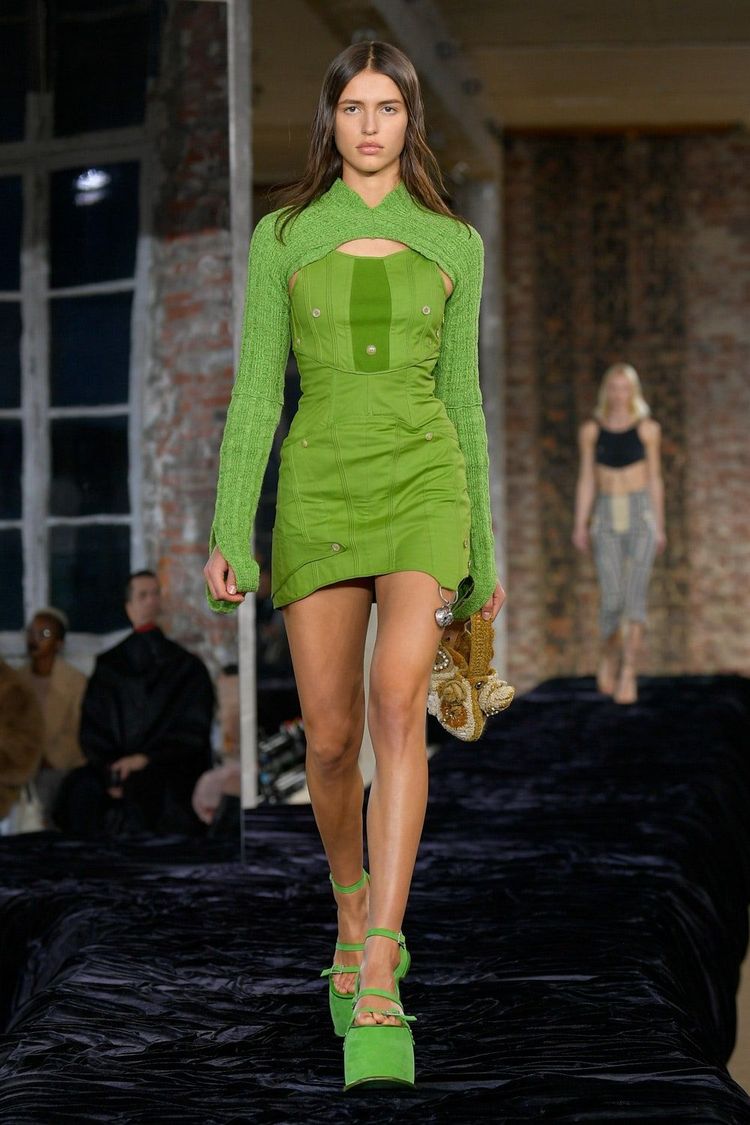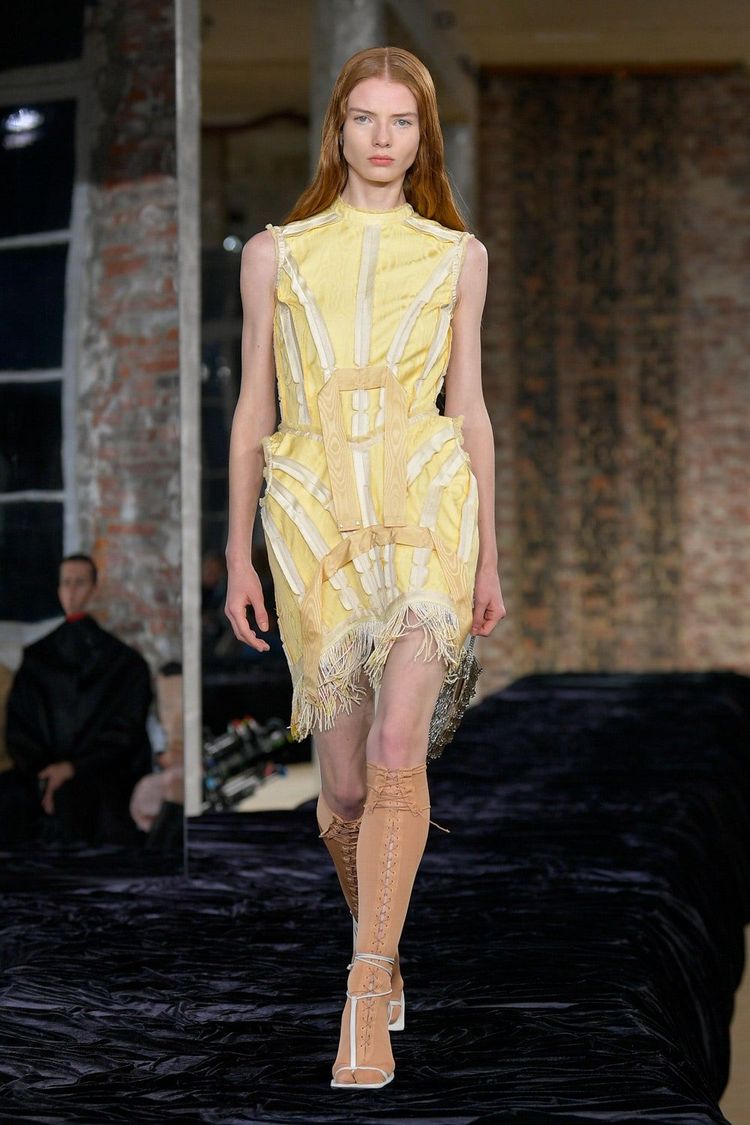 Balmain
Creative director Olivier Rousteing celebrated his 10th anniversary at the house of Balmain. The collection was presented at the Balmain Festival, a fundraiser for HIV/AIDS organisations, with a spectacular performance show. Nineties models like Karen Nelson and Carla Bruni were wrapped in iconic Balmain glamour looks; body-hugging tops, matching jackets and cut-out dresses with gold belts. Finally, Naomi Campbell appeared in a gold chain crochet dress which left the audience breathless.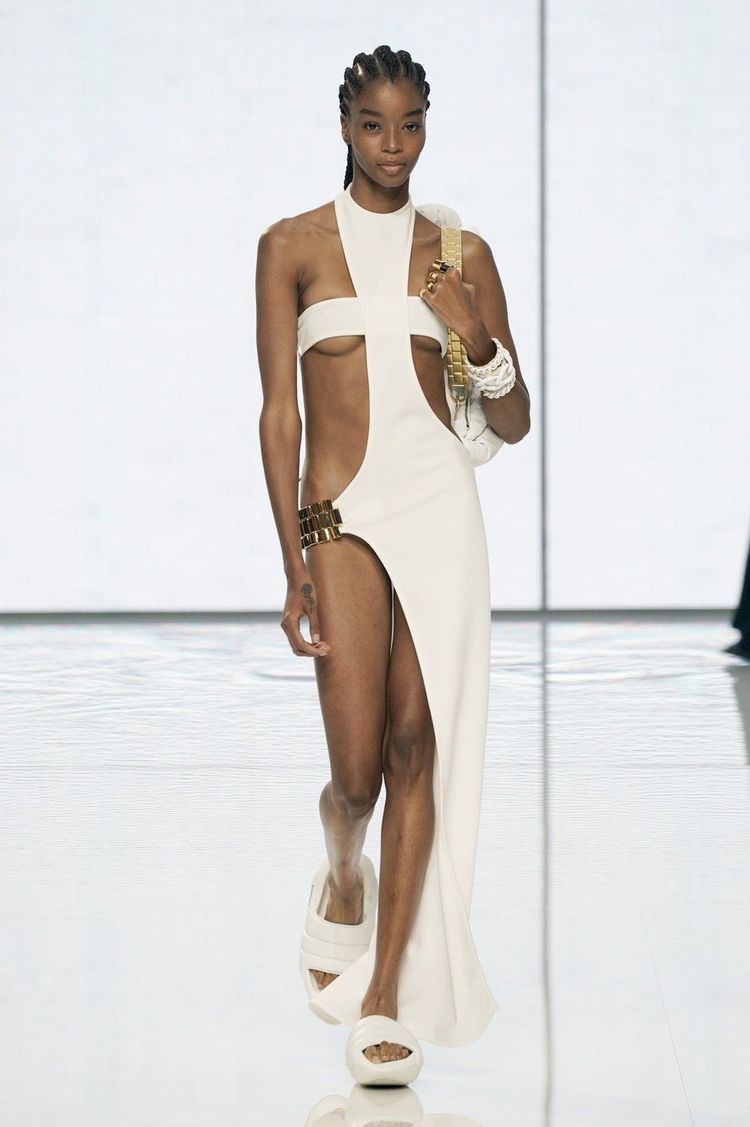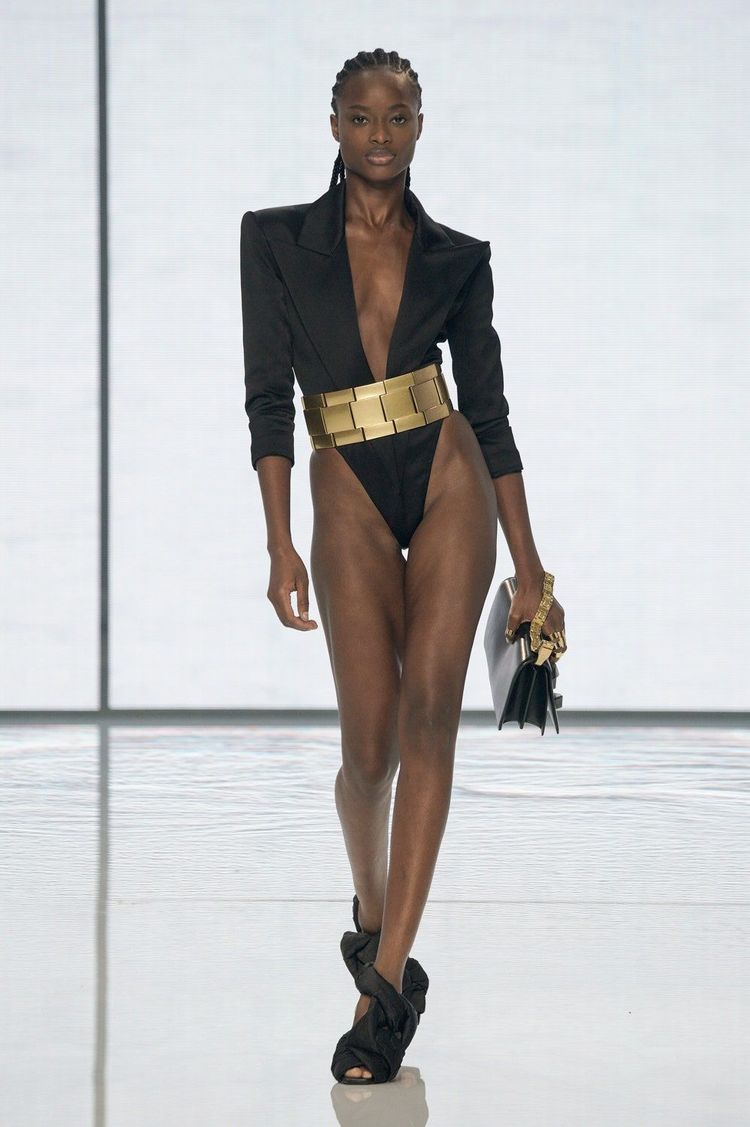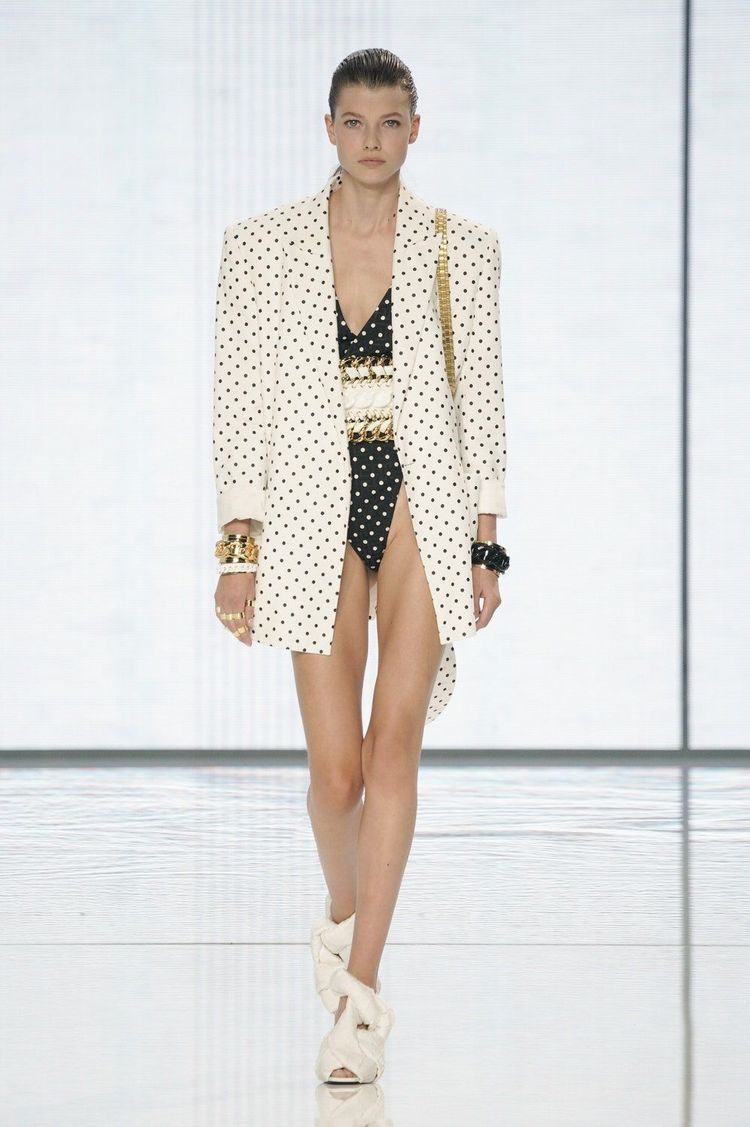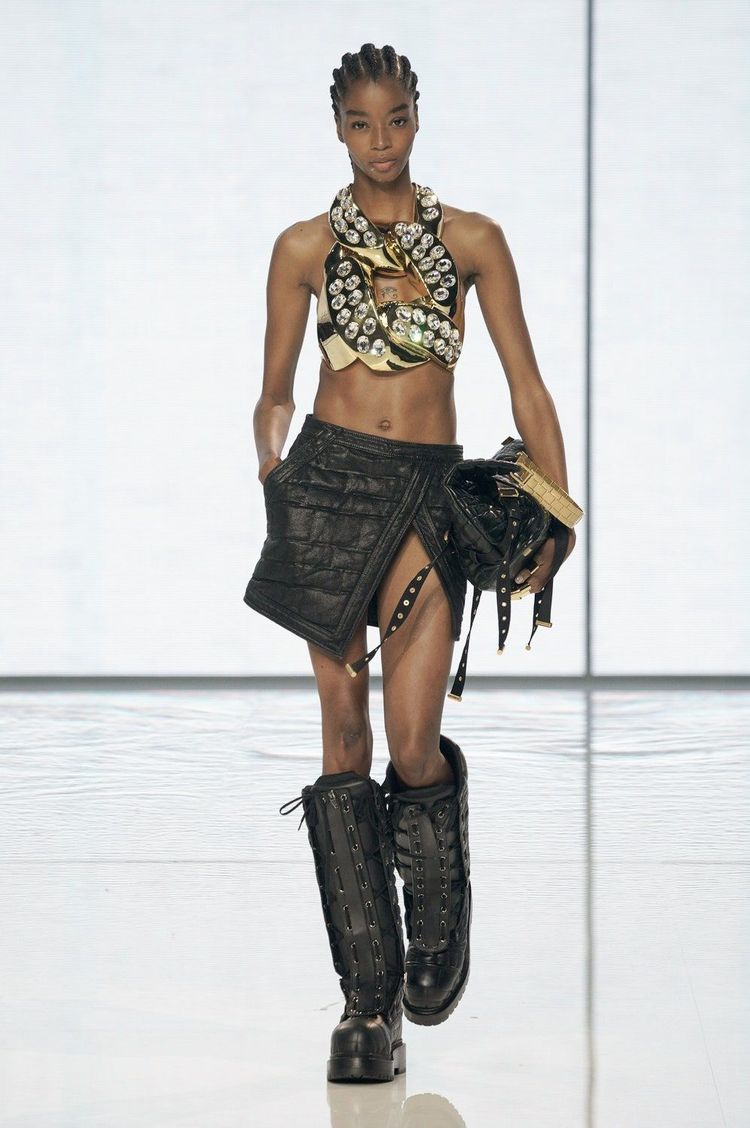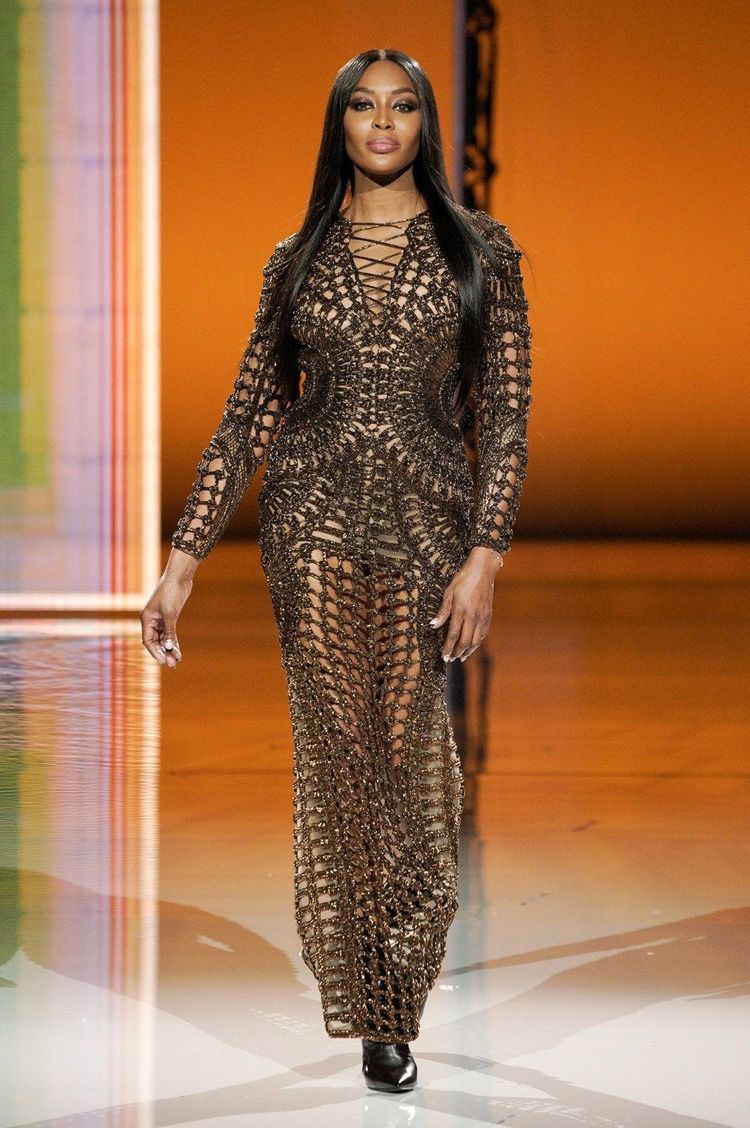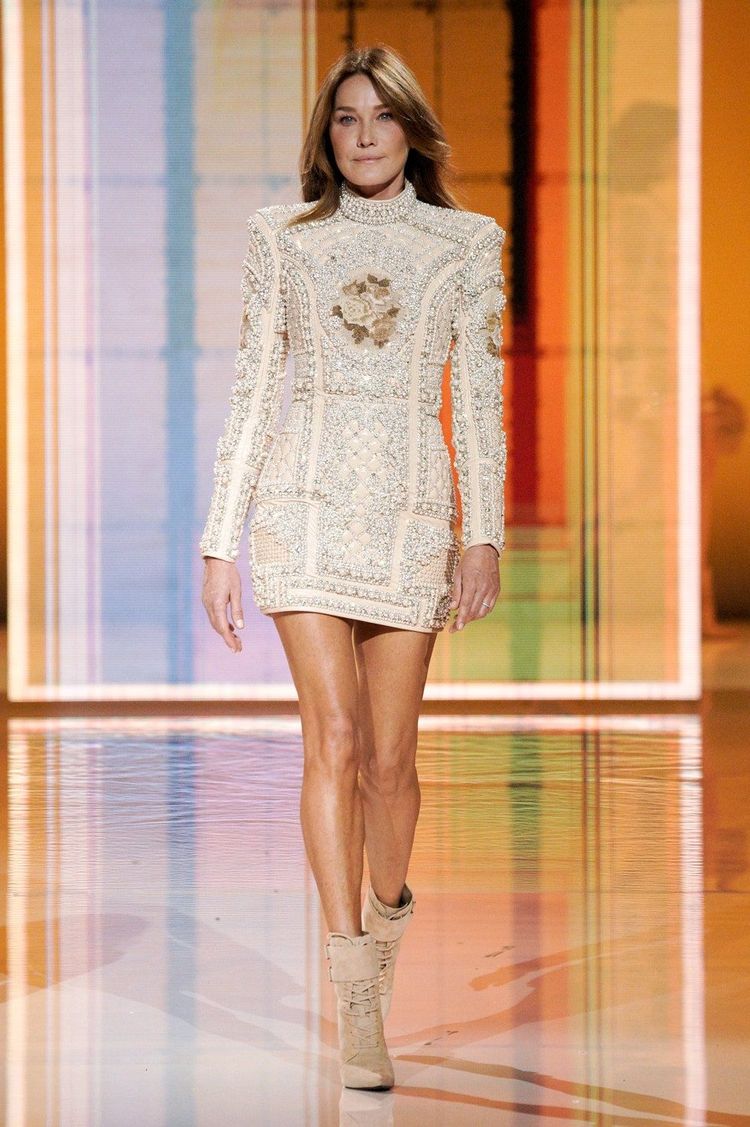 Coperni
From sparkling panties worn under see-through dresses to cut-out tops and bras made out of shells - designer duo Sébastien Meyer and Arnaud Vaillant put wearable and conscious glamour back on the runway with their collection titled 'Spring Summer 2033'. Presented in a self-constructed hemp field, the collection was inspired by the healing powers of the material that was at the core of all the designs. The idea of freedom and nature as the new future.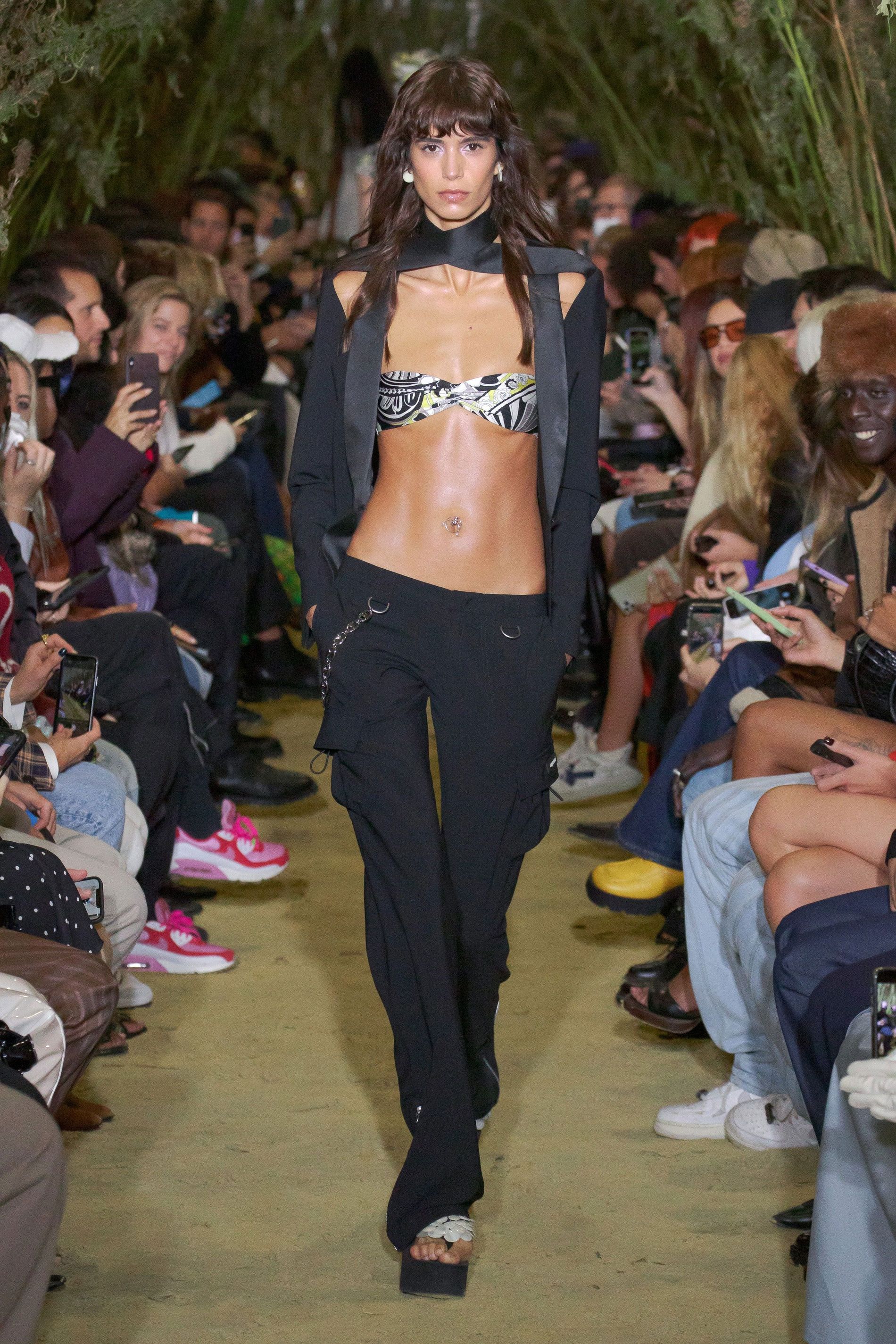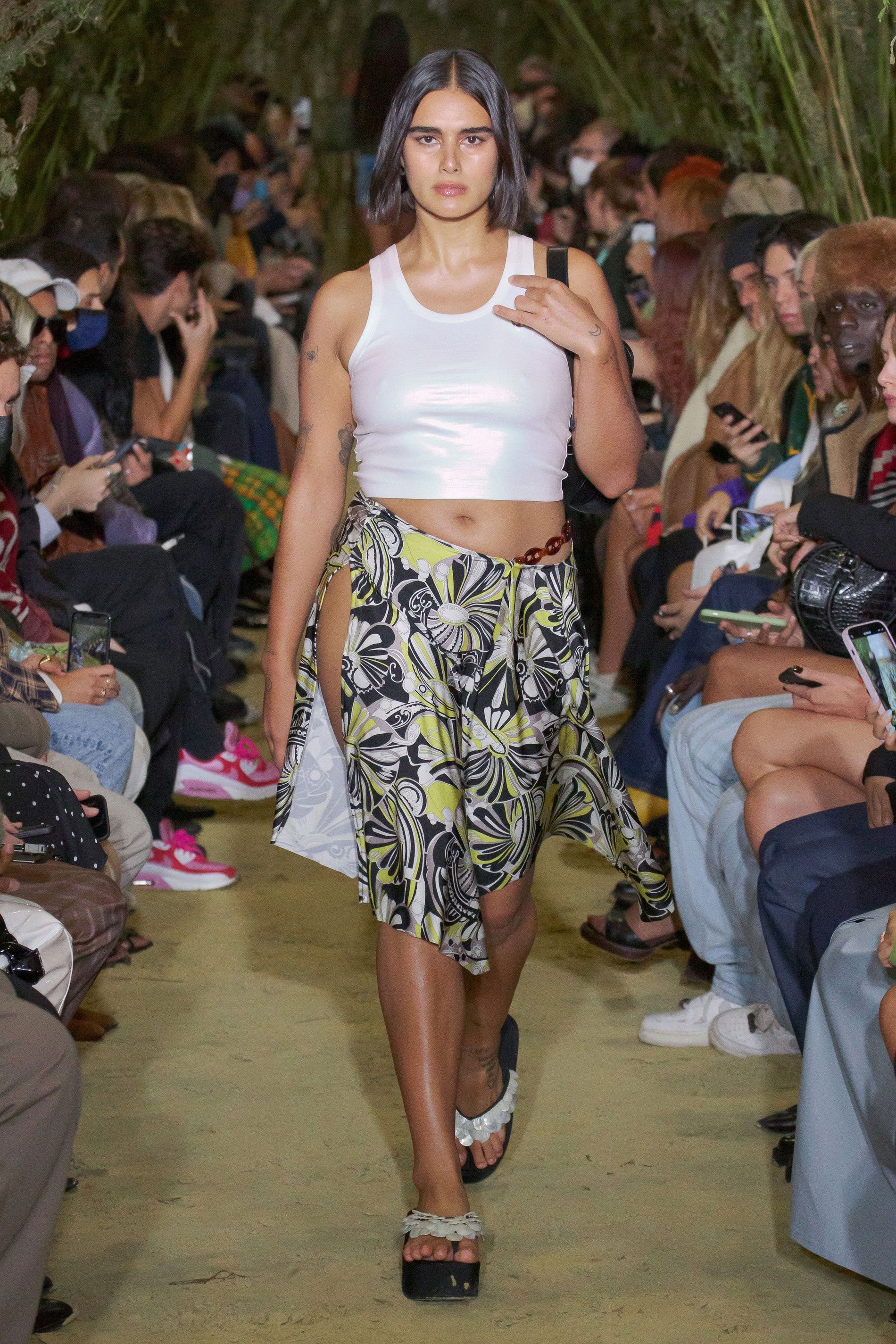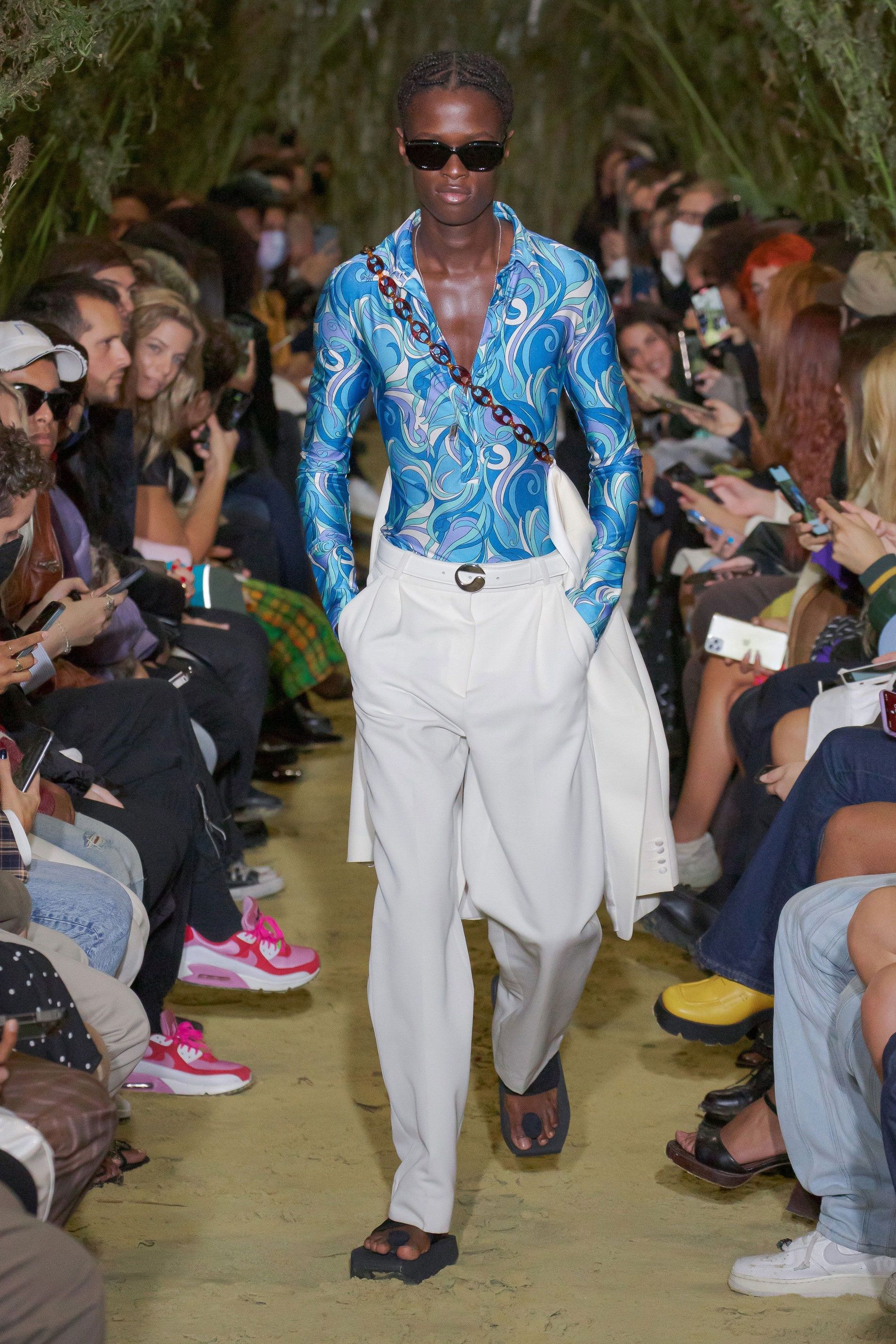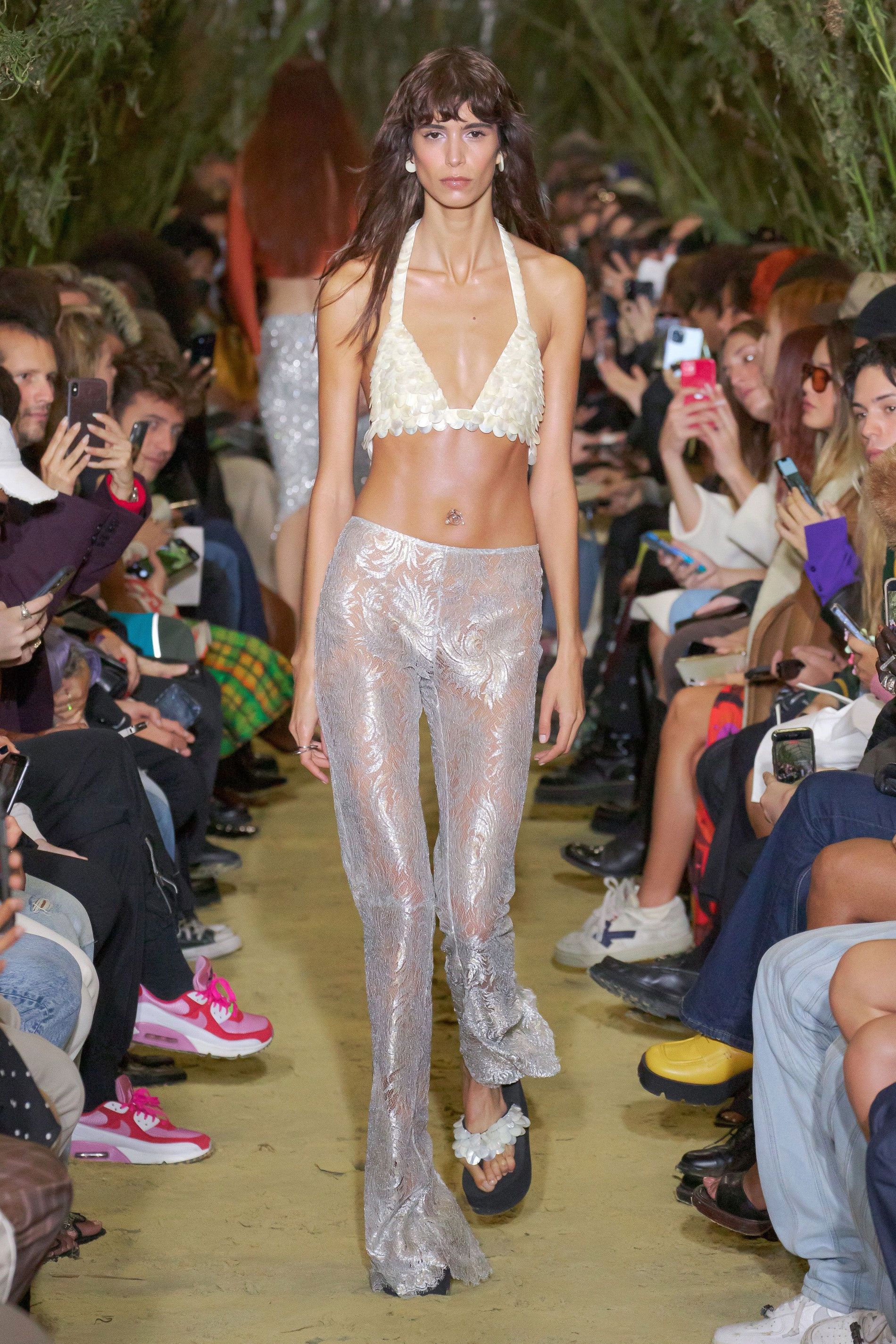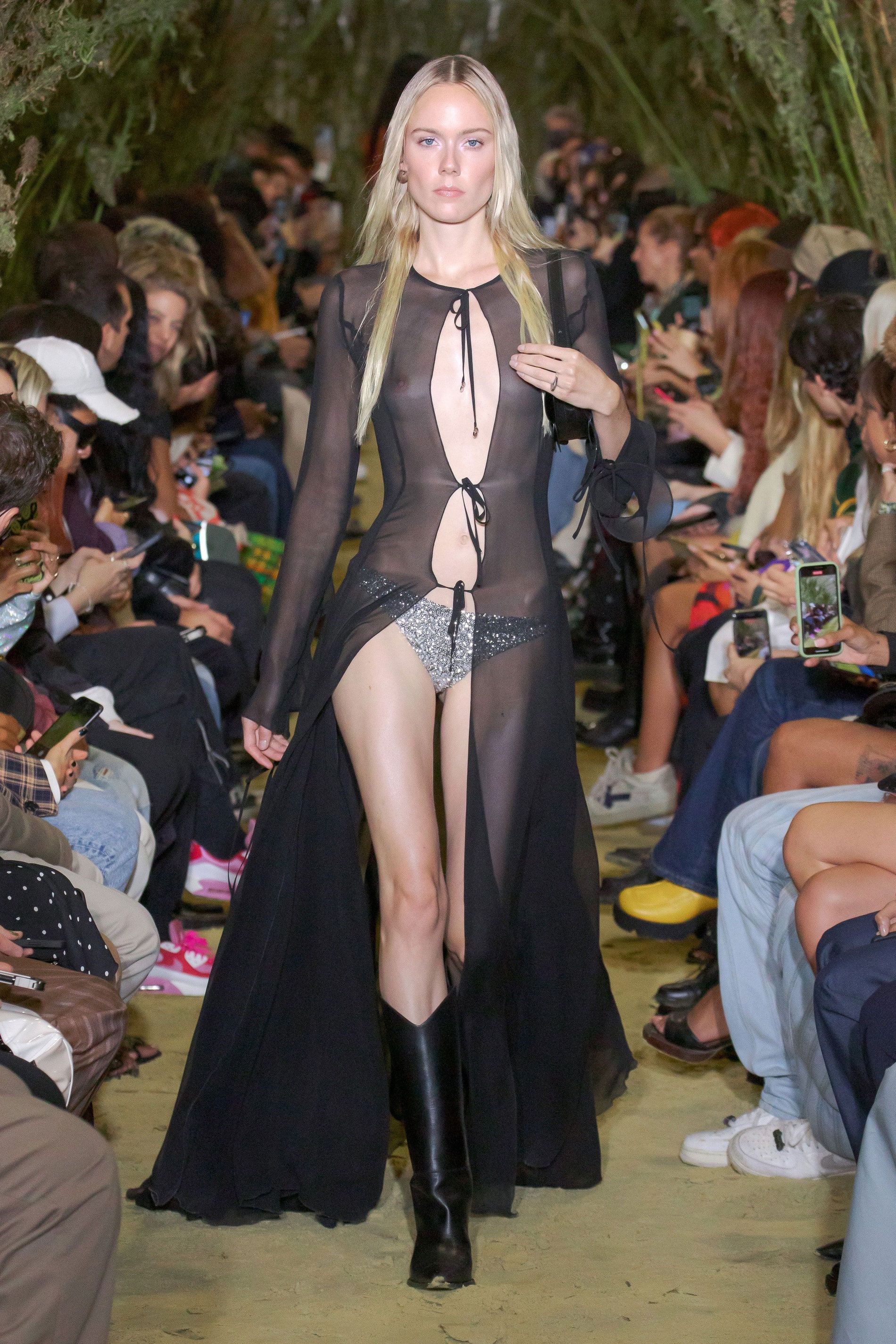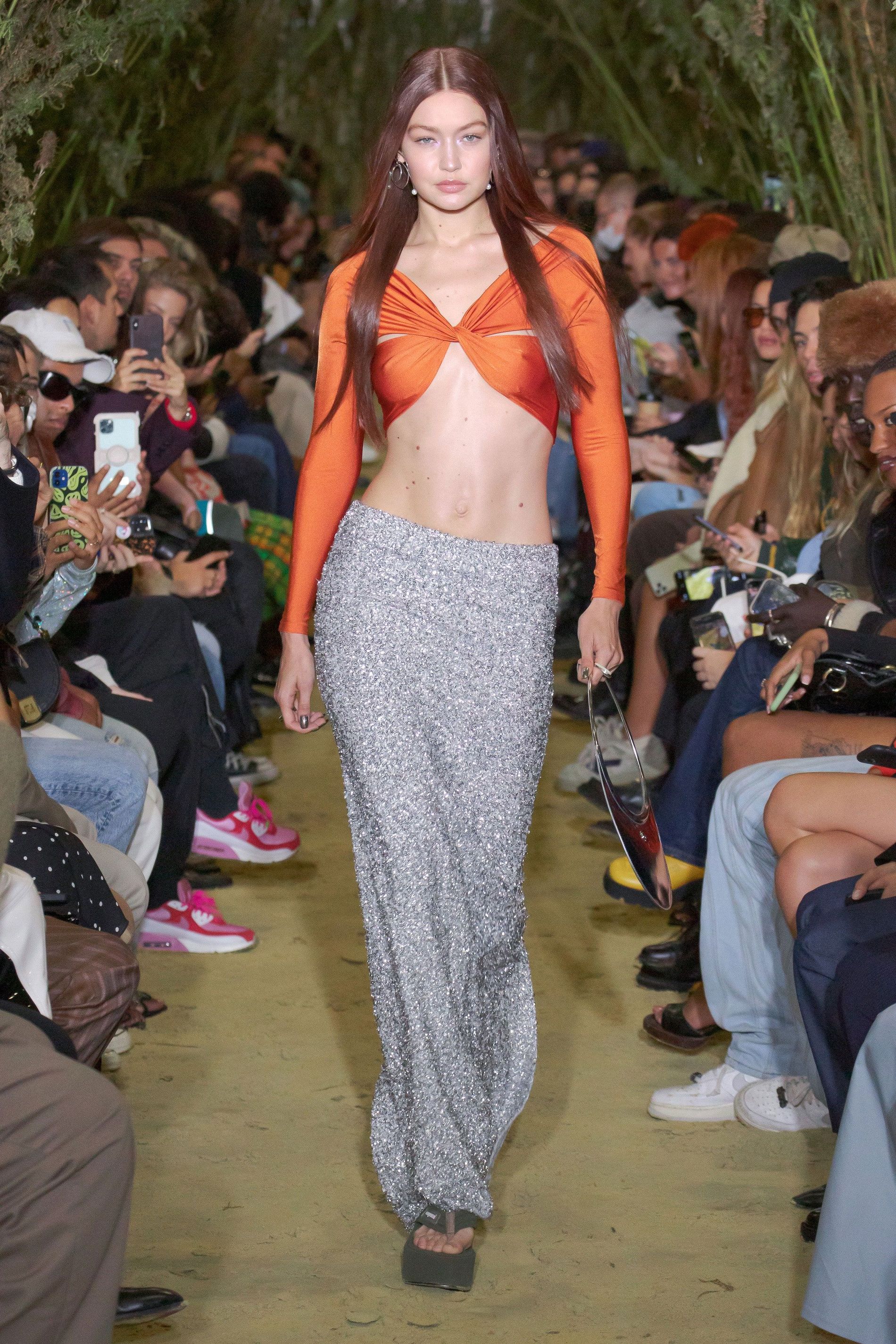 Chloé
It was the second show for Chloé's new creative director Gabrielle Hearst. Presented along the Seine River under the Parisian sun, Hearst – who is one of the biggest sustainability pioneers within fashion – created artisan-focused designs handcrafted by independent artisans that are part of the Chloé Craft initiative. Clothes like linen dresses and up-cycled pantsuits defined the true embodiment of conscious luxury.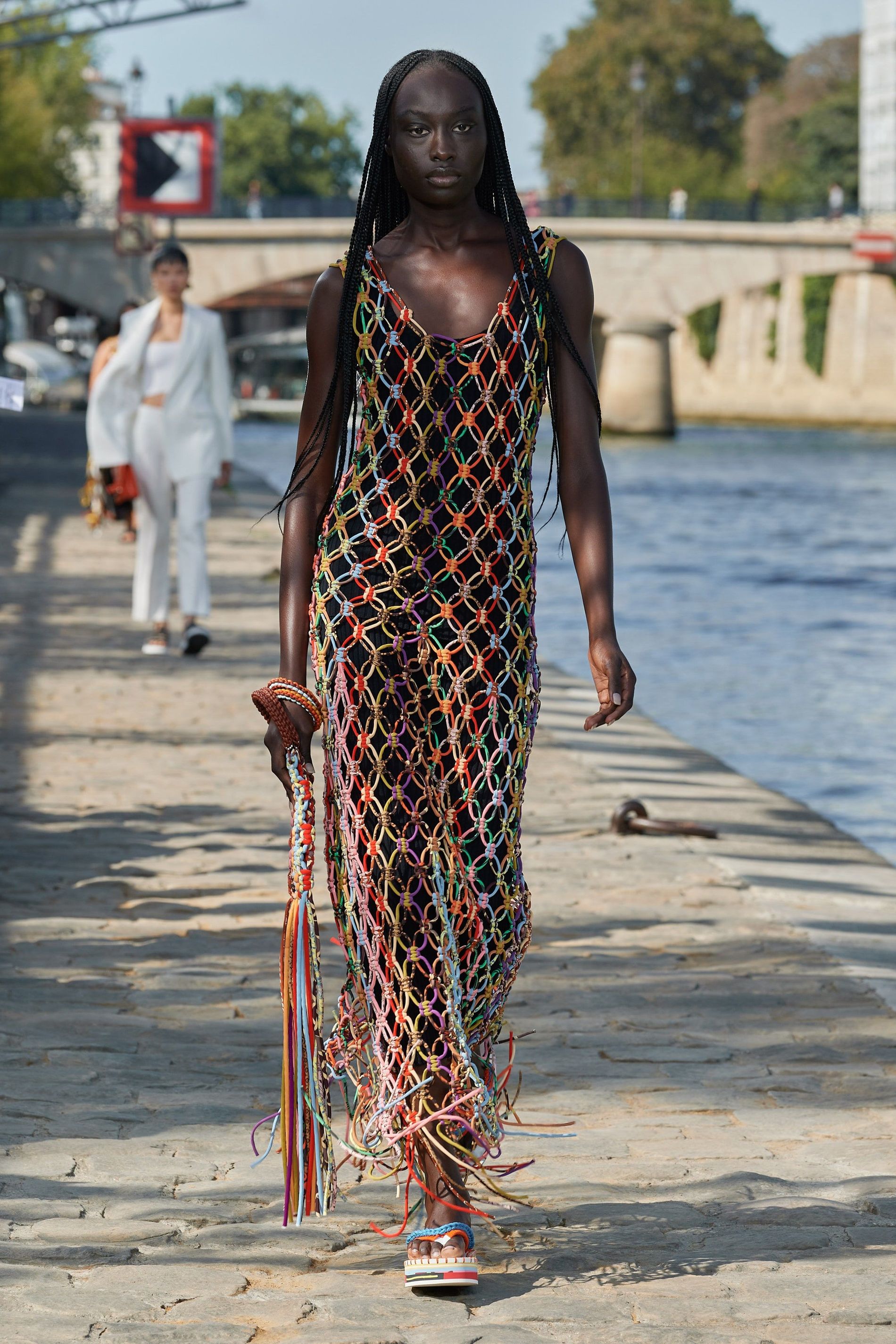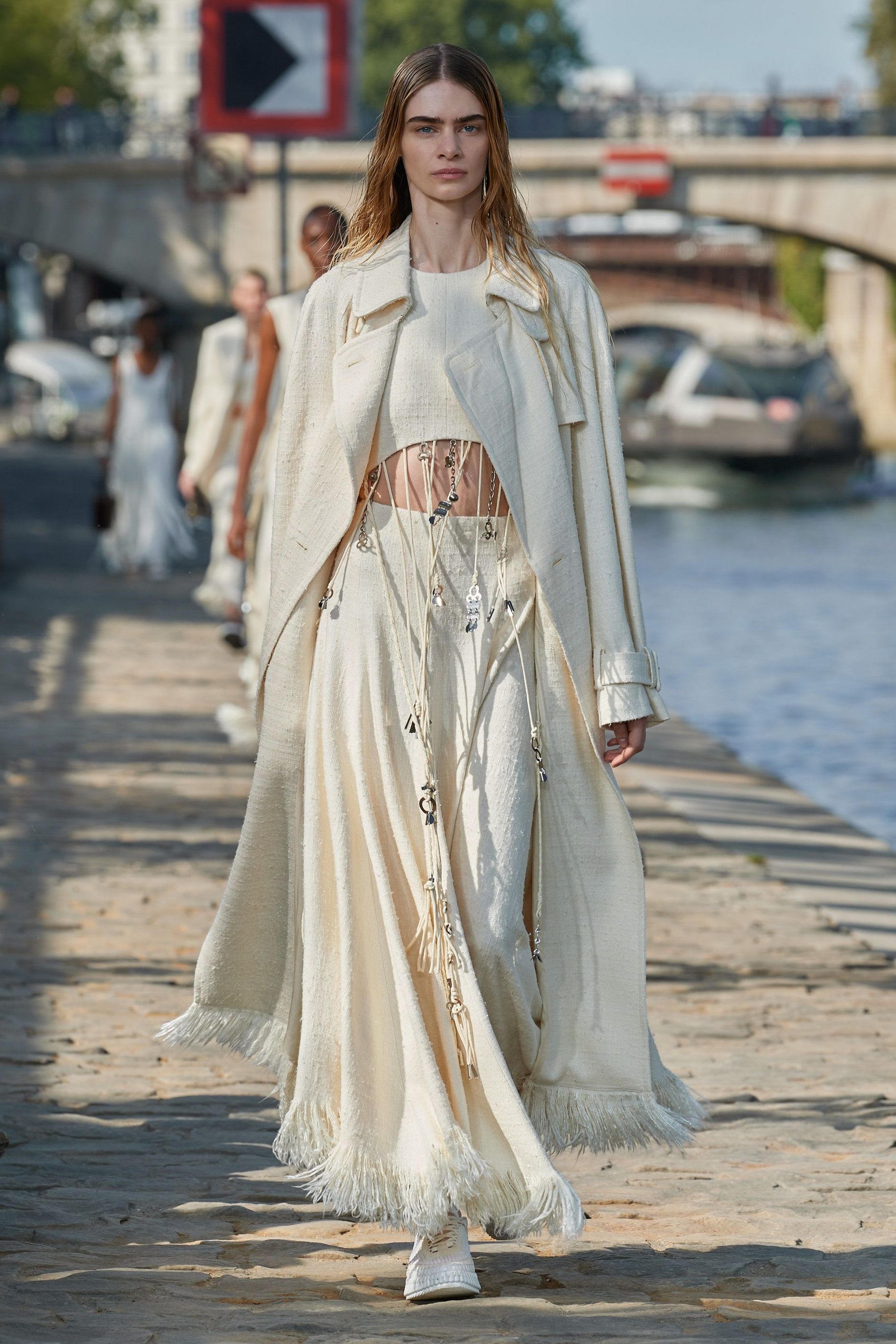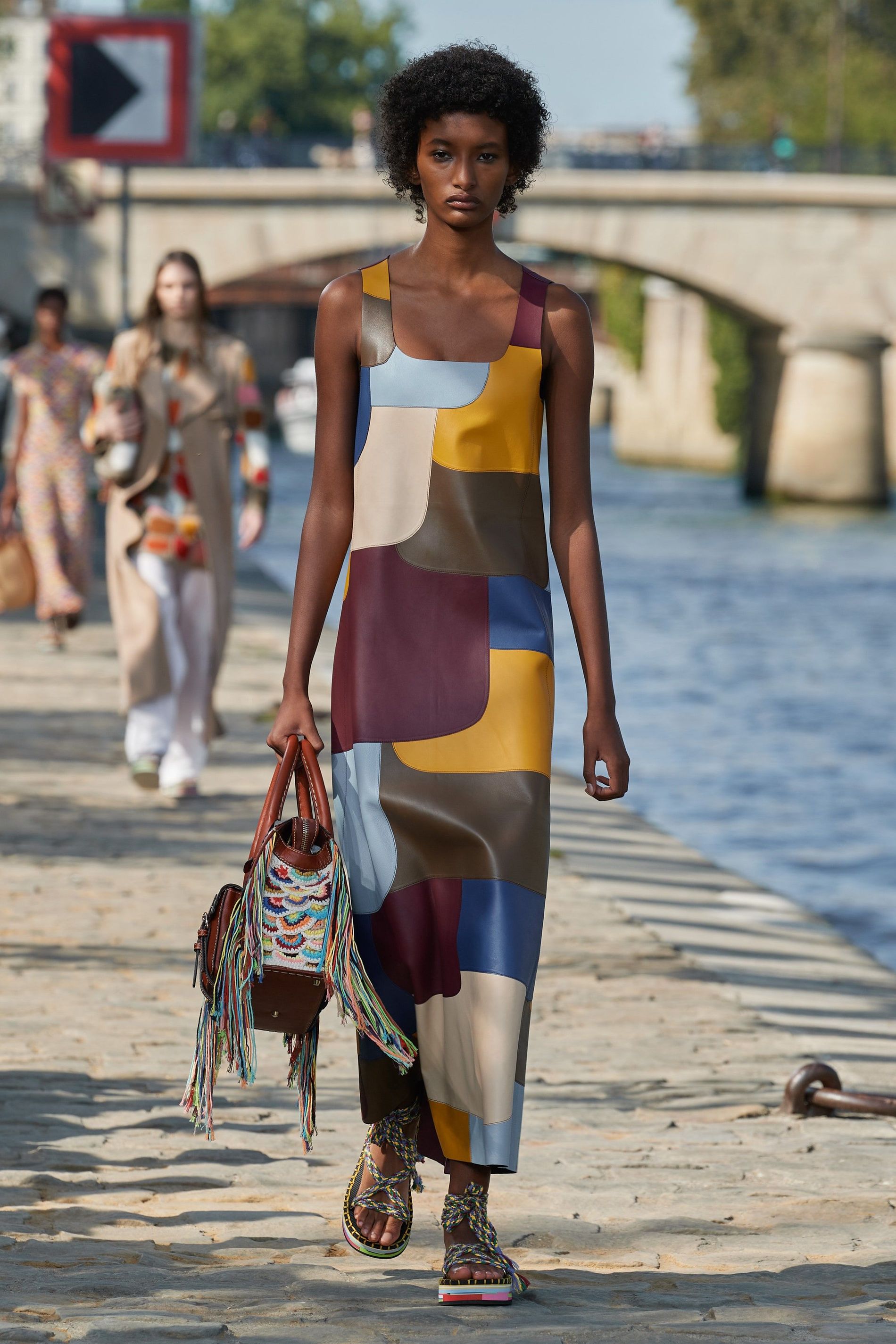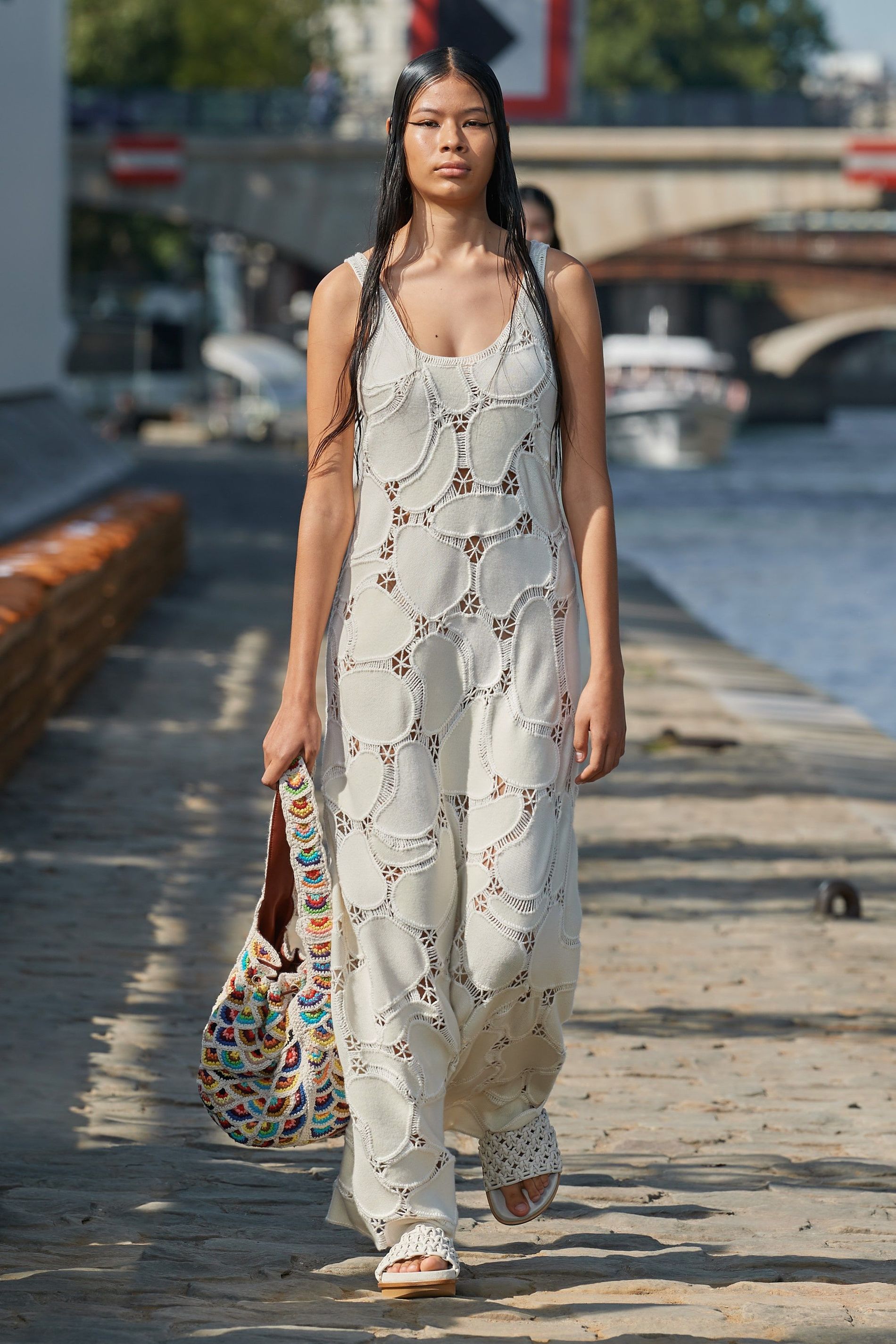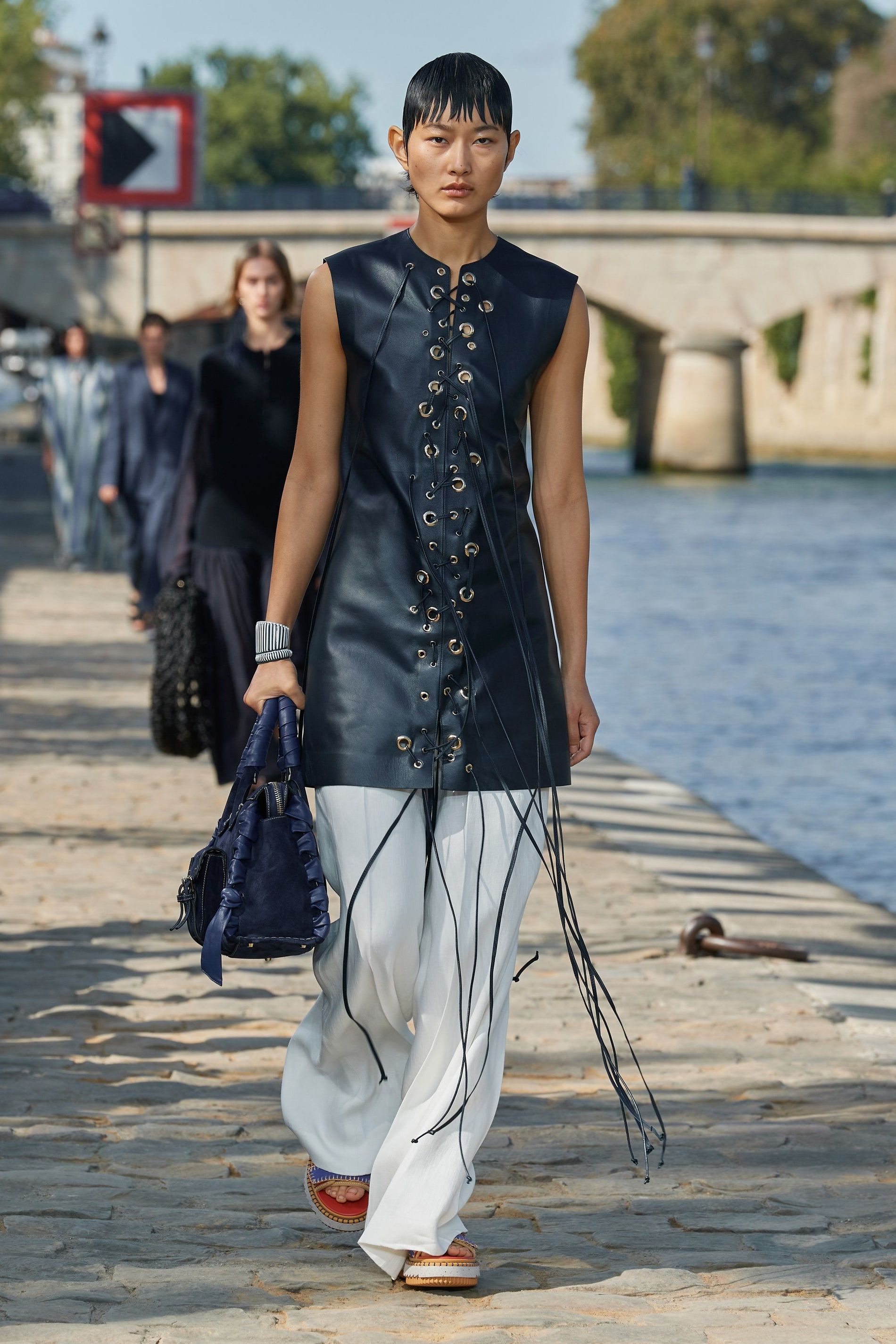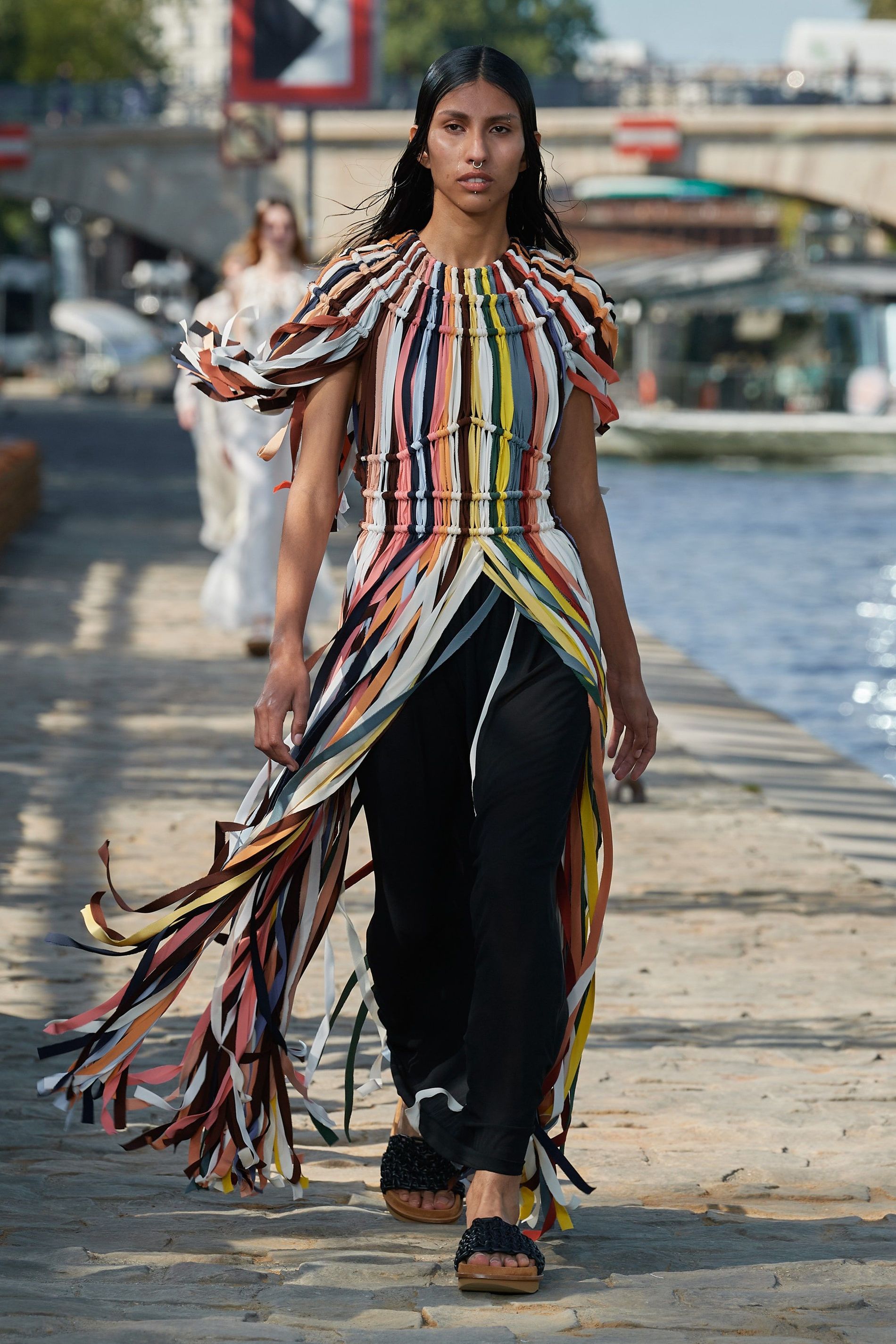 Raf Simons
Raf Simons is known for his genderless vision of fashion and continues to do so with his SS22 collection for his namesake label. He redefined classic business and school uniforms via oversized silhouettes like waistless dresses and fluid forms that took form in enormous shirts and boxy blazers. The colour palette was dark with graphic details.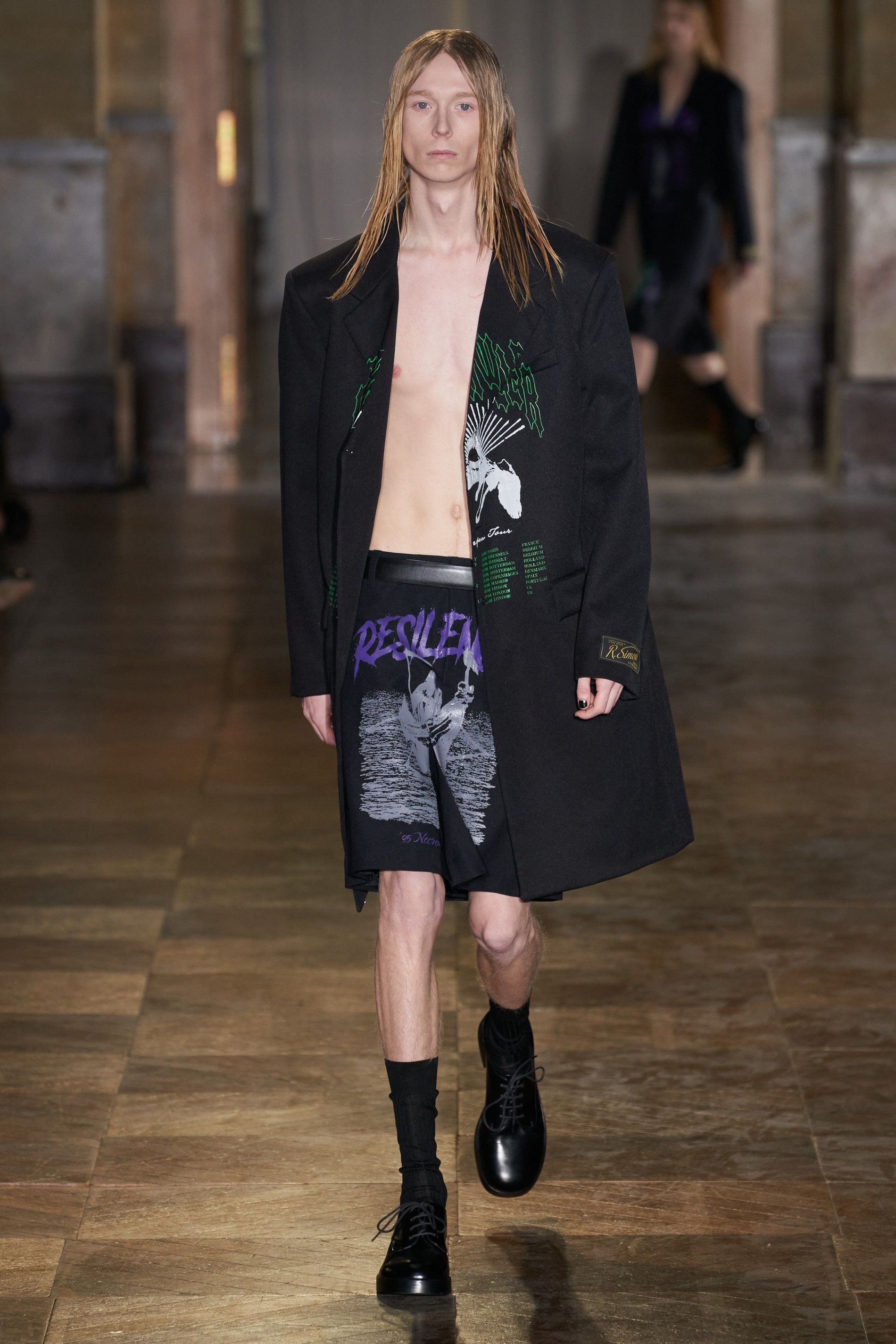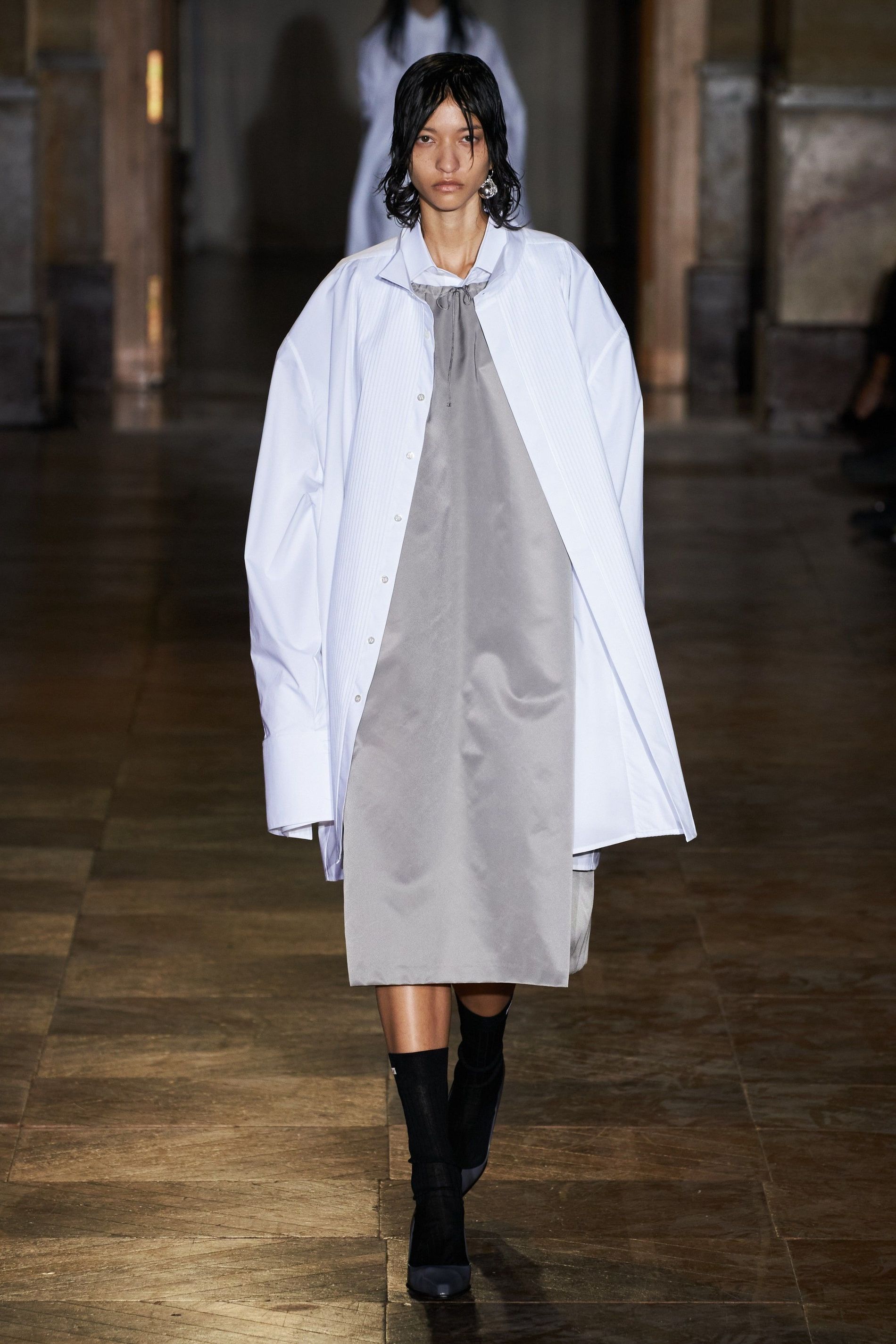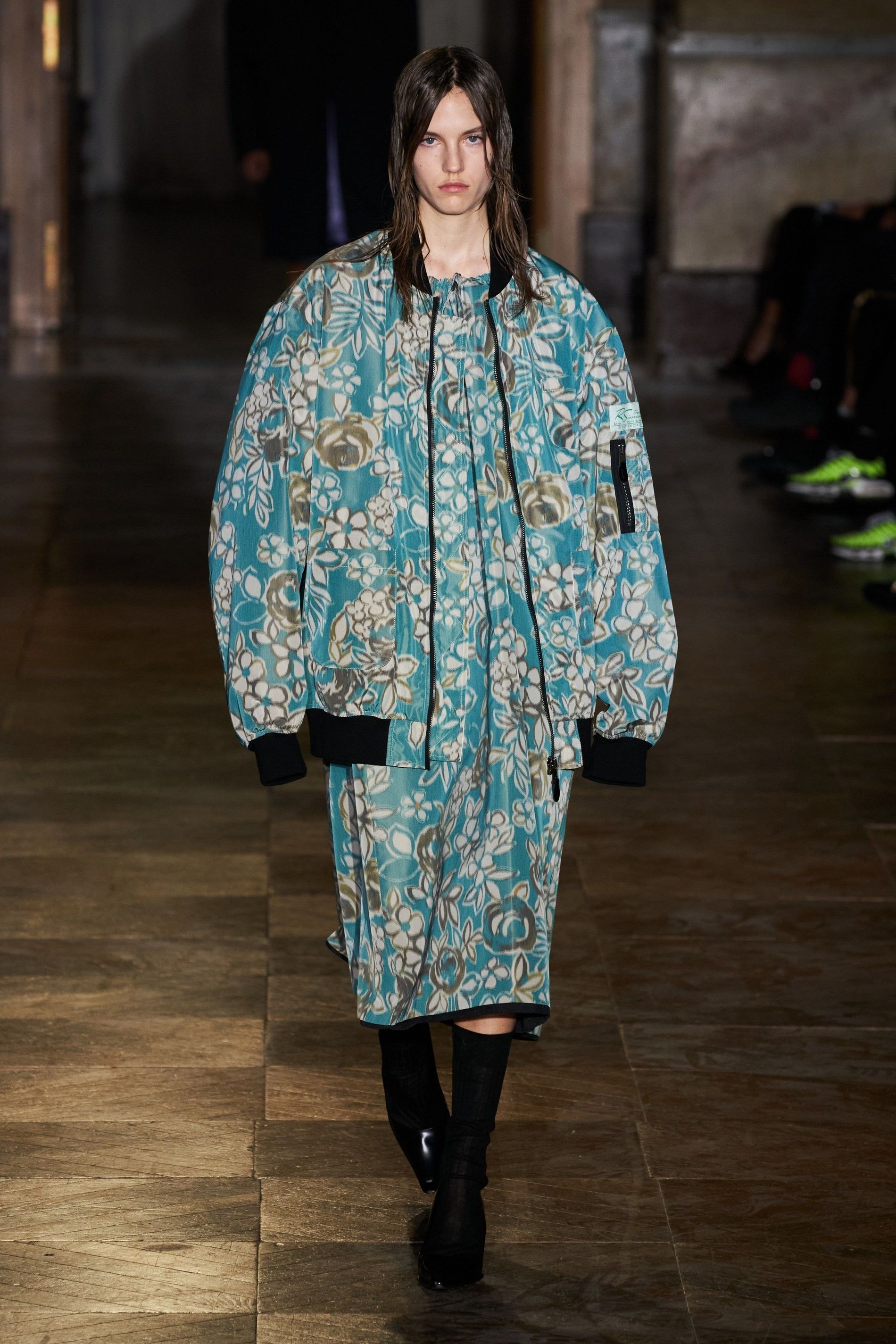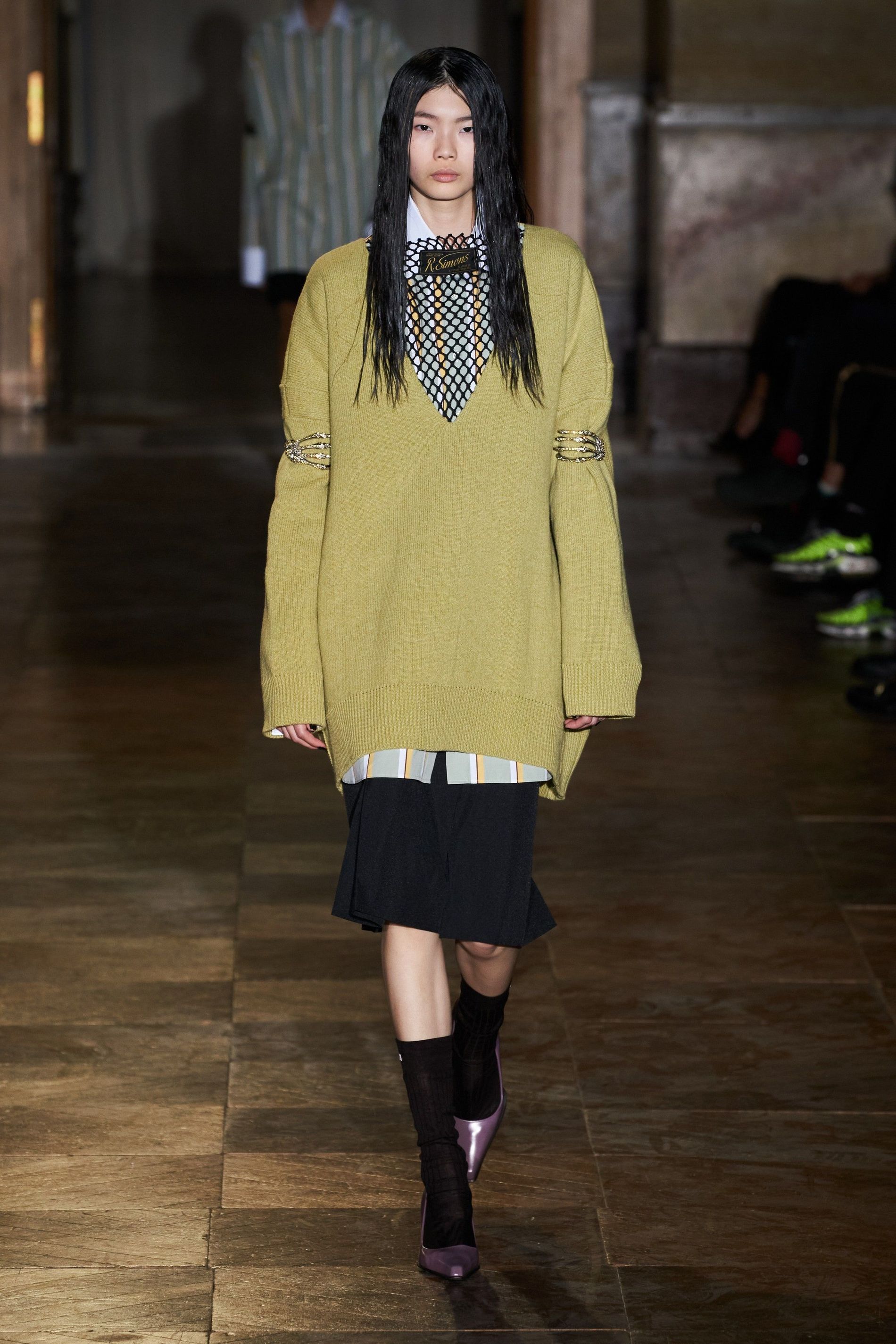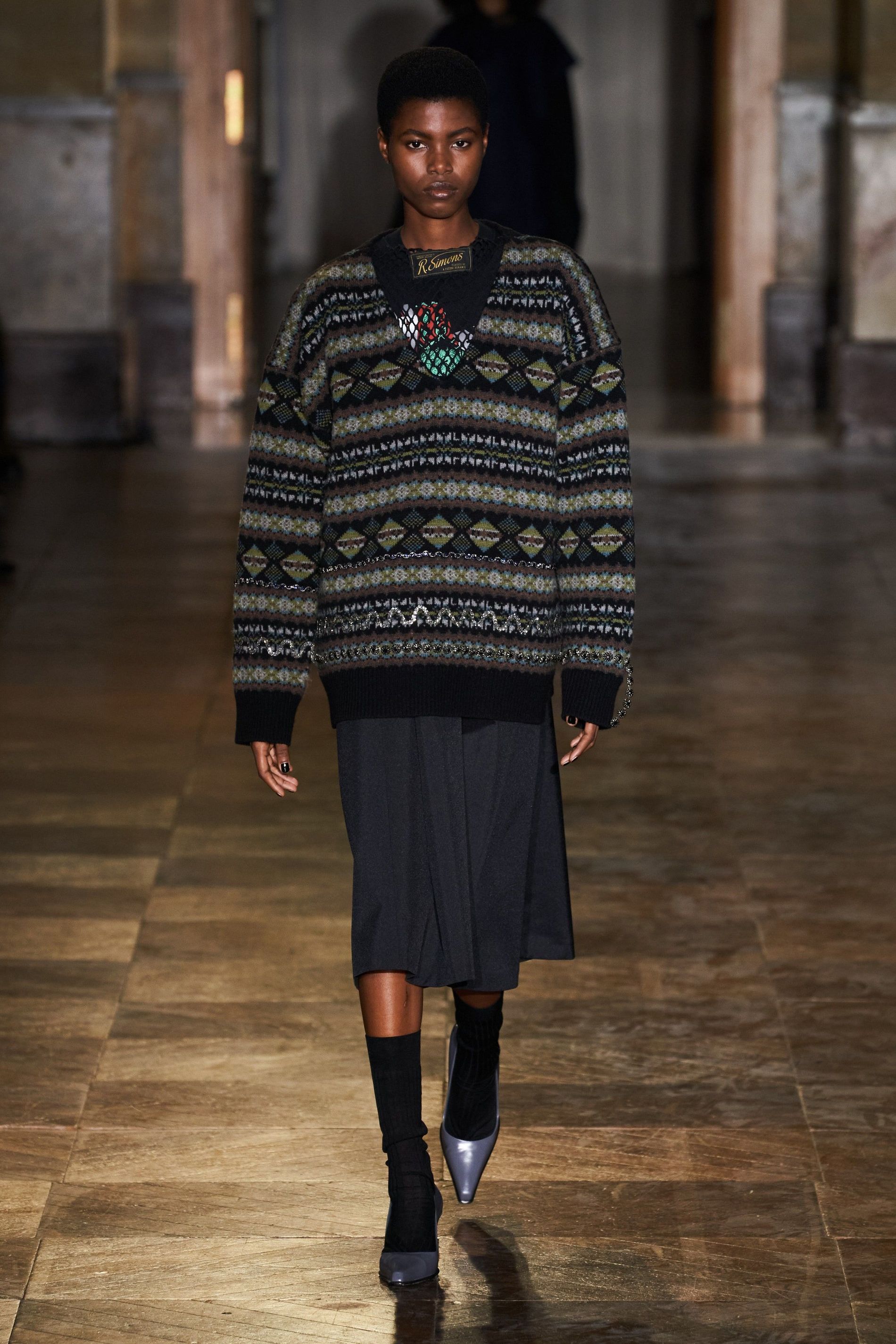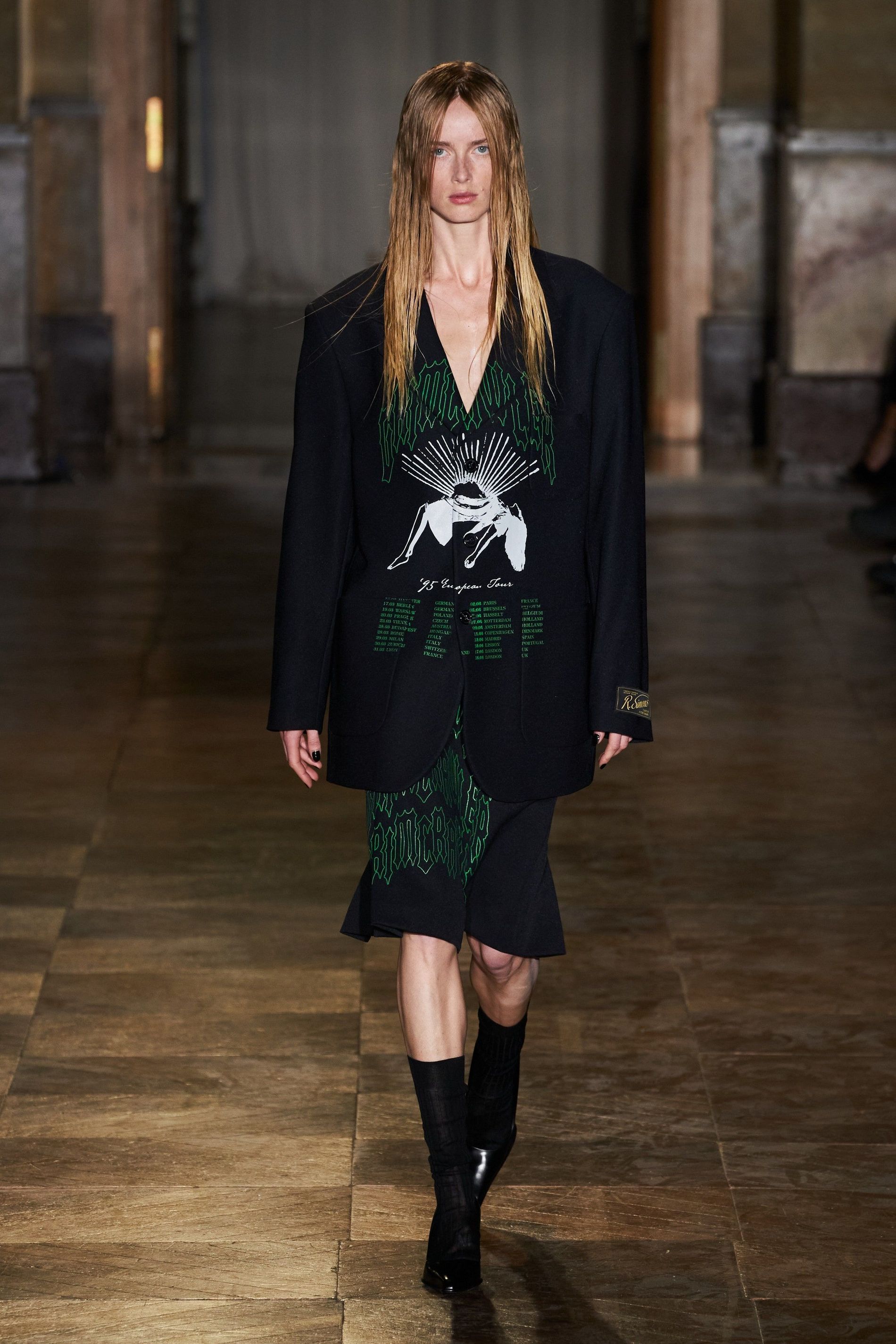 Isabel Marant
Inspired by the work of Swiss fashion photographer Hans Feurer, Isabel Marant presented the perfect dose of French bohemian style combined with a nonchalant 1980s aesthetic. During the show, the infectious joy and positivity we all know and love from Marant was felt by the audience, while smiling models wore silk jumpsuits, lace tops, and wide wind jackets all in a soft pastel colour palette that mimicked the sunset. With this collection, we're ready for summer to come back already.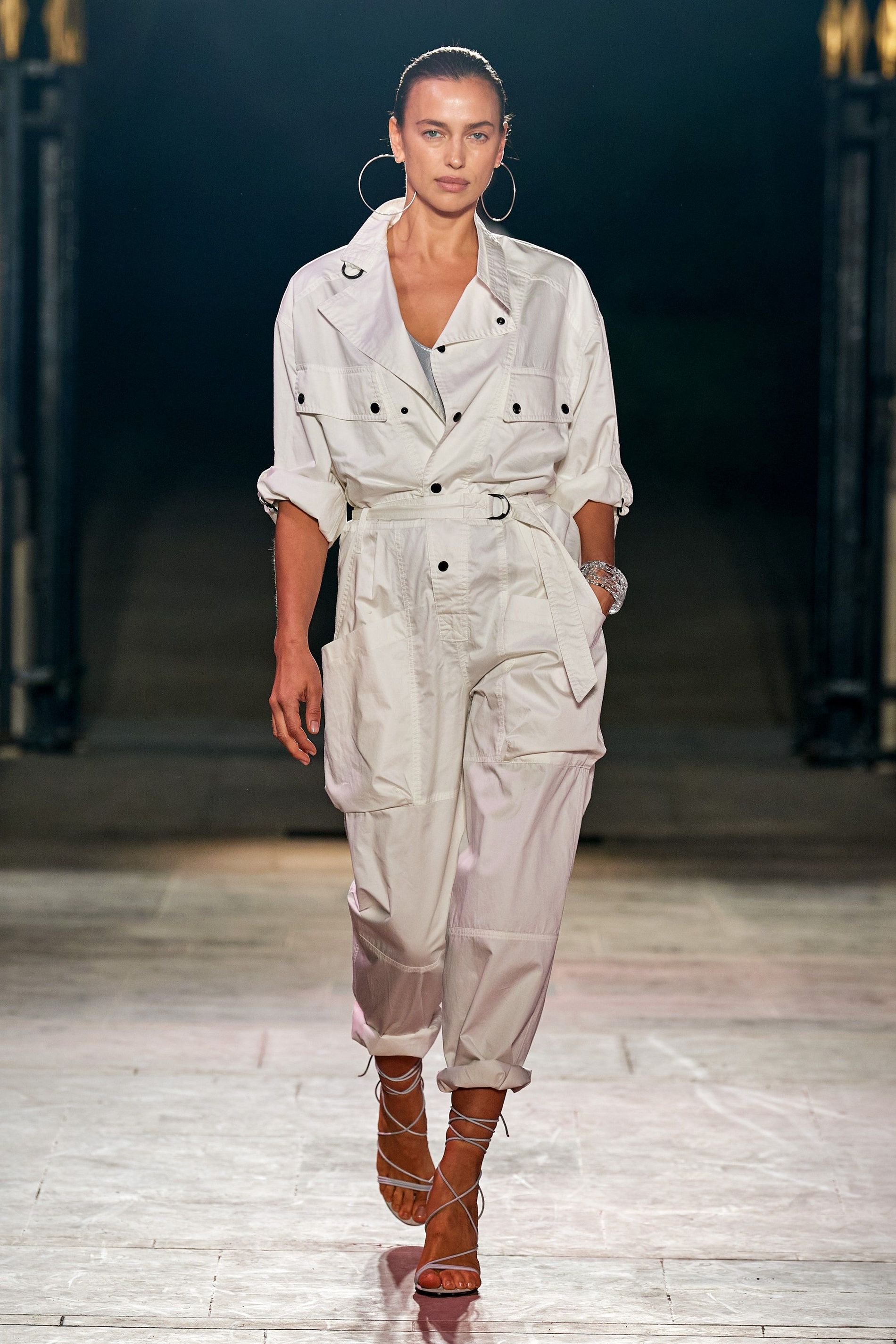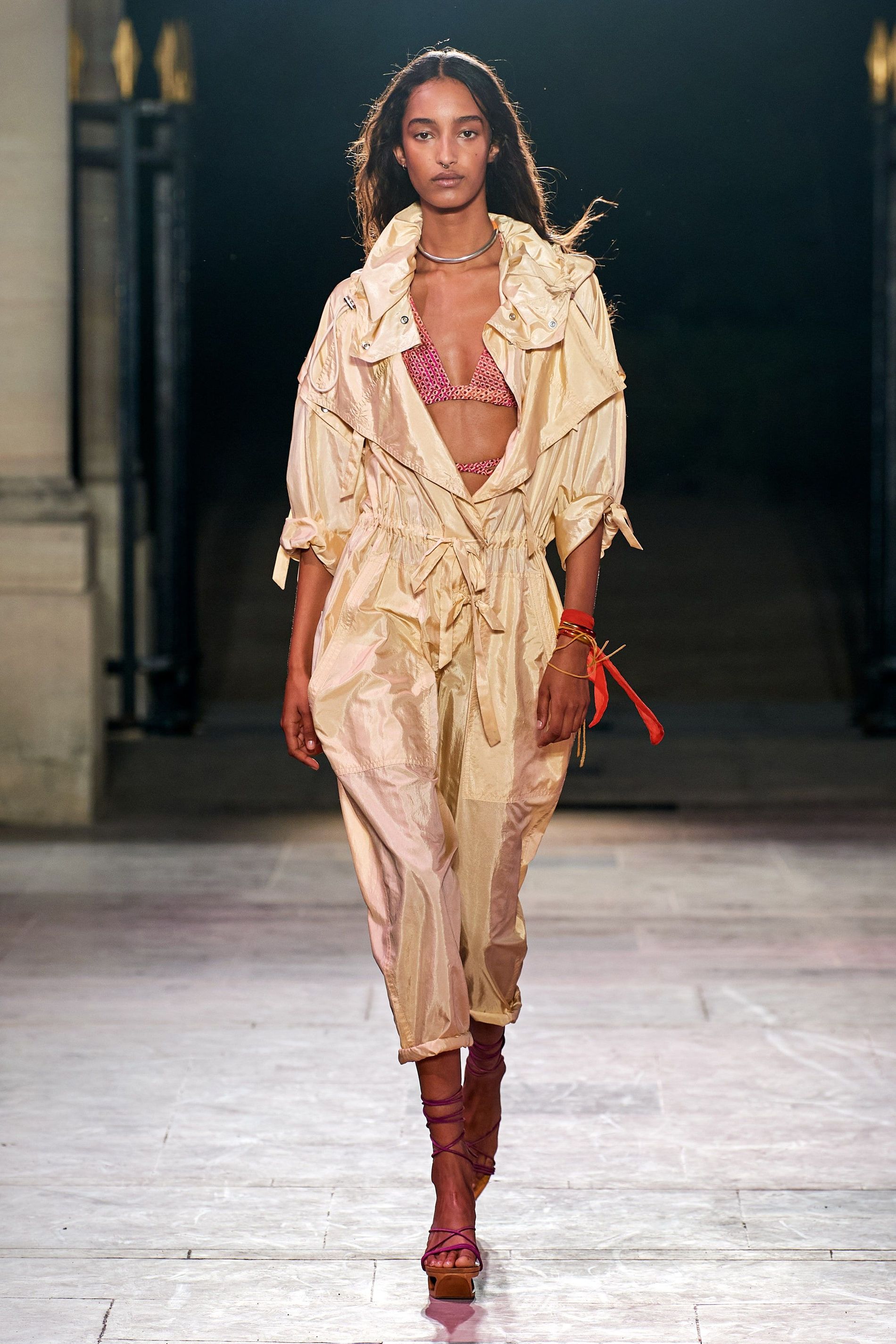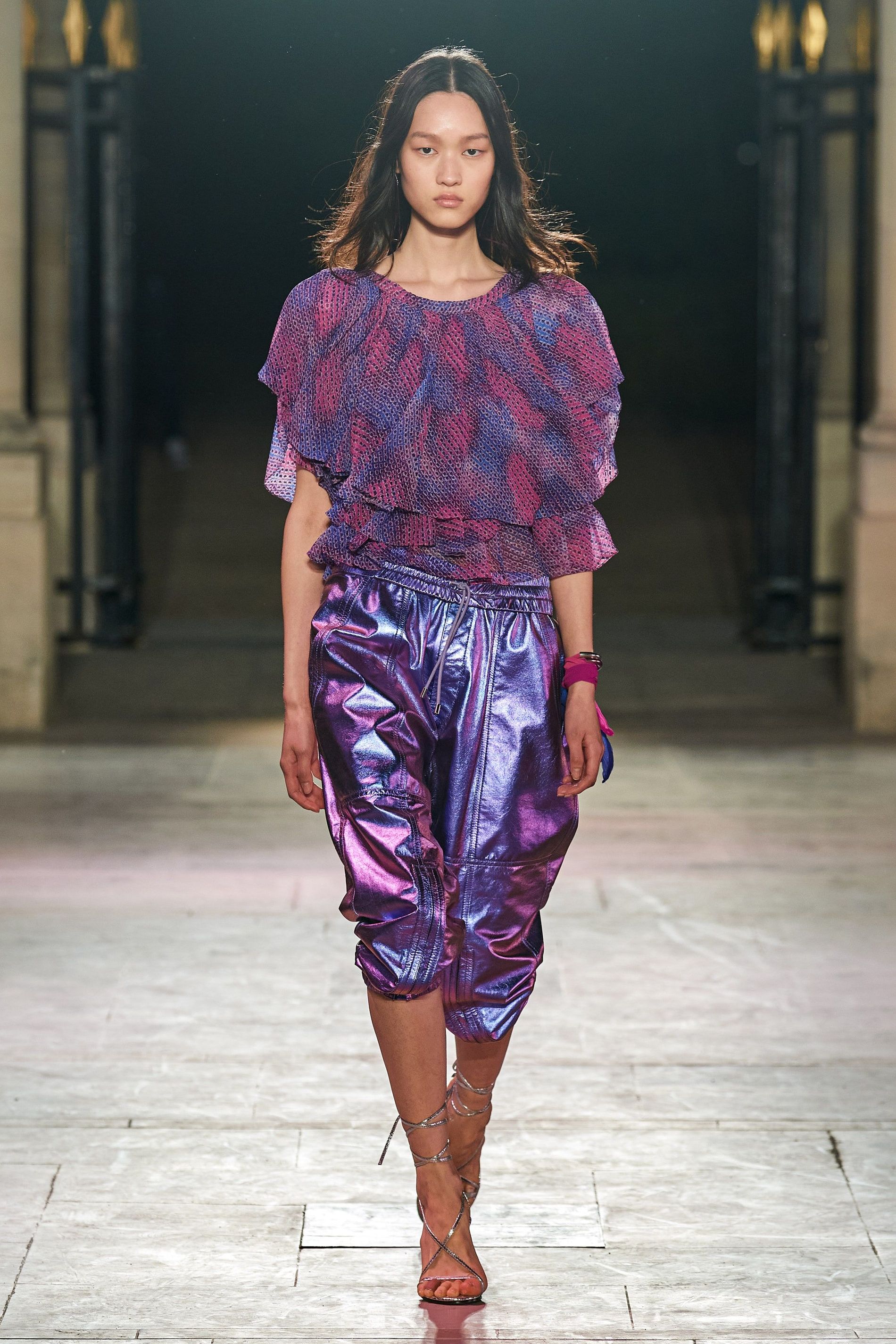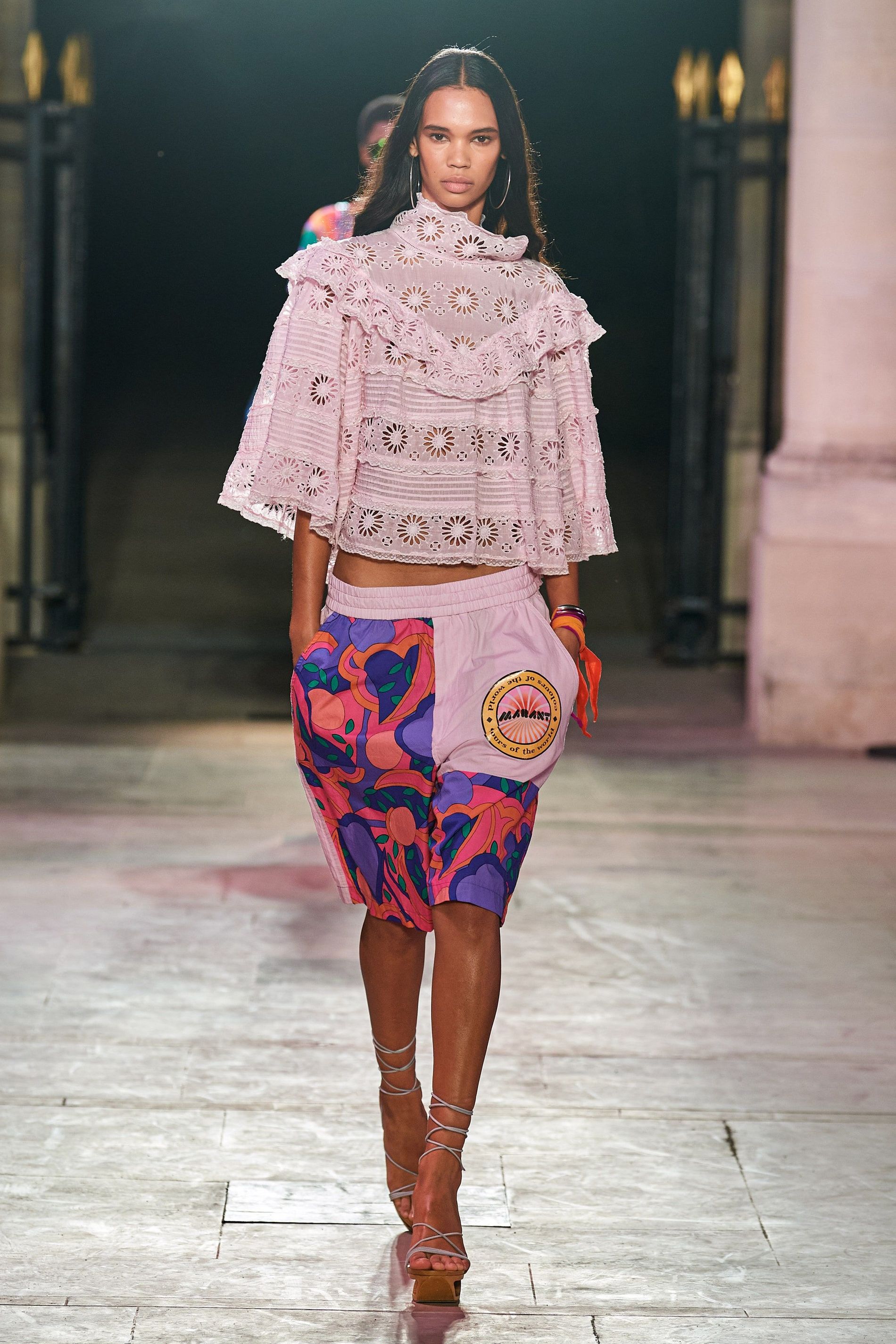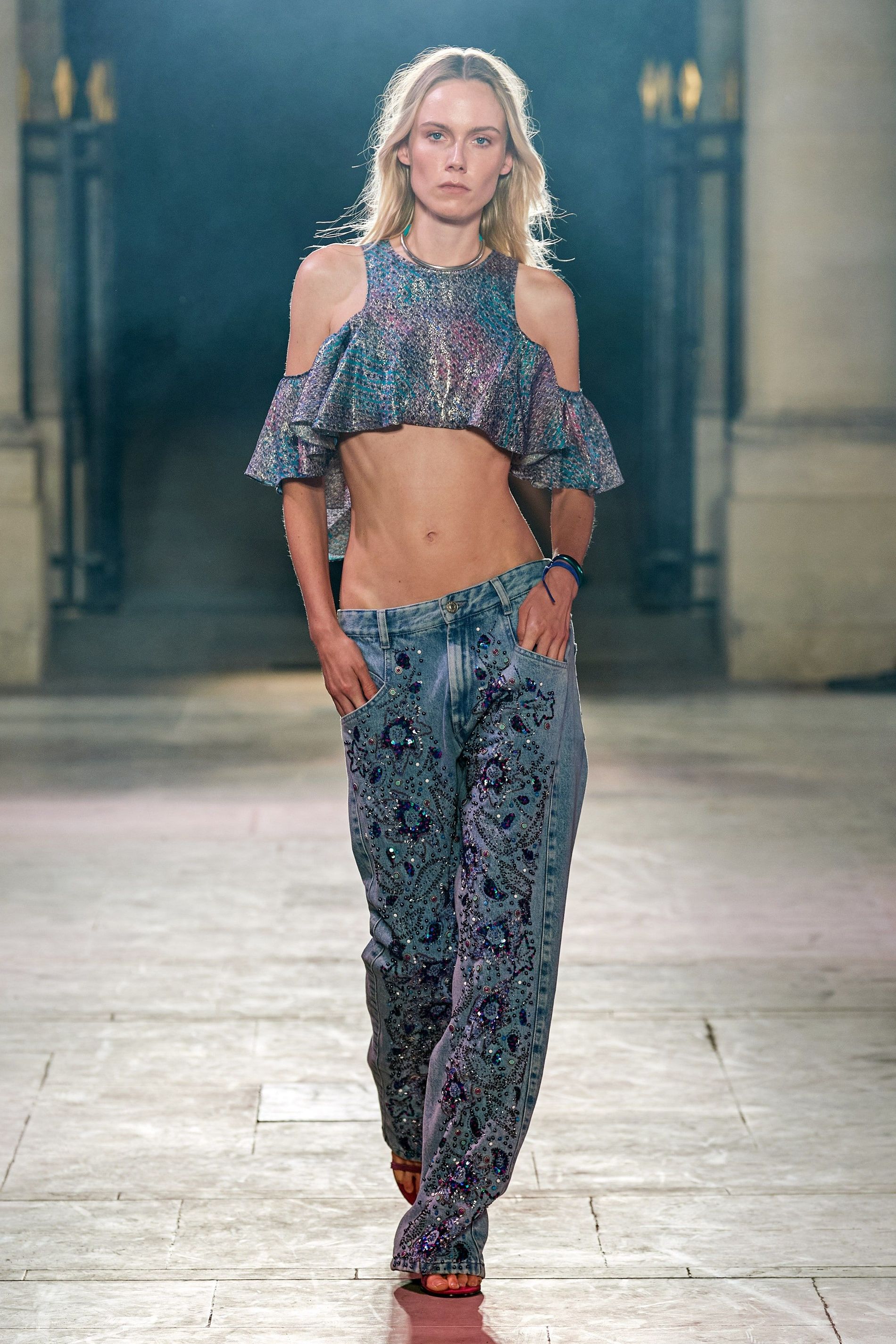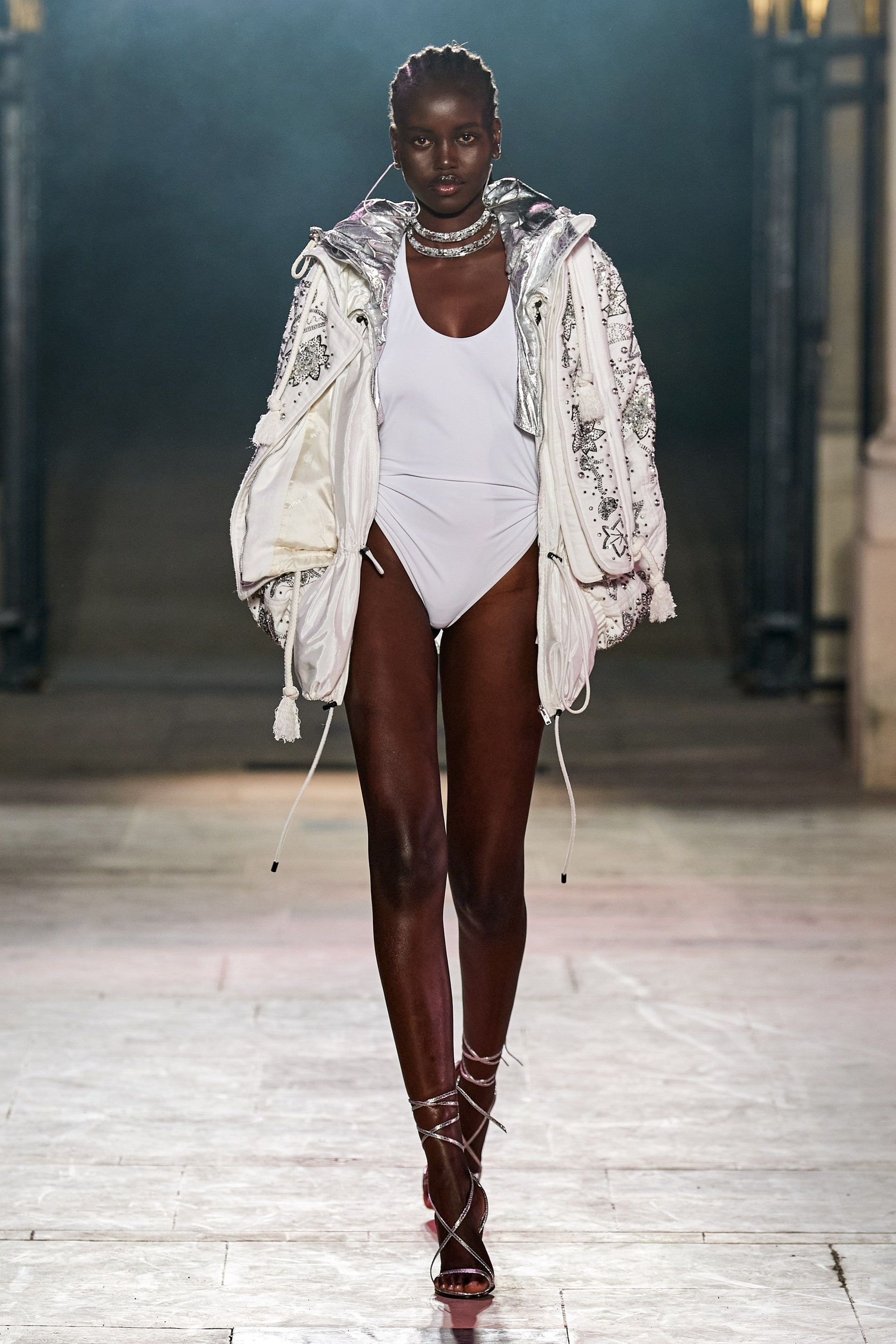 Loewe
Jonathan Anderson put the most unexpected architectural forms and reconstructed basics at the heart of his SS22 collection for the Spanish label. From black midi dresses reimaged with geometric shapes and practical leg holes, to trench coats worn backwards as a dress. It was craftsmanship at its highest level where crazy details are combined with wearable forms. A surreal yet practical collection what we need fashion to be now more than ever.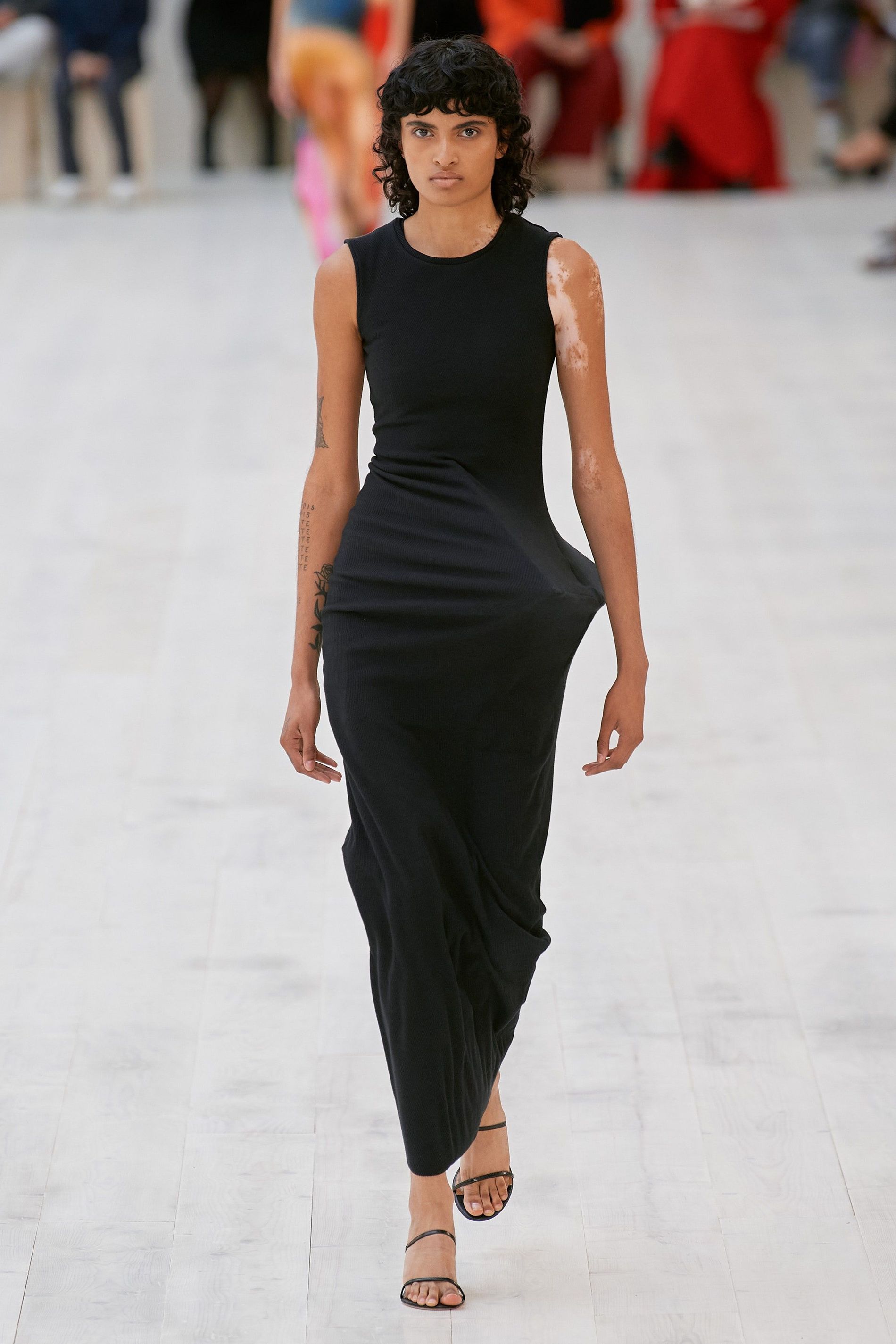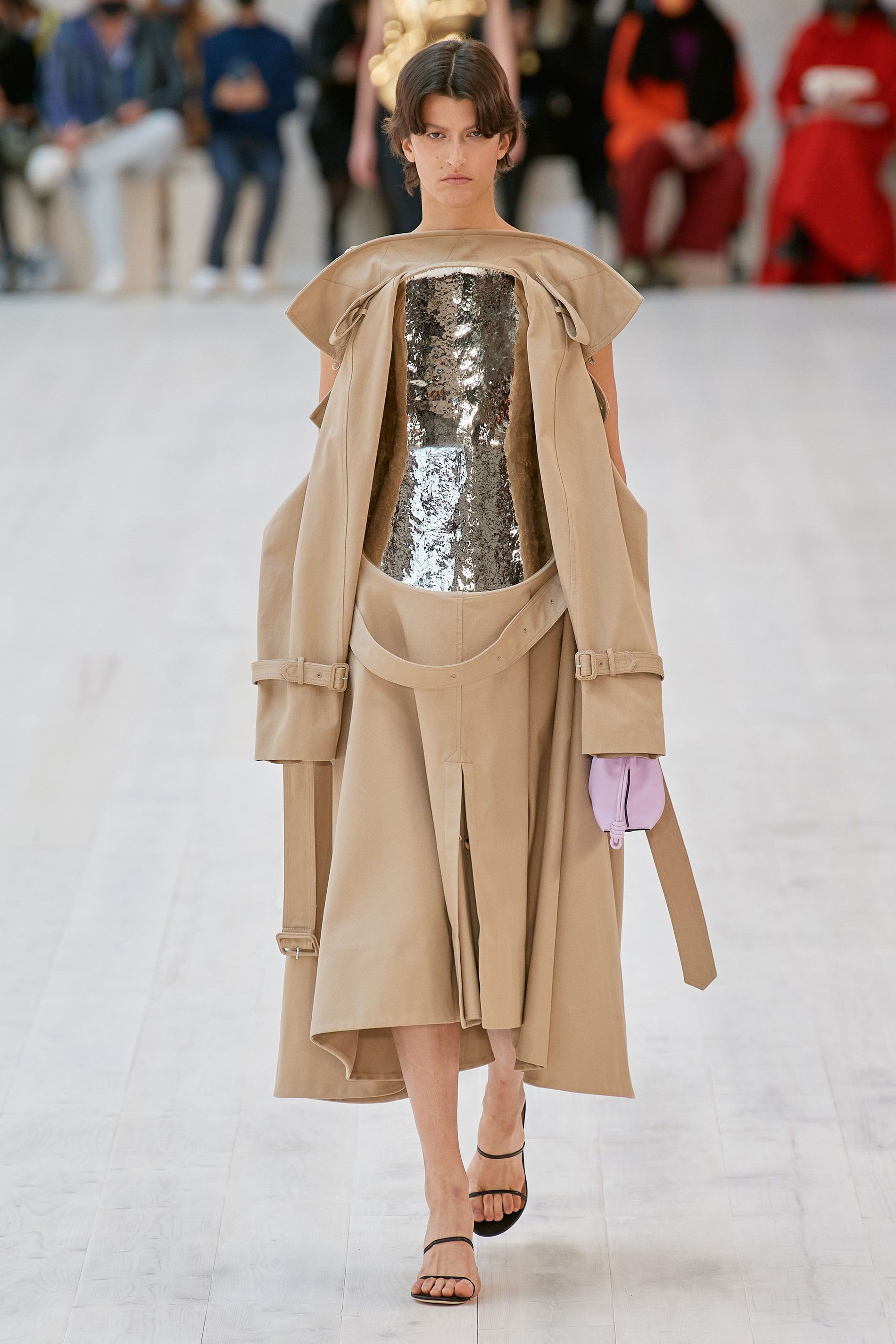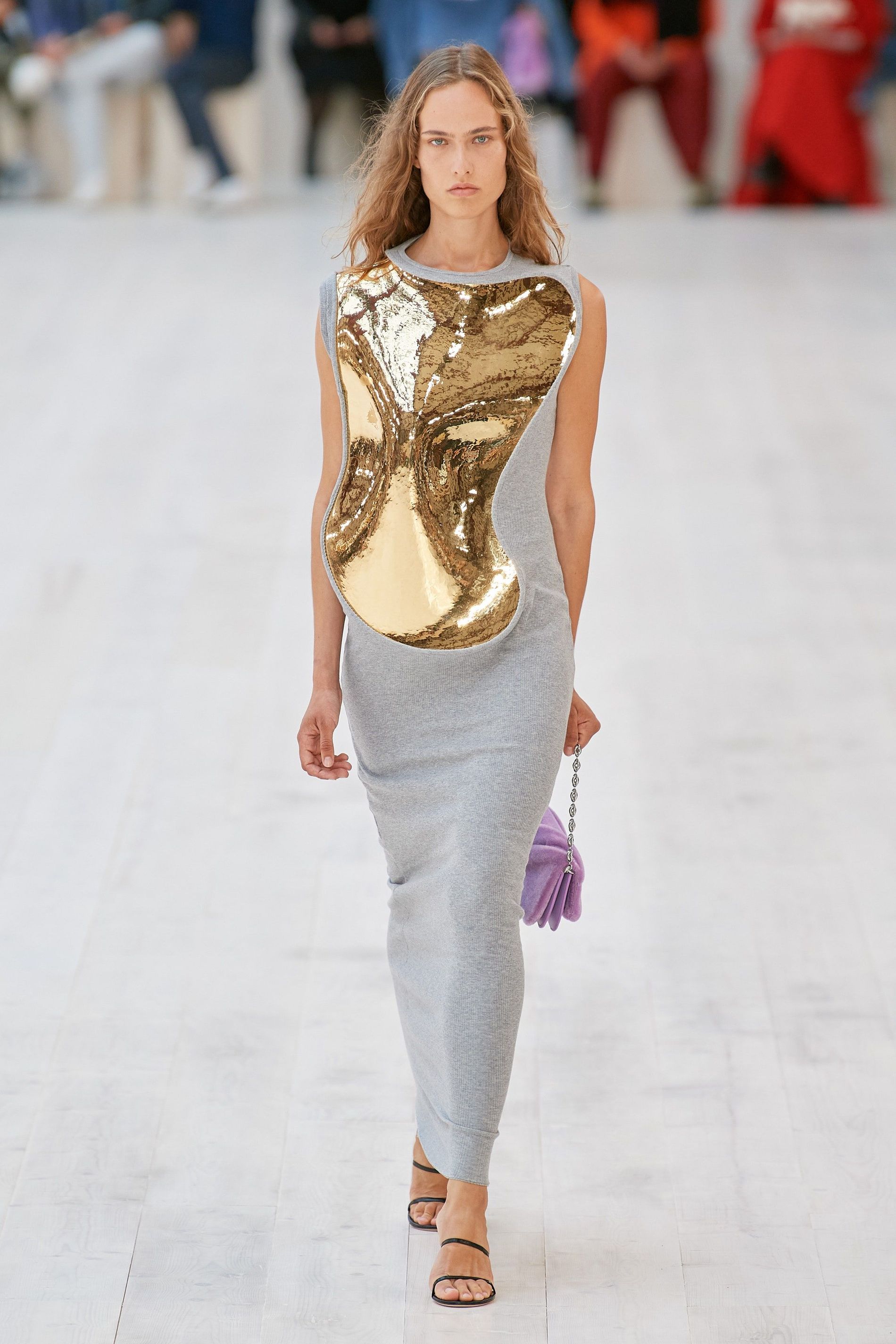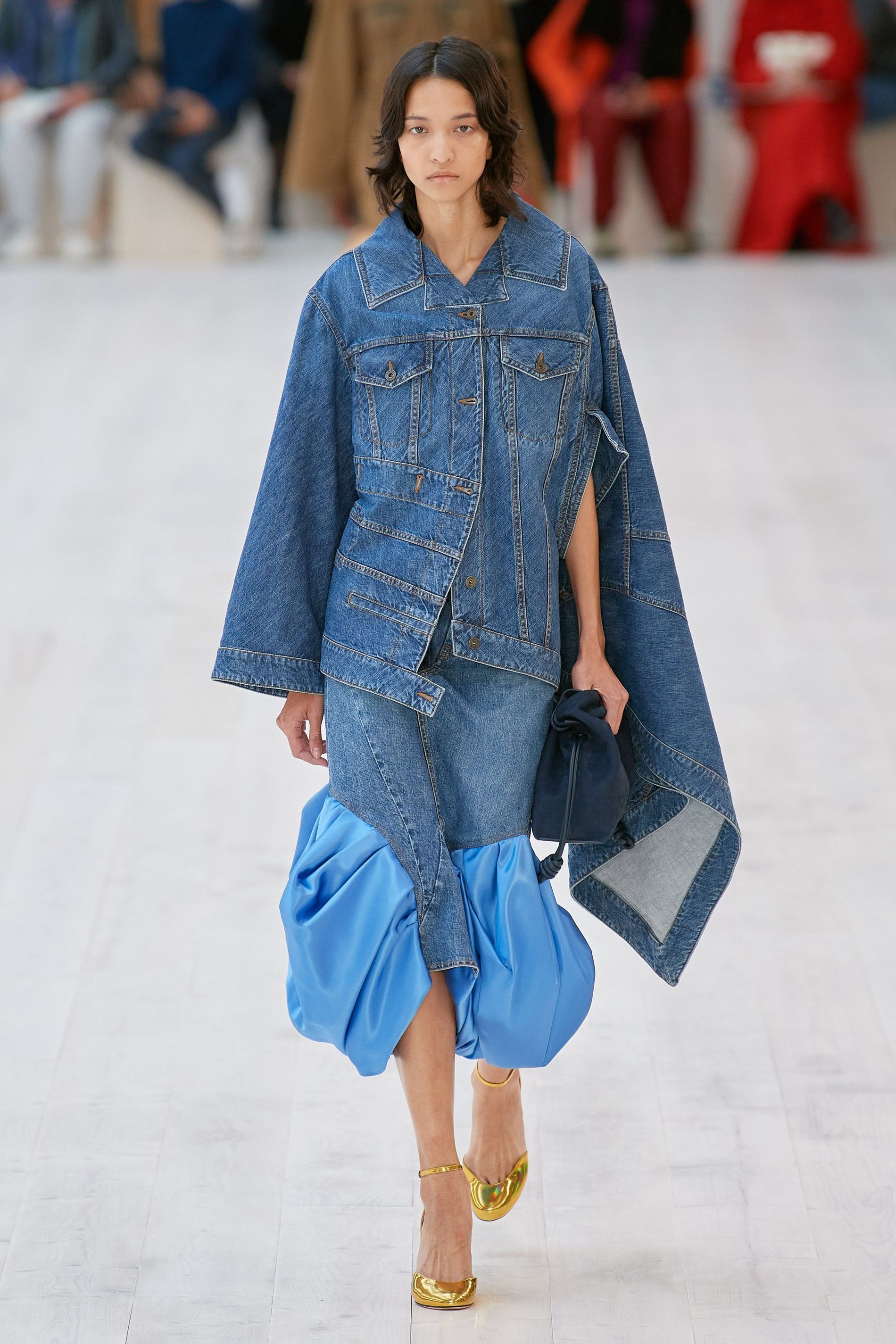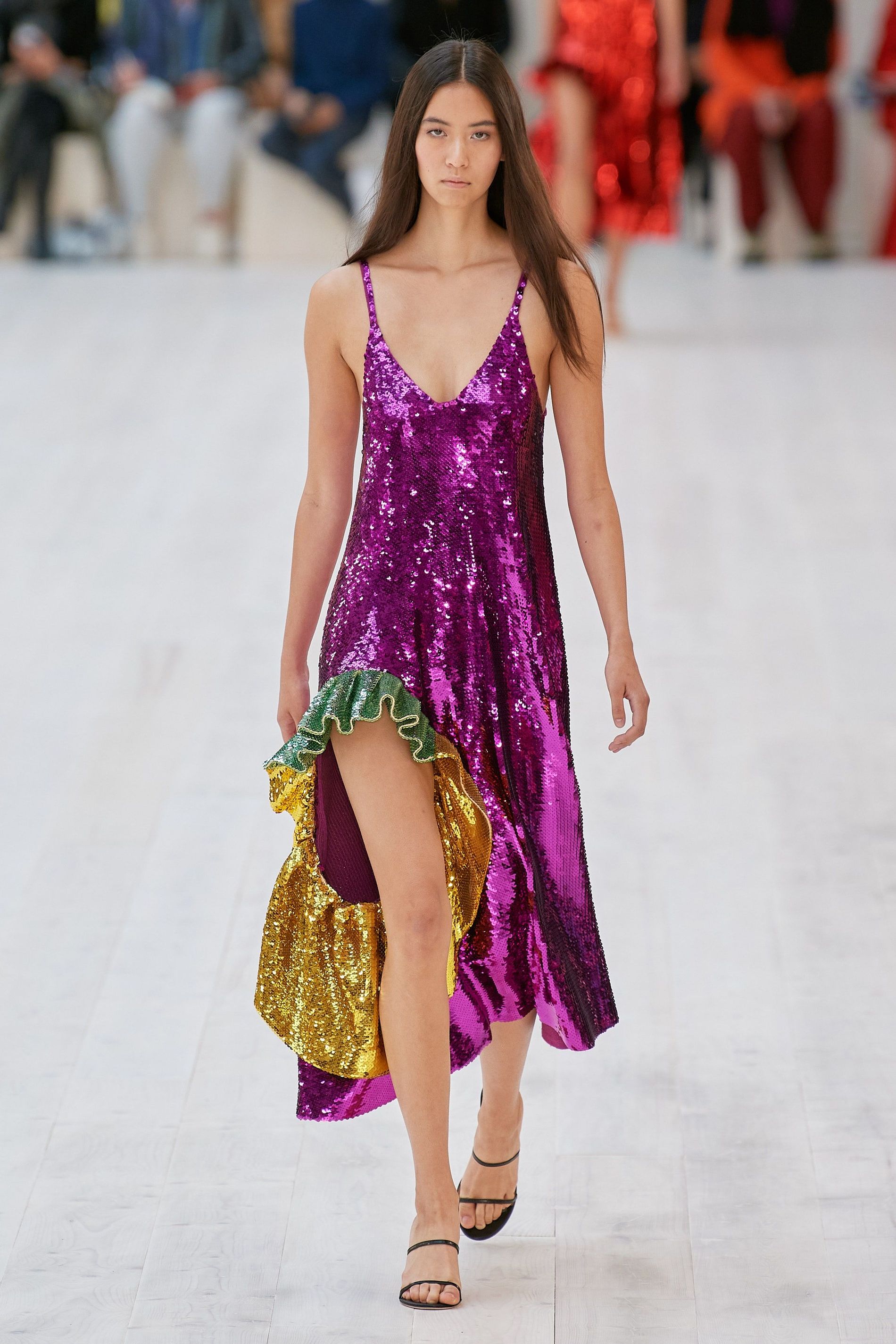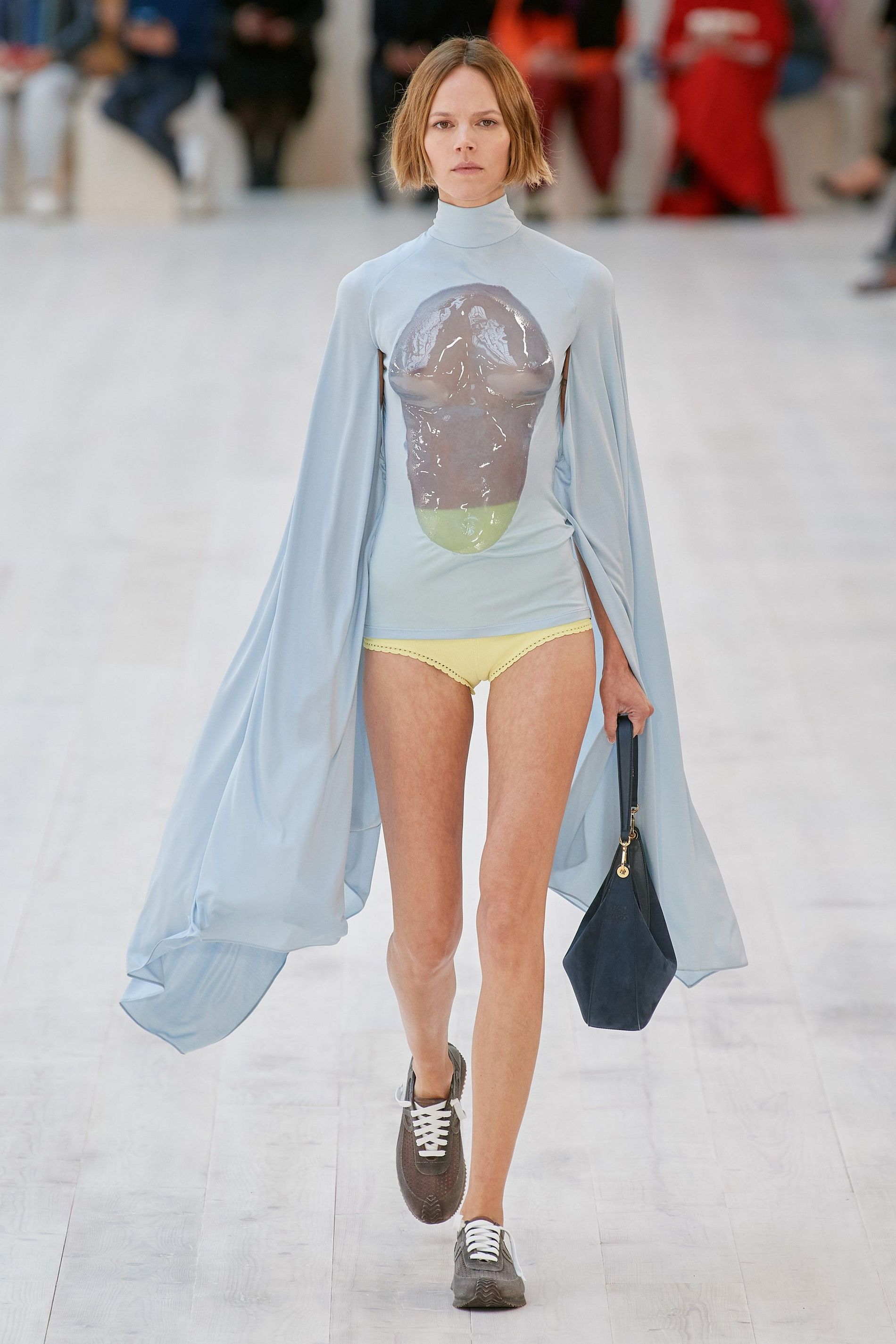 Yohji Yamamoto
Japanese designer Yohji Yamamoto is known for his all-black timeless designs that blur the line between haute couture and streetwear. For his SS22 collection - which marked the 40th anniversary of Yamatoto's first show at PFW - the influential designer challenged conventional fashion once more, showing draped dresses, oversized fits and notable short skirts – a very first for the designer.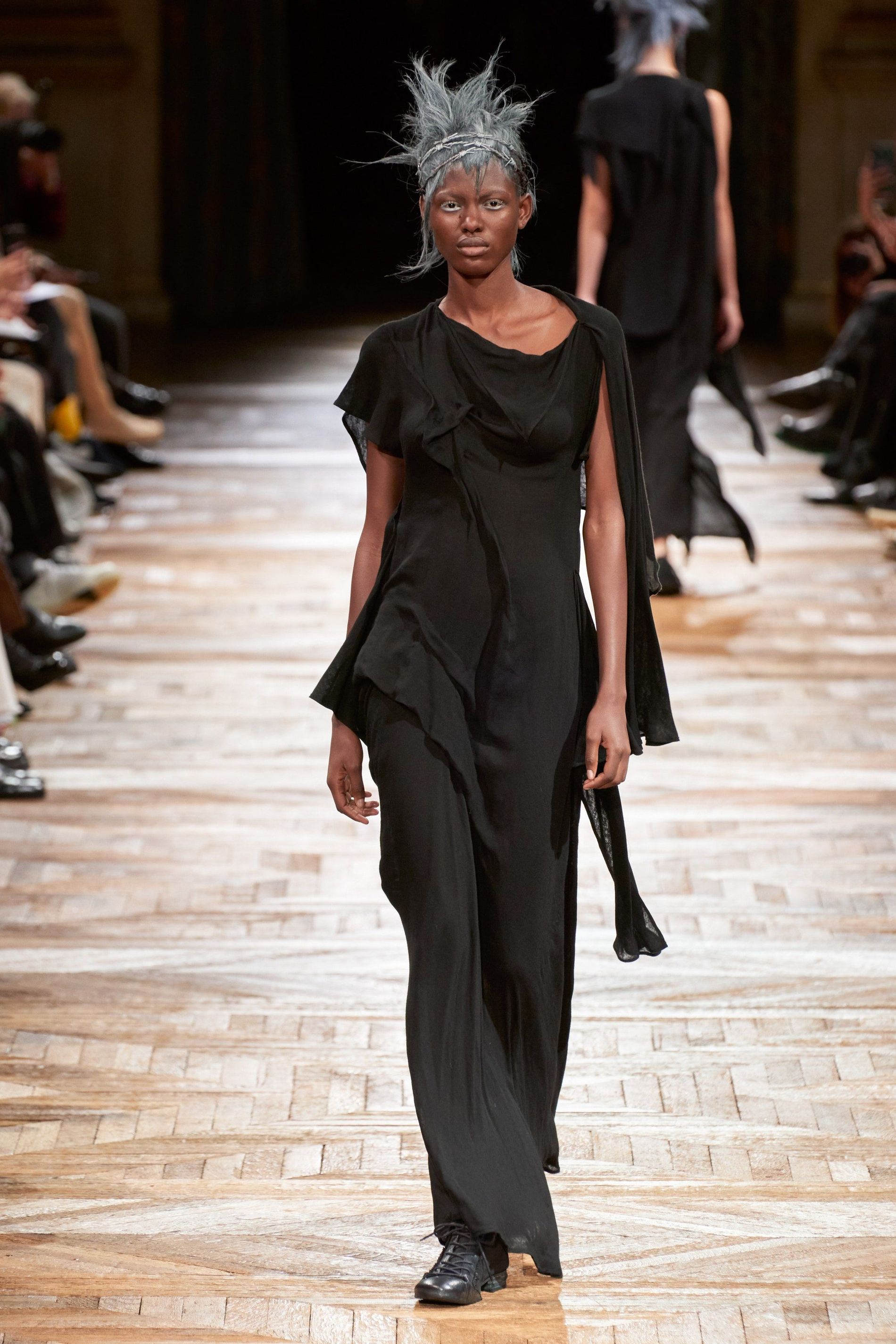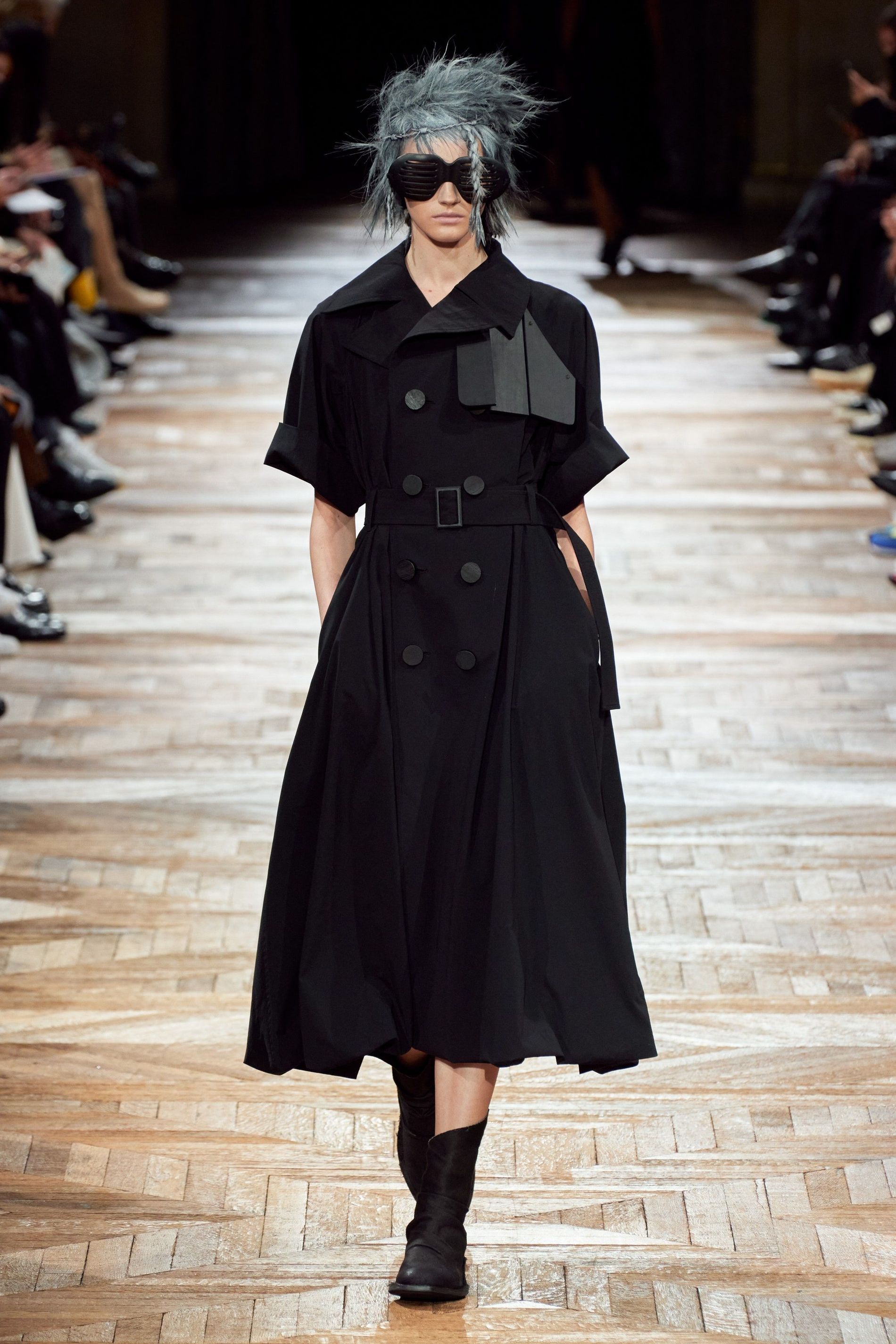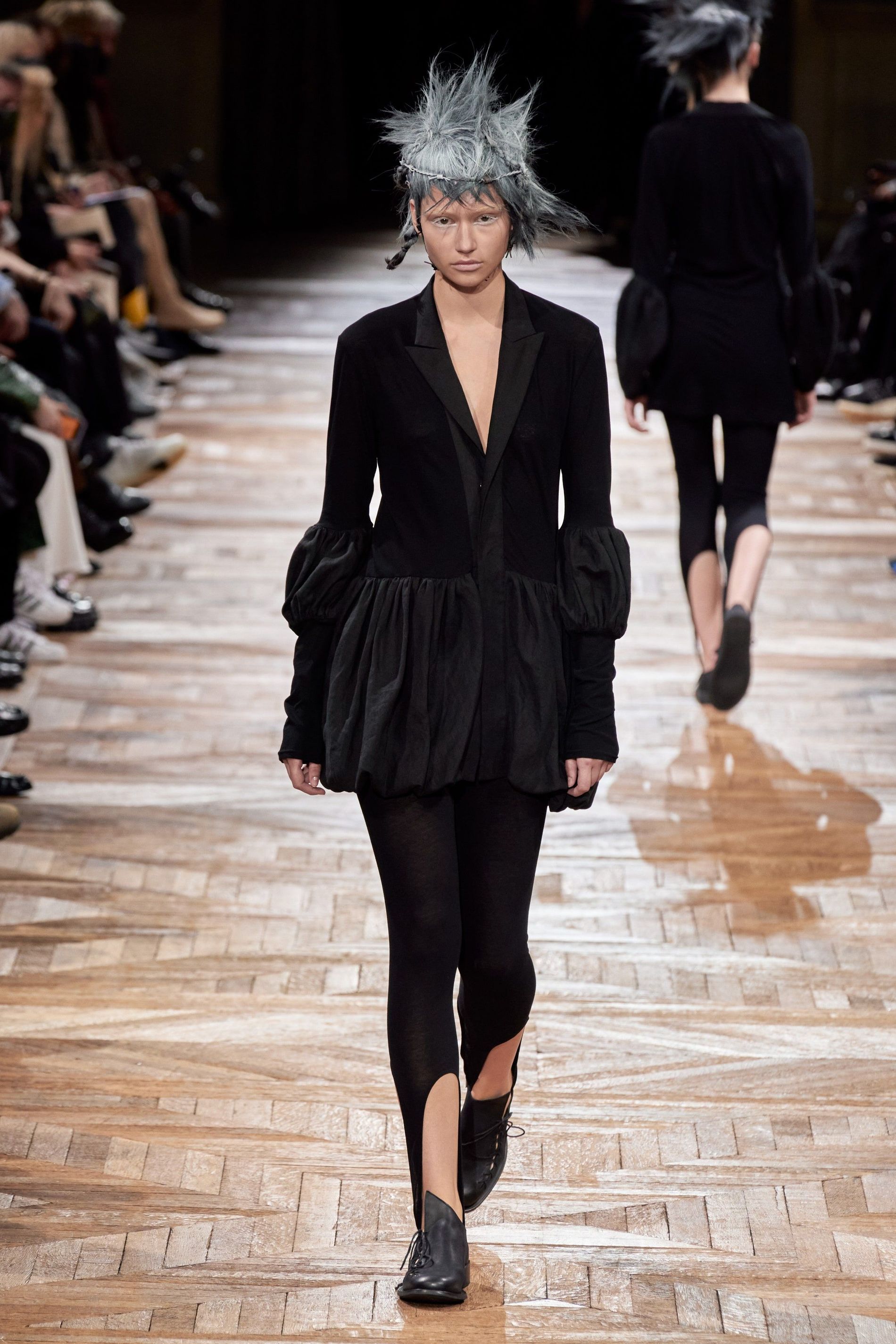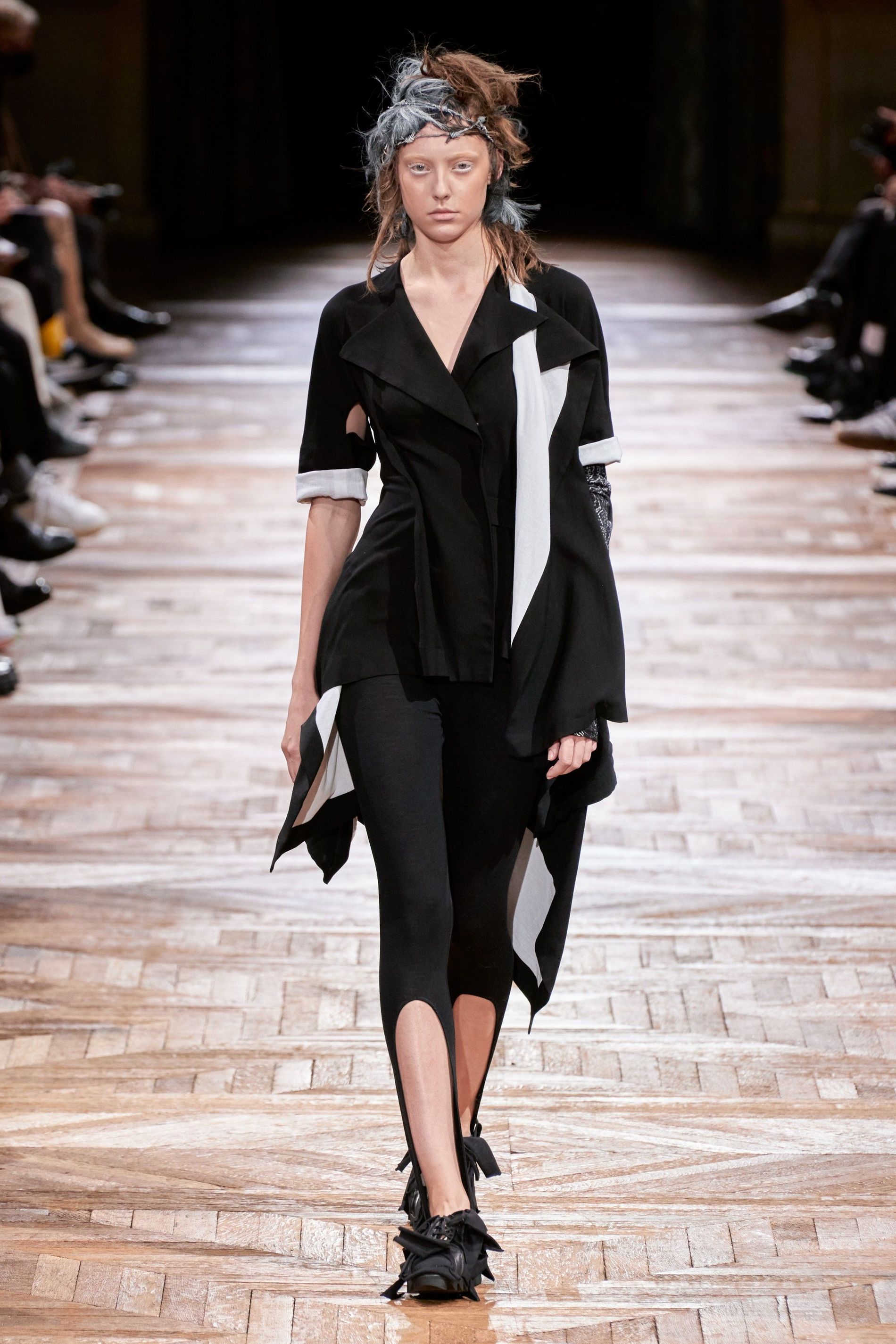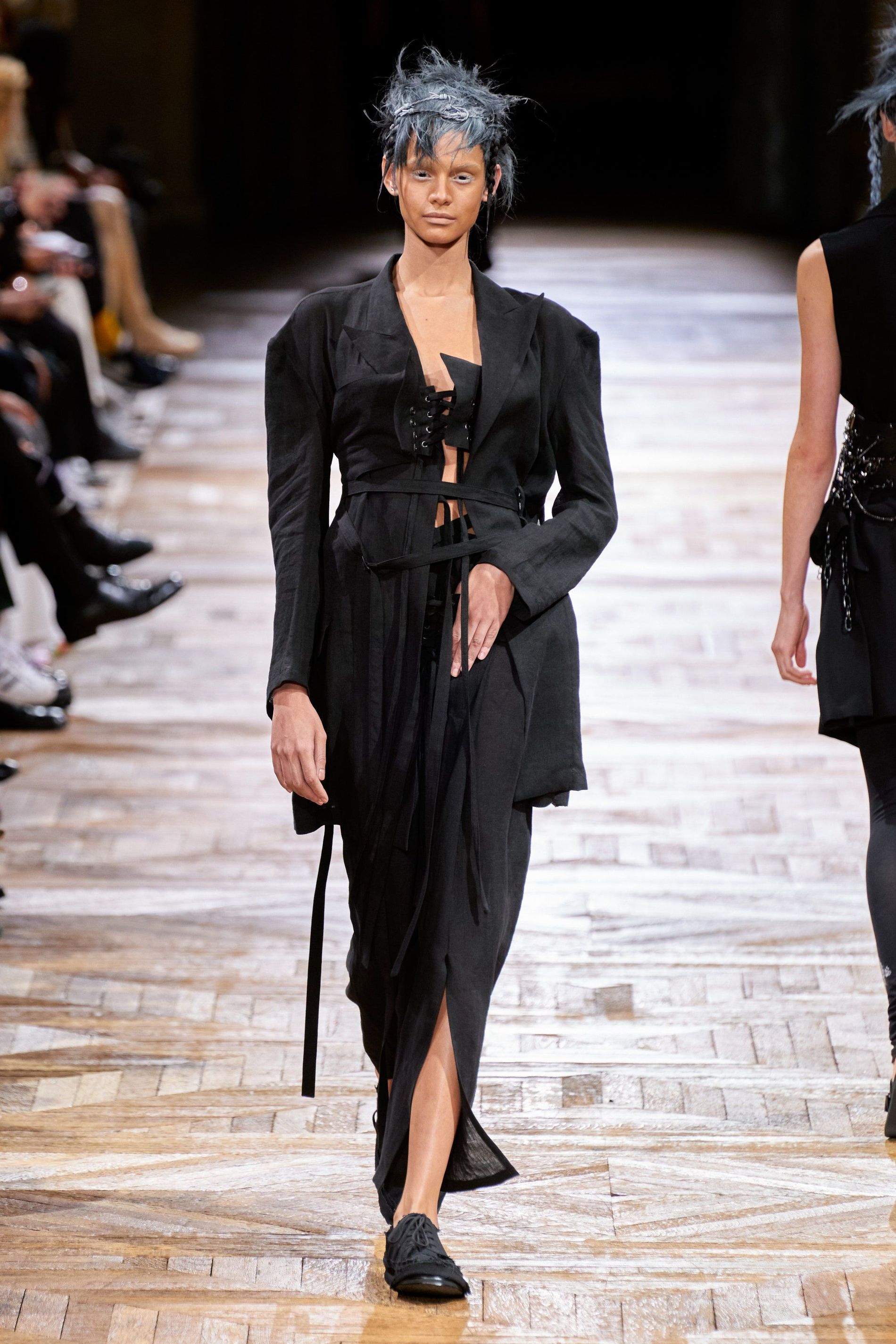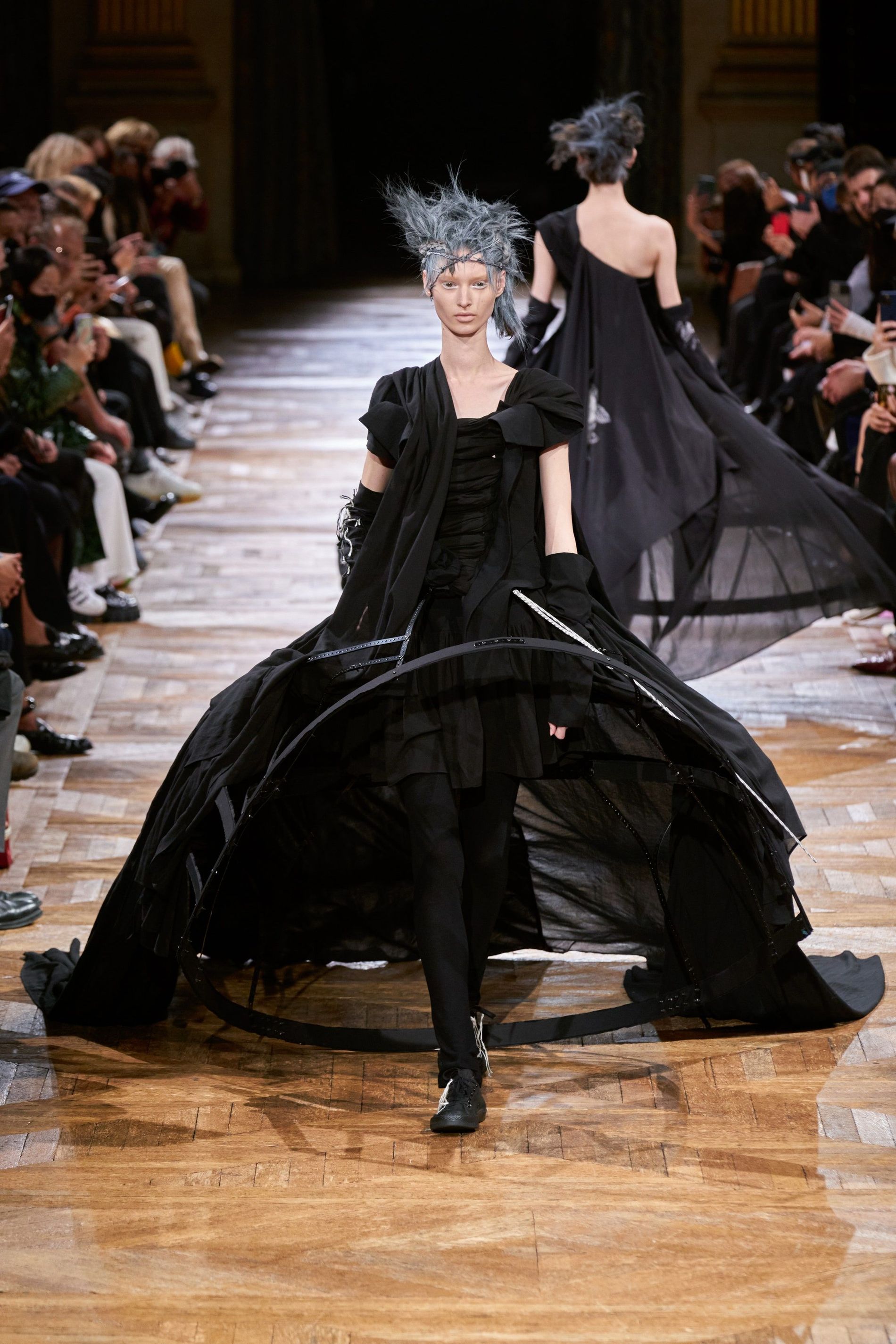 Valentino
The joy of dressing up was at the core of the Valentino SS22 show. Fashion as a daily part of our lives was shown through bold yet wearable designs in joyful colours. Oversized shirts, bandeau tops and voluminous dresses turned the show into a fashion feast. Presented at the marketplaces and cafés at the Carreau du Temple, the models walked down the runway and eventually outside the venue on the streets, making it an experience for people outside.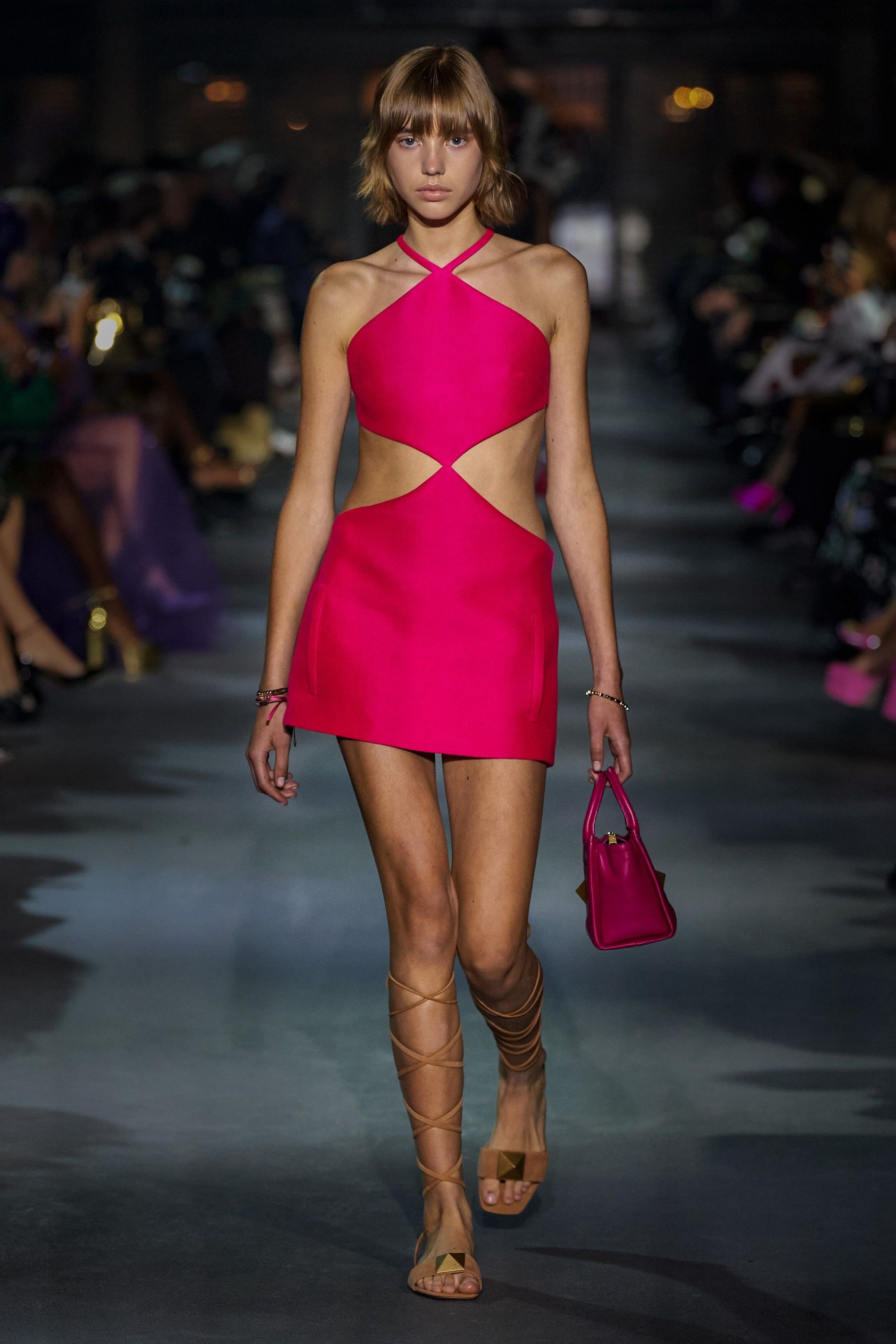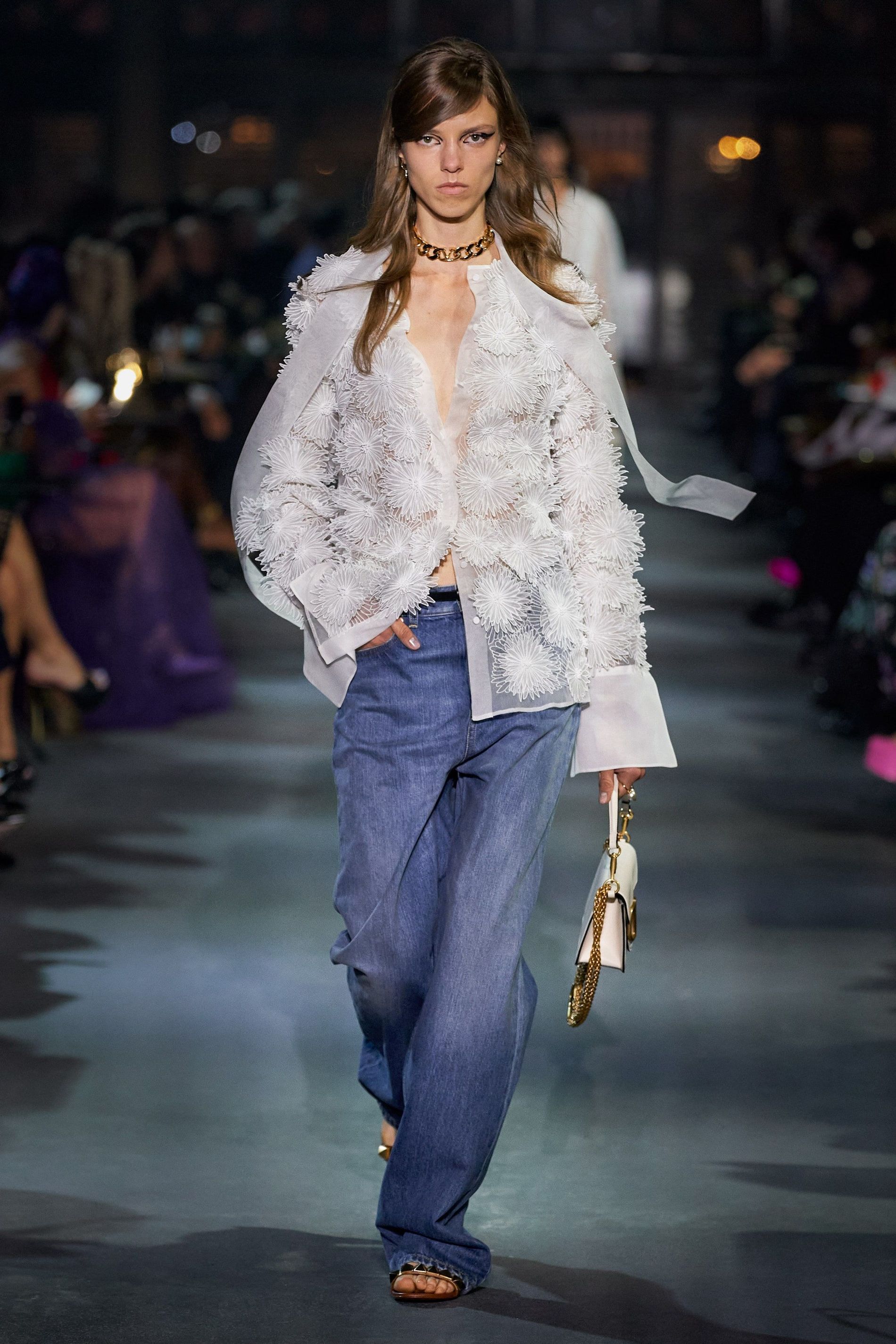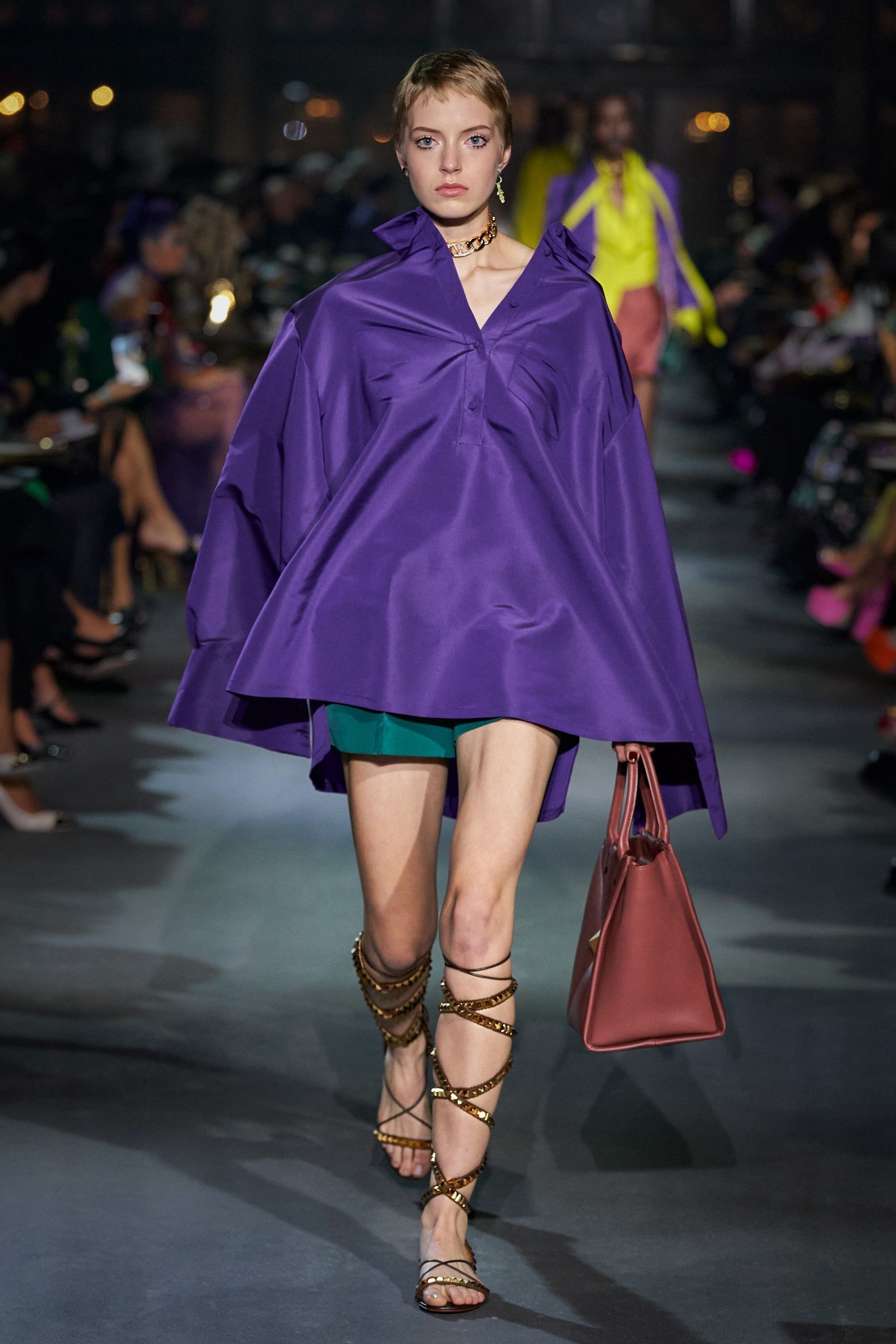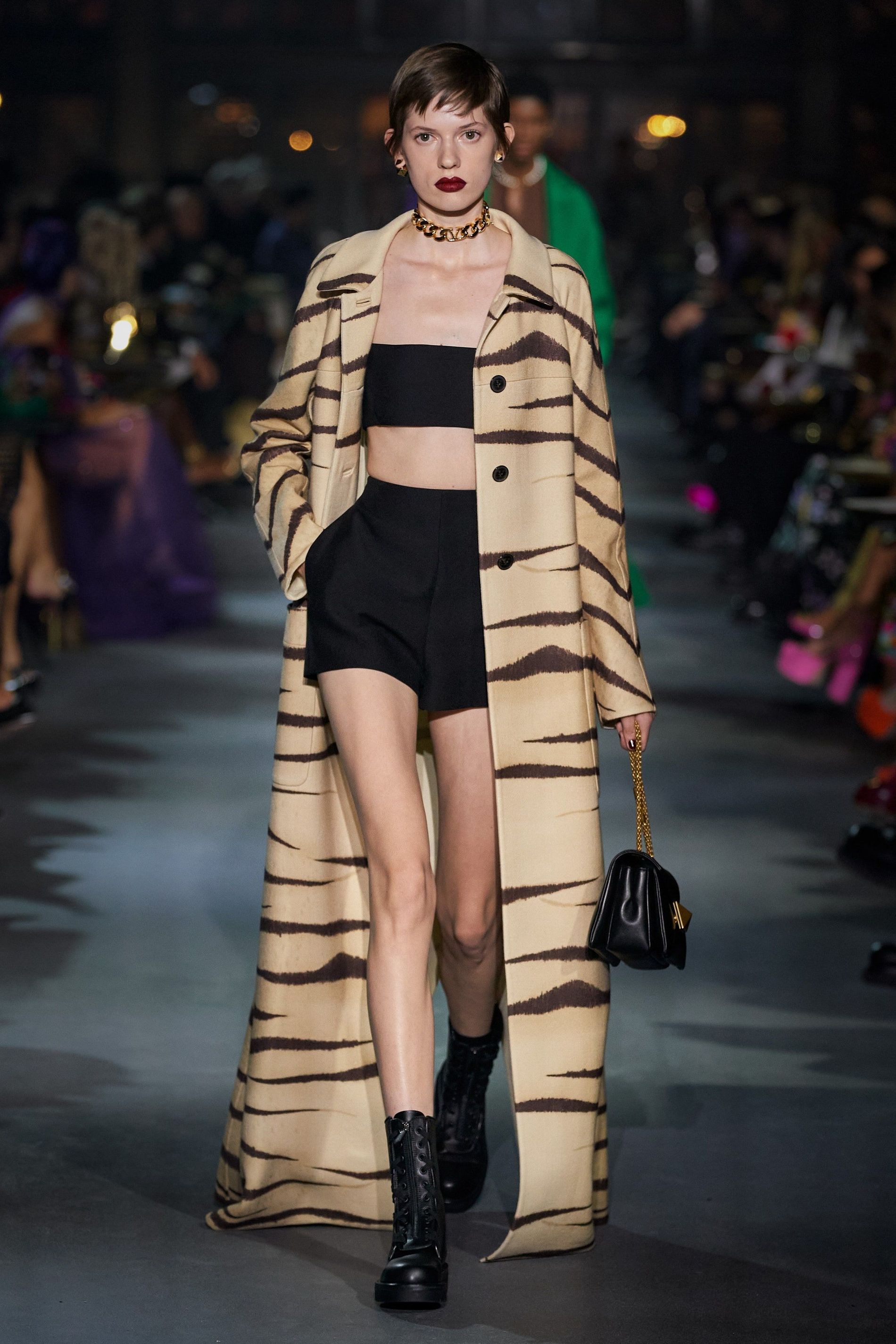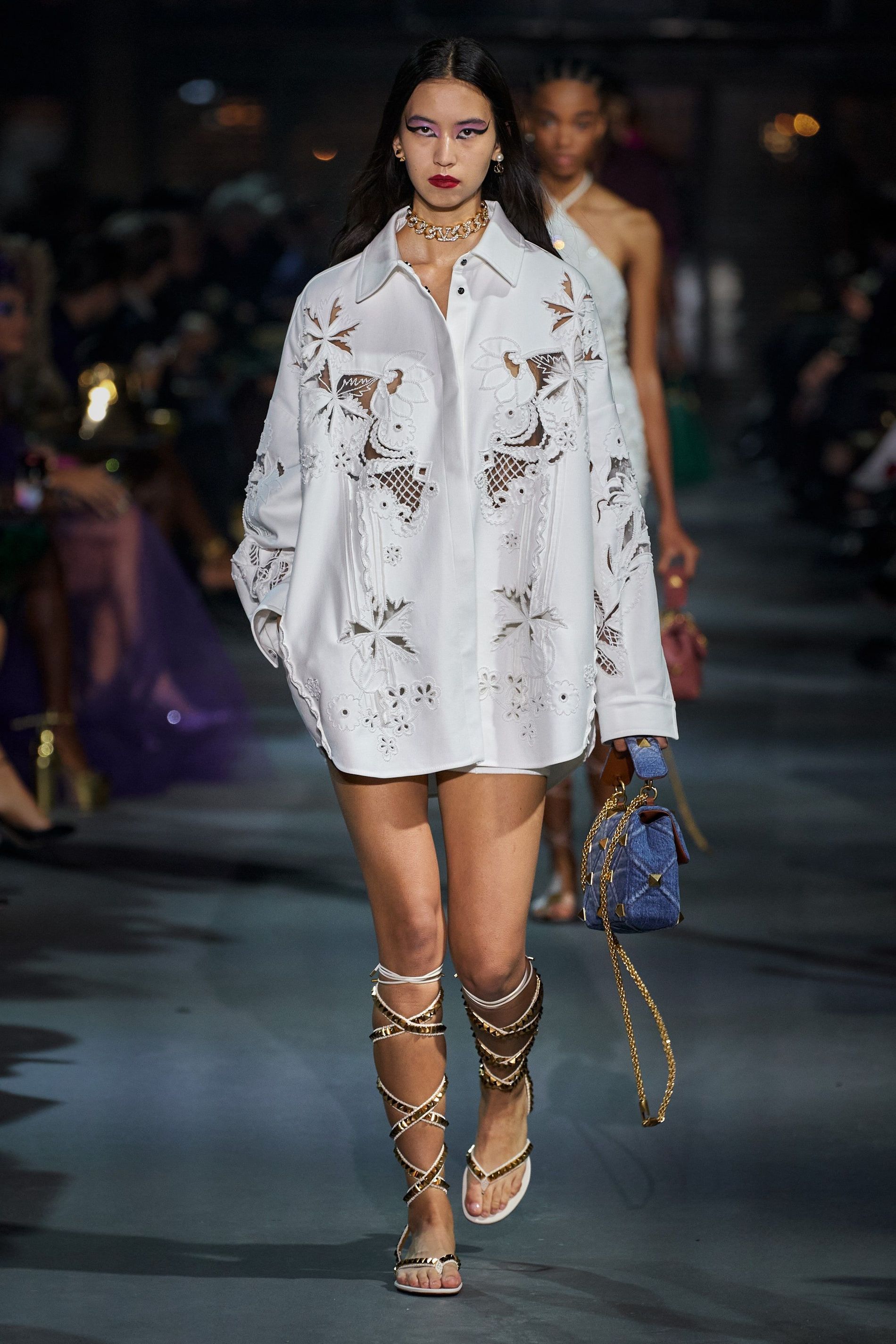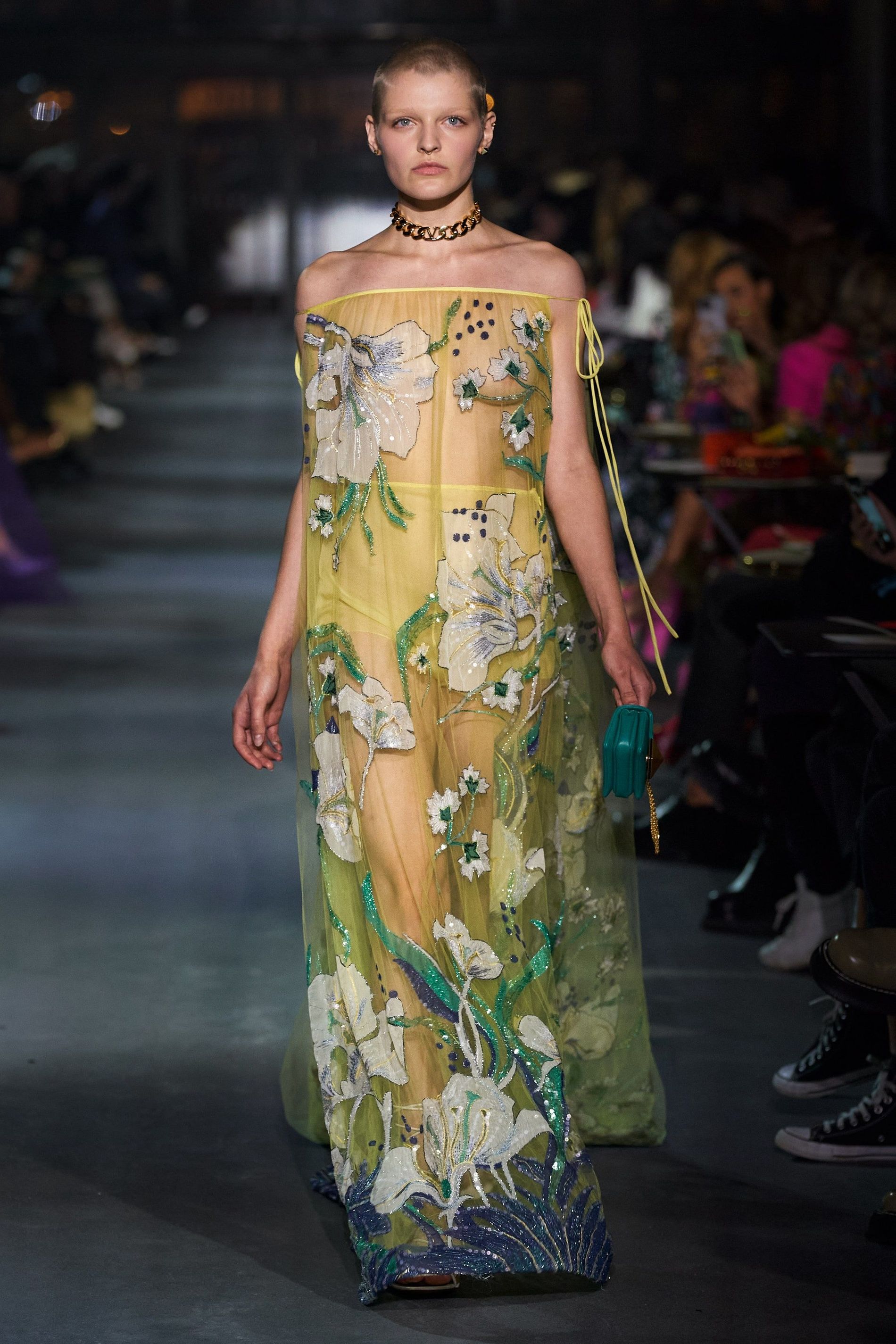 Hermès
The entire fashion crowd traveled to an airport hangar outside the city for Nadège Vanhee-Cybulski's latest collection for the French house. Quietly luxurious garments in earthy tones took centre stage. Leather dresses, minimalistic jumpsuits and designs in Hermès's iconic canvas-leather combination were spotted. Artist Flora Moscovici's work was the inspiration behind the collection and served as the décor, creating the iconic Hermès-orange hue as the backdrop for the show.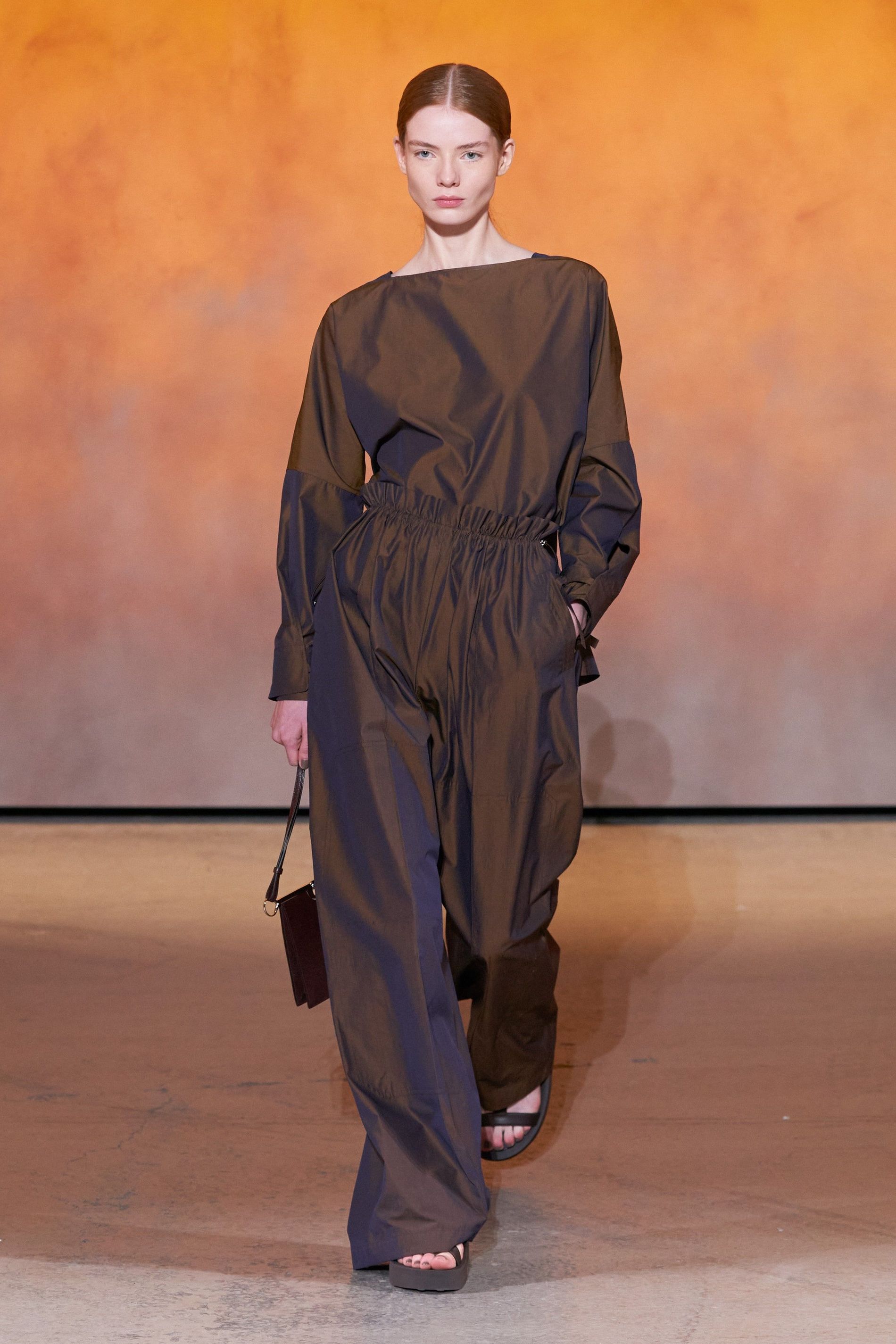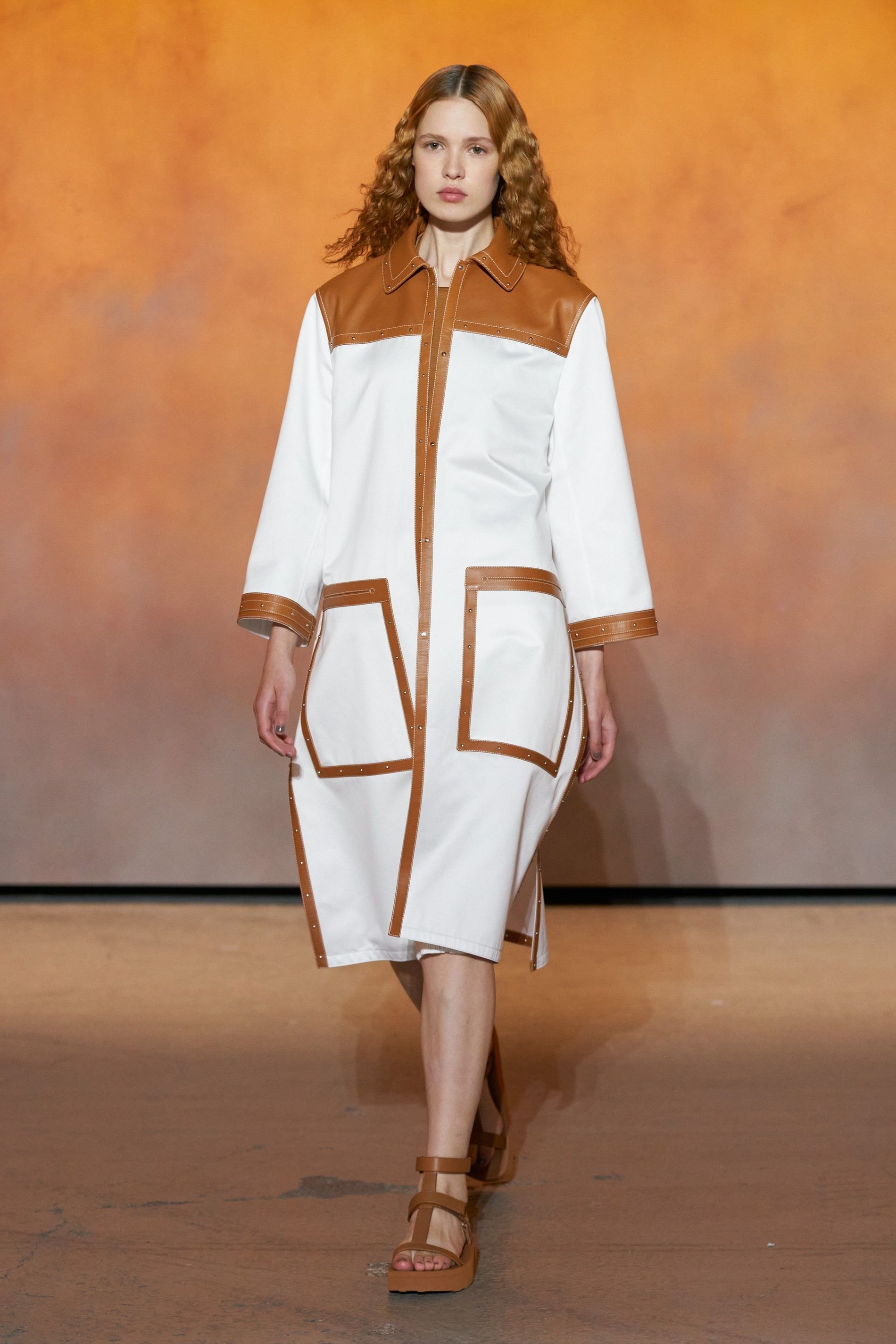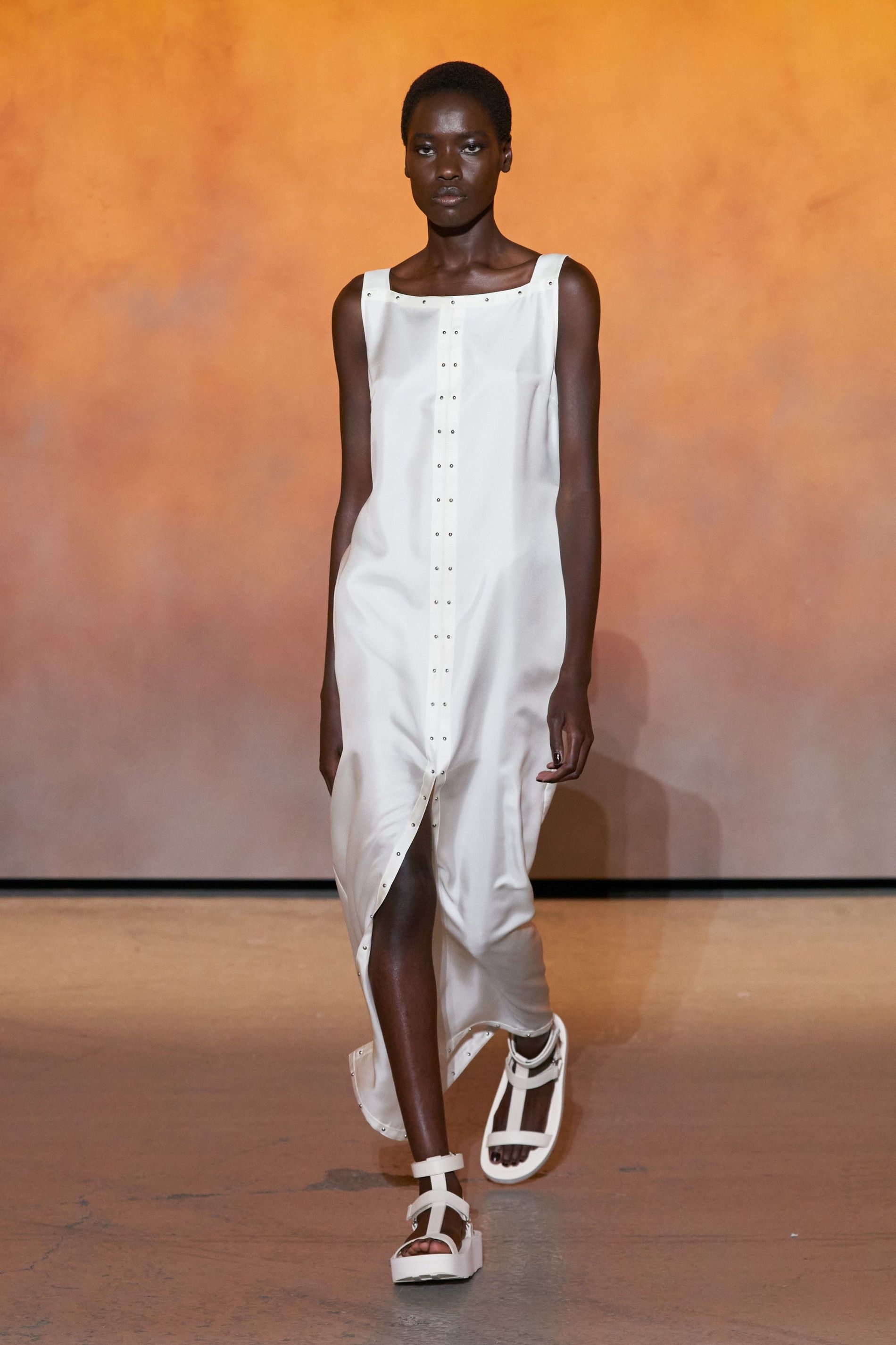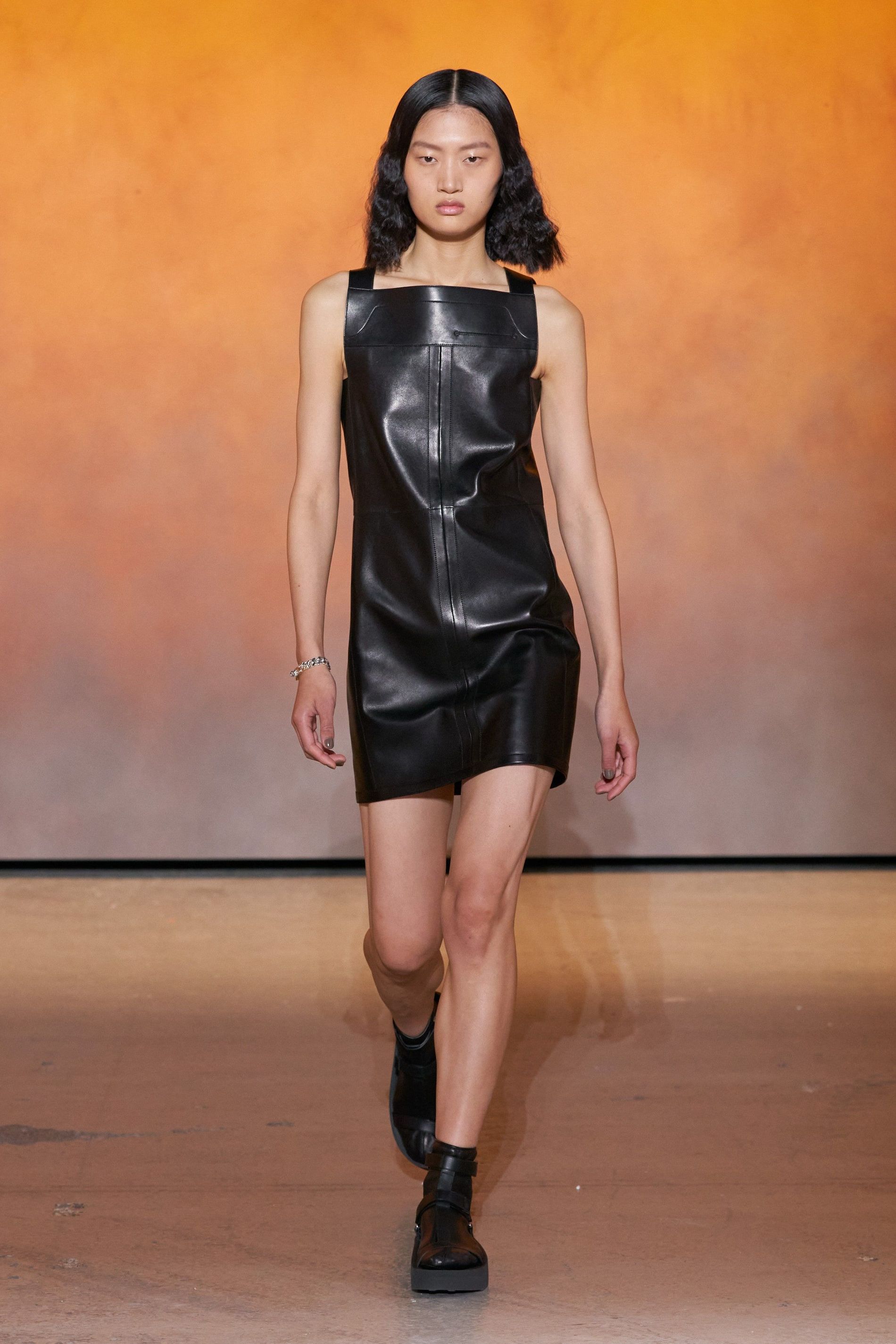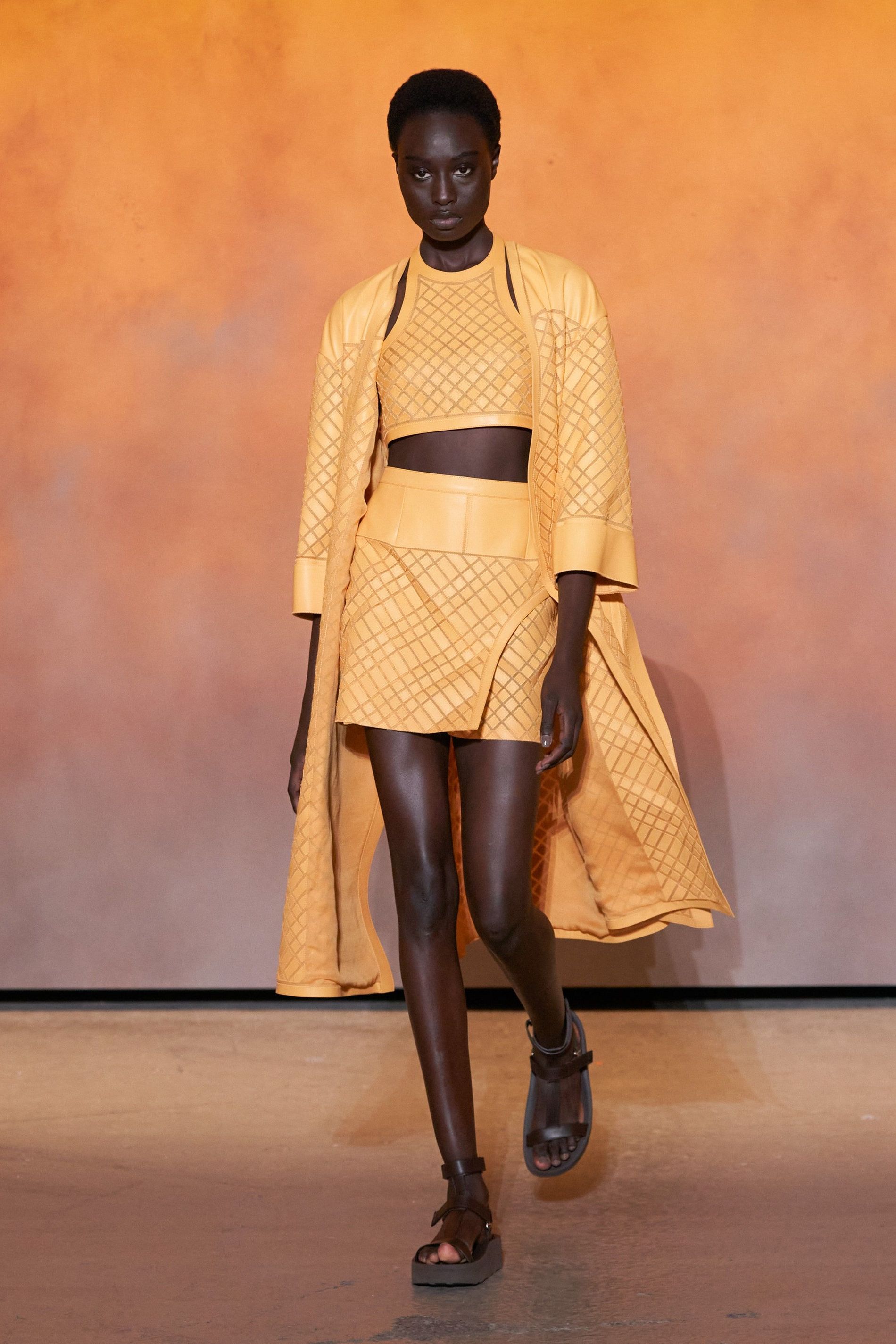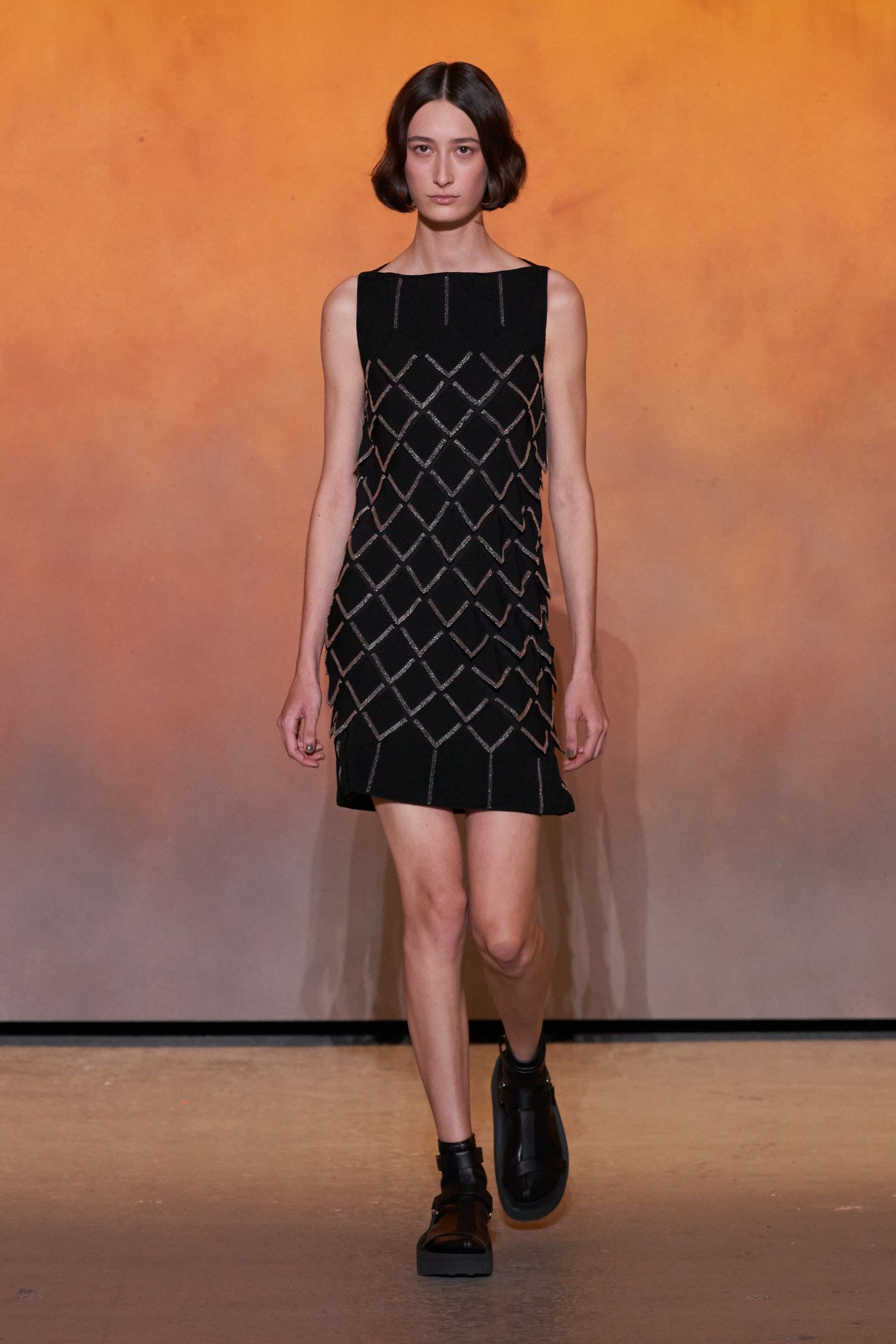 Elie Saab
With his SS22 collection, Lebanese designer Elie Saab proved that we can enjoy the most stunning evening wear as casual daywear too. Ranging from monogram pantsuits and flowy cotton dresses to lace dresses and embellished floor-length gowns, this collection has the same feel as his iconic show-stopping evening dresses, but combined with some much-needed comfort that we are not willing to give up yet.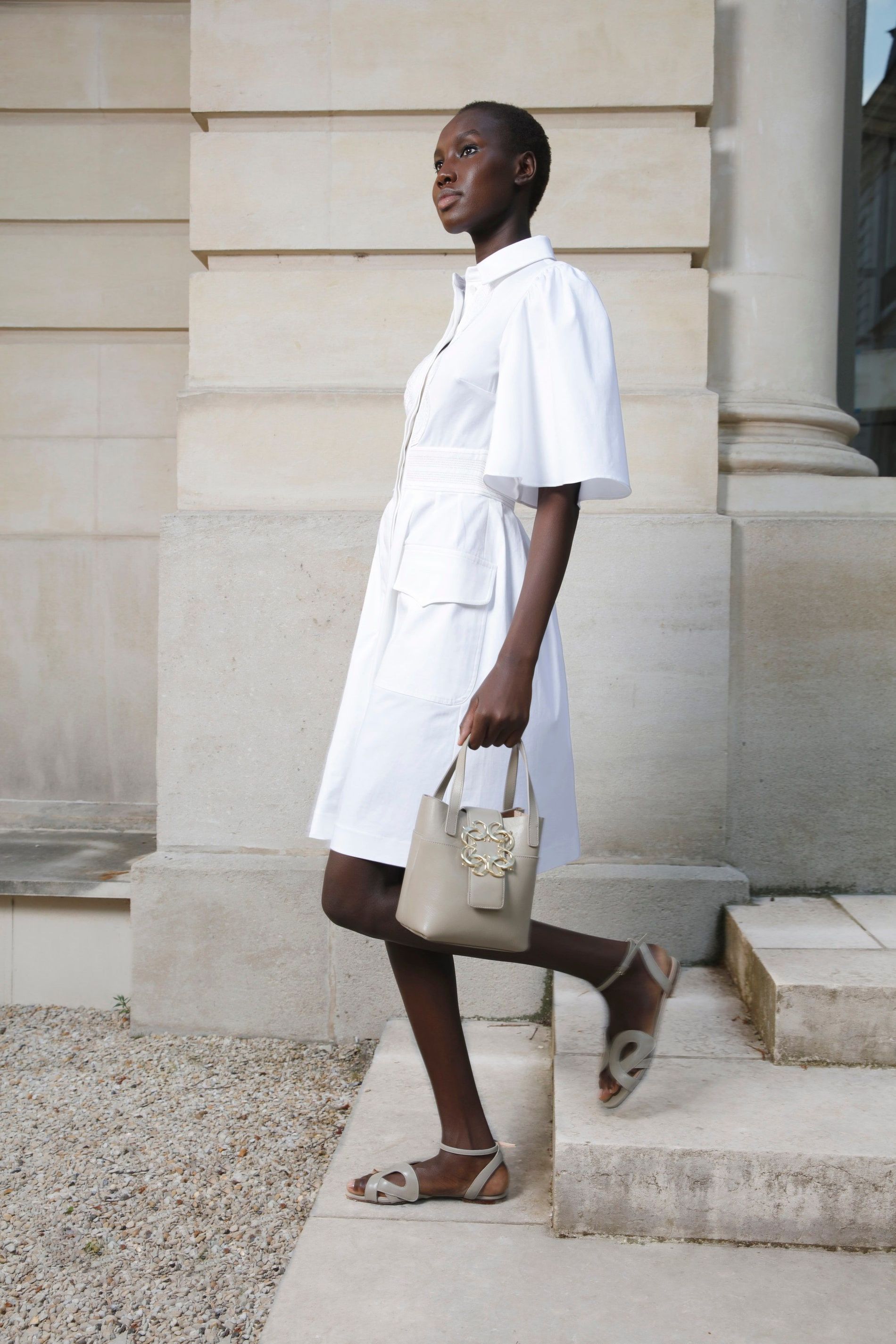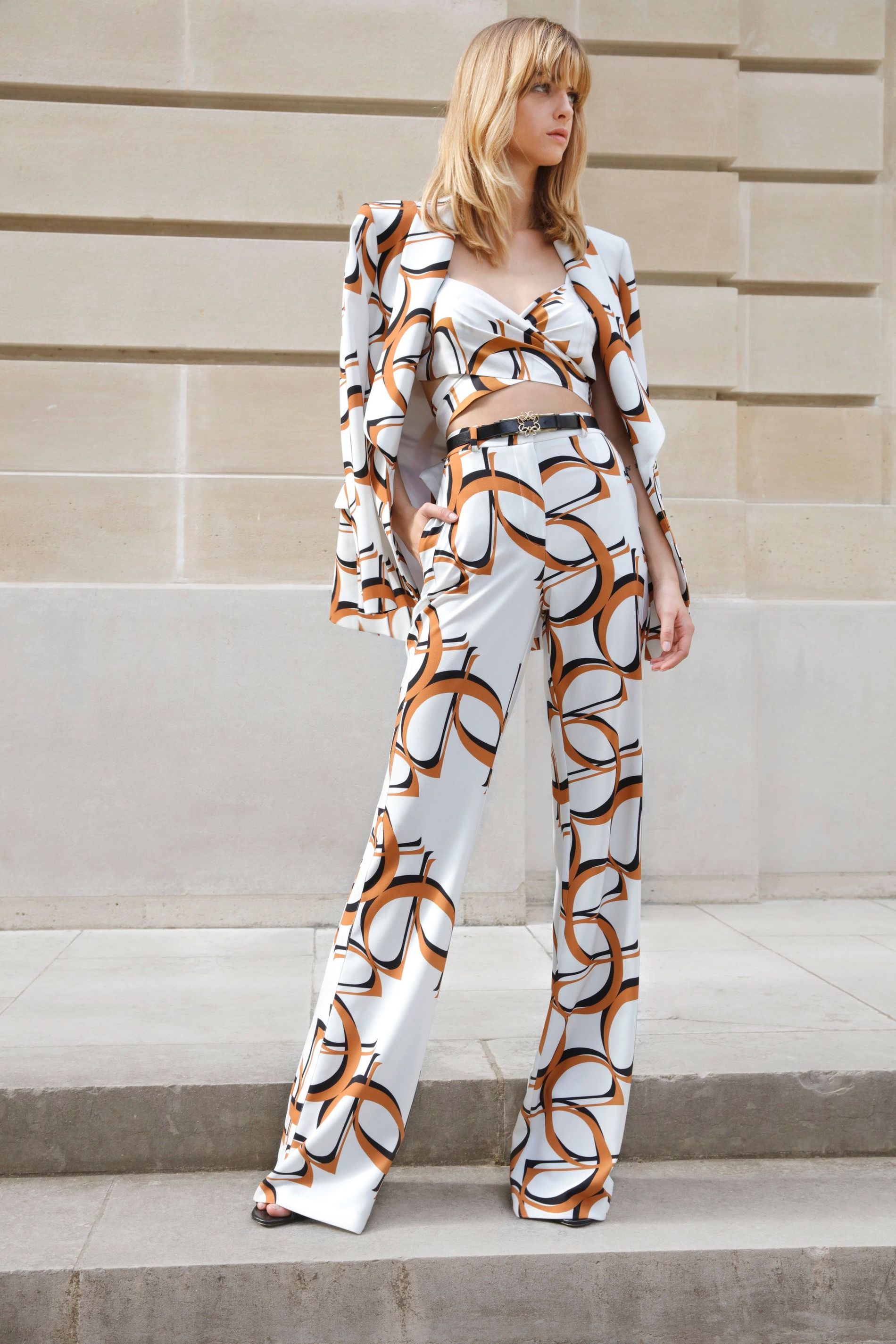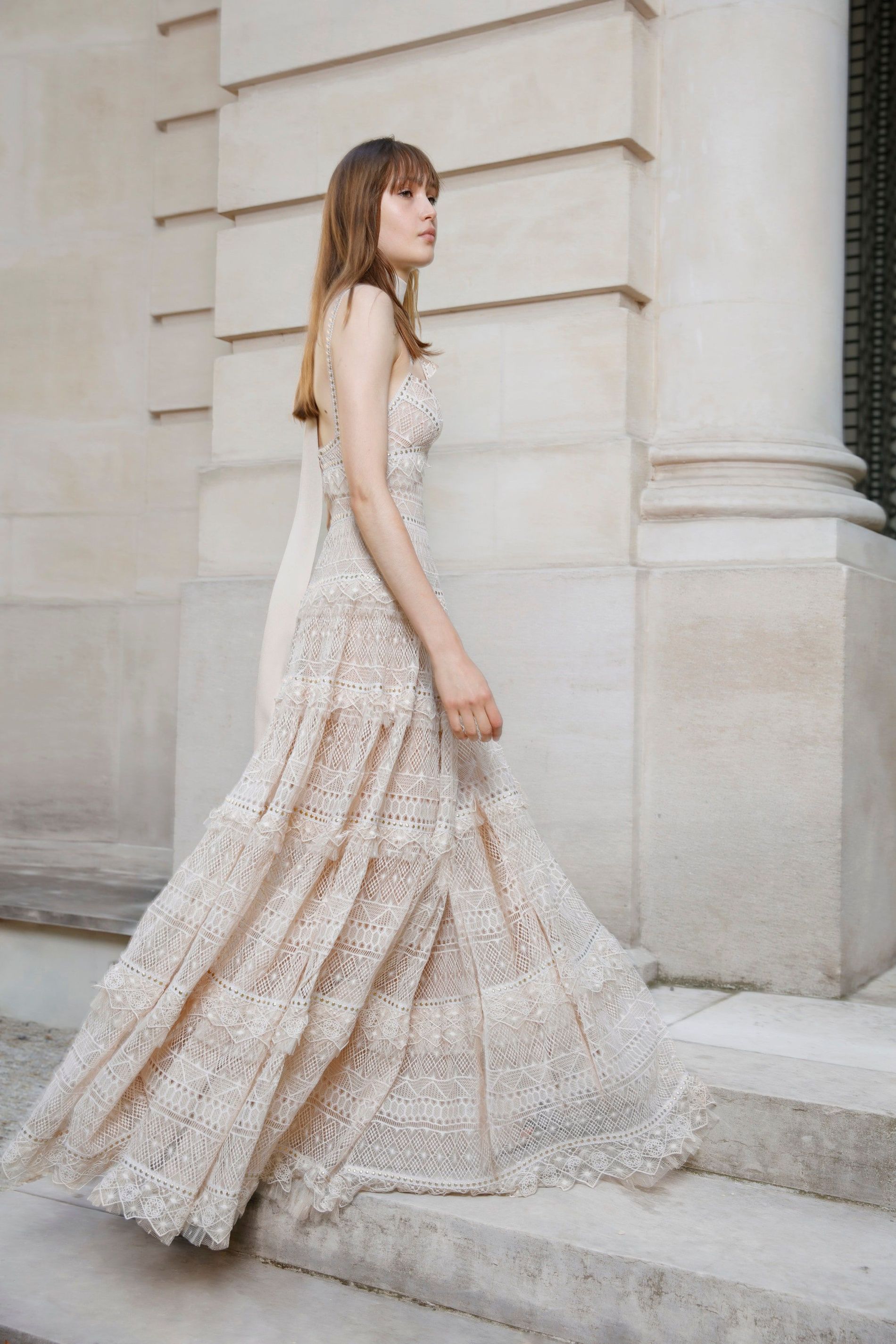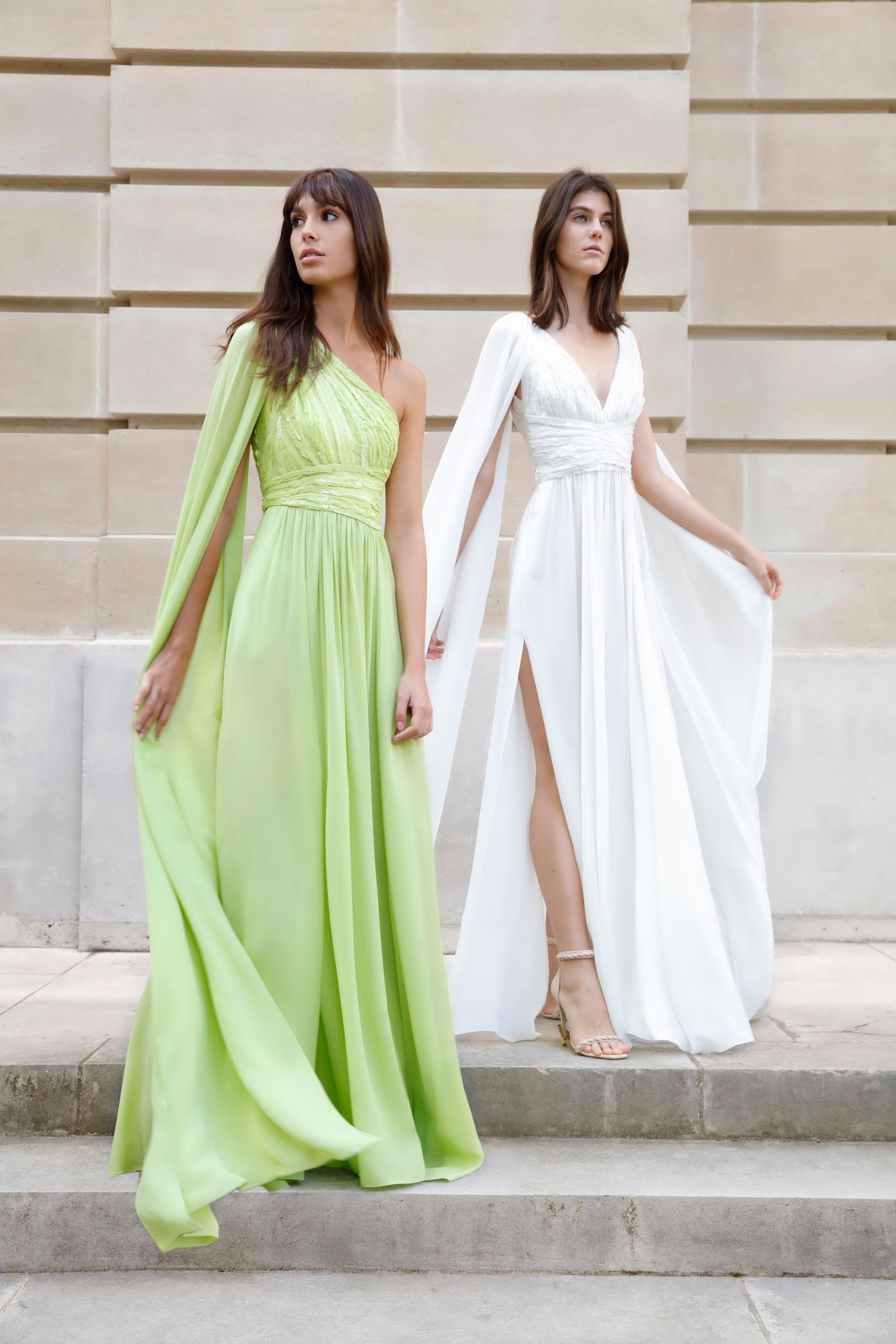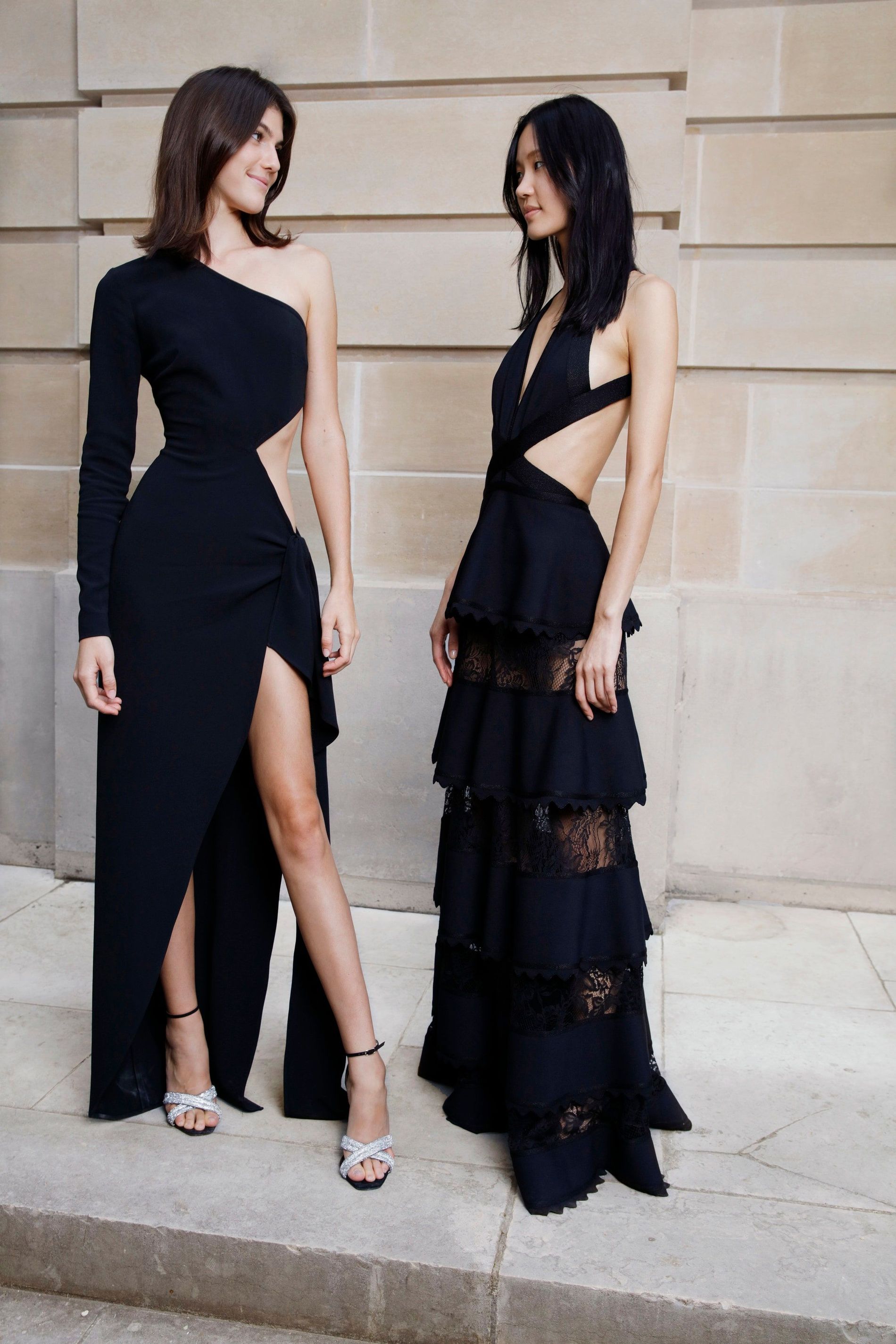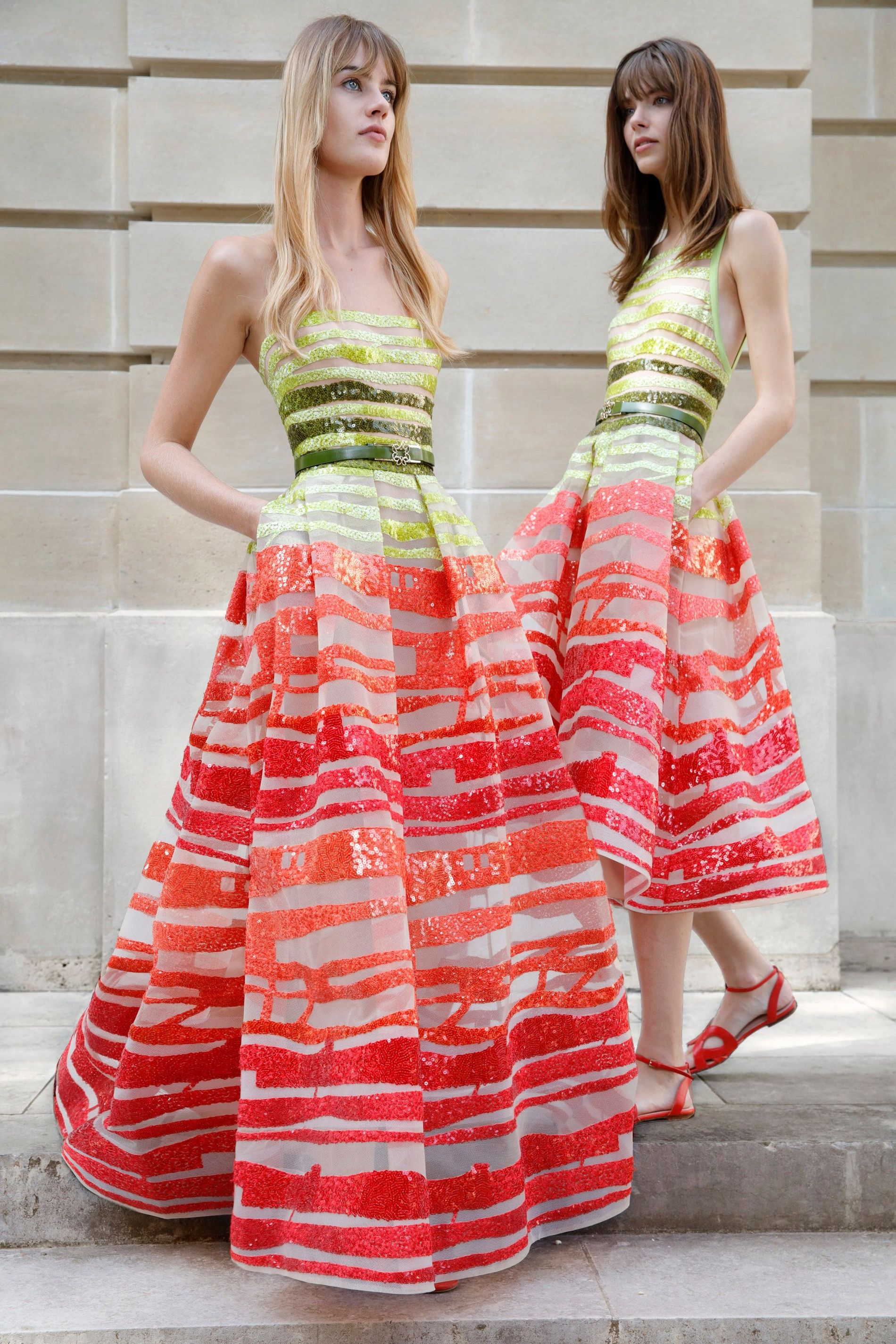 Balenciaga
No regular fashion show for Balenciaga this season but instead a live red-carpet event. Attendees witnessed the collection through a screen in the Théâtre du Châtelet while models, friends and Balenciaga team members walked down the red carpet in black layered designs, oversized blazers and streetwear-inspired items. The collection came with a special episode of The Simpsons – with the likes of Anna Wintour and Kim Kardashian West included. Creative director Demna Gvasalia shows us once again that fashion is about anything but rules.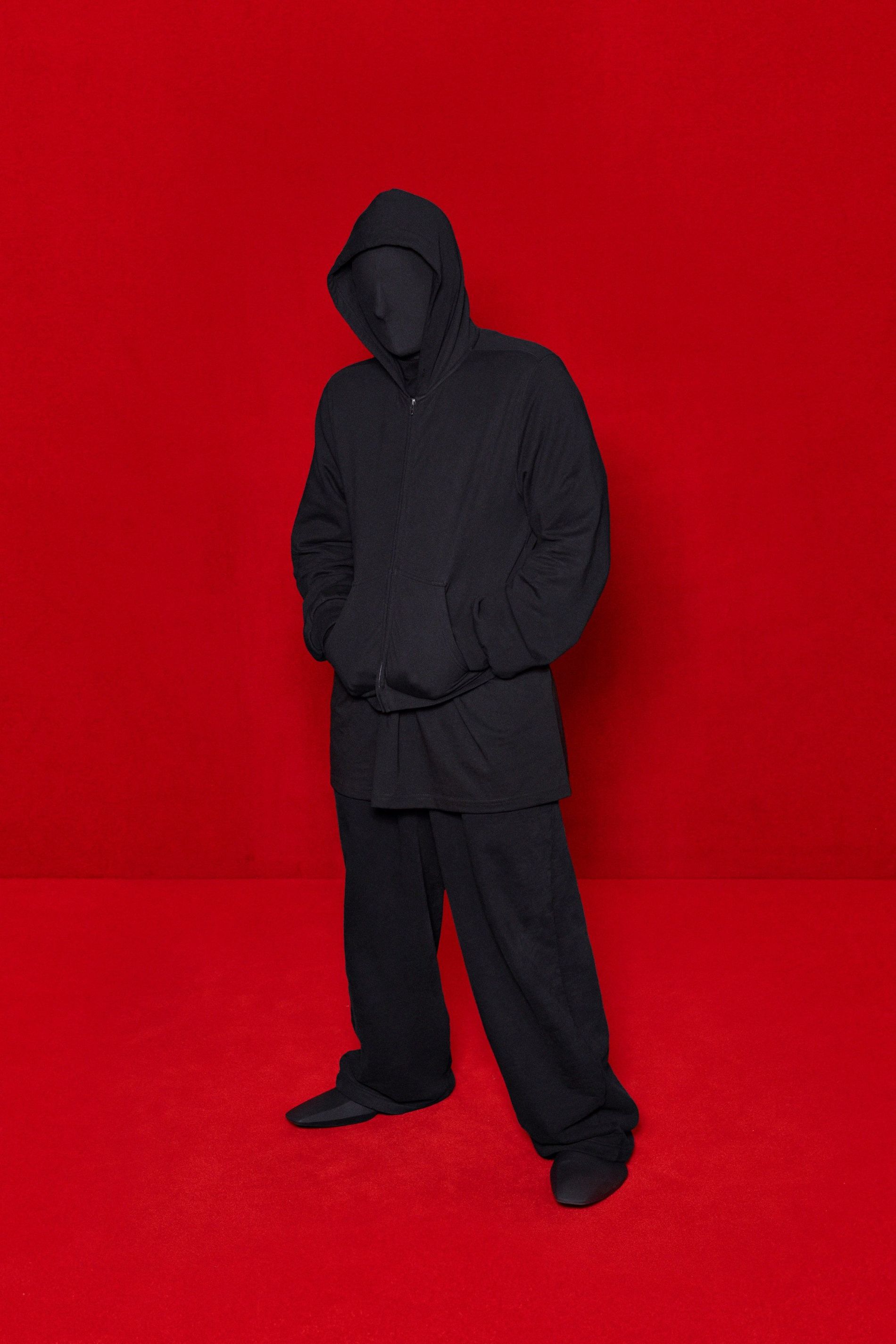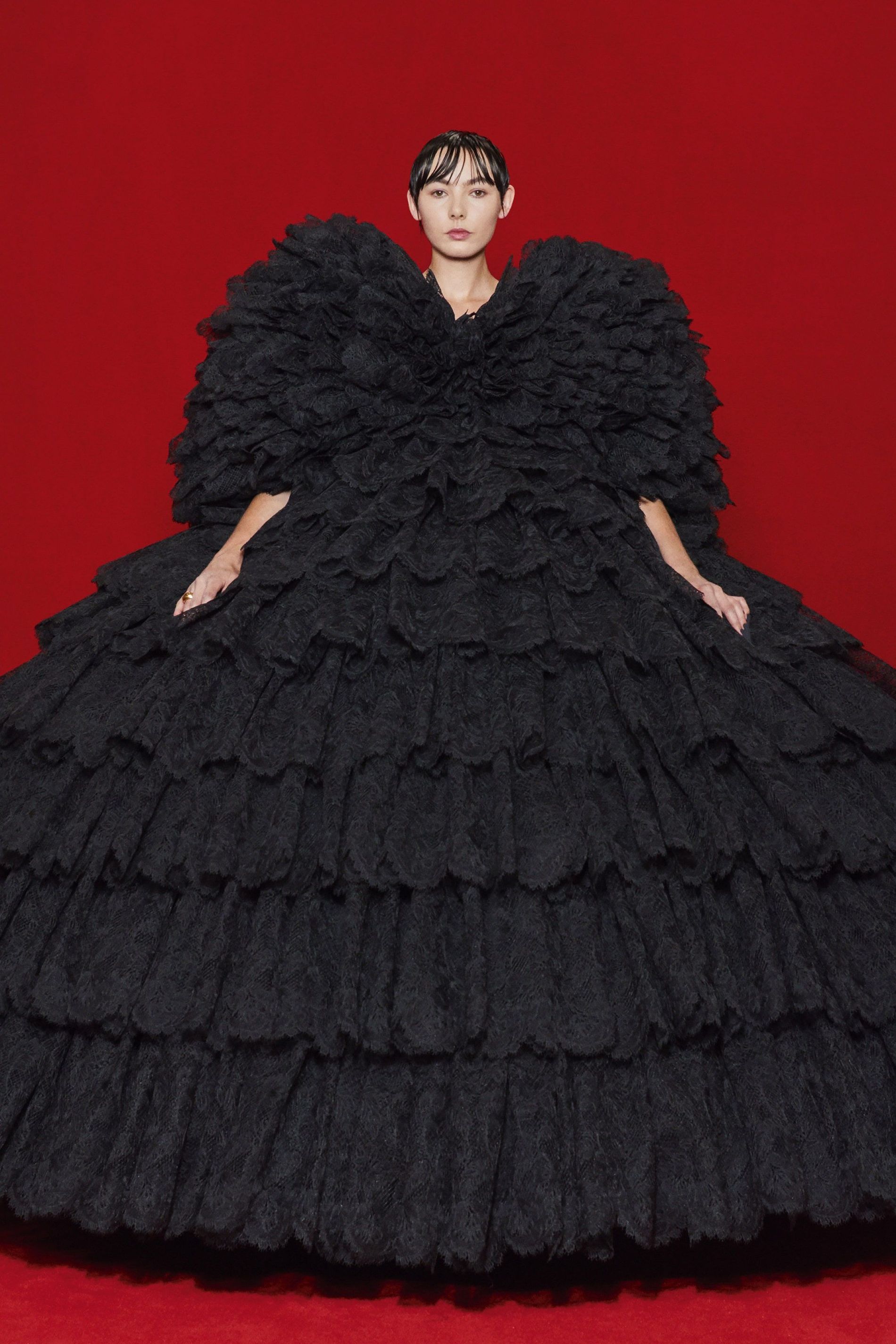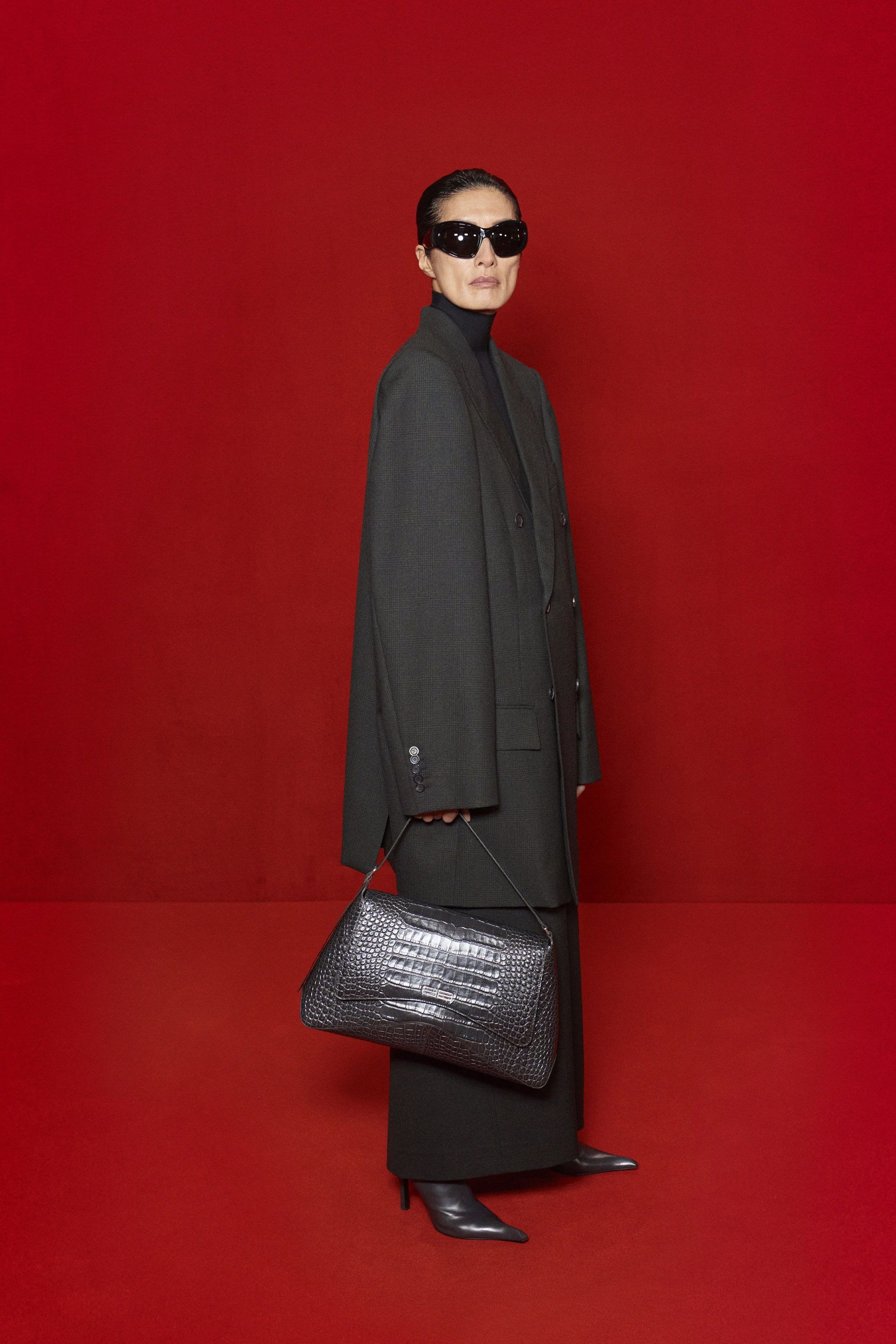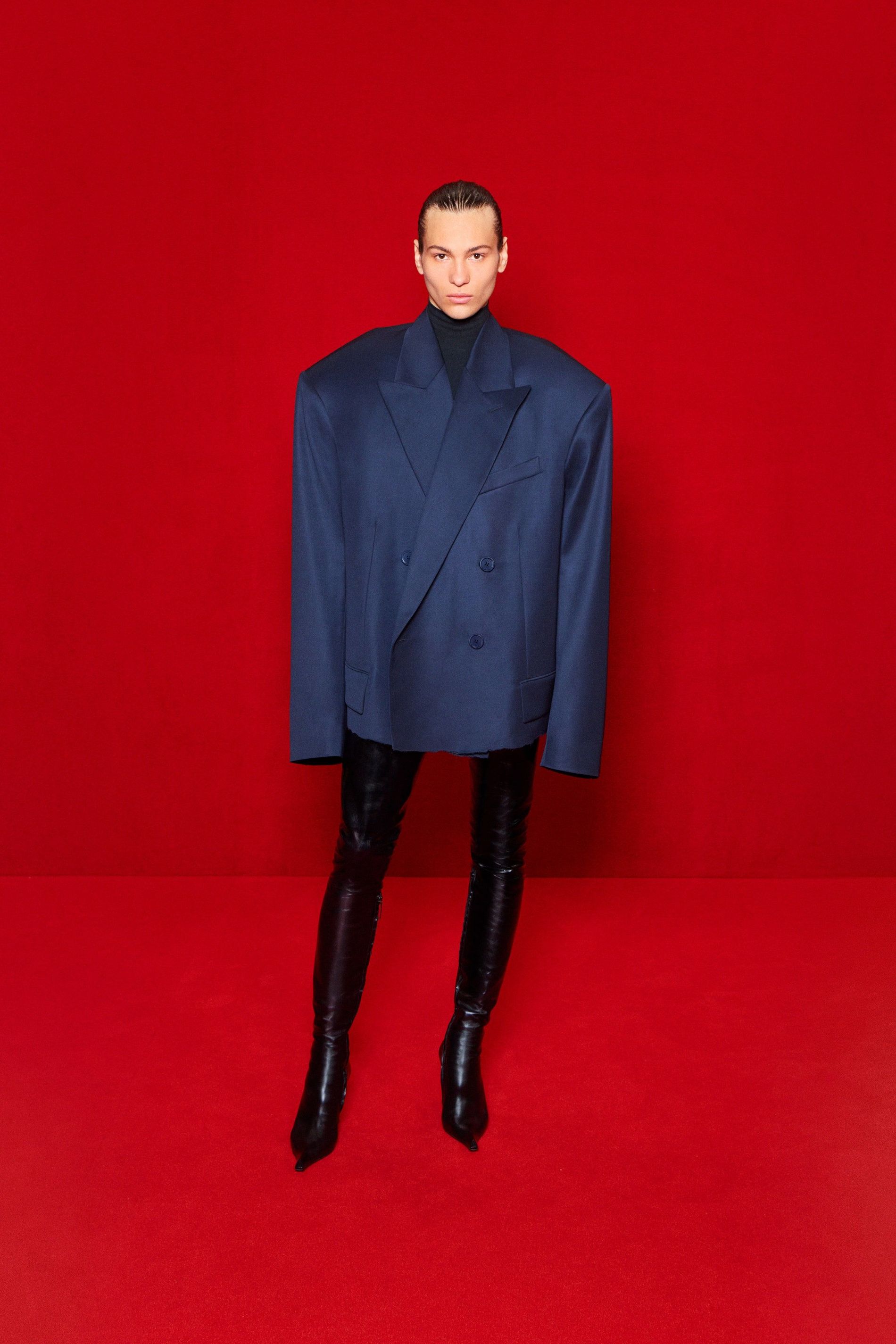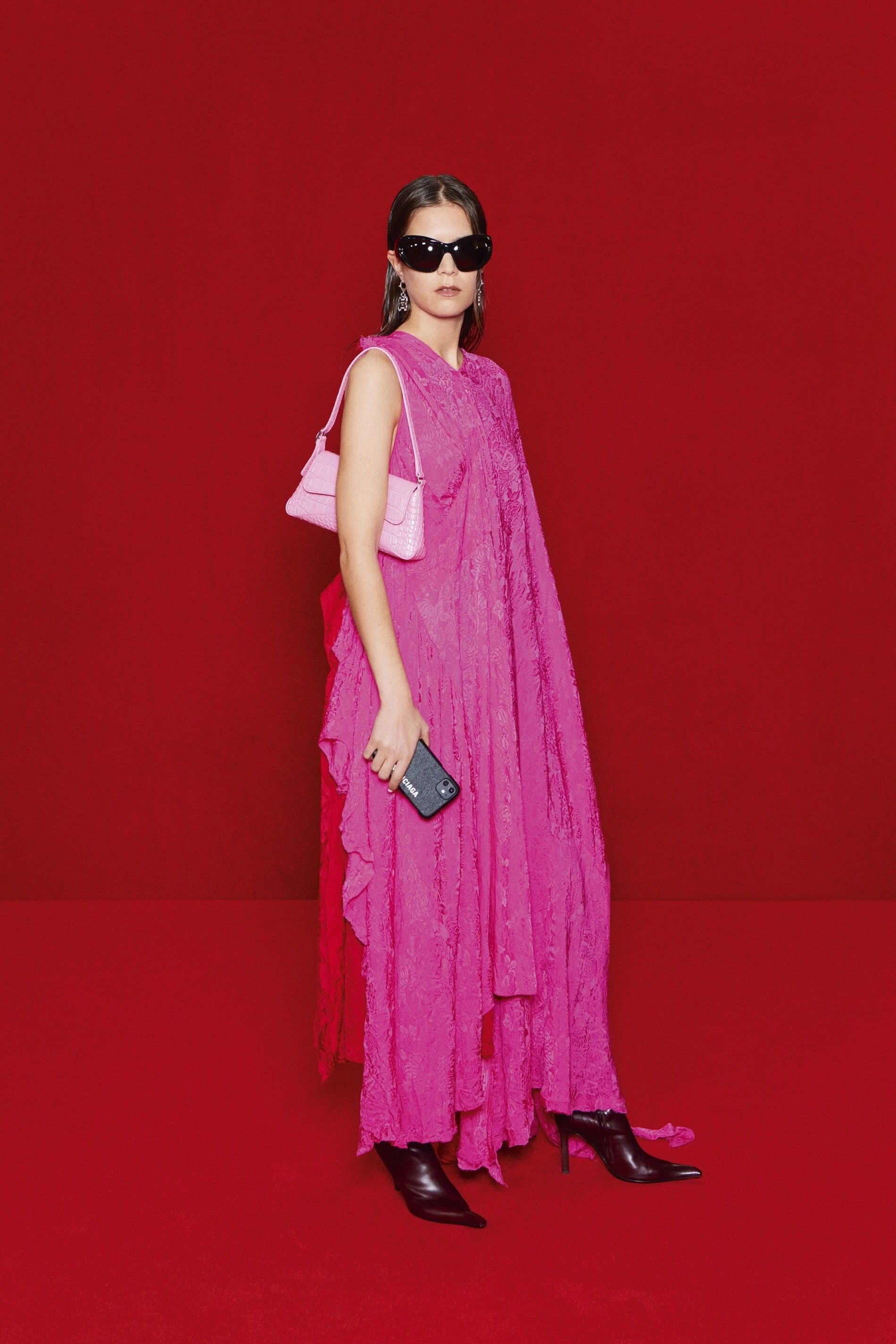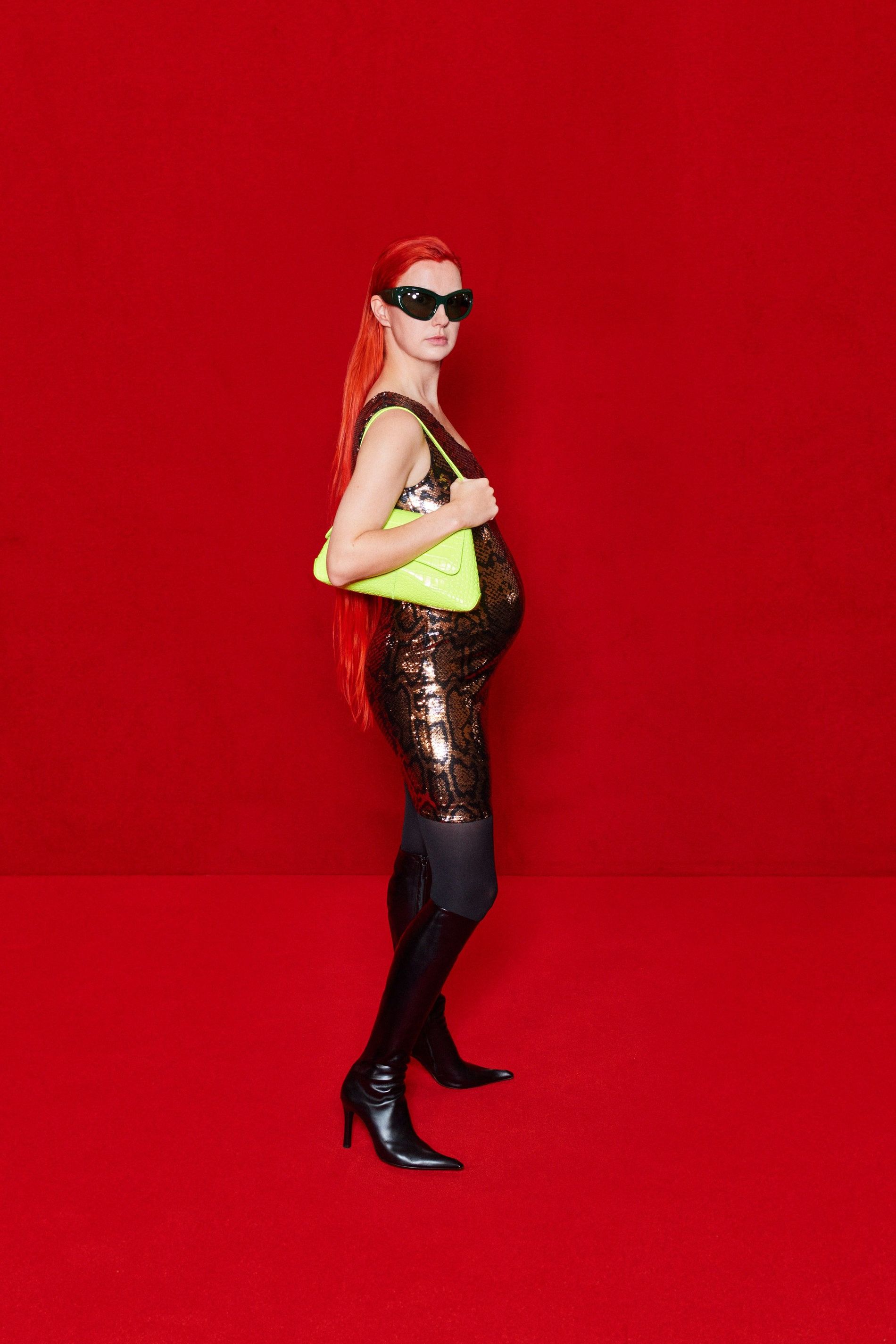 Lanvin
Bruno Sialelli wanted to show the roaring 1920s feeling but in a futuristic 2.0 way. To achieve this, he partnered with DC Comics on his latest collection for Lanvin. Batman and Robin motifs were incorporated into the 1920s-inspired Art Deco designs – embellished tuxedos and dresses, silk separates – including a handbag shaped like the Batmobile. The true highlight was Naomi Campbell closing the show in a Catwoman-esque black cape.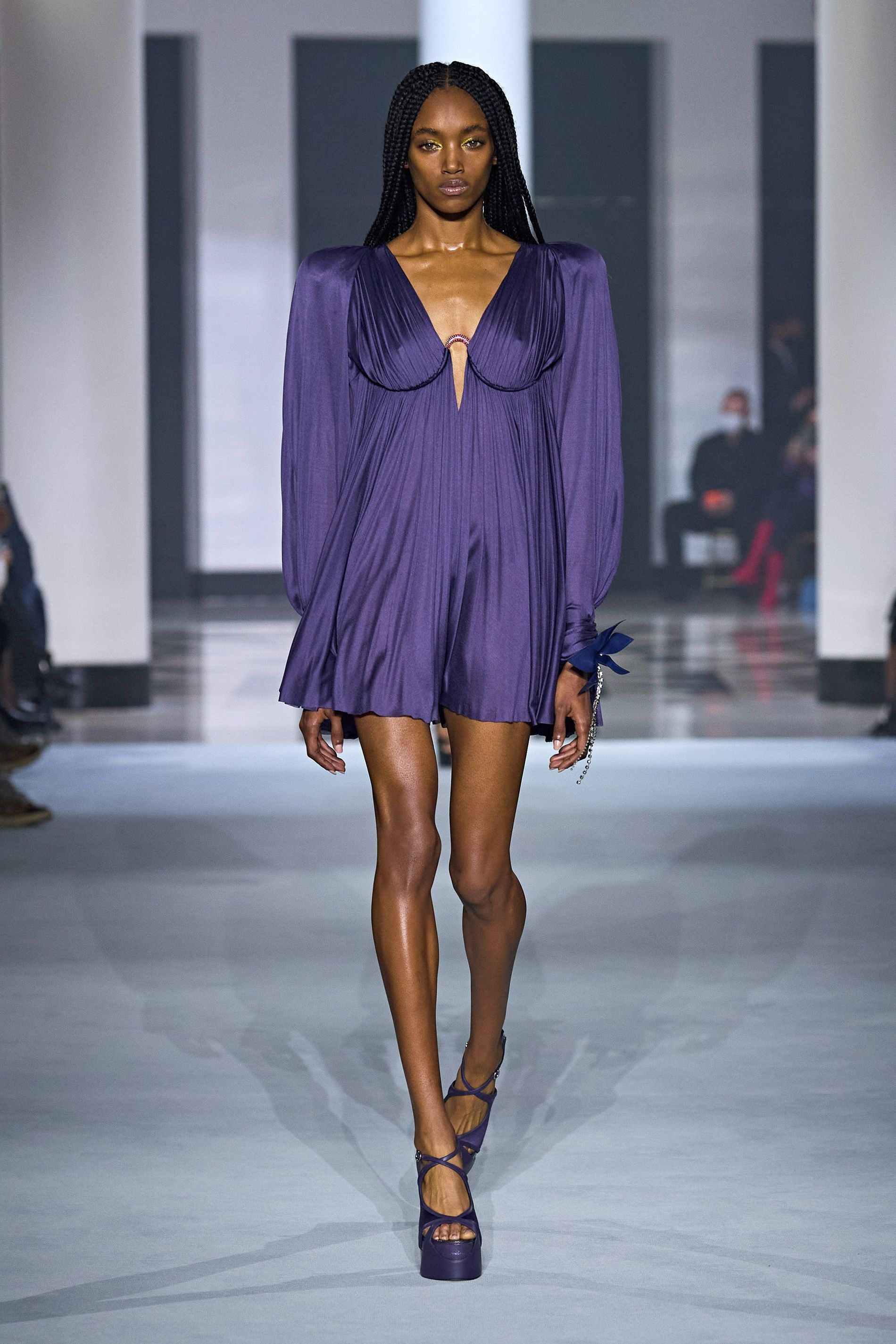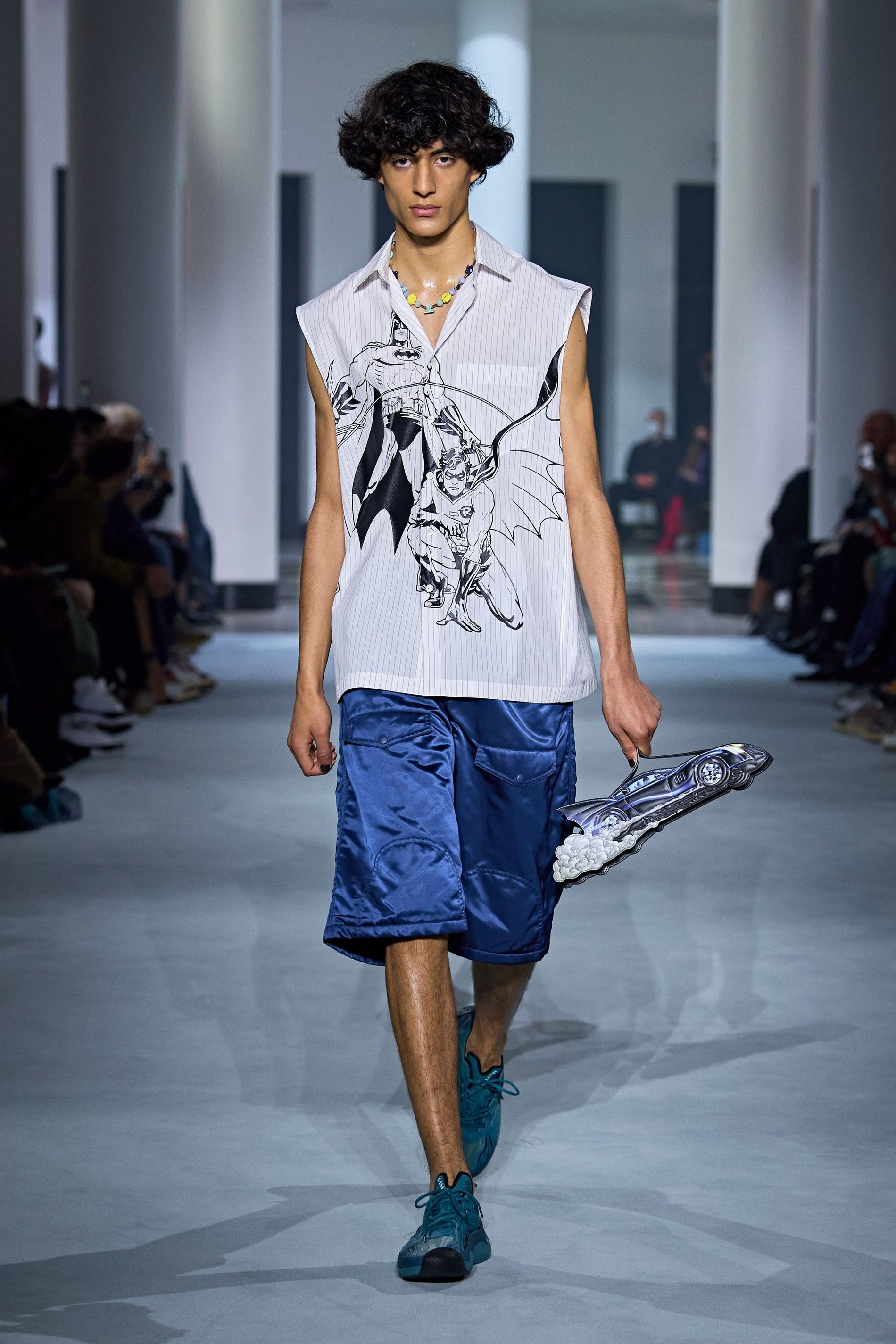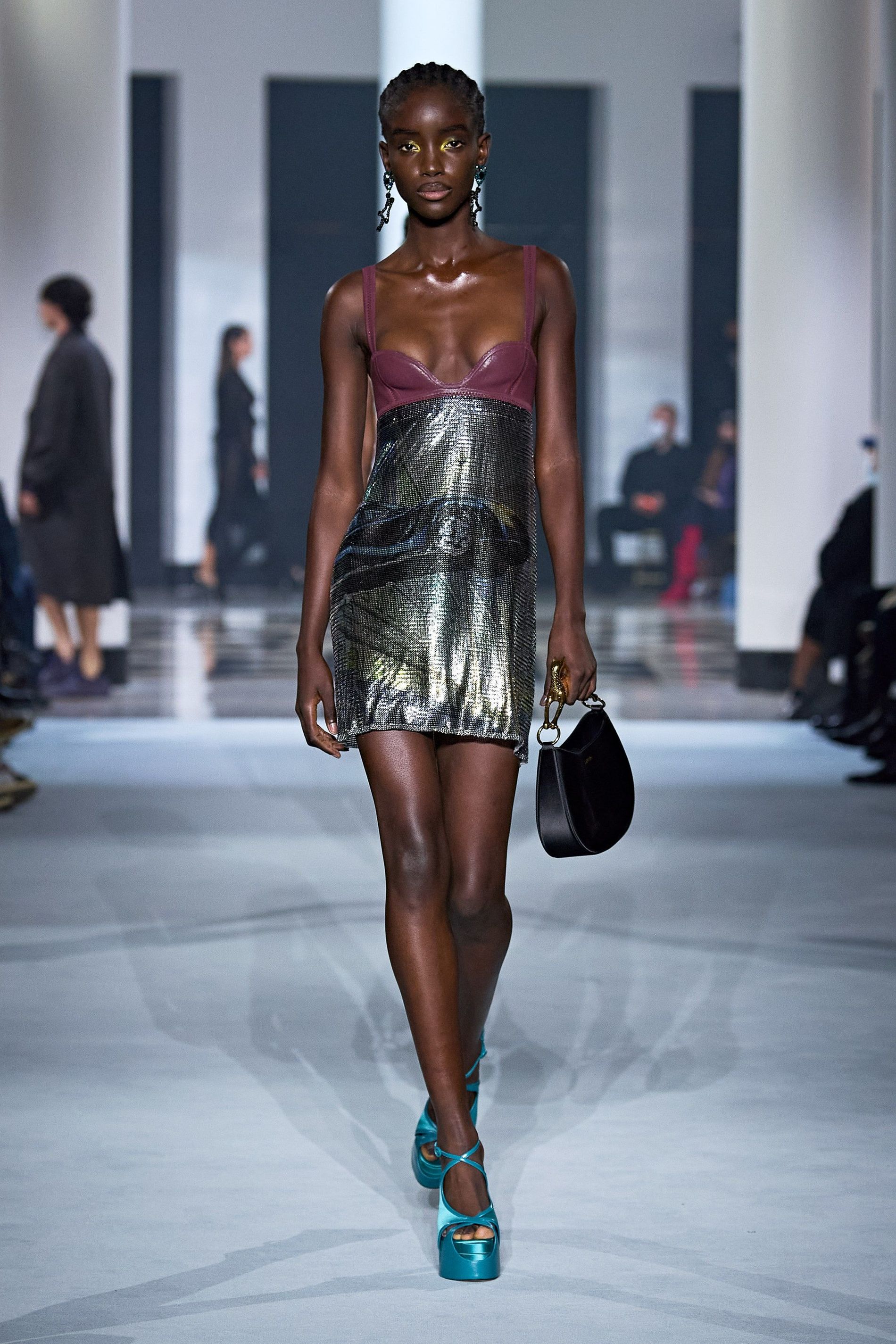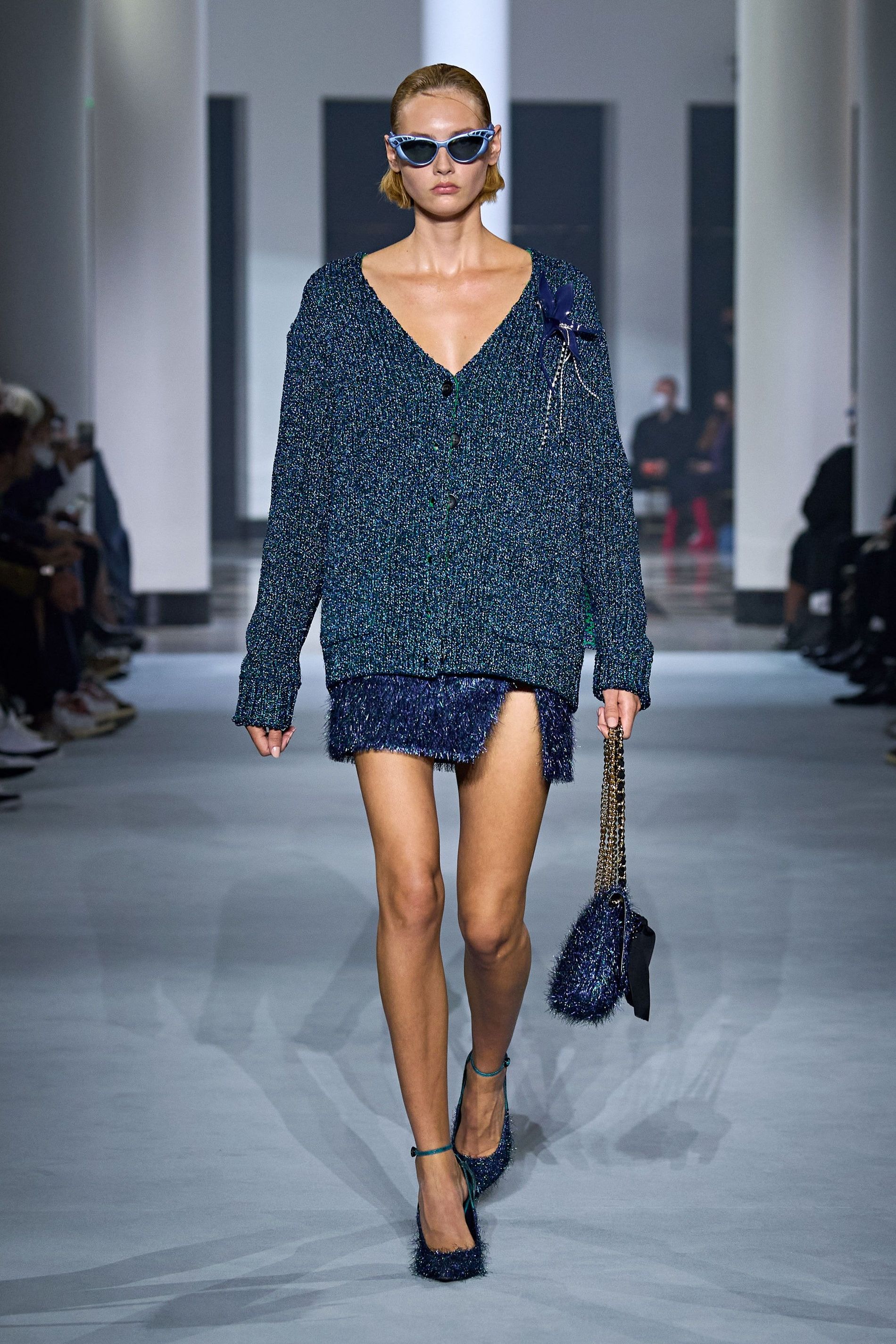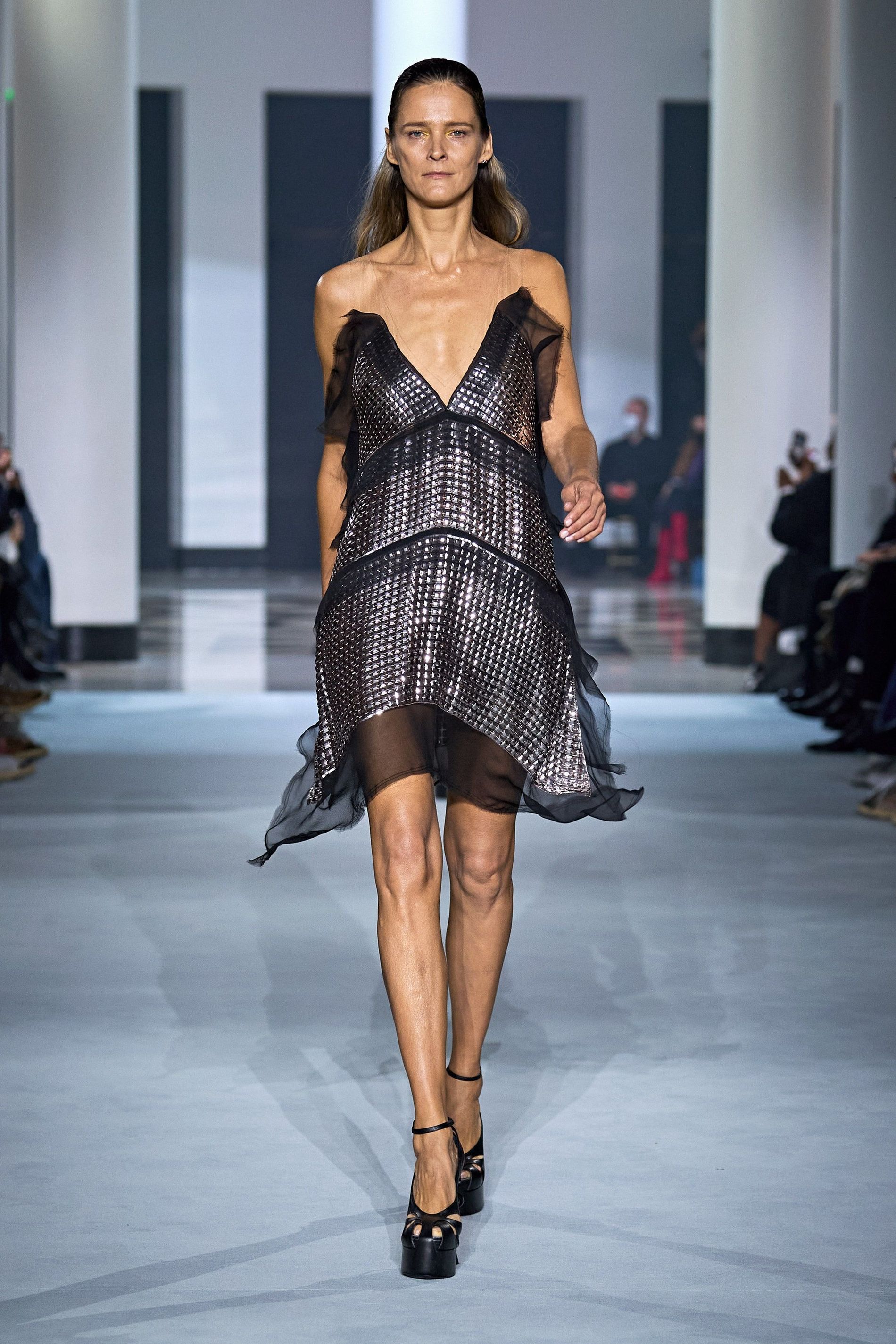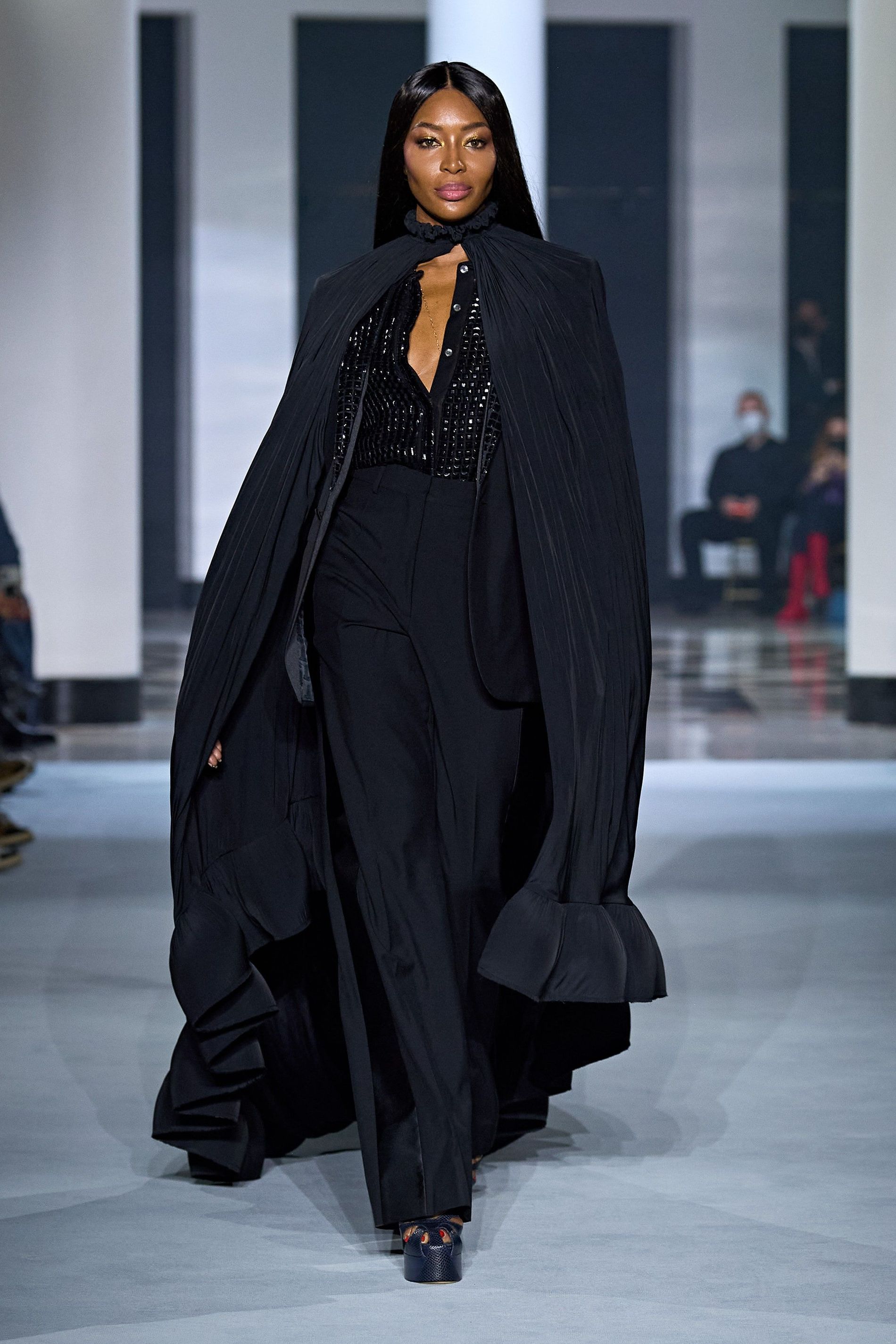 Zadig&Voltaire
Swedish designer Cecilia Bönström wanted to express the feeling of effortless elegance, freedom and sexiness for Zadig&Voltaire's new summer collection. A collection that celebrated a true party mood was the result, ranging from comfortable tailoring, silk and lace dresses worn over trousers and jeans.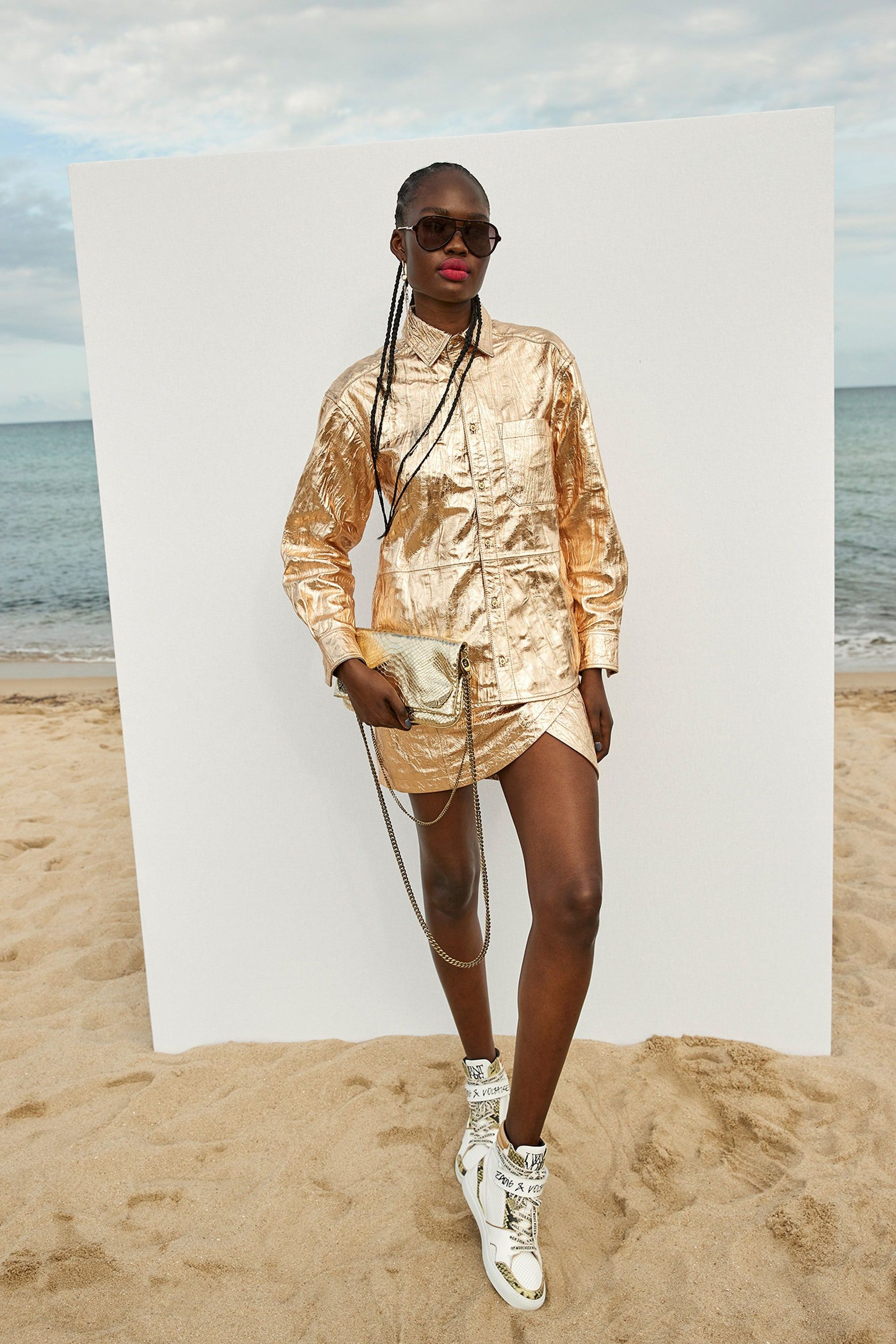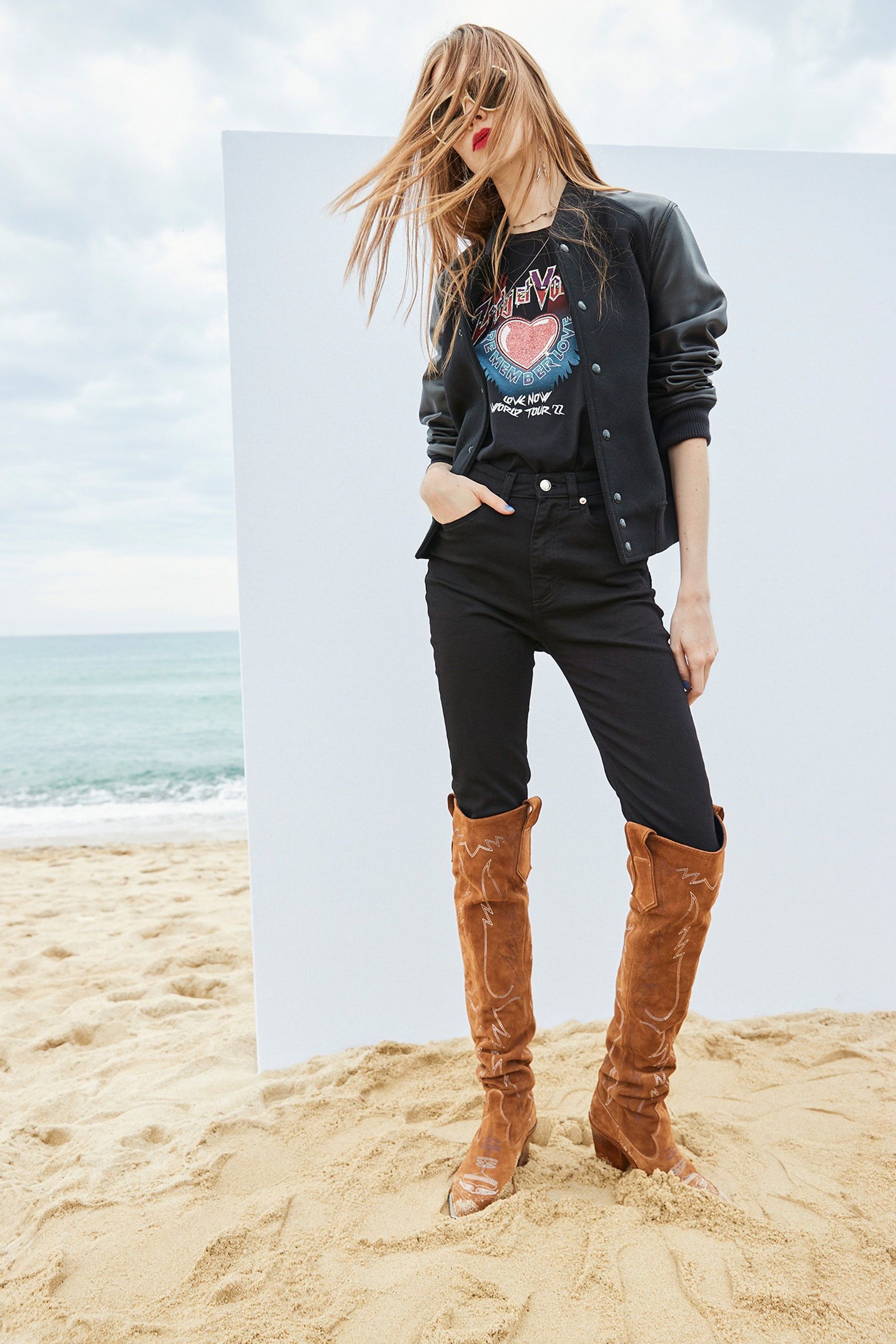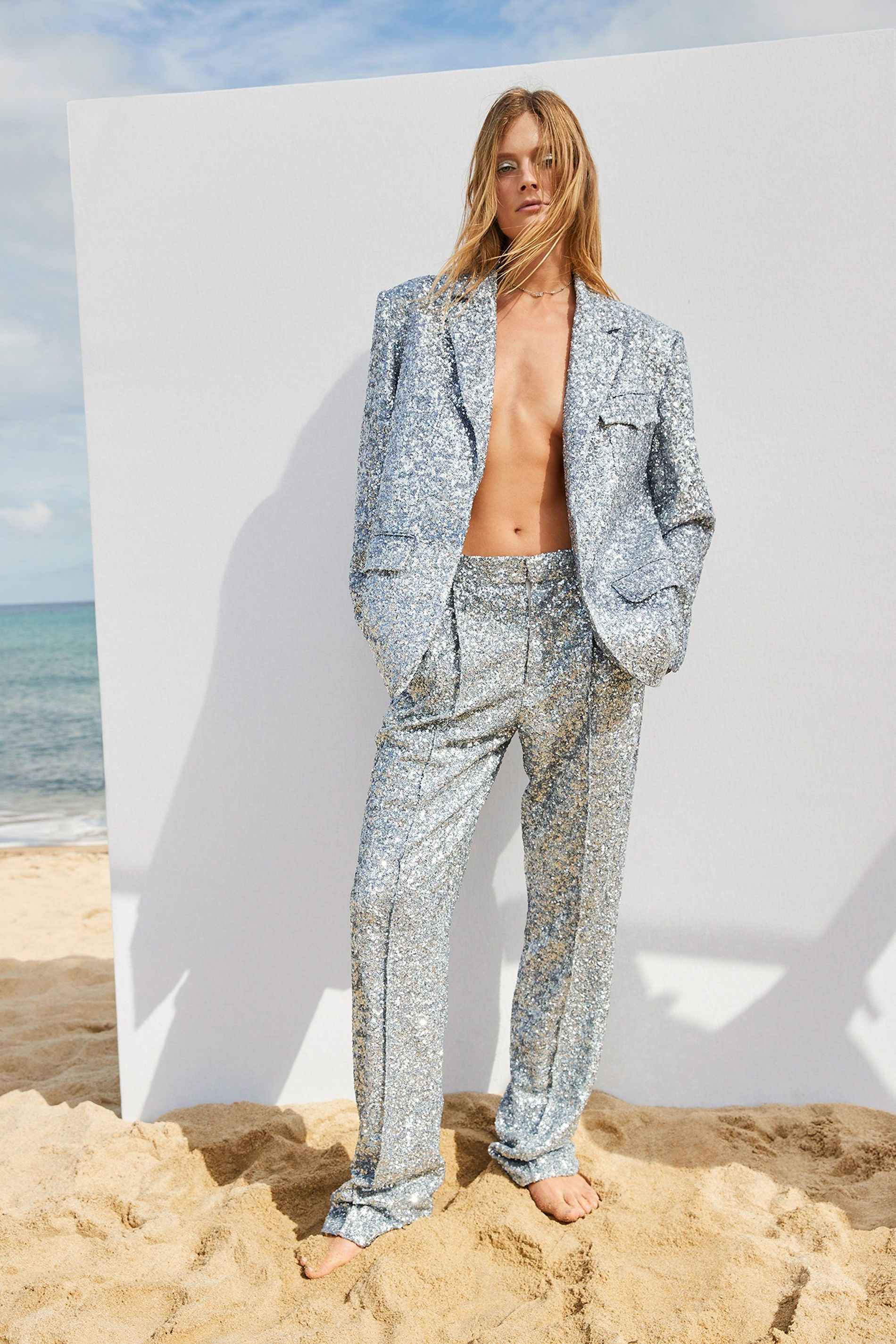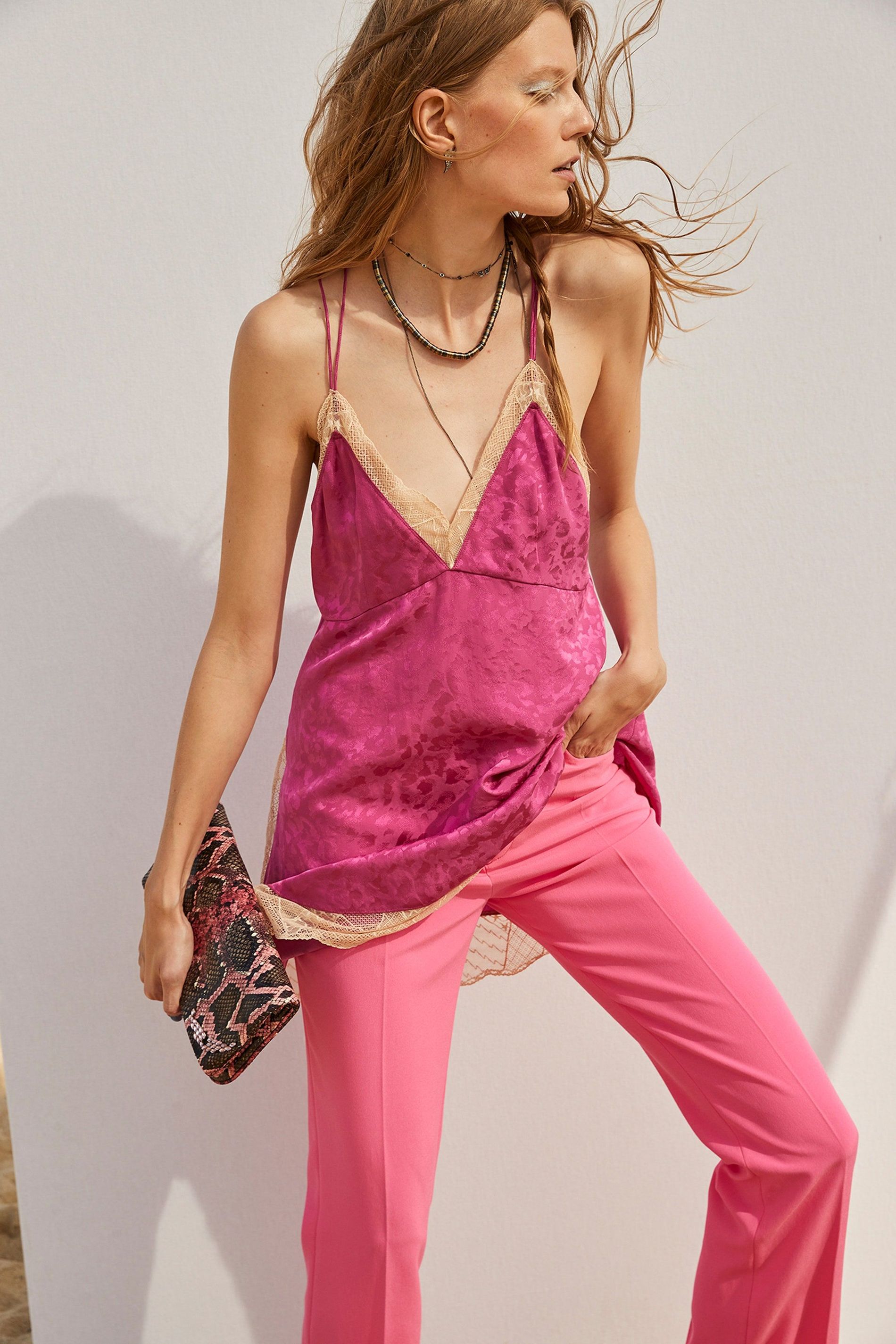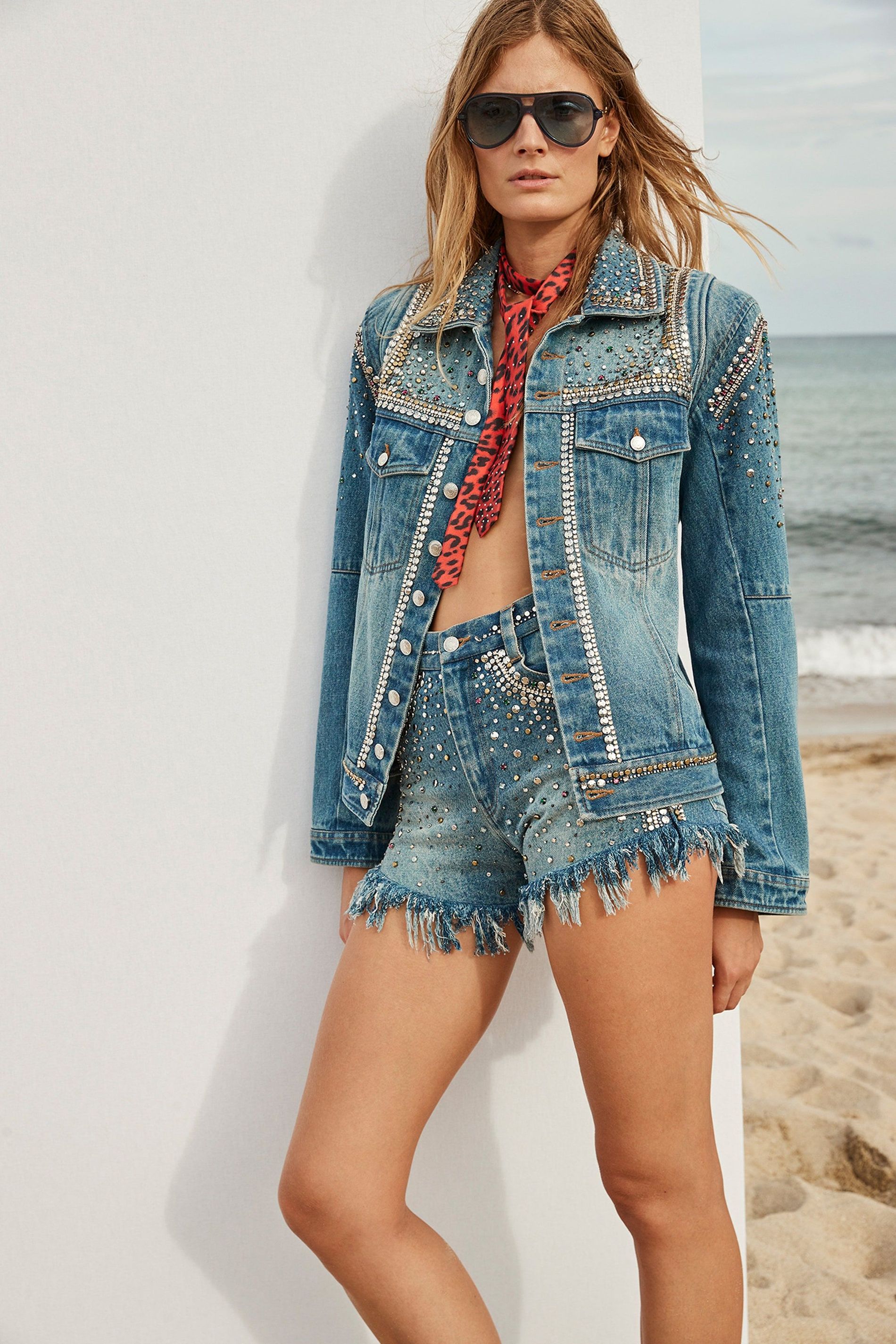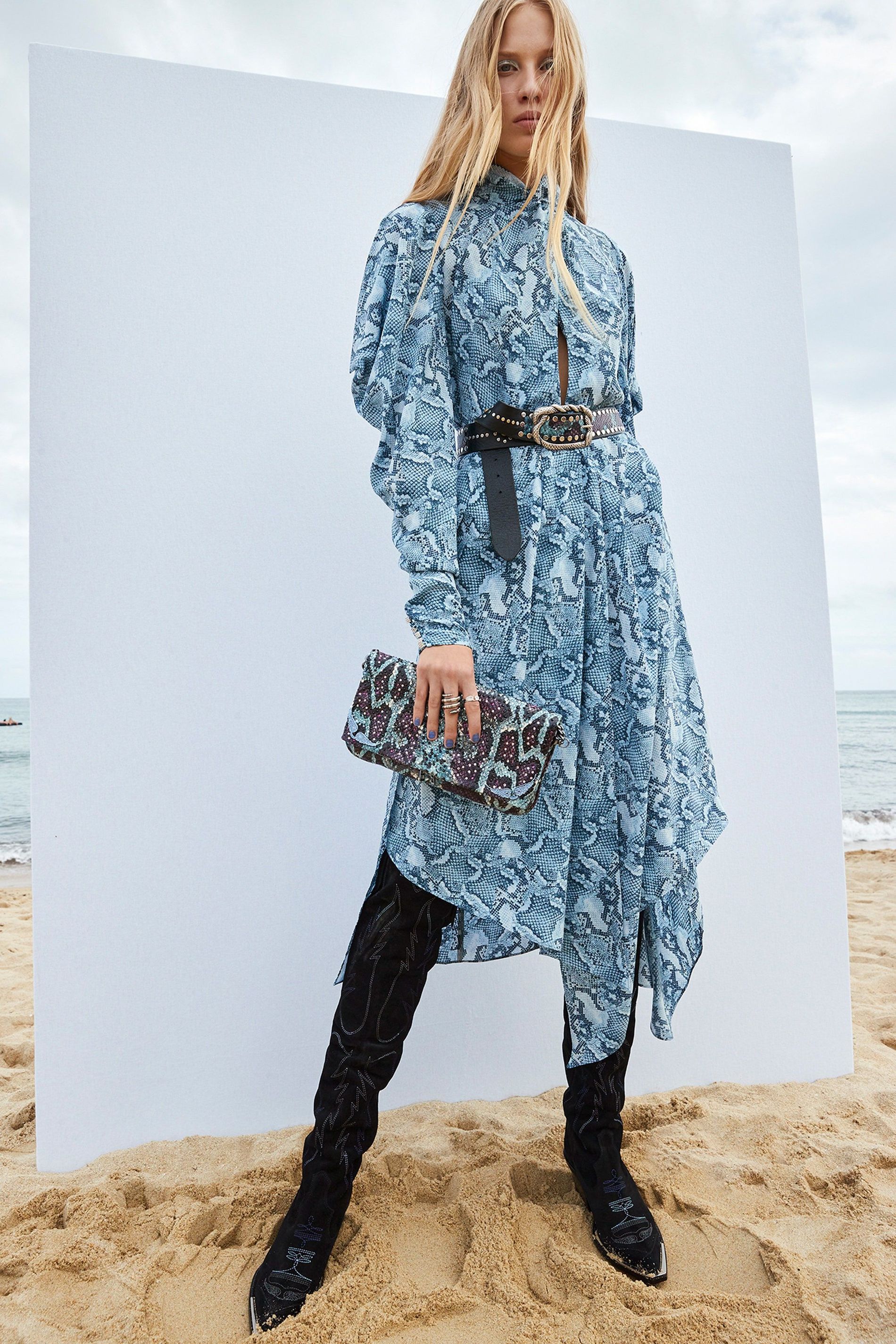 Givenchy
This marked the first IRL show of Givenchy's new creative director Matthew Williams since his appointment at the French fashion house in 2020. Williams co-designed his SS22 collection with American artist Josh Smith who is known for his colourful and vibrant sculptures and paintings. Purple being his favorite colour, lilac pieces with a utilitarian style were shown, together with graphic leather tops, layering garments and conventional suiting – all with a raw edge.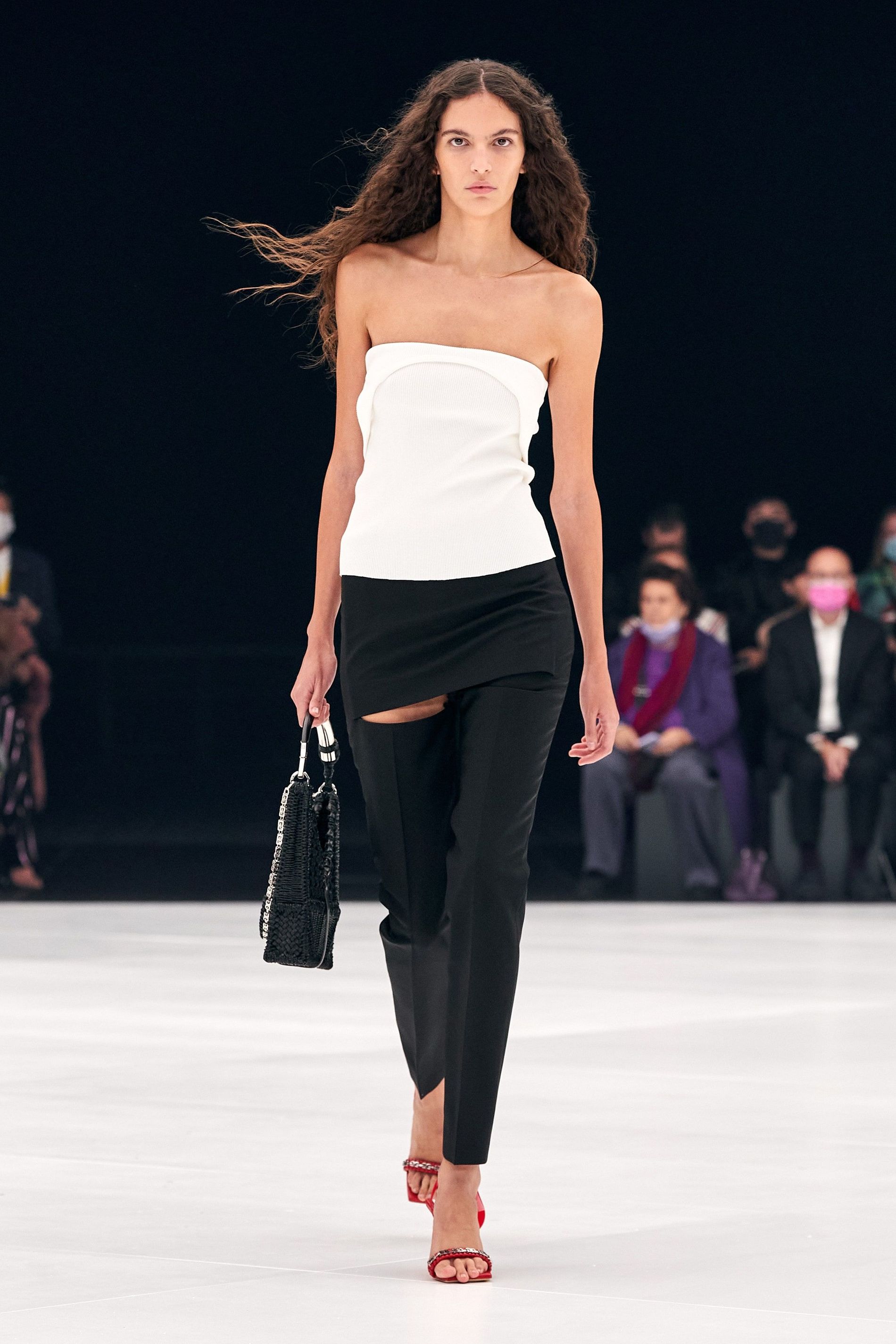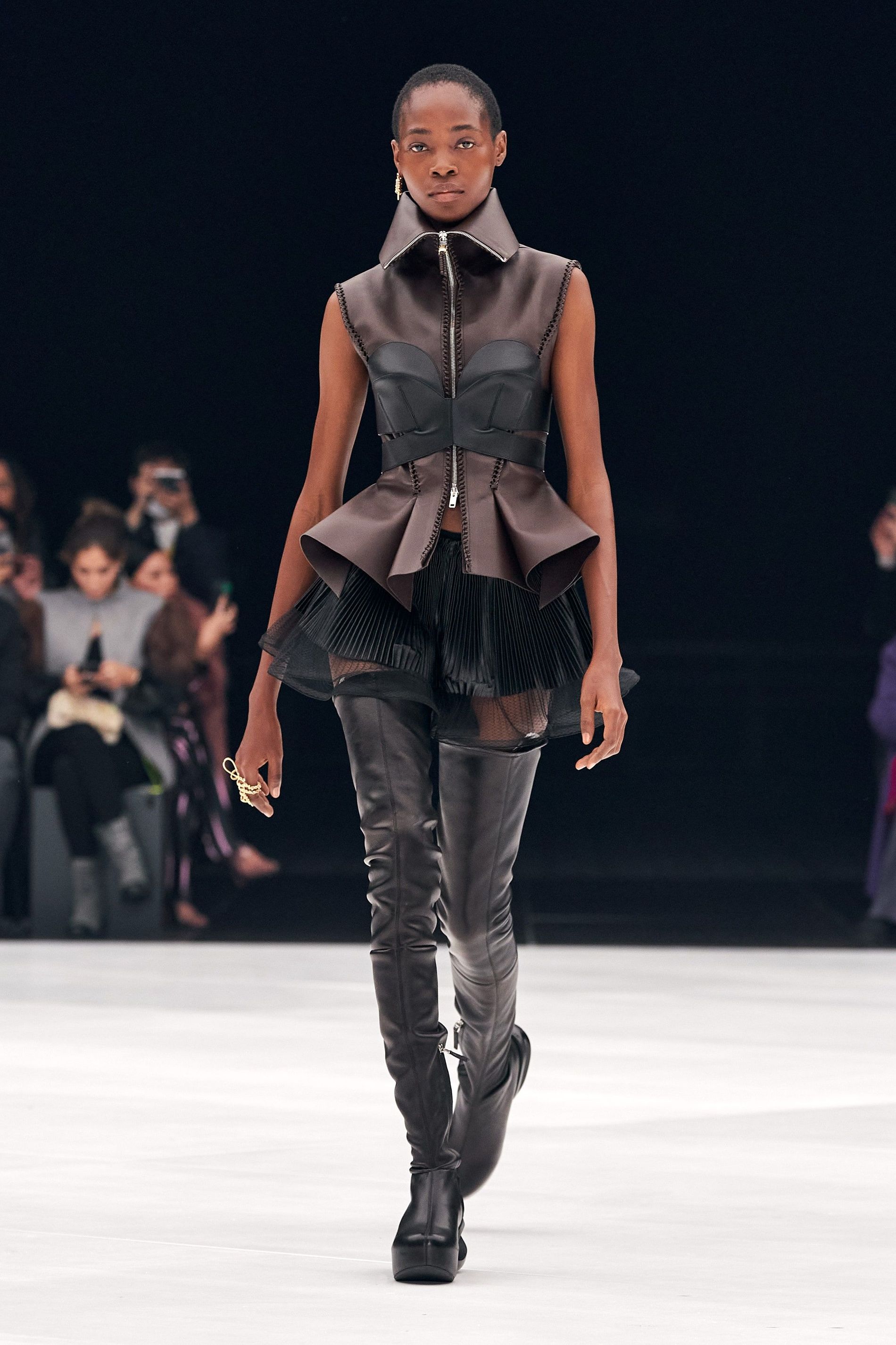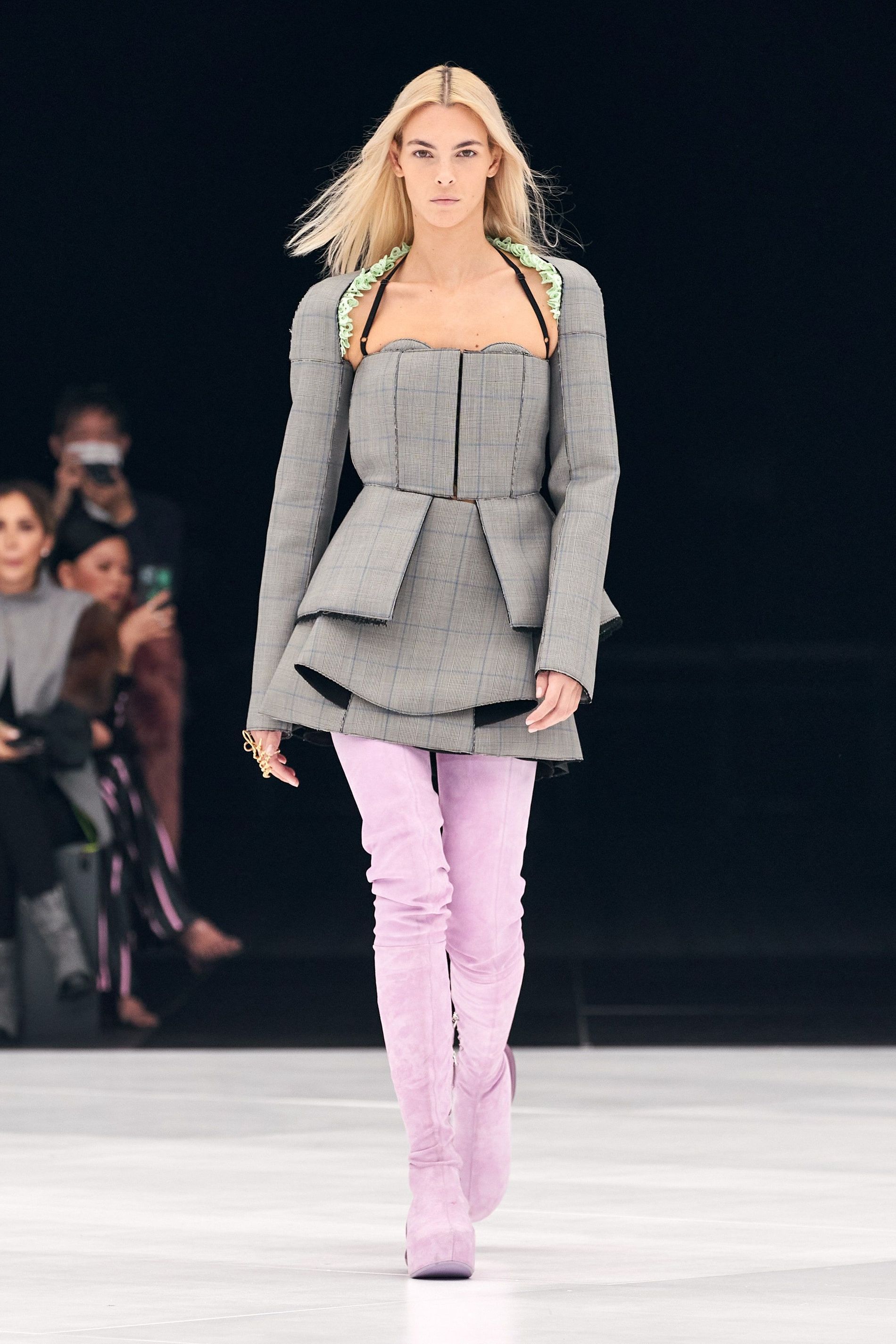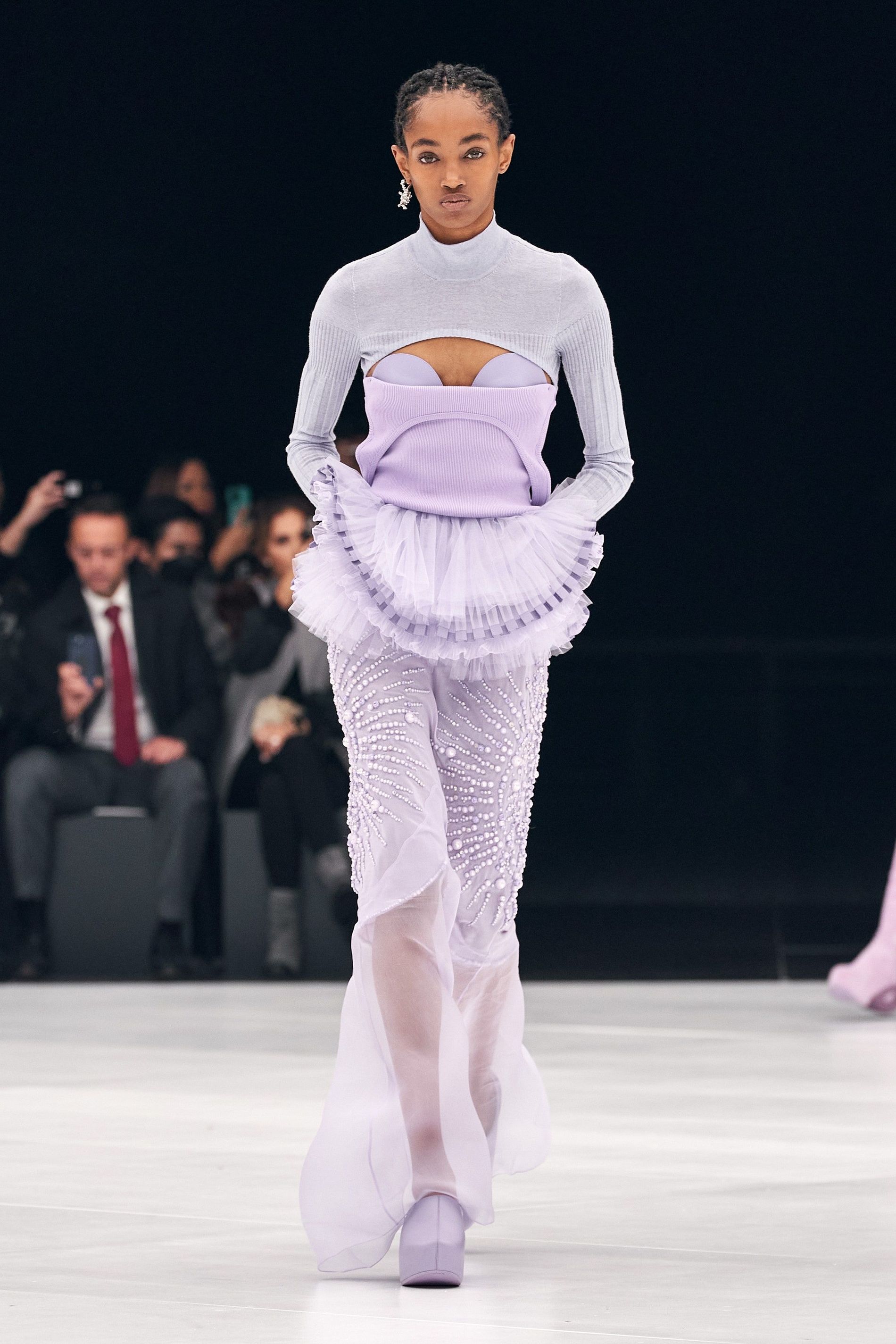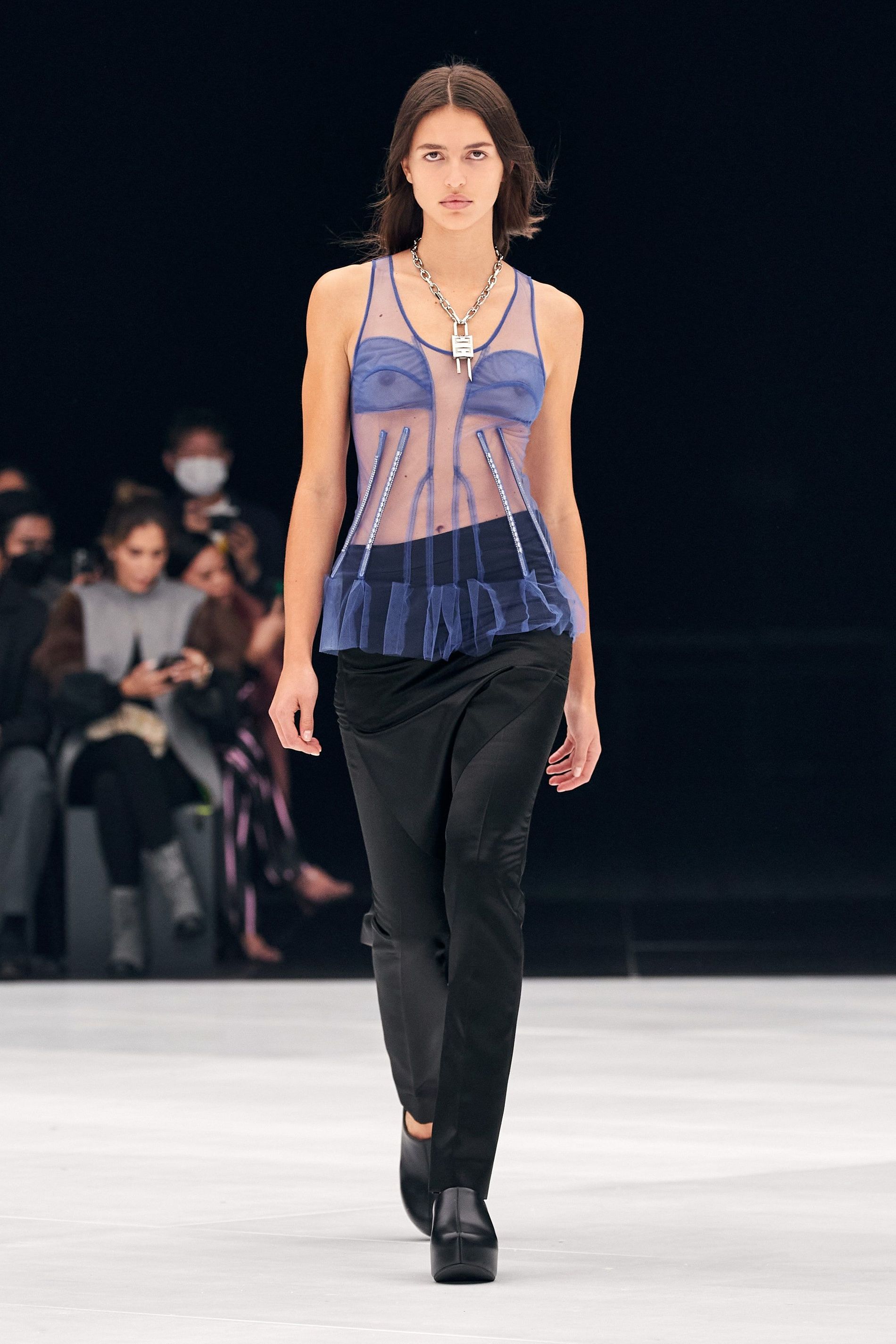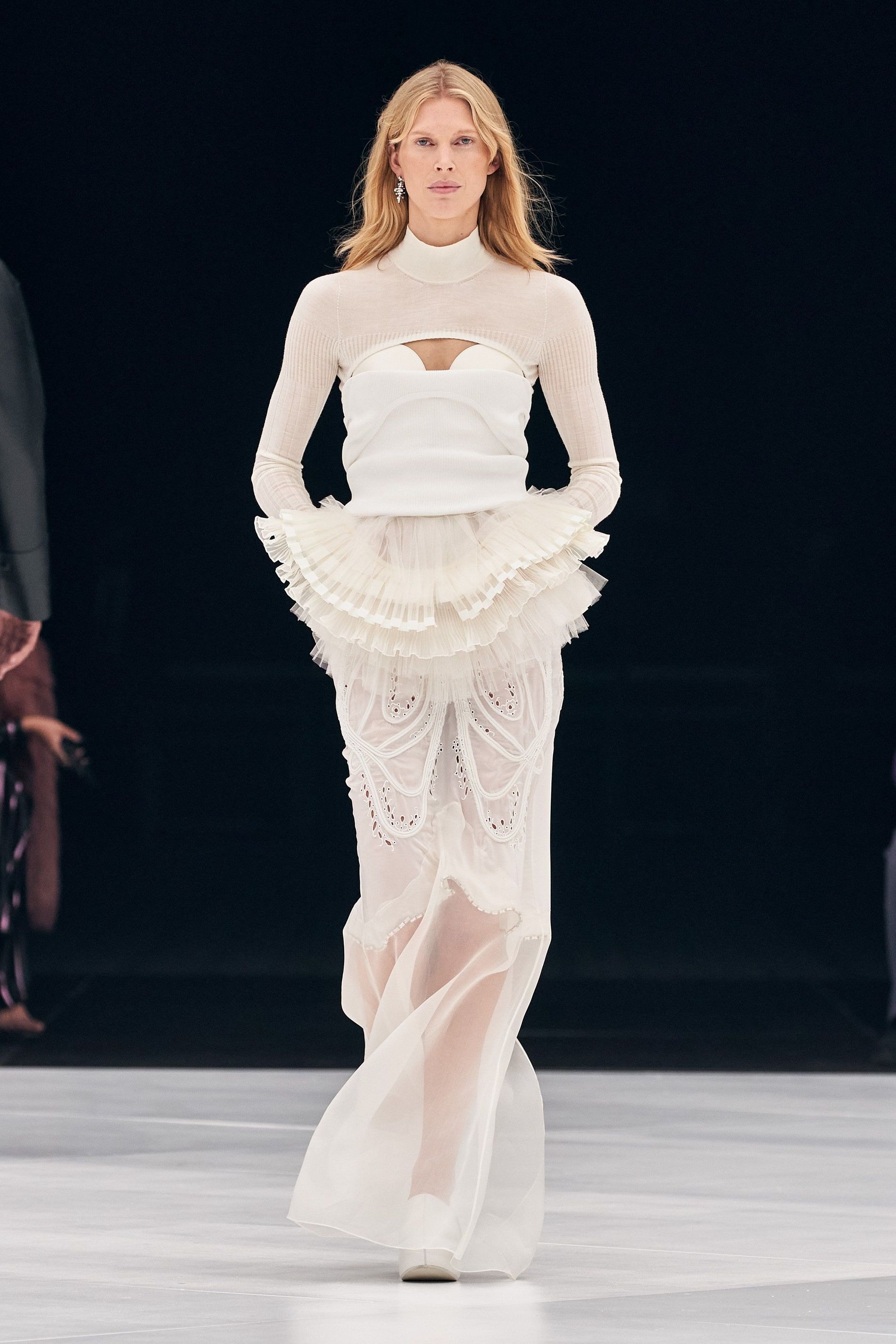 Schiaparelli
Schiaparelli's creative director Daniel Roseberry took us into a surrealist world with his SS22 collection. "Psycho chic" is how he describes the founder of the house Elsa Schiaparelli and this collection which was inspired by Elsa's wardrobe during the 1950s and 1960s. The result is wearable designs but with an unexpected twist; white shirts with ear adornments, cone bra details on Canadian tuxedos, and jewellery inspired by body parts like eyes, ears and lips. At Schiaparelli, nothing is what it seems.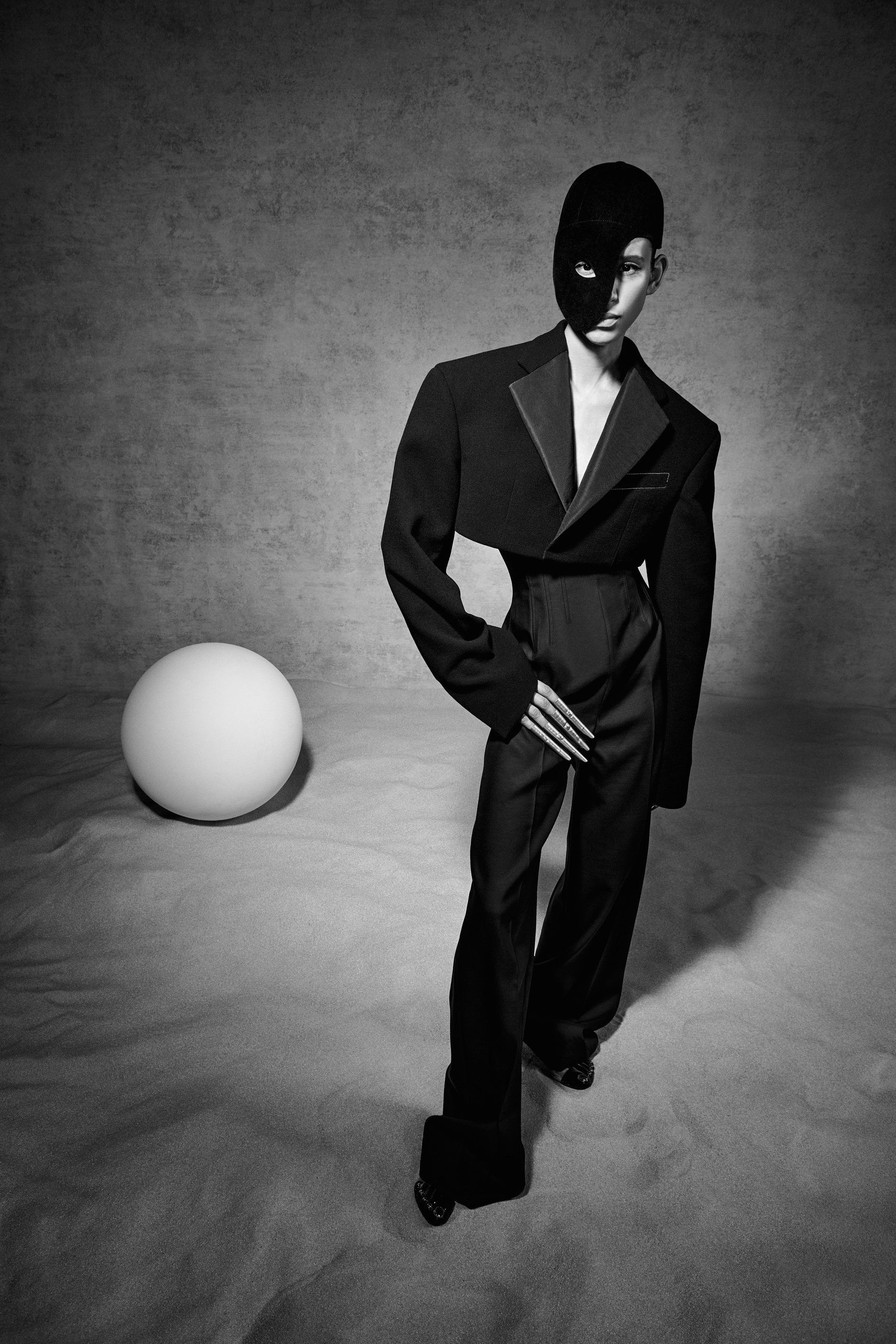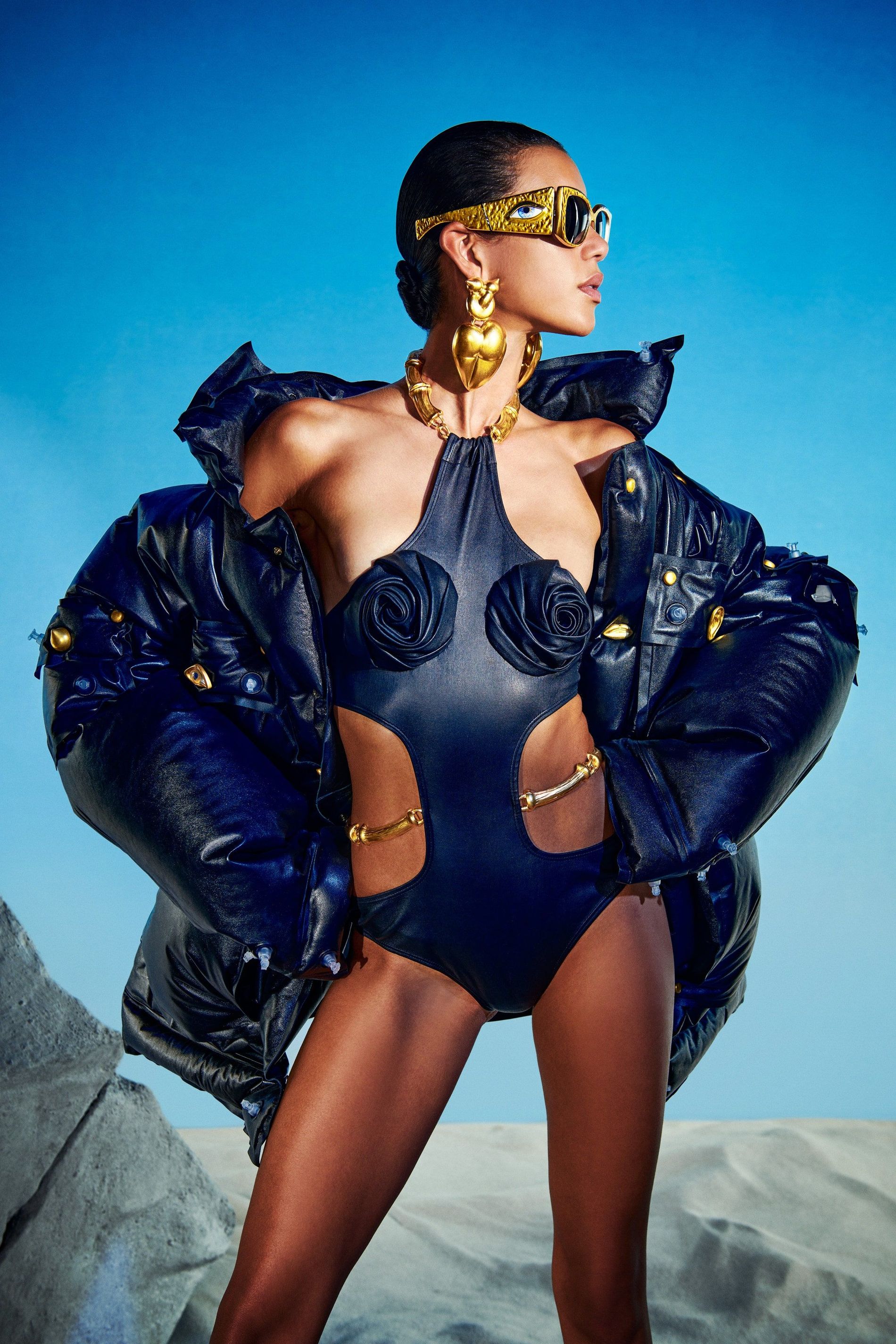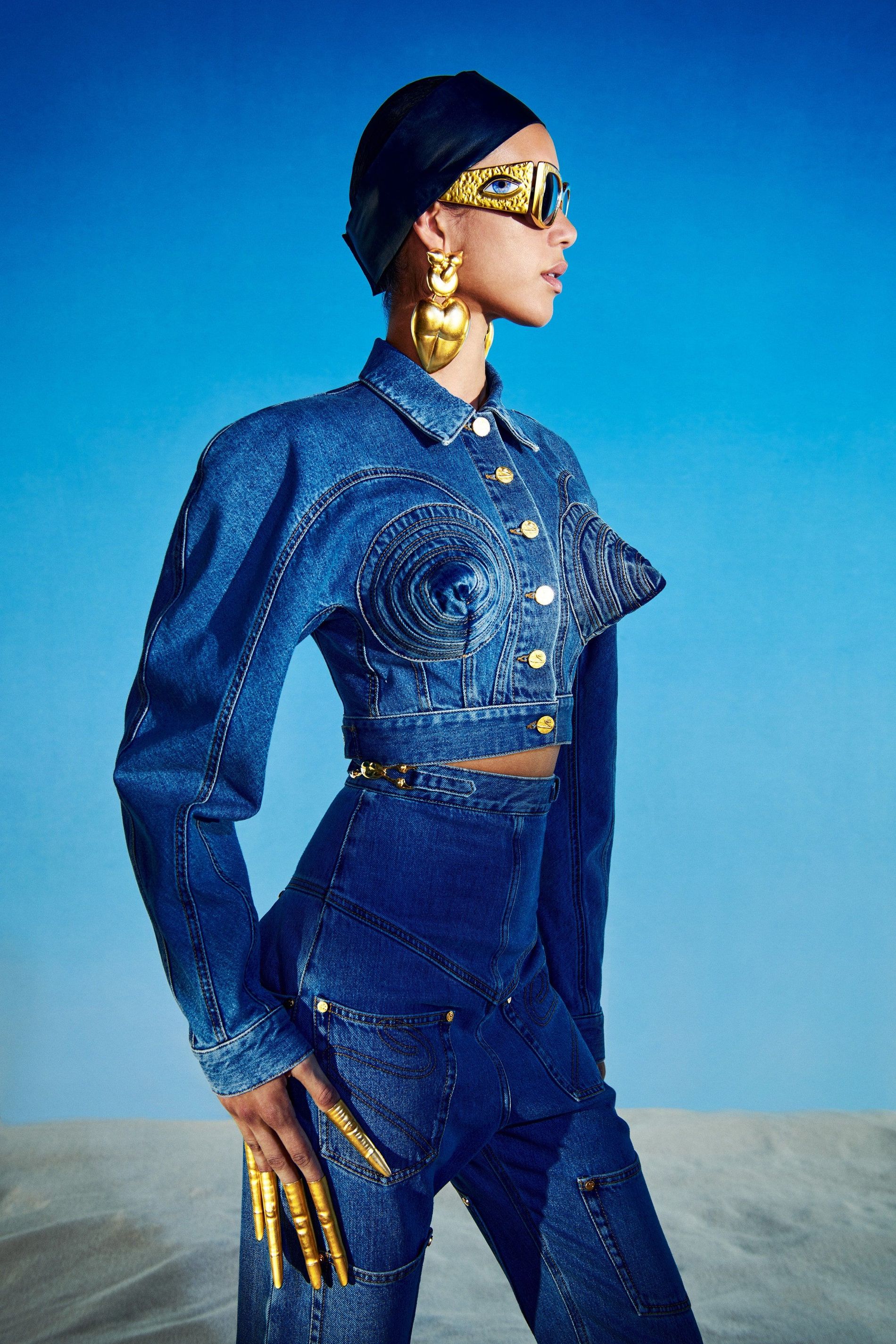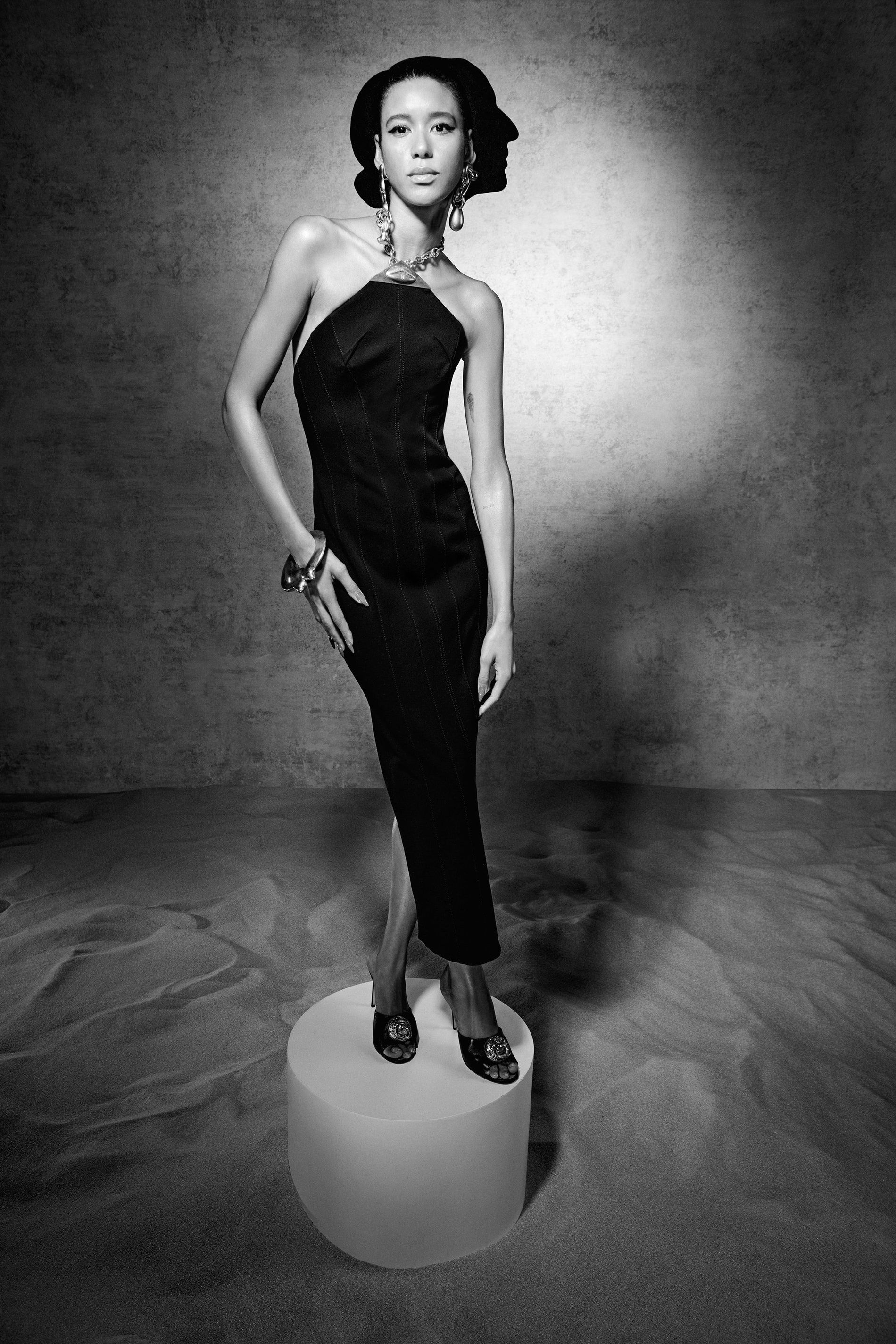 Chanel
Remember when back in the day models actually had fun on the runway? Chanel brought back energy and joy during an intimate SS22 show that contained lots of influences from the 1980s and 1990s. Some of Karl Lagerfeld's most iconic designs, like Chanel-underwear, bright pink and purple tweed suits, and silky butterfly dresses were worn by models. George Michael's Freedom! covered by Christine and the Queens played in the back. Nostalgic yet modern, but above all an optimistic collection that we all desire.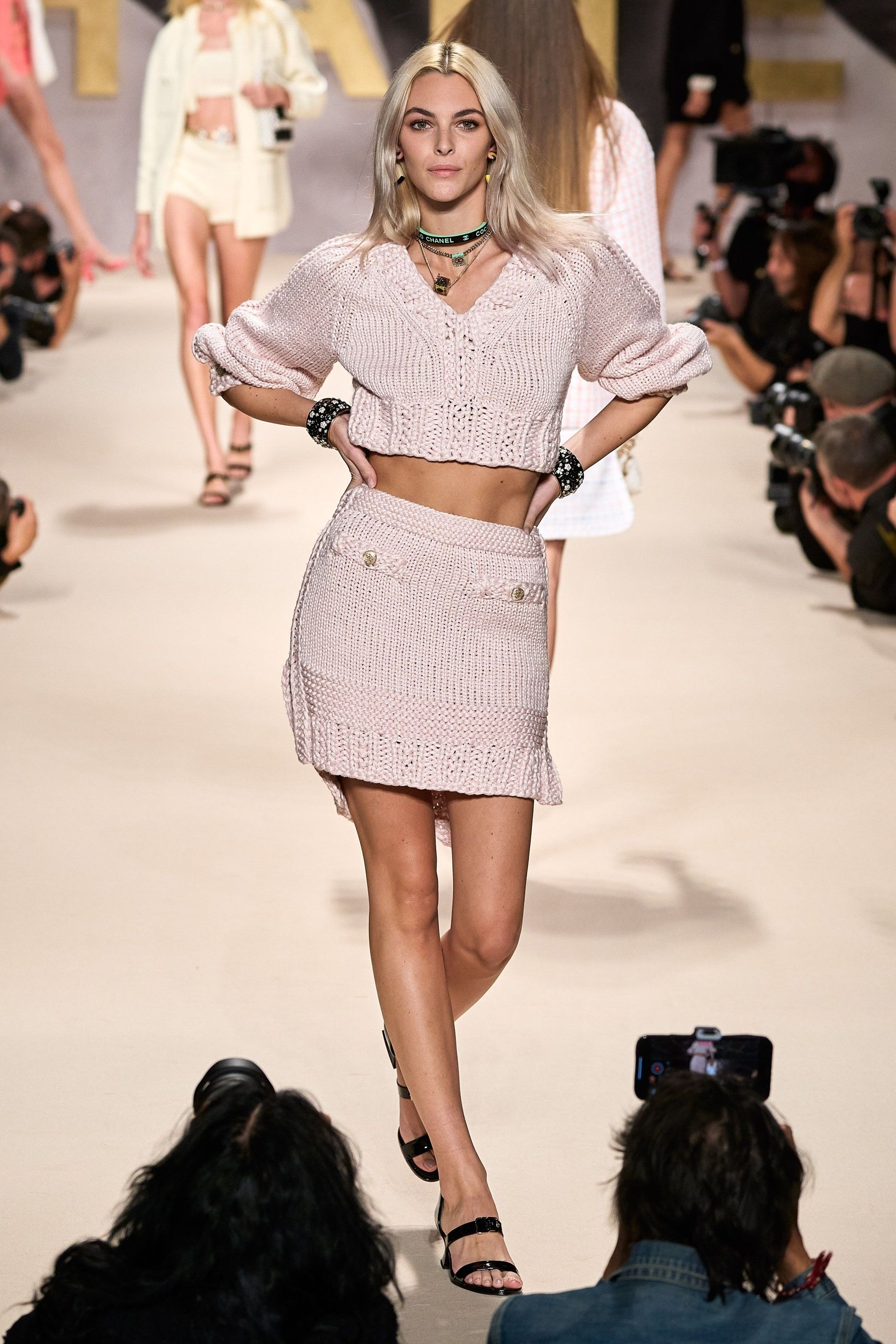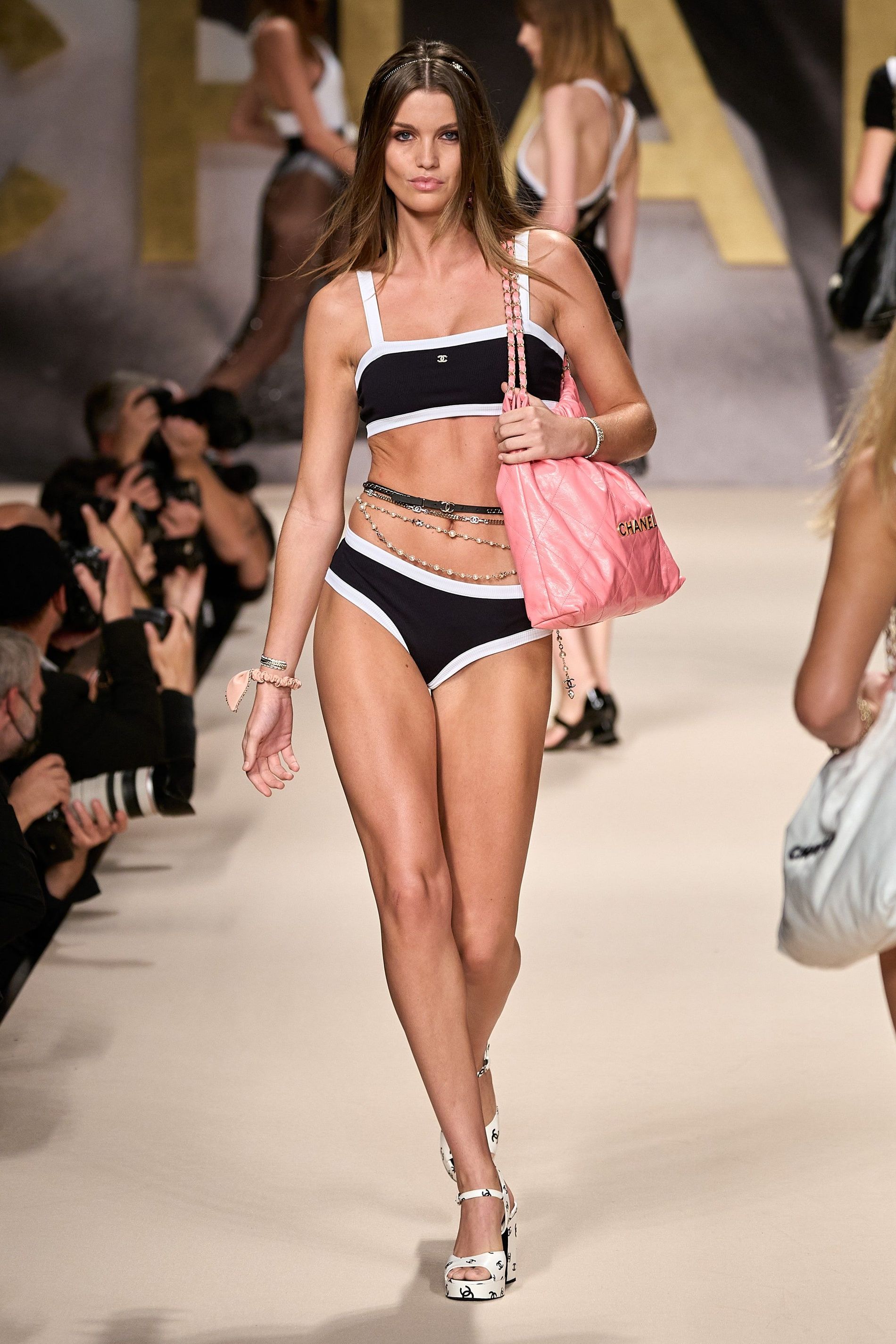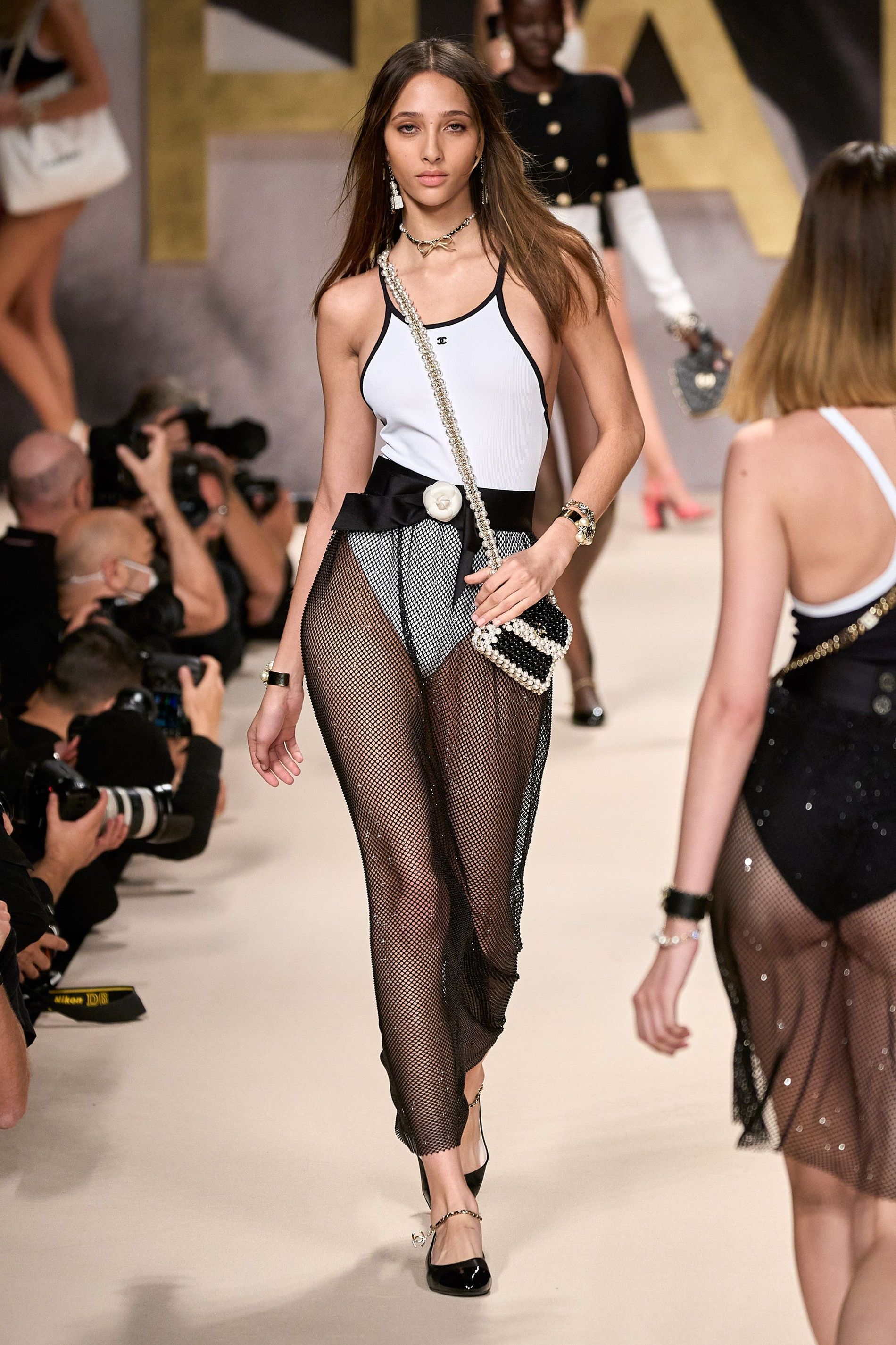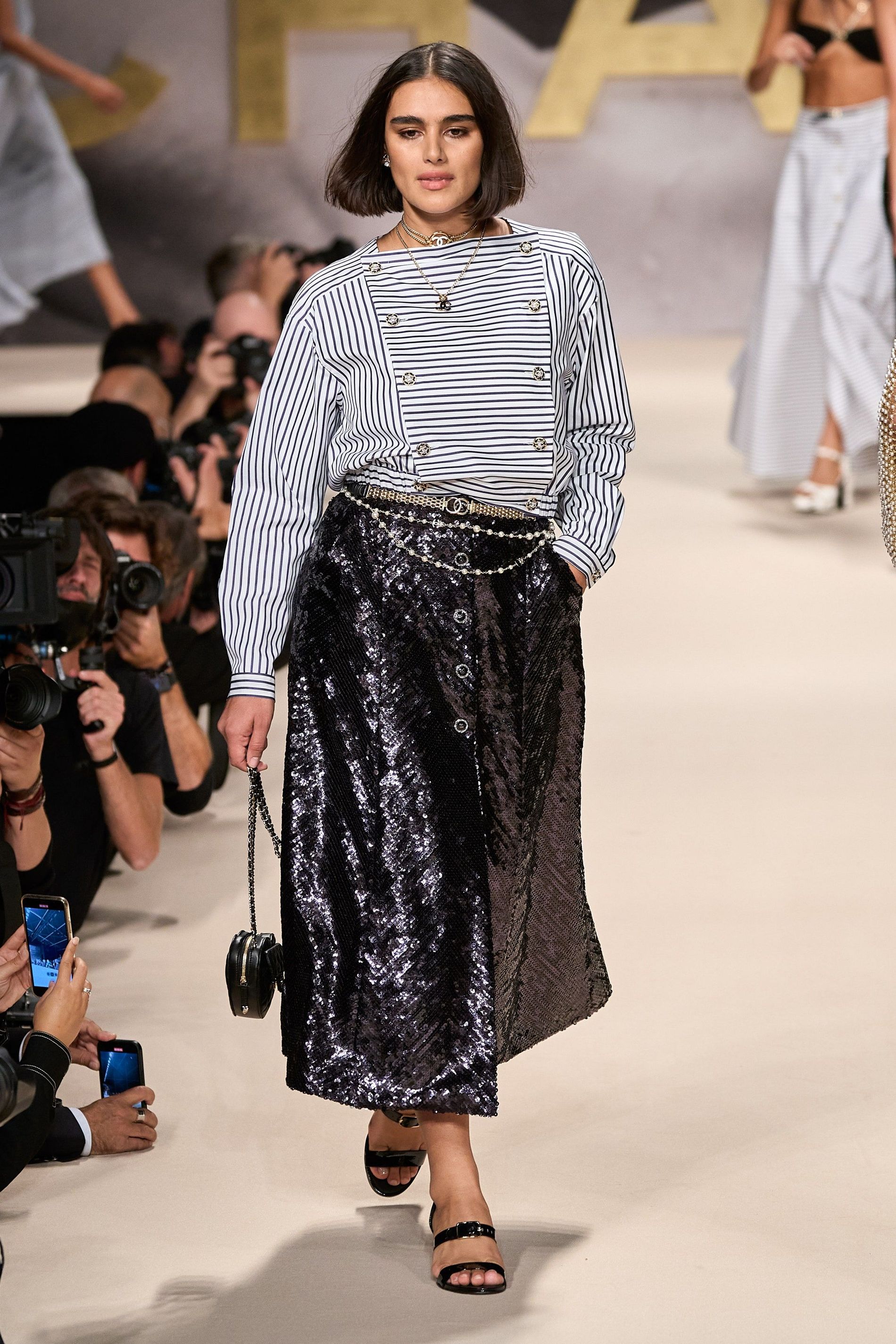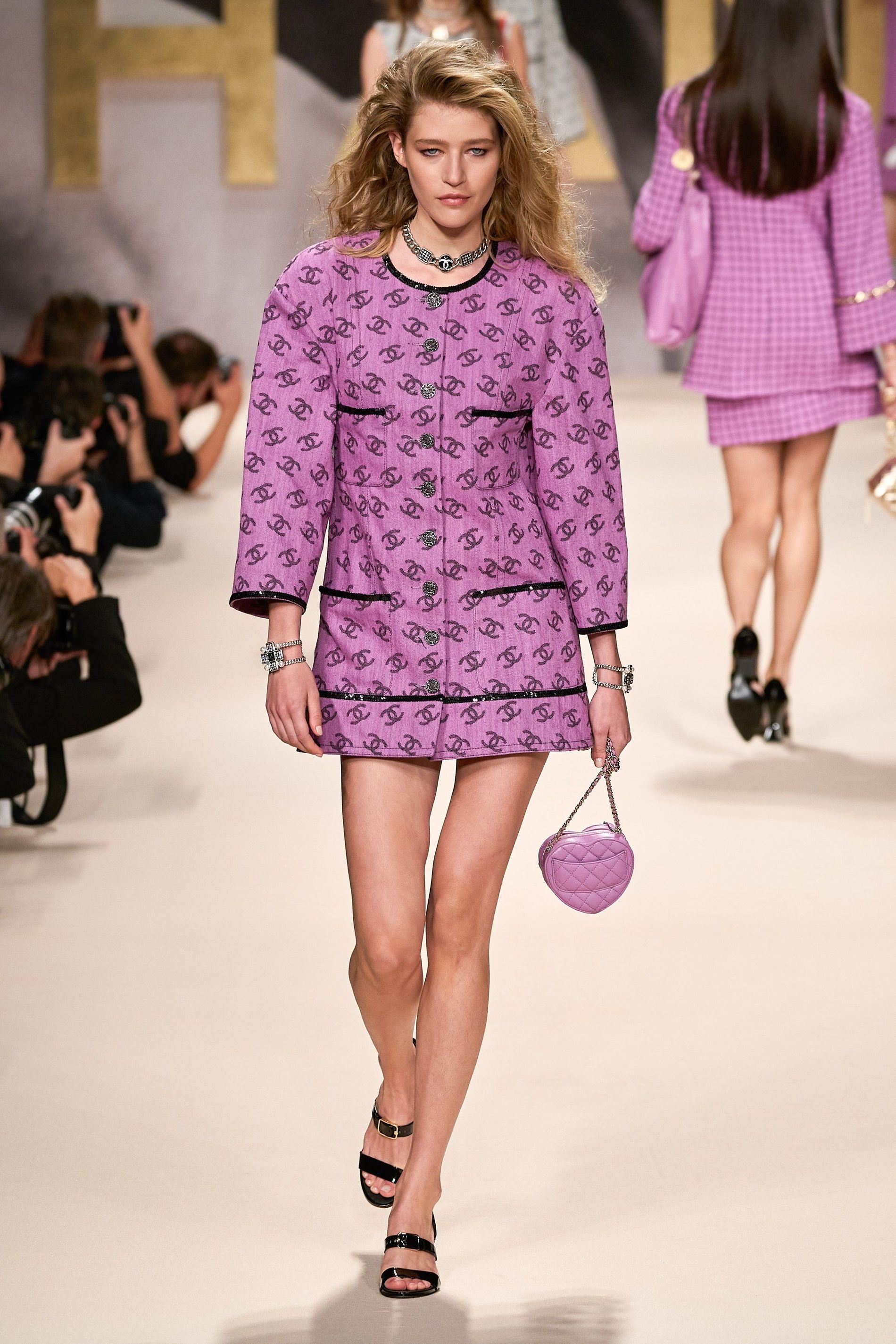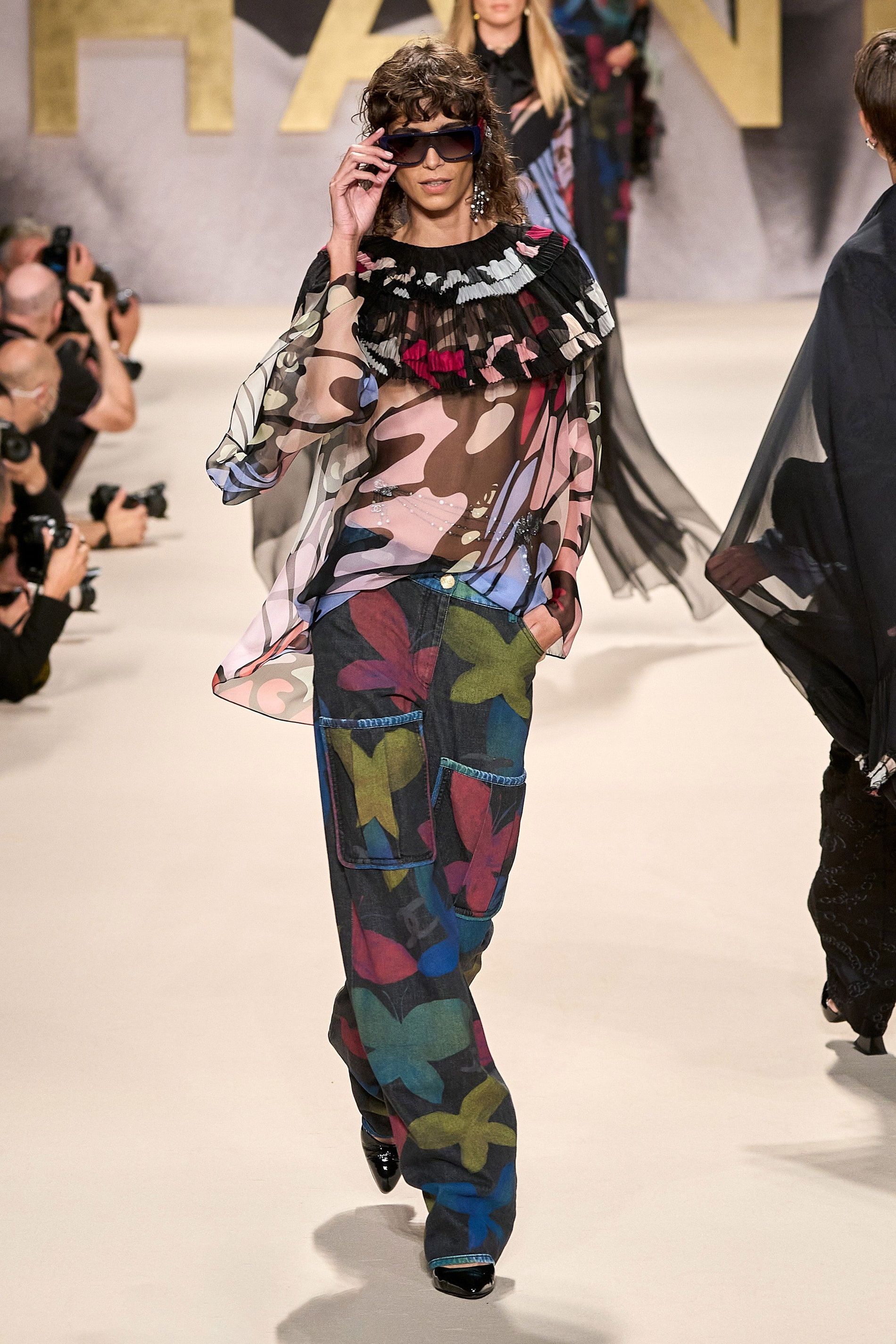 Giambattista Valli
Known for his voluminous, romantic creations, Giambattista Valli didn't disappoint with his new summer collection. In a colour palette inspired by flower gardens, the designs contain floral motifs, delicate embroideries, lots of tulle and ruffles, but yet minimalistic designs at the same time – this is the perfect collection for our post-pandemic desires now we can finally go out again.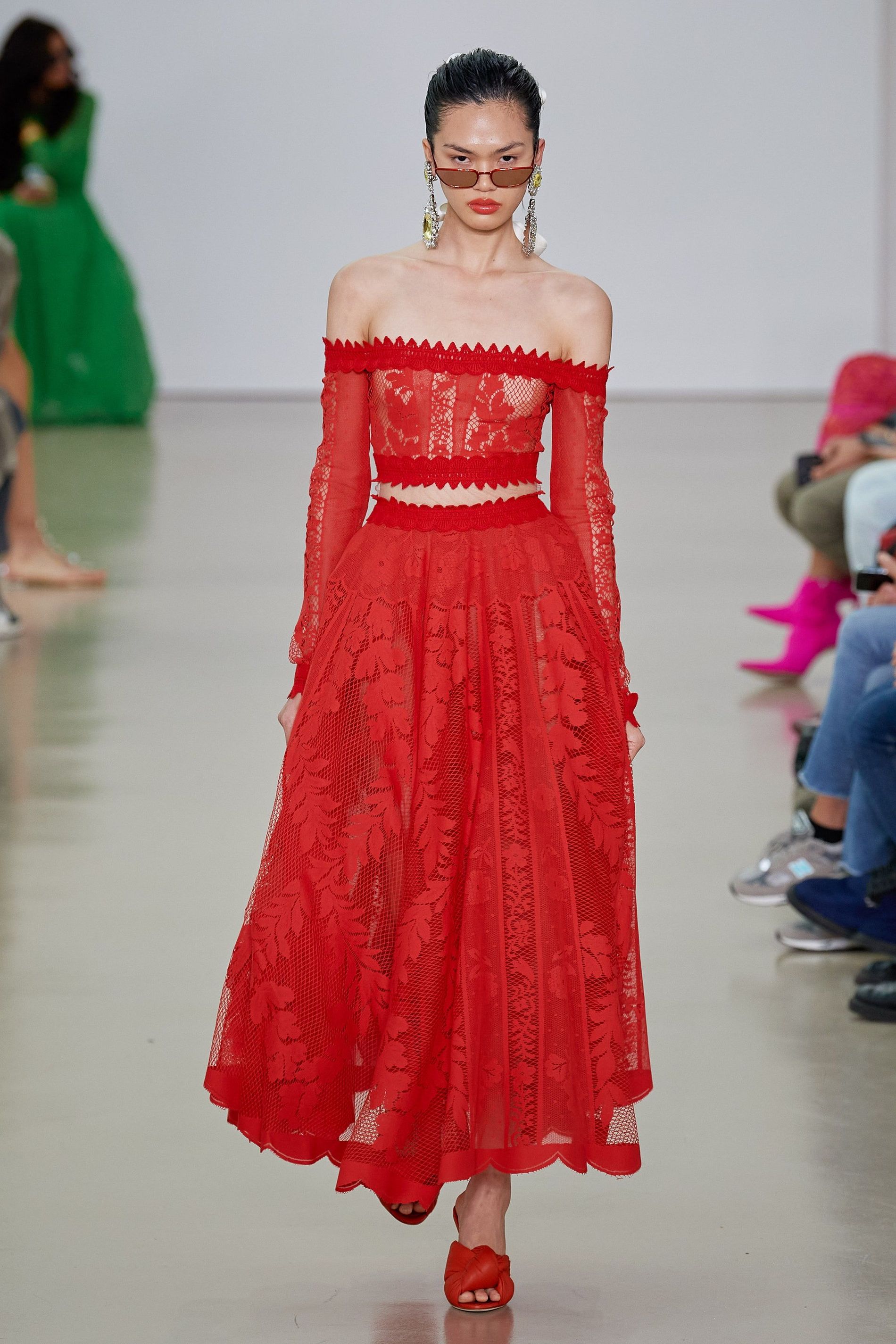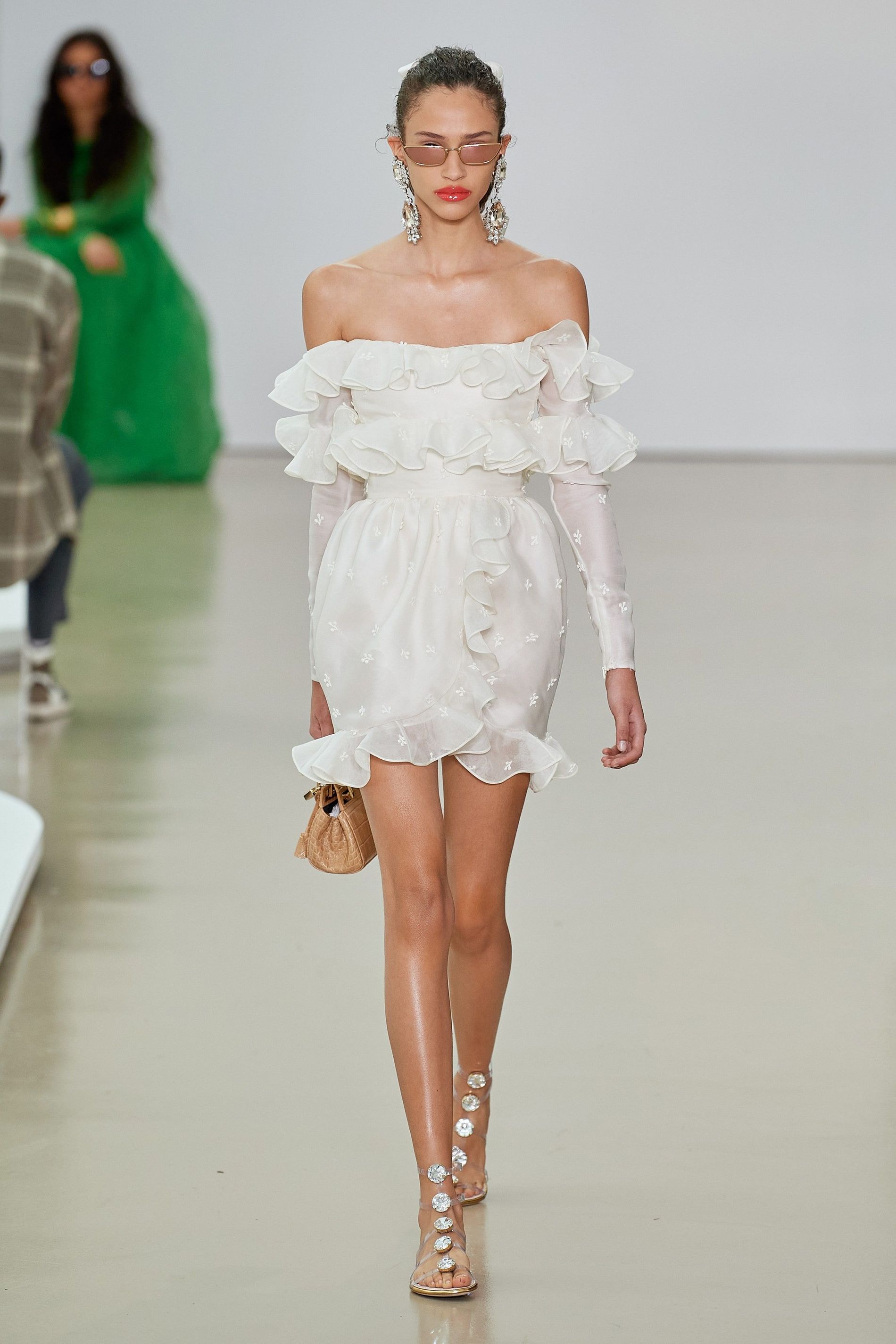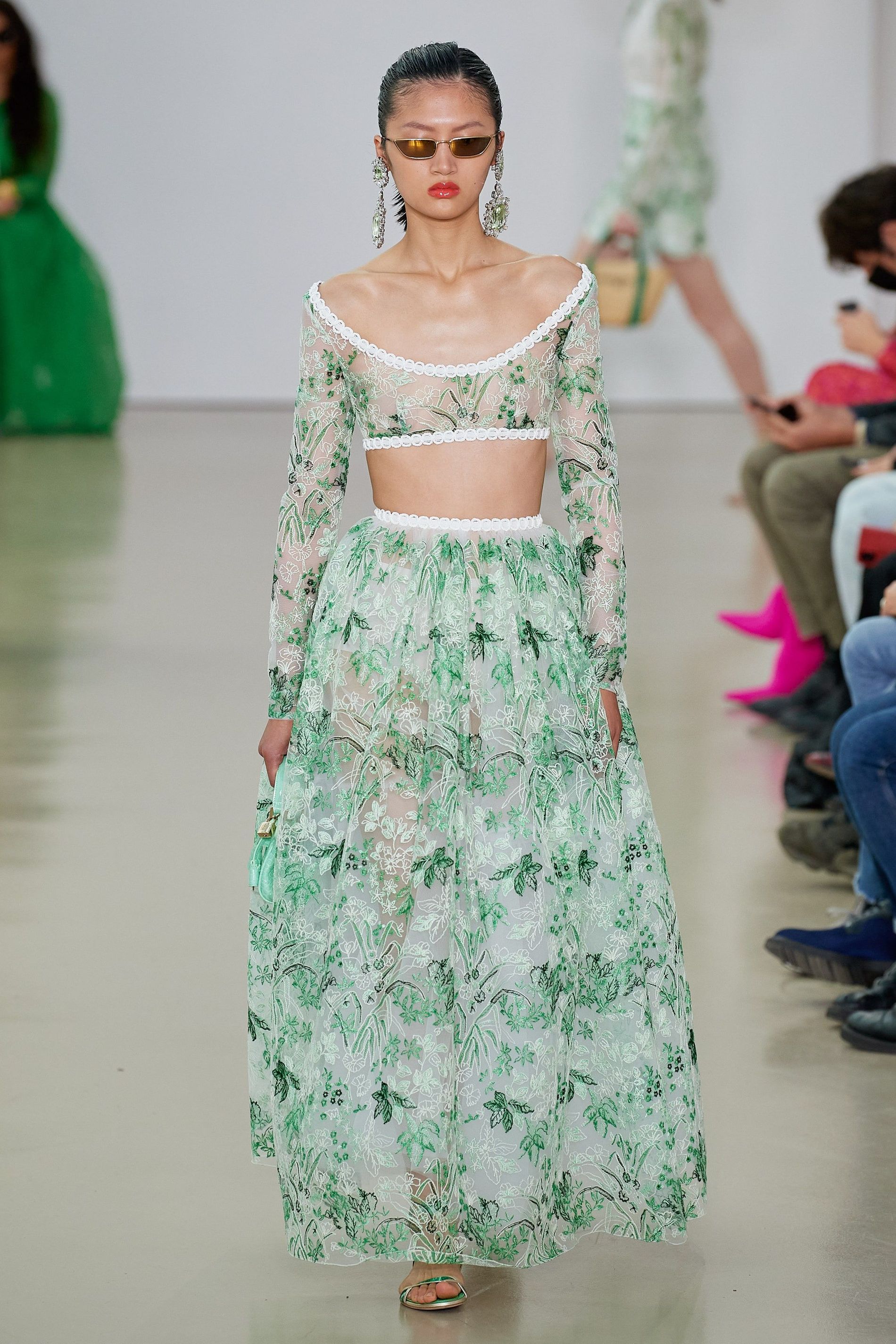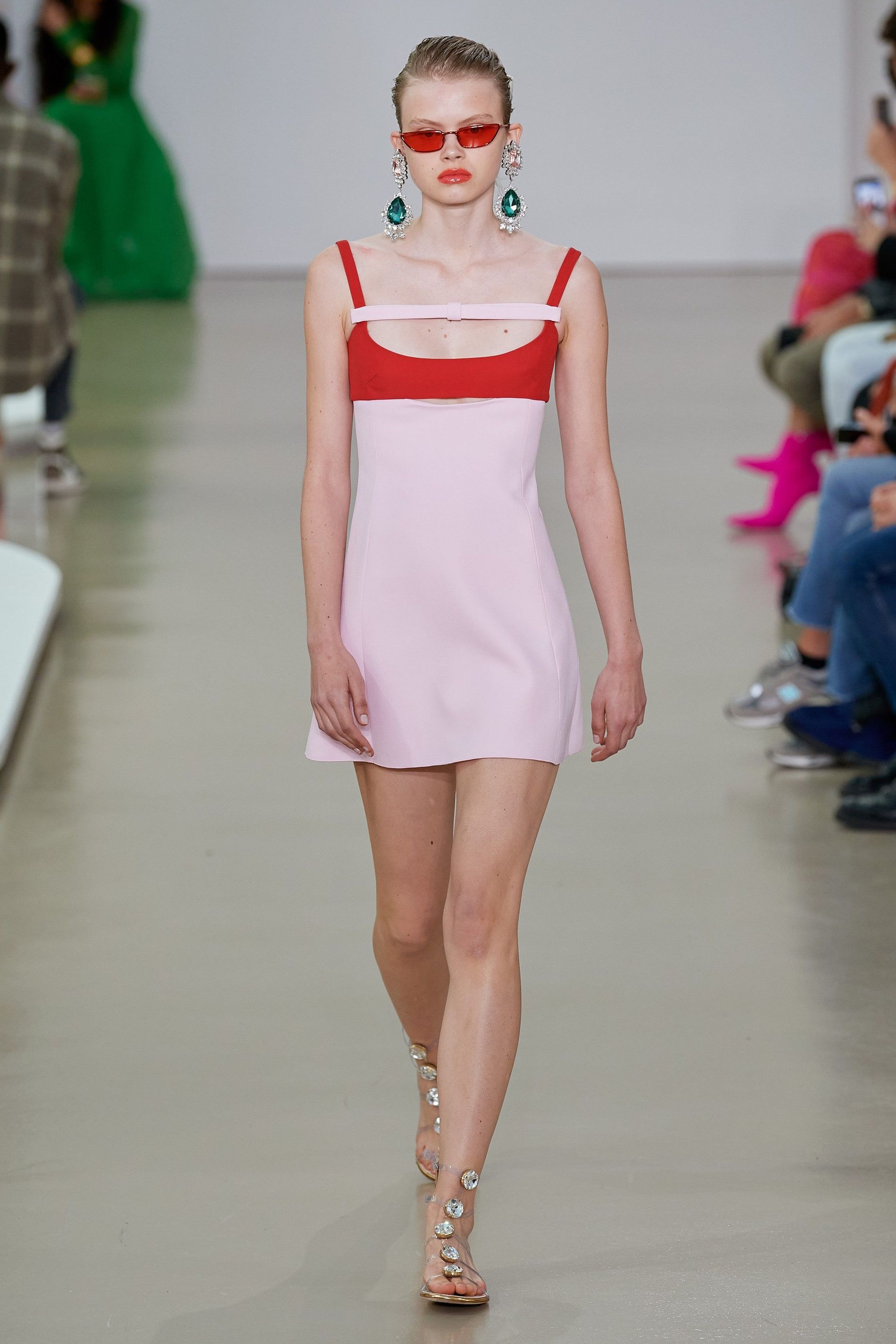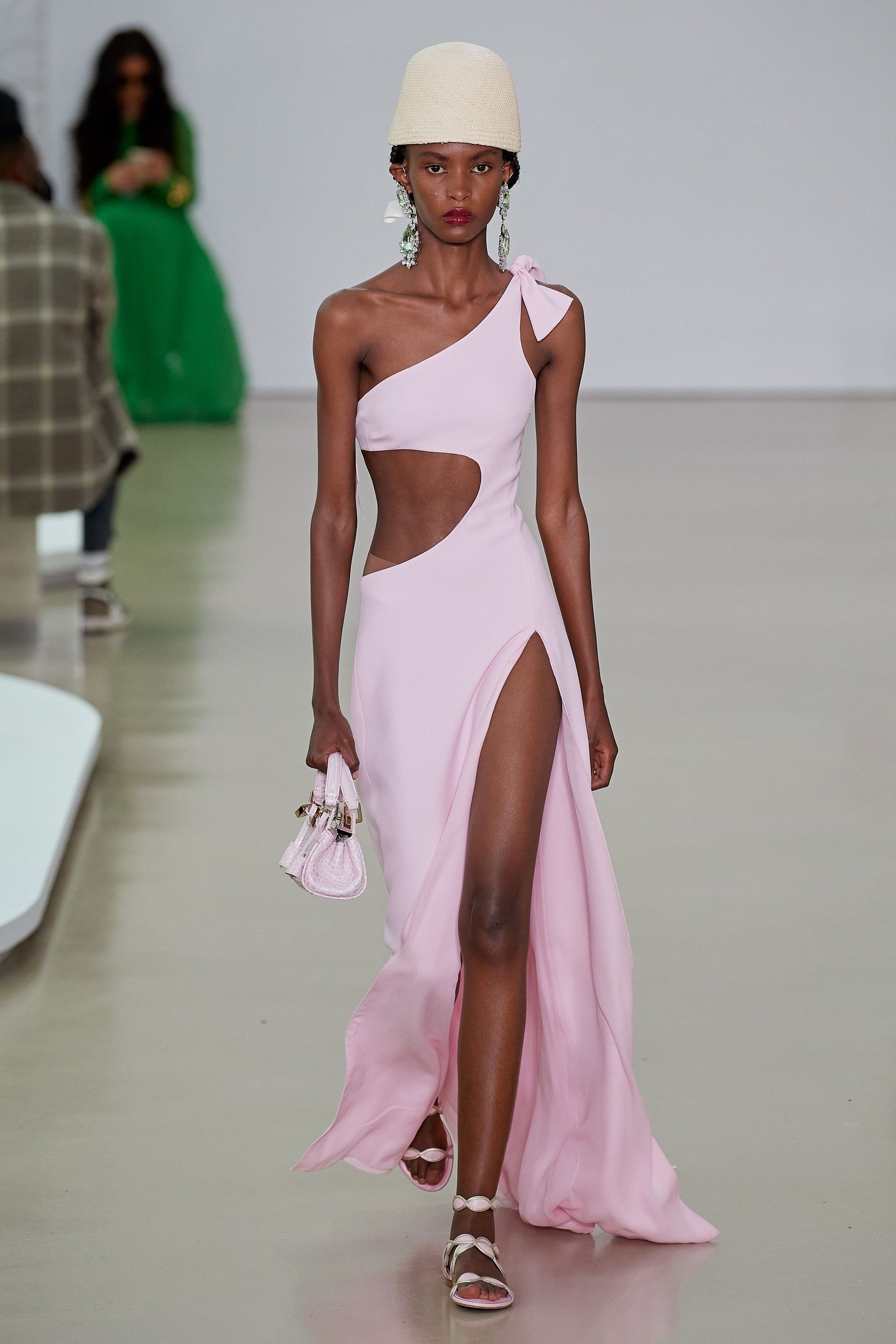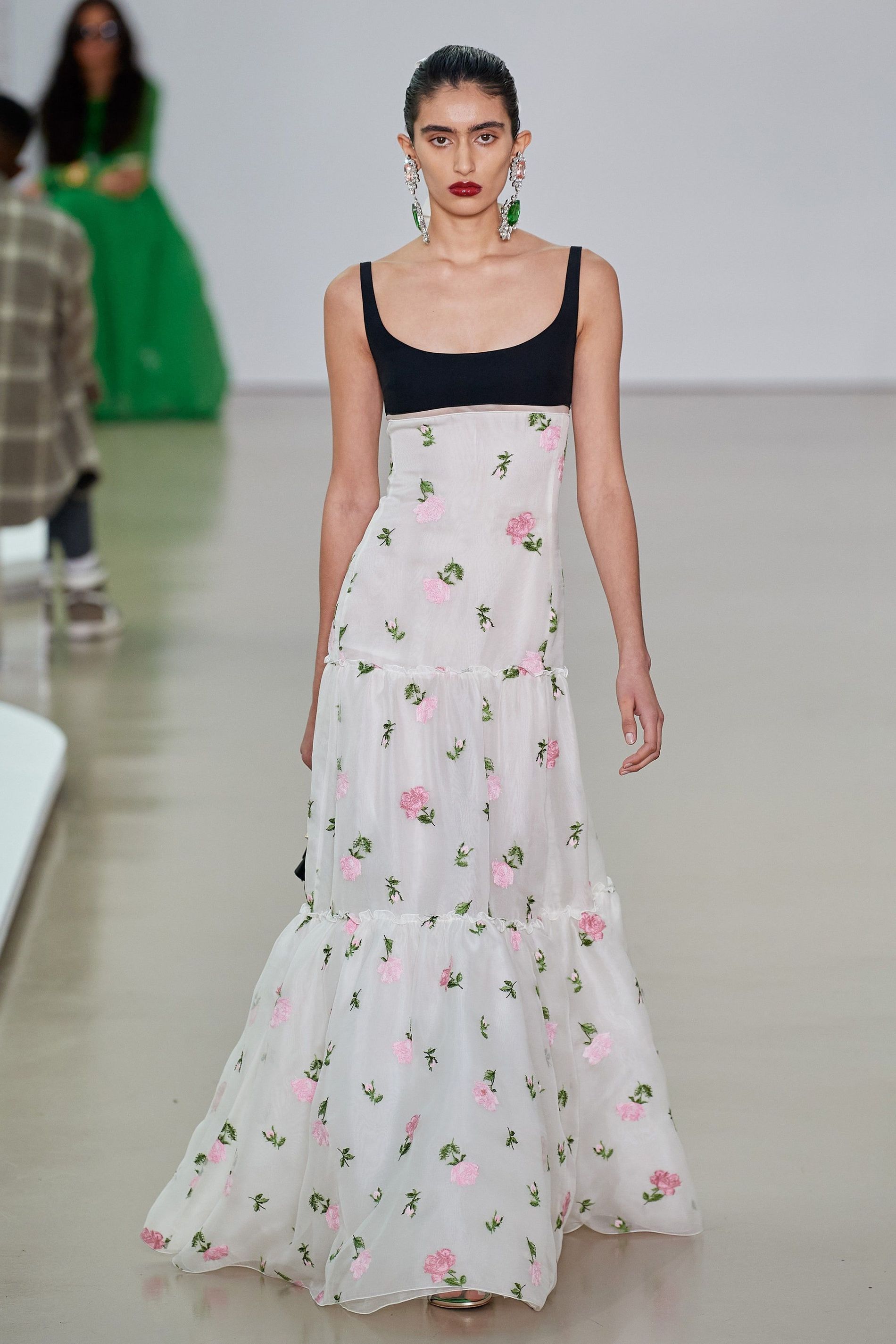 Maison Margiela
Creative director John Galliano was inspired by the style of Dutch fishermen when creating his genderless collection for Maison Margiela. Galliano opted for a collection instead of a physical show. Moving images showed models wearing wide high-waisted trousers, Flemish hats, and layered, deconstructed pieces that are a nod to the classic Margiela DNA. But one of the biggest highlights was a biodegradable variant of the tabi boot.
Miu Miu
Ready or not, the controversial low-waisted mini skirt is officially back according to Miu Miu. The shorter than short skirts and low-rise trousers and shorts appeared on the runway resting on the hips of models like Rianne van Rompaey, combined with short crop-tops made out of signature wool sweaters and classic shirts. Designer Miuccia Prada knows how to disrupt the fashion world by creating looks that are equally trendy and timeless.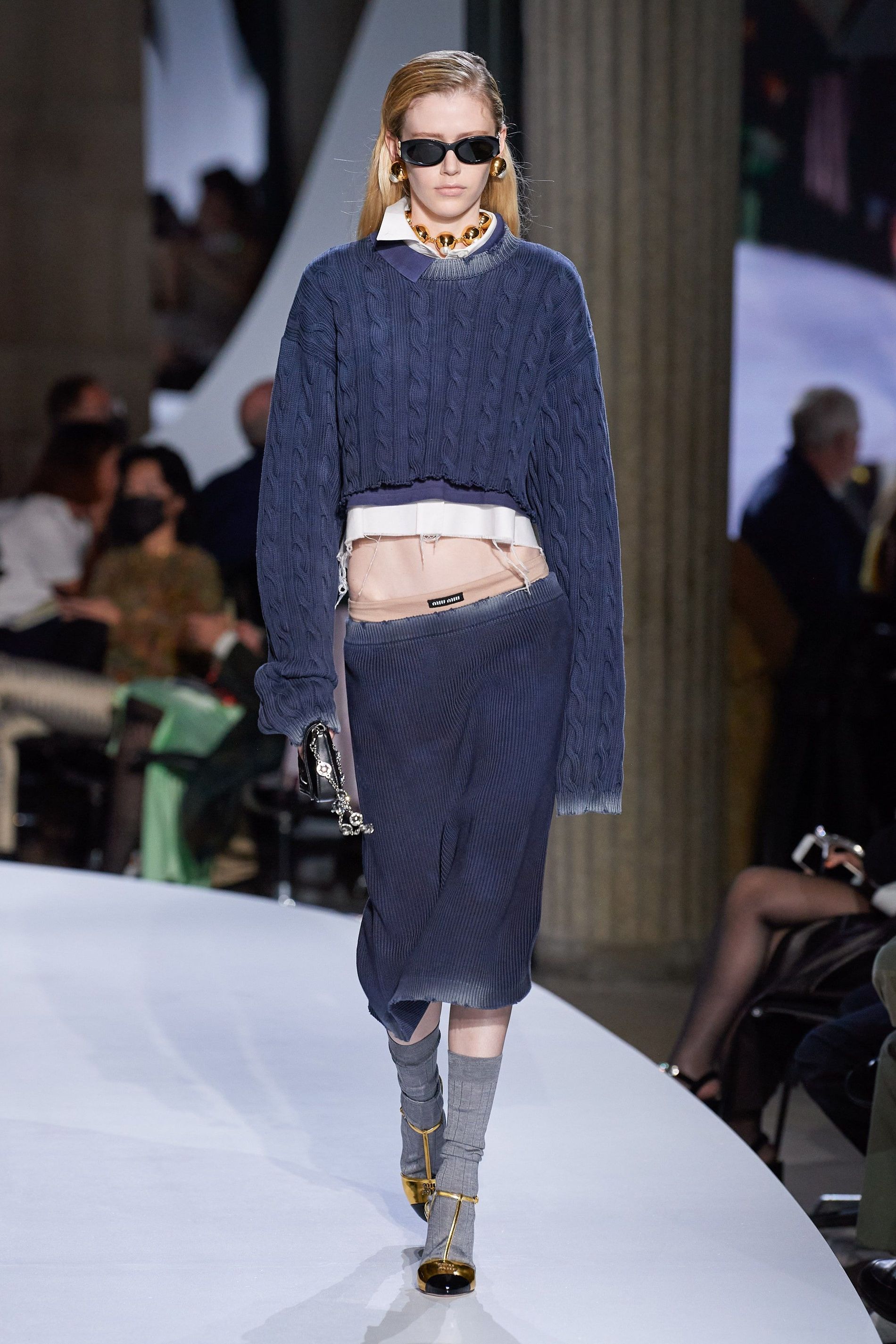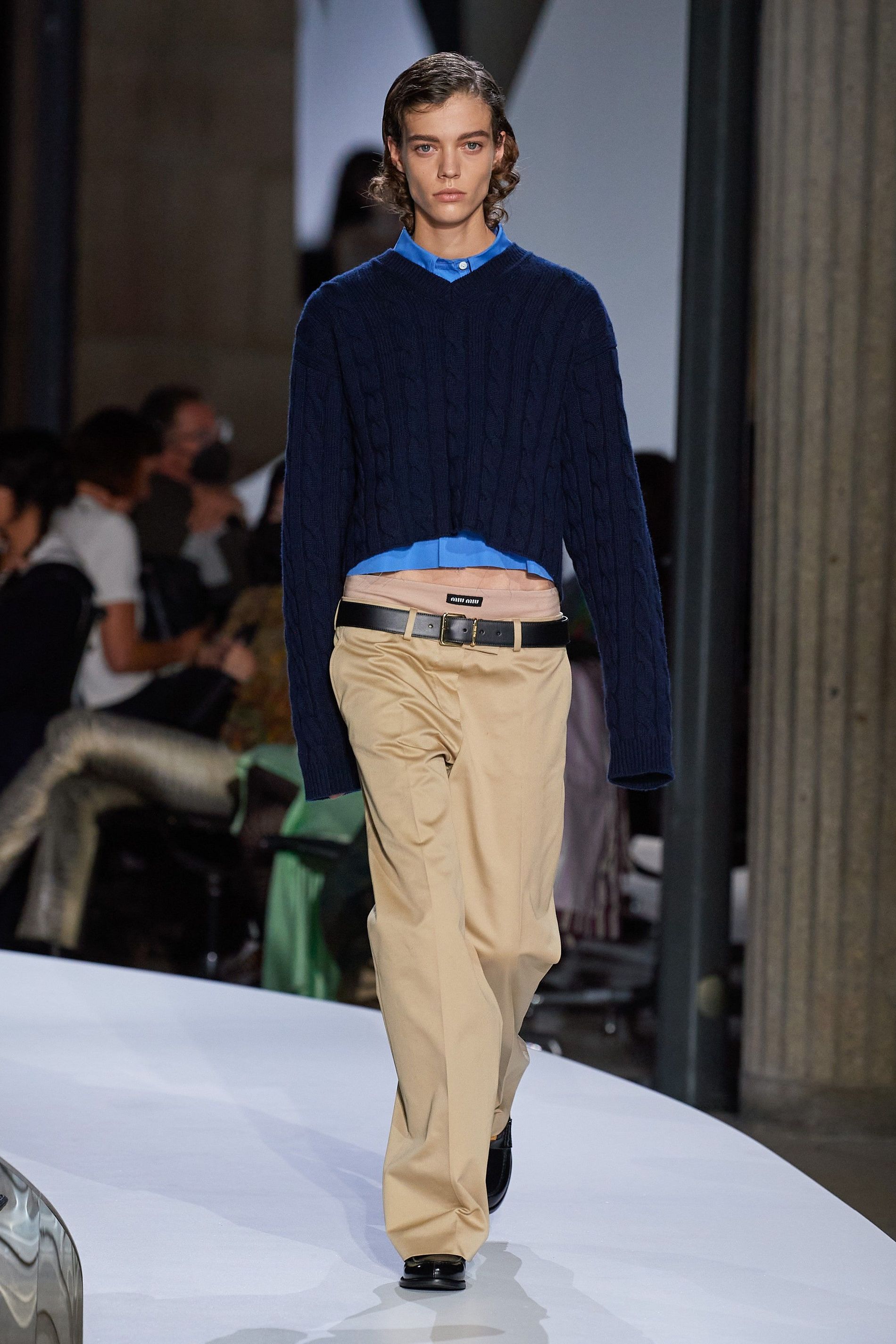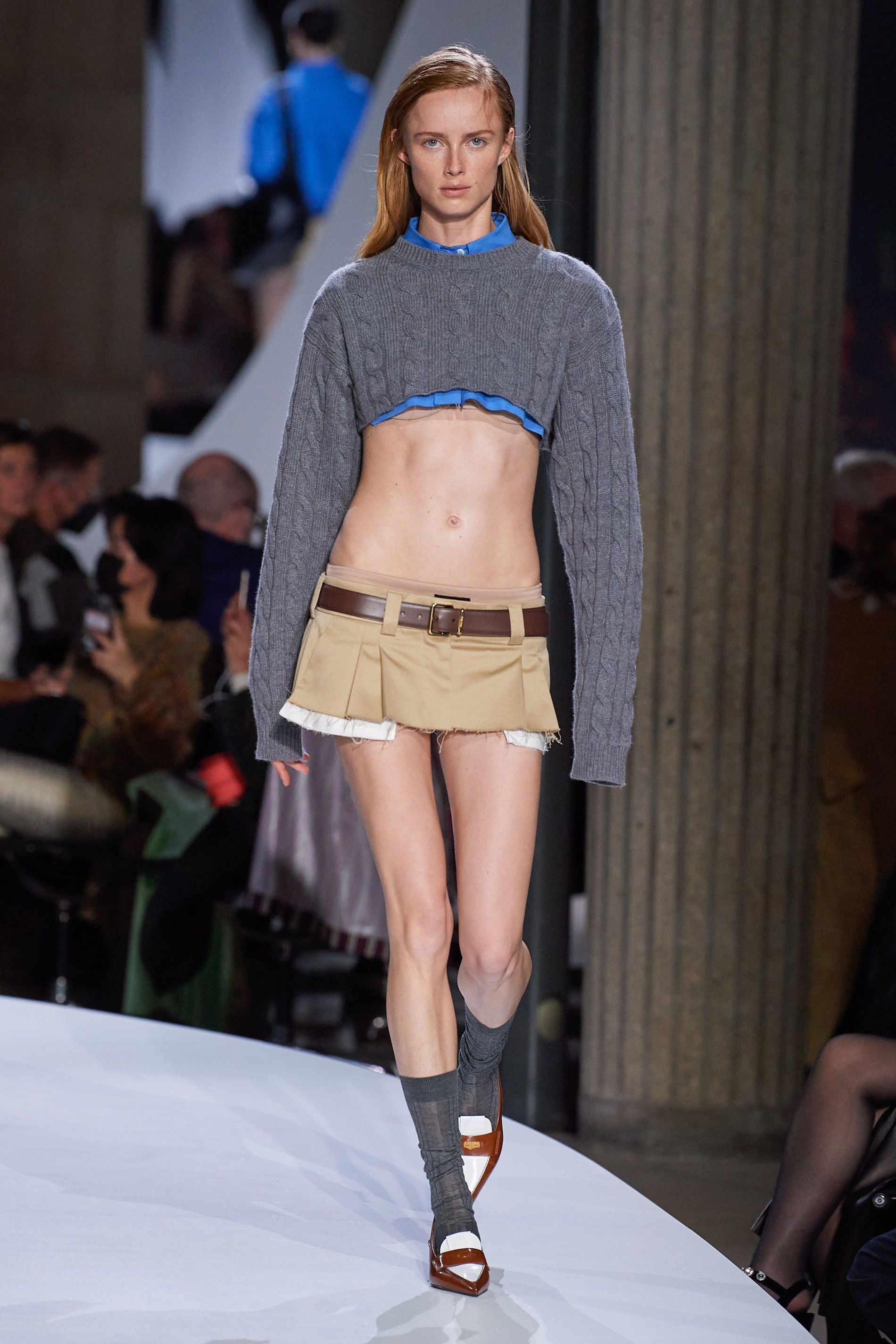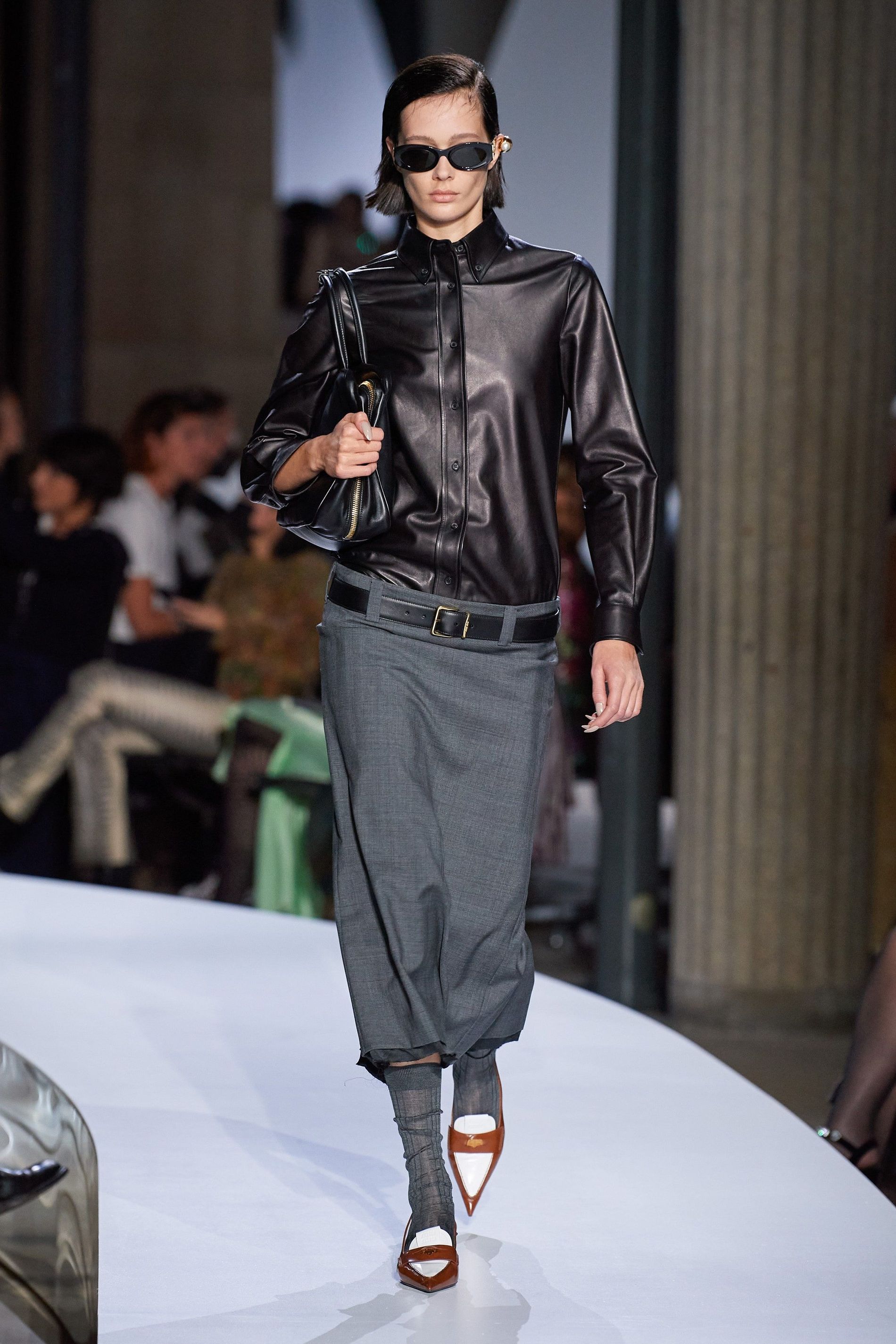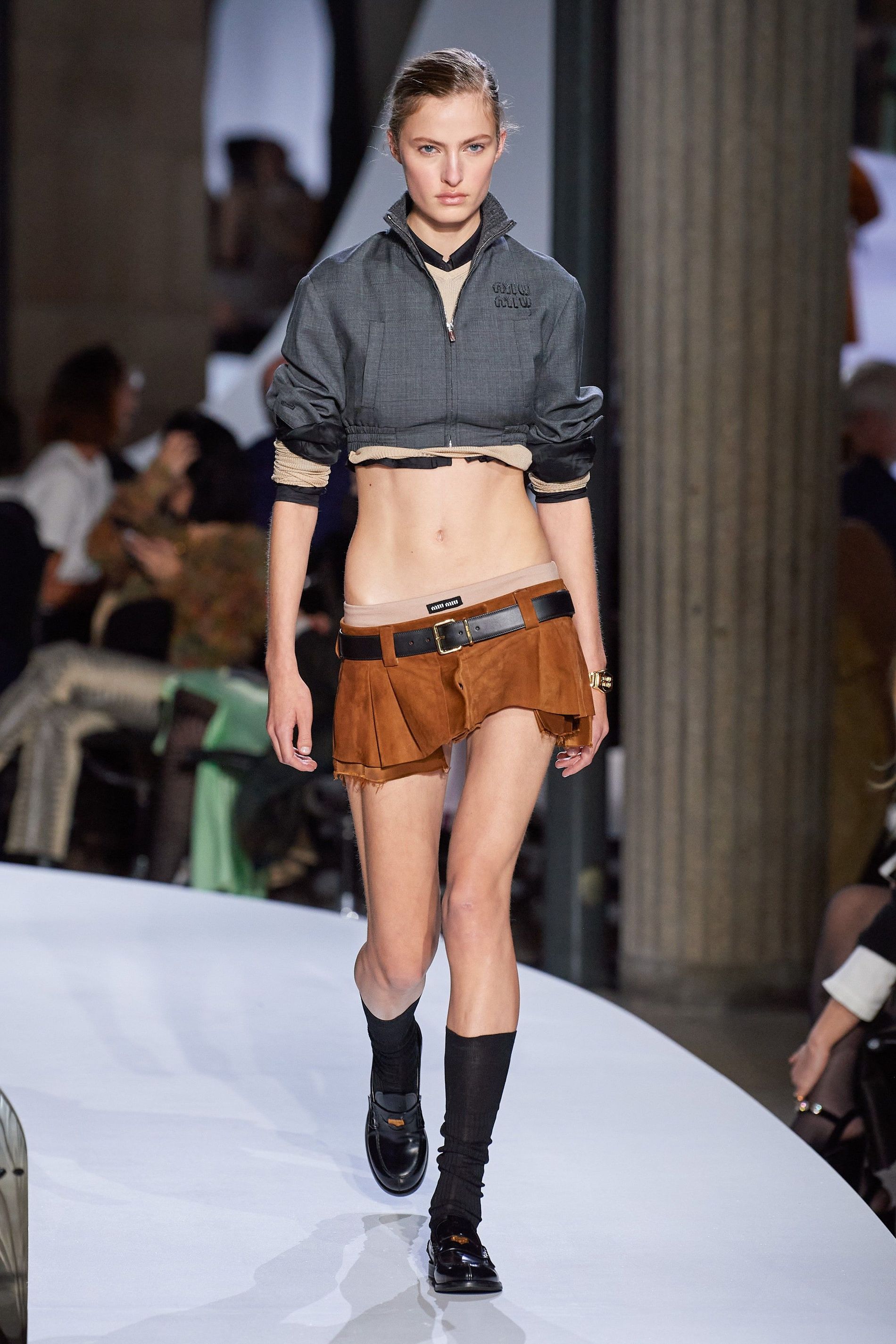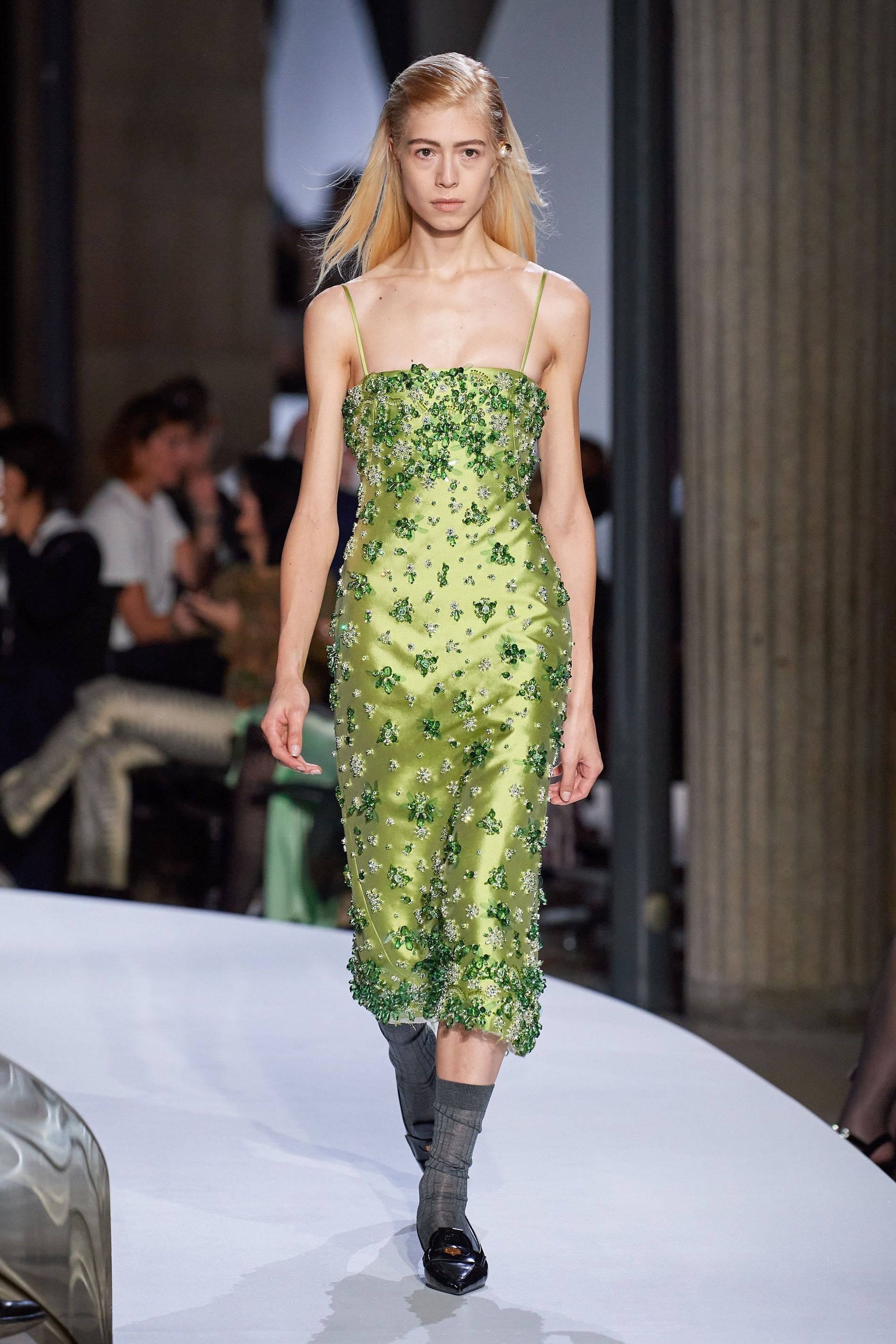 Lacoste
Creative director Louise Trotter always knows how to challenge the classic DNA of the French fashion label. Preppy and sporty was combined in the collection, which featured light-pink wind jackets, bright V-neck knits with a fringed alligator logo, and modern polos combined with tennis skirts. Designs that are made to comfortably move outside again without having to compromise on style.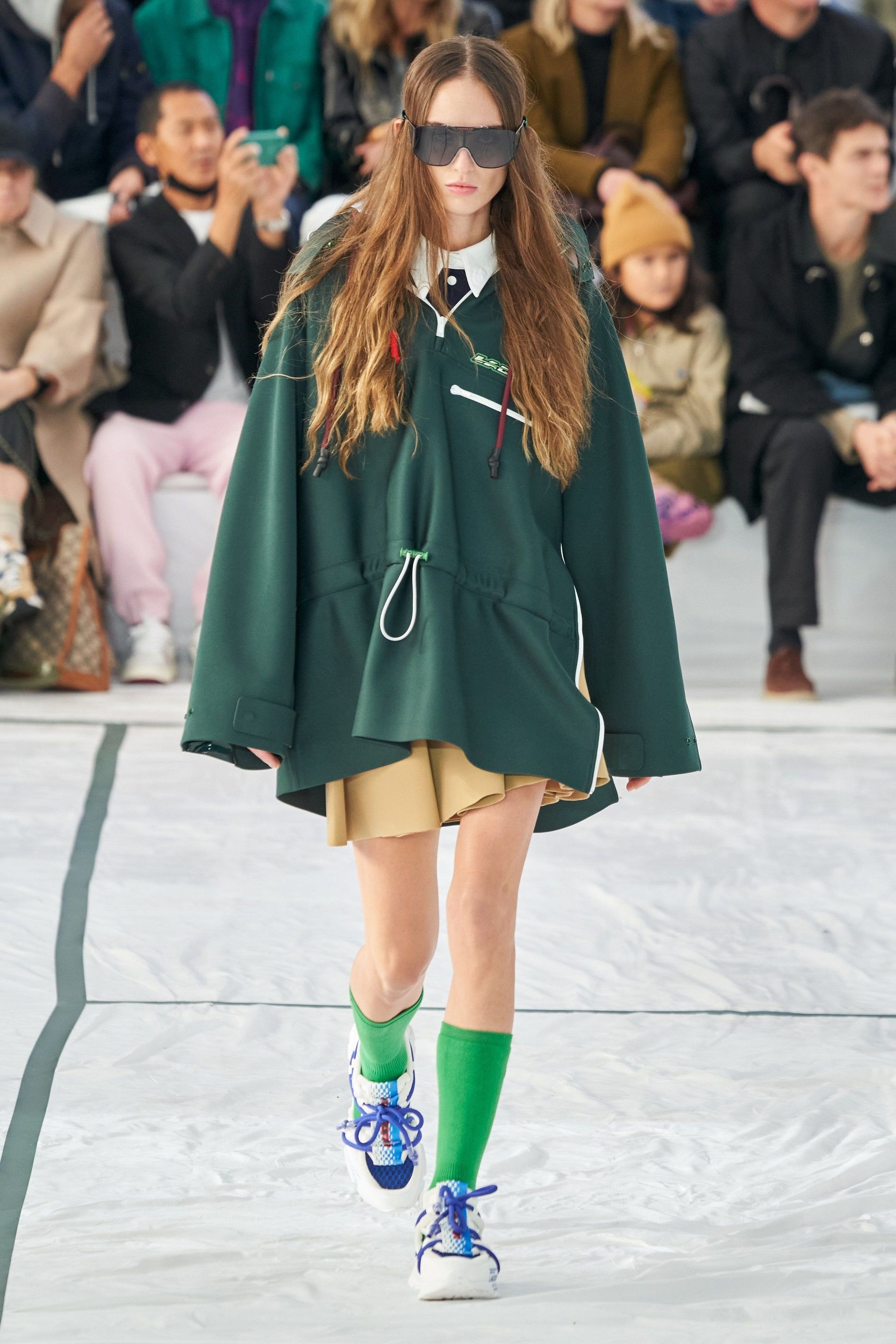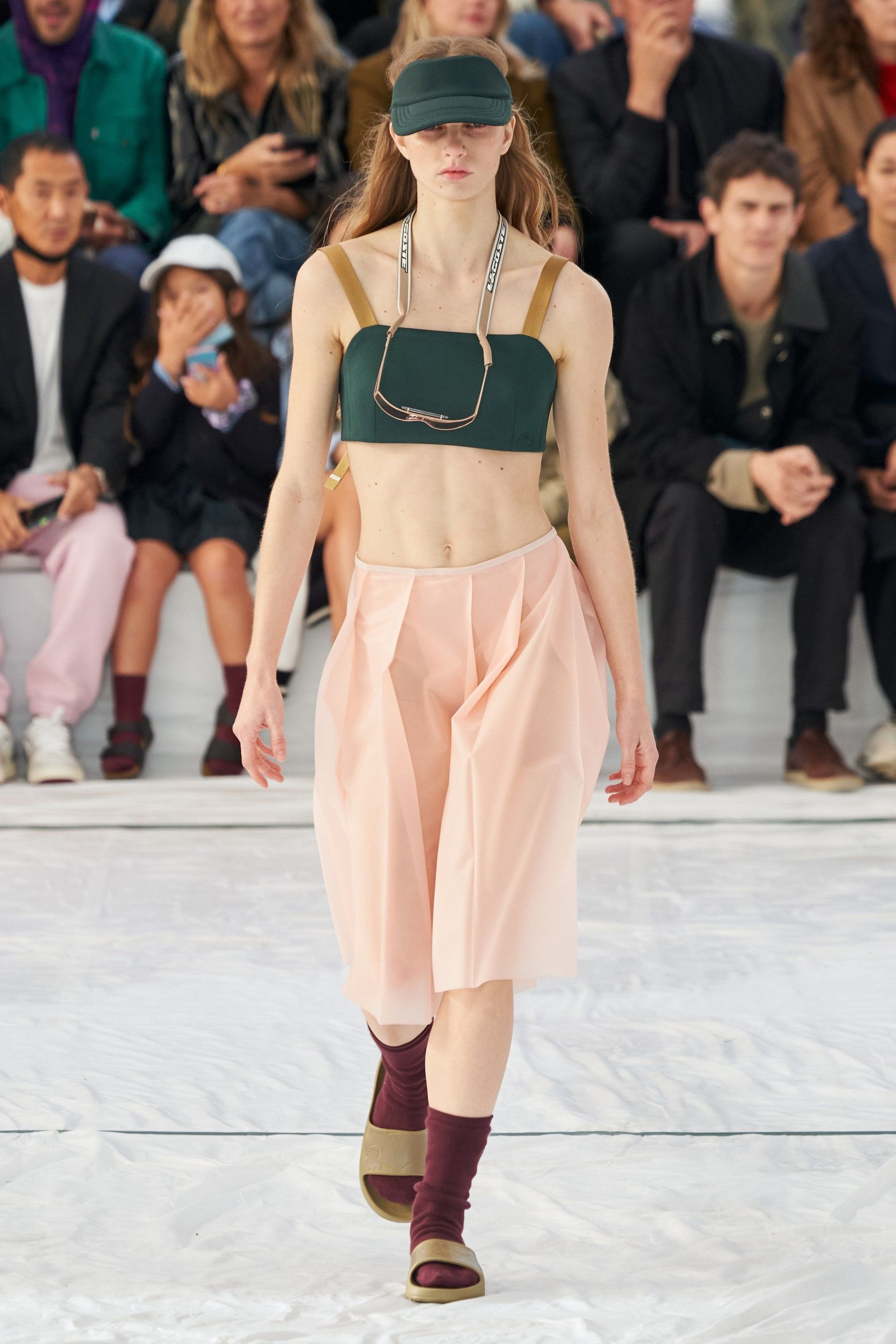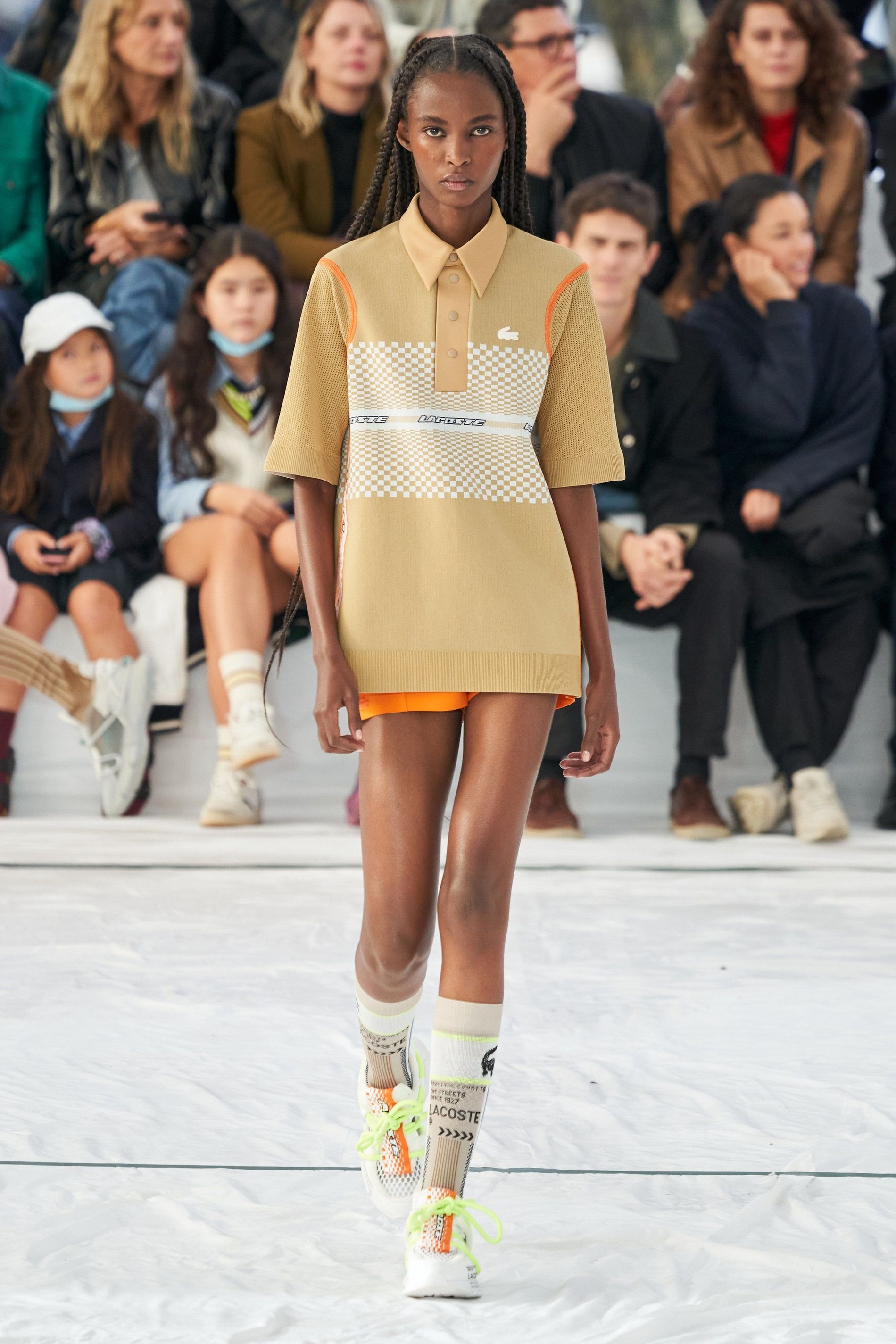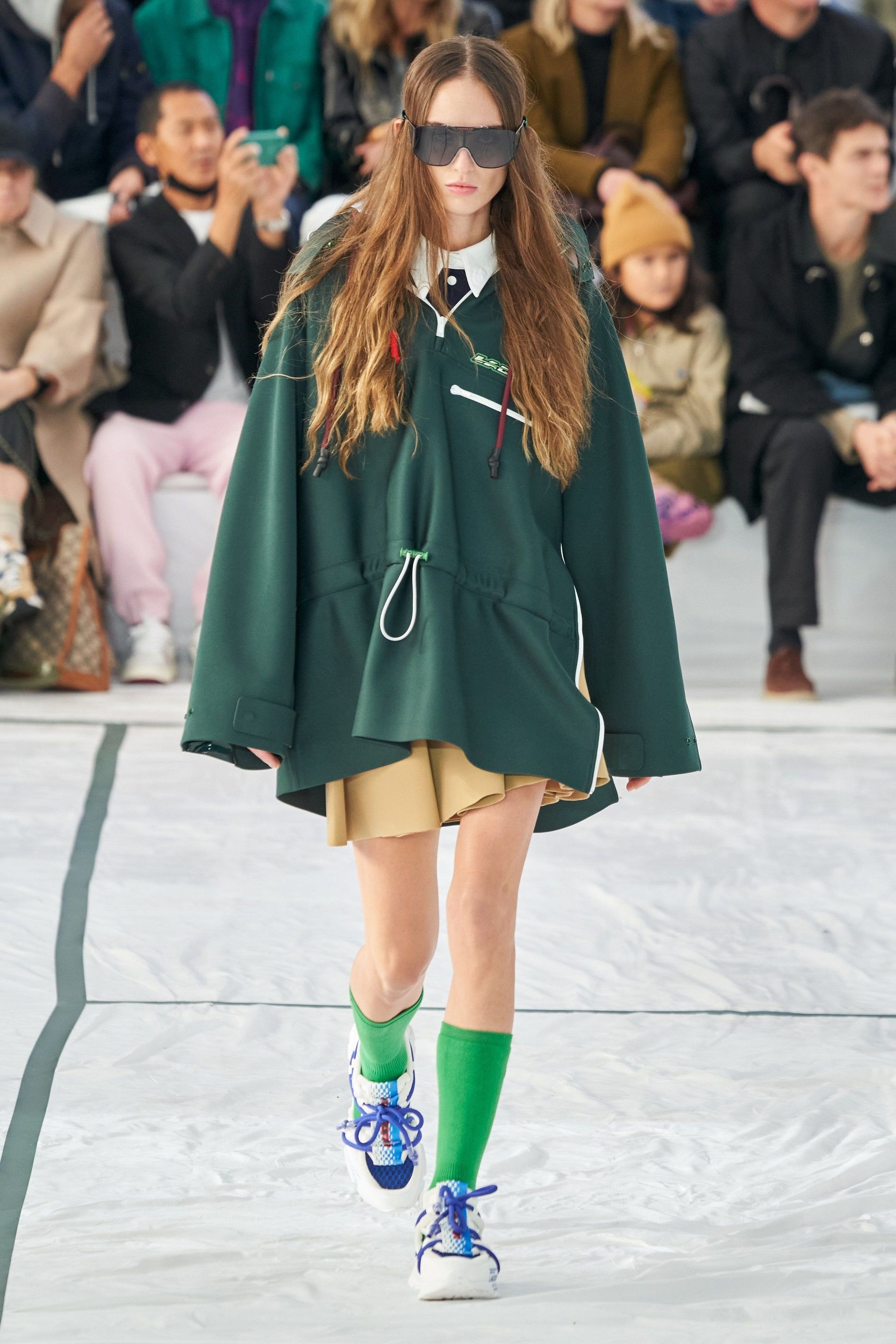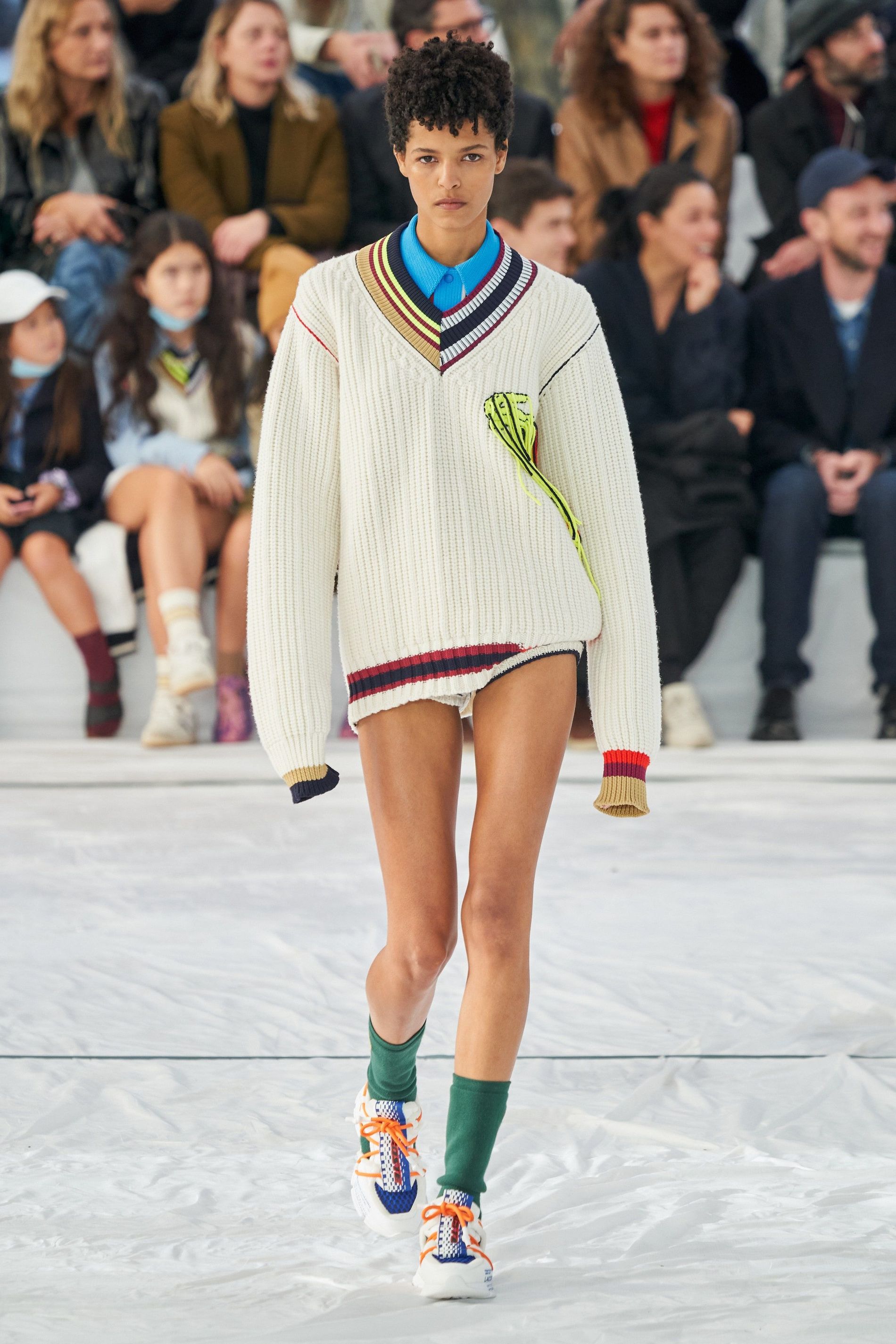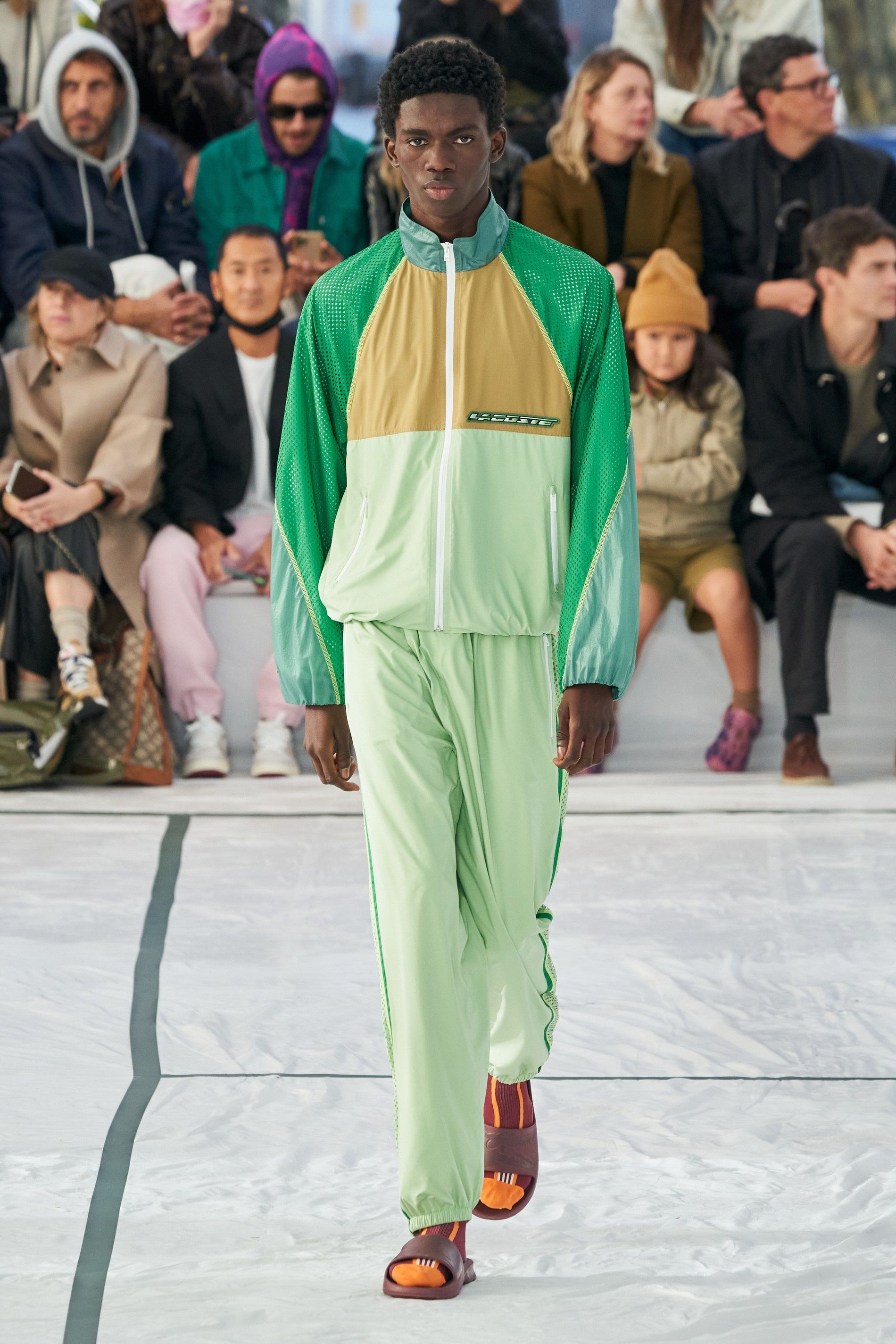 Louis Vuitton
Nicolas Ghesquière managed to combine fashion history with modern silhouettes in a captivating way with his SS22 collection for Louis Vuitton. Inspired by the concept of time, 19th-century dress silhouettes were combined with oversized blazers and delicate floor-length dresses were worn over rough jeans.