The French maison has teamed up with the Swedish high street powerhouse on a collection that is, in creative director Julian Dossena's words, "hedonistic and fun and light and effortless and timeless"
Julien Dossena is on a streak. On the heels of his couture collab with Jean Paul Gaultier in July, then last week's fantastical 'Ibiza in the '70s' outing for spring, tonight comes a preview bash at Silencio in Paris – complete with performances by Robyn and Cher – for the shimmery, sexed-up Rabanne H&M 'pool party' collection.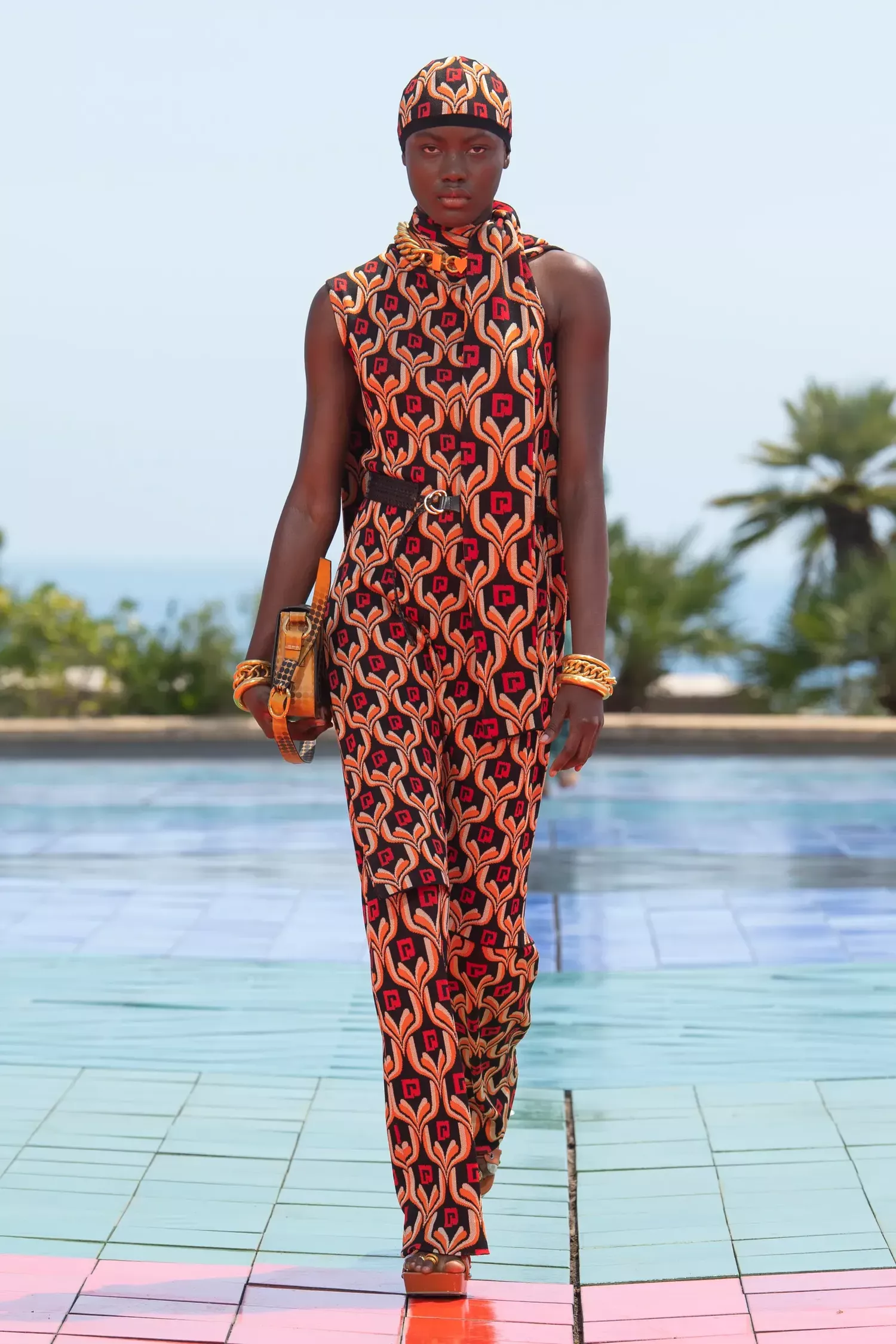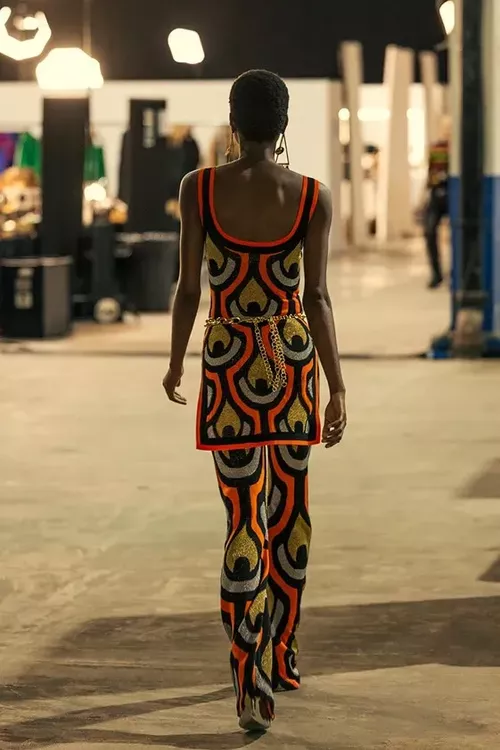 Taking cues from Paco Rabanne's Space Age modernism and his taste for shock effect, the maximalist lineup of pieces in mesh, mirrored paillettes and strass for women and men includes iterations of the house's classic "disc-o-rama" dresses and other, boundary-smashing options for party season. Among the highlights: pailletted numbers in gold, silver or purple; sequinned loungewear, a tux jumpsuit, a military jacket with gold embroidery that would have done Michael Jackson proud, and a shimmery, geometric "flame" jacquard ensemble that channels the decadence of the swinging '70s.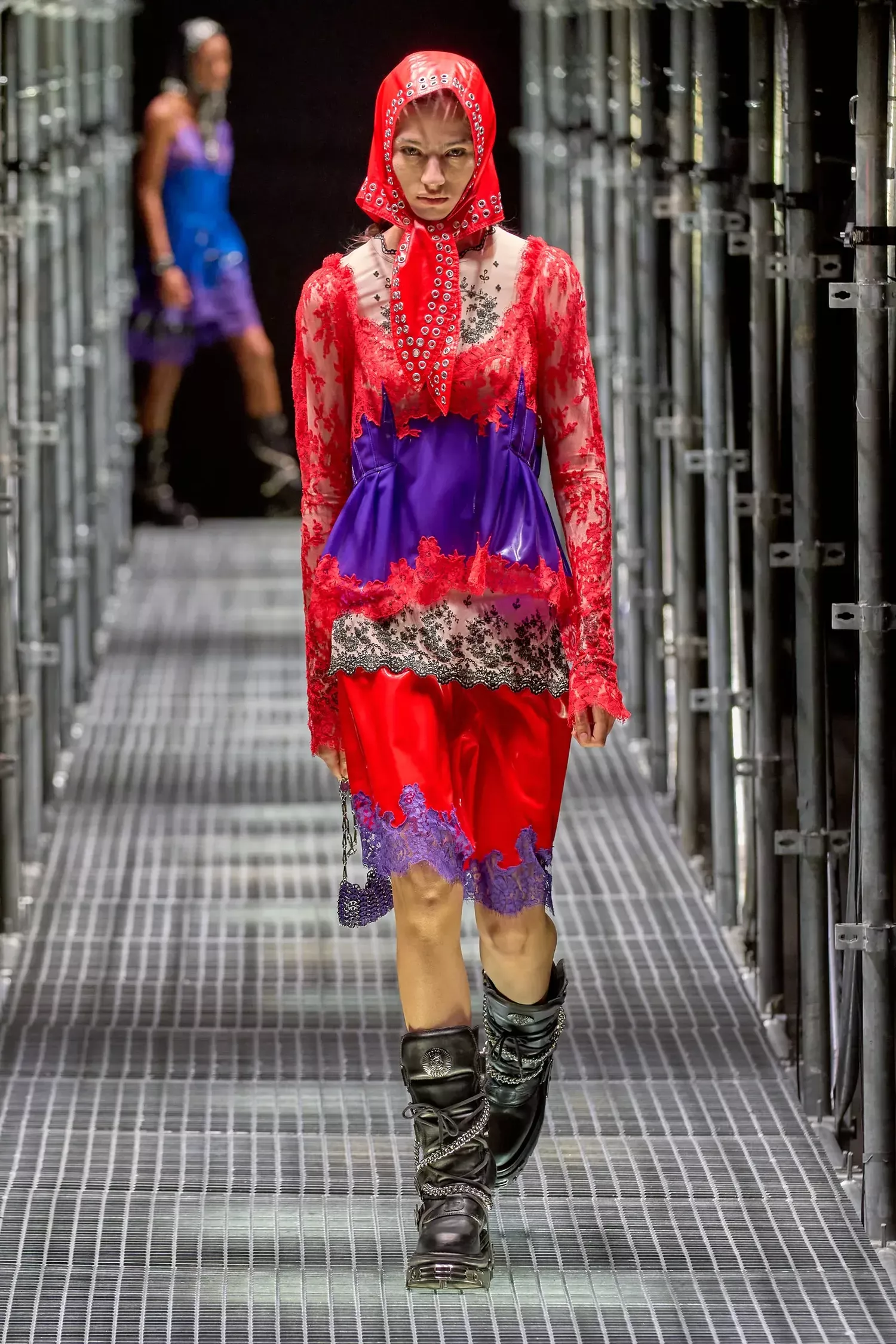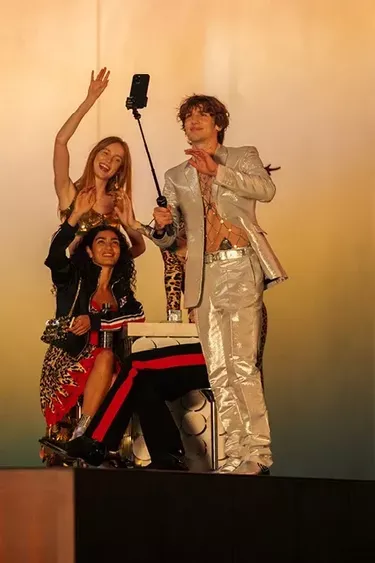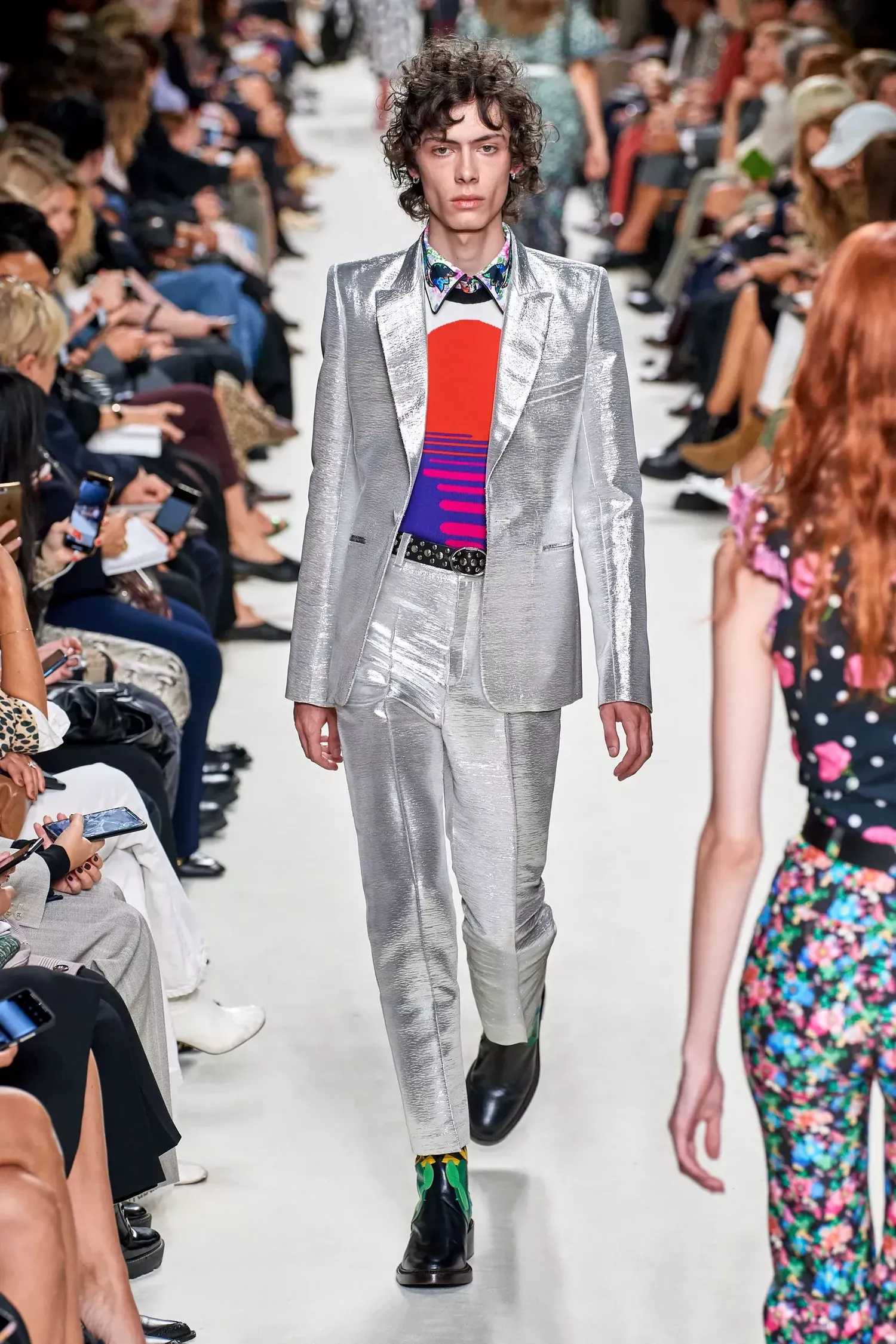 But the vibe isn't so much about straight-up retro as putting a new spin on the classics, said Dossena during an exclusive interview for Vogue with Ann-Sofie Johansson, creative advisor at H&M. "We really wanted to do a collection that was generous, that would be hedonistic and fun and light and effortless and timeless," he explained, noting that the duo found themselves on the same page when it came to sophistication, quality and care in production. And also about amping up the fun. "We really thought about inclusivity and diversity and how we can play around with those in a way that was part Jimi Hendrix, part David Bowie, part Helmut Newton, and part Grace Coddington in the pool," he said, referring to a 1973 fashion editorial starring the legendary Vogue stylist during her modelling days. "In order to be timeless, we had to do strong pieces that mix easily and can become part of a wardrobe."
We really wanted to do a collection that was generous, that would be hedonistic and fun and light and effortless and timeless
Julien Dossena
Not surprisingly, taking on Rabanne's most iconic signatures presented H&M's creatives with one of their most complicated endeavors yet. "We really asked ourselves whether we could pull it off," Johansson allowed, explaining how the team tackled the issue of revisiting techniques such as hand-crocheted metal in the most sustainable way possible, prioritizing recycled aluminum, PET, and rhinestones. "We love these kinds of challenges, and we wanted to do it in the most correct way to push boundaries and achieve a high level of craftsmanship. It was truly all about teamwork."
While giving a new generation – or even older ones – access to a piece of Rabanne history was at the heart of the process, Dossena said it was just as essential to recontextualize today's Rabanne, so the team took a deep dive into looking at different characters and how clothes, accessories, and jewelry would work longer-term. A gust of Americana – low cowboy boots in silver with gold overlay, Western and prairie-style shirts, kerchiefs and diamanté belts, plus jeans, channel an Elvis-in-Vegas vibe. In addition to dangly mesh earrings and pailletted purses come OTT statement makers like headpieces in rhodoid or fringed silver mesh, tricked-out swimwear and sequinned briefs.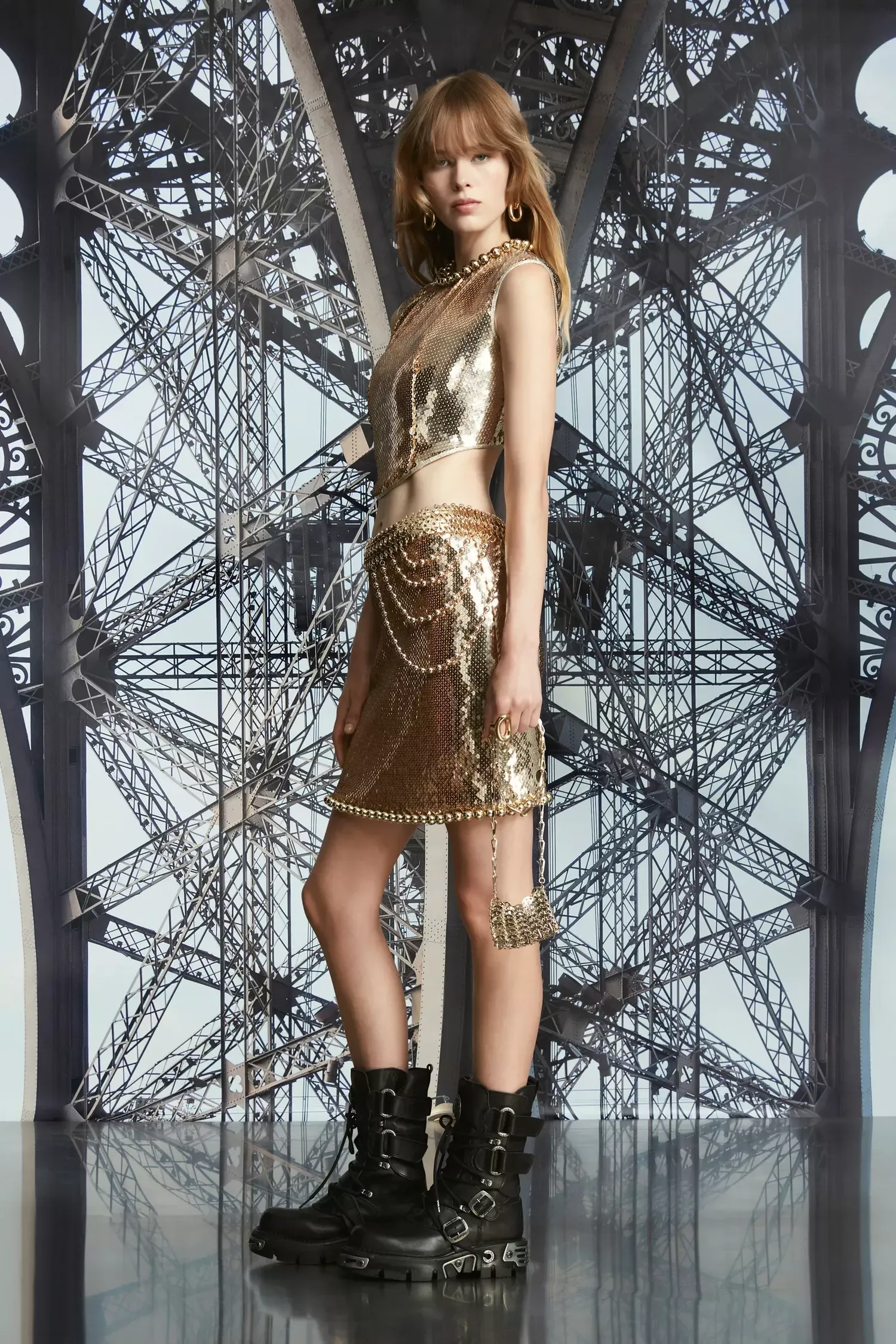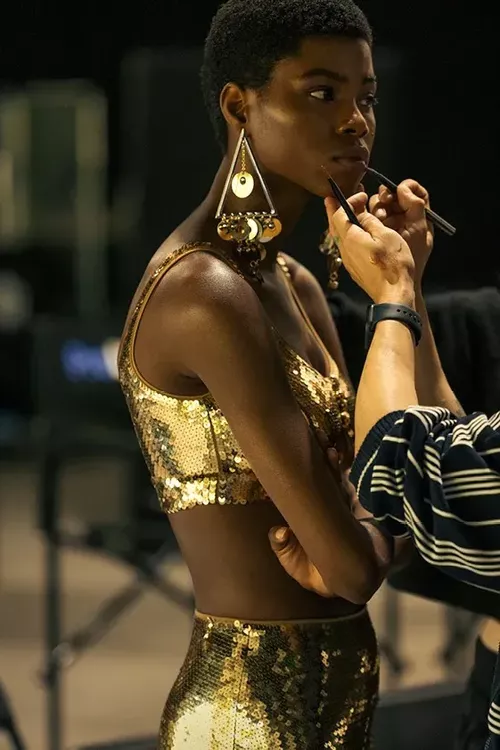 Of that last head-turner, Dossena said, "I also wanted to apply a queer sensuality, which is super important and it's at the core of what we do at Rabanne. There's a bold extravagance to it that's important to embrace."
Elsewhere, in the home décor department, the offer runs wide: Paco Rabanne''s mid-century furniture designs inform items ranging from high-shine cocktail tables, chain curtains and a rug to pillows, scented candles, playing cards and dice. At 31 pieces, it is H&M Home's broadest designer collection to date.
"Paco Rabanne was a genius of radical design and innovative materials, so it was exciting for me to push that further," Dossena said. "In the end, though, what really inspires me is seeing people take something kind of extreme, mix it with something more classic and all of a sudden they're the coolest person at the party."
Rabanne H&M womenswear, menswear, and home decor will launch worldwide and on hm.com on November 9th.