From Prada to Versace, these are the runways that set the Italian capital ablaze
Milan Fashion Week SS22 was a true tribute to the joy of dressing up and a celebration of femininity that we've all desperately missed and craved for. From the second Prada collection by Miuccia Prada and Raf Simons to a surprise collection of Fendi and Versace, and the 40th anniversary collection of Emporio Armani: Milan Fashion Week SS22 brought highlights galore.
Here's a snapshot of the runways:
Versace
Leave it to Donatella Versace to bring back Milano Fashion Week after a year of absence. Supermodels like Naomi Campbell, Emily Ratajkowski and Gigi Hadid stormed the catwalk in mesh gowns and the iconic safety pins designs. The one and only Dua Lipa opened and closed the SS22 show to her song Physical, dressed in classic Versace glam style.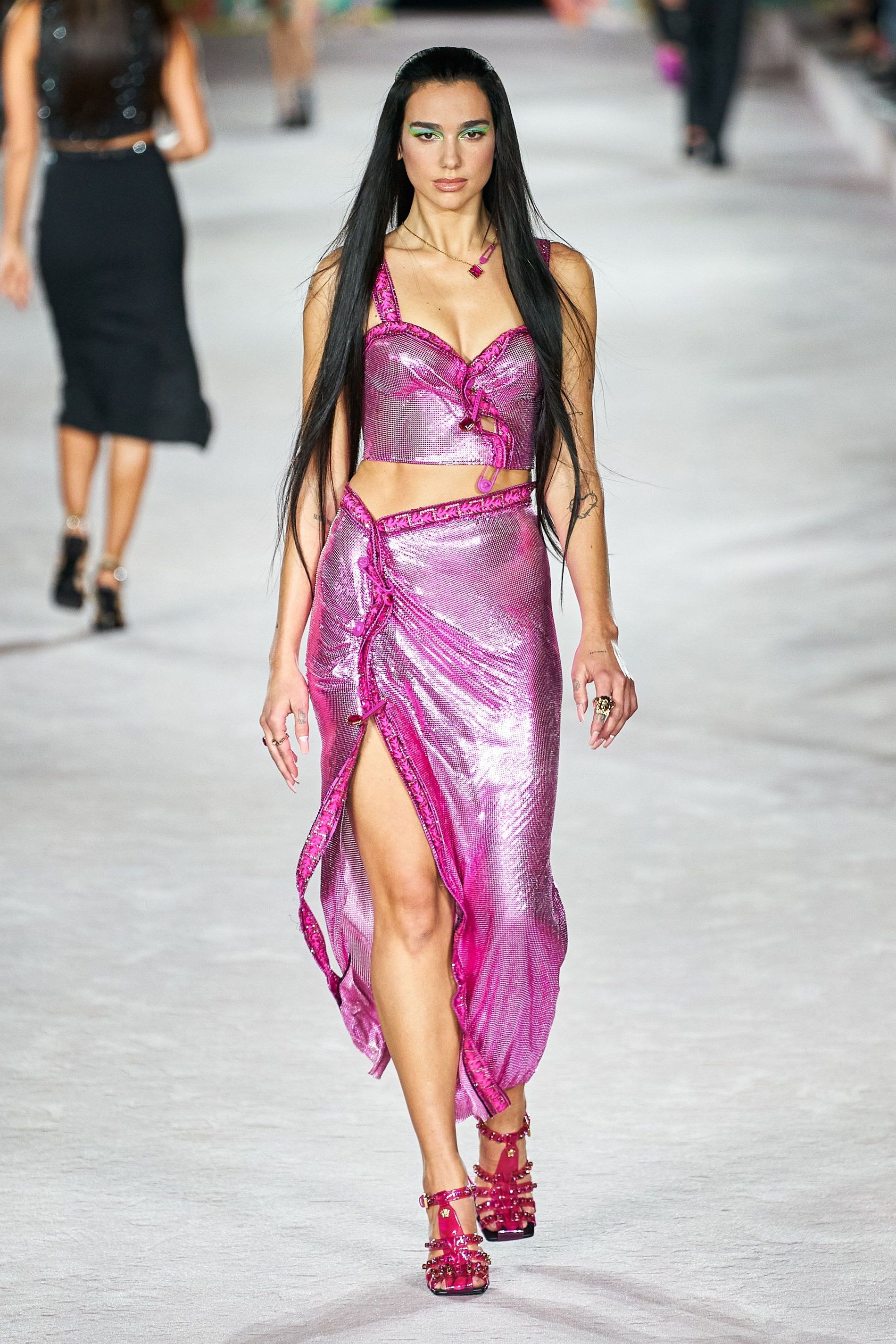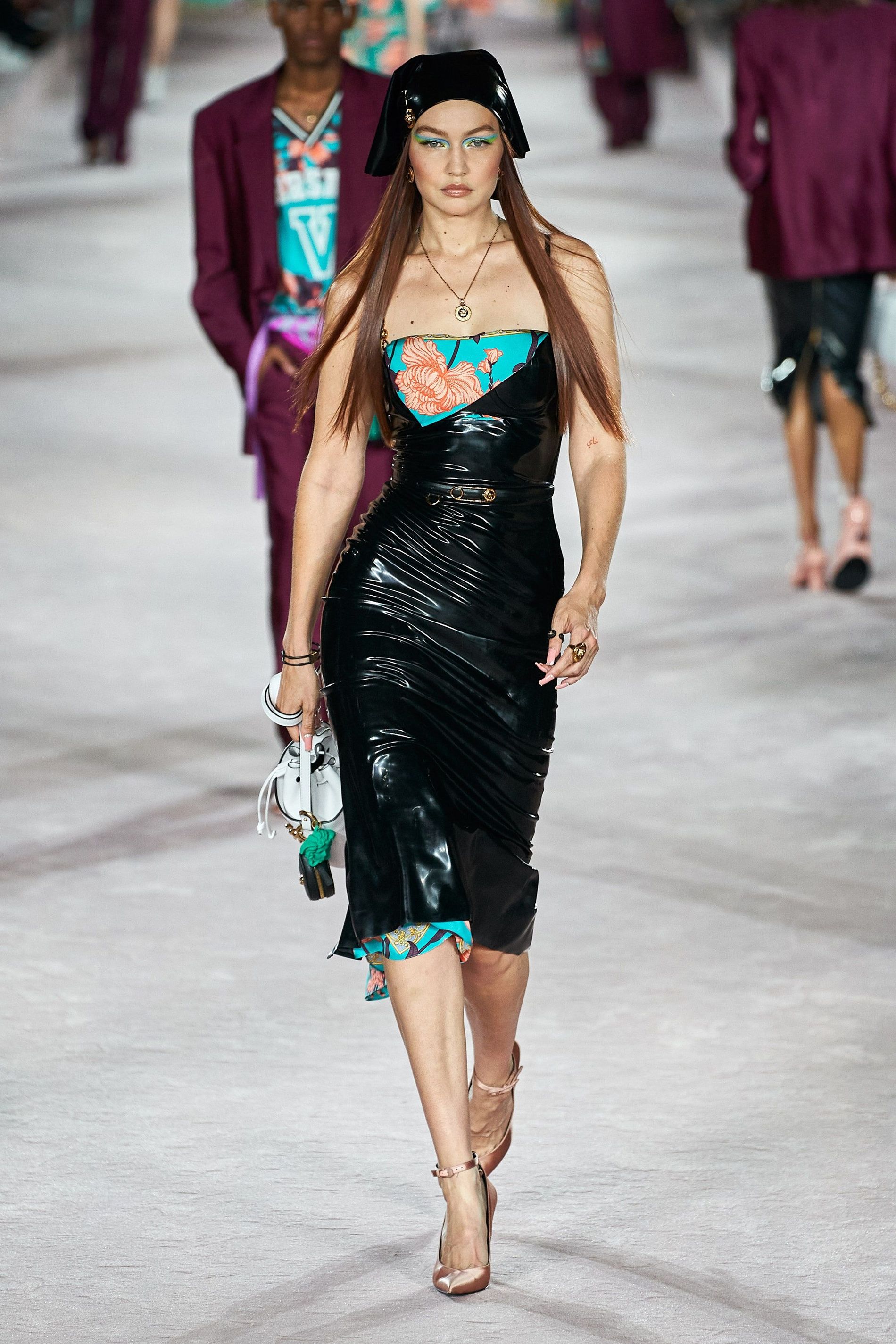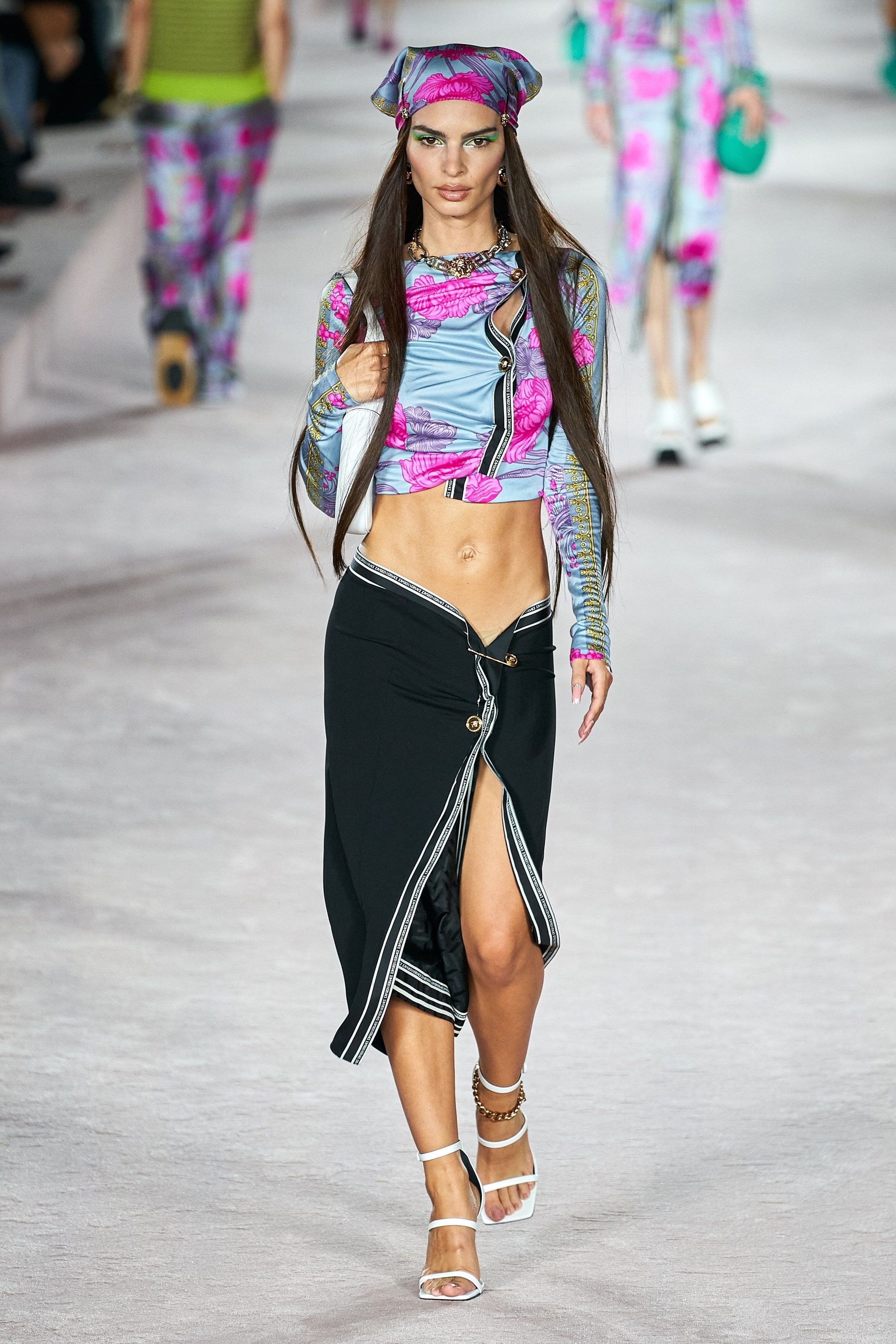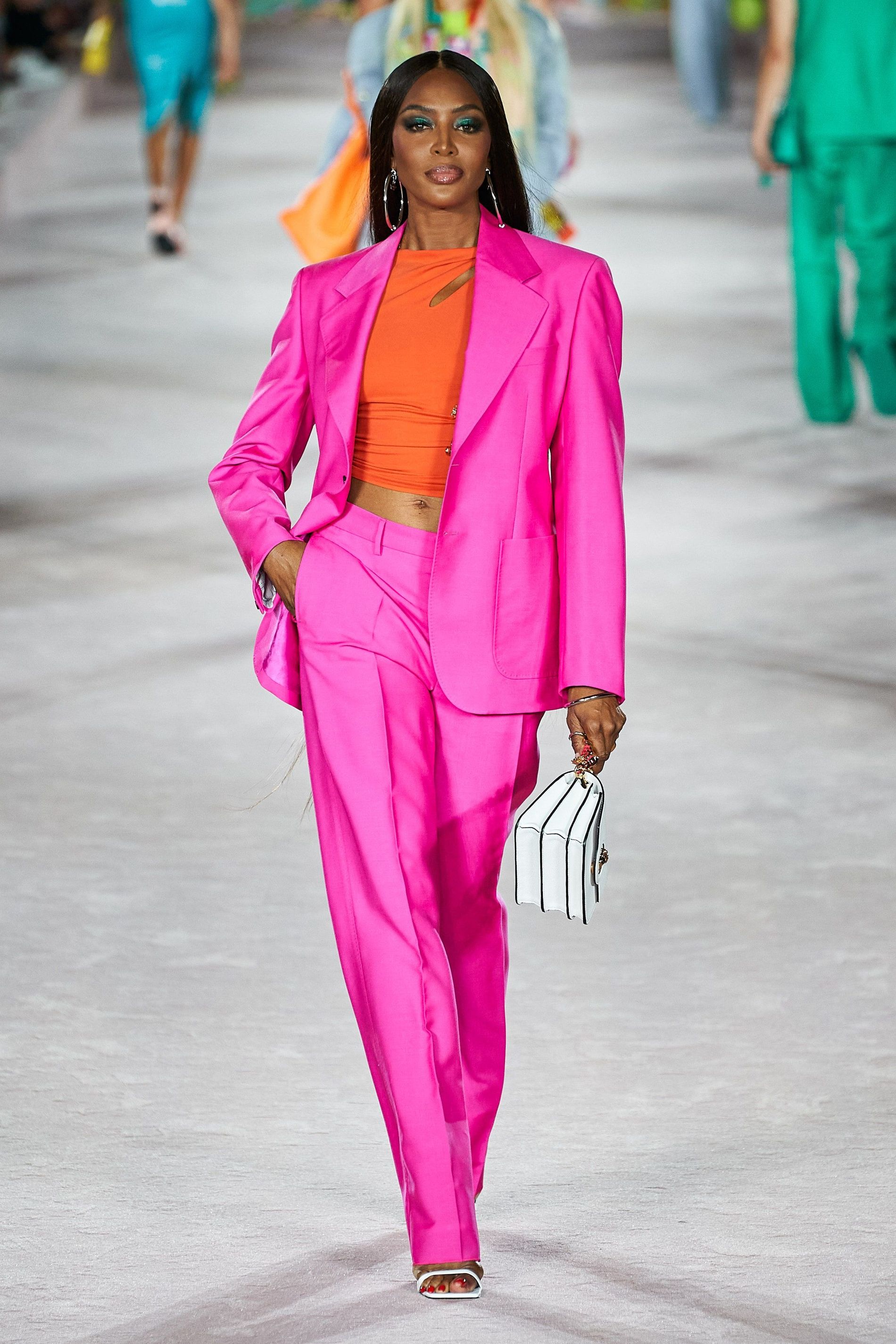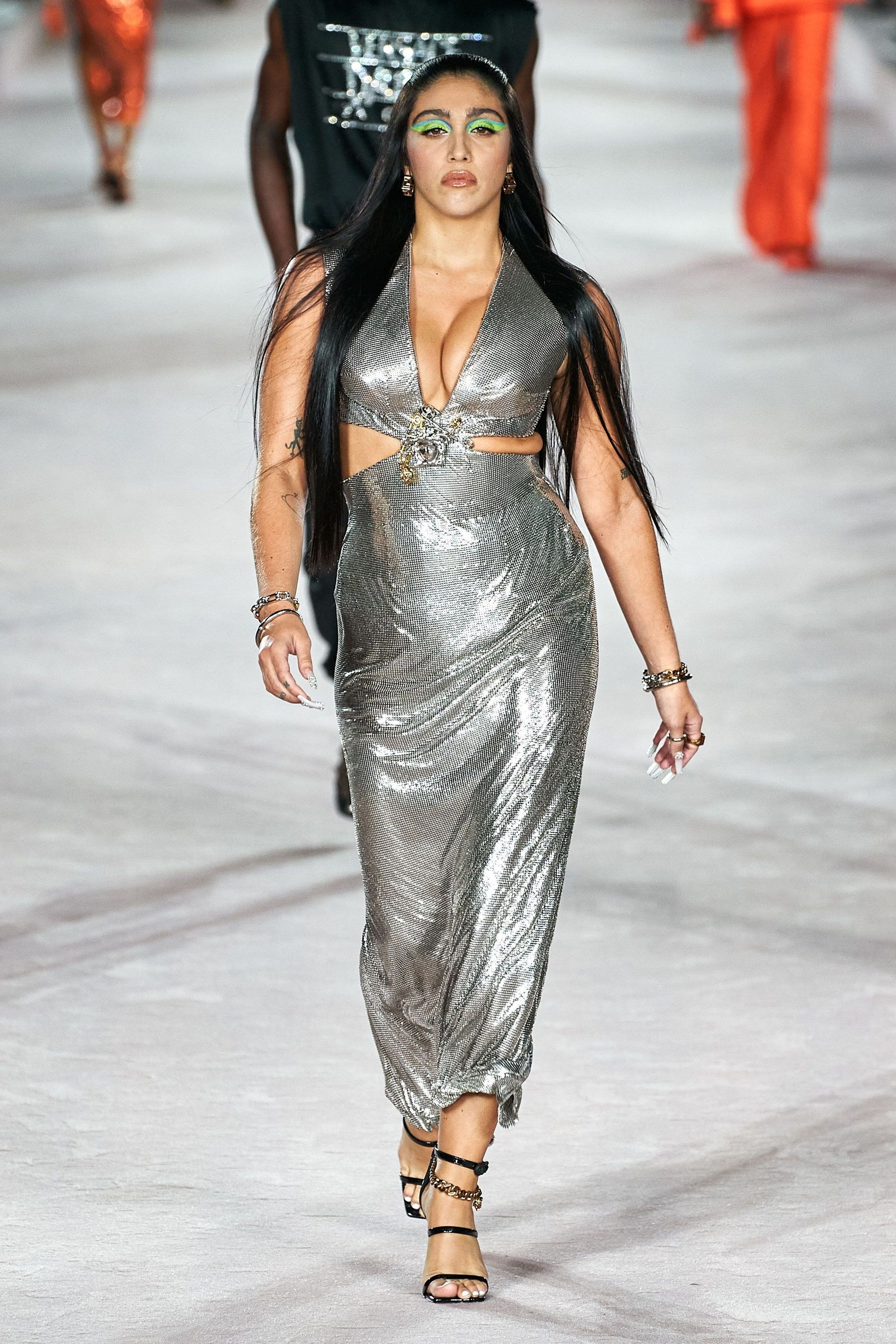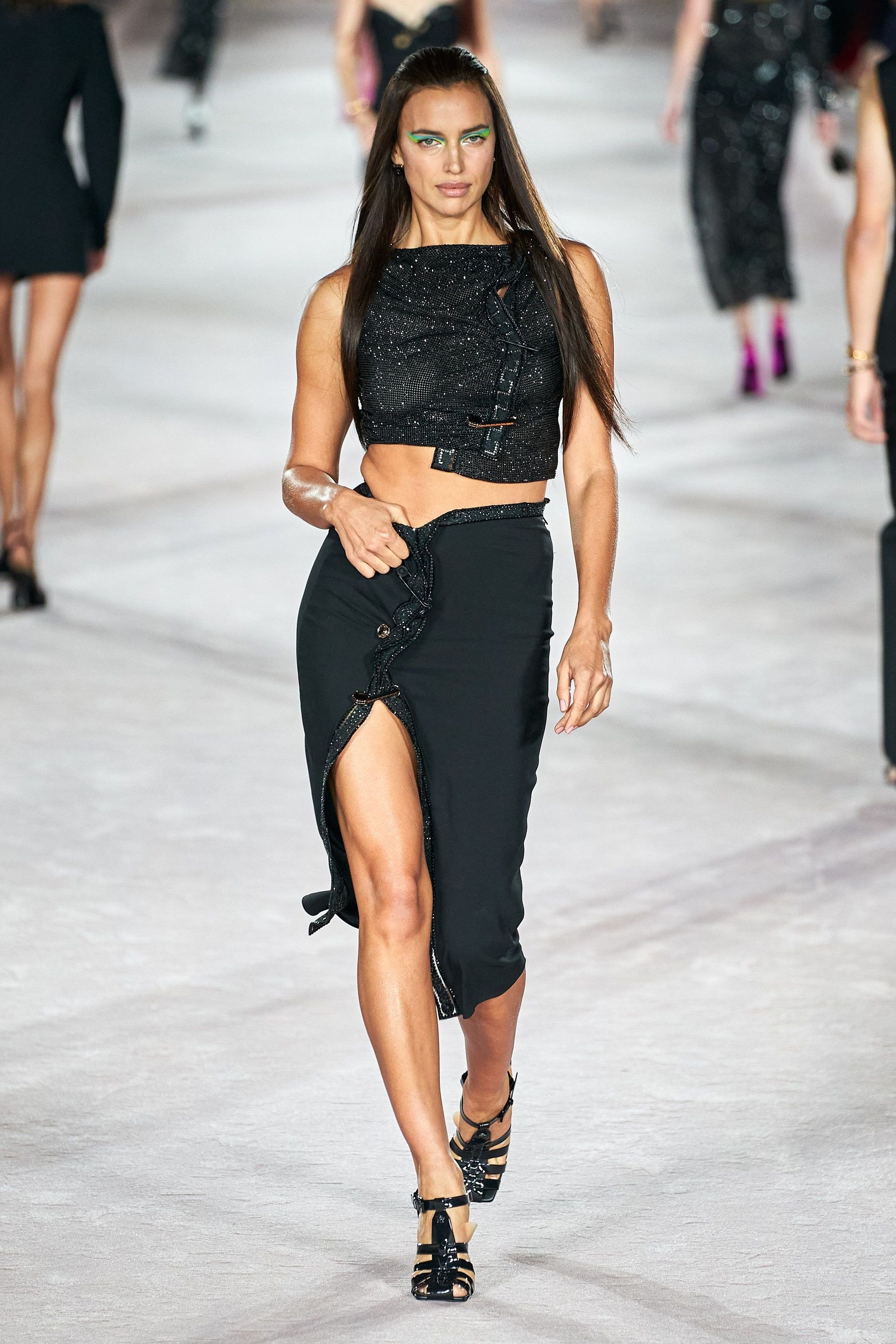 Fendi
Creative director Kim Jones presented a Fendi collection that was all about classic glamour with a colourful twist, with clean silhouettes created through artisanal craftsmanship. Inspired by the illustrations of artist Antonio López – who was a big inspiration of Karl Lagerfeld as well - the collection featured strong tailoring, printed dresses, and fluffy coats with pastel color details.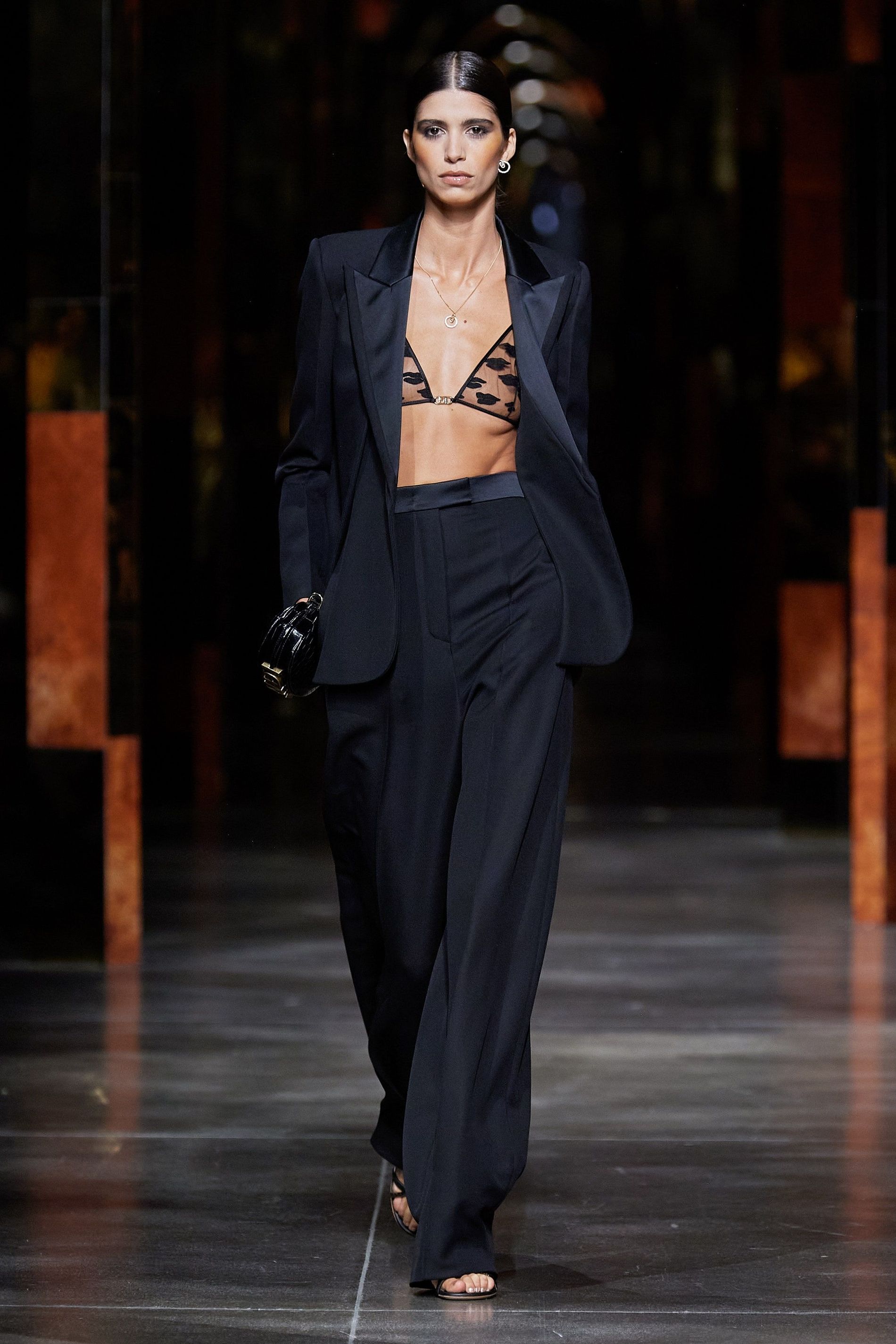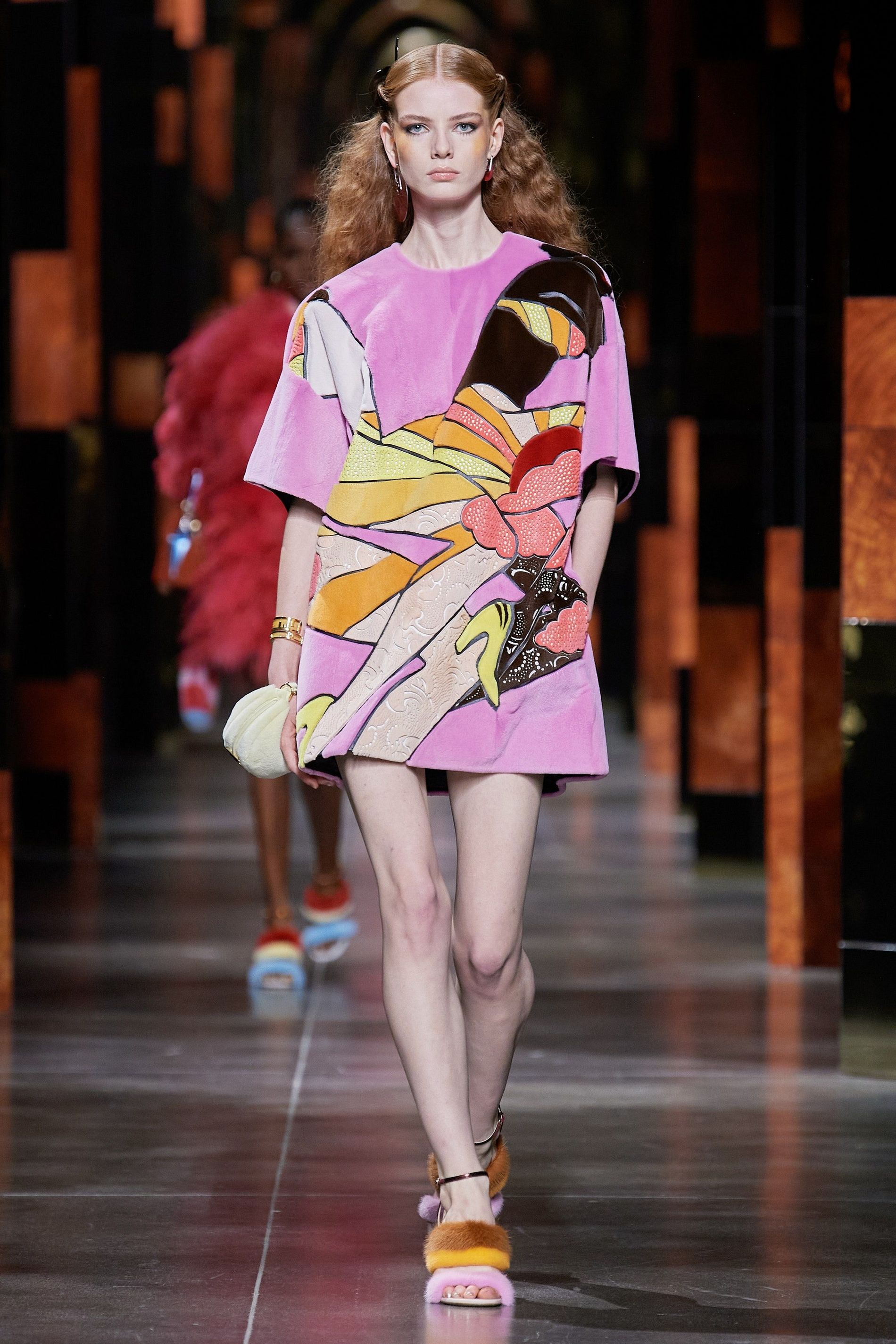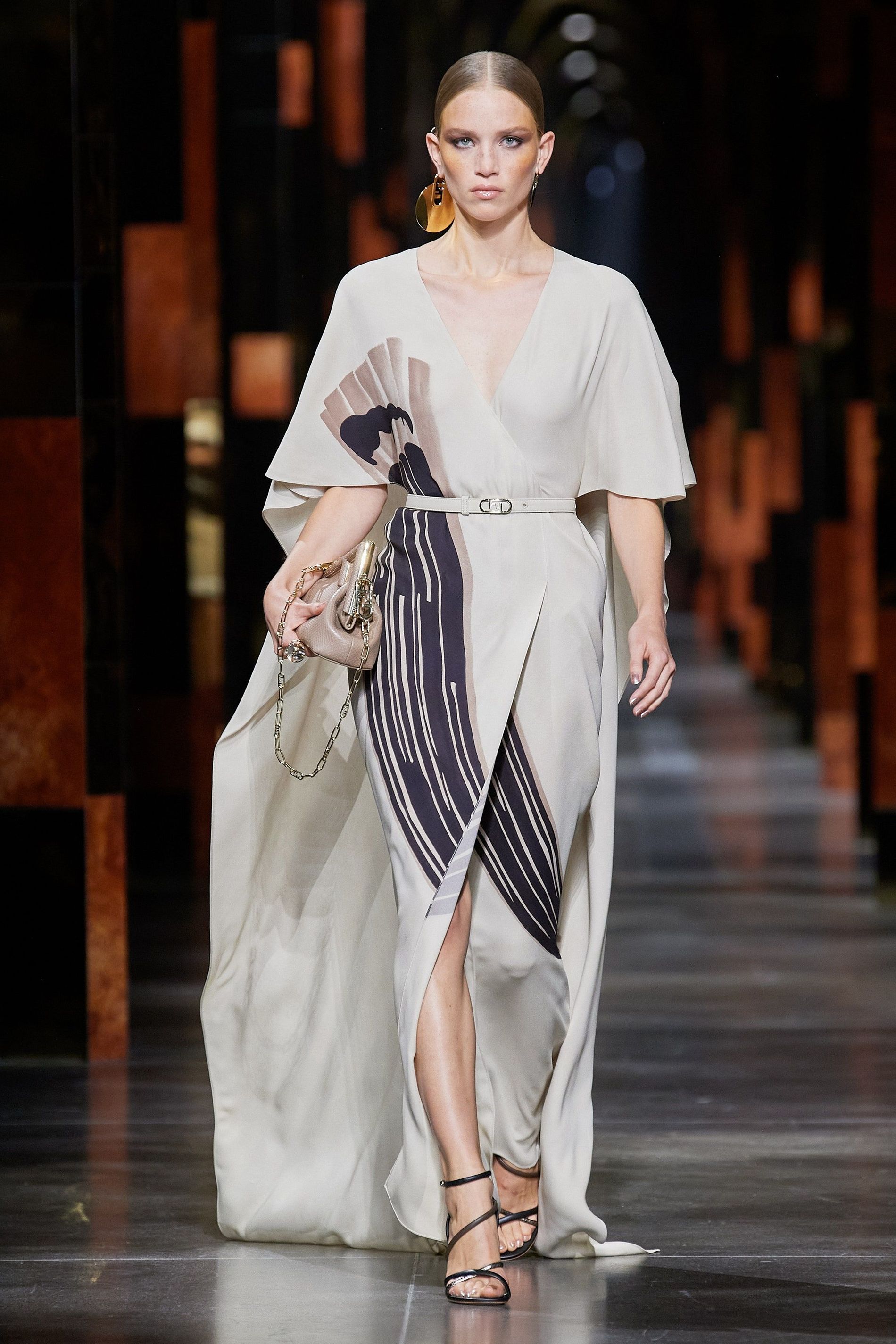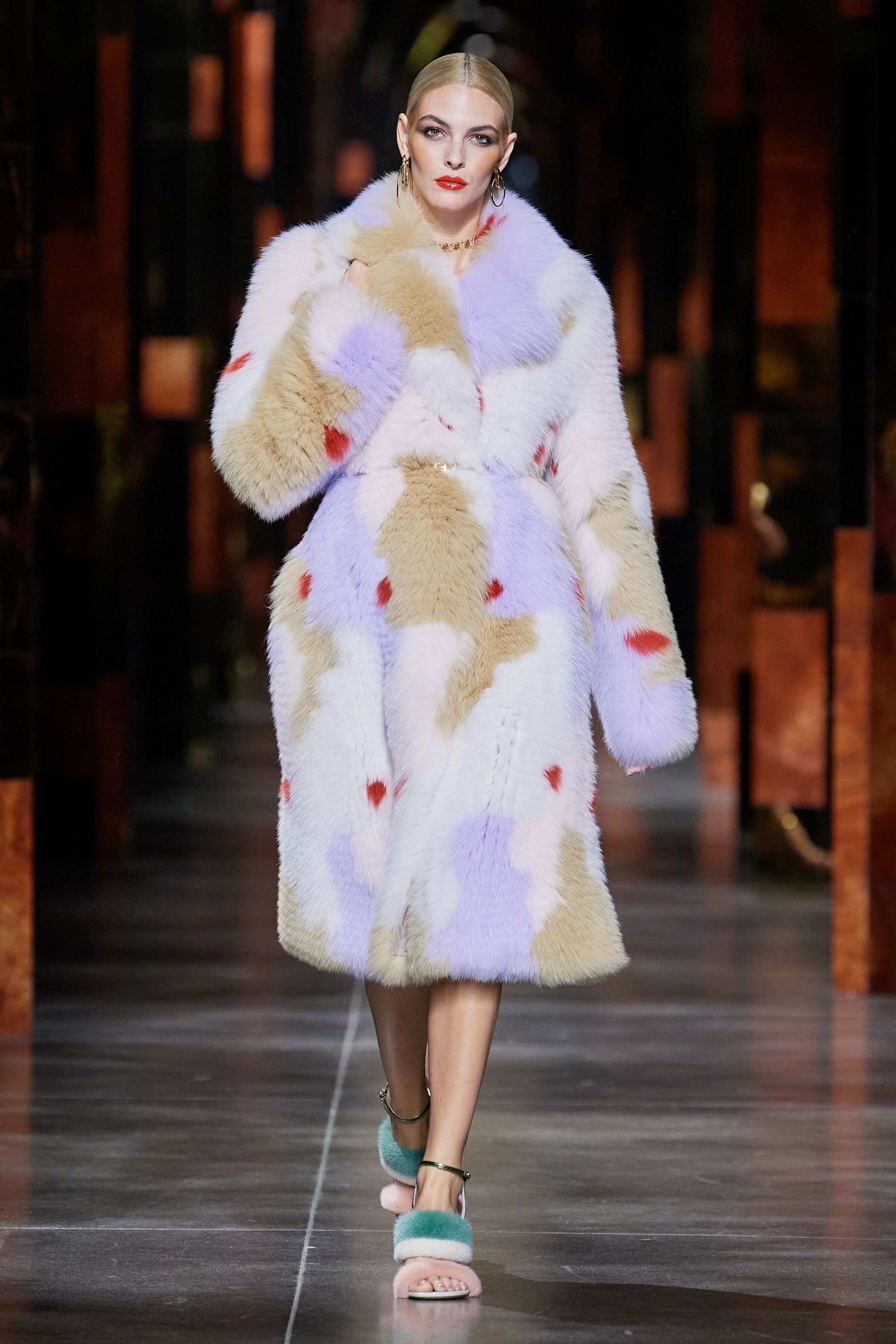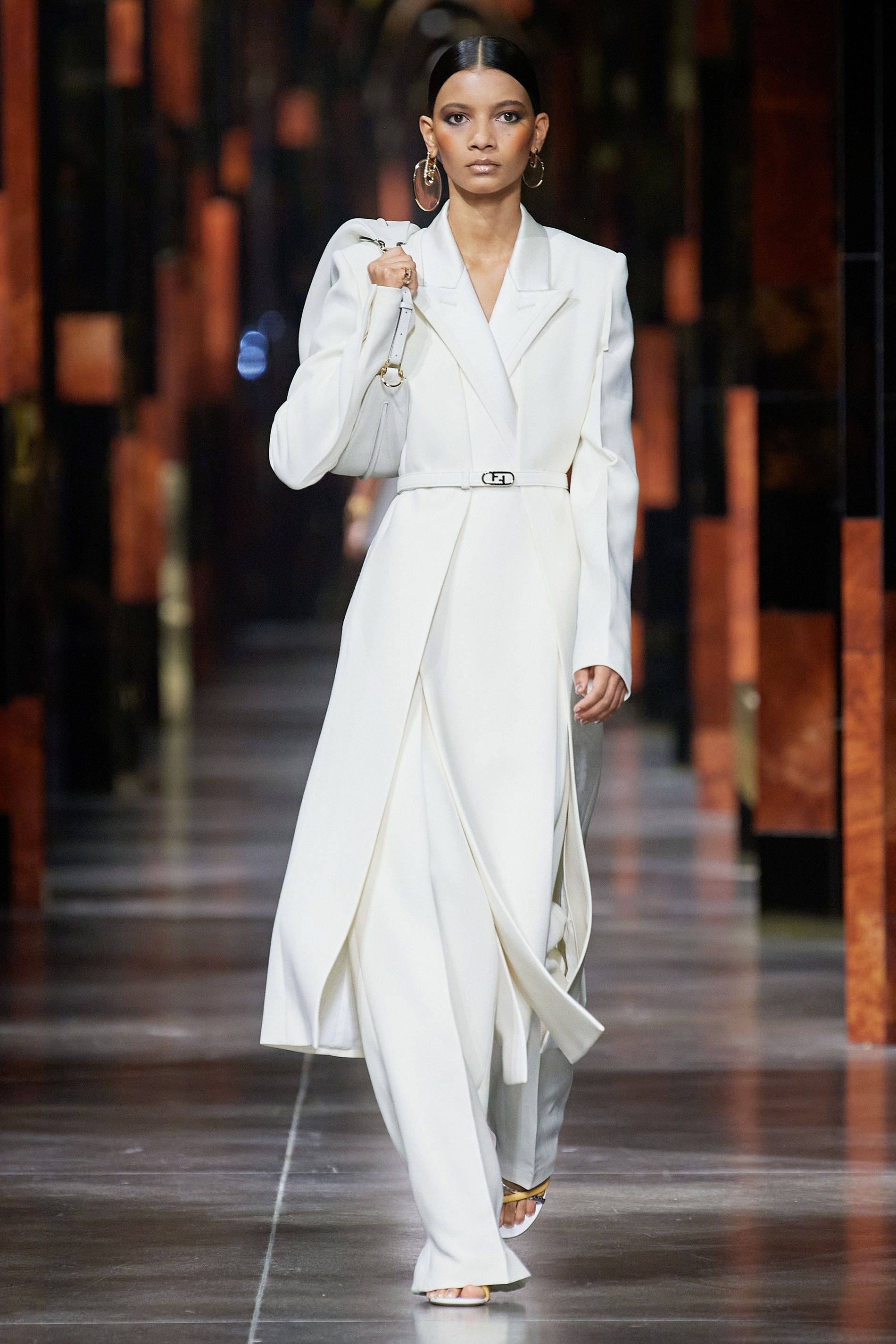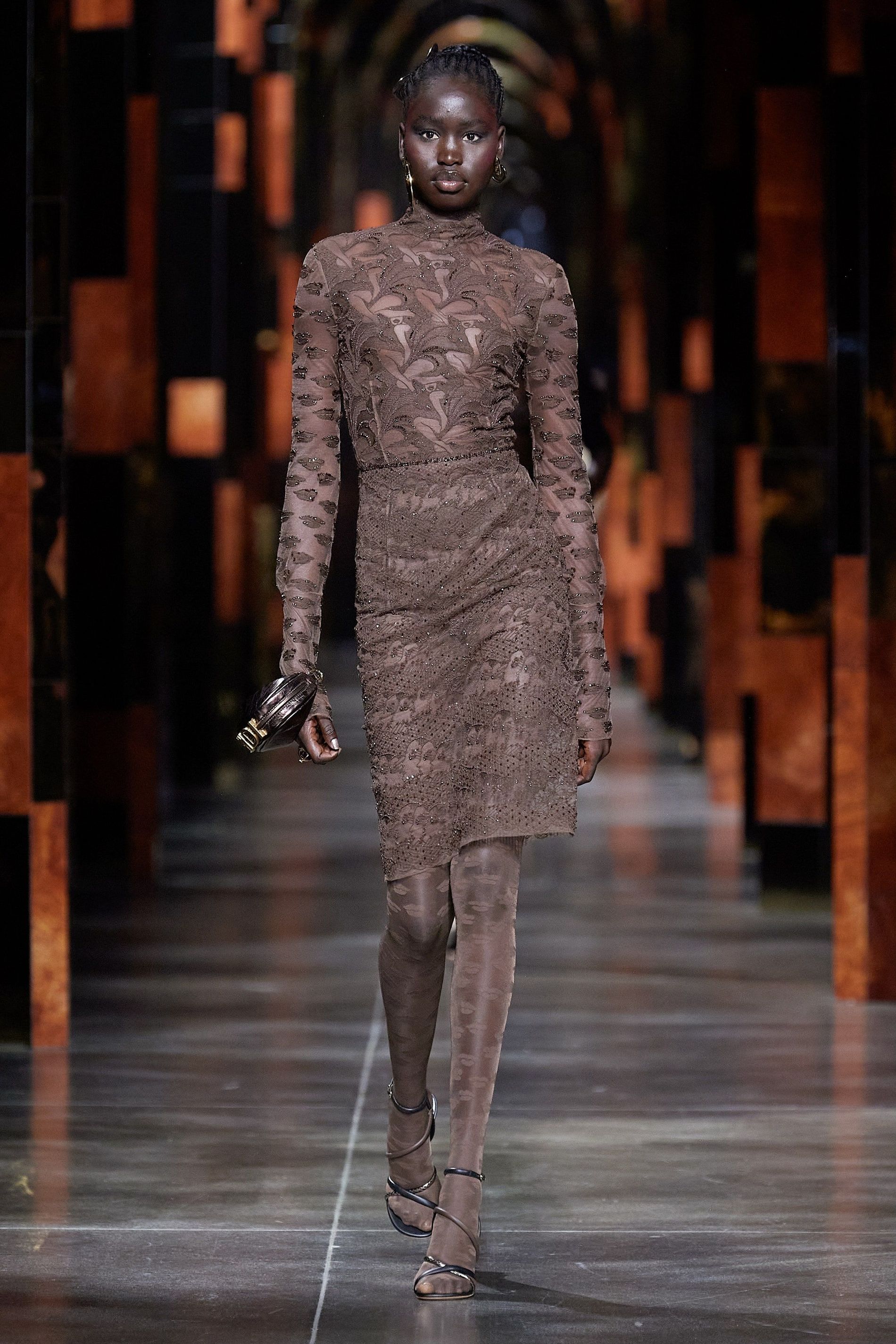 Alberta Ferretti
Alberta Ferretti's SS22 collection was inspired by the butterfly —a symbol for rebirth and metamorphosis. Flowy dresses made out of tulle, mini-dresses with butterfly prints, and skirts with iridescent sequins were the result. The collection was also at the forefront of one of the biggest reoccurring trends of the SS22 season; fringes.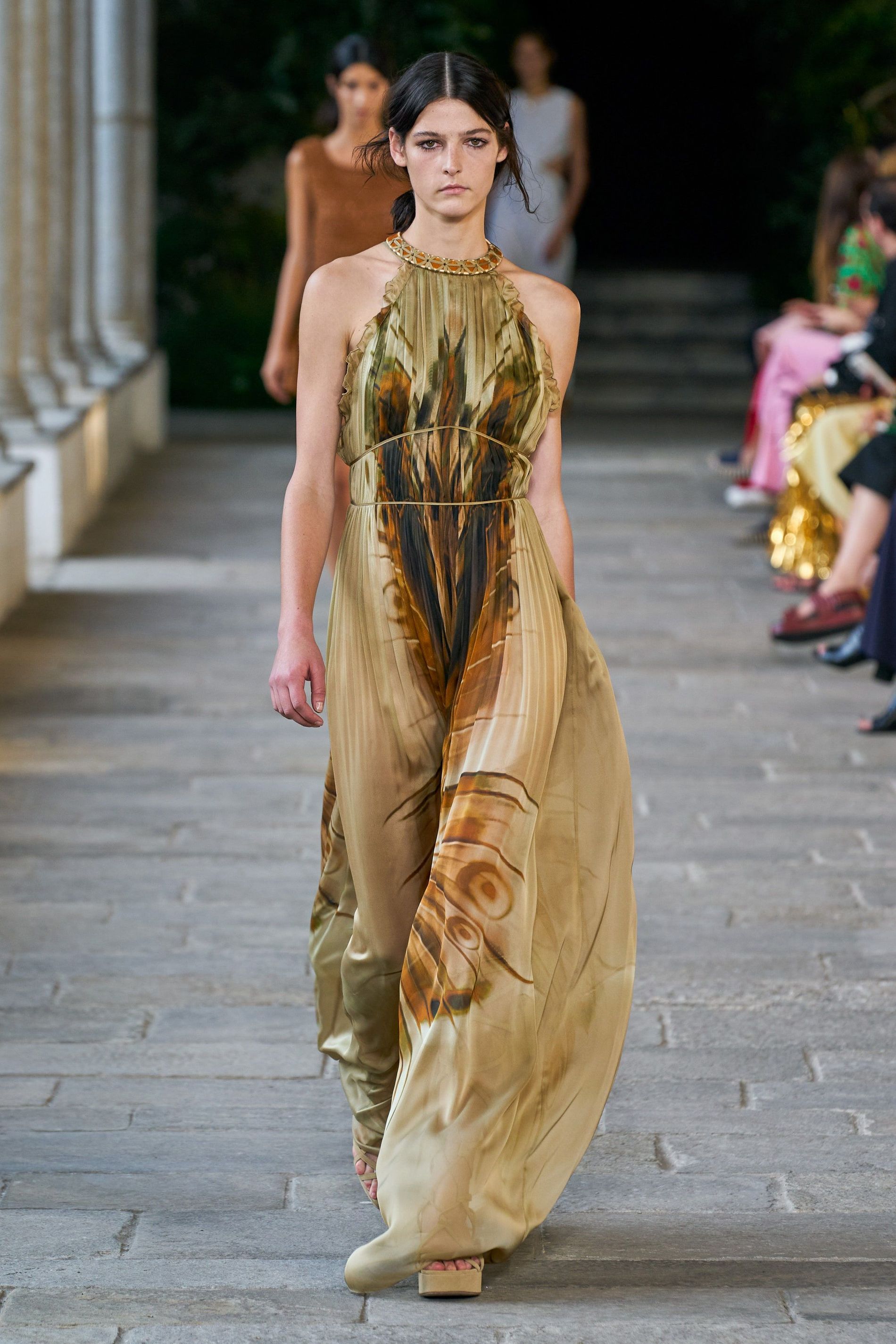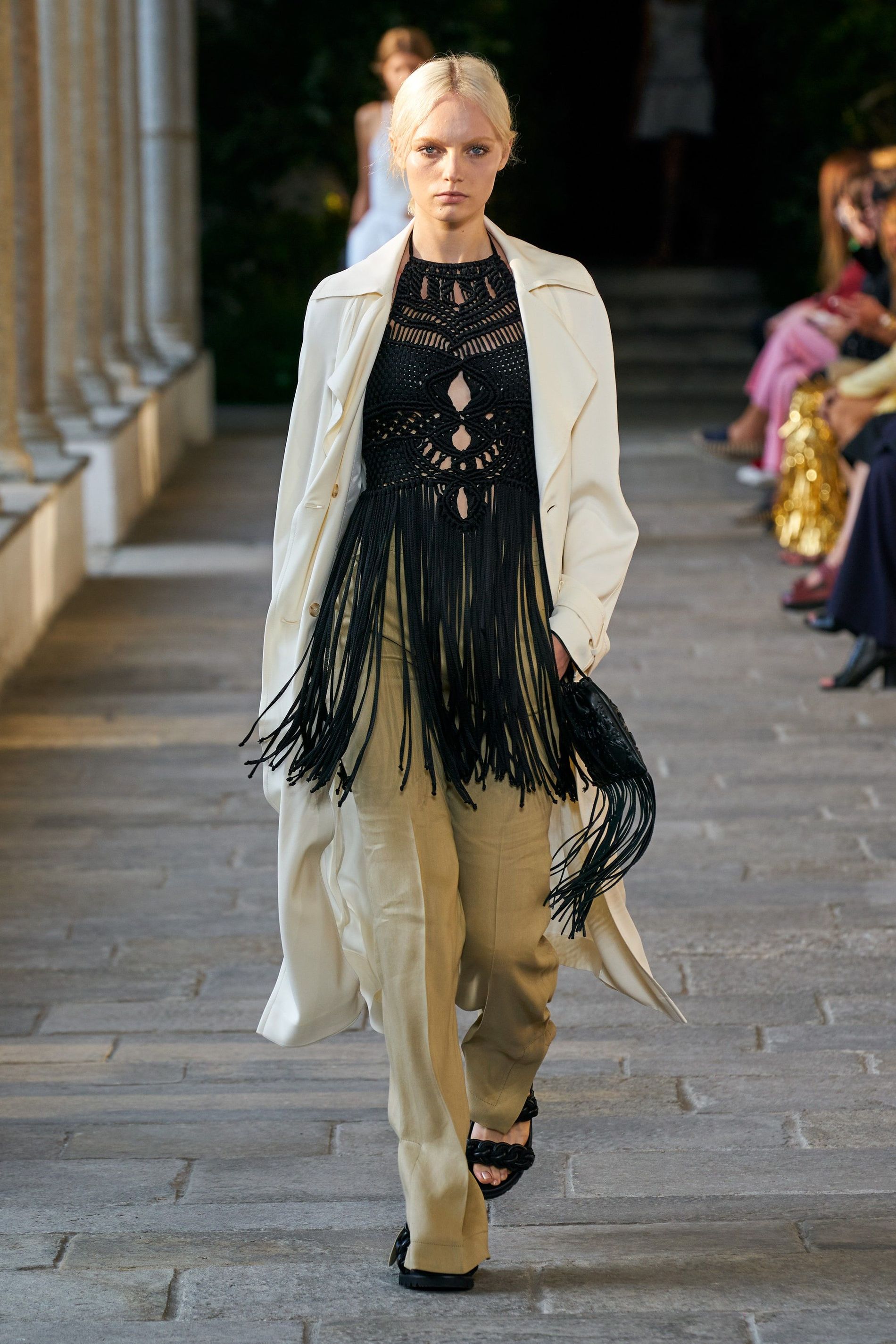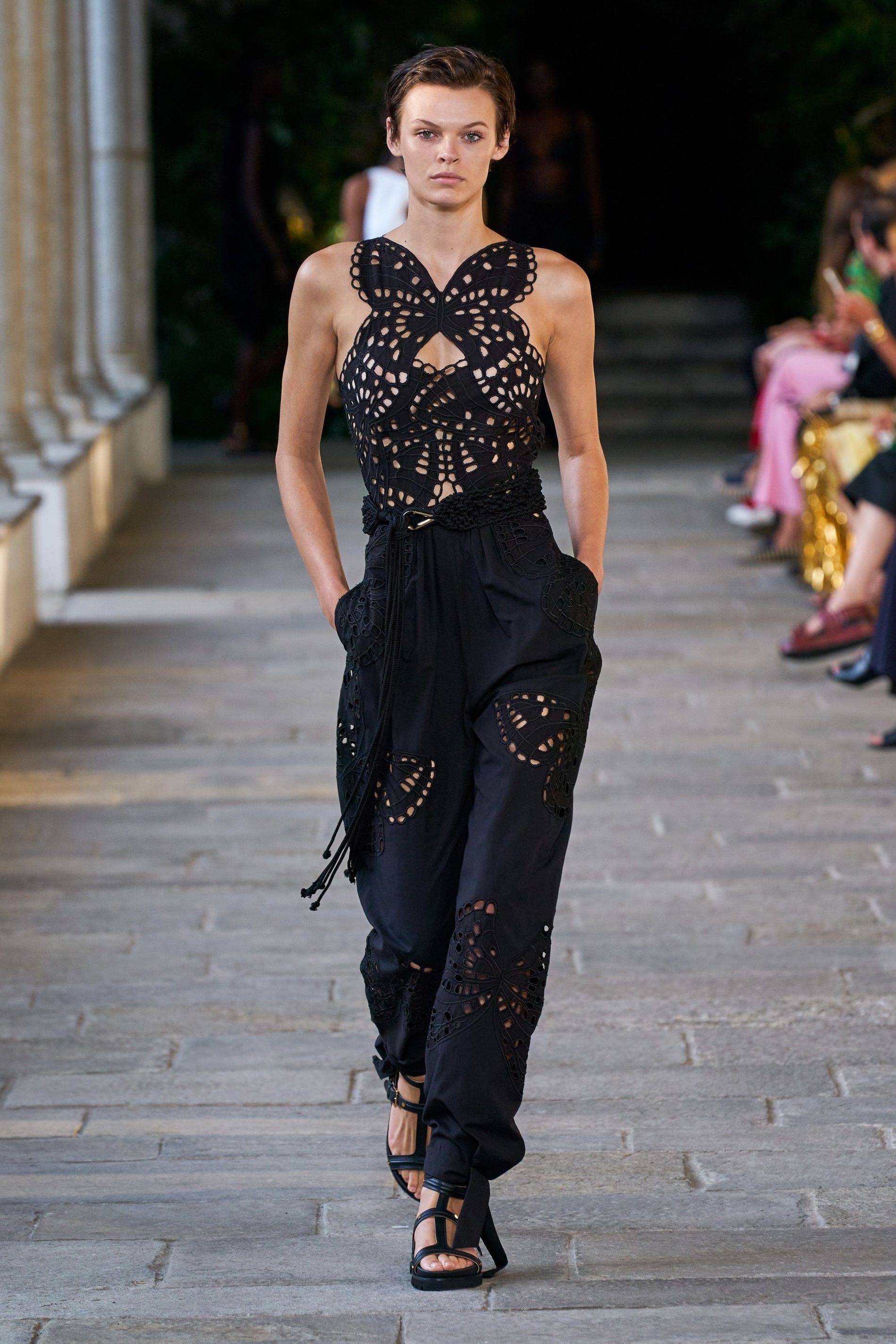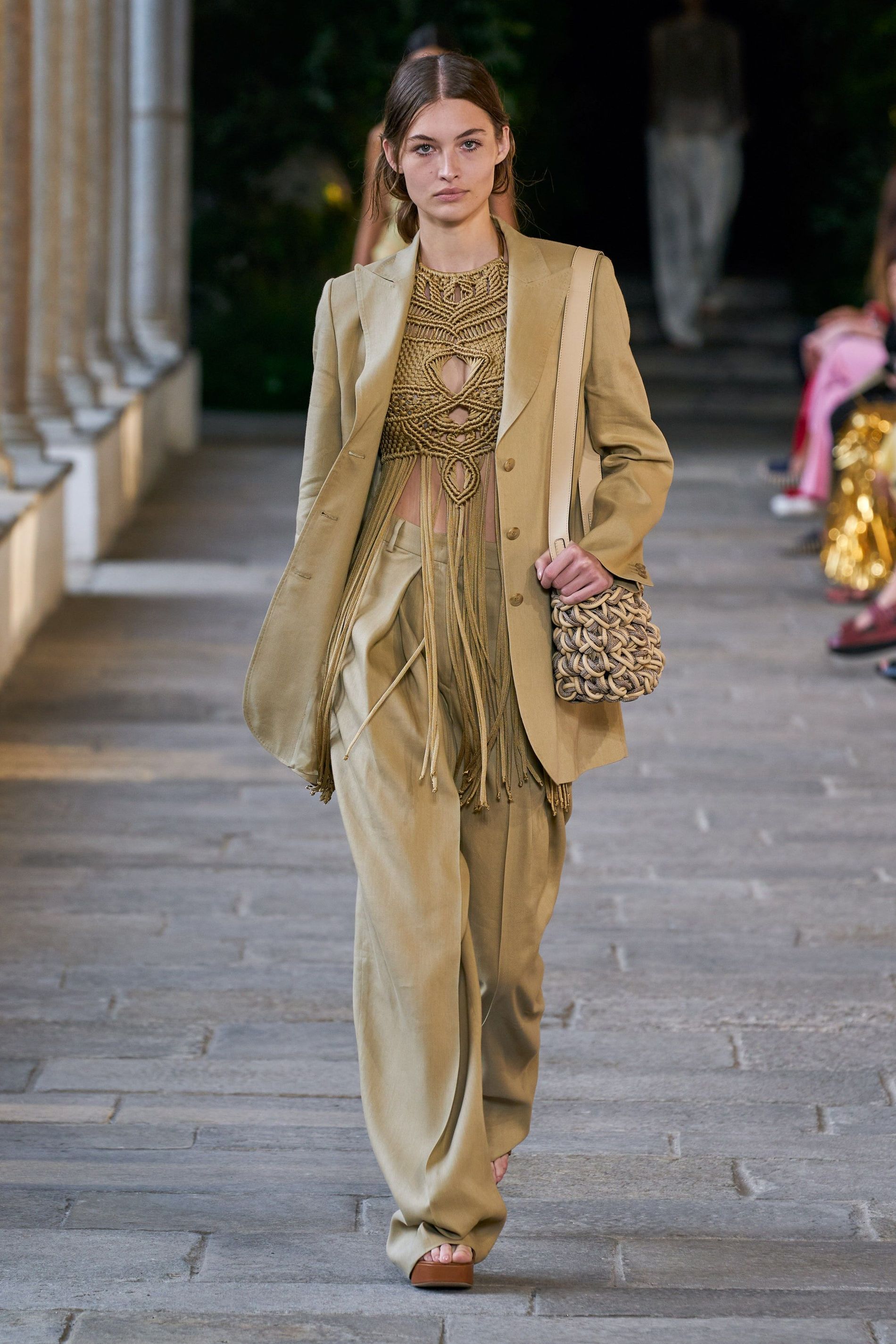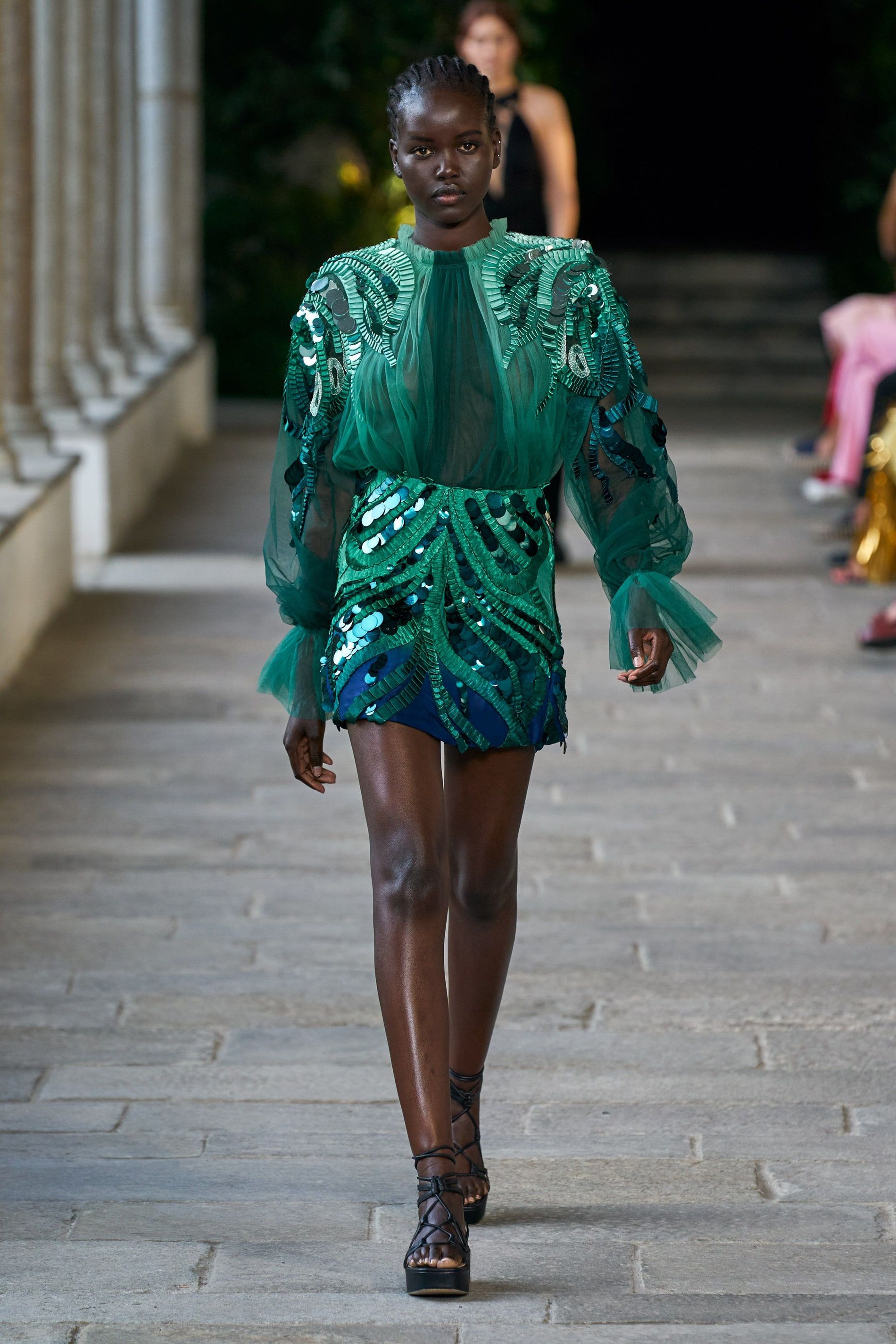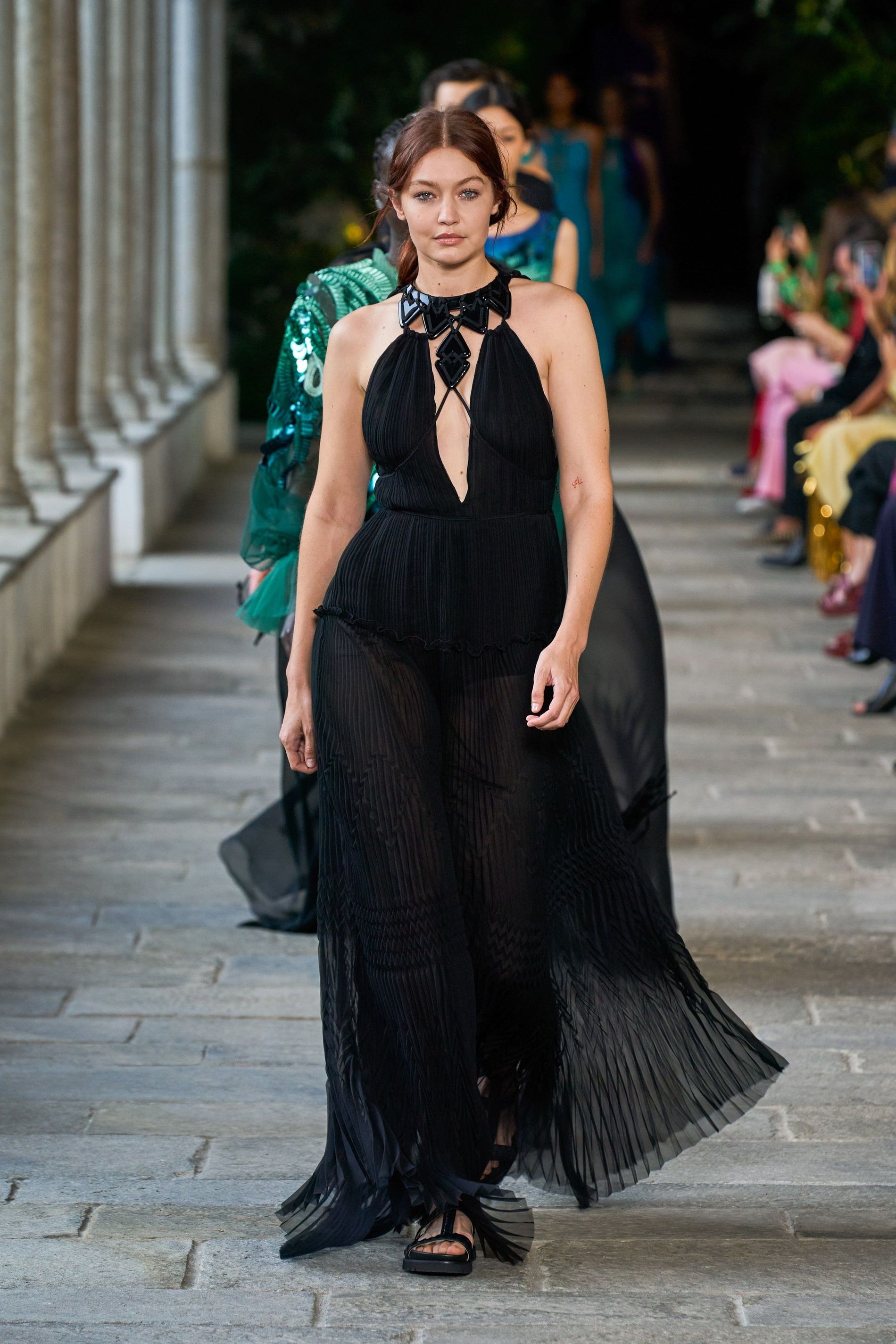 Jil Sander
Jil Sander's SS22 collection was a reaction to our current need for physical touch after we experienced everything in two dimensional from our screens. With a greater focus on details, prints and textures, the boxy silhouettes consisting of thick wool and draped looks made out of layers of silk and leather. The perfect transitional clothes to go back to reality.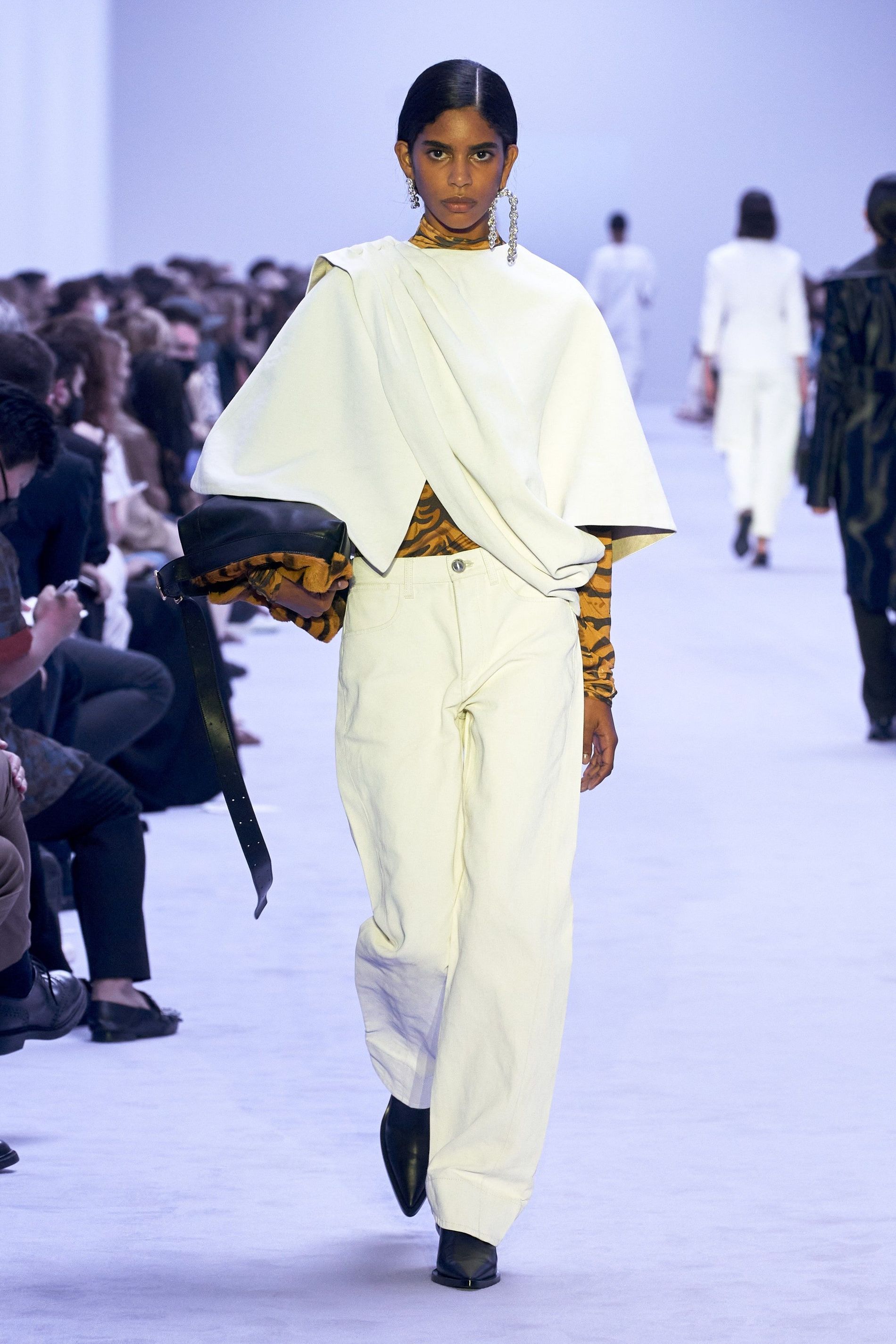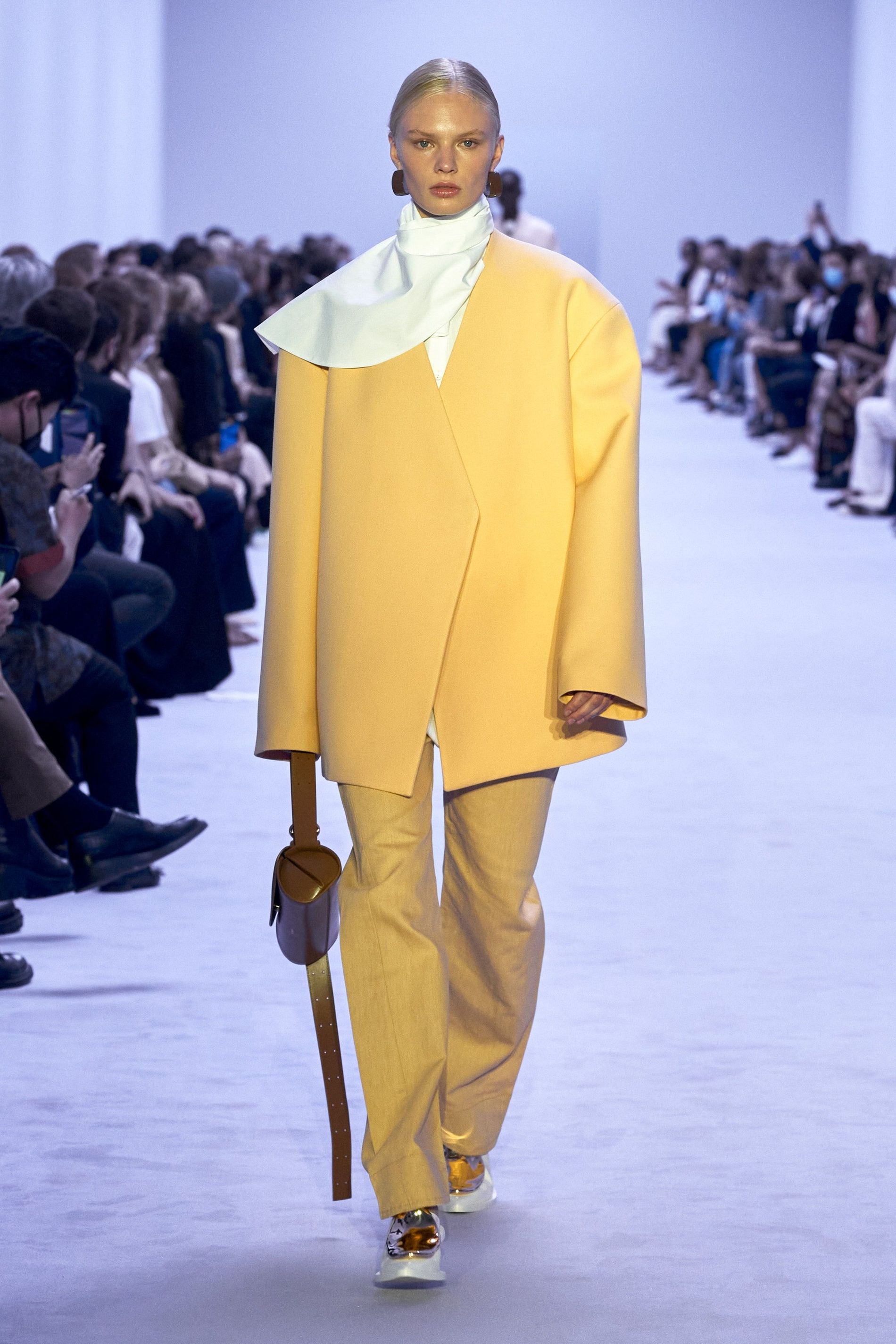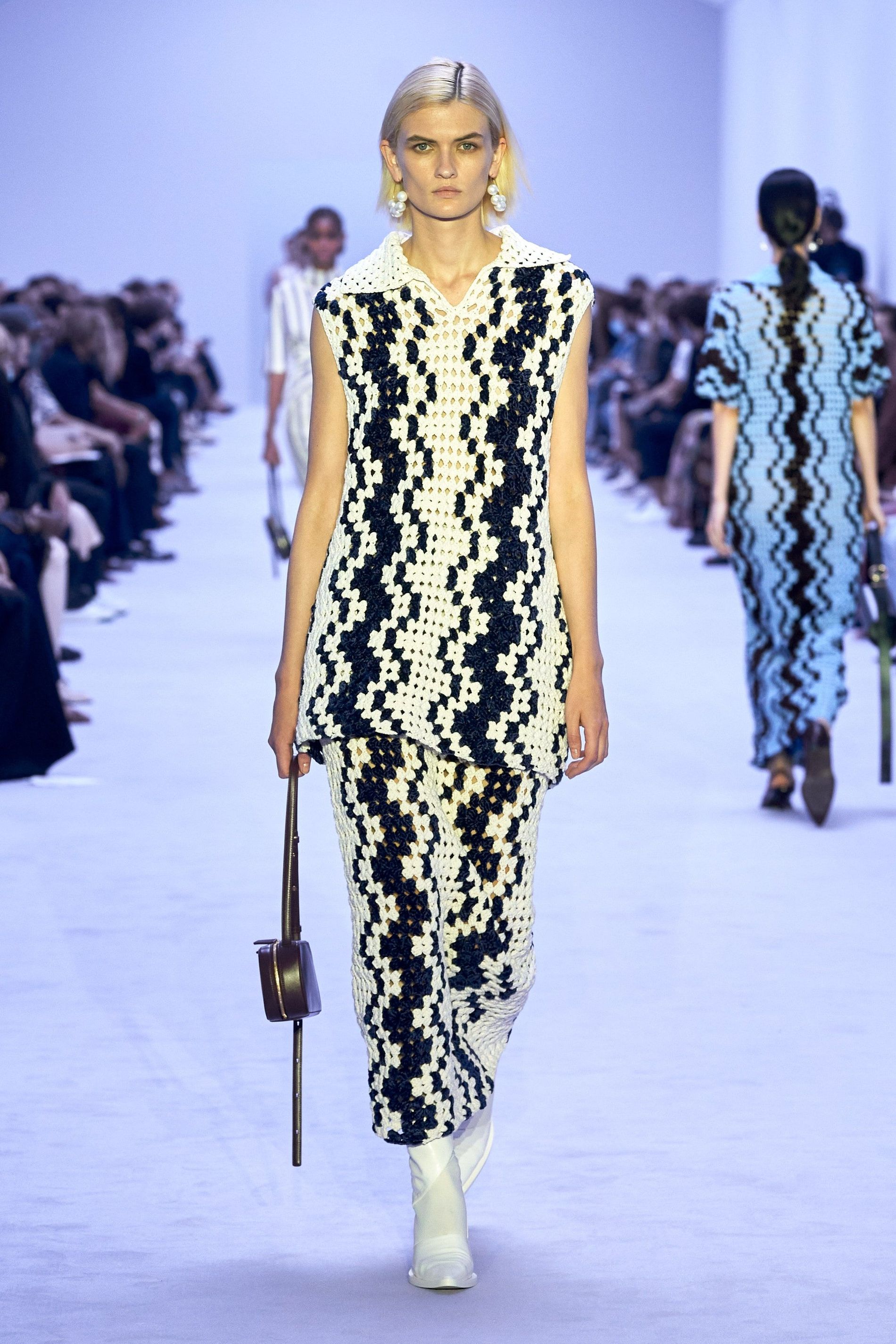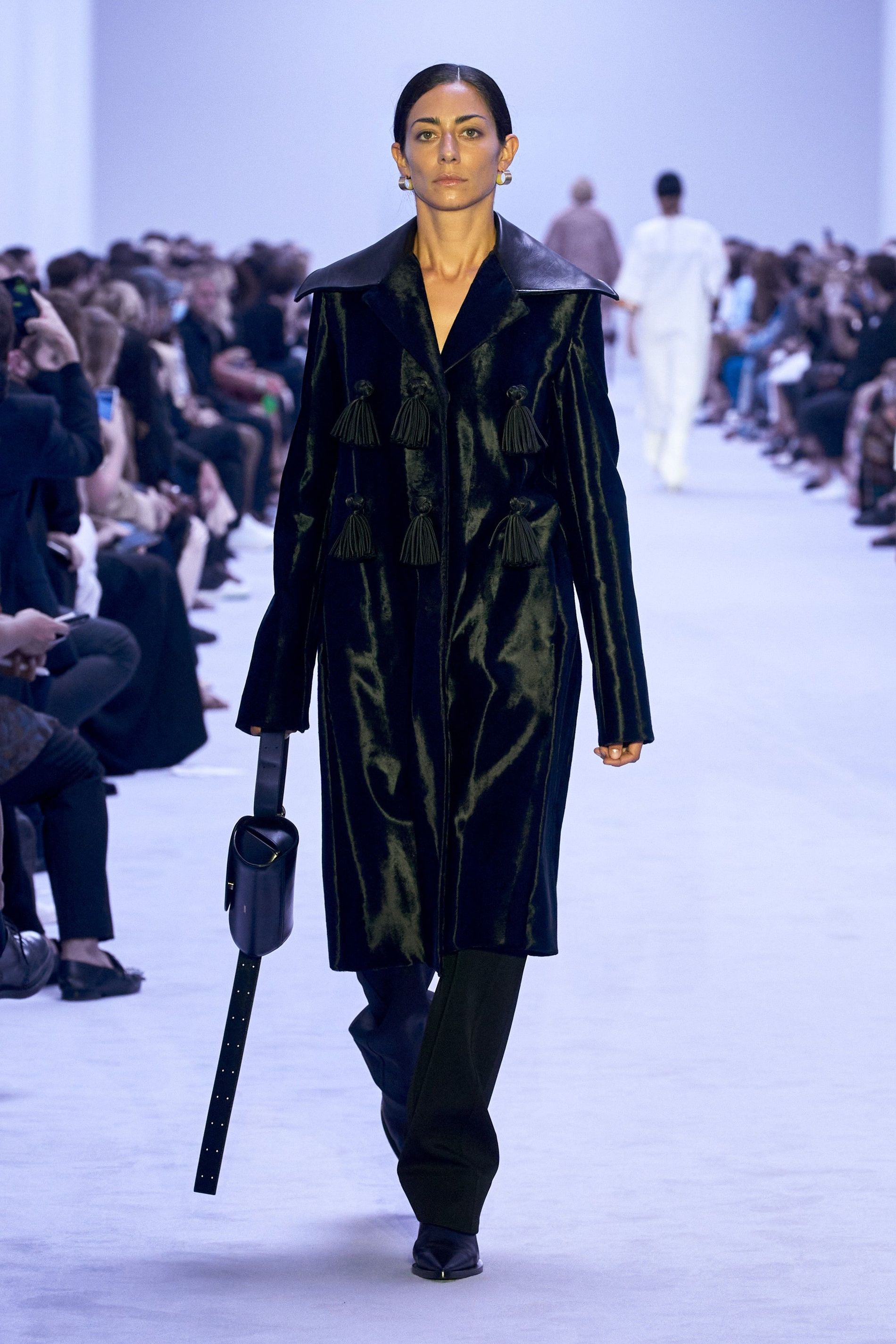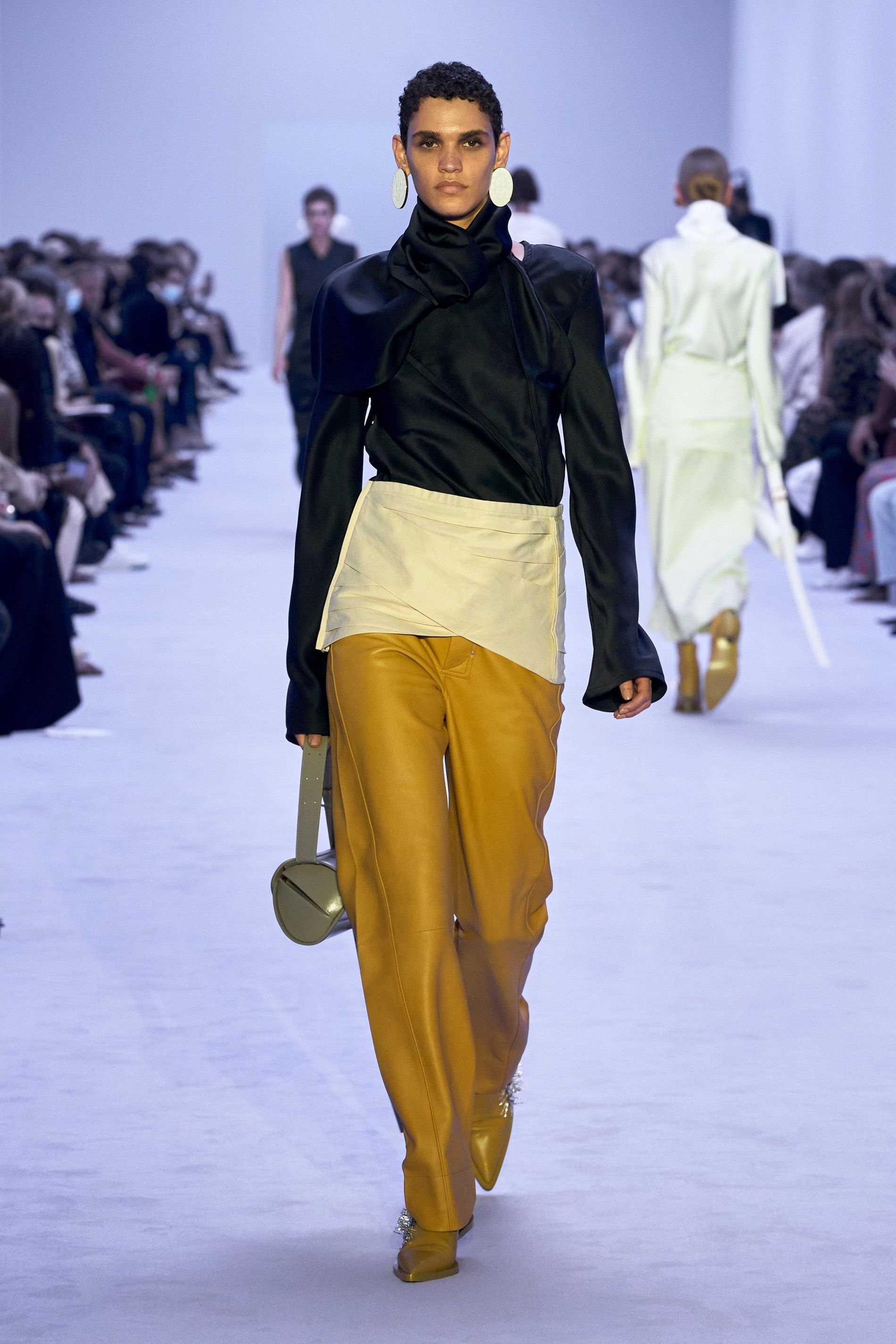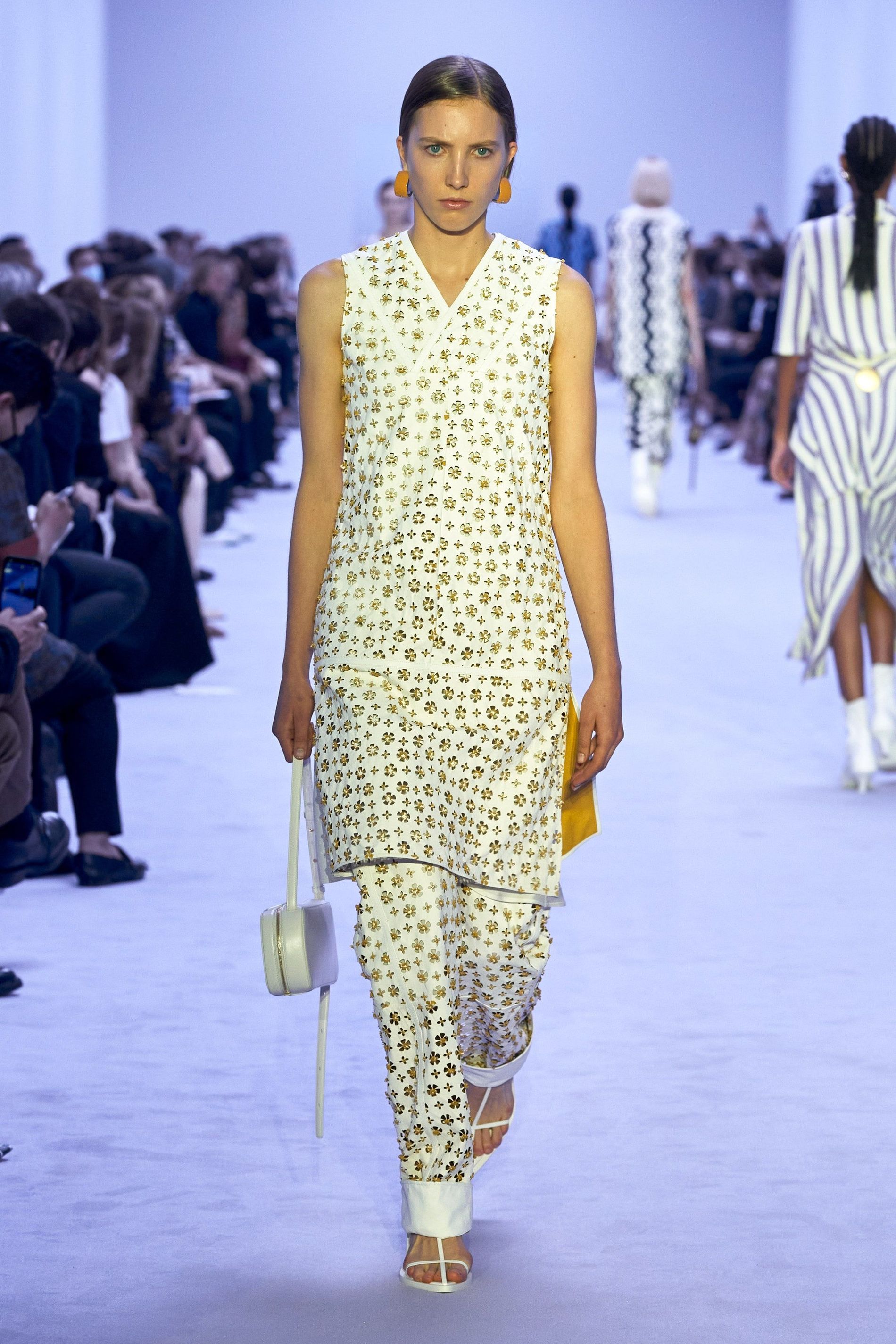 Roberto Cavalli
Creative director Fausto Puglisi presented his second collection for Roberto Cavalli by paying homage to the heritage of the brand through the iconic animal prints and feminine designs. Close-fitting cut-out looks blended together with tiger-motif dresses and long coats which made clear that the celebrated Y2K Cavalli era has returned.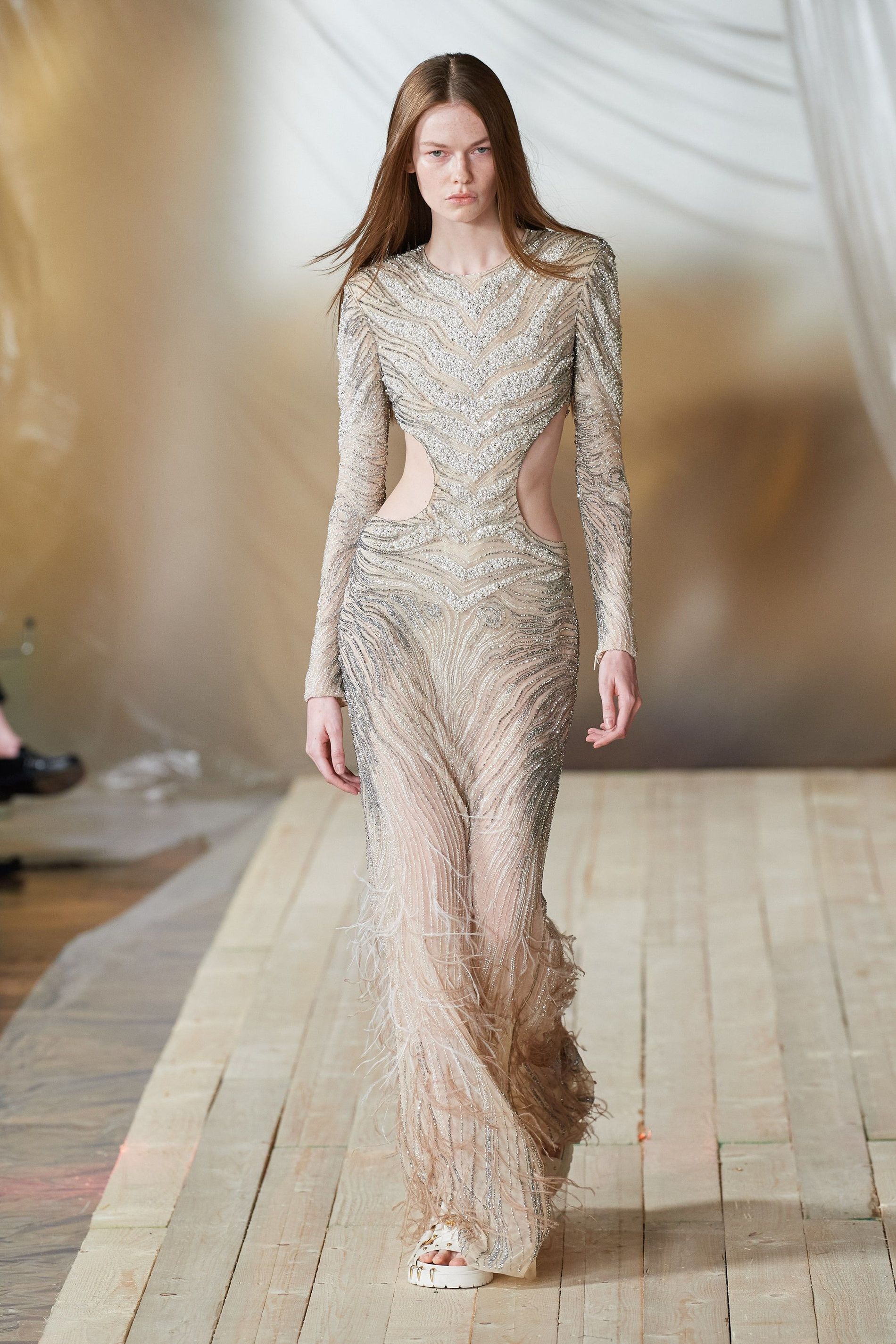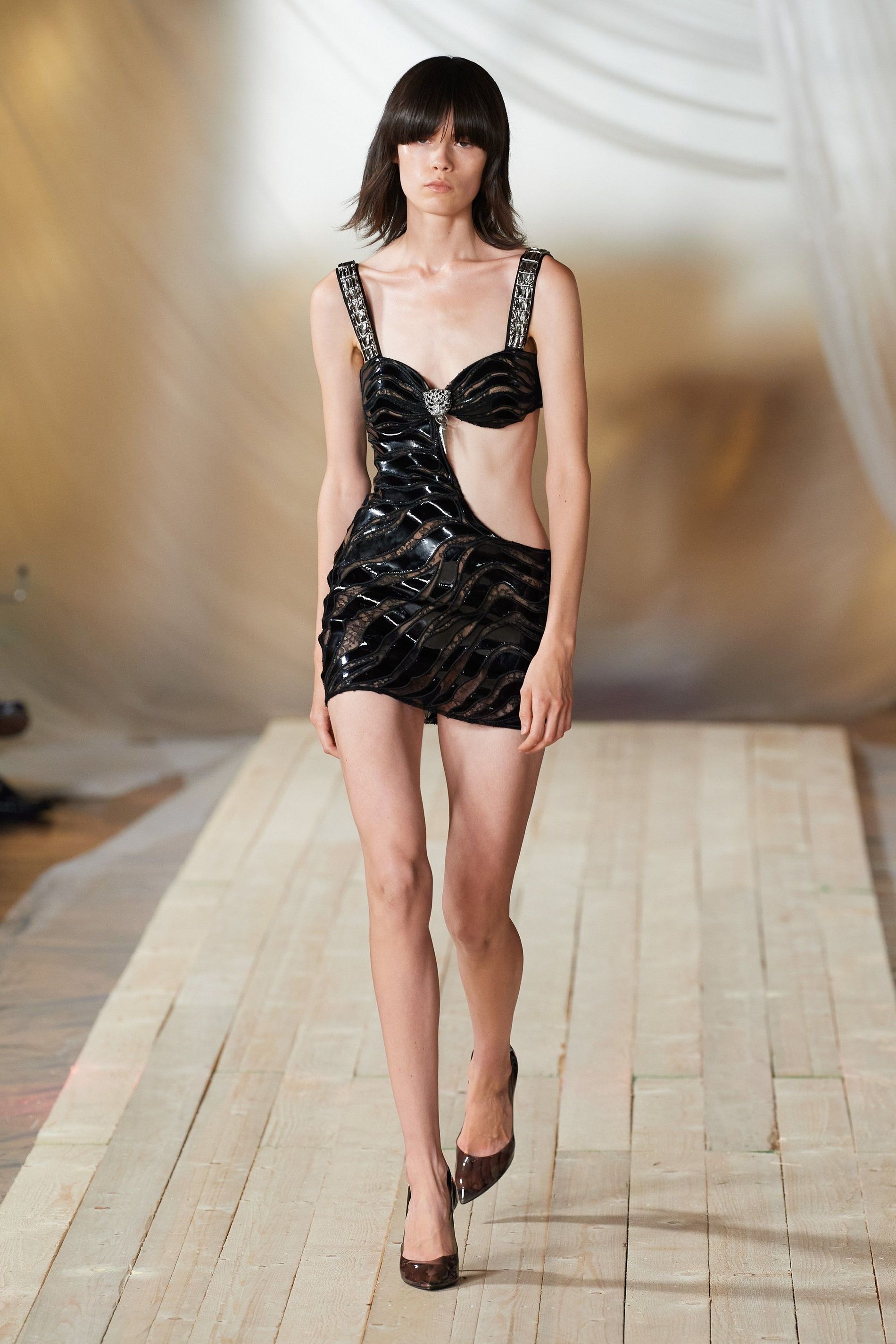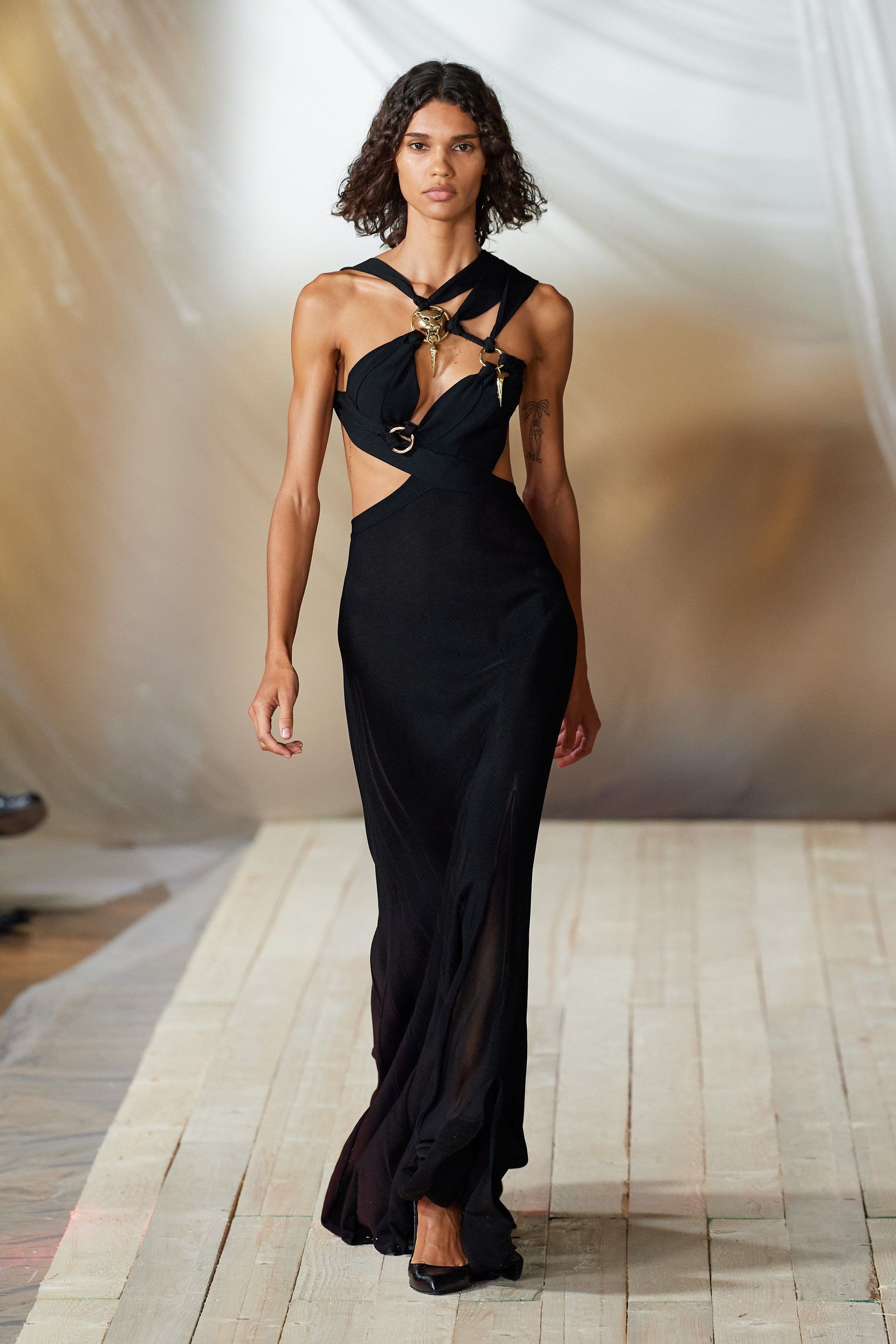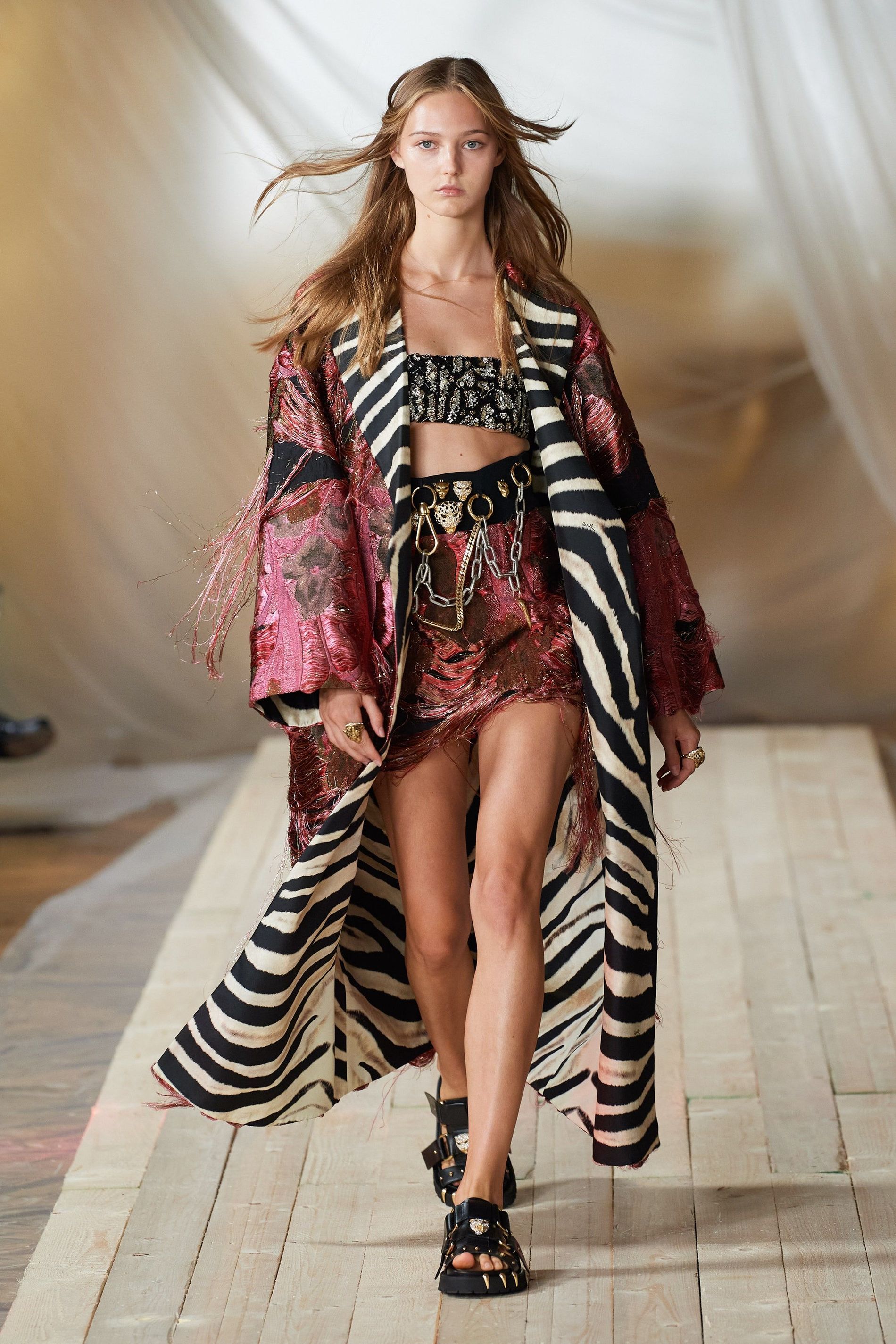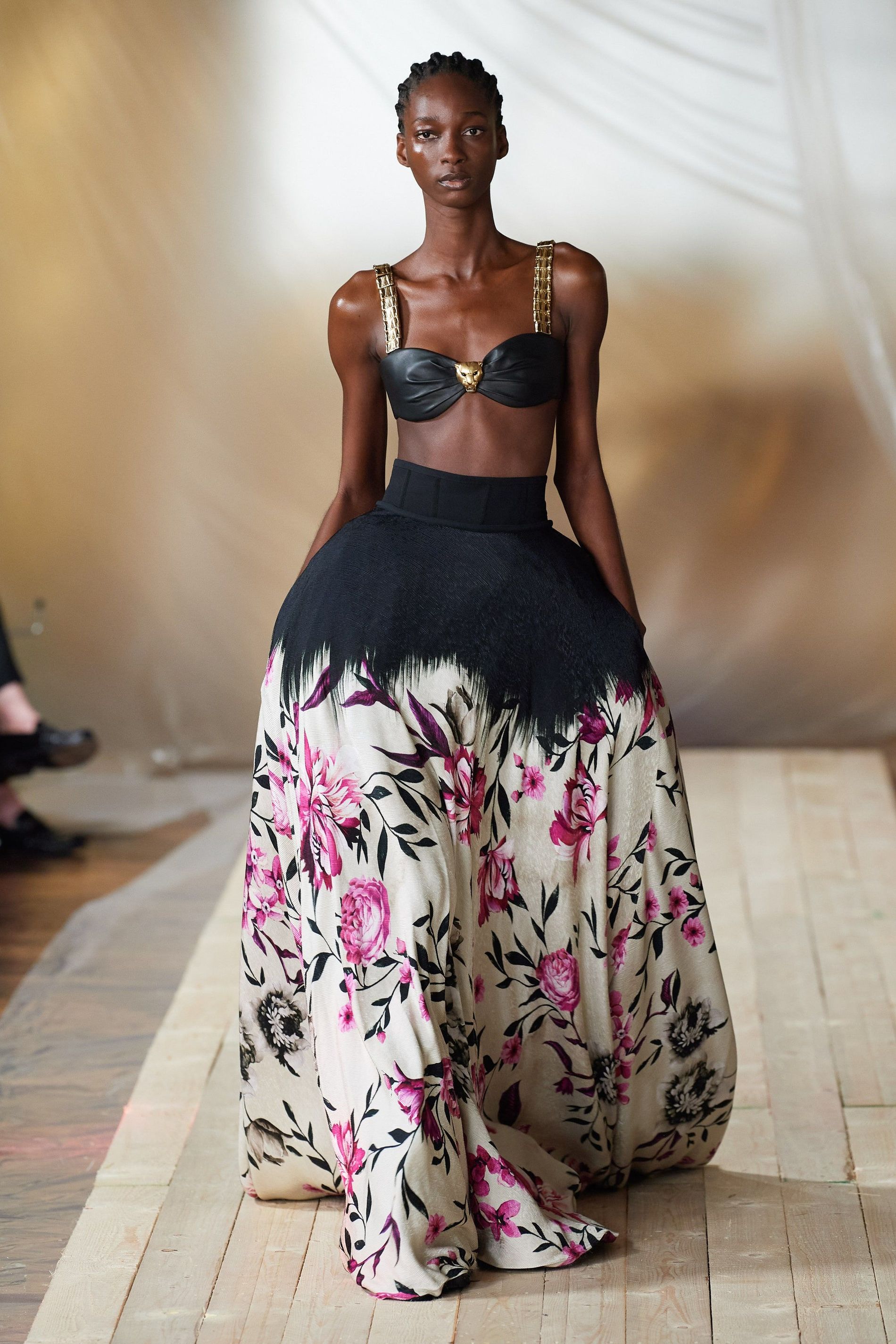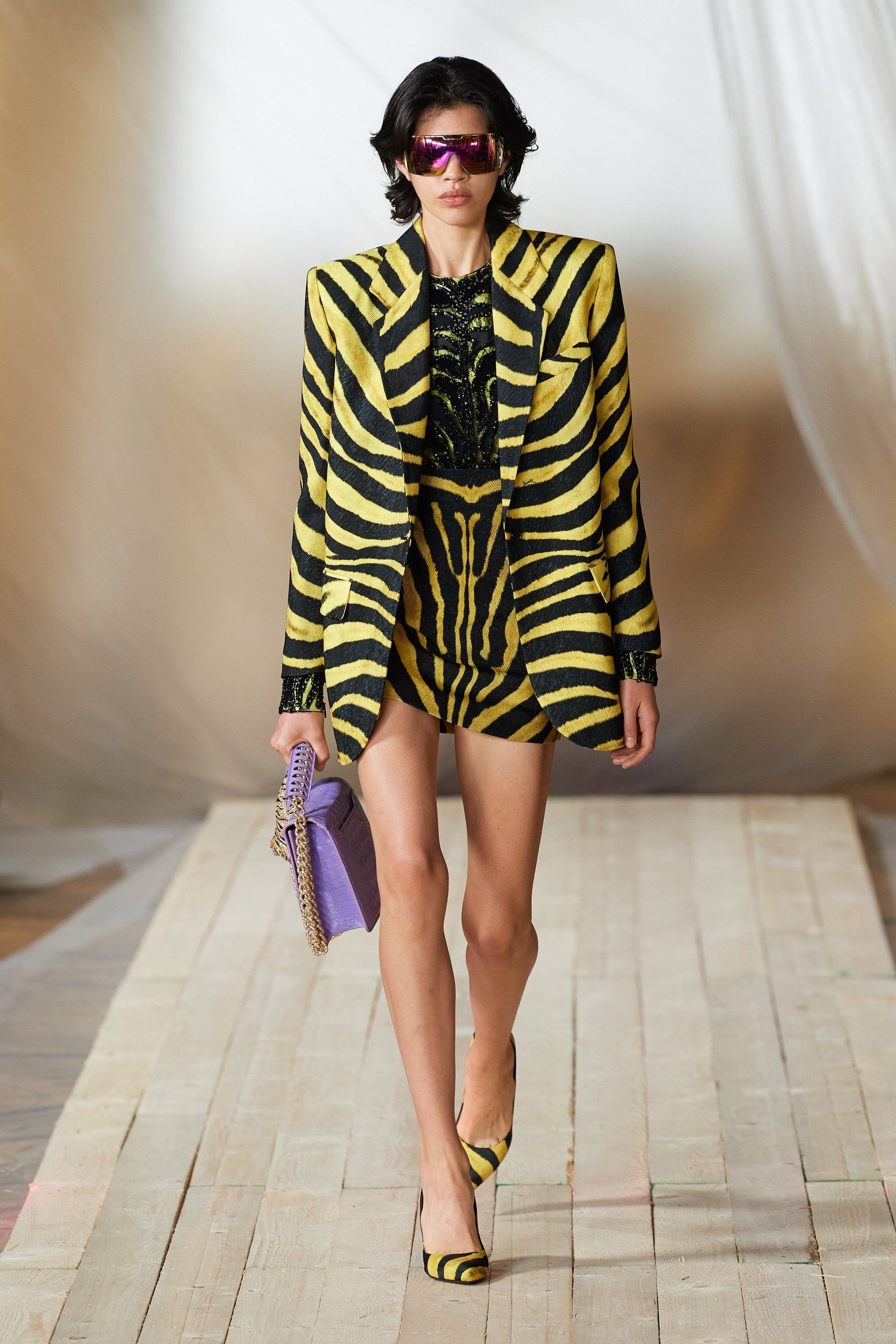 Max Mara
French writer Francois Sagan's book and movie Bonjour Tristesse - as directed by Otto Preminger - served as the inspiration behind the collection of Max Mara designer Ian Griffiths. A true bourgeois rebel shaped by practical and feminine designs with neutral colours and a hint of vibrant orange. The bandeau top was a reoccurring element reminiscing of the blissful feeling of those late summer days.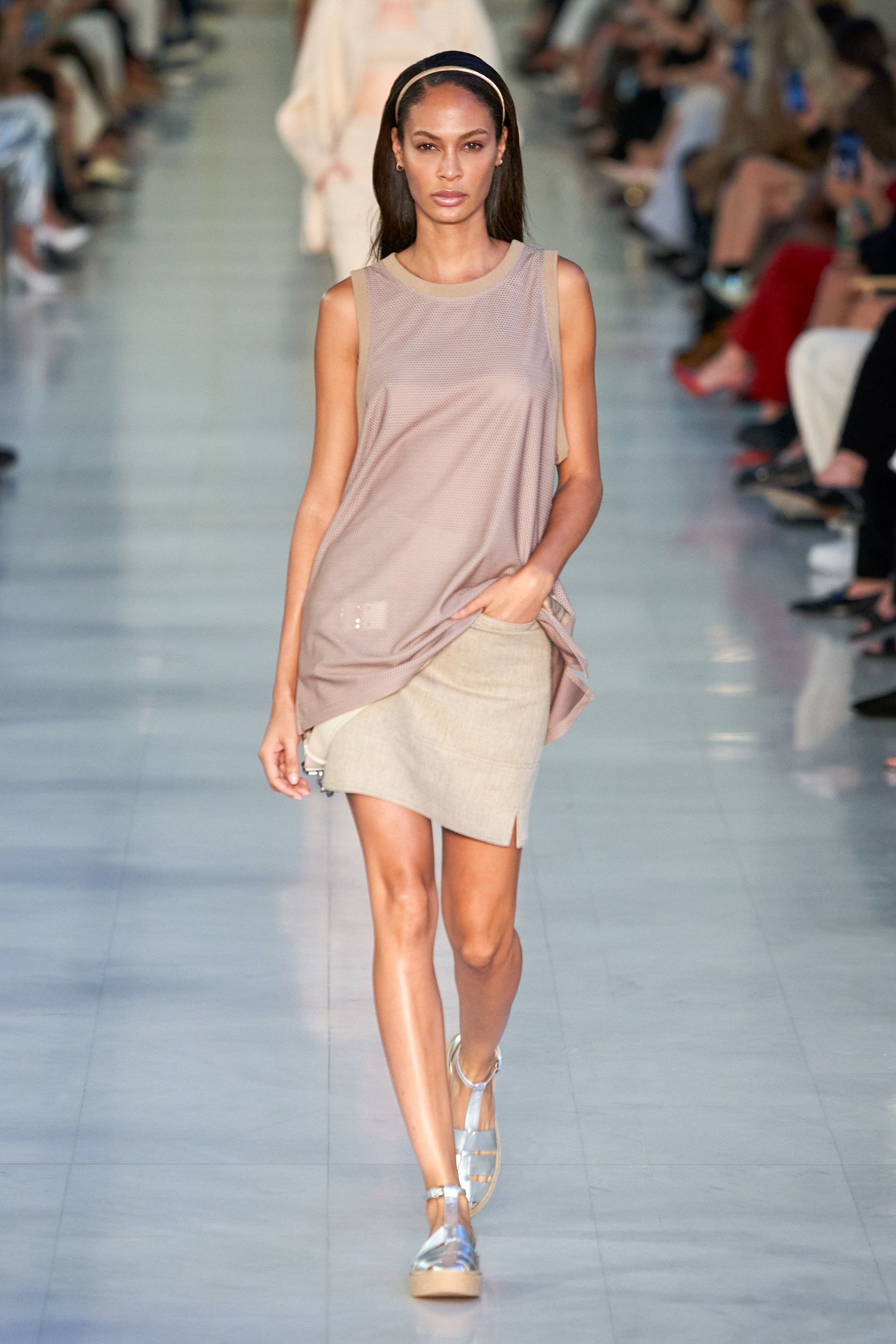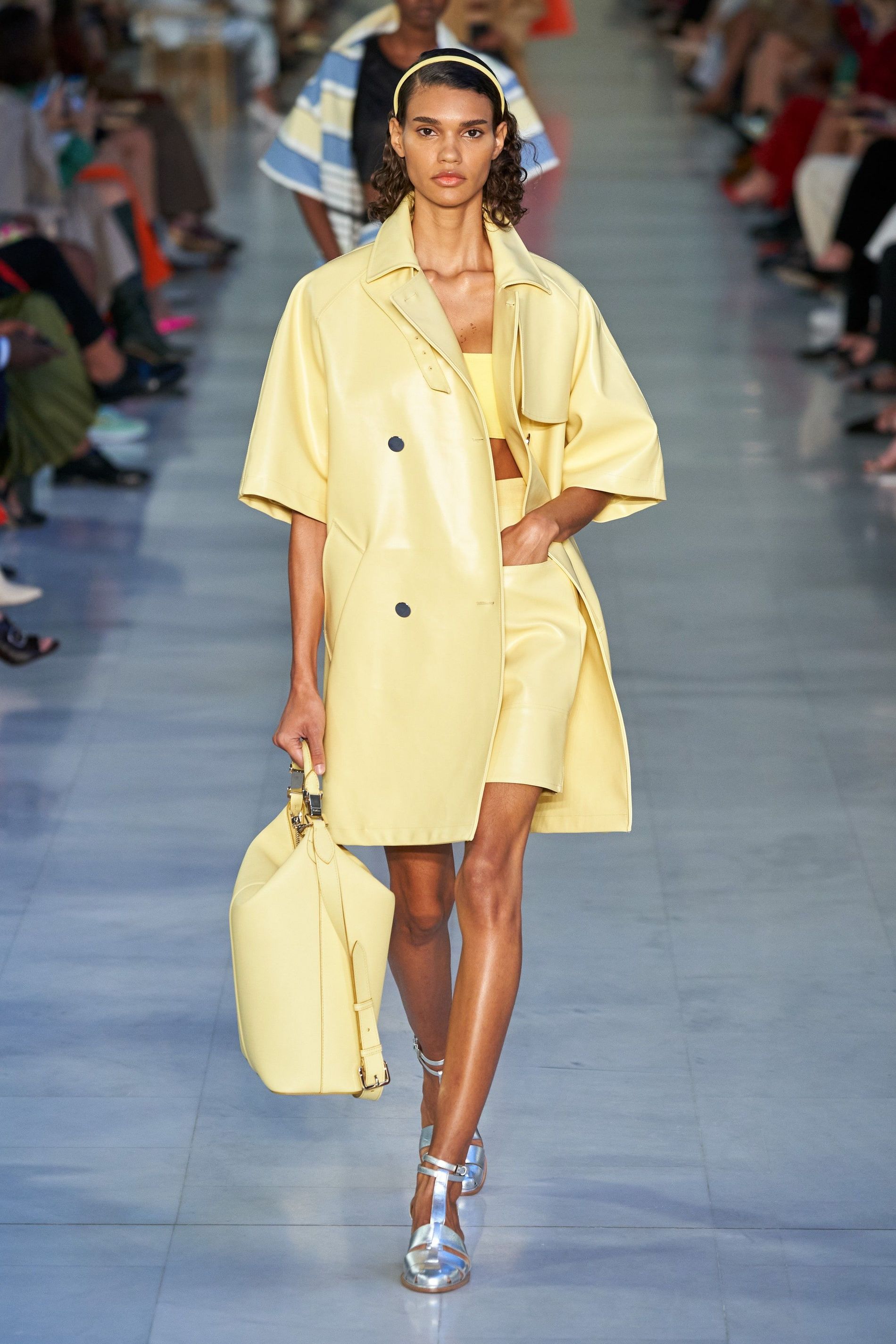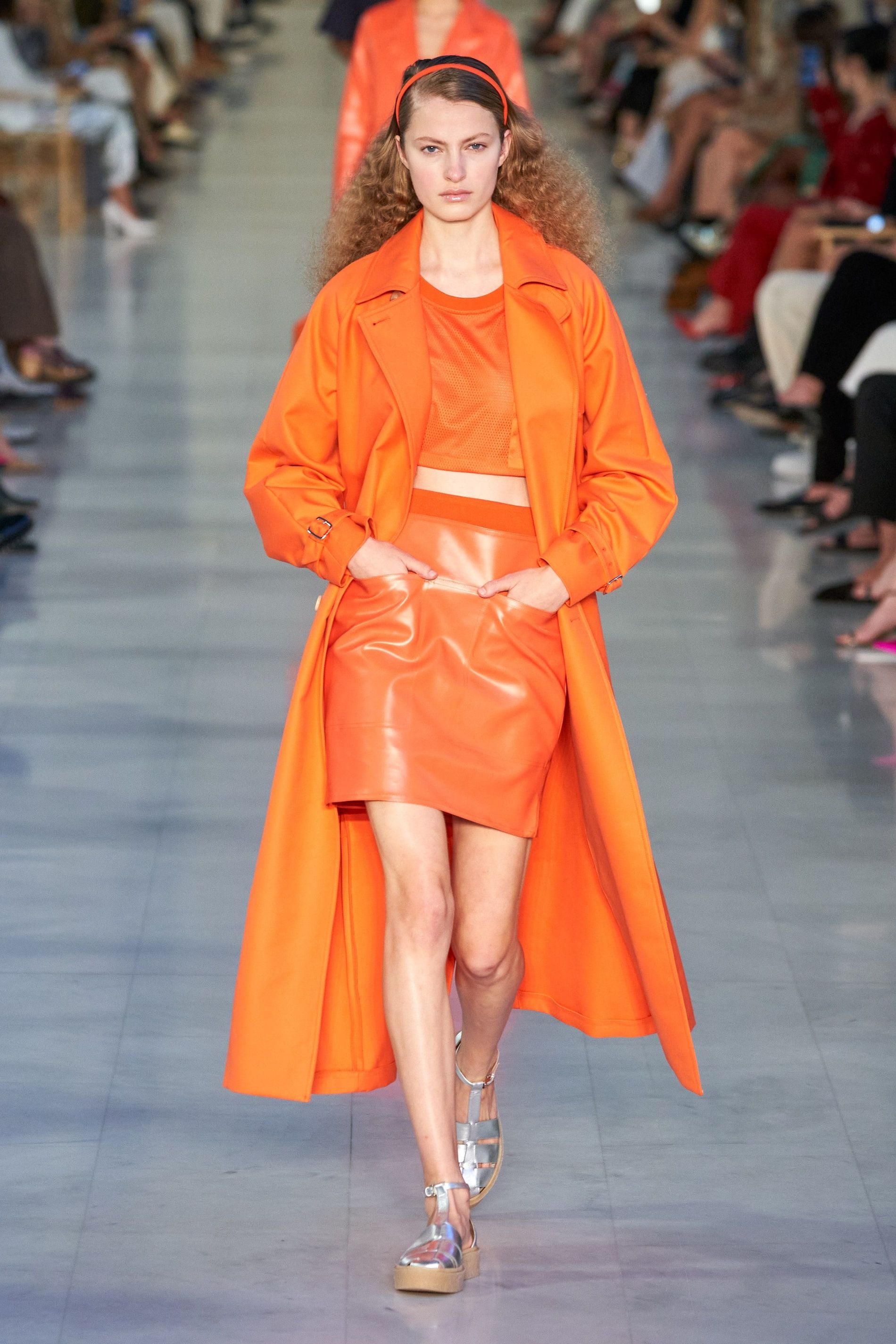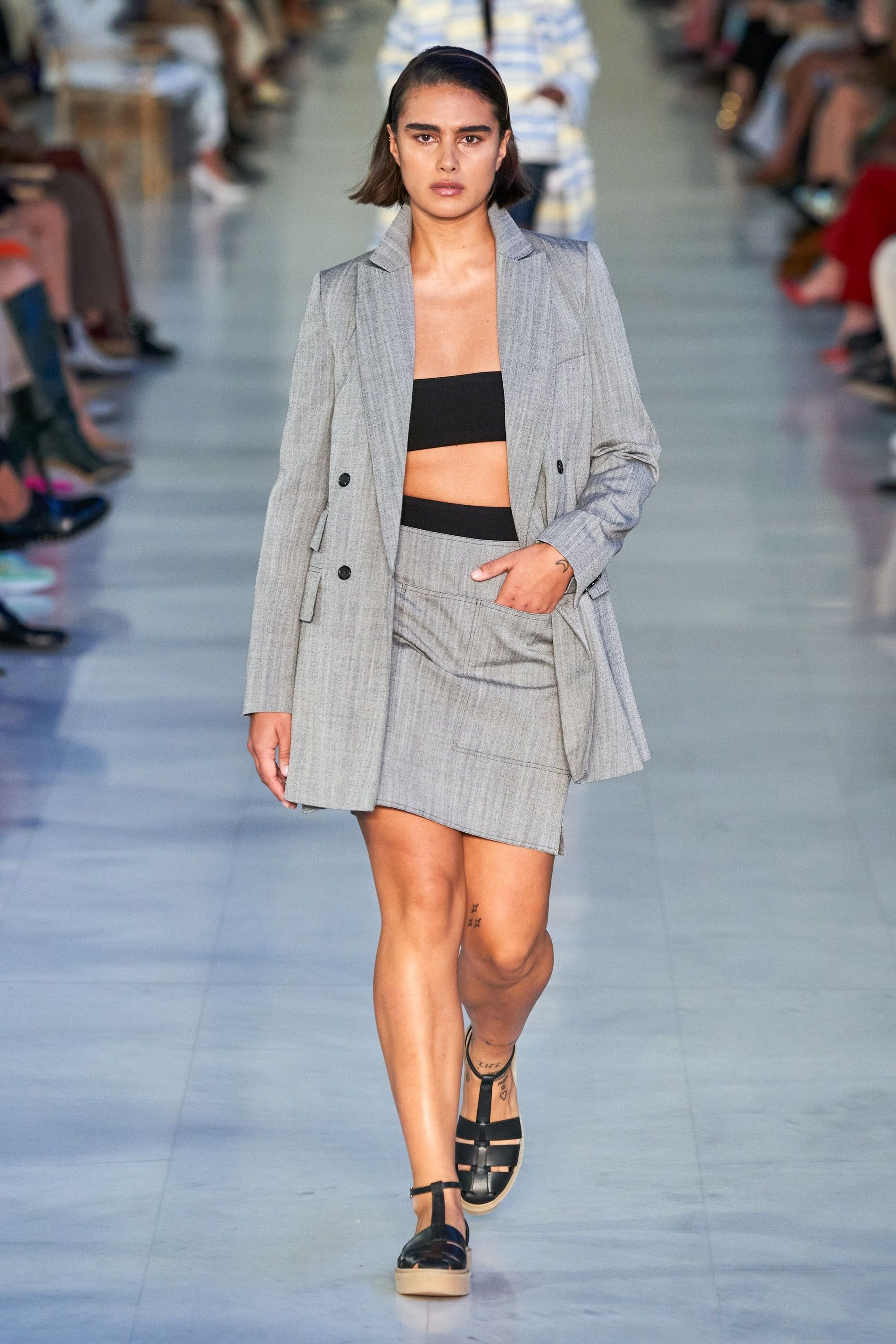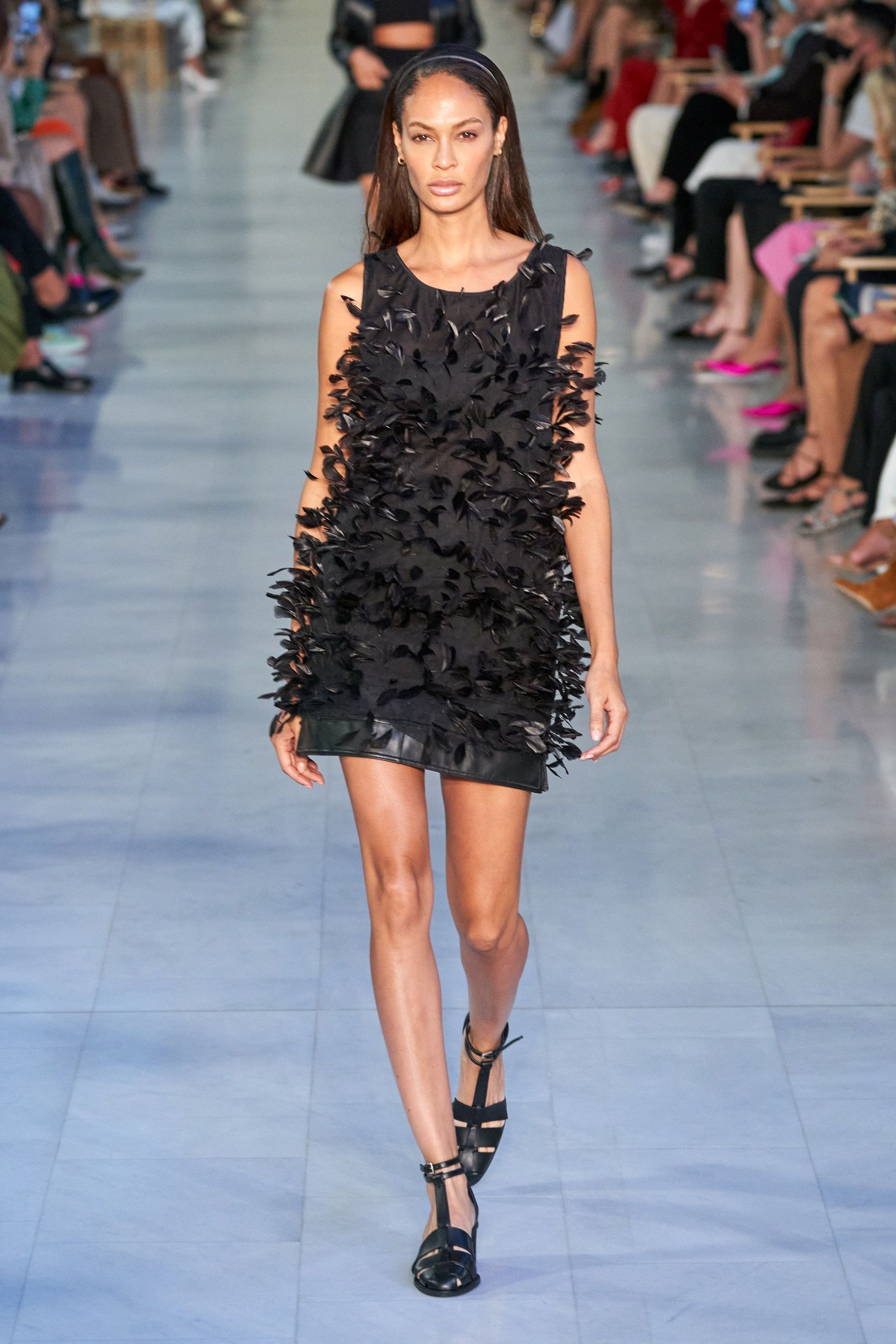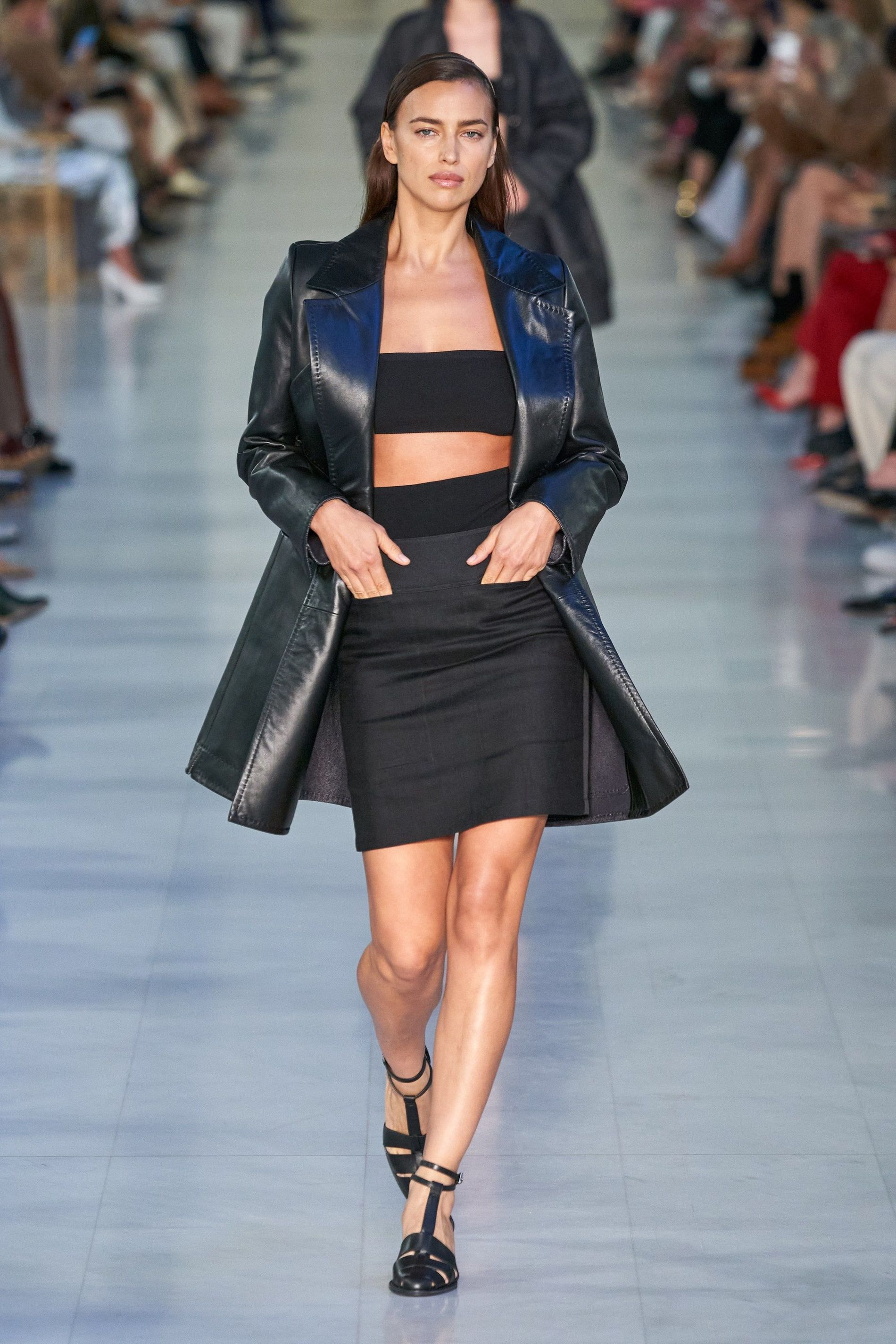 Boss
The classical German fashion house collaborated with sportswear label Russell Athletic, who showed their sporty baseball-inspired second drop during a show in JF Kennedy Stadium - the home of Milano Baseball. Gigi Hadid wore the highlight look of the collection; bright orange hotpants combined with a cropped sweater and a bomber jacket.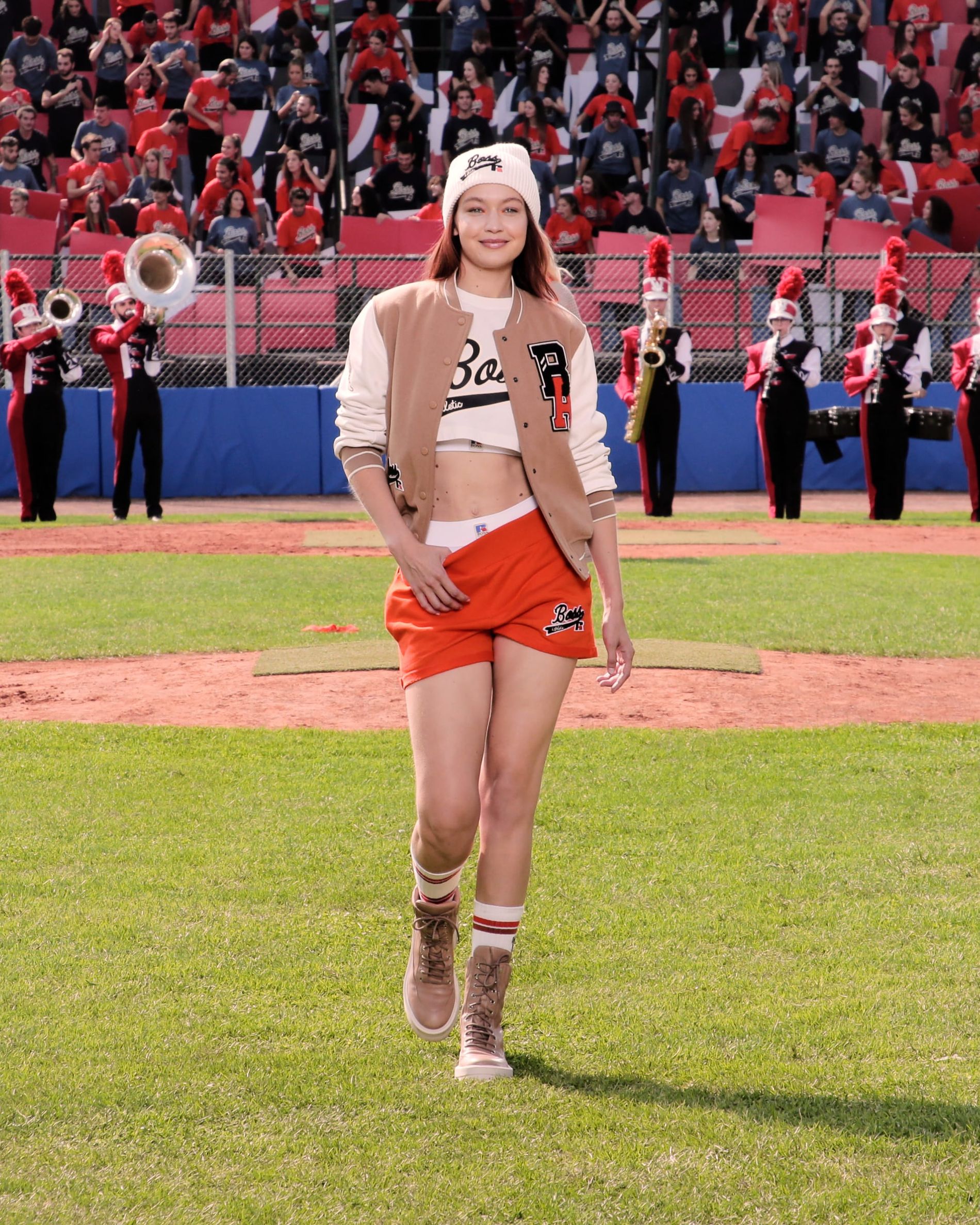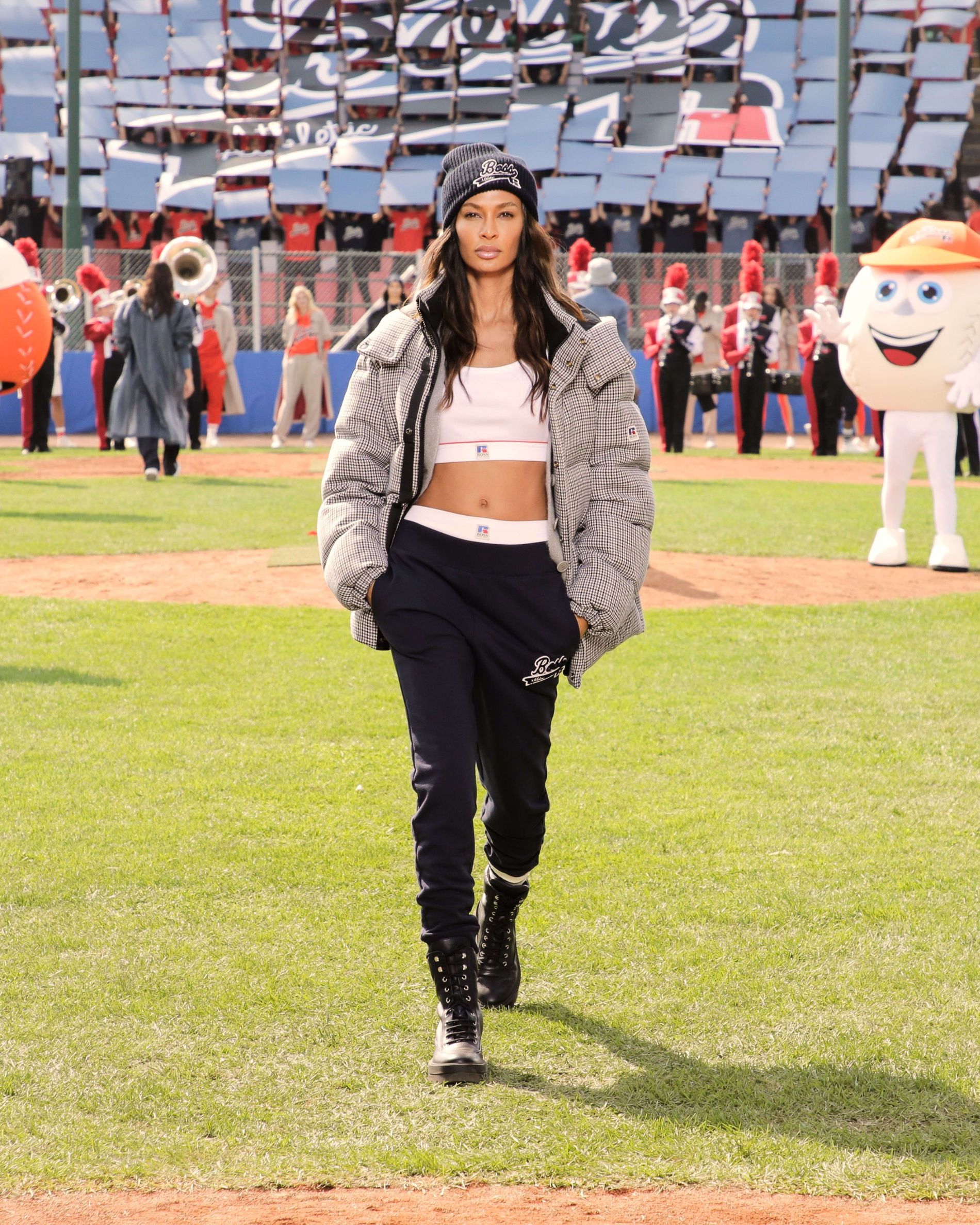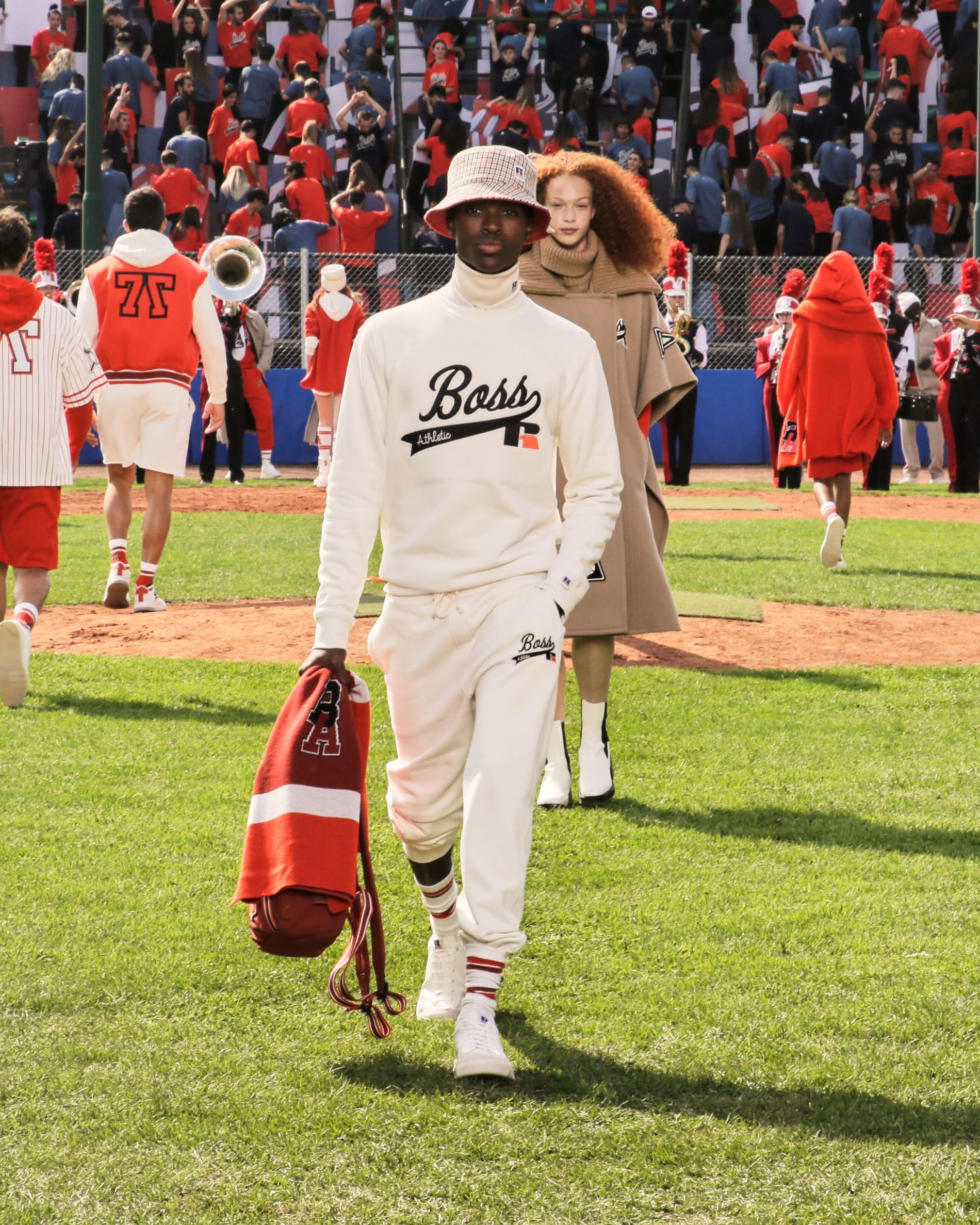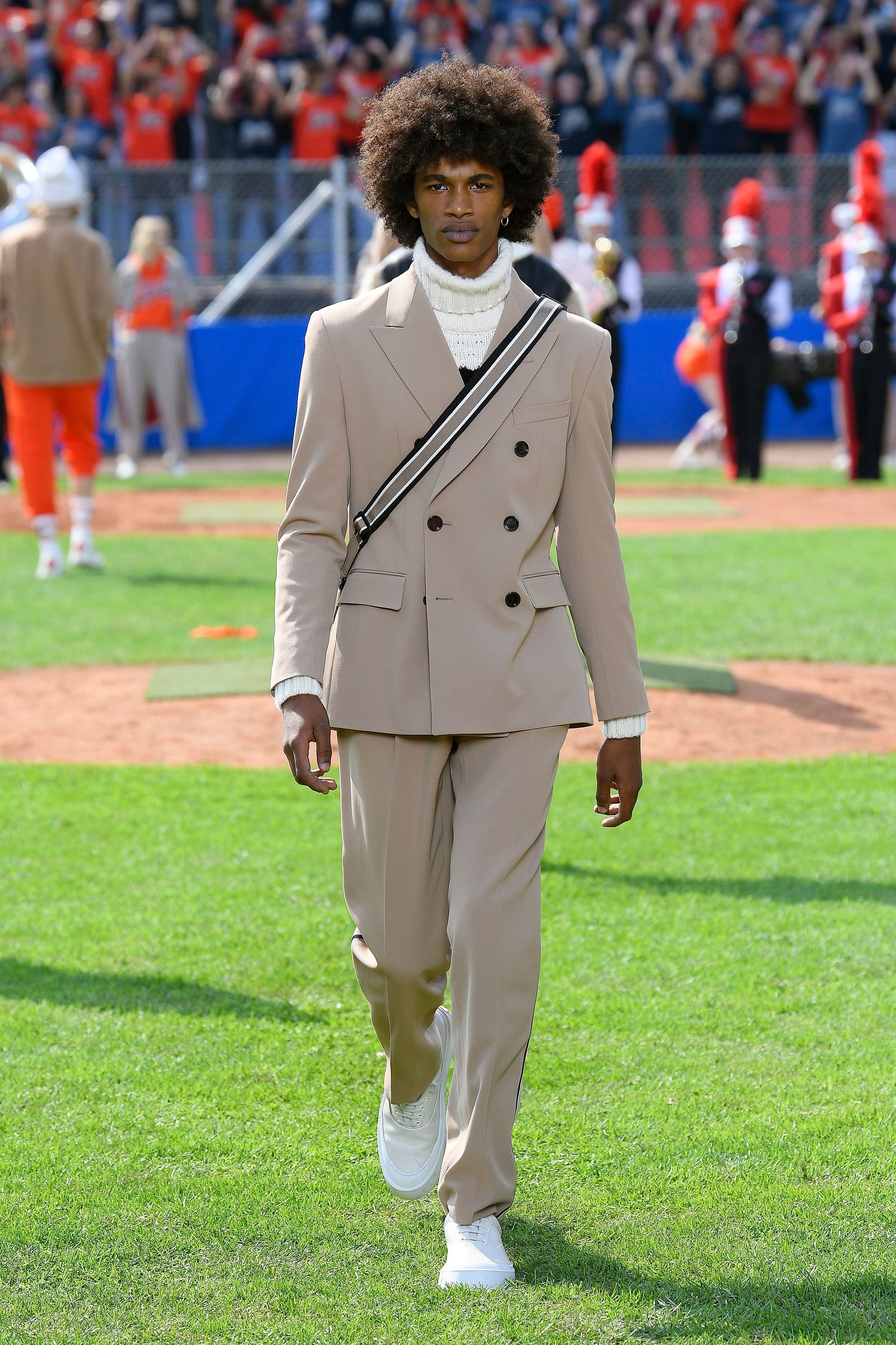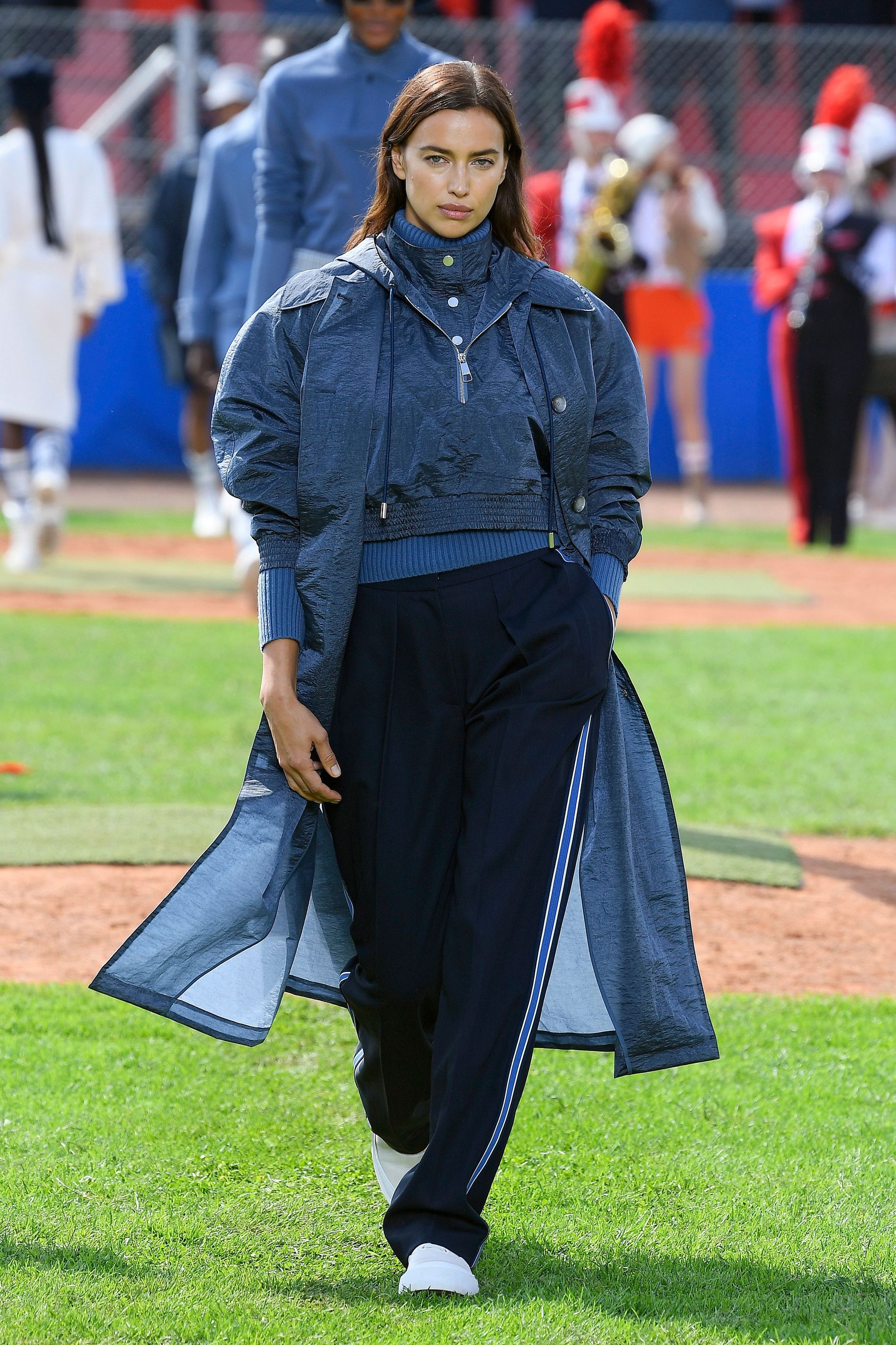 Etro
Veronica Etro offered a juxtaposition between feminine and masculine in her new collection which features a fresh take on the iconic paisley print of the Italian fashion house. An eclectic colour pattern of pink, green and red hues were combined in practical yet feminine pantsuits, comfortable shirtdresses, and tops with waisted silhouettes.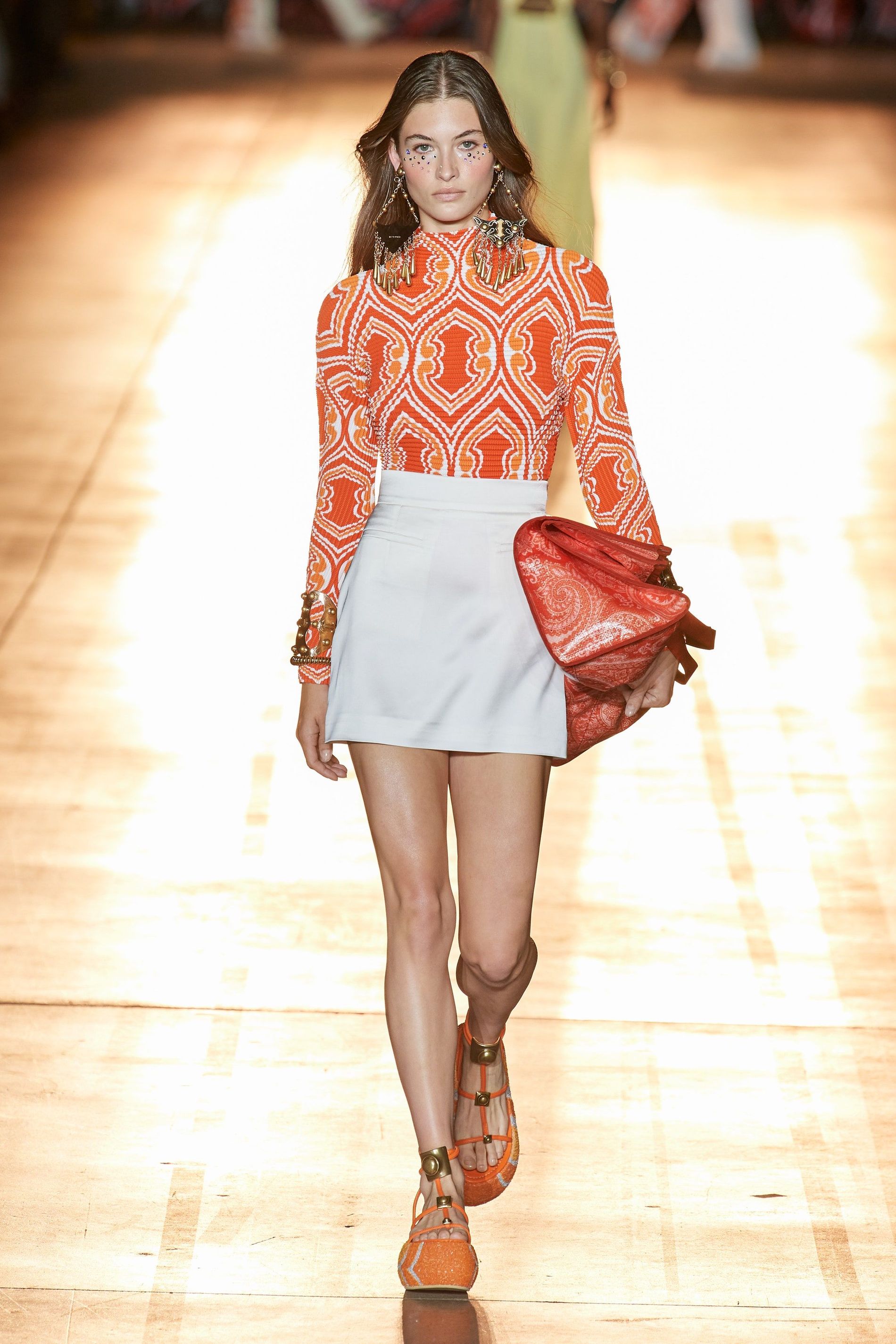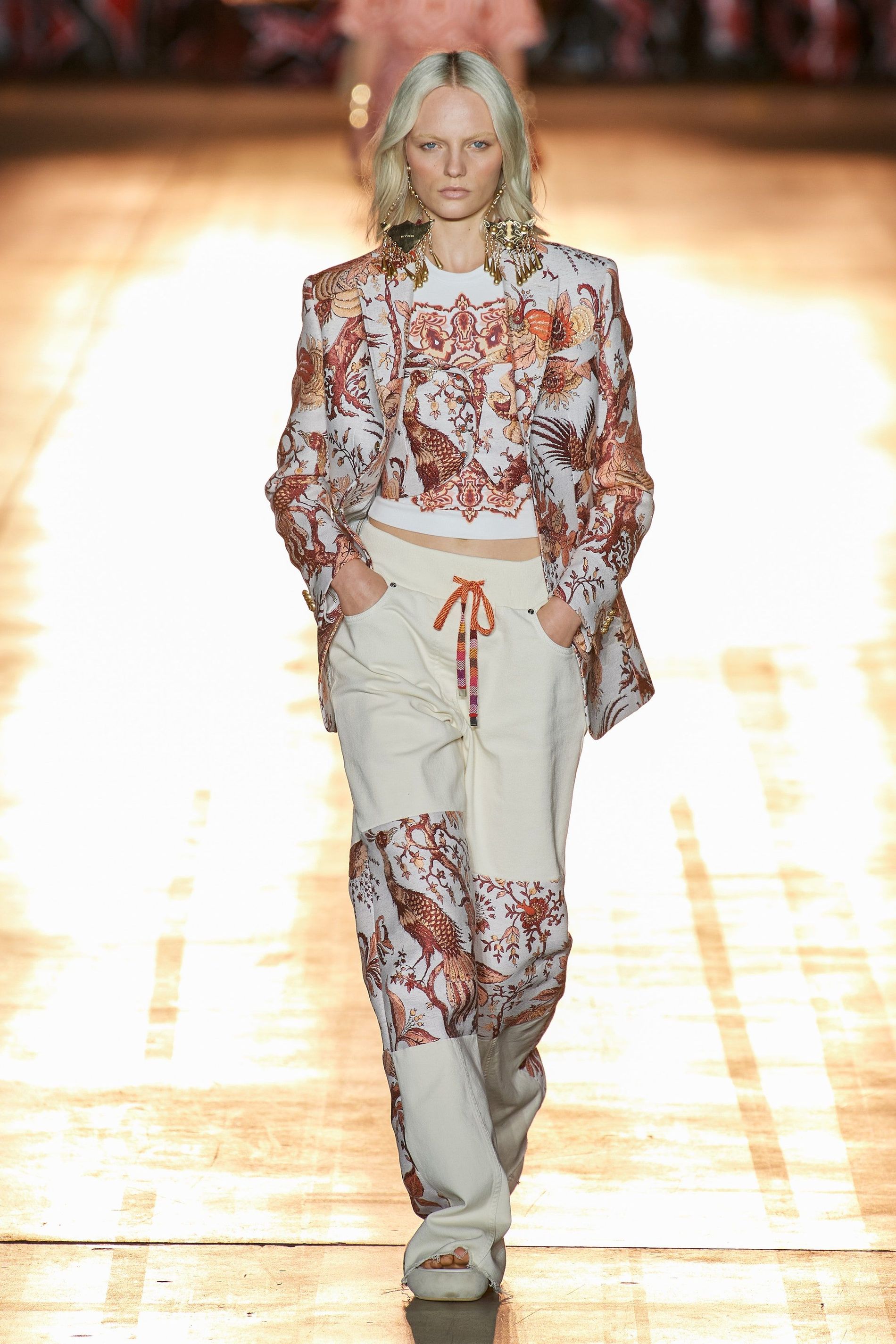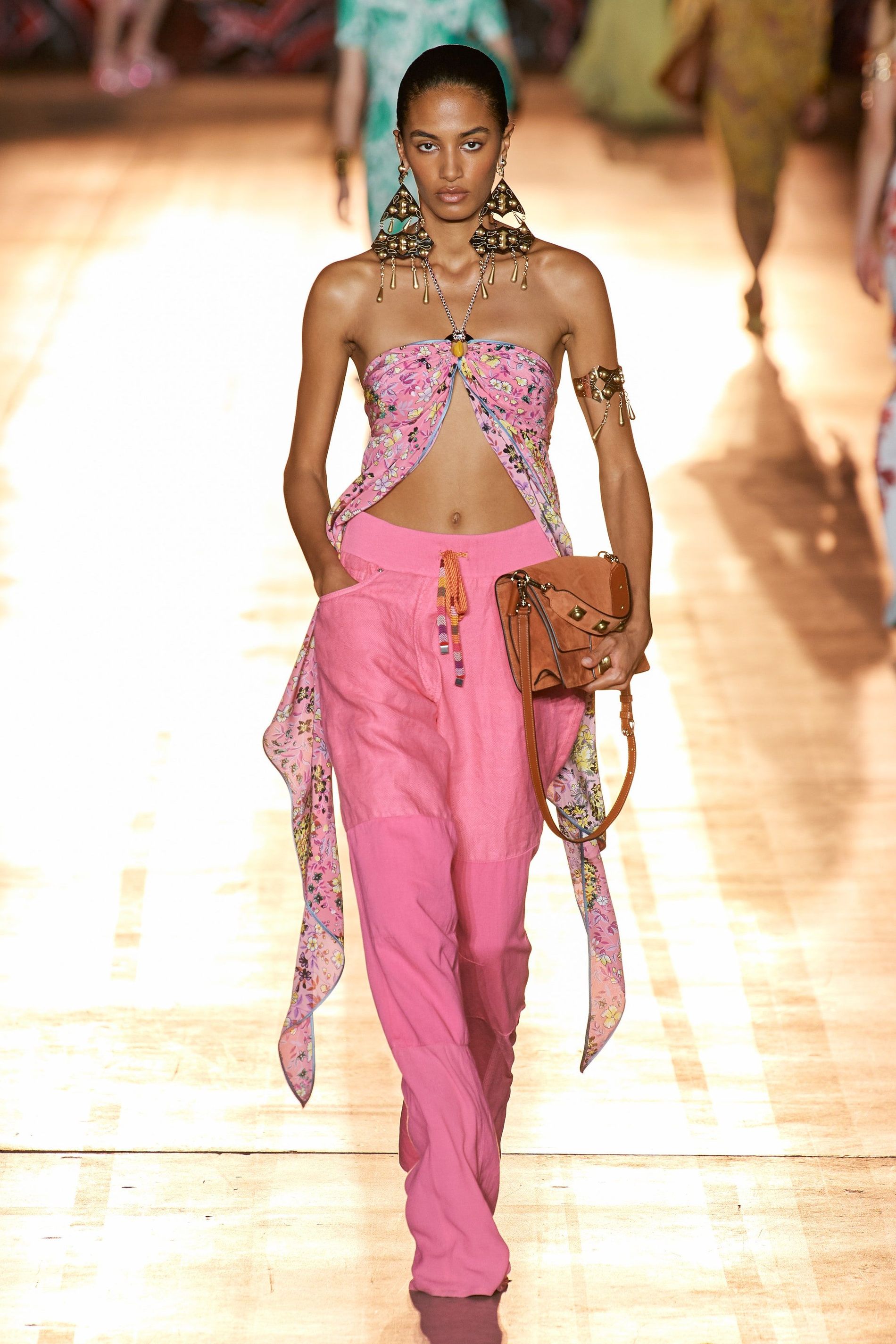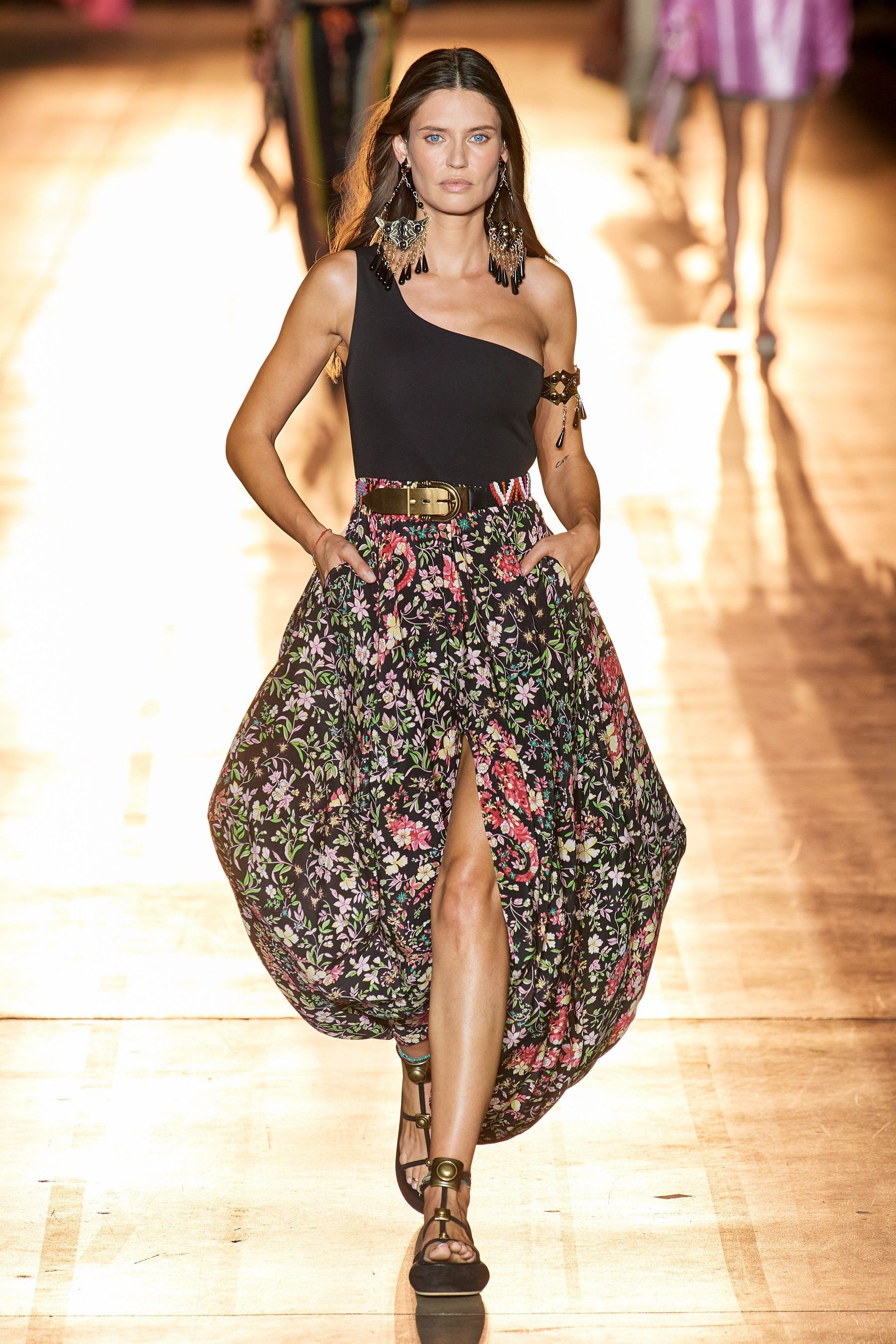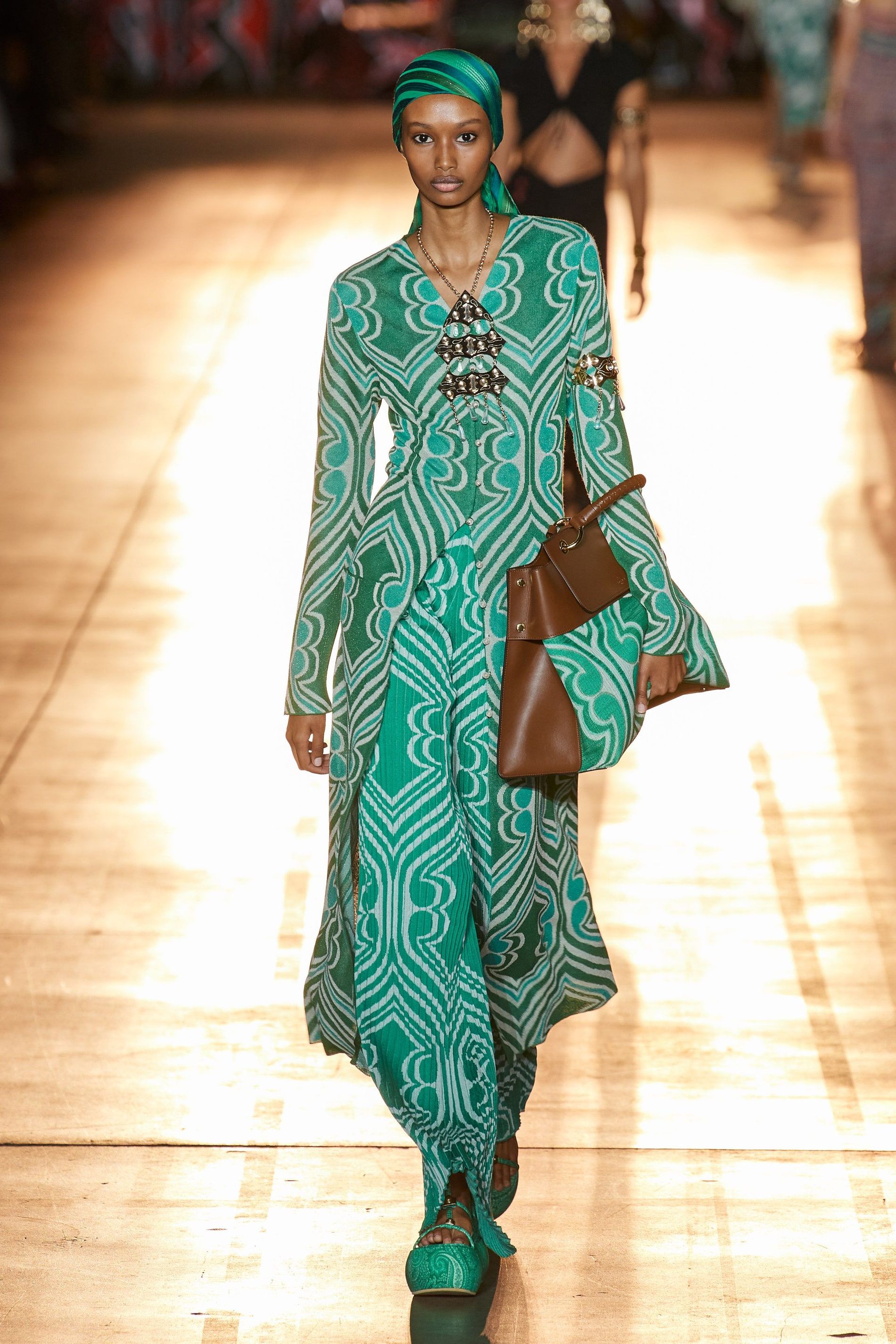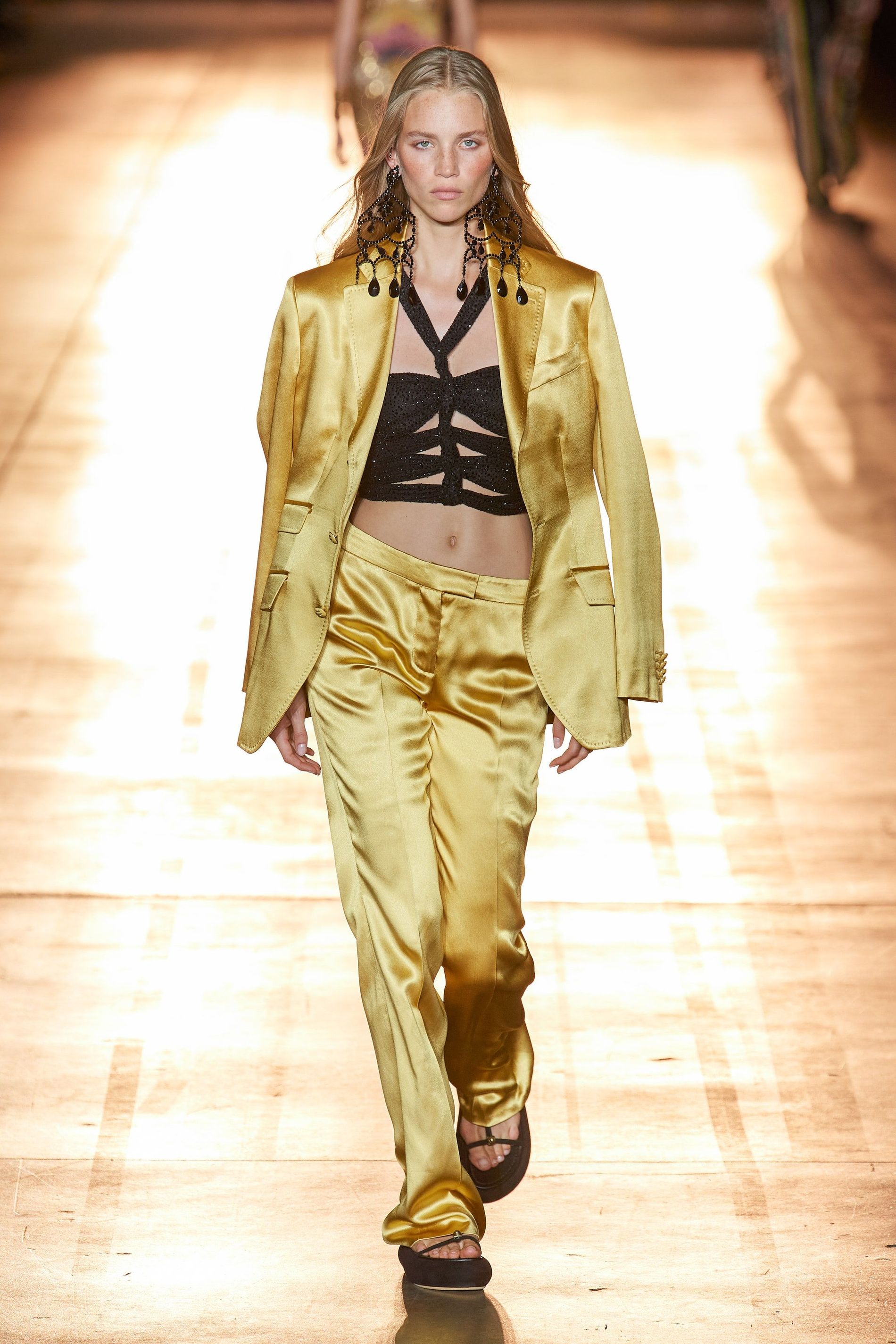 Emporio Armani
Emporio Armani marked its 40th birthday with a collection that celebrates the diversity within the Armani woman ánd man. A silver beige colour scheme turned into an aquarelle blue in strong suits, relaxed sportswear, patchwork denim and delicate evening wear, embellished with sparkling sequins.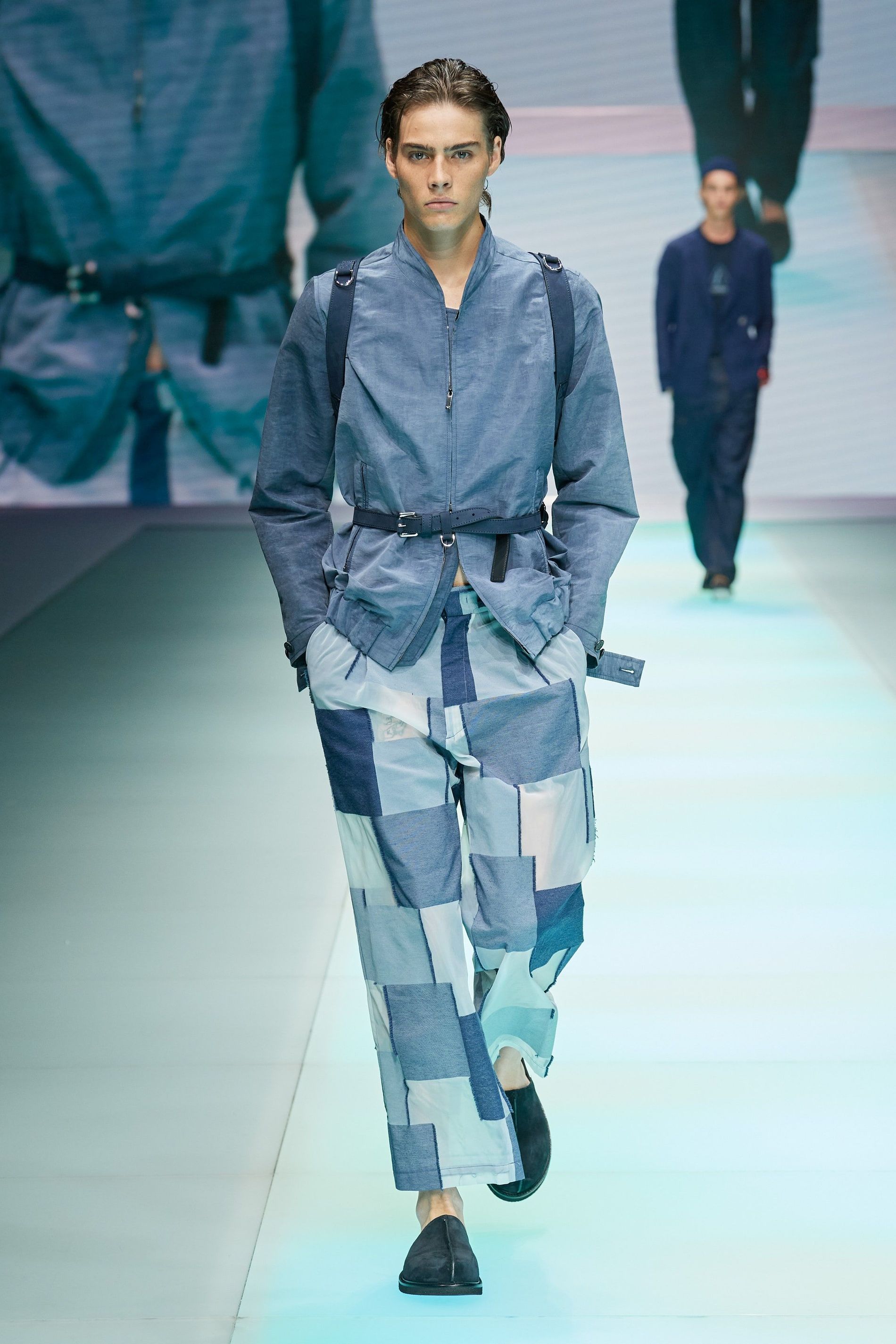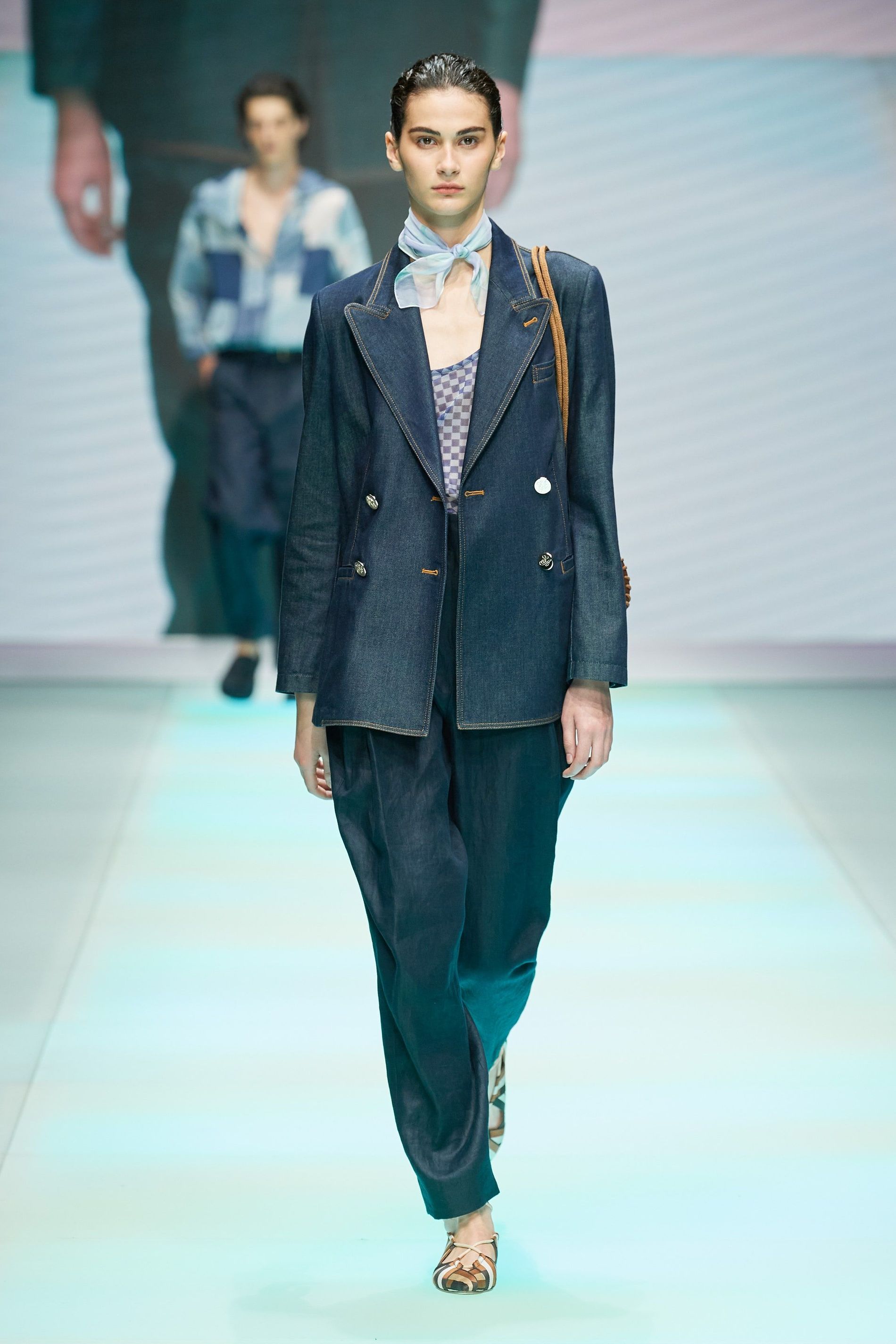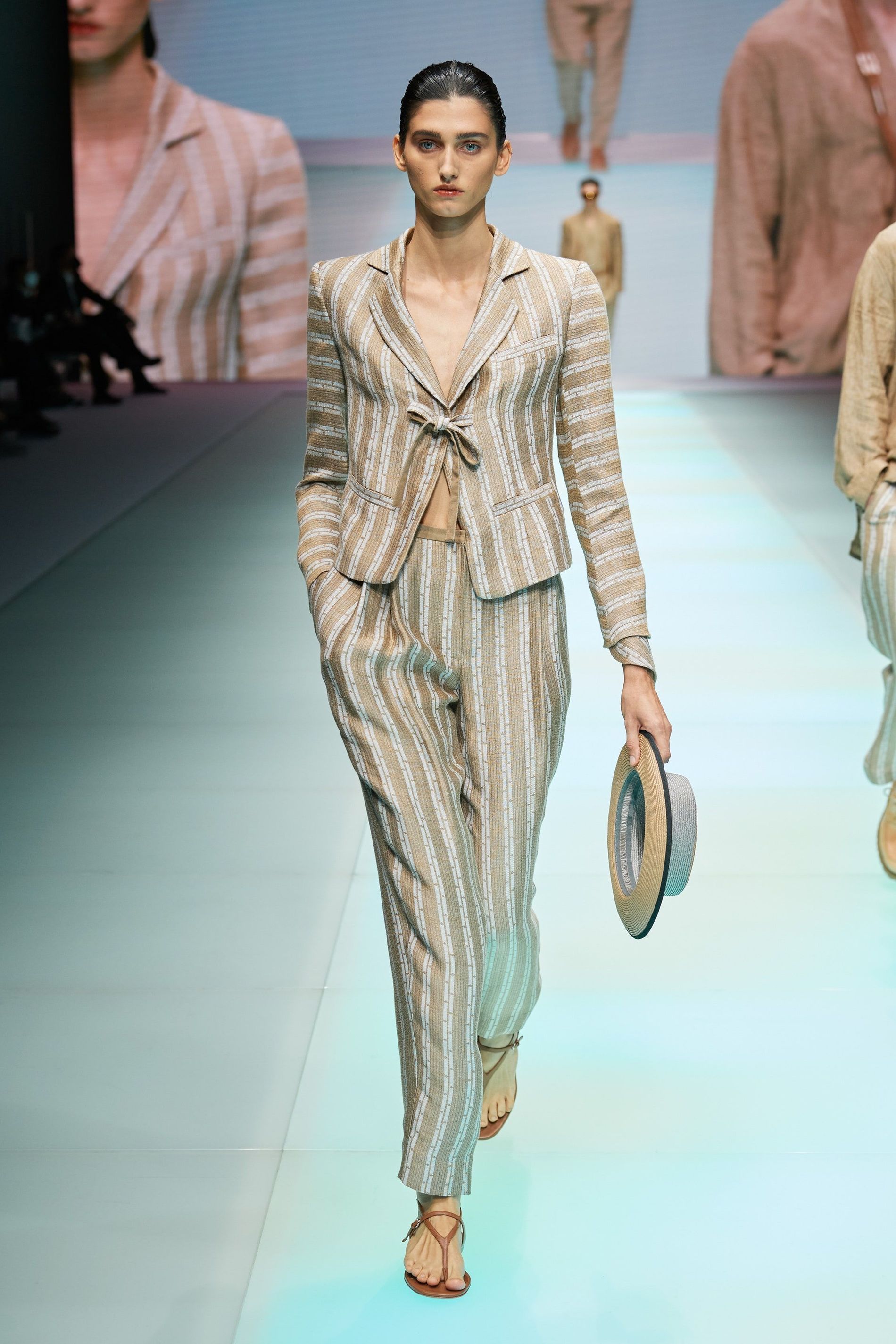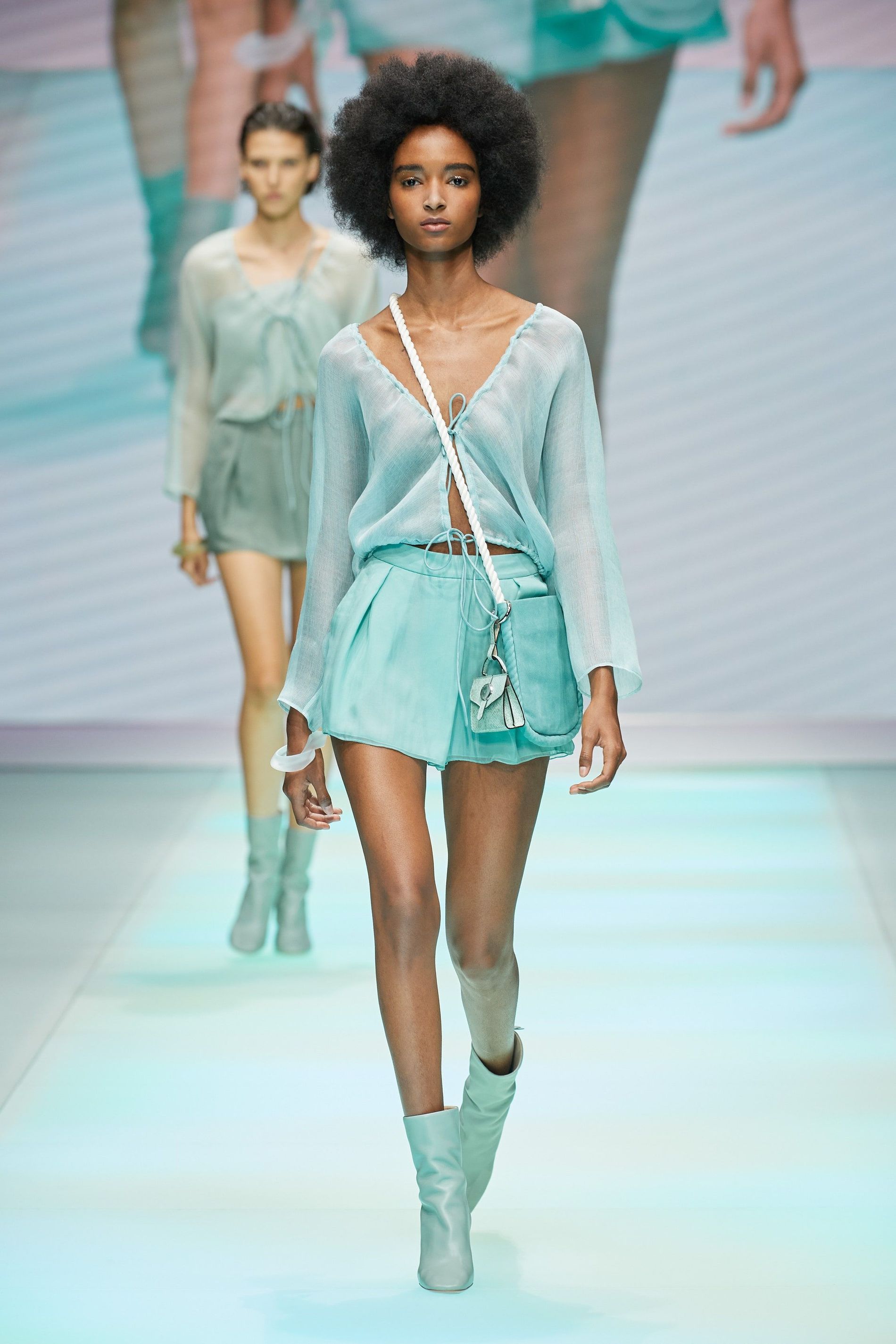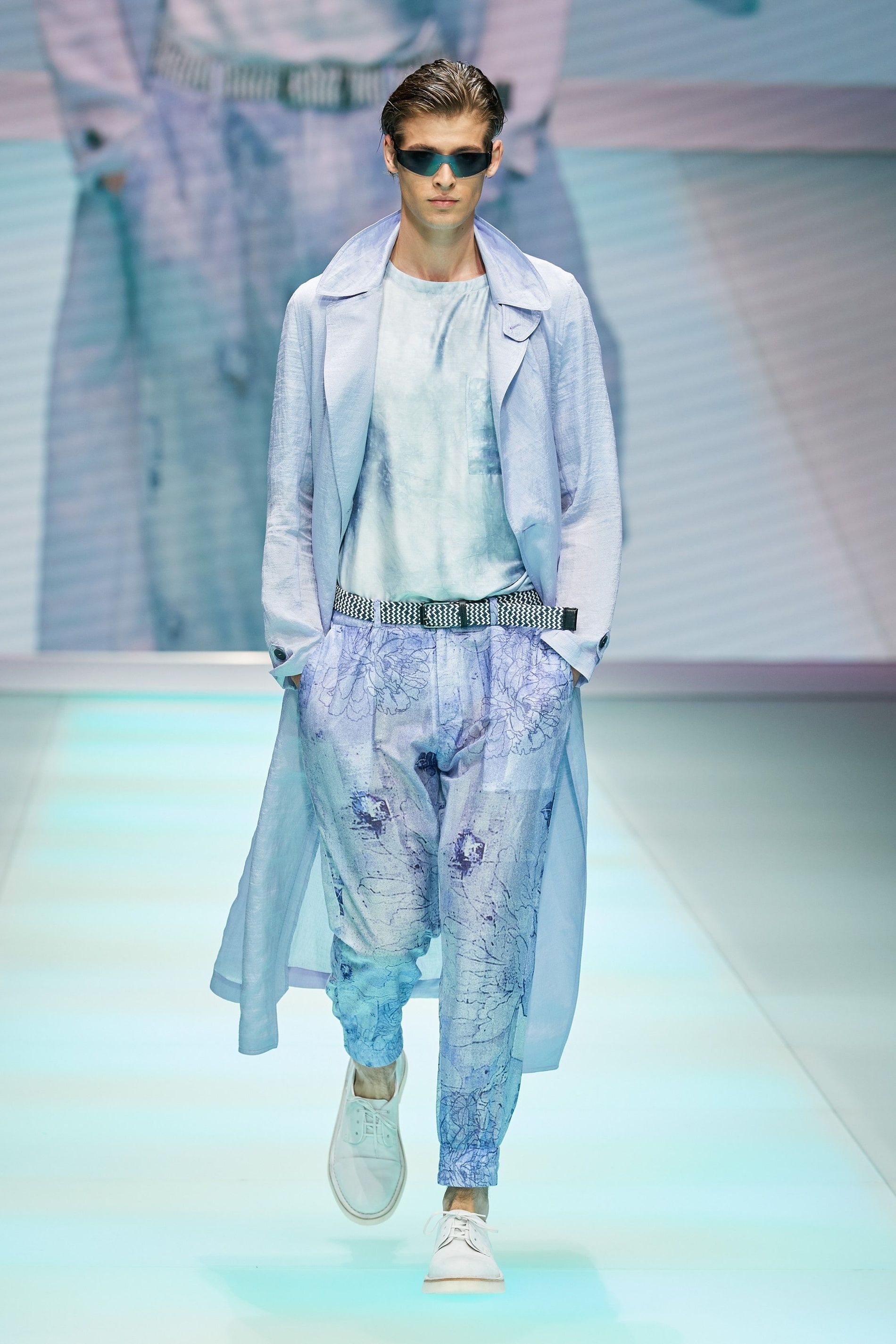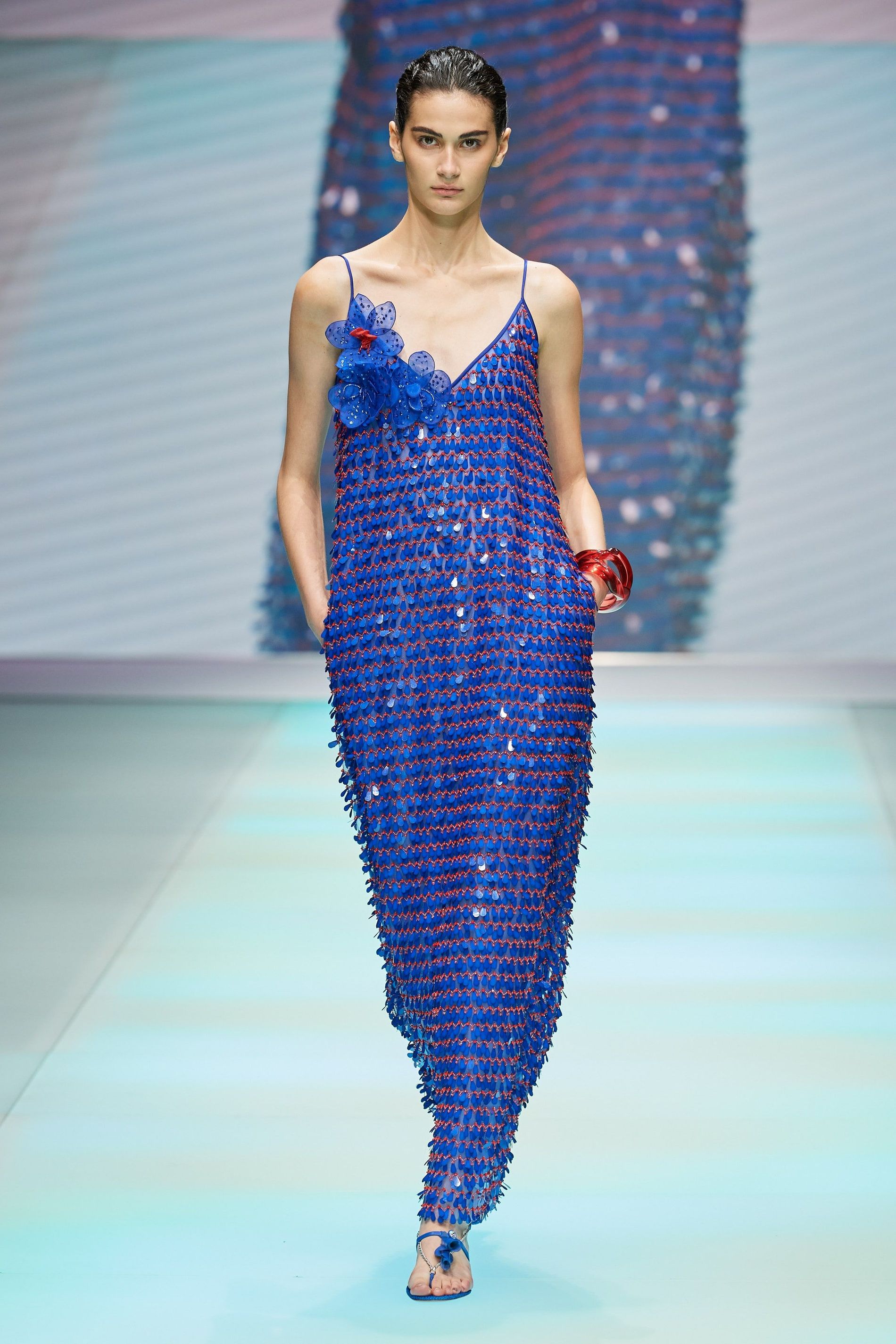 MM6 Maison Margiela
The MM6 line of Maison Margiela was both wearable and surrealistic at the same time. The most prominent details in the all-white and black collection, which was inspired by surrealist artists Claude Cahun and Leonora Carrington, were the bold checkered print and the playful iteration of the avant-garde trompe l'oeil print.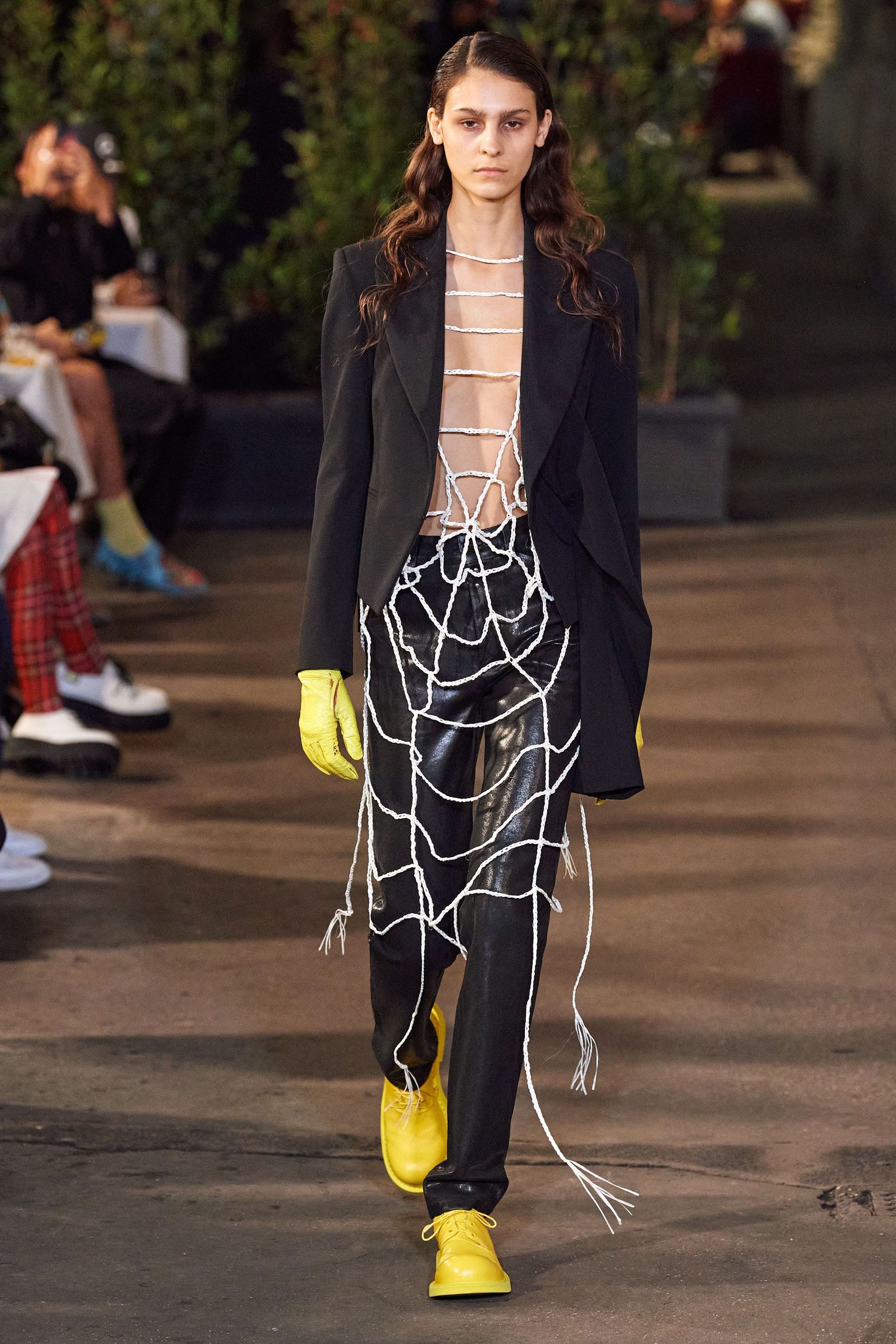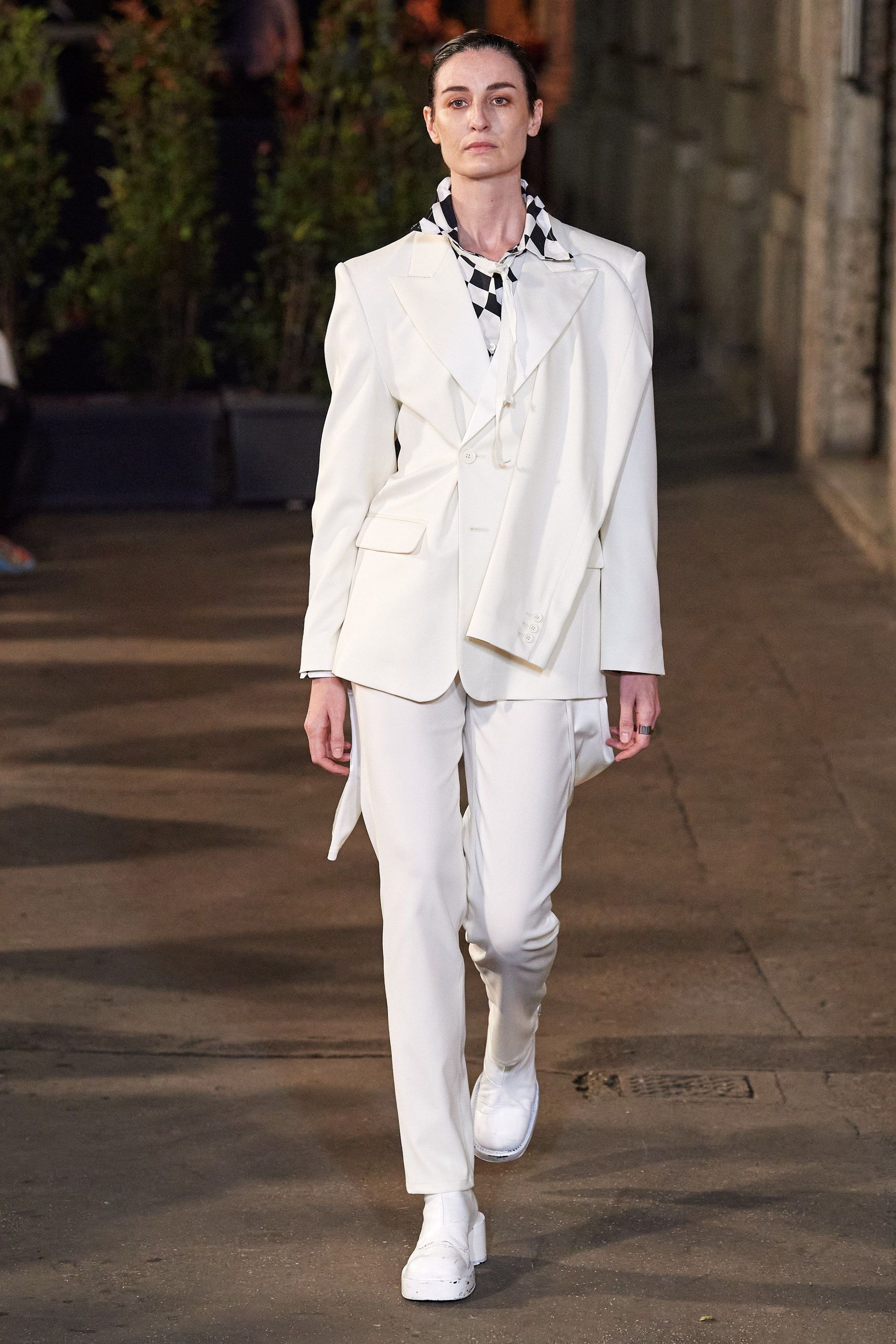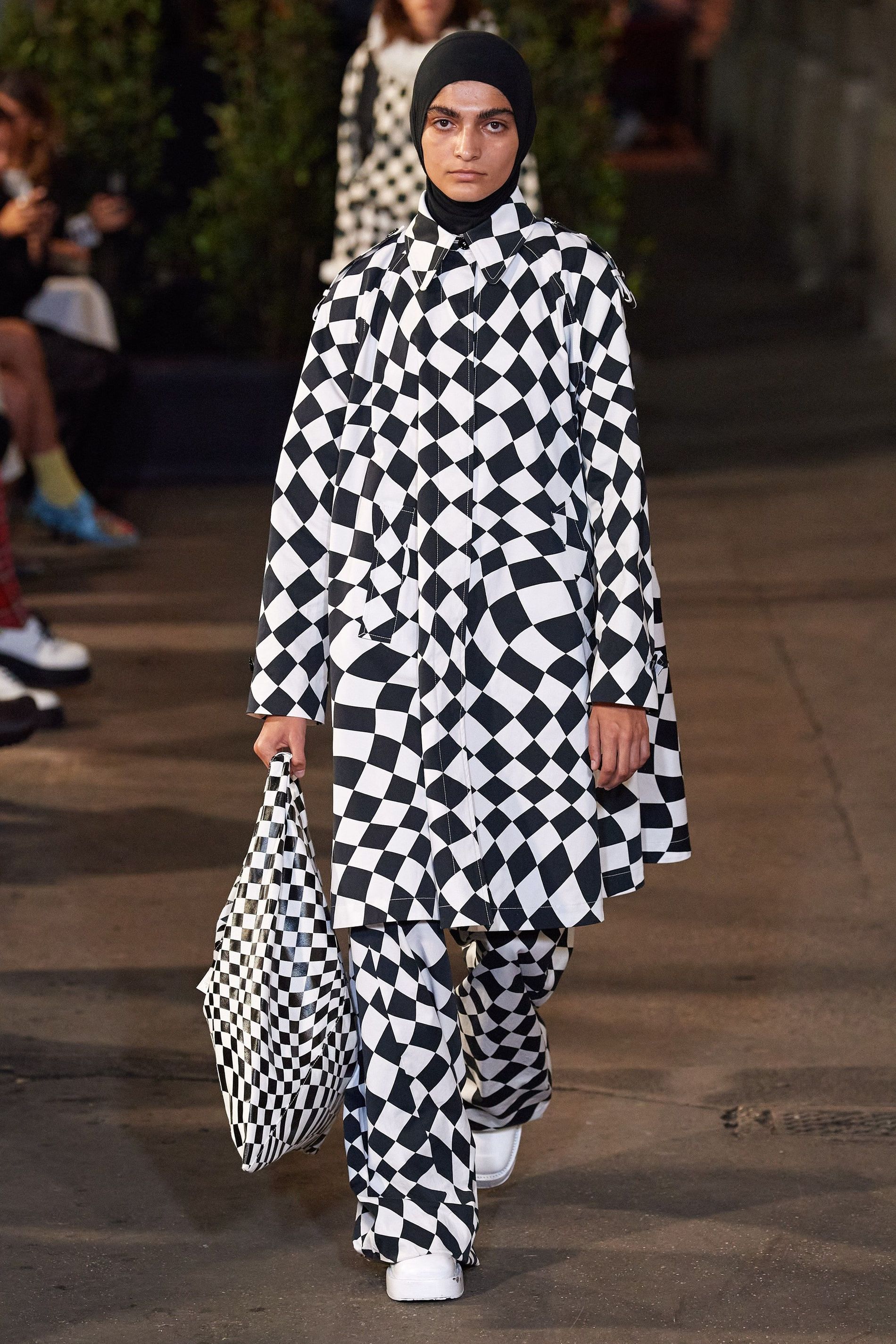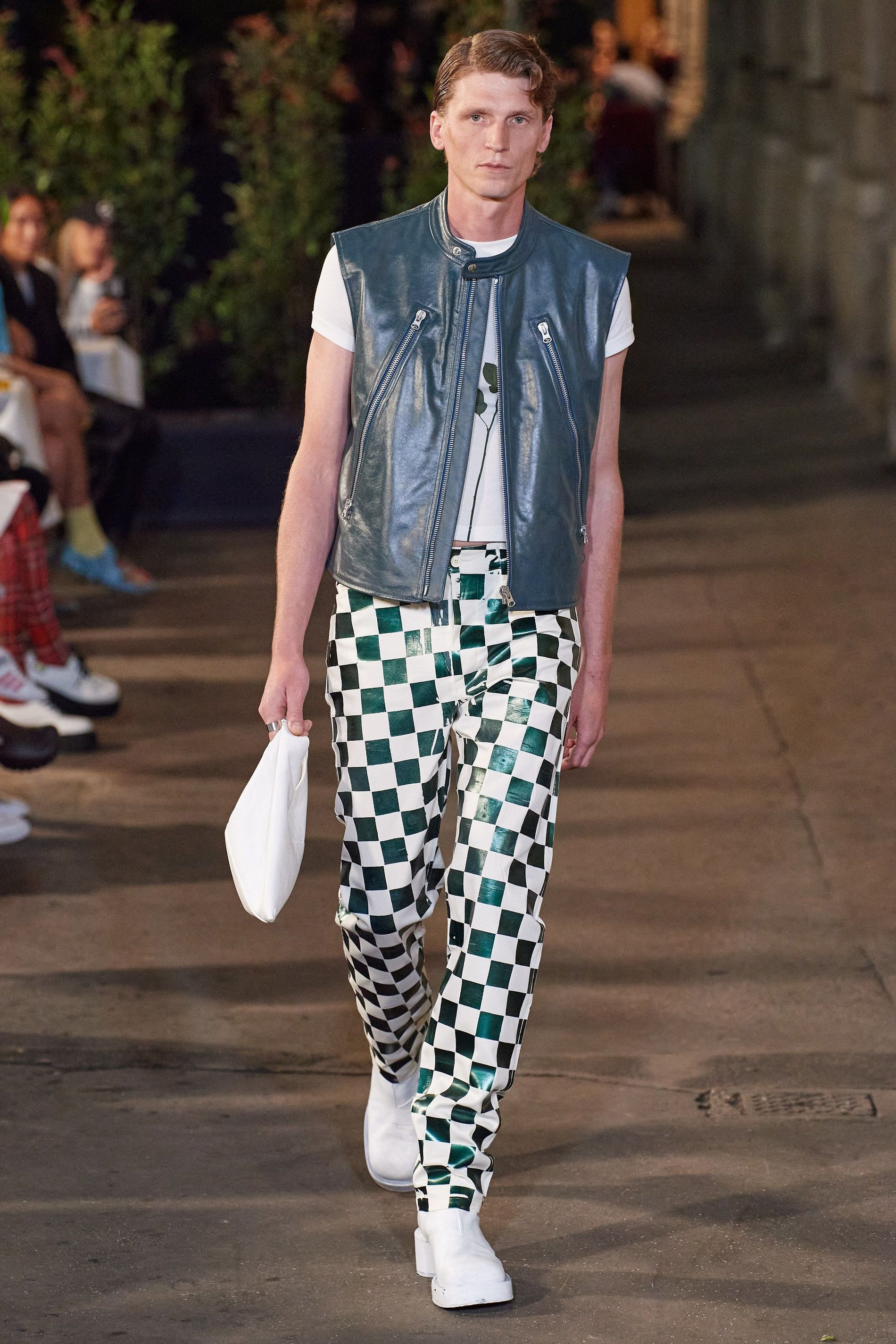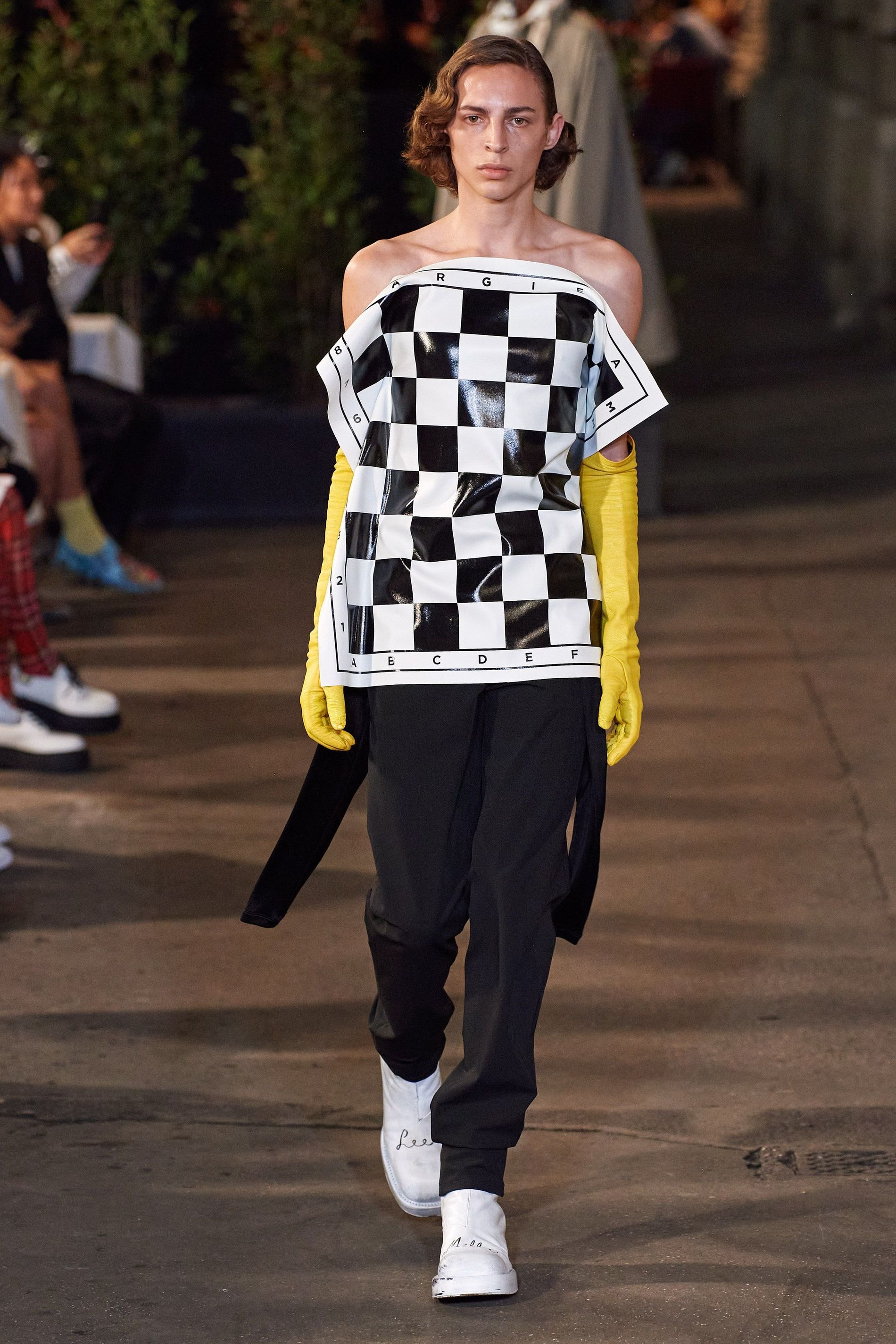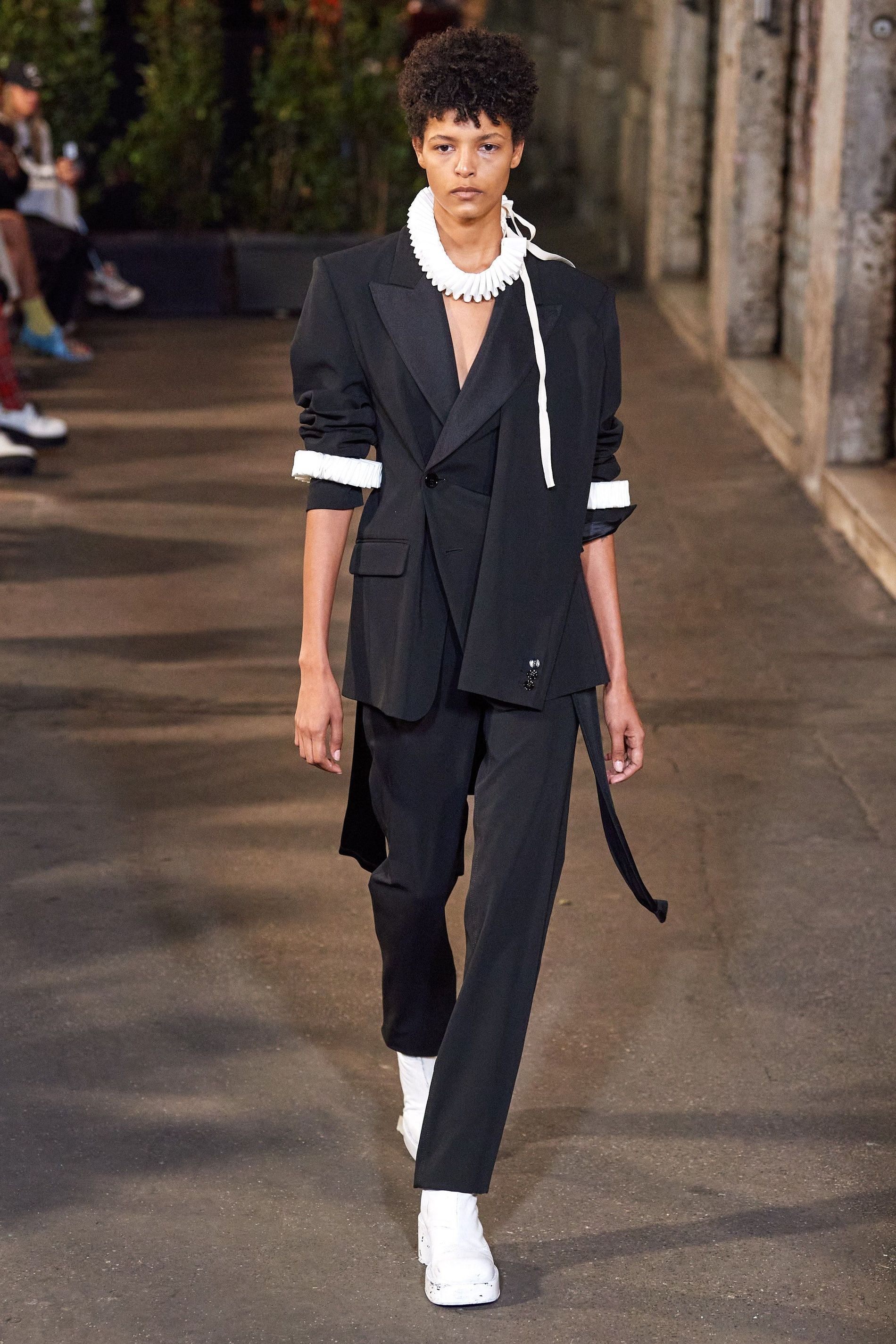 Prada
The second collection of co-creative directors Miuccia Prada and Raf Simons was presented with two simultaneous shows – one in Milan and one in Shanghai – and were all about defining modern sensuality. How does sensual and seductive look the Prada-way? Modern satin skirts and dresses with trains, mini dresses with bulky biker jackets, and bright orange dresses detailed with the iconic Prada triangle logo.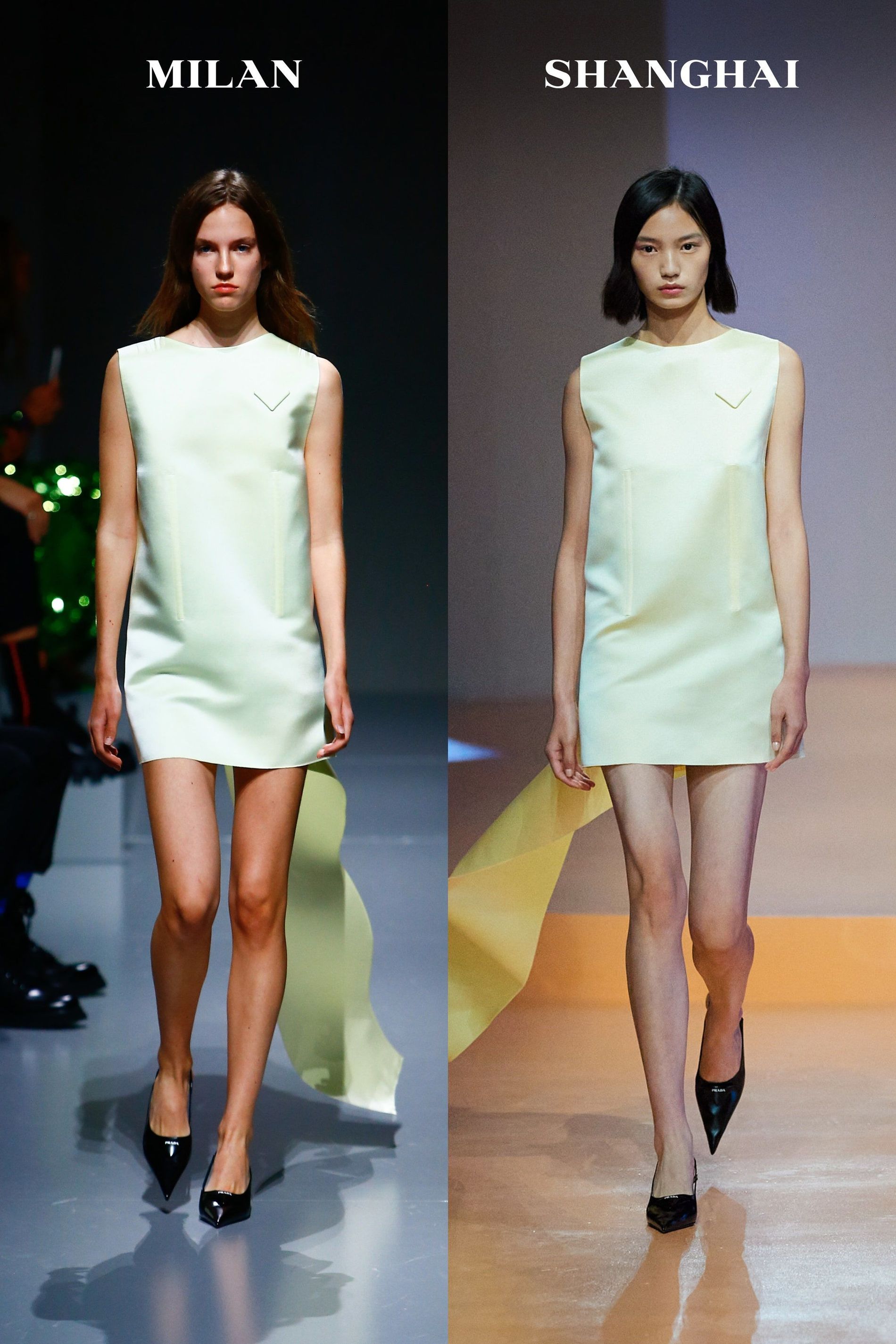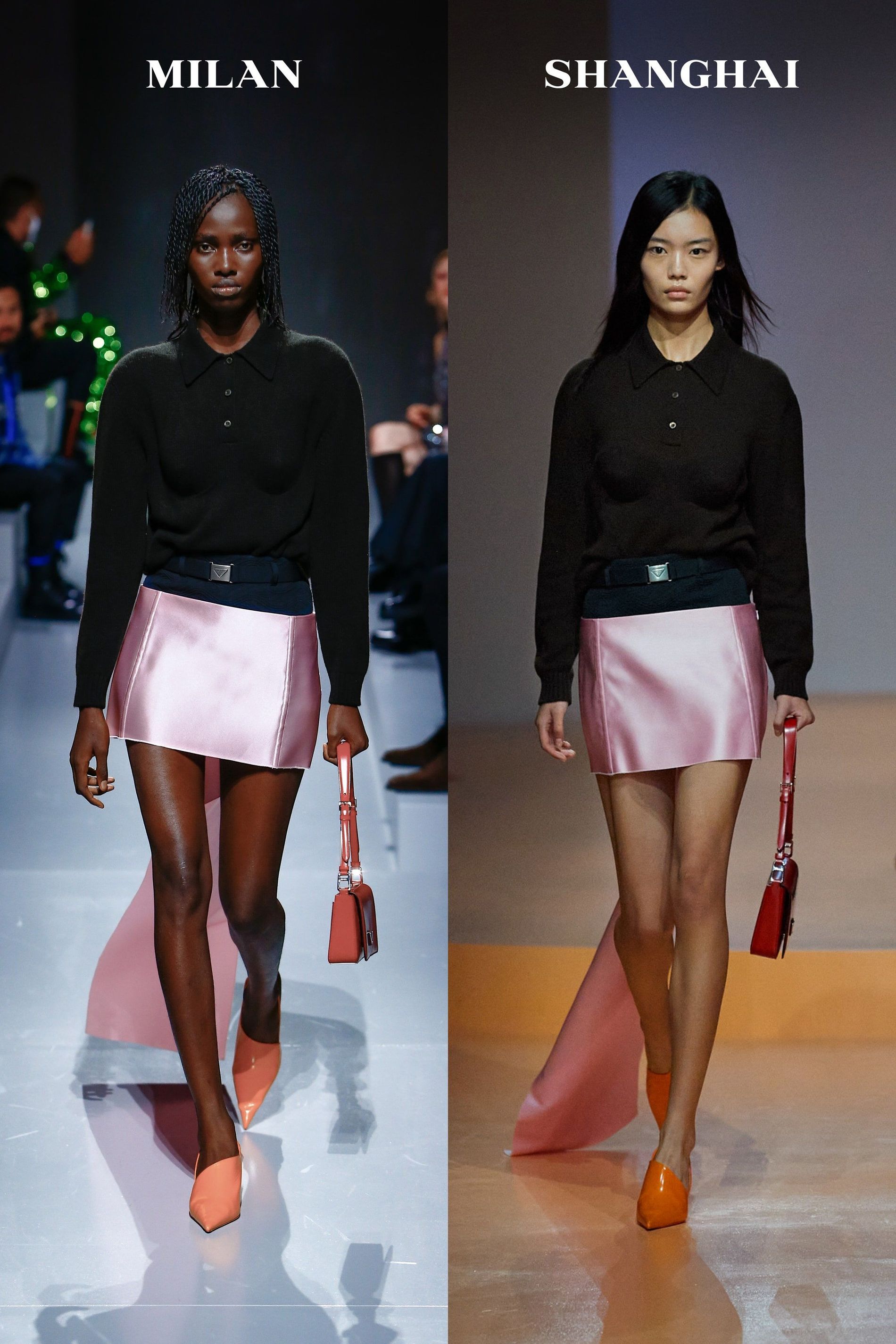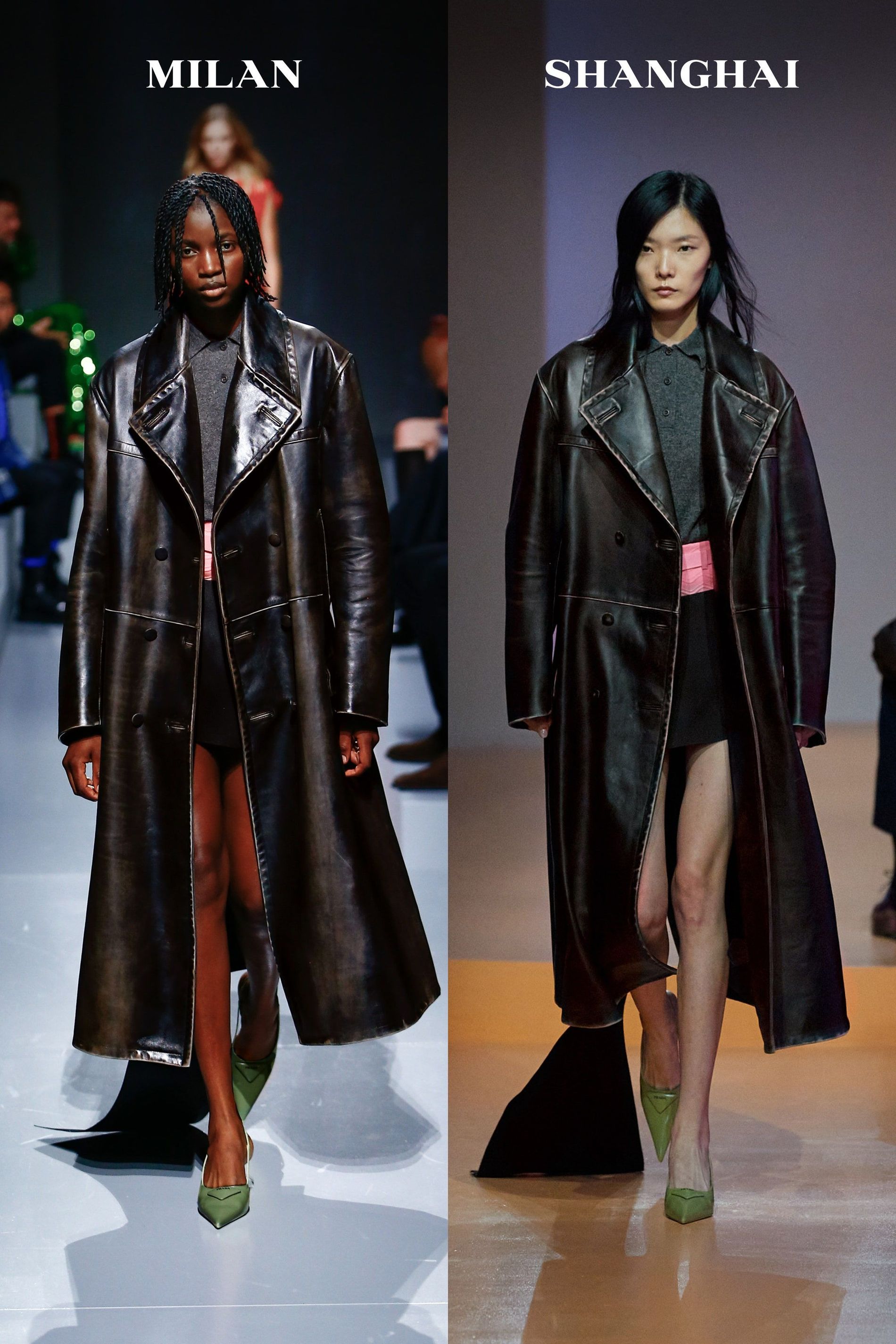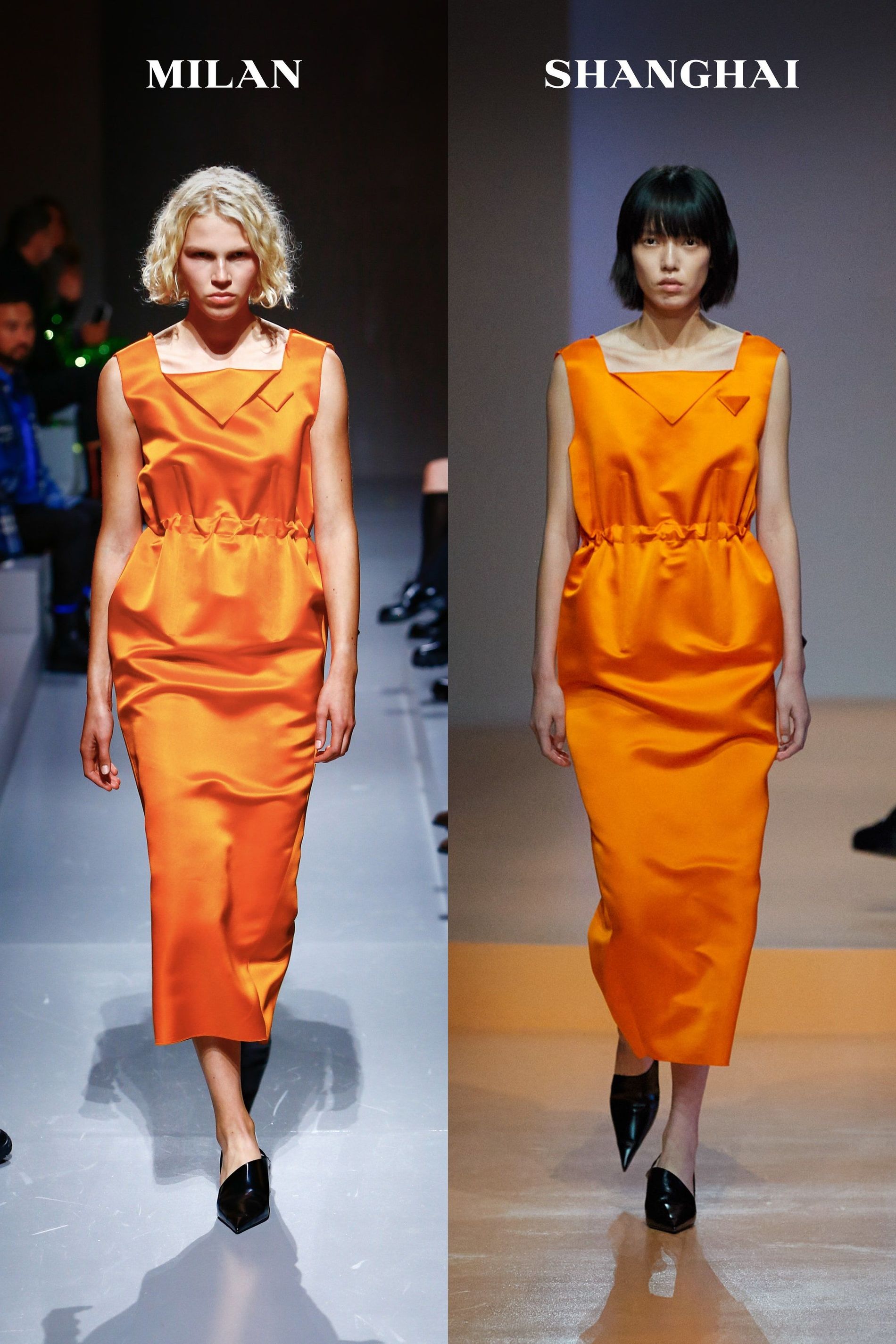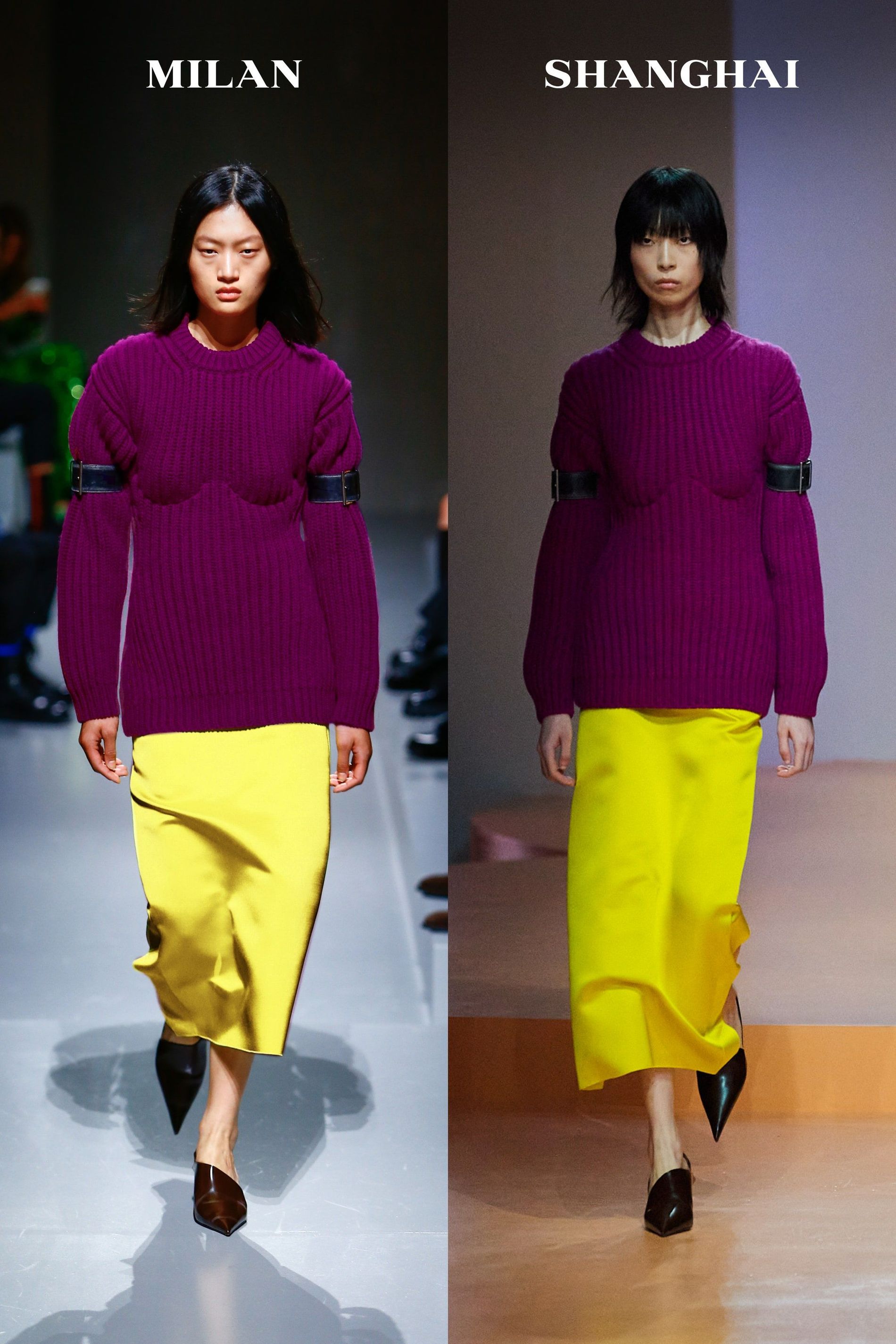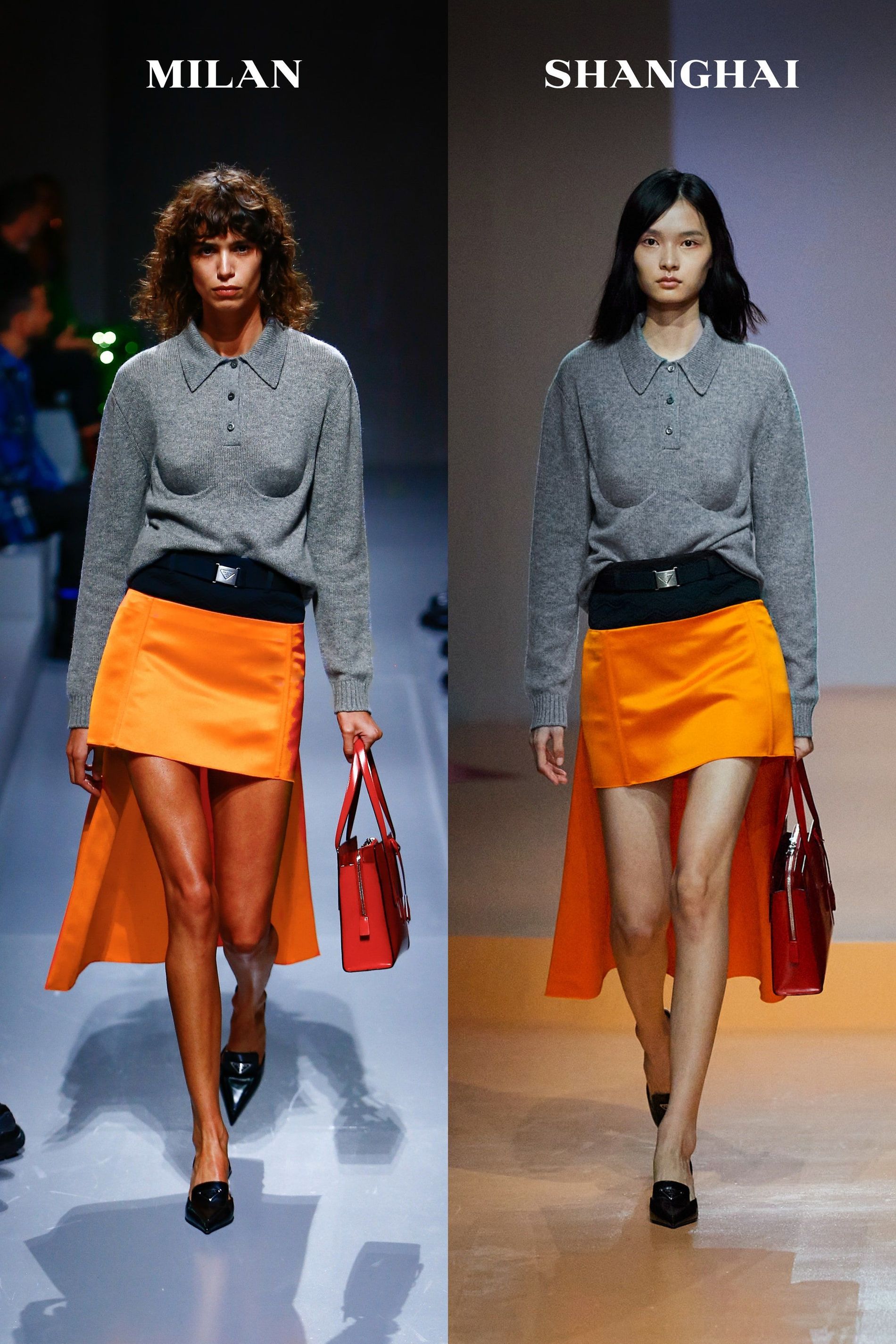 Giorgio Armani
The Italian designer showed the collection of his eponymous label in his original theatre that serves as the houses' headquarters for the first time in twenty years. The collection brings us back to a summer day spent at the beach in silk trousers, flowy dresses, and collarless jackets, while the colour palette slowly changed from a blue seaside hue into a pink sunset sky.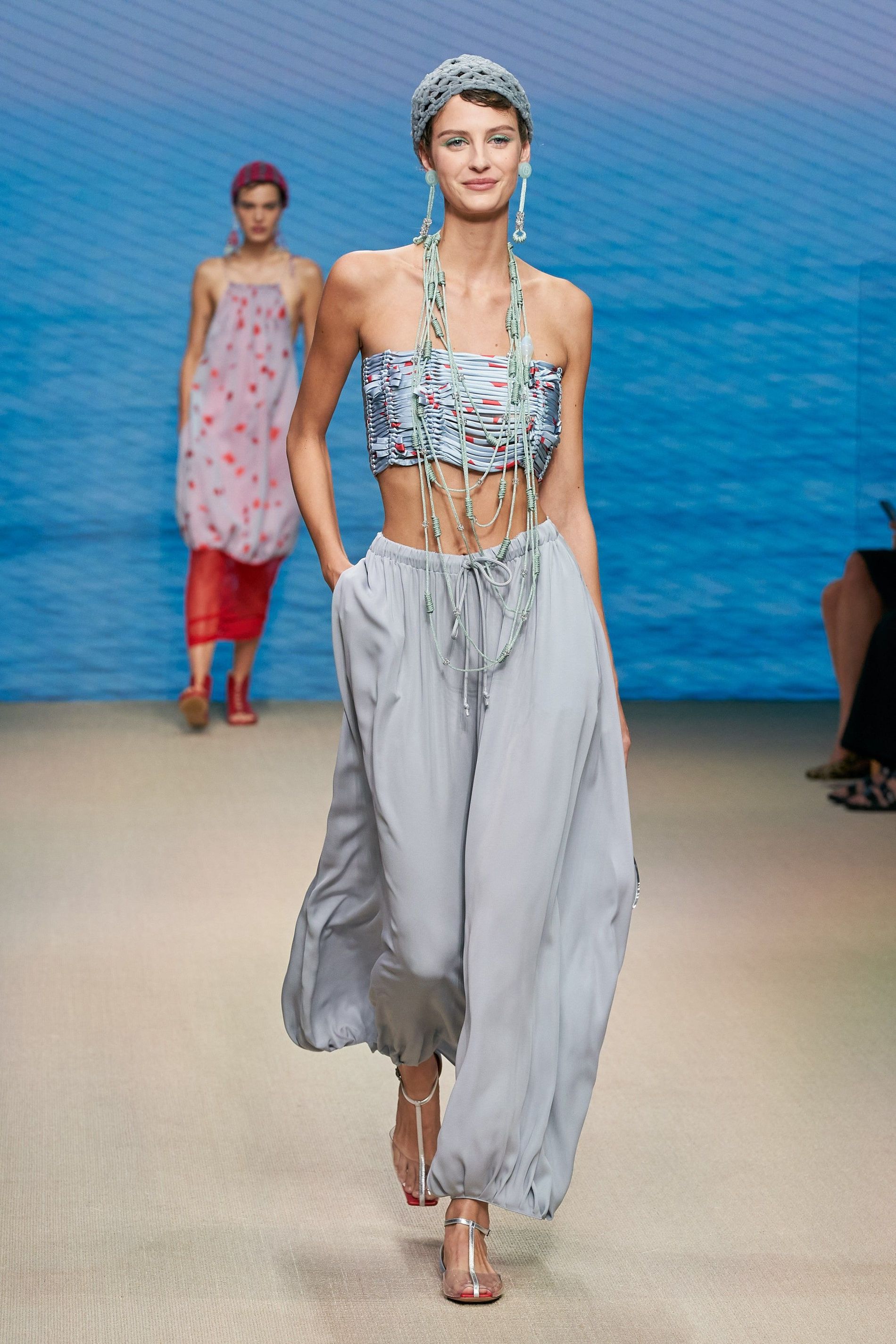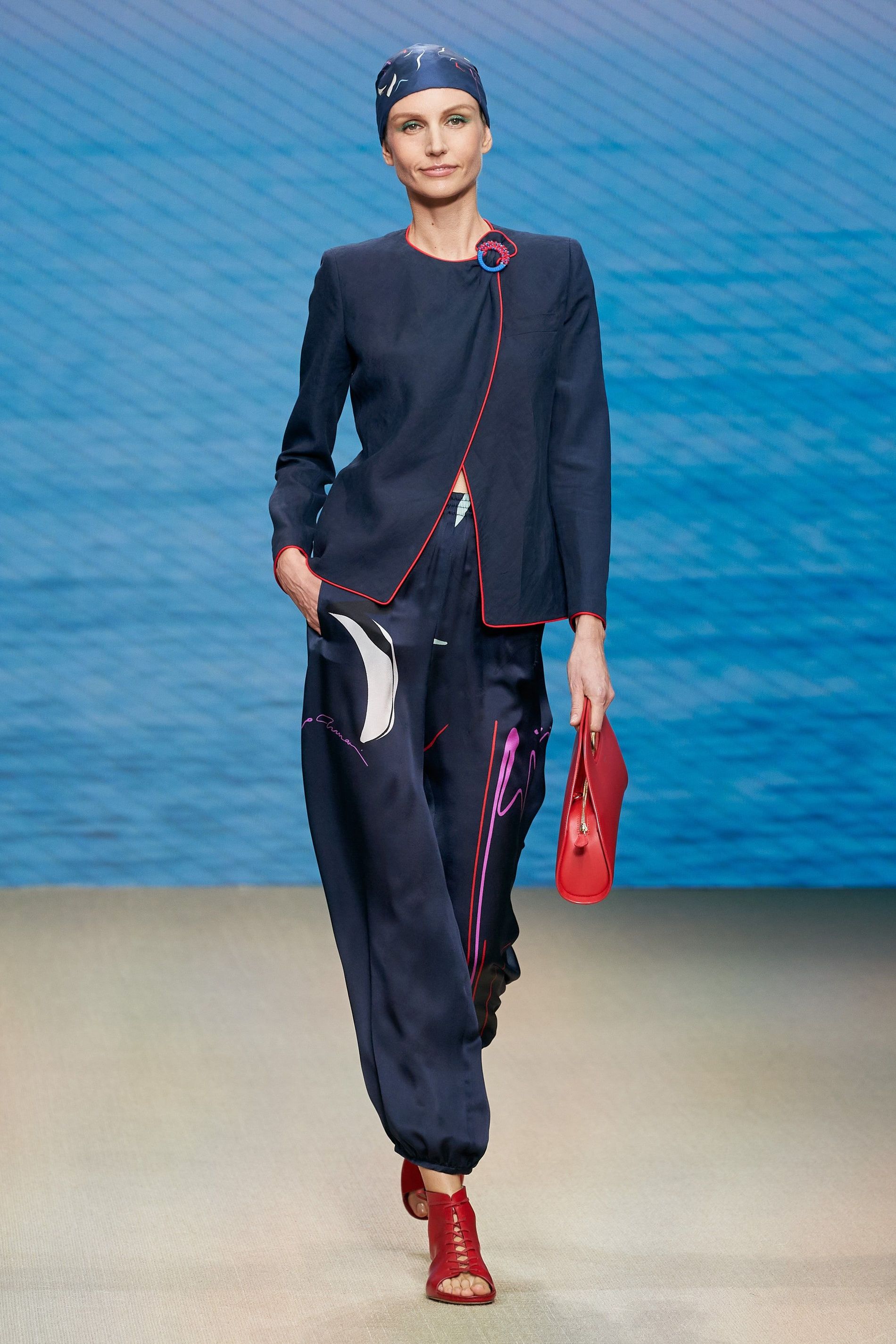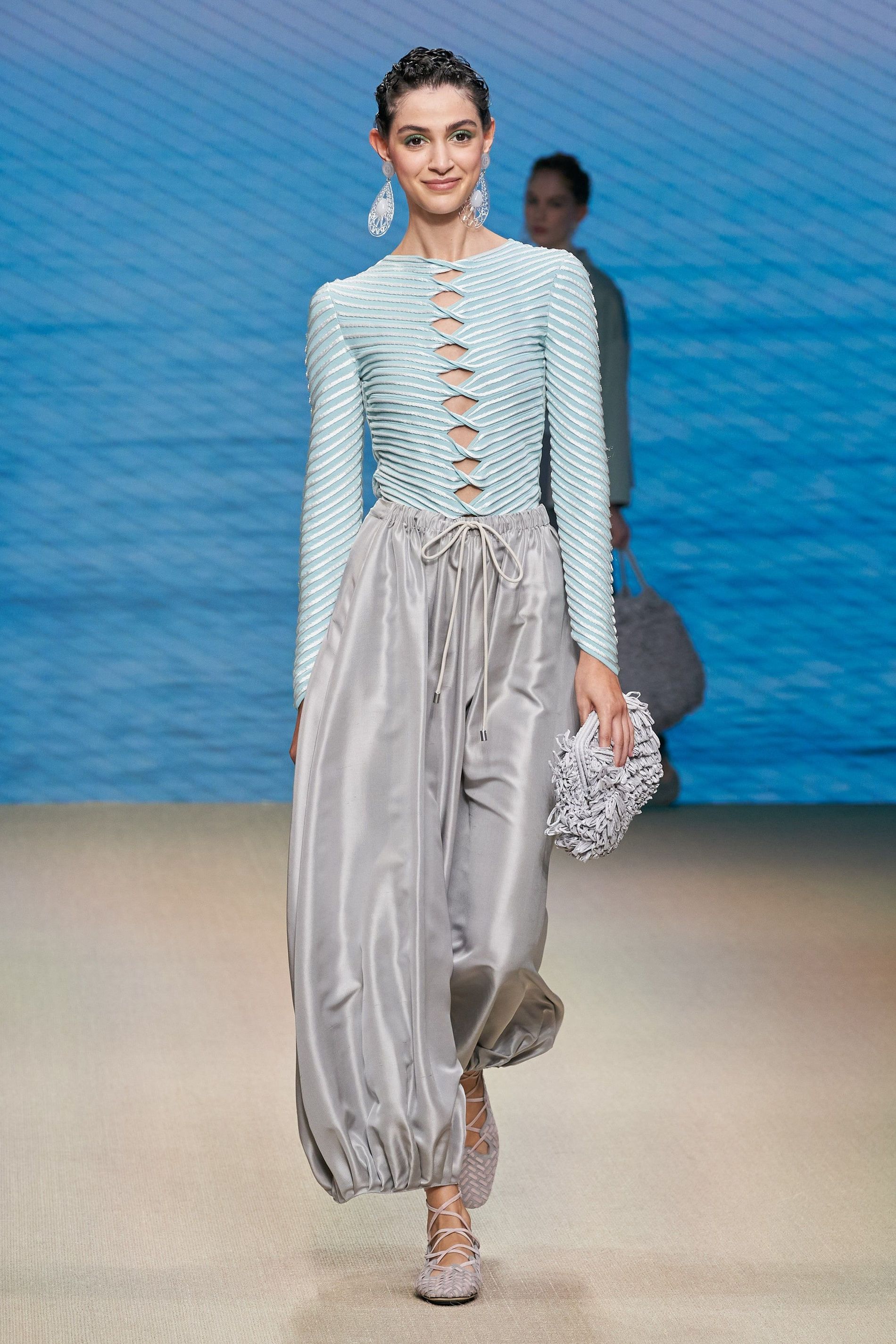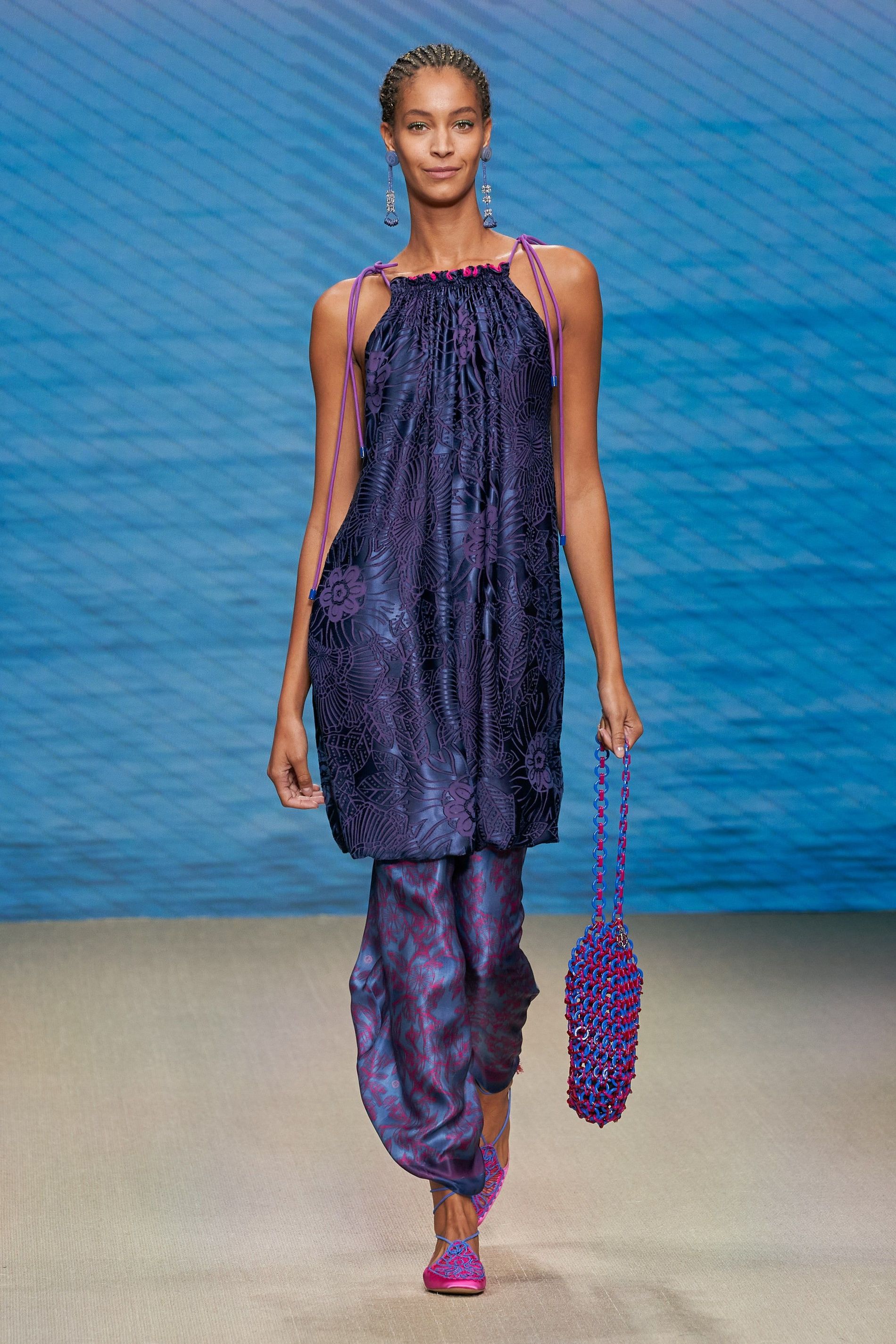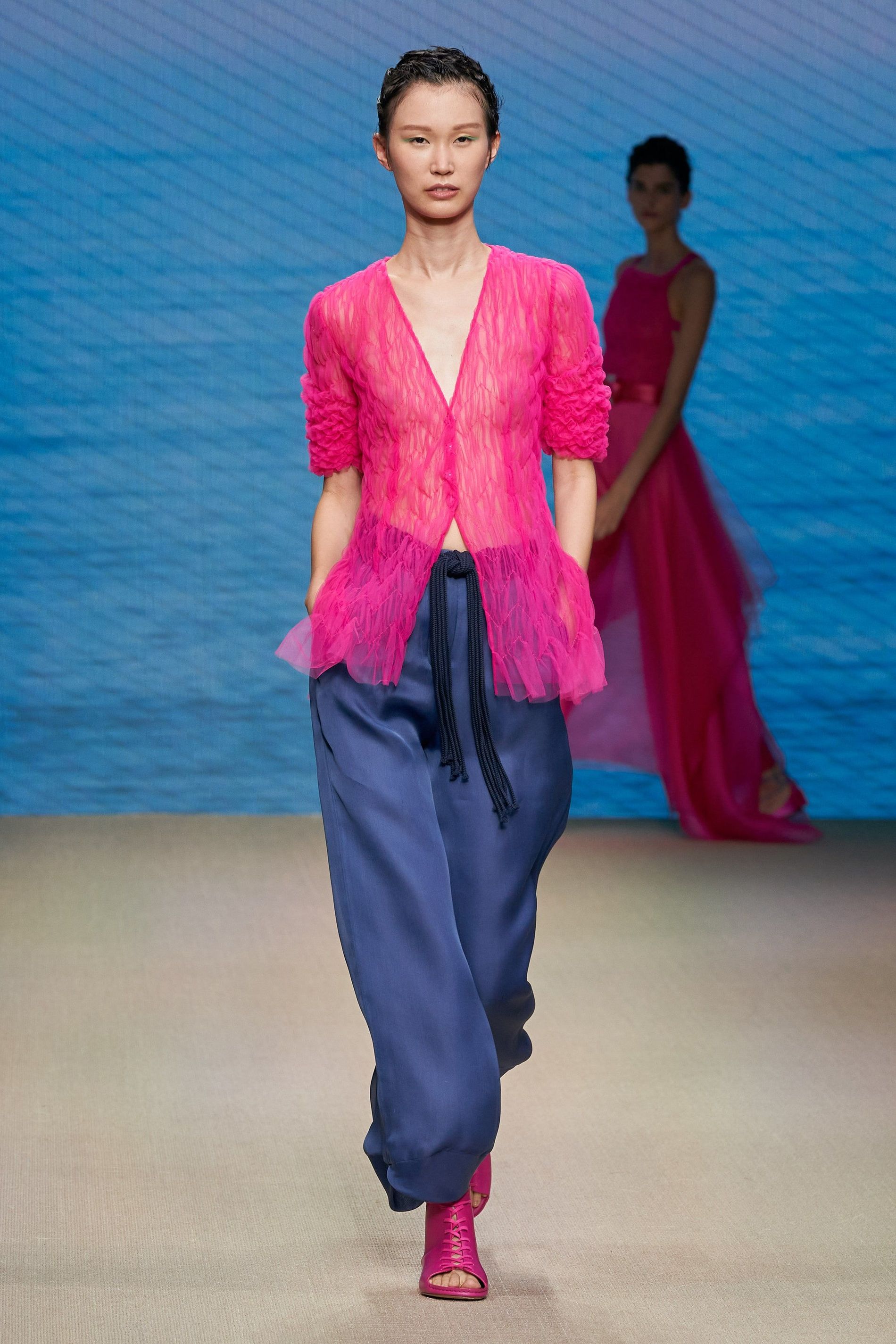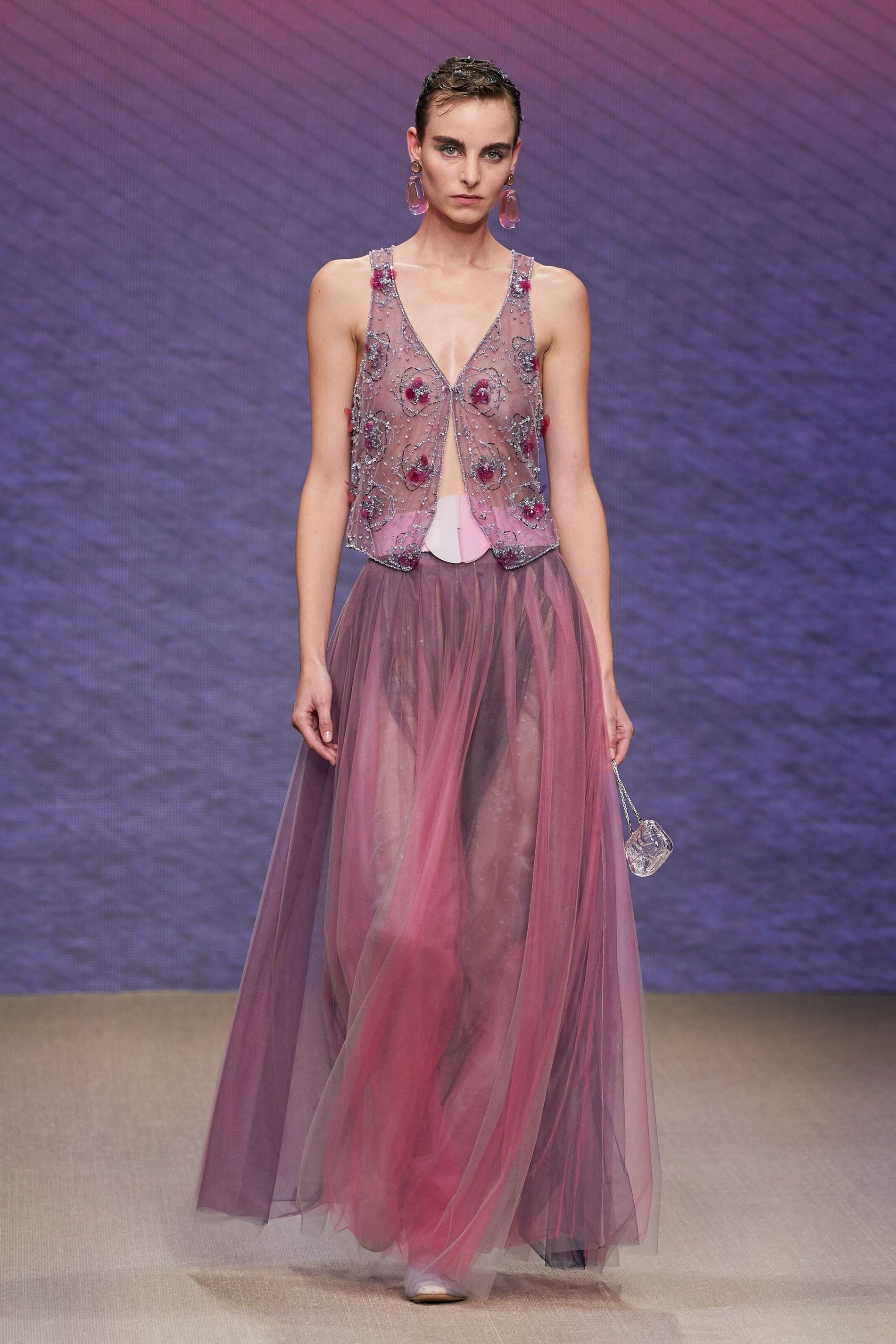 Marni
Francesco Risso took the concept of a fashion show to another level with his collection for Marni, through a multidisciplinary performance. The inspiration behind it was linked to the concepts of stripes and daisies – that however symbolise rebirth and connection. Primary colours dominated in the all-striped outfits, worn by an inclusive cast with models like Paloma Elsesser.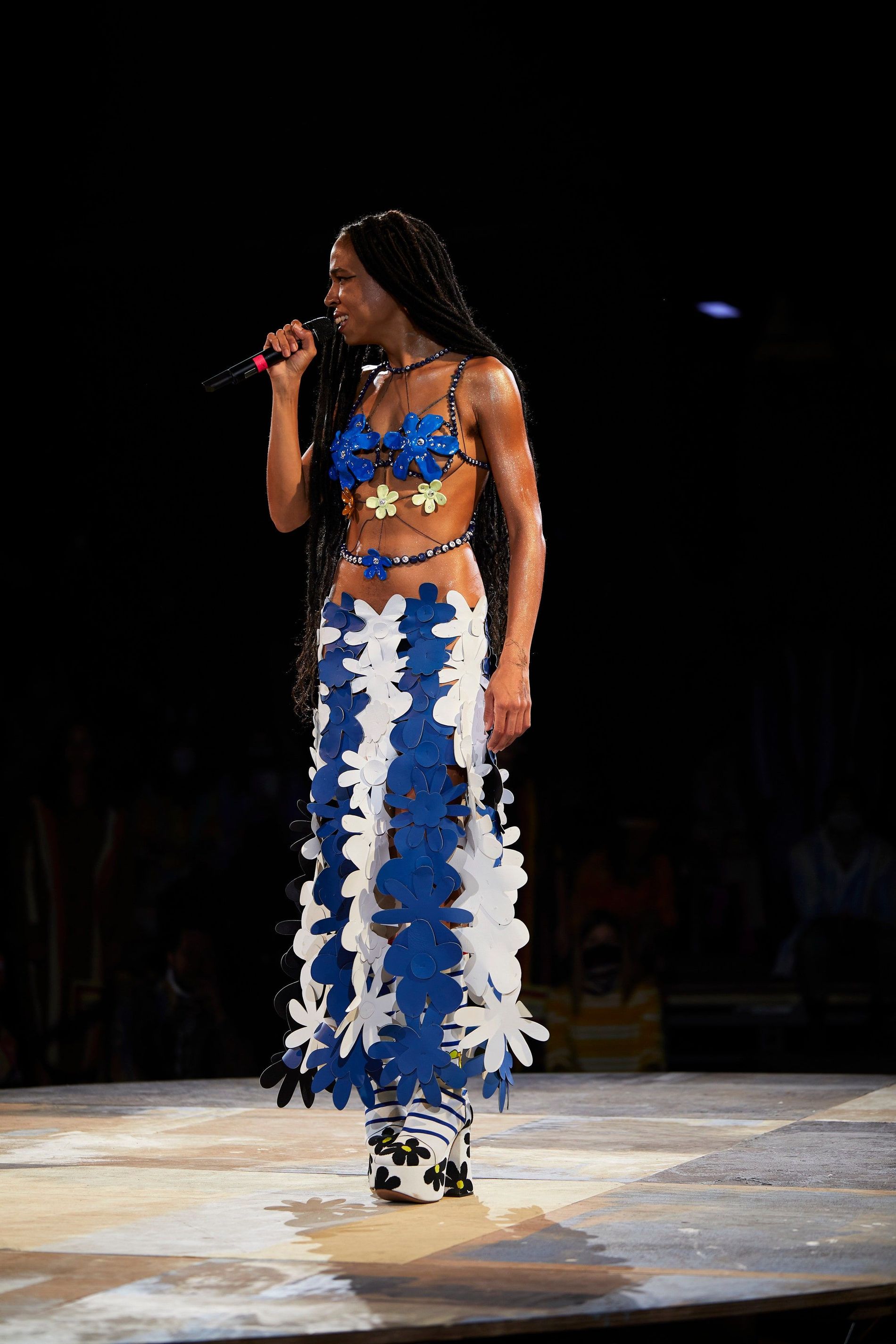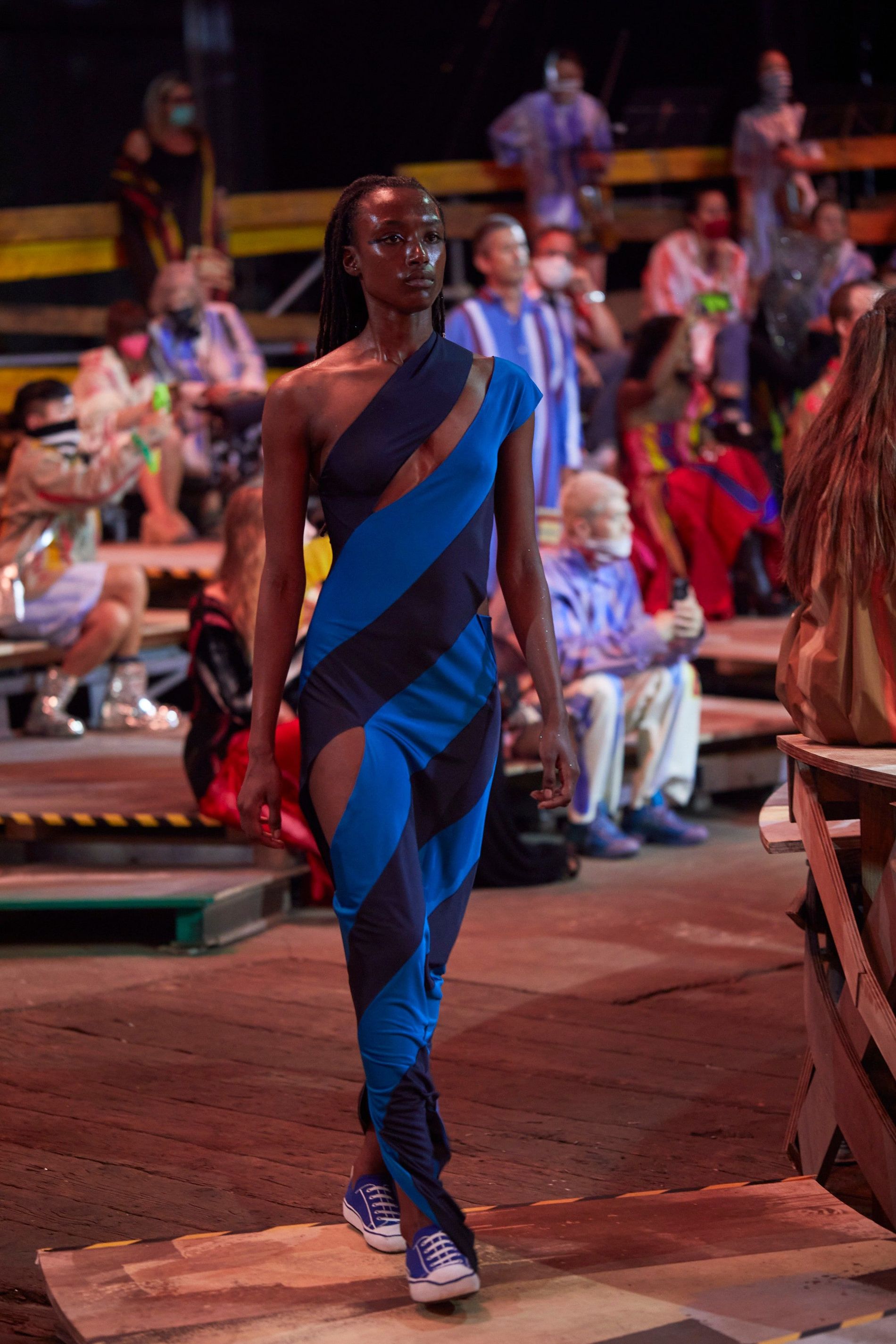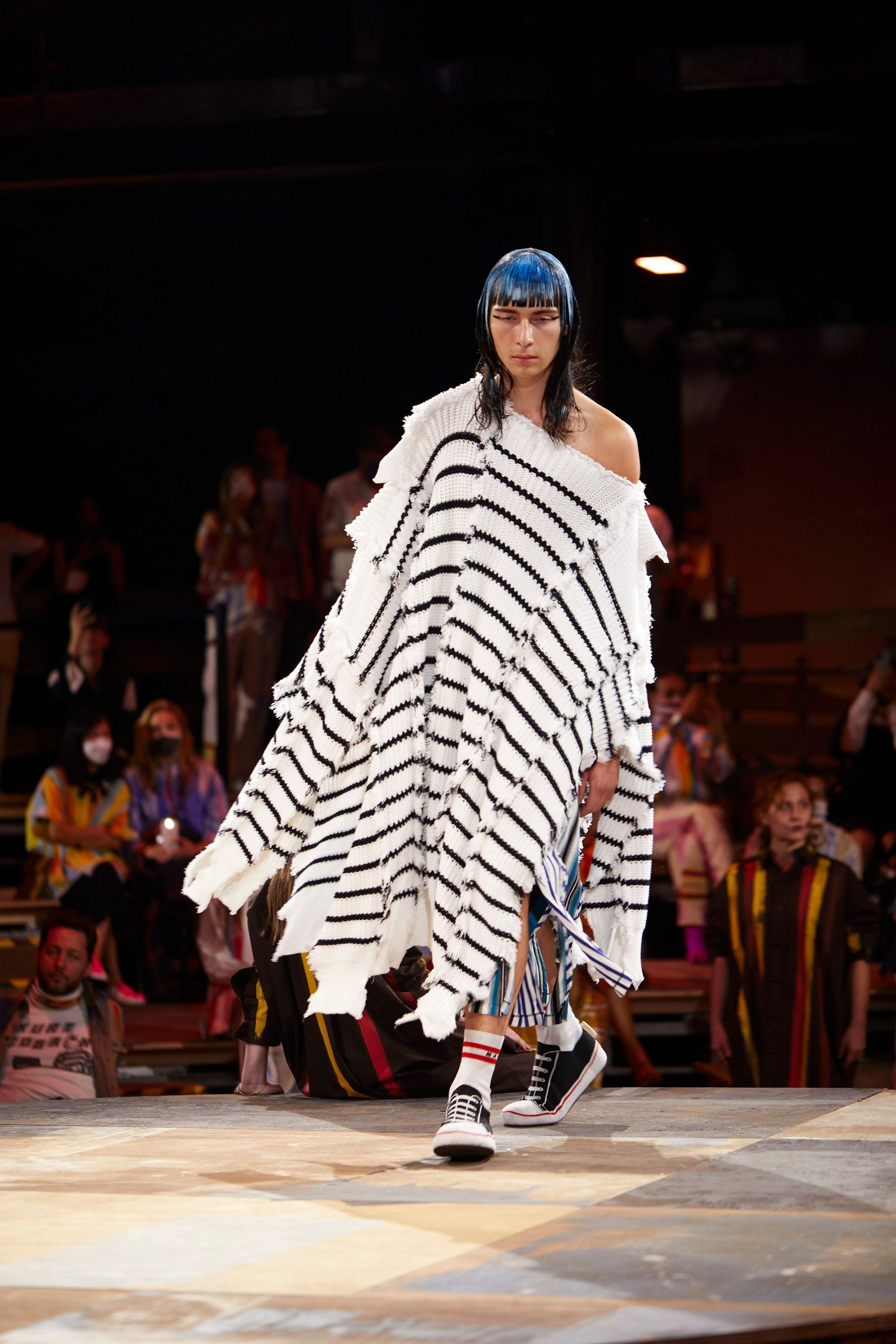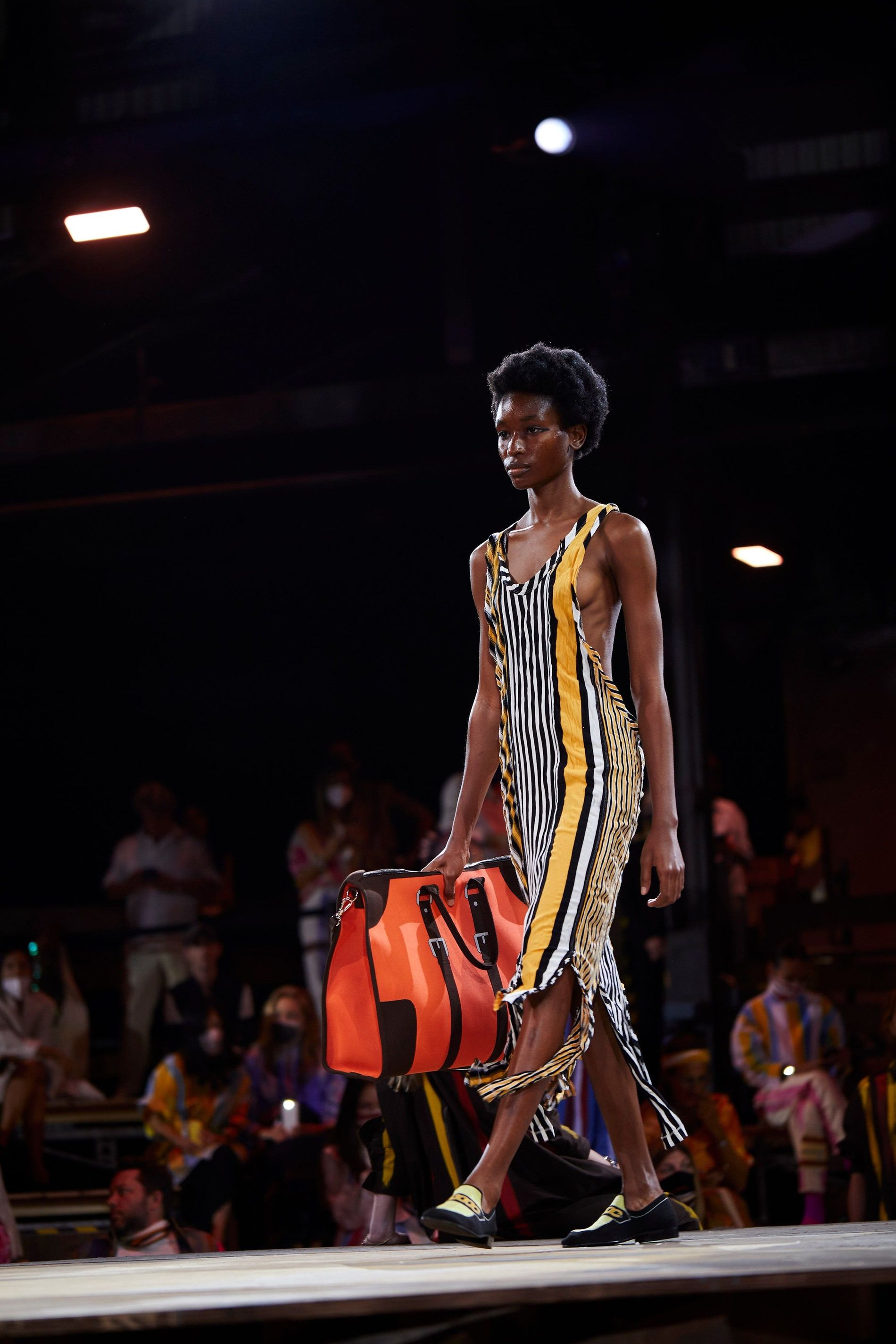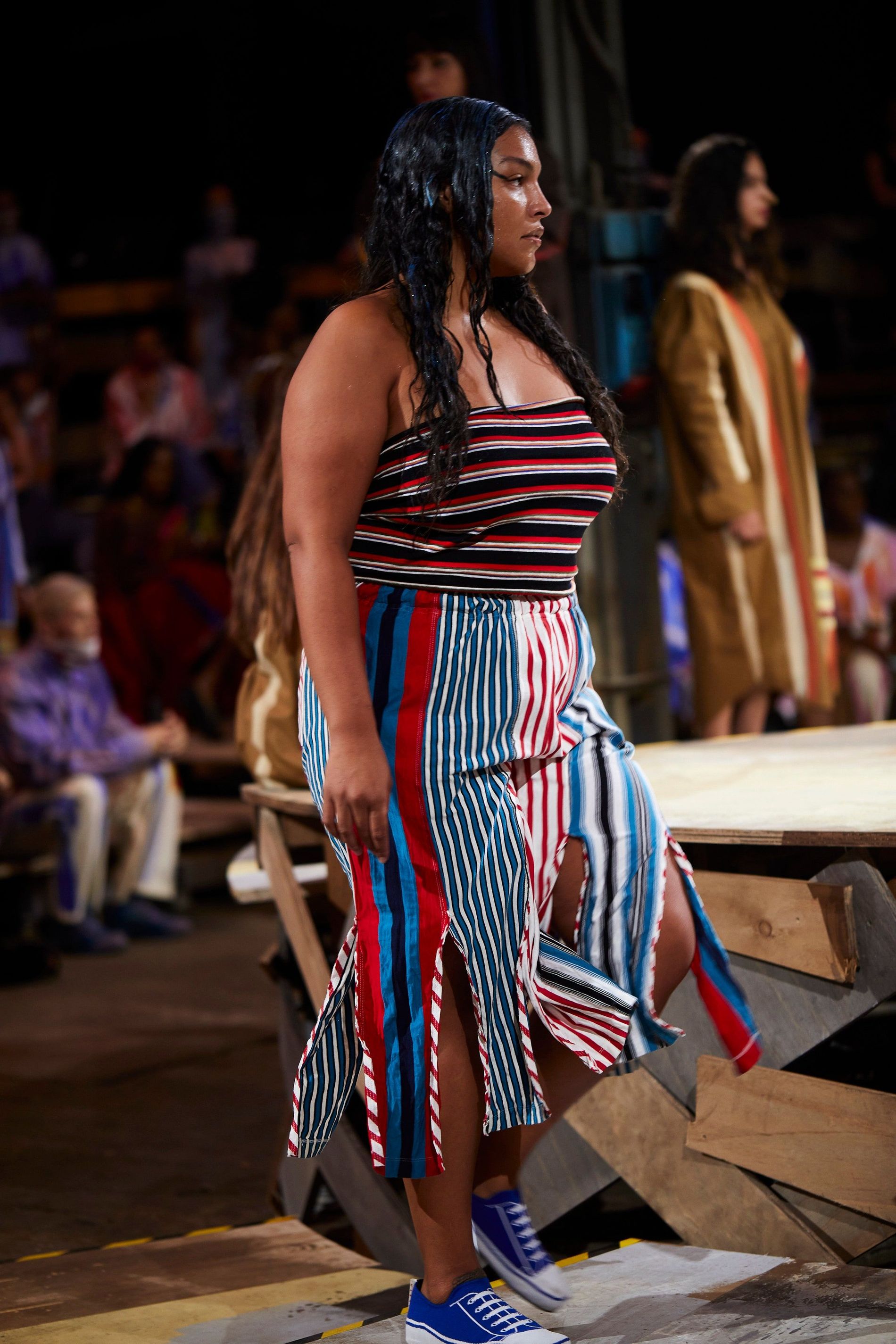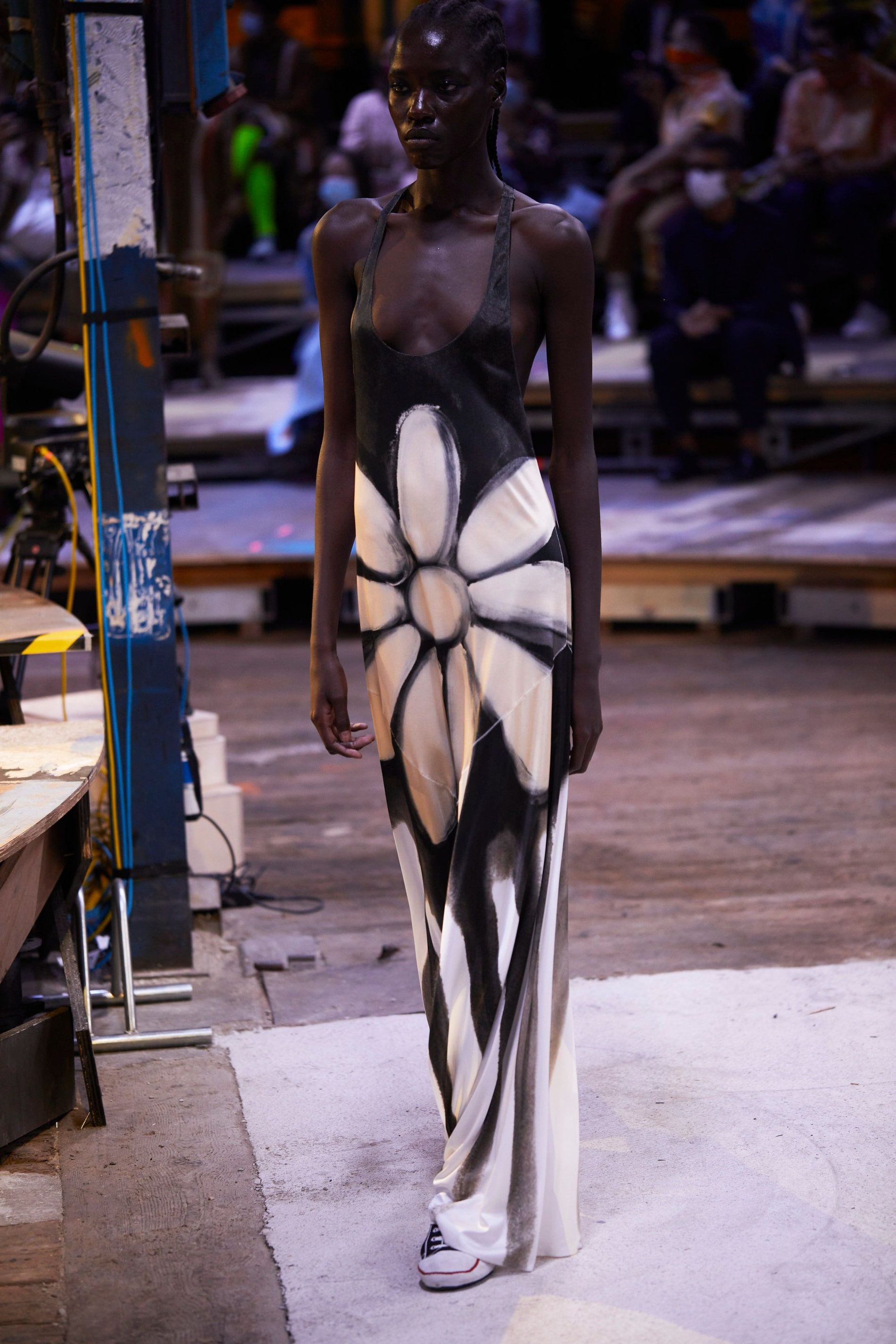 Dolce & Gabbana
If you wonder how the noughties style will look like in 2022 – Dolce & Gabbana has the answer. Think miniskirts with giant logo buckles, embellished low-rise jeans, camouflage cargo pants, and t-shirts with the icon who defined zeroes glam; Jennifer Lopez. The ultimate party-girl outfits for the new Gen-Z.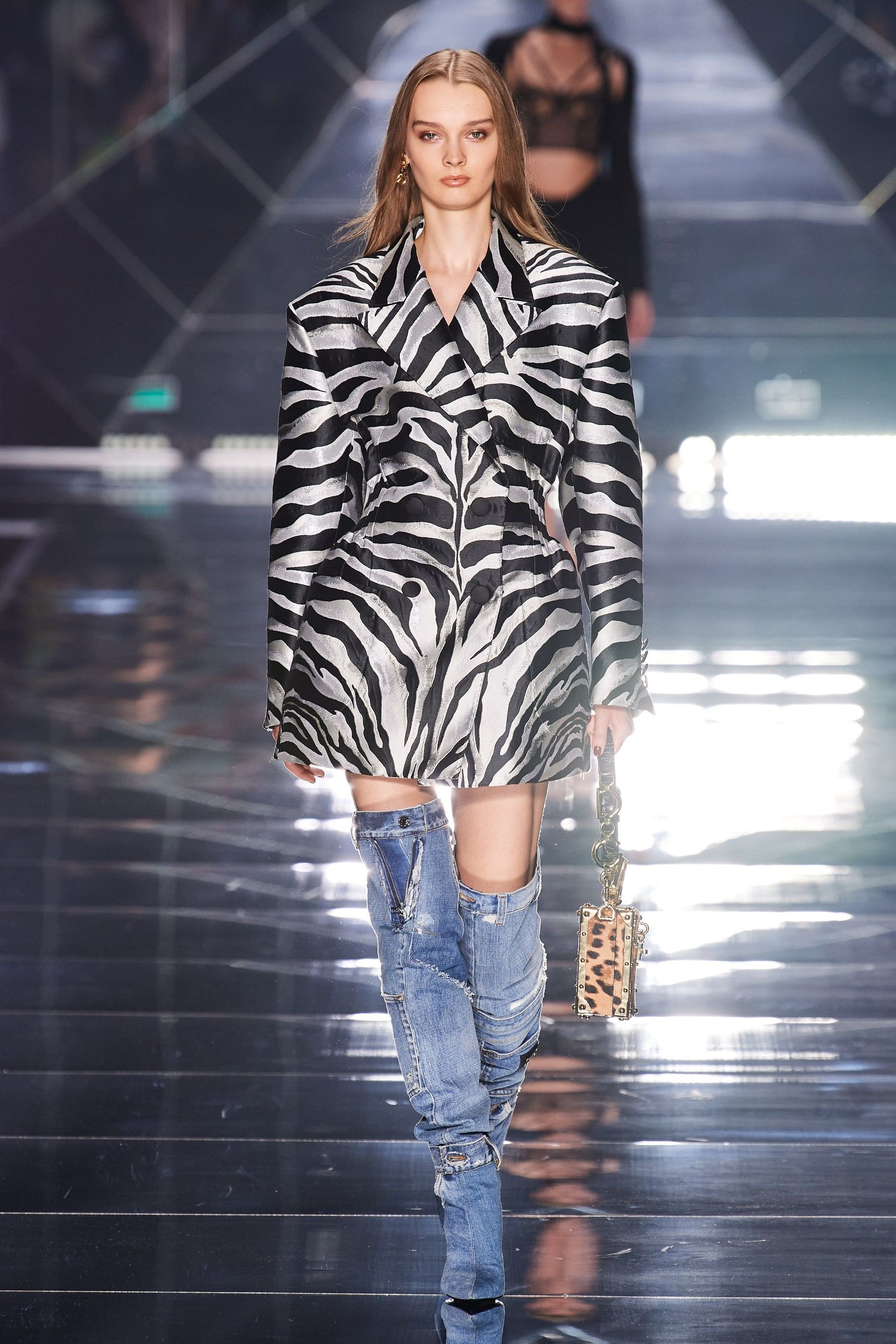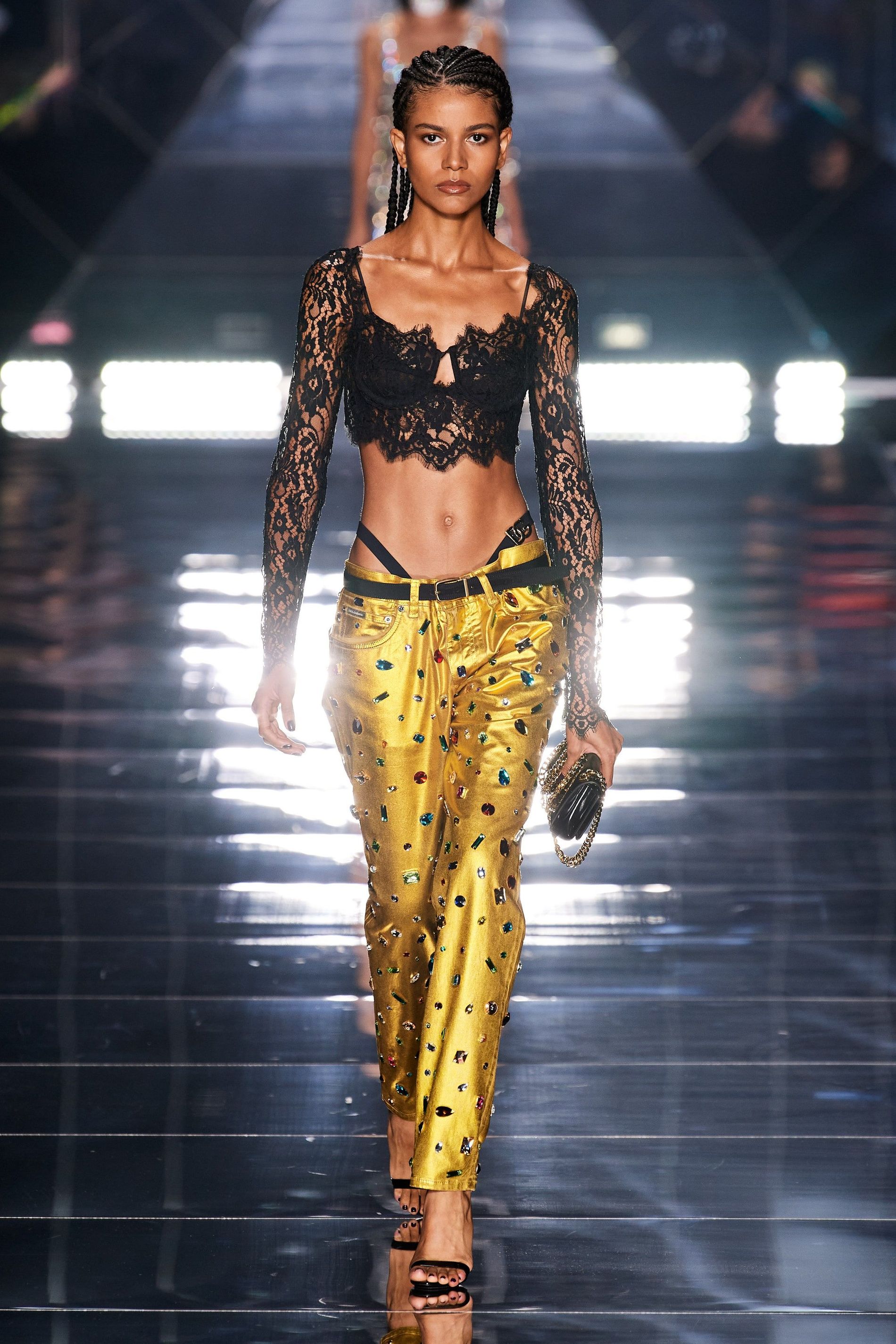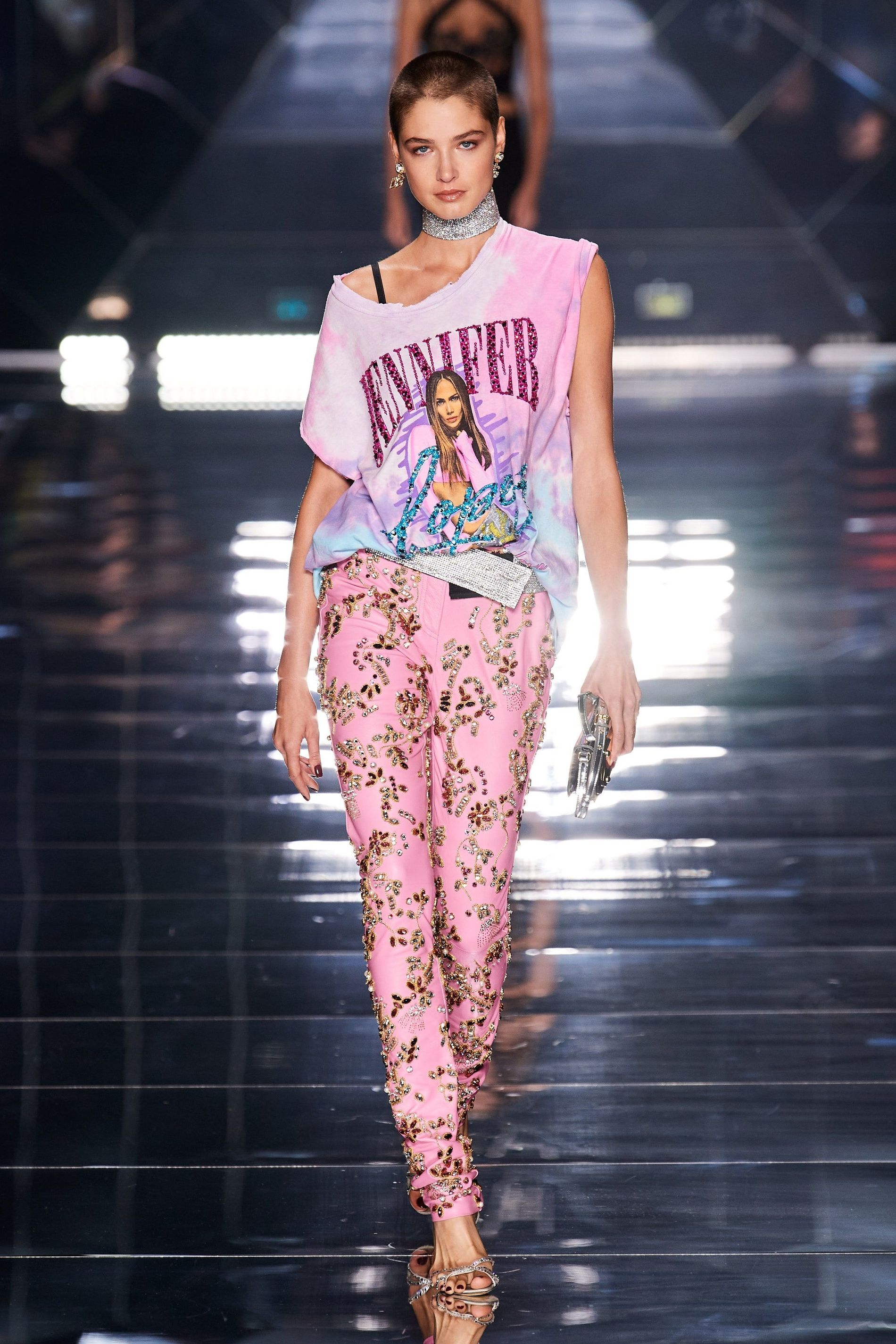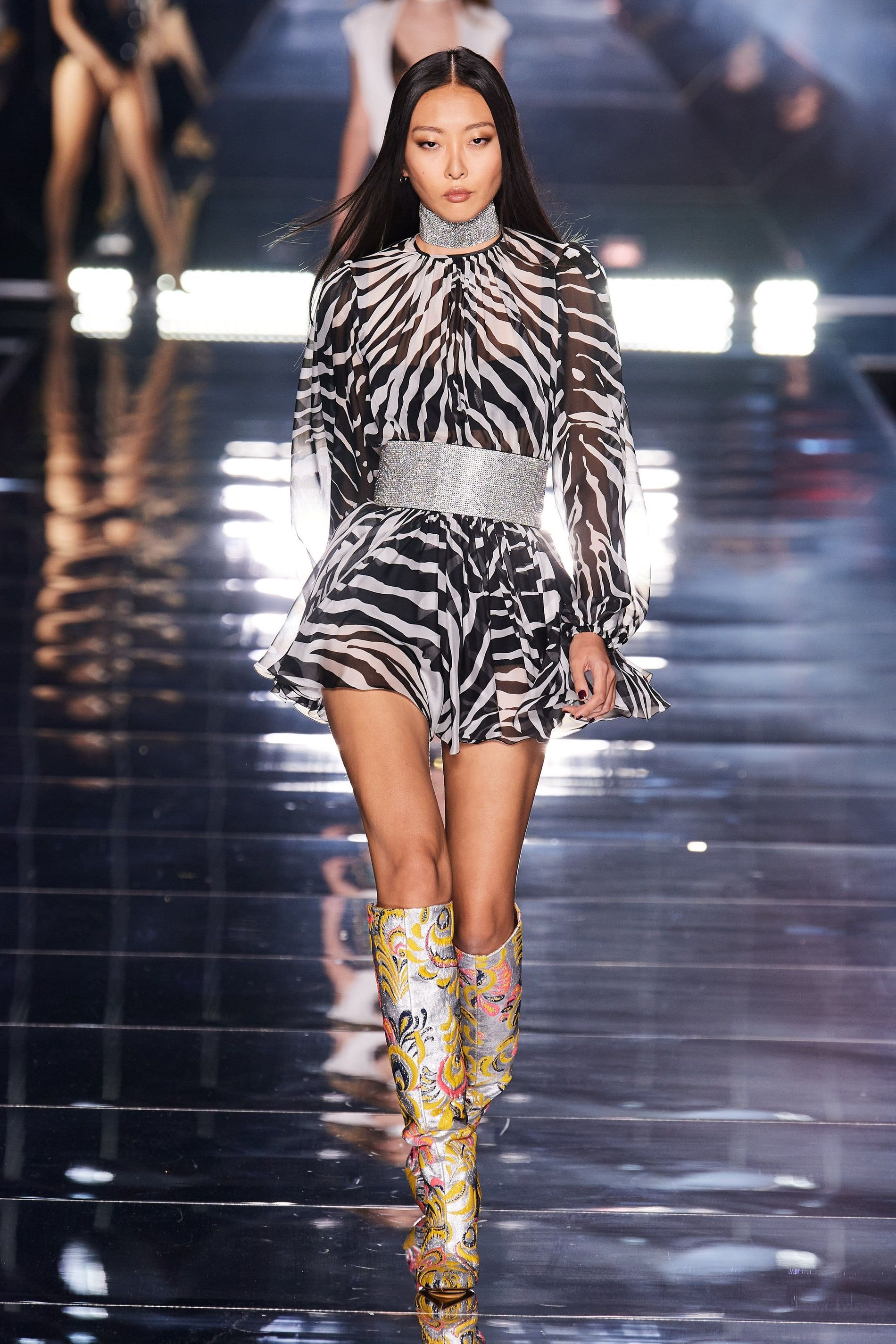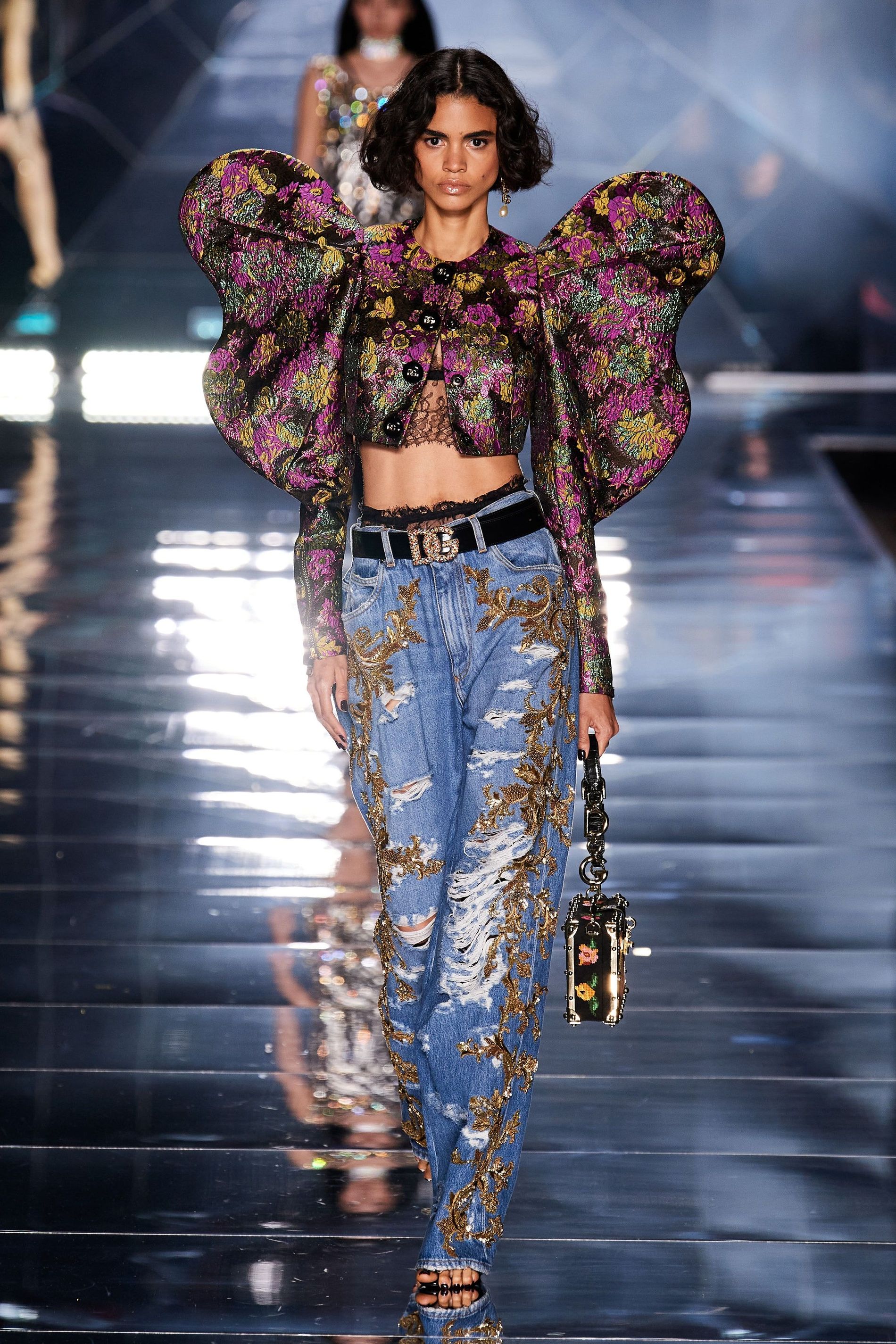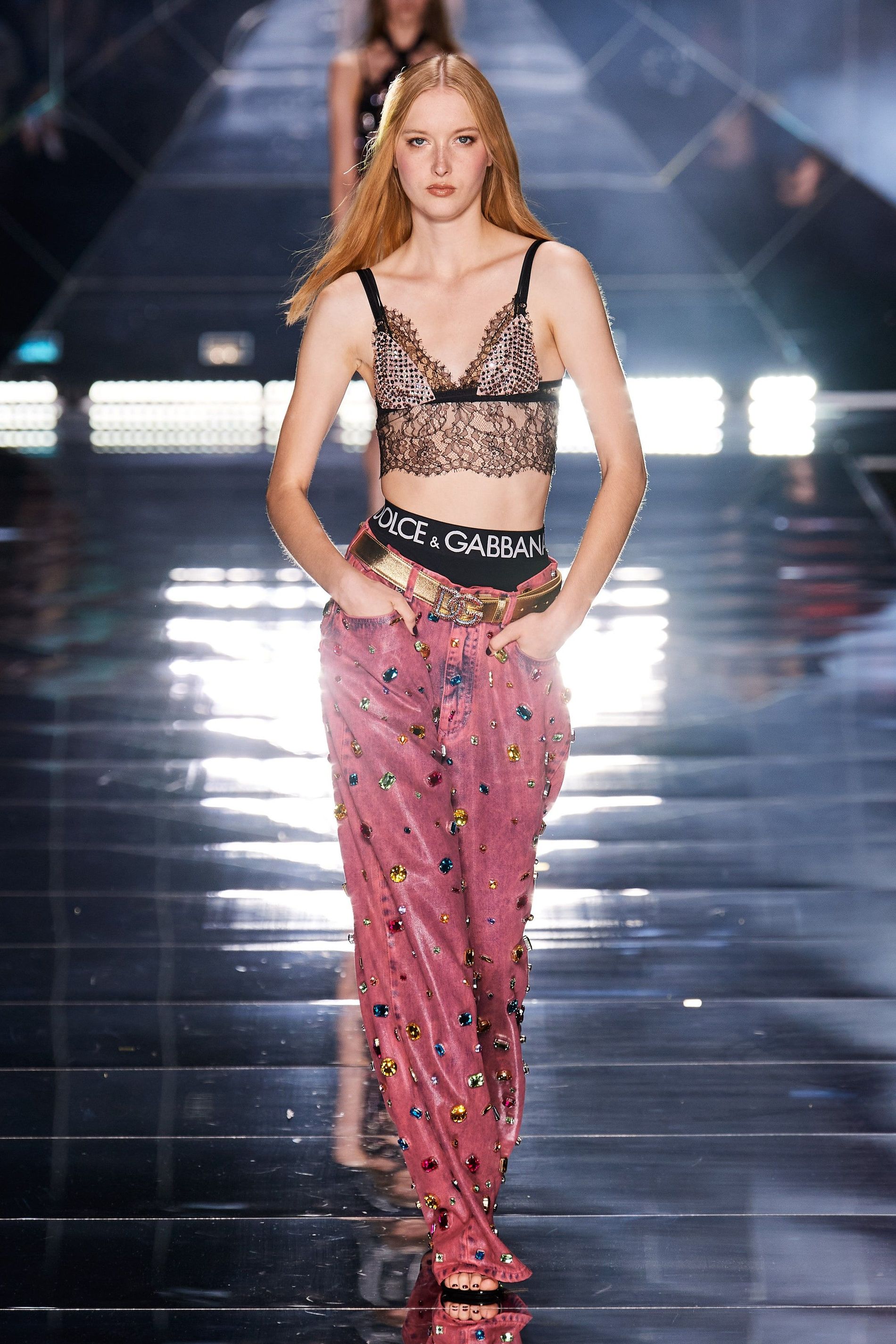 Pucci
The original swimwear line that was created by Emilio Pucci himself in the late 1970s was the inspiration for the new SS22 collection of the Italian label. The result: co-ords consisting of traditional Pucci pastels, clean lines, geometrical necklines, and here and there revelling in a minimalistic and sophisticated way.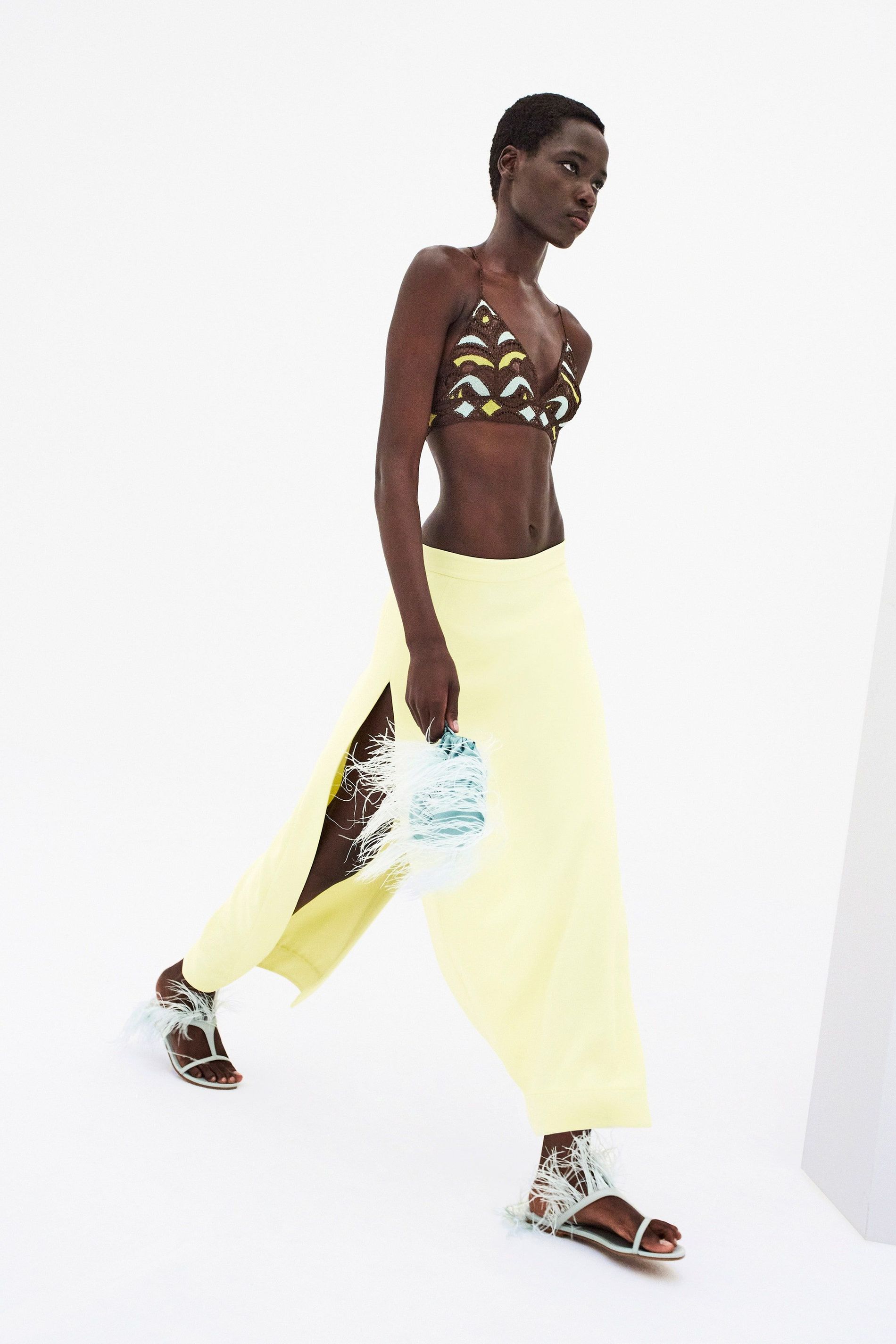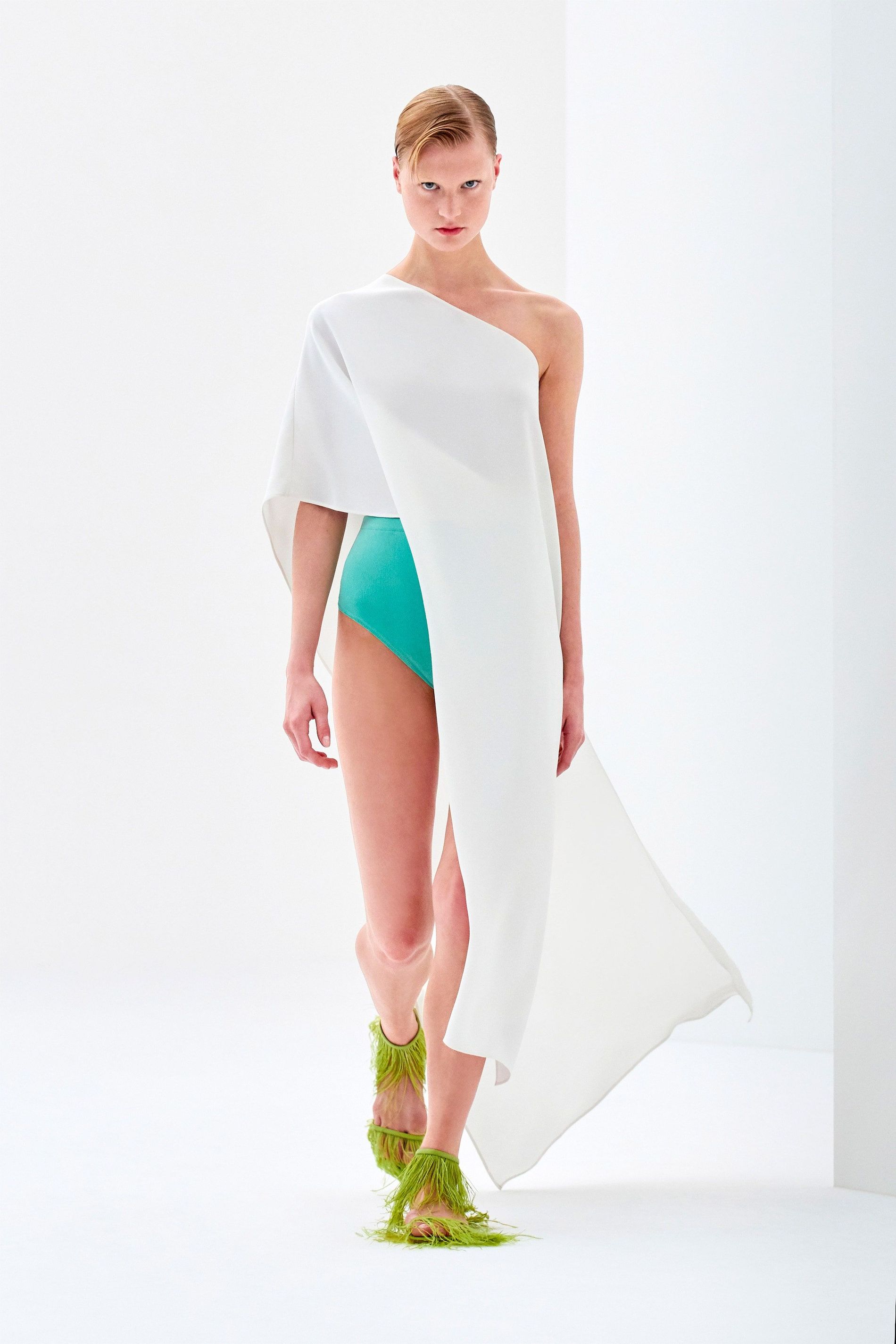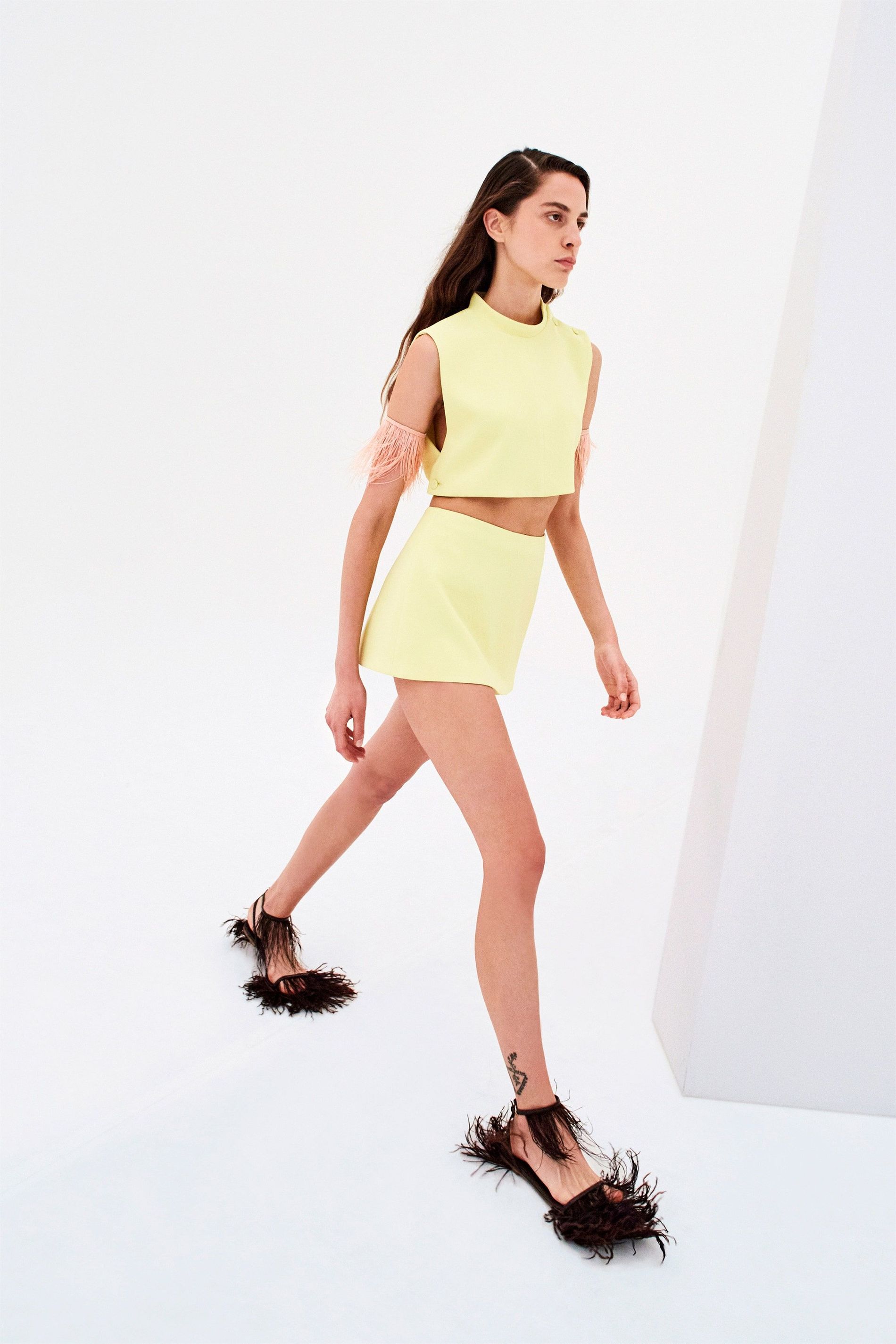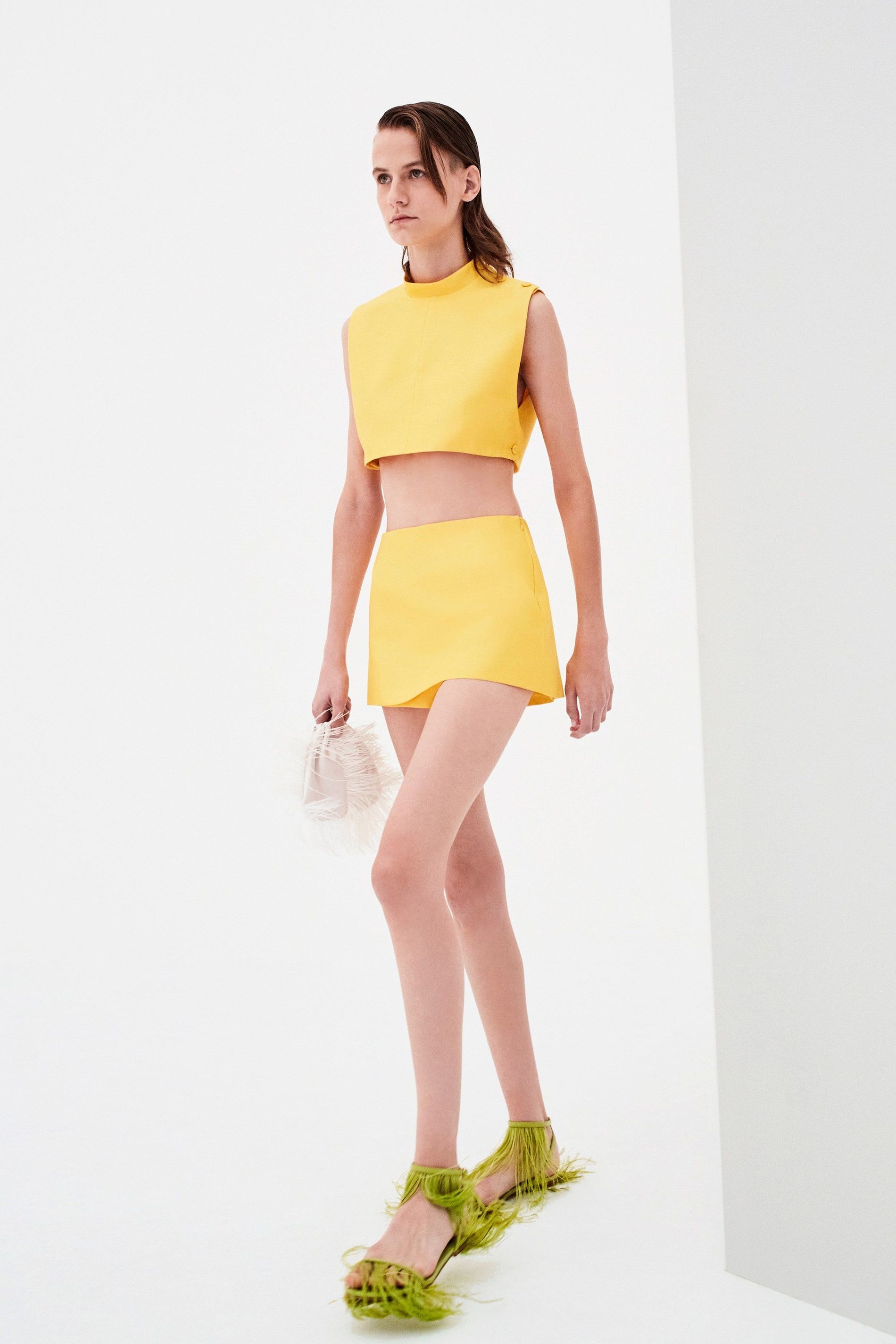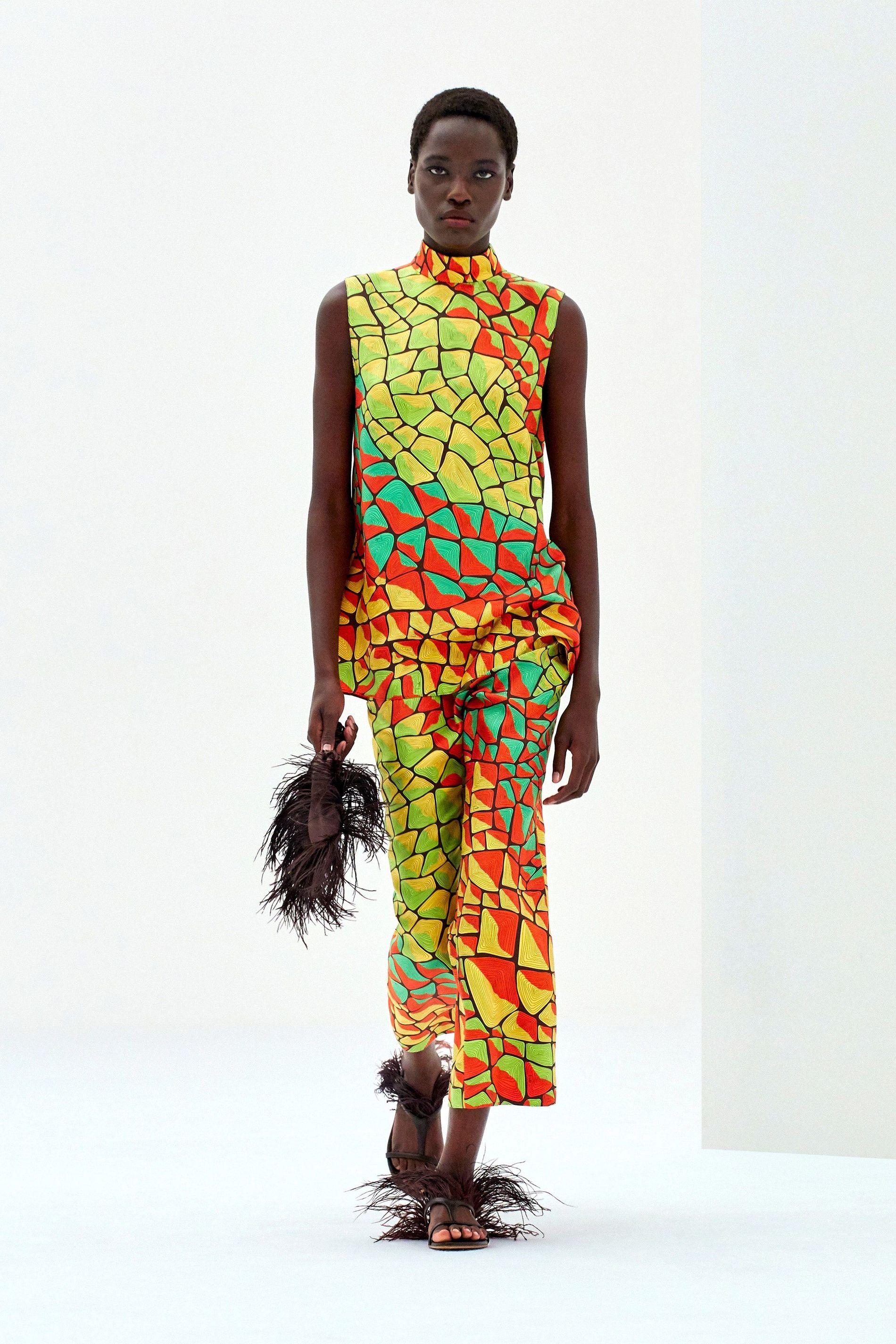 Fendace – Fendi x Versace
The Italian fashion week ended with what at first was a rumored secret collaboration collection between two of the most renowned fashion houses. Fendi's Kim Jones and Silvia Venturini swapped roles with Donatella Versace for one unique collection dubbed Fendace, shown by a stellar cast of supermodels. The result was one big glamourous fashion feast celebrating the joy of dressing up.