In collaboration with Zalando
A Copenhagen Fashion Week institution, the Zalando Sustainability Award sees three nominees compete each season for the prize of €20,000 and the opportunity to have their collection sold on the Zalando.com platform.
This season, all three brands live up to the strong sustainability requirements set by the Zalando Sustainability jury. Led by global fashion sustainability experts, including acclaimed model turned environmentalist Arizona Muse and Copenhagen Fashion Week CEO's Cecilie Thorsmark, amongst others, the jury selected Iso.Poetism, Fassbender and Tomorrow Denim as their finalists.
The shows, spread out over the following week, will take place at Nikolaj Kunsthal in the heart of Copenhagen and digitally through The Zalando Greenhouse.
Meet the finalists below:
Iso.Poetism by Tobias Birk Nielsen
Founded in 2016 by Tobias Birk Nielsen, Copenhagen-based Iso.Poetism deals with emotional aspects related to being a modern human in our world. Each garment is designed by Birk Nielsen and his creative design team at the brand's studio located at Nørrebro, Copenhagen and manufactured in Italy with carefully curated partners.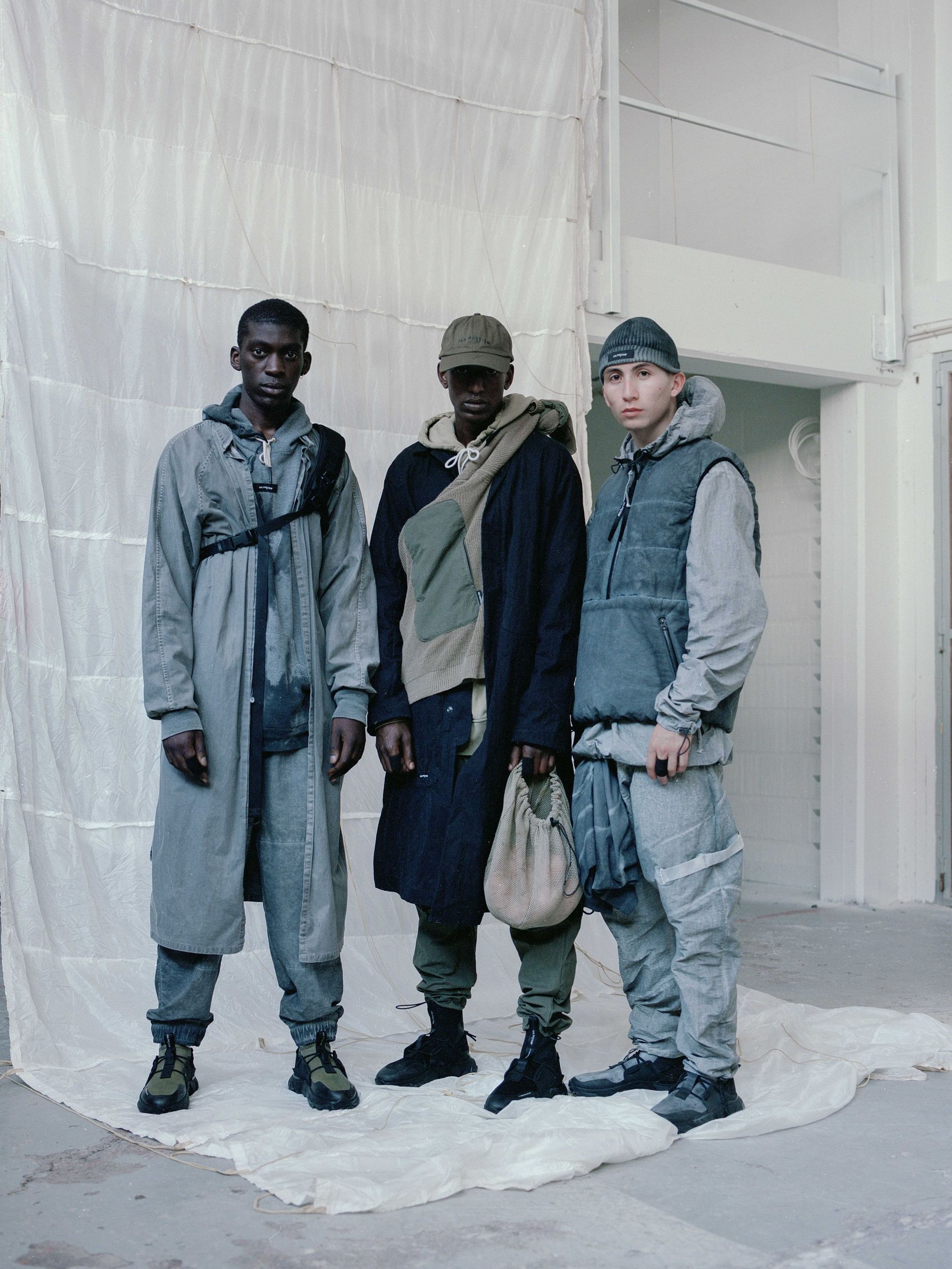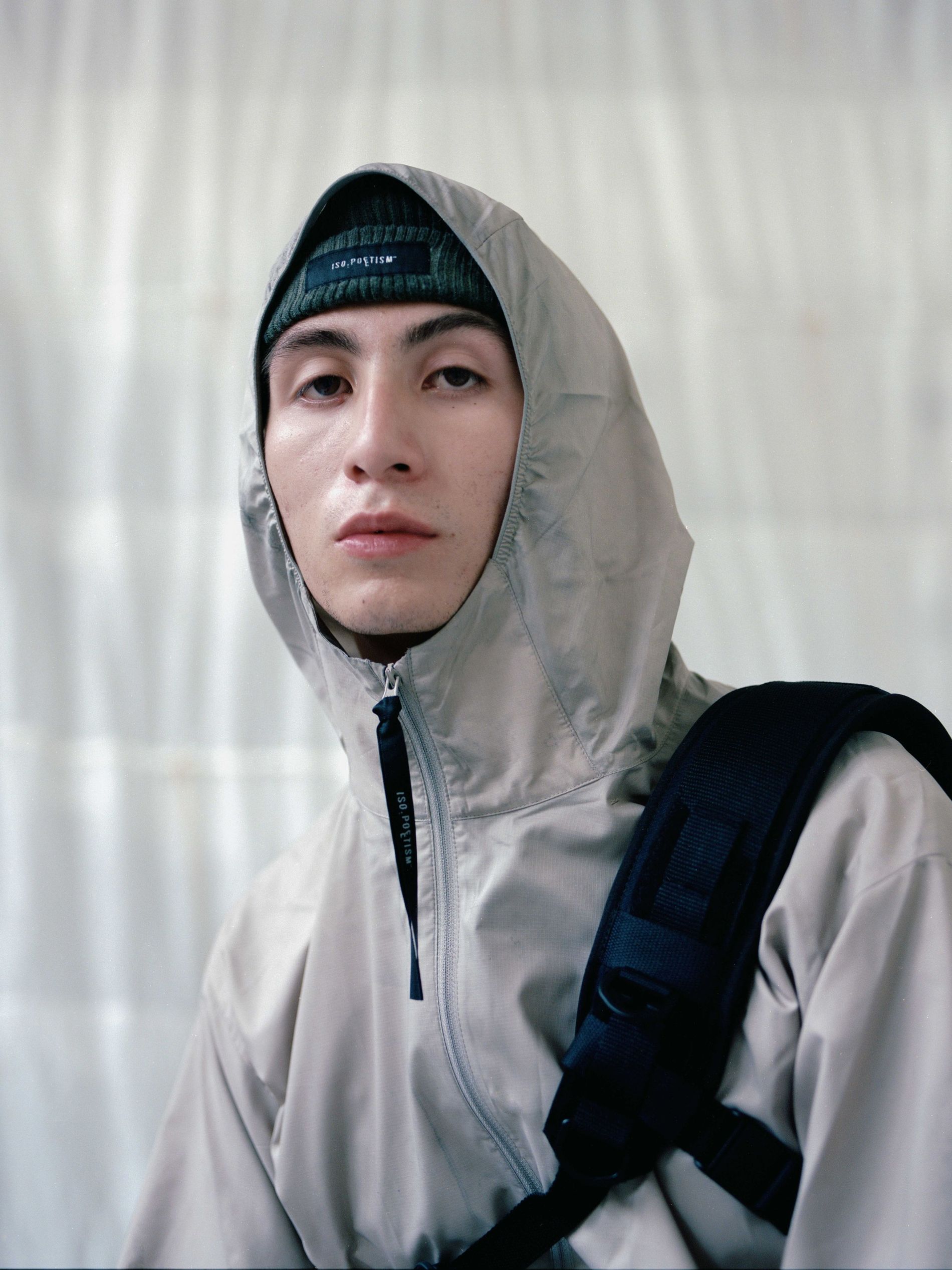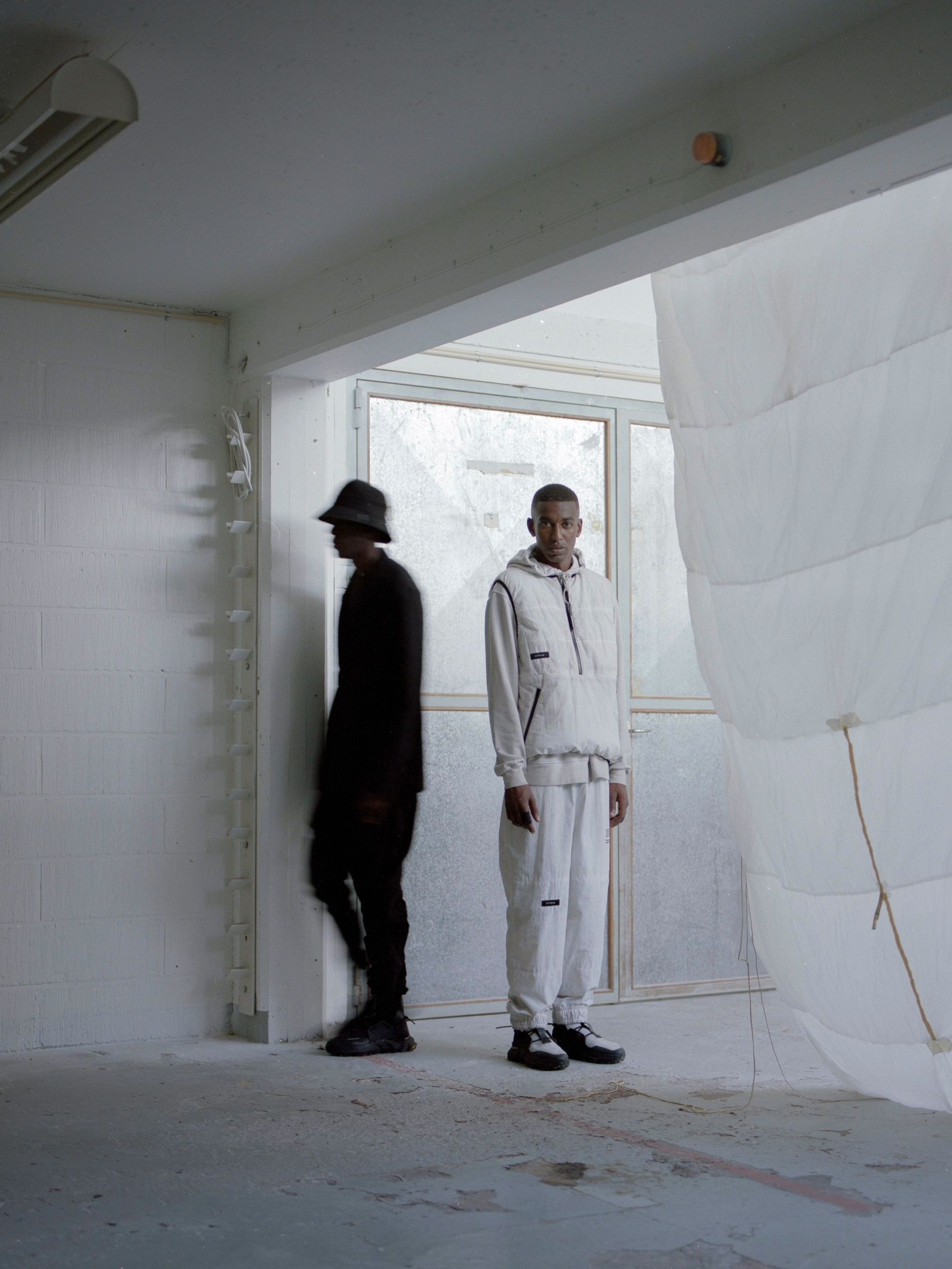 How would you describe Iso.Poetism aesthetically?
"Emotions, is the overall inspiration through out all of the seasons we have made so far. Real lived emotions that I – as the designer behind the brand – encounter while going through life with all its vast ups and downs. This is the inspiration that continuously keeps giving us topics that we find relevant to disseminate. And in order to succeed with this ambition, we strive to create a perfect balance between poetry and dystopia as the arena to communicate within."
Collectivism is key to your design ethos. How does it influence your work?
"During a big chunk of 2020 due to the pandemic, my family and I had to be isolated due to our situation. In that process I had to hand over a lot of responsibility to my team, even new members, which was difficult for my inner control freak. That's why we called the AW21 collection 'The Mountains we Scale together ''. It became a tribute to collectivism, by focusing on what can be achieved when you hand out trust, and what can be accomplished only when you work together. We partly communicated this energy into one of the graphics for the season, with the word altruism written in a distorted way. It basically means to put the group in front of yourself, and I guess that this mentality intuitively has been part of our ethos ever since."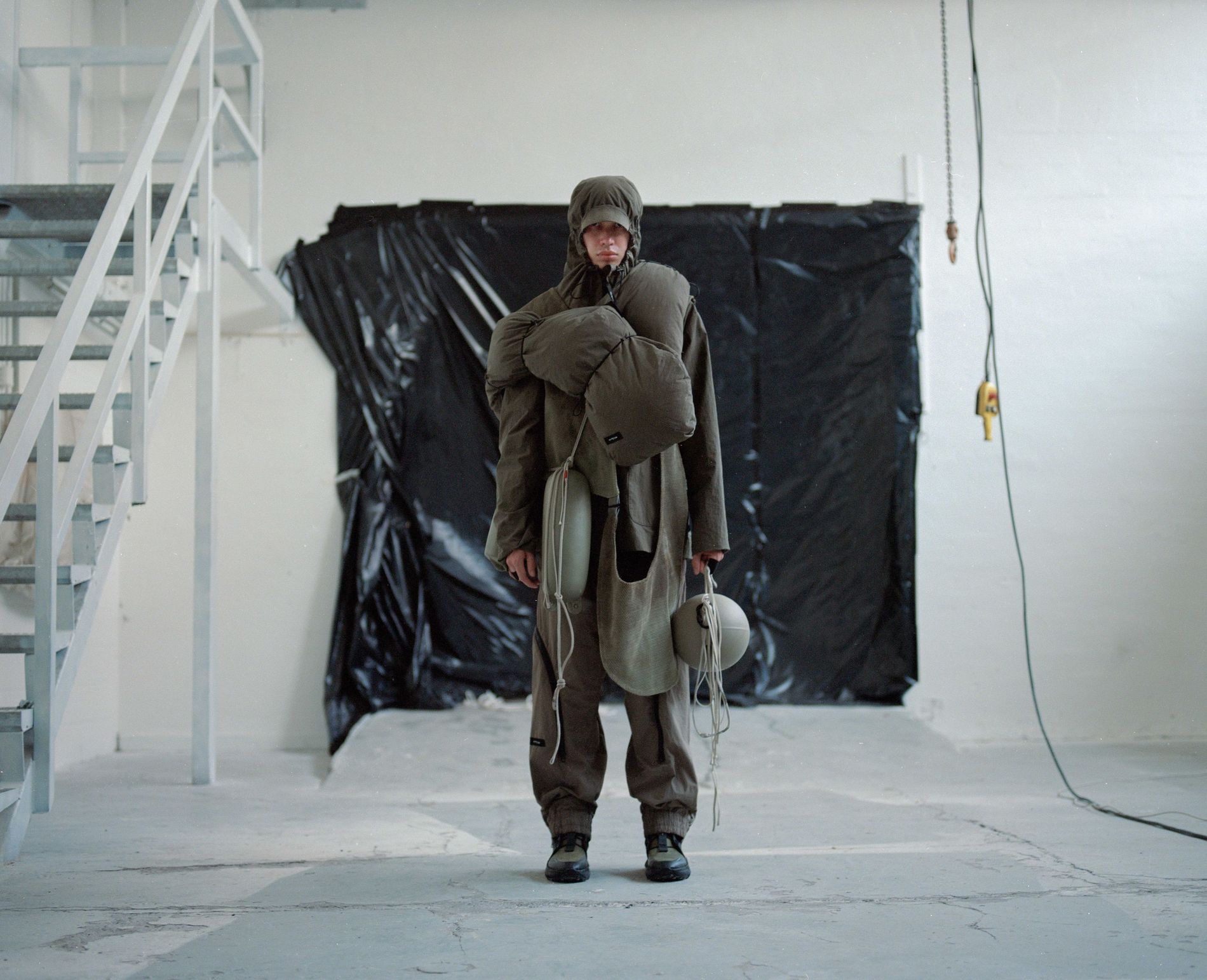 Iso.Poetism's showpieces are all up cycled. Pictured here, a look from the brand's SS22 collection. . Photo: Iso.Poetism
What are some of your more concrete sustainability practices?
"The majority of the fabrics used in our AW22 collection is made with Korean textiles, spawned through recycled poly fibres. Our partners in Italy has developed dying techniques to the ambition of using the smallest amount of water possible, warm water in particular. We've also upcycled leftover textiles from prior bulk productions in order to aim for a zero waste outcome, incorporating patchwork in our new styles. On top of concrete garment development, there are also initiatives around the communicative side of the collection. The show and lookbook setting has also been developed from old samples tests and leftover fabrics."
What would winning the Zalando price mean to you as a designer and Iso.Poetism as a brand?
"It would be a huge motivation boost to continue our ambitious sustainable journey. We've tried to approach sustainability in our own authentic and unique way, and not necessarily through the classic steps, so it would be a great recognition of this approach."
Fassbender
Hamburg-based Fassbender was founded in 2017 by Christina Fassbender with her brother Sebastian Steinhoff, and designed by New York-based creative director Matthias Louwen. The brand pursues the bigger picture, looking for the latest innovations, welcoming new ideas and solutions. Believing, that quality, longevity and responsibility in luxury-design are the new modern.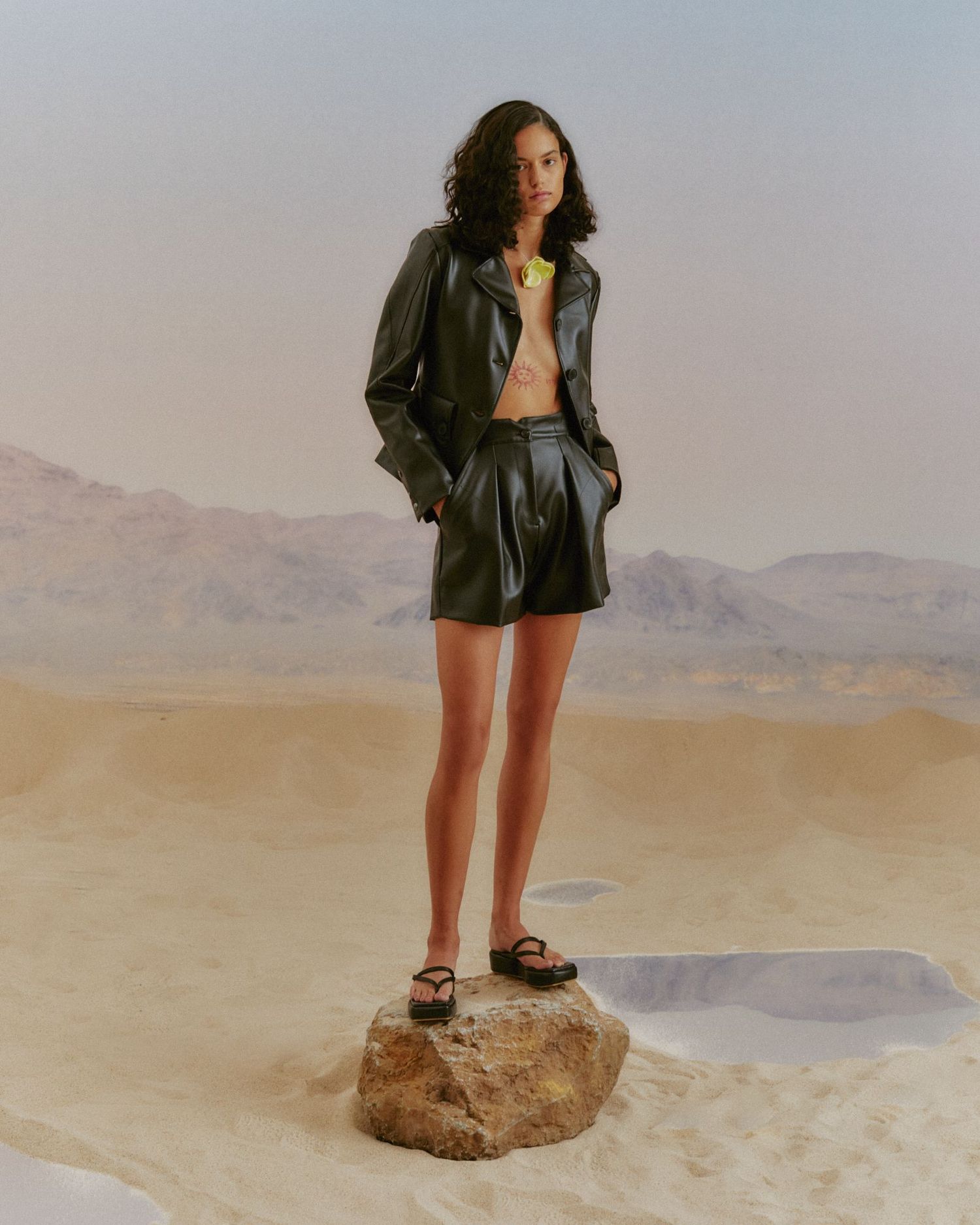 How would you describe Fassbender aesthetically?
"I was born and raised in northern Germany, so the Hanseatic aesthetic and heritage surrounded me from a young age. Our signature is characterised by a combination of Nordic effortlessness and timeless elegance full of joie de vivre. We combine sophisticated tailoring with the highest functionality and endurance. However, the most crucial thing for Fassbender is our inner values: The inside is as important as the outside. Since we believe in the connectedness of things, inspiration can be found everywhere. We find inspiration in the cities, the people, moments, or when we are sitting in our atelier creating new designs. Suddenly, something comes into your mind that can inspire the world around us."
You've explored 3D printed manufacturing, microbial dyeing, or technologically enhanced fabrics. How does this affect your design process?
"We believe that high luxury can be sustainable because plenty of forward-thinking people are out there inventing new technologies and possibilities to improve the status quo. Consequently, much research is involved. We must try new things to get the perfect fit for the material, production, and design. But in the end, it is a learning experience, and we grow with every challenge as a team and company. If we decide to go with particular innovations, we must sometimes rethink our whole design. We welcome this because design is a process and if the outcome is something we really wanted to do, then it is totally worth it. New innovations lead to a creative exchange with completely new sectors and different personalities - which of course allows the brand to grow further."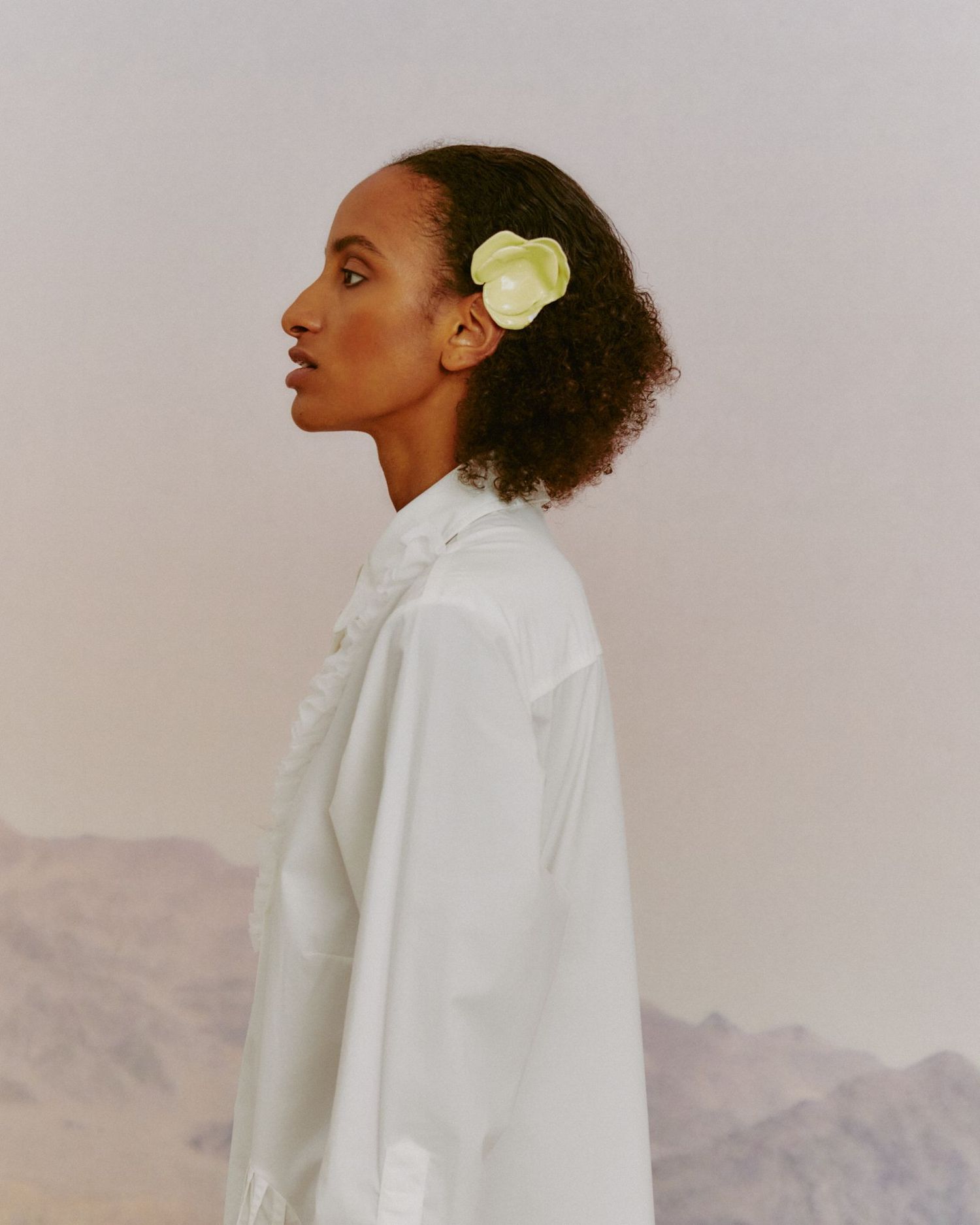 Photo: Fassbender
What are some of your more concrete sustainability practices?
"Sourcing materials that, on the one hand, are sustainably produced but also reflect the look we are going for is one of the most challenging aspects of being a sustainable fashion label. As we don't want to compromise on either side, this process often leads to problems. However, it can also create opportunities. It pushes us into innovation rather than restricting ourselves. This is how we found some of our favourite fabrics, such as sugar cane leather, recycled wool, or simply finding the perfect sustainable jersey."
What would winning the Zalando price mean to you as a designer and to Fassbender as a brand?
"Until now, sustainability has been vastly underrepresented in the fashion industry. That means that awards like this are extremely important if we want to change the whole system. As a small brand, this would be a step forward towards more visibility for the innovative approaches we are trying to implement. Moreover, winning would be an unbelievable way to start 2022. That win would not only be ours but also a sign for every other brand and designer out there that sustainability is the answer."
Tomorrow Denim
Launched in Copenhagen in 2018, Tomorrow Denim is the world's first denim brand certified by both The Nordic Swan Ecolabel and the EU Ecolabel. With focus on well-crafted jeans fits and the right treatments and washes, their mission is simple: To prove that great style and a sustainable mindset go hand in hand.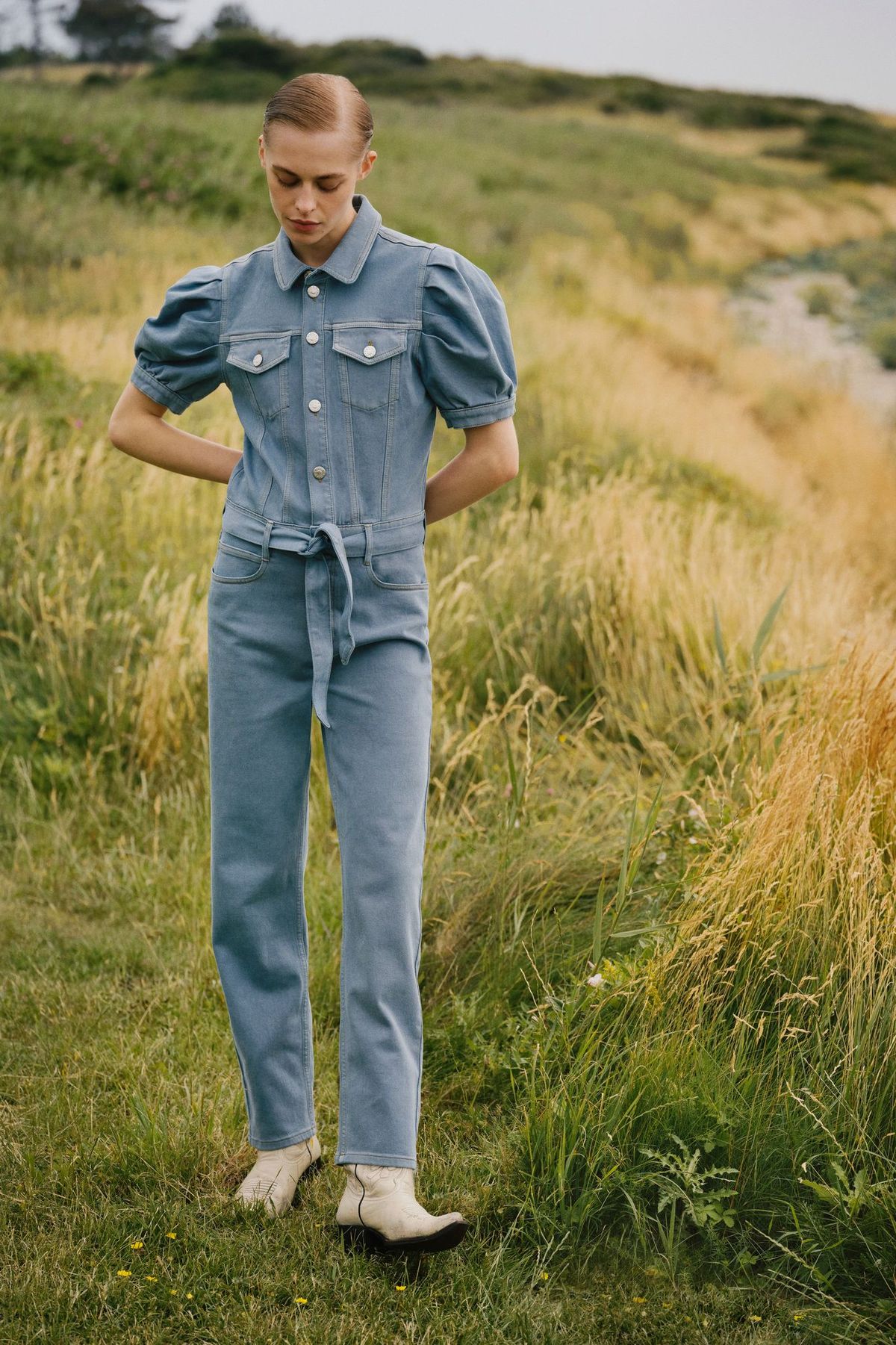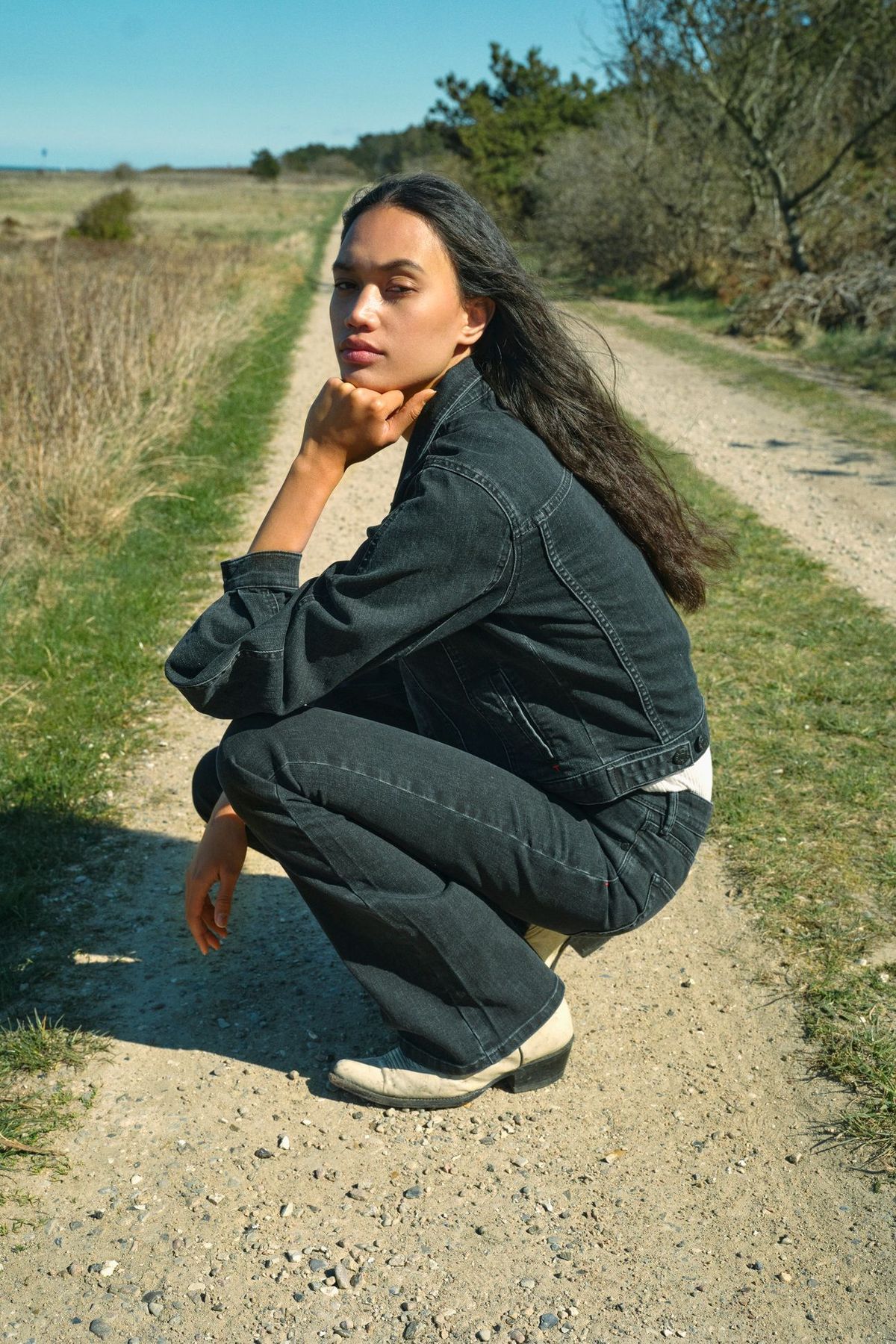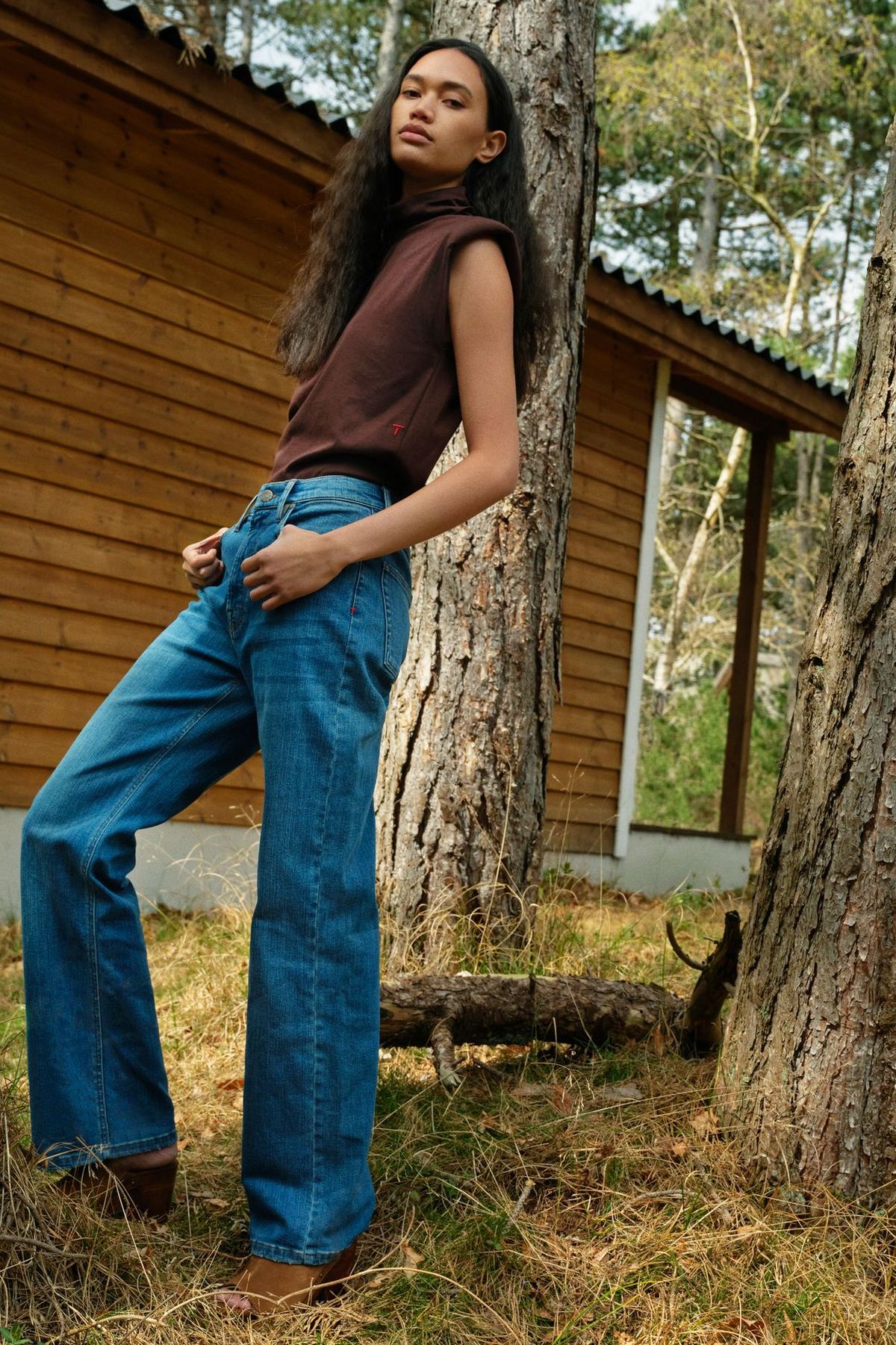 How would you describe Tomorrow Denim aesthetically?
"At Tomorrow, we always work with contrasts between the masculine and feminine. It can be utility or work wear details that we apply on more slender and soft silhouettes. Or a heavy denim fabric used on a more elegant denim dress. Coming from a country with a solid design heritage, I think we carry with us the idea that designs should be made to last. I have always been significantly influenced by Danish furniture designers. Denim is what a piece of wood is for a cabinetmaker. It's a very technical process, where you keep fine-tuning and constructing until it has the perfect fit and the perfect wash."
Work wear and denim are quintessentially Scandi. In what ways do you innovate this category?
"We all know that the fashion industry, especially the denim industry, gets called out for negatively impacting the environment. We take a holistic approach to reduce and minimise the negative impact as much as possible while securing good conditions for workers that are part of our processes. The certifications we have set stringent environmental criteria and is built on a lifecycle assessment, which means that every step of the product's journey is included. From raw material to production, usage and afterlife, we must live up to strict environmental and social criteria every step of the way. To achieve these ecolabels is a challenging and lengthy process, and that's probably why we are the first who managed to get these two ecolabels on all our products."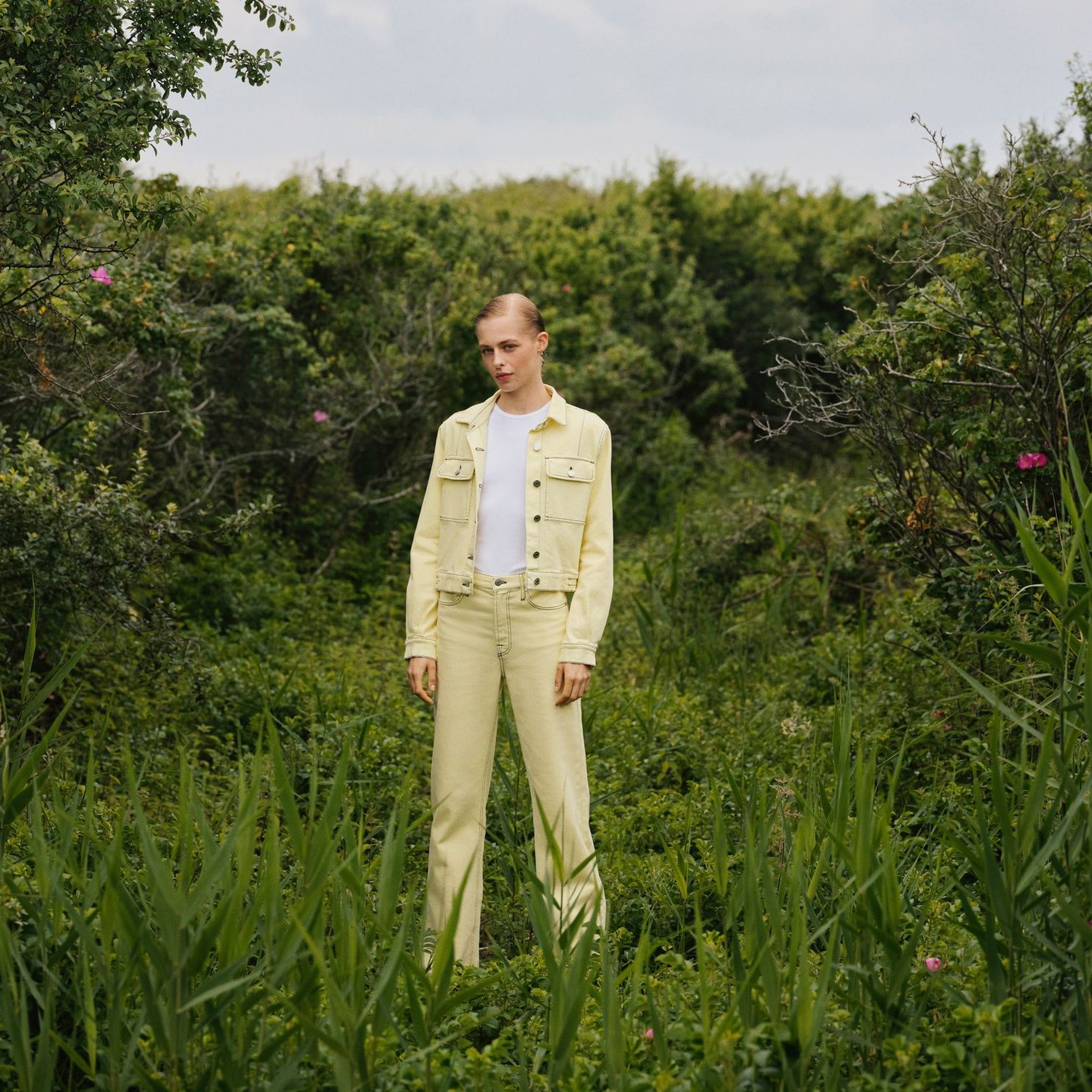 What are some of your more concrete sustainability practices?
"From the start of the process to a finished garment, we have a rigorous waste management program. We utilise as much fabric as possible and recycle the few leftovers. As a result, we save a lot of water and energy during our production, and we avoid hazardous chemicals that are otherwise normal to use in conventional denim production. Some concrete examples of what we we do are that we have found a technology where we don't have to use more than 1 L water in the washing process, compared to conventional washing. We have banned laser treatments, because even if it saves water we found out that this technology not only uses way too much energy, it also releases a lot of Co2 into the atmosphere. Last but not least, since it burns the fabric, small particles end up in the waste water and contaminates marine life. So we have banned this from our production and instead we use old school handcrafted processes.
"There are some dogmas I need to think and work from when designing our collections as there are several things that we cannot make due to processes that aren't eco friendly enough."
What would winning the Zalando price mean to you as a designer and to Tomorrow Denim as a brand?
"The textile industry is one of the biggest and most polluting industries but fashion will always be relevant; thus, we need to change the conventional way of producing clothes. Winning this award would mean everything, because it means that we're being noticed and appreciated exactly for our vision of changing the conventional textile manufacturing as we know it, emphasising on the fact that style and sustainable efforts can go hand in hand."