Scandinavian folklore and the intelligent rebellion of literary icon Selma Lagerlöf were at the heart of Max Mara's Resort '24 offering, showcased at Stockholm's grand city hall. We chat to Ian Griffiths, creative director of the Italian house, about why Swedish culture and tradition were at the fore this season
Swedes posses a certain discomfort with celebrating their own Swedishness. Yet, to see the very essence of Swedish culture and tradition, aesthetics and values reflected back through the lens of Max Mara gives way to an ineffable sense of pride. Held at Stockholm's grand city hall, the site of the annual Nobel Prize banquet, the Italian house's Resort '24 collection was an unabashed celebration of the Nordics, at once nostalgic and stunningly modern, rooted firmly in a certain Scandinavian practicality. And yes, there were flower crowns.
When I meet creative director Ian Griffiths for a coffee (me) and an apple juice (him) at the Grand Hôtel a couple of days ahead of the show, I ask the question on all of our lips: why Stockholm? "Because no one else has done it," he says, simply. After two Resort collections in southern European destinations – first Ischia and most recently Lisbon– he felt it was high time to "move everything up north and show things from a different perspective – a perspective that hasn't been explored so much". "Everyone's looking at Scandinavia because it's fresh and clean and you can breathe," he says, noting that this time last year Portugal was "literally on fire". "And with that comes a new interest in Scandinavian design, the Scandinavian aesthetic, Scandinavian folklore and the natural landscape, as well as sustainability."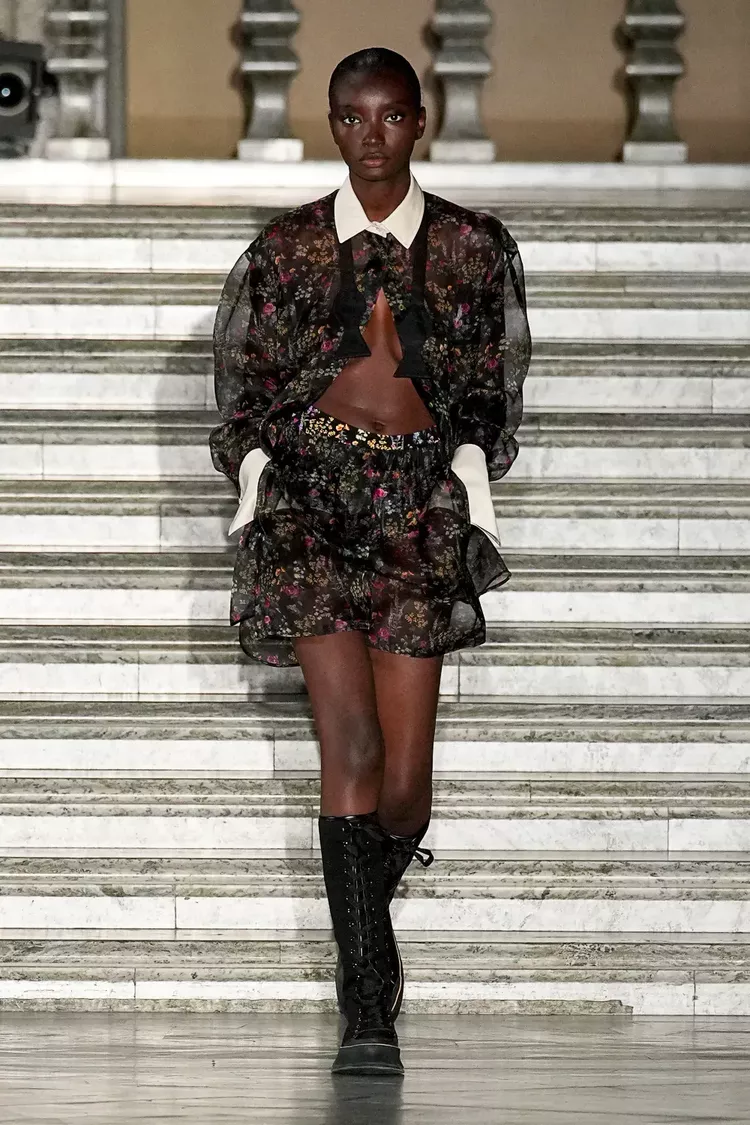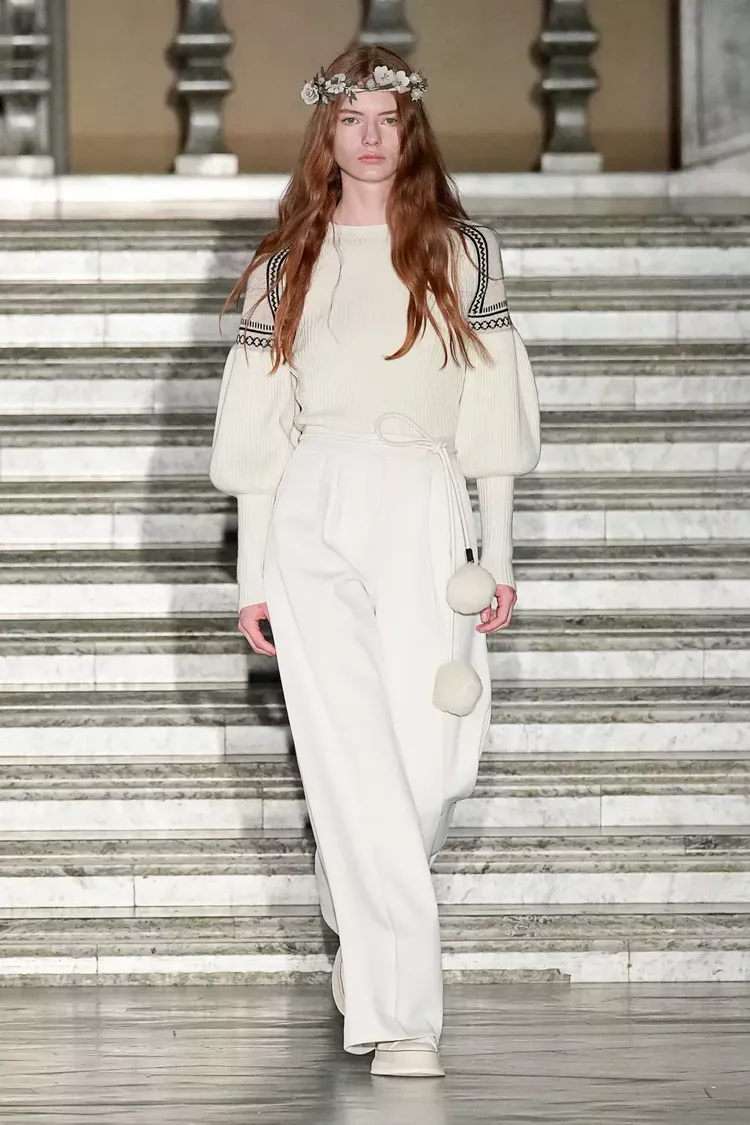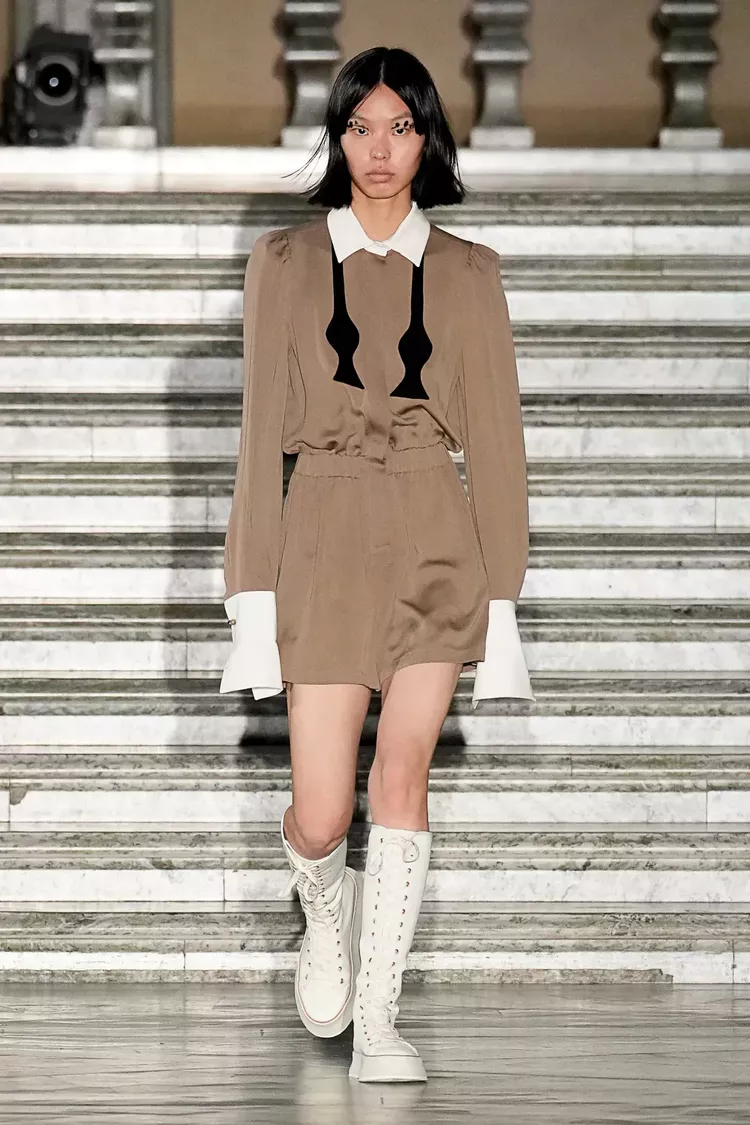 Griffiths found his muse this collection in Swedish literary icon and feminist hero Selma Lagerlöf, the very first woman to win the Nobel Prize for Literature (though she didn't claim her award, granted in 1909, in the show space – it hadn't been built yet). "I've got this reputation for being an erudite designer," admits Griffiths. "It may surprise you, but I do not know everything, and I did not know about Selma." He discovered Lagerlöf, whose folkloric tales are essential reading in Swedish adolescence, while actively searching for a Scandinavian figure who embodied "the sense of late 19th century, early 20th century metropolitan attitudes" (he name-checks Edvard Munch, Henrik Ibsen and Søren Kierkegaard as well – erudite indeed). Namely, the author embodies social change, democratisation, women's liberation – all these things that make our region such a wonderful place to live. "She was born into a haute bourgeois family and she rebelled. And at the same time, she reintroduced folklore into popular culture," he says. "We love a rebel at Max Mara – an intelligent rebel."
Rebellion isn't a word one intuitively associates with the house, yet throughout the collection there is an understated rebellion in the ways in which Griffiths challenges traditional codes of dress. Take, for instance, the opening look: a luxurious white teddy coat adorned with black tassels – a nod to Lagerlöf's tales that, along with playful pompoms, recur throughout the collection – worn atop a simple men's singlet and boxers. Elsewhere, undone tuxedo bow ties and cropped capes, sturdy lace-up boots that skew a little punk. More overt references to Lagerlöf's era appear by way of gigot sleeves, made modern by adorning a delicate black knit. The whole thing was aptly set to an ethereal cover of Suicide's 'Dream Baby Dream' — darkly romantic and subtly subversive.
Meanwhile, there's a certain earthy romanticism in the long silhouettes, with their peasant sleeves, finished with shirt cuffs. The starting point may be an "authentic Swedish folk piece" but Griffiths strips away the details, finding modernity in a fresh simplicity. The sorts of looks one can imagine gliding through the archipelago or twirling around the maypole.
Speaking of the maypole, the show culminates in a gorgeous explosion of embroidered and painted florals on floating organza frocks. Inspired by the tradition of Septem Flores (also the name of the collection), the spectacle of Nordic beauty is a true Midsummer delight. How will Griffiths celebrate Sweden's most beloved holiday this year? He puts it simply: "This is it."
See the full collection below: