For the first time in 33 years, a Danish film is in the official competition at Venice Film Festival. Here, Bastarden's lead actress Amanda Collin speaks to Vogue Scandinavia about attending the festival for the first time, what it was like working with co-star Mads Mikkelsen, and why she chose Chanel for the occasion
Attending the 80th iteration of the famous film festival, Collin wore two ensembles from the French maison's latest Resort collection to promote Bastarden (translating as The Promised Land in English) with co-star Mads Mikkelsen. "Being the first Danish film in 33 years to be in official competition in Venice, of course I was dreaming of a special outfit to accommodate this event," the actress shares. And what better choice than Chanel? "It's such a classic brand," says Collin, who adds that wearing anything from Chanel would make her night.
Taking place in 1755, The Promised Land features Mads Mikkelsen in his first collaboration with Danish filmmaker Nikolaj Arcel since A Royal Affair, in the role of Ludvig Kahlen, a financially struggling military officer who aspires to cultivate the barren landscapes of Jutland and earn the king's favour. Alongside Mikkelsen, Collin assumes the role of Ann Barbara, one half of a couple who is employed by Mikkelsen's character to maintain the estate and help him live up to his aristocratic ambitions (in turn enraging the spiteful local landowner the couple fled from).
Filming the movie was a wholly positive experience for Collin, who found her role as Ann to be particularly compelling. "Ann Barbara is such an amazing character," she remarks. "I just love her." Collin speaks highly of the work environment on set, describing a familial bond among the crew members. "We had fun every day." She also praises Arcel, the director, for creating a safe and supportive atmosphere, while labelling co-star Mikkelsen as both "sweet" and "very professional."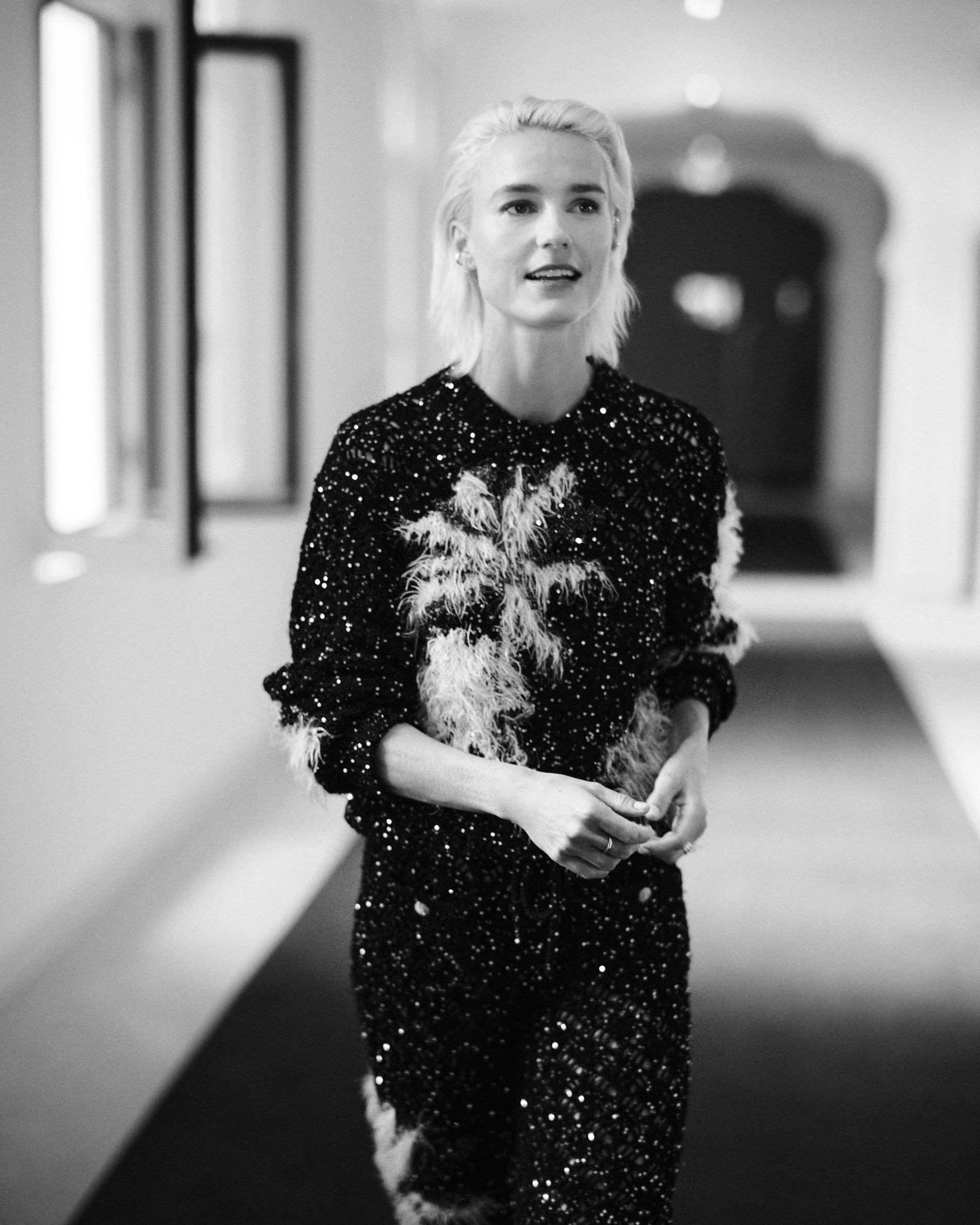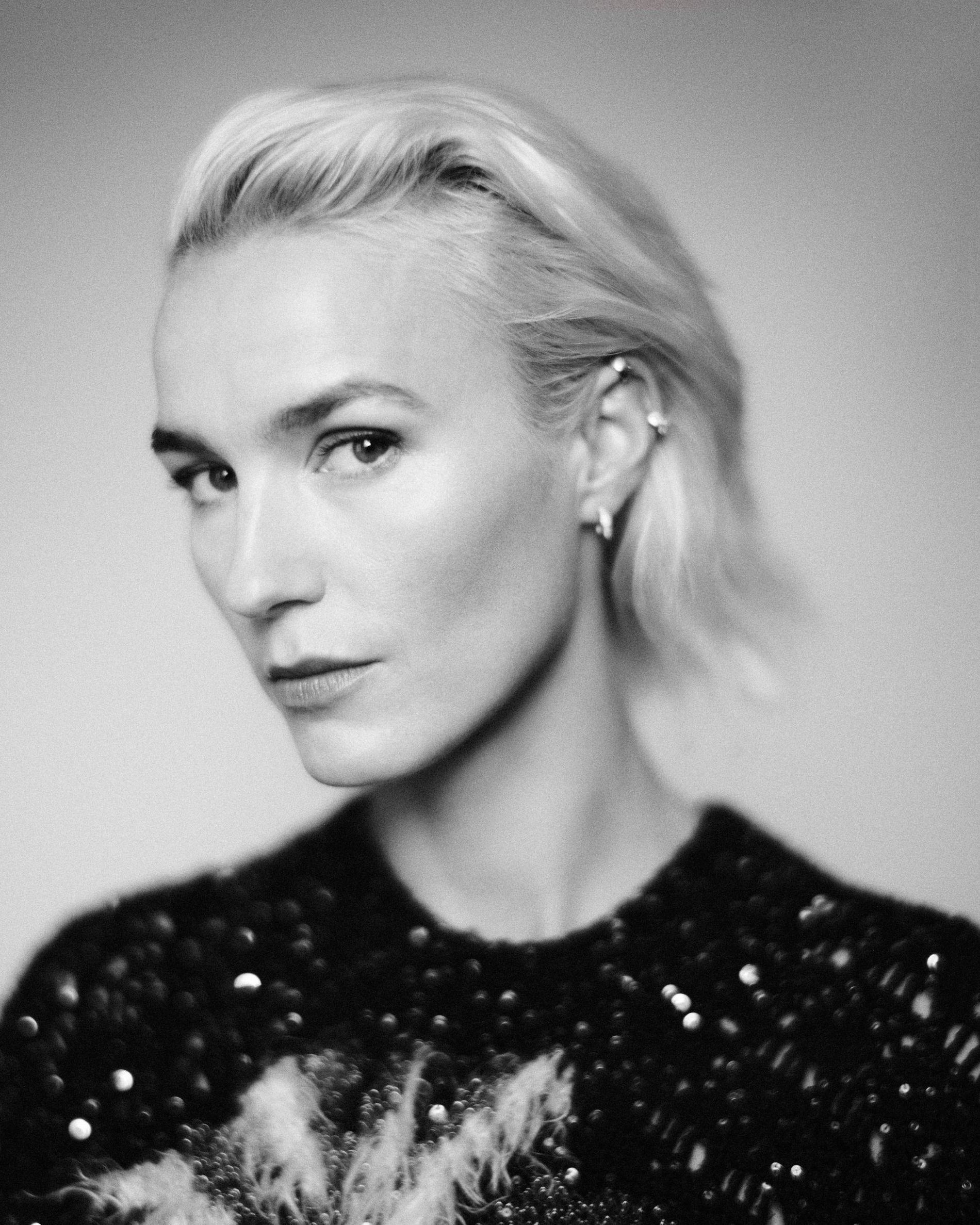 What sets this filming experience apart for Collin is the fact that she could incorporate her own family life into her professional commitments. "I brought my family wherever possible and I breastfed my youngest child while filming, which to me is true success," Collin shares.
Collin first got her big breakthrough role in Denmark as the leading character Marie in Christian Taftrup's A Horrible Woman in 2017, for which she was nominated for the Robert Award for Best Actress in a Supporting Role. The Danish actress was later cast in Ridley Scott's sci-fi series Raised by Wolves which ran from 2020 to 2022. And while there was buzz around the show being the actress' big international break, it reached its untimely ending after just two season – much to the outrage of its fans.
I love fashion. I think it's because it's like dressing up in costumes
Amanda Collin
Then, just earlier this year, it was announced that Collin would be joining the second season of House of the Dragon, playing Lady Jeyne Arryn, the head of House Arryn and an important figure in George R.R. Martin's books. And now, with her gripping performance in The Promised Land, it is safe to say that Collin is on the path to Hollywood.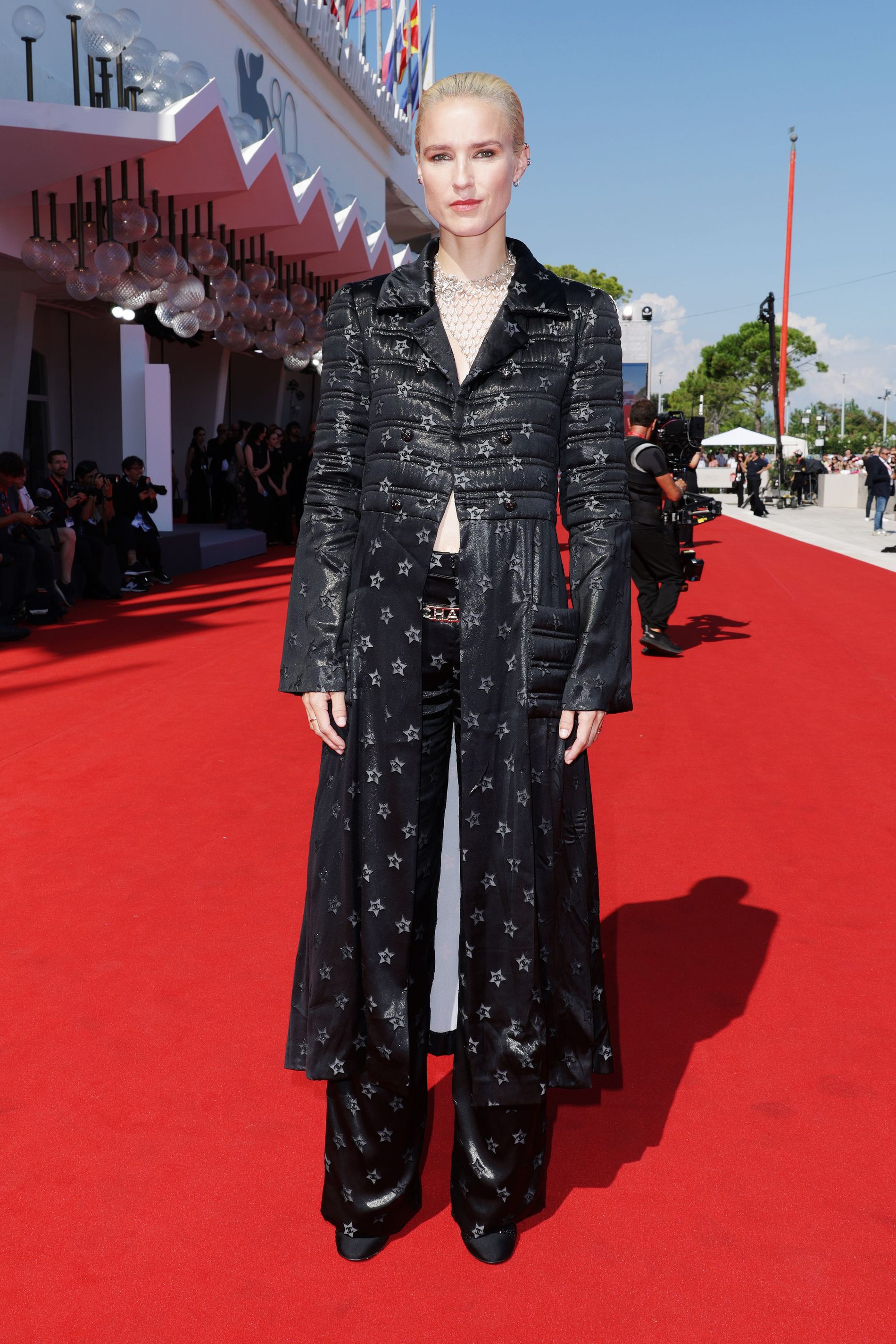 According to Collin, her debut at the festival has been an "utterly dreamy experience." "Sailing around Venice from beginning to end, being in fairytale surroundings promoting a film that I'm so proud to be a part of, with the best colleagues in the world," she notes, continuing: "What's not to like."
When asked why she chose these two specific ensembles, Collin simply responds: 'the looks chose me." The actress may not be on Instagram but maintains a finger on the pulse of the fashion world, checking out Chanel's new collections the second they show. "I love fashion. I think it's because it's like dressing up in costumes," she says. Often dressing around whatever the "vibe for the day is", Collin jokes that her mood-based dressing is probably the cause for why she is "often dressed very baggy like a teenage boy."
At the esteemed Venice Film Festival, the first look we spotted Collin in was look 46 from the Resort '24 collection: a black and multicolour glittered wool pullover with matching pants. "When I first saw the knitted 'jogging' suit I couldn't believe how cool it was," remarks Collin. "So to be able to rock it a couple of months later was a dream." And to the premiere of The Promised Land, Collin wore a black, dramatic devoré satin coat with matching pants, also from the Resort line-up (look 69, to be precise). The actress paired what she describes as her "Batman cape" which made her feel like "a superhero" with gilded accessories: earcuffs, and rings from the fine jewellery line.