Swedish label Madh enables you to customise your perfect pair of jeans. The label's founder Martin Gustafsson explains how
Swedish label Madh was founded with a simple mission: to challenge traditional notions of how a fashion brand operates through customisation and collaboration.
Madh's founder Martin Gustafsson met Nhu Duong, now Madh's creative advisor and guest designer, when working at Acne Studios. "I believe our shared experience of working at Acne 15 years ago benefits our creative process," says Gustafsson. Gustafsson and Duong teamed up to launch Madh this year, a denim brand centred around three collection lines: Core, Skins, and Colab. Gustafsson heads up the core collection, drawing on his long-standing experience of "making jeans" to lead the design. In contrast, Duong – with her years of experience as a fashion designer – focuses on the brand's Colab line, where the brand brings in external design talent to put their spin on Madh's denim.
"From the outset, our goal was to involve and engage our suppliers, giving them the opportunity to be a vital part of the process," says Gustafsson on the decision to engage experts from the start. Beyond design, the brand has worked with numerous industry experts in sustainability to launch on the right foot. "It's inspired Madh to adopt a more collaborative way of working", Gustafsson continues, "bringing together people with diverse mindsets to build sustainable solutions."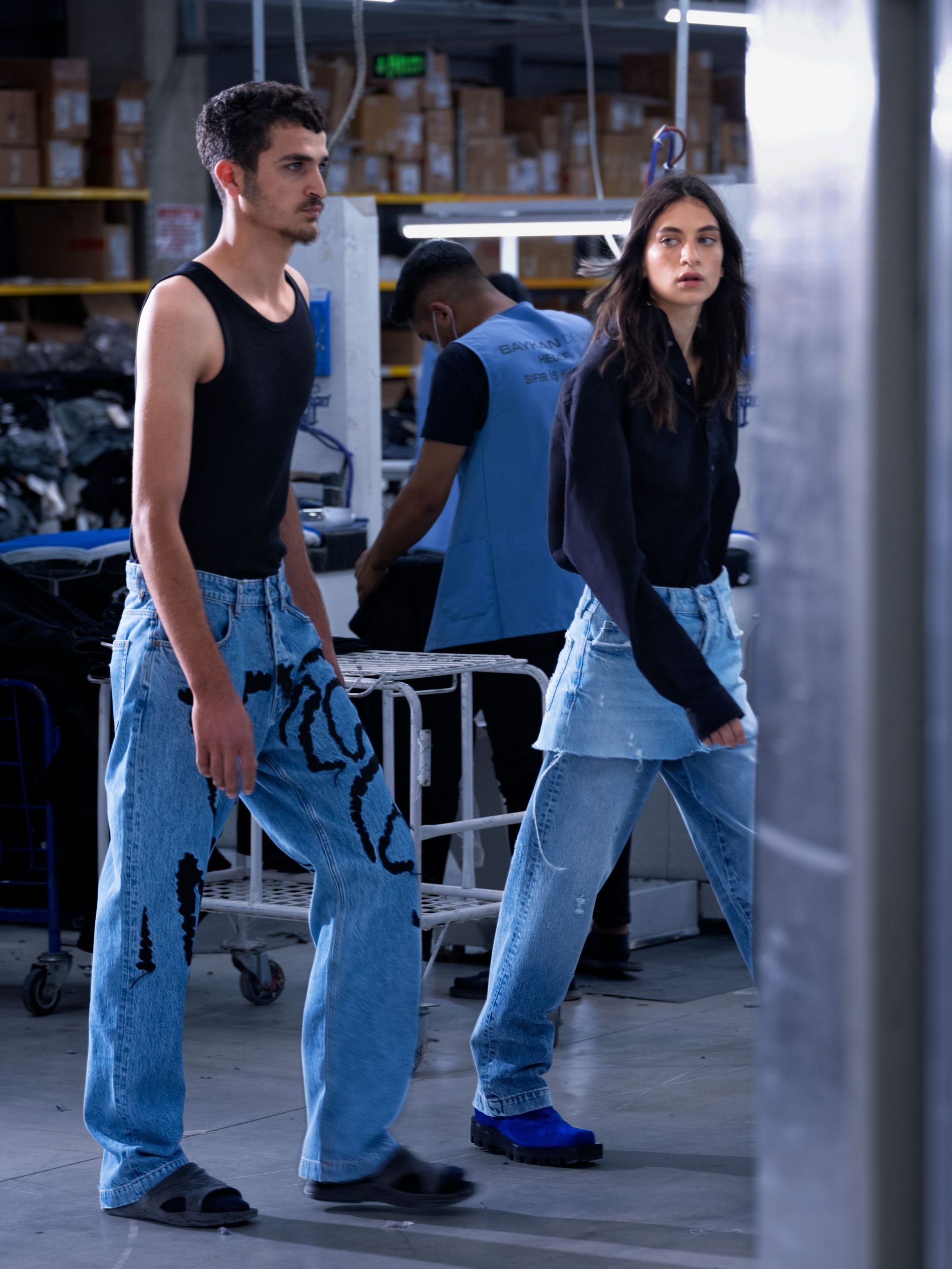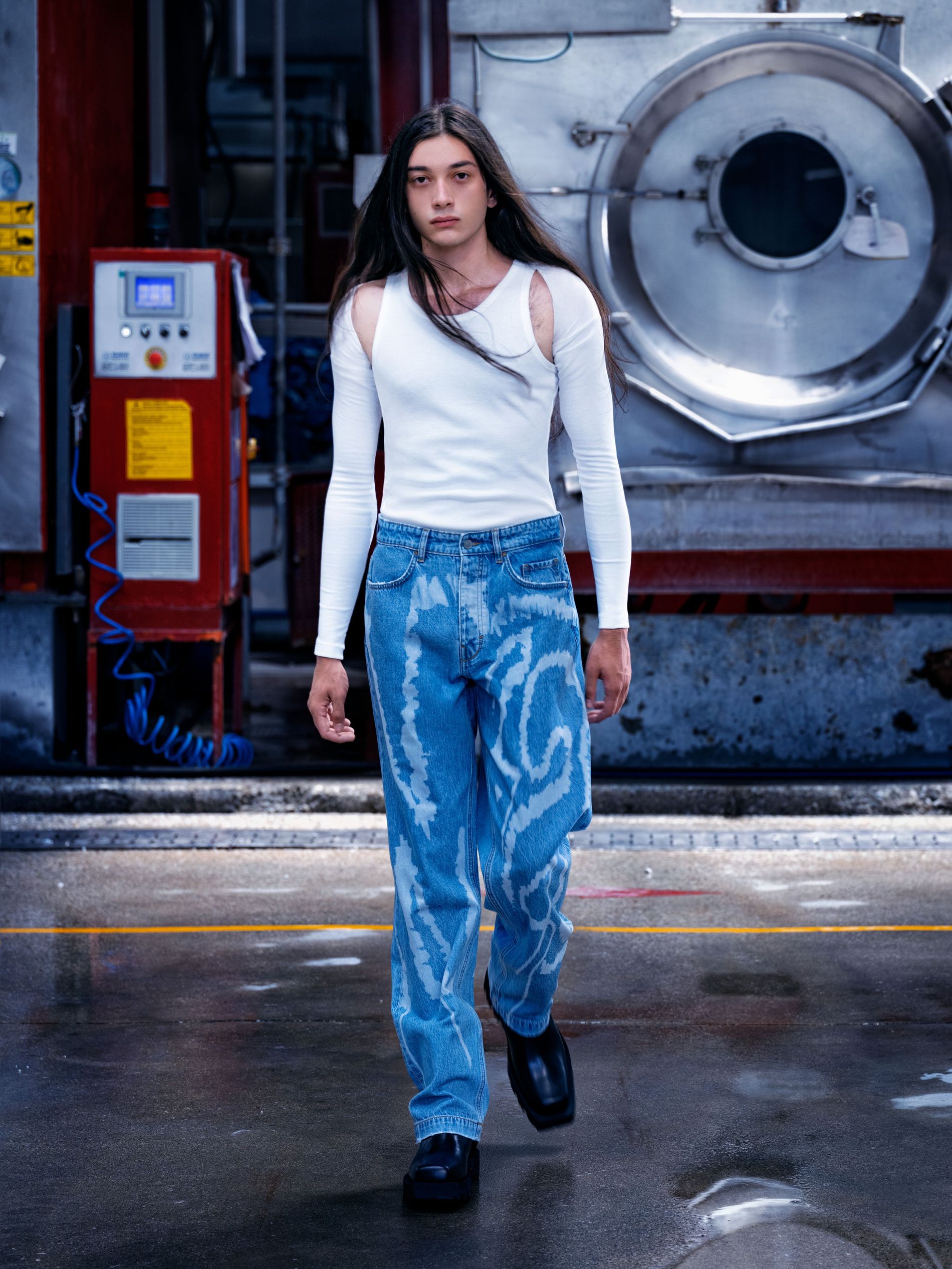 These collaborations lay the sustainably-minded foundation of the previously mentioned Core collection, Madh's seasonless collection of jeans for the everyday. In contrast to the central wardrobe pieces in the Core line, Colab is a creative hub. It works as a test function for new design innovation, inviting "guest designers to experiment with denim production." Fittingly, the first Madh' Colab' will feature a capsule collection by Duong, launching next season.
The Swedish-Vietnamese fashion designer and creative advisor has collaborated with artists such as Sung Tieu, Karl Holmqvist and Wu-Tsang, and consulted for brands like Toteme, Li-Ning, and Frame. The collection focuses on a selection of Duong's signature pieces from her past collections, together with Madh's signature styles, to create a capsule that "blurs the boundary between functional garments and formal attire, replicating denim's evolution away from work uniforms towards a canvas of self-expression," according to Gustafsson. Duong's limited edition capsule will be constructed with Madh's in-house garment maker, the Calik denim mill, ensuring no water usage for dyeing or finishing processes, relying on organic and recycled fibres only.
The 'Skins' function allows the customer to create a custom pair of jeans.
Last but not least – and arguably the most unique segment of the brand – is the customisation element Skins: the name given to Madh's online platform that allows customers to design their own dream jeans, made and tailored to their own exact preferences. "The garment you see on the screen is a true version of the 360-work done with our garment maker, designer and technicians," Gustafsson explains. "It has been tested across each step to ensure the on-screen image will match the outcome."
Skins guide you through a step-by-step process, where you, as the customer, can decide everything from the fit, length, material, and wash of the jeans to the wear and tear. "The details such as laser, patches and holes can be rendered digitally to visualise the effect," says Gustafsson. "We have a high-res photo of the jeans and then put all [the material's] properties into our system." This produce-on-demand model also holds real, sustainable benefits, where fulfilling orders of bespoke items "alleviate waste" and reduces overproduction.
So, if you want to design one-of-a-kind, hero jeans that can be delivered to your door in ten days, visit Madh's newly launched website. Alternatively, if you prefer to leave designing to the experts, "core" is also available to shop now.