In Vogue Scandinavia's April/May issue, editor-in-chief Martina Bonnier welcomes in spring by celebrating family, nature and a Nordic love of nudity
When Ingmar Bergman's Summer with Monika (Sommaren med Monika) hit theatres in 1953, the international view of Swedes was forever changed. Starring a beguiling Harriet Andersson as Monika, the film was met with international controversy for its frank depiction of young sexuality. It ultimately gave way to the notion of 'Swedish Sin', referring to the – allegedly – debauched lifestyle enjoyed by Swedes.
In reality, this view of the free-wheeling Swedish blonde is a false interpretation. In Sweden, to be naked is entirely undramatic. Growing up in Sweden and Denmark, I recall my grandfather being naked in the garden. As children, we ran nude along the beach. It was never a big deal, just a natural way of being.
Our cover star, Swedish supermodel Elsa Hosk, puts it best: "It's not a sexual thing. When you come to America, being naked is all about sex."
This iconic cover of Elsa, who appears alongside her partner, Tom Daly, and their daughter, Tuulikki (named for Elsa's Finnish mother), is captured by celebrated Norwegian artist Torbjørn Rødland. Rødland is a master at evoking intimate moments and emotional messages in his photographs, which have been exhibited at the finest galleries and museums worldwide. This image of a naked family, sitting casually in the garden, is an ode to the Nordic love of nature, captured in an image that is both magical and romantic.
Vogue Scandinavia
Elsa Hosk - Apr-May issue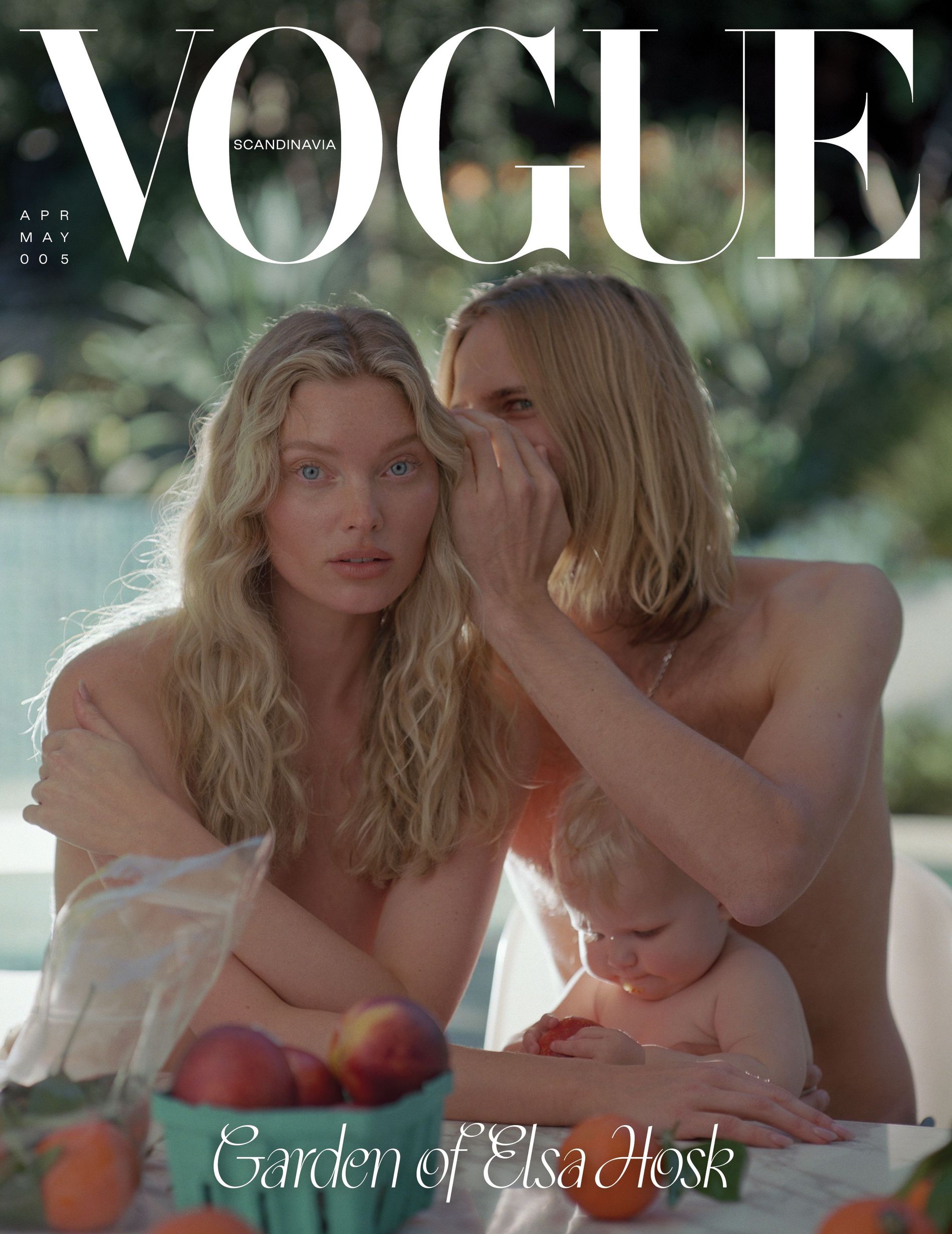 The Hosk-Daly clan is not the only family in this issue, which explores the enduring and fundamental notion of family in its many forms. Norwegian designer Peter Dundas and his partner Evangelo Bousis welcome us into their new Los Angeles oasis, where they balance running a fashion empire with raising their new baby, born last year by surrogate. We also explore the complex adult mother/daughter relationship of actresses Pernille and Alba August. Finally, we look at the notion of chosen families, encapsulated by a beautiful personal essay by celebrity eyebrow stylist Thomas McEntee. The story describes the experience of being cast out from one's home and the life-or-death importance of finding a family to call your own.
We also feature an enthralling short story written exclusively for Vogue Scandinavia by rising literary star Moa Backe Åstot, whose work shines a light on Sámi culture. Here, she speaks of Sámi mythology and the bonds of family. The work is joined by the work of celebrated embroidery artist Britta Marakatt-Labba.
These stories are all emotional and complicated, but above all they are full of love and passion. Speaking of passion, this issue also features Danish curtain designer Arne Aksel, whose obsession with drapes has made him one of the most sought-after window dressers worldwide. Love takes form in our fashion editorials as well, by way of a red-hued bag story and a watch and jewellery story, highlighting the sort of extraordinary items that become family heirlooms.
We also welcome the spring – when our region comes to life – in editorials starring vibrant sparkles and beach-ready nautical stripes. As always, our Vogue Scandinavia family approaches these stories – the stories of our region – with endless affection and admiration. We hope you will feel this throughout the pages of this issue and beyond.
Martina Bonnier, Editor-in-Chief