As the famed British artist Jamie Nares prepares to exhibit in Stockholm, she shares why her Valentino Couture moment was a, "huge gift," to transgender artists everywhere
When fashion and art co-exist in the same universe magic happens. This was the key takeaway from my 30 awe-inspiring minutes of conversation with renown British artist, Jamie Nares, whose famous brushstrokes recently rocked the Valentino Des Atelier Haute Couture Fall/Winter 2021-22 runway in Venice — a major moment of recognition and representation for trans artists everywhere.
As creativity goes, one's artistic evolution often roots itself in the deeper belonging for identity and community. At the age of 20, as she voraciously sifted through fashion magazines from afar, Nares packed her bags and left London. She inserted herself into the cultural melting pot that was 1970s New York City to pursue painting - a natural talent that was nurtured in her at a young age.
"It was always the American artists who interested me the most. At the time, nobody else in England seemed to be interested in them," Nares began. "I understood the broader context of what was considered the 'art world', which then, was very small in the pocket of travel — but it was great, because everyone was there. You ran into people on the street, in bars and in restaurants and that was a very exciting time for me as an emerging artist," Nares says with a reminiscent smile on her face.
Related: Artist Arvida Byström on bitcoin, Beanie Babies and her new solo show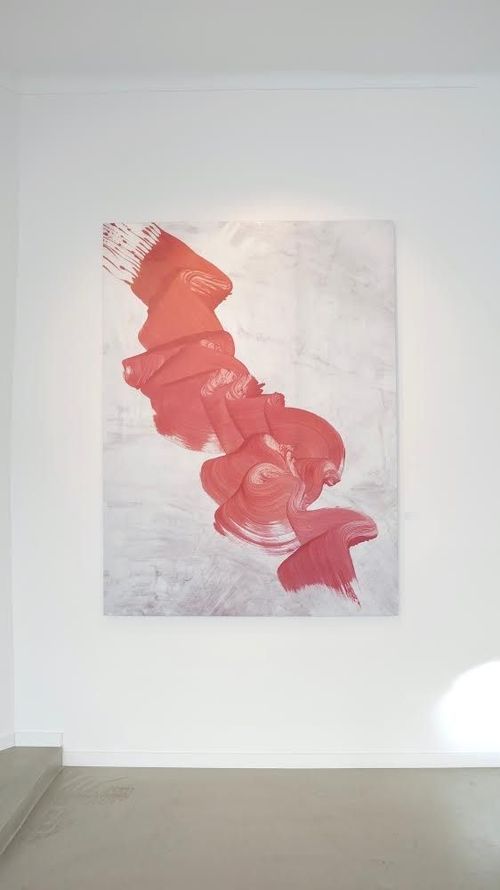 Jamie Nares' famed brush strokes. Photo: Jamie Nares
It was amidst this cultural re-birth of a movement that Nares found her inspiration, purpose and identity as an artist. "The people I was most interested in at that time were the people using video and new kinds of media - like Vito Acconci or Bruce Nauman, as well as artists like Richard Serra. Funnily enough, I'd already started making paintings, but it was Francis Bacon who was my great hero," she adds.
The way she reflected on this era was one of magical, multidisciplinary collaboration within parallel universes of the same realm: creation. I ask what complexities she discovered between the world of art and fashion. "I first became interested in fashion in the 1970s, when suddenly there was this major shift within the New York art world, and people from all kinds of disciplines were connecting and learning something from each other," she explains. "There were musicians, painters, filmmakers, dancers, and people in the world of fashion, all mixed together. That was the seed that was planted in my understanding of the world of fashion."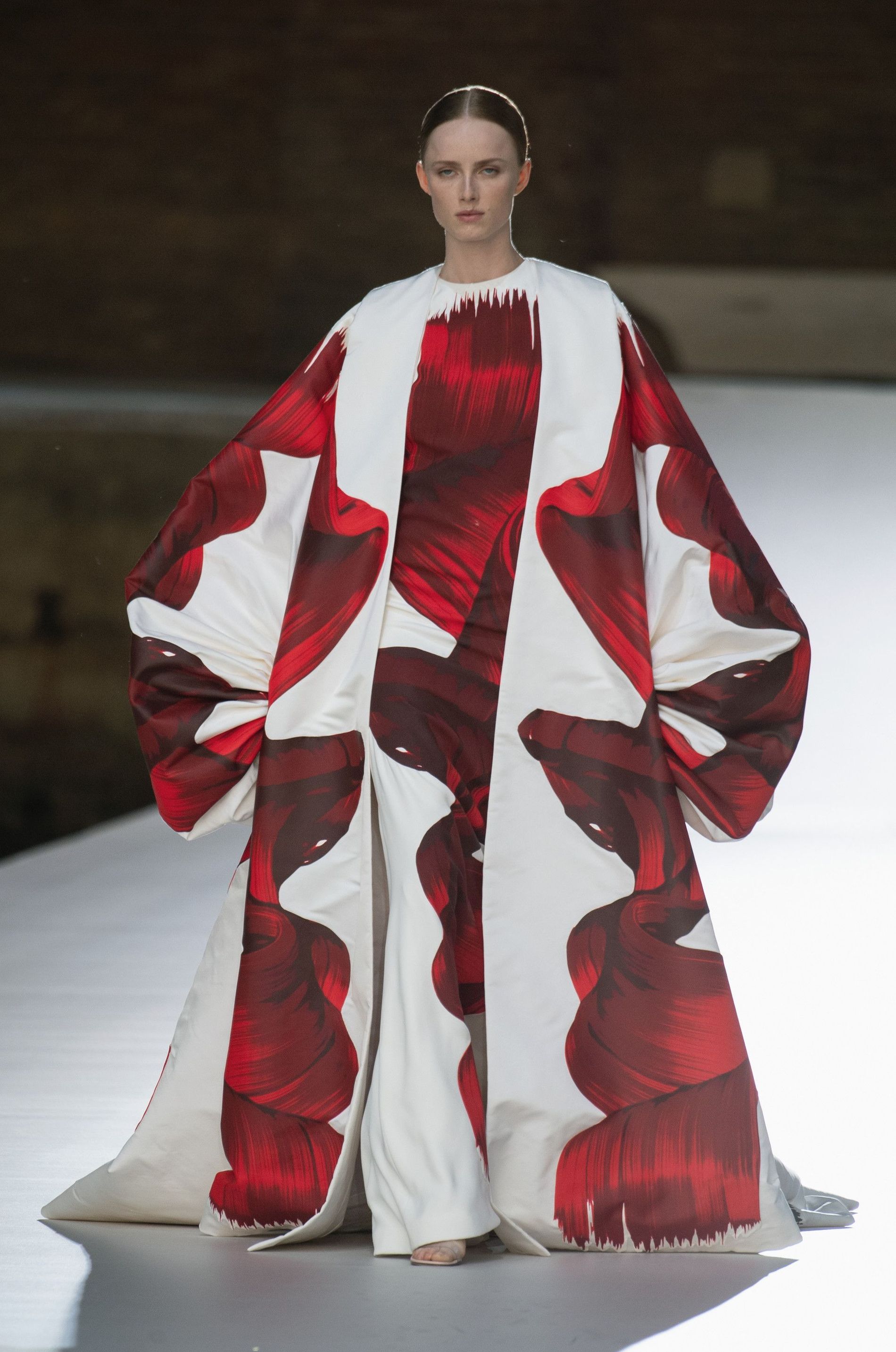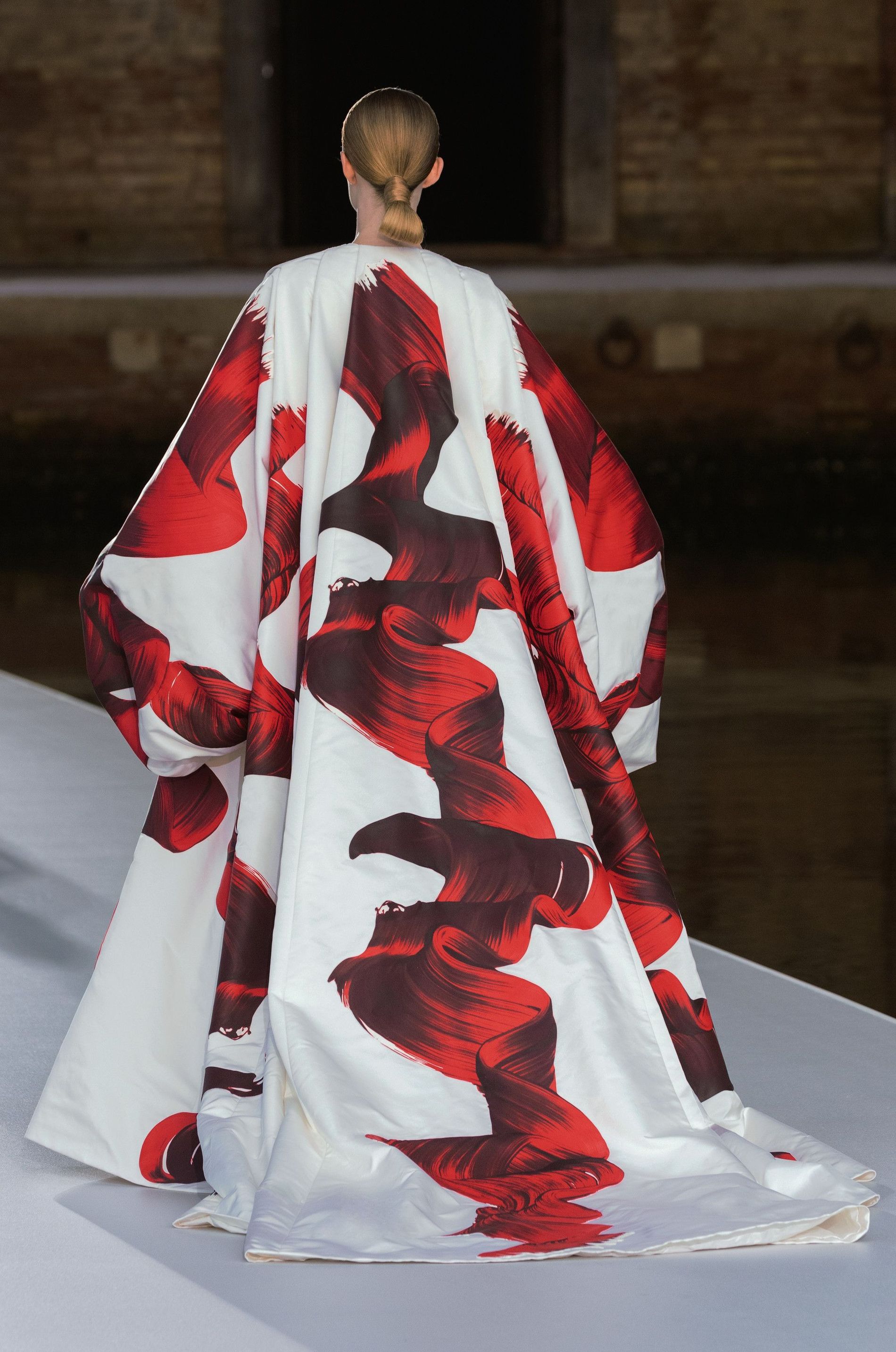 In her earlier career, Nares collaborated with fashion names like Rei Kawakubo of Comme des Garçons, Coach and more. "But nothing quite on the scale of Valentino," she adds, as my eyes sparkled with an eagerness to hear more about how her relationship with Pierpaolo Piccioli and the house of Valentino came to be. "Consciousness altering," she described it as.
It all began with Gianluigi Ricuperati, Piccioli's personal artist curator. "Gianluigi came to me and asked if I'd be interested, and I didn't really understand what it meant to be truthful, but the more I looked into it, the more interesting it became. I had a long zoom call with Pierpaolo and we really hit it off. I was in my studio and their whole team was in the Valentino studio and we just had a very sympathetic understanding between one another. Pierpaolo, who's a genius, understood my work intuitively, and likewise."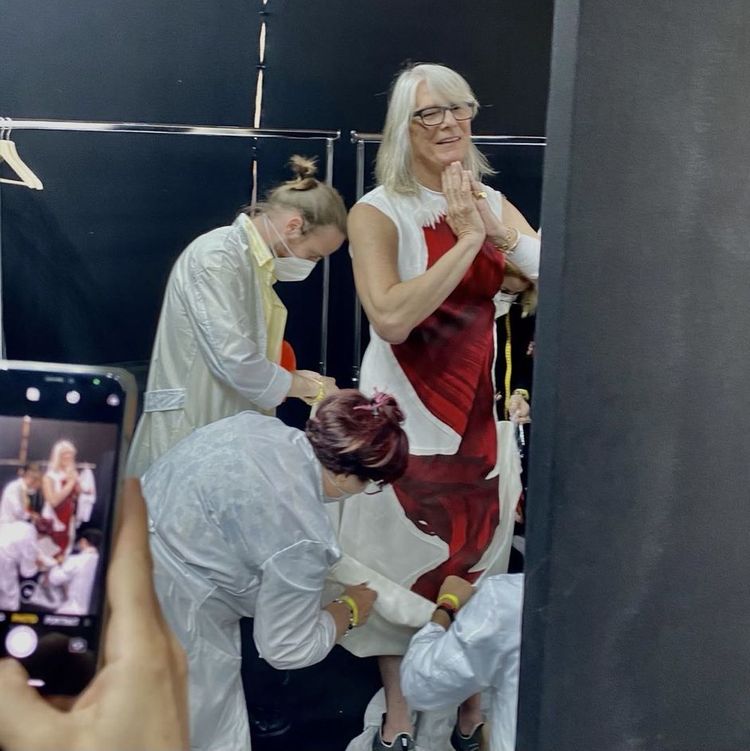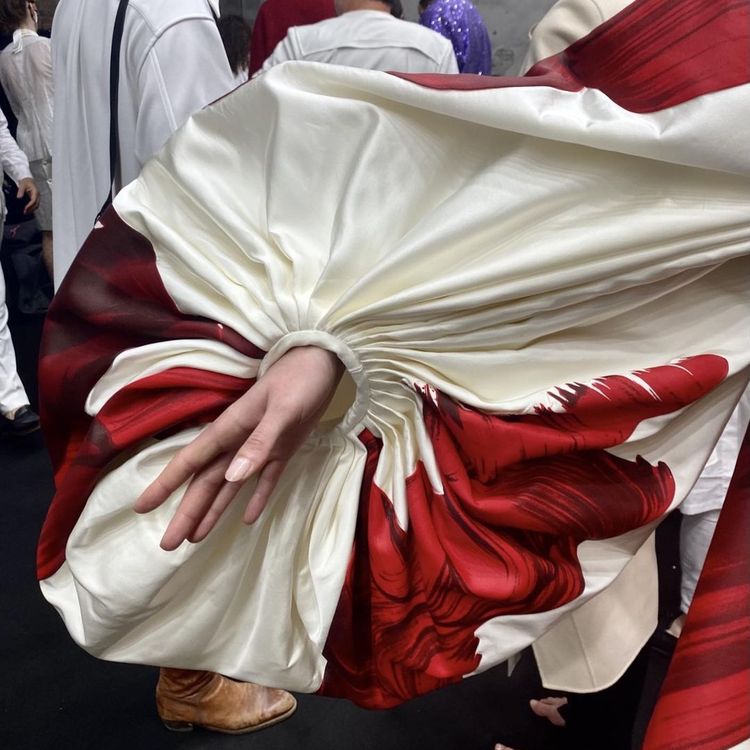 Leading up to the show, Nares and the Valentino team co-created the couture gown that so perfectly-captured Nares' well-known brush-stroke medium and the classic haute couture craftsmanship. "It was a marriage between the movement and the fabric itself — a beautiful kind of animation of my world. And the fact that Pierpaolo Piccioli put me as the final outfit and talked about me in interviews was a huge huge gift to me personally and to other trans people."
I ask what she is hope to change with her art as our call came to an end. Without hesitation she laughed, "I'm not really out to change the world. I just want to plant the seed of my art, in my interpretation of my existence. And lay that out for absorption by whoever's interested. I don't want to change the world. I want to change the way people see the world."
Related: Artist Daniel Jouseff explores his identity through neon and hip hop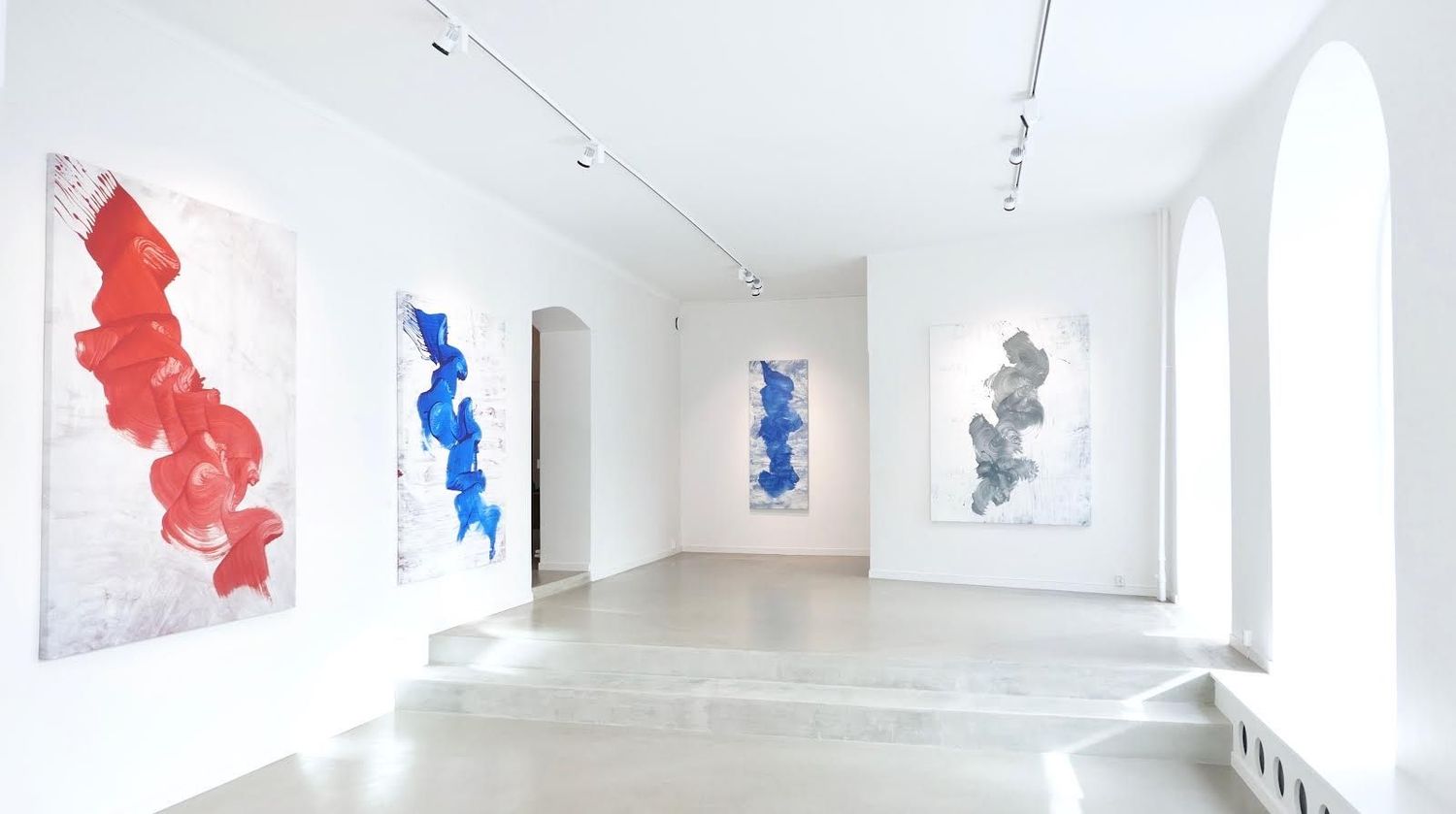 Photo: Jamie Nares
Lucky for Stockholmers, the magic of Nares' worldview will be exhibited through December at the Carling Dalenson art gallery, for her debut Scandinavian art show. Lifting up the same medium of brush strokes that moved people to tears in the seats of Valentino's latest show, this time speaking volumes of, "minimalism," in motion. "I've always thought that my work had potential for European audiences, while rooted in the American kind of sensibility that is a clean, clear, momentary thing. I hope viewers get a feeling of discovery when they first encounter them — and, as John Malkovich once said — 'like photographs of the mind.' "
Spoken like a true artist of the world.