This year marks two decades since acclaimed Danish-Ghanaian designer Josephine Akvama Hoffmeyer made a decisive career switch that changed everything. At the age of 28, she turned her gaze from music to interior design. Today she's considered a colour composer of sorts; her unparalleled use of painterly shades, both bright and muted, material and pattern breathe life into every single space she touches
It's been one whirlwind of a week for Josephine Akvama Hoffmeyer, founder and creative director of Copenhagen-based design studio File Under Pop. Her brand has just launched paint shop Color Lab, a way to illustrate how certain colours work together. She's grateful for all the attention, without a doubt, but being this busy is not quite her shtick. Better yet, in her design process it's crucial for her to take things slow.
This morning we catch her over Zoom, all smiles and a warm honey filled voice streaming through the speakers. The team is in the midst of 3 Days of Design, after just returning from Salone del Mobile in Milan. "In this field it's like a carrousel, going up and down. I usually make a point out of slowing down, to be conscious, present, and aware of all I do," she tells me. "You see, at File Under Pop we treasure products – tiles, paints, wallpapers, fabrics –that have been produced over time, crafted by individuals. It's about honoring the materials, putting in your humanity, your love, because I feel everything we interact with, whether people or objects, should have a soul. In the end, I want this sense of honouring our time to inspire how I feel we should all live."
Her daily routine therefore includes transcendental meditation. "I'm the boss in my life, so I need to allow myself those twenty minutes in the morning and evening to be still and not be anything to anyone."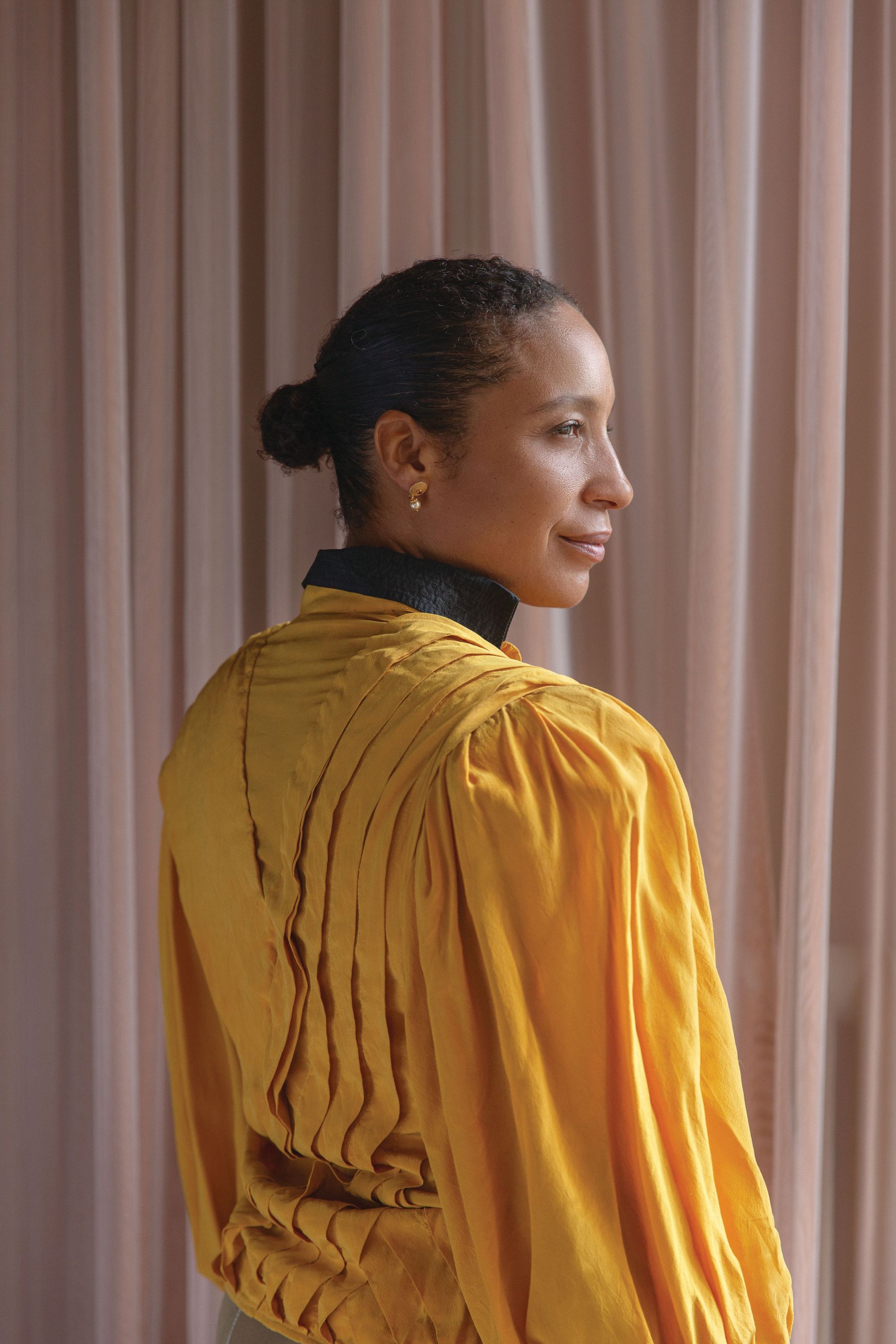 Josephine Akvama Hoffmeyer was drawn to design after visiting Mount Etna in Sicily. Photo: Cecilie Jegsen
Her journey into the art of tiles catapulted after visiting the ancient volcano Mount Etna in Sicily, while living in Italy. "I fell completely in love with lava stone, this massive soil, just lying there for thousands of years. It vibrates with tremendous power! And when transmuting into carefully glazed wall and floor stones you include all the elements: fire, water, soil, air. That makes it a very emotionally charged material," she explains. Back then, the tile industry was rather bland. "Just white tiles used for practical purposes in the bathroom."
Consequently, it was rather easy for her to explore a different avenue and make herself known. Twenty years on, she cladded multiple spaces in hand-made tiles and dyes: from Hermès stores to private apartments the world over, from entire living rooms, floor to ceiling, to baseboards. In turn, she gave up a career as a musician, having studied music in New York. Fun fact: many of her paint colors are named after popular songs like Jimi Hendrix's Purple Haze and Prince's Raspberry Beret. Not to mention, her daughter Alba has recently entered composition at the Rhythmic Music Conservatory.