The one-of-a-kind couture collector shares the personal stories behind five key looks at new exhibition 'The Dress Makes the Man, Haute Couture – A New Era' opening later this week at Stockholm's Liljevalchs gallery
Since investing in his first haute couture creation just under 10 years ago, Fredrik Robertsson has amassed an outstanding collection of meticulously selected garments – originally designed for women – which have been tailored to his body. With his eye-catching, gender-fluid style he has become a style role model and a muse on the international fashion scene, at a time when the boundary between female and male has been blurred and feminine-coded garments such as the dress and the skirt have entered the male wardrobe.
Being one of very few men who custom orders hand-sewn creations from Parisian haute couture houses, Robertsson has one of the leading figures in the new wave of couture clients. Acknowledging and celebrating this, a new exhibition called 'The Dress Makes the Man, Haute Couture – A New Era' curated by Susanna Strömquist will open at Stockholm's Liljevalchs gallery this Friday 13th October, showcasing some 40 of Robertsson's most spectacular garments from leading fashion houses including Balenciaga, Iris van Herpen, Schiaparelli, Valentino, Viktor & Rolf and Vivienne Westwood, as well as from experimental designers such as Casey Curran, Richard Quinn and Robert Wun.
"I have always felt limited by traditional menswear. I love extravagance and decadence – volume, colours, shapes, the avant-garde – creations that are not created for us men in the same way as for women. What drives me to commission haute couture is that I get the opportunity to experience the most beautiful fashion in the world and to realise my fashion dreams with the very best in the industry," Robertsson explains.
Here, Robertsson gives us a sneak peek of five stand-out looks from the forthcoming exhibition and catalogue, with the personal anecdote behind each couture creation.
Alexis Mabille: "We need bigger bows"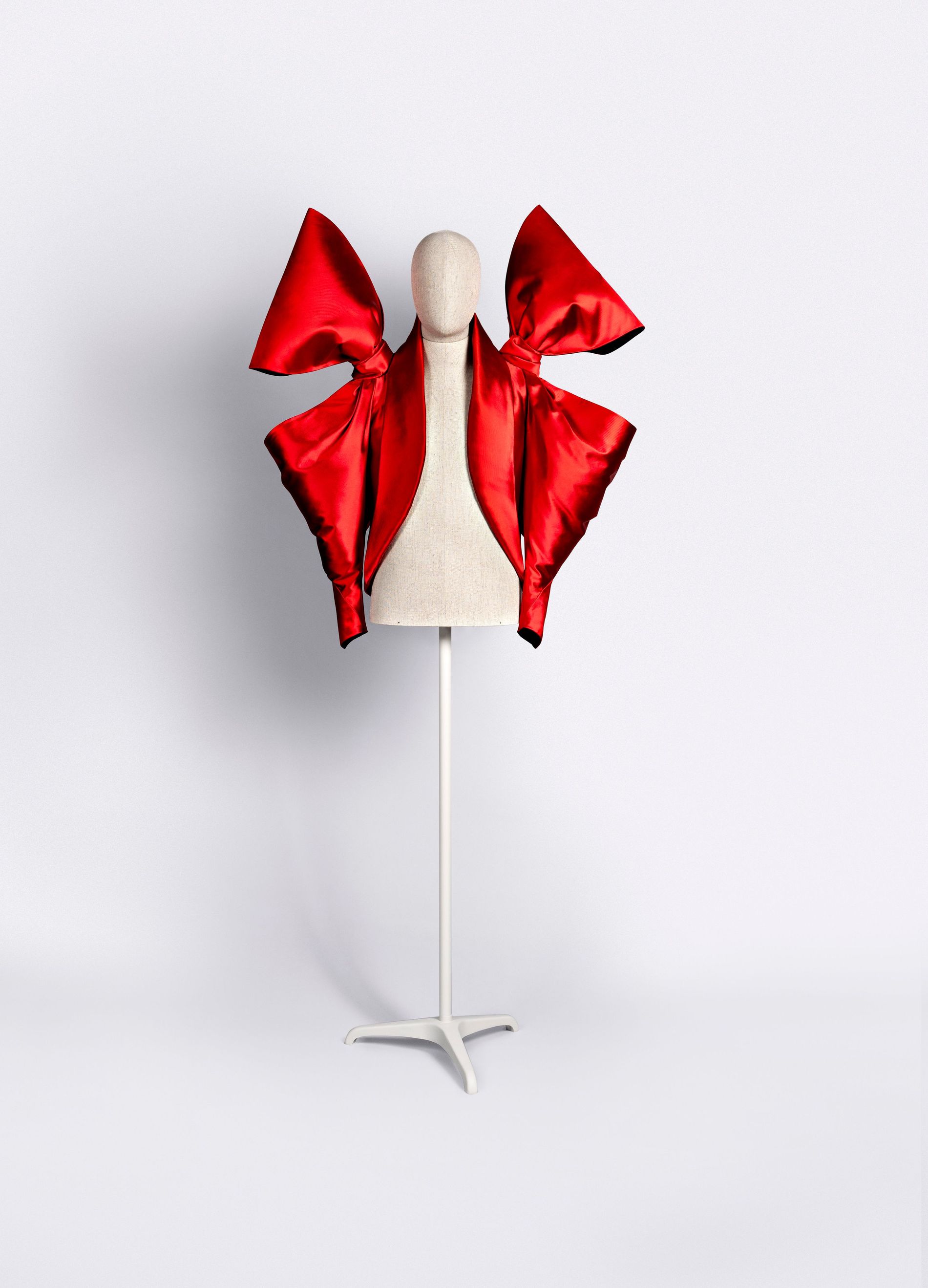 Photo: Vanessa Tryde
"'We need bigger bows', Alexis Mabille said during the fittings. Et voilà – big bows it is! This was the first haute couture outfit I commissioned from scratch. It was fascinating to watch Alexis Mabille adapt an outfit that he had designed for a woman, for me. On one occasion he invited me home to his apartment in Paris and we tried on the outfit in his foyer."
Balenciaga: "Pure fashion magic"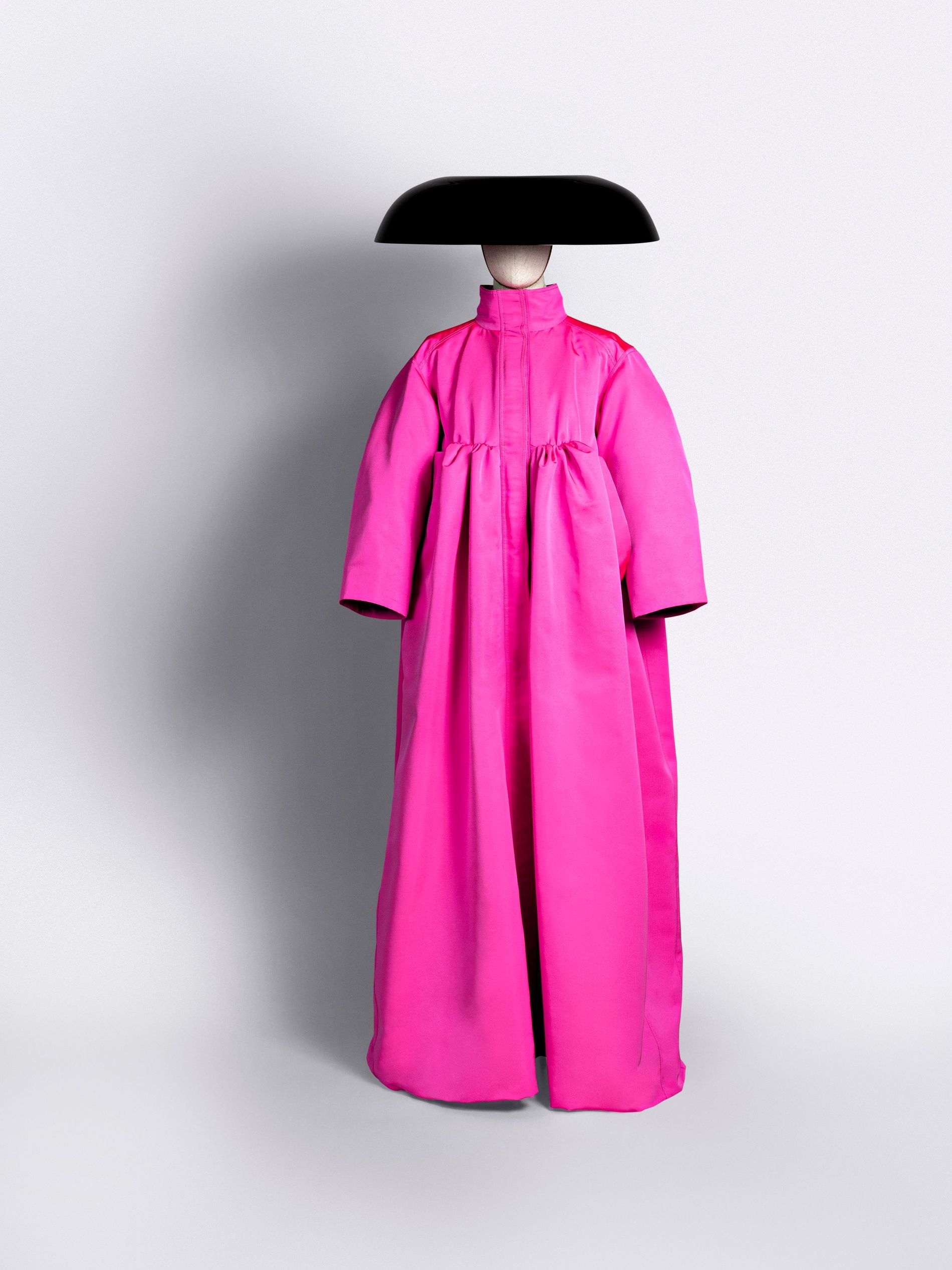 Photo: Vanessa Tryde
"Commissioning this pink parka was pure fashion magic – from start to finish. It was emotional to visit the showroom and see Demna Gvasalias' debut collection for Balenciaga, the house's first in over fifty years. It felt as if the founder Cristóbal Balenciaga's spirit was watching over us in the iconic space. Demna's intention is to create couture for a new era and a new clientele. I became the first man who commissioned one of his creations. I haven't worn it yet. Some pieces I purchase more as pieces of art, this is one of them."
Jean Paul Gaultier by Glenn Martens: "A powerful entrance"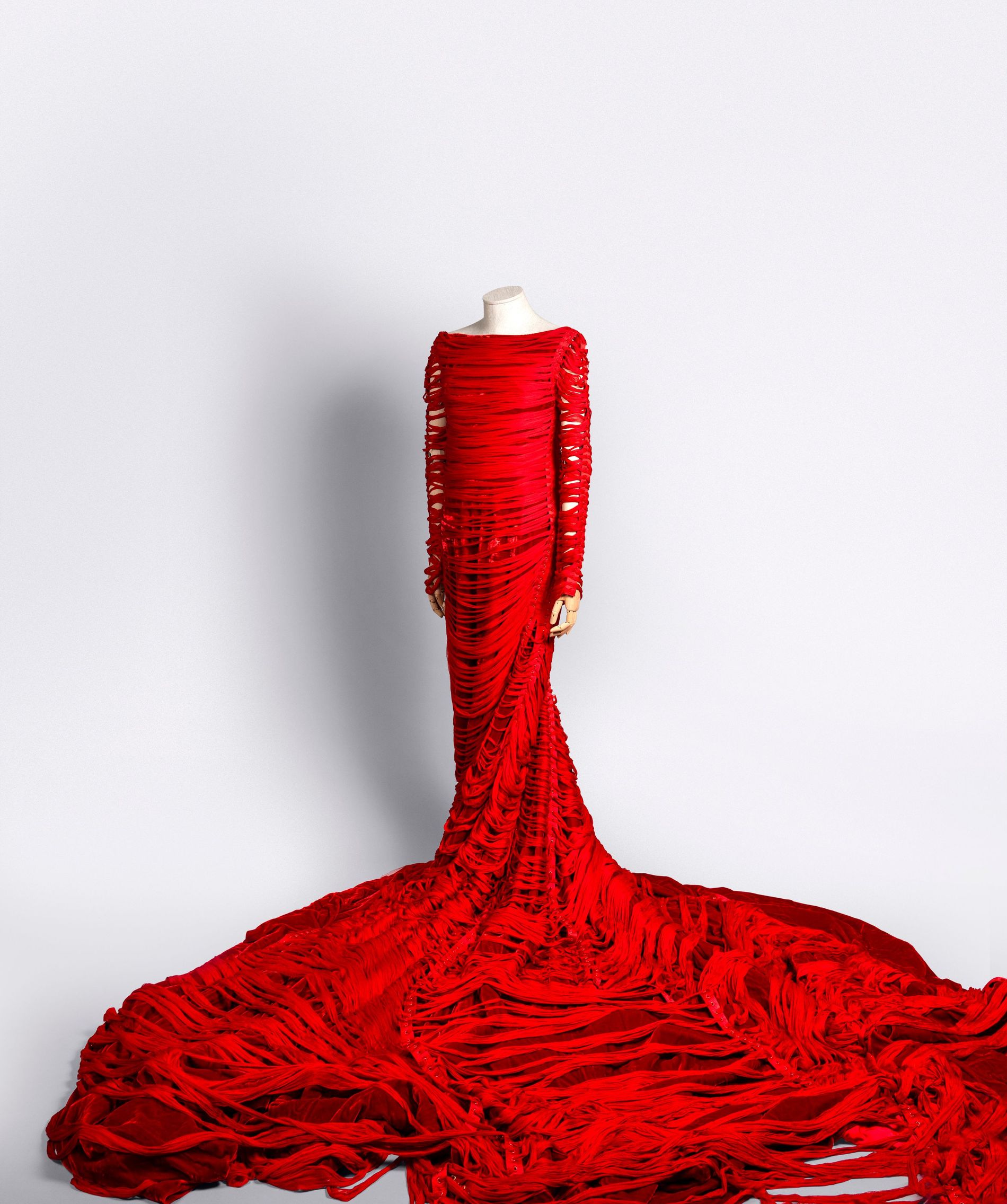 Photo: Vanessa Tryde
"With this dress, I wanted to make a powerful entrance at Jean Paul Gaultier's show. The big question was how I was going to be able to walk with the heavy train. I was given permission to bring two friends with me as my "assistants". It so happened that they were porn stars from Germany. The team from Gaultier thought it was a fun idea and created hats and underwear for the boys. The whole entrance became a performance. I sat front row with my nearly nude company – just across from Anna Wintour. The dress is designed by Gaultier's guest designer Glenn Martens."
Vivienne Westwood Couture: "A tribute dress"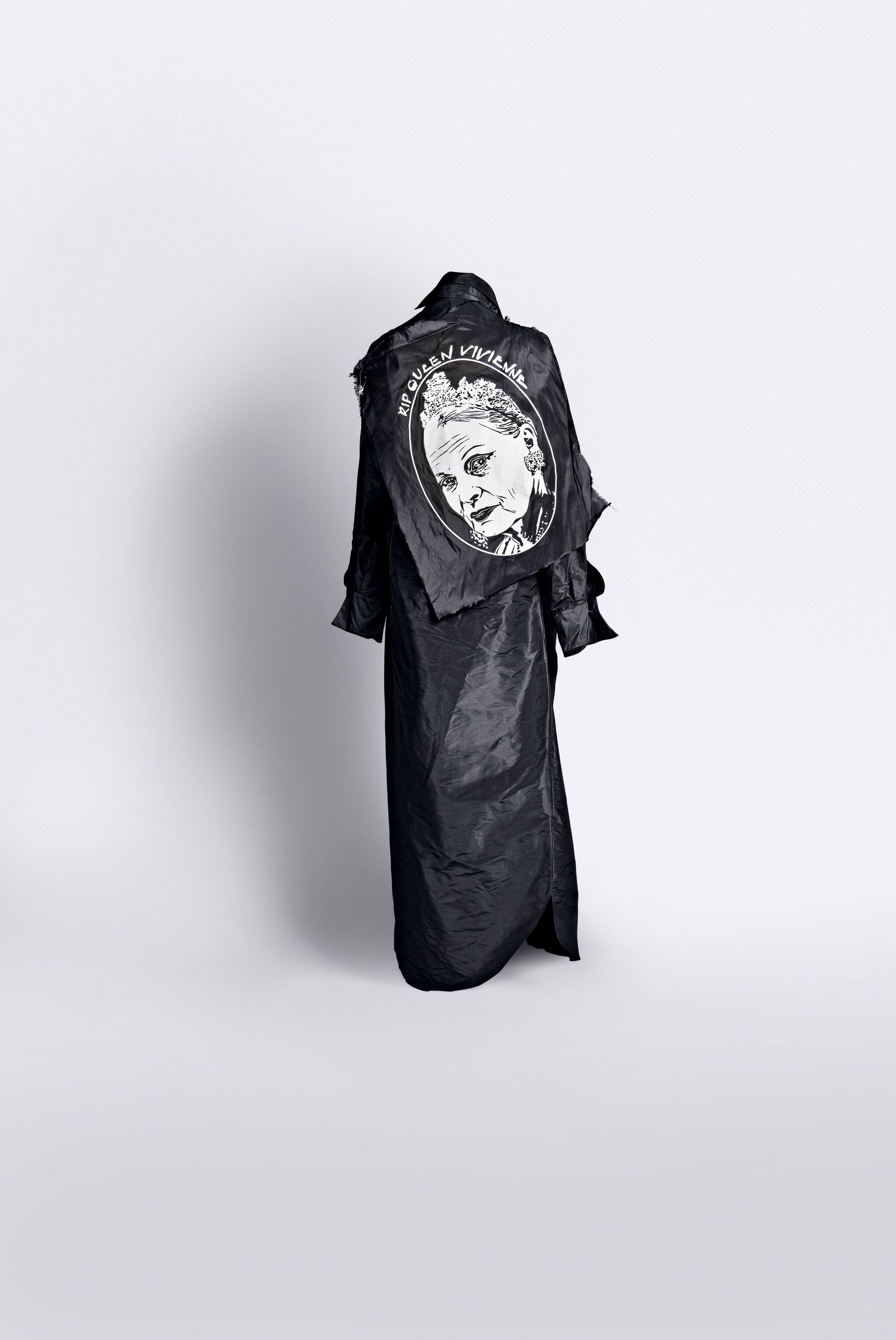 Photo: Vanessa Tryde
"Vivienne Westwood was my big fashion idol. An icon, the woman behind punk. I wanted to create a tribute dress for her funeral. The design team replaced the Queen's portrait with one of the fashion queen herself in the famous 'God Save the Queen' illustration from Sex Pistols. As a youth, I saved up to be able to afford Westwood's clothes and I even tattooed her logo on my arm to receive a discount at the store in London."
Camilla Thulin: "Iridescent metallic"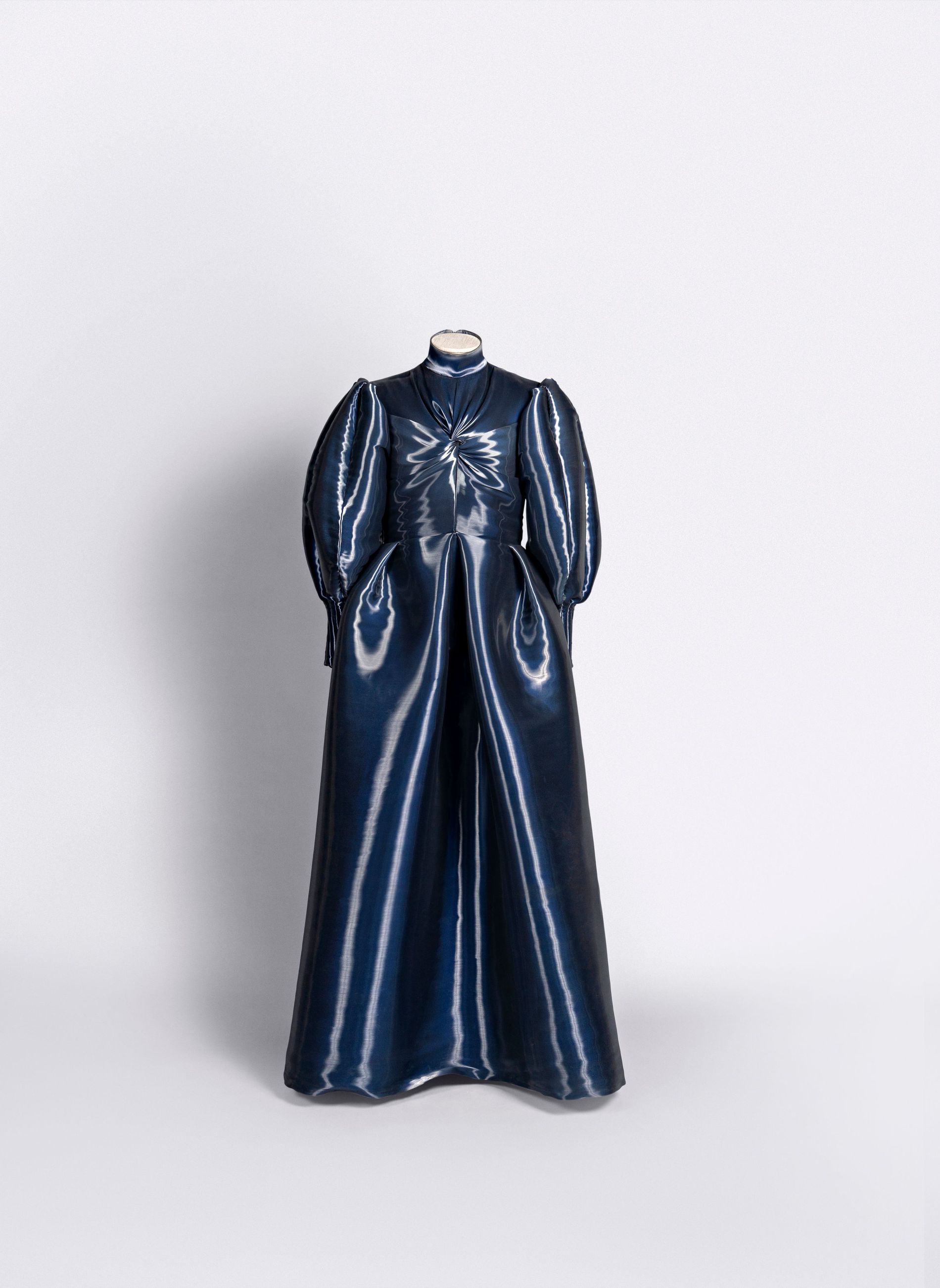 Photo: Vanessa Tryde
"There is a Fredrik before this dress and a Fredrik after. I wore it to a show in Paris – and the attention it generated was enormous. Vogue.com captured me in a photo and published an article with the headline 'Who Was the Fabulous Mystery Man at Valentino's Couture Show?' The iridescent metallic dress is created for me at Camilla Thulin's atelier in Stockholm."