On the anniversary of fashion's deadliest accident, Fairtrade and Swedish sustainability advocist Emelie Norberg ask you to consider the women you have to thank for your clothes
When looking for something to wear, you'd usually be after finished garments. But a new collection is making a meaningful case for then half-finished.
This week is Fashion Revolution Week, and marks the 10th anniversary of the Rana Plaza collapse in Bangladesh, a tragic event and history's most harmful textile factory accident. One that brought light to the inhumane consequences of fast fashion. Similarly, Fashion Revolution Week turns the spotlight to the background operations behind our garments are brought to the surface, and brands are prompted to take proper accountability. Because the reality is that the fashion industry employs over 60 million people in Asia alone, most of which do not earn the living wage.
In light of this, Emelie Norberg has collaborated with Fairtrade to spotlight the sad truth that parts of the fashion industry still turn a blind eye to such conditions. The collection itself is made up of seemingly incomplete garments: a visual representation of the workers that are still working for only half a living wage.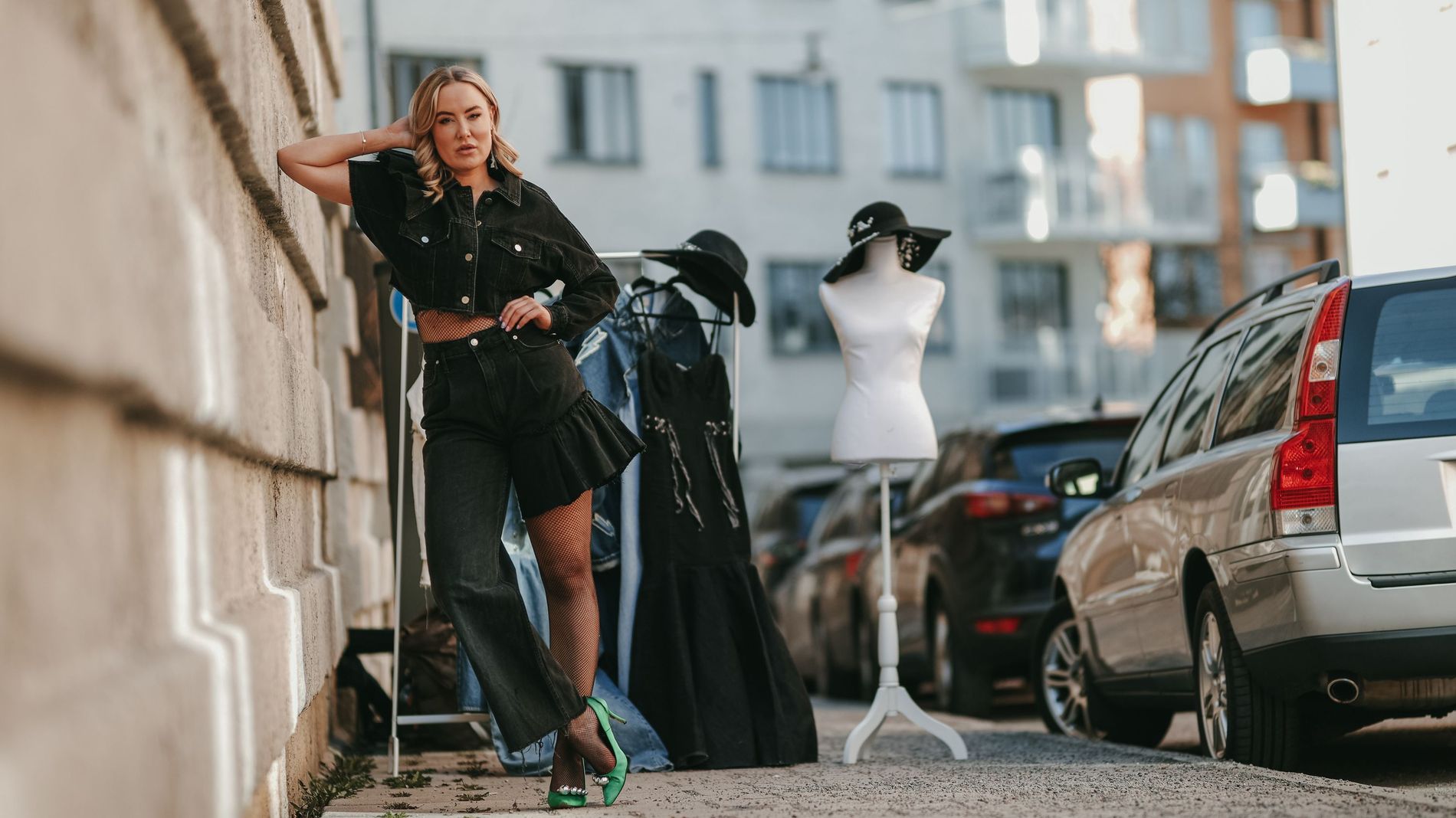 Norberg is a Swedish influencer whose entire profile and image are dedicated to finding ways to inspire and help people to live more sustainably – with more care and consideration for the consequences of their habits and purchases. Today, her wish is for those privileged enough to buy ready-made and complete garments to reflect on the people that made them; the long line of women who are the reason that you can wear every item on your back. "As a seamstress, I know the work behind each garment. That women in the textile industry toil 12 hours a day and still cannot support themselves is completely unacceptable," says Norberg. To Fairtrade, it's vital to open the consumers eyes, so they can make informed choices about what they buy. "If we were to get what we pay for, this is what it would look like: half a salary, half an item of clothing. We hope that the collection will make more people open their eyes to how bad things are in the industry" says Amira Malik Miller, policy officer at Fairtrade Sweden.
That women in the textile industry toil 12 hours a day and still cannot support themselves is completely unacceptable
Emelie Norberg
And today there's a chance to support change, to prevent women from the current situation that Malik Miller paints, of "working six days a week, but still unable to eat their fill, pay for healthcare or their children's education." Not only through making morally-informed purchases, but with the initiative 'Good Clothes, Fair Pay', the largest collection of signatures asking for change, the European Commission could be forced to investigate the laws surrounding textile workers' wages. But, it needs a million signatures for them to do so.
"Sharp legislation is what is required, making it clear that companies must take responsibility and respect human rights and the environment. Making companies to review their unsustainable business models and pay fair living wages, by law," continues Malik Miller. We'll make it easy for you, because support is as easy as putting your name to something you believe in, which you can do here.
Norberg's collection is not only about spreading the word, though. It will be auctioned on the second-hand platform Tradera throughout this entire week, with the entire proceeds going to an organisation in Bangladesh that supports the rights of textile workers.
The collection, 'For women who are never seen', can be found on Tradera between 22/4 and 7/5. All proceeds go to supporting the rights of textile workers in Bangladesh. The 'Good Clothes, Fair Pay' initiative can be signed here.