Emelie Lindmark, content creator and founder of the brand Le Capsole, donned a trio of gowns designed exclusively by Rosa Clará to recently say "I do" to her partner Gerard Sabé. Here, Lindmark gives us a glimpse into the making of the bespoke couture creations
"I didn't stop smiling during the whole day!" exclaims Emelie Lindmark, Swedish content creator and brand founder of Le Capsole, when asked by Vogue Scandinavia about her recent nuptials to model Gerard Sabé. "I had my dream dresses on, and the people that I love the most around me. It could not have been better," says Lindmark, who is based in Barcelona where the wedding celebrations took place.
The dresses in question were one of the most significant elements of the day, with Lindmark donning three separate gowns – each a haute couture design, created in close collaboration with Spanish design house Rosa Clará. "I have been working with Rosa Clará for six years and I've been wearing their dresses to many events and weddings," says Lindmark of her bond with the couture house. "So for me it was really clear that, if one day I'm getting married, it would be in a Rosa Clará dress!" she says.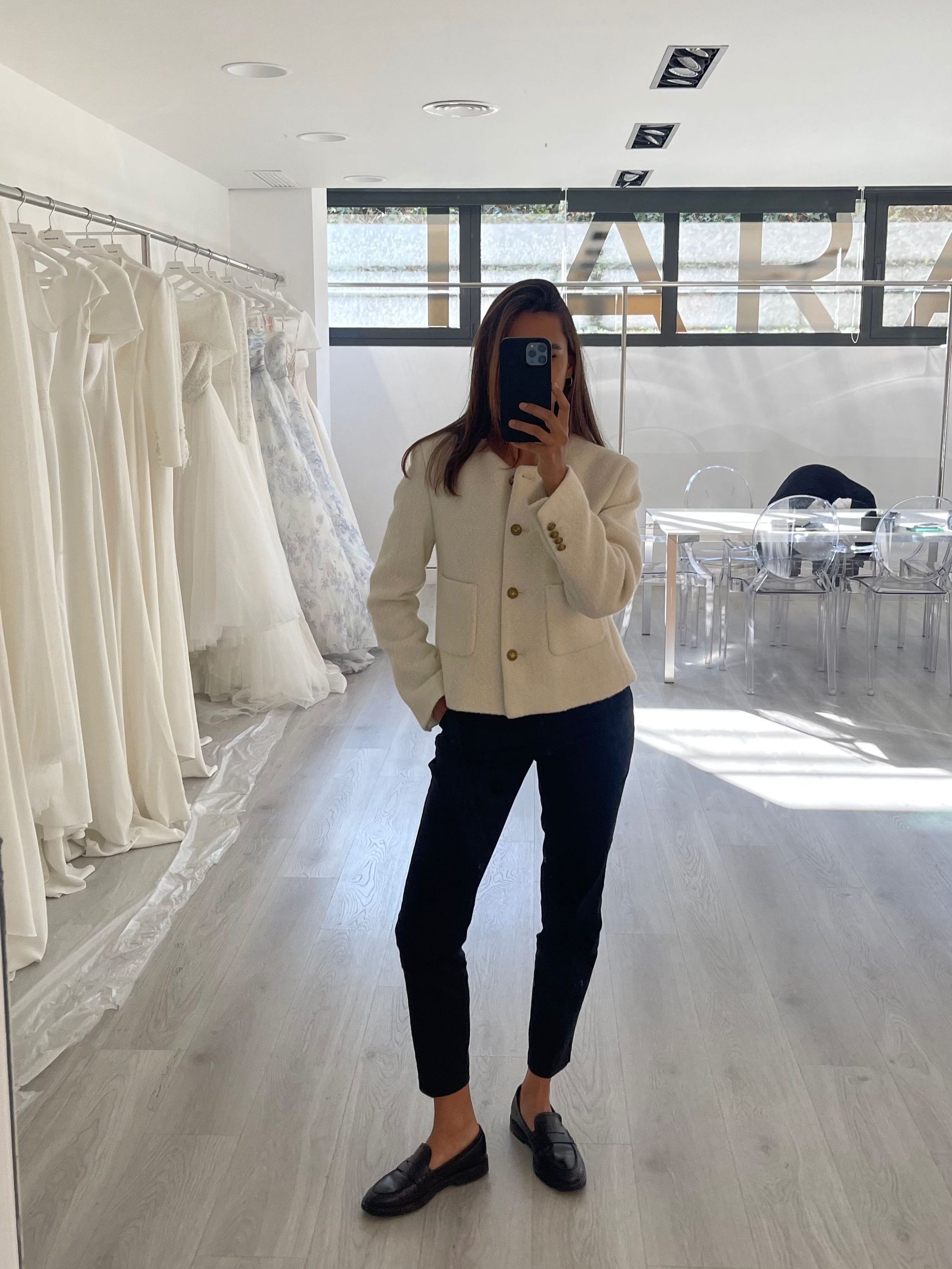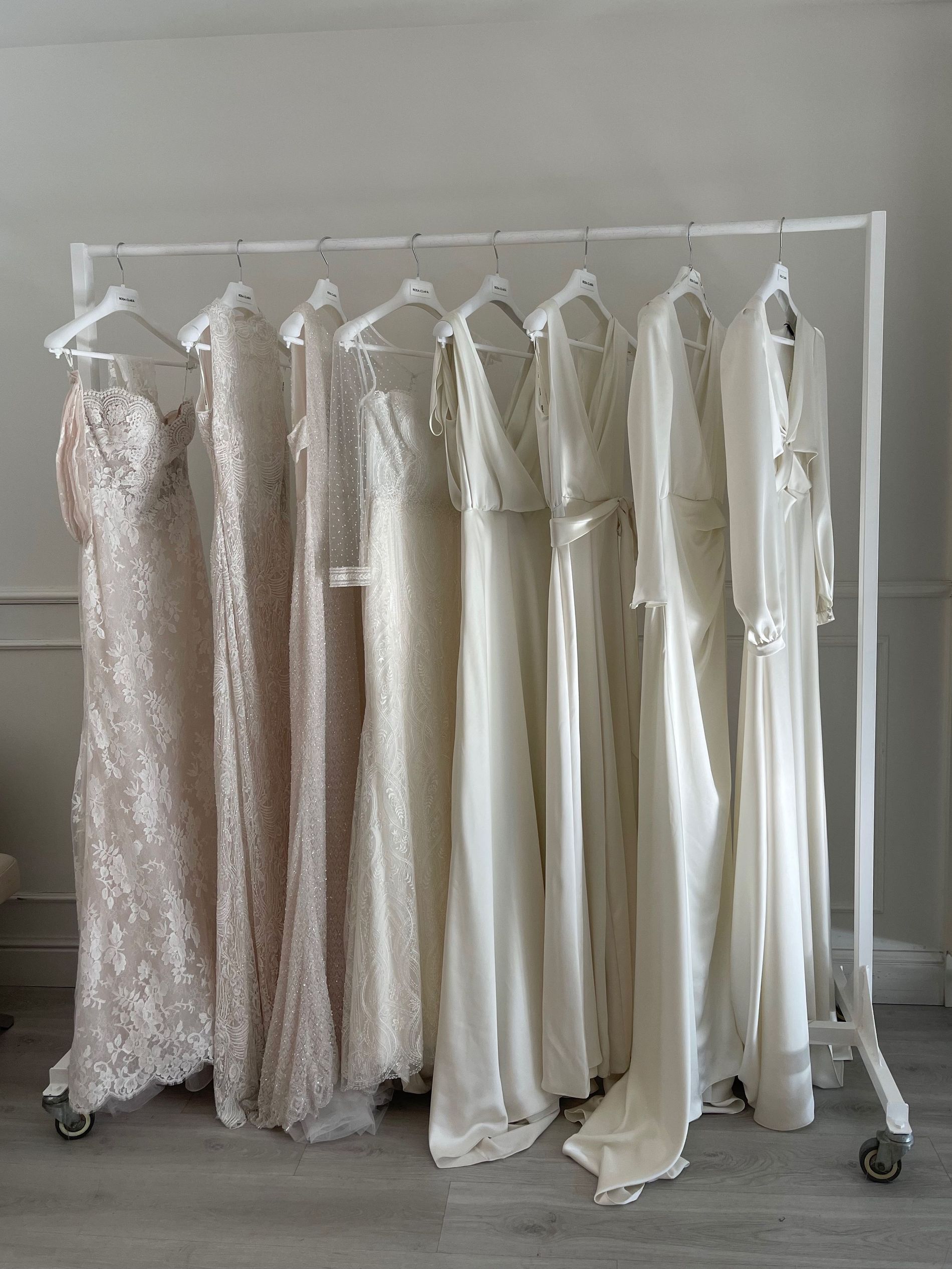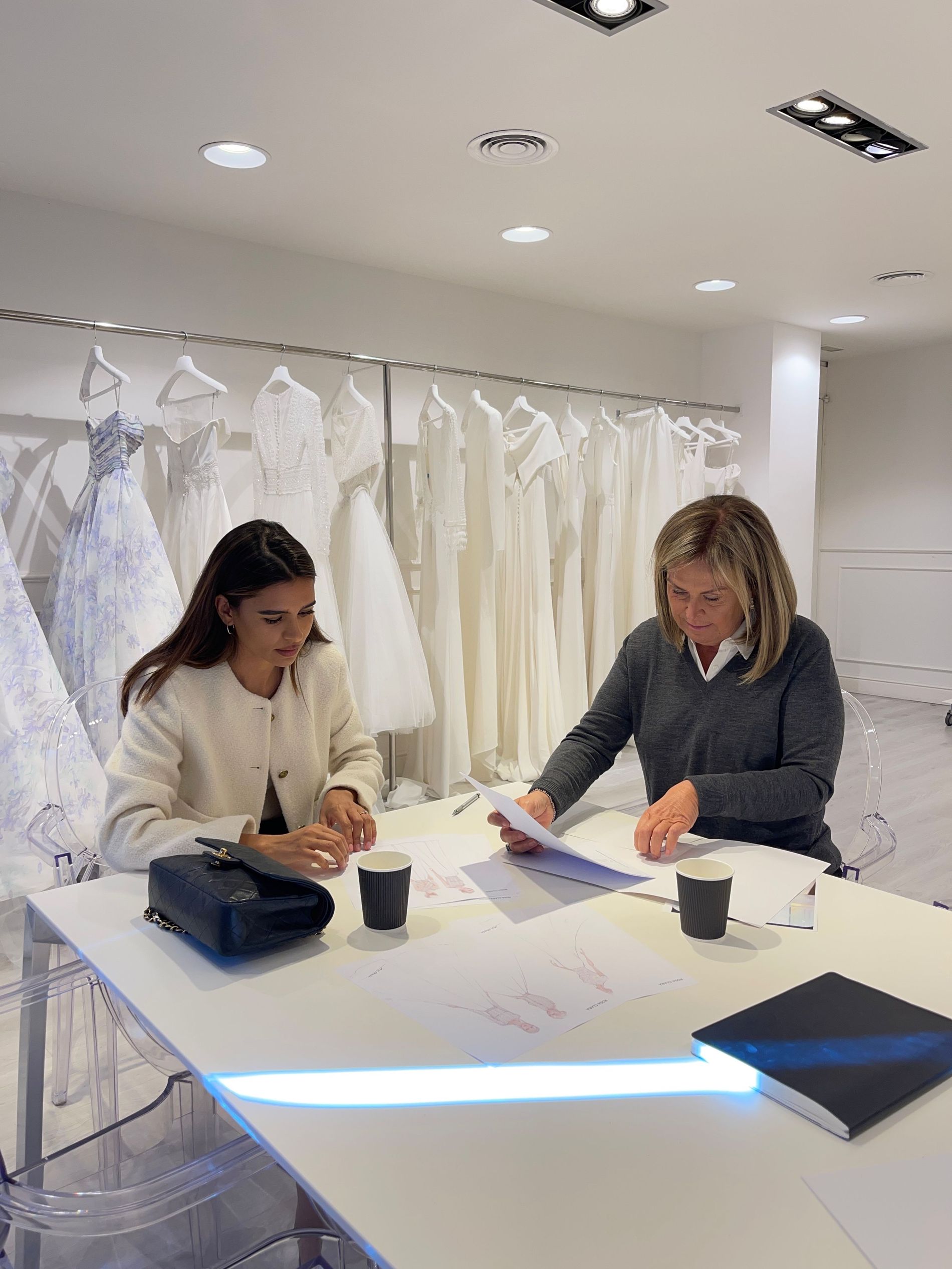 The wedding day commenced with a ceremony at Barcelona's Santa Maria de Valldonzella monastery, for which Lindmark wore the first of the three gowns. "For the first dress, I wanted something that was classic with a modern touch," Lindmark explains. "I explained the idea to Rosa Clará, and let's just say - she worked her magic!" the bride recounts.
"We went for the model that I had in mind, but instead of creating the whole dress in the same fabric, we started to add different laces, fabrics and pearls to the dress. Bit by bit, we found my dream dress," Lindmark says. The design comprised a bodice with a round neckline made of hand-embroidered mesh, microbeaded with fine sparkles of light. Waves of laces enhanced the sleeves, waistline and back, which was crafted with an elegant diamond-shaped opening.
The elaborate bodice paired perfectly with a delicate silk crepe semi-fitted skirt, which Rosa Clará accessorised with a light and flowing eight-foot crepe overskirt, and a three and a half metre illusion tulle veil.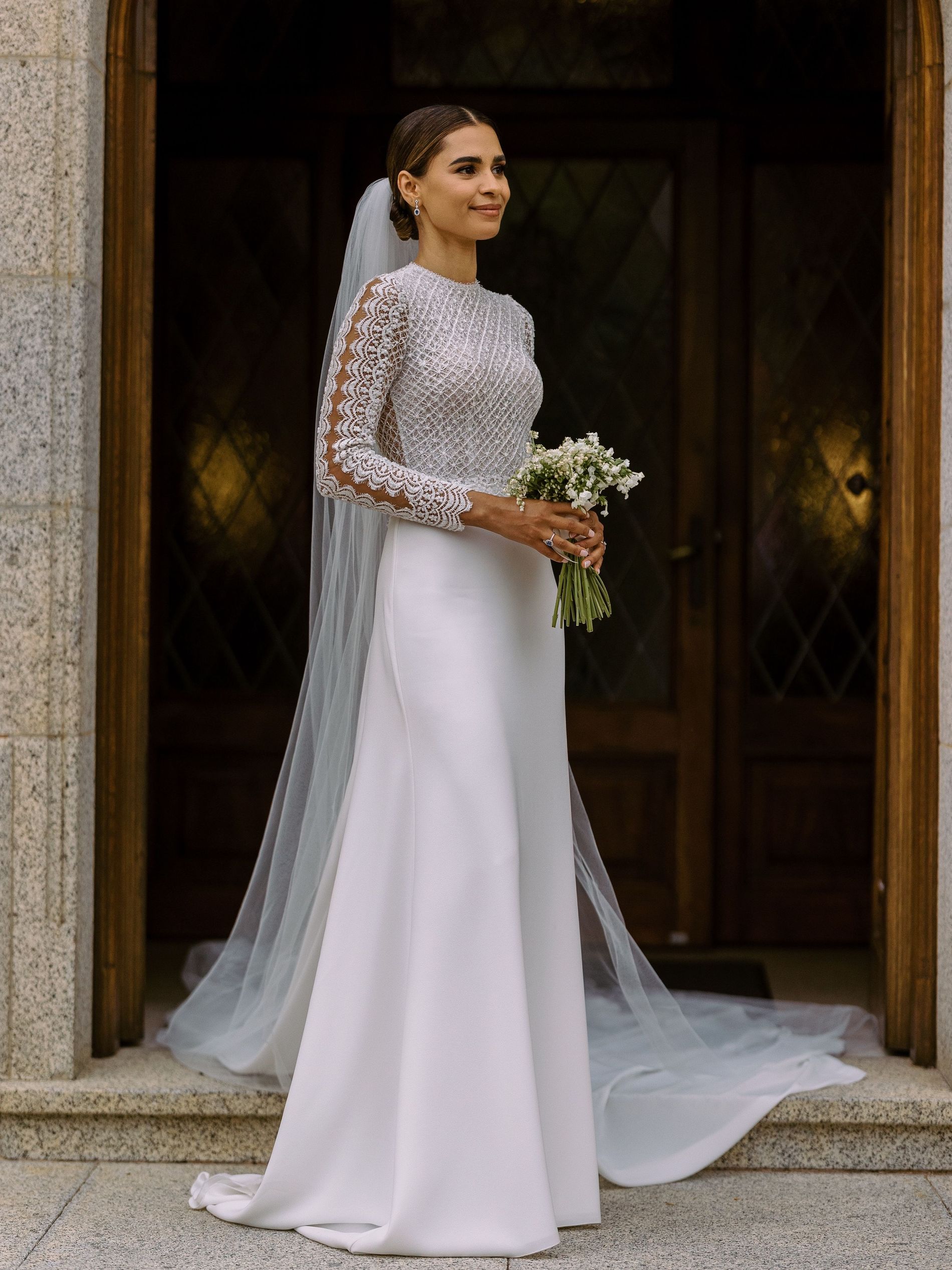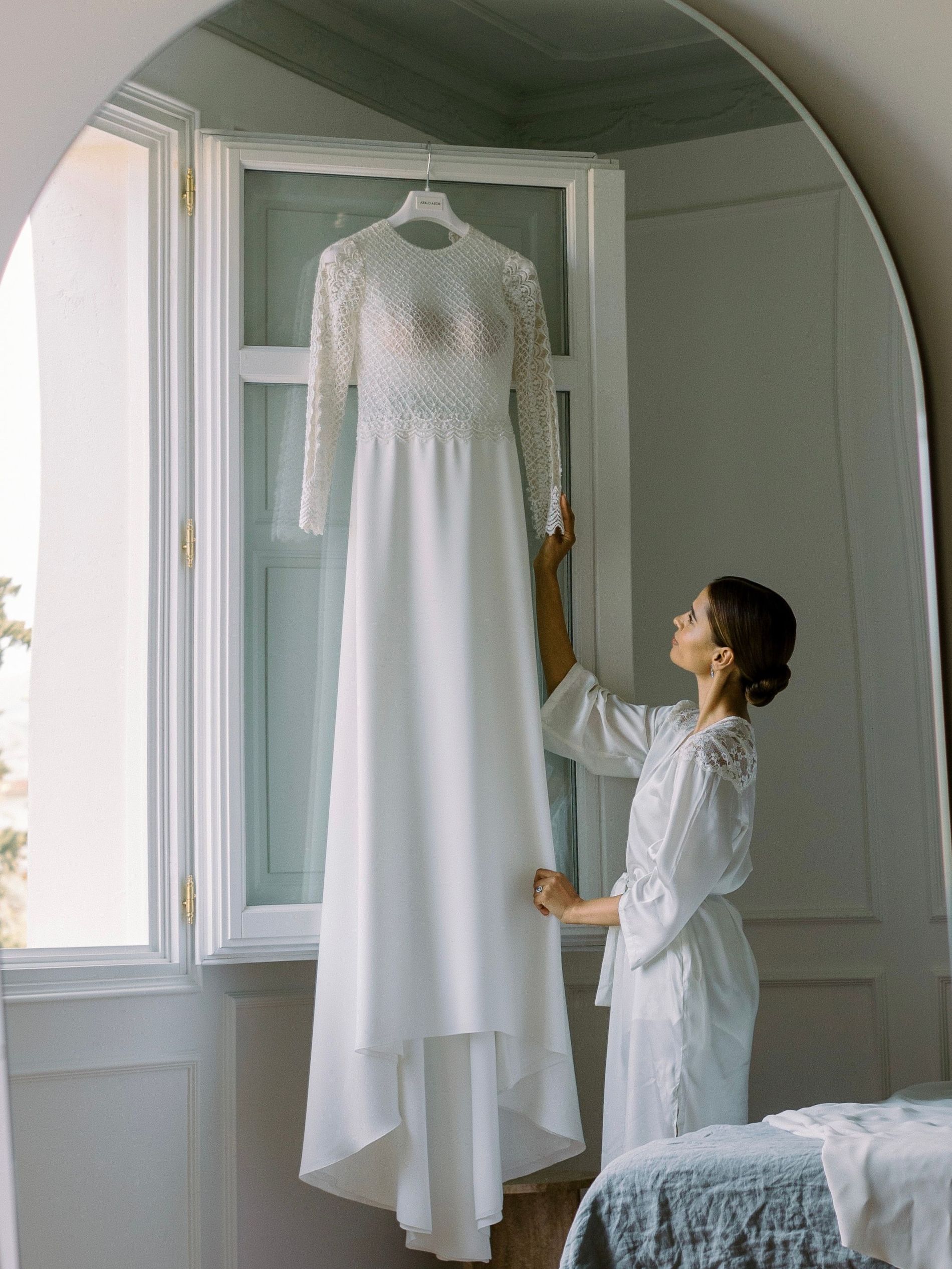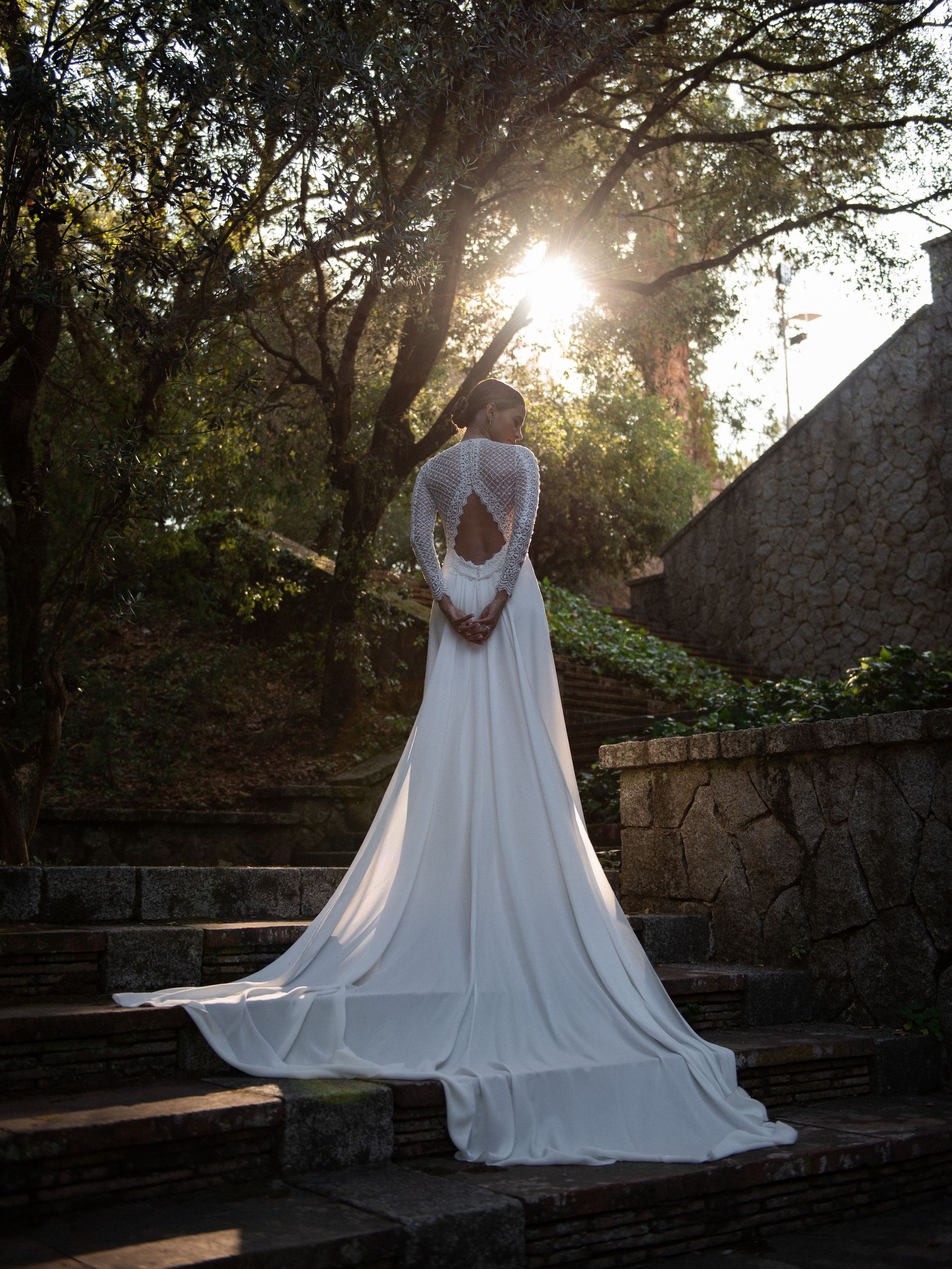 Following the ceremony at the monastery, proceedings moved to the dinner at the Bell Recó estate, with Lindmark changing into a breathtaking two-piece second look, inspired by her own personal heritage. "My father is from Sweden and my mother is from Sri Lanka," Lindmark says, "so, as the first dress was very Western, we decided to nod to my other roots with the second dress. It was inspired by a traditional Sri Lankan saree," she explains.
The top, a halter-cut bodice, was made with a combination of two embroidered laces with microbeads, as was the waist of the skirt – combined with hand-pleated silk muslin. The dress was completed with a 'pallu', a draped band typical of a saree, falling from the shoulder and wrapping around the body at the waist. "My mother used to wear this every day when she was a teacher in Sri Lanka, so I wanted it to be a little surprise for her at the wedding. The nice thing with this dress is that I can easily reuse both the top and the skirt for other occasions!" Lindmark remarks.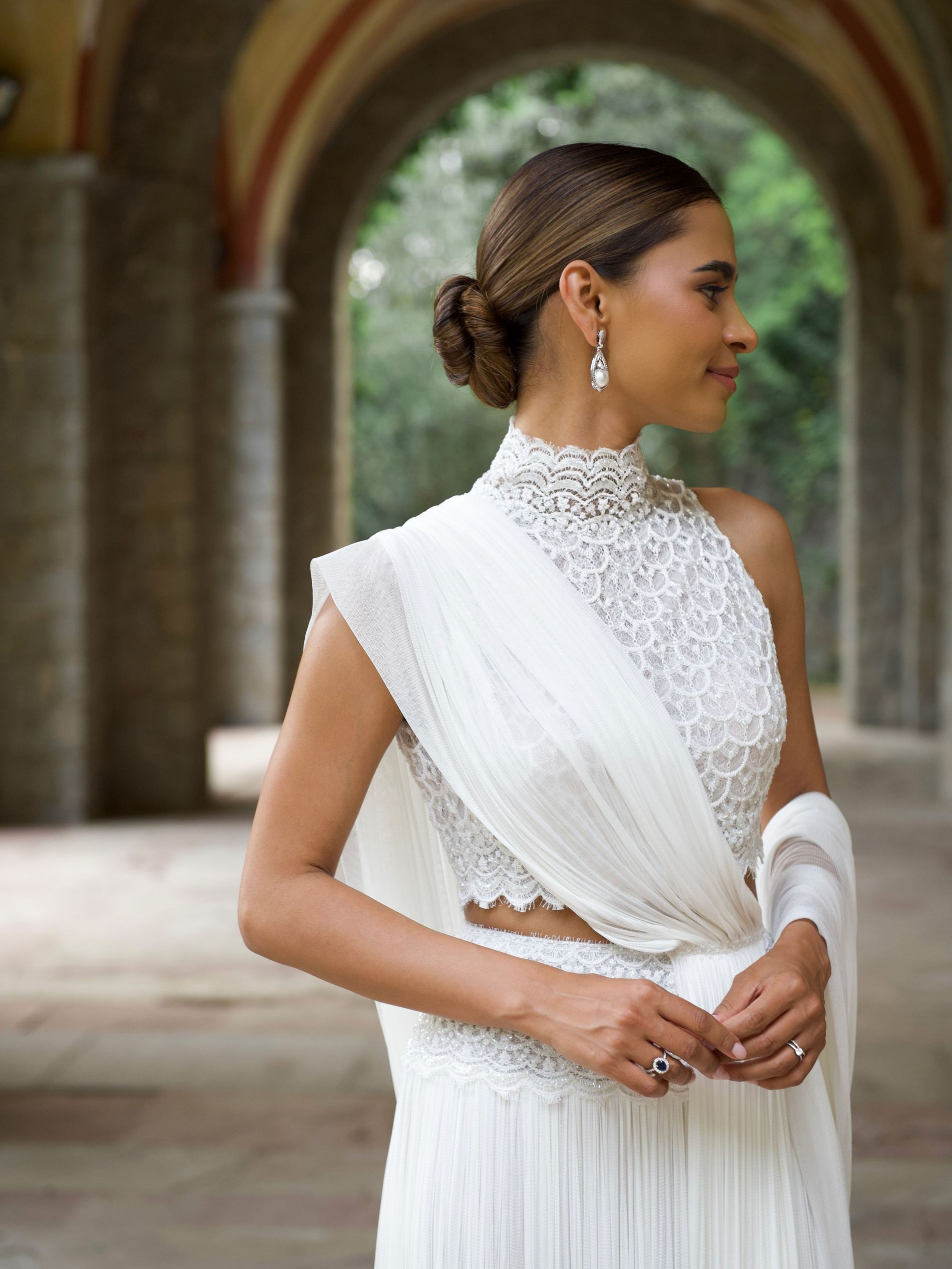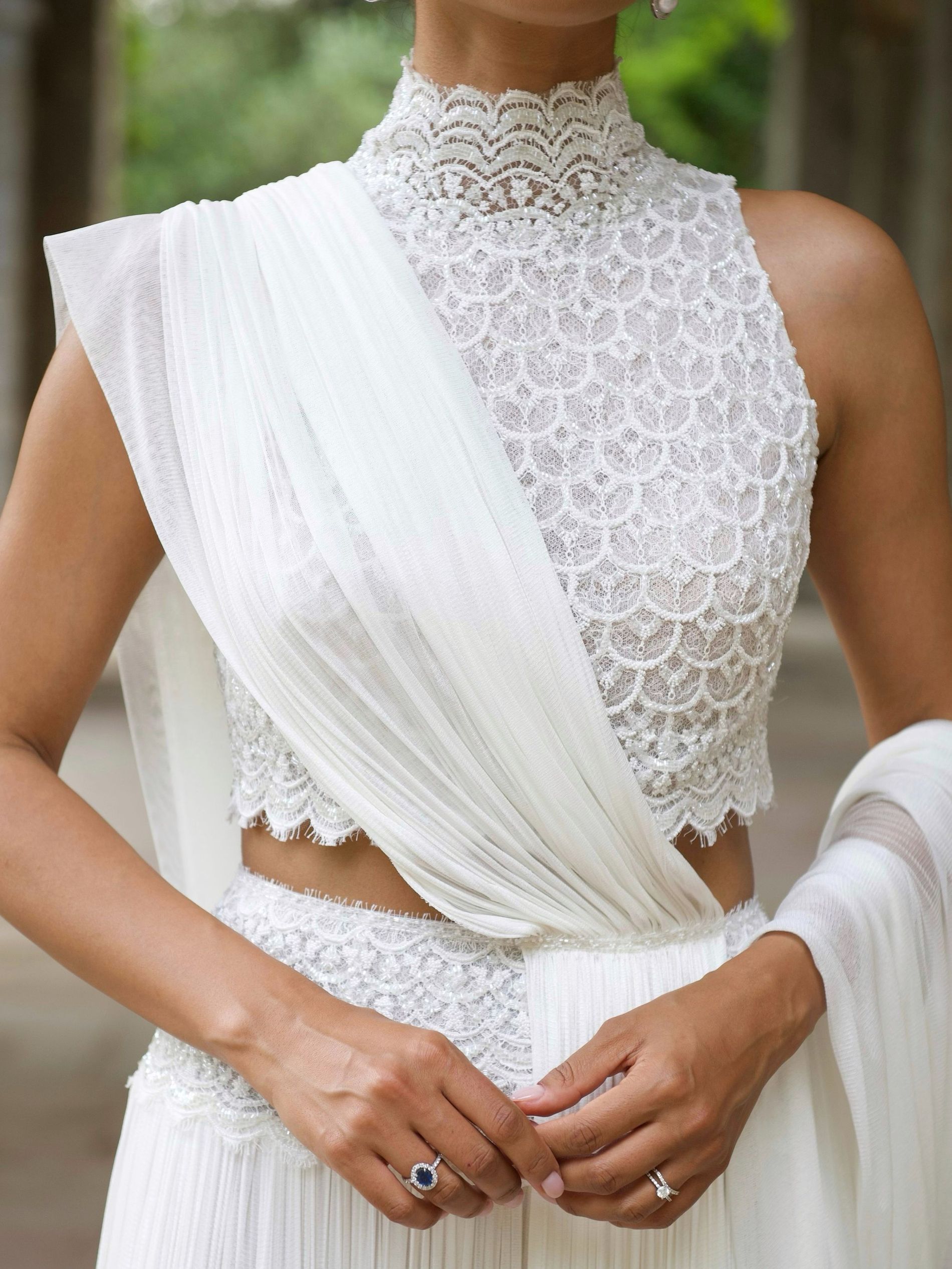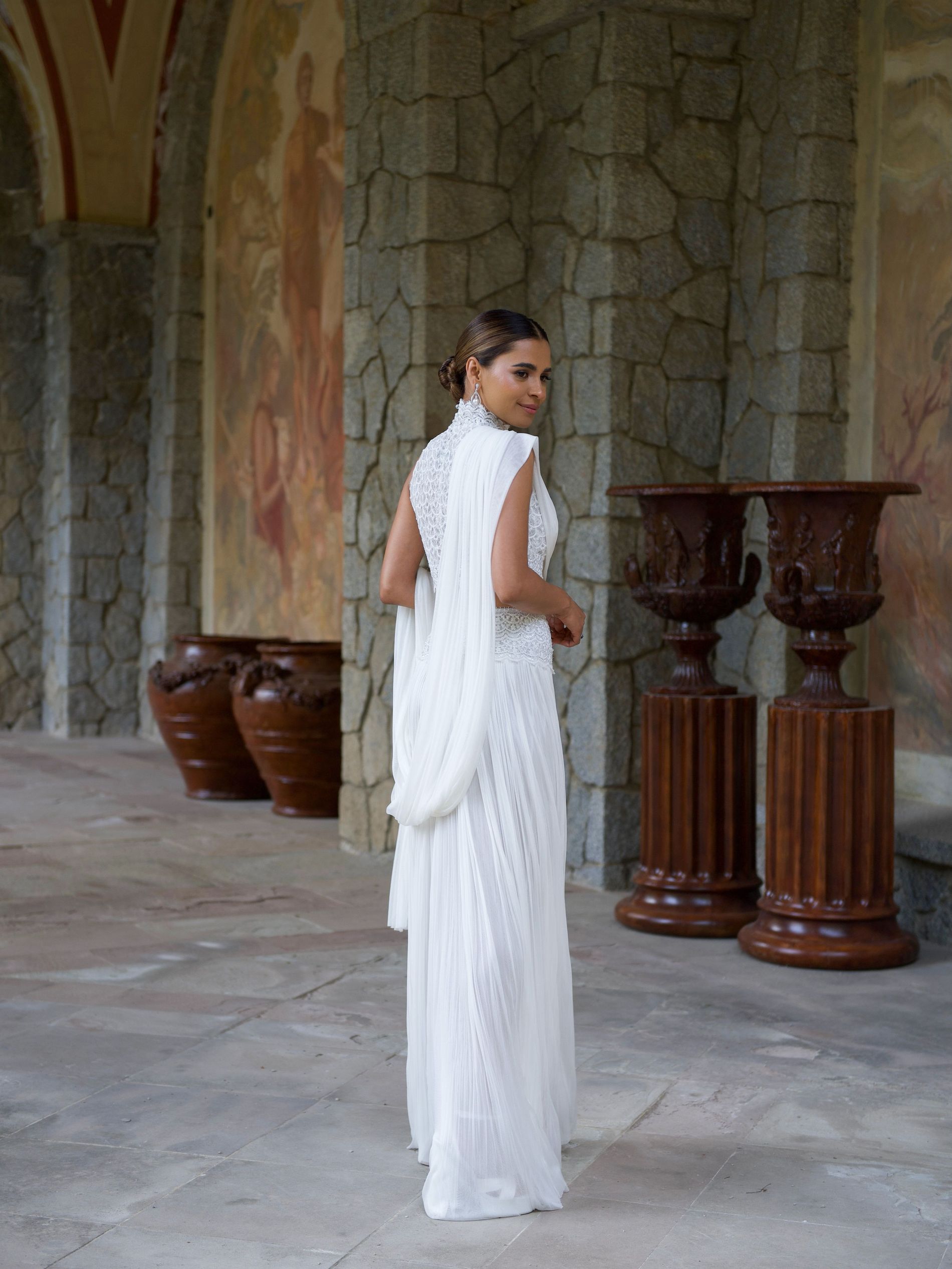 Lindmark then stepped into her third and final bespoke creation, a dress designed to be, in her own words, "really comfortable and easy to dance in." Again, Lindmark wanted a look with longevity that she could reuse beyond the wedding day, which resulted in a straight-cut flowing dress made of natural silk satin. "We went for a simple dress, open back, easy to adjust," Lindmark describes. "After the wedding, I can chop off the length and use it as a short summer dress!" she adds.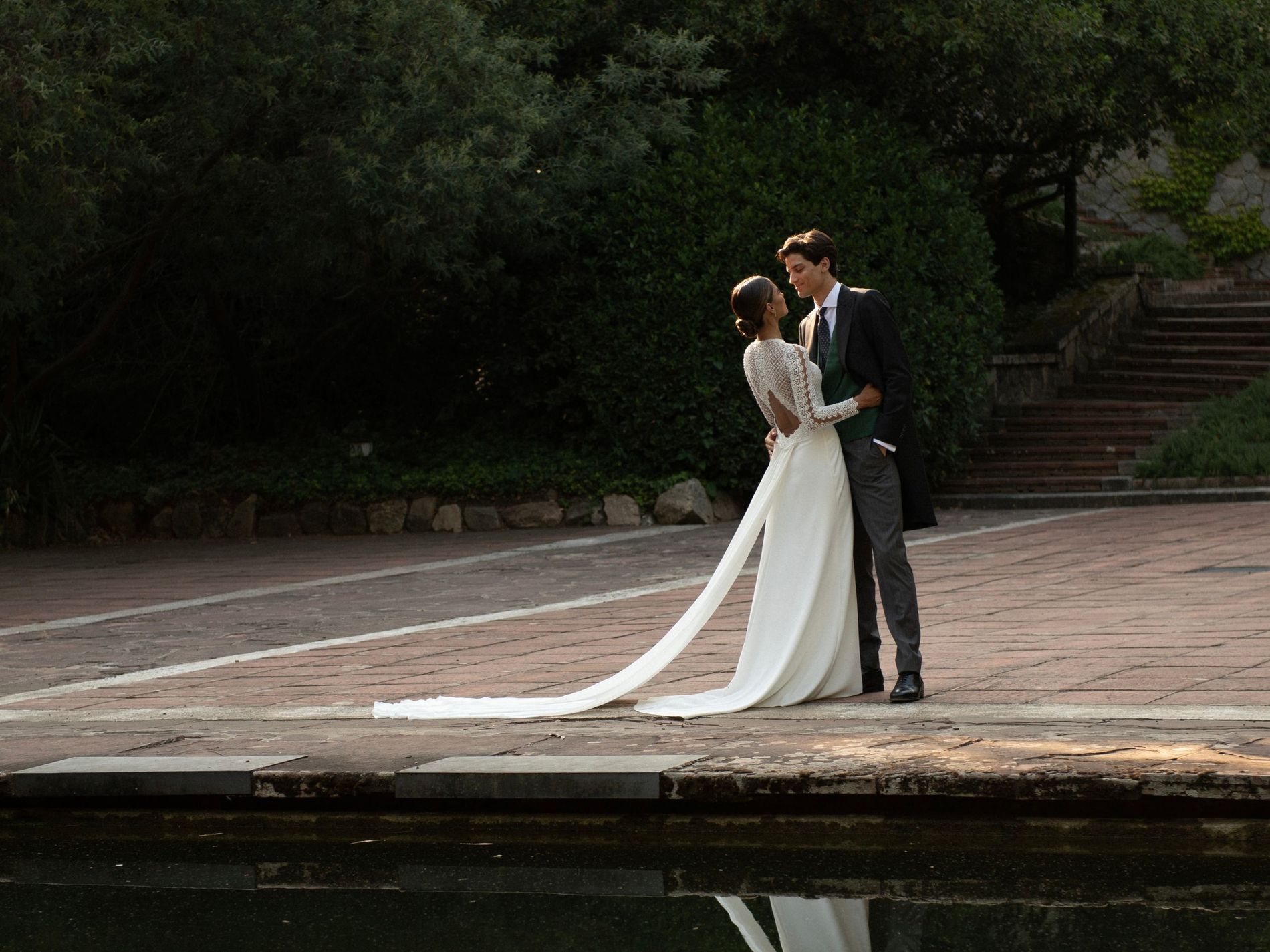 While Lindmark describes the couture collaboration with Rosa Clará as a joy to be involved with, she refers to it as a learning process too. "Not only have I enjoyed the company of the team every time I've been there, I've also learned a lot," she reflects. "To see the whole process: starting with a sketch, and then bit-by-bit become a dress. I have so much respect and admiration for the ladies that have been sewing my dresses. It really is a work of art!"
"I loved working with the team the years before, but this brought us even closer," she goes on. "I'm so thankful for this opportunity."