"I'm actually starting now, for real." Take a first look at the Danish designer's first full collection, set to be unveiled in a disruptive installation format this week
This Copenhagen Fashion Week may mark Alectra Rothschild's first proper collection, but the Danish designer is already major. Michèle Lamy and Zara Larsson are both fans of her sexy, strappy, just-stumbled-out-of-the-club wear (Omar Rudberg even wore her deconstructed denim on the pages of Vogue Scandinavia). But for Rothschild, the culminating moment (so far, at least) was dressing the one and only Arca. "I've literally been her fan since 2015 – when she started her career. She's been a huge inspiration and idol, in terms of transitioning as well," says Rothschild, whose own transition has played a role in her evolving design language. "When that happened, my head kind of exploded and it still does when I think of it."
This season, Rothschild nabs CPHFW's Talent Slot, officially anointing her as one to watch. "I'm actually starting now, for real," she says, noting that she's been "very active" throughout her education, doing one-off collaborations and stage looks for artists. "In that way, my work has gotten out there a lot but now I made a very deliberate decision, like, I'm going to do this now. I'm going to try it out in a more serious way."
Speaking of her education, Rothschild's pedigree is gag-worthy. Not only has she studied at Beckmans, The Royal Danish Academy and Central Saint Martins (at which she earned a Masters), she also trained under Iris Van Herpen and Anne Sofie Madsen before working at Mugler under current creative director Casey Cadwallader. The latter, Rothschild's first "real job", served as another education of sorts. There, she learned "how to structure a collection" – using "the boards" correctly, how to edit. Patience.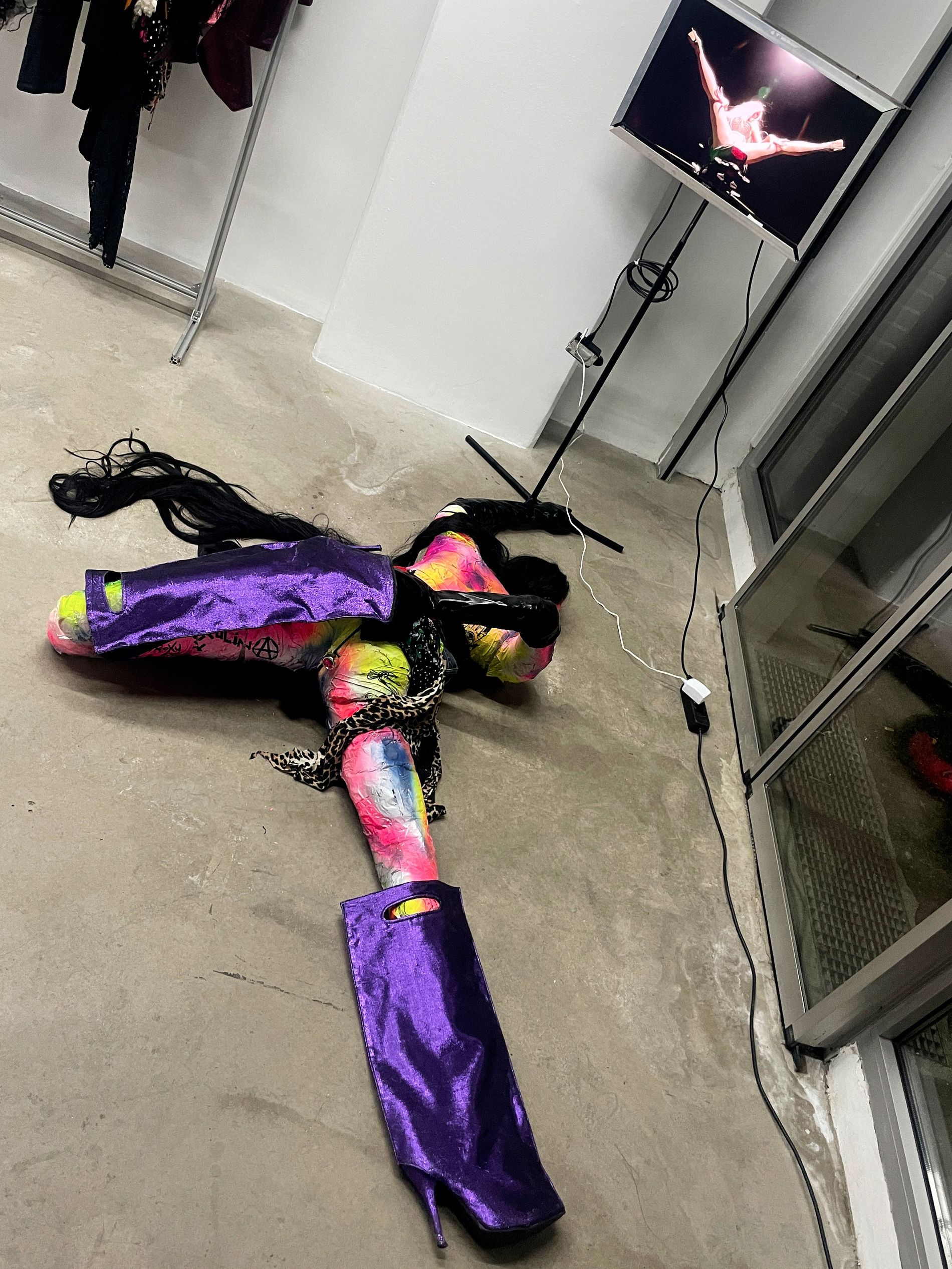 Photo: Alectra Rothschild
Though it's her debut collection, the Alectra Rothschild aesthetic is unmissable, marked by ruching and gathering and an emphasis on the beauty of the body. It exists in the push and pull between a soft romanticism and a sharp minimalism – curve-hugging metallic mini dresses and sharp-shouldered blazers, immaculately tailored. Elsewhere, ruffles, bustiers and waist-high neon cowboy boots. "There's room for anything in a collection, if it makes sense for me," Rothschild says. "There's evening gowns, there's club wear, there's slut wear, lingerie…"
To present the collection, Rothschild eschews a traditional fashion show, instead opting for an installation, produced in collaboration with creative agency inter.agcy. "Alectra is not only one of the biggest talents right now on the Scandinavian fashion scene, but probably also one of the most important voices," says Johanne Jacobsen, managing director at inter.agcy. The company's creative director, Kristian Kirk, adds that an installation was the ideal format for the designer. "You always have to be careful pushing things too hard," he says. "Runway shows can be super expensive and is a huge commitment for emerging brands. With the format of an installation you can showcase not only the styles, but the entire brand and gather its community around it."
The installation, which opens to the public on 2nd February, is centred around a fashion film depicting a runway in a black box, with little to distract from "the clothes, the glam and the models" (there's also a Britney Spears-esque motorcycle moment, which the designer is particularly excited about). Set to music by DJ G2G, the film features a cast of Rothschild's closet friends and collaborators – her community.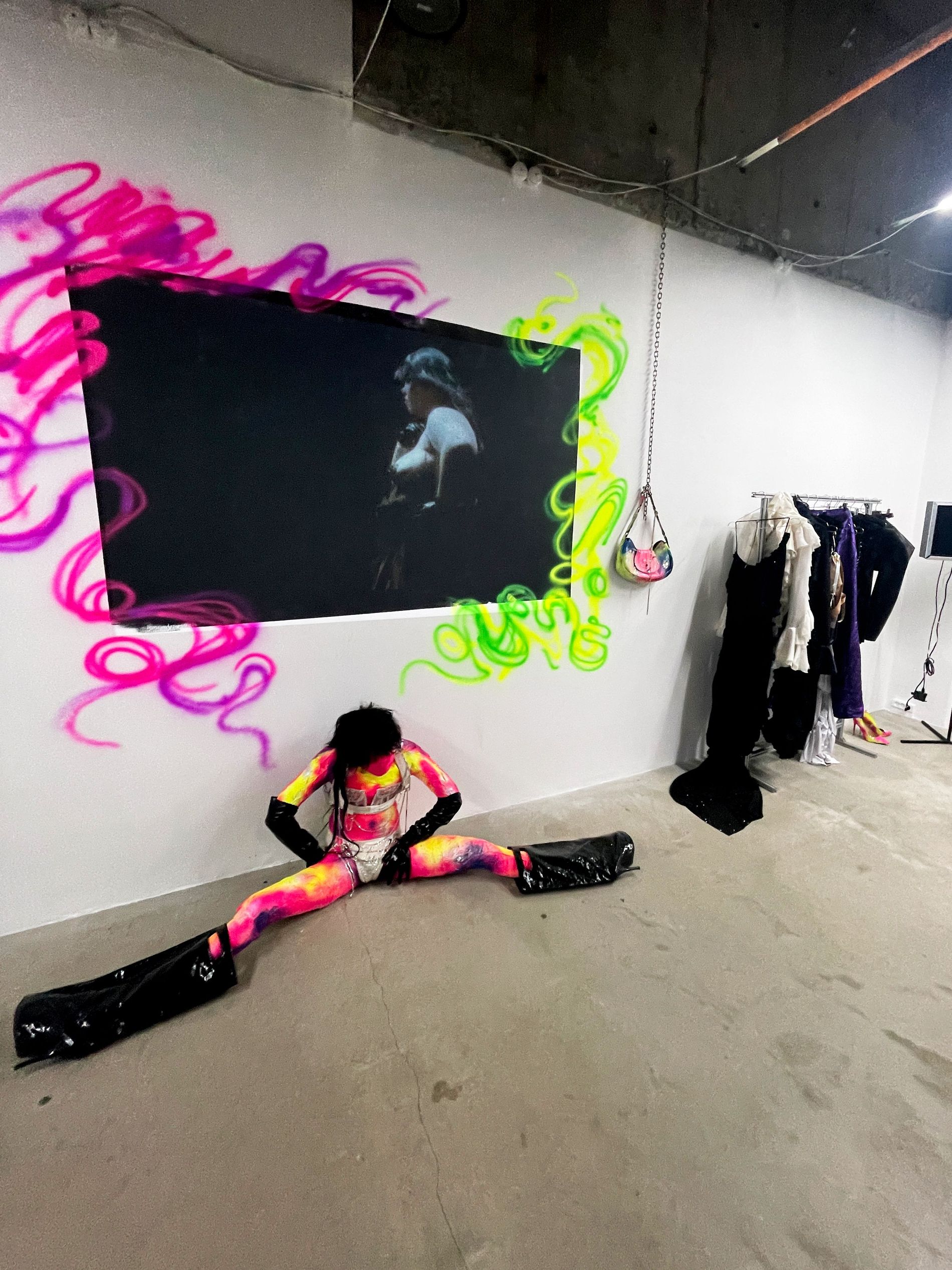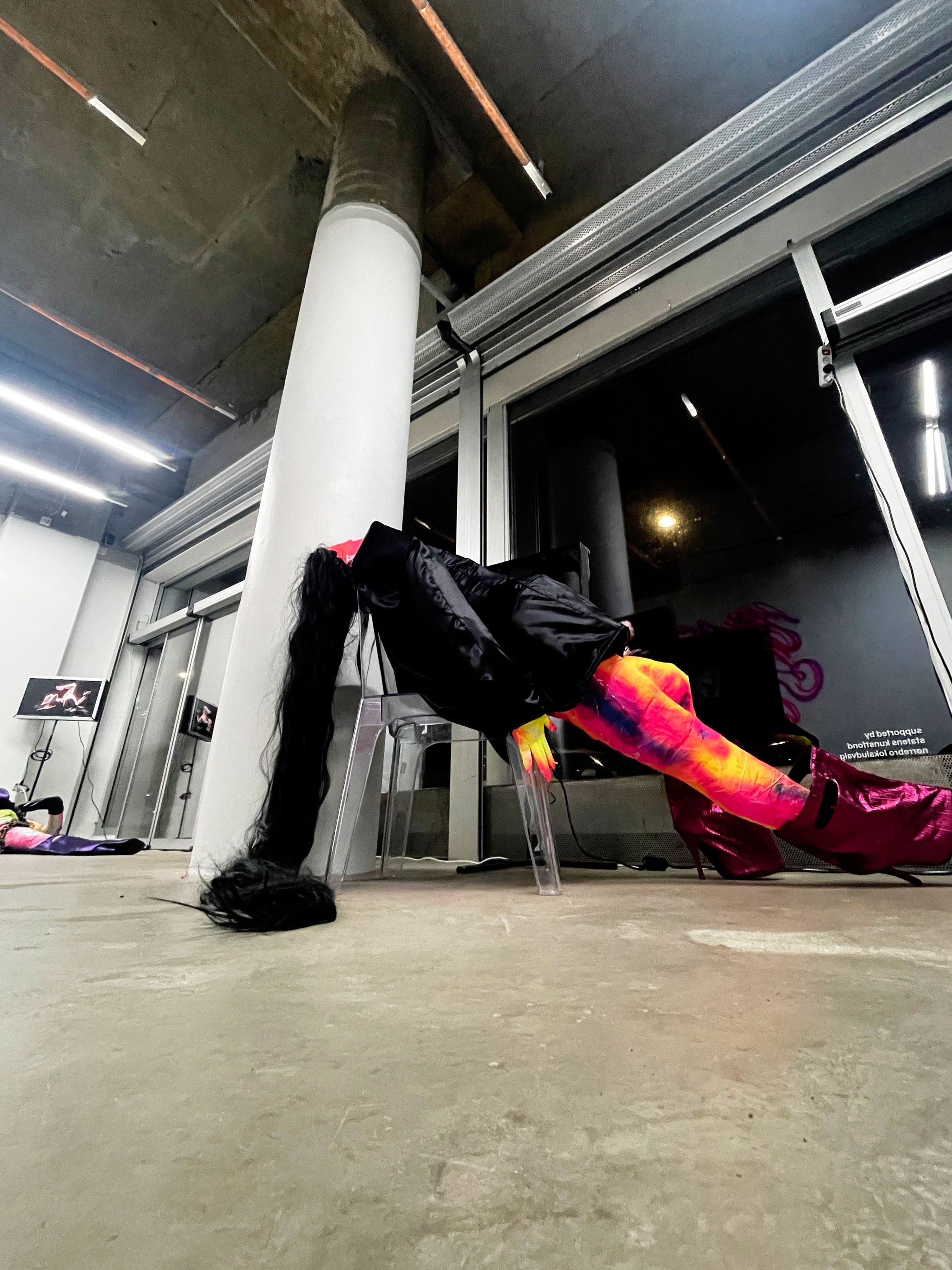 Rothschild called upon friend and frequent collaborator (not to mention fit model), artist Proxy Server to create sculptures – translucent bodies in various poses – on which to showcase the clothes. "Aside from being besties, Alectra and I seek out the beauty in chaos in a very similar way," Proxy says. "I think we both appreciate decadence and gutted glamour while also celebrating trans history and power." The three sculptures, which appear as glamour girls who fell from the sky, sprawl out across the space. "The original baddie is named trans.luci," Proxy notes. "She represents a girlie mid transformation, like in Sailor Moon, from one mode of being to another."
To round things out, jewellery from another friend, Azad Demir, also appears both in the film and dripping from the mannequins. "I strive to challenge societal norms in gendered jewellery and approach design from an identity perspective," says Demir. "My collection is designed to be gender fluid, making it a natural fit for Alectra's design universe." Demir, who handcrafts the Kurdish-inspired pieces while listening to Kurdish music, points out a swirl pendant in bi-colour sapphire – an homage to a piece worn by his great grandmother – as a standout piece.
As Rothschild continues to gain momentum – and, undoubtedly, more big-name fans – her most powerful ambassadors remain her own community. And, more recently, herself. "I recently started putting myself into it and actually making pieces that can fit and truly living the experience of the clothes," she says, noting that her willingness to design for herself has come concurrently with her transition. How has this affected her design? "It's gotten more flamboyant, for sure. And glamorous, but in a subverted way. The decay of glamour."
RIP Masculina is on view at Hamletsgade 6 on 1st February, 9 - 11pm.