The House of the Dragon star stunned in modern Scandinavian suiting
Emma D'Arcy has had a year of viral moments. The English non-binary actor first entered the public consciousness as Princess Rhaenyra Targaryen in HBO's House of the Dragon, earning them critical acclaim and their first Golden Globe nomination for Best Performance in a Television Series. And surely no one has missed D'Arcy's instantly viral interview with co-star Olivia Cooke, which gave us the unforgettable TikTok quote: "A Negroni Sbagliato... With prosecco in it. Stunning." A soundbite which allegedly had bars selling out of Negroni as an onslaught of patrons ordered the drink.
Now, we present D'Arcy's latest viral sensation. Dressed in Acne Studios tailoring... With a floral appliqué on it... Stunning the Golden Globes red carpet.
The look in question was bespoke Acne Studios from the brand's upcoming autumn/winter 2023 menswear collection. Comprised of a black oversized blazer with exaggerated lapels, matching trousers topped with a midi-skirt, a crisp white button-up shirt, a black cross bowtie and black floral lapel pin topped of the ensemble. "Acne Studios share the same sense of play and humour," D'Arcy's stylist Rose Forde told Vogue Scandinavia speaking on the Golden Globe look. "The brand has always welcomed our ideas and been super accommodating with with our different styling choices. We all seem to share a common language on style."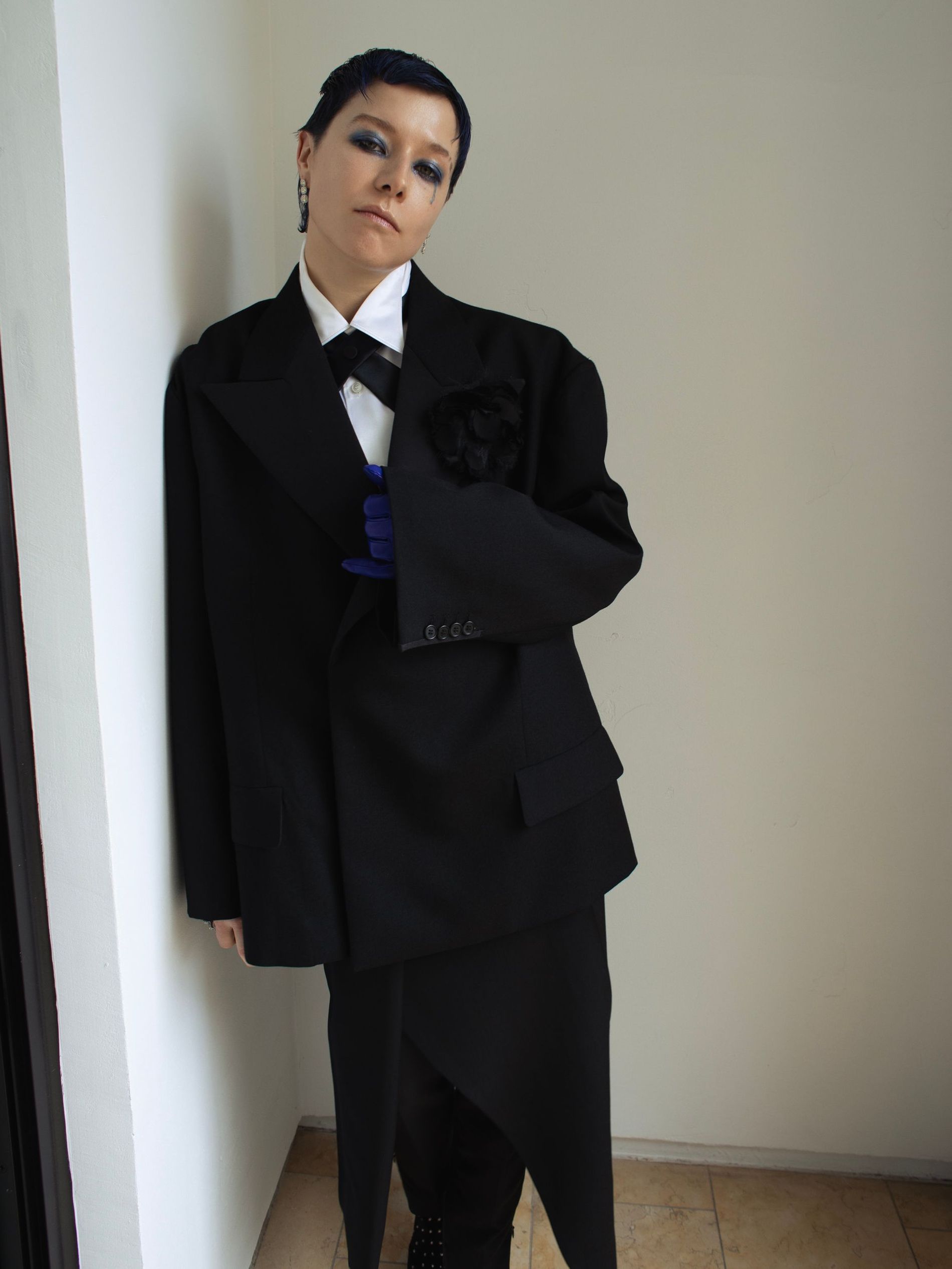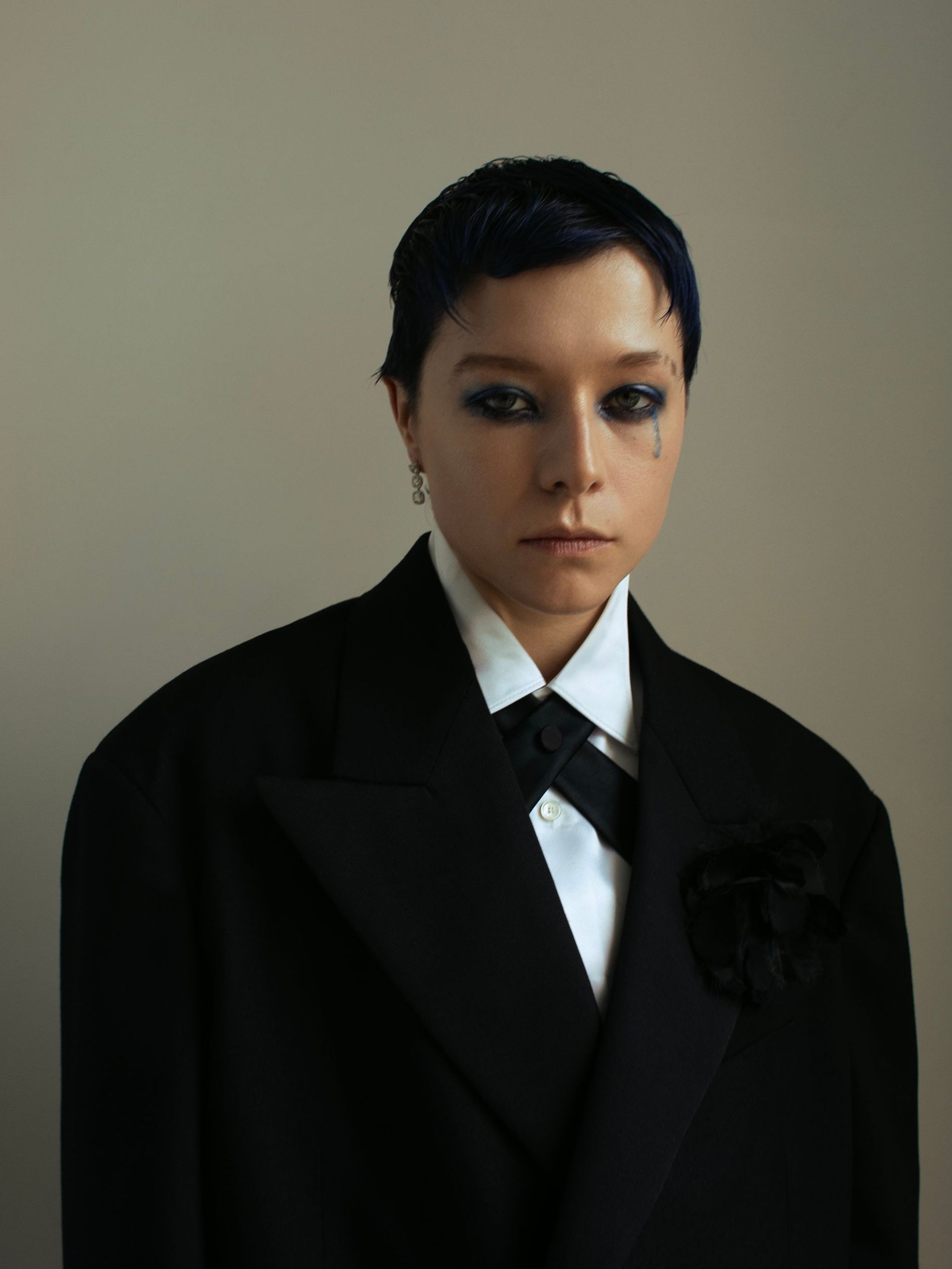 "I was going for a 'child prodigy at the big piano recital' sort of look, except we added a single tear to the make-up, so I guess the recital went really badly," the actor told Vogue ahead of the ceremony. "I'm wearing a skirt and trousers, because nothing says 'non-binary' like wearing trousers and a skirt simultaneously."
The aforementioned tear and overall makeup look was the final touch which brought the full look together. " John Waters 'Cry Baby' imagery was an idea from D'Arcy's stylist, Rose Forde, for the beauty direction," explains D'Arcy's makeup artist Holly Silius. "I respect Rose's constant creative ingenuity and she trusts me to run with the idea."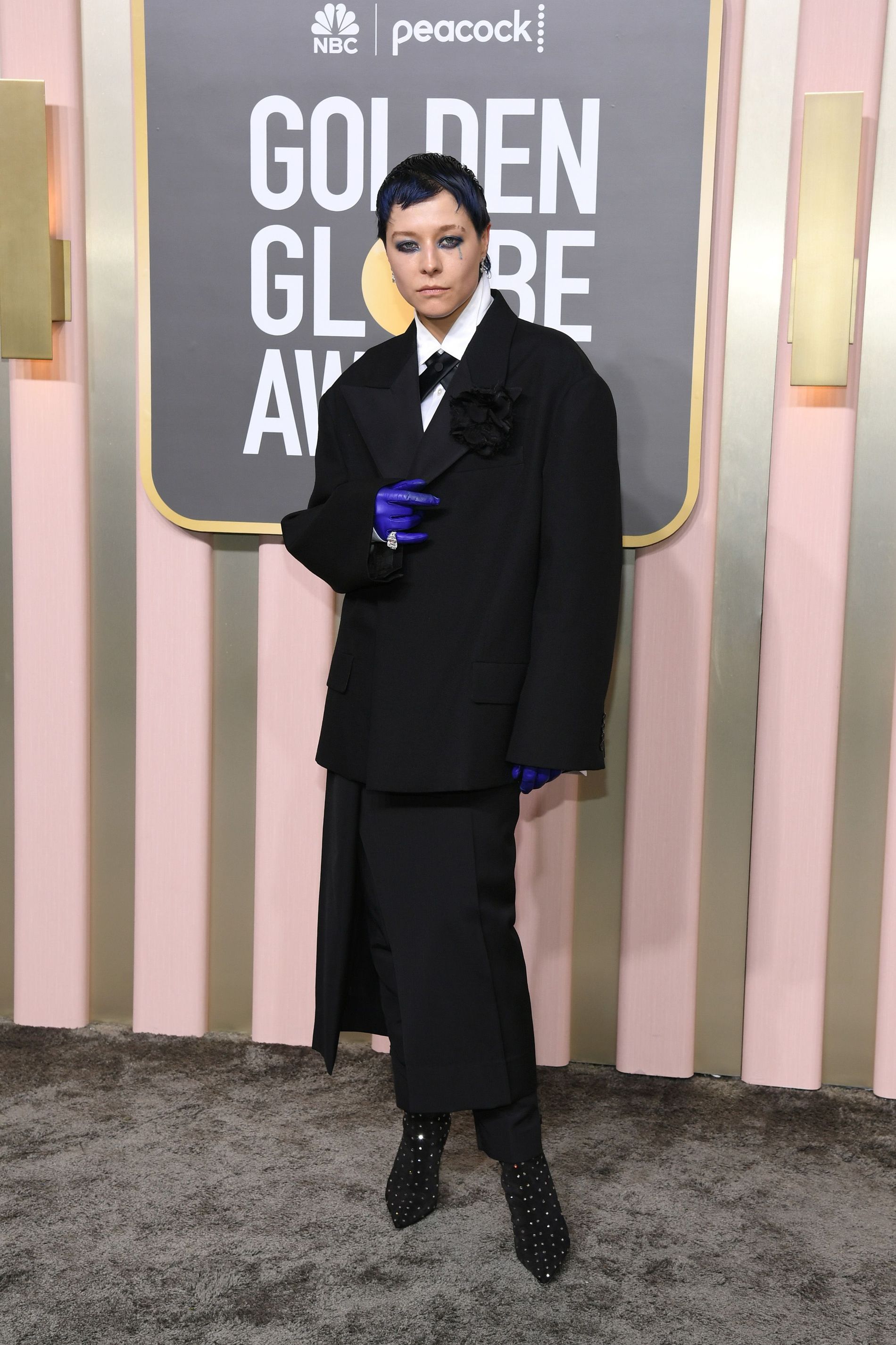 Photo: Getty
Inspired by the New Romantics movement and punk imagery, Silius balanced the worn-in eye makeup and blue accents with a soft pearlescent base. "I love worn-in makeup so I let it naturally work its way into the creases and keeping the skin flawless," she concludes.
The beauty references are fundamentally shared by Acne Studio, whose edgy neo-romanticism is a uniquely suitable match for D'Arcy. A match we hope to see more of this coming awards season.