At just 21 years old, with her own brand Iggy Jeans, a devoted fan base, and a year at the Milanese Miu Miu atelier under her belt, Swedish designer Ingrid Berg is poised to take on the word. First stop? This season's must-have denim collaboration between Iggy Jeans and high street favourite Monki
For a budding independent designer, the opportunity to team up with an international, household-name fashion brand is often a long-held dream. But for Stockholm-based Ingrid Berg, the founder and creative director of cult label Iggy Jeans, the recent invitation from Monki to create a collaborative capsule wasn't the first. "I think I was 15 at the time, when Monki first reached out to me," Berg recounts. "It was a much smaller collaboration, but it gave me the confidence to keep on going," she says.
It was 2018, and while her teenage peers were still navigating the schoolyard, Berg was already establishing her firm footing on the fashion map with a slot in the Stockholm Fashion Week schedule. "I'd just had my show, and – it was probably through common friends or Instagram – but someone from Monki got in touch, and "I was like, 'Oh my god!'" she says, animatedly. "And that was the beginning of everything."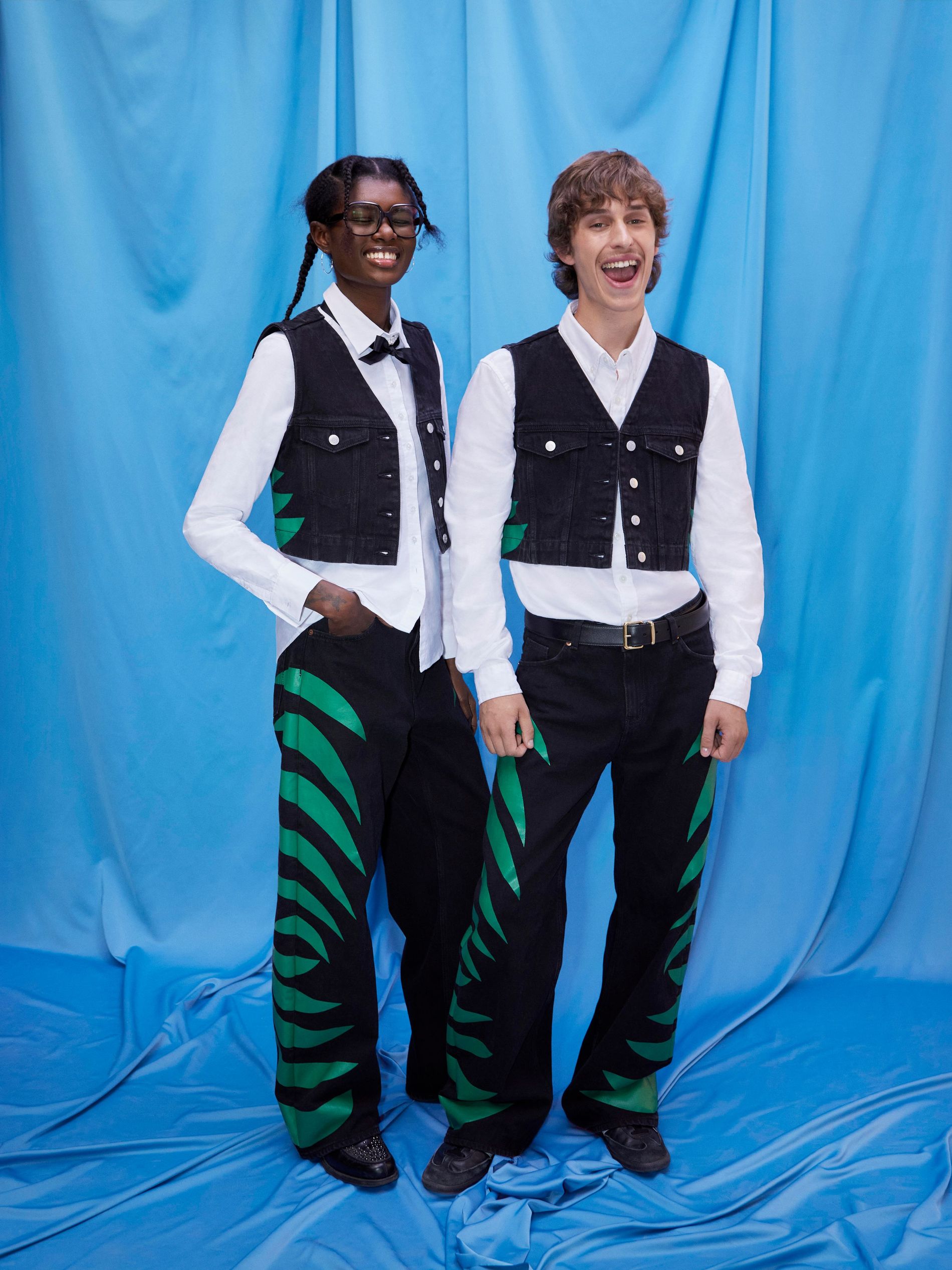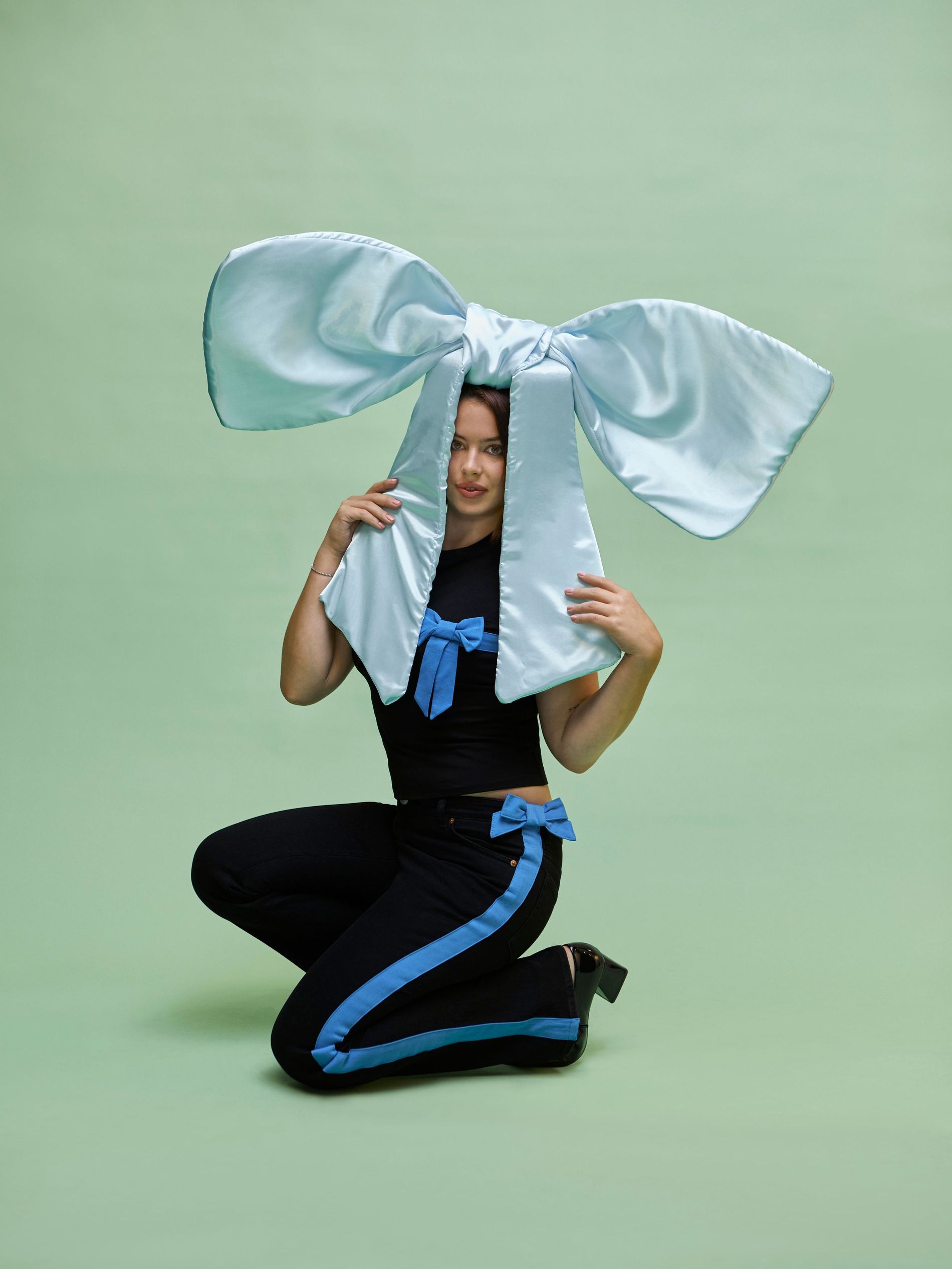 Berg's experiences with Monki have now somewhat bookended her eventful journey as a designer to date. "The stuff that I did when I was 15, I feel like it's so far away, in the sense of how I was thinking about fashion at the time," Berg reflects. "I wasn't thinking so much about the person that was wearing them," she says. Consideration of the wearer is now the key focus of Berg's, and this time around, it was the starting point of the collaboration between Iggy Jeans and Monki.
"'Who is the person that wears the clothes that I create?' Berg asks herself before kicking off her design process – and she found commonalities with Monki in answering that question. "I think Monki and I met in many ways in thinking about this young person that's rebellious, playful, punky," she explains.
The other shared trait between Iggy Jeans and Monki? An undying love of denim. "Both brands have a lot of denim as a core. So it's an obvious link," Berg remarks.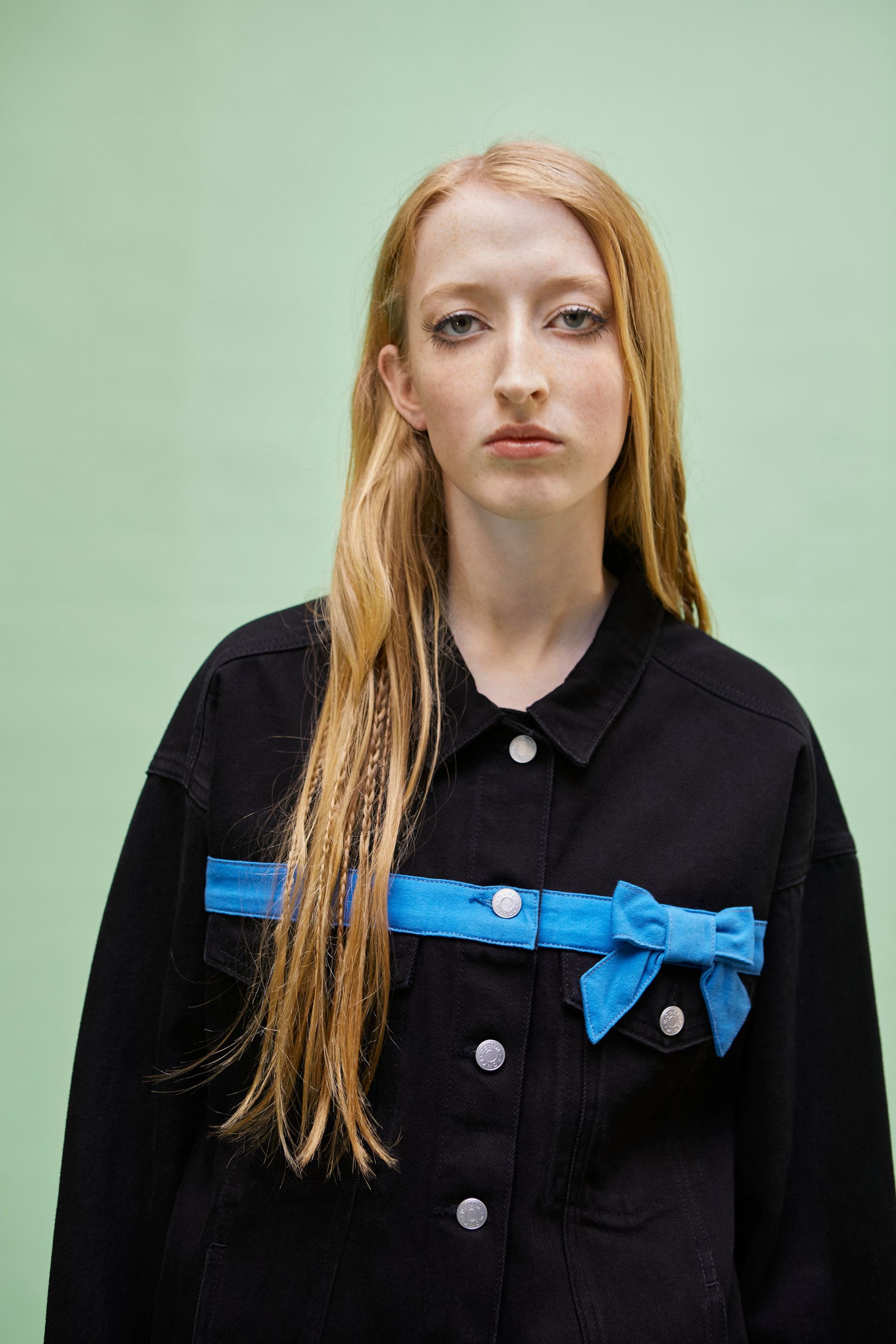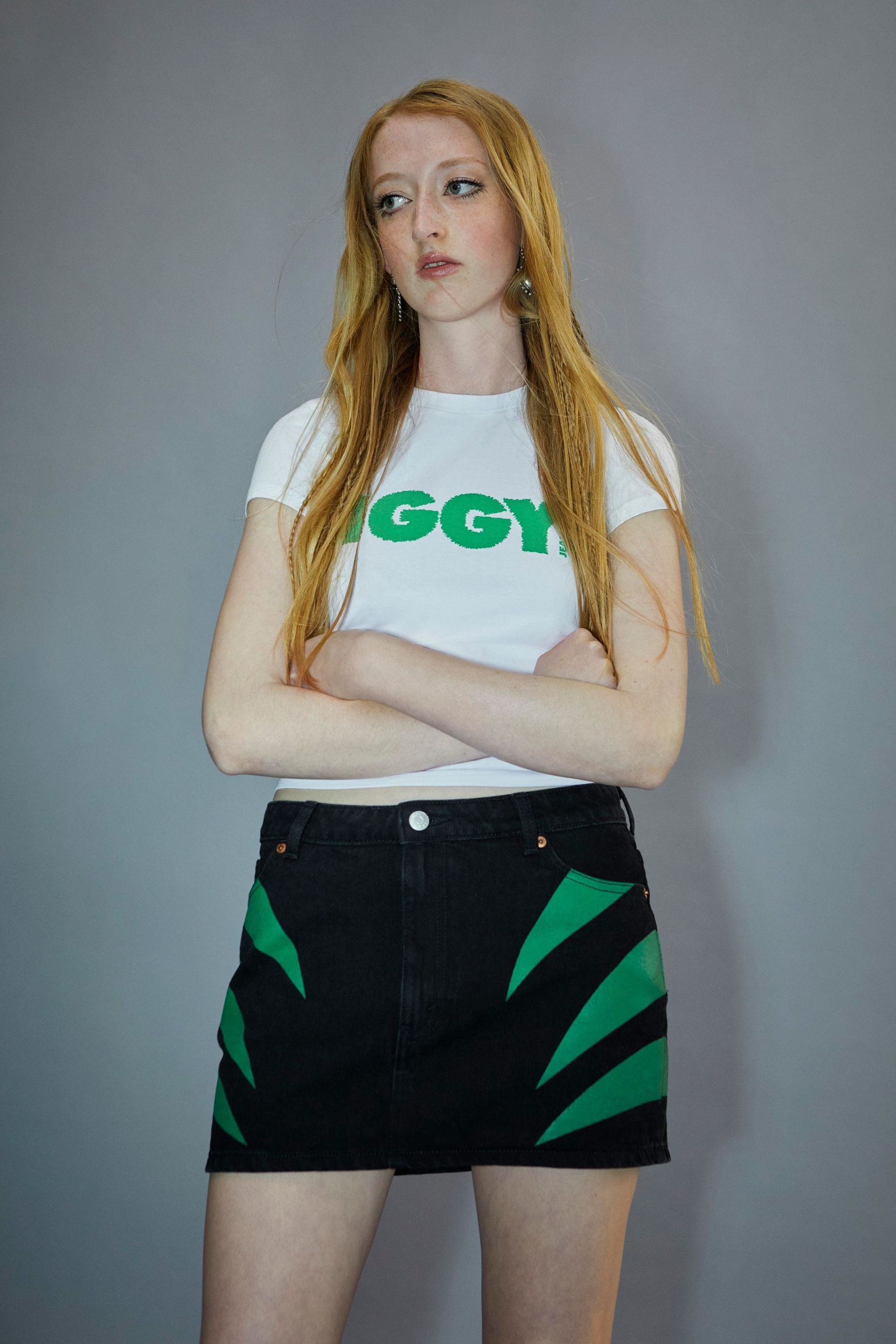 "Denim is what I love the most," Berg says, and it's a statement that has rung true for the designer since she first forged her distinctive path with Iggy Jeans' hand-painted styles. "I love denim for its versatility and its history of being workwear and not at all about fashion," she comments. "It's such a practical thing."
Now, reuniting in their shared affinity for denim, Iggy Jeans and Monki have created a limited-edition collection of nine experimental, sophisticated pieces that embody Berg's expressive denim aesthetic. The first decision? That the denim would all be inky black ("I think it's such a canvas for so much, for applications," Berg explains). Playing out across the black denim canvas – including Monki's popular low-waisted Naoki and Wakumi jean styles – are graphic prints in blue and green and a scattering of bows – all details that draw from personal inspiration.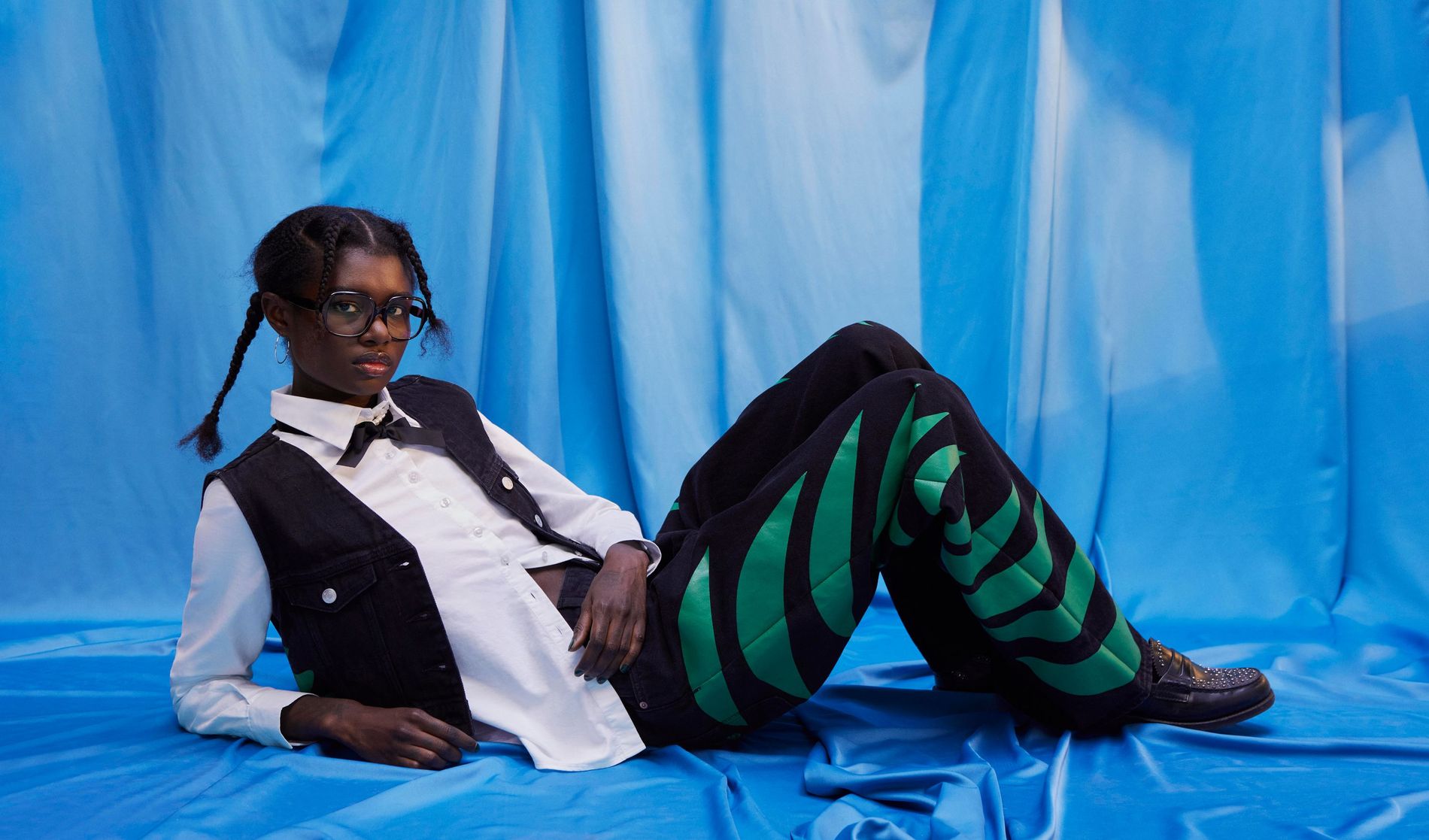 Berg first discusess the spiky graphic patterns across the denim, that echo the hand-painted design from her own archive. The designer explains how these are meant to resemble radio waves – a nod to the integrated way that Berg works with and is inspired by the music industry. "Nothing gives you a feeling quite like music," she says. "Fashion can do that, but you have to feel into it more, find your way into it more. But music, it's instant, it's so personal." And Berg would know, working closely with The Hives frontman Pelle Almqvist on the band's recent worldwide tour costumes, and Johanna Söderberg of First Aid Kit wearing Iggy Jeans in the band's most recent music video.
As for the sweet blue bows throughout the capsule, these feel right at home with Berg's signature DNA: the contrast of girlish and punk, "like a strong but delicate expression," she articulates. But they're also a specific reference to her childhood, where she lived in Italy from age six to 11. "I was thinking, 'What did I wear when I was growing up in Treviso?' I used to wear these Italian children's clothes, and I used to have bows in my hair; it was my uniform. So that was just a fun twist to it," Berg explains.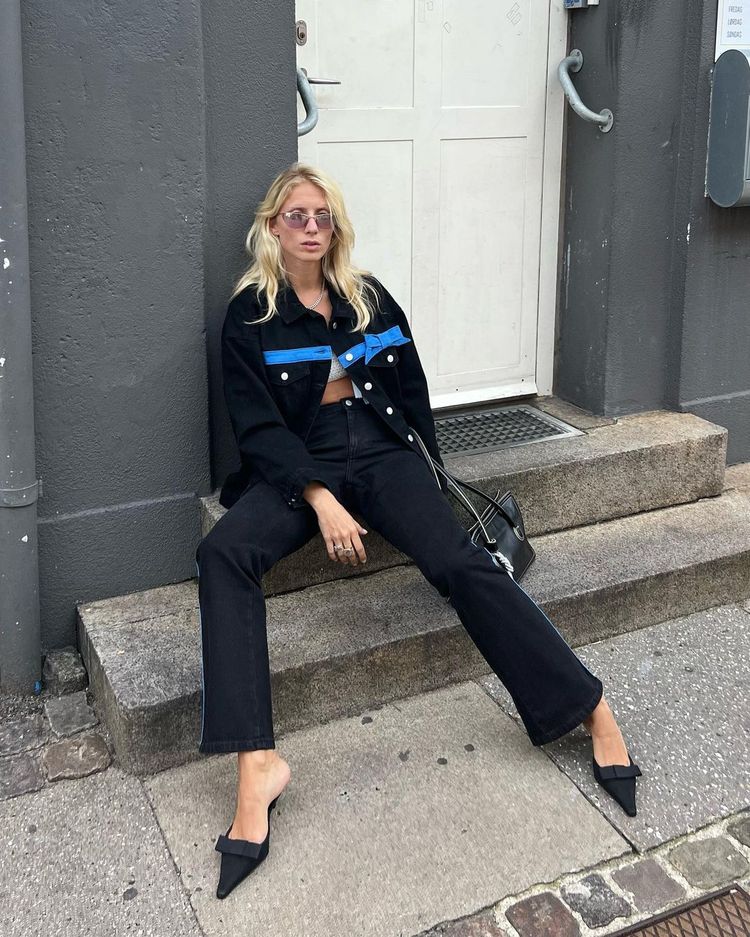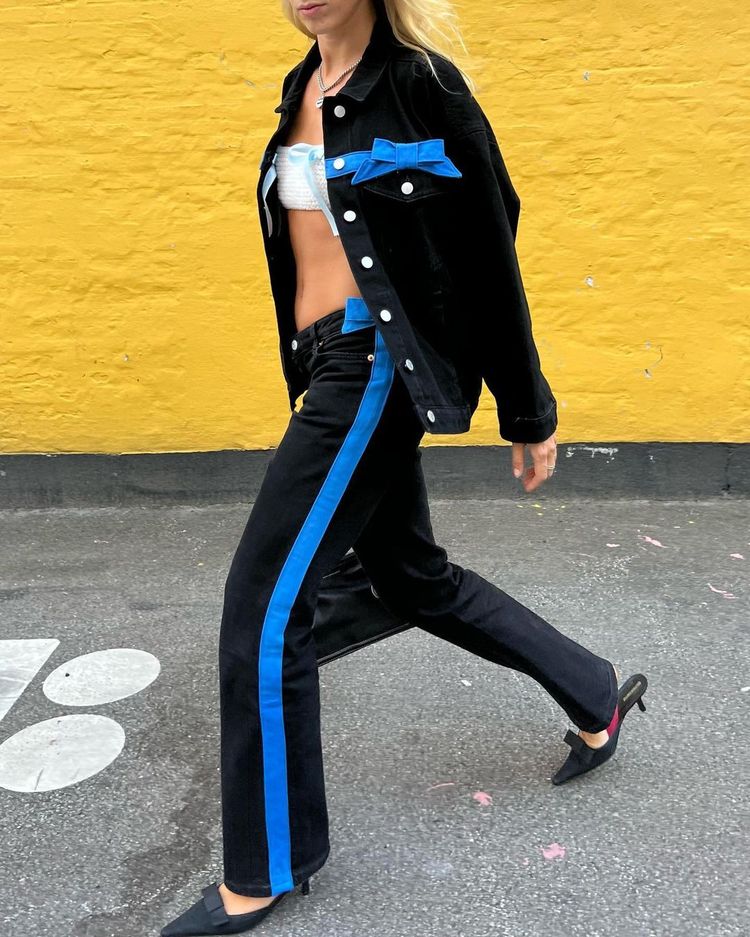 Berg returned to Italy in 2022 as a design intern at the Milanese atelier of Miu Miu, working specifically with denim, of course. "It really impacted me, the way I see denim. I think I was very in the box of just painting denim, but there's so much that you can do with it as a material. It really grounded me, and being in an environment with so many professionals – it had such a big impact," Berg reflects.
While denim provides the mutual playing ground for Iggy Jeans and Monki, sustainability is another shared value. Being a notoriously hard fabric to work with responsibly, the brands focused on working with recycled or organic cotton to create the pieces: with the denim pieces constructed from 80% of the former and 20% of the latter, while the jersey pieces are made almost entirely from BCI cotton. "Throughout the process, I've had so many meaningful conversations with Monki about sustainability and the importance of it," Berg says.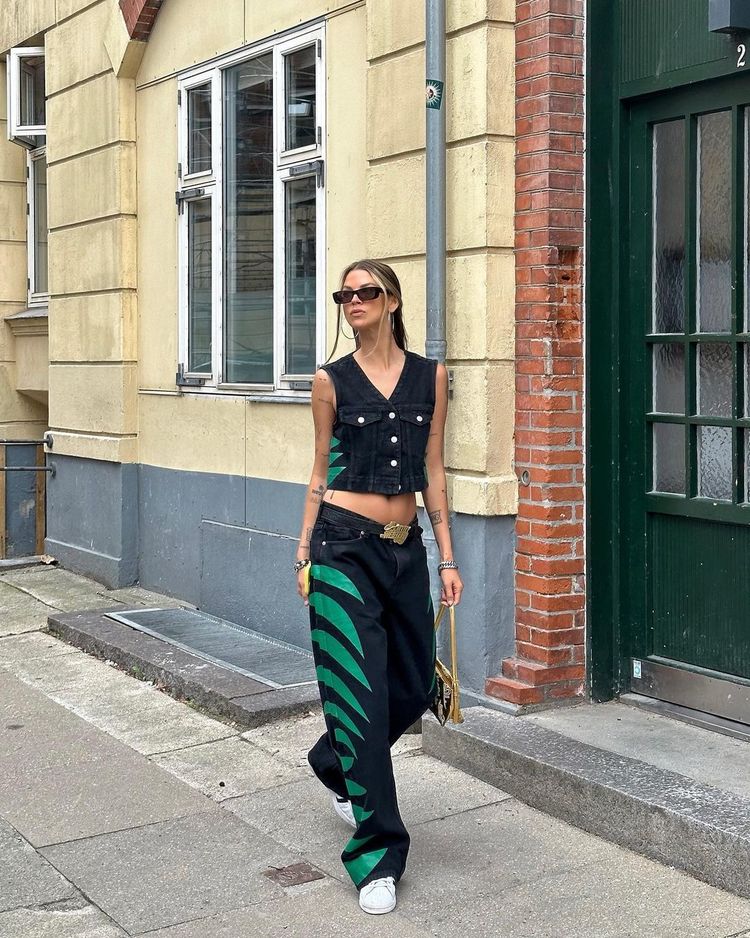 Danish style maven Anna Winck in the Iggy Jeans x Monki denim capsule. .
Berg describes a particularly close and collaborative working relationship with Monki throughout developing the capsule, with the most memorable moment being the first glimpse of samples in Gothenburg earlier this year. "Even though some things were in different colourways and we hadn't decided everything, it was so fun to understand what it was going to become – an understanding of who is the person wearing them."
To answer Iggy Jeans' and Monki's original question of who the wearer really is, the selection of a key face of the campaign came to Berg easily. "My instant idea was this model that I'd seen backstage at the Miu Miu show, Coumba Samba. I knew it had to be her, and to get to see her being styled in the collection, it was just so fun," she says.
And Berg's favourite piece for the capsule? Surprisingly, not the jeans. "I love the denim, of course, but the black T-shirt with the bow, I just really like it. You can wear it anywhere – to a party, but also the office," Berg exclaims.
The exclusive 9-piece drop will be available in sizes XXS - XXL and 24 - 40. Launching at monki.com and in selected stores from 5 September.