Equipped with that impossible combo of magnetic charisma and grounded humility, Danish heartthrobs Lucas Lynggaard Tønnesen and Alex Høgh Andersen have the world at their feet. Regularly sighted side-by-side seated front-row at fashion shows and walking red carpets in Denmark and beyond, the two actors have formed a brotherly connection in the most thrilling stages of their careers. We capture the handsome duo on the shores of Copenhagen
Star power. It's an inimitable thing, tricky to describe, even trickier to bottle. Some, like Danish actors Lucas Lynggaard Tønnesen and Alex Høgh Andersen, simply have it. And it's been keeping the 22-year-old and 28-year-old, respectively, very busy. Conquering the most complex of characters to national and international acclaim, adding strings – in the form of new genres and art forms – to their bows, and amassing countless adoring fans along the way. As they have both moved within Copenhagen's tight-knit film industry and creative circles, Tønnesen's and Andersen's paths have repeatedly crossed in recent years. Following a formal introduction by a mutual friend, some beers were shared after a premiere event, and the pair soon formed something of a brotherly bond.
"He's way more Vogue than I am. He's just too pretty," Andersen says of Tønnesen. It's something he's had to get used to. Take, for instance, the time they bumped into each other at the Mark Kenly Domino Tan show at Copenhagen Fashion Week last August. "I thought I was cool looking. I had high-waisted trousers on and a freaking net tank top. Like, that's so fash," Andersen says. "And then Lucas came, and I thought, 'OK, you look great', but I still thought I was up there with him. Then we walked past the photographers and they were shouting: 'Lucas! Lucas! Lucas!' So I just kept on walking, placed myself somewhere else far away. I probably went and got our table at a restaurant and waited for him. 'You take this, Lucas, I'll get the table'." Andersen laughs as he recounts the anecdote without bitterness. His natural showmanship is captivating.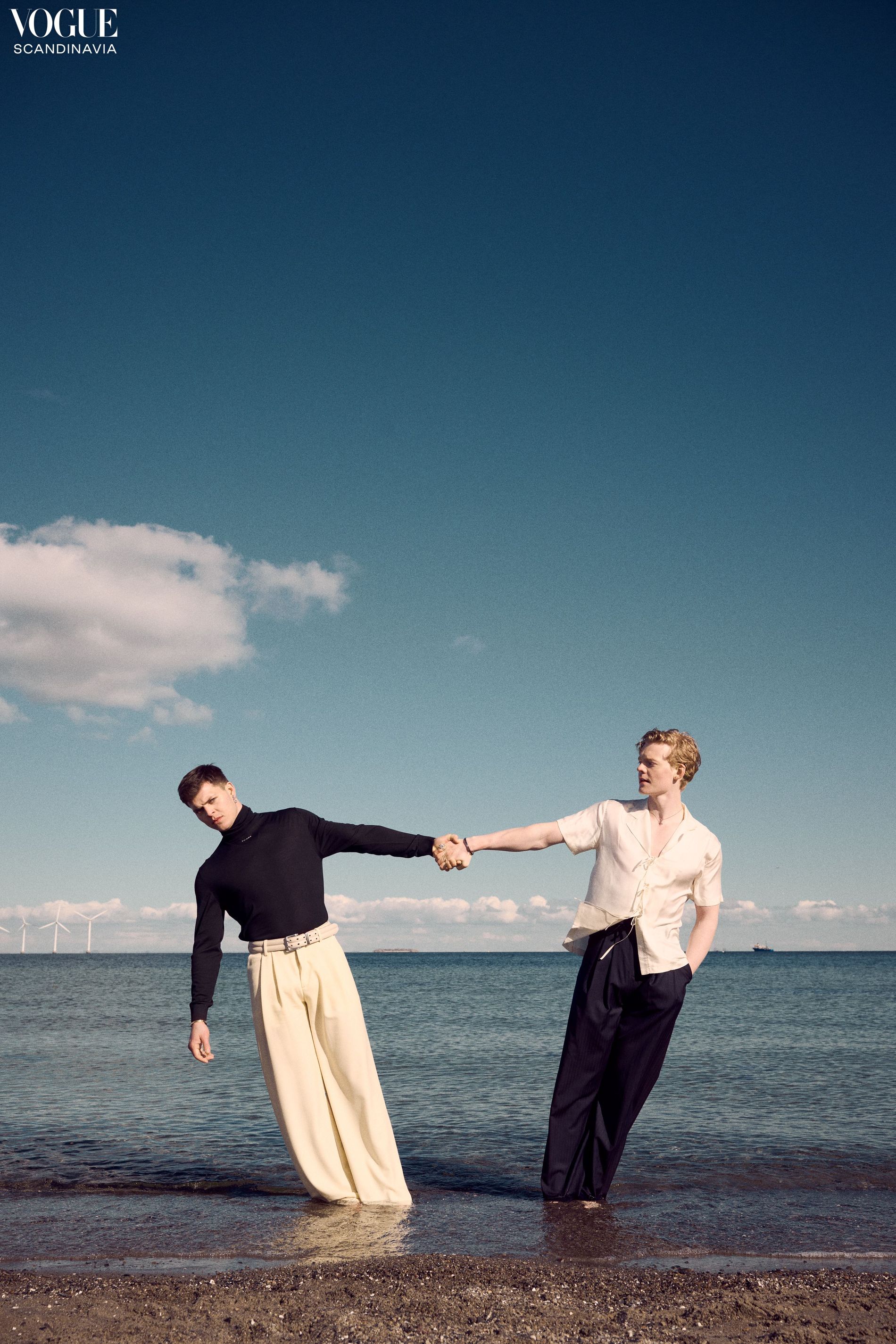 Left to right: Wool turtleneck, €1,360. Prada. Trousers, €230. Won Hundred. Silver earring, price upon request. Dior. Yellow gold bracelet, €7,450. Cartier. Belt, €240. Our Legacy. Silk shirt, €580. Bode. Wool trousers, €510. Mark Kenly Domino Tan. Silver necklace, €100. Vibe Harsløf. White gold bracelet, €8,000. Cartier. Photo: Hasse Nielsen
Speaking to Tønnesen, the sentiment is reversed. "You know what, it's very difficult to stand next to Alex, he is such a handsome lad. I know he keeps saying that it's the other way around but we all know it's not," he insists. "If we were to work on something together, the camera would just be mounted to his face. I'd be trying to come behind him, like 'Hey! I'm in this shoot as well! Can you see me?'" he gestures animatedly, as if clambering for the frame.
Shot together on the sandy, windswept stretches of Amager Strandpark on the shores of Copenhagen, the two share Vogue Scandinavia's lens in equal measure. It captures a special moment in time for the duo. Both are on the precipice of new prospects, new ventures, and with new worlds beyond Denmark beckoning. And both maintain an endearing charm, down-to-earth modesty, and lightning-quick wit every step of the way.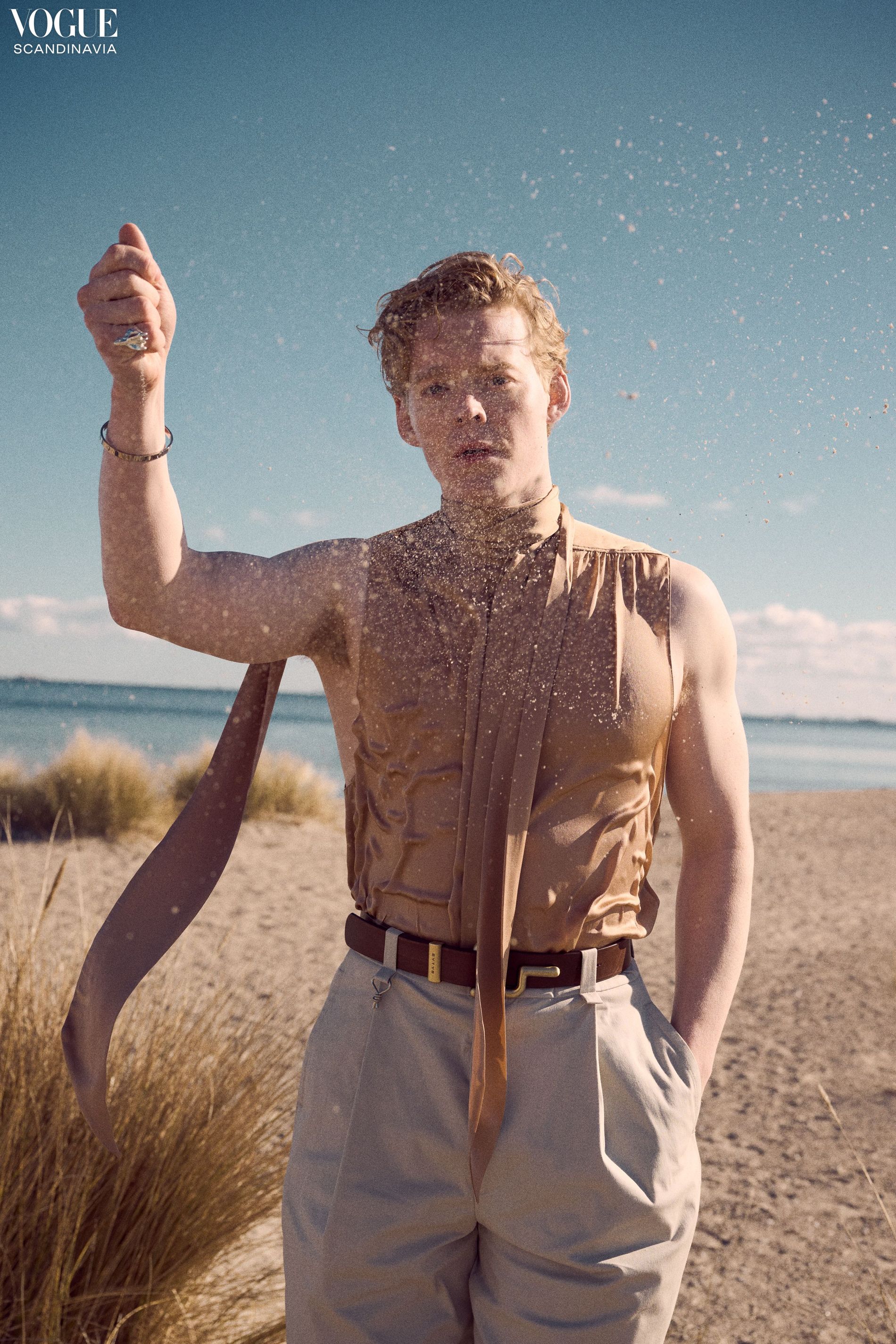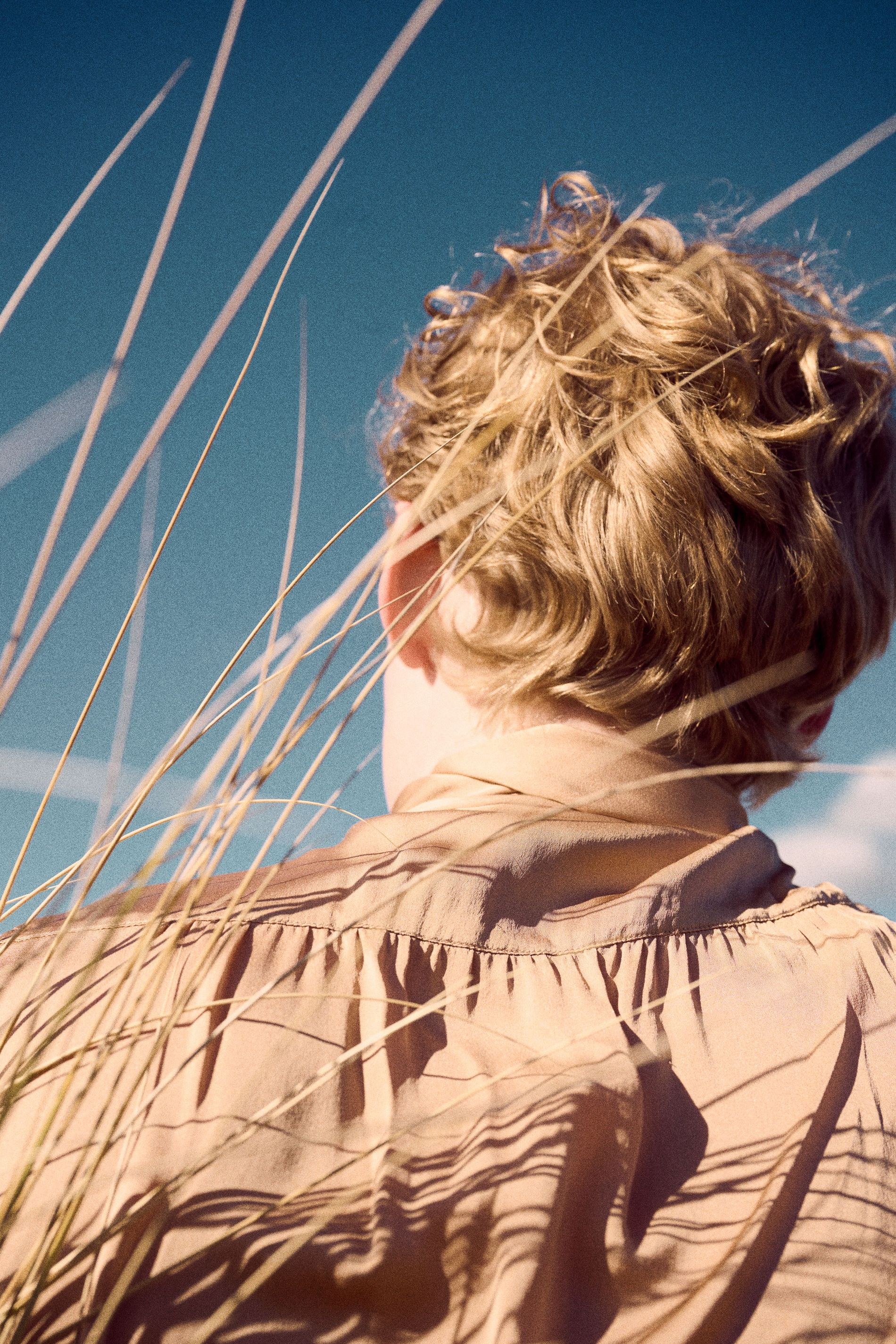 Lucas Lynggaard Tønnesen
"Robert Pattinson is one of my biggest admirers," Lucas Lynggaard Tønnesen says earnestly. The straight-shooting statement is followed by a confused pause, then explosive laughter. "No... what!" he splutters. "I would love that... but I am one of his biggest admirers," he corrects himself, still chuckling. The muddled moment encapsulates the Danish actor's upbeat boyish charm: his default setting.
While Pattinson may not be (to our knowledge, at least) Tønnesen's biggest fan as inadvertently claimed, the 22-year-old certainly has no shortage of admirers. Sitting in his Copenhagen home which he shares with two other young actors, Tønnesen is at ease in a relaxed fleece jumper. The low-key look offers no distraction from his unruly crown of strawberry blond curls ("I am finally allowed to get a haircut now that a production has wrapped") and fair, cherubic features, which won over the public's hearts in high-profile roles in The Rain, Borgen and 1899.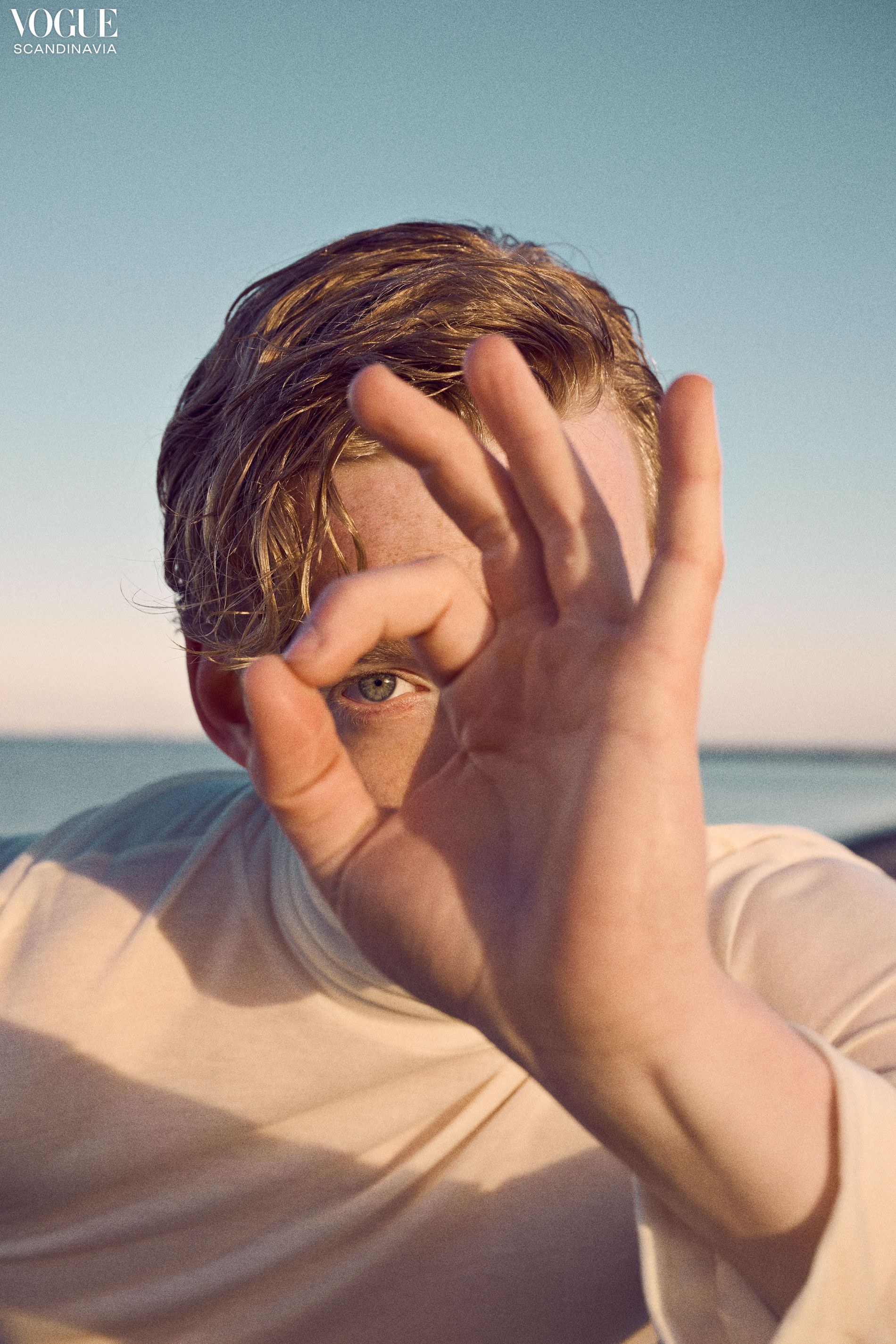 Turtleneck, €175. Filippa K. Photo: Hasse Nielsen
With the latter Netflix series prematurely cut short after just one season instead of the anticipated three – much to the anguish of the show's, and its star's, devoted followers – Tønnesen refers to himself as now in a "hiatus" period. But the actor's definition of "hiatus" is a little different; he was up until 5am this morning shooting a pilot. "When I say 'hiatus', I guess it's because I'm not currently working on a project for nine months straight," he says. "It probably feels like a hiatus because I've come from such an intense period shooting Borgen and 1899."
Intense is no exaggeration. Tønnesen took on the task of shooting the two projects at the same time, requiring the young actor to oscillate between the dark depths of his character Krester in 1899 and the buoyant, high-energy Magnus in Borgen. Adding to the demanding double act, the filming also required constant travel bet ween Germany and Denmark. "I would be shooting in Berlin until late and then a car would arrive, and we would drive for seven and a half hours to Copenhagen. So I would be sitting there with my scripts and my neck pillow, like 'OK! Let 's do this! Let's get home safe, yeah?'" Despite the gruelling nature of the experience, Tønnesen "loved it". "I look back at it and I would do it 100,000 times again," he says.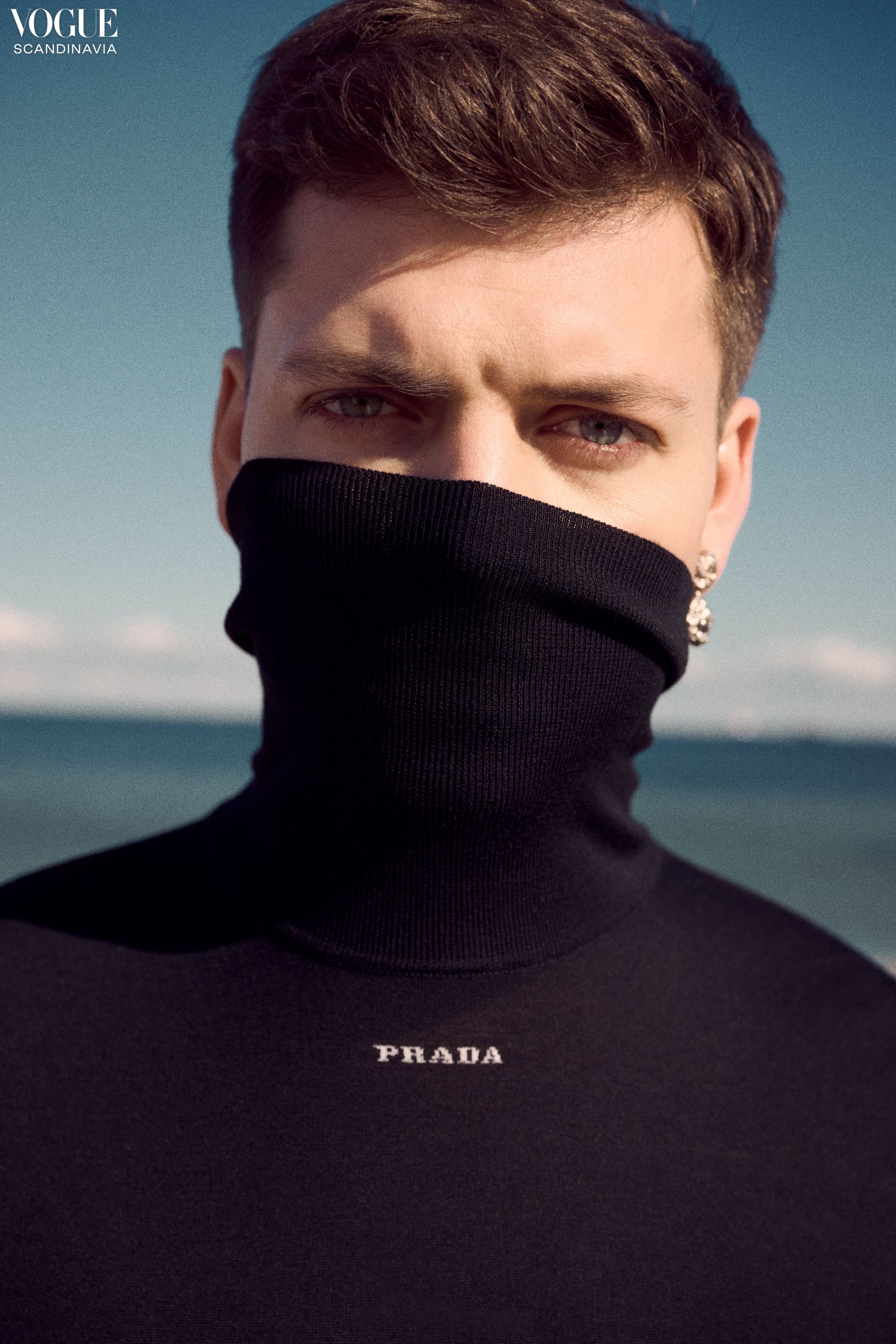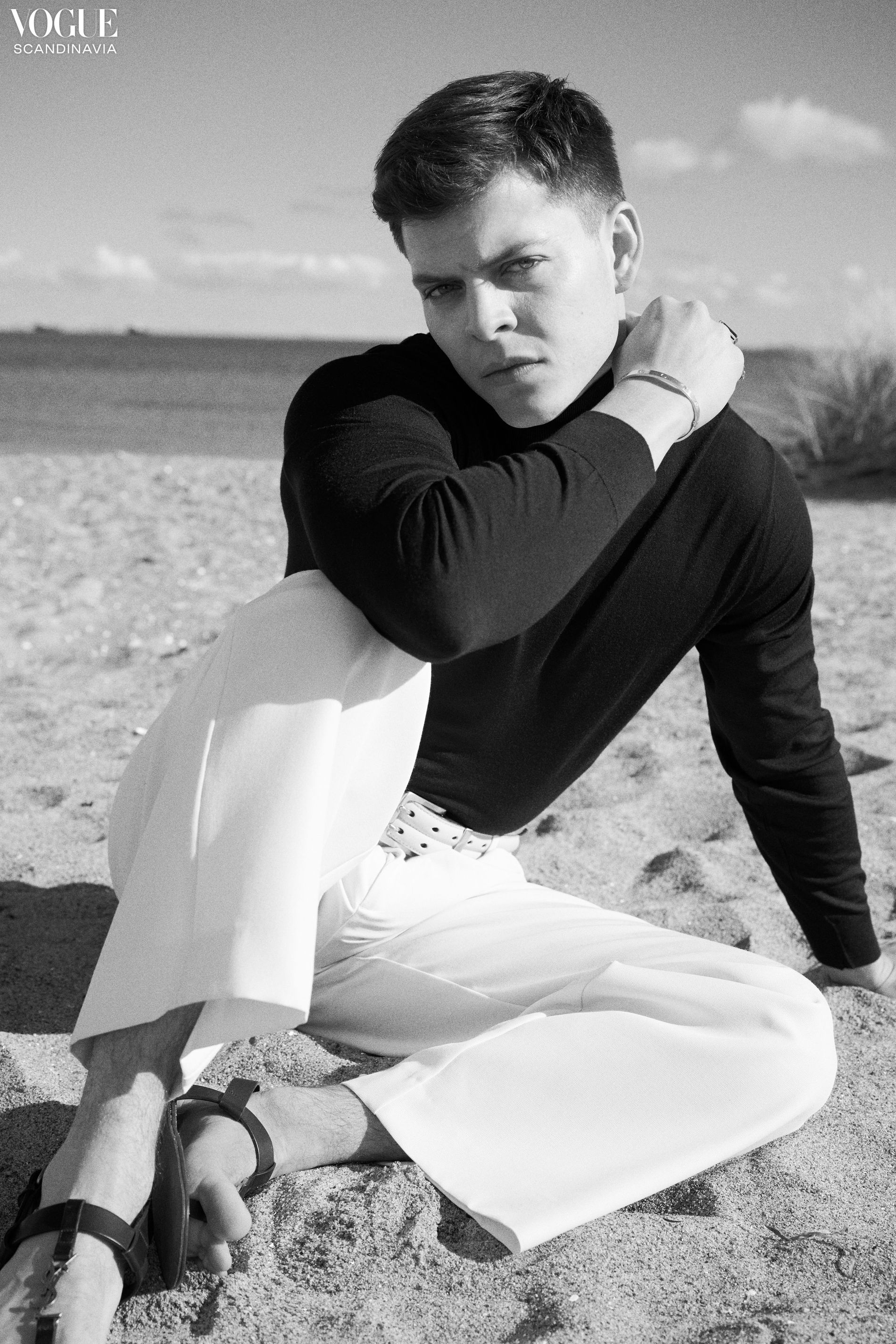 It's natural to consider Tønnesen, at just 22, to be in an early phase of his career, but he has been in the acting game since he was 10 years old. "I had a lot of energy when I was young. I wasn't one of those kids that annoyed people in the class because I wanted to. I loved being in school, but I just couldn't concentrate," he says. "My parents saw that and thought maybe I needed to burn that energy somewhere." Suddenly, Tønneson had the lead role in a circus for children that was touring around Denmark for a summer. The season of theatrics led Tønnesen to a quick succession of acting jobs, culminating in a decision to leave school at 16.
He's held a steady stream of gigs since, and his so-called hiatus hasn't halted the flow of more projects on the horizon. Two of his films are due to come out this year, including Swedish thriller Hammarskjöld and Paradise by German director Boris Kunz. He attributes a lot of his professional momentum to his roommates. "We just have this amazing society here, helping each other with self tapes and inspiring each other. Because sometimes in this career, just seeing each other – going on set, having work – it pushes you to keep on going, to keep the motor running and keep trying out new things," Tønnesen says.
From his perspective, the same communal feeling applies to the wider film and television industry in Copenhagen. "It's not competitive, it's really cool. We respect each other so much," he says. "Of course, we're going to audition for the same stuff, but you know, if it's not your role, it's not your role. It's someone else's. That kind of respect is really important."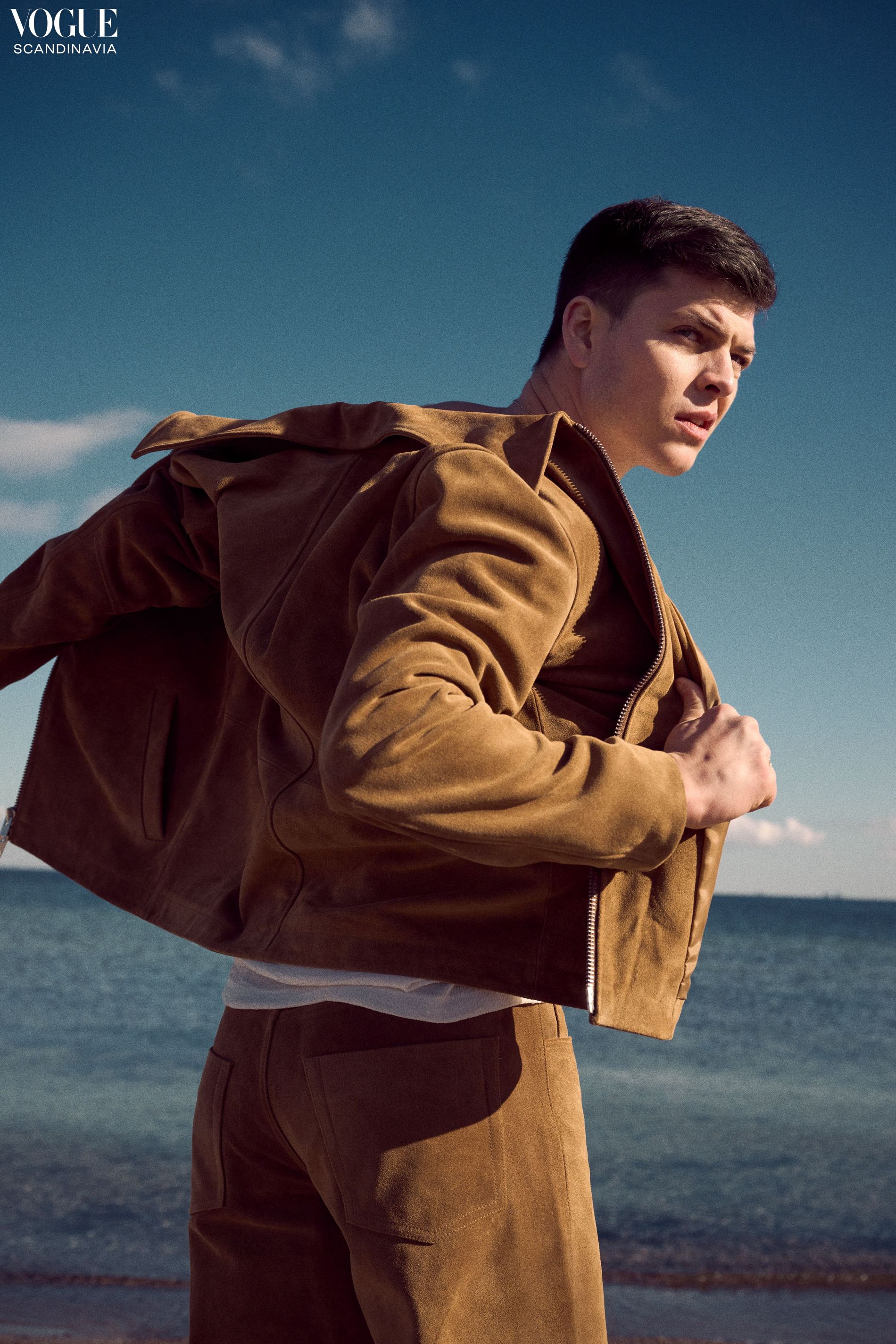 Suede jacket, €670. Hello Sunflower. Ruffled singlet, €160. Our Legacy. Suede trousers, €605. Hello Sunflower. Photo: Hasse Nielsen
This deep sense of respect also applies to the way in which Tønnesen speaks about his masses of fans and followers. The Instagram followers started rolling in when The Rain came out. "In the beginning, I was answering everything. I was like, having small conversations with these people who I didn't know. Then I realised I couldn't answer them all. I felt like I had children and was showing more attention to some than others," says Tønnesen, whose following has now reached 550,000. "But it's also a responsibility, and it can be difficult when some people don't understand that I'm also just a guy on the other side who just happens to do work that is available for them to see. It can be really hard for people sometimes to filter out that I don't actually know them."
In one instance, boundaries were over stepped by his fans during a trip to Paris that Tønnesen took with his then girlfriend. The pair returned to their apartment late in the evening after dinner to find several girls camped out in front. By studying an Instagram story that Tønnesen's girlfriend had shared earlier that day, the group had managed to map their exact location. "I didn't realise what was going on at first. I was like, 'Do we know you?'," Tønnensen says, still with a tone of disbelief.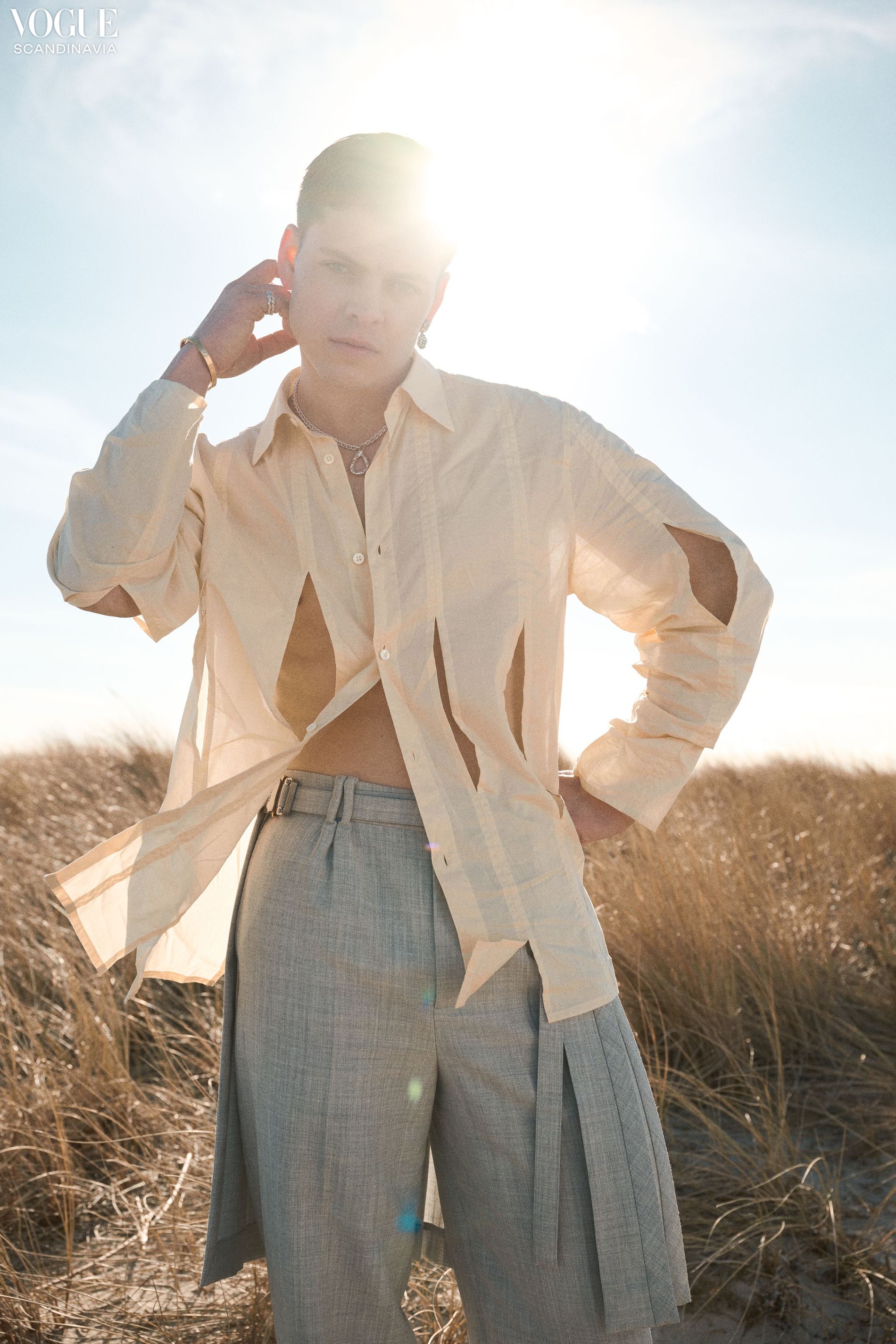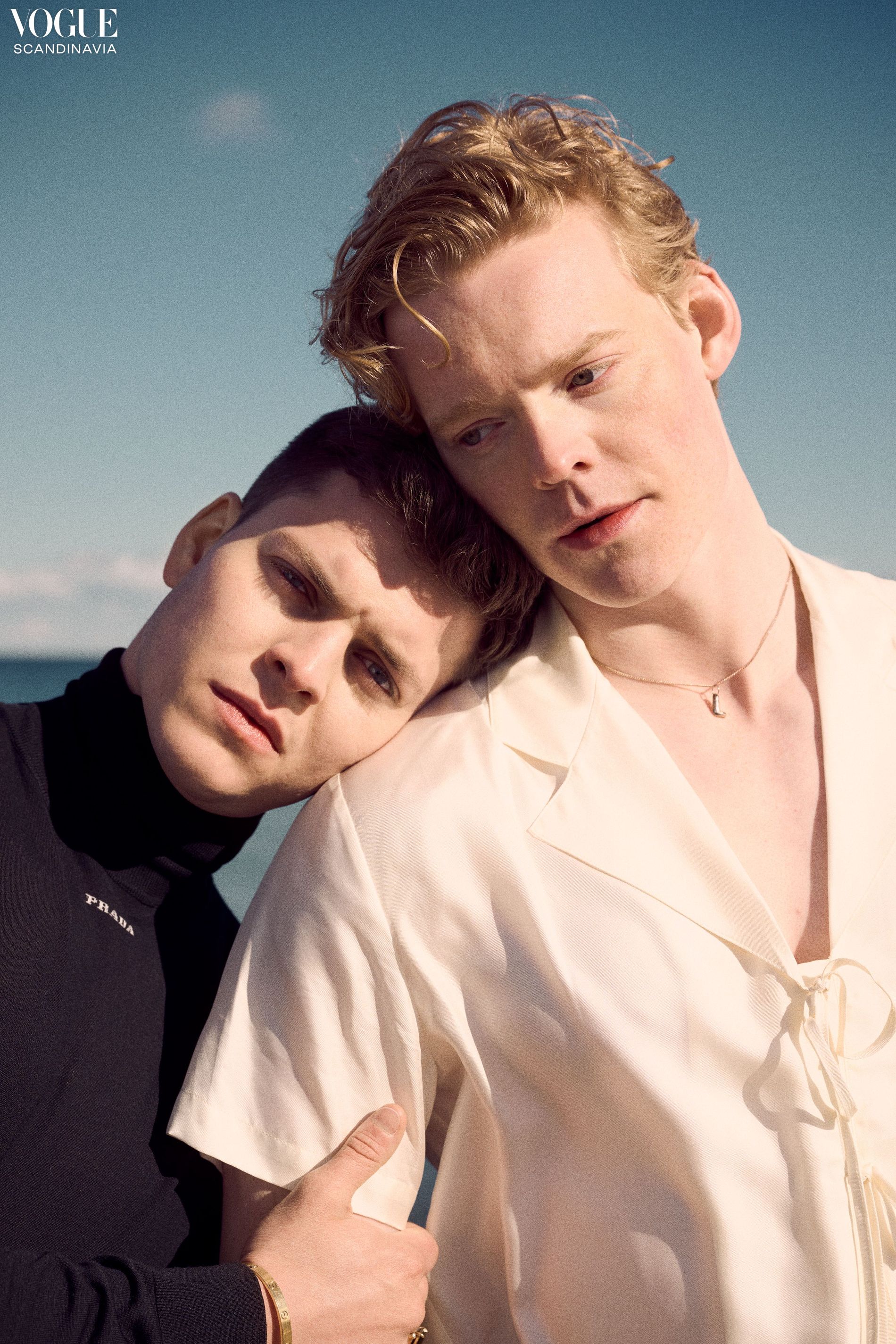 "One of them was like, 'I have something I want to show you', and pulled out a doll. She had made this doll of me, this big" – Tønnesen holds out his hands to indicate a height of about 30 centimetres – "dressed just like me in a picture that was taken when I was in Spain with my family or something. I was like, 'What the f***?'" Tønnesen calmly explained his issues with the situation to the girls. "They were really nice and they understood. Then I took a photo with the girl, and I was like, 'Hey, so can I have this doll?' and she was like, 'No!'," he says grinning. "I was like, 'OK, fine! Goodbye girls and doll?'" He clarifies that he wouldn't call it a "bad experience", adding, "Usually, meeting people out on the street, it's super nice."
That's the thing about Tønnesen – he genuinely approaches everything with inherent kindness and positivity. "No one says you have to have [social media]," he says. "For me, it's just there and sometimes it can be really nice. If you have a bad day, you go in and read a message from someone who really just wants to wish you well. And sometimes, I'll reply, and say, 'Today, you really made my day. Thank you'."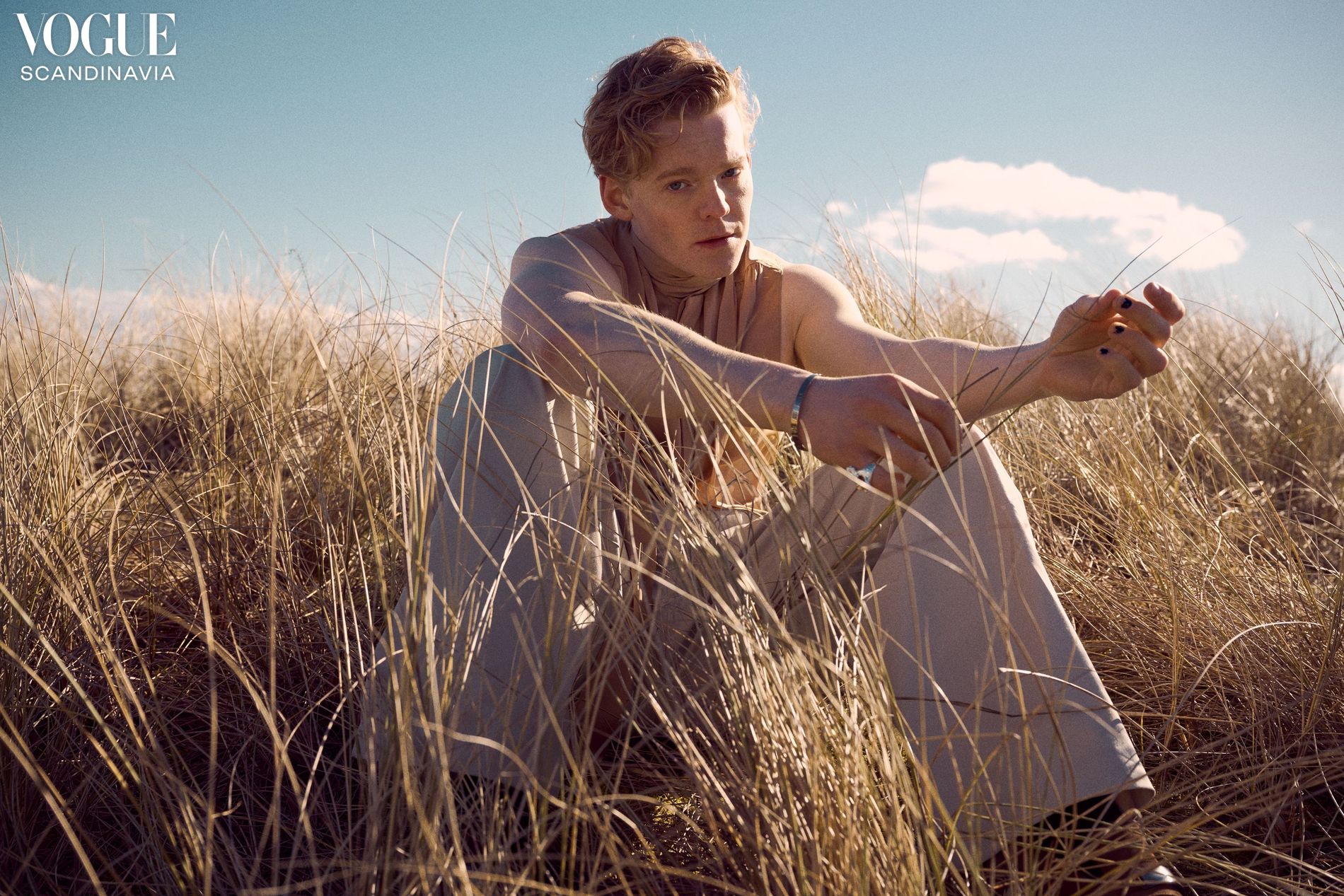 Alex Høgh Andersen
Alex Høgh Andersen is every part the perfect gentleman. "Am I late?" he asks as we settle in to chat (he's not). Discerningly dressed in navy, not a hair out of place, his appearance is as impeccable and well-groomed as his surrounding Copenhagen flat. At one point, he even jumps up to pluck a withered leaf from an otherwise thriving monstera behind him.
This fresh-faced, clean-cut persona could not be more at odds with the character that drove his meteoric rise to international stardom: the roaring, sword-wielding Ivar the Boneless of the long-running Vikings series. This stark contrast is testament to Andersen's broad-ranging abilities, which brought nuanced complexity to Ivar for years. Next, he'll switch out of his braids and bloodstains for a role on the other side of the spectrum.
The idea for this new project was in fact his own, conceived over gin and tonics. "I wouldn't say too many gin and tonics, because then the idea probably wouldn't have happened," he says, with a sly smile. "It was the perfect amount, three, four... maybe more. I'll stick with four."
The gins were shared with fellow actor and friend Magnus Haugaard. Like Andersen's relationship with Tønnesen, there's some good-natured teasing involved whenever he and Haugaard are together. "Magnus is a year younger than me, but he looks older," Andersen says. "I still run around with my baby face and I have no beard." This observation brought the pair to joke about how, one day, Haugaard would probably play Andersen's father. "And eventually, Magnus says: 'You better start practising! Start calling me daddy!' We looked at each other simultaneously, and I was like, there's something here."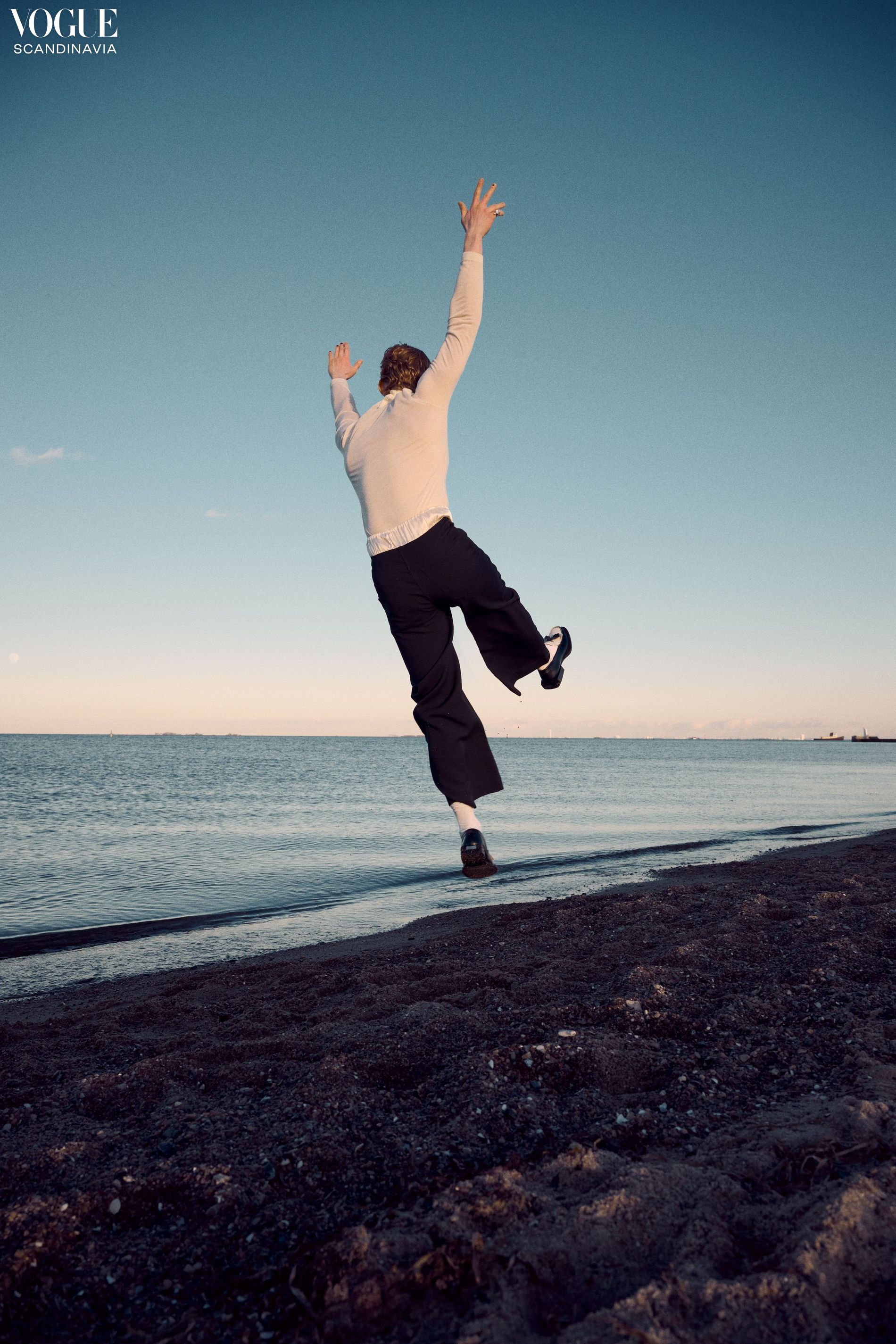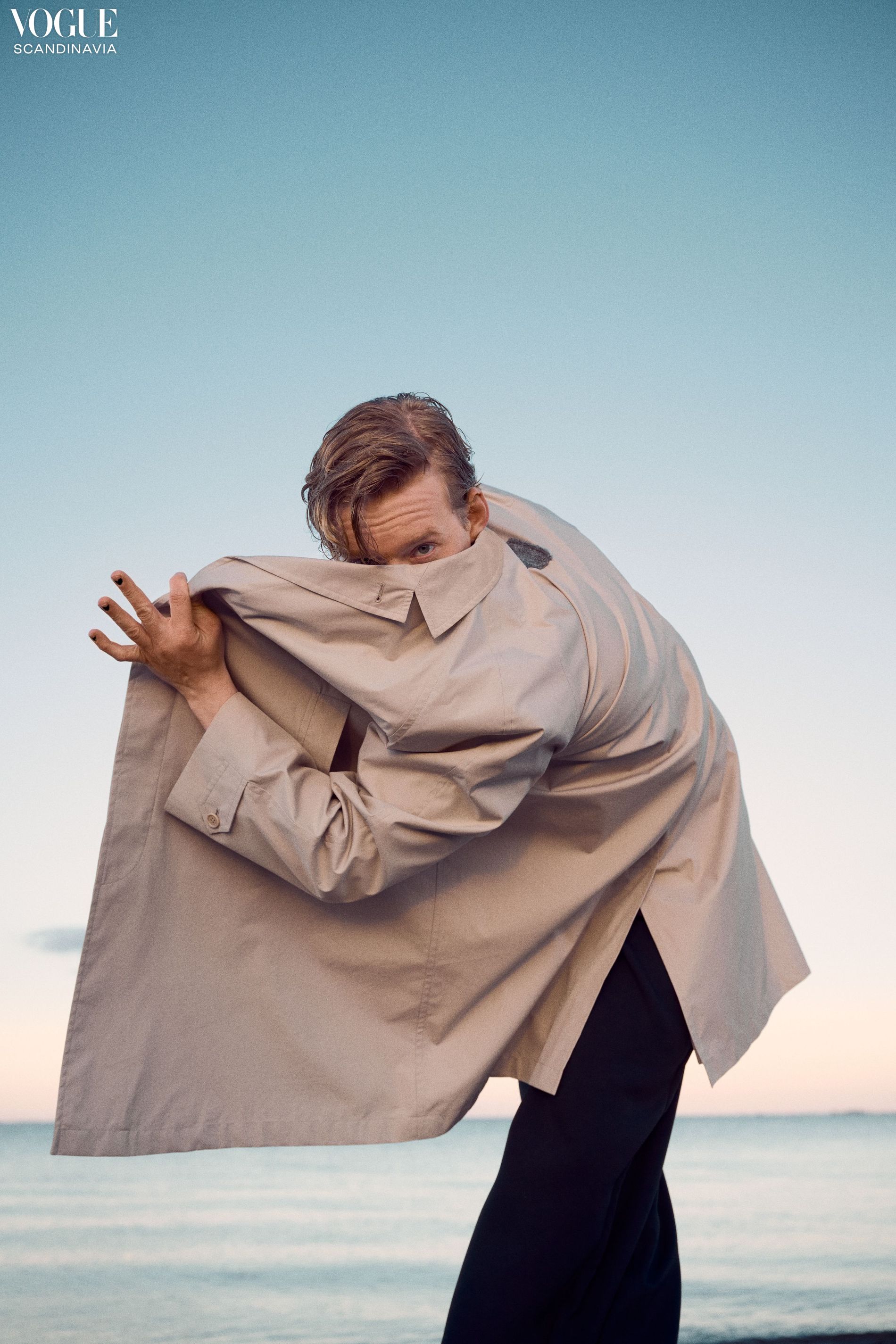 That "something" proved to be the premise of Call Me Dad, the new Danish series in which Andersen's character Emil navigates the triggering scenario of discovering that his best buddy (played by Haugaard) is dating his mother. Alongside the lead role comes a writing credit for Andersen, not to mention invaluable experience in the series' overall development, casting and production. After being heavily involved in creative processes and directorial decisions on the set of Vikings, Andersen felt equipped to take on this greater off-screen role. "Anyone can just show up and do their lines, I don't feel like that's acting," he says. "When there's bigger responsibility, more at risk, it motivates me and makes me work harder. That's what I feed off."
Call Me Dad also taps into Andersen's natural comedy chops. As we speak, he's permanently on the brink of breaking into a smile, never once missing the opportunity for a riotous one-liner. "I'm f***ing hilarious," he declares. "All my friends know me as probably their funniest friend in their world." He's joking, but I don't doubt the statement is probably true. He adds, more earnestly, "I always want to add a little bit of humour to everything."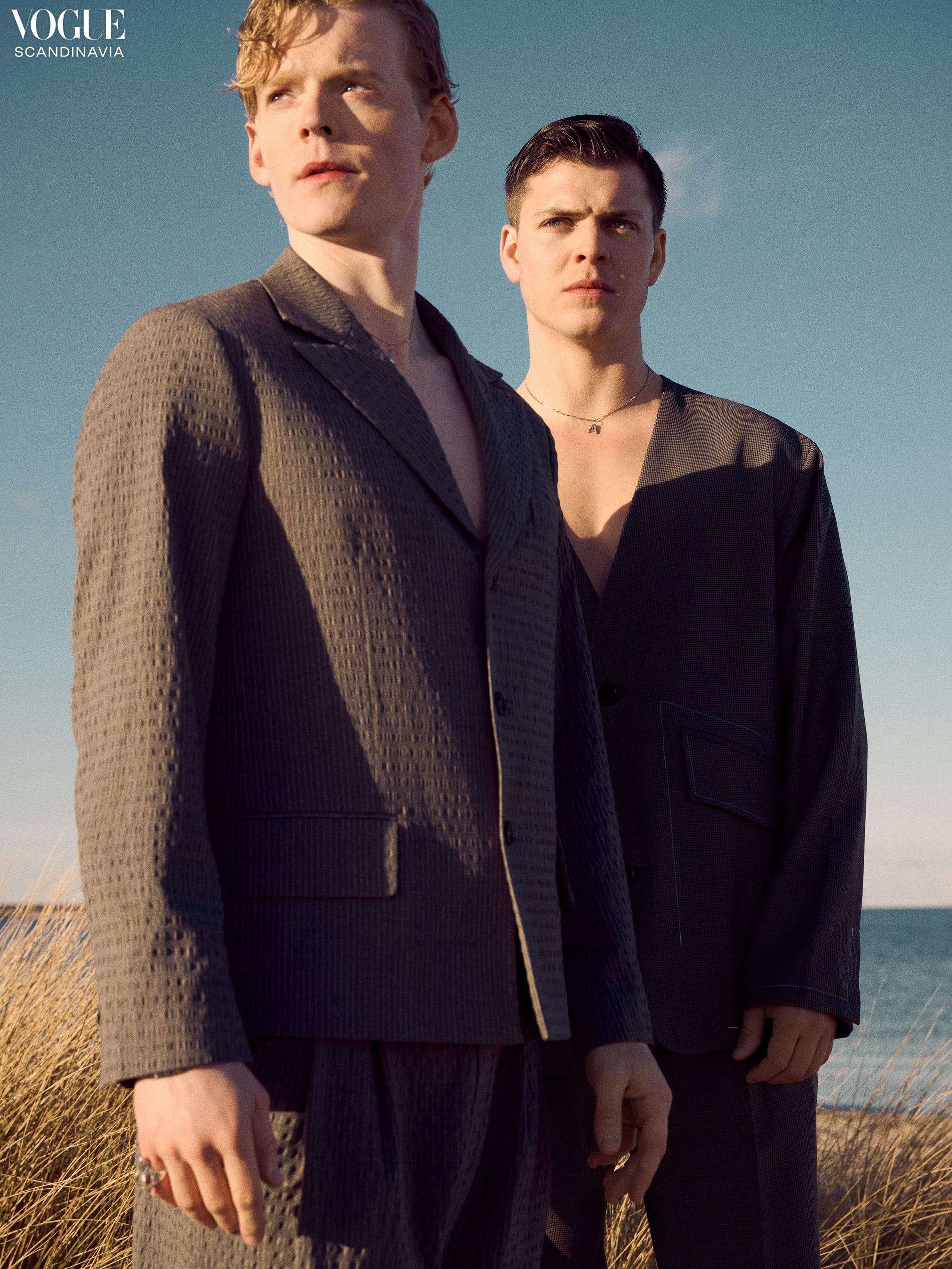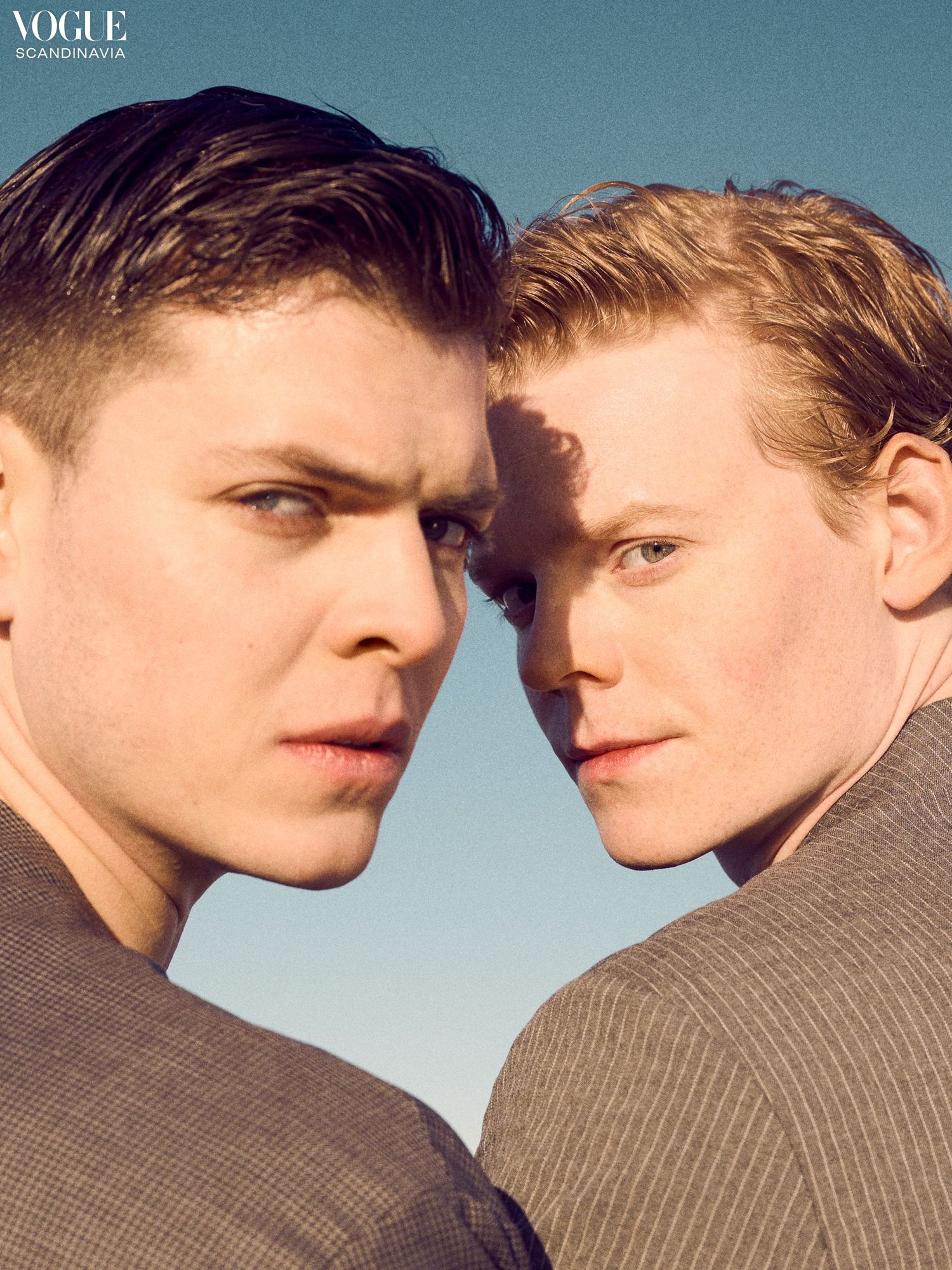 After shooting 51 episodes of Vikings over the course of three and a half years, Andersen says Ivar is still very much under his skin. "And he probably will always be there," he adds. "I can still do him right now if I want." But despite this deep connection to the character, Andersen says he always maintains a clear distinction from those he is portraying. "I'm not one of those actors who can bring my characters home. Not at all. I'm not like, 'Mmm method acting... I can't sleep because I'm not laying on hay'," he says with a sarcastic tone of pretension, before erupting into laughter. "That's not who I am. That's not how I roll."
In a close parallel with Tønnesen, Andersen's childhood energy didn't lend itself well to the constraints of the school classroom. "I couldn't sit still in the chair," he says. "We had these little contact books that teachers would write in if we'd misbehaved, and you would take it home to show your mum. Mine would be saying: 'Alex was very naughty today, he was laughing while we were doing maths, and I had to throw him out'. During my public school time, I probably filled out three of those books," he smiles. But he stuck with the system, and it was his teachers who eventually saw the talent within him, motivating him to get the good grades that led to a place on the University of Copenhagen's film and media studies course.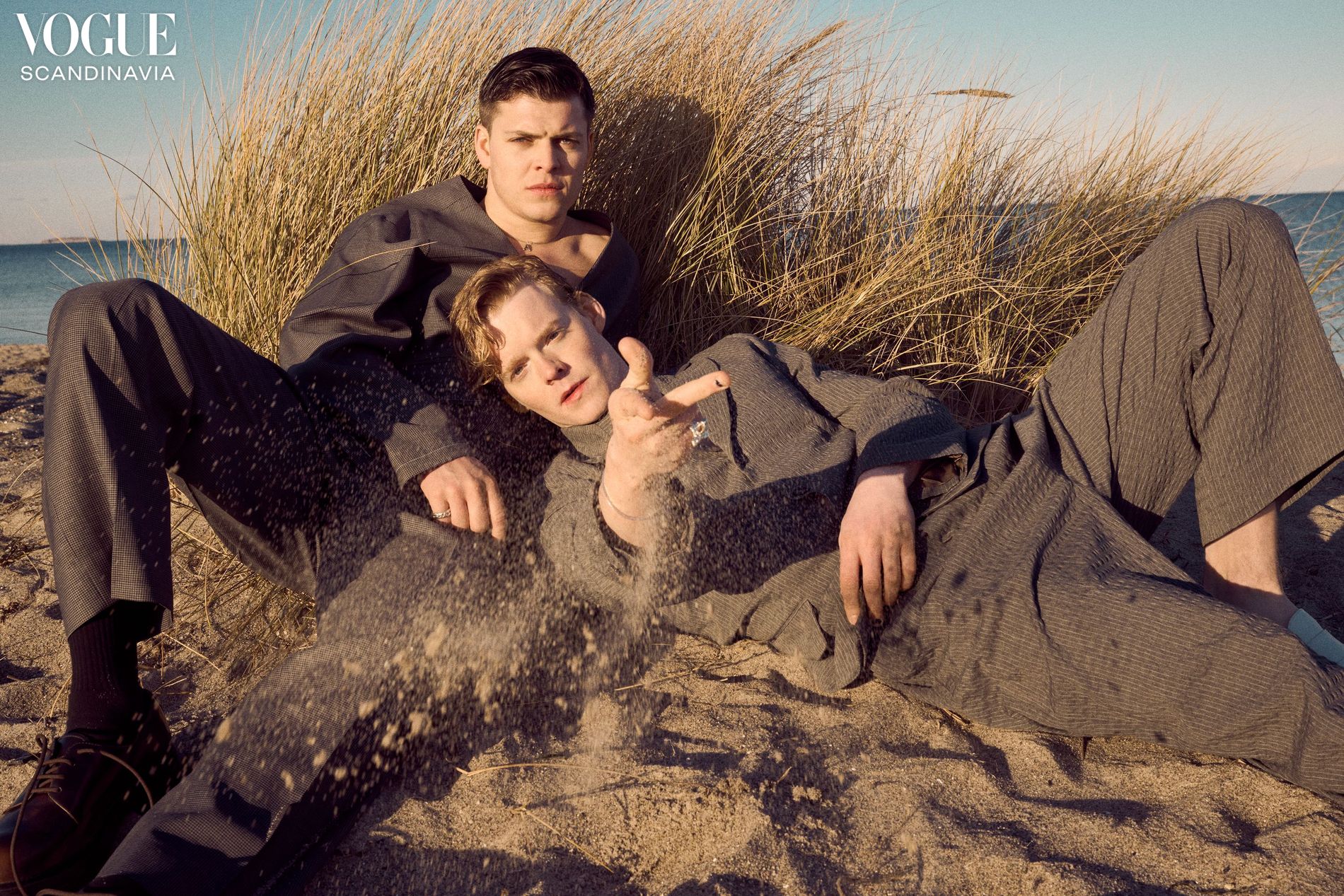 However, after 12 months of studying, he landed the role in Vikings, rendering him a self-described college drop-out. Just a few short years later, Andersen had reached undeniable celebrity status. "Privacy, that's gone out the window," he says, resignedly. "I remember I was sitting on the toilet when I hit 100,000 followers on Instagram. It was Christmas time at my grandma's place. And I was like, 'Look at that. That's weird', and then I went for the toilet paper. I'm not attached to it at all."
Now, with over 2.2 million followers on the platform, Andersen is contemplative about how he uses it. "It might be a Danish thing, but I think that self-promotion is probably the most boring thing in the world," he says. Scrolling through his feed, amongst the obligatory posts relating to his acting projects are glimpses of Andersen's own photography and work for humanitarian causes. At the time of our conversation, the next trip on Andersen's busy itinerary is to Bali to work with marine and sea turtle conservationists, with his camera in tow to venture into underwater photography. "It's basically Alex living out all his weird dreams," he says.
As his career, both in front of and behind the camera, continues to soar, I ask Andersen what he sees most clearly for himself in the future. His response is simple: "I want to do it all."
Photographer: Hasse Nielsen
Stylist: Siri Edit Andersson
Talents: Lucas Lynggaard Tønnesen, Alex Høgh Andersen
Hair Stylist and Makeup Artist: Kristine Engell
Digital Tech: Maja Thuc Andersen
Light Assistant: Mathias Ribe
Stylist Assistant: Secily Martinez
Production: Britt Vinther-Jensen, Simon Zarlang
Production Assistant: Mads Thiele
Vogue Scandinavia
Amandla Stenberg Great Dane – June / July Issue