They might complete your look, but are your sunglasses contributing to our climate crisis? Eyewear expert Betty Bachz explains how to select sustainable sunglasses
All products featured on Vogue are independently selected by our editors. However, when you buy something through our retail links, we may earn an affiliate commission.
Finding the right pair of sustainable sunglasses amongst a sea of brands is no small task. In an industry where brands rush to market with increasingly obscure materials — everything from upcycled plastic bottles to bio-acetate — even the most vigilant consumer may have a hard time telling apart green innovations from greenwashing.
Vogue Scandinavia breaks down the materials and advises how to shop sunglasses with a clearer conscience.
Avoid fossil-fueled plastic — even if it's recycled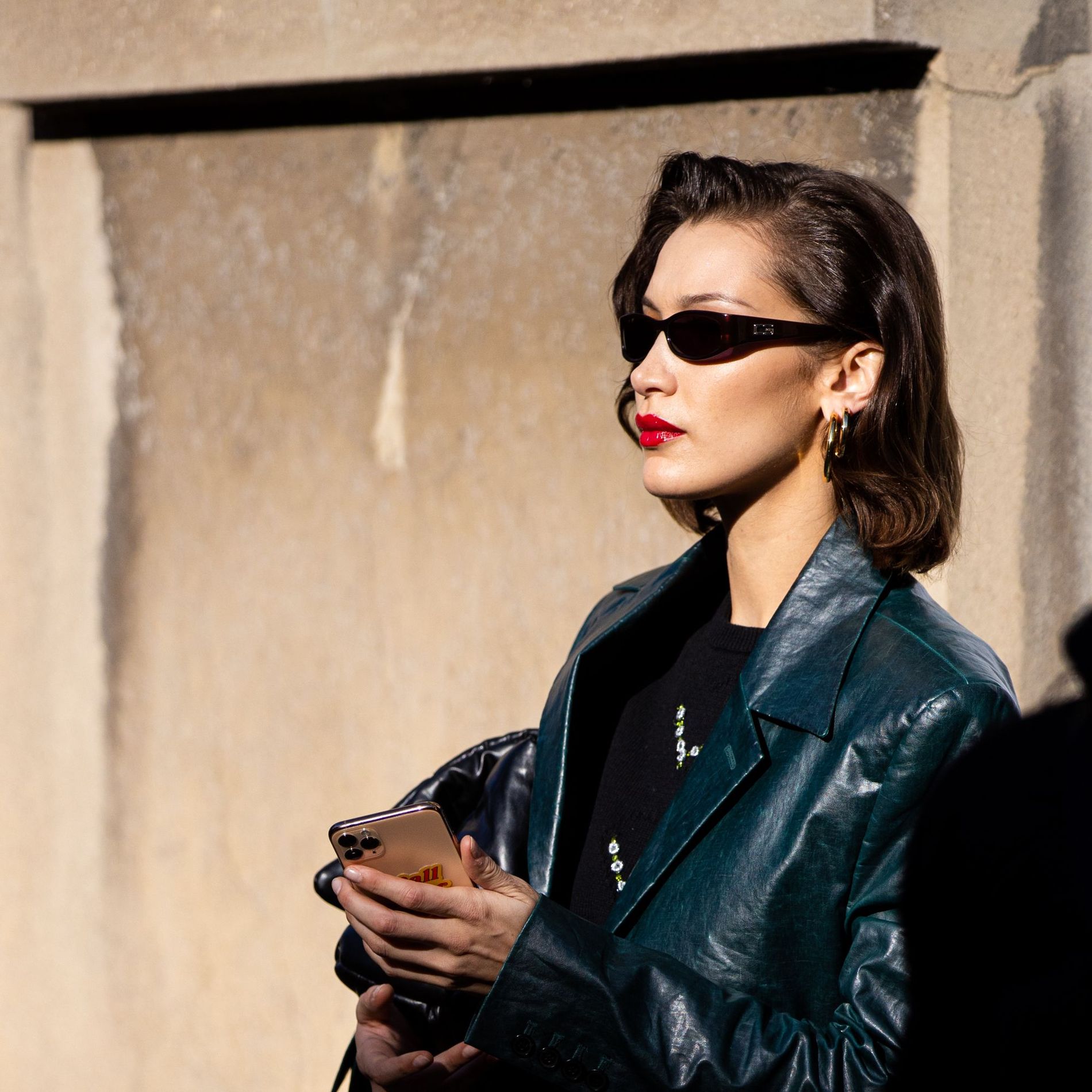 Even recycled plastic in sunglasses can be problematic. . Photo: Getty
It's a myth that eyewear frames were traditionally made out of fossil-fueled plastic. Since the late 1940s, eyewear frames were in fact made of a bioplastic, called Cellulose Acetate (CA). It's only more recently that this was replaced by fossil-fueled plastic to meet the demands of fast-fashion culture.
Avoiding virgin plastic may be an obvious choice from an environmentally conscious perspective, but going with recycled plastic as an alternative isn't necessarily the solution. A whole range of green labelling trumpets supposedly eco-friendly materials such as recycled water bottles, recycled fishing nets or upcycled discarded ocean waste, yet as De Chen, Professor in Chemical Process Technology at Norwegian University of Science and Technology, explains, "although recycled plastic may cut CO2 emissions up to 50-80 per cent compared to virgin plastic, it is derived from non-renewable sources and takes thousands of years to disintegrate. This means it still needs to be burnt at the end of its life cycle with harmful chemicals and greenhouse emissions released into the environment."
Opt for bio-acetate frames
Another buzzy term in the sunglass industry right now is bio-acetate. So what is it and why should you be looking for it?
In order to understand what bio-acetate is, we must first look at its precursor, CA. A biodegradable bioplastic discovered in 1865, CA has been used to make clothing, cigarette butts and — since the late 1940s — eyewear. The journey of CA to the mainstream eyewear market was not motivated by any environmental concerns, but rather a lack of traditional materials such as bone, tortoise, ivory, and leather after the Second World War. With the material being highly durable, lightweight, flexible and able to take on endless colours and patterns, it's easy to understand why the eyewear industry took a quick liking to it.
Stella McCartney
Flat-brow sunglasses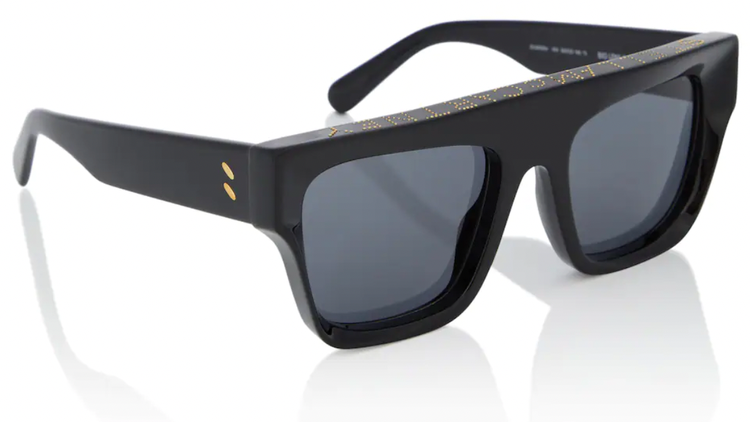 The base material of CA is cellulose extracted from cotton seeds and wood, but its production requires the use of fossil fuelled plasticisers which contain problematic toxic phthalates. A source at Chinese CA manufacturer Jimei tells Vogue Scandinavia that, "an average block of acetate used in eyewear production has around 23 per cent of toxic phthalates per unit."
What if we could eliminate those toxic phthalates by using a plasticiser of natural origin? Enter bio-acetate. Compared to traditional CA, bio-acetate has a considerably higher bio-based content and is certified biodegradable in under 115 days. With the toxic phthalates minimised, the bio-acetate can be recycled or discarded through the biodegradation process without a large impact on the environment. In fact, the released CO2 is re-absorbed by the bio-based content needed to make the material, making the net carbon footprint zero.
Pioneered by Italian acetate juggernaut, Mazzucchelli, the bio-acetate product was patented and named M49 in 2010, with Gucci being the first brand to use it in AW11. It has taken other acetate producers nearly a decade to catch up with this green innovation, finally making bio-acetate a more accessible material to brands. From Arnette to Stella McCartney, a number of brands are now committed to putting out bio-acetate styles seasonally.
The less metal, the better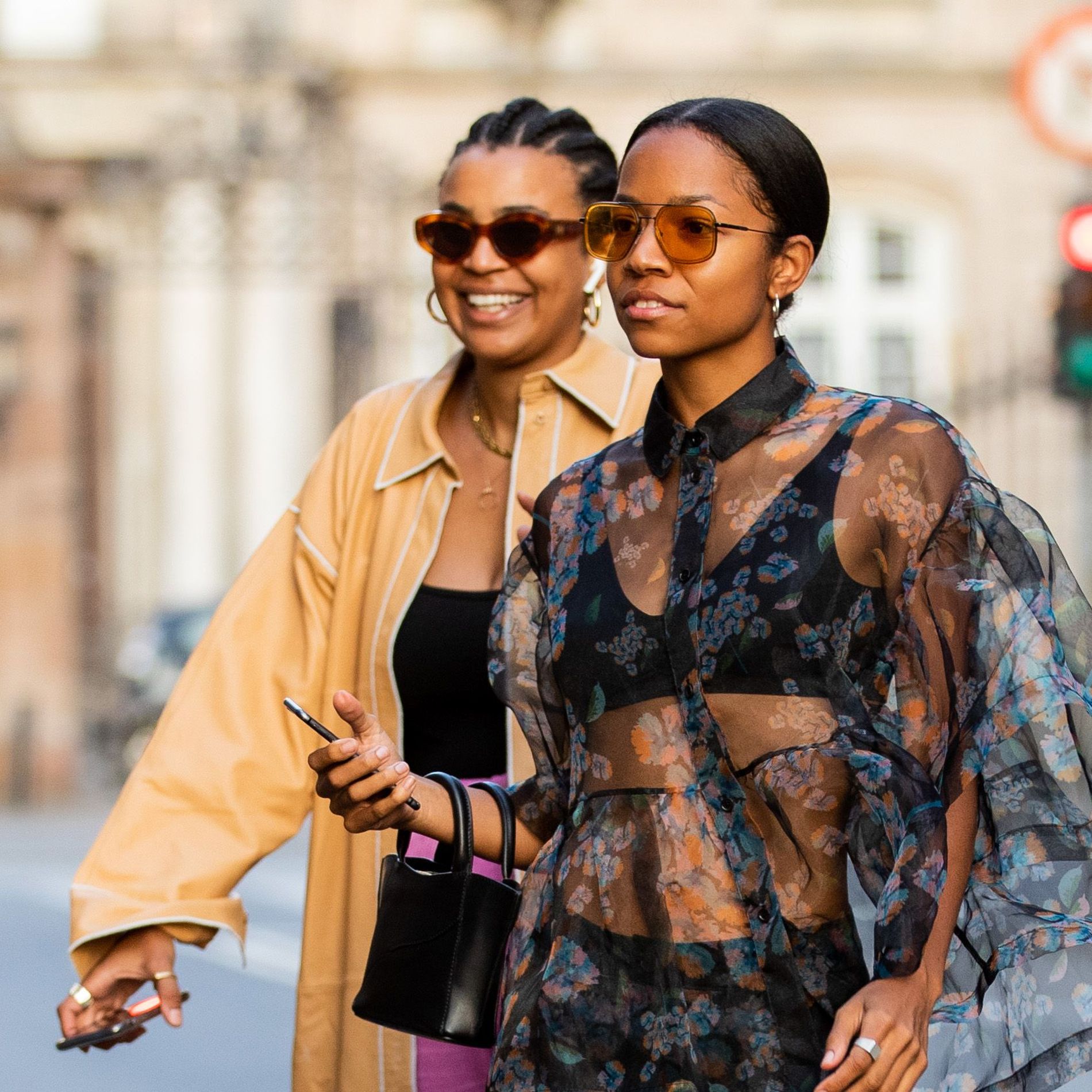 Look for sunglasses with as little metal as possible. Photo: Getty
Whether aluminium, stainless steel or titanium, metals take significantly more energy to produce and pump about twice as much CO2 into the environment than fossil-fueled plastics. However, there are no toxic phthalates in metal production and the majority of metals are being recycled, which makes for a more complex picture. Of course, you can side-step that whole debate by going for bio-acetate when choosing the frame.
But while you may be able to avoid a metal frame, it's harder to avoid metal hinges and the metal hardware and detailing of brand motifs that come with most sunglasses. There are options out there however — some niche eyewear brands such as Rolf and Pela are experimenting with biodegradable natural rubber hinges that are made out of biomass. Otherwise, examine the sunglasses before you buy and look for a model with as little metal as possible.
Seek out bio-nylon lenses
The most recent green emphasis is bio-nylon, which is currently made up of 39 per cent bio-based content and 61 per cent by-products of fossil fuelled origin.
The production process requires less energy than the production of traditional nylon lenses and reduces CO2 emissions. Bio-nylon lenses will disintegrate in landfills in an estimated five years, compared to their fossil-fuelled plastic alternatives that take thousands of years.
With the first mainstream lens suppliers starting to include bio-nylon in their product offerings from SS21, the big brands are bound to follow. Meanwhile, independent Scandinavian eyewear brands such Oscar Magnuson are pioneering hybrid bio-nylon lenses with bio-acetate frames in their most recent collections.