With Stockholm's skies lit up in beautiful twilight shades late into the evening, it would be silly to be anywhere else but up high this summer. Here are the bars to have on your must-visit list
As our favorite season approaches and we can finally escape our hibernation, what could be a better way to celebrate the warm weather and clear skies than relish rooftop bars. Due to the sparse days when we get to enjoy the sun, Scandinavians don't miss any chance to work on the summer tan; thus, enjoying delicious foods, refreshing drinks, and remarkable views while still being outside is what we want for this season.
Thankfully, Stockholm has some of the best spots for that and we have gathered some gems in the city where you can experience everything from intimate and luxurious terraces to airy and trendy roofs with both drinks and food to keep you satisfied all summer.
Arc at Hotel Blique by Nobis
Whether you're looking for delicious foods, outstanding drinks, impeccable service, or a jaw-dropping view, Arc at Vasastan's best hotel, Blique by Nobis, has it all. And even though you might initially come for the spectacular view (since it's rumored to be the best in Stockholm), we want to say that it is a requirement to order a Bansho, their passionfruit cocktail with pomegranate foam on top, (or one of their own kombuchas) as well as a smoked tofu steam bun. The Asian-fusion menu is out of this world and we strongly recommend coming on your very emptiest stomach. A tip is to try their Omakase, a five-course menu that varies depending on the evening since it consists of the chef's current favorite dishes. Lastly, don't miss the lounge area with sofas outside in the corner to the left, or the stairs that lead you even one floor higher up – the view from here can't get any better.
Gävlegatan 18, 113 30 Stockholm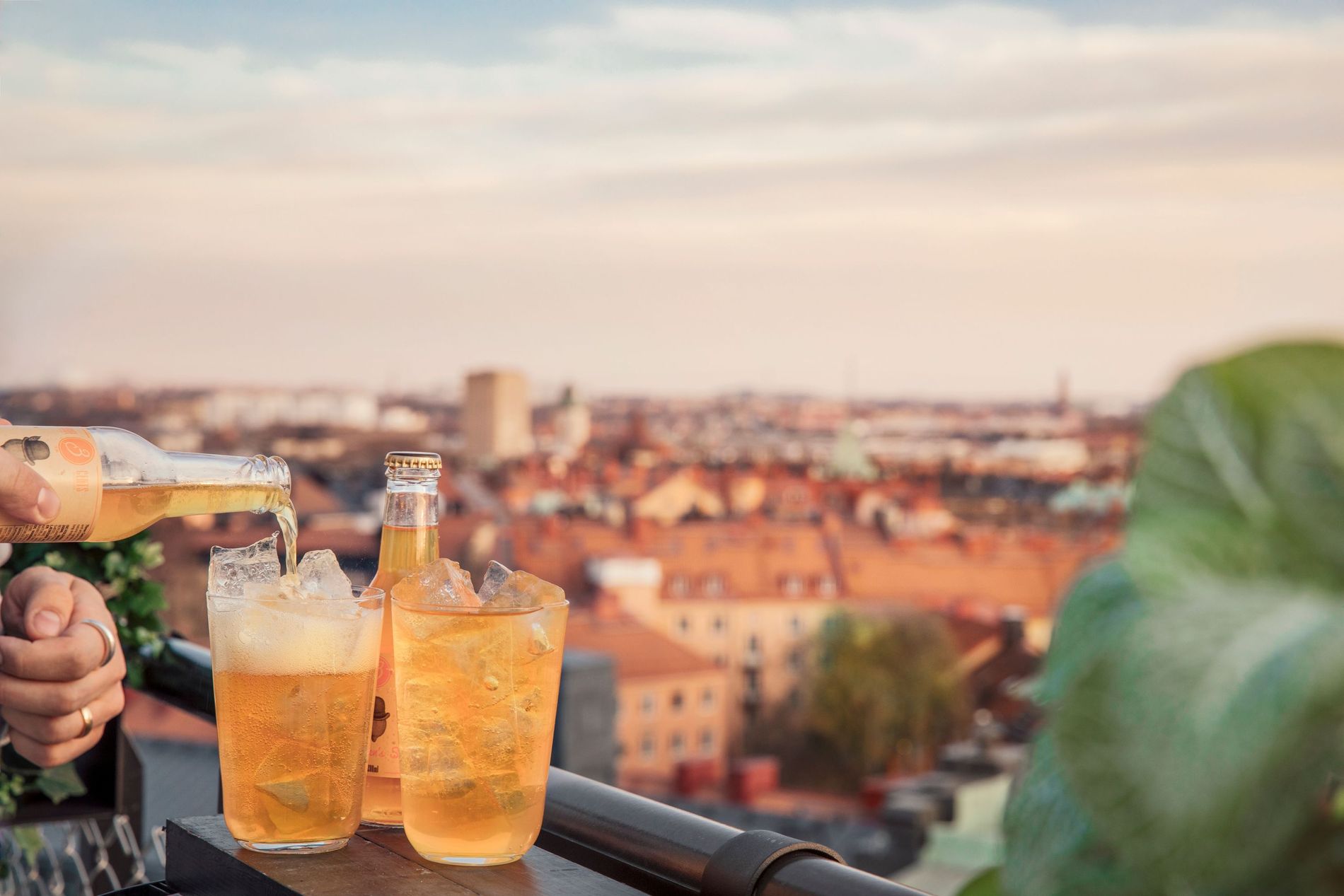 TAK
So popular that it is almost considered a Stockholm landmark and must-see for both visitors and locals, Tak has been a favorite since its opening about five years ago. Make sure to get here early, even on cloudy days, unless you want to join the queue snaking down the whole neighborhood. However, the wait would still be worth it once you hit the 13th floor and get to experience the result of Swedish top chef Frida Ronge's masterpiece where Japanese cooking techniques marries Swedish ingredients. The restaurant offers a sharing menu and the must-trys are the nigiris and their signature sushi bowl accompanied with a taste of Japanese Sake. The same floor also offers a private and more intimate dining space, UNN, where eight people can enjoy delectable dishes cooked in front of the table by an own chef. One level up is also IMA that doubles as an event space and occasional pop-up bar, as well as the outdoor bar and its smaller and more relaxed restaurant, Izakaya.
Brunkebergstorg 4, 111 51 Stockholm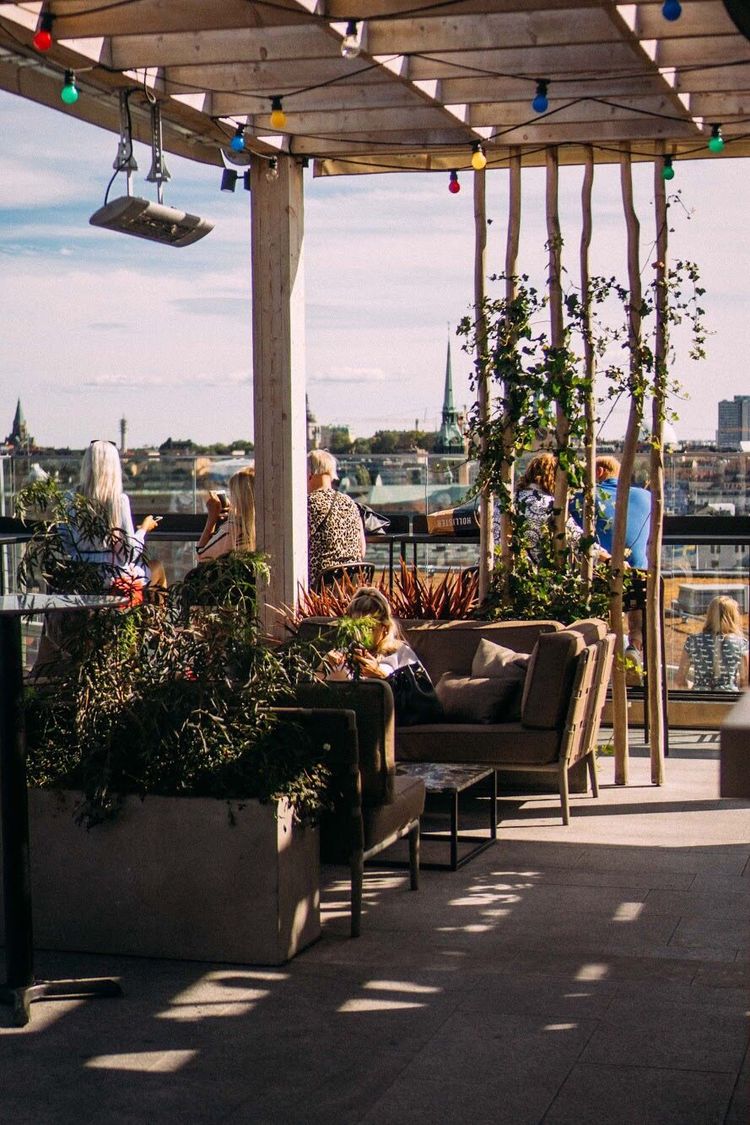 Stockholm Under Stjärnorna, SUS
The more Södermalm-and-hipster-looking space across the roof from Tak, Stockholm Under Stjärnorna (SUS), has a younger crowd and more casual drinks and food, perfect for warm summer evenings. Don't miss their movie nights during the summers as well as the screenings during sports event – there is no better place in Stockholm to watch the soccer games.
Brunkebergstorg 2-4, 111 51 Stockholm
Le Hibou
For an intimate rooftop experience where luxury meets an at-home-vibe, the gorgeous Bank Hotel's elegant cocktail and terrace bar, Le Hibou, is where to go. The indoor area and its interior are inspired by an exclusive Parisian suite with details that make you feel like you're in a fancy living room, and the outdoor terrace offers a stunning view of the area around Kungsträdgården and Berzelii Park. In addition to some lighter snacks, the bar also serves a selection of specially composed cocktails with a wide selection of non-alcoholic drinks, our favorite being Enzo Spritz.
Arsenalsgatan 6, 111 47 Stockholm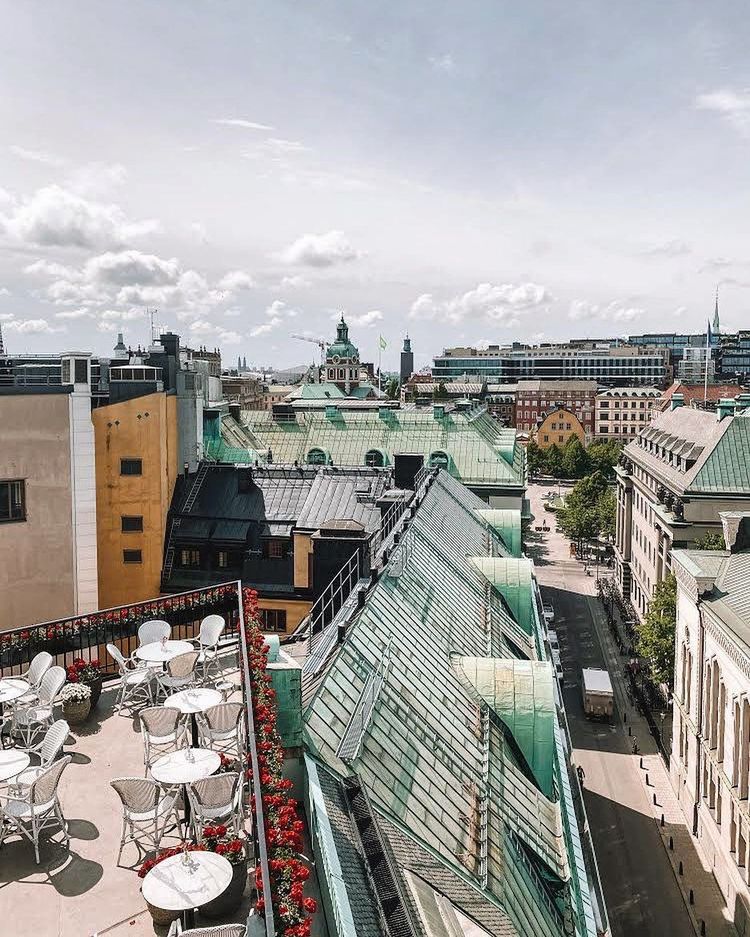 Photo: @bankhotelstockholm
Spesso & Tetto
The best place for after-work and people spotting in the city centre are the relatively newly opened venues Spesso and Tetto – Spesso being the stunning restaurant with both an indoor and outdoor area, with its sister-bar Tetto. Start the evening with a refreshing Spesso Martini on the terrace and then segue to Tetto's lounge sofas where you can order pizza slices fresh from the oven next to the backend bar. As it's one of the city's hottest new places since its opening, we definitely suggest coming early in order to get your spot.
Malmskillnadsgatan 38B, 111 57 Stockholm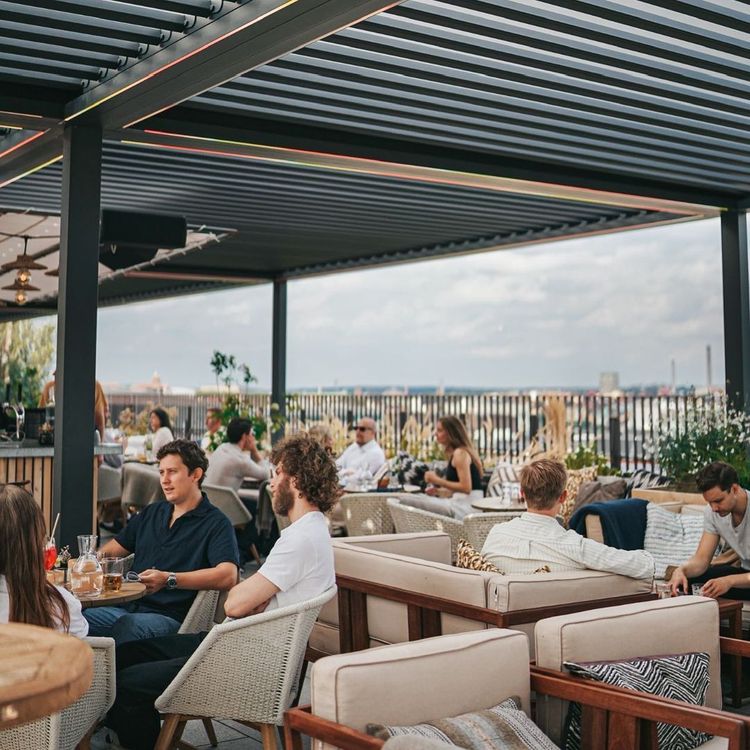 Photo: @tetto.se
Takpark & Höjden at Urban Deli
Another tip is Urban Deli's airy and lush roof at Sveavägen where you can enjoy both thirst-quenching drinks and lighter dishes such as oysters, charcuteries, and an own salad bar opening this summer. DJs, live concerts, day parties, and even croquis drawings, are on the schedule for this season. Additionally, a new kitchen is added in the cocktail bar Höjden, located in a glass pavilion on the roof, where seasonal dishes grace the menu. Enjoy the breathtaking backdrop from the roof and explore their different bars as you stroll through their "labyrinth".
Sveavägen 44, 111 34 Stockholm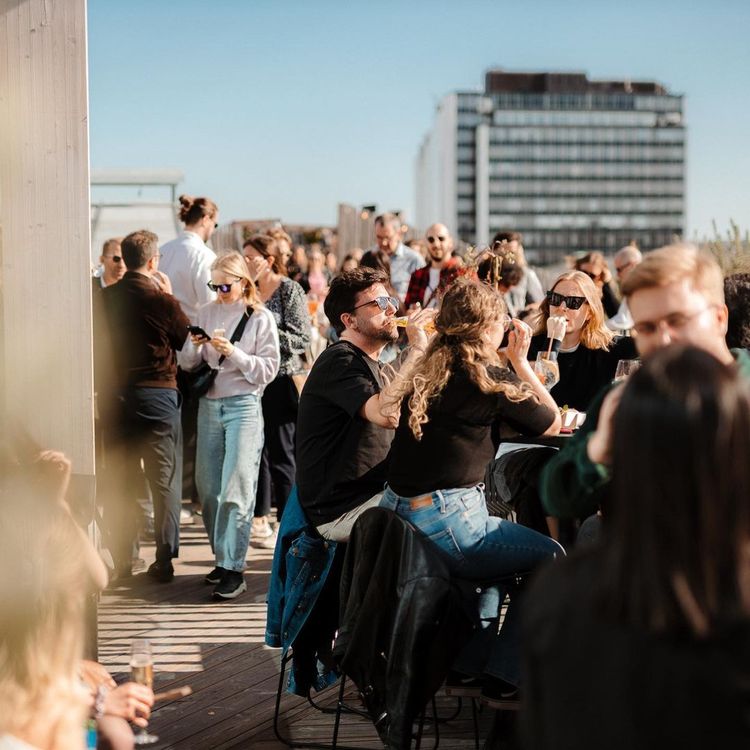 Photo: @urbandelistockholm