More than just a hairstyle, our cover star's tousled locks and blunt bangs are legendary, here Marianne Jensen gives us tips on how to achieve the exact look
There is something alluring and mythical about signature hairstyles. Some icons that have attained this are found in the legends of Marilyn Monroe, Coco Chanel and Brigitte Bardot. Their polished looks, carefully positioned curls, bangs and sharp edged bobs are ones that are recognisable from miles away. Even when they're no longer with us, they're still easily remembered by what once was their go-to hair.
Now, in this very particular category of stars that have earned their signature style, we find that Helena Christensen's hair is slightly different from the others. Her mane has morphed through the decades, but always keeping a tight red thread that connects them all together. Cue the artfully-tamed, carefully-fluffed, vividly-teased looks of supermodel and our own Vogue Scandinavia cover star.
She has a magical way of making my hair look incredibly cool, smooth, and bouncy for every shoot we do together
Helena Christensen
In what can only be described as permanently 'salty hair' — (perhaps after rolling around in the beach with Chris Isaak), Christensen's hair is one that has grown to be recognisable for the effortless boho-chic look that somehow manages to combine the best of the romanticism with the carefree liberty of the Nordics.
From a technical point of view, the style, which slightly emulates the now-trending wolf cut, consists of a plethora of layers, long bangs and tons of texture that in turn create volume and consequently movement. Marianne Jensen, who has been Helena's go to hair master for more than 25 years give us an inside view on how to emulate the style. "We are joking these days that we should do have a silver wedding, we've worked together for ages and have a lot of fun together. She's got the best sense of humor," says Jensen.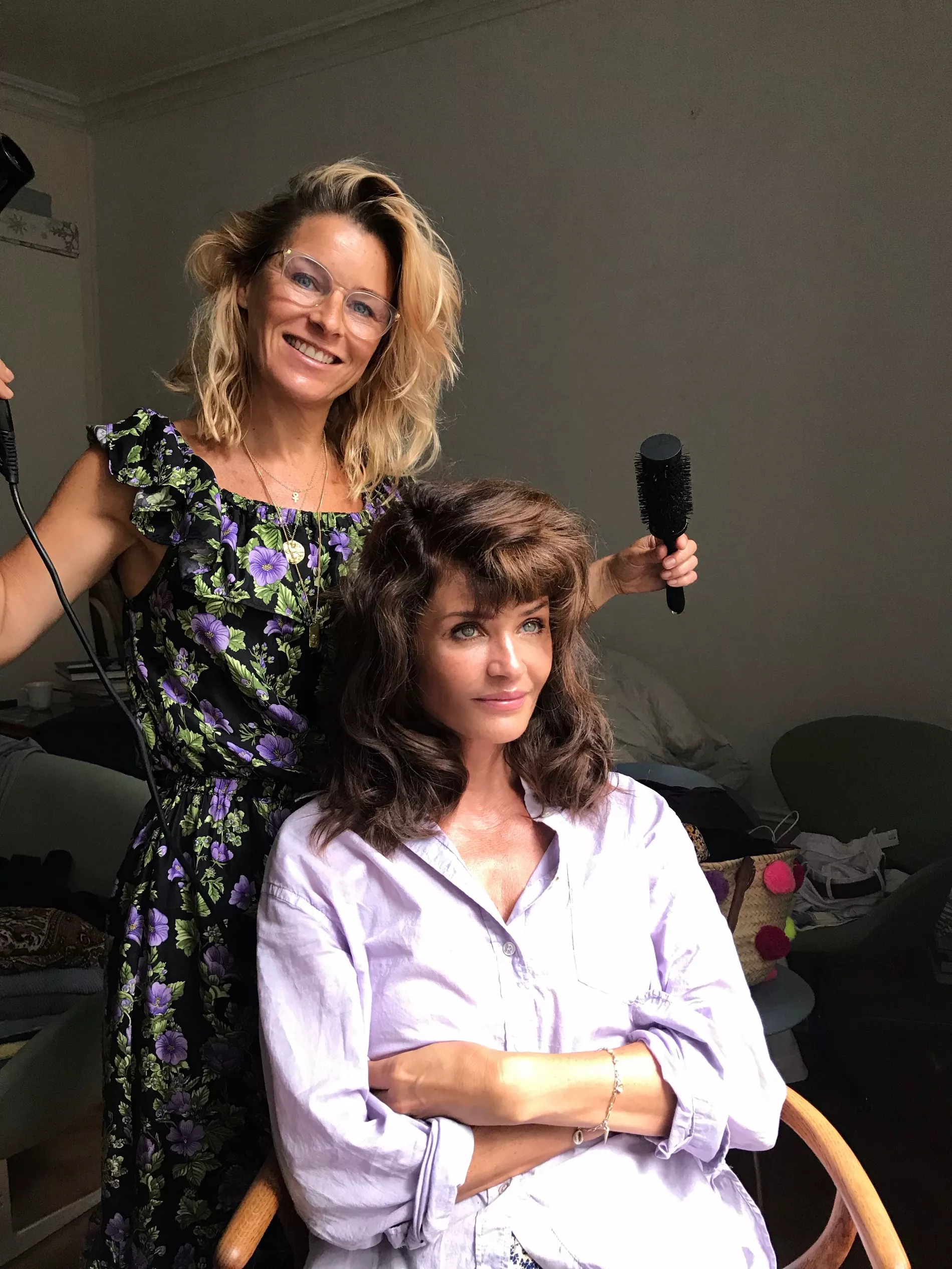 Marianne Jensen has worked with Helena Christensen for over two decades. Photo: Marianne Jensen
"The secret behind Helena's hair is her Peruvian genes. She has incredible hair," continues Marianne. Nonetheless, the real technique lies in the products behind the look, that allow them to achieve that tasseled aesthetic. "Helena always shows up fresh and clean for a shoot. Most of the time I meet her when her hair is wet, then I start to prep it. Ever Bounce and Heated Defense from Kevin Murphy are the first products I use to make her hair as smooth as possible and to keep it protected."
Heat protection is one of the main concerns of Jensen when working with hair, as it's easy to overwork the strands and damage the integrity of the locks. "I always use a heat protection product, just to look after her hair. The hair easily dries out when you're a model because of the heat their hair is exposed to, either from my blow-dryer or the tongs used from roots to ends every other day. That's why it's essential to use a good protection product, I always try and treat my model's hair as good as possible, look after it like a hairstylist in salon would look after their clients."
Following that, Jensen goes in to dry and volumise the tresses. "I blow-dry Helena's hair with the biggest round brush I have. That being said, I don't want too much volume, so I work the brush to smooth her own texture and make it more sleek. For separation, I love to put a little bit of Young Again Oil from Kevin Murphy to divvy out the strands. Then I run a big tong through her hair to make sure her hair is shiny and healthy looking."
Vogue Scandinavia
Helena Christensen - Issue 2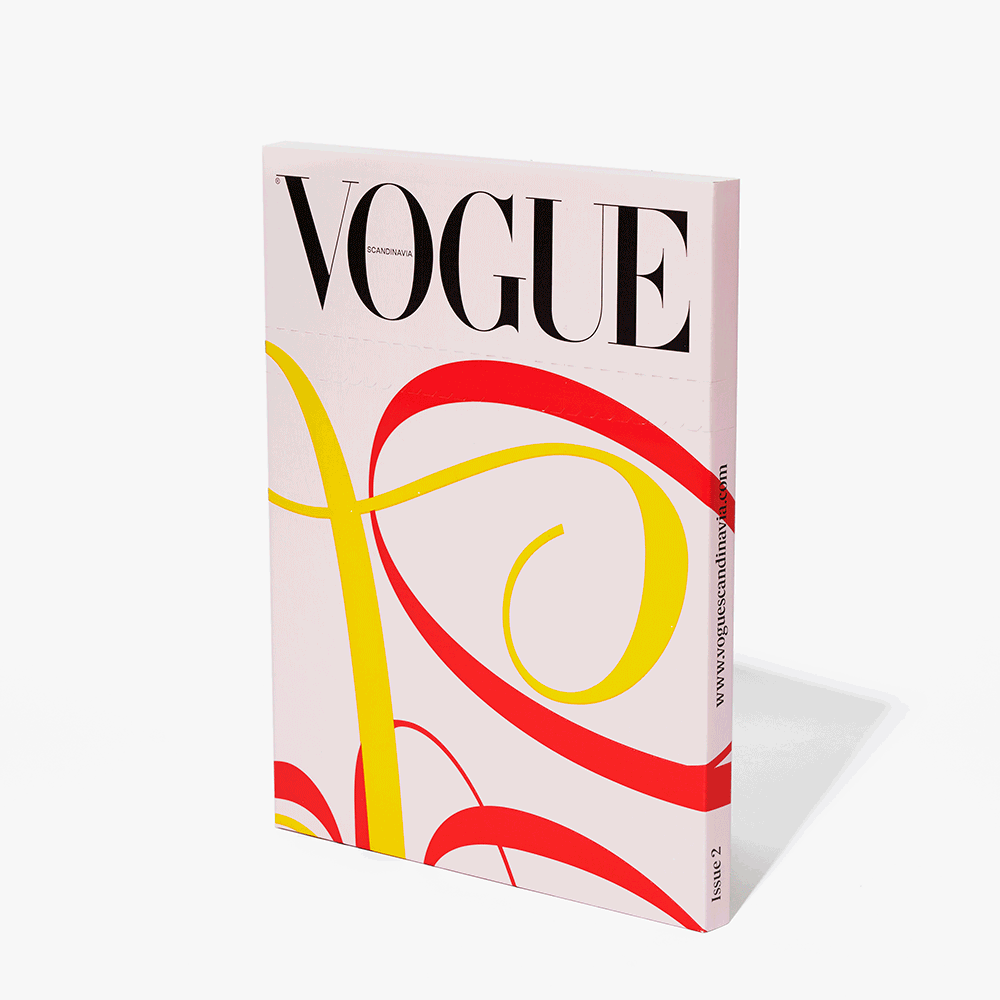 After that, they're almost ready for the cameras. "If the hair looks 'too done' I'll use a bit dry shampoo with texture to play around a bit with the hair. I prefer the Doo Over from Kevin Murphy, for a more worn-in look. I love my big texture comb for separation and to break up the waves, so it looks a little more sexy and loose." After that, one can deem Christensen's hair ready for the perfect shot.
Christensen agrees "I literally can't wait to be back in Denmark so I can work again with Marianne," explains our cover star, "She has a magical way of making my hair look incredibly cool, smooth, and bouncy for every shoot we do together — and she is funny and lovely with such great energy that makes work days flow so easily. On top of that, she's the cleverest hair cutter I know. She knows how to make cuts a cool, edgy extension of yourself. I am utterly excited wherever I get to work with this hair wizard."
Now, more than just an aesthetic, Helena's hair has become an epitome of style throughout different eras. One might even say it embodies, and at the same time deciphers, the unique and particular reality that is Scandinavian beauty. Equal parts polished, yet natural; given into nature but still in touch with the concrete city.