Demna's autumn/winter 2023 haute couture collection for Balenciaga took dressmaking to its highest heights, says Anders Christian Madsen. Read on for five things to know about the show, staged at Cristóbal Balenciaga's couture salons in Paris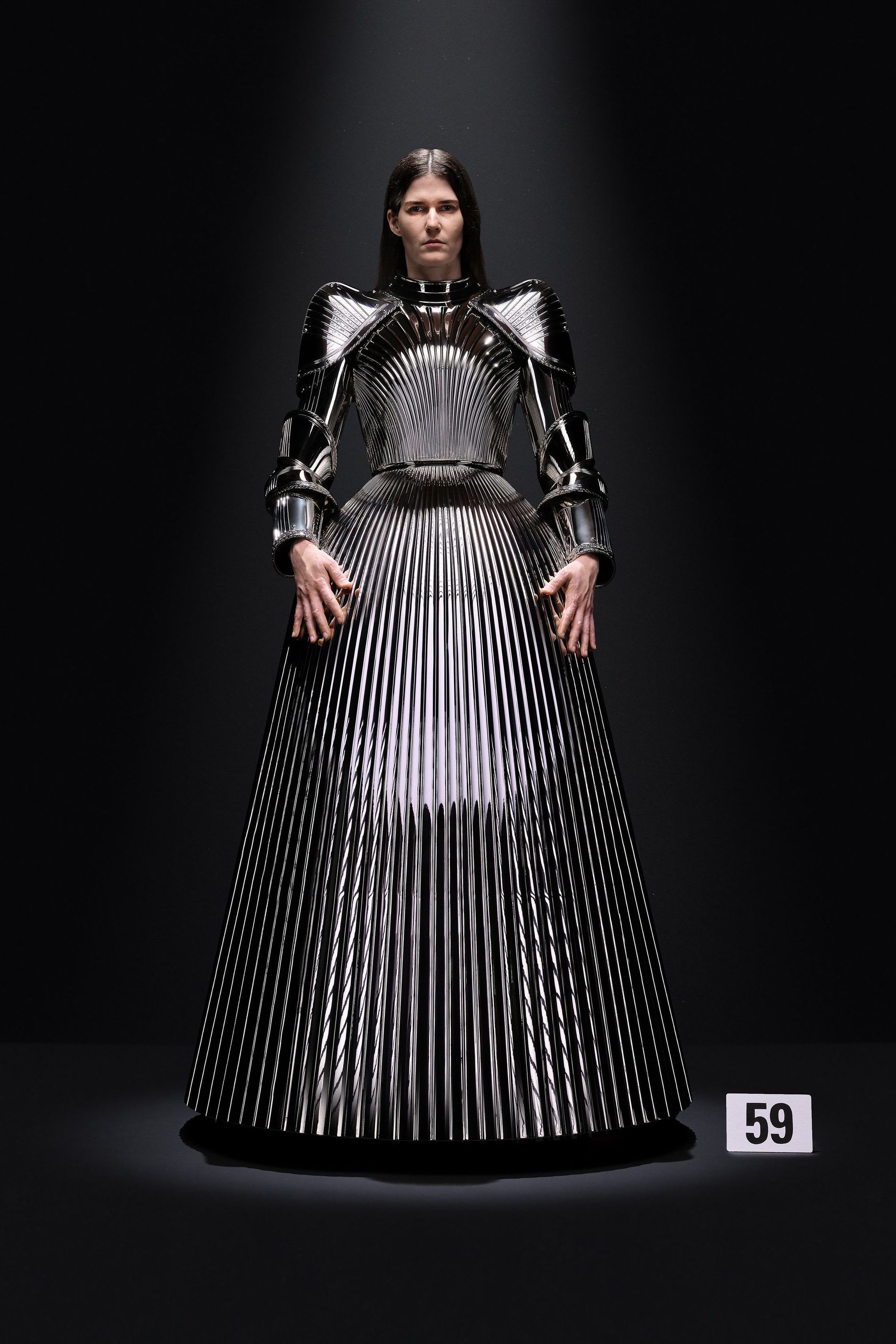 Photo: Courtesy of Balenciaga
Demna created a Jeanne D'Arc ballgown of armour
The Balenciaga Haute Couture show closed with a ballgown of armour constructed from 3D-printed resin and galvanised metal. Its lining was flocked in velvet. "I had to reference Jeanne d'Arc," Demna said. "I suffered all my life because of the way I dress and what I try to show through my work, and it just had this symbolic relevance to dressmaking and this metier being my armour: the place where I reconnect with myself and where I'm happy." After the social media-fuelled crisis the designer went through this winter – the nature of which is detailed elsewhere on this site – the significance of that look was clear. It cemented a collection founded in iterations on the subversive ideas Demna has proposed since the beginning of his career and evolved at Balenciaga: normcore, character dressing, augmented body sculpting, illusion, disillusion, and a certain sense of unnerving glamour.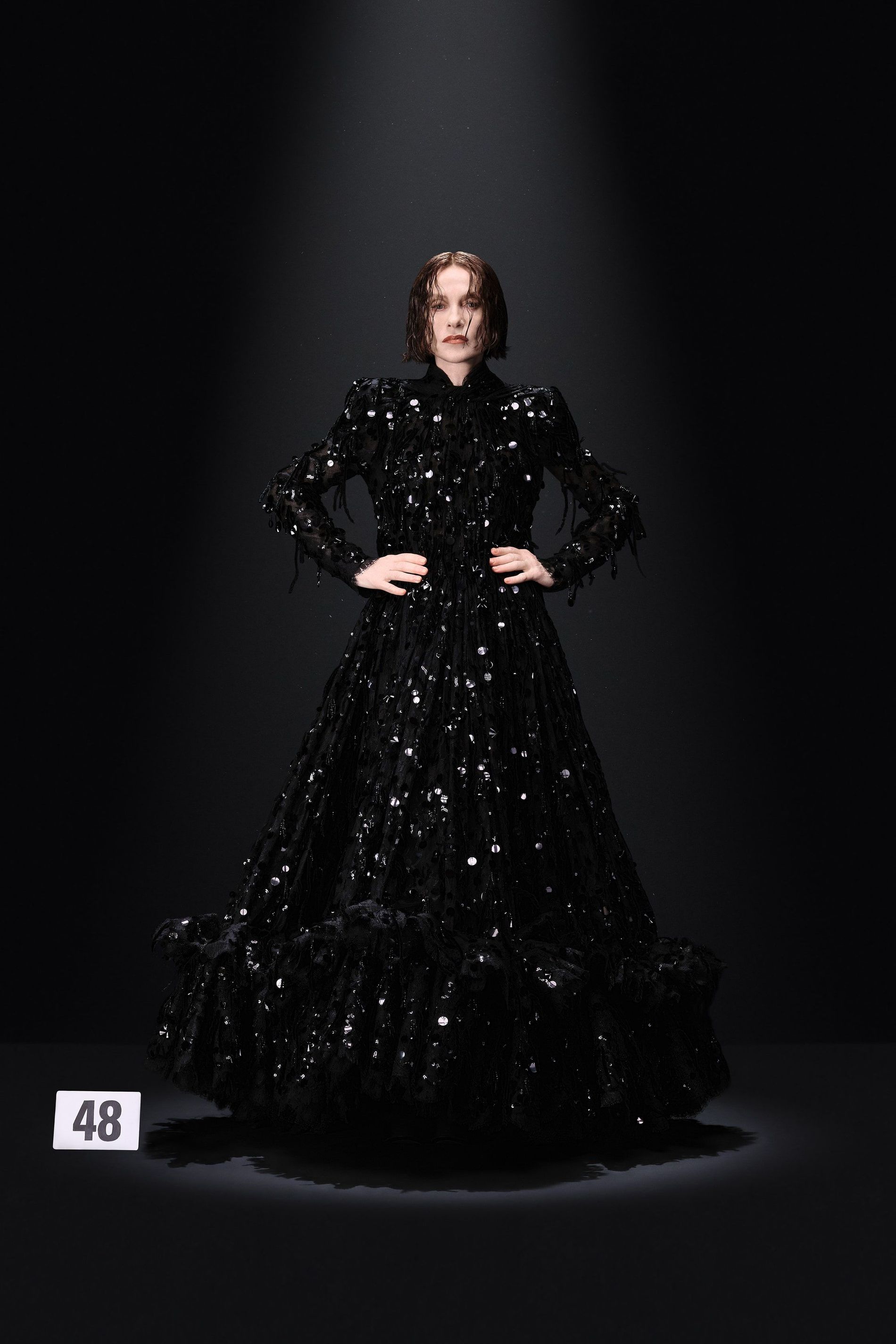 Photo: Courtesy of Balenciaga
It took dressmaking to its highest heights
At his ready-to-wear show in March, Demna expressed a desire to return to the foundation of his craft. He wanted to shift the focus of Balenciaga back to dressmaking from the celebrity and theatre in which it had been veiled. Bar Cardi B, various friends of the Kardashians on the front row, and a runway cameo by Isabelle Huppert, his haute couture show largely followed that path. It was a studious and laborious proposal more about clothes-making than anything else. Presented in Cristóbal Balenciaga's white couture salons on Avenue George V, it was experimentation in its highest form: seemingly impossible ideas tried, tested and resolved through expert craftsmanship spanning the ancient and the state-of-the-art. "I like the couture that you see but I also like the couture that you don't see," Demna said. Throughout the seasons, each model had flown in from around the world five times or more for their fittings.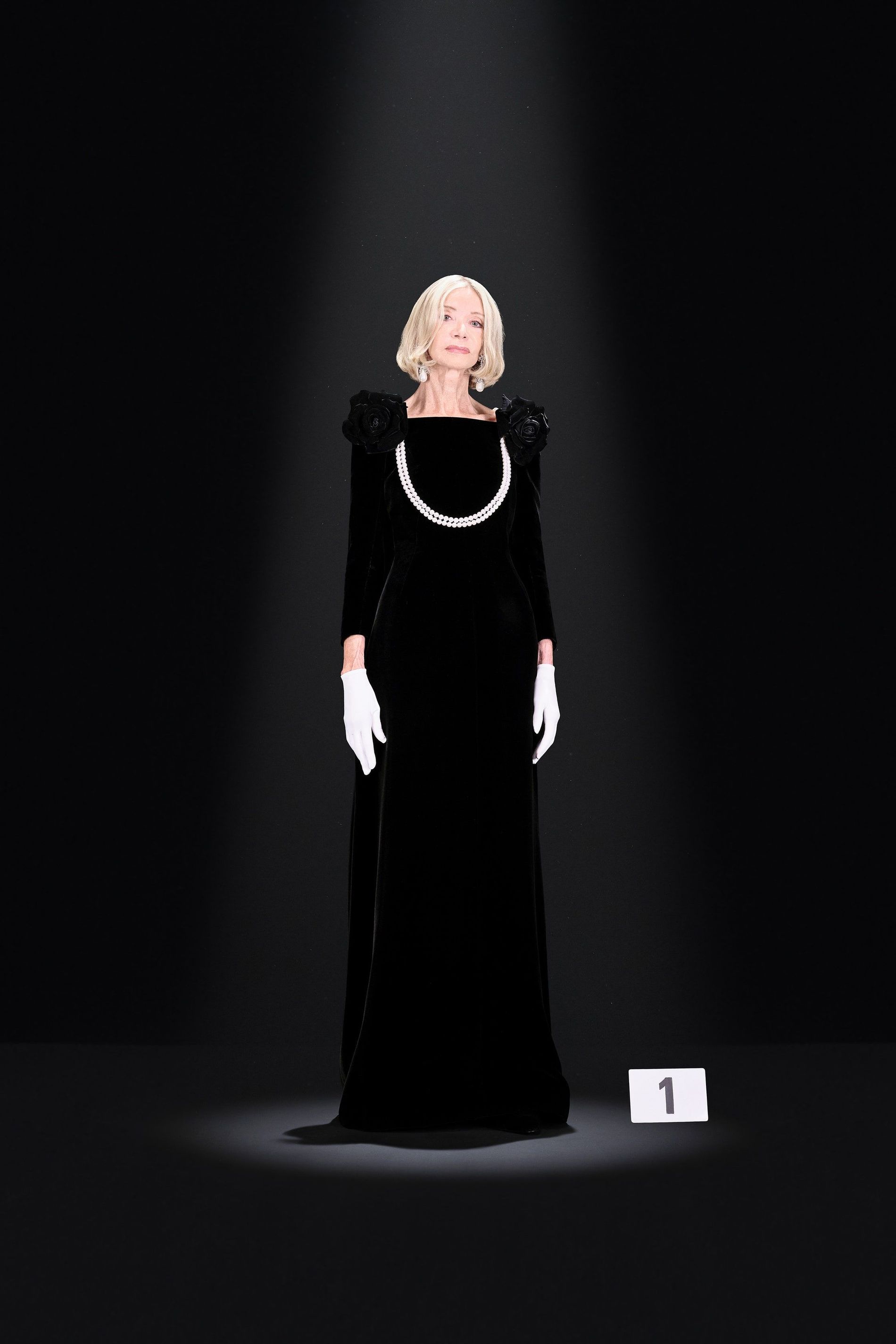 Photo: Courtesy of Balenciaga
Danielle Slavik opened the show
Hauntingly a capella, the might of Maria Callas singing the evergreens from Norma, Carmen and Gianni Schicchi reverberated through the rooms. The result of months of engineering, her voice had been isolated by Demna's husband Loïk Gomez (stage name BFRND) using AI programs. "She never recorded in a studio. It's the first time, I think, anyone ever heard her voice without instruments," Demna said. "It was really the couture way of making sound." It hit a classic note echoed in the collection's opening look: Danielle Slavik, who modelled for Cristóbal Balenciaga between 1964 and 1968, in a replica of her favourite ever dress: a long-sleeved black velvet number with shoulder rosettes, a version of which was recreated as a gift to her from Demna after she first came out of retirement to walk his couture show last summer.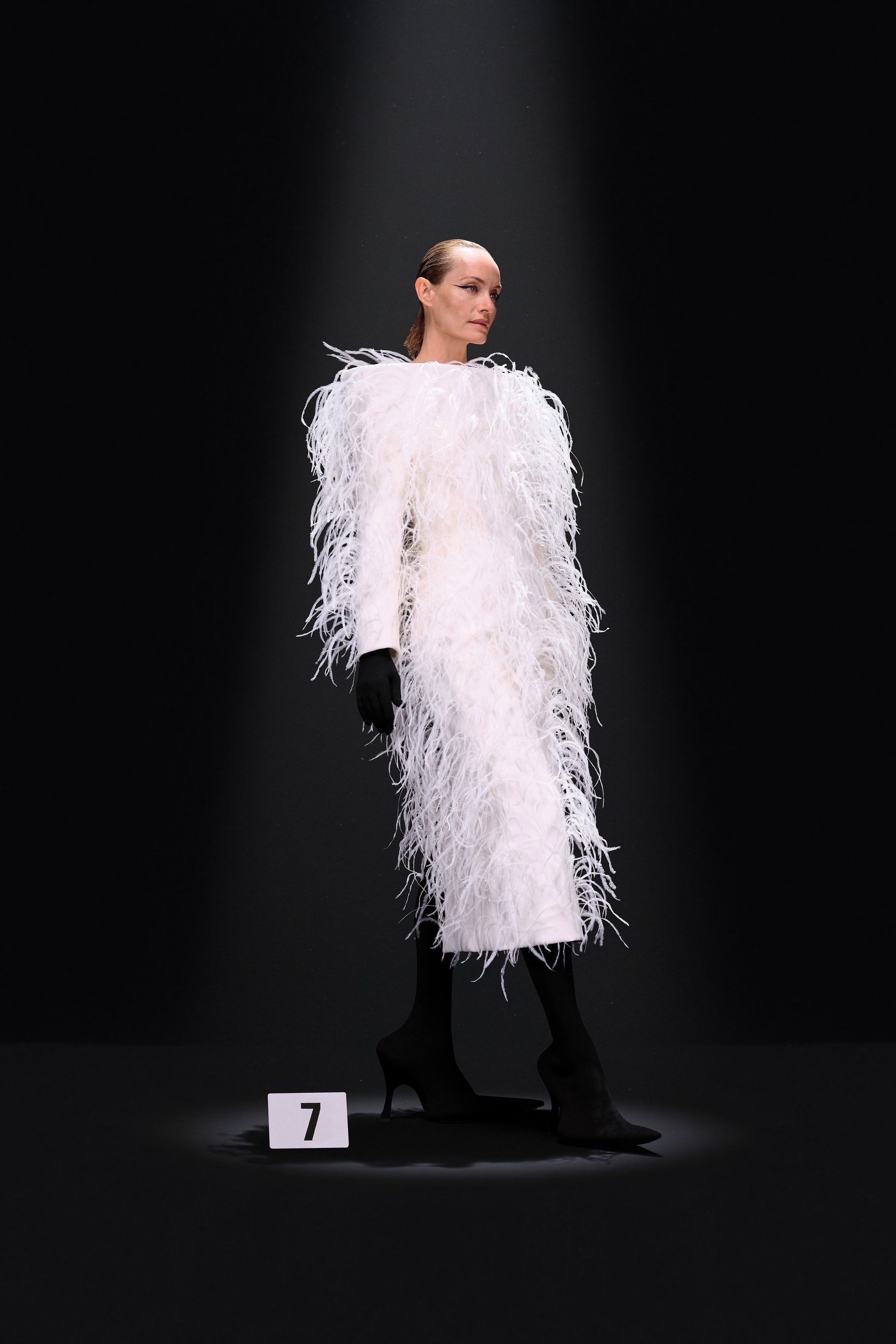 Photo: Courtesy of Balenciaga
It refined the key ideas of Demna
The presence of Slavik in her archival design set a reverent tone for the collection, but also one that honed the idea of iteration, not just of the codes of Cristóbal Balenciaga but the trademarks of Demna himself. Silhouette after silhouette, he painstakingly worked and reworked ideas new and old. Tailoring perfected his broad-shouldered hourglass signature. Normcore men's looks caught as freeze frames windswept movements in scarves and coats created through moulding. Processions of trompe l'oeil created illusions of fur, leather and denim through oil-painted canvases hand-painted by artists. Funnel neck dresses were sculpted from the rotated hemlines of the founder's designs. Rigid gowns were constructed like enormous pieces of jewellery. And there were highly laborious exercises in crystal encrustation and chainmail executed like lace.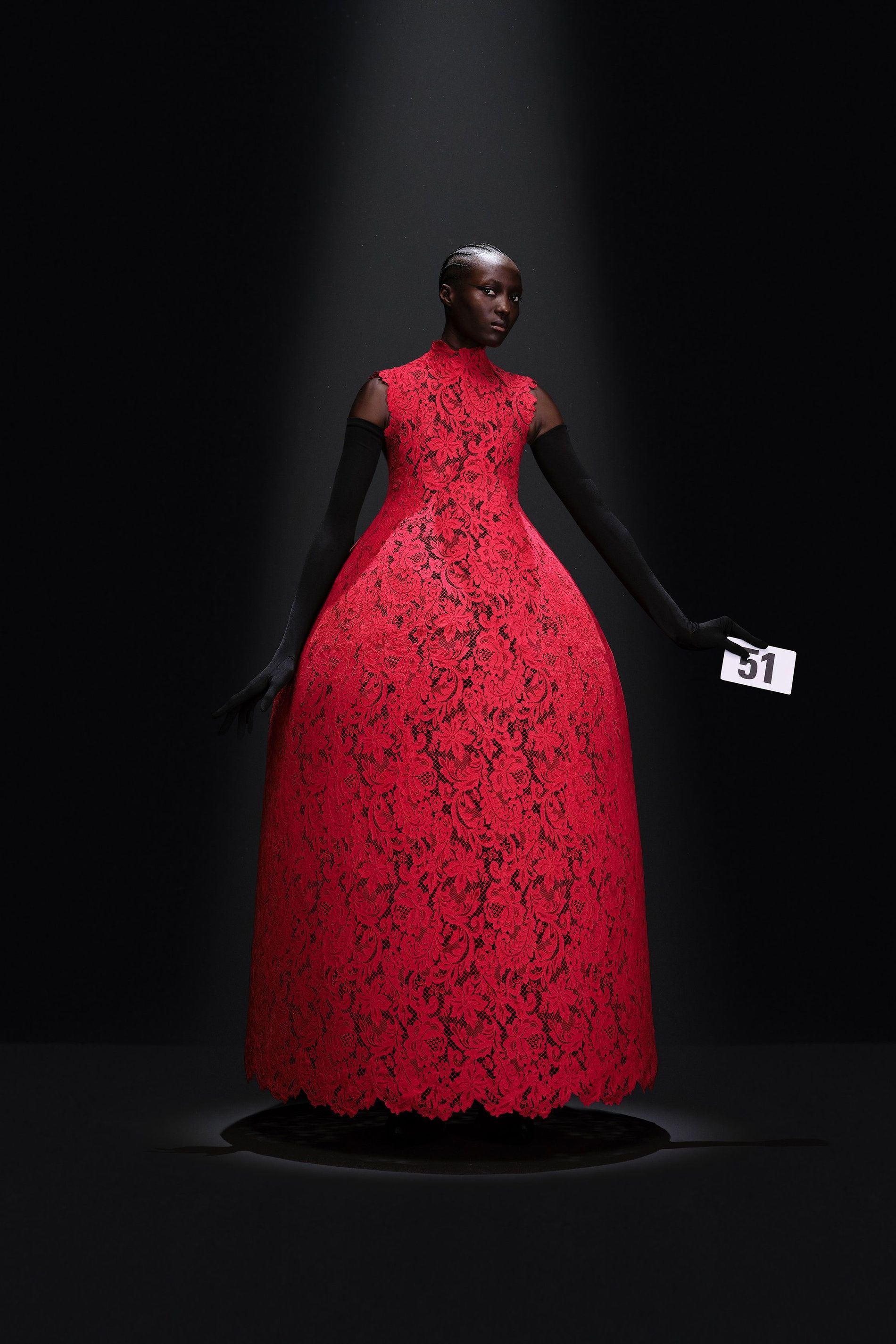 Photo: Courtesy of Balenciaga
Demna reflected on real vs fake creativity
In essence, the collection was a manifestation of the core aesthetic of Demna, from the ideas he established at his former brand to his love of Martin Margiela and his devotion to Cristóbal Balenciaga. Maybe it was a desire to make himself clear following this winter's public debacle. Maybe there was something else on his mind. "We live in an industry which is unfortunately in a very critical state, I believe. Because it's full of fake creativity and imposter fashion that I…" he paused. "It's really inflamed. Couture, to me, is the only way to shed light on the essence of this job: making real clothes, authentic creativity, the importance of the person who wears it, and not the endless marketing and selling, and all this blah-blah that has cannibalised the whole industry. My job is to show that. It's like anti-virus. Couture, to me, is like Moderna. It cannot save it but it can at least highlight the importance of keeping its immunity. For me, without that, there is no hope," he said. "Fashion is easy to imitate, but couture is very hard to copy."
Originally published on vogue.co.uk