Hair stylist Cim Mahony takes us behind-the-scenes with creative director Ditte Reffstrup to get to the bottom of what a 'Ganni Girl' really is, amid the chaos, creativity and sheer joy of the brand's latest Copenhagen show
Hosted at the contemporary museum Arken, south of Copenhagen, Ganni's autumn/winter 2023 show had an air of new beginnings. Inspired by artist Esben Weile Kjær, butterflies lay the base for the collection: acting like a chrysalis of sorts for a more mature 'Ganni Girl' stepping onto the runway.
The adrenaline-fuelled work starts five hours before the show. Standing in front of the board of the collection's looks, hair stylist Cim Mahony briefs the beauty team. "Each season, we gather between 20 and 30 hairstylists to work with us backstage, each and every one handpicked for their experience and brilliance," he tells me after the show. "Some team members have been in the team for more than ten years, and each season a few new people are brought on board.
Mahony has worked with Ganni and makeup artist Trine Skjøth for almost 10 years and during all of those shows the team has developed "a language that transcends mood boards," says Mahony. "So when we meet we always start with the blueprint of the 'Ganni Girl' in mind and then look at the collection and its broader inspirations."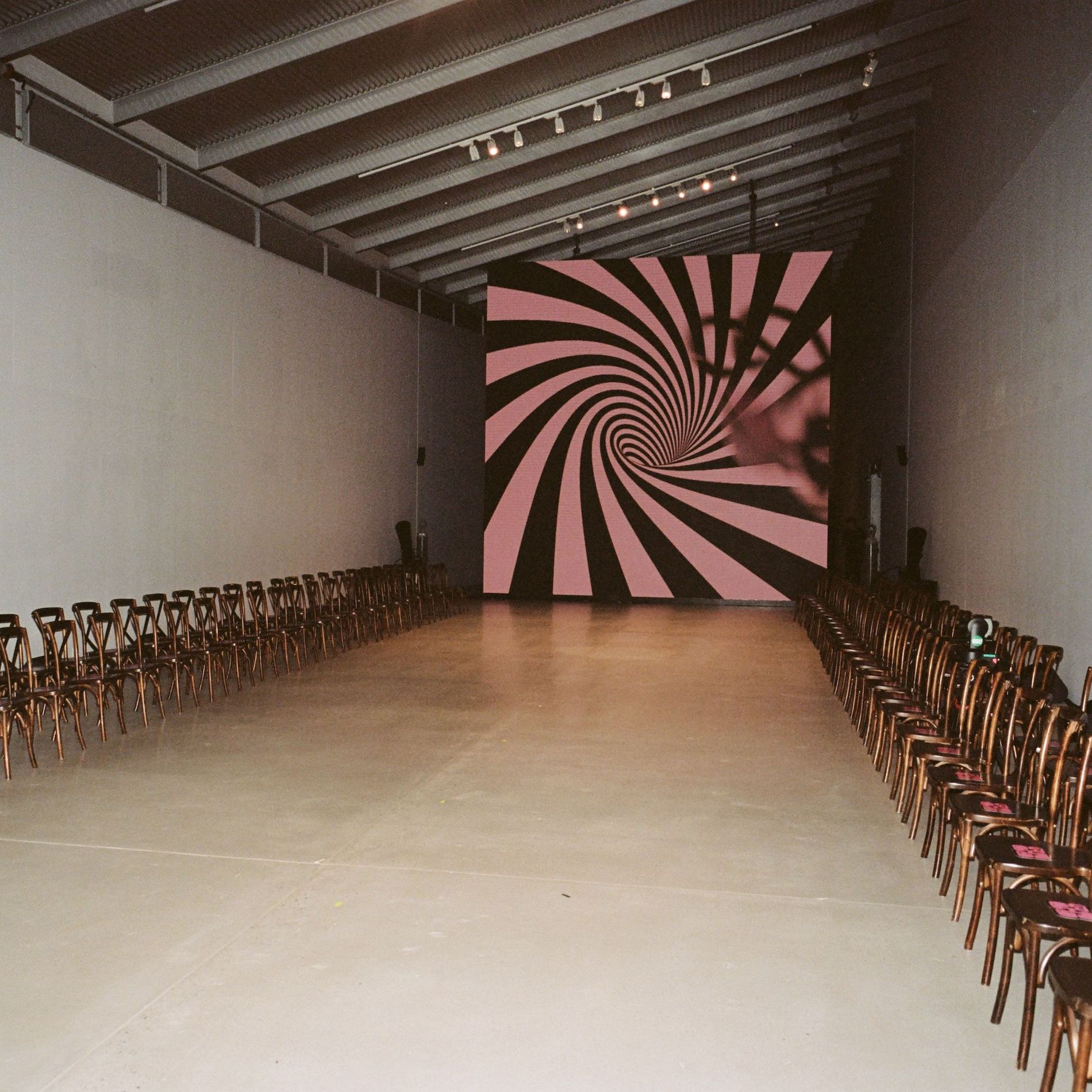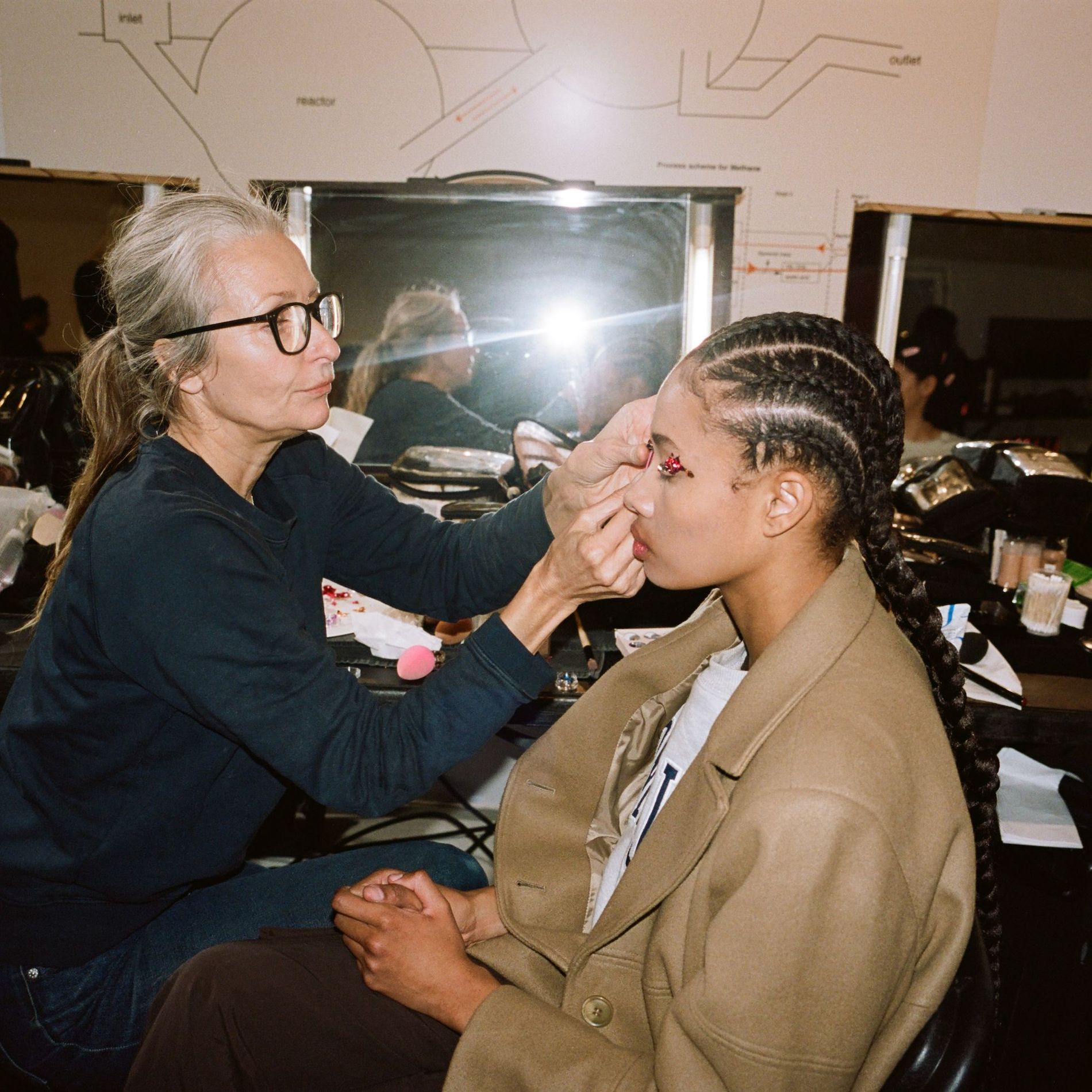 Mahony would best describe the backstage environment as "controlled chaos". But when you have a brilliant team, it can "feel like a perfectly choreographed dance," according to the stylist. "Where every person involved knows exactly how to play their part for the best result."
Leading up to the show, the backstage area is a cacophony of music and chatter. Having worked with Dyson for six years, Mahony is thankful that the blowdryers no longer drown out the buzz of the atmosphere – or the music, for that matter. "Before the Supersonic arrived, having 15 - 20 hairdryers going made communication and listening to music almost impossible," he reminisces. "And without music, it's hard to have the perfect dance."
Focusing on keeping the hair texture dry and slightly brushed after the blow-dry, the models' texture was kept either natural or slick straight, while afro hair was brushed out. This season, Mahony and his team also added a few wigs to give the looks a splash of colour, riffing off the art of Esben Weile Kjær. The wigs were included to be bold statements, with Mahony commenting that "we did not really want them to look real, but have a sort of pop art feel, a superficial quality to them."
"It is a big prep job working with hand-sewn fronts and custom colour work," Mahony explains. The process often requires a team of three to five people working during the few days leading up to a show or a shoot, with the wigs are then cut and styled on the day, ensuring they are tailor-made to the models wearing them. "The wig is first loosely cut and styled on a mannequin head, then transferred to the model w here the finishing touches are applied," says Mahony.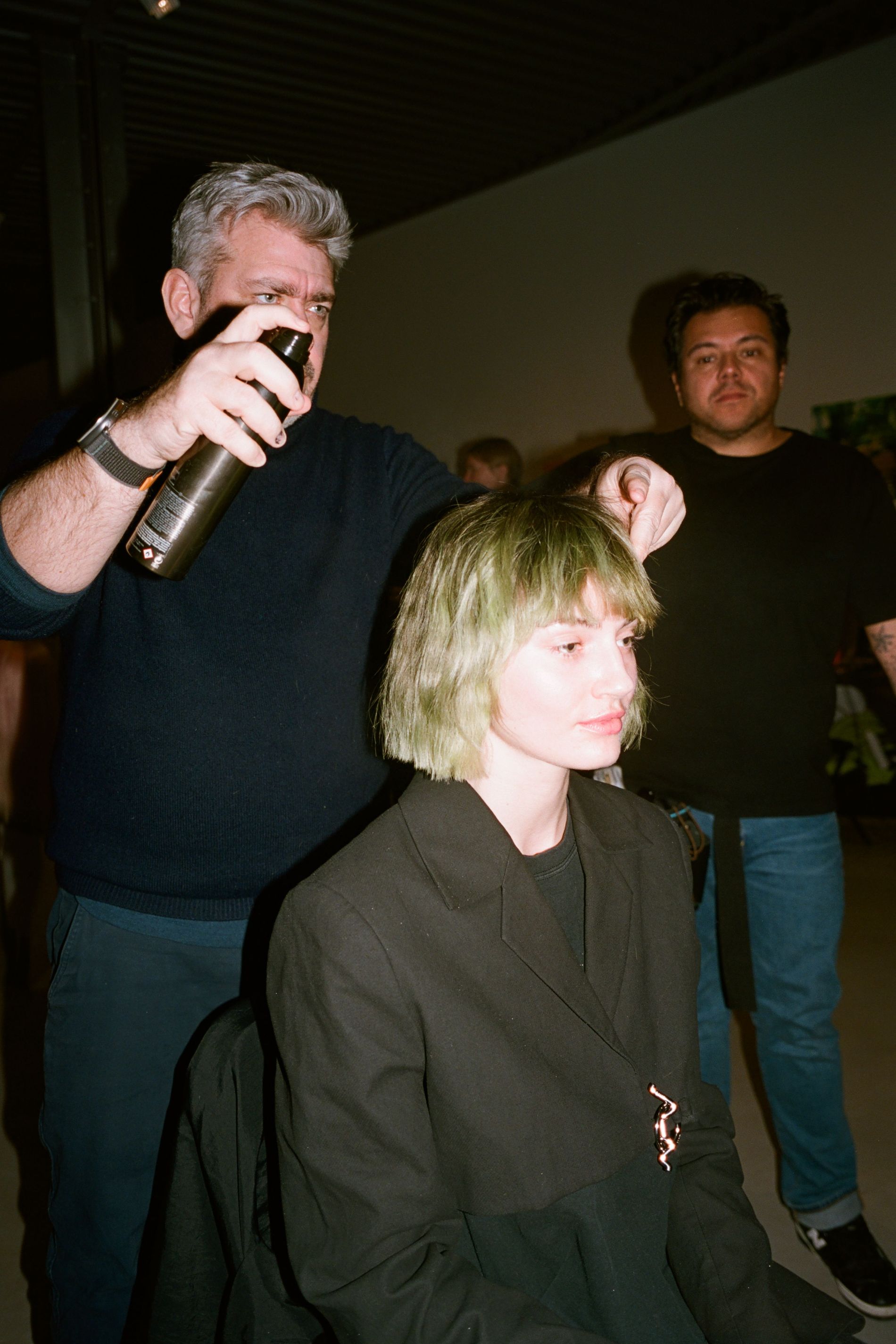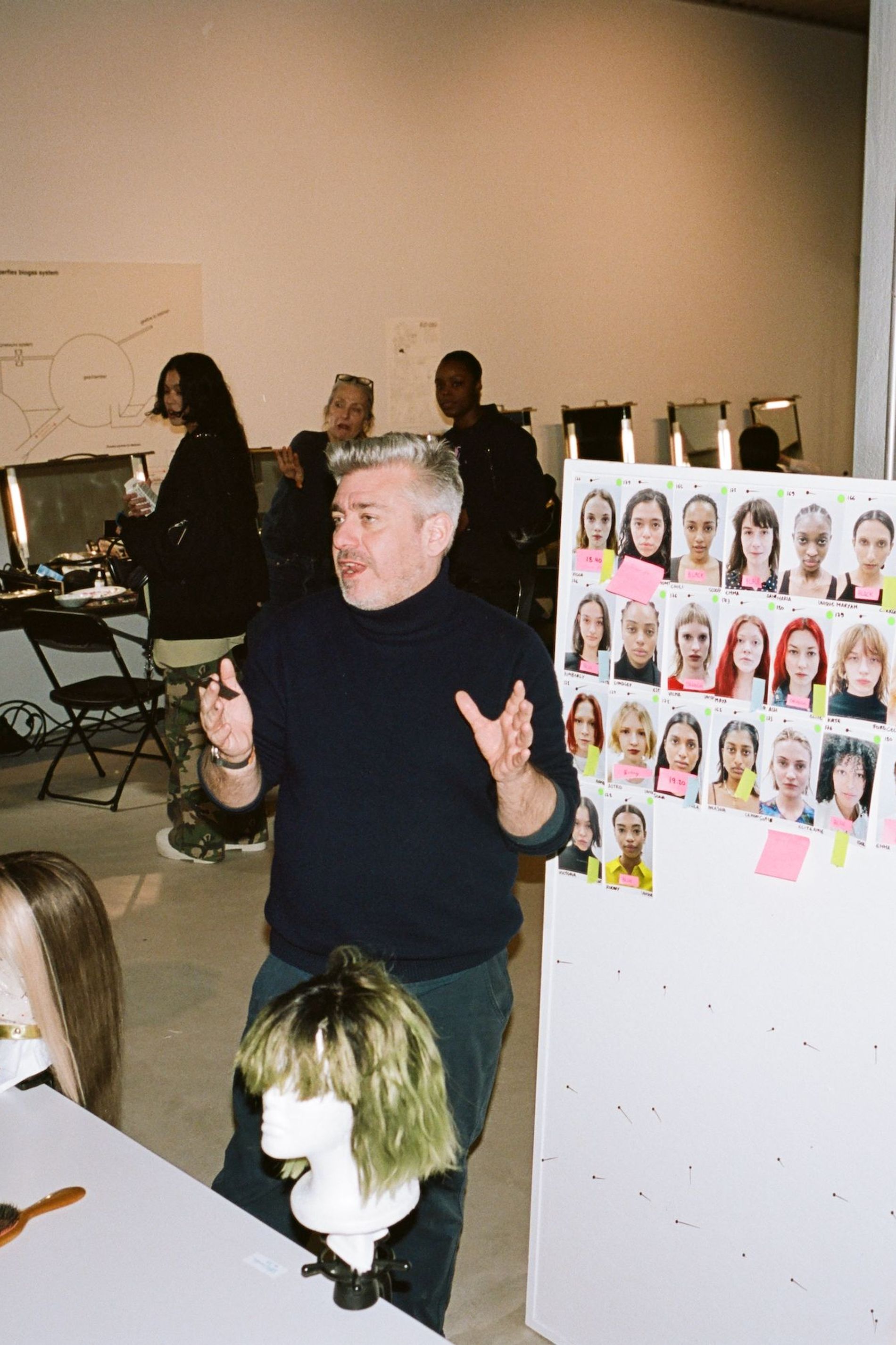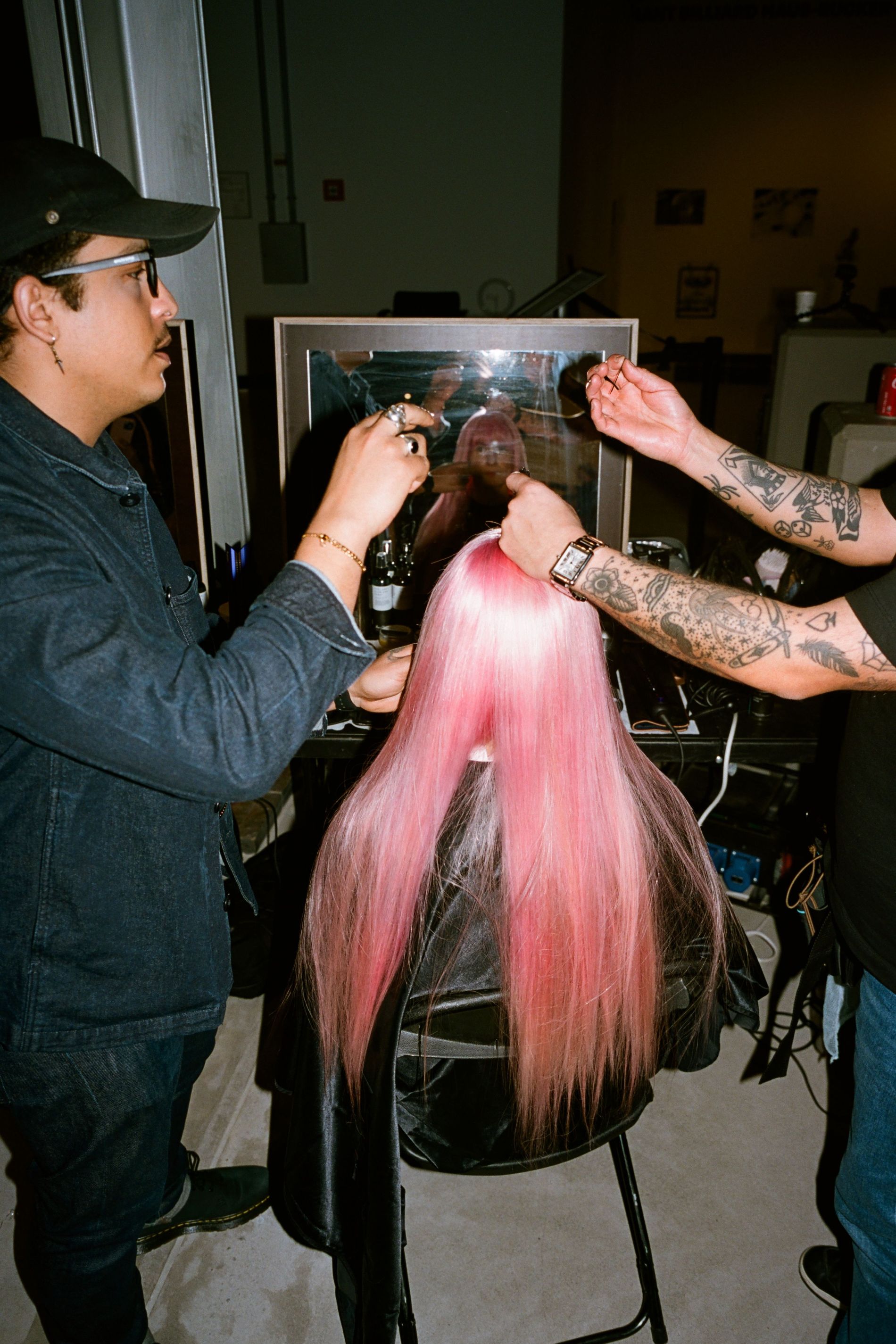 And now the big show moment draws closer and the models form their line. Excitement builds, concentration and focus are critical. Stylist Emelie Johansson is doing last touch-ups, straightening shoulders and rolling up sleeves, while choreographer Cecillie Lassen gives last-minute directions on navigating the catwalk. A wig gets a last-minute straightening and brush over in the line-up using a cordless Corrale styler. "When hair is individually styled, this is where I put my little spin on each hairdo." explains Mahony." "Sometimes I even change it last minute, moving a parting or adding some fluff or product. It's where everything comes together. It is like seasoning the sauce."
And it's showtime. The joyfully diverse range of models power down the runway to blasting music as Mahony and his team follow the show on the monitors. "I always love the diverse cast at Ganni," Mahony muses. "We work with each model's individual strength and character, enhancing their beauty and personality." The term "Ganni Girl" has become universally known and in a way, emblematic of Copenhagen cool girls everywhere. It is such an established aesthetic, expressing a sense of freedom in personal style, and according to Mahony, it has "always been fun to help define this in hair."
On camera, in an exclusive video, creative director Ditte Reffstrup dive deeper into the idea of the 'Ganni Girl'. Speaking with Mahony, the duo explores whether you have to be Danish to be a 'Ganni Girl'.
See the exclusive video below:
Creative Director: Ditte Reffstrup
Creative Agency: Moon
Styling: Emelie Johansson
Make up: Trine Skjøth
Production: the Lab
Hair & Visuals production: Cim Mahony & Studio Cim Mahony team using Dyson
Photography: Frederik Kastrupsen
DOP: Emile Sadria