Since it opened earlier this year, artist Carsten Höller's high-concept Stockholm restaurant Brutalisten has become the buzziest restaurant on the international fashion circuit and a must-visit for those in the know visiting the Swedish capital (including our cover photographer, Ellen von Unwerth). Our print editor finds out what it's like to actually eat there
The day before photographer Ellen von Unwerth arrived in Stockholm to shoot Kelly Gale and Joel Kinnaman for our one year anniversary cover, she sent me an email that read, simply, "Have you heard about Brutalisten?" She had been told by a friend that she absolutely had to try artist Carsten Höller's strange new restaurant, an unassuming little spot in the city centre.
Yes, I had heard of Brutalisten. Since the restaurant's soft opening in late April, which counted Höller's close friend and patron Miuccia Prada as a guest, it seemed everyone in Stockholm's fashion and art circles had been whispering its name.
Brutalisten's proposition, while conceptual, is quite straightforward: dishes with no more than a couple of ingredients, ideally less. It is a "dogma kitchen", based on a manifesto written by Höller that includes rules such as, "ingredients are used alone for a certain dish; only water and salt may be added", "decoration on the plate is avoided" and "we are born as Brutalist eaters, as mother's milk is essentially Brutalist".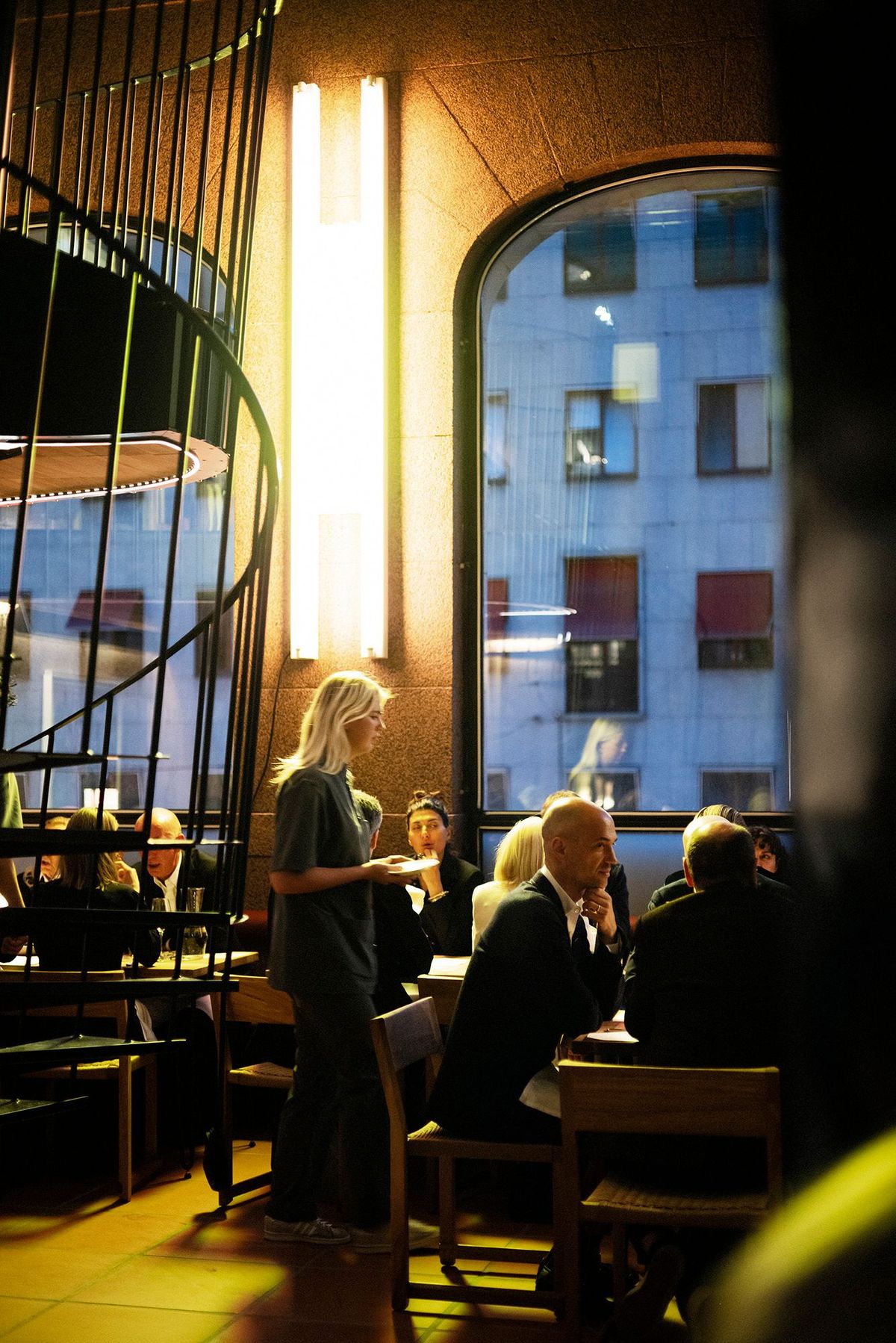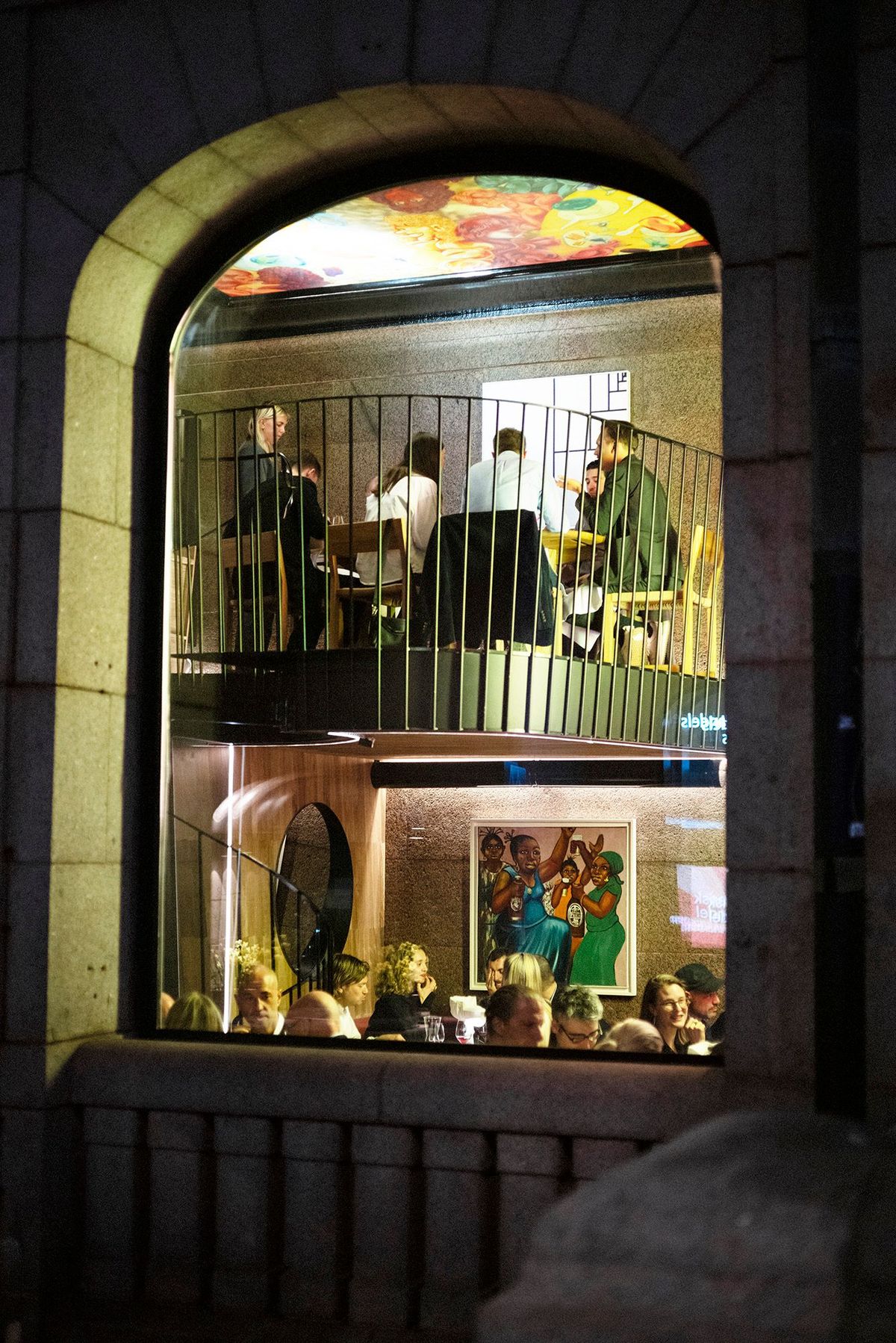 As von Unwerth and I walk towards Brutalisten from her hotel, I give her an executive summary of the manifesto, gleaned from the restaurant's website and various posts of single-ingredient dishes on Instagram. "So you just eat… a radish?" She asks, confused. "Ummm… I think so, yeah," I respond.
We enter the bar area, dimly lit by a circular light fixture designed by Höller. Our table isn't ready so we grab two glasses of natural wine while we wait. Brutalisten is big on delightfully funky-tasting wines (curated by beverage manager Alvaro Ovalle) – we invite the cute waiter to surprise us with whatever he thinks we might enjoy throughout the meal and we are never disappointed. Behind the bar is the cramped kitchen; a narrow corridor housing a blur of activity helmed by chef Stefan Eriksson. Posted up by the window, chatting with friends, is acclaimed Brooklyn-based artist Korakrit Arunanondchai.
Our table is ready. The dining room, with its notably slanted floor, is not much bigger than the bar-slash-kitchen. There are just a few tables, each dotted with a white mushroom lamp, also a Höller design. An impressive Dan Flavin neon on the back wall casts patrons in a sickly glow. A spiral staircase leads to a few more tables, just beneath the flamboyant painting on the ceiling by American artist Ana Benaroya. Previously, the space housed a dingy club that sometimes held Eurodance-themed nights.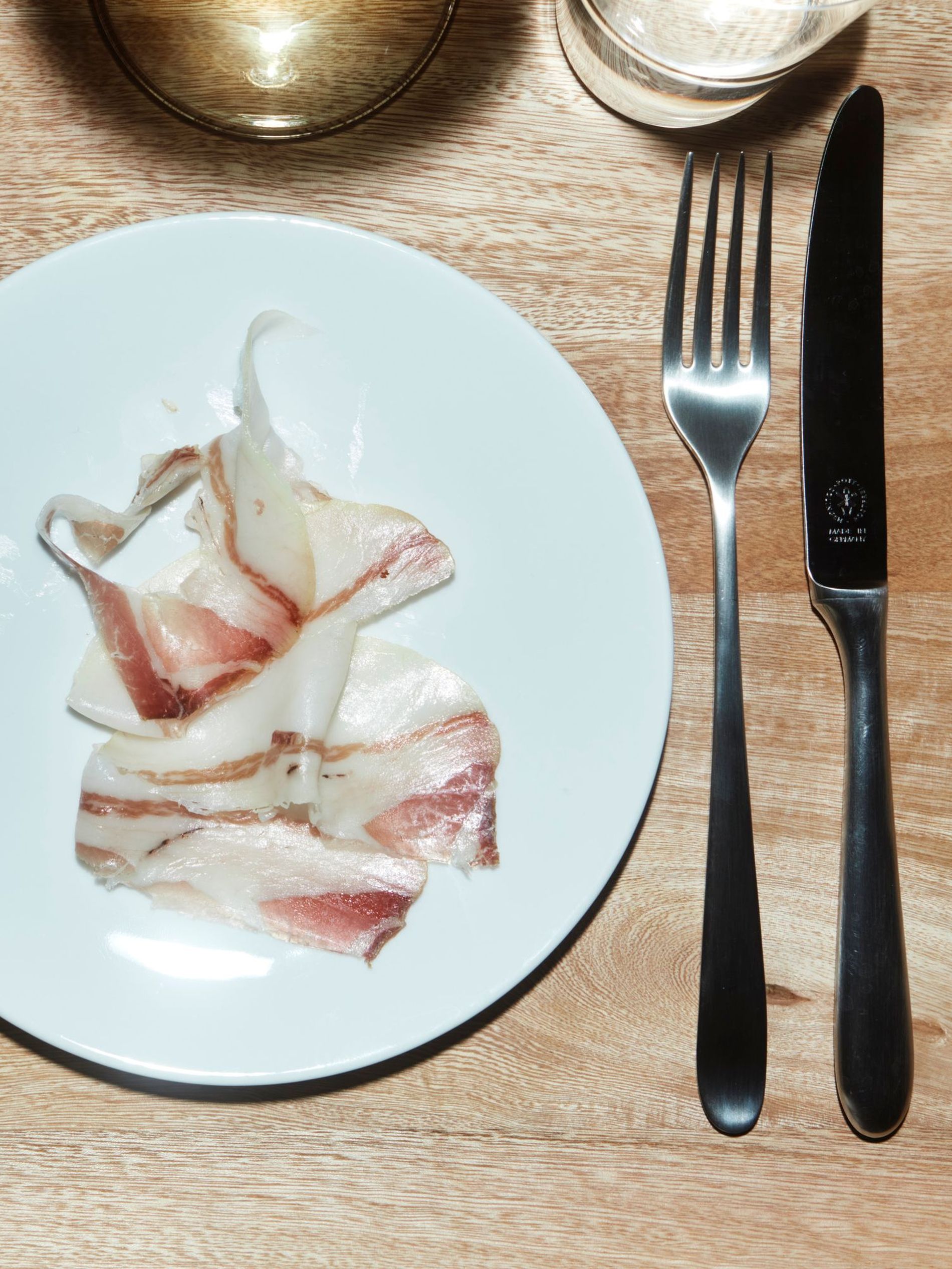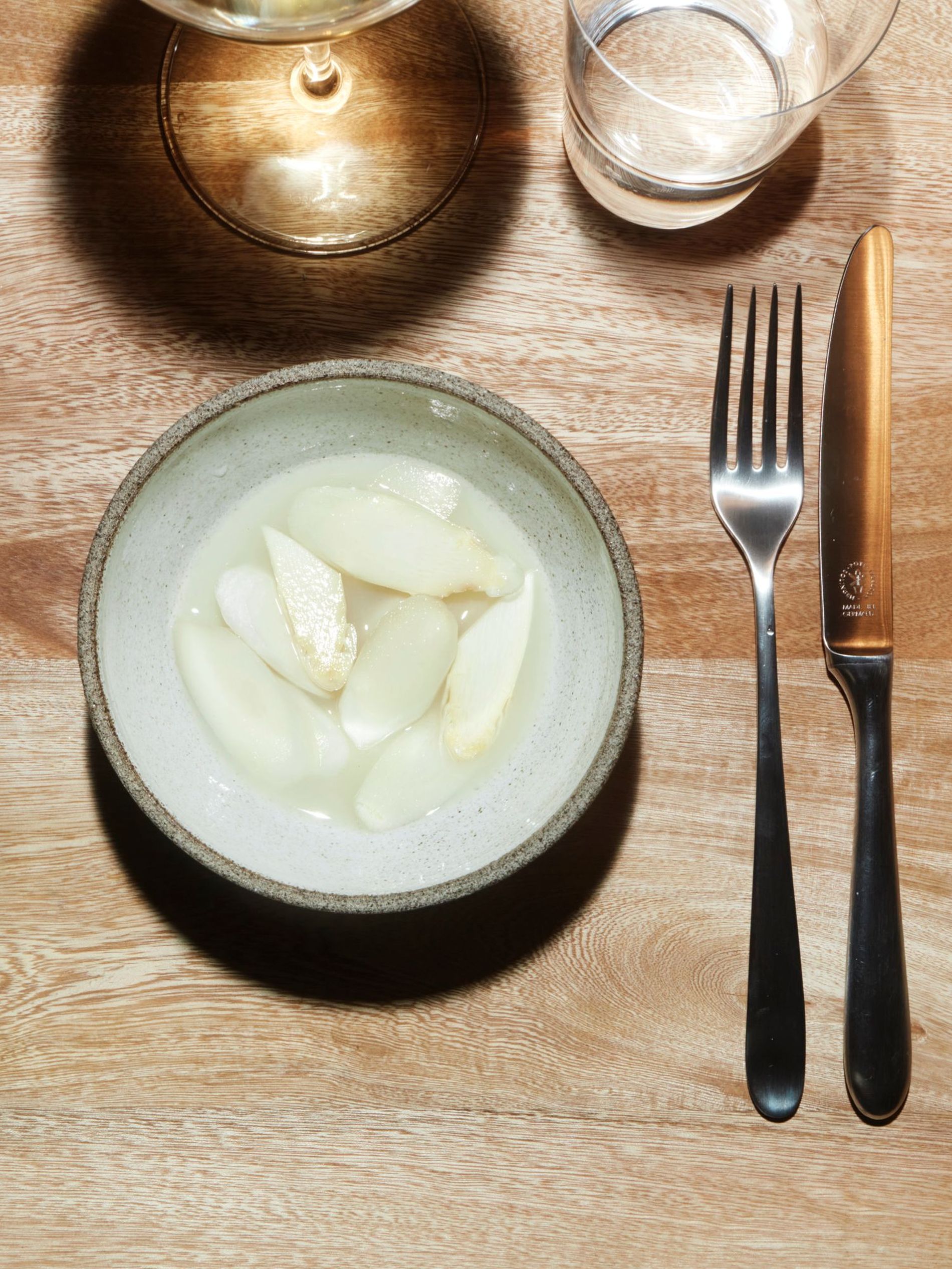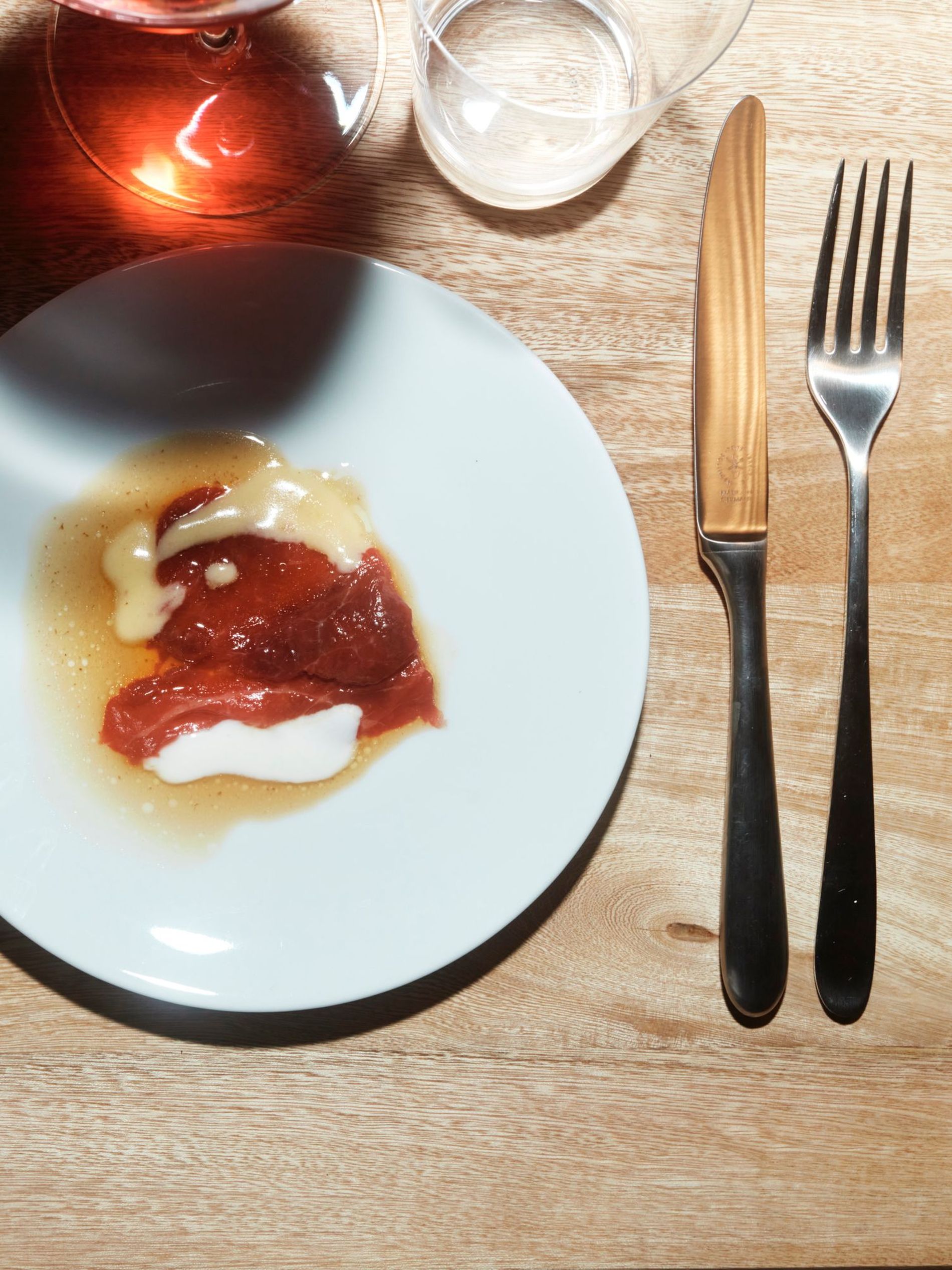 The menu is broken into three categories: Orthodox-Brutalist (one ingredient), Brutalist (one ingredient, plus salt and water) and Semi-Brutalist (a couple of ingredients). We arbitrarily select a dish or two from each column. The Skåne radish arrives first. It really is just a radish. Crunching through it – the waiter instructed us to eat the green part, too – we both comment on how unexpectedly tasty it is. Spicy, almost.
Next come the potato chips, which aren't really potato chips as I've come to know them, but rather some thinly sliced potatoes, baked, roasted and lightly salted. As one who over-salts everything and is partial to dip – something you will not find at Brutalisten – I am surprised by how much I like them. The steamed and chilled West Coast mussels are similarly delightful, a taste of the ocean itself. Each offering a love letter to local ingredients.
The brilliance of Brutalisten shines in the dishes in which an ingredient is prepared in multiple ways – disassembled and reassembled to taste like more than the sum of its parts. Rapini sprouts, also from Skåne, are pan-fried, topped with a generous drizzle of… more rapini, blended. Fermentation is used generously, as are stocks and juices. Before Höller was an artist, renowned for his massive mushroom installations and topsy turvy slides, he was a scientist.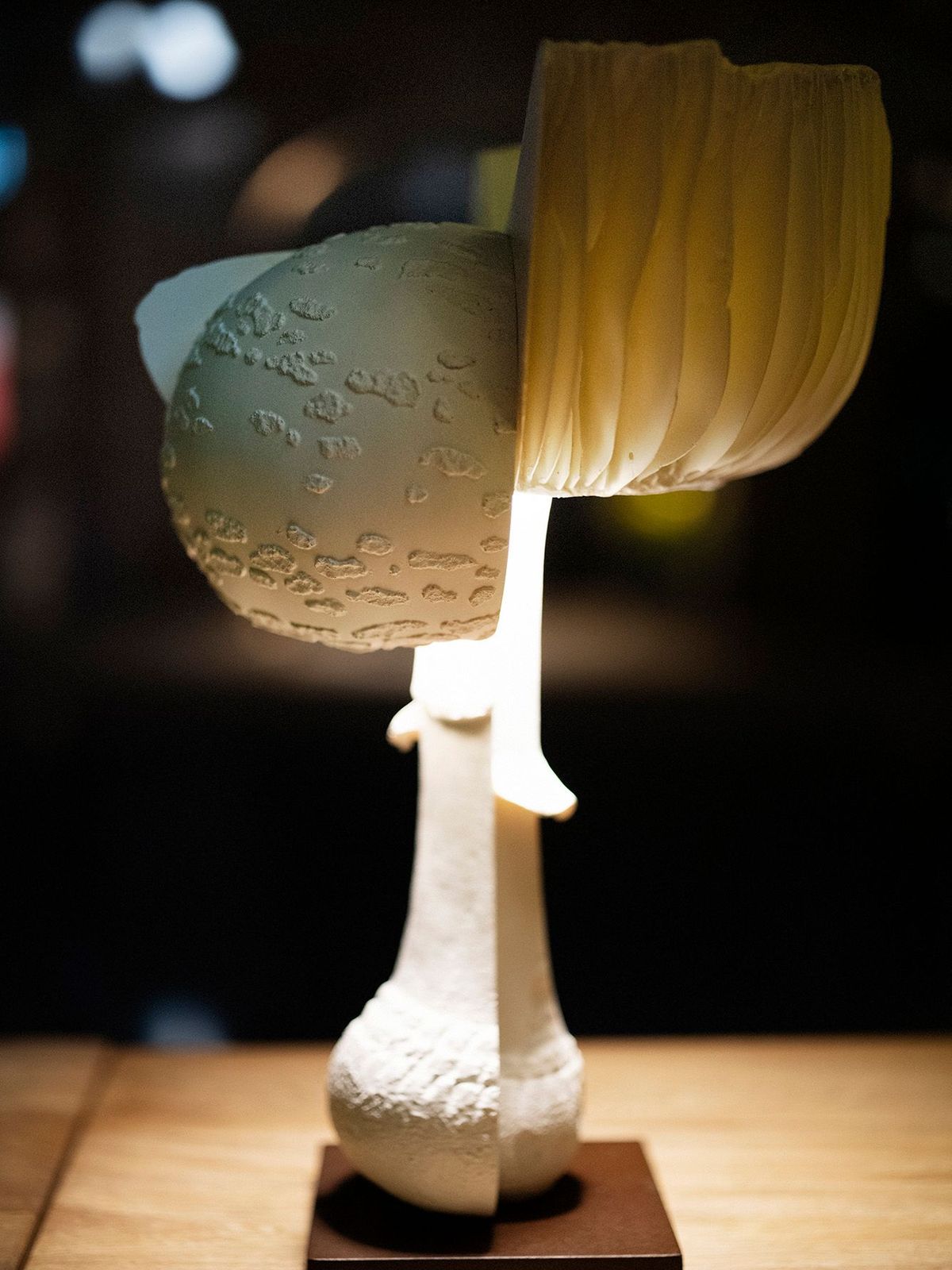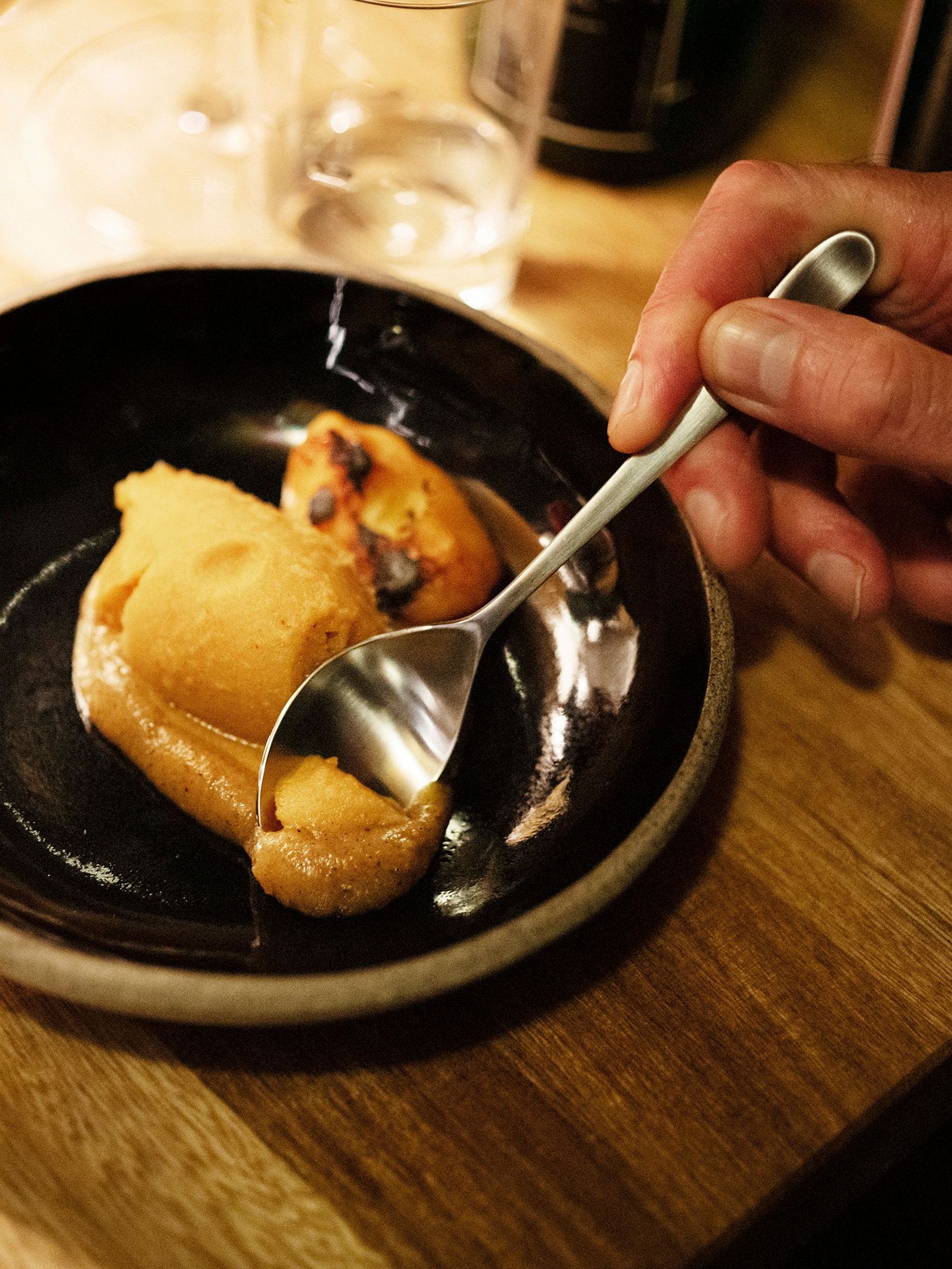 As we're finishing our last glass of natural wine, I spot Höller chatting with his staff by the entrance and scurry over to say hello. I tell him that we're arranging a story on him and his new venture for Vogue Scandinavia. He has no idea what I'm talking about but is friendly and charming nonetheless. He comes over to the table to say hello to von Unwerth, where the three of us snap a selfie before the photographer and I head to our respective homes to get some beauty sleep before our early call time.
A couple of weeks later, another friend – a stylist, from Paris – tells me she's coming to Stockholm for a job. As we're arranging dinner plans, she poses a familiar question: "Have you heard about Brutalisten?"