Finding someone who truly embodies the face of a brand is no easy feat, yet Maria Nila managed to nab an ambassador who shares the same love for animals, hair and beauty as they do
All products featured on Vogue are independently selected by our editors. However, when you buy something through our retail links, we may earn an affiliate commission.
If you've never been to Maria Nila's offices in Stockholm, let me paint a mental picture for you. Imagine Willy Wonka's factory, candy decorating the walls, rivers of vegan molten chocolate, and all the sweets you could wish in the world. Now make that hair-care. All you need is one step inside the building to be drawn in by the fantasy world of Maria Nila. From dripping ceilings of hair masks and gloss, to walls filled up to the brim with shampoos and conditioners, every room is a different surprise; and the higher you go, the better the rooms you find. Now if we continue with the analogy, who would be winning the golden ticket? For Maria Nila that title lies in the hands of Swedish-born artist, Cajsa Wessberg.
When you think of the face, ambassador, spokesperson, or even influencer of a hair-care brand, one traditionally would revert to long locks, smooth hair, and shiny tresses. Most of the time we reduce these brands to ones who just take care of the in-and-out of the shower and that manage to make one's untamable strands a bit more decent. That is not the case for Maria Nila. The Swedish brand is one that is known not only for its great products, but also for their commitment to the animals and environment, and overall the emotional connection with their salons and consumers. For them it's only about providing the world with professional, friendly products, rather heralding a way of living — that's why when looking for their best partner, they found it in Cajsa Wessberg.
That being said, who is Cajsa Wessberg?
Self described as an illustrator, model, plant-eater, and animal friend, she truly is a sunshine that lights up the room the moment you meet her. In the middle of Maria Nila's office — and salon — she opened us with open arms, like a proud chocolate maker introducing golden-eyed kids to the factory.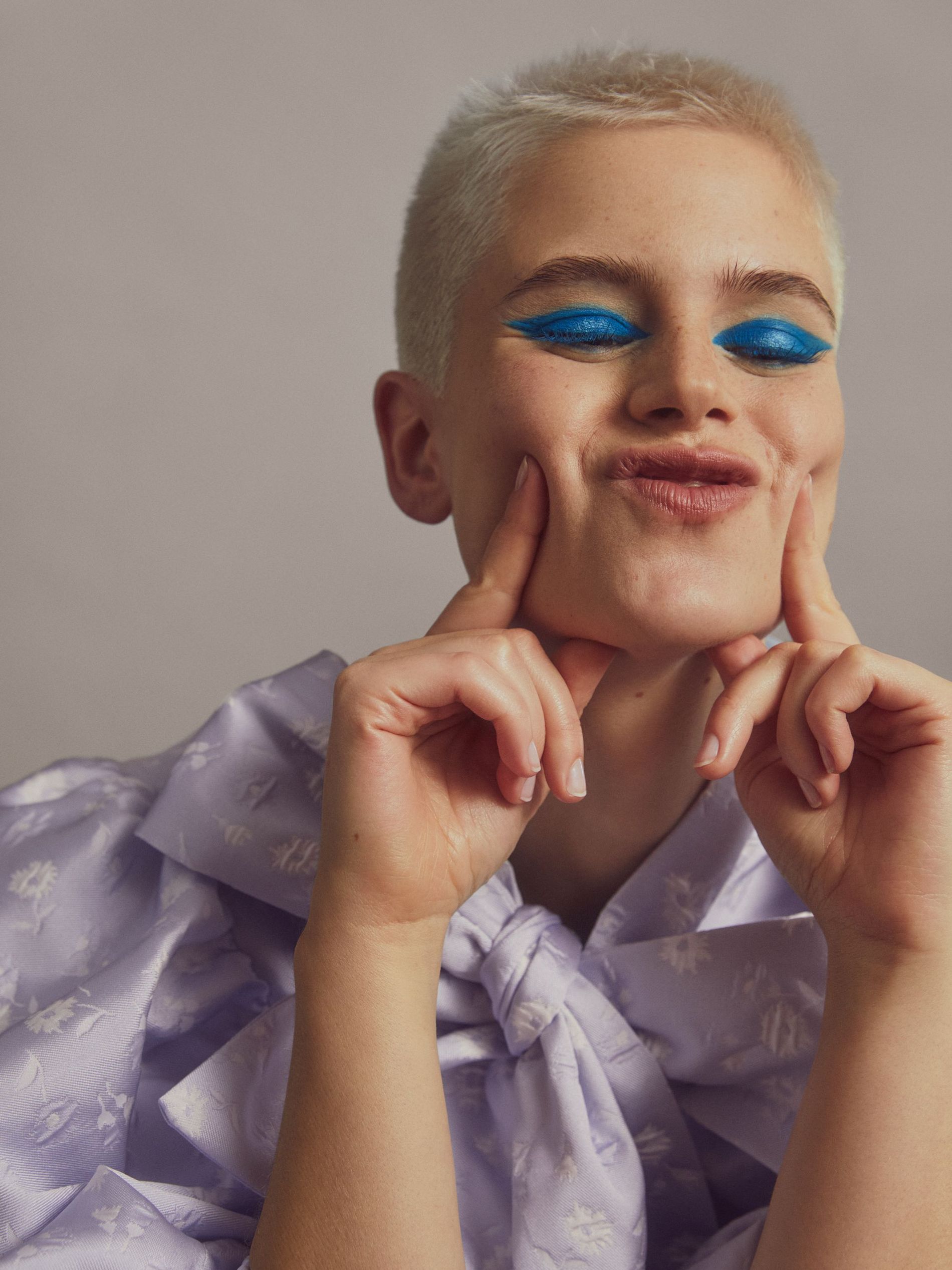 Cajsa in Maria Nila's latest campaign. Photo: Maria Nila
"I've always wanted to design. When I was 15 I was sure I wanted to be a designer, it wasn't clear if it was going to be fashion or interiors or graphic, but I just knew I wanted to design", says Wessberg with a smile. Graduated from design school, it was this time that allowed her to find herself and start developing as an artist and creator. Nonetheless, like a certain story of a princess in a tower we all know, it took one haircut to actually change the course of her life all together.
"It feels like a cliché, but I had been through a hard time and was so stressed out with work and school I felt that I was crashing against a wall. After a few months of being like this, I felt like I needed to regain control of my life and my surroundings — I was searching for adventures. Also, my hair was terrible at the time. It was long but I had bleached it and hadn't taken care of it, it was like a chanterelle yellow to a point where it was half yellow half brown. That's when I decided to shave it off", Cajsa says to her mesmerised audience. "From there it was a matter of deciding when to do it. I didn't want to shock anyone, but it was never going to be a good time, so during one Midsummer with all my family, I took one of my cousin's boyfriend's shaver, gathered my little cousins, and went for it. Everything went fine — exceptuating the fact that the shaver kinda died mid cut, but we fixed it, and continued. Everyone's reaction was complete silence, but as the younger adults slowly embraced it people started to loosen up. I think it took them a couple of years to actually settle into it, but everyone was polite about it", she finishes with a laugh.
From there on, shaving her head was more than just a buzz, in Cajsa's words, it was liberating. "It changed me as a person, I've always been quite sweet and soft, and cutting my hair like this was a way of showing people I'm just more than that and I also felt more cool and rebel, so I would dress up a bit more confident and even gave me the impulse to even "manspread", (iconic if you ask me). That same confidence was the one that allowed her to reach out to agencies, start modelling, and get even better at content creation — and while everything else in Cajsa's life grew, it was keeping her hair short what allowed for this transformation.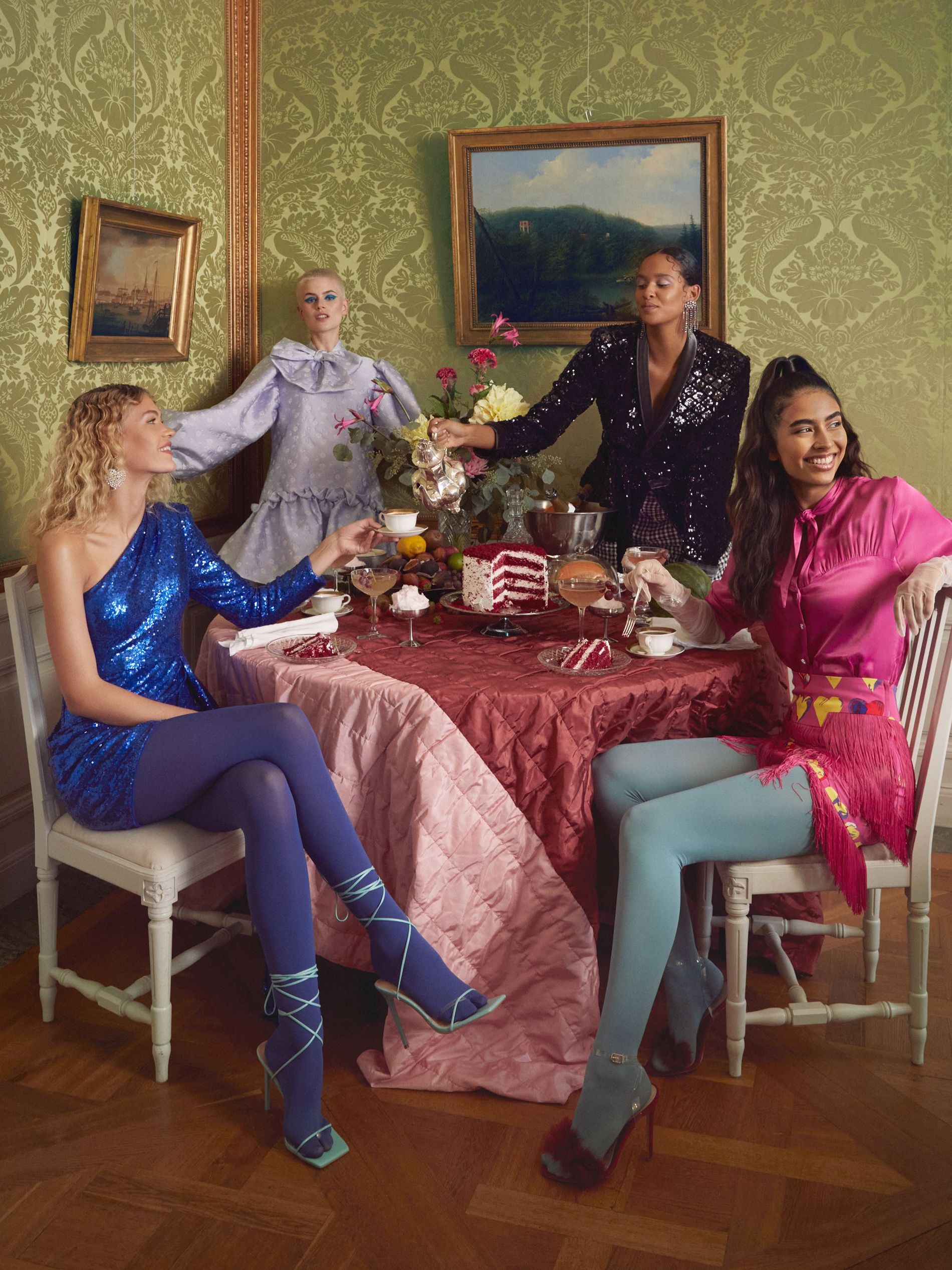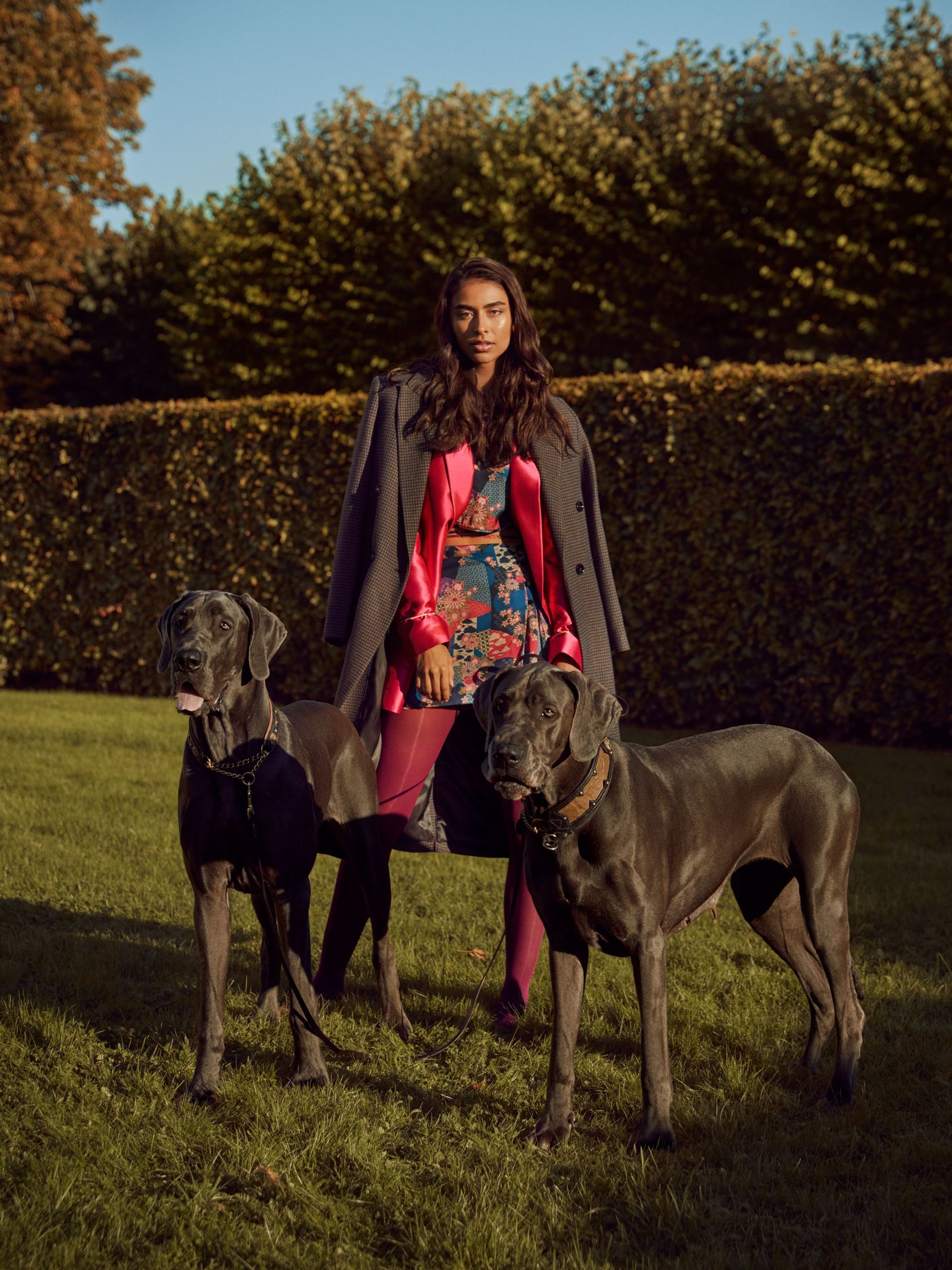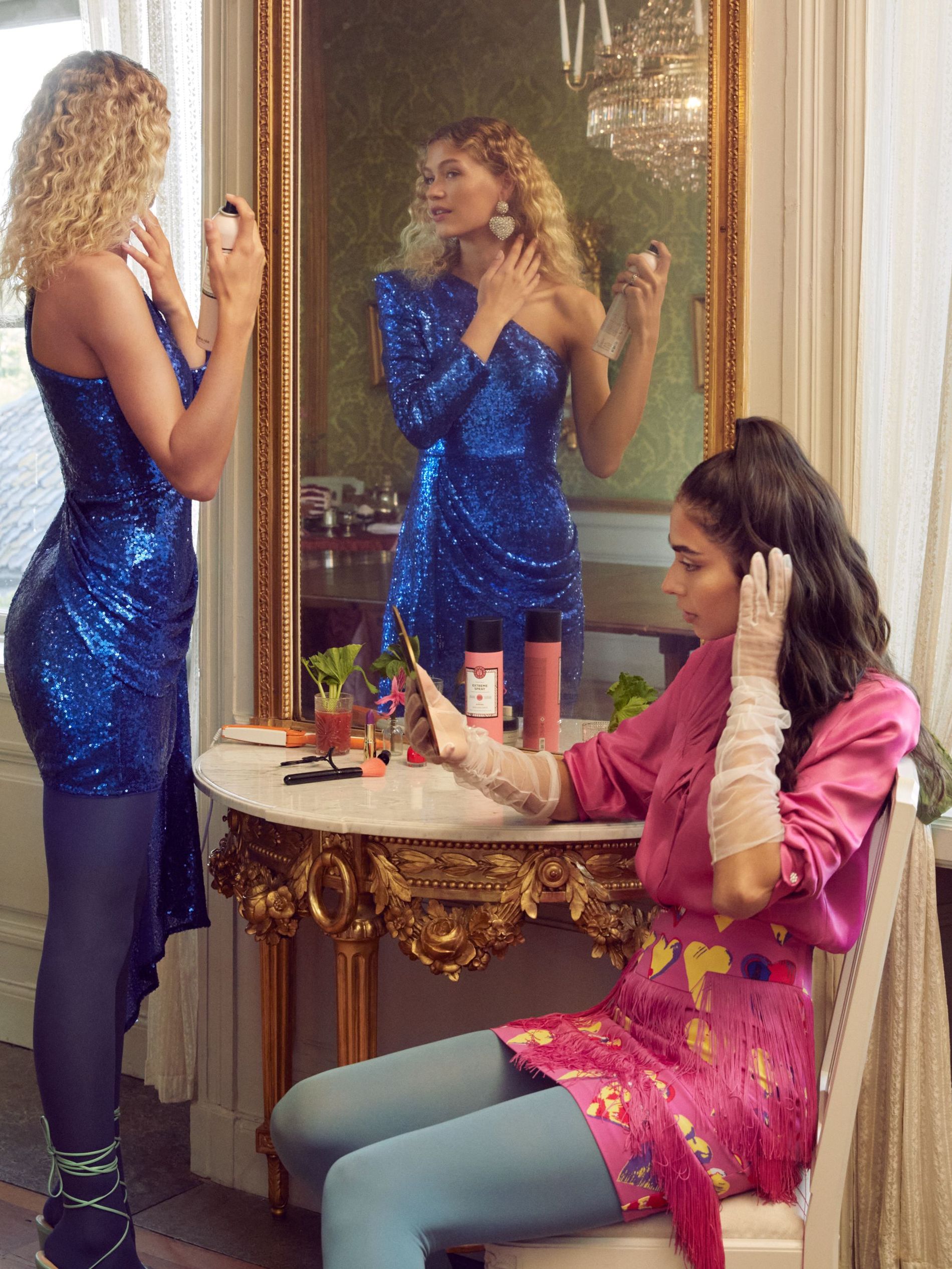 How did a hair-care brand end up teaming up with a shorn-tressed model?
"Cajsa actually is our first design collaboration ever", says Monica Tesanovic, Marketing Manager for Sweden and Denmark. "We always work with our internal creative and design team, but for this year's gift boxes we wanted to go a bit different, so we started searching for who could be both a good pairing with the brand and also an addition to our creative side. That's when Cajsa came in. She's not only an incredible illustrator but we truly believe she embodies what Maria Nila stands for – friendliness, curiosity and honesty". And to be honest, she couldn't be more right.
Maria Nila has a long standing history working for animal rights and environmental causes. Every year they select an animal and through a charity they help protect its species and environments, called The Friendly Year. On the same hand, they champion the integral wellbeing of their consumers, seeking to give not only quality products, but an overall positive experience. And their gift boxes fit all those requirements. Said boxes, that are product sets made of some of Maria Nila's best lines, are conceptualised after states of mind, from the harmonic to the passionate, and the healing to the balanced — state of mind that Cajsa took as reference in order to assign an animal that would be the embodiment of the style. For example, the repair collection is represented by a bear, who is known for its strength and resilience in nature. That being said, run, don't walk if you want to get your hands on one of Cajsa's specially designed boxes, as they're quite literally flying off the shelves as you read.
From there, thankfully, Cajsa's association with Maria Nila doesn't end, as she recently starred in their most recent campaign, Making Memories. Where she invited some friends to the countryside in order to discover and play around with the latest trends in haircare and styling. Truly a time to make memories.
Now, for everybody out there, what is stopping you from taking the risk? Dying your hair or even chopping it off? What is stopping you from making memories? We surely are not, and on the contrary, we assure we'll be right there with you all the way.