There is simply no shoe more versatile than the white sneaker
All products featured on Vogue are independently selected by our editors. However, when you buy something through our retail links, we may earn an affiliate commission.
This is especially evident here in Scandinavia, where women pair their freshest kicks with everything from track pants to prairie dresses, relaxed suiting to ball gowns. Sure, they're not as flashy as the statement heel, the embellished sandal or even a good loafer, but they're effortless and cool and, best of all, comfortable. Ideal, given our propensity for walking and biking literally everywhere.
Still, don't you dare write off the white sneaker as boring. There's a reason why they have graced the feet of rappers and rockstars, off-duty models and fashion industry icons for decades: they have the range.
Not all white sneakers are created equal. With a veritable smorgasbord on offer, from the OG Chuck Taylor – introduced in 1936 and, remarkably, as relevant as ever – to iterations from just about every single fashion brand, picking a pair can be daunting.
Fear not, for we have handpicked the very best white sneakers in the game.
The best white sneakers for women
Veja
V-10 leather trainers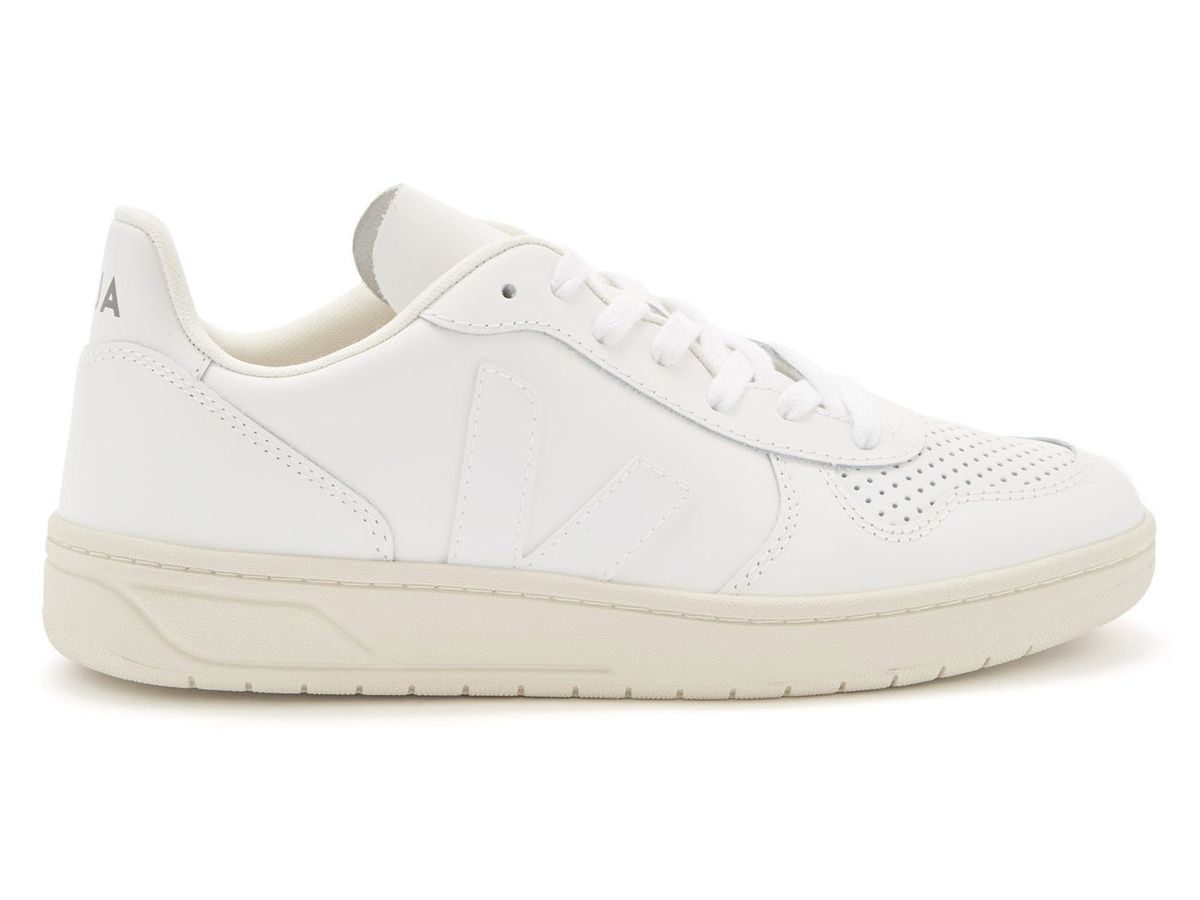 Few sneakers scream "sustainability" quite like those from Brazilian brand Veja, and we love that for them. Made from recycled fibre and organic cotton, the V-10 boasts a hint of basketball flavour, by way of the perforated toe. Even the sole is made from wild rubber, sourced from the Amazon.
New Balance
408 trainers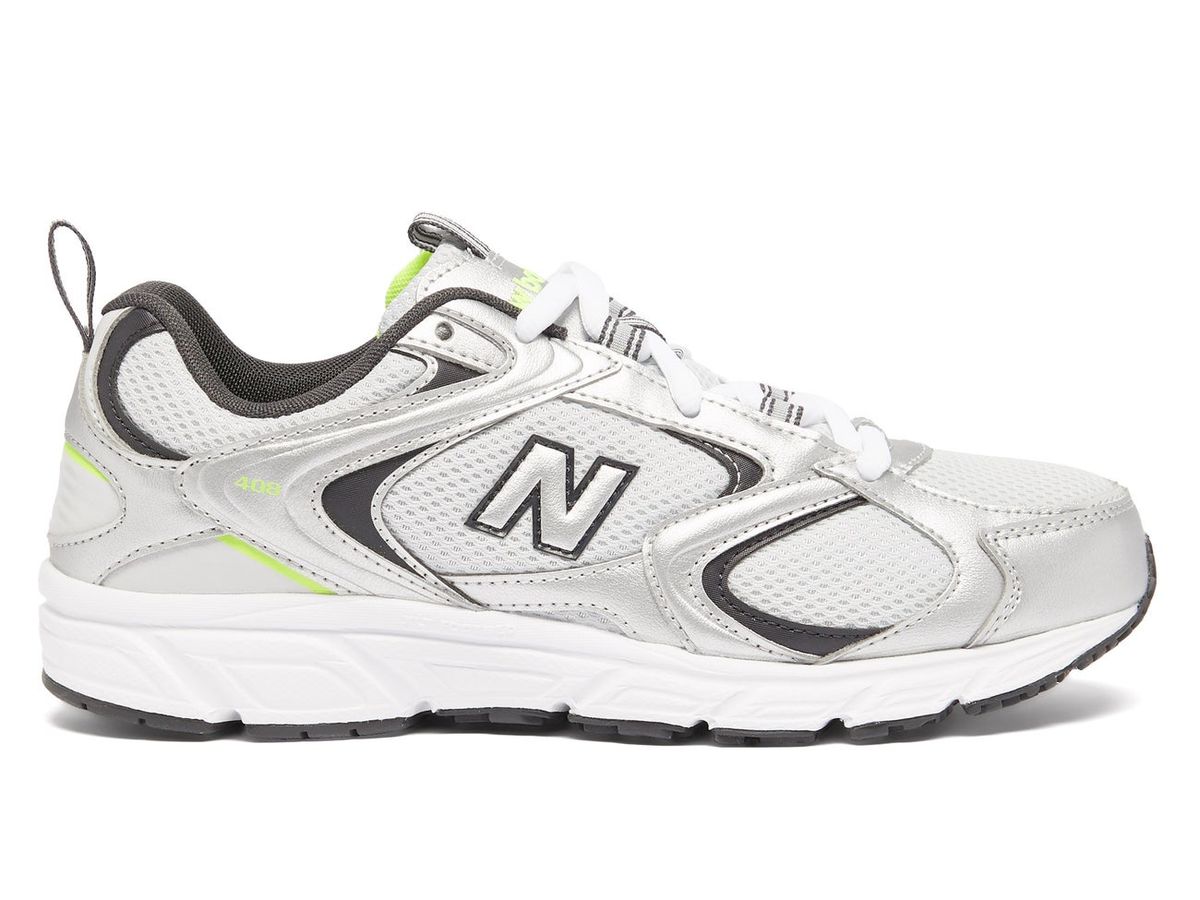 Worn by "supermodels in London and dads in Ohio," New Balance sneakers are, in many ways, so wrong they're right. Call them normcore, call them dadcore, there's something irresistible about the Jerry Seinfeld energy of a pair of NBs. We're especially into the 408, which, with its mesh upper, has a 90s energy that's right on the money.
The Row
Marie H sneakers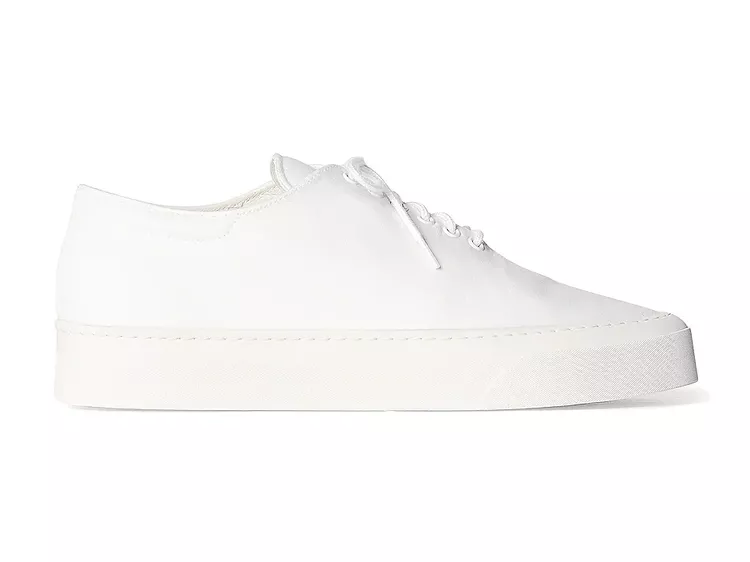 The Rolls Royce of simple white sneakers, The Row's Marie H sneakers in white are pure, unadulterated decadence. Rendered in cotton-canvas atop an exaggerated rubber sole, these are not the Keds you wore in elementary school (not that there's anything wrong with the Keds you wore in elementary school).
Prada
Wheel Re-Nylon trainers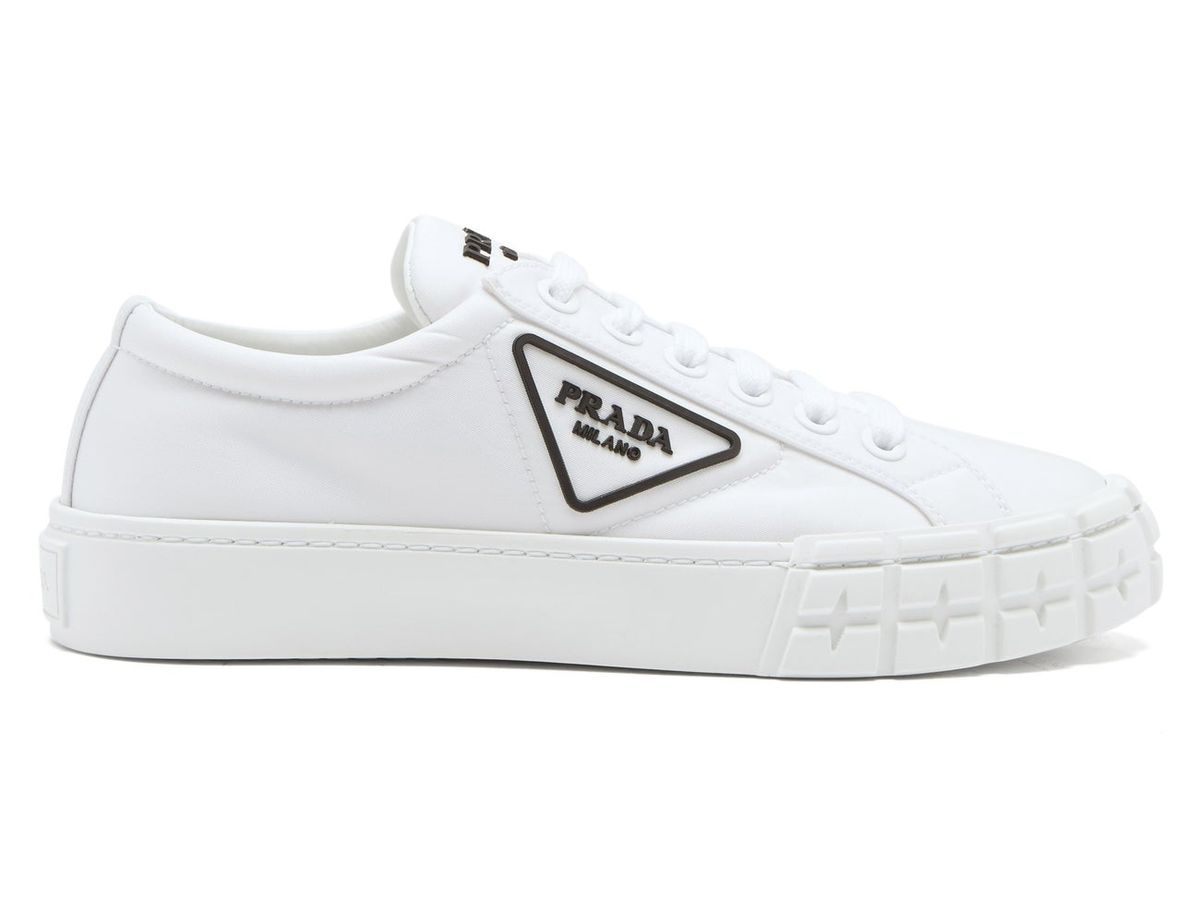 Made from recycled fibres, Prada's Wheel Re-Nylon Trainers boast just the right amount of clever detailing. From the rubber Prada logo to the sole, embossed to look like car tiles, these are luxury white sneakers at their finest.
Nike
Air Force 1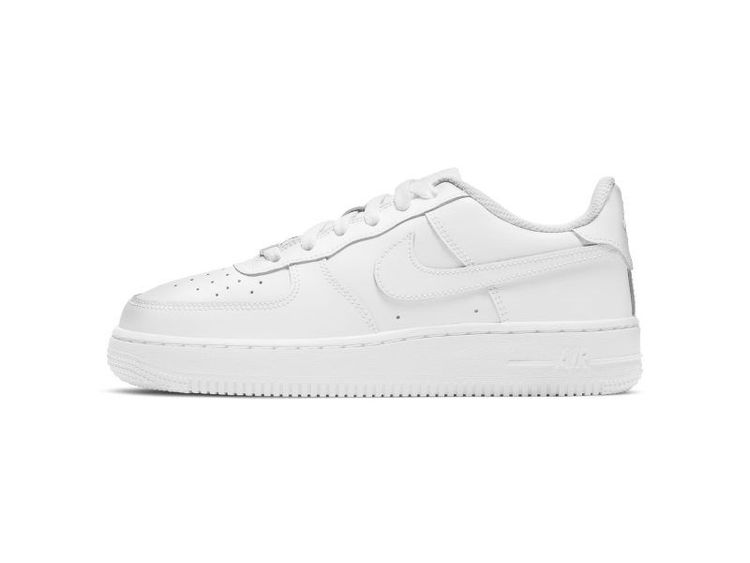 A sneaker so good, Nelly wrote an entire song about them. Nike's AF1 add a dash of street to any look. We particularly adore them paired with a more delicate fit, like a simple silk dress.
Converse
Chuck Taylor All Star Hi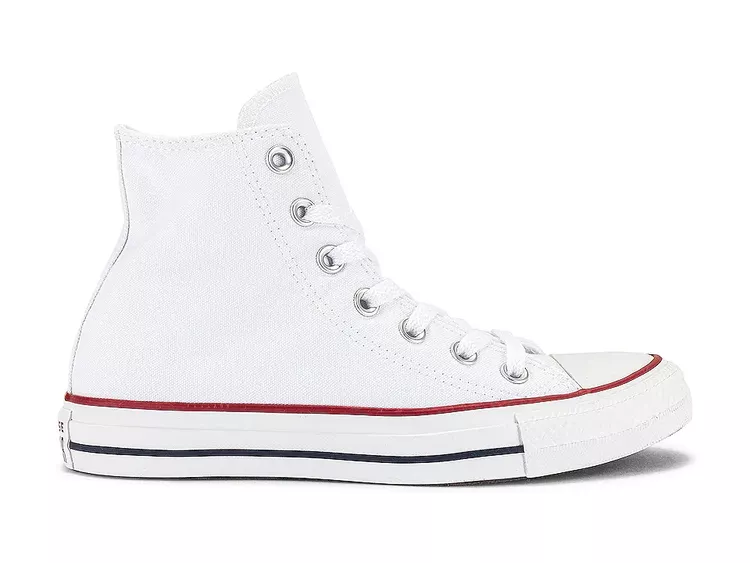 You can't talk about white sneakers without talking about Chuck Taylors. Converse's iconic sneaker, first popularised on the basketball court and later adopted by just about every subculture ever in existence, Chucks are in a league of their own.
Salomon
XT-6 Advanced mesh trainers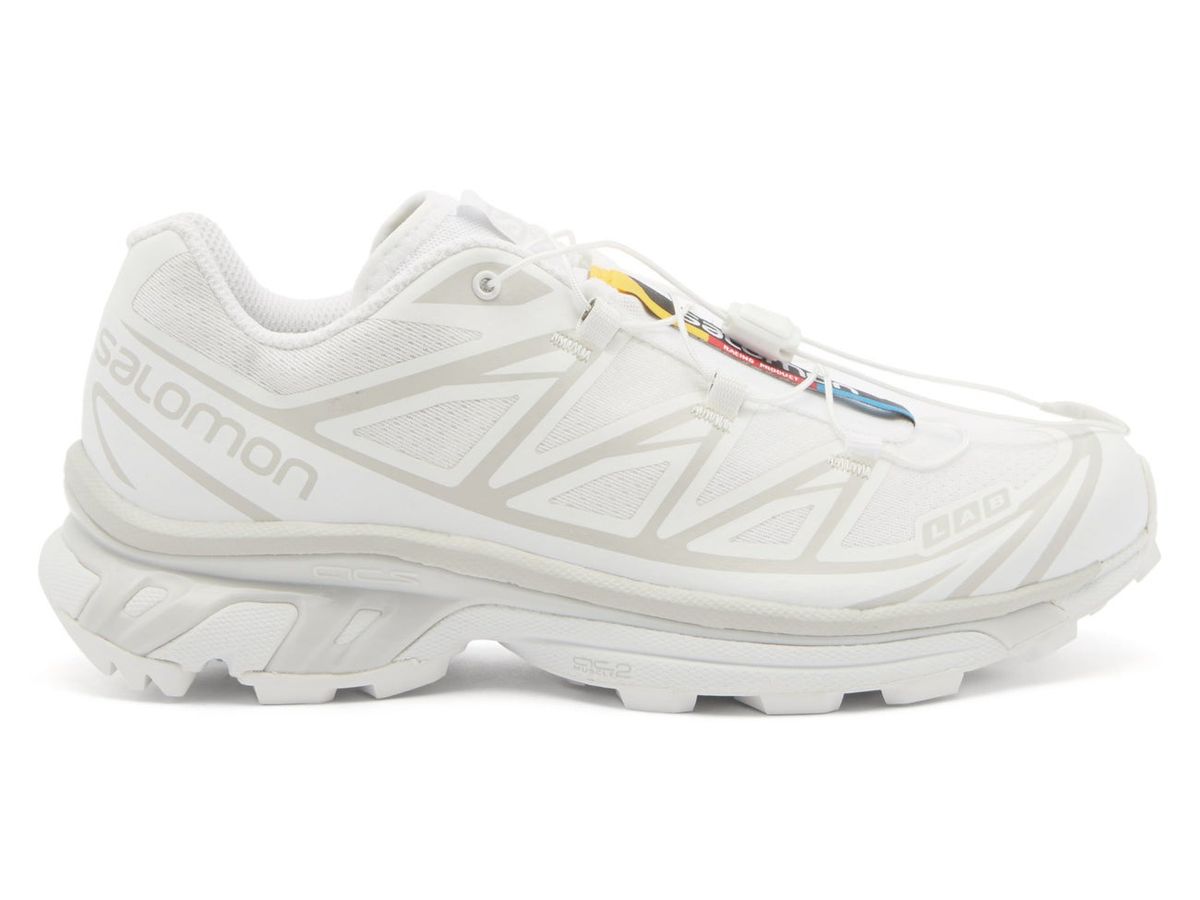 Technical trainers have been trending for several seasons now, and none hit the mark like the Salomon XT-6 Advanced. A little trickier to pull off than the others on this list, we suggest pairing them with cargos or dad jeans. Your sneakerhead friends will be impressed.