Step into the stunning Stockholm wedding celebrations of our own print editor Allyson Shiffman, who shares the stories behind all the curated details – including her bespoke corset gown by Turkish-born, London-based talent Dilara Fındıkoğlu
Allyson Shiffman and her now husband Adam Tideman met "the old fashioned way", she says. "On Tinder!" After an initial drink, their early dates saw Allyson popping to Adam's house on Monday nights to watch Game of Thrones, "because I didn't have a television and I thought he was cute. By the end of that final season of the show, we were boyfriend and girlfriend."
Four years on in August, Allyson, who is print editor at Vogue Scandinavia, and Adam, a corporate tax lawyer, exchanged vows at Van der Nootska Palace, just around the corner from their apartment in Stockholm. "Even though it's a palace, it isn't so extraordinary from the outside," the bride says. "But the moment we stepped inside we knew this was the place—so old, so charming."
It was the groom who noticed the building's potential as a venue, even though he hadn't previously regarded a wedding as an essential step for the couple. "Over the years we sort of mutually agreed that this was a forever situation. Adam wasn't big on marriage because his parents, who are together and super happy, aren't married," explains Allyson, who, for her part, liked the idea of making it official in front of their loved ones. "We did agree that it would be pretty special to get my Canadian family over to Sweden to meet his family. So one day he just said, okay, let's do it."
Unsurprisingly, given her line of work, Allyson immediately set about curating her wedding day wardrobe, and there was only ever one designer on her list for the main event. "I had been dreaming of wearing Dilara Fındıkoğlu on my wedding day," she says of the Turkish-born, London-based talent, whose fierce and feminist creations have found their way into the closets of Zendaya, Margot Robbie, and Cardi B. "She's a genius in her construction, her attention to detail, and the way she celebrates the female body.
"Our mutual friend Idil Tabanca—who was my boss a million years ago at her fantastic magazine, Bullett—helped me get in touch. Thankfully, Dilara said yes to making me a custom gown, even though she is so busy dressing every cool and noteworthy person in the world right now."
I had been dreaming of wearing Dilara Fındıkoğlu on my wedding day. She's a genius in her construction, her attention to detail, and the way she celebrates the female body.
Allyson Shiffman, print editor at Vogue Scandinavia
After a single Zoom meeting to discuss the bride's vision, Dilara sent Allyson a sketch of a custom corset gown with black ribbon details. "It was just… perfect," she says now. "We fit the toile some months later in her London studio while I drank wine out of a Solo cup. I'm so beyond grateful to Dilara and her studio for making my wildest dreams come true." Besides a pair of white ballet flats by Miu Miu, "so I could dance the night away", the bride added little else to her fantasy gown. "The dress was so major, I knew I wanted to go low-key on everything else," she says. "The only piece of jewelry I wanted to wear was my mum's tennis bracelet. I was hoping she would forget to take it back afterwards… but she didn't."
The bride enlisted her friend Sandra Wannerstedt to do her make-up ("All I told her was 'glowy'"), while Stockholm's brow artist to the stars, Thomas McEntee, paid Allyson a visit a couple of days before the wedding, returning for a final touch-up on her big day ("He also cinched my corset to within an inch of its life"). In charge of bridal hair was Tony Lundström ("No one brings the vibes like Tony"), whose brief was Allyson's signature tight bun, "but fancier." "He came up with a huge sideways bow of hair that Adam had a great time removing when we got home at 4 a.m."
Allyson turned to another female talent, Mega Mikaela, for her "sexy and fun" after-party dress. "She's a young Swedish designer who handmakes these insanely awesome chainmail-esque pieces out of washers," says Allyson. "I discovered her via Alpha, a talent incubator in the Nordics—she's definitely having a bit of a moment and it's so well-deserved. Believe it or not, the dress weighed twice as much as my wedding gown. I can't wait to wear it again."
The celebrations themselves were every bit as unique as Allyson's looks, and filled with personal touches. On the eve of the wedding, the bride and groom brought the out-of-towners to Stockholm's Pelikan restaurant, for a classic Swedish meal of herring and meatballs washed down with shots of schnapps. The bride's friends, Josef Lazo and his brother Mikael, put together the traditional Jewish chuppah—including it was a "game-time decision", Allyson says—on the morning of the wedding. Another close friend, the Iranian-Swedish actor and singer Shima Niavarani, conducted the ceremony. "She was funny and sweet and warm and personal, but that came as no surprise."
The bride recalls getting "full body chills" as the John Erik Eleby Chamber Choir sang 'Nothing Compares 2 U', and Neil Young's 'Harvest Moon'. "I hear there wasn't a dry eye in the house, but I was trying not to look at anyone so I could keep my composure." Once Allyson and Adam were officially declared man and wife, the choir's rendition of 'You Got It' by Roy Orbison—with help from Shima—brought the congregation to its feet. "Everyone stood up and started dancing… I was just exploding with happiness," says the bride.
The dancing started early, and it didn't stop after the reception, where several of the couple's friends DJ-ed, and the Canadian contingent gave the Swedish guests an education in the traditional horah. "Afterwards, we relocated to an after-party in a cave-like basement around the corner," Allyson explains. "The dance floor was still packed when the lights came on at 3 a.m."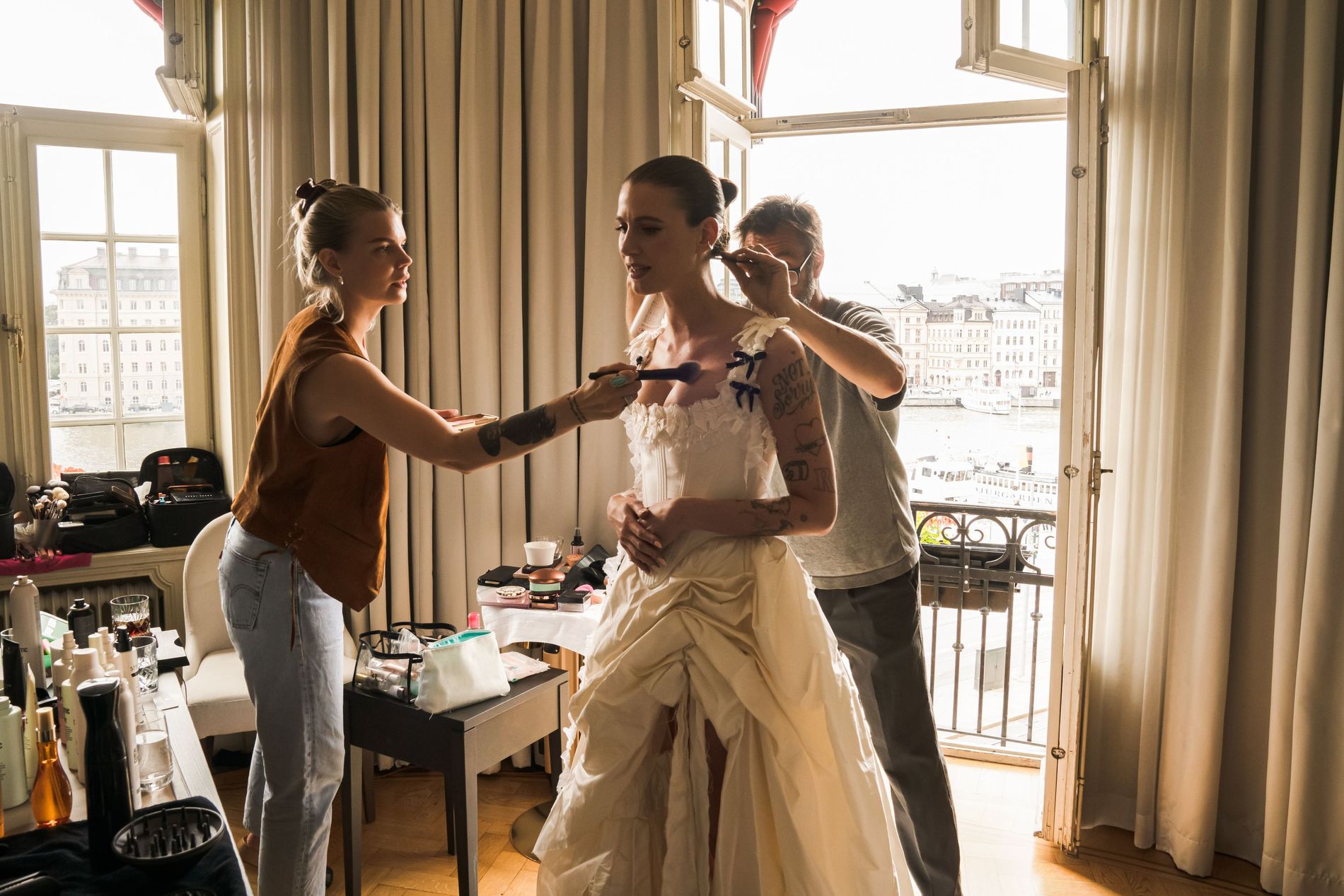 Getting ready in the bridal suite at Stockholm's Diplomat Hotel. Photo: Vanessa Tryde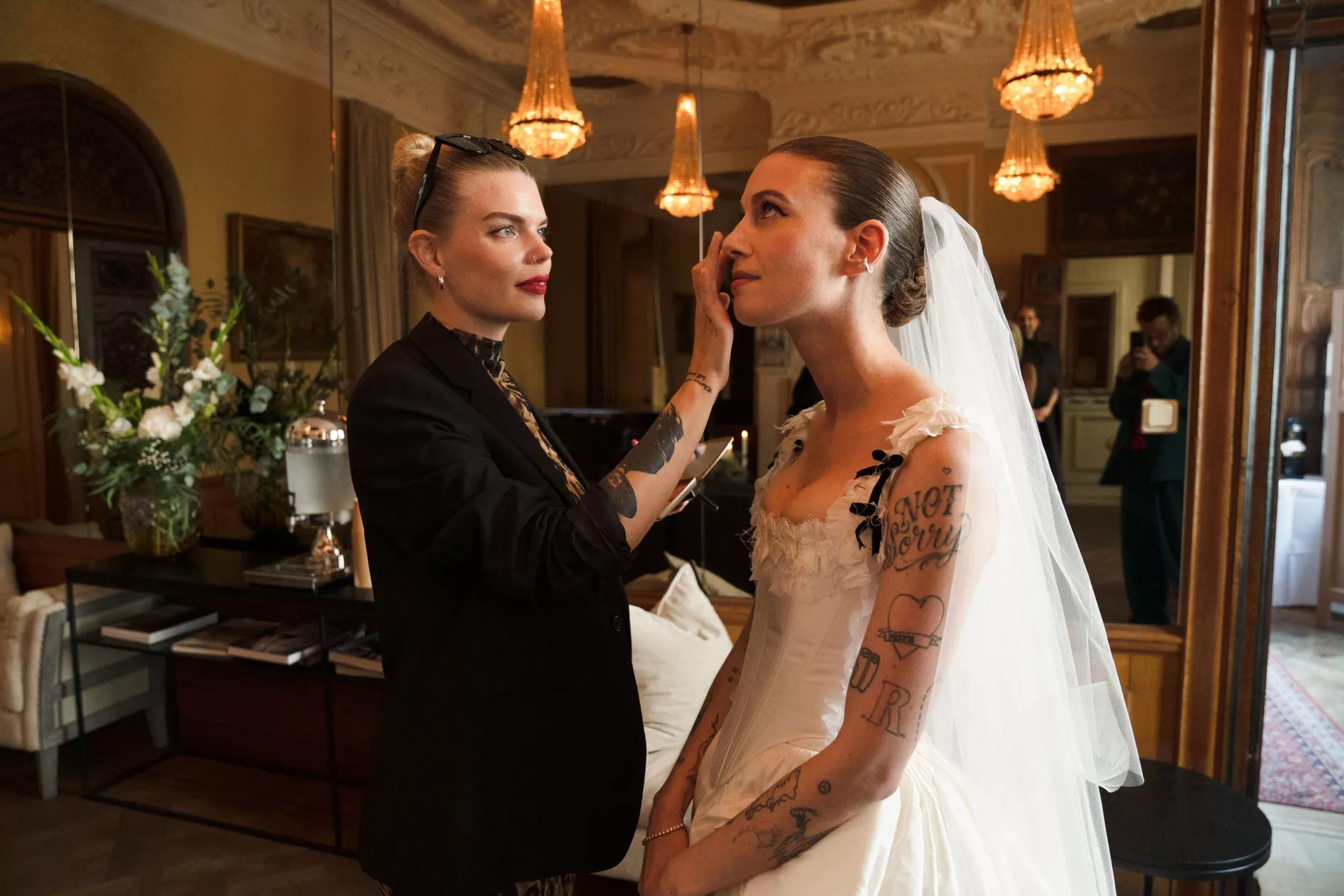 Allyson organised the wedding herself without the help of a planner. "But Ewa Kantecki at the venue was incredibly helpful—we couldn't have done it without her.". Photo: Vanessa Tryde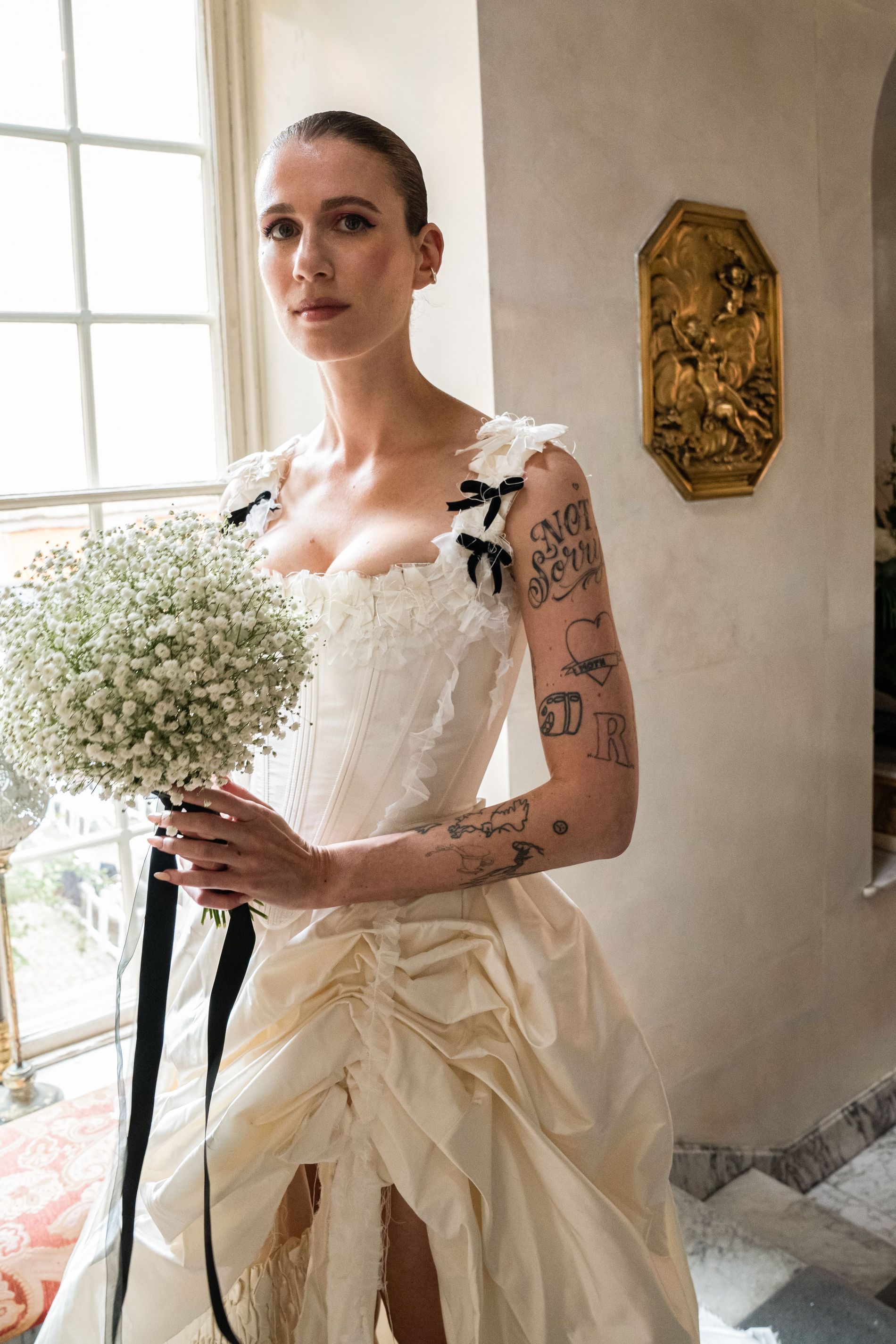 "Strauss Blommor did my flowers. I had them tie the simple bouquet of baby's breath with a black ribbon, to match the black ribbon details on my gown.". Photo: Vanessa Tryde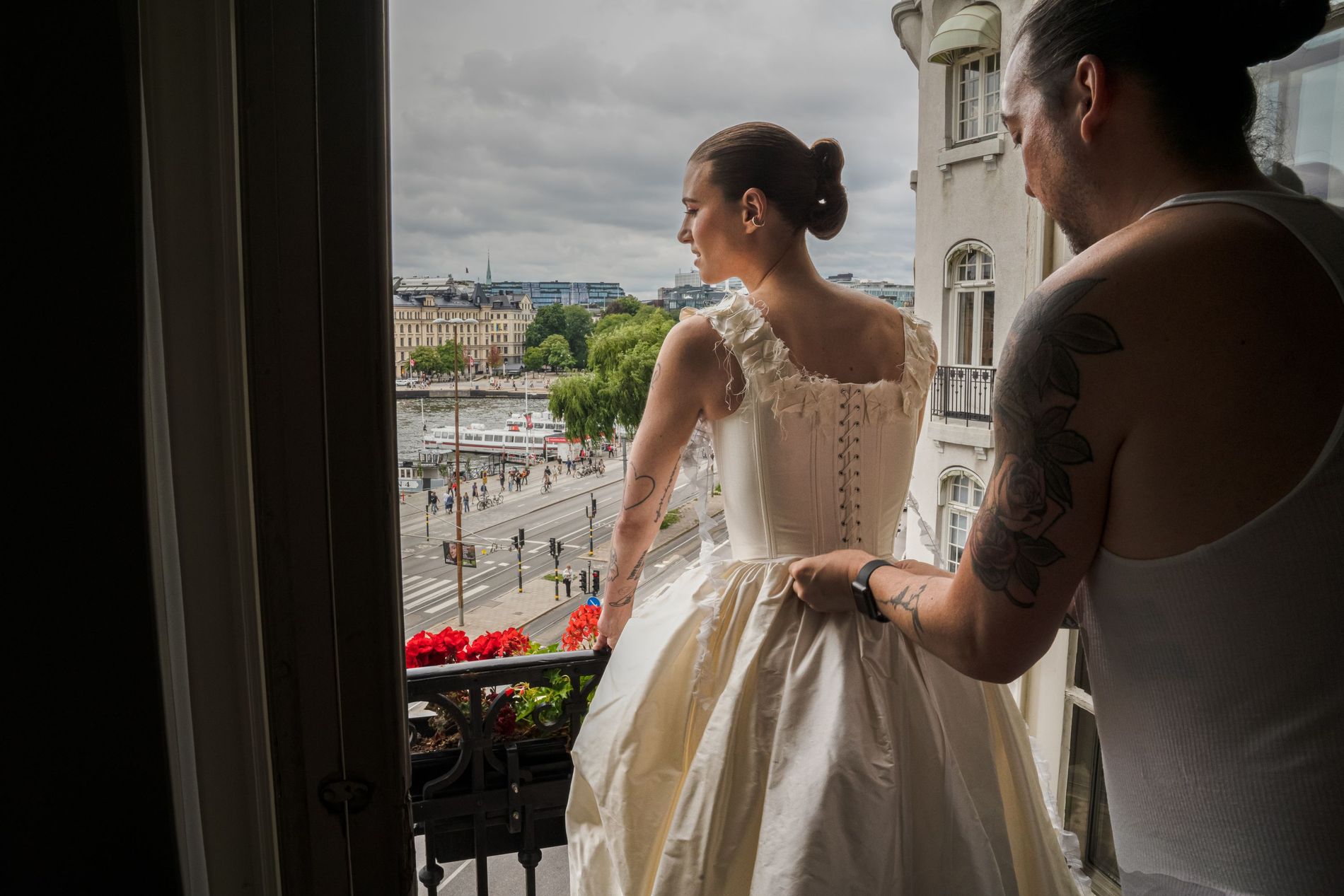 Brow artist Thomas McEntee cinched the bride's corset "to within an inch of its life". Photo: Vanessa Tryde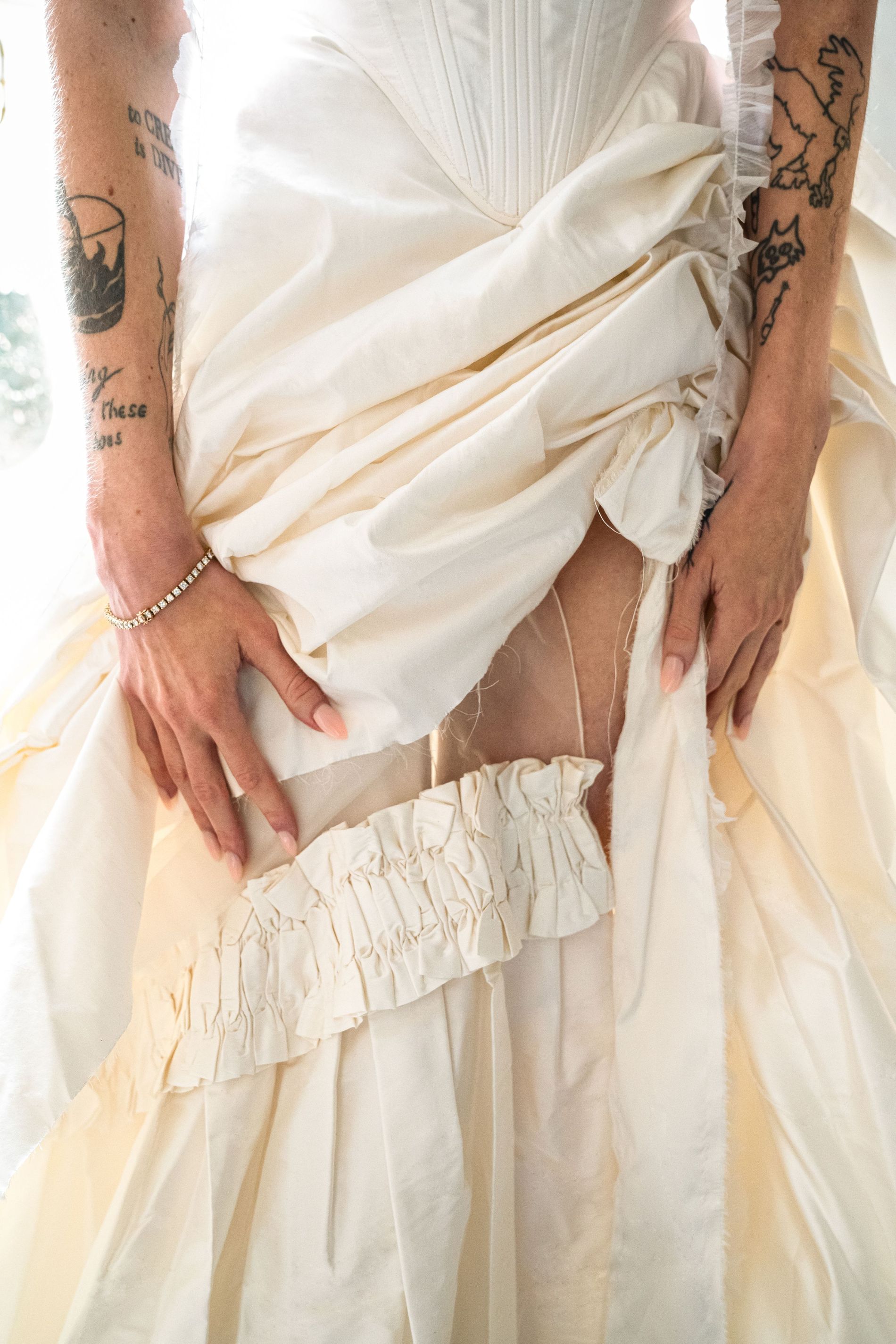 Her mother's tennis bracelet was the bride's only jewellery. Photo: Vanessa Tryde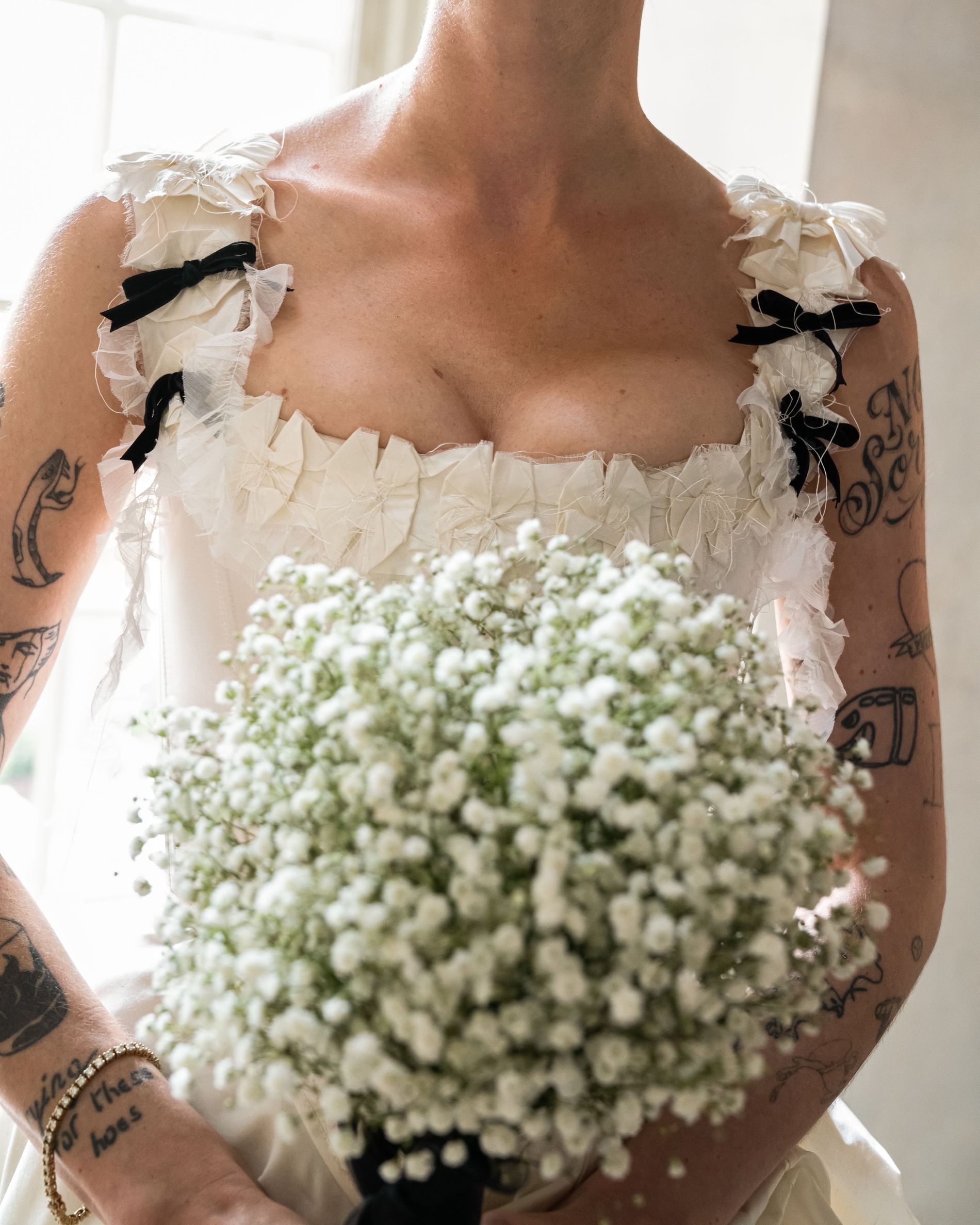 Allyson's bouquet of baby's breath was tied with black ribbons, to match the bow details on her dress. Photo: Vanessa Tryde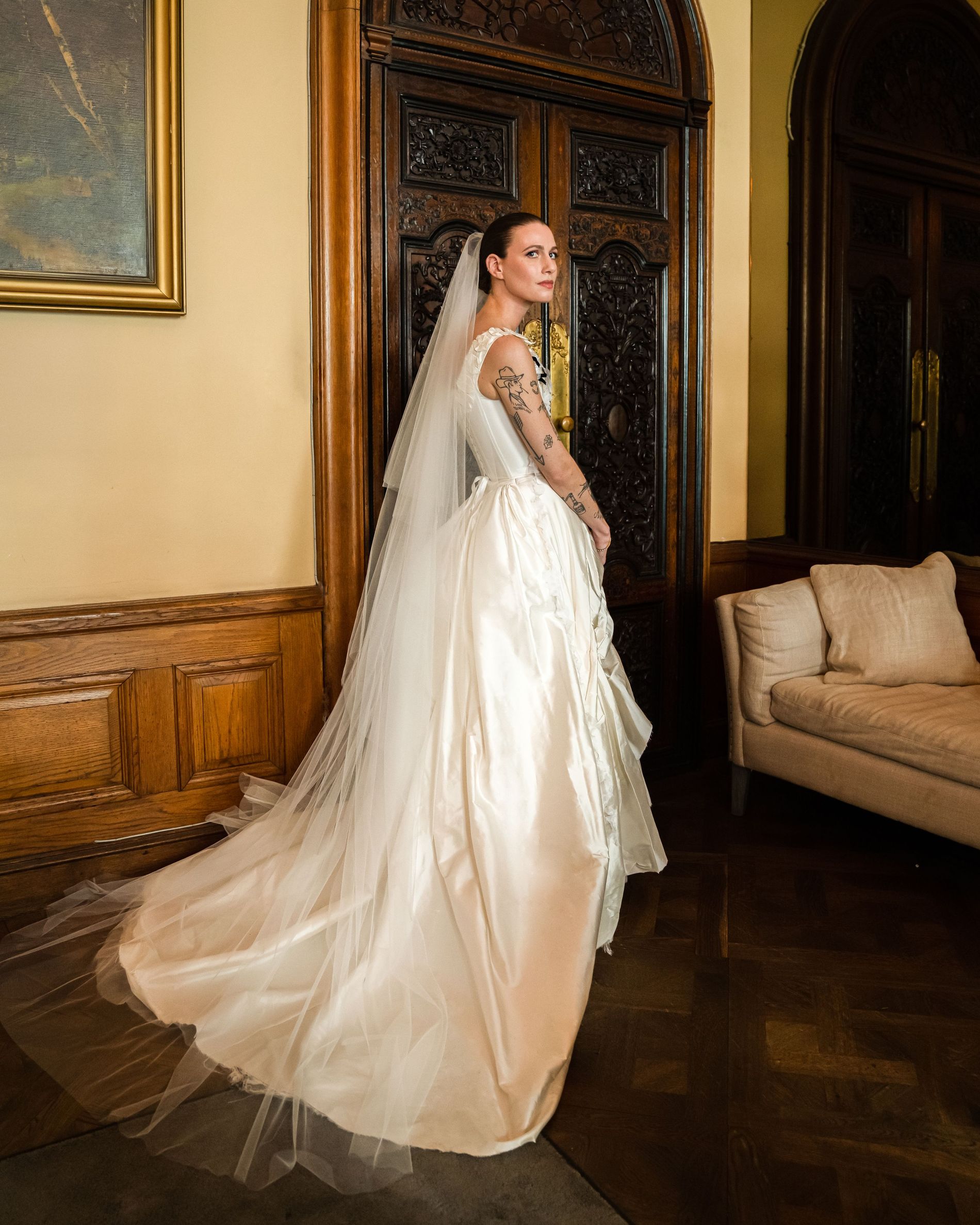 The bride in her dream Dilara Fındıkoğlu gown. Photo: Vanessa Tryde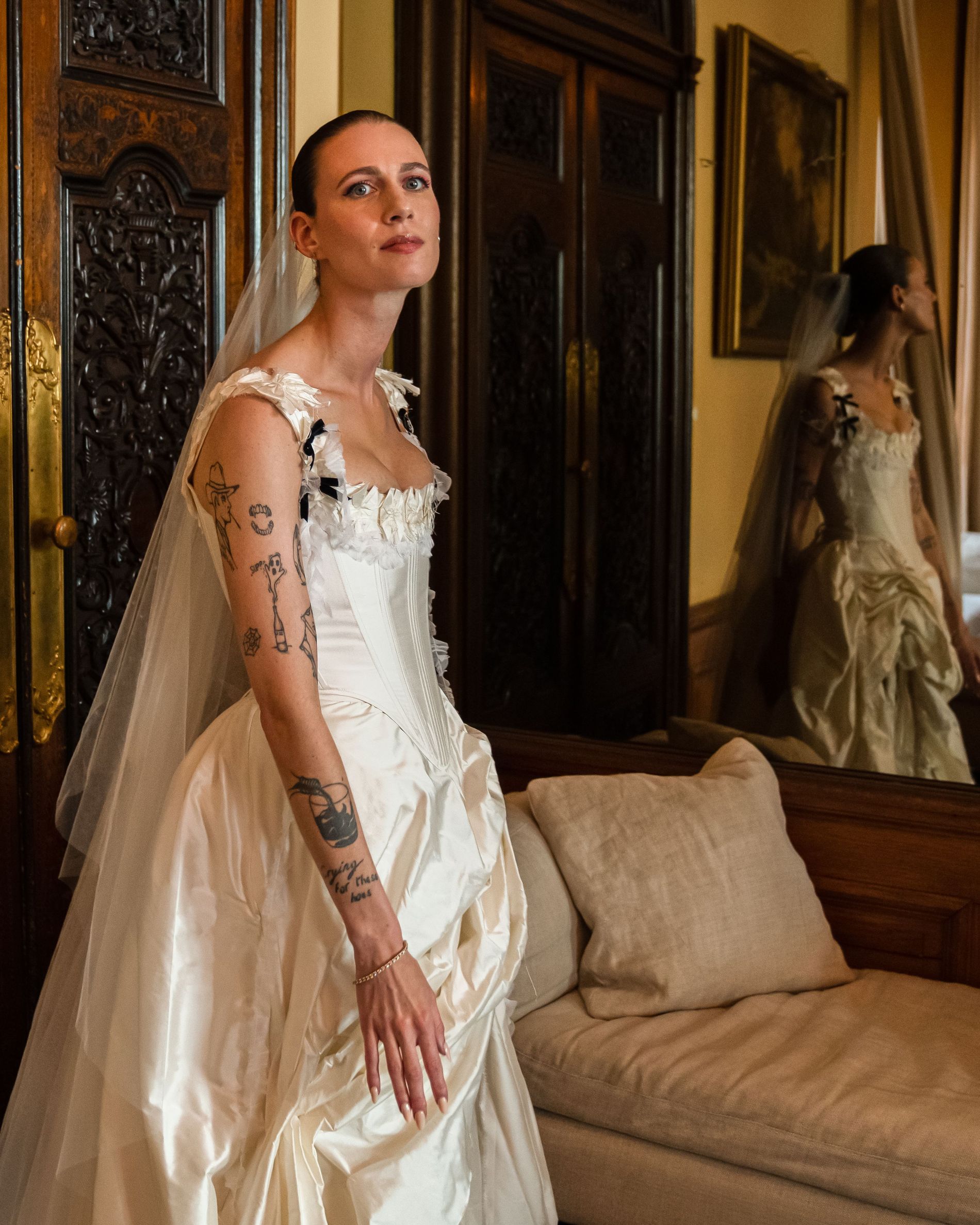 The bride in her dream Dilara Fındıkoğlu gown. Photo: Vanessa Tryde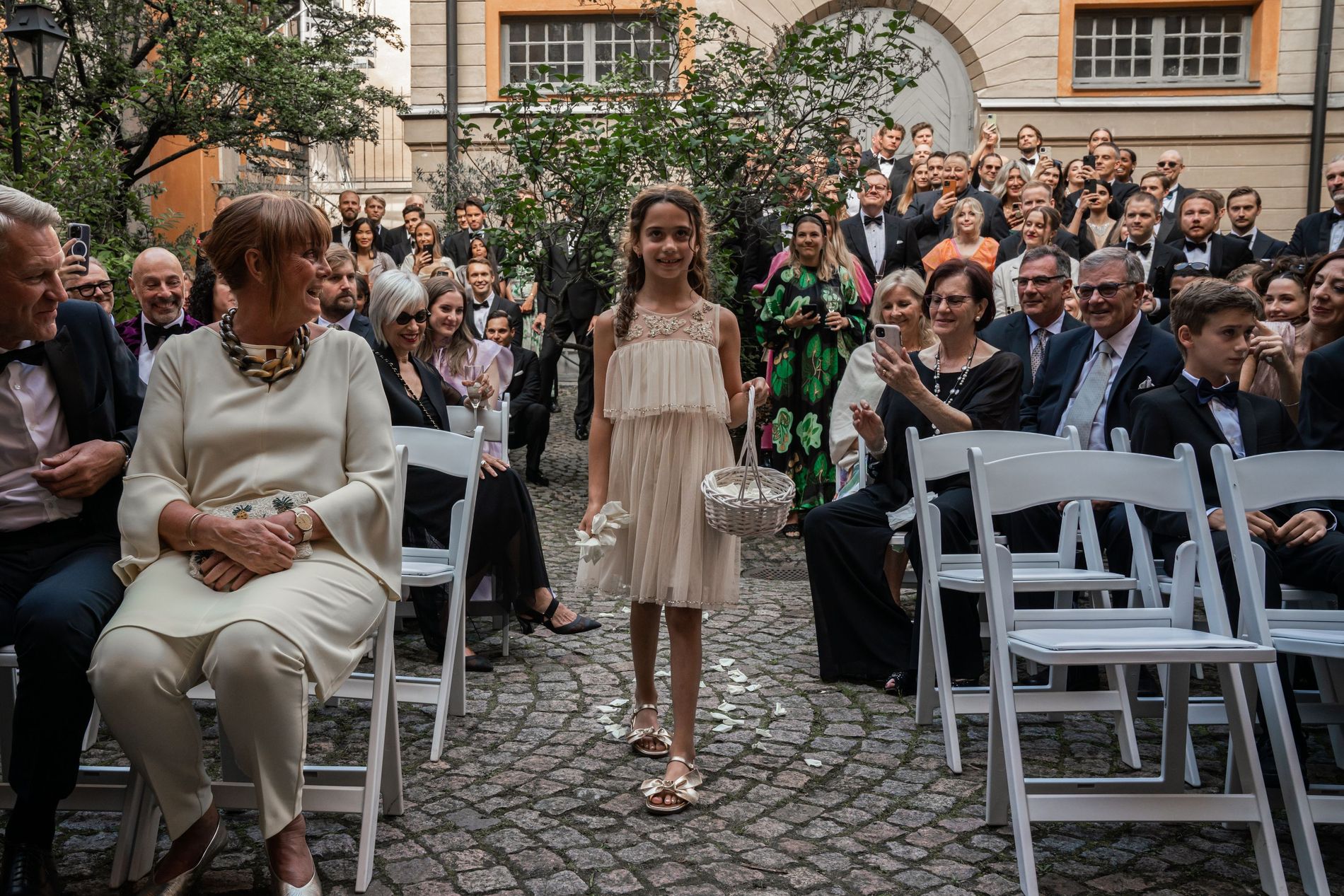 "We didn't have a wedding party—we just wanted everyone to show up and enjoy—but our families walked down the aisle. My niece, Isla, was the most poised and confident flower girl in history, but my nephew, Simon, was a bit too shy to fulfill his duties as ring bearer. But he looked incredibly cute in his suit and charmed the crowd anyway.". Photo: Vanessa Tryde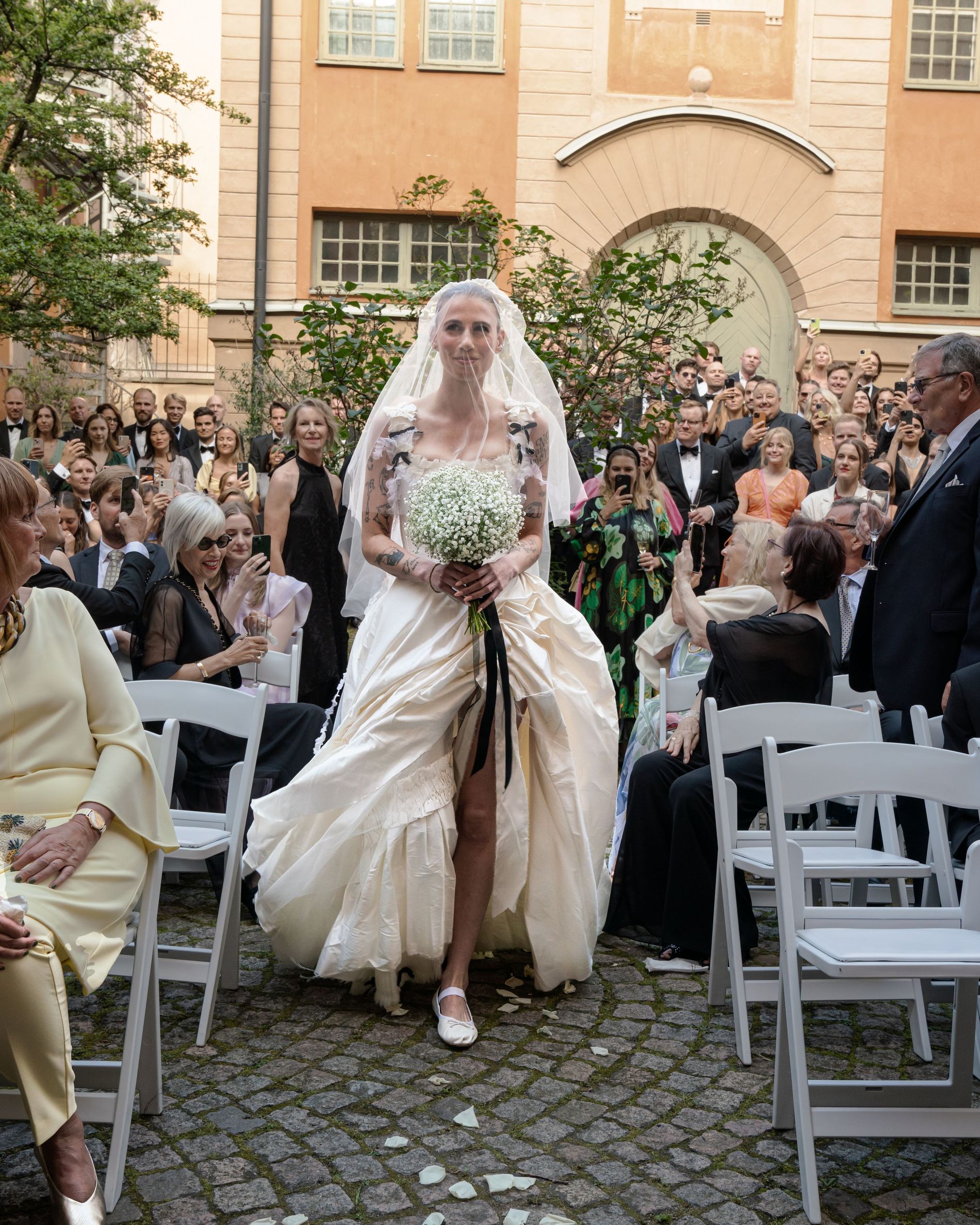 "My parents were supposed to walk me up to the chuppah, but we quickly realised we wouldn't all fit with my dress, so they 'gave me away' a bit early.". Photo: Vanessa Tryde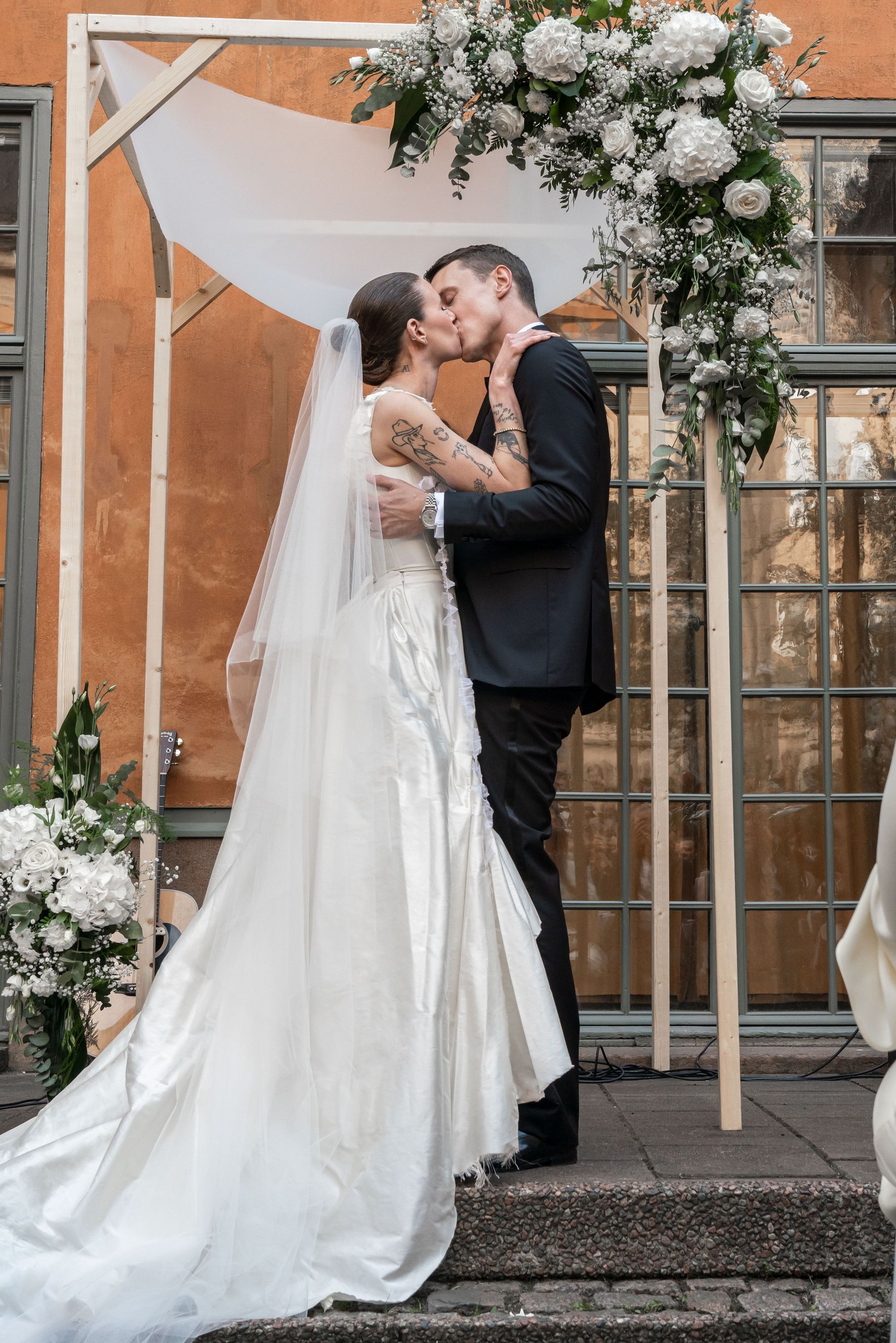 "Speaking of the chuppah, that was a game-time decision but I'm so happy we went with it. My family is Jewish and it was meaningful to include those traditional touches, even if I'm not always the most observant Jew. My friend Josef Lazo, from the brand Lazoschmidl, fixed the fabric with cute little bows to attach it to the frame, and his brother, Mikael, built the frame onsite the morning of the wedding. Photo: Vanessa Tryde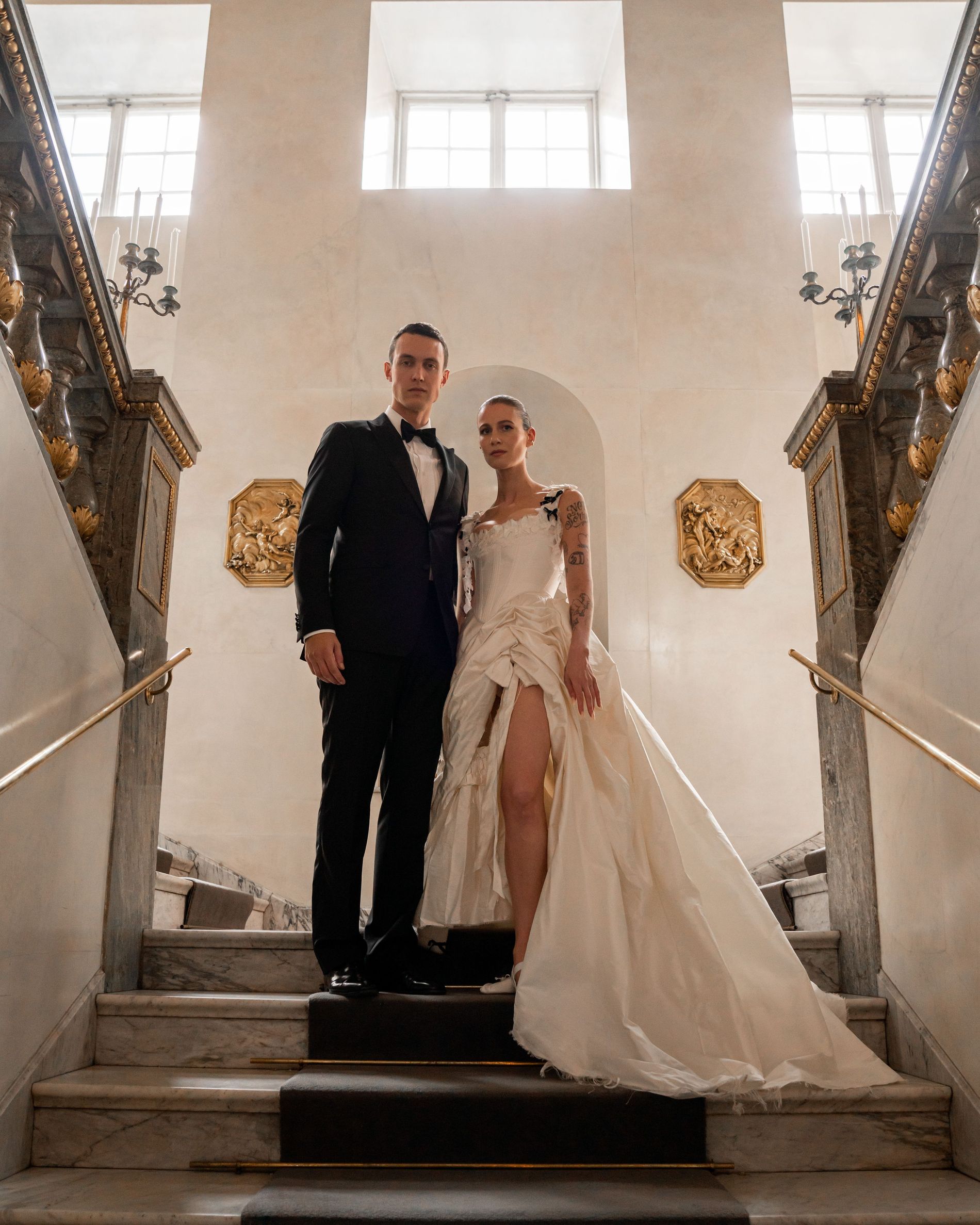 Photo: Vanessa Tryde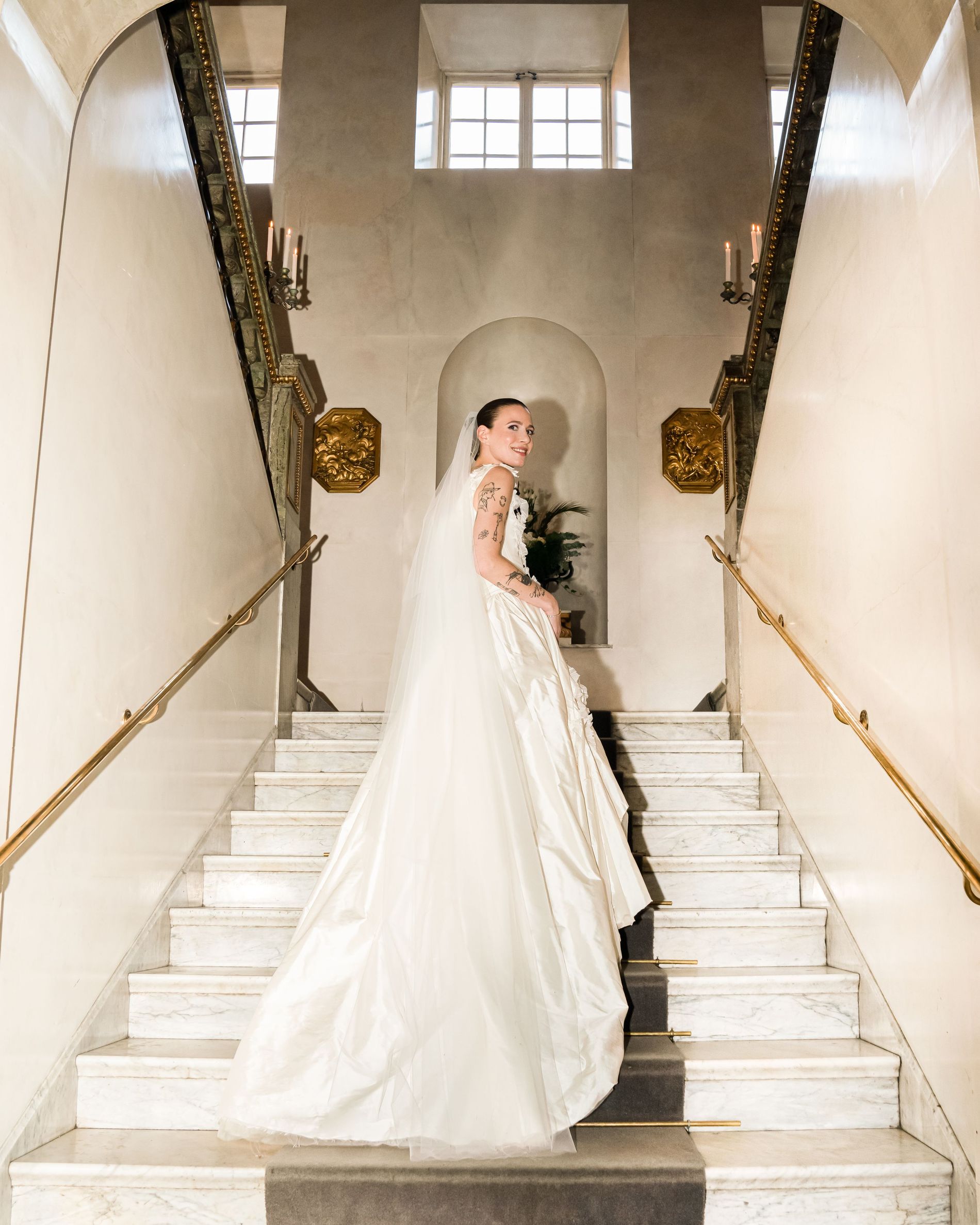 "I'm so beyond grateful to Dilara and her studio for making my wildest dreams come true.". Photo: Vanessa Tryde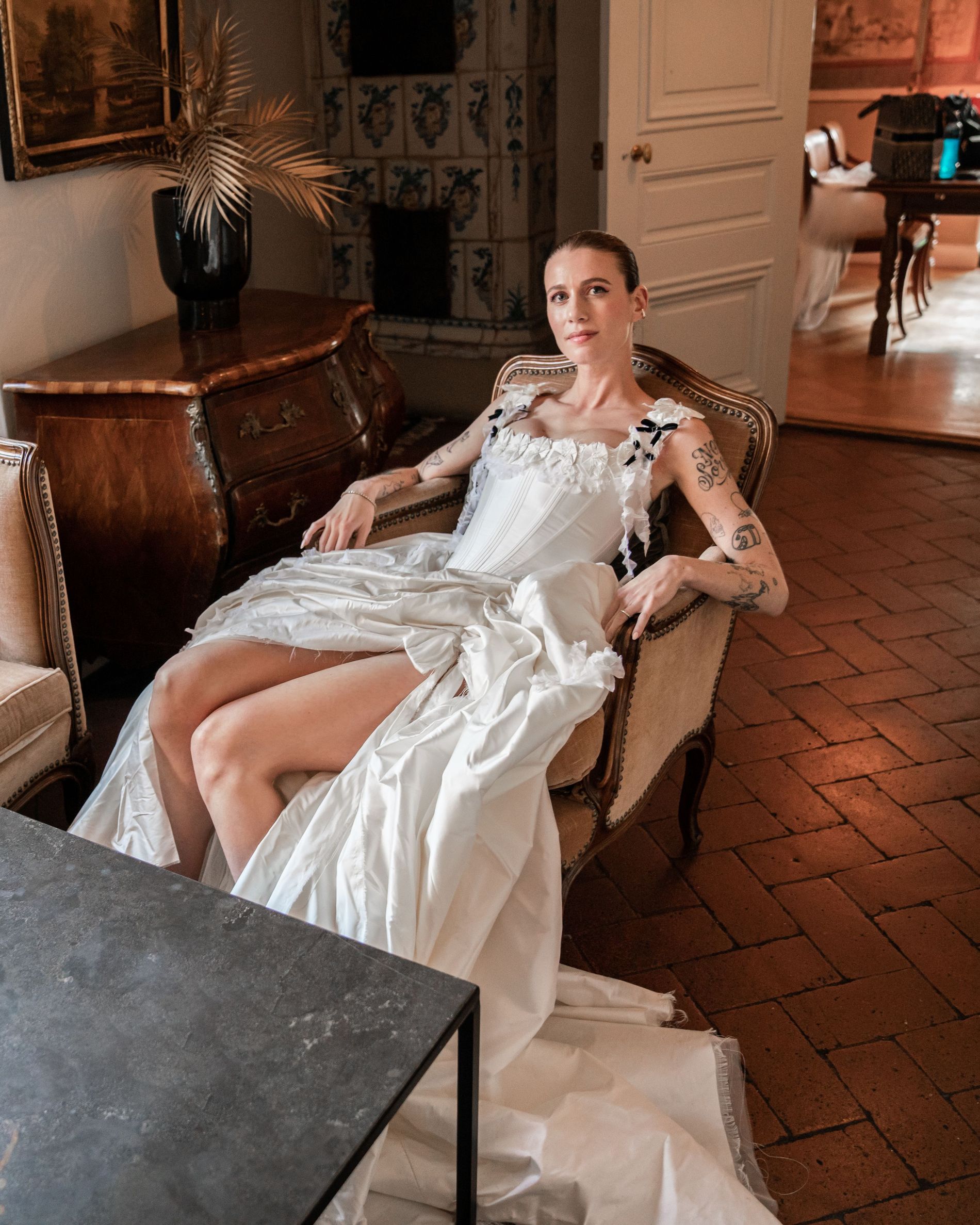 "It was an honour to wear this dress.". Photo: Vanessa Tryde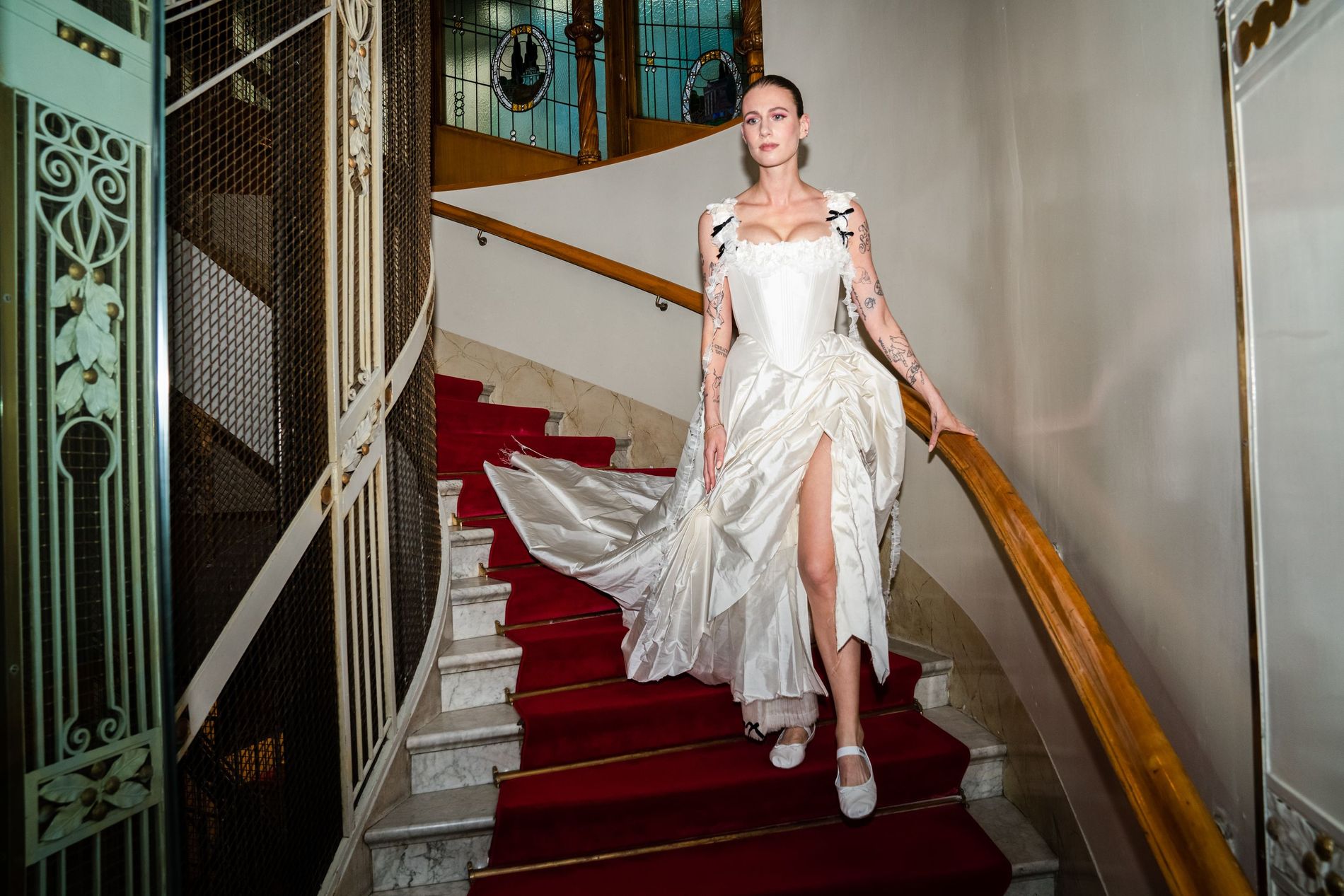 Allyson and Adam fell for the charm of Van der Nootska Palace, with its "fresco ceilings and big, grand staircase". Photo: Vanessa Tryde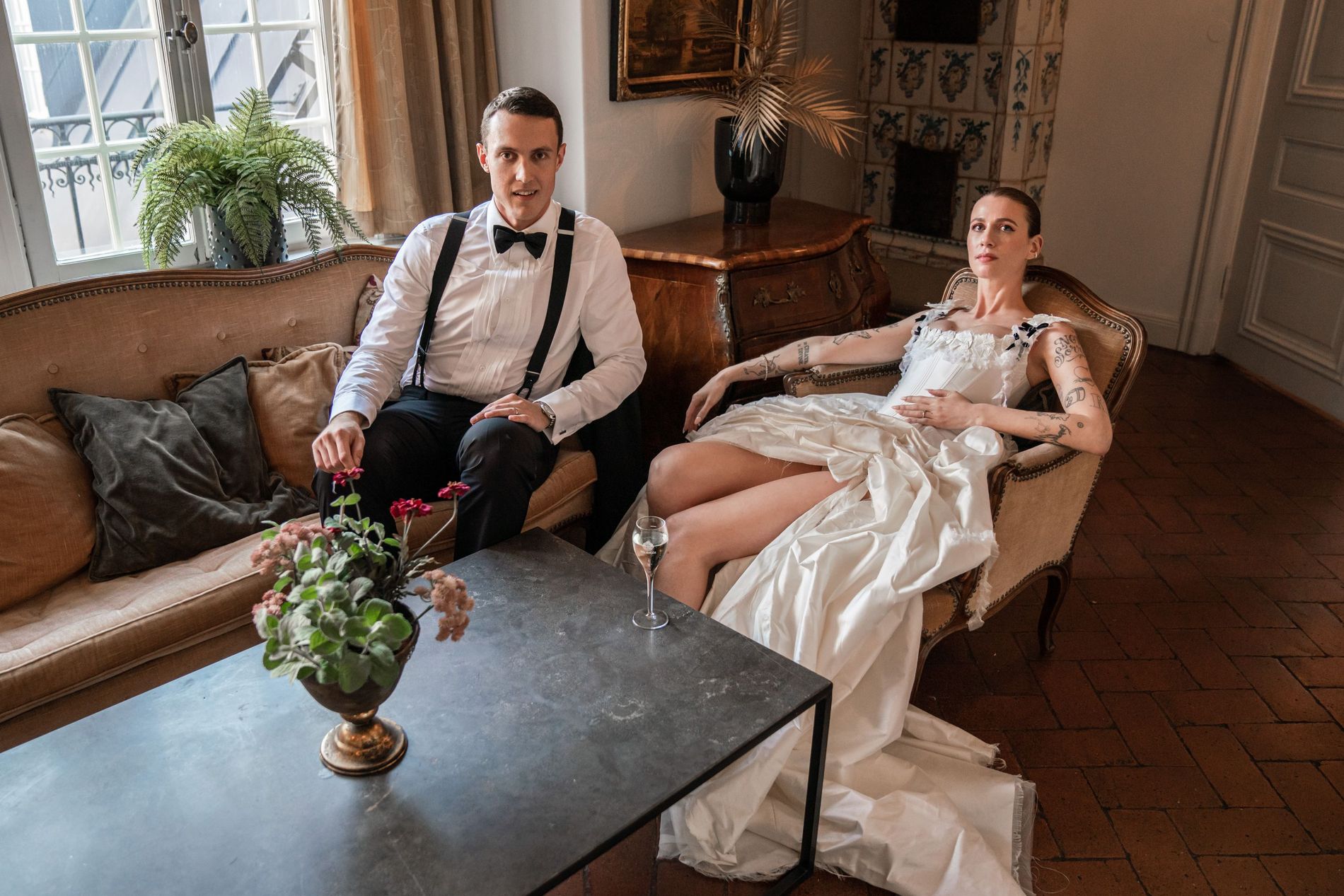 "Adam's hairdresser, Winta Zerai at The Venue, cut his hair exactly a week and a half before the wedding, so it would be perfect on the day.". Photo: Vanessa Tryde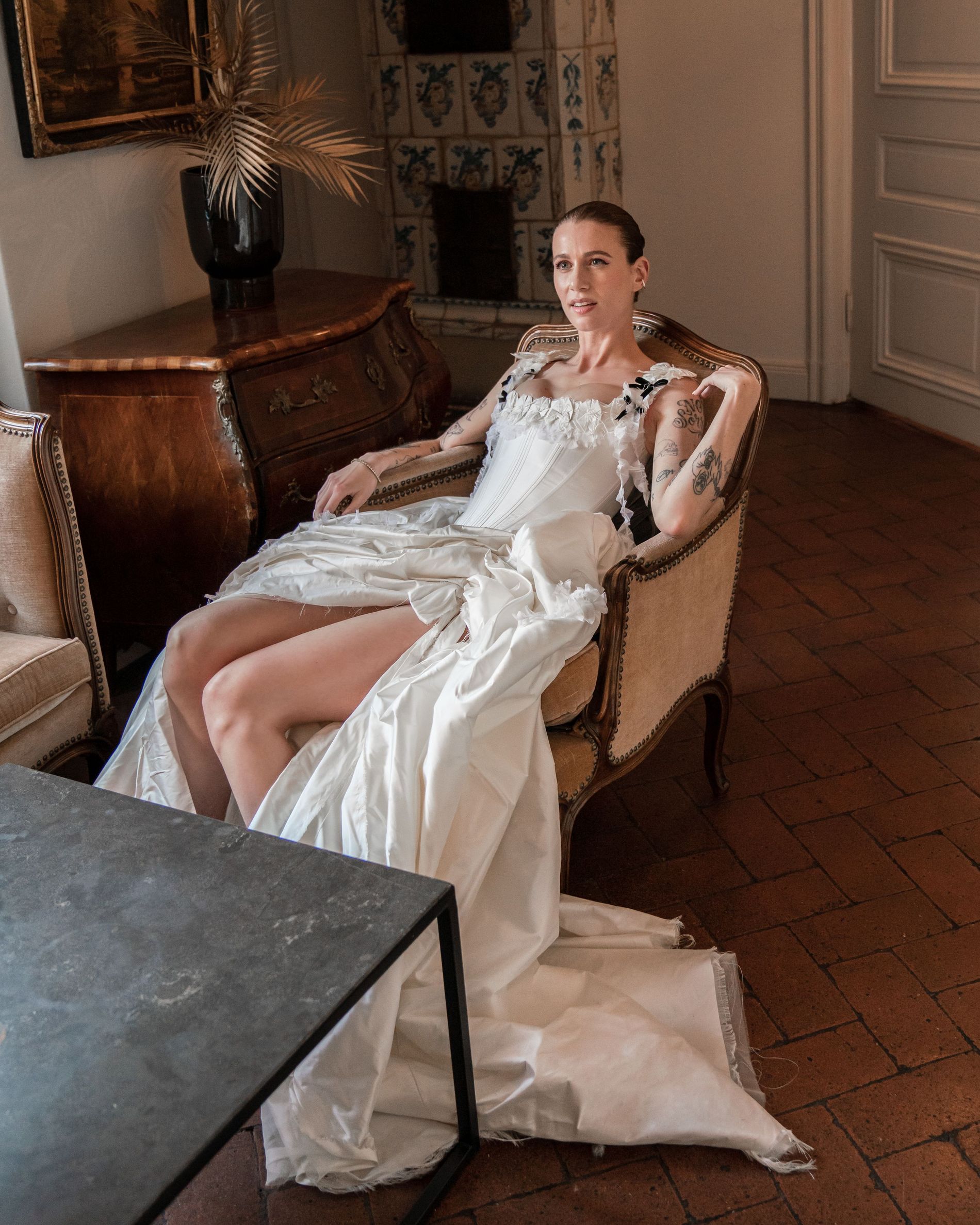 "The dress was so major, I knew I wanted to go low-key on everything else," Allyson says of her pared-back bridal beauty and minimal jewelry. Photo: Vanessa Tryde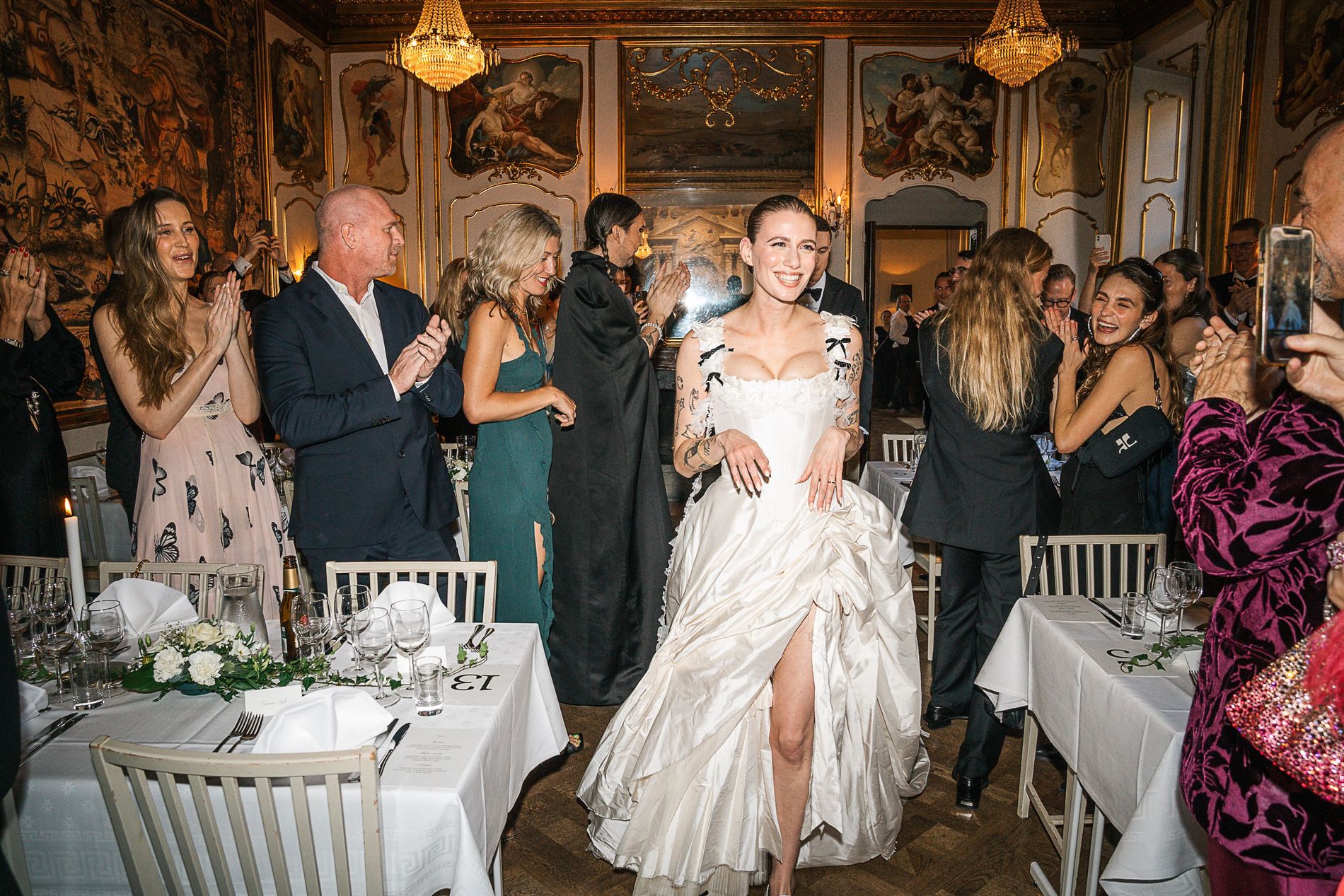 "We had very few speeches—especially for a Swedish wedding, where the speeches tend to go on and on. All of them were charming and made me cry.". Photo: Vanessa Tryde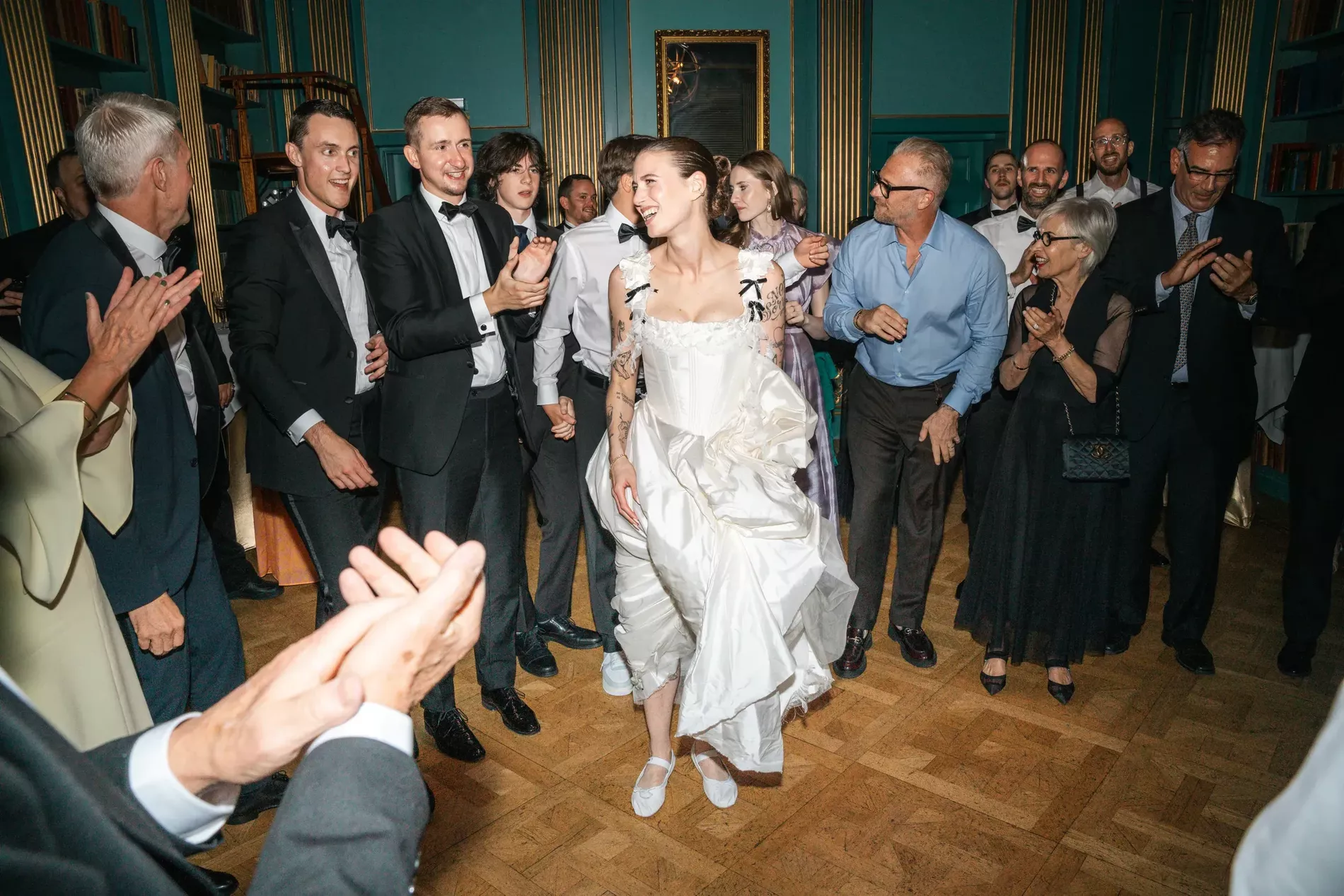 "My brother Marc was the toastmaster, and people are still telling me that his speech was of a professional level.". Photo: Vanessa Tryde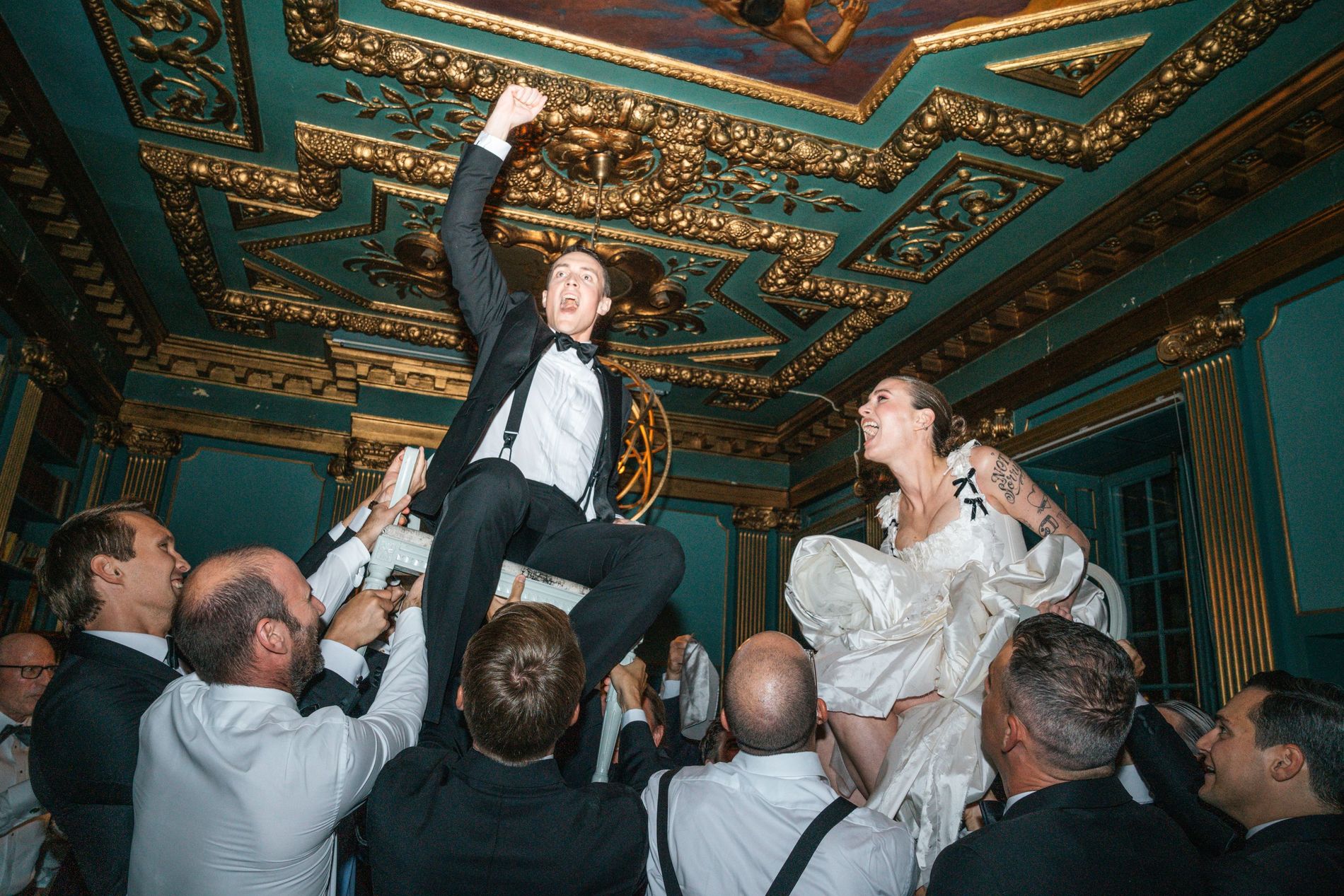 The traditional horah was a first for most of the couple's Swedish guests. "The Canadians showed them how it was done," says the bride. Photo: Vanessa Tryde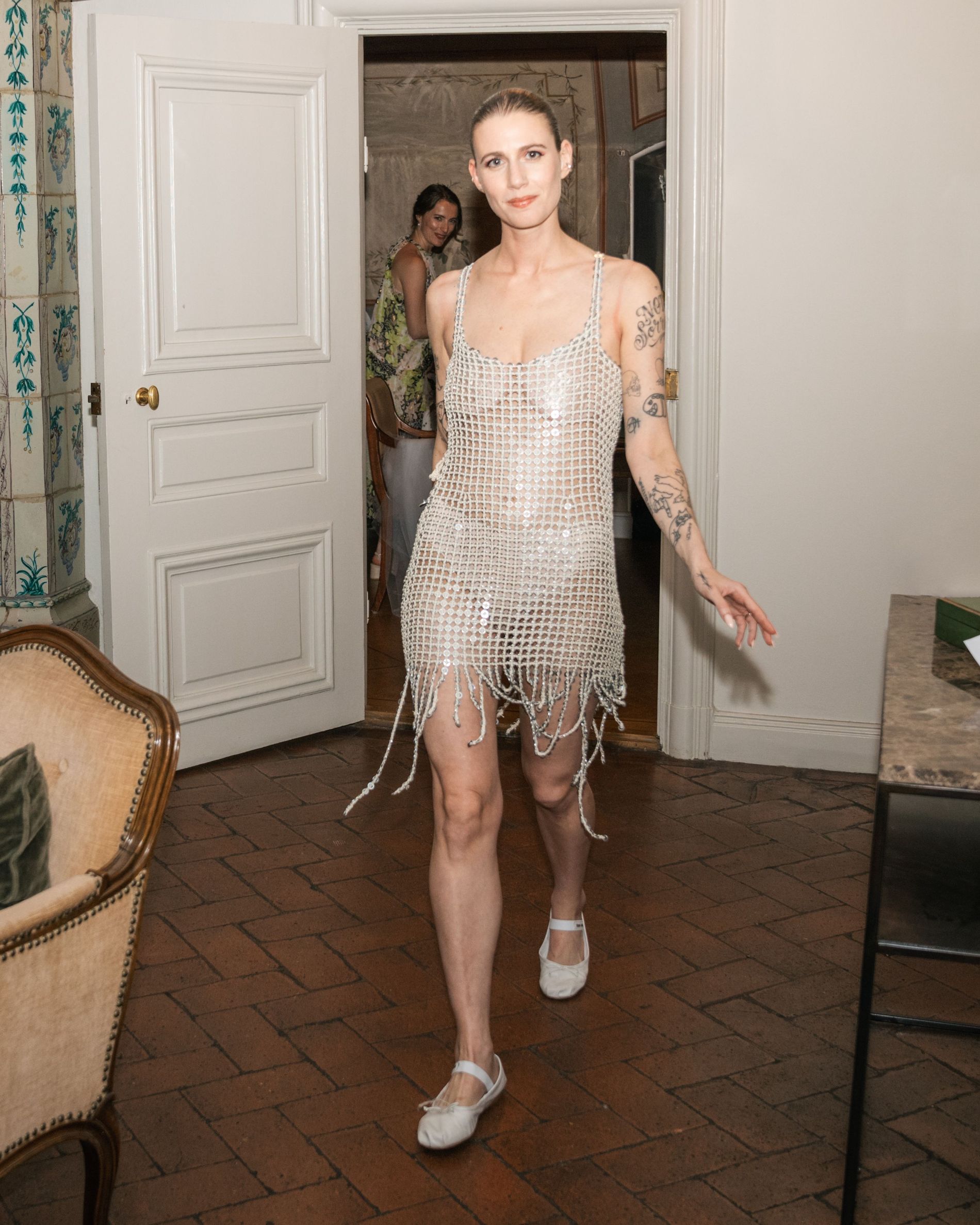 Allyson kept her Miu Miu ballet flats on with her party dress, by Swedish designer Mega Mikaela. Photo: Vanessa Tryde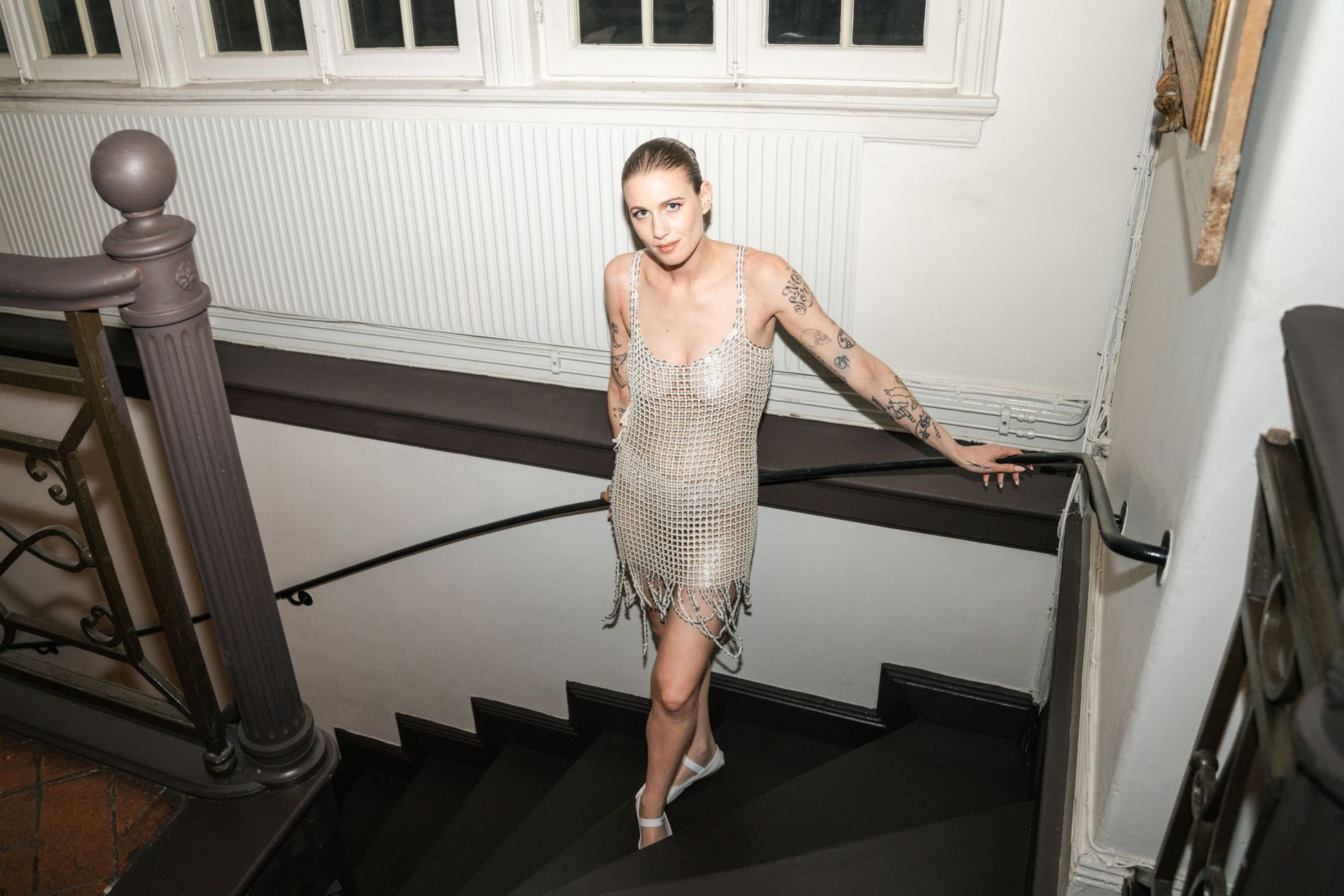 "Mega handmakes these insanely awesome chainmail-esque pieces out of washers. Such a fun and sexy dress.". Photo: Vanessa Tryde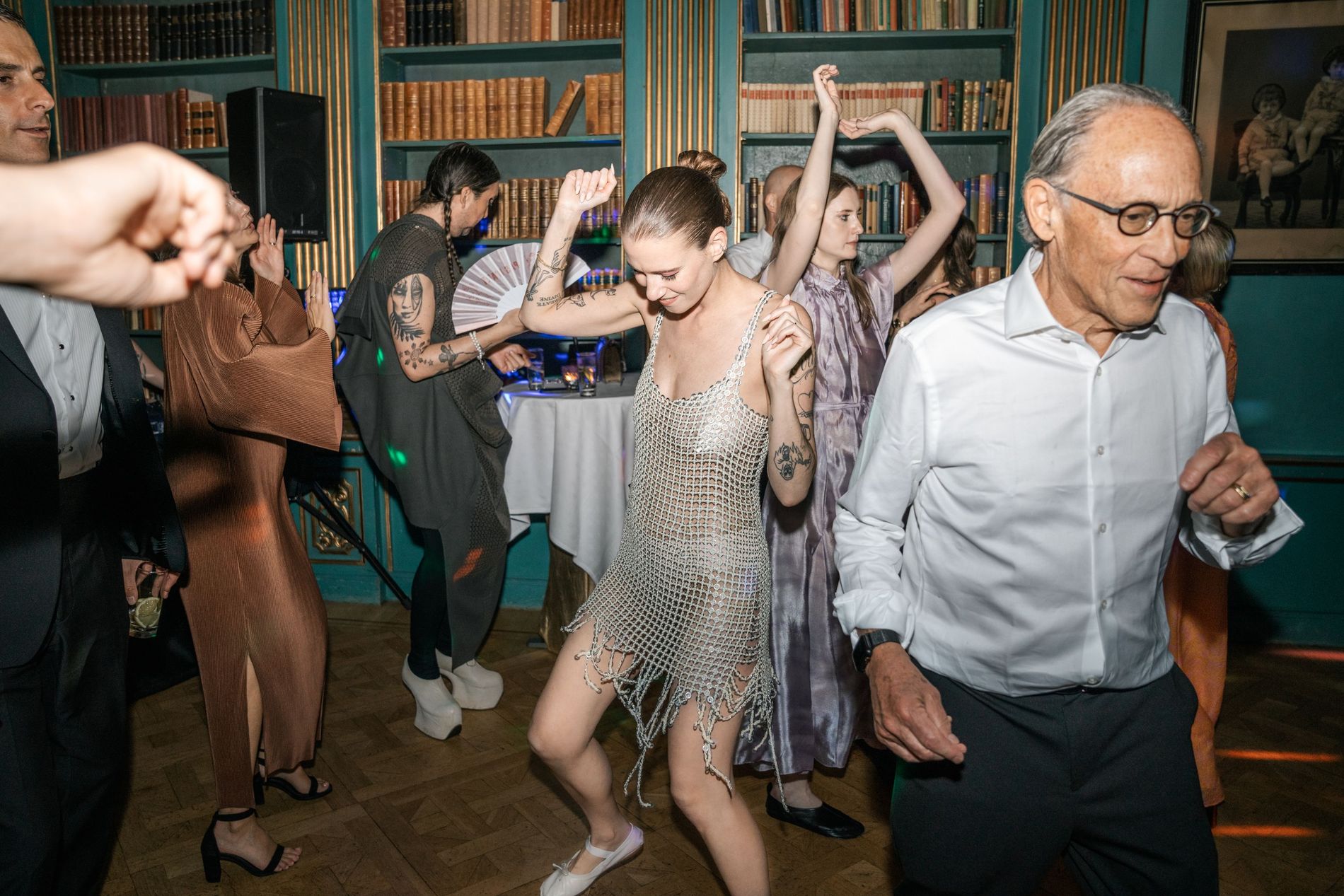 "It was so insanely special to have so many people travel from far and wide to celebrate with us. It was probably the best night of our lives.". Photo: Vanessa Tryde
Originally published on British Vogue