Our editor experiences a night in the newly-opened Sommerro House in the Norwegian captiral, and she can't wait to return
Set within a restored landmark building in Frogner, one of the oldest neighbourhoods in Oslo's West End, Sommerro is a celebration of Norwegian design, fusing form and function. "The Art Deco building from 1931 is a work of art on its own," director of brand Siri Løining tells me. "It is like walking into a film." And upon walking into the lobby, with its two grand swooping staircases, the symmetry, rich carpets and dusty colour scheme, I can't help to agree. There's a certain cinematic quality throughout the space that Wes Anderson would endorse.
Sommerro pays homage to a merging of neoclassical and contemporary aesthetics. Occupying Oslo Lysverker's (the city's original electrical company) former headquarters and a newly designed extension, the hotel features 231 rooms and luxury suites and 56 branded residences. "Legacy and a strong neighbourhood approach are two of the core values behind the transformation process of Sommerro," Løining says. Emilie Stordalen, the vice president of marketing for Nordic Choice Hotels (the owners of Sommerro), agrees, saying, "Sommerro is not only a hotel, it's a celebration of Scandinavian culture, and going to breathe new life into a historic area of Oslo."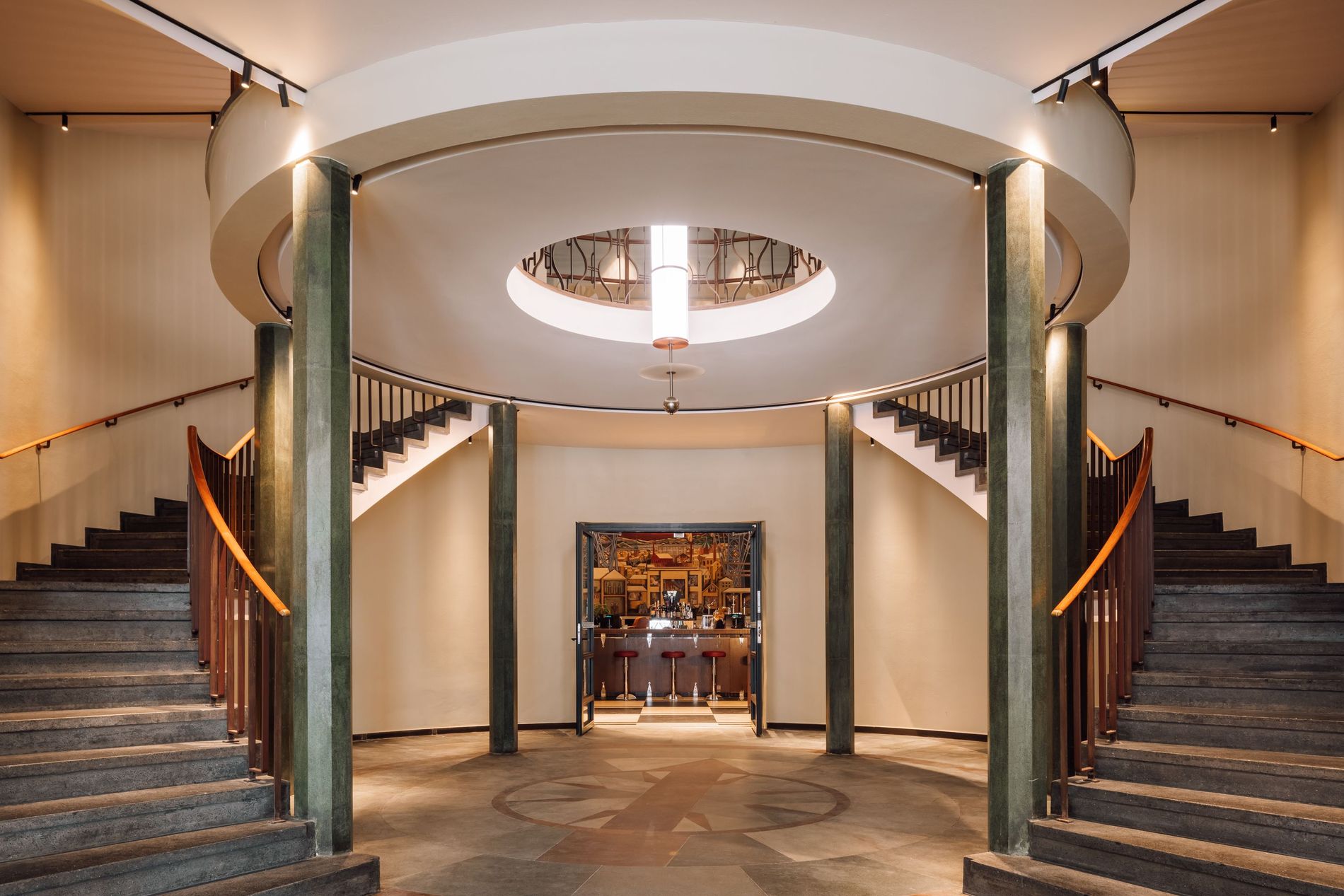 Guest rooms and public spaces are rooted in the colours and patterns of Norwegian artist Gerhard Munthe's paintings. The furnishings, whether original art deco pieces or custom-made functionalist designs, further amplify the old-school glamour glimpsed in the Murano chandeliers, elaborate headboards, and cabinets with marquetry. "We believe the devil is in the details, and every piece of furniture and amenity is carefully crafted for Sommerro only or hand-picked vintage to meet the style, quality and timelessness design," explains Løining. This devotion to quality permeates every aspect of my stay. The commitment to comfort reinforced by the adjustable light in the bathroom (spanning low-lit spa-like lustre for a perfect soak in the tub to a make-up setting with bright bulbs lining the mirrors), the cloud-like pillows in the expansive beds, and the modern amenities, like the chrome-cast enabled TV.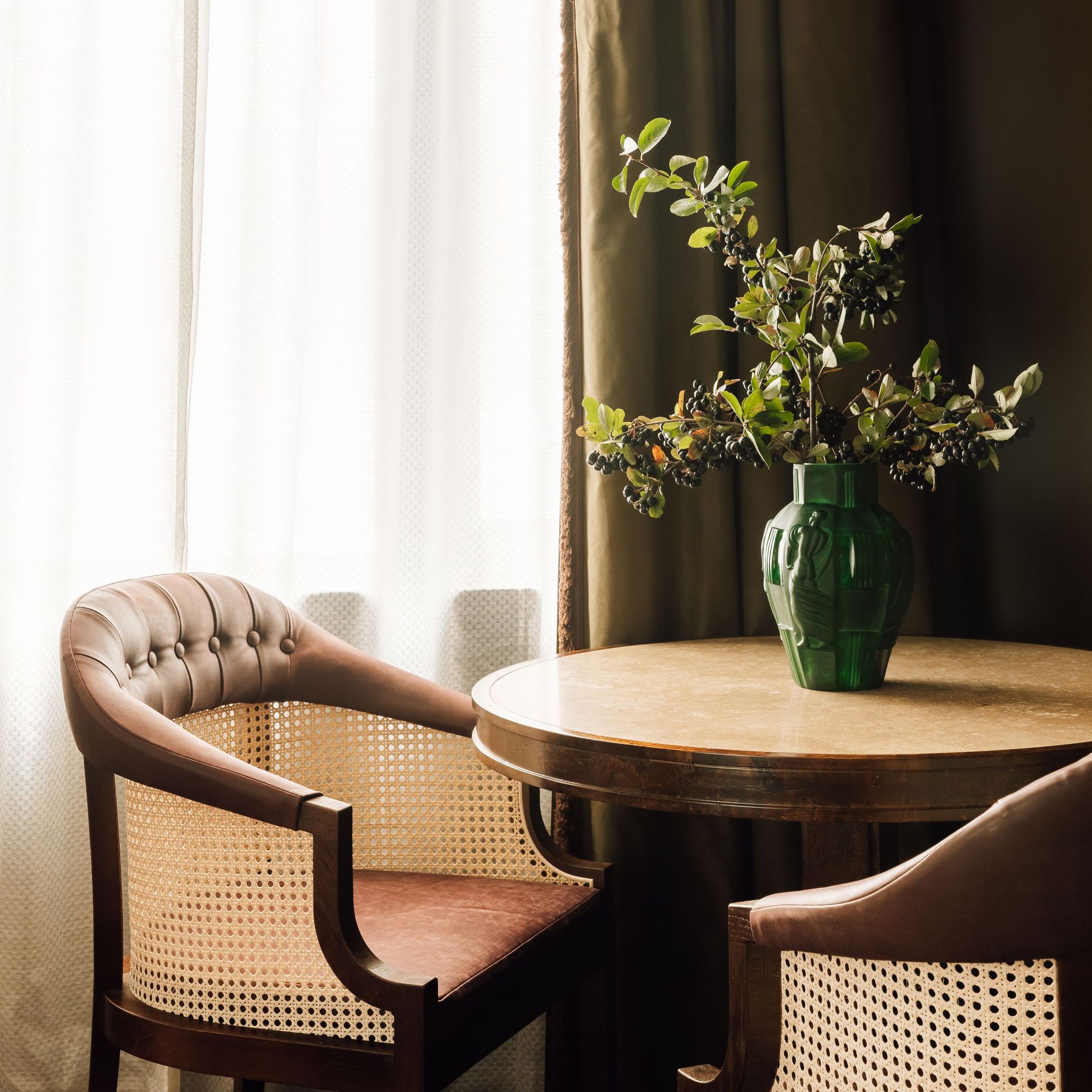 Photo: Francisco Nogueira
Beyond what's expected of a hotel, Sommerro house boasts an alluring gilded theatre and an intimate library, not to mention an expansive wellness space. Set in one of Norway's last remaining public baths from 1932, Vestkantbadet has been restored to its former glory, adorned with an original Per Krohg mosaic wall. Opening in November, the space will feature a series of treatment rooms, restored Roman baths, an infrared sauna, a gym, and a cold plunge pool offering a traditional Nordic thermotherapy experience.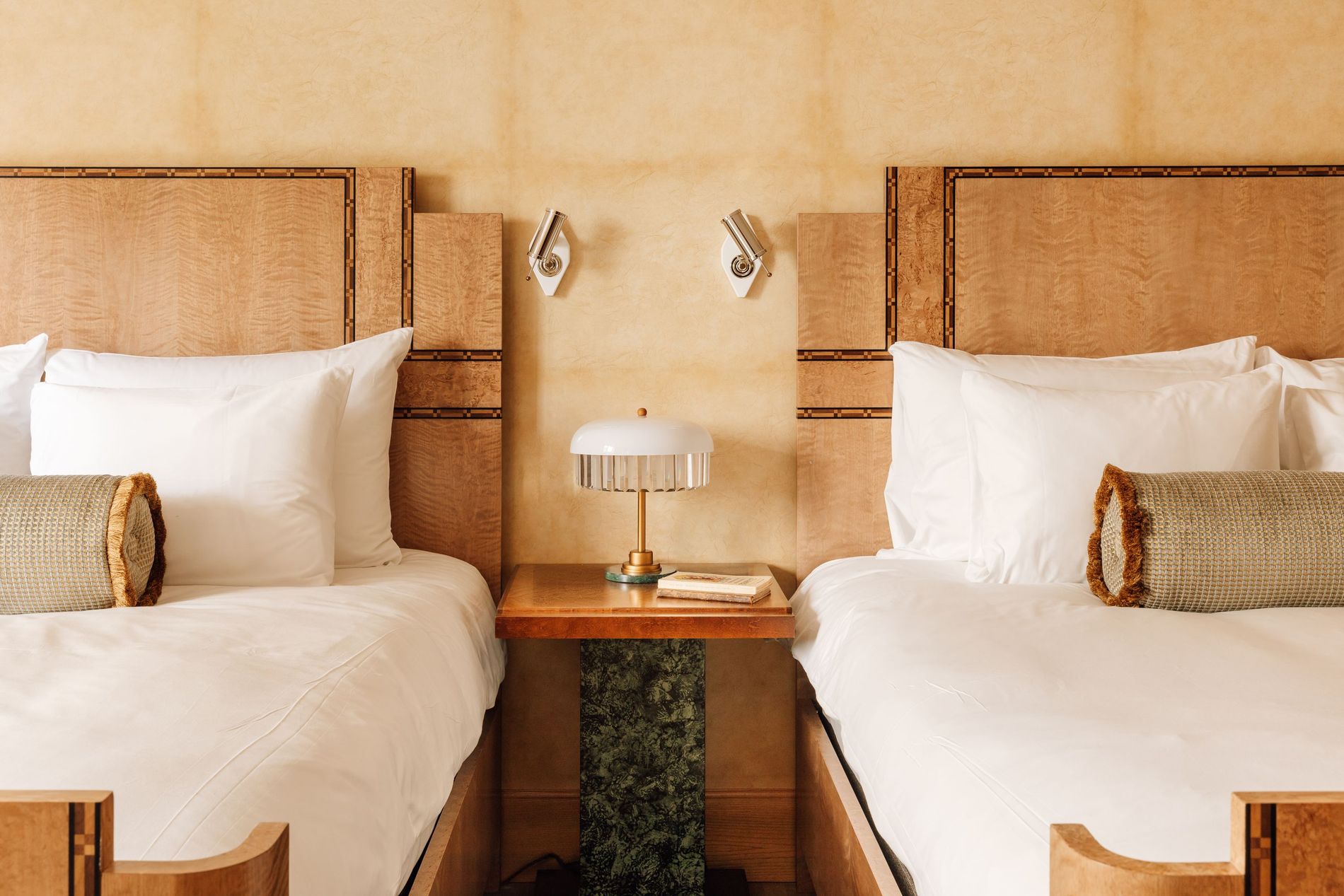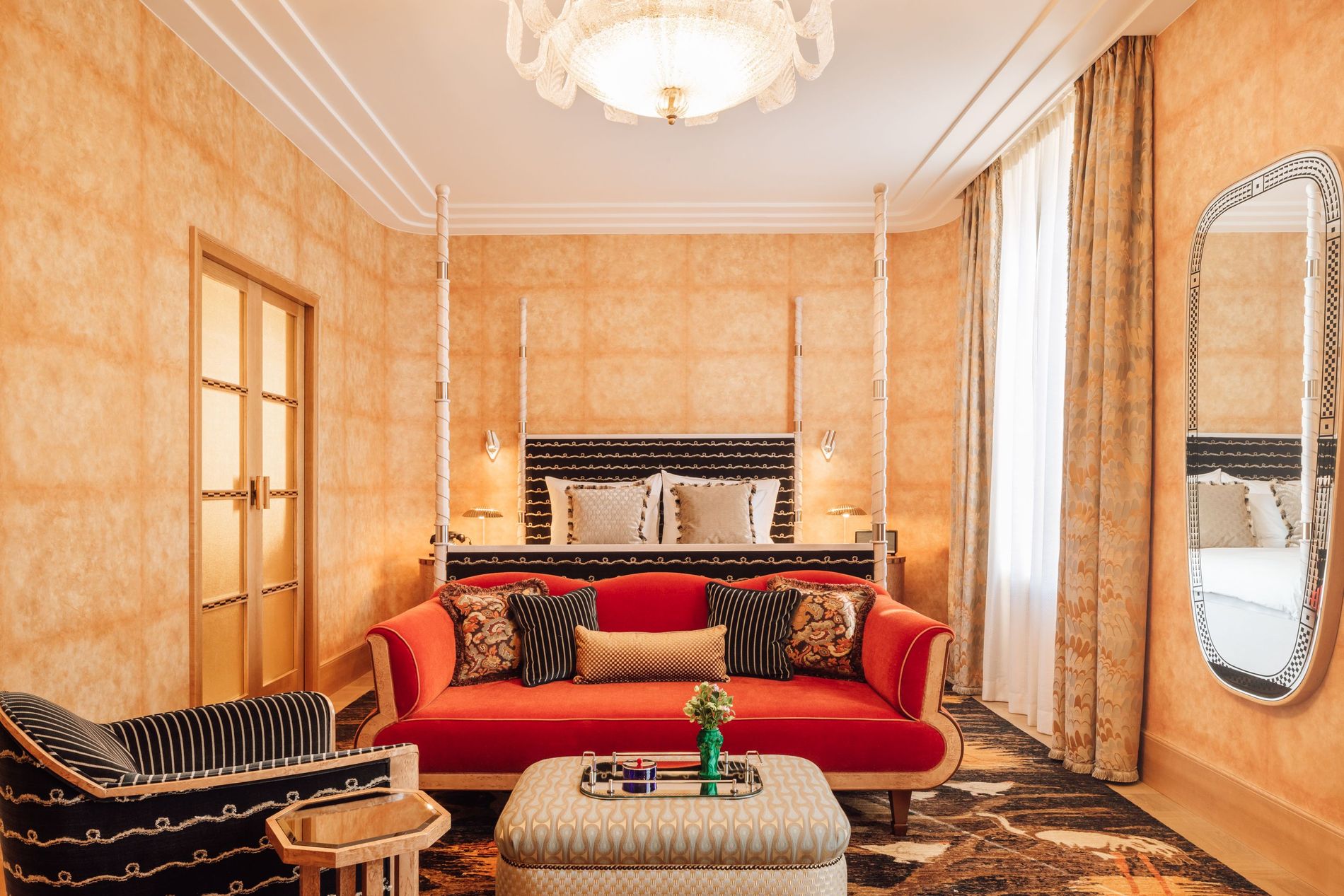 Destined to become one of Oslo's most coveted culinary destinations, Sommerro features four eateries and three bars, including the city's only rooftop restaurant. One of these restaurants is Ekspedisjonshallen, an all-day dining spot located in the former hall where the public once paid their electricity bills. The tables of two or more centre around a dark mahogany bar, arranged against a muted mural backdrop. Another original fresco by artist Per Krohg, it "includes the name and portrait of his second wife Ragnhild," Løining tells me. "She is truly the star of the show". The space, with its soft seats and a dark colour palette, has managed to retain an air of 1930s decadence, a certain Je ne sais quois of long-lost luxury. "History and storytelling have been central to the development from the start," Løining explains. "People are looking for something authentic. Even more so after the pandemic."
The space fills up quickly for the dinner rush, the ambience of live jazz mixing with the buzz of the crowd. Sommerro waiters in sleek black tailoring and the hotel's signature orange scarves float between tables, carrying Fine de Claire oysters, steak tartare, and salt-baked celeriac topped with chanterelles. Master mixologists are making sparkling cocktails for the eager guests sitting around the bar - me included - bobbing their heads to the butter-smooth vocals of a local singer dressed in a sea green brocade mini dress and sparkling jewels.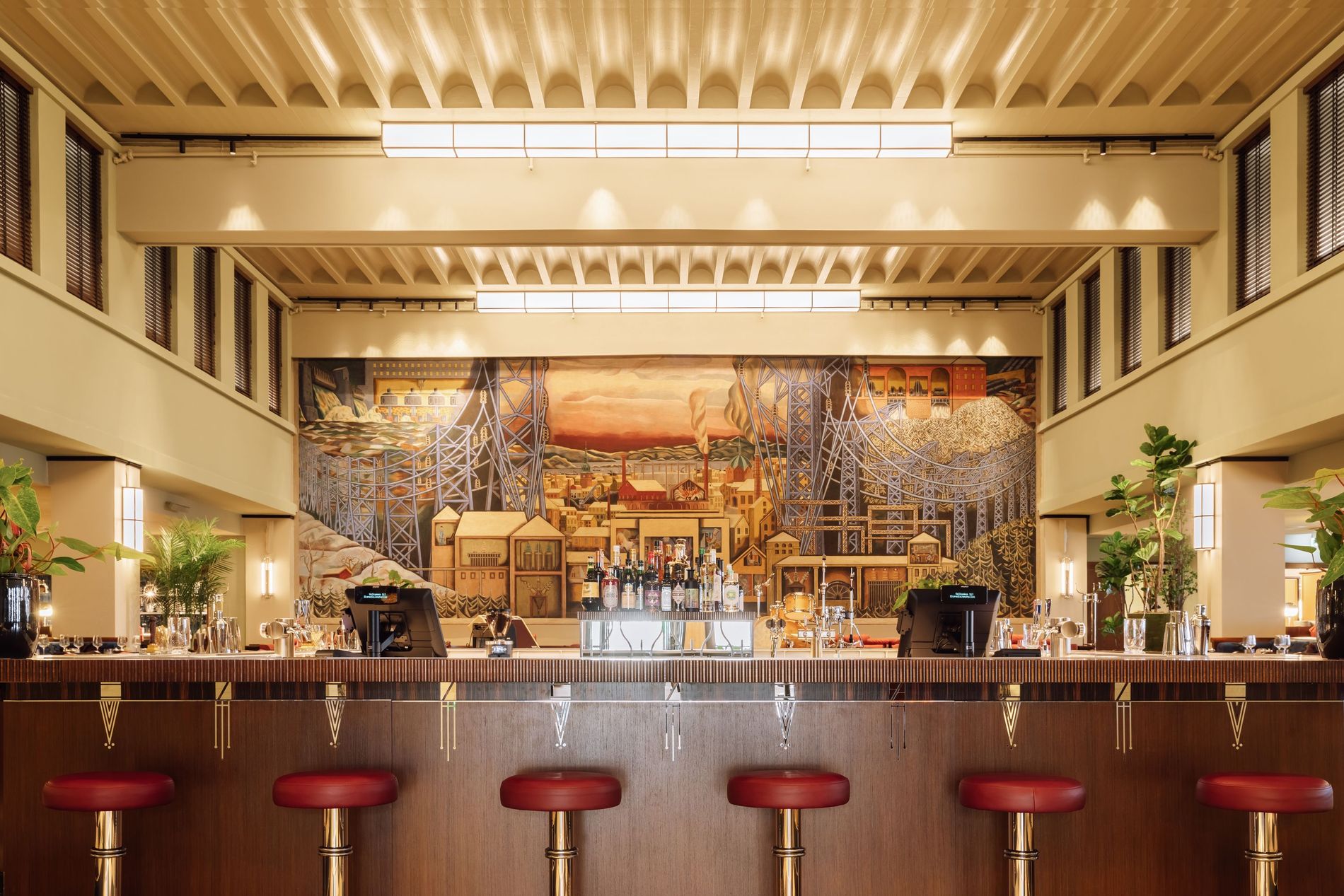 As for a signature drink, the salt-and-pepper haired bartender with tattoos peeping out from underneath his black dinner jacket hesitates for a moment before answering. "If I'd have to pick, I'd say our gimlet," he says. "I'll have to try one of those then," I reply. The man behind the bar jets off, shaking the silver cylinder vigorously before pouring the red liquid gently into an iced coupe, presenting a glorious gimlet without much of the fanfare and fuzz that has become fashionable as of late. It is simple yet aligns with the hotel's timeless appeal.
Figuring as both dinner venue and breakfast spot, I had the pleasure to frequent the Ekspedisjonshallen twice. As for breakfast, the hotel holds no bars. It offers guests an impressive buffet stocked with fresh fruit, multiple options of juices and yoghurts - not to mention a certifiable charcuterie board of various hams and cheeses - as well as a well-curated a la carte menu filled with classics. Perched on the couch in a quiet corner, with this cornucopia of mouthwatering food at my fingertips, I spend the morning lounging in the restaurant. The perfect start to a lazy weekend.
Løining describes it best: "We wanted to create a destination on its own; a house you never want to leave and always long to return to." And I can't wait to return.