From practical workwear to a celebrated Scandinavian staple – Vogue Scandinavia's shoe and handbag expert Sandra Hagelstam shares how to give the classic shoe a very modern twist
Clogs, the clunky wooden gardening shoes much-loved by Scandinavians, have had many revivals over the years – from 70s wooden platforms to high-end brands like Chanel and Miu Miu redefining the easy summer shoe. Love them or hate them, the controversial clog has certainly earned its place in our wardrobes (and our hearts).
First introduced as sturdy and durable working shoes – that were not just practical, but affordable too – the style then came back into fashion in the 70s helped along by Swedish band ABBA. Both male and female members of the iconic band were regularly seen donning a pair, even later launching their own line of clogs with footwear brand Tretorn. And the rest is fashion history... The movement also gave rise to Scandinavian brands like Swedish Hasbeens to build a business rooted in the bohemian style of 70s wooden mule fashion.
Luxury brands also later got in on the action, with Hermès putting the shoe back on the fashion radar in their SS21 collection, while the sleek 'Calya' mules have since become a permanent, best-seller. After investing early in this sought after Hermès pair, this trusty footwear has served me on multiple occasions, from fashion week favourites to loyal holiday shoes, and will undoubtedly be in high rotation this coming season.
From linen dresses to tailored summer suits, here's how to style your beloved clogs in 2022.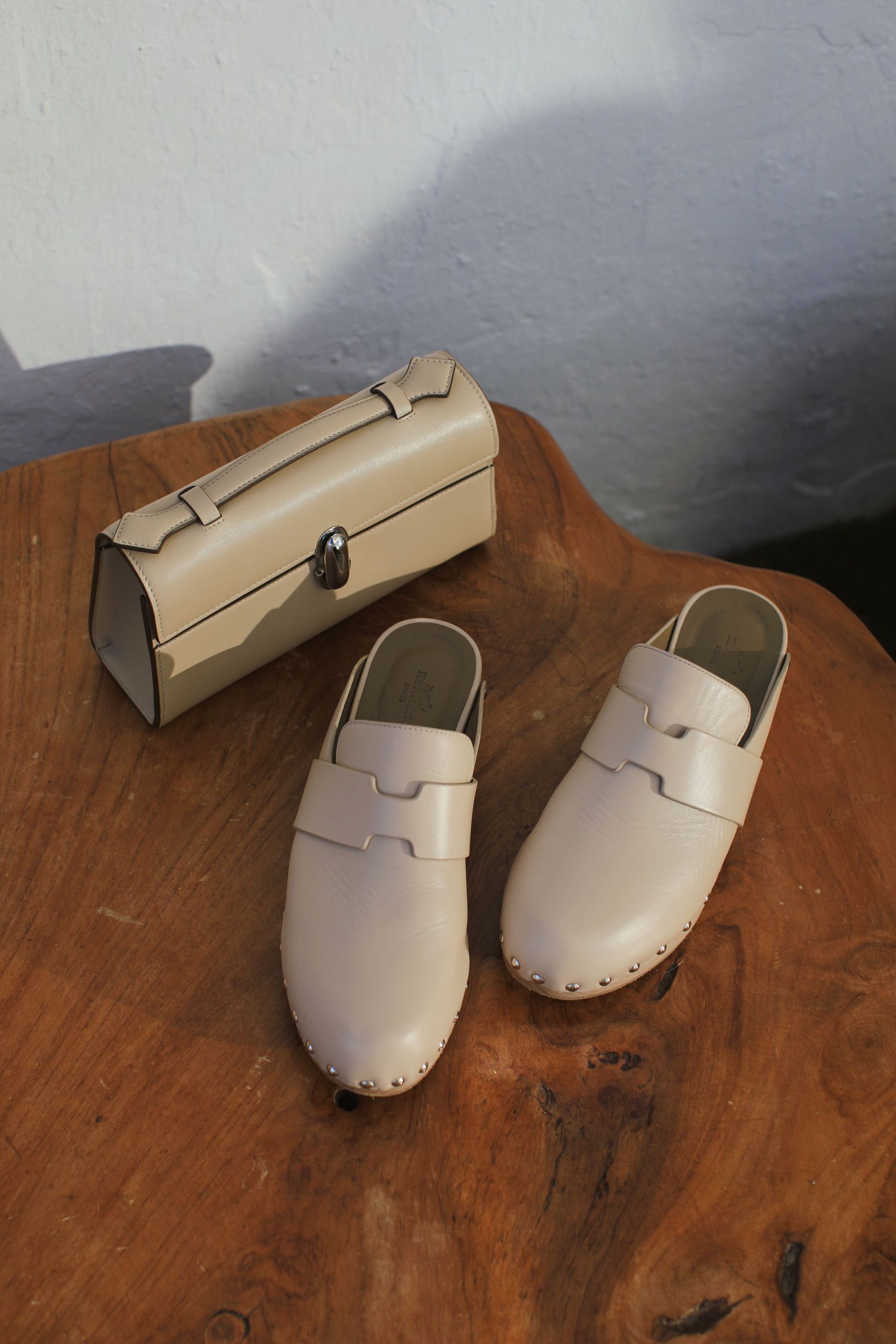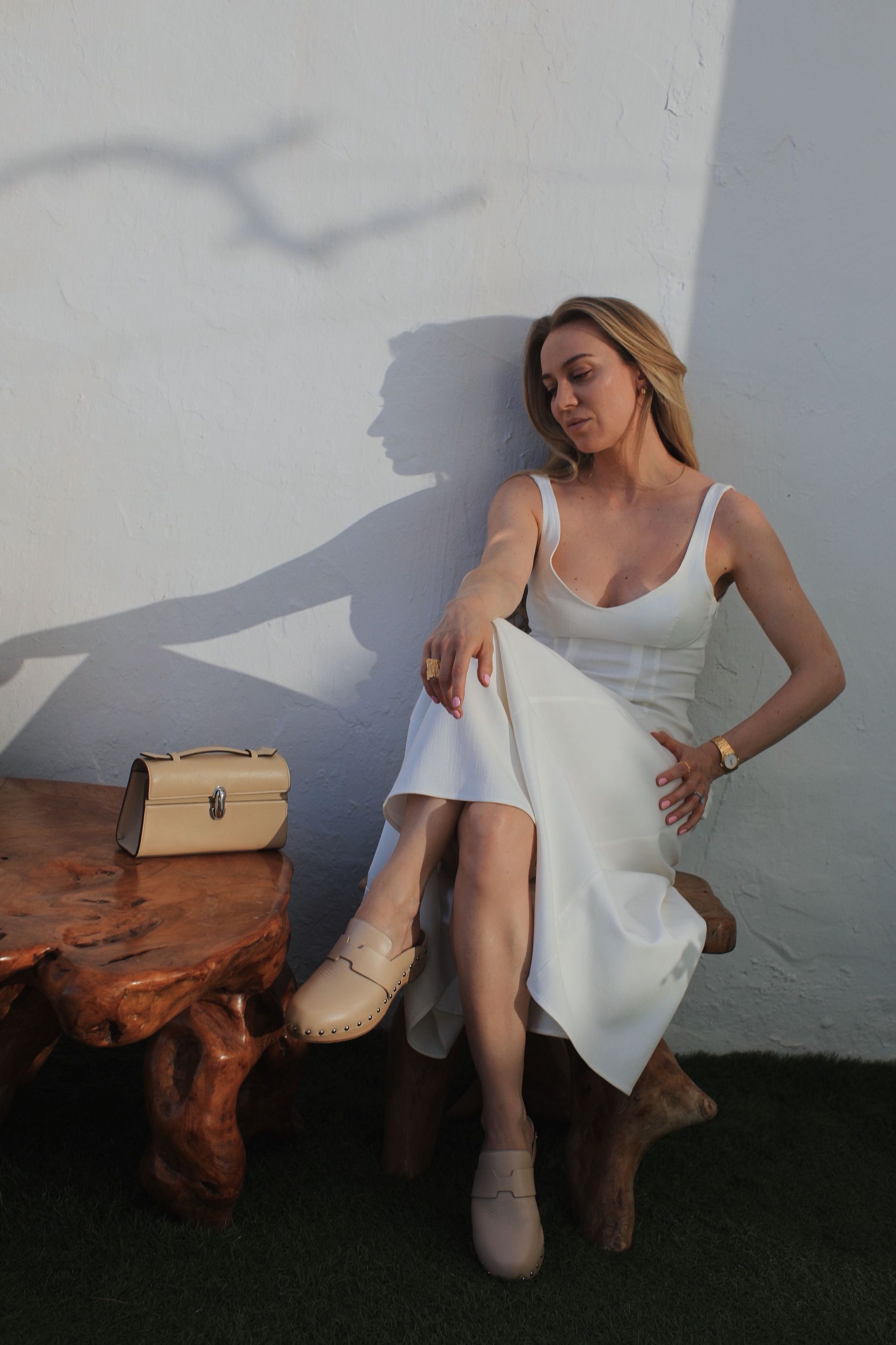 The summer dress
Wooden shoes and white linen are a match made in sartorial heaven and a combination that screams summer. So if you're lost for inspiration – an airy, white maxi dress is the perfect daytime attire when paired down with a pair of casual clogs. Just add your favourite gold jewellery and a matching tonal bag to complete the look – I am currently a big fan of NY based bag brand, Savette. So if long brunches, garden soirees and sightseeing look like they are on the day's itinerary, these comfy shoes make a great option.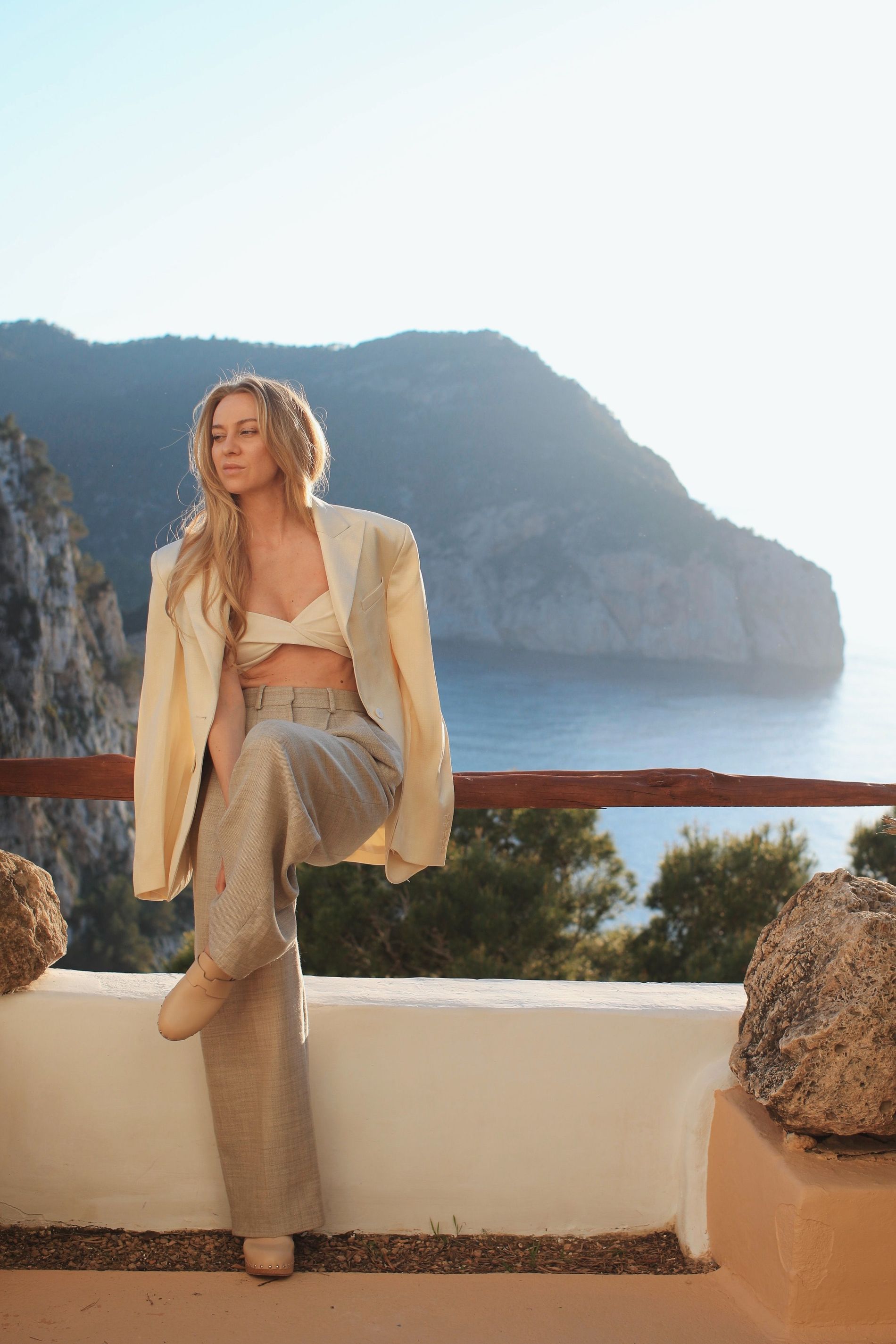 A tone-in-tone suit is a surprising, yet refined styling option. Photo: Sandra Hagelstam
The tone-in-tone suit
For a play on proportions, a pair of wide, tailored trousers gets an effortless makeover paired with clogs. While summer suits are in high demand, it's usually the odd pairings that get the most wear in my closet, like this slouchy pair by Cos. A bra top can easily show an excess of bare skin, but the overall look is not too revealing when paired with looser pieces and a laid-back wooden shoe. The tonal colour palette gives this ensemble an air of refinement, while the pared back clogs add a level of effortlessness to the ensemble.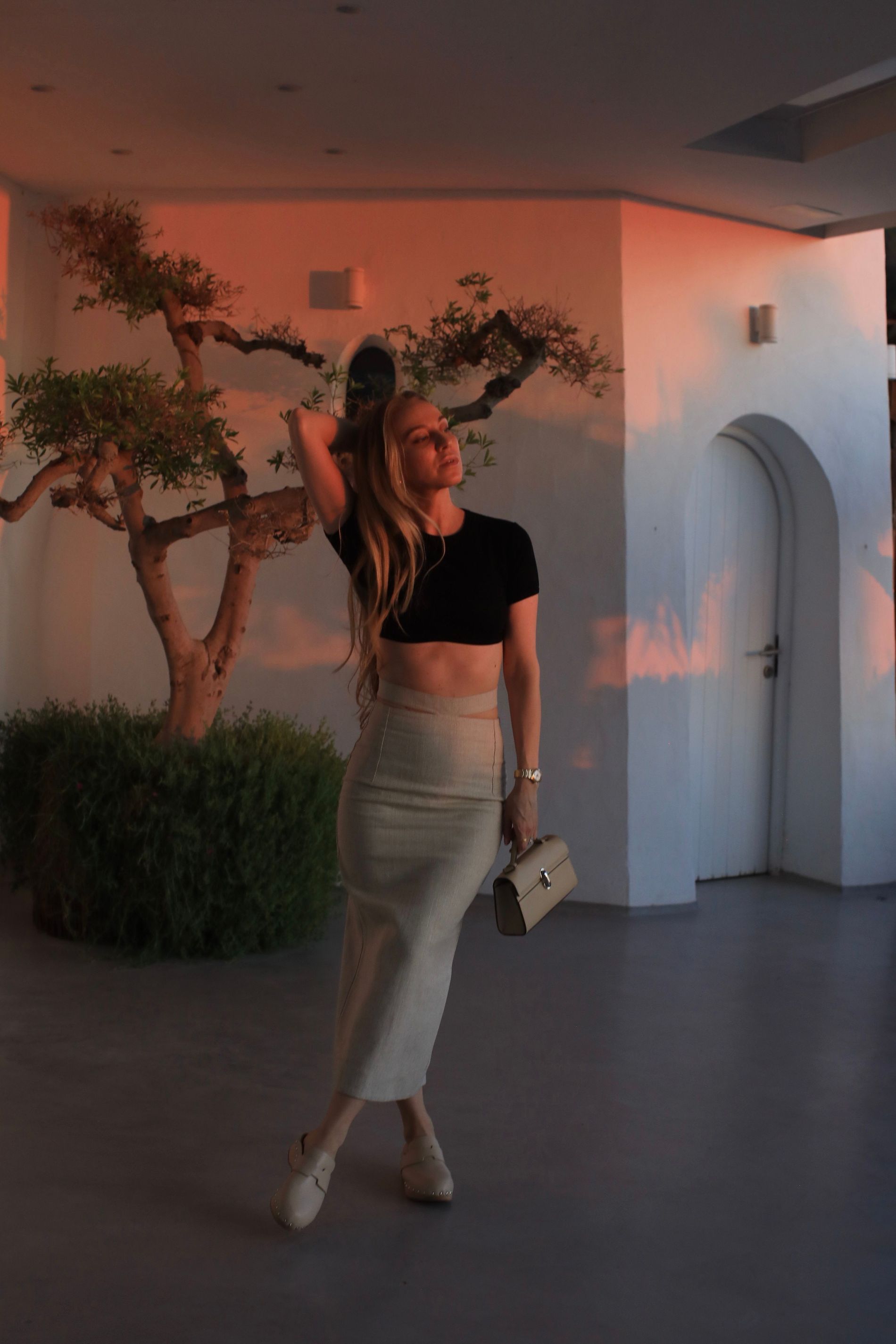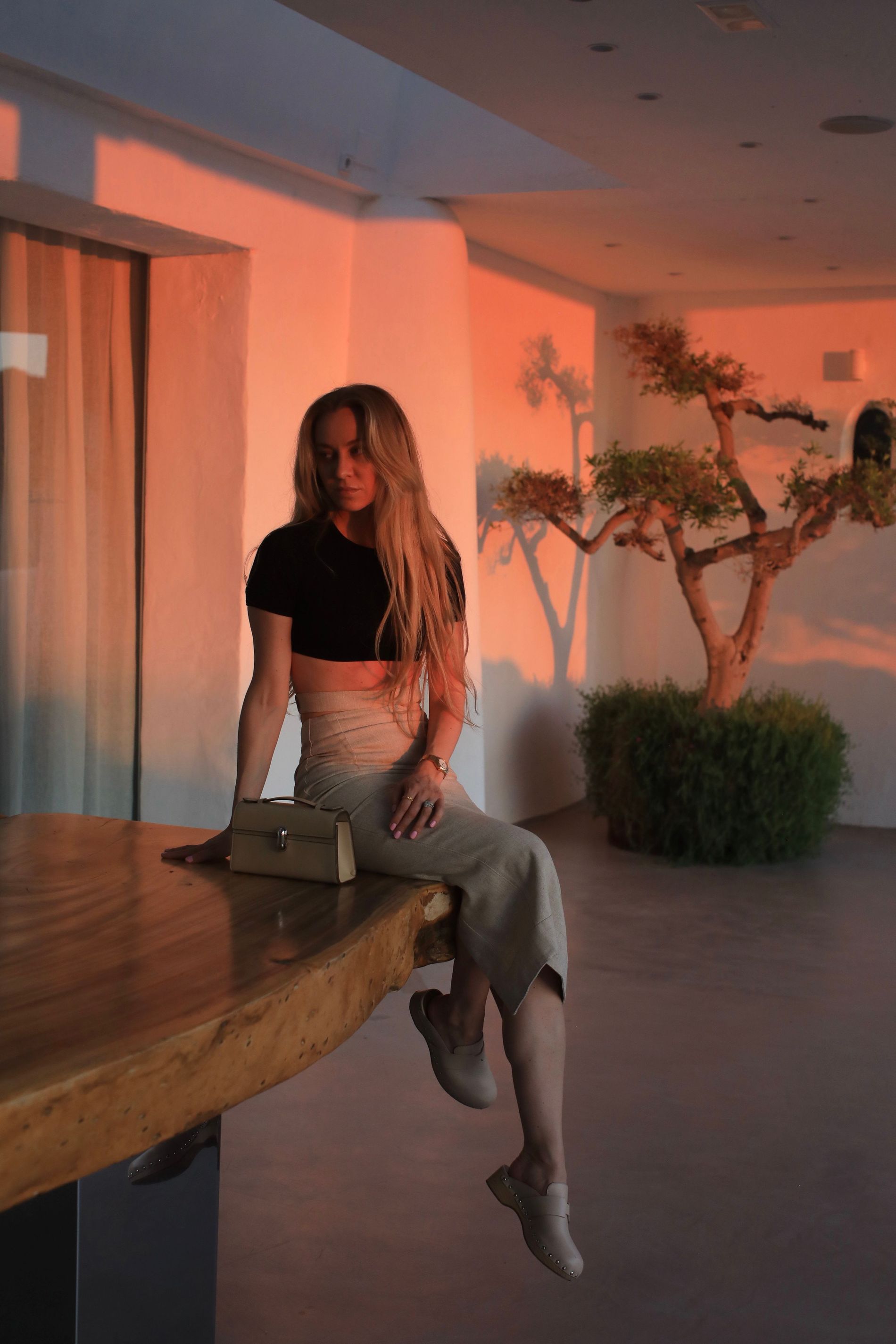 The pencil skirt
Clogs can work just as well for evenings too, for example try pairing them with a fitted skirt and a crop top and prioritise your silhouette when dressing it up for dinner. Jacquemus has some of my favourite skimpy summer pieces, like this pencil skirt, that all look wonderful when paired with a casual clog. Opt for matte materials like cotton and linen to keep things relaxed, coupled with a pair by Simon Miller, Hermès or Khaite to really elevate the look.