Just in time for spring, Scandinavia's favourite content creator lets Vogue Scandinavia in on her best styling tips
In collaboration with Michael Kors
"I am all about mood-based dressing," Matilda Djerf tells me. We're sitting in her office, the stuccowork and pale wood floors highlighted by the sun seeping through the windows. Her often copied haircut – earning her the moniker 'Scandinavia's Brigitte Bardot' on more than one occasion – falls in soft curls as she describes her styling process. The model and content creator explains that she is not the kind of person to plan her outfits. Instead, she wakes up with an instinct of how she wants to feel for the day. "Do I want to wear something comfortable, or do I want to wear something super cute, feminine or more masculine?"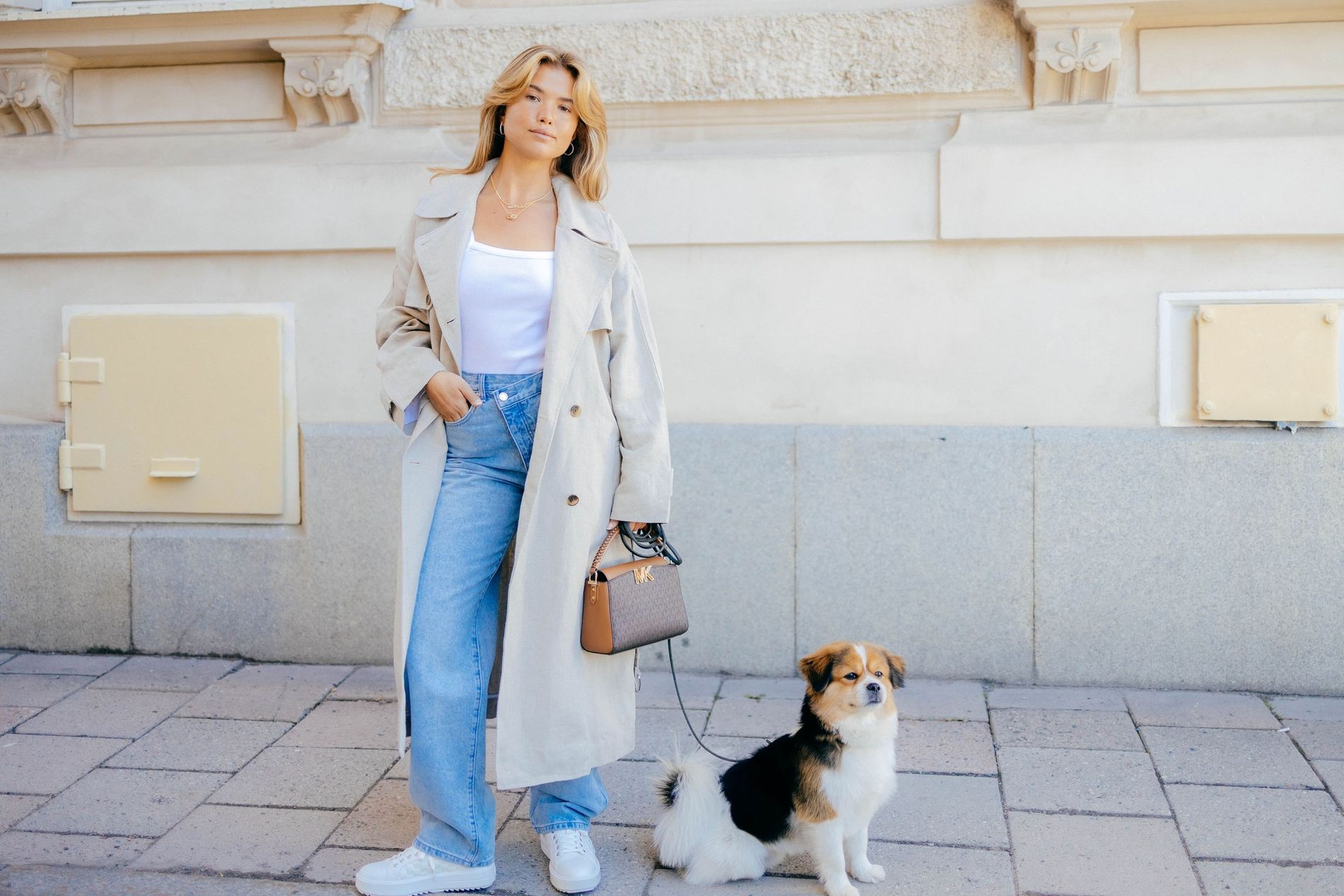 Styling is something that comes naturally to Djerf. It's a very unconscious effort, she tells me, ascribing her gut-led ensembles to her mood-based process. "Sometimes, before I go to bed, I get an idea in my head. And then in the morning, I execute it, and it's amazing." Many of her looks, as seen on Instagram as well as reposted to plenty of Pinterest boards, are born this way. In turn, she finds herself drawn to the platforms when scouting for inspiration. "I don't really have a person I look to for inspiration. Instead, I tend to look a lot at the mood of images," she says. "Like 1990s models off-duty, the colour scheme of a photograph, or at other people styling a piece.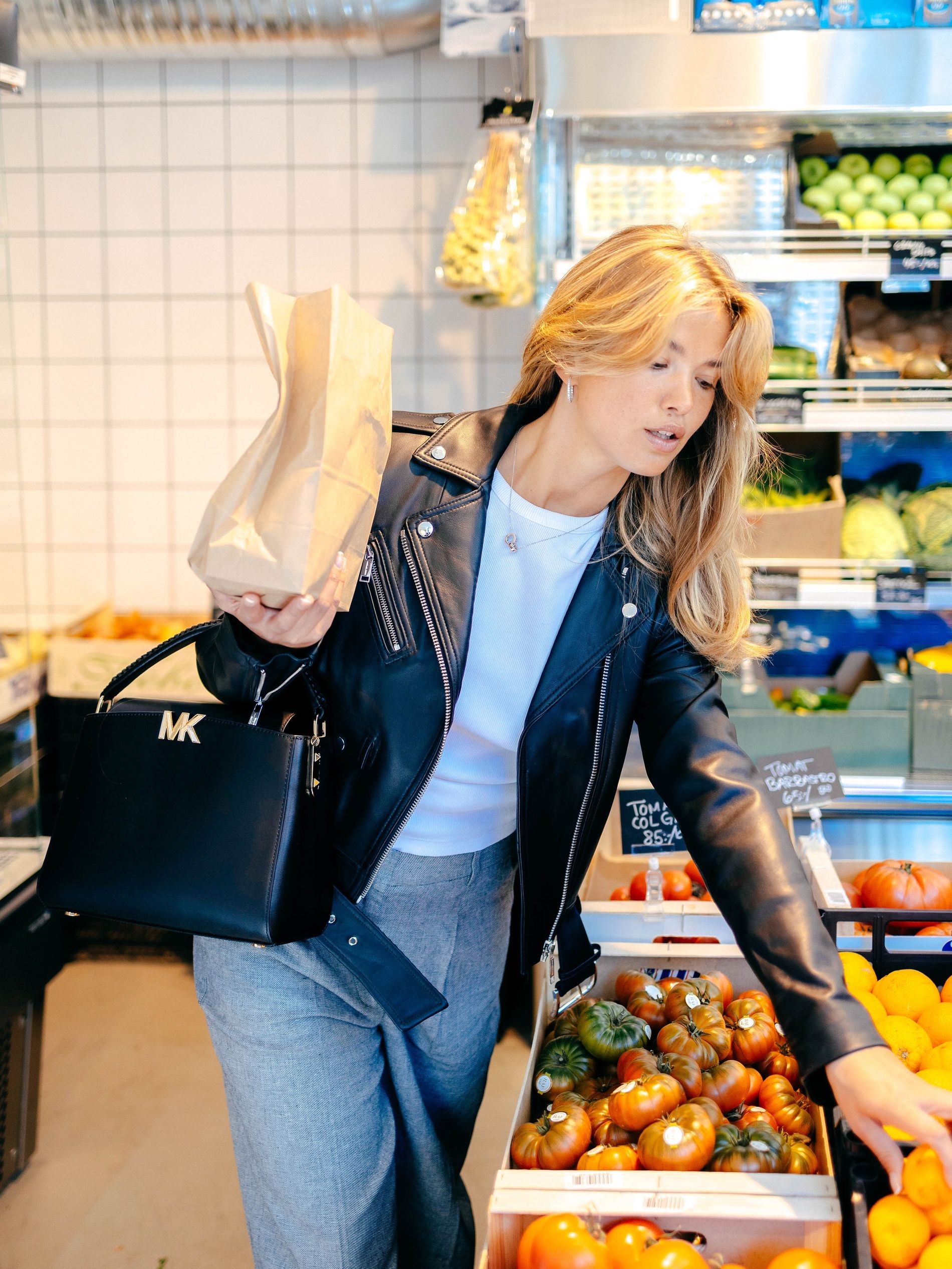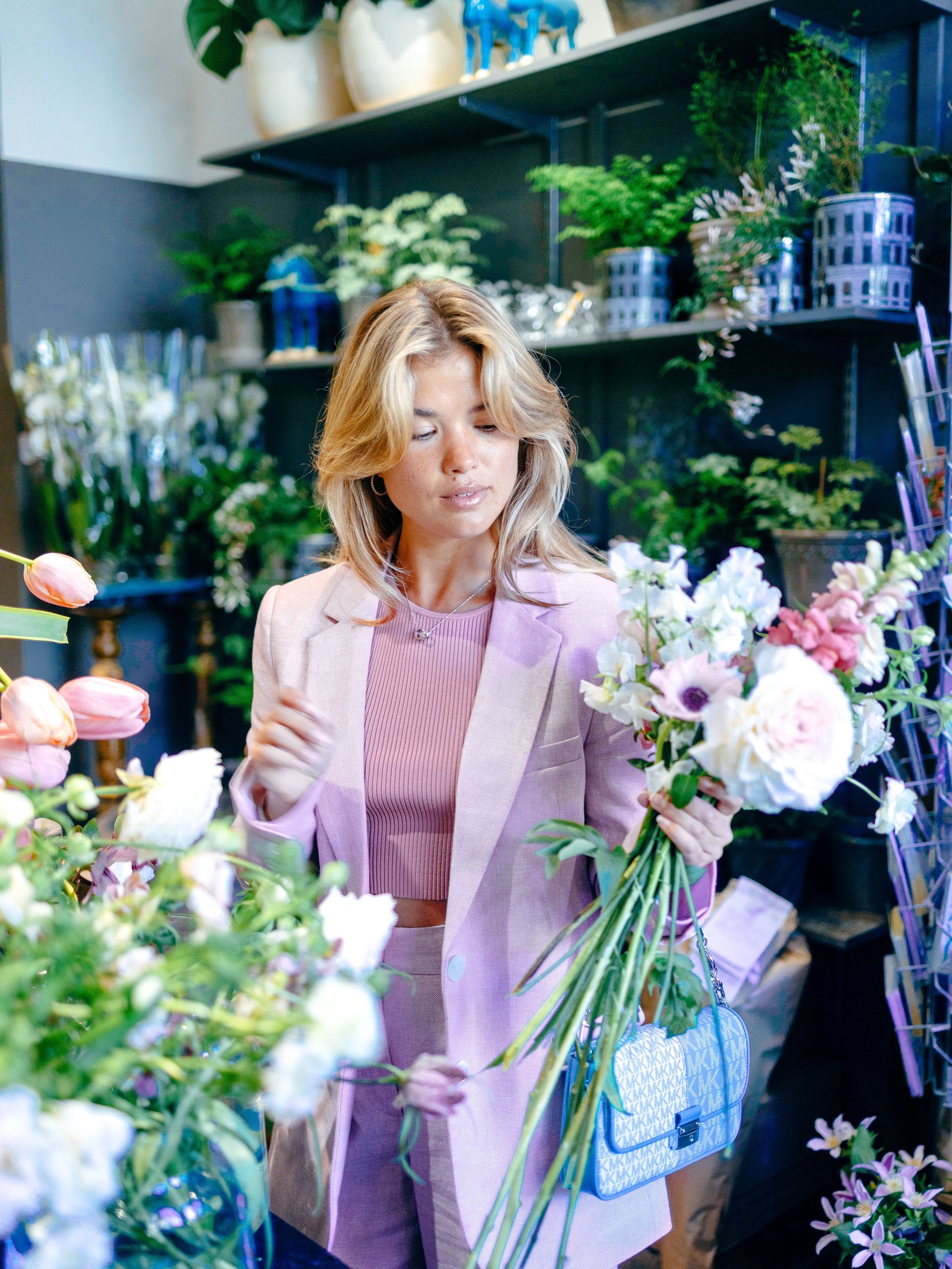 When putting together an outfit, Djerf often finds herself building it around a single piece of clothing. A pair of statement silk trousers in moss green is grounded with a cream crop top and a handbag with cognac leather detailing. Usually, however, she is all about the basics. "Good basics are essential in my wardrobe," she says. "If you don't know what to wear, a tank top, a T-shirt, or a pair of perfectly tailored trousers are always reliable."
As spring comes to Stockholm, Djerf can't wait to bring out the blazer. "It is the one piece I can't wait to wear," she says. "I'm planning to wear it with skirts, dresses; It's such a versatile piece." Here she pairs a pale pink loose-fit suit set with a tone-in-tone fitted crop top ("I'm very much about playing around with silhouettes," she shares) and a small contrasting blue shoulder bag.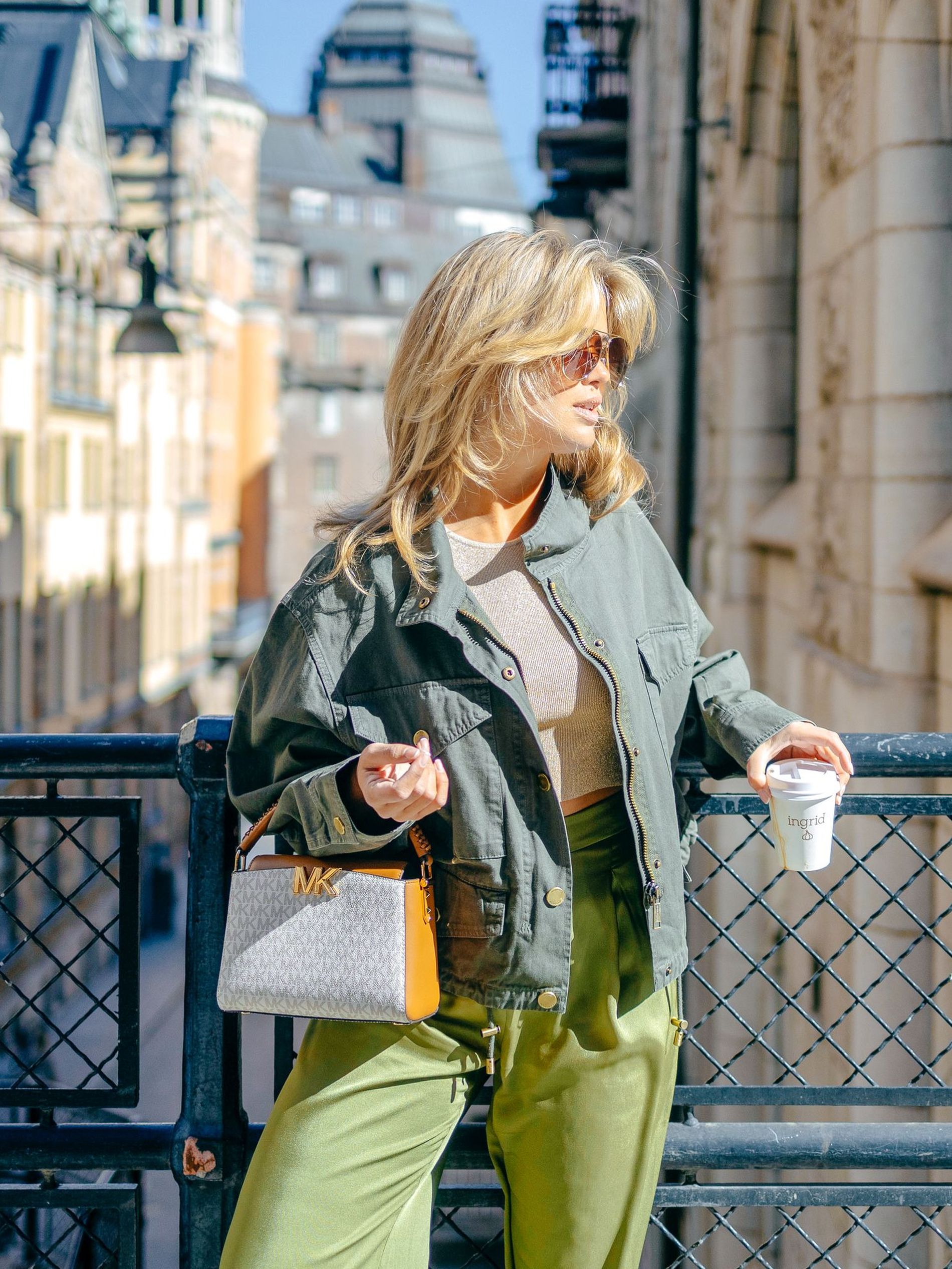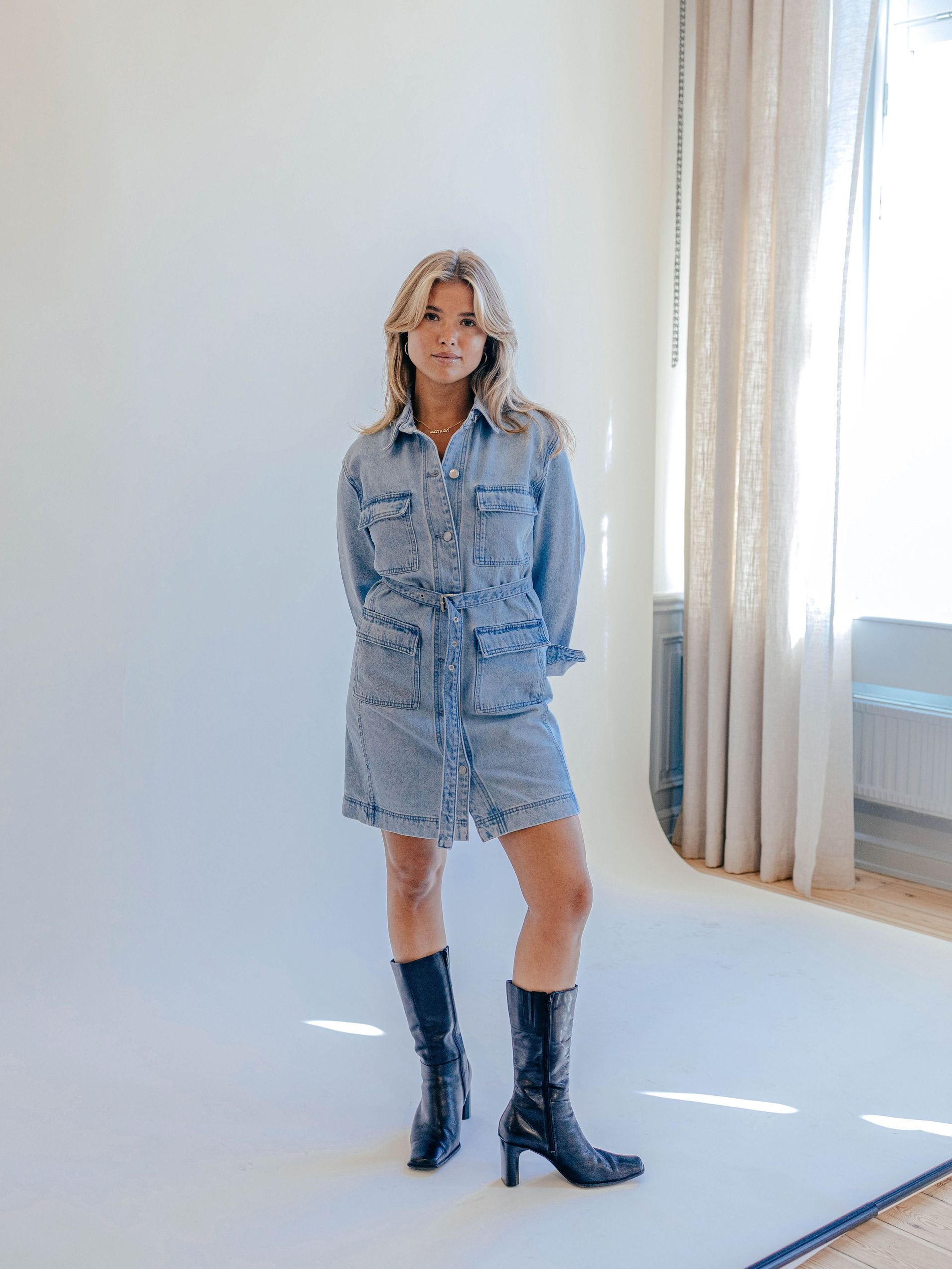 Often heading straight from the office to dinner, switching her shoes to transition her look from day to night. "A pair of heels can really transform an outfit." With that said, Djerf is a self-described sneakers girl. "I am on my feet a lot, in the office, or on shoots, or when I walk my dog, Rufus," she explains. Whether paired with a timeless trench coat and blue jeans, oversized grey suit trousers and a leather jacket, or the aforementioned suit, white sneakers are a must-have in Djerf's wardrobe.
Her single greatest styling tool, however, is a handbag. She points out that the right bag can elevate almost any ensemble. "I love a small handbag," she says. "I love the ones that can go from day to night. It's the kind of piece that can transform a basic outfit. A really good bag is something that I think always adds a little edge to my outfits."
Explore the MICHAEL Michael Kors collection styled by Matilda Djerf here.