While Alvar Aalto may be a household name, few people know about the women in his life who held equal stature in the world of architecture and design. Here, we explore the unsung women behind Alvar Aalto, Aino and Elissa, and their hand in his work
Historically, the male genius has been described as a lone genius. Upon review, however, this myth is quickly squashed. This idea that men, and men alone, have shaped our cultural history is a closely guarded fallacy determined by the (often male) authors of our recorded history. The concept of women as meek homemakers, whose contribution can be discounted due to their gender, is a tale as old as time – after all, there is a reason why the general public remembers Homer and not Saphos. Likewise, there is a reason why we think the molecule was discovered by Jim Watson and Francis Crick (who would ultimately win the Nobel Prize for the discovery of the DNA molecule in 1962) when it was, in fact, Dr Rosalind Franklin who made the first tentative studies into the subject during the 1950s.
Alvar Aalto has often been referred to as one such genius, a master of modern design whose creations have made a lasting impression on Scandinavian design. While it would be unfair to claim that the women in his lived have been entirely glossed over – their contributions well recorded – their names have largely remained unsung. In fact, Aalto married two fellow creatives, Aino and Elissa, who were both deeply involved in his studio and work.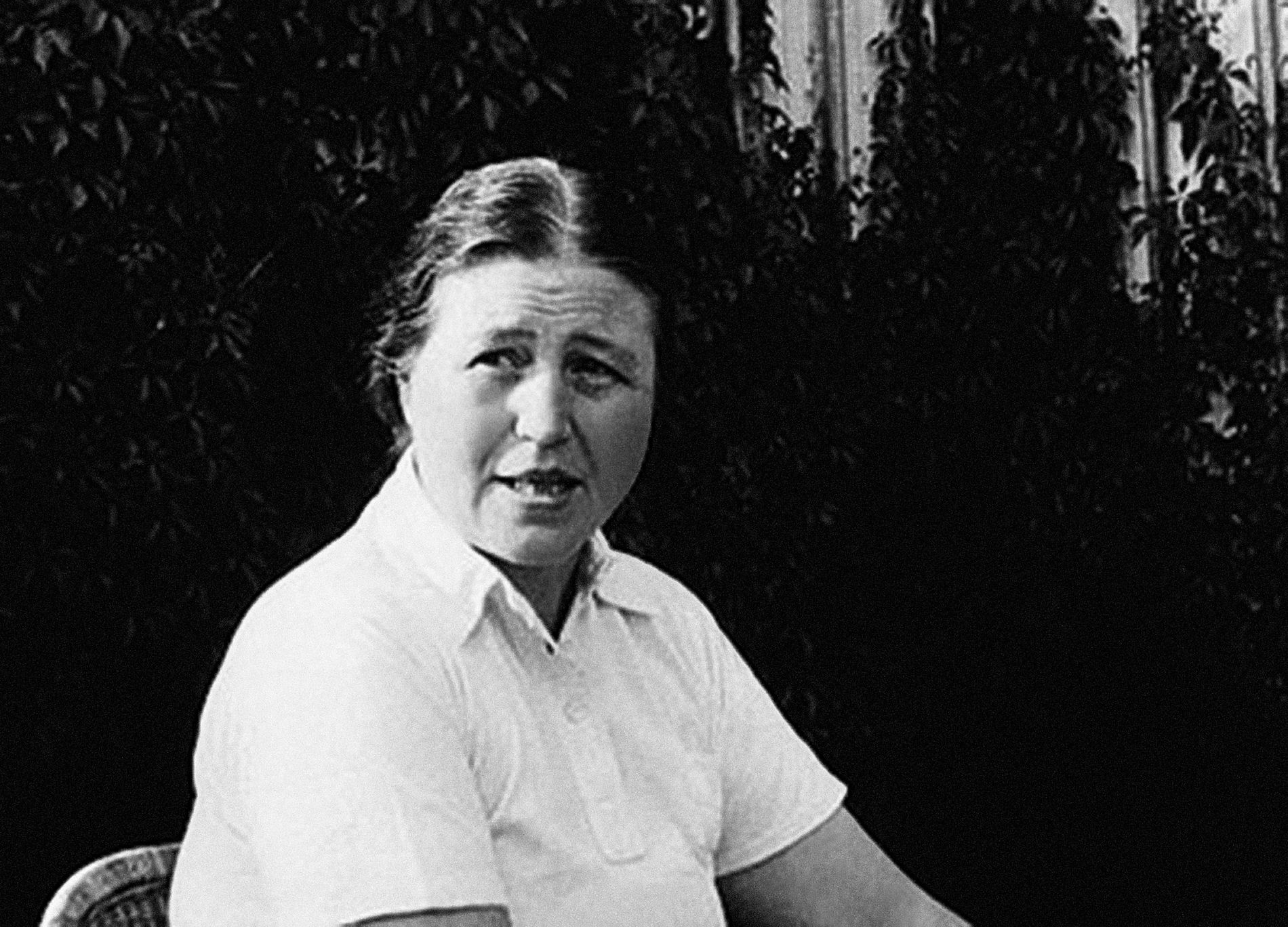 Aino Aalto.
Alvar Aalto's first wife, Aino Marsio, was arguably a female pioneer in a male-dominated industry. Graduating as an architect in 1920, her early career was spent in the office of the Oiva Kallio in Helsinki. In 1923, Aino moved to Alvar Aalto's hometown of Jyväskylä, where she initially worked for architect Gunnar A. Wahlroos before moving to Aalto's office at the start of 1924. A whirlwind romance ensued, and Aino and Alvar Aalto were married in October of that same year.
Aino Aalto worked alongside her husband as a designer of equal standing. Her work at the studio came to be a big influence on Aalto's design heritage, her work spanning both buildings and objects. Many competition entries were submitted jointly by Aino and Alvar, but in the extensive output of Aalto's office "it is almost impossible to define the exact contribution of each architect involved – this goes for Aino and Alvar Aalto as well as the staff members," as Antti Tevajärvi, a design specialist at Artek 2nd Cycle, points out. "The Aaltos lived and worked in the same house, so their personal and work life were certainly intertwined."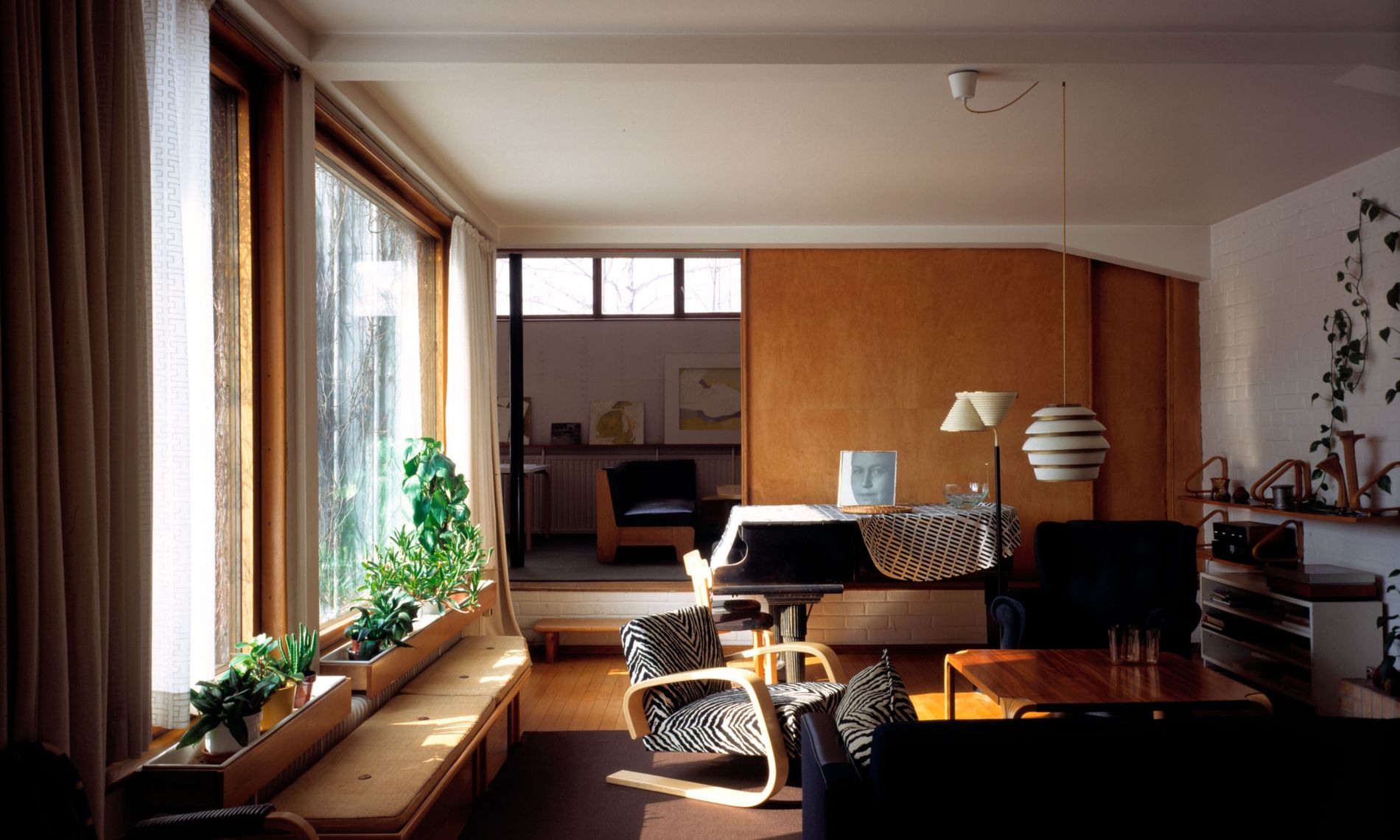 While a majority of Aalto's architectural projects – such as the Aalto house and the pair's first internationally recognised masterpiece, the Paimio tuberculosis Sanatorium – came about as collaborations, Aino also designed some buildings independently such as the family's summer residence, Villa Flora. It is, however, her interiors that Aino is most recognised for. As well as being a qualified architect, Aino Aalto was a trained carpenter, which Alvar was not. The aspiration for beauty, quality and utility defined Aino's designs, with contemporaries like Finnish art collector Maire Gullichsen describing Aino as "the most aesthetic person" she had ever met. As Artek's first Design Director, Aino Aalto created the company's still-recognisable, timeless, high-quality style.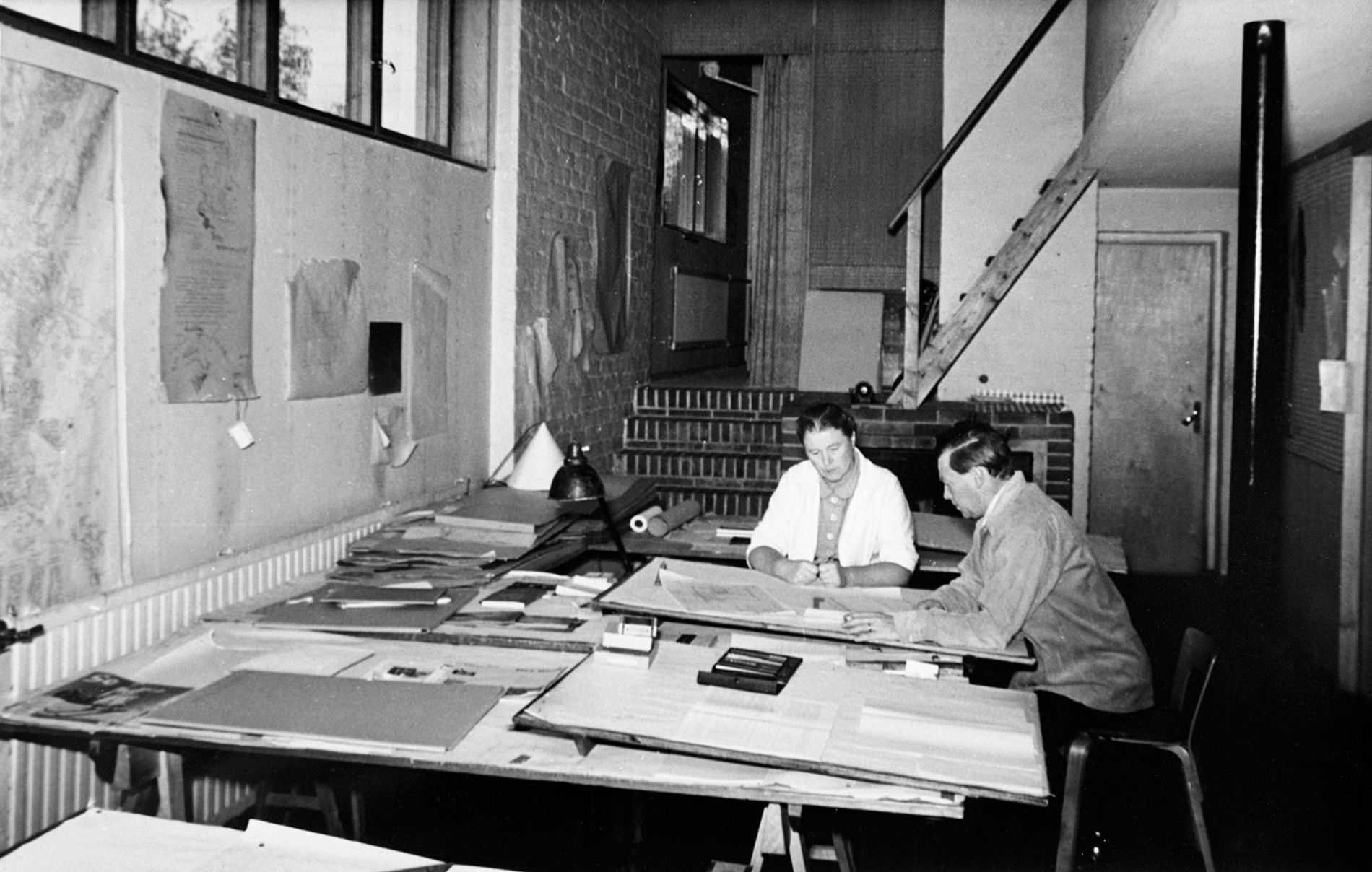 Aino and Alvar Aalto in their office. Photo: Alvar Aalto Foundation
When Aalto's furniture company Artek was founded in 1935, Aino Aalto became the design director. Under Aino's leadership, Artek's range expanded rapidly, with variations on Aalto furniture and Aino's own practical furniture. "She developed new variations based on Alvar's furniture, especially with the L-leg, and also designed her own models," says Tevajärvi. "Aino's furniture was clean and simple, but based on traditional joining techniques and more anonymous than her husband's innovative, avant-gardist pieces." In interior projects, Aino combined both styles effortlessly. While Artek carried out all sorts of interior-design commissions, furnishing restaurants and hotel suites alike, Aino's innately modern values and a strong sense of social responsibility flourished when creating interiors for childcare, such as kindergartens, health centres and maternity clinics.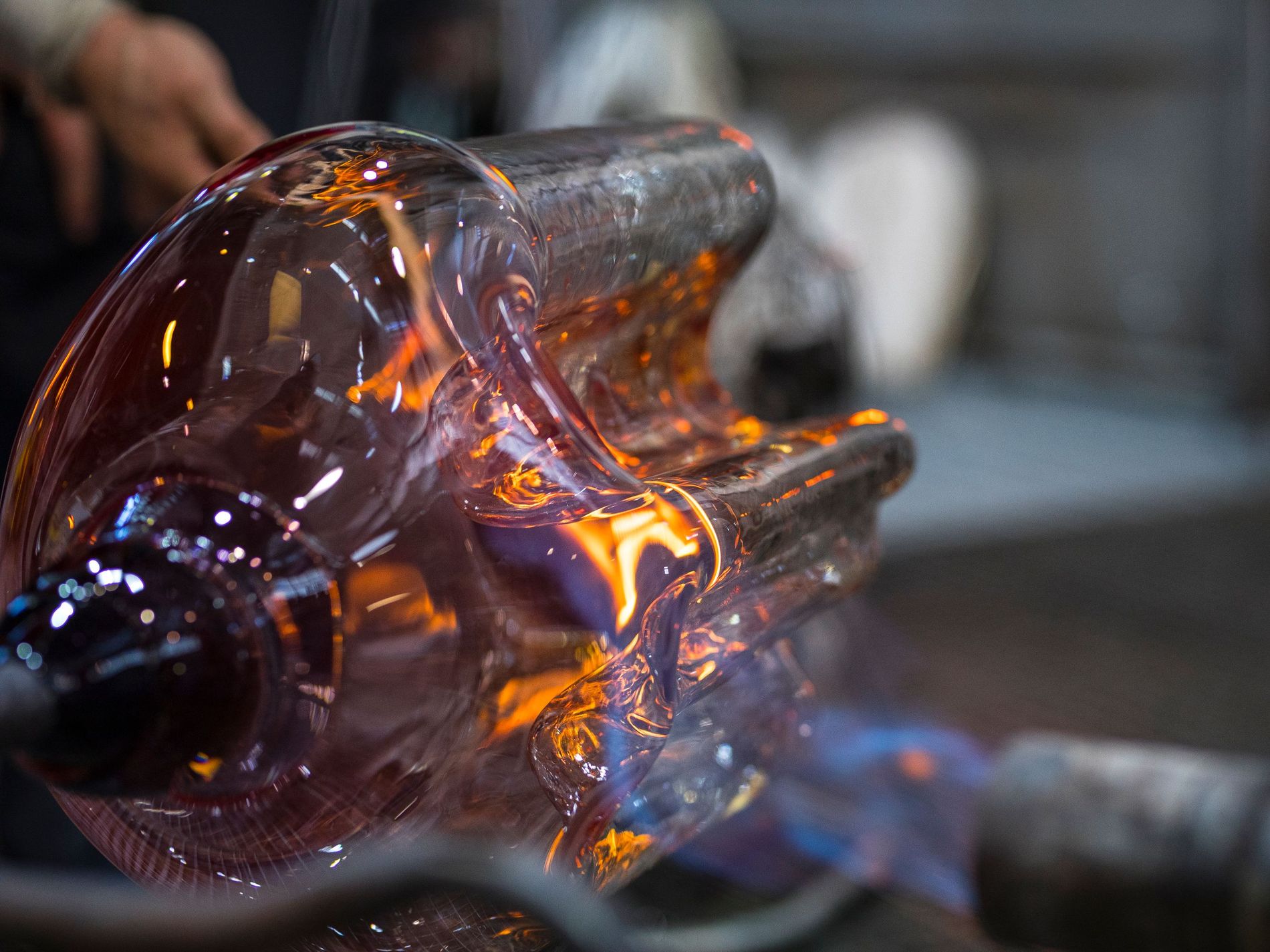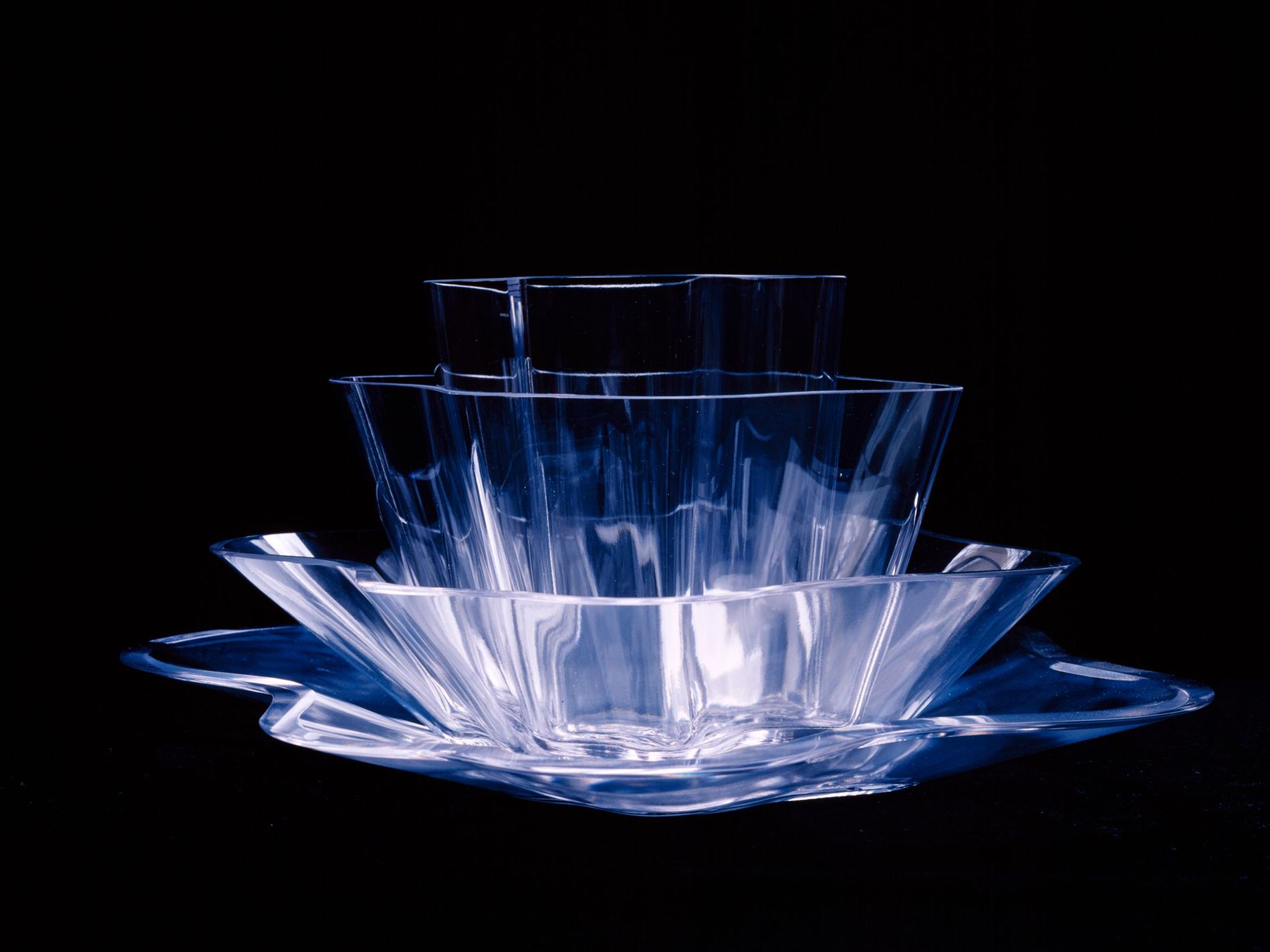 In regards to designing objects, Aino Aalto is best known for her glassware. "The Karhula-Iittala competition marked Aino and Alvar Aalto's first attempts to use glass as a medium," says Katja Karttunen, Iitala's senior product manager. "They wanted to "free" glass from geometric form and create an impression of organic, living forms." The result is arguably one of Aalto's most famous creations: The wave-like Aalto Vase. Another iconic glassware range designer by Aino still in production today is the 'Bölgeblick,' the creased sides made from pressed glass have had an almost equal impact on Finnish interior aesthetics. "Glasswork came to be a unique expression of Aino and Alvar Aalto's design ideologies," as Karttunen points out.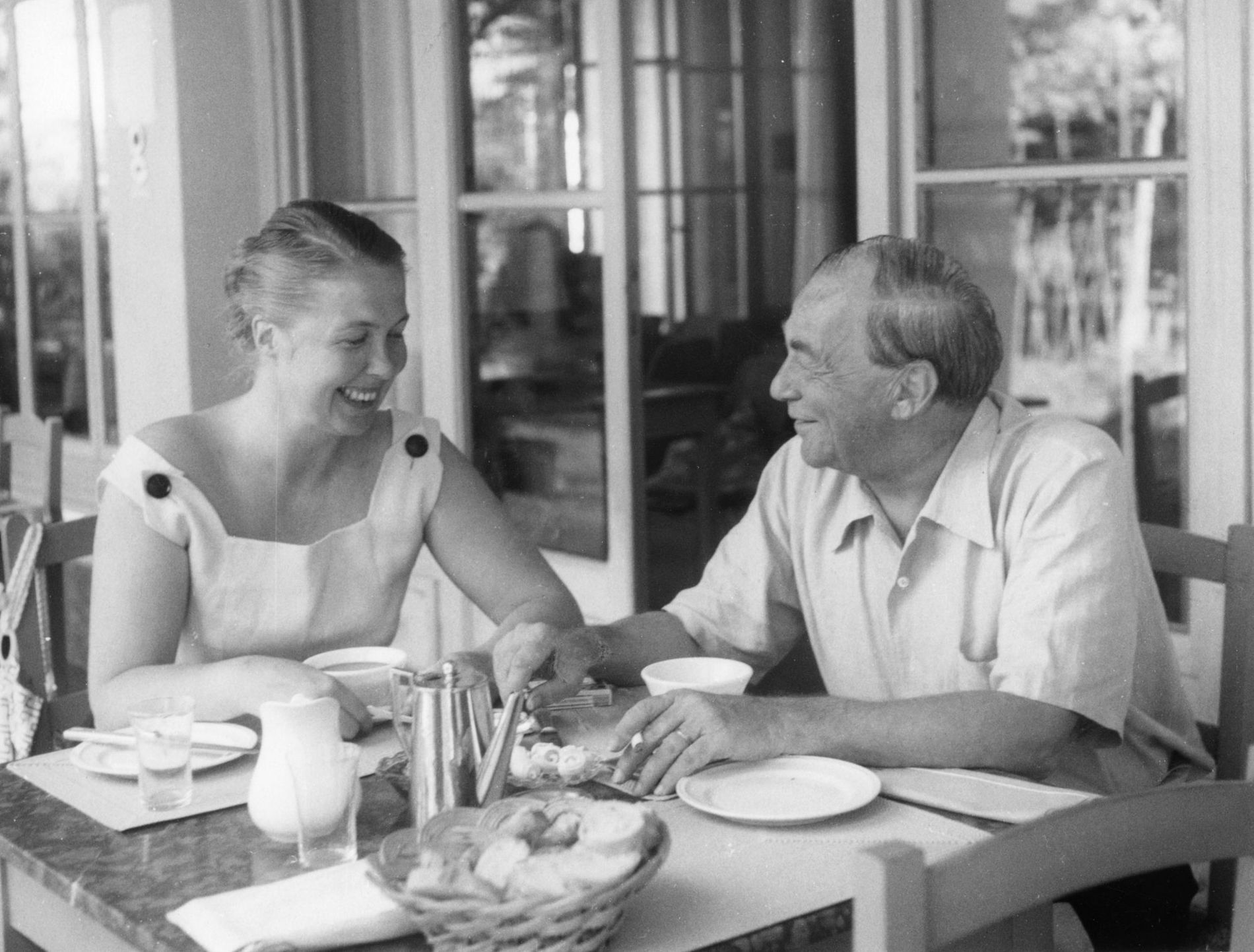 Elissa and Alvar Aalto at their home in 1960. Photo: Valokuva © Alvar Aalto Foundation
Aino Aalto worked actively in the Artek offices until her untimely passing after a battle with cancer in 1949, at the age of 54. That same year, Aalto's future wife-to-be Elsa-Kaisa Mäkiniemi graduated and started working in the Aalto studio. Elissa Aalto worked in Aalto's office at a time when several competitions and sizeable public commissions were under way. She worked hard as one of the office's architects and was soon put in charge of a number of major building projects. The couple married in 1952, after which she began using the name Elissa.
The newly-wed Alvar and Elissa designed their summer residence to be, Muuratsalo Experimental House, together. Independently, Elissa was an architect and interior designer in her own right, with impactful project like Villa Hauta-aho (1982–83) in Seinäjoki and the SOS Children's Village in Tapiola, Espoo (1960–70) under her belt. She also designed lasting textile patterns such as the H55, shown at the Helsingborg Exhibition in 1955, which was implemented in Artek's range.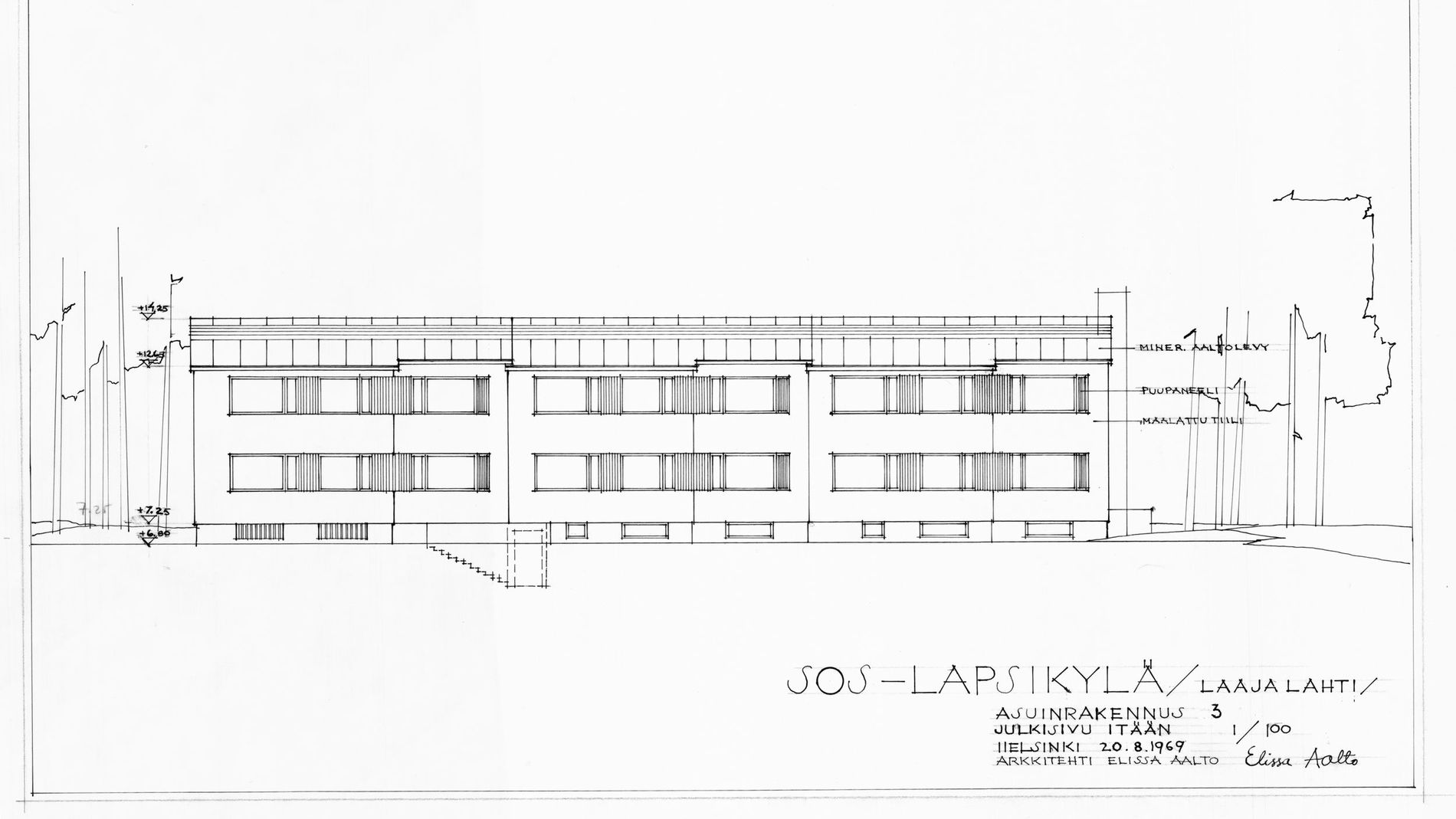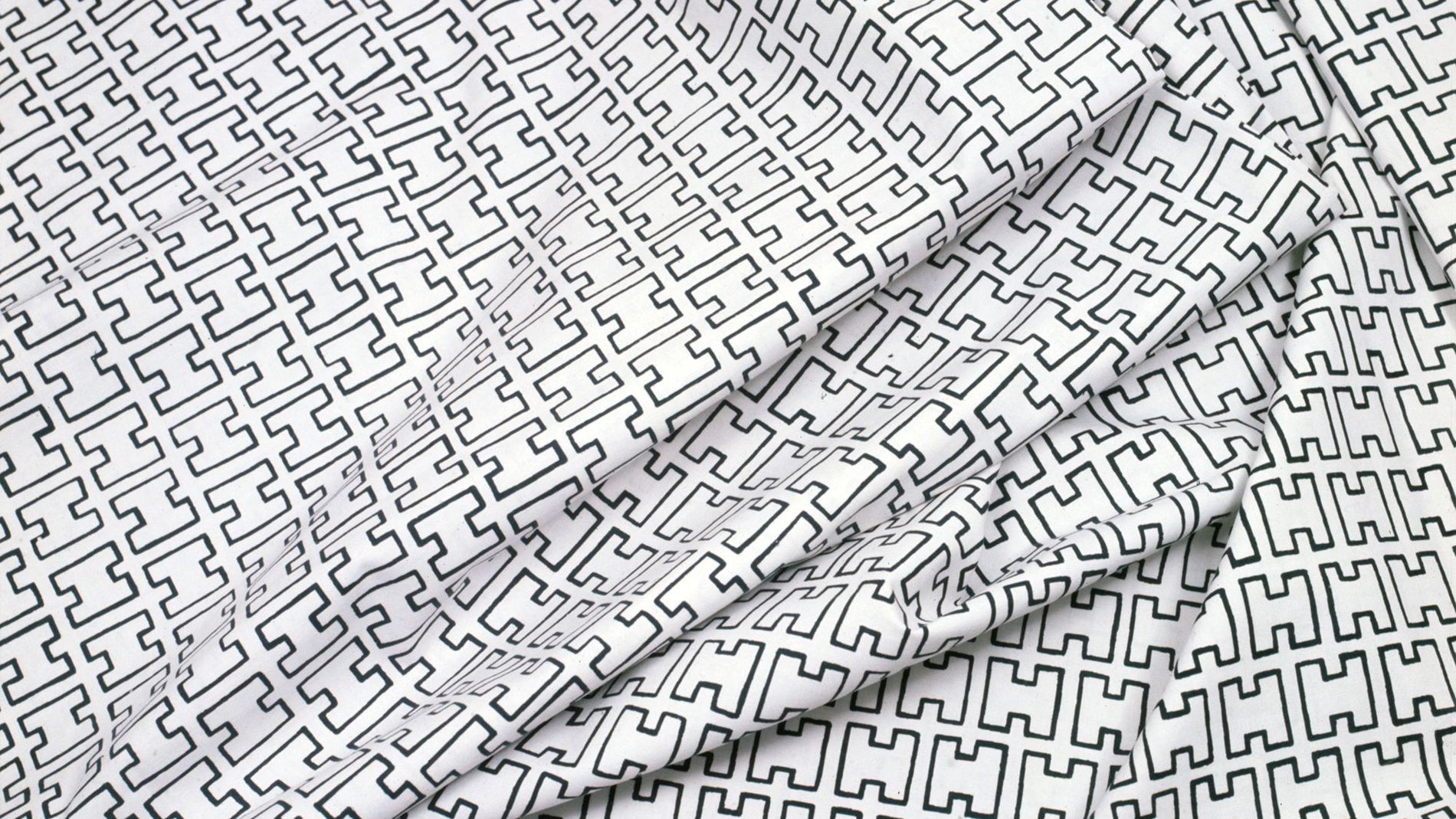 As Alvar Aalto grew older, Elissa stepped up to make sure to convey and realise Aalto's ideas. After the architect's death in 1976, Elissa's role as a skilled mediator of Aalto's sentiments grew, and she became the studio's natural leader. She ran the office until she died in 1994, carrying multiple unfinished projects to completion.
During her time as the head of the Aalto studio, her life's work focused on executing Alvar Aalto's architectural designs and fostering his intellectual heritage. Not only did she complete several complementary construction and renovation projects on Aalto buildings, but she also played a sizeable role in setting up the Alvar Aalto Foundation. It was partly due to her influence that the ownership of Aalto's drawings and document collection, along with the copyrights, were transferred to the Foundation. As such, there were reserved as a coherent whole.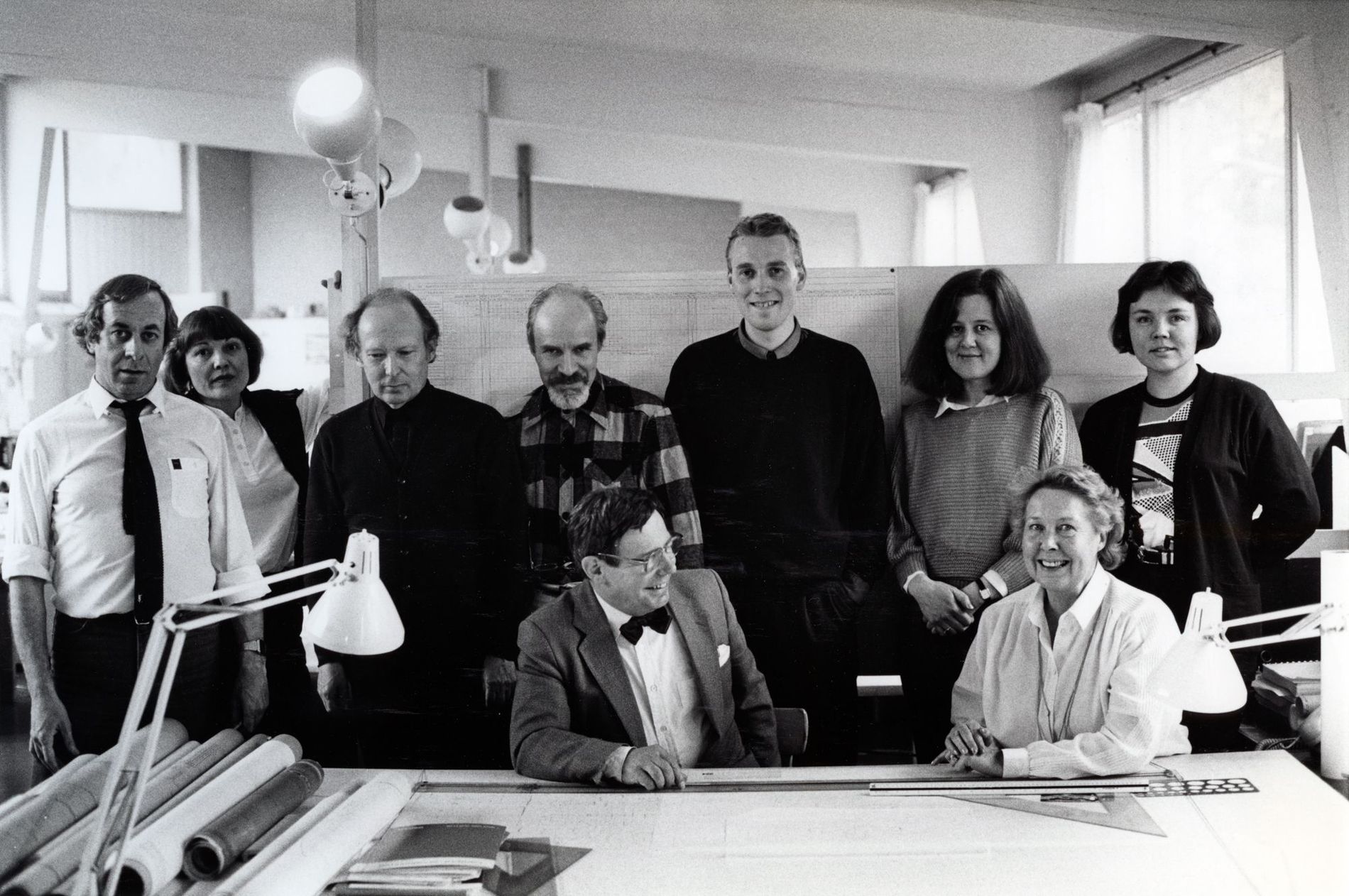 Elissa Aalto with the Aalto Studio team in 1986. Photo: Photo © Alvar Aalto Foundation
Elissa remained a resident of the Aalto House after Aalto's passing and continued to spend summers in the couple's summer house until the end of her life. It was on Elissa's initiative that Studio Aalto was sold to the Alvar Aalto Foundation in 1984. In her will, Elissa left the Summer House to the Alvar Aalto Museum, under the ownership of the City of Jyväskylä. Ensuring that Alvar Aalto's legacy would continue to inspire future generations.